Beaches of Thailand are world famous for their poetic beauty. Adorning the gulf of Siam and Andaman sea, they play piper to a massive maritime system of South East Asia. The quintessential best beaches of Asia are housed in Thailand. This blog post highlights some of the best Thai beaches where you can lounge by the ocean, relax for a few days, gorge on sumptuous sea food and make the most of your time! If you are planning a honeymoon in Thailand, this beach guide will help you zero in on one destination!
Read all the articles of Thailand!
Punch drunk in love with Thailand!
It is a strong emotion. My unrequited love for this beach-shore country, that is technically not mine, stems out of many charms: a bowl of Tom-Yum Soup, filled to the brim with fresh catch from the sea; neon lit streets of downtown Bangkok; dense mangroves snaking the canal banks; trained hands of the masseurs apt at stripping the last bout of fatigue from my body . Above all, a nameless painter once gently smeared splashes of emerald to azure aqua-marine of Andaman Sea. Her canvas is gorgeous, rippling with warm tropical waves.
While you may choose to dock at everyone's favorite (and intuitively crazy) Phuket, the explorer in my heart longs to discover the pristine beaches of nameless Thai islands, swim under the starlit sky, and kiss the lover by my side. A lot like what Leo did in The Beach.
Although, with increasing number of tourist footfall, it is becoming harder by day to find a secluded beach in Thailand, awaiting you with all her wealth of white sand and azure sea. On the hindsight, it is a privilege to find the most remote island in Thailand almost service-ready. A luxury resort, infinity pool reflecting the sky-dome, a cocktail glass with heady sea-breeze: life screams good!
That sounds like a charming holiday. But you insist on finding yet another beautiful beach in Thailand. Rule of thumb is to trust any tiny islands of Thai archipelago to present you with an unscathed beach. Not all of them are open for humans though. A large water monitor family, few salamanders, bats occupy them in general. Tidal waves play a brutal game of flooding. Once in a while you may find an abandoned fishing boat and hope boatman escaped from the pirate attack! A shadow teether everything beautiful.
I asked fellow travel content creators, who poured in their bountiful suggestions on finding the best beach of Thailand. Following is a curated list of the beaches, from Koh Samui to Hua Hin and more! Expect this to grow with time!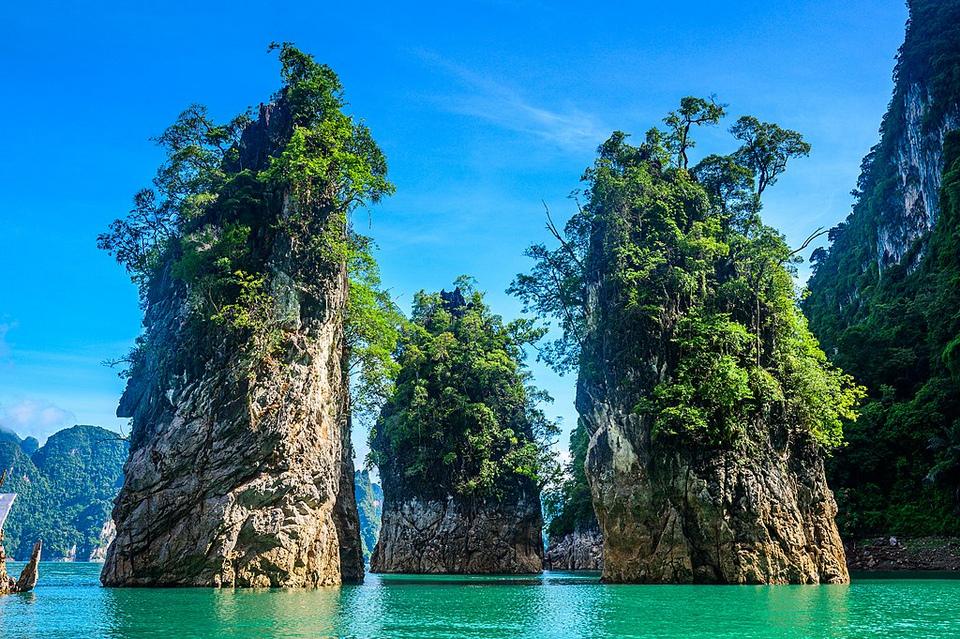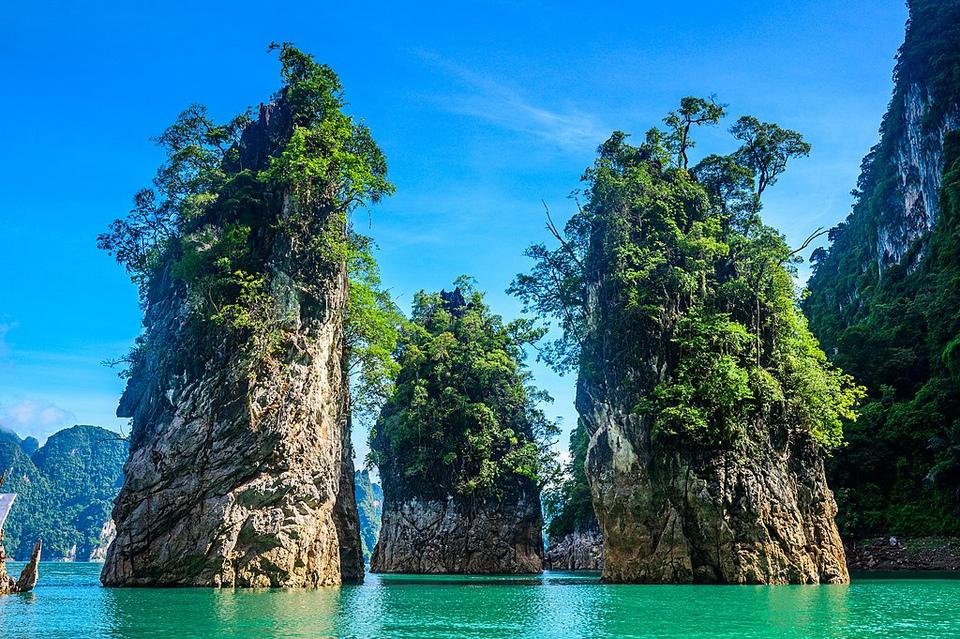 Did you know? The region that South East Asia is today, extended beyond the sea back in the days of yore. There were mountains and plain land and a thriving scene of native flora and fauna. However, ice age and subsequent days of climate changes took its toll with rising sea level and eventually engrossing the land. The monolithic cliffs that raise over the water, stand witness to changing times. Pastoral lands are now submerged under the water. Humans ventured towards uphill. Some boatmen rowed towards a new land. Sporadic islands with ancient human habitats on Pacific Ocean actually traces back history to this mass exodus. Halong Bay in Vietnam is no different either.
Also read: Phuket or Langkawi? How to choose your next travel destination?
Koh Tao (Surat Thani, Thailand)
By Hannah & Adam Lukaszewicz from GettingStamped (IG here)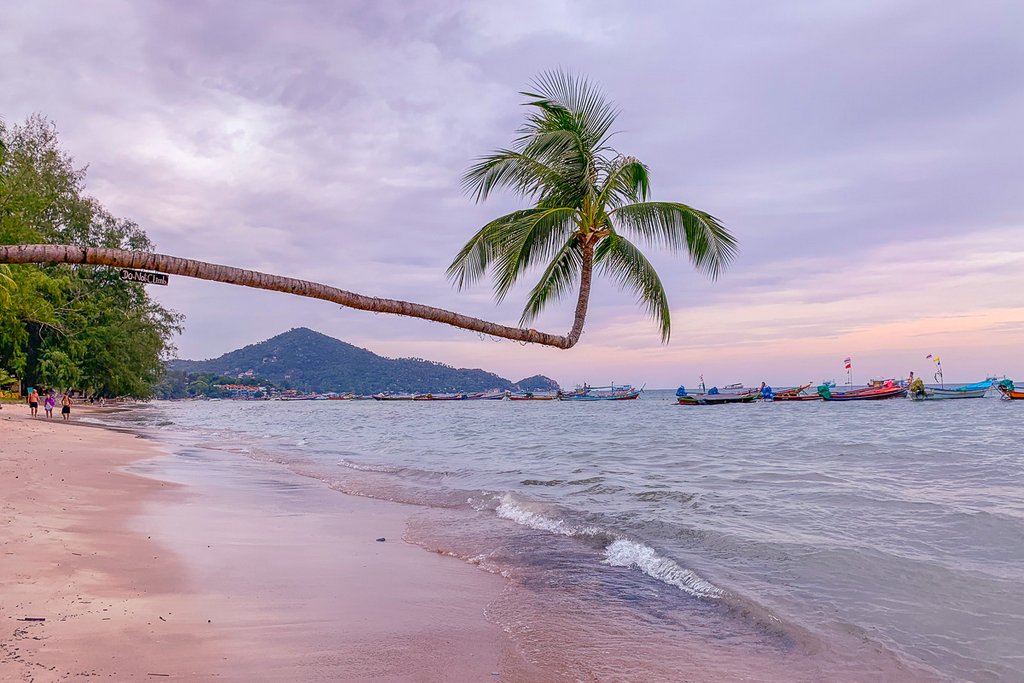 Thailand's Koh Tao is located on the northernmost island of the Chumphon Archipelago and is home to lush scenery, natural wonders, and of course, amazing beaches.
Hands down, our favorite beach on Koh Tao is Sairee Beach, located just a short distance to the north of Mae Haad. First off, it's beautiful, making it one of the most popular places to stay in the area. Additionally, it boasts some lively day and nightlife if you're looking to attend some fun and festive beach parties.
While you're visiting this beach, consider hiking to some great viewpoints like Mango Bay Viewpoint and checking out some of the awesome dive spots. Or if you're looking to have a relaxing day, book a massage right on the beach. What could be better than hearing the calming waves as you get a famous Thai massage!
And don't worry, if you get hungry, the area also has tons of great restaurant options. One of our favorites is Whitening that is located right on the Sairee beachfront. We go there every time we're there – it's that good.
When you're ready to watch the sunset, Fizz Beach Lounge is the place to be. It's a laid-back lounge that serves up some great bites and cocktails. Make sure to get there early to grab a beanbag on the terrace – it's the best way to watch the amazing sunset.
Where to stay at Koh Tao, Thailand?
Nang Yuan Island from Sariee Beach, Koh Tao
By Chantell Glenville from Travel for Your Life. (Follow her on IG here.)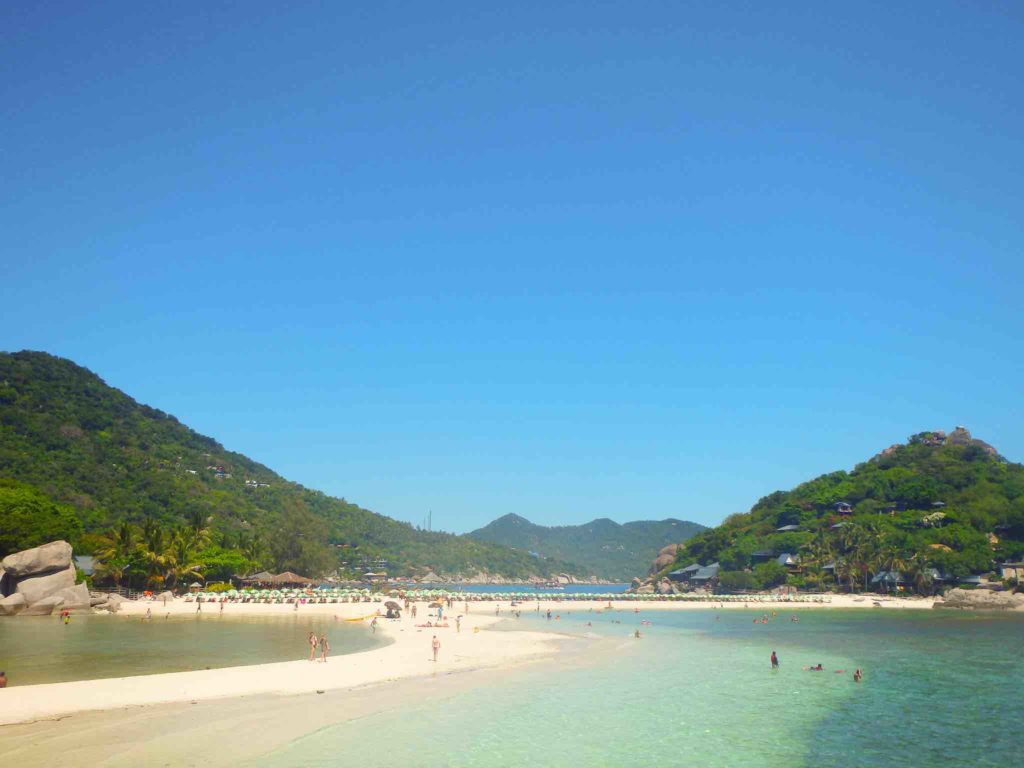 Sariee beach in Koh Tao is one of the most relaxed and beautiful beaches of the backpacking hotspots in Thailand. Helpfully it's one of the closest beaches to the ferry port of Koh Tao island and it has plenty of bars and restaurants to while away our time right on the beachfront. You can also hop in one of the long-tail boats and pop over to Nang Yuan island in no time which has some of the clearest blue water I've ever seen in my life. On the island, there's a viewpoint to walk up to and there are options to snorkel or just relax on the small sandbank.
It's a protected island therefore no plastic is allowed on it, which considering the mess you'll witness plastic having made of our oceans in a lot of Asia is a welcome change.
Once you've completed your day trip head back to Sariee beach which comes alive in the evening. Their will be fire shows; with people doing jump rope with the rope ablaze and more traditional fire spinning. Some of the parties take place in the main bars themselves but those with the fire shows spill down right onto the beach so make sure you find a safe place to store your flips flops while dancing the night away.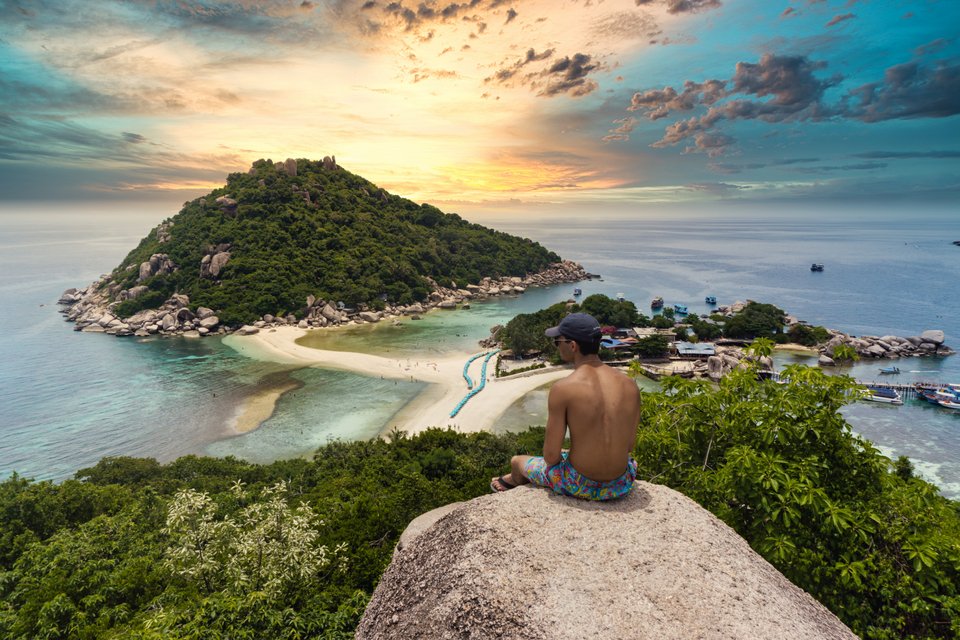 Nang Yuan Island has only one place to stay: Nangyuan Island Dive Resort
Other attractions at Koh Tao: Freedom Beach, John-Suwan Viewpoint, diving at the Shark Bay. Koh Tao also hosts the Experience Festival, a trance music festival.
The Best Beaches of Phuket: Things to know!
While Phuket remains one of the major tourist magnets in Thailand, not only for the beaches but for an astounding gastronomical history and an old heritage Phuket town, the main beach at Patong is painfully crowded. Patong can help you with action packed water sports but for tranquility and vibes, head towards the other beaches of Phuket.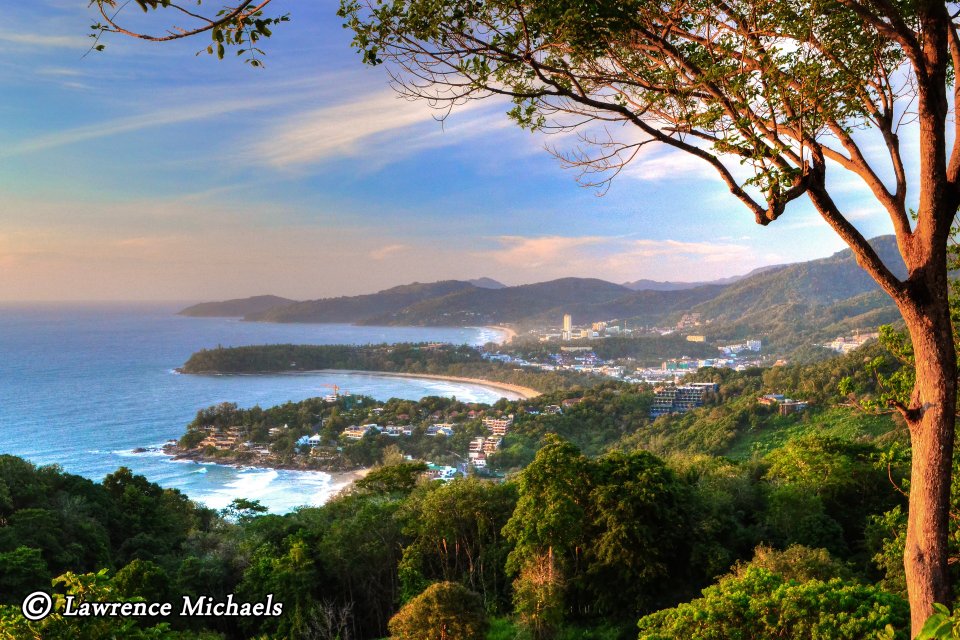 Kata Beach, one of the best beaches Phuket, Thailand
By Mar Pages from Once in a Lifetime Journey (Follow her on IG here)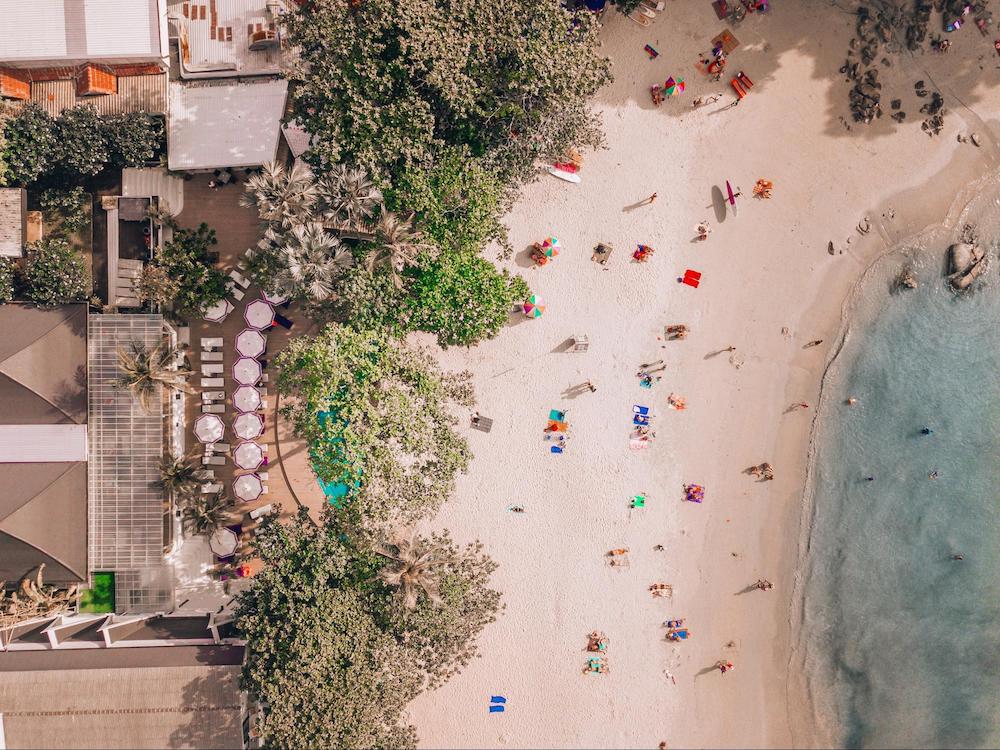 Also read: 33+ beautiful beaches in Goa

Most of the best beaches in Thailand are arguably found in Phuket. There is every kind of beach for each different style of traveler from party beaches to family beaches, and if you know where to look, some desolate and even private beaches.
A personal favorite is Kata Beach, the 2 km stretch of white powder sand in a crescent shape that are lined with mid-range to luxury resorts and greenery. Right in front of the Boathouse Phuket is where you'll find the most pristine plot of sand. You can go snorkeling by the rocks, and there will most likely be less people as they all congregate in the centre as this is where the main entrance is.
The palm trees provide some much needed shade. It's also a good spot to hire a longtail boat to venture out to the smaller islands. Popping into the Boathouse Phuket (check here) for a bite to eat is a must as it is an institution and was the first hotel to be opened by legend Mom Tri. The mixologist will whip you up a spectacular treat as you watch the sun go down. There's an artificial wave at Surf House Phuket if the swell is low and a dinosaur-theme mini golf area at Dino Park. While there aren't any real events on Kata, the usual holidays bring an extra festive vibe with many of the hotels, bars and cafes holdings events.
You can get here with Grab, taxi or on your own in a car or on a scooter as there is loads of parking nearby.
Nook Dee Boutique Resort is a beautiful place to relax in Kata. The Blue pearl and the Beach are recommended for budget conscious yet discerning travelers. Assada and Ibis are decent budget choices too. For those who loves hostels, check out EBS Phuket.
Also read: Explore Sino-Thai heritage at the Old Town Phuket with this self guided walking tour!
Yanui Beach and Koh Man in Phuket
By Craig O'Brien of Vagabond Disposition (Follow him on IG here)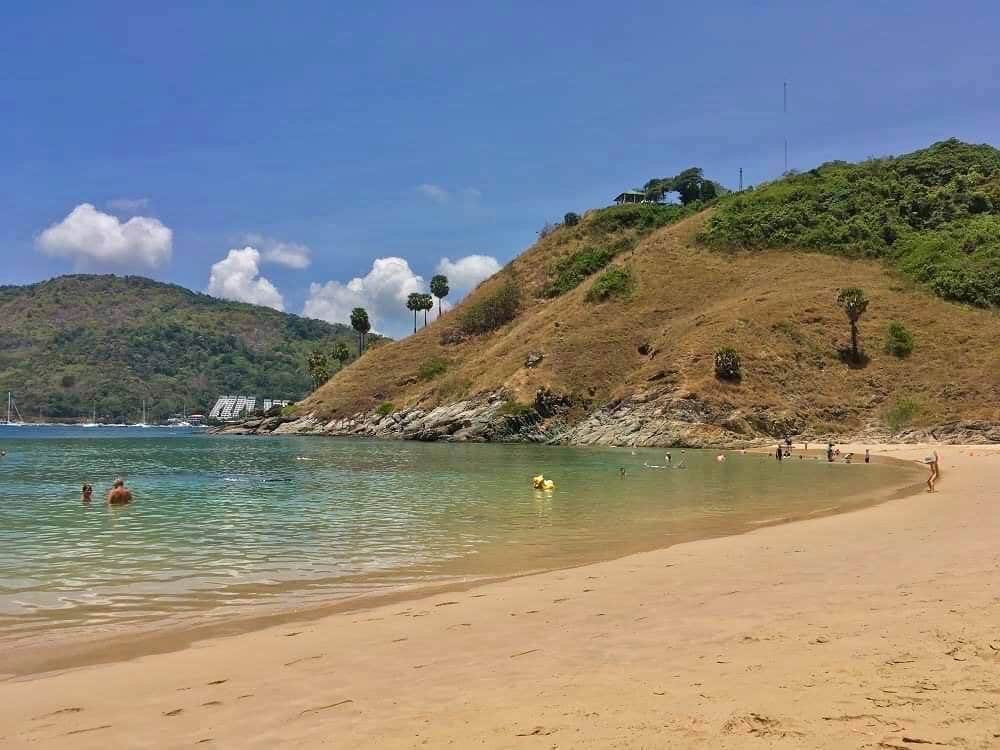 One of the best beaches in Thailand and personally one of my all-time favorites is Yanui Beach in Phuket! Yanui Beach is located in the Rawai district of Phuket, in the very southern tip of the island. It can be most easily reached by renting a motorbike, hiring a tuk-tuk, or calling a Grab taxi. However, I would recommend getting a hotel or AirBnb and basing yourself in Yanui as it's already near to some of the most beautiful spots in Phuket.
Although quite small, Yanui Beach offers an awesome view of Nai Harn bay to the right and Promthep Cape on the left. Also, just 300 meters off the beach is the small, rocky, uninhabited island of Koh Man, which is in my opinion the very best spot for snorkeling in Phuket. If you're a strong swimmer and comfortable in deep water, you can simply swim across in 5-10 minutes. If you'd rather not, then you can also rent a kayak on the beach and paddle across, leaving your kayak up on the rocky shore of Koh Man. Snorkeling gear is also available for rent on the beach.
The best time to visit Yanui Beach (and Phuket overall) is during the dry season, from January to May, as the sun is out nearly 100% of the time with no rain and very light winds. If you can, come in the second week of April and you can also experience the Songkran festival, which is Thailand's new year celebration!
Stay at Ya Nui Resort or Ya Nui Beach Villas (luxury). Sense of Ya Nui is another beautiful independent property close to the Nai Harn beach.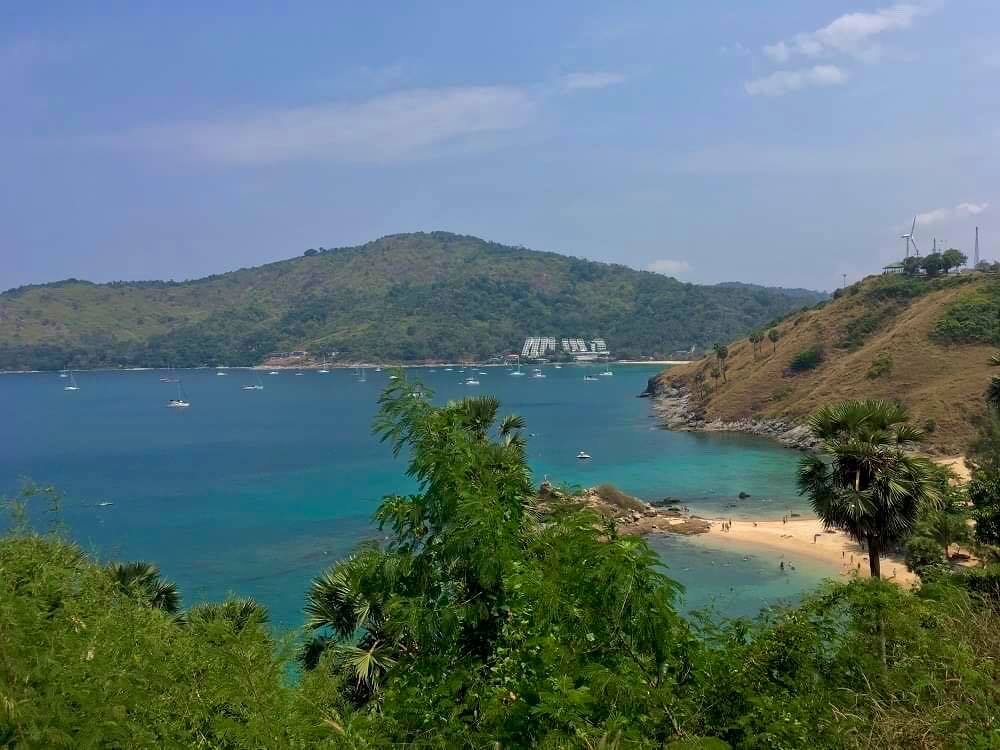 Rawai Beach, Phuket
By Annemarie Strehl from Travel on the Brain (Follow her on IG here)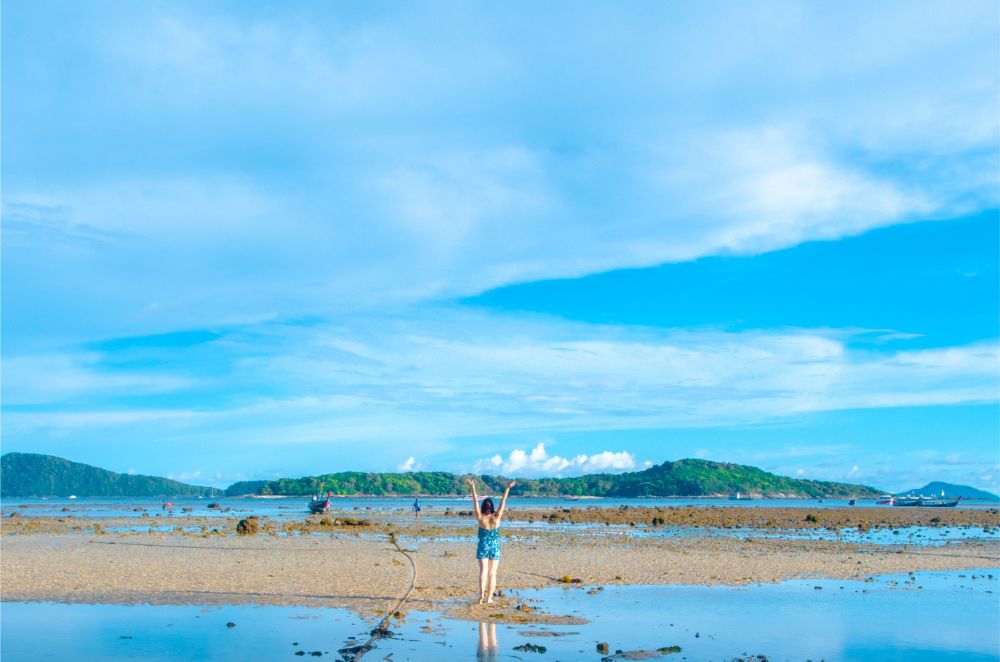 Phuket island has the luxury of boasting endless beaches. Many of the most popular beaches are sadly super crowded and close to the party miles. So it's not the most relaxing experience. Rawai Beach in Southeastern Phuket, however, is different.
It was the first tourist beach in Phuket as it was easier to drive down South than cross the mountains in the West. That has changed now and those are more popular. Now, Rawai is a pretty quiet area and has empty stretches of sand overlooking Ko Bon island. Perfect for a family day trip in Phuket!
Swimming and snorkeling here, isn't a good idea, though. Along the shore, you will find many longtail boats taking you to surrounding island and around the shoreline of Phuket. On the plus side, this means you can easily combine a beach day with a boating and snorkeling day after all!
Even during low tide, when the mudflats lay bare, the area is very pretty and you can take amazing photos of the stranded boats and the island in the distance.
If you're hungry, you can get some food from nearby seaside restaurants or the seafood market Sea Gypsy Village.
You can reach Rawai Beach by driving all the way south from Phuket Town. It's a pretty straight road and it's hard to miss. If you're coming from the West, head towards Ao Chalong pier but turn right towards the South at the massive intersection close the pier.
Also read: Complete Guide to Offbeat things to do in Goa!
Where to stay at the Ra Wai beach?
Bang Tao Beach (Angsana Laguna Beach in Phuket)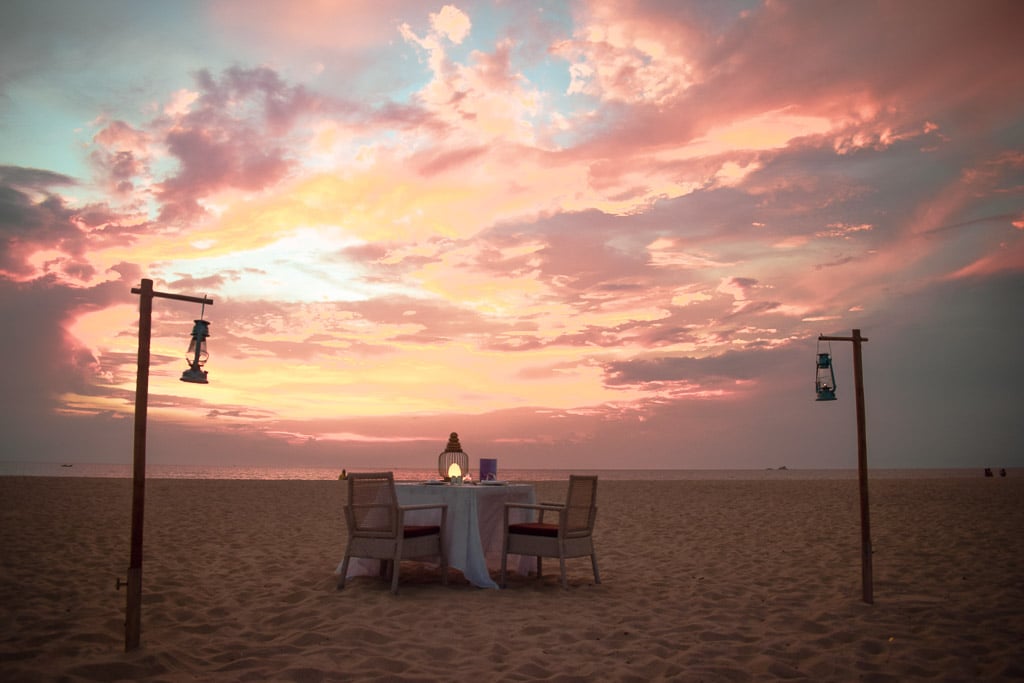 During my last trip to Thailand, I stayed at the Angsana Laguna. It is a sprawling property where water happens to be the main element! Numerous natural lagoons, a lazy river, swimming pool: all of them completed the scene until I laid my eyes on the beach. The adjacent beach to this property, also known as Bang Tao beach is painfully beautiful. A part of main Phuket island, the beach is accessible to public however remains a bit secluded from the tourist trail.
If you are planning to visit Phuket with family, or you are willing to spend your honeymoon in Phuket, yet plan to stay away from the clamor, you can rely on Bang Tao Beach.
There are plenty of places to sit and drink or even grab a quick bite. My favorite are Black pepper and Mama Mia. : Bang Tao Beach in Phuket still retains the idyllic tropical charm, since it is hidden away from the main road. If you love a beautiful sunset, trust Bang Tao to take your breath away!
Where to stay at Bang Tao Beach, Phuket?
Patok Beach, Rawai
By Michelle from The Munching Traveller. Follow her on IG here.
If you're looking for a "private" beach without paying private beach prices, Patok Beach is the one for you. Patok Beach is located on Racha Yai, the main island of the Raya (or Racha) Islands. Located 12km to the south of Phuket, the Raya Islands is a popular destination for those looking for a relatively quiet beach and a luxurious holiday. Even though there are still quite a number of boats that bring day trippers from Chalong Pier or Rawai to its shores, you'll find sufficient space to swim, snorkel, or bask in the sun. There isn't a pier built on this beach so you'll arrive stepping on the floating platform, carefully balancing yourselves till your feet touches the fine white sand.

For those who are looking for adventure, the island also has an ATV activity centre and hiking paths. Many companies that organise day tours to Raya Islands would also bring you out to the waters surrounding Racha Noi, where you'll get to snorkel with lots of small colourful fishes.
Those who wish to enjoy more of the beach can book themselves into The Racha, a premium villa resort. Most day-trippers leave the beach at 4pm so you can have the rest of the beach all to yourself. Because you'll need to take a 45-minute ferry from Phuket to Patok beach, it remains relatively peaceful throughout the year as compared to the more popular beaches on Phi Phi and James Bond Islands.
Other famous beaches of Phuket worth checking out!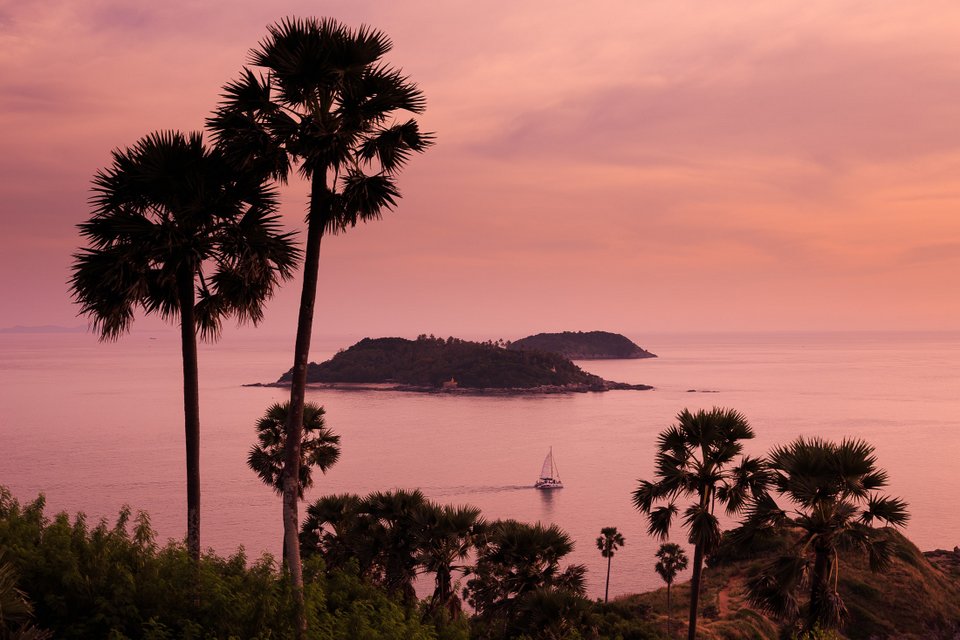 These beaches in Phuket are all housed on the west coast, meaning they all show a stunning sunset sky. They are usually dotted with high class resorts and family friendly too.
Karon Beach (one of my favourite beaches in Thailand. Book a stay here)
Nai Thon Beach
Nai Yang Beach
Surin Beach
Mai Khao Beach
Kamala beach
If you are planning a holiday around Phuket, assign at least 5 to 6 days. Click here to book your stay in Phuket.
Also read: An ultimate guide to travel in Mauritius, the African Island Paradise!
Natai Beach, Phang Nga Region Thailand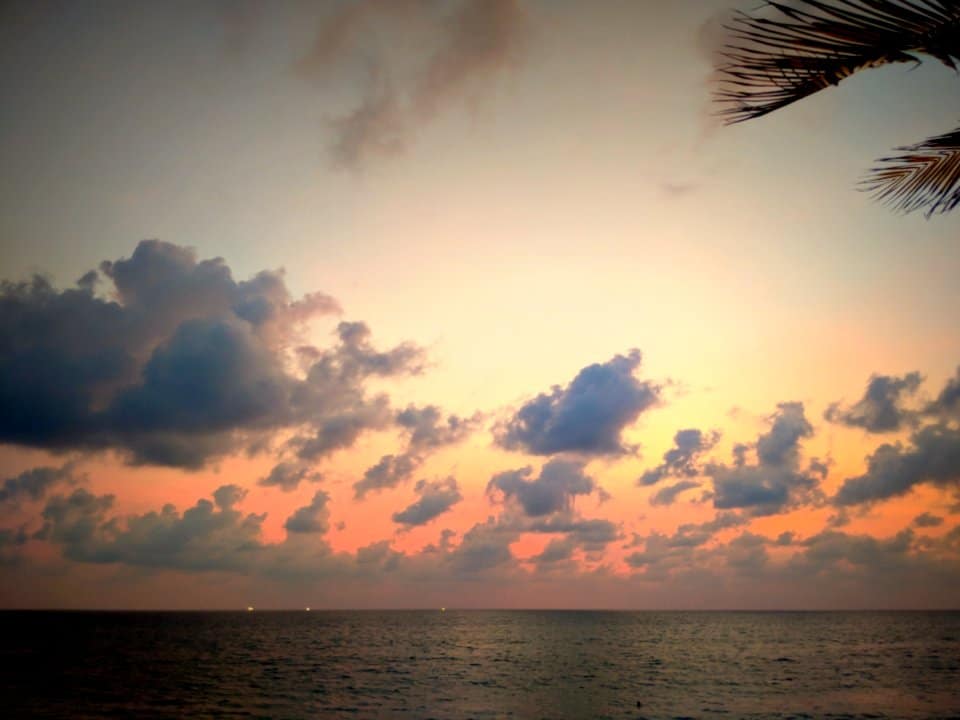 Since Phuket is the hot pie everyone wants a bite of, Phang Nga bay, a true hidden gem in Southern Thailand, often gets overlooked by holidaymakers. How unfortunate it is to let go the magnificent site of big waves, blue sea, endless white beach and hardly a soul around! A few discerning guests call Natai beach home for a few days in their Thailand itinerary in the sparsely distributed resorts. The vibe at Natai beach is very local, calm. From Natai beach, you can actually head towards Thakuapa, an old world Tin Mining town and eat a few local eateries (Khrua Nong for example) which appear to be humble yet have secured a mention in Michelin guide for all the right reasons.We dined at the local restaurant Fashi and it was amazing!
Where to stay at Natai beach: Santhia Resort, Natai Beach Resort
Ko Khao Phing Kan (James Bond Island) Phang Nga Bay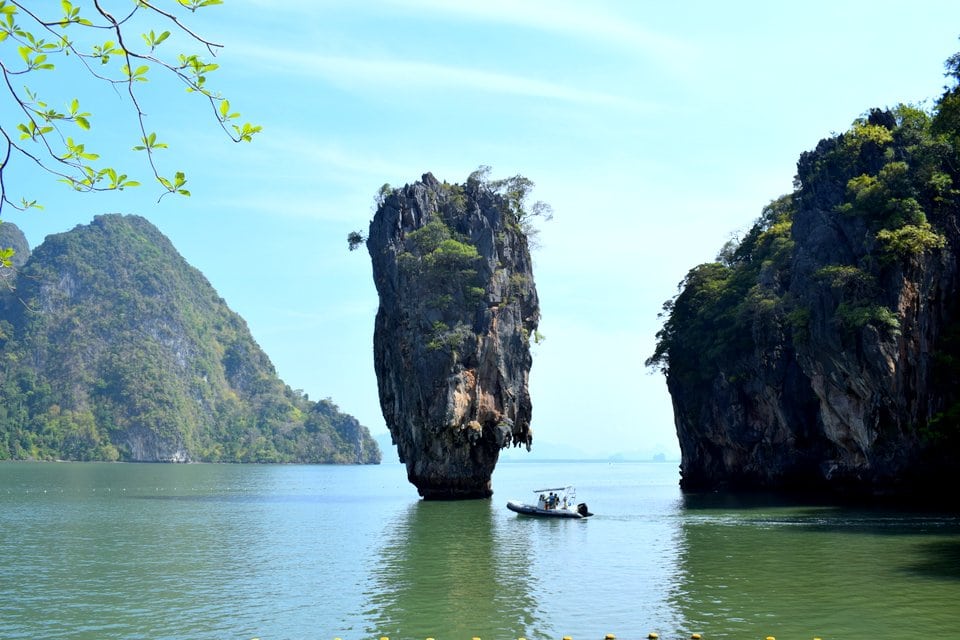 While the beach at James Bond island is not exactly overwhelming, the sight is!
An upside down rock stands with elan at the Phang Nga Bay marine park. Frequented by day trippers from Phuket, James Bond island is an attraction you must not let go. Famed from the Bond movie, The Man with the Golden Gun, the James Bond Island is best viewed early in the morning, During rest of your trip, head towards the bat caves (do not forget to look up once you are inside the cave), watch a few floating villages and marvel at the long tail boats, the iconic water-carrier to tread on the Thai Sea!
Also read: James Bond Island, Thailand
Koh Yao Noi (one of the twin islands from Phang Nga Bay)
By Ingrid Kirita from Ingridzenmoments (follow her on IG here)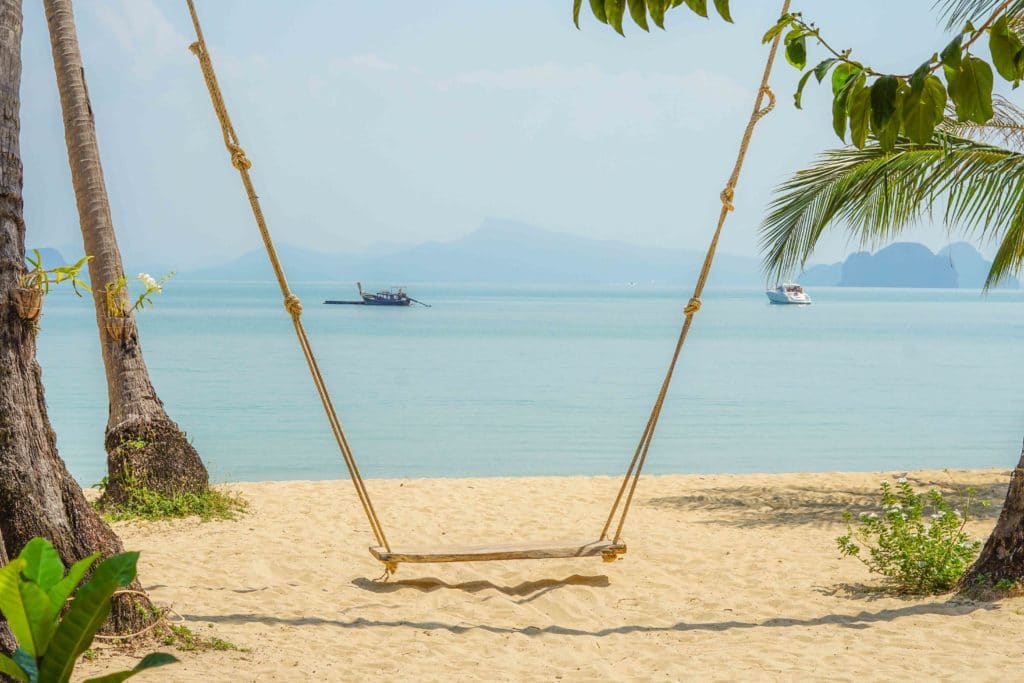 My first trip to Thailand wasn't to one of those popular places everyone has been to or at least has heard of. We chose to spend one week on a small island a few kilometers away from both Krabi and Phuket, Koh Yao Noi. The resort we chose was really secluded and had its own amazing private beach where we spent most of the day.
The easiest way of getting to Koh Yao Noi is by boat trip organized by your hotel. Paradise Beach Resort offers rides two times per day from both Krabi and Phuket, and you just have to sit back and relax for the 45 minutes you'll slide through islands. However, you can always self-organize your trip and book a ferry from various ports in Phuket or Krabi.
What I loved about this place, apart from the stunning views and sandy beach, was the variety of activities offered. We went kayaking and discovered several very secluded beaches where we were the only ones together with the tropical birds, and maybe monkeys.
We also took a half-day trip to the small island of Koh Phak Bia, a Natural Reserve in the heart of Thailand with crystal clear water and swings under the sun. Further, relax with a morning or afternoon yoga session on the beach, and we splurged in delicious Thai meals with our feet in the sand.
Also read: Travel Guide to Explore Koh Yao Yai and Koh Yao Noi, Best Kept Secret of Phang Nga Bay
Check out hotels for Ko Yao Noi here.
Also read: Why do I love Bangkok so much?
Koh Yao Yai (the other one of the twin islands)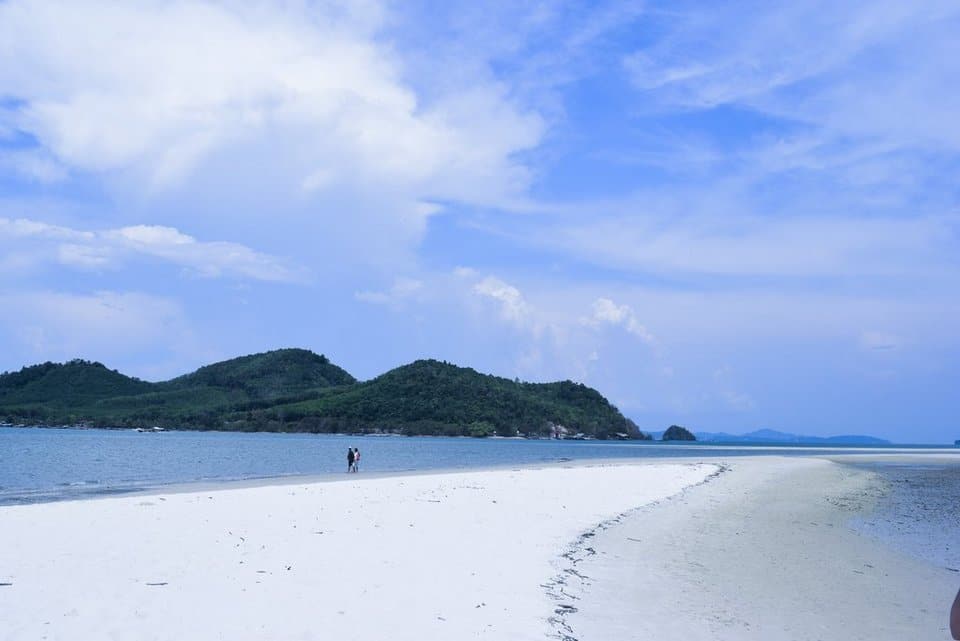 Far off from the bustle of Phuket, laid are two quaint little islets where horn-bills live alongside the fishermen's village. One of them is Ko Yao Yai. One moment, you are rolling down the high hill. the other moment you are rejoicing by the white sandy beach. Ko Yao Yai is a bespoke experience not everyone has in Thailand! Without a doubt, it has some of the best beaches in Thailand. I stayed at Santhia resort only for one night and long to go back there soon.
Since it is a small island, usually void of tourist footfall, there is a strong sense of community and you have a number of local experience. From collecting honey to painting batik on muslin, you get to know the locals like nowhere else in Thailand.
Check out hotels for Koh Yai Yoi here. Do check out Santhia Resort for an excellent stay!
Ao Nang, Krabi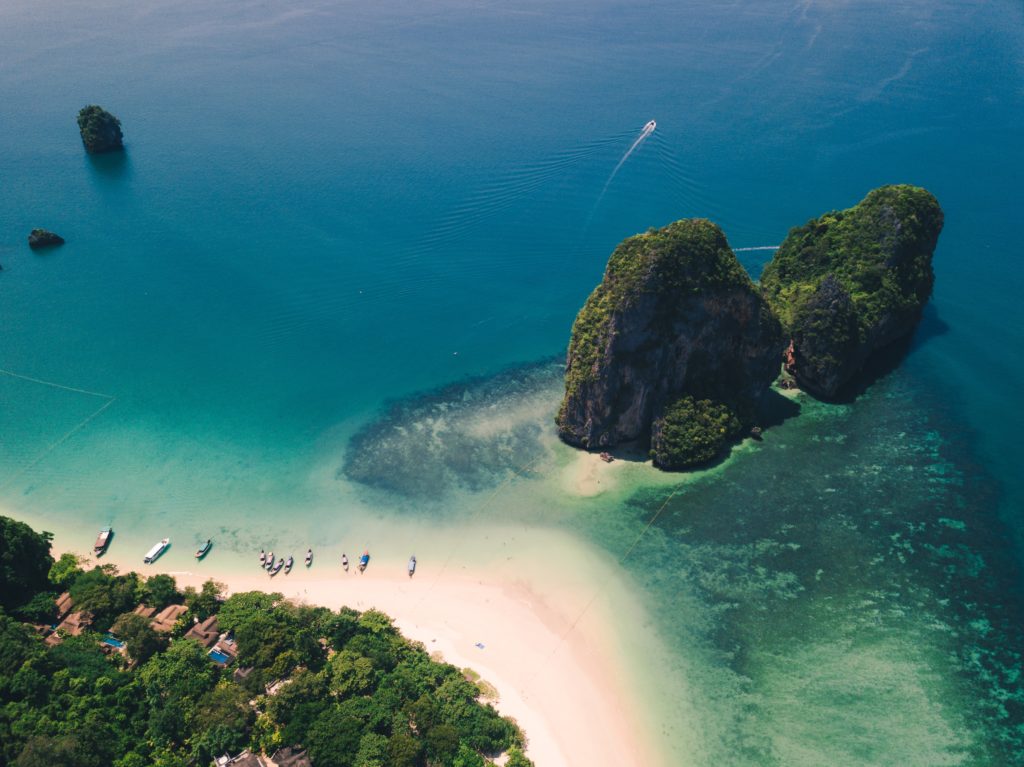 Krabi or Phuket? There is an eternal dilemma between these two hotbeds of Thai tourist towns. White Krabi is more laid back and charming (a but conservative too), Phuket is more bustling in vibes! Both are nice however, I prefer Krabi for her beauty and relative quieter demeanor.
From Krabi, make sure to visit Ao Nang Beach. In fact this is the main beach in Krabi and you are bound to visit here for a sunset stroll. Twin monoliths stand apart from the shore which is dotted with long tail boats. Plenty of dining and shopping area close by. usually, people come to stay in Krabi for a few nights and hop on to these long tail boats for island hopping!
Also read: 2 weeks in Malaysia
Check out places to to stay at the Ao Nang Beach.
Railay Beach, Krabi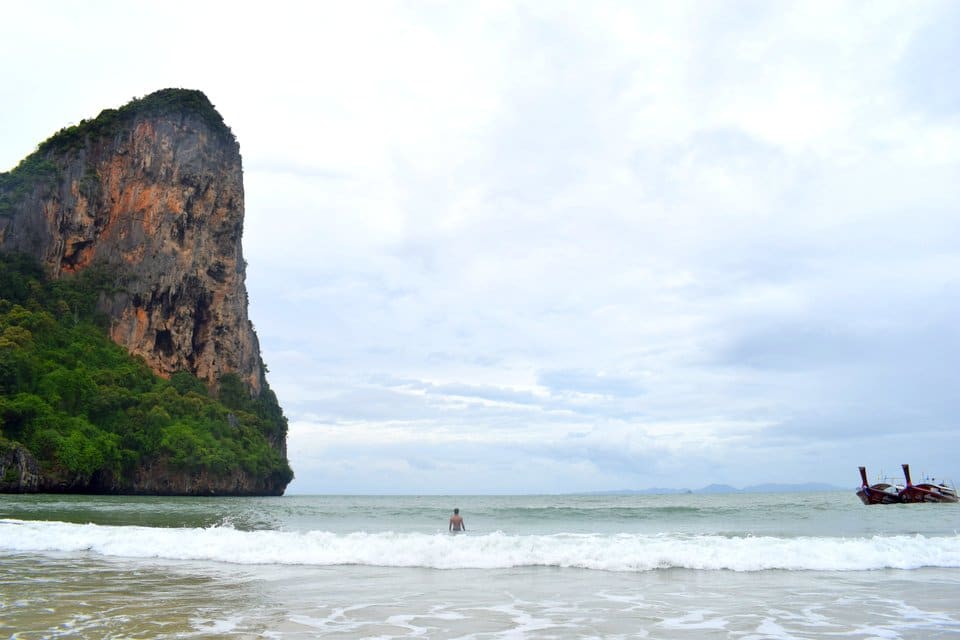 The first time I visited Railay, I mistook it for Krabi. A part of mainland yet separated by profound monolithic karst formations, Railay is a world of its own!
If Maya Bay sort of overwhelmed you with crowd pull, trust Railay to spell the Thai magic again! The beach of the west is white sandy and stretched into the ocean. It is more like a lagoon, calm and has some of the finest sunset portraits.
The beach on the East is a mangrove forest and shows myriad colors during low tide. Railay can be visited as a day trip from Krabi by long tail boats (100 Baht). Alternatively, you may choose to stay here for a couple of nights. It is one of the best places in the world for rock climbing!
Check out hotels to stay at Railay here.
Tonsai beach, adjacent to Railay beach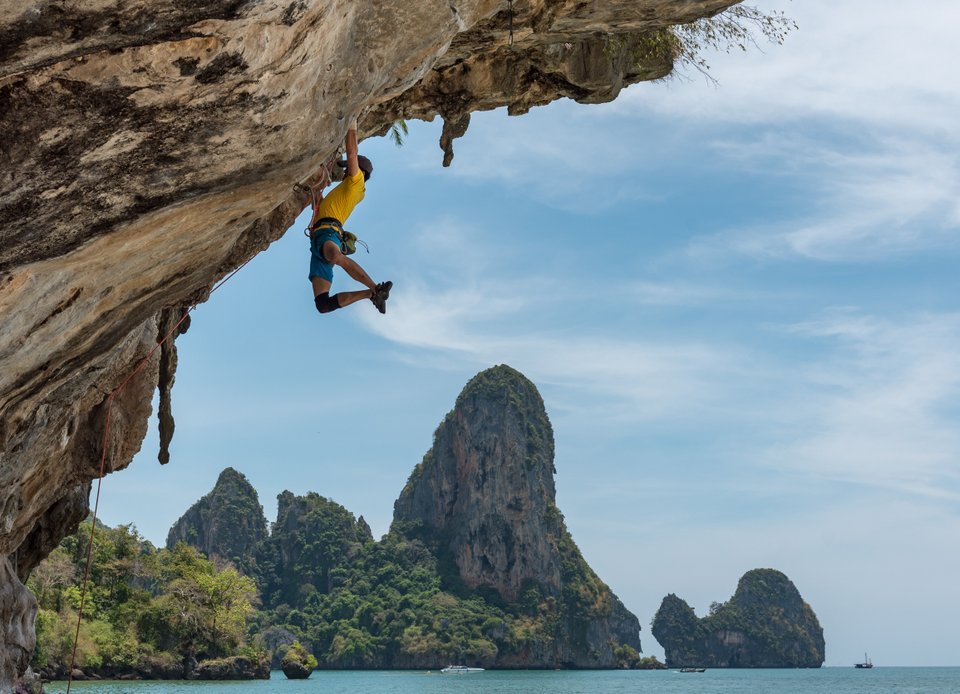 While Railay is a bit expensive by the virtue of being a resort island, you can choose to stay at Tonsai at the wee end of the bay for a more backpacking community vibe.
Paradise beach, Koh Kradan, Trang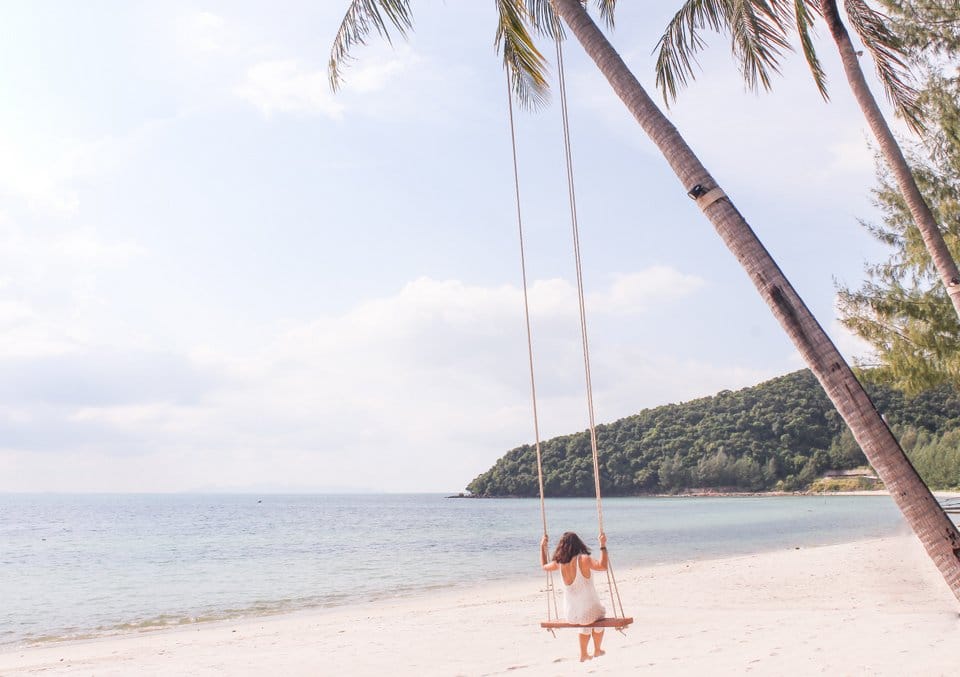 The Guardian has reported Paradise beach from Koh Kradan as one of the best beaches in the world. One step on it, you realize why. It is secluded and sombre in character. At the horizon, stands Ko Ngai, Ko Muk, Ko Libong in all their glory and fort a magnificent sunset show. The beach is apt for swimming and snorkeling. A day trip to nearby Koh Muk island should be on the plan.
Koh Kradan is a part of Hat Chao Mai National Park, a protected marine reserve. During low tide, you can actually walk halfway into the beach to the next island. From Trang main pier, you can hop onto any of the long tail boats, pay 450 Baht and reach Koh Kradan. It is one of the best place for honeymooners in Thailand.
Check out places to stay at Koh Kradan here.
Lamai beach, Koh Samui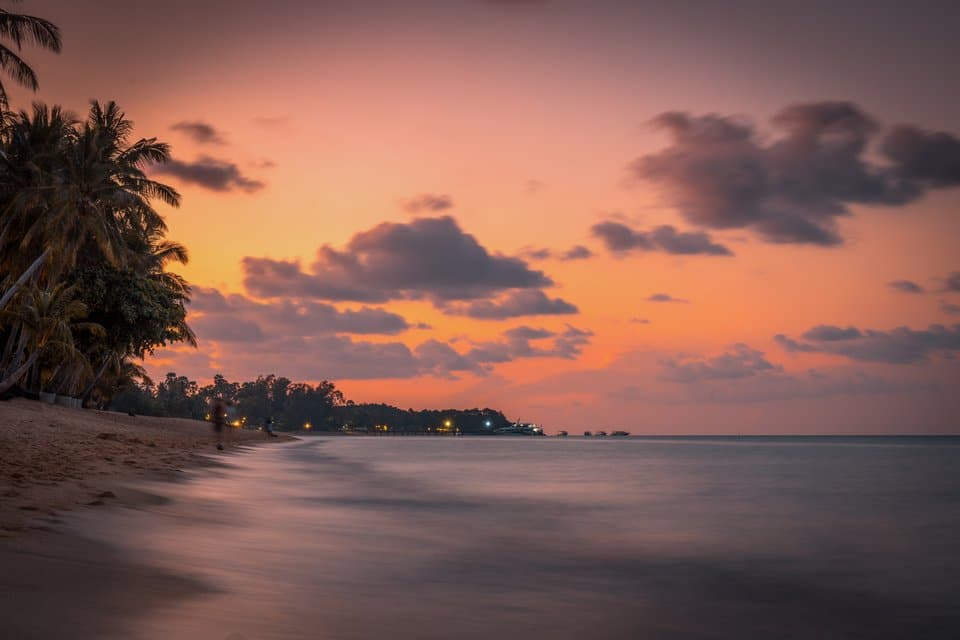 Lamai beach in Koh Samui is an upscale resort town where lounging by abundant sunshine is the mantra of life! Shopping and bustling nightlife are big draw of this area in Koh Samui.
If you are willing to go to one beach destination in South East Asia for honeymoon, look no further. Koh Samui is the best choice for honeymooners worldwide, next to Mauritius and Zanzibar! Check out great value hotels for Koh Samui here and make it memorable.
Chaweng Noi, Koh Samui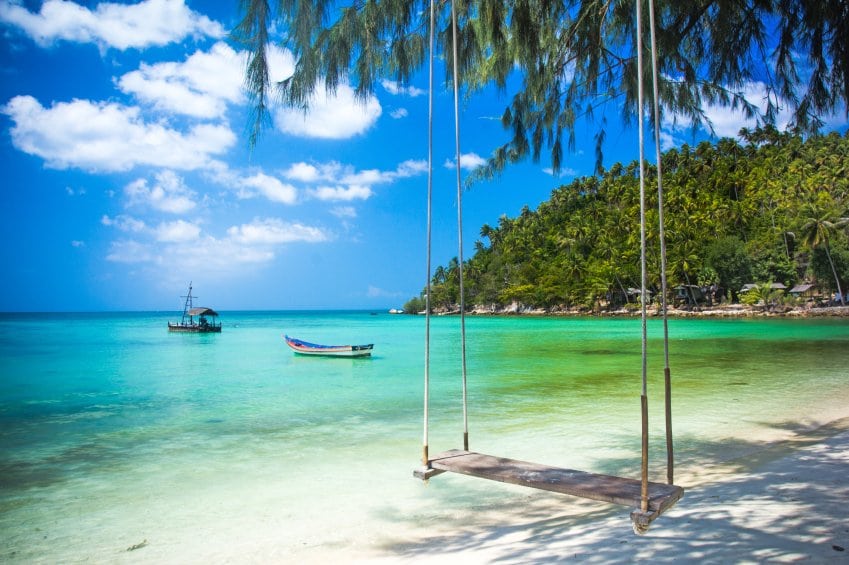 A long and shallow beach in Koh Samui, Chaweng Noi has been rapidly commercialized and arguably lost its charm in recent years. However, I remember from my past visit, Chaweng to be an idyllic stretch with crystal clear water and more.
Also read: How to spend a long weekend in North Goa
Koh Adang (Island in Ko Tarutao, Satun)
By Stephanie Ferry from Lets Venture Out (Follow her on IG here)
Part of the Tarutao National Marine Park, Koh Adang is the perfect day trip from Koh Lipe if you're looking to do some beach bumming with a bit of adventure. The beaches on Koh Adang are out of this world! Picture white-sand beaches where you'll rarely encounter tourists and crystal-clear water perfect for diving and snorkeling!
If you had enough of the beach, you can even hike to Pirate Waterfall or Chado Cliff viewpoint for stunning views over the island of Koh Lipe.
Although it can be a bit of an adventure to get to Koh Adang, it's still worth the effort since you'll get to enjoy one of the most secluded beaches in Thailand! You can only reach Koh Adang by taking a longtail boat from Koh Lipe for 100 baht each way.
The easiest way to get to Koh Lipe is by taking a high-speed Ferry from Langkawi in Malaysia. If you're coming from Bangkok, you can buy tickets directly on AirAsia for flights to Hat Yai followed by a minivan to Pak Bara Pier and finally a Ferry to Koh Lipe. Once you're on the island, you'll have to pay a national park fee of 200 baht which can also be used to enter Koh Adang.
Weather-wise, it's best to visit Koh Adang from November to April. In terms of accommodation, there is only one resort on the island which can be pricey. Cheaper alternatives include basic bungalows which are found next to the park ranger station or you can even camp in designated areas for a small fee.

Best hotels near Koh Adang. Check out here.
Also read: The happiest breakfast bowls from around South East Asia!
Ao Soun Yai Beach from the Island Koh Mak
By Gigi Milkovic from Beach Addicted (Follow her on IG here)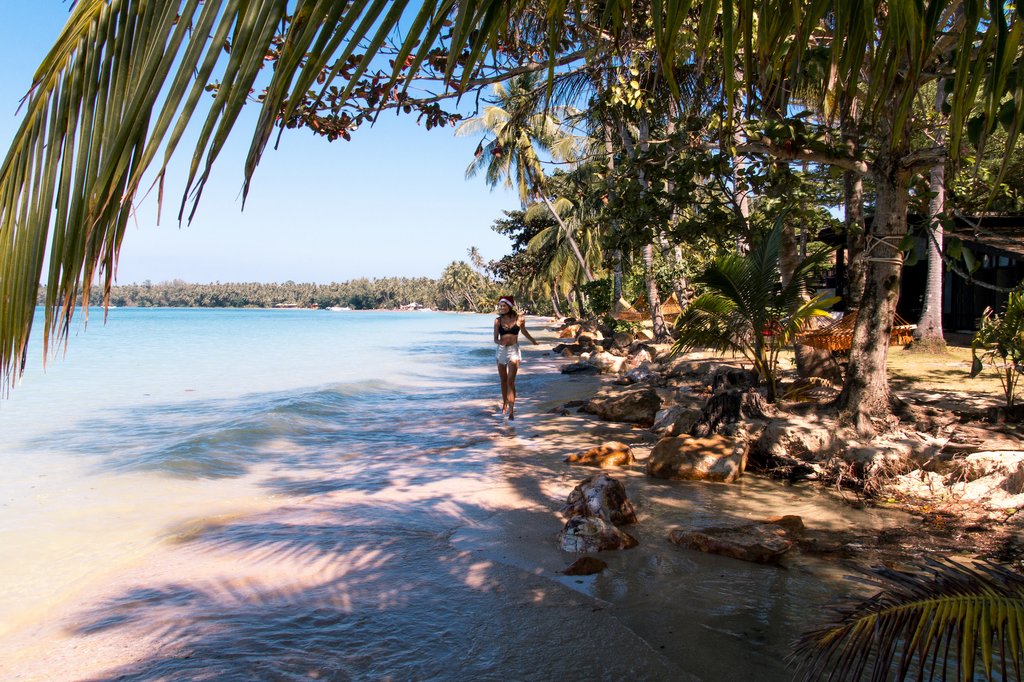 One of the best beaches we have visited in Thailand was Ao Soun Yai Beach on the small island Koh Mah. Koh Mak belongs to an archipelago of three islands Koh Chang. And if you are looking for a tiny place to relax, this is the place. The main beach is stunning with white sand, blue water, and the perfect spot for snorkeling. There are a couple of swings as well and small restaurants.

Koh Mak is such a special place for us that we decided to visit during the Christmas holidays, which was wonderful. Some of the trees were decorated, and there was a lovely atmosphere. We stayed in a wooden chalet on the beach, and the hotel was called Happy Days Resort.
The best time to visit Koh Mak is between November and February when the weather is mostly sunny and without much rain. You can easily reach Koh Mak from Bangkok. You need to take a bus which will take you to a pier called Laem Ngop. There, a boat will take you to Koh Mak.
From Koh Mak, you can go for a day trip to nearby Koh Kood and Koh Chang Island. However, I do recommend to come to these islands and stay at least one night as they are worth to explore as well. Koh Mak is definitely worth a visit, and we are sure you will fall in love as much as we did.
Check out best places to stay at Koh Mak here.
Also read: The Ethical Question of Traveling in Myanmar?
Sunrise Beach from Koh Lipe
By Sandrina Ferreira from The Wise Travellers (Follow her on IG here)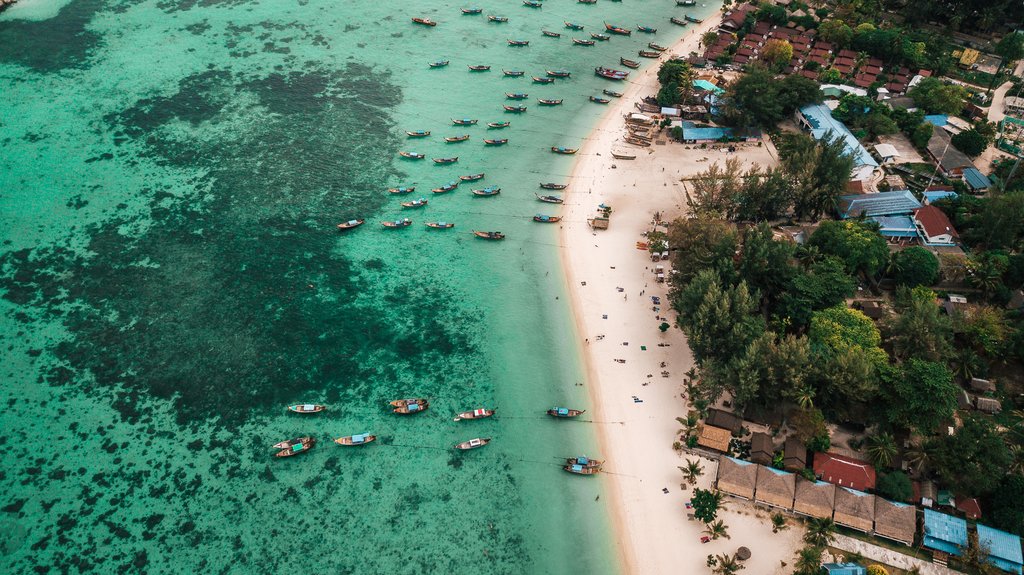 Sunrise beach, known locally as Hat Chao Ley, is located on the tiny island of Koh Lipe, Thailand. Koh Lipe island is in southwest Thailand, in Satun Province, just near the Malaysian border. In fact, from there you can easily enter in Malaysia.
During high season you can reach the island from several locations, most common from Koh Lanta, by ferry or speedboat. In low season it's more difficult. But there is a speedboat from Pak Bara.
Because of the increasing tourism popularity, the parks department is trying to control the buildings projects in Koh Lipe. Actually, the island is part of National Marine Parks around. You will have to pay an environmental fee to enter.
You can go around the island by foot, discover all the beautiful places. Sunrise beach, is on the west side, stretching 2km of white sand. As the name indicates is perfect to watch the sunrise.
The crystal-clear water and the great variety of marine life are excellent for snorkelling. This beach is also the less touristic in Koh Lipe. Some high-end accommodations are provided along the beach. In the morning is so quiet and relax, although Chao Ley village is nearby.
Due to the location, Sunrise beach is protected from the monsoon weather. This means even, in low season, the weather is pleasant, with no heavy rains. So, any time of the year is good to reach Sunrise beach.
From there, don't forget to explore the nearby islands and reefs, enjoy the sun and relax. Thai islands are unquestionably stunning but, the country has so much more to offer. Discover some of the best cities to visit in Thailand.
For hotels in Koh Lipe, check out here.
White Sand Beach, Koh Chang
By Karolina Klesta from Lazy Travel Blog (follow her on IG here)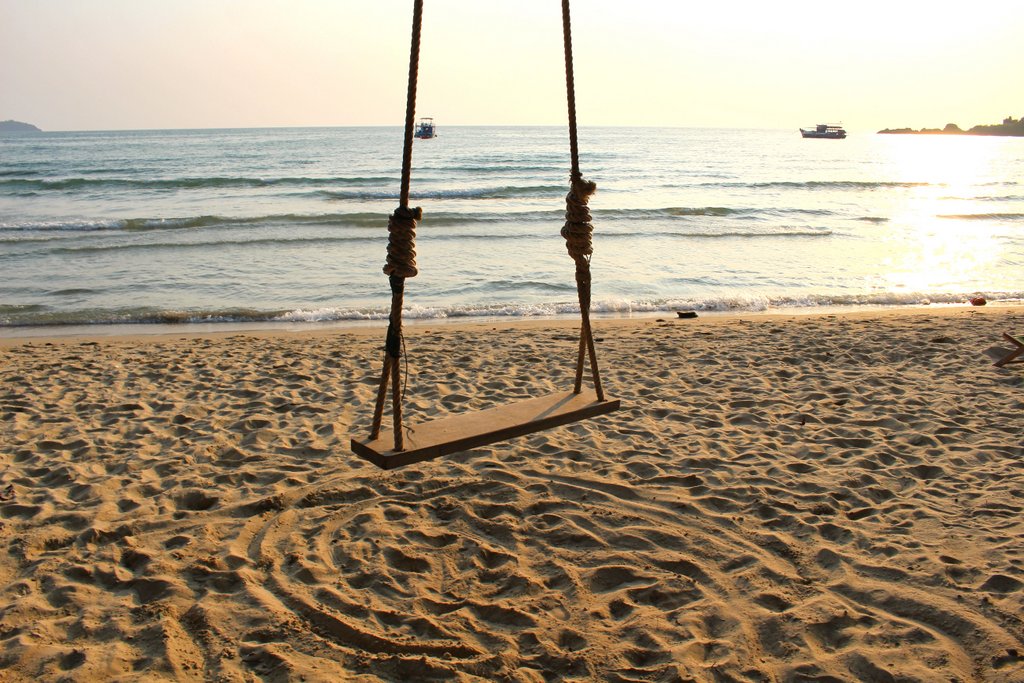 The best beach in Thailand's Koh Chang Island is the White Sand Beach. Known to the locals as Hat Sai Khao, it is the longest, most family-friendly beach in the island. By the long stretch of long white sand that the beach's name promises are bars, resorts, and restaurants, where you can lazily watch the sea from afar. With its calm water and gentle slopes, this is also the safest place to go for a swim with the family.
Not far from Bangkok, the capital city of Thailand, Koh Chang can be reached by taking a bus to Laem Ngop in Trat Province from Bangkok's Eastern Bus Terminal, followed by a ferry ride to the island of Koh Chang. These tickets can be conveniently purchased as a package deal from one of the travel agents in the city. Once a popular day trip from Bangkok, more tourists come to Koh Chang to stay for a couple of days, usually during the driest months of the year from November to March when monsoons do not ruin sunny beach days.
It is also in November when Thailand's most picturesque festival, Loy Kratong, which involves sending tiny boats adrift as an offering to Mother Water, takes place.
For hotels in Koh Chang, check out here.
Koh Lanta's Secret Beach
By Michael Jensen & Brent Hartinger
(Brent Hartinger is a novelist and screenwriter, and Michael Jensen is an author, editor, and travel blogger. Visit them at BrentAndMichaelAreGoingPlaces.com, or on Instagram)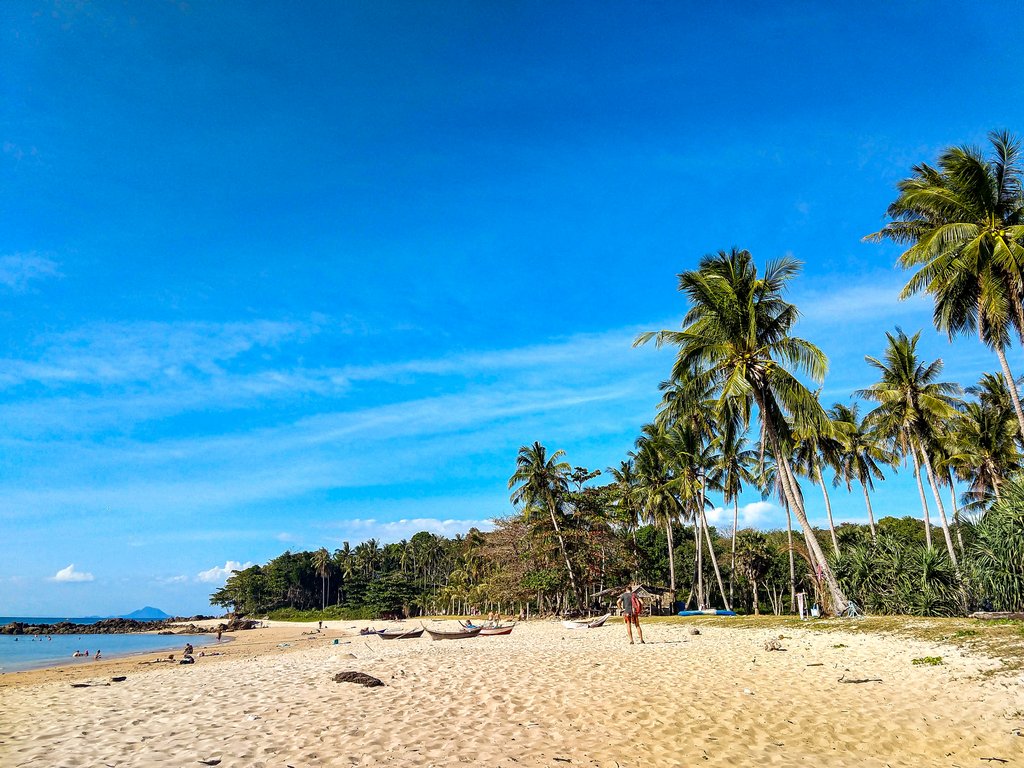 Koh Lanta, Thailand, is justifiably renowned for its glorious beaches and stunning sunsets.
But even on Koh Lanta, not all beaches are created equal. Our favorite? Secret Beach (also known as DK Beach).
What makes Secret Beach so special? And how secret can be if we're writing about it here?
Fortunately, Secret Beach is small, tucked between the island's more famous beaches, so it tends to be overlooked.
About seven kilometers south of Saladan, keep your eyes peeled for a red road with a small sign on the right reading, "Beach This Way."
Perhaps the real reason this beach is secret is nothing more than poor signage!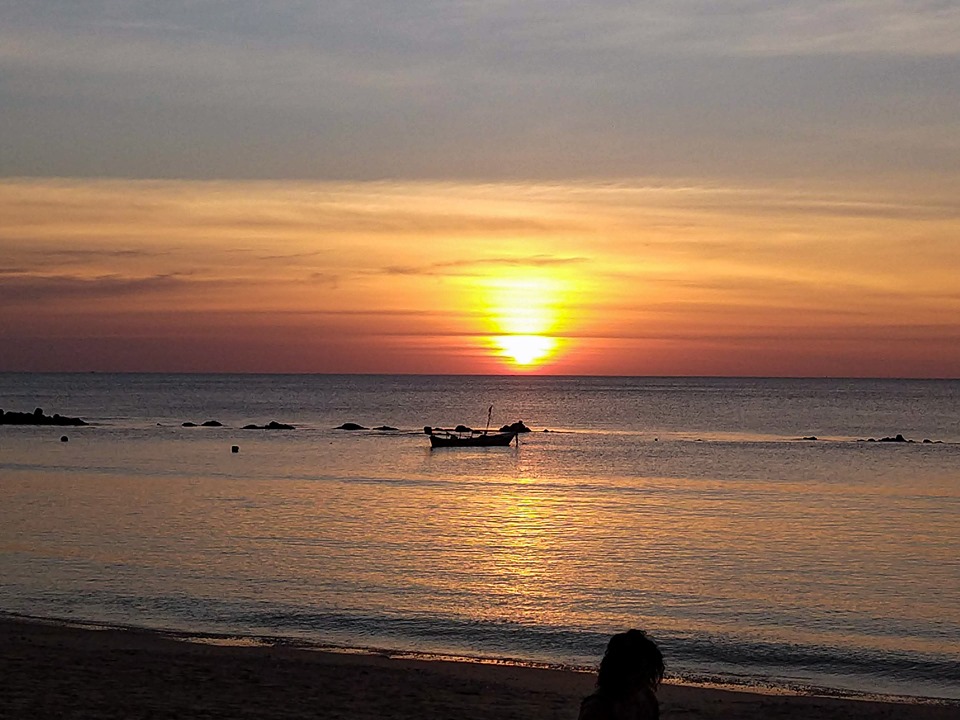 But it's absolutely worth visiting. An unspoiled crescent of golden sand looks out over stunning blue waters.
Another hidden cove, even smaller, is situated to the north, if you follow the pathway into the jungle. Here jagged black rocks punctuate the water, and palm trees provide well-needed shade.
The perfect end to your day? Keep walking north to yet another beach, which has a row of funky bars right along the sand. The sunset looks even more spectacular if seen while lying in a beachside hammock and sipping a frosty cocktail.
But before you go, you have to promise to keep the secret of these wonderful beaches just between us.
Koh Lanta is an excellent choice for honeymoon in Thailand or in case you are traveling with the family. check out the beach villas of Koh Lanta and book your stay for a good value.
Check out some of the best hotels of Koh Lanta here.
Also read: 50+ stunning pictures from Thailand!
Koh Phi Phi Don
By Trijit Mallick from BudgetTravelBuff (follow him on IG here)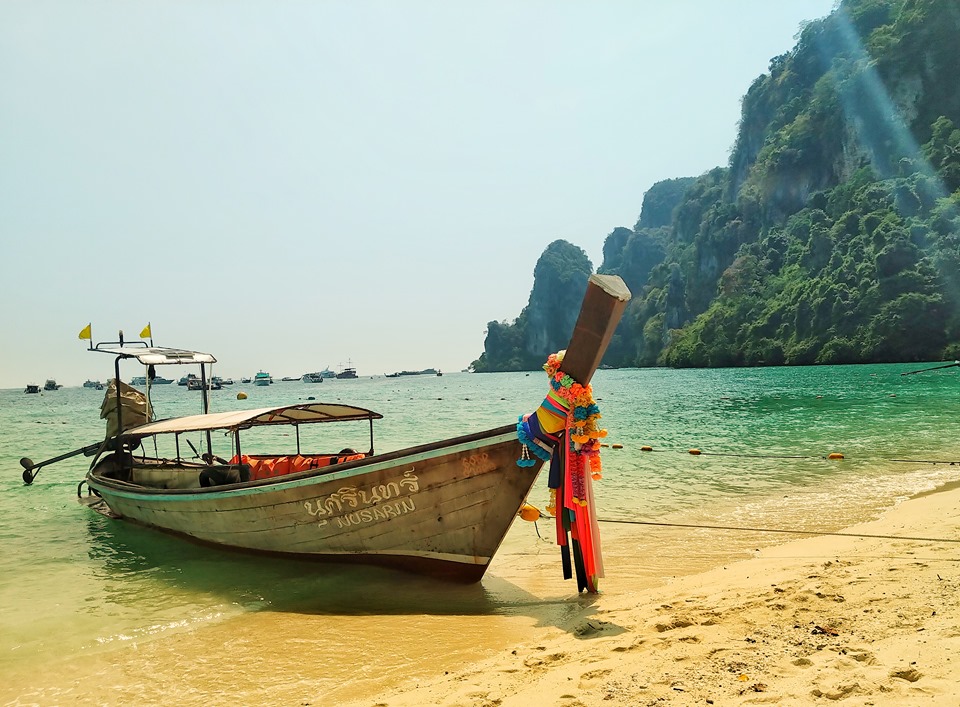 You cannot afford to miss Phi Phi Don Island while traveling solo in Thailand. This happens to be one of the most beautiful beach in Thailand, even though it is crowded. There is a total of 6 islands in Koh Phi Phi, most of which are uninhabited. Two main parts of Koh Phi Phi are Phi Phi Don and Phi Phi Leh. Most people like to spend more time in Phi Phi Don for its surreal beauty. It is one of the most beautiful islands in Thailand. Phi Phi Don island is located in Krabi province. It will take around ninety minutes if you are traveling from Krabi. If you want to come from Phuket it takes around two hours by ferry or speedboat. November to April is the best time to visit Phi Phi Don island. The temperature ranges between 22°C to 30°C, making a pleasant weather around this time.
Things to do in Phi Phi island day trip:
Visit Maya Bay that came to under limelight for the Hollywood movie 'The Beach'. Even though Maya Bay is now closed for tourists, it is still worth a visit from the deck of your speedboat.
Monkey beach is another popular sightseeing that is accessible by long tail boat or speedboat. It is home to a large population of monkeys.
You can hop around the beaches of Koh Phi Phi and take a sunbath at pleasant weather.
Long Beach is perfect for snorkel in the crystal clear water with beautiful coral.
Explore the Ton Sai village. It is a little quiet village at you can explore by foot. Enjoy the picturesque sunset in a calm atmosphere with a glass of beer.
Many tour operators conduct a full day trip to Phi Phi island with Maya Bay from Phuket and Ao Nang. These organized tours are the most convenient way to visit Phi Phi Don Island. This kind of organized day trip includes hotel pick-up, minivan transfers to the bay, a ferry ride, speed boat or premium catamaran to Phi Phi island and many more. A buffet lunch in Phi Phi island is also included in the day trip cost.
A full day Phi Phi Island Tour costs around 1500-2000 Baht depending on the number of travelers and type of boat.
You can also stay overnight in Phi Phi island. If you are looking for quiet accommodation you can stay at any of the small beach hotels near Ton Sai village area. I will highly recommend to stay at Phi Phi the Beach Resort for its best location and beautiful scenic view from the balcony.
Check out best places to stay at Phi Phi Island here.
Lonely Beach, Koh Chang
By Audrey Chalmers from Gumnuts Abroad (Follow her on FB here)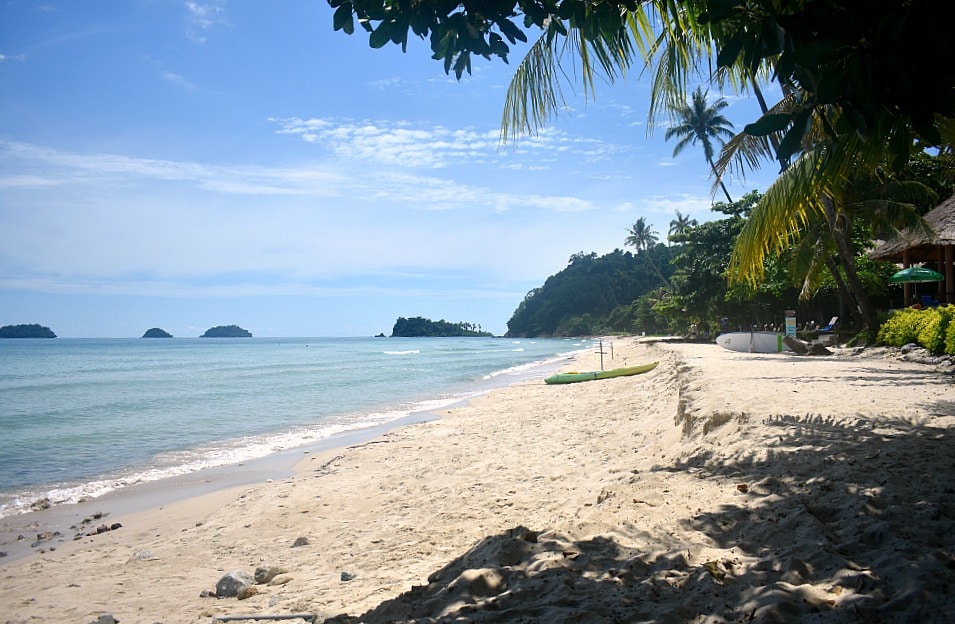 If you're looking to spend some time on a Thai beach with a friendly, laid-back hippy vibe then head to Lonely Beach on Koh Chang. It's a great place to meet backpackers, party people, solo travellers, and even flashpackers like us. After spending time at the busy (but awesome) Ao Nang beach we were looking for something a bit more chilled out, and Lonely Beach was the perfect spot.
The beach is clean, with soft sand, clear warm water, and it isn't overrun with too many people. It's easy to find a quiet spot away from other beach-goers, while the busier parts are filled with hip tunes from the nearby beach bars. The best time of day to visit is between 3 and 5 pm when the sting has gone out of the sun and there's less people on the beach.
The sun hangs low softening the harsh sunlight and it's the ideal time to go for a swim. Once you've finished your dip in the ocean finish the day with a cocktail and an amazing sunset at one of the nearby beach bars. What else could you ask for!
Check out some of the best beach stay of Koh Chang here.
Bottle Beach, Koh Phangan

By Chloe & Michael from Nomad And In Love. Follow them on IG here.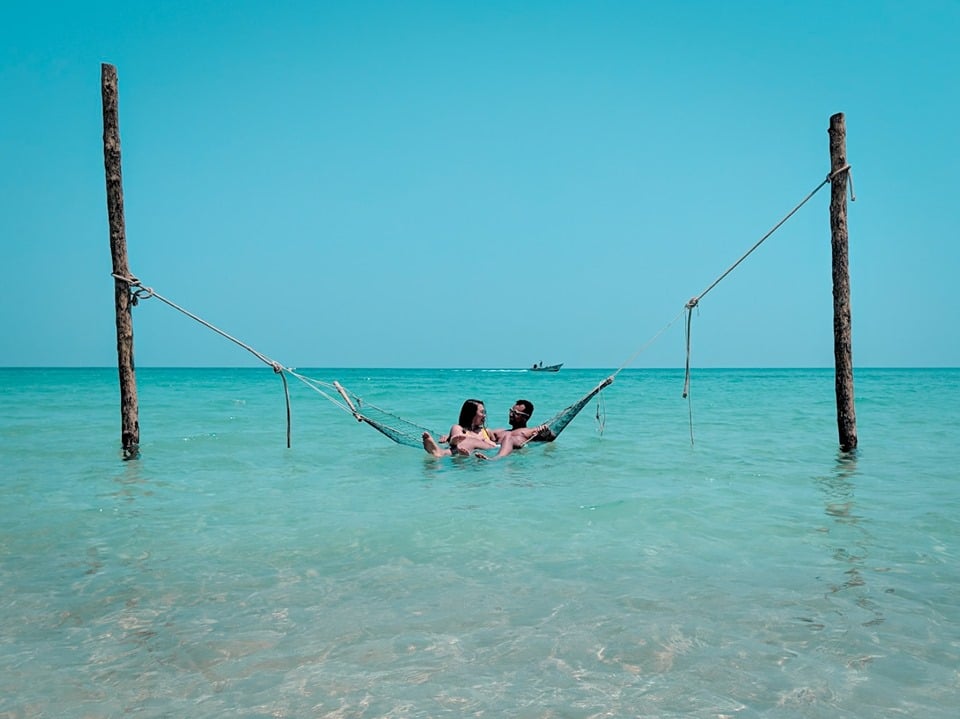 Looking for a beach that has crystal clear turquoise waters, soft powdery sand AND is peaceful and quiet? Sounds too good to be true? Well at Bottle Beach in Koh Phangan, it's not.
That's because it isn't easy to get there by yourself. The easiest and safest way is to take a taxi boat for 150 baht (short 15 minute ride) from Malibu or Haad Khom Beach to Bottle Beach.
Or you could be adventurous and hike there. It will take around 2 to 3 hours to climb over the mountain and onto the beach. Google Map suggests a route via motorbike, but we don't recommend it because the steep uphills and downhills can be quite dangerous.
Taking a taxi boat may seem like too much effort to get to a beach, but it's completely worth it if you want to relax at the most beautiful beach on the island in Thailand that's also not crowded. It's like having a slice of paradise, all to yourself.
The cherry on top? It's one of the only beaches we found on Koh Phangan that has a hammock, right on the beach.
The best time to visit Koh Phangan island is between November and April, outside the monsoon season. If you'd like to experience the original Full Moon Party, make sure to come around full moon for that.
Optional:
To find the ultimate spots on Koh Phangan for snorkelling, sunset photography and the most vibey beaches, check out this 10 Best Beaches in Koh Phangan guide.
Check out great hotels at Koh Phangan here!
Koh Ngai
By Chris from More Life in Your Days.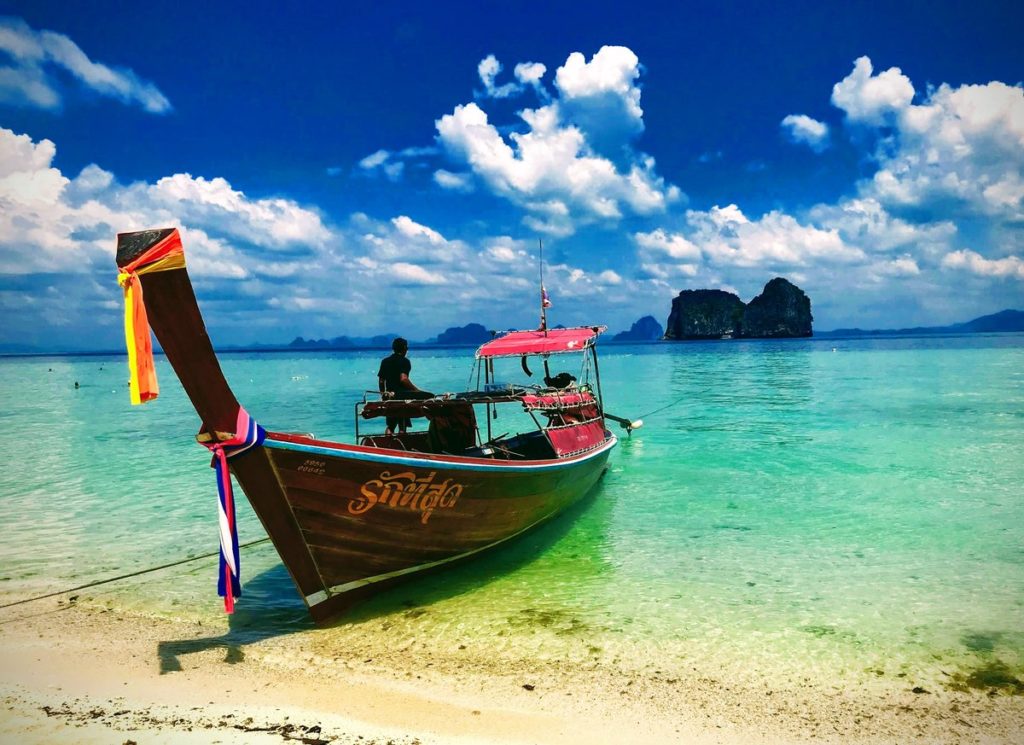 Koh Ngai is a beautiful island that lies off the west coast of Thailand. The main beach here is incredible, with perfect white sand and warm shallow seas that make from great snorkelling spots. It is the view that really sets this beach apart with several karst islands dotting the sea and more distant views to Koh Mook and the mainland providing the perfect vista.
We think that tiny Koh Ngai in the Andaman Sea is home to not one, but two of the best beaches in Thailand. If you can drag yourself away form the main beach you can discover 'Paradise Beach' on the other side of the island. The best ways to get here is to either kayak your way around or to take the short jungle trek through the interior of the island. Fringed by palm trees, Paradise Beach certainly lives up to its name.
Most of the accommodation on the island is strung out along the main beach and there is just one place to stay on Paradise Beach. All accommodation is pretty low key and Koh Ngai remains largely unspoiled.
Koh Ngai is best visited between November and April when it is easy to get to by ferry or speedboat from a variety of nearby places, including Koh Lanta, Phuket and the Trang mainland.
Whilst we think that it is well worth staying a few nights on Koh Ngai (since it is one of the most beautiful beaches in Thailand), it can easily be visited on a day trip. Lots of people see Koh Ngai as part of the 4 islands tour from Koh Lanta and it can also be reached from Koh Mook or Koh Kradan.
Coco Cottage is a beautiful place to stay here. Sea Camp has a hostel too.
Also read: 2 weeks in Myanmar, the ultimate Guide!
Bang Bao Bay at Koh Kood
By Jon Algie of Jonistraveling (follow him on IG here)
Bang Bao Bay, on the island of Koh Kood, is easily one of the best beaches I've seen in Thailand (and I've been to quite a few islands now). The sand is white and the water is that exotic blue colour that you often see in tourism brochures and Instagram feeds. It's perfect for a relaxing beach break and there are a few resorts, bars and restaurants to hang out in. Needless to say, Bang Bao Bay is has rightly secured its place in the list of best beaches in Thailand.
It's also an awesome place to watch the sunset. There's a pier with some swings nearby and the whole scene makes for a special atmosphere.
You can easily get to Bang Bao Bay from the ferry port but moving between beaches on Koh Kood is a little harder. Of course, once you reach Bang Bao Bay you might never want to leave! You can walk to a few other beaches nearby, including Khlong Chao Beach where you'll find some of the bigger resorts on the island. Getting to Koh Kood involves catching a bus to Trat and then a ferry – it's closer to Bangkok than the southern islands and is a short boat ride away from the more popular island of Koh Chang.
Koh Kood is a large island but isn't particularly popular, which gives it a far different feel to places like Koh Phi Phi, Koh Samui and Koh Chang. It's perfect for couples and families, but those looking for parties might want to look elsewhere. The best time to visit is November to February.
Check out great value hotels in Koh Kood here. Soneva Kiri is one of the finest resort not only in Koh Kood but in the entire world. The beach has plenty of beautiful homestays too, for example Dutchman and Kood Life.
Simlian Island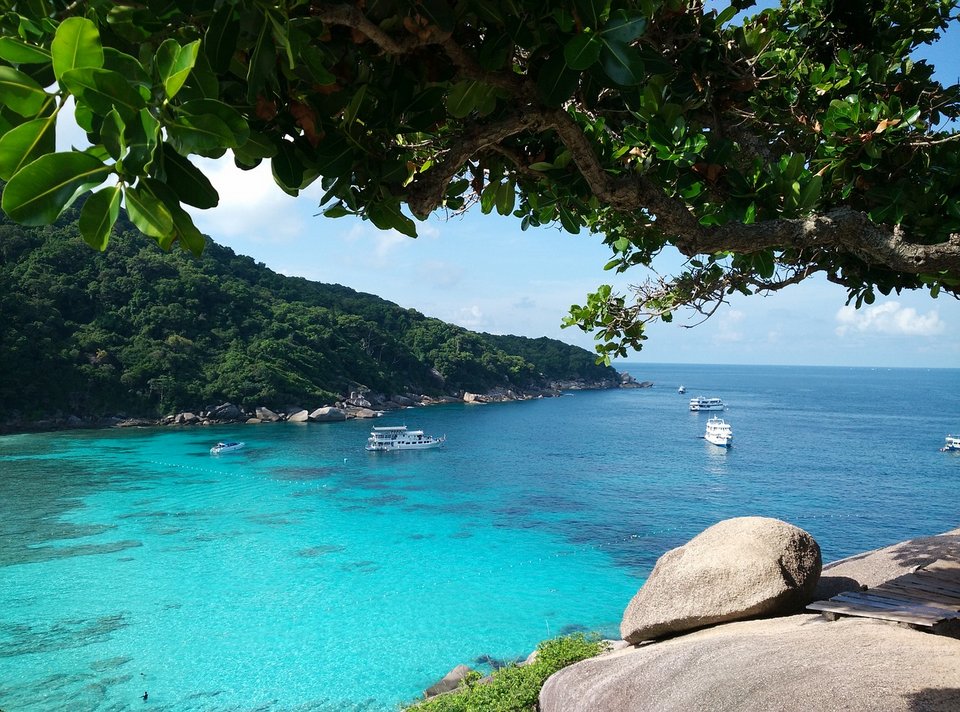 Although you can not stay here overnight, Simlian island is one of the best diving spots in Thailand with profound rock formations and exotic coral under the water. On the rocks, Simlian houses rare wildlife, like hairy leg crabs! To protect the island from environmental damage, certain areas are restricted. Close to 5000 people visit Simlian on a daily basis during high season. There are hour long ferries running from Puket as day trip however Simlian is best accessed from Khao Sok National Park.
Other amazing beaches in Thailand!
Jomtien beach, Pattaya
Hua Hin, Resort town close to Bangkok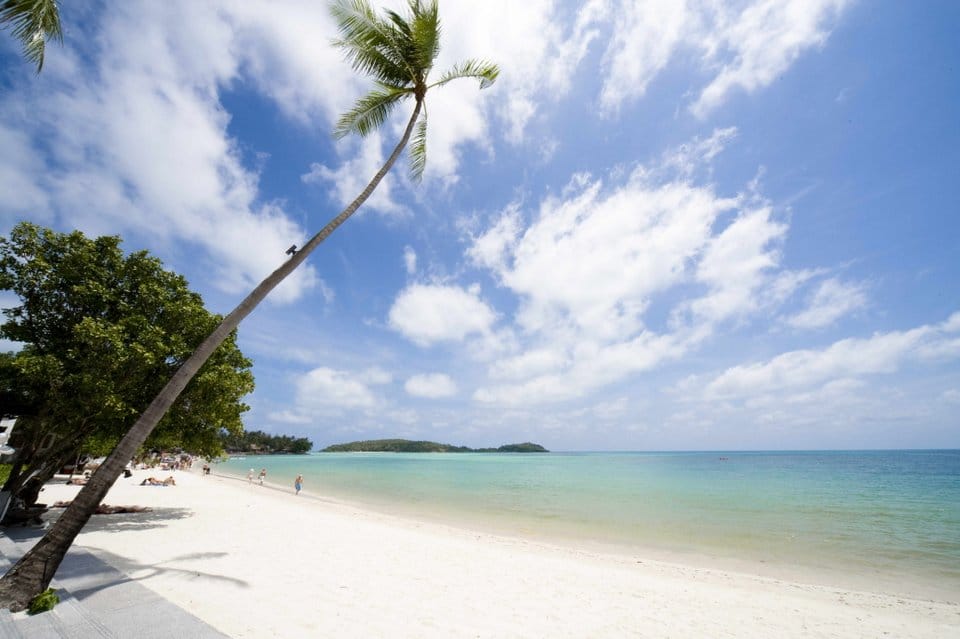 Pin it for later!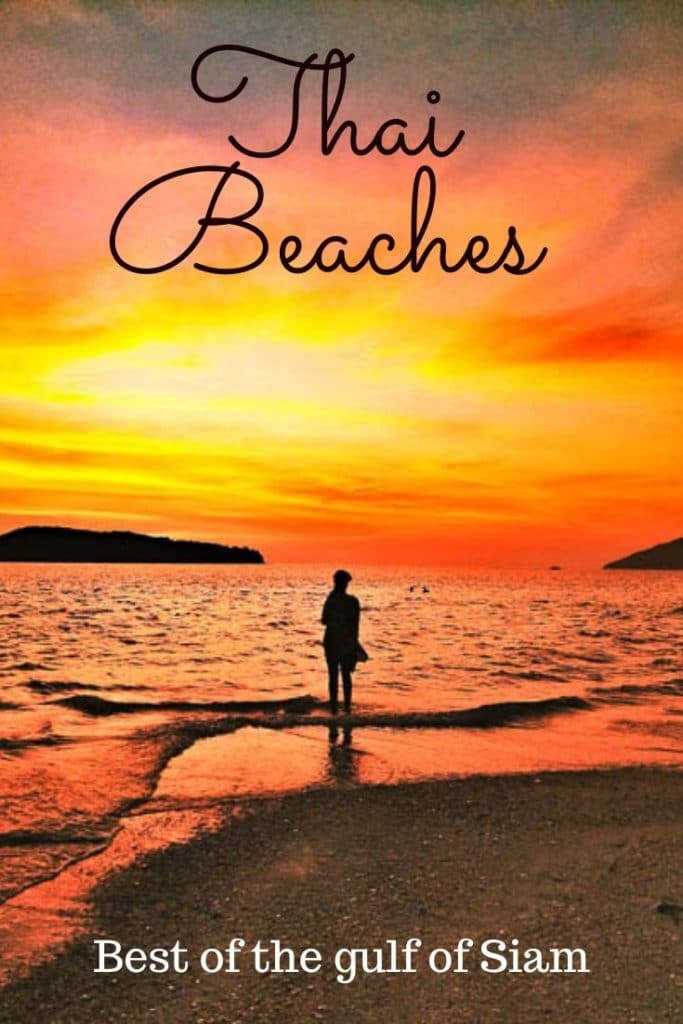 This post may contain affiliate links. Please read the disclosure post. If you have liked the article, you may support it by buying using these links without any extra cost to you.
Let's stay connected on Facebook, Instagram, Twitter! You may also consider joining my mailing list. I send travel and photography related emails only once a month!