Breathtaking sunsets, dense mangroves, sumptuous sea-food, kind locals and the highest suspension bridge set over world's oldest rain forest vista, Langawi has a lot of exciting things to do! We spent three days in Langawi, Malaysia's answer to tropical island. We were spellbound by this relaxing vacation. This mega blog post is the only guide you need to plan a fulfilling vacation to Langkawi.
Read all travel articles on Malaysia!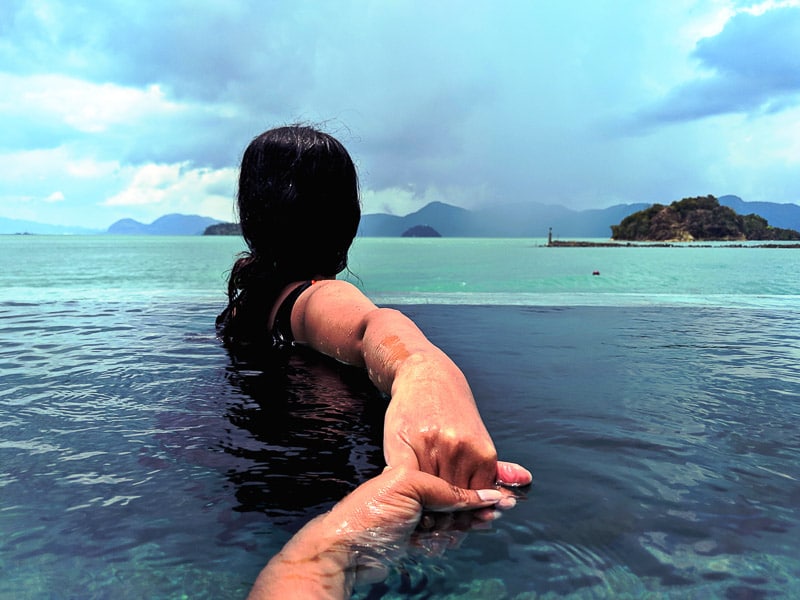 Langkawi. A small island lits up like a star on the west coast of Malaysia. A honeymoon paradise and an idyllic family retreat, Langkawi spells bliss and leisure at one go.
A tropical island, Langkawi lives up to the pristine waters of Andaman Sea and limestone karsts rising their head atop the water every now and then. Nature is old and wise in Langkawi, ready to blow your mind!
A friend had once proclaimed his love for Langkawi, that he wanted to visit this place for honeymoon. He moved to the US and his honeymoon was all about Hawaii. We filled in his shoe and decided to bask under the glorious sun at Pantai Cenang, one of the iconic beaches of South East Asia!
Things to know before planning a trip to Langkawi
Assigned as a Geo-park by UNESCO, Pulau Langkawi (Pulau means Island in Malaysian) archipelago along with 99 other small and big islets has been ushered with nature's bounty. All of the small islands are uninhabited and only safe to access during low tide.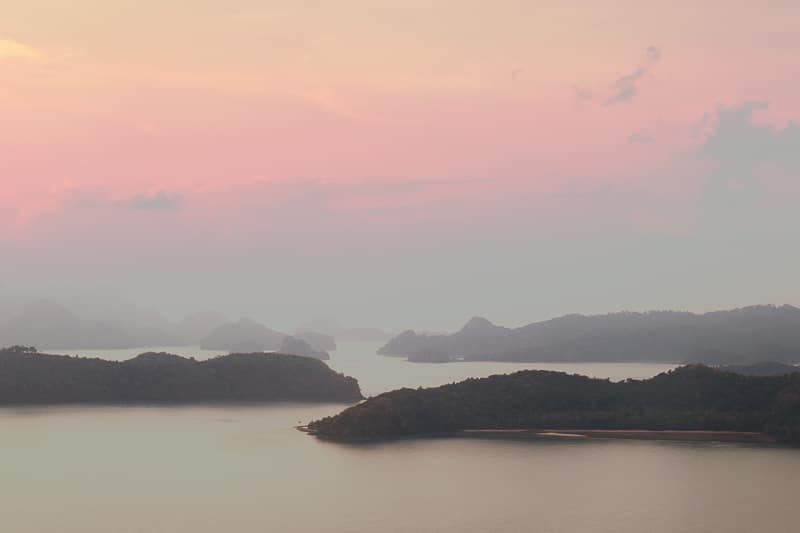 Being a duty free island, there is a lot to shop for in Langkawi. Almost all major international brands are present and you enjoy a VAT refund on the way back home at airport. Kuah town is the best place to shop in Langkawi however I would not recommend Kuah to stay in. More on the best neighborhoods in Langkawi for a relaxing vacation is discussed later in this post.
Get your hands on a map as soon as you reach the airport. A number of pamphlets await you at the visitors' center and mark the areas that you plan to cover. This will help you plan your stay accordingly.
Langkawi has beautiful driveways stretching out to the horizon and makes for a great driving/biking experience. We rented a bike on a daily basis.
Pro tip: Check if the bike is in decent condition. The one we rented gave us trouble near the sky bridge and would not change gear. If need be, ride for a while.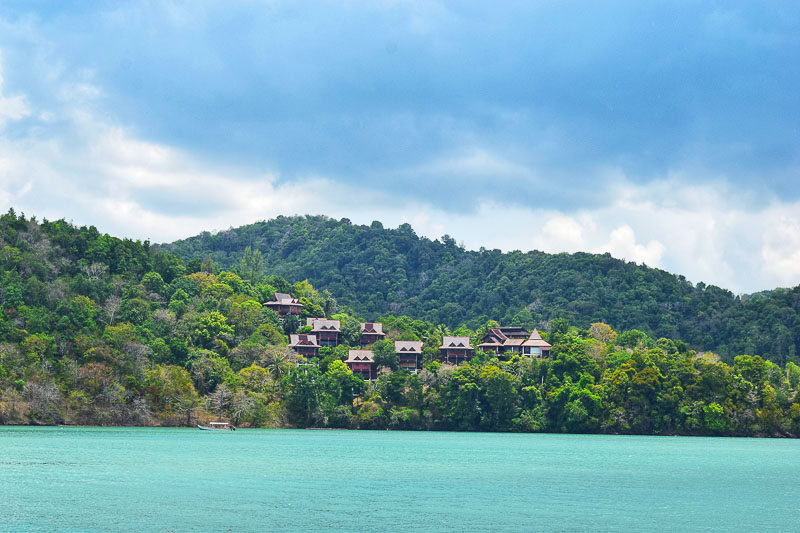 Understand Langkawi's culture: Langkawi, like the rest of Malaysia, is a Muslim majority island. Modest clothing is encouraged here though not enforced. Bikini and swimsuits are worn at the beaches where burkini or hijab clad women also bathe and make merry.
Langkawi, being a tourist's favorite island destination, enjoys all sorts of conveniences befitting the business travelers and family travelers.
Alcohol is sold in abundance almost at every place though Langkawi nightlife does not live upto that of Phuket or Zanzibar.
Weekends are usually observed on Friday and Saturday basis with Sunday being the beginning of the week.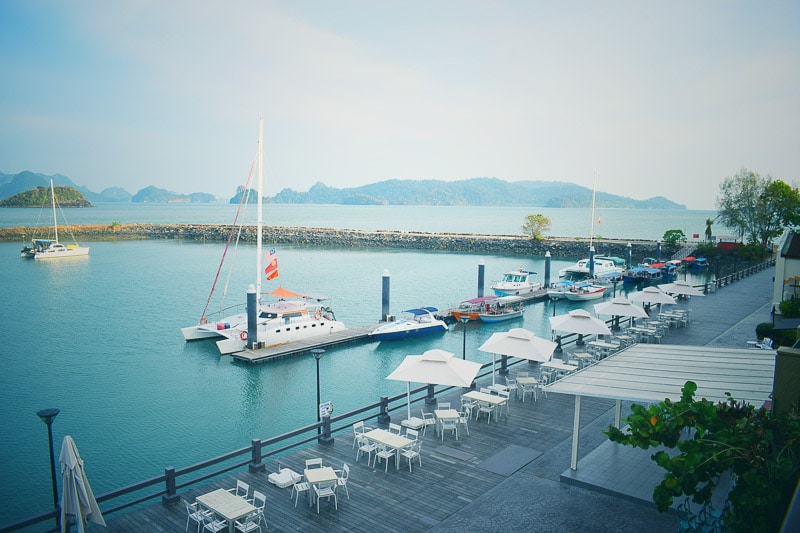 Visiting Langkawi during the month of Ramadan, yay or nay?
If your travel dates fall during the month of Ramadan ( a month of when Muslims observe fasting during day and celebrate Eid by the end of the calendar month), please be cognizant of the fact that a number of Malay eateries remain closed during day time. Though the Chinese eateries or joints like subway etc will remain open all day. Business runs as usual. It is comparatively calm with less number of local tourists. The Ramadan special markets of Langkawi comes abuzz with great (far greater than the regular time) options of local dishes, which is a delightful highlight. They are open from 3 pm to 7 pm and serves a delectable array of local produce.
Visiting Langkawi during Ramadan also result in finding great deals in reputed hotels.
Ramadan in Langkawi does not mean the tourist sites or theme parks will remain closed. Hence you will have plenty of things to do in Langkawi.
Ramadan food-walk is a delight in India too, specially in Hyderabad or Kolkata!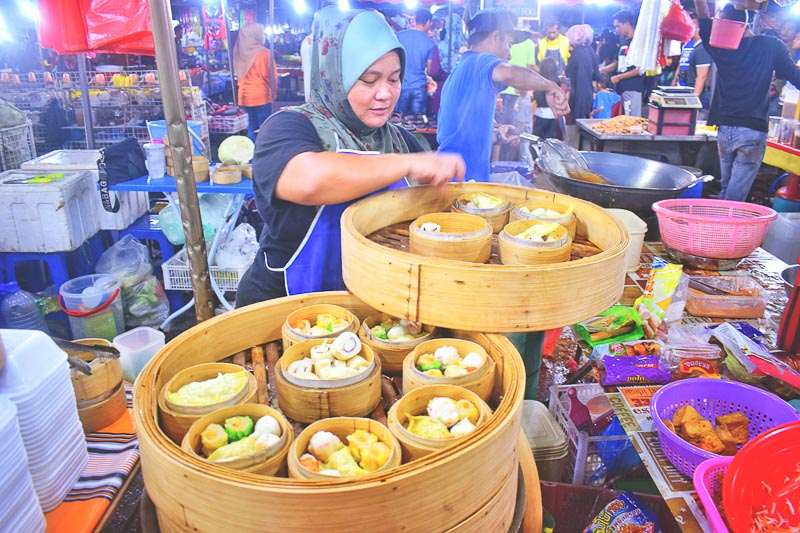 ATMs in Langkawi are found at the Arrival hall at the airport, at the Oriental village, at Kuah Town. Not a lot compared to Kuala Lumpur. A few banks that you should look out for Malayan (logo of a tiger head and yellow), Bumiputra-Commerce, Hong Leong Bank. be cognizant of the financial scams.
Hotels and restaurants in Langkawi accepts cards at large and usually do not levy mark up.
Langkawi (or Malaysia) has a chain of convenience store named Chois, a lot like 7/11 in Thailand.
For shopping at the duty free shops, USD and Euro were accepted too, just in case you are not keen on losing mark up at exchange stalls. the night markets and local taxis run on cash.
In my experience, KL gives a much better exchange rate than Langkawi. I would recommend you to carry local ringgits to the island if you are traveling from KL.
Ongoing exchange rate in Malaysia
1 USD = 4.31 MYR
1€ = 4.72 MYR
Tipping is not expected but we suggest pay at least 5% on top of the total bill when dining at restaurants. Sometimes, this is included as service charge in the bill.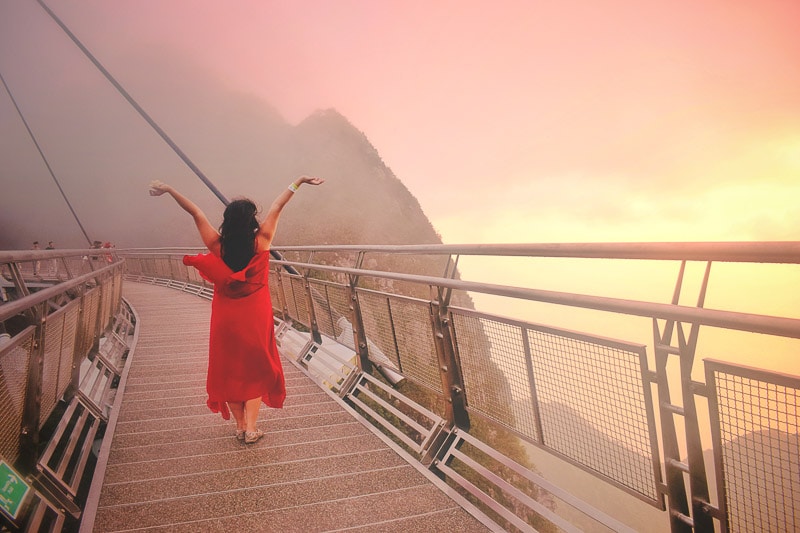 Best time to visit Langkawi
Being a tropical island on the northern hemisphere, Langkawi enjoys an exciting hide and seek of rain and sunshine year round. However the wet months of June to October paints the sea with a grim grey face. You would want to avoid traveling to Langkawi during that time. Rainy season does not allow you to do a number of things in Langkawi.
Best time to visit Langkawi is from November to March, the drier months.
March – Hot and humid. Plenty of Sunshine. Busy with family tourists.
April – Hot and humid with occasional shower. Can take part in many tourist attractions in Langkawi.
May – Hot and humid. Might rain by the end of the month.
November – Sun shines through the cloudy sky but the sun does not scorch anymore. Cooler and beautiful weather starts by the end of November.
December to February: Best time to visit Langkawi. Crowded. Hotels might get expensive. Plenty of things to do in Langkawi at this time.
Also read: The Kyarr cyclone in Goa where I witnessed death close!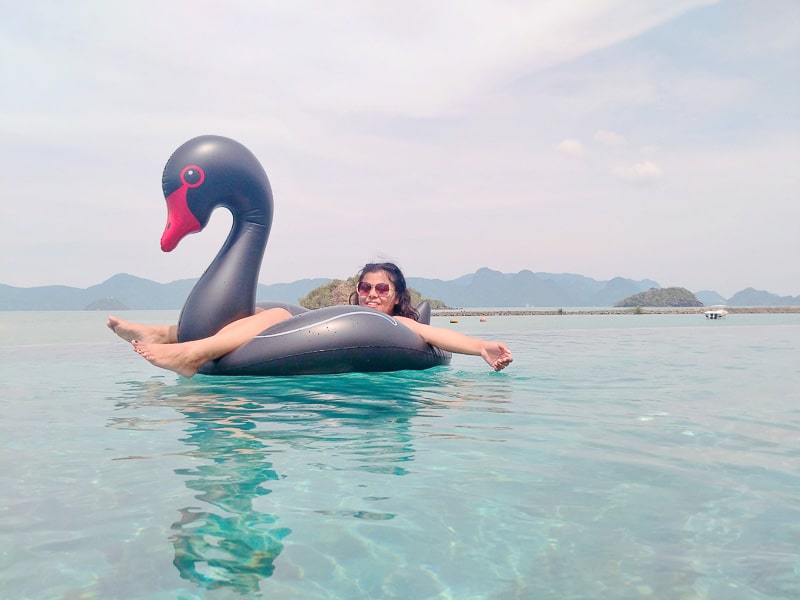 Best things to do in Langkawi for a Romantic Holiday
For a rejuvenating holiday, especially for honeymooners, Langkawi has a few must do things: the skywalk followed by cable car ride, a sunset cruise, island hopping tour by boat or jet ski and a mangrove tour.
During our 3 days vacation in Langkawi, we managed to add a few more experience, like feathers to the crown, for a more immersive vacation. I will list out those activities based on relaxation, cultural and adventurous interest.
Of course, being a foodie, a large part of my Langkawi vacation was to explore local food scene, which is often masked by Penang's gastronomic fame!
Relax in Luxury (or Not) because this is Langkawi!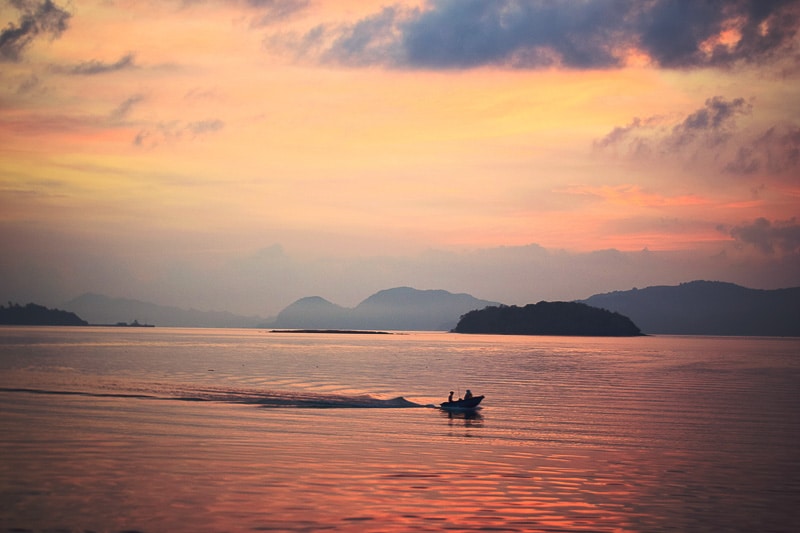 Watch the day unfold, and colors play in myriad hue at the horizon at Langkawi. Day-breaks are pristine and precious, with a few sail boats breaking the day's silence.
Best place to catch the sunrise in Langkawi are usually located on the eastern side of the beach.
Resorts World Langkawi (we stayed here and the Sun shone bright to our room, however this place gives sunsets amiss!)
Berjaya luxury resort, Kedah (set amidst tropical forest)
Pantai Tanjung Rhu (quintessentially, Langkawi's best beach)
Gunung Raya, the tallest peak of Langkawi island (more on this later)
Witness an astounding Sunset in Langkawi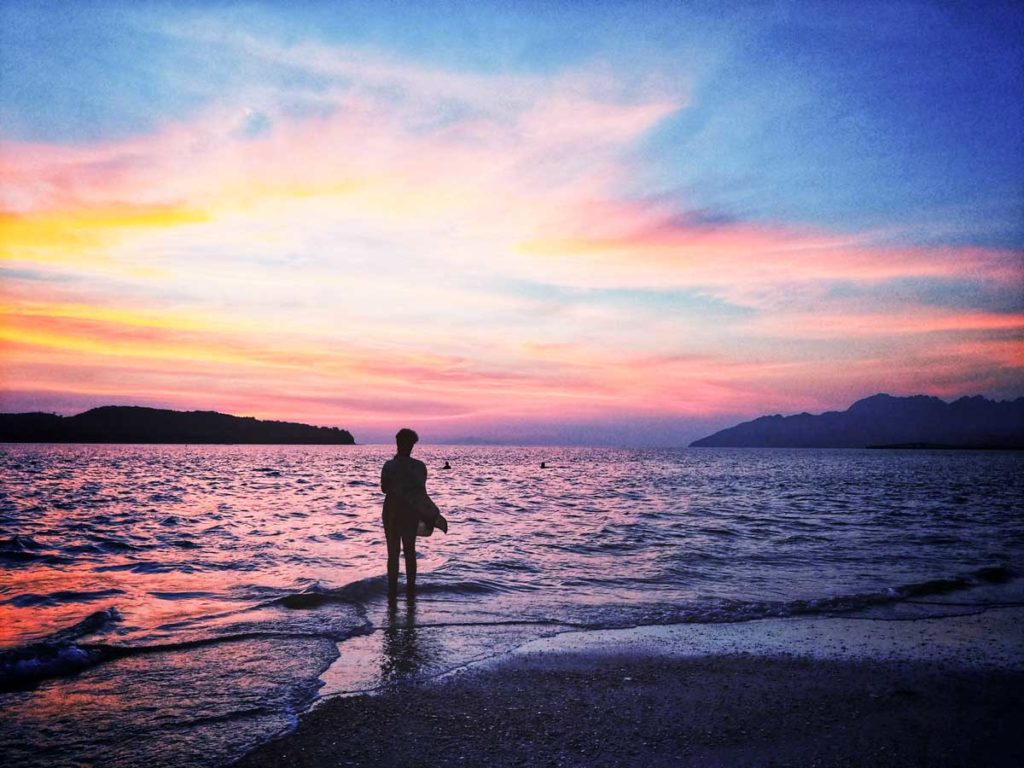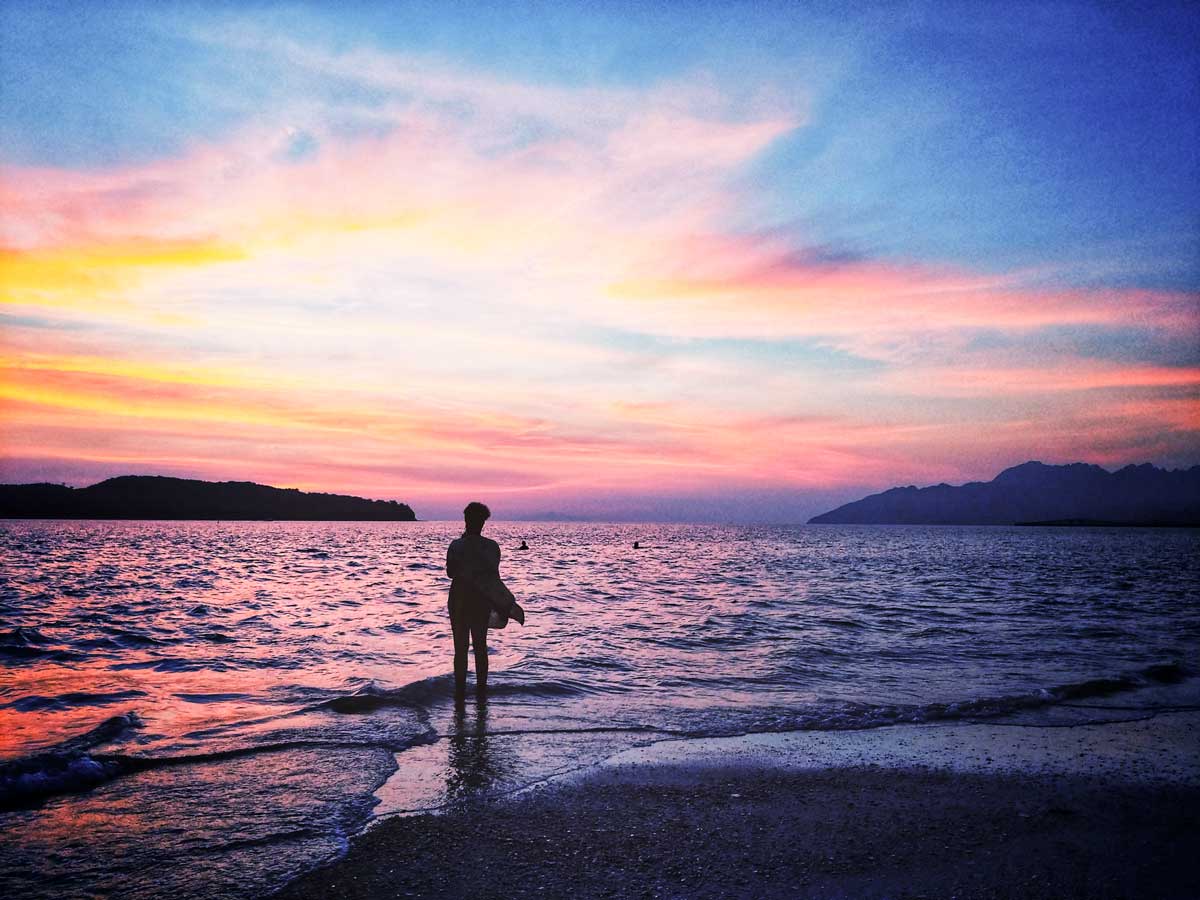 Pantai Cenang will otherwise not impress you much but the hues of Sunset will meake your hearts skip a few beats.
Langkawi's most happening and the longest sandy beach doubles up as a football ground during sunset, a lot like Zanzibar. Hotels set up ivory white gorgeous backdrop for dining, and a few parasailors fly across the sky.
Other scenic spots to catch sunset in Langkawi:
Datai bay (indulge in some beach Yoga session)
Telaga Harbour at Pantai Kok
From atop the Langkawi Skybridge
Pantai Tanjung Rhu (Langkawi's most gorgeous beach appears yet again)
Sunset Sailing in Langkawi: Most Romantic Activity
Steal a few moments of romance with your loved one far from the abuzz shore of Langkawi and set sail on a Catamaran.
The Sunset cruise on a yacht or a catamaran usually starts mid day and extends till the day end. You indulge in a few sessions of kayaking, "salt water jacuzzi" and cruising through dense mangroves and islands while your beer bottles are filled up incessantly. Great food awaits you at the deck.
Natural Salt Water Jacuzzi at the Air Hangat Village
A nature park with rustic view across the rural heart of Langkawi where you can dip in your feet in fresh natural spring and soak in the medicinal benefits. Check before visiting whether they are open. There are separate spa therapy for male and female visitors.
Hop off to Thailand!
Langkawi or a Thai island? If this question has plagued your mind and you miss the usual prancing of a Thai beach (because Langawi is more inclined to relaxed family vacationers), make a day trip to Koh Lipe. This beautiful Thai island is just a ferry away and has an immigration office at the jetty.
However, if you really have a couple of days to spare, I would urge you to visit Penang, a UNESCO heritage site, instead!
Indulge in a few Spa sessions
While not as famous as the Thai massage from its neighboring country, a traditional Malay massage will strip your body from all the travel fatigue! Following is a list of the 5 best spa in Langawi. price range caries from affordable to luxury.
Rumah Holistic (affordable and great option)
Satkara Spa at Casa Del Mar
Ishan Malaysian Spa
Alun Alun Spa
V wellness clinic as the Andamans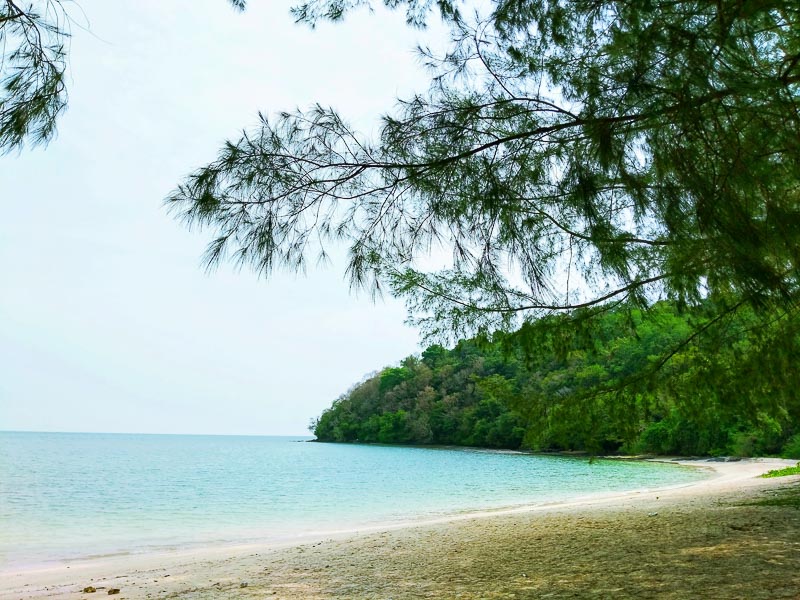 Best Beaches of Langkawi:
I love to find a beach that is deprived of human footfall, has a nice shade attached, a few locals rejoicing and kind enough to sell me a green coconut from their courtyard. This is impossible, specially at the age of google map and over tourism. Yet, in Langkawi, I found out few beautiful beaches, when I was not lounging at the infinity pool!
Tanjung Rhu Beach: This beach is a true jewel! Pristine northerly waterfront with long stretch of white sandy beach. A bit off the beaten route and does not see a lot of tourists. Calm waters. Stage for best golden hour photoshoot in Langkawi!
Black sand beach: Not exactly the gorgeous black paint, this beach has a mix of white sand and minarels, rendering a rather grey version of a black beach! It feels like a local beach.
Tengkorak Beach: Famous beach in Langkawi for its relaxed ambiance. This beach is close to the Datai Bay, place for stunning sunset view.
Pantai Kok: Number of luxury resorts dot the coastline. Serene and pristine ambiance. Not many crowd. Ideal place for a beach Yoga session.
Pantai Cenang: More famous for water sports and amazing Sunset views. Langkawi's small nightlife begins and ends at Pantai Cenang!
Pasir Tengkorak Beach: Local and small sandy beach.
Pantai Tengah: less crowded, clean beach. Water is not as clean. Swimming may cause skin itch.
While swimming at the beaches of Langkawi, be cognizant of the following:
A number of not so friendly monkeys reside nearby. A bite from them and you have got rabies and others.
Seasonal occurrence of jelly fish at Pantai Cenang beach has been recorded in the past. Be careful of jellyfish stings before stepping into the waters. Usually signboards are put up before you step into the water at different beaches.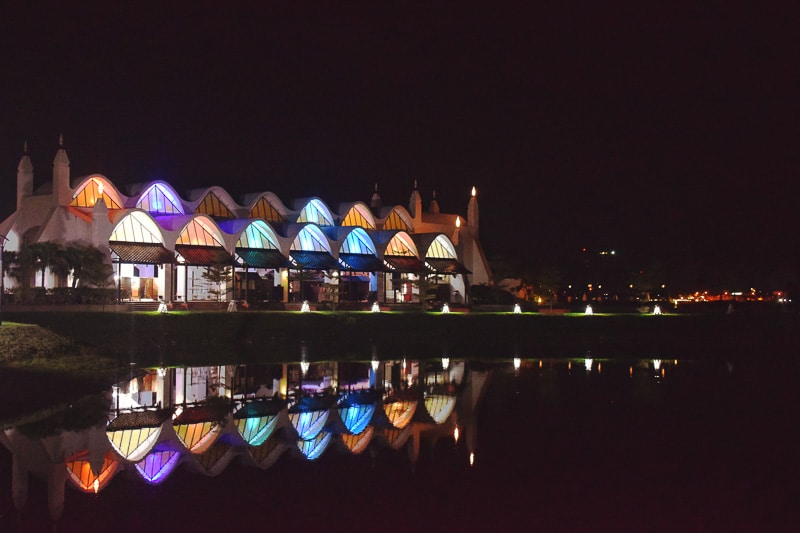 Nightlife in Langkawi
At the risk of repeating myself, Langkawi is a calm island and is more ideal for family vacation. Bars and ravenous nightlife remain alienated from major parts of the town, even in Kuah. However, Pantai Cenang in Langkawi has a walking street that lives upto being a great stroll pavement amid great food and even greater vibe!
A few food trucks are parked at the helm of the road. A few fringe superstores stand filled with ice creams, cold drinks and other quirks. Some are selling lacey bikinis. Some of the stores are filled with pool floats. In between, food stalls are selling Arabian, Italian, Indian, Thai food. A few Malaysian food joints are there as well, with fresh catch of the day set up before the stall. That is how I remember Pantai cenang. The buzz dies down by 10 pm, which is unbelievable for those who have been to other attractions in South East Asia (looking at you Phuket).
Some of the best places to grab a beer and spend the evening at Pantai Cenang:
The Sunset Deck: a nice beach bar inside the Bon Ton Resort hidden away in the coconut grove
Yellow Bar. Lounge here as the sun goes down.
Antero beach bar at Pantai Tengah. Dance the night away here. ladies get free alcohol in Antero every Wednesday until 1:30AM.
Aseania Resort & Spa: they have a local BBQ dinner that includes a cultural show as well, filled with traditional colors and customs and a fire show. Ideal for a family session.
Things to do in Langkawi for an adventure lover!
Enough of lounging by the beach, now is the time of adrenaline rush! For an adventure lover, Langkawi offers plenty and more! If you meander through the highway, you shall find most of the Langkawi island remains steeped in rural culture, value and scenery. Walking by the paddy fields, hiking the mountains and the caves and chasing the nameless waterfalls during rainy season. You shall be rewarded with unprecedented experiences!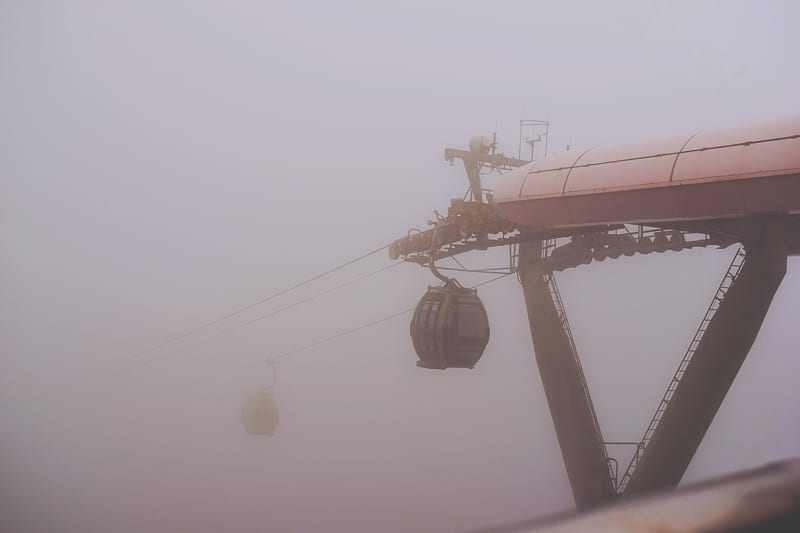 Langkawi Sky Bridge, the Cable Car Ride and Oriental Village
We waited till the last day to visit the Langkawi Sky Bridge. It rained or sun shone too bright or we were tired, you get the drift!
Reagrdless, the Sky bridge Langkawi was the best experience in Langkawi island! We visited at the second half, when most of the people had left. We had around 3 hours till sunset. We were the last group to be "kicked out" of the premises.
Just kidding, they did not kick us out but we did not want to leave Sky Bridge either, hence one wiser human among us dragged us out! The Langkawi Sky Bridge is beautiful beyond my words could ever express!
At the foot of the Sky bridge, stands the Oriental Village. It is a pretty market set up where you can buy souvenirs, drink coffee, even eat a noodle soup though food is not of the best quality. This is basically a nice place for kids but take my advice and stand in queue as soon as you can for buying tickets for the cable car ride. That is the "real thing", a must do activity in Langkawi!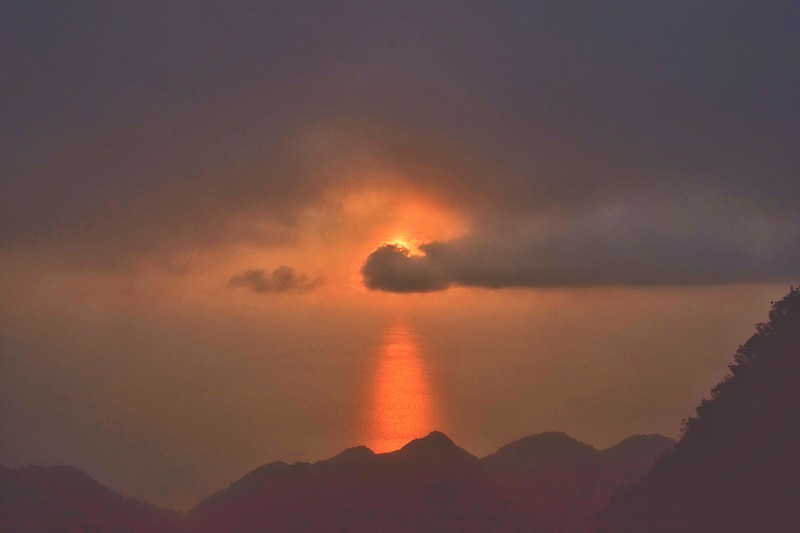 The Cable Car Ride to reach Sky Bridge Langkawi!
The cable cars, also known as sky-cabs, come and go at a set frequency and you have like 20 seconds to board. There is space for 4 people. Cable cars can be booked for a private ride, some comes with glass bottom view.
It hovers over a verdant vista of dense rain forest. At a distance, stand Datai Bay and a few cruise liners. The higher it goes, the air becomes thinner and cold. It is windy up there too. I could take my hands out with the phone and take a few pictures.
The cable car has a couple of stops en-route before you reach the top. We decided to walk the second part of it, instead of taking the gliding train (Sky glide). The gliding train looked beautiful but was jam packed and the walk amidst the wood looked beautiful nonetheless!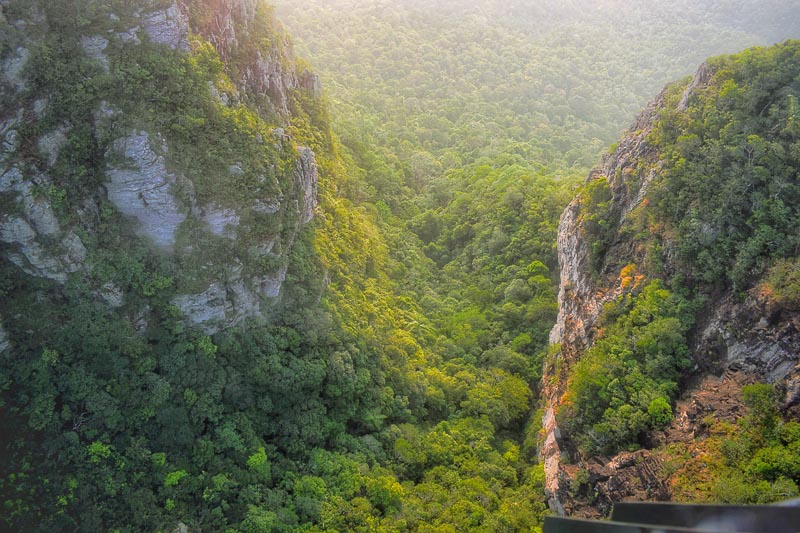 The Sky Bridge, Langkawi
Finally, we reached the Sky Bridge, a huge steel serpentine beast embracing the green peaks of Langkawi island. This is "The Longest Free Span and Curved Bridge In The World" according to authority.
Often hidden away from the clouds, the sky bridge ensures amazing panorama across the sea, the forest and craggy peaks jutting out. there were glass bottoms for a better view. If you love nature photography, I suggest visit the Sky bridge by the end of the day. It rained, rains stopped, sun shone bright and clouds came in again!
From the sky bridge, you can take another ride or just climb the stairs for a view deck atop. This is where you get rewarded with the best view of the Langkawi island on a clear day. When we visited it was all cloudy.
We also got a ticket to visit Believe Langkawi, which we skipped but I am assuming those places are good for kids. Do not miss visiting the Art in Paradise 3D art museum though.
Please note, Langkawi sky bridge and Cable car is not wheel chair accessible.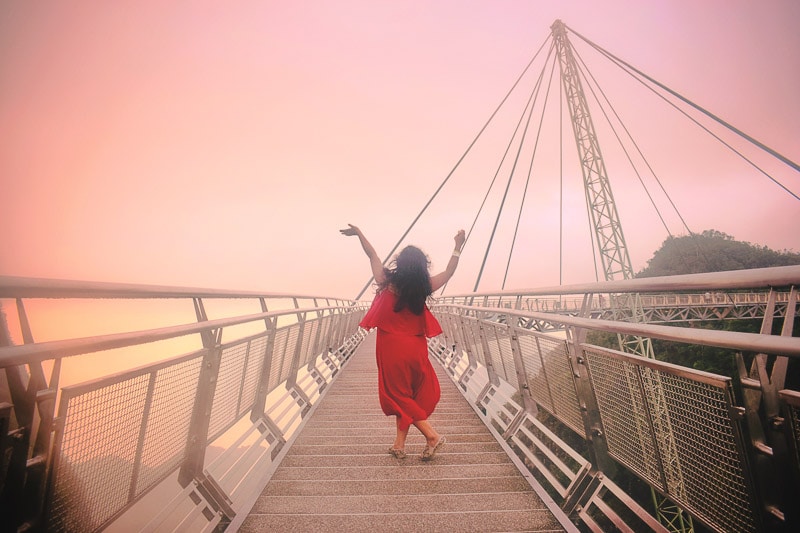 Did you know? The last chasing scene of SRK's Don was shot at the Sky Bridge, Langkawi?
Hike Gunung Raya: the highest peak of Langkawi
Okay do not hike but just drive uphill Langkawi's highest peak.
A scenic driveway straight in the heart of an old rain forest stretches till the top of Gunung Raya. The road Jalan Gunung Raya that starts from the junction of Jalan Ulu Melaka takes hairpin bends, stops by habitats of multiple wildlife and reaches the top.
From the top, you have a beautiful 360 degree view of sprawling fields and Andaman Sea. D'coconut resort sits atop the hill with restaurants. If the day is cloudy, you may not see anything though. Time your visit on a bright sunny day. Early morning is also the most suitable time for birders.
If hiking is your forte, you can sign up with tour guides who conduct a guided soft climb of Gunung Raya. Watch out for the flying fox (the fruit bats we saw in Mauritius) and hornbill.
Chase waterfalls in Langkawi!
Rains feed the island for the larger part of the year. Rains also form Langkawi's Kilim river, whose mangrove tours are world famous. The natural water reservoirs translate into quaint little waterfalls hidden away in the forest. Please note, these waterfalls only come to life during wet season. During dry season, you may even encounter knee deep water, not fit for swimming. You may not expect a Kuang Si fall here, but Langkawi's waterfalls are definitely offbeat attractions. Please clean up your trash after you are done visiting these waterfalls.
Telaga Tujuh Waterfalls – Home Of The Fairies
Also known as Seven Wells waterfall, this is the most loved waterfall of Langkawi. Seven Wells has a number of pools, all connected by stairways and good for swimming.
Temurun Waterfall
A cascade of three tiers water-flow close to the Datai Bay. Close to beach and requires a 5 minutes easy walk. It has a nice pool for swimming.
Durian Perangin Waterfall
A bit of a climb to reach this small yet beautiful waterfall right at the heart of a tropical forest. Swimming is not possible unless heavy rain. 2 RM is charged as entry fee.
Zipline and Adventures: SkyTrex Adventures in Langkawi
Want to get up close and personal with Langkawi's rain-forests? Sign up for a half day adventure activities with the SKYTREX Adventures.
Ropes, swings, various obstacles and dizzying ziplines will take you around at the snap of an eyelid to the wild interior of nature's wonders. Bring a glove or purchase a pair at the counter. Pack an insect repellent and a reusable water bottle.
There are three levels, with the advanced being not so tricky with moderate levels of challenges. If you have fear of heights, you would ideally want to look into the pictures closely. Instructors will be there along with you all the way!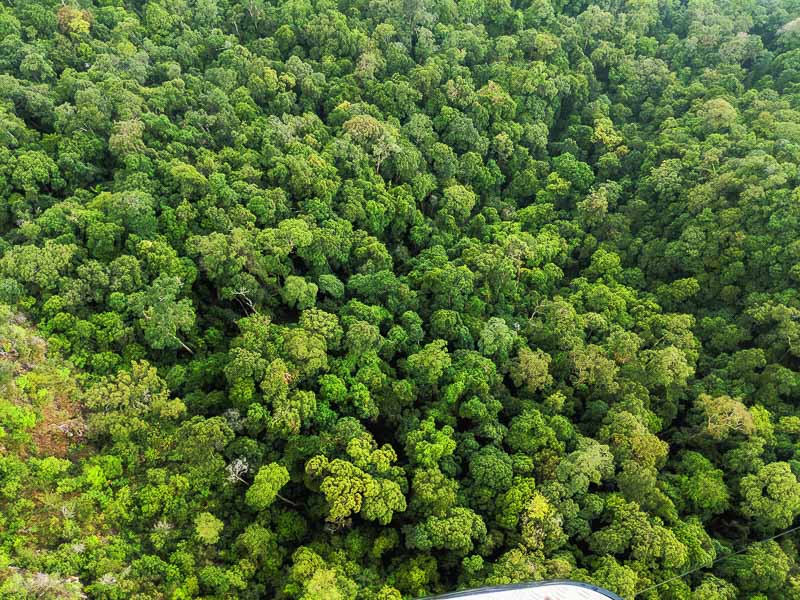 Half a day Island hopping tour in Langkawi!
We signed up for an island hopping tour from a Pentai Cenang shop. It was for 3 hours. They provide pick up from hotels however we were staying close to starting point, Resorts World Langkawi. We just walked to the pier.
We boarded a sail boat, Langkawi's answer to Thailand's long tail boats. There were 8 more passengers and 3 boatmen. The boat sped past the mountain karsts, putting Motorbikes to shame and making our stomach churn!
We visited Pregnant Maiden's lake, snorkeled in the fresh water lake, made way through wild monkeys ready to snatch every plastic bag, went to see some eagle feeding hoax and finally rested on a pristine sandy beach. The last part was the best part of this trip.
The boatmen, in the merry of the moment, rowed the boat in a dangerous fashion, kissing the glass surface with one side at once and the other side next moment. I suggest take care of your belongings very well.
Places you should be covering during island hopping tour of Langkawi:
Dayang Bunting (island of Pregnant maiden)
Pulau Beras Basah (beautiful pristine island. Not a place where you can stay overnight)
Price for the Island Hopping Langkawi tour: RM 45 to 55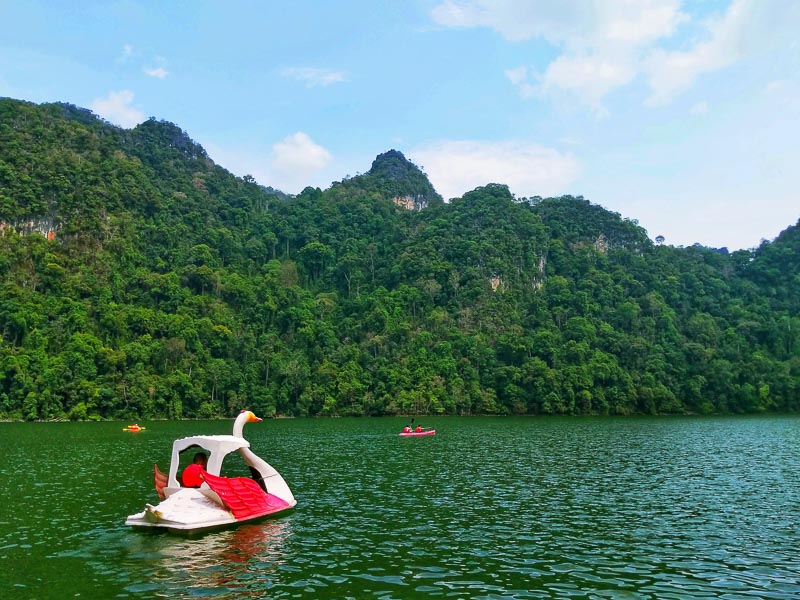 Jet Ski, Parasailing and other Water sports at Pantai Cenang
Being close to the Andaman sea is all about celebrating her warm waters!
Pantai Cenang beach is a hot-spot for all the water activity enthusiasts! The day ends when the last para sailor takes a flight!
Pantai Cenang beach front is dotted with various rental shops for kayaks, water sports and Jet Ski tours. There is not a scope for bargaining if you are visiting during peak season.
With a jet ski ride, you can explore the famed four island tour of Langkawi, glide over serene water surface, taste speed like never before as wind blows past your ears! Jet Ski tour can be done in a guided group with an instructor to take care of your questions.
Sign up for a jet ski tour which will follow suit the Langkawi island hopping. You have a private jet ski instead of a shared sailboat which is very cool. Just ensure the day is sunny and bright. You do not want to be stranded on the choppy sea on a jet ski on a overcast day. The thought of it is dark enough, if you ask me!
Price for a Jet Ski Tour in Langkawi ranges from RM 650 to 850
Best places to go for Jet Ski tour: Seeman Watersports, Naam Watersports, Mega watersports
Parasailing, banana boat and other quirks of water sports usually takes place at the Pantai Cenang beach, Langkawi. Parasailing in Langkawi takes place both at the Pantai Cenang and Tanjung Rhu.
I have previously gone parasailing in Goa. However views in Goa and views from Pantai Cenang are totally different! As you rise high above the sky, your vision is limited by the limestone karsts, long stretches of beach, mangroves and dense forest at a distance. At a time two people can fly together. There are safety belts, life jackets and other kits associated.
Pro tip for parasailing in Langkawi: Fly from the Pantai Cenang beach, especially during Sunset! The views are florid in molten gold.
Price for Parasailing in Langkawi: prices ranges from RM 80 to 180 for a 3 km or 8 km flight.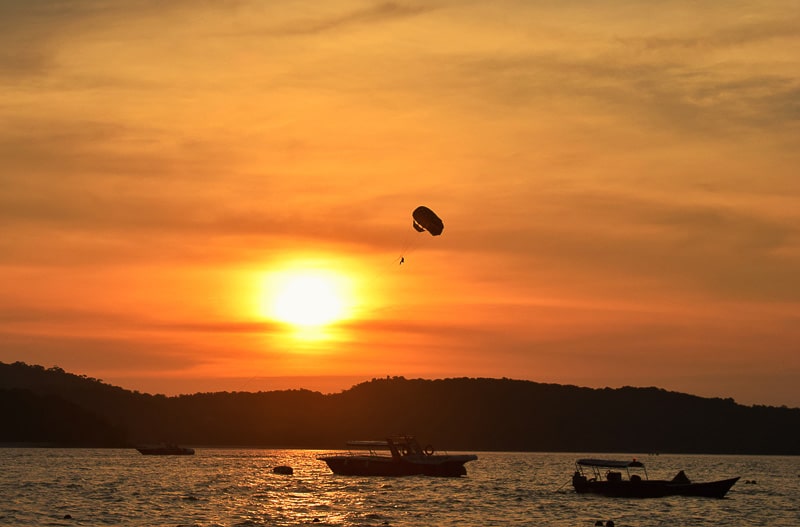 Snorkelling Pulau Payar Marine Park
For beginner's lessons in snorkeling and diving, visit the Pulau Payar marine park, an island off the south east coast of Langkawi. Pulau Payar commands for an hour boat ride from Langkawi island.
Pulau Payar is an untouched water-body with turquoise green hues and living coral reef. If you are lucky, you will also see baby sharks. Tides play along the shoreline and it controls the time when you can dive. Huge waves surge in after 1 pm. Avoid visiting during rainy season.
There is an underwater world and a Crocodile adventure land in Langkawi. Once you have seen the sea, it is a pity to look at the rather small underwater world even from outside, all the more now that I am writing this from lock-down period. I would not do these activities and would not advice anyone to go see animals in any kind of confined place, locked up for the sole purpose of entertaining humans. Horse rising is another such tourist attraction in Langkawi.
Explore the nameless caves of Langkawi
If there are limestone monoliths, how far could be the hidden caves in Langkawi? For an explorer, the tropical rain-forest has endless offerings of surreal natural formations. There are untouched caves hidden atop the steep hillocks and rocks. You can explore some on your own or sign up for a guided tour by a local. Be advised, there are snakes and bats and monkeys in the wild.
Go-karting in Langkawi
Morac Adventure Park at Pantai Cenang has a brand new karting track and this is a cool adventure outing for a group of 4 and more. Recommended age group: 12+
Price: RM 200 for 3×10 min sessions
Explore the mangroves at Kilim Geoforest Park
The mangrove forest of Langkawi played a pivotal role during the devastating Tsunami of 2004, safeguarding the island from surging waves of Andaman sea. The Kilim river estuary and its mysterious banks at the Kilim Geoforest is hidden away by dense mangrove forest and can be accessed by wooden boats.
Visiting the Kilim Geo forest is one of the top attractions in Langkawi and rightly so! It is an intense natural experience. Sunlight does not reach all parts of the woods. 5 minutes into the river and you are cut off from the mainland. Let your imagination fly high!
The limestone rocks and its caves are visible from the path when dense canopy is not limiting your vision. Looking at the water, you will find roots sticking out of surface by several meters.
During the boat ride, you will see various types of snakes, water monitors, birds (eagles, hornbill again if you are lucky), bats and monkeys!
Food will be served on the boat however as with many guided tours, food is just meh.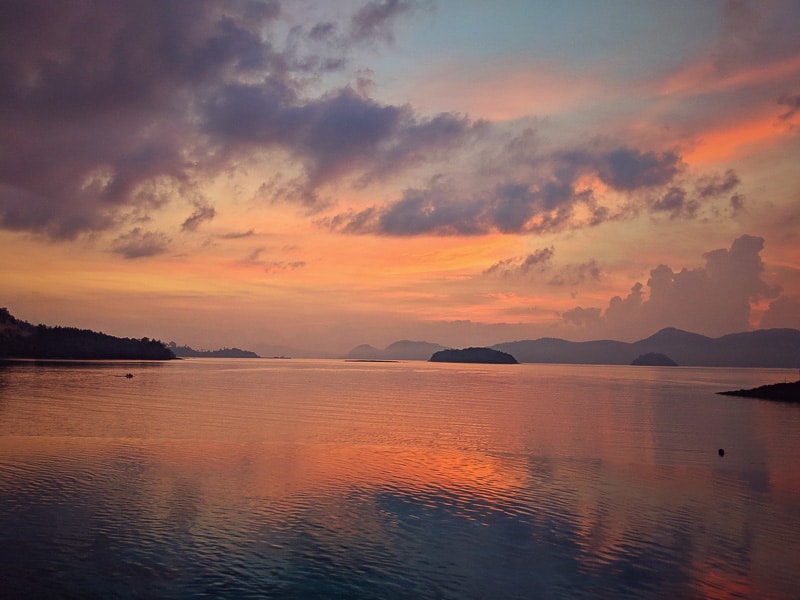 Helicopter ride in Langkawi: a Bird's eye view
Instead of a boat ride, you can also cook a chopper and fly over the mangroves, beaches, hills and smaller islets from nearby areas. The helicopter ride lasts for 30 minutes and flies over Dayang Bunting Lake and Cenang beach among other notable places. The green patches of paddy fields of rural interiors and craggy hillocks will welcome you with a bird's eye view. Helicopter ride in Langkawi is one of the best travel experiences with elements of both romance and adrenaline rush!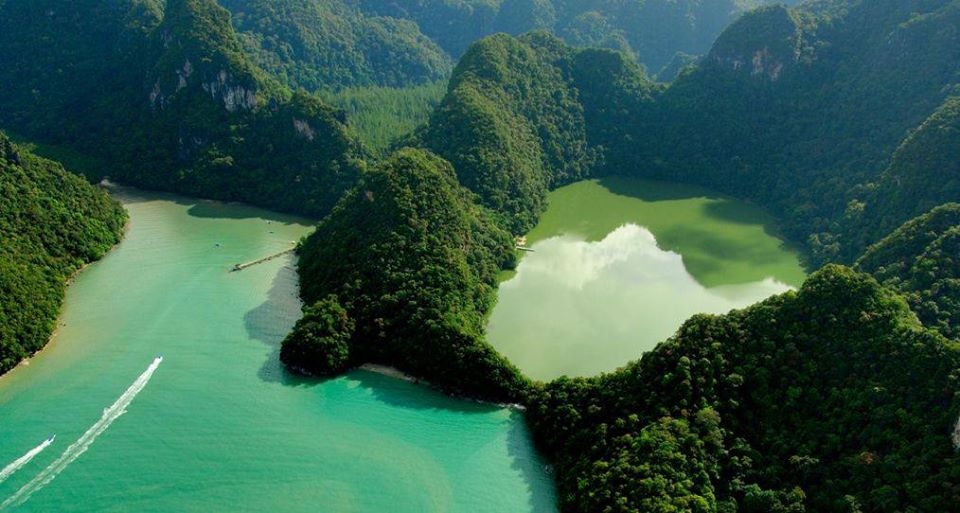 The instructors are kind and generous and ready to help you with any question you may have. They also take care of safety kits.
You can opt for a longer ride. Price for helicopter ride in Langkawi starts from USD 80.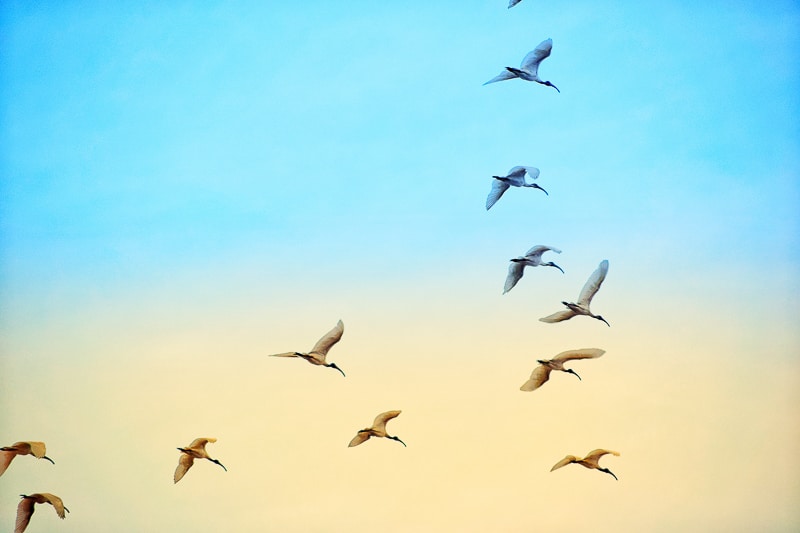 Wildlife Park & Bird Paradise: to go or not to go?
Wildlife Park & Bird Paradise is a big park, covered and ventilated where you can interact (feed) the (caged) animals, birds and rabbits (and other animals including reptiles). There are photo opportunities too. I do have my reservation to recommend this place however I suppose this could be a decent excursion with the kids, if it a particularly hot and humid day outside.
Fishing in Langkawi: Explore Offbeat Tourist Attractions
If group tours tire you and they should tire you in normal circumstances, opt for a fishing trip with locals. Langkawi's warm waters are home to plenty of Groupers Fish, Snappers, Barracuda, Mackerel, Stingrays, King Fish etc. usually, boats will take you to near by islands with water no deeper than 10 meters. Overnight deep sea fishing trips are possible too along with deep sea fishing in Langkawi! Renting a fishing boat with a guide starts from RM 650.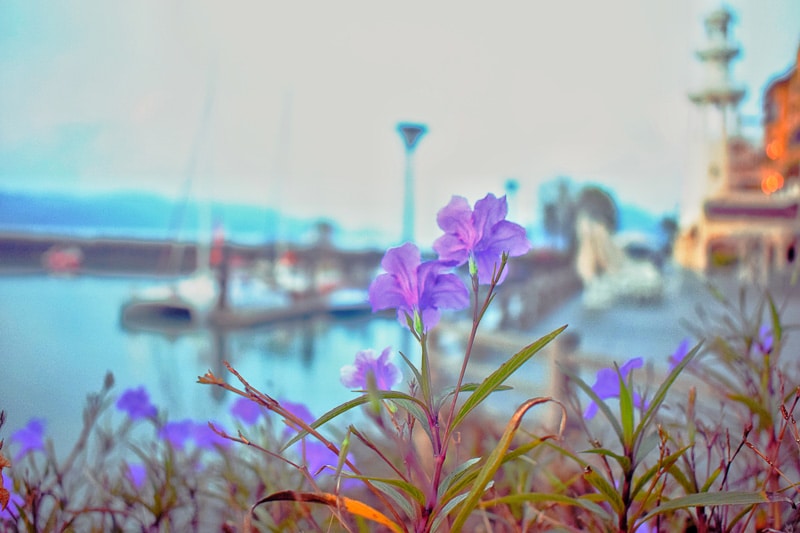 The legend of Mashuri
Langkawi derives its name from a legend shrouded in mystery. Apart from tracing back Langkawi's name in Sanskrit scriptures, locals claim that 'Lang' comes from the Malay word 'helang' meaning eagle and 'Kawi' means marble. Both Eagle and Kawi are found in abundance in Langkawi. The Eagle Square at Kuah is built to commemorate that!
History has seen intense cultural exchange between Langkawi and the ancient Siamese kingdom, now Thailand. Mahsuri's legend traces back the connecting dots.
Mahsuri came from Phuket, married a local warrior in Langkawi, and befriended a traveler as her husband was away for a war. Accused of adultery, she was stabbed to death soon after. Mahsuri's last sign rendered the island barren for the next seven generations. Wars and invaders ravaged the lush paddy fields. Mashuri's descendants live in Phuket till date and visit her tomb occasionally.
Langkawi Does Not Sleep Anymore

Long sleep a dream Langkawi

Cushioned mattresses history

Embroidered brocade phrase
Cultural Things to do in Langkawi
The urban glitters of giant shopping malls, tagged duty free. Adventure rendezvous with Adman sea. Picturesque natural vistas and sumptuous seafood. Beyond all these, Langkawi's cultural heart beats and thrives, unaware of the place being a honeymooners' top choice in South East Asia.
Truth be told, Langkawi's beauty lies deeply steeped in its rural soul. This is where the island's cultural identity remains hidden too. You may catch its glimpses at the various night markets, some less touristy than the others. But the fact that Langkawi is a rather calm serene beach destination, ideal for relaxing tells a lot of its people and can be attributed to the rural habitats! God fearing, simple living, dependent on sustainable ecological practice, Langkawi could have remained a beautiful rural island of Langkawi. Looking at the obnoxious protruding skyscrapers of Kuah, I ask myself, were they needed?
Craft Complex, Langkawi
Close to the Shark bay beach, Langkawi sits pretty near the Craft Complex. It is an excellent place to shop souvenirs in Langkawi. Home to various kinds of handicraft, craft museums showcase local artisans' work. They are made of cane or wood or sustainable eco-products. Products are fair priced. There are fabrics made from handlooms on display and sell too. Songket as known in Malay. Everything Malay. Unapologetically local and beautiful. The Craft complex also houses the Heritage Museum, Custom & Wedding Museum, Islamic Museum, Royal Museum. Small exhibits to highlight Langkawi's local history and heritage. You can easily spend 2 to 3 hours here.
Best buy: Batik printed silk, an exquisite Malay design.
Laman Padi fields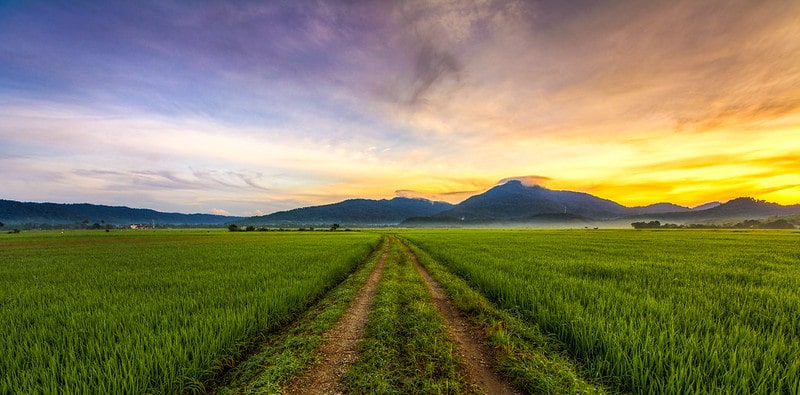 The laman Padi rice field is what yields a bowl full of happiness. That is how a Malaysian friend described rice to me. "A bowl full of happiness." I repeat because I echo the same emotion.
I am from bengal, India's rice basket. Needless to say, laman Padi rice fields blew my mind! There were scarecrows sparingly adorning the aalkhet. There are simple mechanisms to catch the fish with a cane basket from the paddy field.
A walk in those paddy fields is calming. Pleasant evening air. A diligent and passionate guide. Farmers toiling to feed us. My mind was full of gratitude.
Laman Paddy rice fields in Langkawi is designed to attract tourists as a rice farming museum. It has a nice restaurant. Entry is free.
However, scoot for a while in the rural interiors of Langkawi. You will come across many such rice fields. Equally beautiful. Maybe who knows an astounding photo opportunity?
Night Markets of Langkawi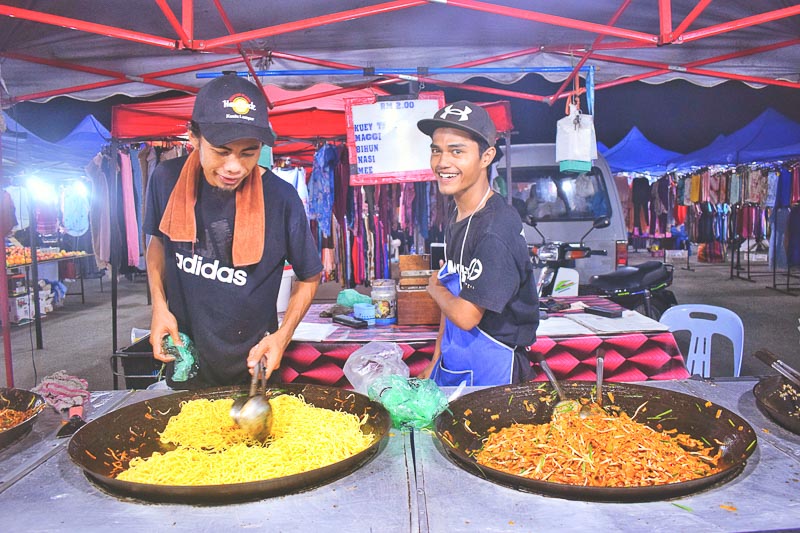 Even though it is a small island, Langkawi has thriving night markets taking place at every corner of the island on alternate days. Ask your hotel about the nearest Pasar Malam (night market in malay) and you will be directed towards it.
The Friday night market is the biggest one. Night markets in Langkawi start from 5 pm and wrap up by 9 pm or so. You can buy and bring food to your place. You may also grab a quick bite but there was no place to sit and eat as such.
Pantai Cenang has a food truck market which serves decent food. It is smaller than the night markets but vive is somewhat similar. This food truck market takes place everyday.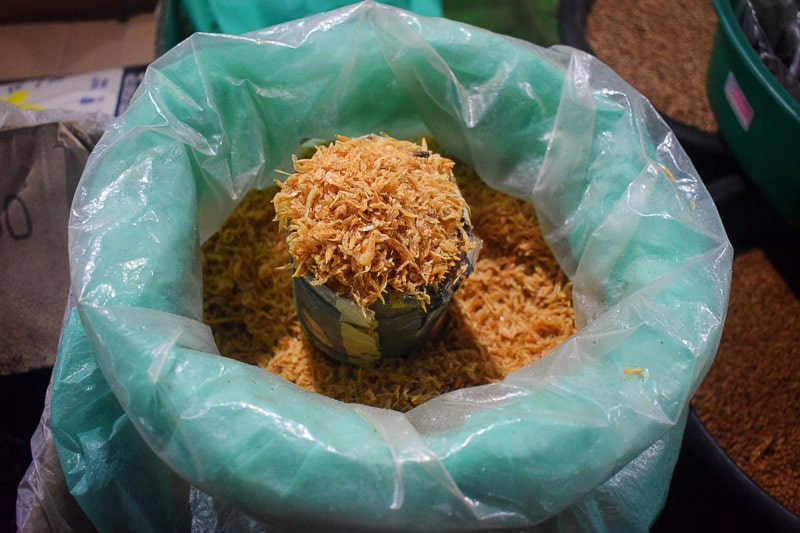 Monday: Ulu Melaka Night Market
Tuesday: Kedawang Night Market
Wednesday, Saturday: Pekan Kuah Night Market
Thursday Night Market: Temoyong Night Market
Friday: Ayer Hangat Night Market (the largest)
Sunday: Padang Matsirat Night Market
Art in paradise: 3D Art Museum Langkawi (part of the Sky bridge)
The 3D art museum is one of the places where we would have never visited otherwise, because we are too obnoxious. But access to it came along the ticket to Langkawi Sky Bridge. And boy, it was fun! From protruding dinosaurs to genteel penguins, it had it all! Lifeless, but miniature fun mirror images.
The 3D art museum in Langkawi is one of the major tourist attractions. It is the largest in this part of the world. 3D museum also plays a perfect fiddle for those quirky Instagram shots. Children would absolutely adore this place!
Mahsuri Tomb and Museum (Makam Mashuri)
The legend of Mashuri and her curse that rendered Langkawi lifeless for 7 seasons is revered by the locals. At Makam Mashuri complex, you can see the history living. there are beautiful frescoes in oil painting in memory of Mashuri. Entry price RM 12. It also has a small museum with local exhibits.
MARDI Langkawi Agro Technology Park
Fancy eating a fruit buffet? An all you can fruit spread that is brought to you from kind trees standing right in front? Fruits that have not undergone the usual grill of pesticides and supply chains? Mardi Agro park Langkawi has a surprise for you!
I think it is all the more important to langkawi and its people for it signifies Mashuri's curse has ended. The land has regained its glory. Langkawi is yielding fresh produce!
You pay RM 30 for the entry fee. You enjoy a buggy ride across the farm, followed by a food platter. This can be a great experience for city kids who have never seen an orchard.
Thean Hou Temple
A Chinese temple (its counter part is there in KL and pretty "insta famous"). It is brand new and decked up with colorful lanterns.
Taman Lagenda, the abandoned park of Malaysian Folklore
If ruin porn is your thing, you will be spooked AF at the Taman Lagenda.
The park was commemorated in memory of reviving Langkawi's glorious past, her mythical days of myriads giants and princesses and mystics. Art installations told the story of Lankawi's folklores.
However, it is now left abandoned, even locked. Only a handful tourists find their way into it by mistake. What you see is rather disturbing. Sunken ship, ruined vessel, illegible sign boards and a scream of futility!
Al Hana Mosque – The Biggest Mosque In Langkawi
Langkawi's largest mosque Al Hana is located at Kuah. It is a spectacular sight at night with lights reflecting on the adjacent waterbody. It embodies Arabic and Moorish architecture. We did not enter the mosque however it is open to all. It is located close to the eagle square.
Dataran Lang (Eagle Square) at Kuah
The Eagle Square at Kuah is synonymous with langkawi's identity. A profound Eagle made of stone sits by the jetty. Its wings spread. Eyes fixed on the target.
One fine evening, we scooted past dense wood to reach Dataran lang. It was almost 9 pm and all the buzz had died down. I said this before, Langkawi sleeps early. Local food vendors had all left.
There is a colorful mosque by the side. The imposing eagle plays a photography interest. We came, we clicked and we left.
Kuah is also the heart of Langkawi's urban soul. Many shopping malls and skyscrapers rise tall in Kuah. I reckon this is a good place for shopping, especially duty free shopping.
Being a duty free island, chocolates, alcohol, perfumes and souvenirs are sold at a cheap rate. Credit cards are accepted too but please note these shops close early. Try to make it before 7 pm.
A few places to shop in Langkawi are as follows:
Samudra Duty free
Perniagaan Haji Ismail Group Sdn. Bhd.
The Zon Duty Free Zone
Langkawi Saga Shopping Center
Coco Valley Langkawi
Teow Soon Huat Duty-Free Shopping
Do not forget to bring your passport for duty free shopping in Langkawi!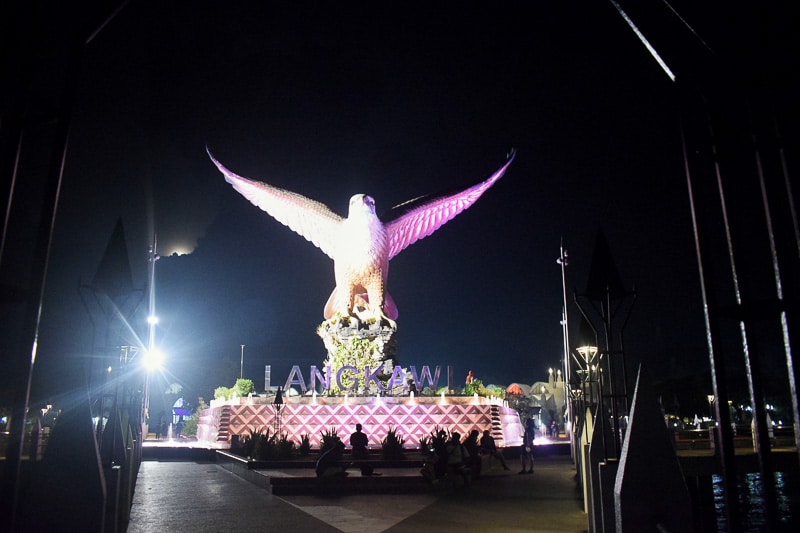 Signing up for a local cooking class
Classic Malay cuisine uses a number of tropical ingredients like coconuts, fresh herbs, juicy fruits and spicy curries. I stood by the local food vendor who used to sell amazing sea food close to Resorts world Langkawi, opposite Ishan spa. More spice? Yes please! I learnt the trick of cooking the best squid curry with red chilli here. He would flambe grated coconut at the end of every preparation.
For a more formal establishment, you may sign up with Cook with Shuk.
Best places to eat in Langkawi
From Arabic restaurants, to food trucks and night markets abuzz with myriad local delicacies, we ate aplenty in Langkawi! Seafood, fresh fruit and rice are Lankawi's staple. Shredded meat is sold in skewers. Meat sold is mostly halal.
I am listing 5 of my favorite restaurants in Langkawi:
Telega sea food
Restoran Hafizi Ramli
Red Tomato Langkawi
Brasserie Eatery Cafe (loved their local Malay cuisine)
Cactus
Best neighborhood to stay in Langkawi
Pantai Cenang: Good for night life. Busy place. beach is famous for water sports. Multiple options to eat. Cost effective.
Pantai Tengah: Longest stretch of beach. Best for family vacationers.
Pantai Kok: Calm and small stretch of beach. Close to waterfalls. Many luxury resorts are nearby.
Kuah: The town face of Langkawi. Not a personal favourtite but home to the Eagle statue. Hosts a night market once a week. No beach but a ferry close by and great places are there to shop from.
Datai Bay: The most expensive part of Langkawi, dotted with luxury resorts. View goes over the rainforest.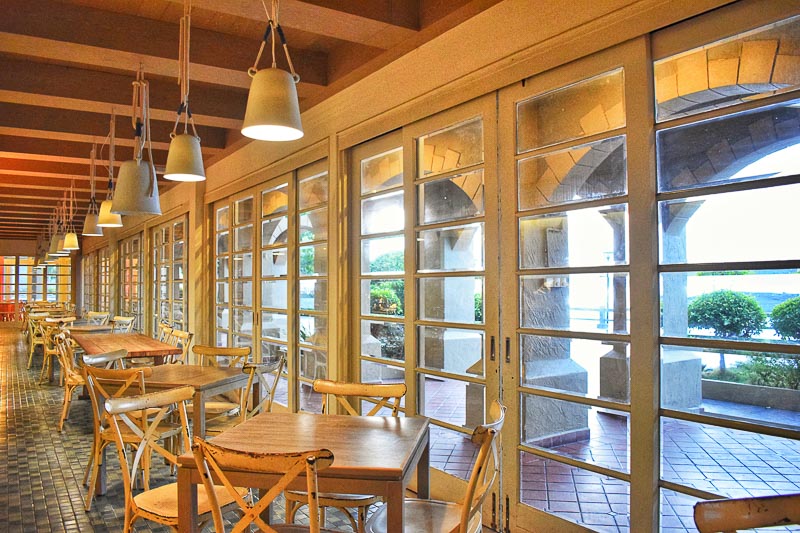 How to reach Langkawi
By Air: From Kuala Lumpur, Langkawi is a 40 minutes short flight away. Langkawi island also has an international airport.
By Train and ferry: Take a train till Alor Setar from KL. From Alor Setar (5 hours), take a 15 km taxi ride to the ferry terminal at Kuala Kedah. From here, book the ferry to Langkawi which runs regularly. You can take the ferry ride from 7.00am to 7.00pm and the trip takes 1 hour 45 minutes.
From Penang to Langkawi: If not flying, take the ferry from Kuala Perlis. It takes three hour to reach Penang from Langkawi or the other way.
Getting around in Langkawi
How to reach the town (Pantai Cenang/Kuah) from Langkawi airport (LGK): Best option is to book a airport transfer with your hotel. There is no bus hence the next best option is to book a taxi from the airport. There is a dedicated desk at arrival hall where you can book a taxi. It charges RM 30 to reach Pantai Cenang or Kuah. price goes up based on the distance covered. You can also grab or rent a vehicle from beforehand.
Langkawi lacks a robust public transport system. There is no bus service across the island, no shared taxi as you find in Phuket, Thailand. Only public jetty arrive at the Kuah jetty bringing tourists from Penang.
For exploring the island, you will need to rent a scooty (or a motorbike or a car). For exploring the islands near Langkawi (and there are some100 or more like them in the small islands), you can hire a ferry if not a private yacht.
Renting a scooter is the easiest way to navigate in langkawi. They glide through the polished highway and easily climb the steep hilly roads.
Best place to rent a bike in Langkawi is at the Kuah Jetty, in case you are reaching the island by ferry. However, there are plenty of
Price for bike rental: 40 RM per day + petrol price. Petrol price was surprisingly cheap in Langkawi compared to India. I think it was close to INR 30 which is half of a USD.
Renting a private car for your stay is also an option in Langkawi.
Please note, the bike rental shop shall make a rental agreement and take a copy of your passport. A deposit money needs to be presented which will be refunded when you return the vehicle. Of course, you get the deposit money back if there is no damage done to the scooter so drive carefully. Do not drink and drive.
Technically, you need to have a driving license to drive in Langkawi (or anywhere for that matter) however we were not asked to show one.
If you are staying in Langkawi for a longer term, please sign up for a weekly or monthly price for the bike or scooty which will save a few bucks extra.
Usually, the bike you rent in Langkawi for a day, needs to be returned by the end of the day. We were staying close to the shop and talked to them to keep it for longer.
You can also rent a bicycle. More often than not, you hotel will be able to provide you with one.
Not savvy with bikes or driving? Do not worry! You can always rent a private taxi in langkawi. Your hotel/guest house can help you arrange.
Alternatively, go for the Grab Taxi app. Grab taxi works in lieu of UBER for the whole of Southeast Asia!
FAQs about Langkawi Travel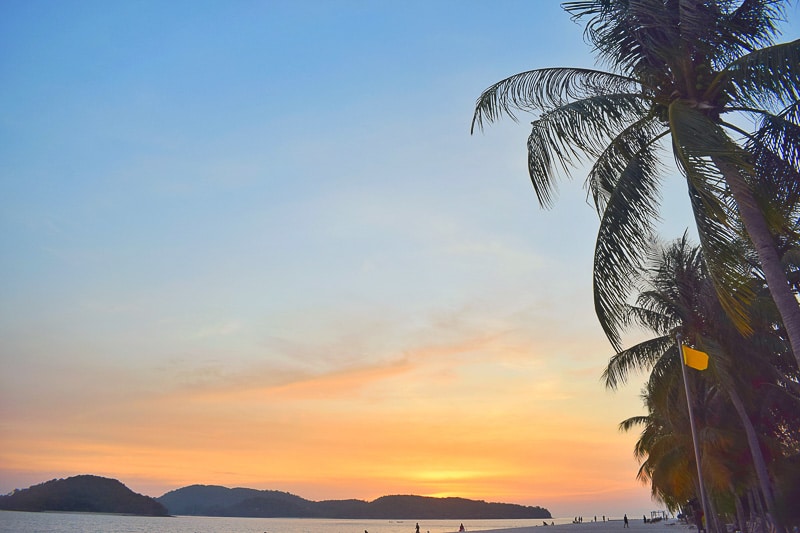 Is it worth traveling to Langkawi?
If you are a fan of unchallenged relaxation and looking for affordable luxury, Langkawi is your best bait. It is calm, serene, just the right amount of busy and has verdant vistas and beautiful beaches. Hotel price ranges from mid level to good value luxury.
langkawi is a great holiday destination for family.
How long does it take to drive around Langkawi?
It takes one hour to drive around the island of Langkawi.
Is Lagkawi safe for solo travelers?
People are kind and gentle in Langkawi. crime rate or crime against women is considerably low. Backpacking culture is yet to reach Langkawi but for flash-packers, Langkawi is just perfect.
Stay away from the monkeys though. they are a nuisance in Langkawi.
Is Langkawi Expensive?
Langkawi is cost sensitive. You should have an estimate higher than KL and then if you want to go upwards, sky is the limit in Langkawi. However there are quite a few free and amazing things to do in Langkawi. So, Langkawi is not really expensive, but may not fit in a strict backpacker's budget also. Try street-food, rent a bike and choose your activities carefully. Langkawi will come well within budget.
We spent USD 500 for each in our three days stint in Langkawi. We stayed at resorts world Langkawi. We rented a scooty for three days. We visited the Sky bridge and island tour. We mostly ate at the night markets.
Can you drink alcohol in Langkawi?
Yes, you can drink alcohol in Langkawi. In fact being a duty free island, Langkawi serves liquor in rather cheap price.
Beer is sold for cheap rate (3 RM) at local stores in Langkawi. It is always wise to buy a pack of beer rather that just a can.
Can you drink tap water in Langkawi?
No. Use RO filtration to clear the water and then drink.
How many days are enough in Langkawi?
3 days in Langkawi is decent time spent with enough activities. If you want to relax and rejuvenate and explore the island in detail, sign up for a week long tour to Langkawi.
What should I wear in Langkawi?
being a Muslim majority island, modest clothing is advised while you are exploring the island. Cover your legs and arms while visiting the rain-forest. You can easily wear a bikini while going to the sea beach.
Sun shines bright and can actually burn your skin. take precaution.
Are there mosquitoes in Langkawi?
Yes. And insects too.
Christmas in Langkawi: is it worth it?
Christmas is a great time to visit Langkawi with all the shops and beach houses decked up in red and white attire. there will be fireworks on the beach at Pantai Cenang on New Years Eve.
Can you swim in the sea in Langkawi?
Yes you can. At some beaches in Langkawi, you can swim worry-free. Trust designated snorkeling sites. Jelly fish is a nuisance in Langkawi. Sharks do not come near the beaches in Langkawi.
Is there nightlife in Langkawi?
Compared to Phuket or Thai islands, Langkawi is serene. most of the shops close by 8 pm. Only Pantai Cenang has a walking street which remains open till 10 pm. Antero beach bar is a great choice for party lovers in Langkawi.
Langkawi or Thailand?
Lastly, I have been plagues by this question too. I decided on Langkawi because I had fell in love with Kl on my way back from Yangon, on a short lay over! What else I could pair with KL in 5 days? It could be either Langkawi or Penag. I chose Langkawi!
Langkawi is an ultimate island paradise where relaxing is the music to life. It has little to do, does not complain and stages stunning sunsets! Looking back, I feel I did so little in Langkawi. And I am happy for that. The island helped me rejuvenate after back to back trips in 2019!
Do not ask this again! Visit Langkawi. The island retains the last remnant of South east Asia's tropical paradise charm.
Pin it for later!
This post may contain affiliate links. Please read the disclosure post. If you have liked the article, you may support it by buying using these links without any extra cost to you.
Let's stay connected on Facebook, Instagram, Twitter! You may also consider joining my mailing list. I send travel and photography related emails only once a month!