About this blog: We spend the end of December 21 in Sri Lanka for two weeks, traveling from Colombo to down south, exploring the island's culture, tea plantation, central highlands and ethereal beaches by the Indian ocean. I hope this itinerary helps you chalk out your customized plan to explore Sri Lanka. In case you need more help, please email me at madhurimac77@gmail.com and I would love to plan a Sri Lanka itinerary specifically for you.
How to spend two weeks in Sri Lanka in a nutshell:
Colombo (1 night) – Kandy and Sigiriya rock (2 nights) – Nuwara Eliya (2 nights) – Ella (2 night) – Yala national Park (1 nights) – Mirissa (2 nights) – Unawatuna with Galle day trip (3 nights) – Colombo / Negombo for last night (1 night)
Everyone told me Sri Lanka looks and feels a lot like the southern peninsula of India. Why Sri Lanka, they asked. I could talk about the beaches, curries enriched with fresh coconut cream, rolling hills studded with tea plantation, a tired locomotive traversing those hills, leopards and elephants roaming free in the natural reserves. All of these that glisten on the travel magazines covers and make an effort to gleefully hide the past of a traumatic civil war. Ironically, it is not a Pakistani but a Sri Lankan suicide bomber's headless skeleton published on the front page of newspaper in early 90s that first inflicted the sheer sense of gore and violence in my childhood days. 9/11 happened when I was 11.
However, we chose to fly to Sri Lanka from Bangalore in last December because the country was open for Indian tourists with easy visa rules (ETA, more on that in later section of the blog), had easy quarantine policy, was not going through any economic/health crisis and was ready to accept Indian tourists with a negative RTPCR report.
Sri Lanka looked beautiful from the sky.
Our plan for two weeks of Sri Lanka travel looked like exploring Colombo, followed by a quick stop at Kandy, Nuwara Eliya and Ella. We then proceeded to the beaches of the Southern coast of Sri Lanka, Mirissa and Unawatuna. We made a quick stop at Galle and wished to have come back later as Galle looked lifeless. On the way back to Bangalore, we spent a night in Colombo. I remember the night vividly since we had the fortune of sitting and dining at the marvellous ministry of crabs!
This is a pretty standard Sri Lanka itinerary for two weeks with ample rest days since our main focus was to chill, although we ended up moving every 2 or 3 days. You can go faster and experience more. You can decide to slow down and spend the whole two weeks just exploring the beaches of Sri Lanka. Many Russians who would have otherwise spent the December months in Goa had resorted to Sri Lanka and all they did was just to chill by the beach!
However, there are ample tourist activities to do in Sri Lanka and 2 weeks is a decent time to tap into the pulse of this ancient island country.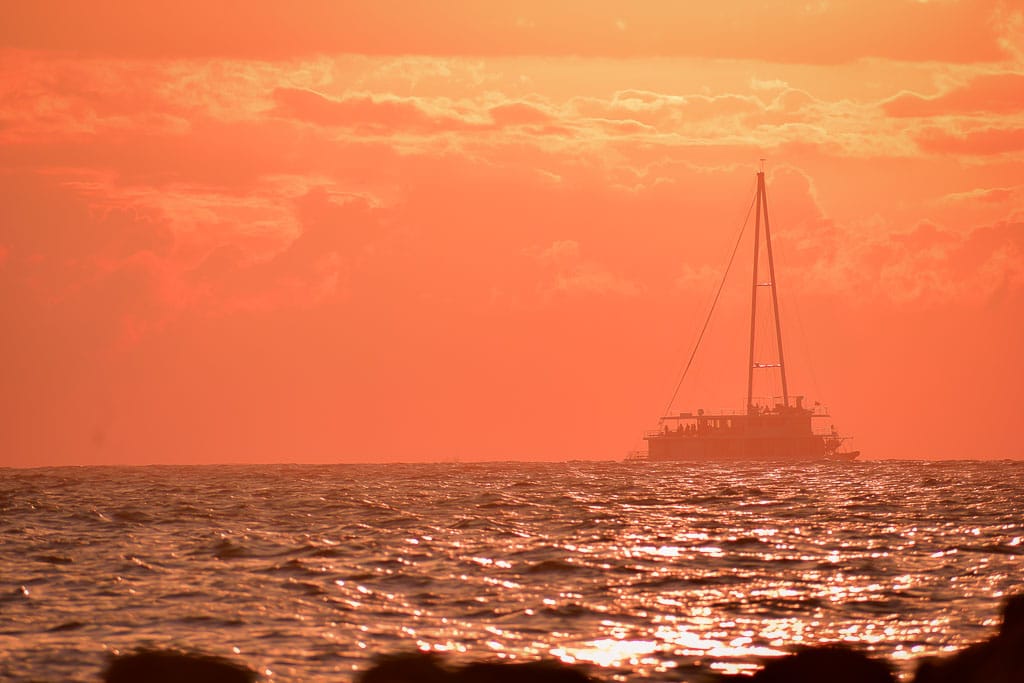 Also read: The Best Beaches of Thailand for a Dreamy Honeymoon
Colombo: the capital of Sri Lanka
Unlike other capital cities of Asian countries, Colombo is neither a fast paced city nor offers a plethora of activities for tourists.
Yet, Colombo will charm you with her sobriety and kindness. You have to start your Sri Lanka journey from Colombo as it is the entry to the island nation for all incoming flights.
Essentially a port city, Colombo retains both historic relics and Dutch and British colonist history that were instrumental in the make of the city. With a little help from the massive colonial buildings of Fort Area as well as the olden market of Pettah where numerous small eateries serve the best of local food; Colombo paints an eclectic character which I am afraid you will find nowhere else as you venture into the Sri Lankan hinterlands.
We stayed at the Fort area and explored the beach front and Pettah for dinner and lunch respectively.
The Fort area of Colombo was a tourist hub with plenty of old school pubs and bars. Auto and taxy ply everywhere to cover short distances. If you can do the bus, you can do magic in a few bucks but language could be a challenge.
English is spoken and understood well not just in Colombo but Sri Lanka.
Please do not leave Colombo without having a hearty meal at the Ministry of Crabs. This amazing restaurant specializes in Sri Lankan lagoon crabs that can weigh up to 2 kg. The Ministry of Crab is owned by the famous cricket Jayawardene and Sangakkara, both sensations in the cricket fraternity of the subcontinent. Revenue from the restaurant proceeds for charity.
While walking on the streets of Colombo, quite a few people will approach you with a typical "Hey you look beautiful!" and further try to sell jewels. Politely decline and walk away.
It is impossible to visit Colombo and turn a blind eye to the thriving Chinese progress. First came the Chinese banks. Now the Dragon is busy building a port island from the scratch right next to Colombo. We saw towering cranes busy at work at the sea port behind yellow shutter. All the toll roads in Sri Lanka are built by the Chinese. It will be interesting to witness how politics unfold in the area in the coming years.
Fun fact, Colombo is the financial and commercial capital of Sri Lanka while administrative capital is Sri Jayawardenepura Kotte, not more than 15 minutes drive from Colombo Fort area.
Colombo is a lot like Shidhol-Shutki of Bengali cuisine, a dry fish preparation which definitely is an acquired taste, slowly growing on a new entrant to the country.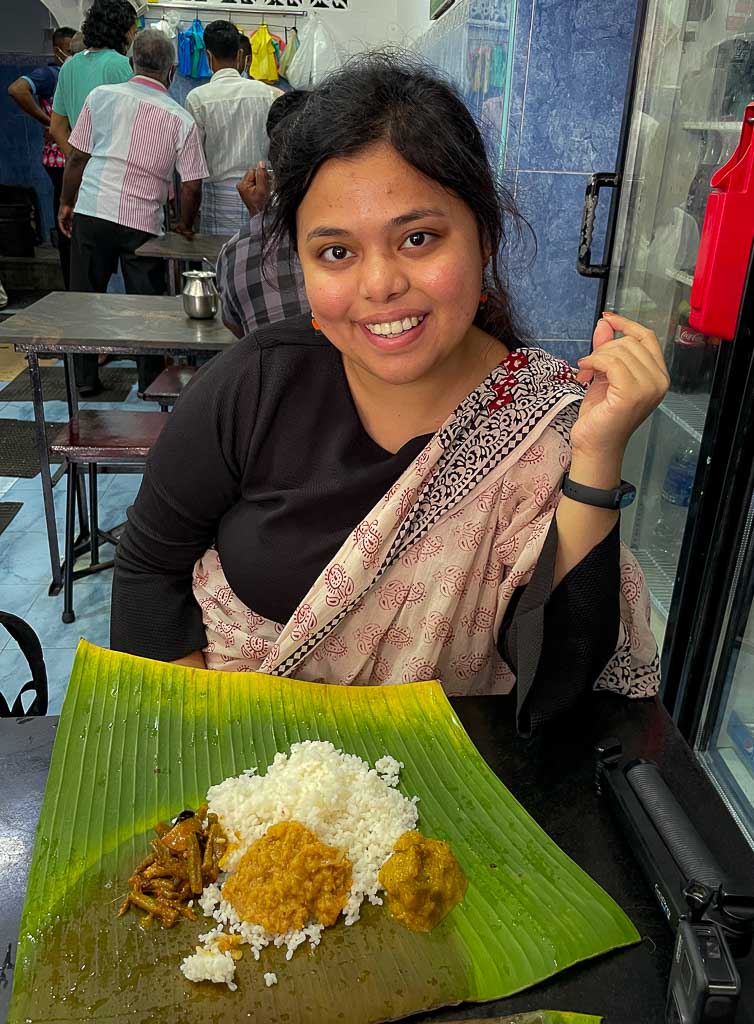 Also read: The Classic Century Old Cabin Restaurants in Kolkata
Things to do in Colombo
Ideally you will spend a couple of days in Colombo at best. Most of the places I am listing down will appear on your way as you move from one part of the city to other.
Explore the Pettah neighborhood: a street photographer's delight
Explore the Pettah Floating Market on the waterfront which is slowly coming back to life after the lockdown
Explore the old Red Mosque, Jami-Ul-Afar with distinct red and white stripes that used to attract sailor in yesteryears to approach the port of Ceylon.
Built in eighteenth century by the Dutch, Wolvendaal Church is the oldest protestant church in Sri Lanka.
At Pettah, multi ethnic group of people live who belong to Tamil, Sinhalese, Islam, Moor, Hindu, Christian, Buddhist ancestry. It is a melting pot of different culture and showcases a colorful character. One look at the clock towers, city gates, central bus station and you know the electric fun that shapes Pettah!
The Colombo Dutch Museum is a small museum building which served as a post office, an orphanage, a hospital and British barrack in the course of time when the Europeans ruled Sri Lanka.
The old Dutch Town hall puts forth a mix of Kandyan and Dutch artefacts.
Pettah clocktower was set up by Governor Henry ward in 1857.
The grandoise colonial architecture is found in bounty around Chatham Street and York Street. You can not miss the stunner of a red Cargill store.
The Lotus Tower
One of the tallest towers in Asia, the Lotus Tower costed a little over million dollars. You can go up to the top for sweeping view of Colombo city and beyond and the sea at a horizon. Lotus Tower of Colombo can be viewed from a distance, while riding a tuktuk to explore Colombo and Galle Face as well.
The National Museum
If the heat becomes unbearable in Colombo, find a refuge for a day exploring the National Museum of Sri Lanka, the oldest and largest museum of the country. The museum is a great place to understand cultural roots of Sri Lankan culture and the way politics developed in the country. There are golden thrones, countless Buddha statues, old arms etc.
Galle Face Green
If you are heavily jet lagged and want to spend a pleasant evening by the sea, head straight for the Galle Face Promenade, a picturesque urban park. It is beautiful to watch local people come to the beach with family, kind of remind you of the famed Marina beach of Chennai. Plenty of sea food stalls and ice cream carts jostle for space during sundown at Galle Face Green as that is the peak time. You may go here for an early morning run as well.
Mount Lavinia Beach
If you want to watch the sun going down in Sri Lanka from an upscale sea side restaurant, drive for 20 minutes and head to Mount Lavinia beach where all the resorts are. Weekends are particularly busy at this beach is is cleaner than other beaches in Colombo.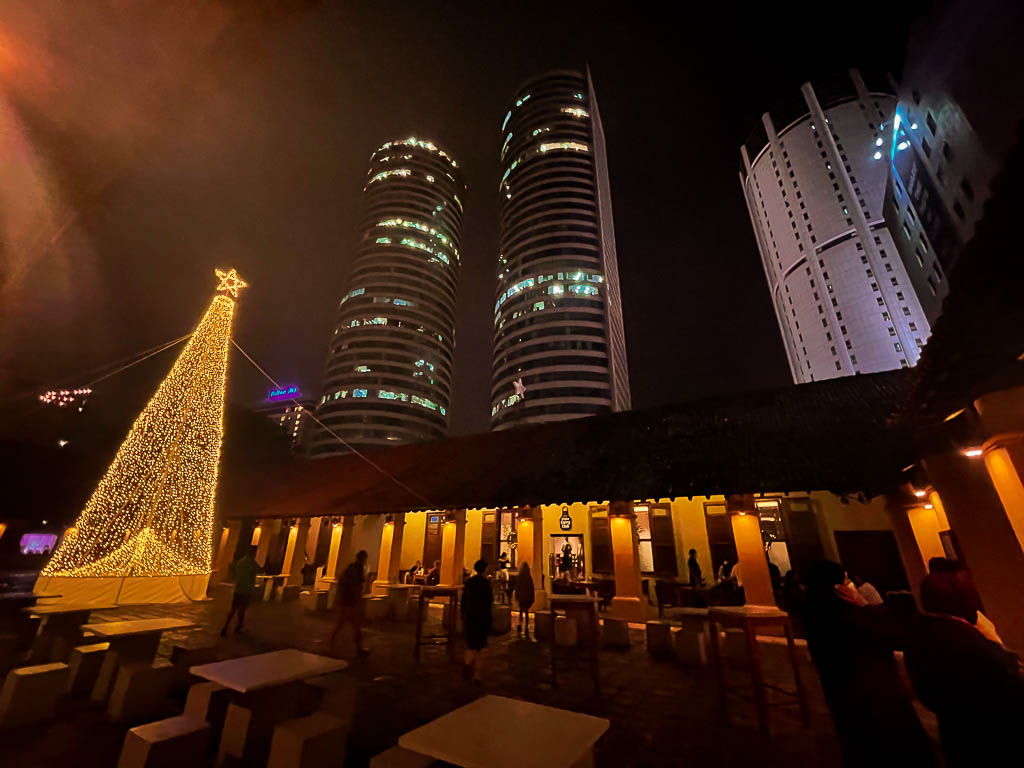 Explore the Colonial Buildings of Colombo
Rows of European styled buildings passed by as we made our way from Colombo Fort to Pettah in a tuktuk. They will remind you of the old cities of Kolkata and Yangon. I found a number of Cargill offices, an SBI office, Ghaffoor, Grand Orient Hotel, remnants of old business houses of Sri Lanka. The Old Parliament building is quite the site too!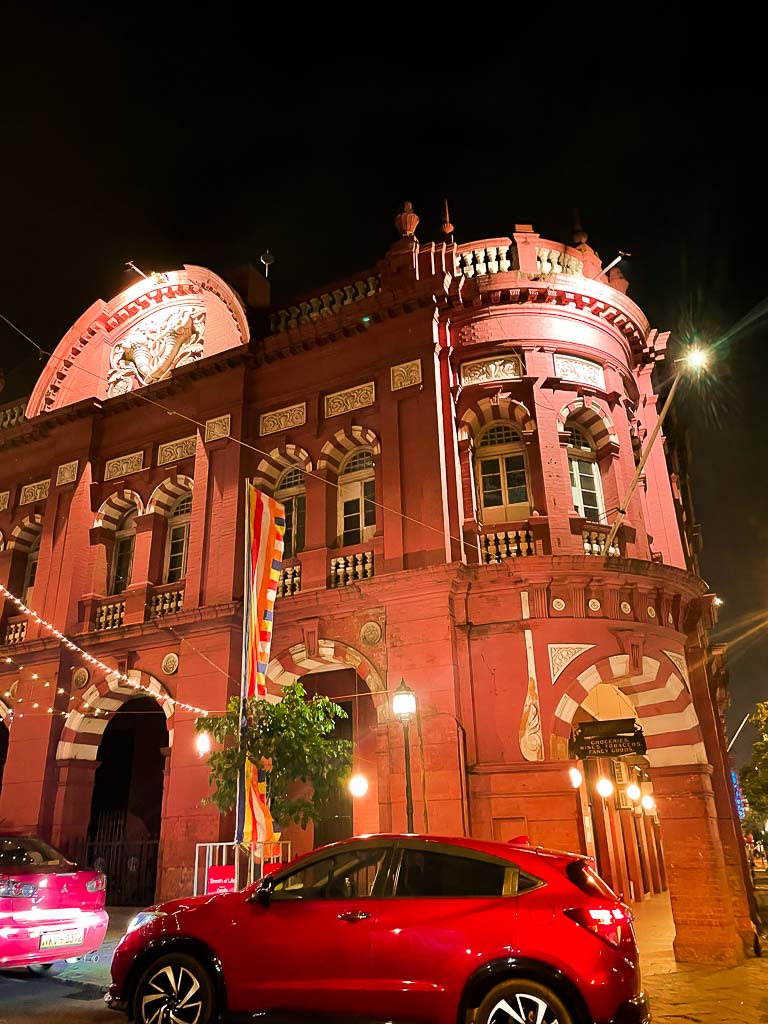 Fill yourself up with local street food in Colombo
In my short stint in Colombo, I stuffed my mouth with egg hoppers and dosai and kottu. the curries have an all engulfing aroma of coconut, you have been warned!
Beira lake
At the heart of Colombo sits a scenic large waterbody also known as the Beira lake. It is free to enter and a decent place for a scenic view of Colombo city and a floating temple of Seema Malakaya. Close to this stands an extremely ornate Hindu temple named, Sri Kaliawasanathar Swami Devasthanam Temple.
Gangaramaya temple (6 am to 10 pm)
One of the oldest Buddhist temple of the country that is instrumental to maintain peace and harmony in the society. Relics and Buddhist statues like vintage cameras, enormous taxidermied elephants, model dinosaurs, stamps, watches and even swords from around the country has been collected and showcased here. Entry fee to the museum is USD 2. Some claim a hair from Buddha himself is protected in the temple. Do not miss gangaramaya temple during the annual Navam Perahera festival in Colombo.
If you decide to take it slow and spend a day relaxing in Colombo, you can also choose to spend a few hours at a spa pampering yourself with local massage. New age artists in Colombo are exhibiting their work at many modern galleries where you are likely to find a few quaint cafes in close vicinity as well. Check out Gallery four life, isle of Artisans, Ganesham Art Gallery. Wall art street is an interesting place to explore.
Old Dutch Hospital
One of the oldest building structure in Fort area of Colombo which has now been converted into an upscale dining and shopping complex for tourists.
Negombo
If Colombo does not impress you much, on the way back you may choose to stay at Negombo, another beach town located at 20 minutes riding distance from Colombo international airport. Apart from Negombo church, check out the fish market, mangrove at Muthurajawela marshland, Saint Mary's church, and the beautiful lagoon that supplies Sri Lankan lagoon crabs world over!
Colombo was a port city by the Portuguese. It was built in 1517 by the Portuguese and then ruled by the Dutch and the British in the course of time.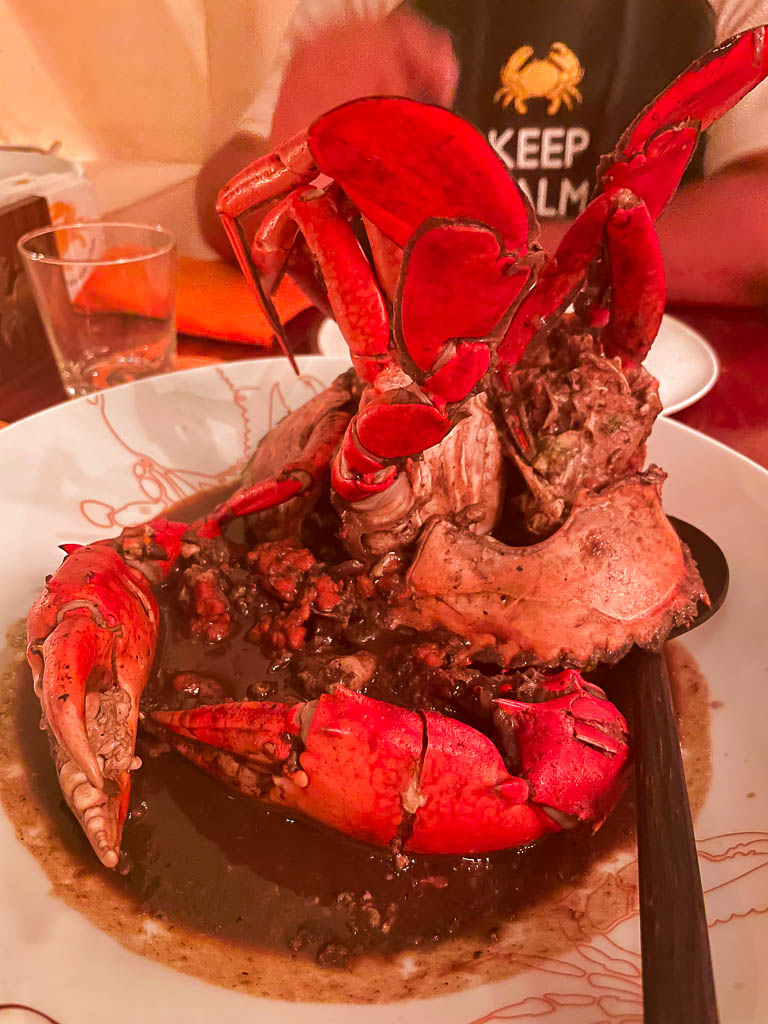 Hotels in Colombo:
I loved the fort area in Colombo and stayed at Fairway Hotel. It was clean, budget friendly and centrally located. However, there was no view from the room. They let us check out at 2 pm on the day we started for Kandy. On the way back we stayed at the Steuart and they actually allotted a suite to us on the top floor which was pretty awesome!
It is wise to leave Colombo as soon as possible to experience the best of Sri Lanka tour. We flew to Colombo from Bangalore and it took us less than 3 hours with complete immigration however in case you are jet lagged, please count a day to adjust with the schedule and then proceed further.
Where to see elephants in Sri Lanka
While researching for the elephant sanctuaries, we found the Pinnawala elephant orphanage camp is a place where elephants are kept in shackles in the name of a sanctuary. We made a conscious decision to avoid stopping there on the way to Kandy.
However, if you are planning to see elephants in Sri Lanka in their natural habitat, and you must because the country is famous for thousands of Asian elephants, the gigantic and beautiful creatures, please visit Habarana.
Habarana is a 5 hours drive from Colombo. Here are three main parks in the area, Minneriya tank (built 1800 years ago to supply water during draught of dry season), Kaudulla and Wasgamuwa. Weekends can be particularly busy with domestic tourists and a number of cars so I recommend you keep the safari experience for a weekday. You might be pleasantly surprised to witness a gathering where hundreds of elephants come together. And the best part is, you witness these majestic animals in their best element at a natural habitat. Apart from elephants, you may also spot a few more animals here, namely deer, langurs, water buffaloes etc.
From Habarana, I recommend make a base at Sigiriya for a couple of nights and explore the best of Cultural triangle. You may also visit Kandy if you decide to skip Anuradhapura, the ancient capital which is best explored in soothing summer breeze from April to September.
Wildlife safari price starts from 3500 LKR.
Did you know: Sri lanka has 22 national parks and reserves scattered through the island.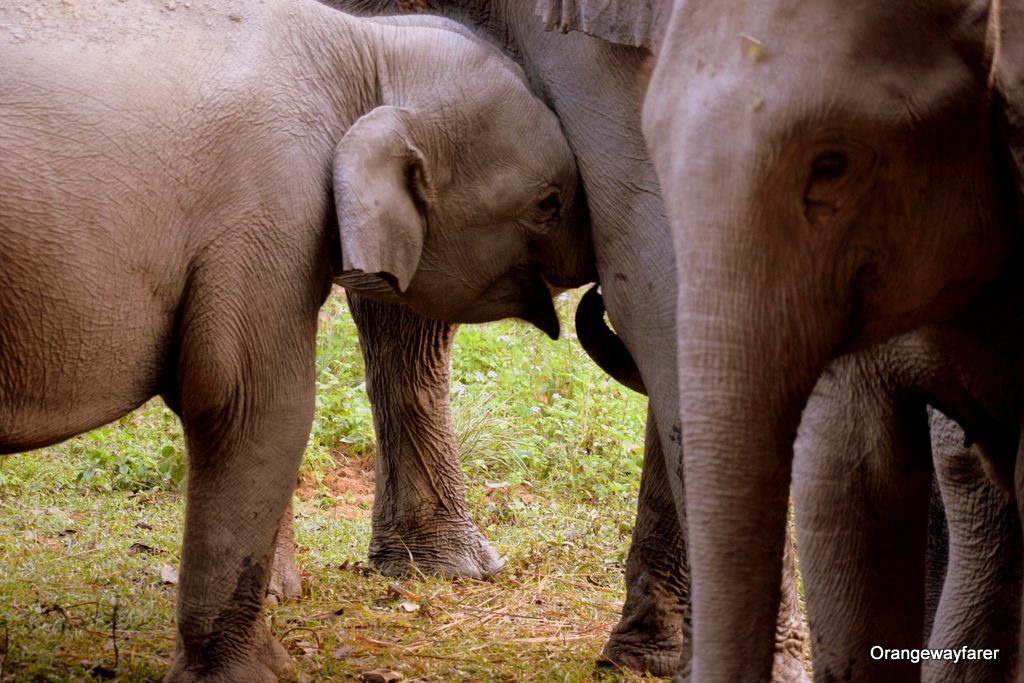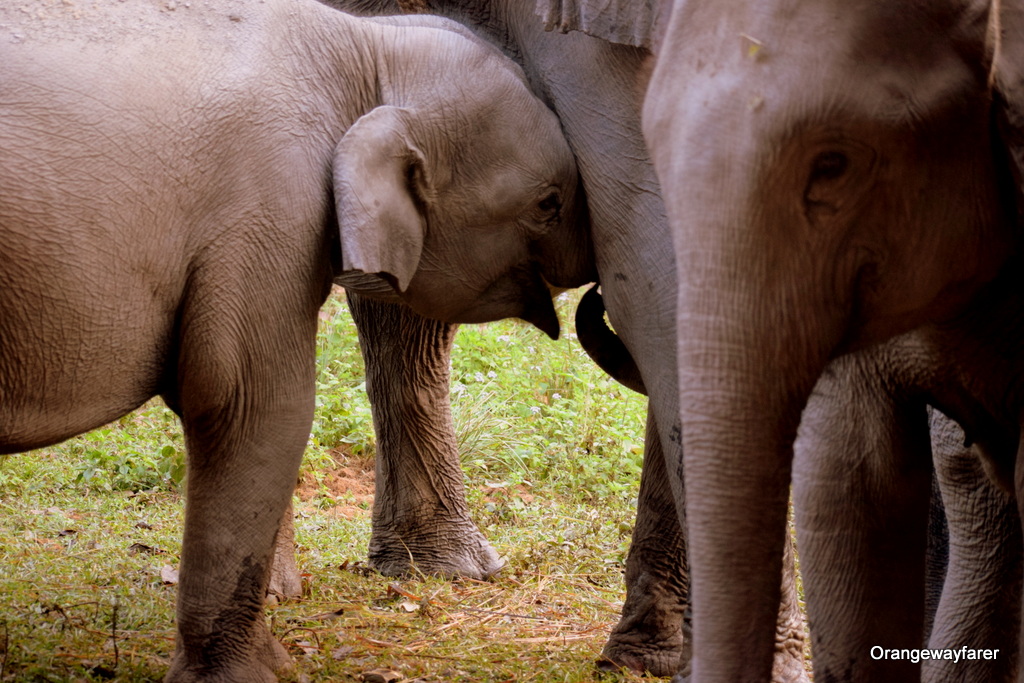 Many travel to Sri Lanka with a motivation to see the elephants and the country has thousands of them!
Also read: The Best of Masaimara Sunset Pictures
Explore the cultural triangle of Sri Lanka: Kandy, Sigiriya, Anuradhapura
Kandy, one of the oldest cities of Sri Lanka is often known as the Cultural capital of Sri Lanka. We stopped in Kandy for a night and proceeded towards the central hills of Nuwara Eliya.
However, From Kandy, you can easily explore the Cultural Triangle of Sri Lanka. Count 3 days to experience the best of Sigiriya, Habarana, Anuradhapura and Pollonaruwa which was originally known as Rajarata (Land of Kings). 5 Out of 8 UNESCO world heritage sites of Sri Lanka are located in this region hence you can understand the cultural importance of the place!
If pressed for time, allow Kandy a couple of days and hike the profound Lion's Rock of Sigiriya on the very first day.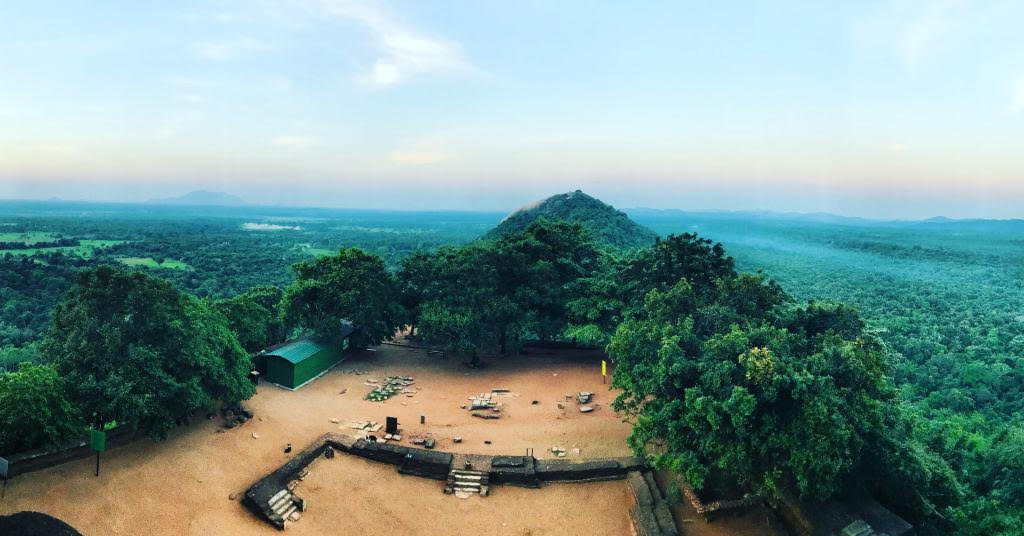 Cultural Triangle of Sri Lanka: Ancient Sinhalese Kingdom from Anuradhapura, the ruins of the capital of Polonnaruwa and the cave temples of Dambulla. Choose to travel during the rainy months to face the dry heat that leaves these places lifeless during dry months. If you plan to explore the complete Cultural Triangle, please assign at least 3 days. If you have enjoyed places like Bagan in Myanmar or Luxor in Egypt, you would love Anuradhapura and the ancient ruins surrounding it.
Sigiriya
Make a base at Sigiriya for a night if you just want to visit the Lion's Rock. Extend you stay if you want to ho further into the temple towns of Anuradhapura.
Hike the Lions Rock
Locals revere the rock citadel of Sigiriya as the 8th wonder of the world. There are more than 1200 steps that you need to climb to get onto the top of Lion's rock. It might be intimidating at the thought of climbing this towering ancient rock however the views from the top are ethereal.
Sigiriya rock is best climbed at the start of the day to avoid scorching heat. Take some water along. Entry fee to the Sigiriya rock is USD 25. With history dating back to 1500 years, the Sigiriya Rock is about 200 meter tall, features a steep ascent to the top, features ruins of tanks, gardens, palace and mural painting, a museum, accepts visitors from 7 am to 5 pm.
At the feet of Sigiriya rock, you will find traces of landscaped gardens, moats, markets, remnants of a kingdom that king Kassapa had built to sustain a prolonged seize. A museum stands too that educated visitors on the history of the rock. Before turning into a citadel, Sigiriya rock caves at the feet had served as monastery dating back to 1st century BC.
Pidurangala Sunrise View Point
If you are staying at Sigiriya for the night, try to catch the sunrise from Pidurangala Sunrise view point with the Lion's Rock looming large at a distance (emerging Instagram fav spot). It is a hardened magma plug from an extinct volcano! When the monks of Sigiriya palace were driven out as King Kassapa was building the citadel, they were reassign to the temple of Pidurangala rock. View during sunrise from Pidurangala rock is compelling. It is an easy 20 minutes hike from the base on a dust trail.
At Sigiriya, you may book an experimental tree house stay at the Inn on the Tree Eco Resort.
While visiting the Buddhist temples of Sri Lanka, please ensure you have covered from your shoulders to knee out of respect for the locals. Never touch a monk.
Drone shot of Sigiriya Rock. I was told you need to procure permission from the government to fly or enter the country with a drone in Sri Lanka otherwise immigration will confiscate it. However, I had seen a few travelers flying it without a worry about the world.
Dambula Cave temple
From Sigiriya to Dambulla, it takes 20 minutes by a bus. Regular buses ply between both the points.
The historic cave temples of Dambulla date back to the first century BC. The Buddhist monks intended to carve out the caves to establish a monastery. Caves are elaborately painted illustrating the advent of Buddhism in the island through murals. 5 different caves hold 157 Buddhist statues in sitting or standing position in Dambulla. From the top you can have a panoramic view of the valley and Sigiriya fortress at a distance!
The Dambulla cave temples are filled with Buddhist paraphernalia and intricate murals depicting Sinhalese life dating back to the era of Vattagamini Abhaya (89-77BC). Tamil invaders drew him out of the capital city of Anuradhapura into a prolonged 14 years exile. He hid in the caves of Dambulla and upon reclaiming his kingdom, he assigned these caves to be transformed into timeless temples. The second cave lined with a number of Buddha idols is known as the Temple of the Kings.
You may hike the Sigiriya rock in the morning and proceed for Dambulla cave temple in the evening. Plan for a sunset watch from Dambulla although it will be a bit crowded. There are close to 400 stairs to access the temple. Hats are not allowed. Please carry changes to be paid for keeping your shoes.
Ancient Capital of Anuradhapura
A UNESCO heritage site, Anuradhapura is considered to be the birthplace of Buddhism in Sri Lanka. This is where Emperor Asoka's daughter Sanghamitta visited and planted a tree, offspring of which is living till date. The ruins, stupas, tanks, caves, mural paintings all testify to a prolific era of cultural evolution from days bygone, from 300 BC.
If you are a history buff, you can spend 3 days just exploring Anuradhapura but chances are you will be templed out soon. A half day's guided tour is enough to introduce you to the best attractions of Anuradhapura.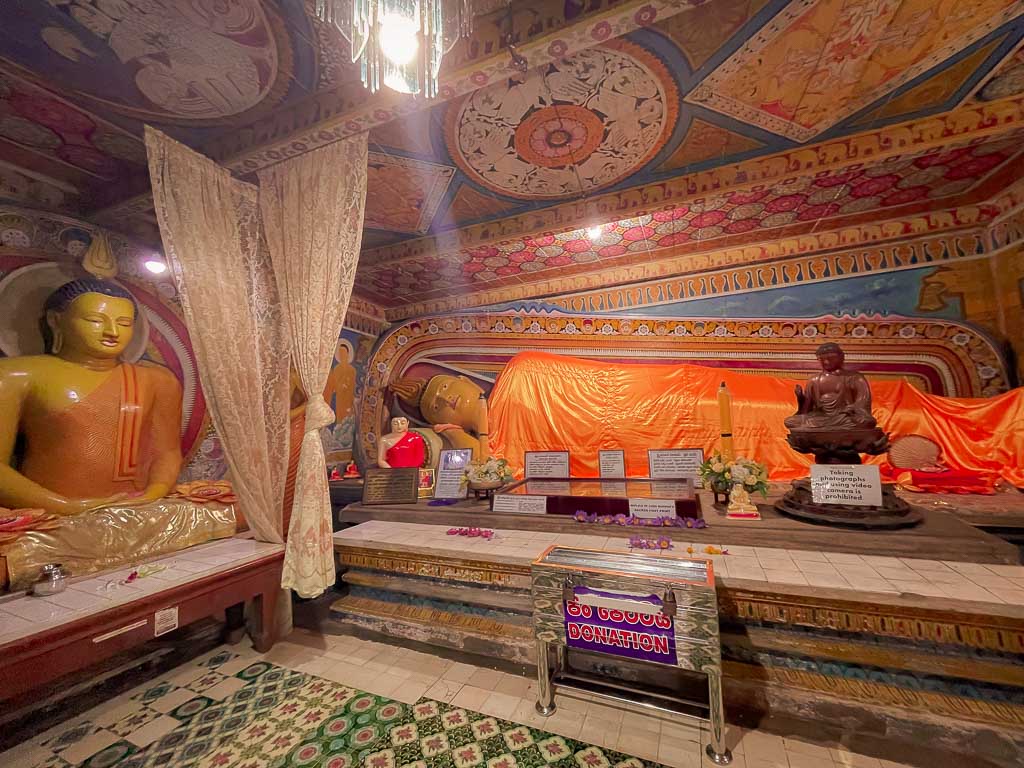 Also read: How to spend 2 weeks backpacking in Myanmar
Ruins of Polonnaruwa
By a bus, it takes 2 hours to reach the ancient city of Polonnaruwa. Rent a bicycle for the day and explore the ancient ruins. Tuktuk and walking are other options. Think of Polonnaruwa to be a lot like ruins of Hampi. Visit Dalada Maluwa where the relic of Bhagaban Buddha's tooth was kept before being shifted to Kandy. Further explore the ruined citadel, royal palace, the 4th century statue of Buddha erected at Lankatilaka, Gal Bihara and many more countless statues.
Hydrate yourself regularly while exploring the ancient city. Look up and you shall find many treehouses where locals keep an eye for the elephants approaching from the adjacent national parks.
From Sigiriya, you can also go hike the Knuckle mountain range, a lesser known destination in Sri Lanka.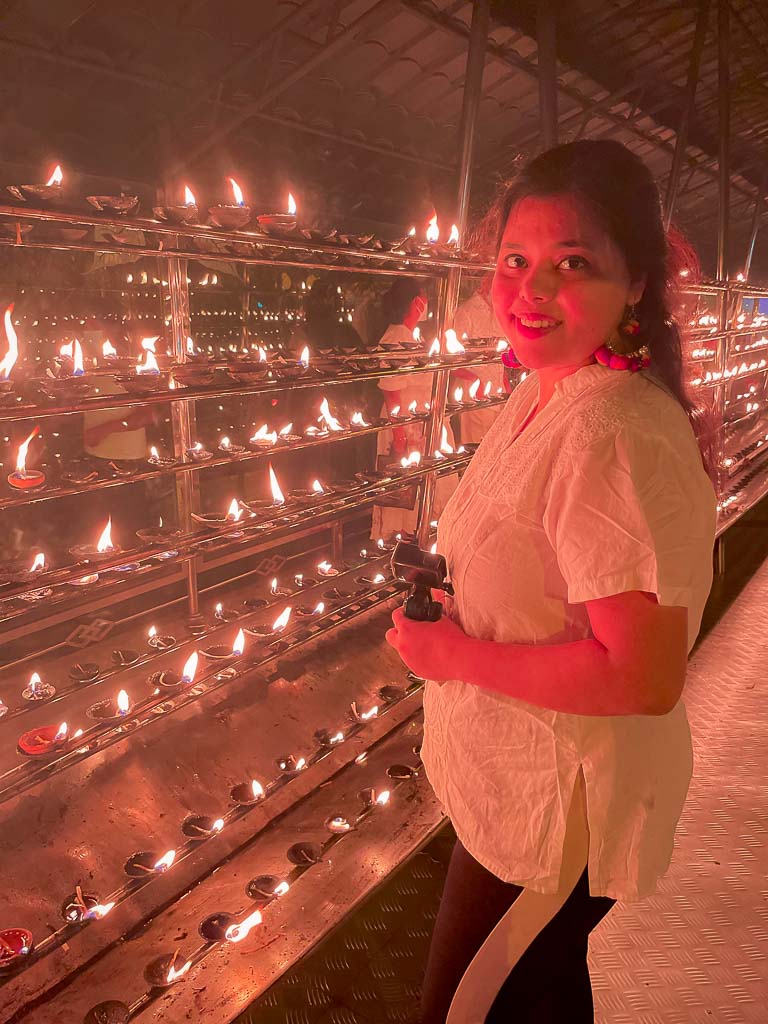 Kandy: Entry to Sri Lanka's Heartland
Temple of Tooth Relic
We visited the tooth relic temple of Kandy by dusk. A stunning sunset painted the lake livid. It can take a couple of hours to navigate all the sanctums and halls of the temple of Tooth relic and the adjacent palace. It illustrates the story of Buddhists being persecuted in ancient India and how they finally sought refuge in Sri Lanka and settled here.
For me, the most beautiful part of exploring the temple of tooth relic was to fill my lungs with the aroma of butter lamps. They have built small sections right next to the main temple where hundreds of devotees light lamps on a daily basis. In all my previous experiences of Buddhist temples, I had experienced similar sense of calm at the high mountain monasteries of Ladakh and Tawang.
Temple of Tooth is of immense political significance to the locals of Kandy, once the sprawling Singhalese capital. Every evening the Buddha's tooth relic is brought out for the devotees for daily darshan preceded by a magnificent ceremony with drums and flute. Please visit the temple of tooth relic only in the evening to witness this grand ceremony.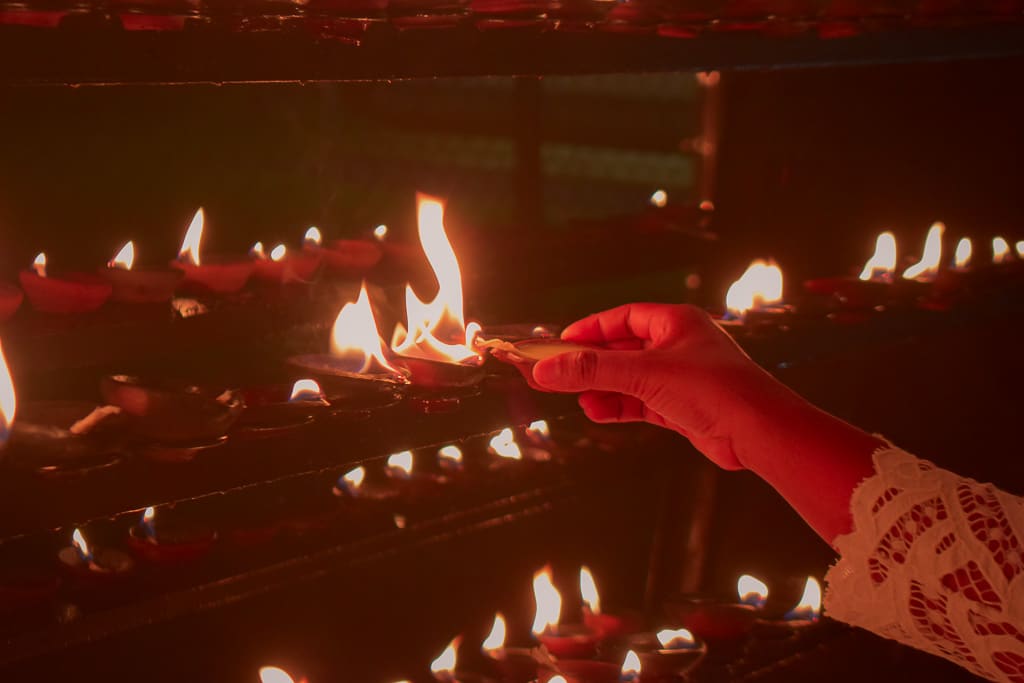 Festival of Tooth in Kandy
In July/ August every year, there is a Festival of Tooth in Kandy where the relic is brought out of the temple preceded by a large chaperon of priests, monks, elephants, musicians. The festival lasts for 10 days.
Legends has it that the tooth was retrieved directly from the pyre of Buddha's funeral. In 4th century BC, it arrived Sri Lanka. It has moved as the Singhalese capital has shifted over the millennia, from Anuradhapura to Polonnaruwa, finally arriving at Kandy. Beside the Royal palace, it finally was fortified within the temple encased with layers of steel casings.
On the way back we stopped for dinner at one of the oldest restaurants of Kandy names Royal bar and Hotel. It had a hotel attached which I strongly recommend for a classic stay.
Next to the temple, there is a thriving market in Kandy which mostly caters to locals with fruits and vegetables.

Raja Tusker Museum in Kandy is worth a visit. This Museum is standing in memory of a temple elephant named raja. For 37 years, a Maligawa elephant that carried the tooth relic of Buddha during annual Esala Perahera festival that traces its history back to 4th century. Upon the death of the Poseidon, the Sri lankan government observed a day of mourning nationwide, such was the importance of the animal.
Other things of interest near Kandy:
Visiting the Tea Museum celebrating the tea heritage of Kandy.
A visit to the Kandy Botanical garden
A Kandy Cultural dance Performance. Attend a Kandyan dance performance at Kandyan Arts Association (daily; 5pm) or YMBA (daily; 5.30pm).
Peradeniya Botanical Gardens: A 150 acre British botanical garden with variety of native and foreign fauna
Bring a sundowner by the central lake of Kandy, known as Kiri Muhuda.
Empire Café beside the Temple of the Tooth is one of the oldest British cafe in town.
The towering Buddha statue of Kandy known as Bahirawa Kanda
Of all the cities in Sri Lanka, I found Kandy to be intensely atmospheric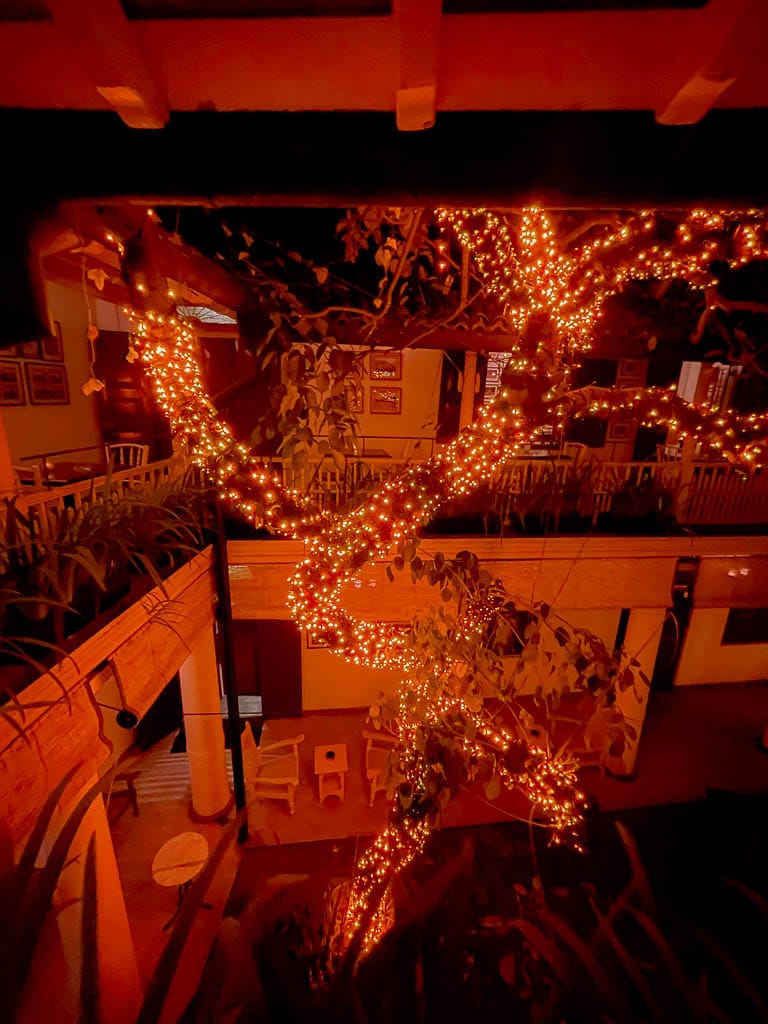 Nuwara Eliya: Little Europe perched atop the Central Highland of Sri Lanka
From Kandy to Ella, the iconic Sri Lankan Train journey starts early in the morning. Many call it the most scenic journey in the world.
Many choose to ride from Kandy to Ella directly, I recommend you do that if hiking is your forte. In case you have rented a car for your trip in Sri Lanka, you may ask the driver to drive down to Ella and you can go meet him directly the next day. This way, many transfer large luggage instead of lugging them around train stations in Sri Lanka which do not have escalators.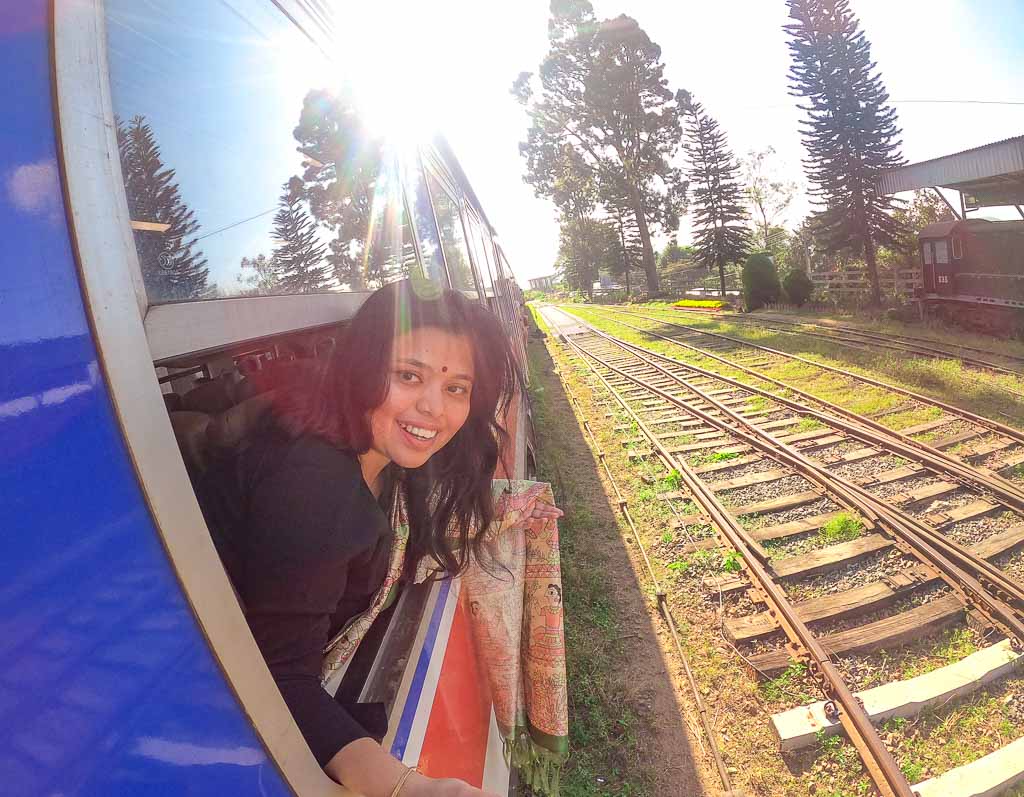 We rode the new air conditioned train coaches of which has been built in China. We were carrying 2 large suitcases and they fitted well in the train. However, it might be a challenge to carry them on the overhead walkways as Sri Lankan stations, as of 2022, do not have any escalator of lift service, meaning you have to lug around those 20 kg luggage. Not recommended.
Nuwara Eliya the mountain town is set amidst the valley of Pidurutalagala mountain range the tallest in Sri Lanka which is inaccessible to tourists without procuring prior permission.
Many choose Ella over Nuwara eliya. I can see why. Nuwara Eliya is known to the locals as little England. British colonists took refuge in the hills of Nuwara Eliya where they also ran a few tea plantations. Till date Nuwara Eliya retains a very European character with tea clubs, cute cafes, a lake to boat around, golf courses, high end resorts, home grown dairy brands of Sri Lanka, strawberry fields and of course rolling hills filled with tea plantations.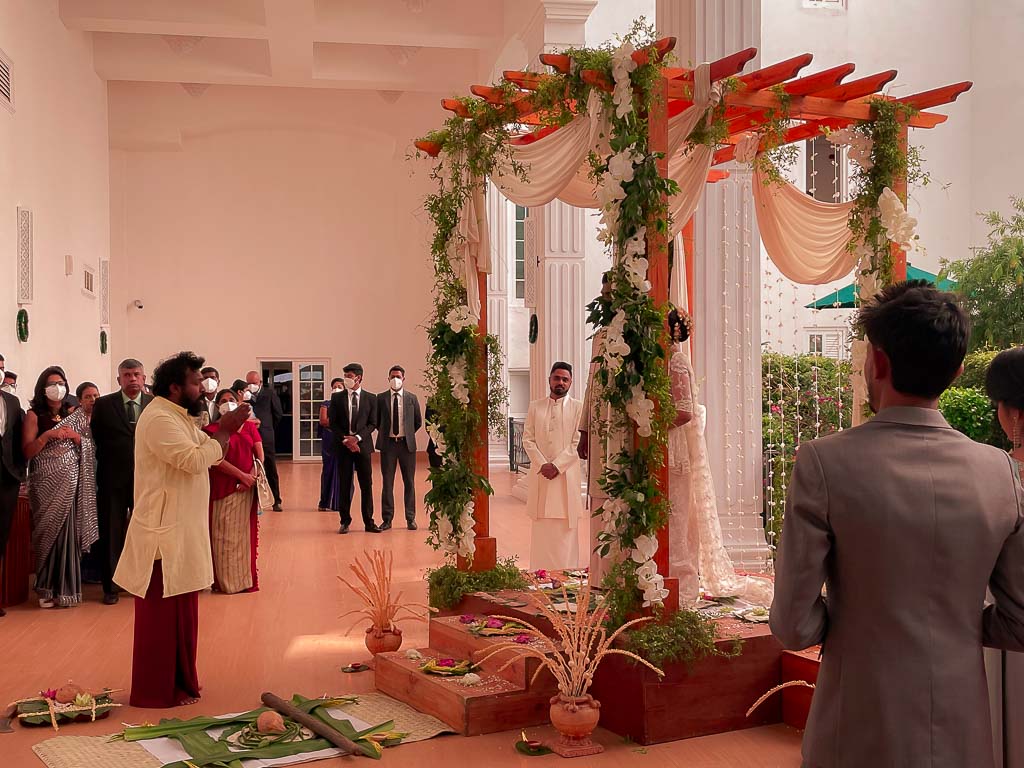 Ashokvan, in search of Sita's Vanbas, Ramayana Trail in Sri Lanka
However, I loved Nuwara Eliya's epic appearance in the context of the famed Ramayana trail of Sri Lanka. For the uninitiated, Ramayana is an Indian epic which basically illustrates the history of Aryan settlement in the Gangetic valley. It is one of the finest reads you can ever find from ancient human civilization.
Nuwara Eliya is home of Ashok Vatika where Ravana had abducted Sita and imprisoned during the course of the great war. The Hakgala botanical garden is considered the place. I suggest visiting the highest point of the garden where hardly a person enters and you will know why it is termed as Ashok Vatika.
Hakgala is extremely beautiful, especially on a misty day. Nuwara Eliya otherwise has a feel similar to Munnar in Kerala.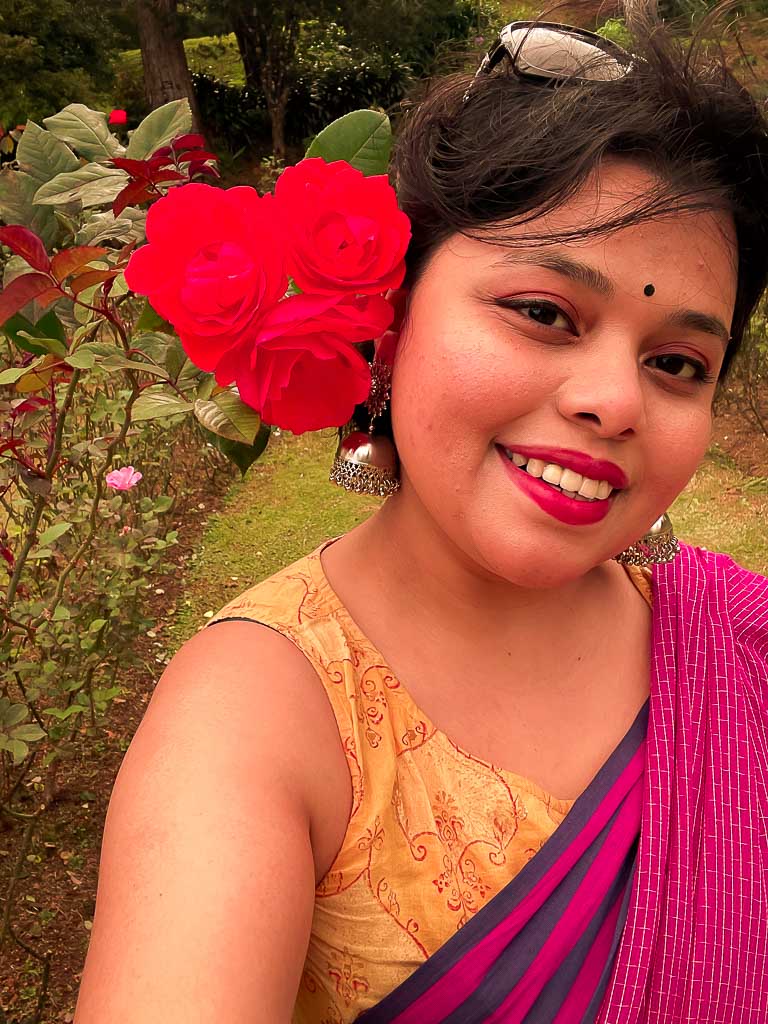 Nuwara Eliya is a heaven for those seeking a refuge at the endless open place close to nature under the cotton candy clouds. If you are traveling in Sri Lanka for 2 weeks, you can easily spend a couple of leisurely days in the town which is a favourite among the locals!
Horton's Place national Park is a high altitude grassland bordered by dramatic cliff that plunge 1 km into oblivion at the World's End.
The Ambewala dairy firm accepts guests specially with children. However things were a bit different during lockdown.
Watch a sunset from the famous Lake Gregory, at the banks of which resides famous Nuwara Elia golf plains.
The colonial Grand hotel arranges for a high tea ceremony every evening which is open for not room guests.
Many tuktuk drivers would try to sale you a visit to tea plantation. You can go with them if you have not been before but I have lived the best days of my life at tea plantations of Darjeeling and Sikkim so skipped this part. However, there are plenty of tea plantation around the town of Nuwara Eliya. Just call up one and schedule an appointment if you want to visit the factory. Damro Labookelie Tea Estate offers free tours around the factory.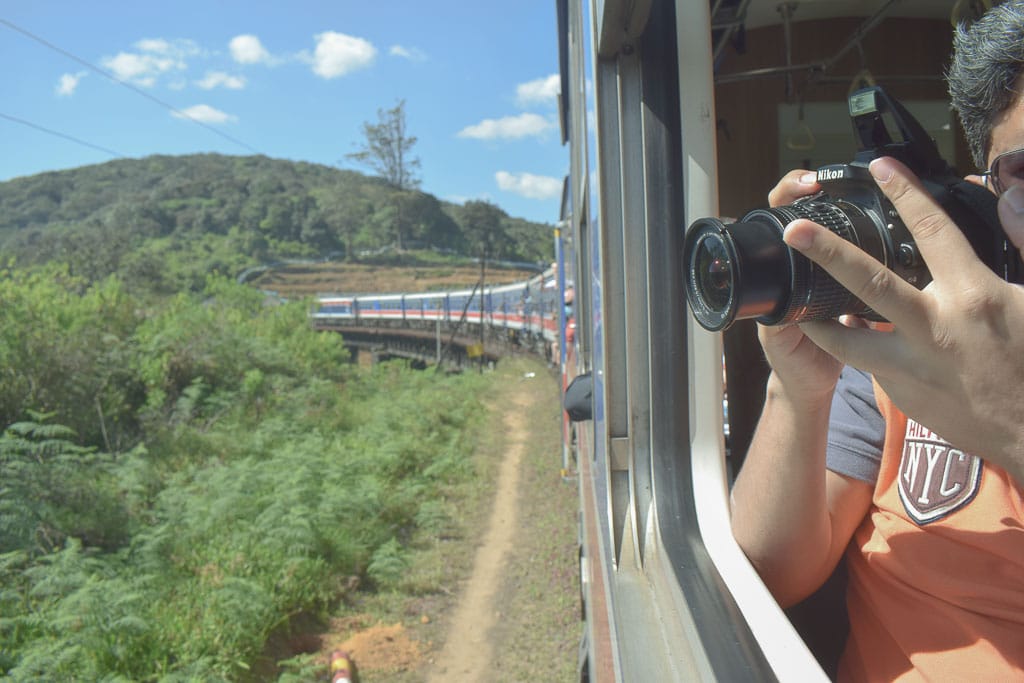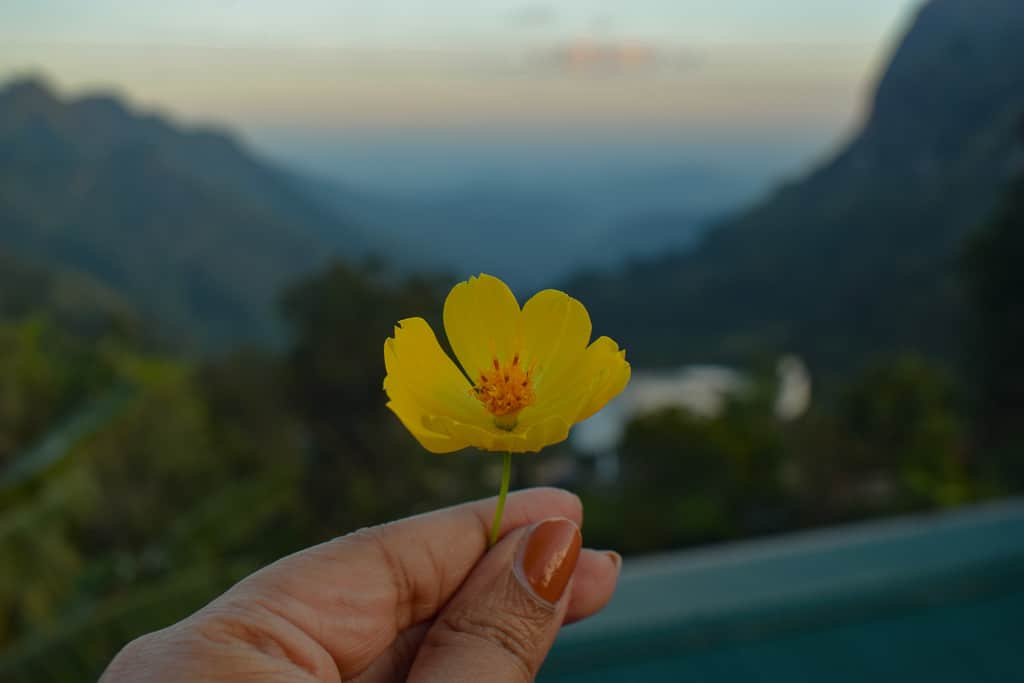 Also read: How to plan a road-trip to Tawang, offbeat places in India
Ella, Highlight of the Sri Lanka Itinerary from central Highlands
After spending a couple of days at Nuwara Eliya, we boarded the train to Ella. Many suggest the train journey from Nuwara Eliya to Ella is one the most scenic train journeys of the world. With multiple colonial arch bridges, hamlets painted in vibrant hues, rolling hills studded with tea plantation and gigantic old trees, we could get a glimpse of the iconic train journey.
Our train from Kandy to Nuwaya Eliya was booked on first class while the train from Nuwaya Eliya to Ella was on second class. I loved the first class journey more. It is less noisy and seats were a bit more specious.
Adam's Peak in Ella
Hike to the top of Adam's peak to experience the best of Ella. On a clear sky day, you can view Colombo at a distance of 5 km. Incredible but thats what locals told me.
The trail to Adam's peak is a hardcore 7 km hike through the bushland and lit up during pilgrimage season from December to May resembling an illuminated stairway to heaven. Another hike famous in Ella is the way upto Little Adam's peak that lets you take a glance at Ella Rock, Ella Gap and Rawana Ella Falls all together.
From Adam's Peak in Ella, you get an unhindered 360 degree view of the rolling mountains of central highland in Sri lanka. The sky gets hues in shades of red before the sun actually rises, so the trail up to the top of Adam's peak would be comfortably brightened even before you witness the actual sunrise.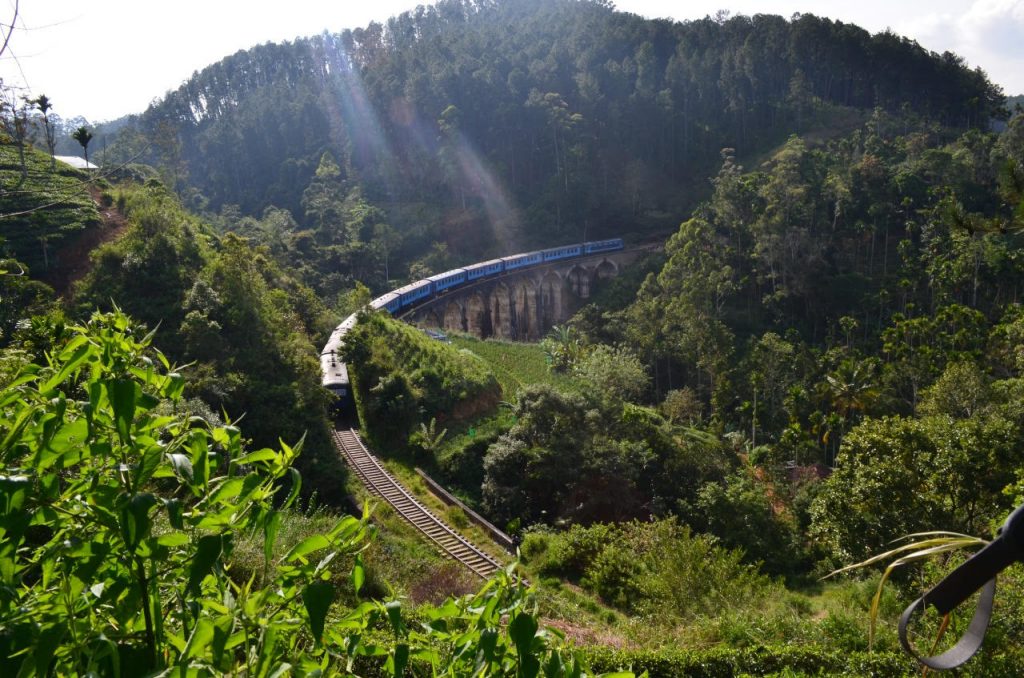 A friend once described the Nine Arch Bridge to me as, "We visited the bridge and waited for 1 hour or more so that a train can pass and my wife can click the picture for Instagram!" His bitterness induced a hearty laugh in the room. Being an insta-famous bridge comes with its own share of challenges. While the nine arch bridge epitomizes one of the colonial structures of Sri lanka with a locomotive slowly making progress through an archaic bridge set amidst green tea plantation, it also attracts a few hundred tourists each day waiting eagerly to capture the moment.
Hike the Ella Rock starting from the bridge near Little Ravana Falls. It is a 4 hours long hike to and fro.
The Nine Arch bridge is also known as Demodara Bridge. Please be mindful of flying a drone in the area since the jungle is home to myriad species of fauna.
It is a little hike from the Little Adam's Peak with marked trails. If hiking is not your travel style, trust a tuktuk to bring you closer to the Nine Arch Bridge.
From Ella, it takes 5 hours to reach the southern coast of Sri Lanka by a car.
If not a car which would be costly for this lag of the trip (LKR 15000), try to catch the No 31 Bus. Several bus plies between the Sri Lankan highlands and the southern coast (Ella to Matara) starting from 7 am to 11 pm. It takes around 5 hours without a tire change on the road. Get down at Mirissa which is on the way.
If you are not keen on hiking in Ella
We stayed at the View in Ella. It was an adventure in itself to reach the hotel located at the top of the hill with 20 kg of luggage and wearing a saree. The View truly bestowed unhindered view of Ella mountains. I did not go hiking anywhere but spent the evening exploring the beautiful town. From the little experience I could gather from the vibe of the town, I recommend spend a couple of days at Ella and skip Nuwara Eliya if time is not a luxury. However do not skip Ella thinking the place is just full of hiking. Ella is still rustic and beautiful, very beautiful actually and has not been commercialized beyond its potential.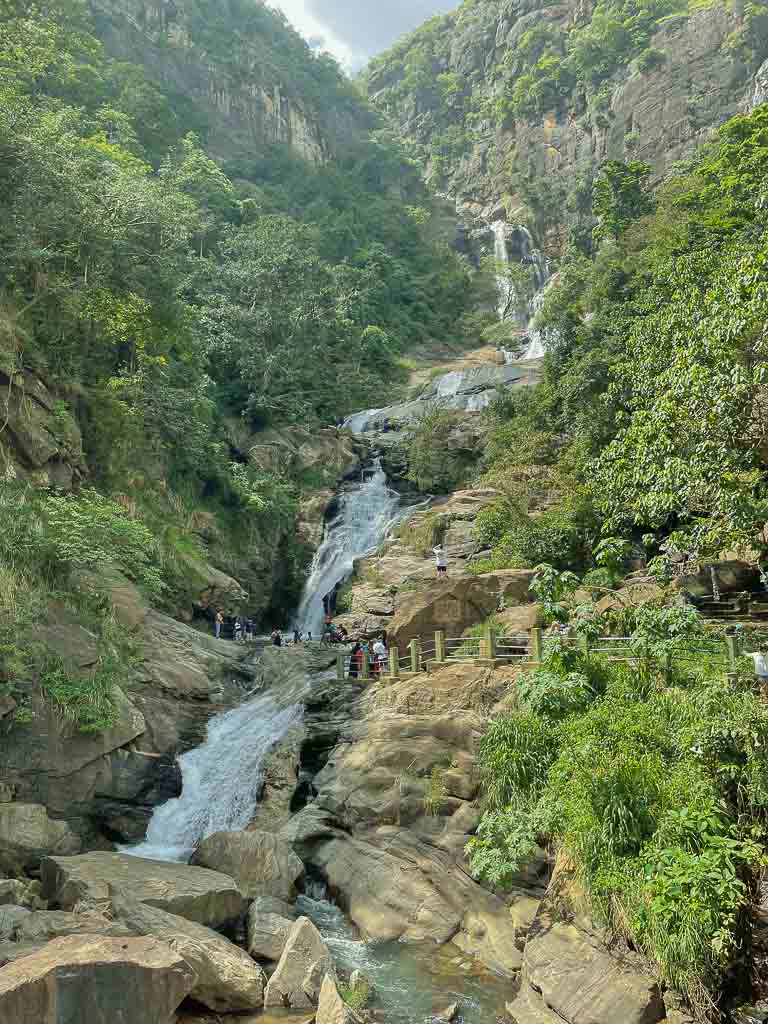 Diyaluma Falls
A plunge fall with infinity pools filled with emereld blue water at the top of the hill as well as at the bottom of the fall, Diyaluma Fall is Sri Lanka's second highest fall and can be accessed with an hour long tuktuk ride from Ella town. It takes an hour to get down to the bottom of the fall if you are hiking down the marked trail.
As a part of the Ramayana trail, Ella is close to Rawana Ella Falls which appears on the way as you drive to the coastal region of the country. The 90 m plunge fall through a series of rocks and pools is belived to start from the Ravana Rock where the Antagonist from epic Ramayana is sleeping under strict guard of prehistoric mythological creatures. Many guides tours are available to hike the trail that takes you to the top of the Ravana cave (600 odd stairs) however you do not understand the enigma of the place unless you have read Ramayana by heart and know the impact of the war that shaped the history of the subcontinent.
Udawalawe National Park: day trip from Ella
From Ella, another great day trip can be planned around Udawalawe National Park. There are plenty of elephants in the national park in case you missed Habarana.
A three hour long safari for 3500 LKR at Udawalawe (entry fee USD 20) can be a highlight of your Sri Lanka itinerary in case you did not stop at Habarana. They feed the baby elephants here on a daily basis and that is the cutest thing you will ever see! Udawalawe is basically a transit point for the orphaned baby elephants and no way you can touch or feed them here but just observe them in natural habitat before they are reinstated in the wild.
Choose Haputale Instead of Ella if you want more remote, off the beaten track experience in Sri Lanka
Another emerging destination is Haputale at the hill country of Sri lanka.
I found many people alight the Ella bound train at a stop called Haputale. A little google search and it dawns upon me Haputale is a sleepy little mountain hamlet and an ideal base to start the trekking for Lipton's seat.
To welcome the first sunrays of the day at Lipton's seat is one of the favourite hiking activity in Sri Lanka. Many choose to do it from Bandarawela and spend the night at an old plantation club turned into hotel at Bandarawela hotel that was established in 1893.
Haputale is a perfect stop for backpackers with affordable accommodation, hostels, cafes, easy access to the train and bus stations and decent wifi connections.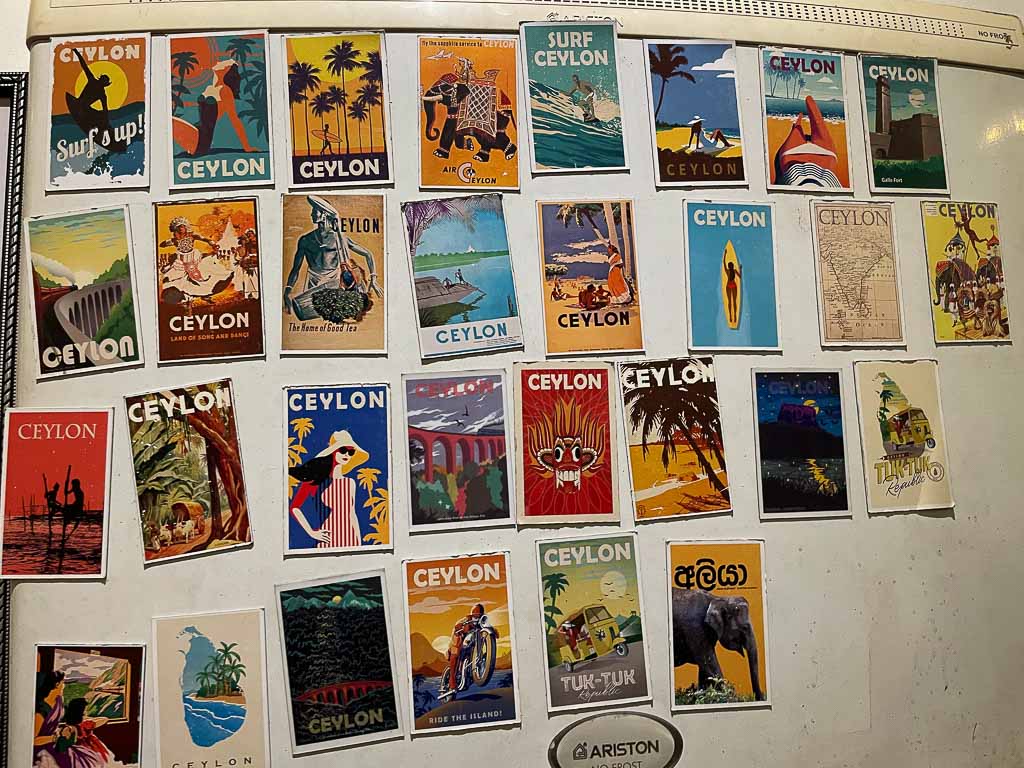 Also read: The best Saree Shops in Kolkata
Rendezvous with leopards with Yala National Park
From Ella, head straight to Yala national park unless you are pressed for time and just spend the rest of the holiday chilling by the beach.
Safari for Yala National Park starts from Tissamaharama (also known to the locals as Tissa) which is located at a couple of hours drive away from Ella. Yala is famous for her wealth of Leopard density. At Yala, keep your eyes open to witness other animals in their natural habitat, elephants, sloth bears, monkeys, monstrous saltwater crocodiles and hundreds of avian species.
From Yala national park, you would move towards the beaches of southern coast, definitely highlight of this Sri lankan itinerary.
For an offbeat experience, you may stop at Dikwella of the Southeast Coast. Soak in the vibes at Hiriketiya.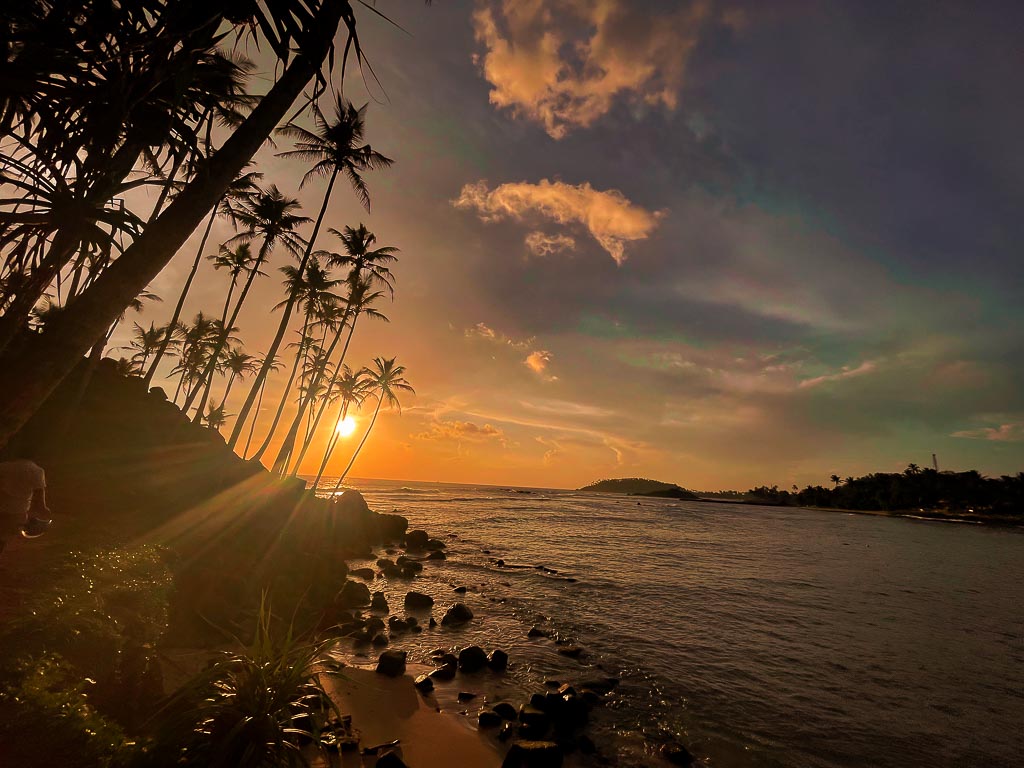 Arriving at the Sri Lankan Coast Line: Mirissa
One evening we scooted the tip of Mirissa to find a way to hike to the top of Coconut hill. It is the smallest hike I have ever done which the best ROI! The sunset is worth all the hype Instagram has created in millennial groups. The coconut hill is stunning. It is easy to find coconut tree lined groves in Goa (think Parra) or Thailand (Koh Yao Noi island) but the coconut hill in Sri Lanka is a unique place! I wonder about the man who planted so many coconut trees in the area. What was going on in his mind?
Let me warn you, sunsets are very busy atop the hill. Do not wear flip flops while hiking the hill.
In the whole of Sri Lanka trip for 2 weeks, we slowed down at Mirissa for solid 5 days. I am so glad I did because I loved Mirissa the most!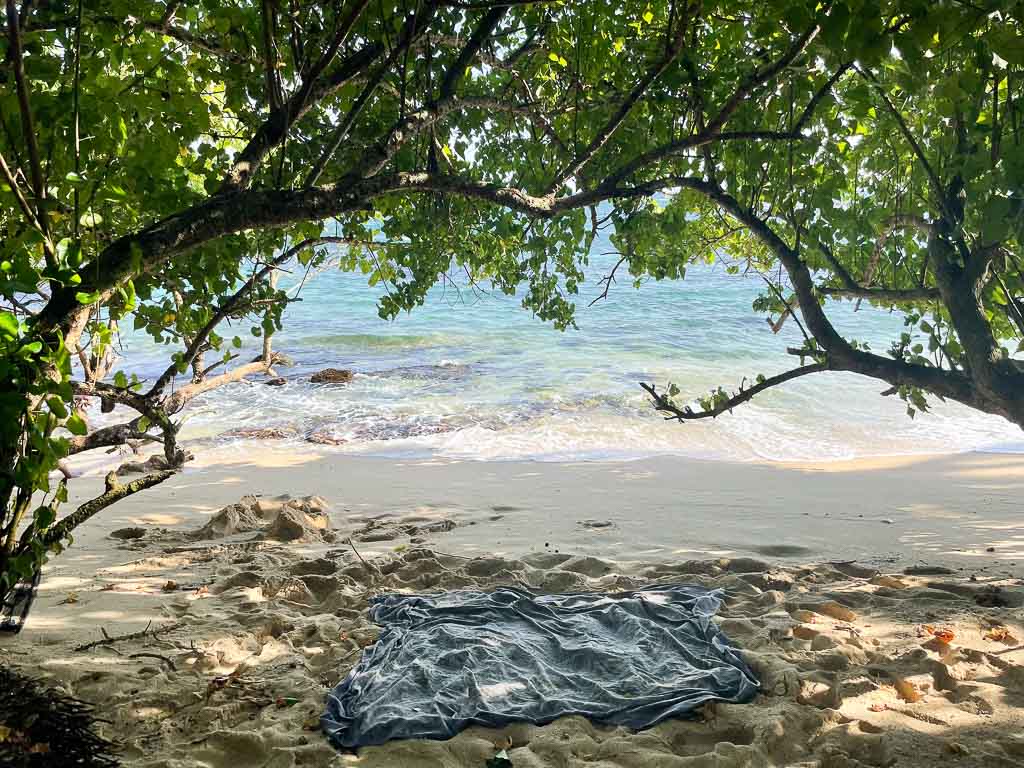 From your southern Sri Lanka itinerary, you can easily make a base at Mirissa and explore the rest of the places within an easy riding distance.
There are several exciting things to do in Mirissa. How we experienced Mirissa was the tiny town was coming out of a long slumber due to lockdown with several shacks and small shops still out of business. Guest houses and homestays had mostly shut down. Hotels were operational in limited capacity.
Many locals we had spoken with said they had gone back to the sea, indicating the innate skill Sri Lankan people had mastered over millennia.
If you are spending the year end in Sri Lanka, Mirissa beach is the best spend to bring in the new year with beach party and celebration going on till dawn. It is a celebration of the scale of 4th of July in NYC just that not many people know about it!
Whale watching tour in Mirissa
One of the best things to do in Mirissa is to go on a whale watching tour. It is a seasonal activity. The blue whale, largest mammals on the planet earth migrate on Indian Ocean not very far from Mirissa from November to April. Several whale watching boats start earlier the day and set sail on the current to spot these majestic animals. You may also spot sperm whales, Bryde's whales, short-finned whales, killer whales. You will surely be able to spot many dolphins though! Be prepared to swim as the cruise ends with a stop at Weligama Bay near Mirissa. Cost of whale watching tour is USd 100 per adult and USD 60 for a child including breakfast.
Drive till Negombo beach a day and get clicked with the stilt fishermen. Tip them generous since this is one of the dying traditions of the locals.
Visit a few turtle sanctuaries on the way. It is likely that the tuktuk drivers will stop at one where you will see a lot of turtles who traverse a long distance of Indian ocean and in the way often gets caught in the fishing nets, end up losing a feet, or consume too much of plastic that it finds difficulty in diving again.
At Mirissa, you can sail with the locals (ask around at the beach) to snorkel with the sea turtles. If you are lucky, you might spot them from the famous coconut tree hill in Mirissa.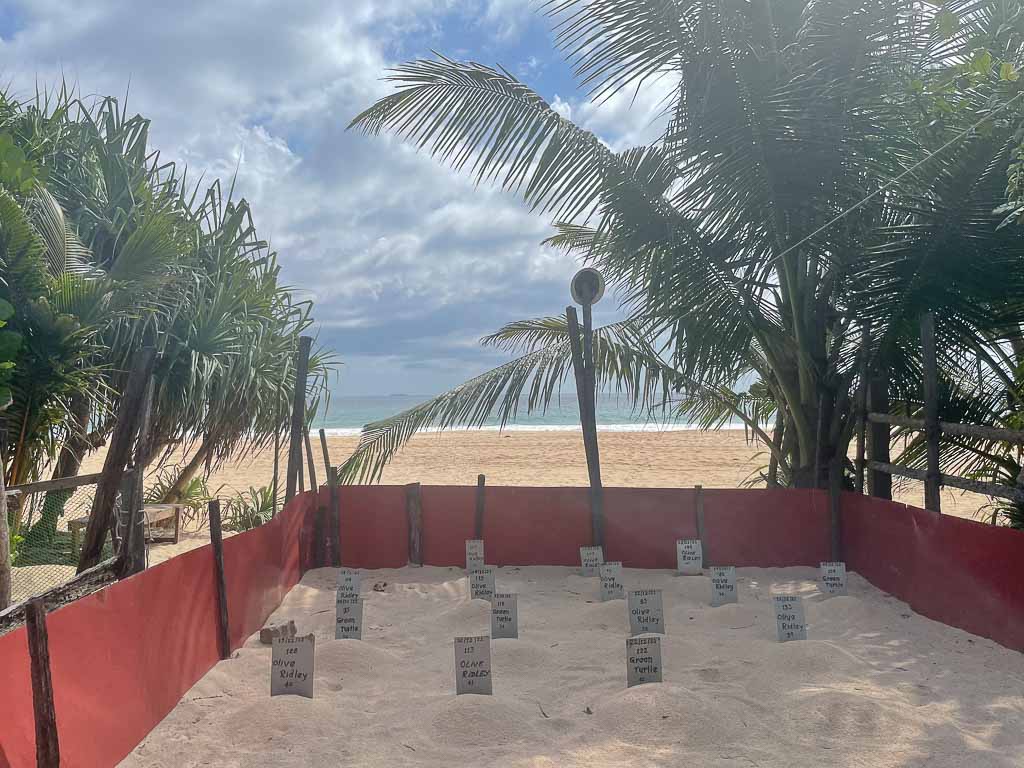 Unawatuna: the Rising Star in Southern Coast of Sri Lanka
On the way to Unawatuna from Mirissa, we hired a Tuktuk. The driver was one of the kindest and happiest persons I have met in Sri Lanka. Kindly connect with him at in case you want to avail his services.
Prices were nominal in the range of 500 to 700 LKR. It keeps changing with petrol price, supply and demand.
Unawatuna is what Mirissa used to be a decade back, filled with hipster cafes, jewel shops, beachside restaurants, thift stores, no shortage of tropical juice parlors. In December, we found Unawatuna was filled with the Russians who moved to the island for longer stay. The shops were ready to arrange for minimal grocery, basic vegetables like potato, tomato, cleaning arrangements, stuff that are needed to run a household.
Unawatuna is located by a lagoon. Personally, I am not a fan of the rocky pebbly beach near the town. But I would make a base here, rent a scooter and roam around the nearby beaches within 10 minutes driving distance to explore more of southern Sri Lanka.
One of the finest lesser known beaches to spend a day from Unawatuna would be Mihiripenna. Lounge at the sunbeds laid by the Thotupola cafe.
At Unawatuna, we stayed at Araliya resort which has a stunning view over the city and the nearby Jungle island and the horizon at a distance.
Drive to Thalpe beach with 13 natural box shaped pools by the beach filled with clear emerald water of the bay. These natural pools reminded me of the salt pools of Danakil, Ethiopia! Please visit during low tide to see the natural formation of the pools. It is a clean beach with very less footfall.
Near Unawatuna, the insta-famous beaches of Dalawella resides, where coconut trees have hanging ropes where one can swing against the backdrop of a vermillion red sunset sky. Please note, all these photographic activities need to be paid in the range of LKR 300 to LKR 500.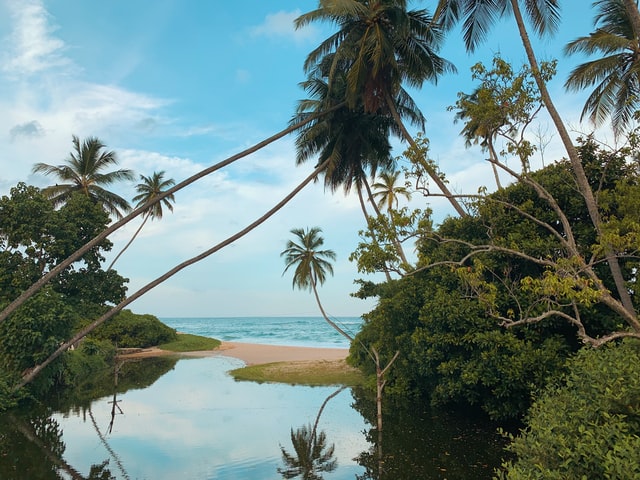 Galle Fort: The UNESCO Town of Sri Lanka
Galle fort was built back in 1663 and is one of the UNESCO World heritage sites in Sri Lanka.
I had read rave reviews of Galle, the ancient port city which has been generously referenced in the history recorded in the court of King Solomon. In 19th century, it was occupied by the Dutch colonists. later, as Colombo rose to fame in marine commerce, Galle found a way to expand inland and attract tourists.
Galle, especially the Fort area, exerts a vibe that is similar to that of Old Phuket Town in Thailand or Pondicherry in India. It is a little piece of Europe in Asia with cobblestoned roads queued with white and pastel villas now converted into hospitality centers, either cafes or restaurants.
Galle Fort is a UNESCO world heritage site. You will find an old light house standing at the harbour that once housed canons facing the sea with an intent to protect the island. There are museums, churches, mosques and a number of restaurants and souvenir stalls at Galle Fort which would occupy you for a day.
Instead of staying at Galle, make it a day trip from Unawatuna. However, for an experiential stay (think an old Dutch villa turned into a boutique hotel) you can choose to spend a night or more at Galle Fort. It was reviving from the dry spell post lockdown when I last visited in December of 2021. It lacked the liveliness that a tourist town typical to Galle Fort would otherwise assert.
When in Ella, I found this beautiful store named Stick no Bills selling stunning artwork in form of canvas prints, magnets and postcard from Sri Lanka, i highly recommend you check them out. they are present at Unawatuna and Galle Fort area as well.
Check out the Dutch Reformed churches of Galle at the old Kerk and the stone-clad British All Saints. The mosque looks more like a baroque church.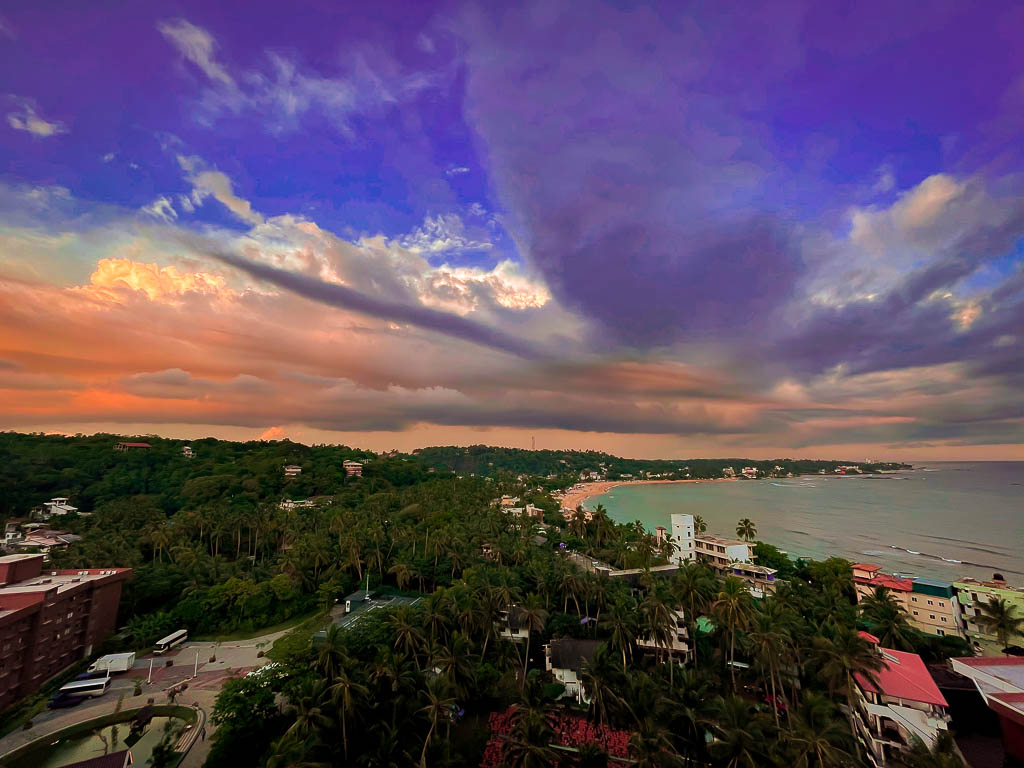 Try the best tea at Galle Fort at Amangalla.
For restaurant hopping, check out the old Dutch Hospital (Like Colombo, this place too is a shoppers' and diners' paradise). I loved the gelato at Isle of Gelato.
Watch the sunset from the Galle Fort walk before your head back home. For us, the sun was unbearable so we headed back to the stunning infinity pool of Araliya Resort at Unawatuna. You may spend the day at Hikkadwaya, another great beach of Southern Coast of Sri Lanka.
Check out the Historical Mansion Museum set up by Mr Gaffar at Galle if you have inetrest in antique collection and the National Maritime Museum. Many of these museums remains closed on Sunday and Monday so plan accordingly.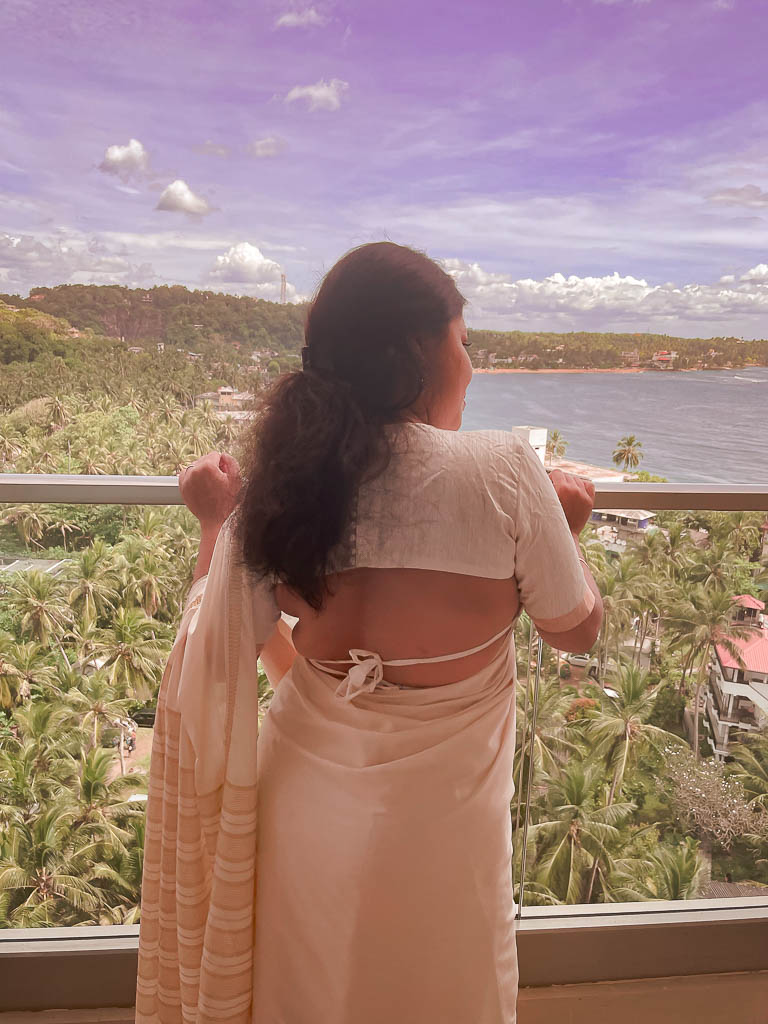 There are many more beautiful beaches in Sri lanka.
Tangalle is a beach destination with a mix of luxury and budget accomodation with plenty of activities surrounding a great white sand beach.
You may choose to spend a few days at Bentota where Taj Bentota, one of the countries oldest and finest hospitality institutions of Sri Lanka is located for a relaxing beach holiday. From Bentota, Colombo is just 2 hours road trip. Bentota is famous for the mangrove safari through lagoon, specially for the birders. You may also get a chance to see the coconut and cinnamon plantation (Sri lanka also has the nickname, cinnamon island) and a few abandoned village temples through the river cruise.
Visit a day exploring the Matara fort and Dondra lighthouse to mark the southern most tip of the island nation (one of the most important forts in Sri lanka)
Visiting Tsunami Honganji Viharaya near Hikkaduwa that commemorates the devastating Tsunami tolling lives of thousands of Sri Lankans.
Stop by Laksala, a state-run handicrafts emporium, to find a huge selection of locally made gifts (it's closed on Sundays so plan accordingly). Laksala workshop is close to Galle.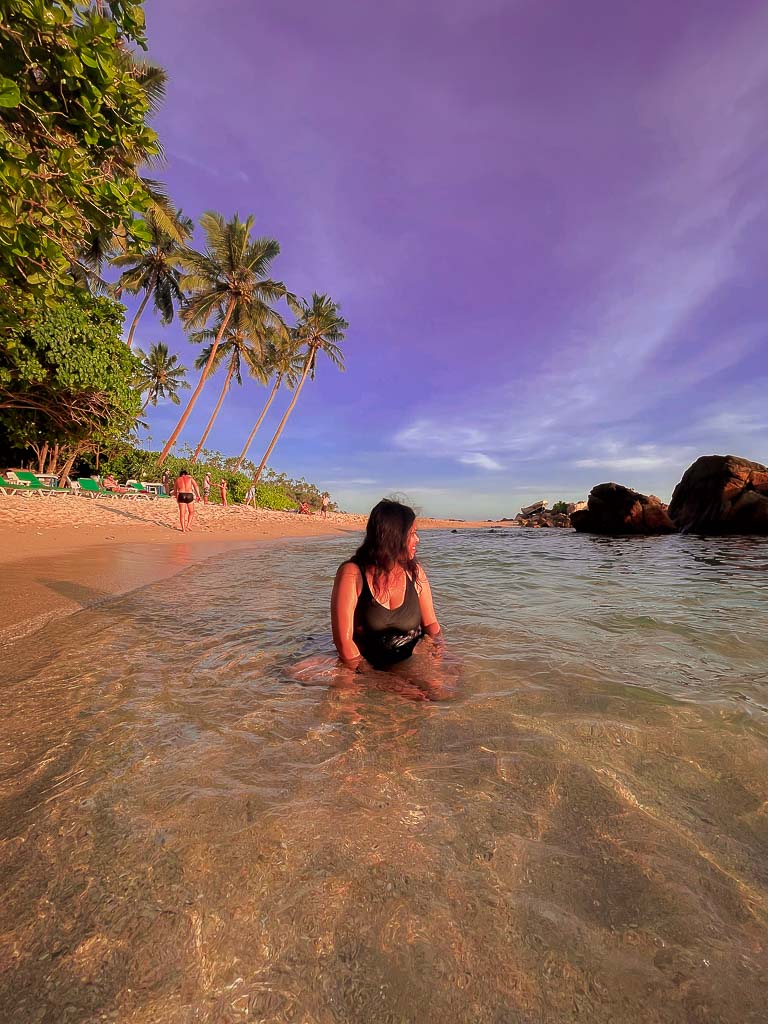 Also read: 50+ offbeat things to do in Goa beyond sun and sand
Best Time to Visit Sri Lanka
A tropical nation in and out, Sri Lanka is best experienced during the dry months of winter that runs from November to April. From May onwards, the island experiences heavy rain due to the Yala monsoon which mostly rains in the south coast. In the dry months of December to February, you might have rain in the North east Coast where Arugam Bay is. These places are beautiful but best explored in the dry season.
Sri Lanka has two separate seasons of rains and rain is when you would want to avoid holidaying in the island if azure sea and sun is your primary motivation to visit Sri Lanka. The southwest coast rains from April until September and the northeast coastline experiences from November until March.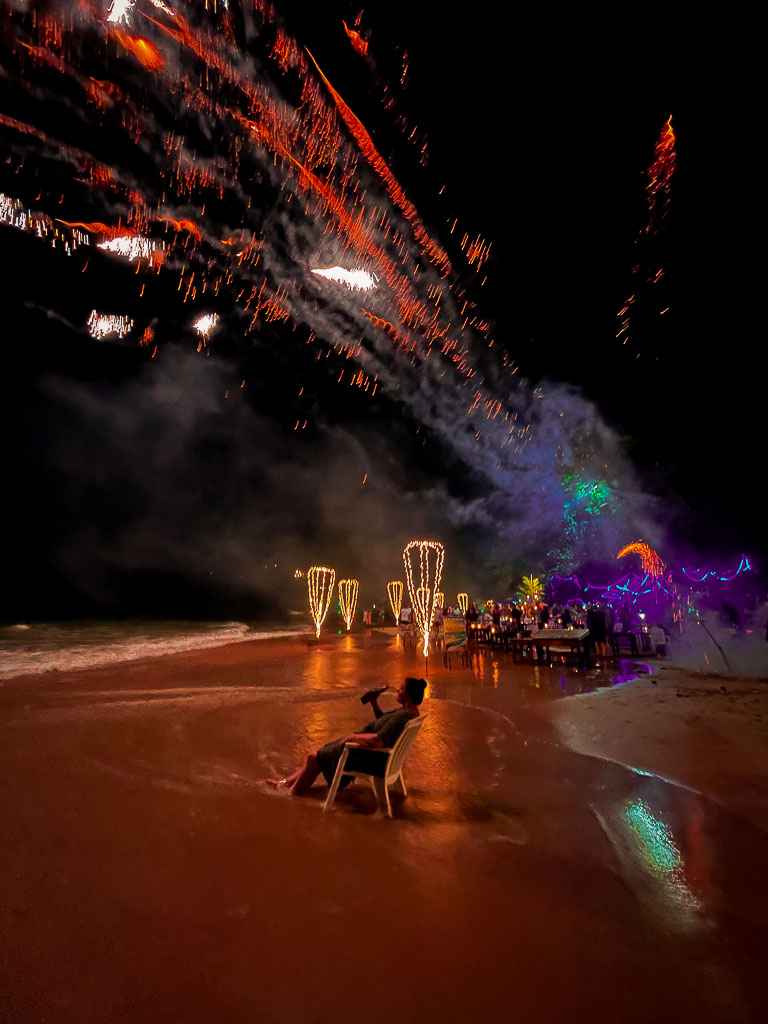 Visa for Sri Lanka (Sri Lanka ETA)
Securing a visa for Sri Lanka was easier than a cakewalk. You need to produce a return ticket to your home country (or any other country, basically to show you have an intent to leave Sri Lanka). Your Passport should have at least 6 months validity. Sri Lanka asks if you have got the Covid vaccine.
For ETA you will need to provide an address in Sri Lanka which should ideally be the address of a hotel.
ETA for Sri Lanka costs USD 35.
ETA is valid for 6 months after it is issued. It lets you stay in the country for upto 30 days.
Apply for Sri Lanka ETA at this website: www.eta.gov.lk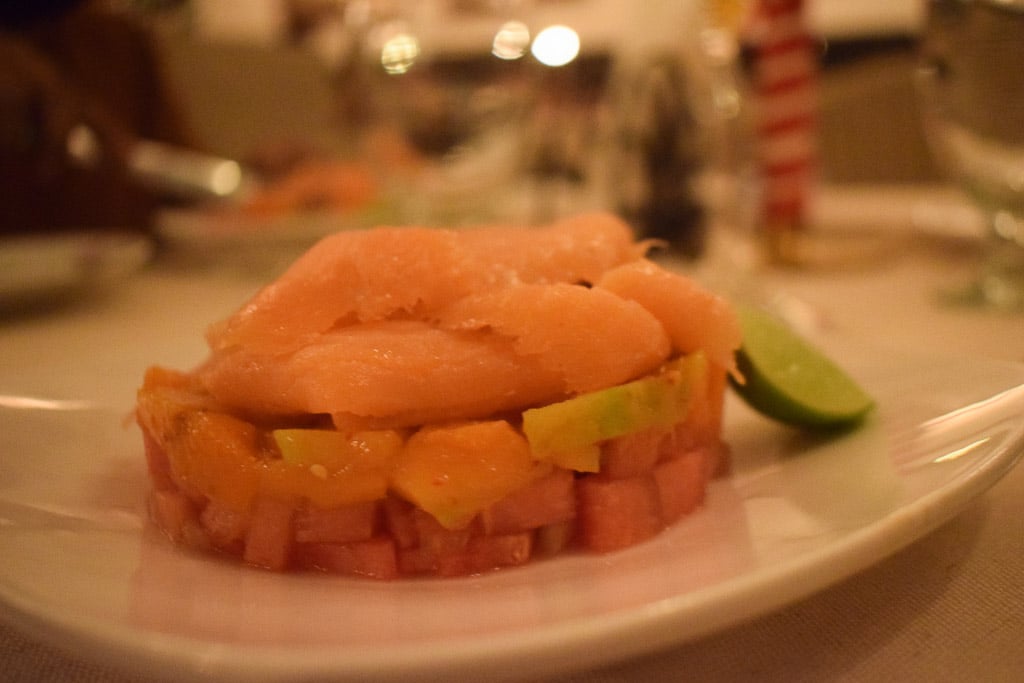 Also read: Complete Guide to plan a trip to Mauritius
How to Getting Around in Sri Lanka: Public Transport and Train
It is possible to explore most of the island country by train as the rail line connects the beaches to the central hills. However, if you are in a hurry, try renting a taxi.
We did parts of Sri Lanka by train. For the beaches we rented a scooter for local sightseeings. For transport from one point to another, we rented a Tuktuk or a car. Things were easily affordable and did not cost us more than USD 50 for any lag of the journey. You can reduce the budget significantly if you tour in a public transport system instead of a car. However we toured Sri Lanka in December before the economic crisis hit the worst.
Like we have Uber, Sri Lanka has her own version, Pick Me and Lyft. Traditional taxis are available too if you look around a bit in the road.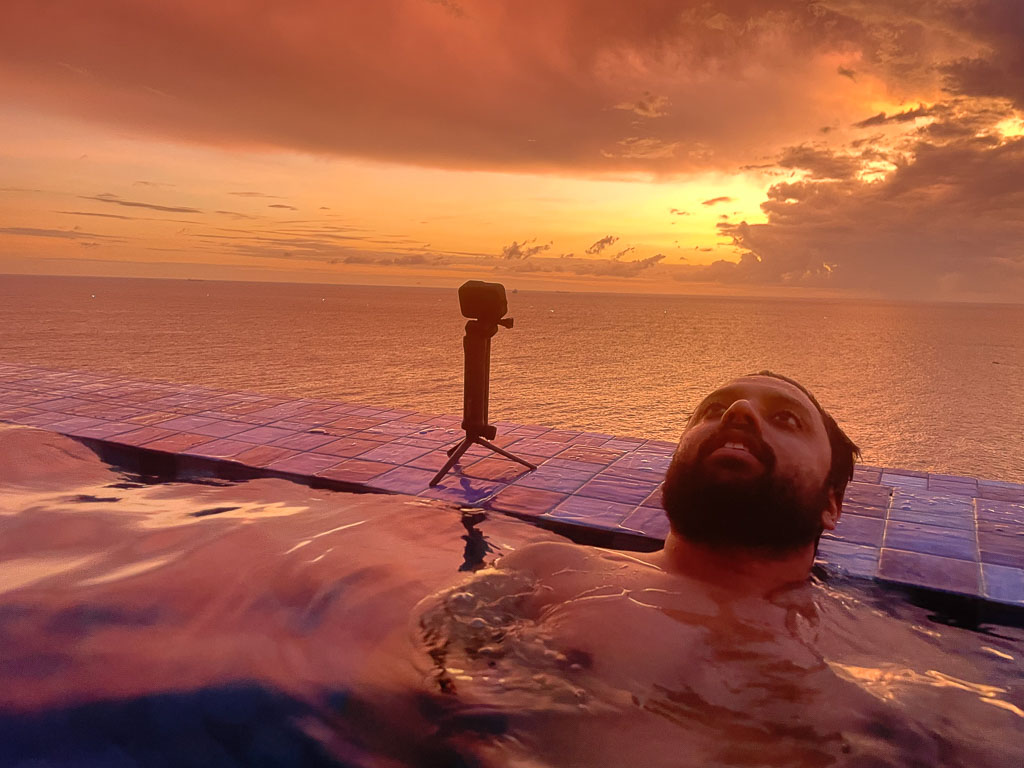 Arugam Bay
In case you are visiting Sri lanka from May to September (during South West Monsoon), visit Arugam Bay instead of Mirissa. Arugam Bay is the most scenic and favourable beach in the whole of Asia for surfing. However, December is just not the best time to visit there. Pre pandemic times had Arugam bay in its best form with plenty of night markets and thift shops. I hear the scne is slowly making a come back as more number of tourists are heading back to the beachcity.
While staying at Arugam Bay, save a day for farm visits. Hire a tuktuk and head straight for the Peanut farm. Hideway resort in Arugam Bay is the best place to stay if you are planning a holiday here.
Emerging from the catastropihc civil war that ravaged the country for nearly three decades till 2009, Sri Lanka the Teardrop Isle on Indian Ocean, is rich in natural wealth and cultural diversity. To westerners, many suggest a trip to Sri Lanka instead of India as a starter's guide to understand what to expect from the subcontinent. As an Indian, my heart was filled with the warmth and hospitality that the tiny island showered on us. History of Sri Lanka dates back to 2000 years and has many cultural references that resonated with an Indian, majority of which pertains to Ramayana. Not an ardent religious pilgrim I am, but I loved connecting the dots as I gasped at the cave that Ravana is believed to have called home or the Ashok Bon of Hakgala garden where Sita was imprisoned after abduction.
This 2 weeks trip in Sri Lanka is a basic itinerary to accommodate parts of Cultural triangle, a bit of national park and ample amount of sun and sand through the South Coast of Sri Lanka. If you have a little more time or not so keen on doing the typical touristy route, please visit the north of the island from Wilpattu up to Jaffna. You can also explore beautiful beaches of Trincomalee, Passikudah. If you want to see it all and do more, account for at least a month and few weeks in Sri Lanka. It looks tiny on world map but Sri Lanka truly has massive offering for a tourist!
---
Let's stay connected on Facebook, Instagram, Twitter, Youtube!
This post may contain affiliate links. Please read the disclosure post. If you have liked the article, you may support it by buying using these links without any extra cost to you.