Tawang. Arunachal Pradesh. My heart becomes a palpable ball of mellow emotion as I type this name. Housed amid the craggy peaks of high Himalayas, Tawang is a beautiful mountain hamlet which evokes sheer melancholy and strong sense of political resistance against the face of spiteful colonists.
Housed at the west Kameng district of Arunachal Pradesh, Tawang is not an "easy" vacation destination. The stars have to align, snowfall has to cede, the road has to abide and the mountain has to bestow favours in order for a visitor to be able to traverse all the pass finding a way to Tawang. It is not an easy and definitive journey. Oh, I almost forgot to mention the political ploy between Asia's superpowers that flexes nuc-infused muscle at the ridge of the mountains. If you know, you know!
This photo essay is an ode to the epic weeklong road-trip from Guwahati to Tawang we embarked on by the end of December. We were armed with permits, riding an SUV, my eyes eager to soak in the solemn splendor of the barren and dramatic landscape. To see the unseen, to live where the race of time has forgotten to glimpse at.
Soaked in the tradition of Mahayana school of Tibetan Buddhism, Tawang is home to India's largest monastery, Tawang Monastery. Tawang is also home to the birth place of sixth Dalai Lama. Not just Indian mainland, Monpa in Tawang follow a distinct pursuit of spirituality that is rare in sight in Buddhist majority countries like Laos or Myanmar.
With the fall of Lhasa, capital of erstwhile Tibet, now ruled under the grasp of Chinese PLA, the 14th Dalai Lama followed an escape route to India. Precious cultural remnants of Tibet remains protected in the closed Monpa community of Tawang. With BRO working relentless to build up new roads and tunnels, Tawang is no longer the arduous trek that it once used to be when the 23 years old Tibetan Spiritual and political leader found his way to Bomdila. However, you need to allow yourself a couple of days on the ascending serpentine road to reach the high mountains that safeguard Tawang in its folds.
Enroute, you will first be greeted with the Bramhaputra Nod, one of the handful of mighty "he" rivers of the Indian subcontinent and eventually land by the ice cold face of the glacial lakes, serving as pivotal reservoirs of the fragile ecosystem. Snow clad mountains, frugal kitchen gardens, gushing waterfalls and arid plateau appear in between, with a few yaks coyly standing and nodding in approval as you make way.
I have written a handful of blogs on Traveling to Tawang to help you plan an itinerary. This blog post is a dedicated photo essay on the road trip to Tawang with highlights of the few quirks. Read on.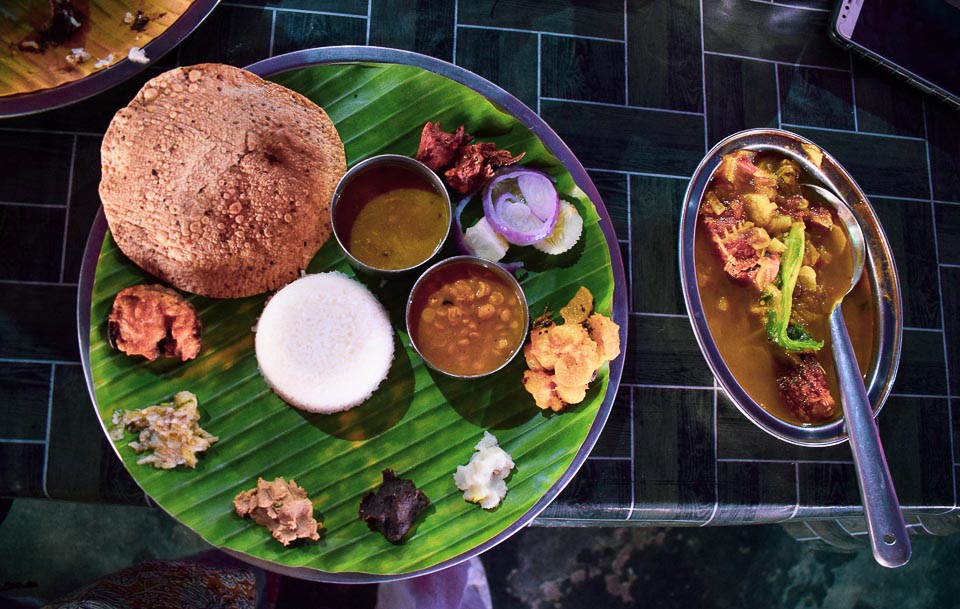 A traditional Assamese Thali. Note the plentiful of Bharta and the robust piece of Katla peti served on the right hand side. The "Assamese dhaba" are an enigma in short.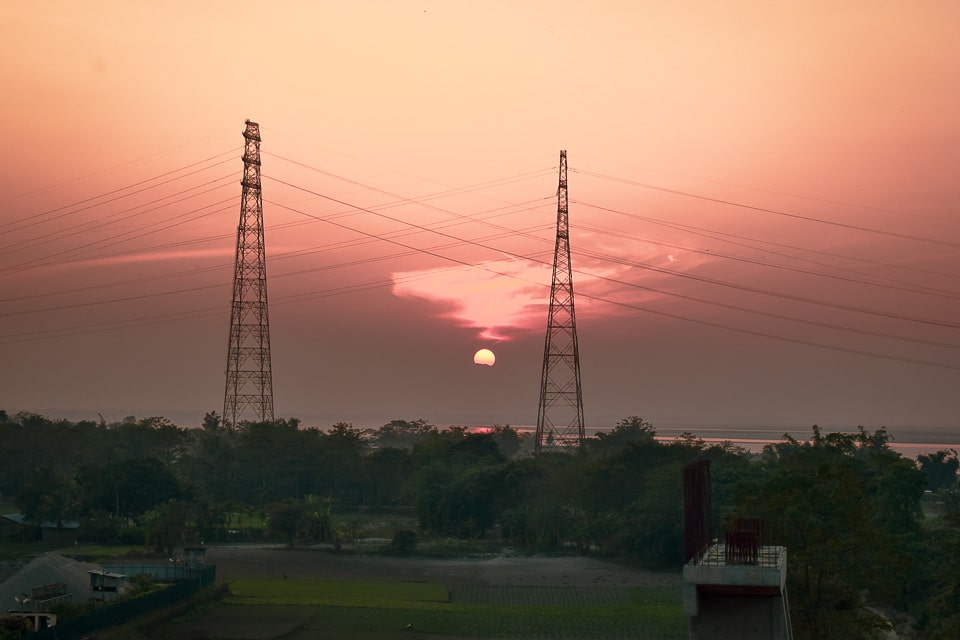 The Kalai Bhomra Bridge on river Bhamraputra. I am an ardent river girl. I stood in awe as the Sun bid adieu to the world and water of Bramhaputra turned florid red in passion unbeknownst. The next moment, we would step in the realm of Arunachal Pradesh, the land of Dawn Lit Mountains!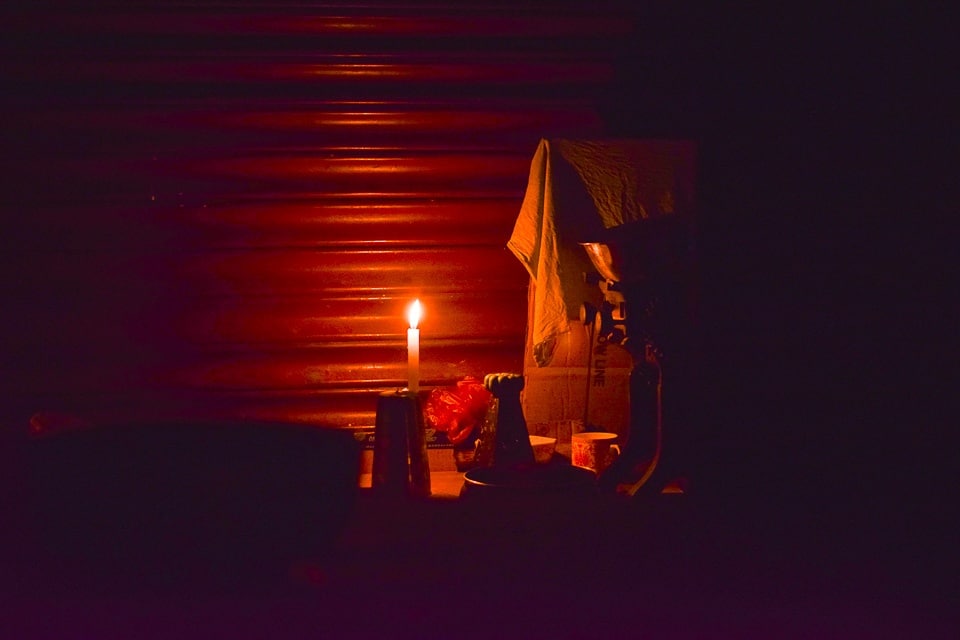 An old shop I photographed as we queued in front of the check point at Bhalukpong. To enter Arunachal Pradesh, you need to procure a permit. Anywhere in Arunachal. Anywhere from India. The rule remains same. It was a rather easy online job of a few minutes compared to other states of Northeast India.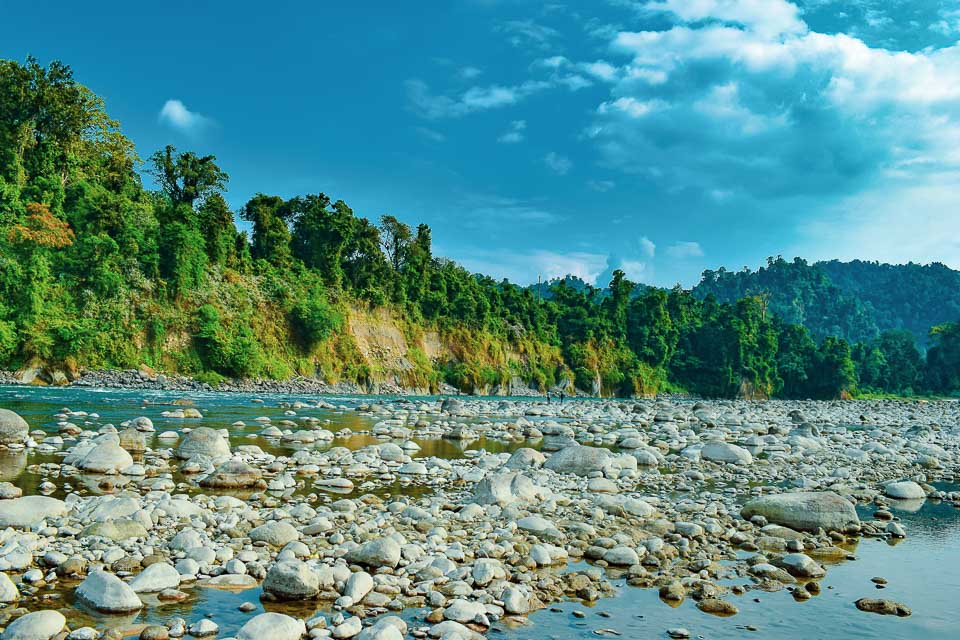 The river Jia Bharali. Also known as Kameng before turning into a braided fluvial flow. Bhalukpong turns out pristine with a morning visit to the river promenade riddled with pebbles. Jia Bharali pranced along us all the way up till Tawang, until I could spot her birth point.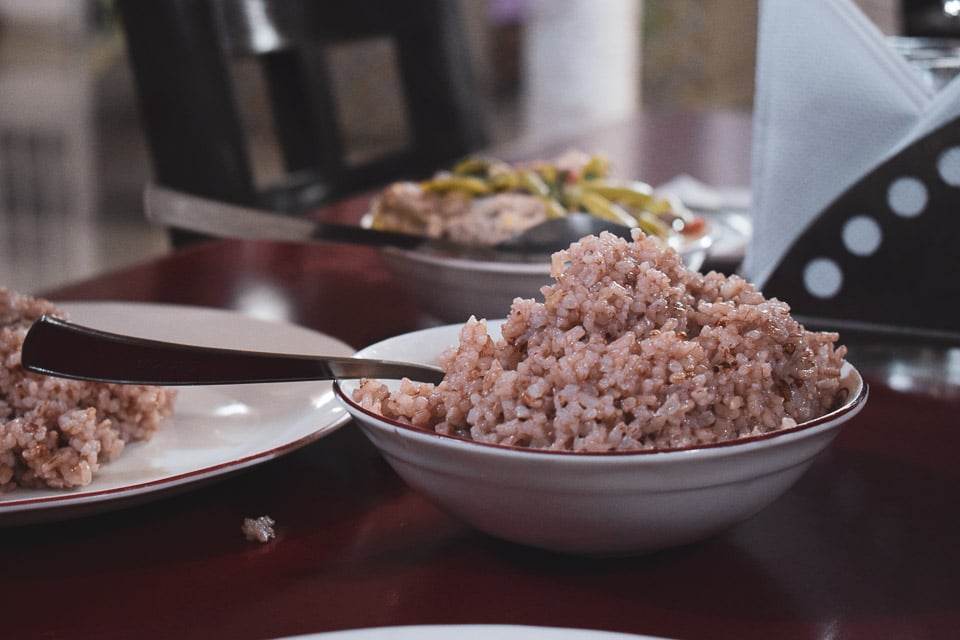 A bowl of red rice grown organically in the mountains of Arunachal Pradesh. Mushroom, gourds, spinach, radish are some of the finest organically grown natural produces of Tawang, Arunachal Pradesh. Locals also depend heavily on yaks for meat and dairy consumption. I did not find any trace of fish anywhere. I spotted a "Ma Kali Bhater hotel" at the heart of Tawang Town (with a Dosa place by its side) and still not sure if a fish could reach this far.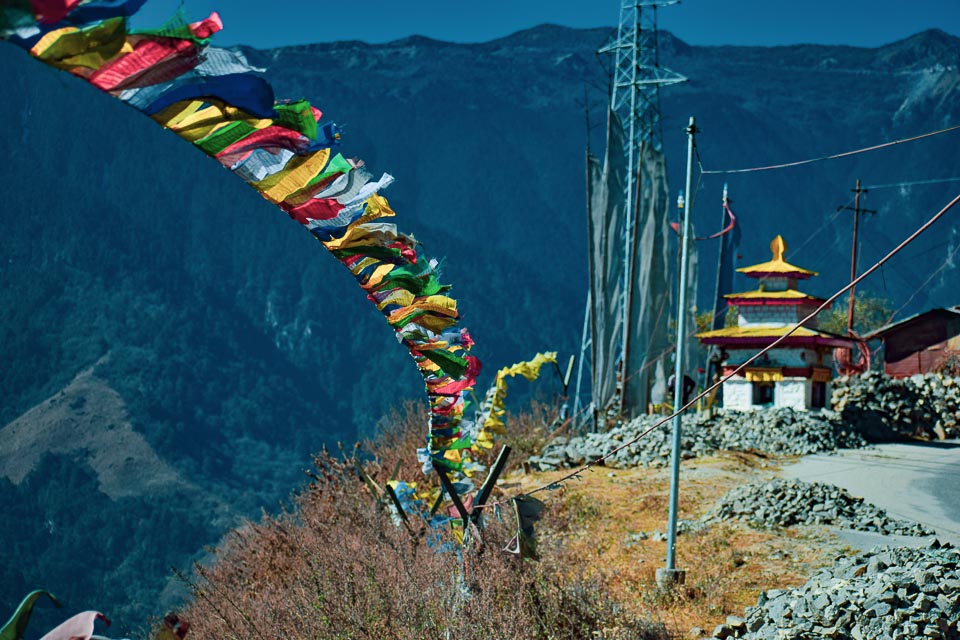 Fluttering prayer flags adorning the high mountain pass as we made way from Dirang to Tawang. It numbed a part of me to think that locals prayed and hoped for peace to prevail at large while amphibian tanks brushed past dwarfing our SUV every now and then. Men in uniform gathering from the vast expanse of my country. Our visit to Tawang had coincided with the Doklam stand-off and naturally tourists influx was numbered.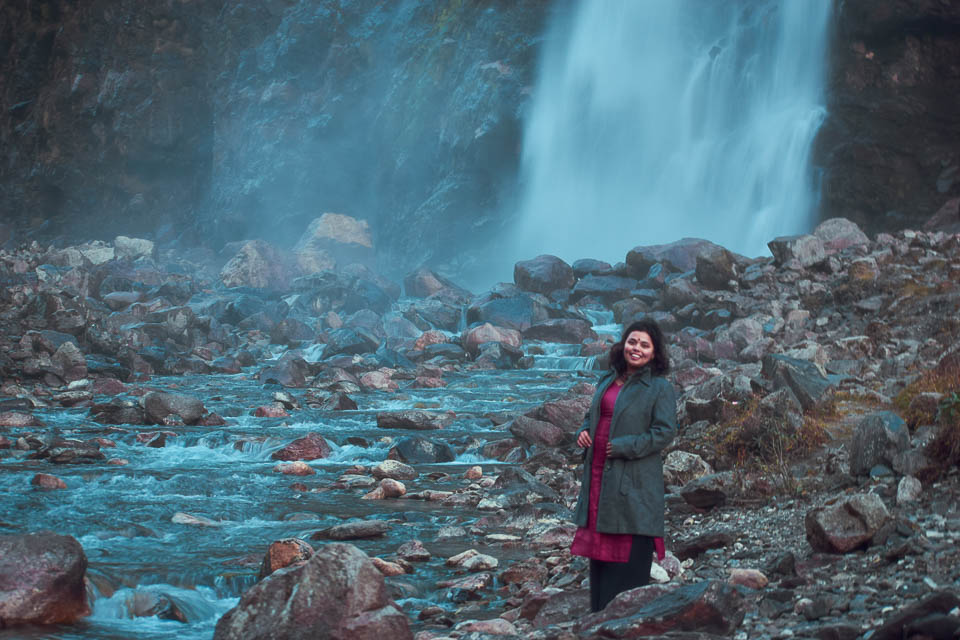 Remnant of Sino-Indo war looms large at many corners of the mountains even after half a century or more has passed by.
The legends of Nura and Sela resonate everywhere for those who want to listen. Two Monpa sisters who met tragic death in the war as the Chinese PLA overtook posts one by one. But martyrs as they were, Nura and sela persisted to save their land.
I am standing at the feet of the Jung fall, also known as Nuranang falls, commemorating the fierce daughter of soil's martyrdom.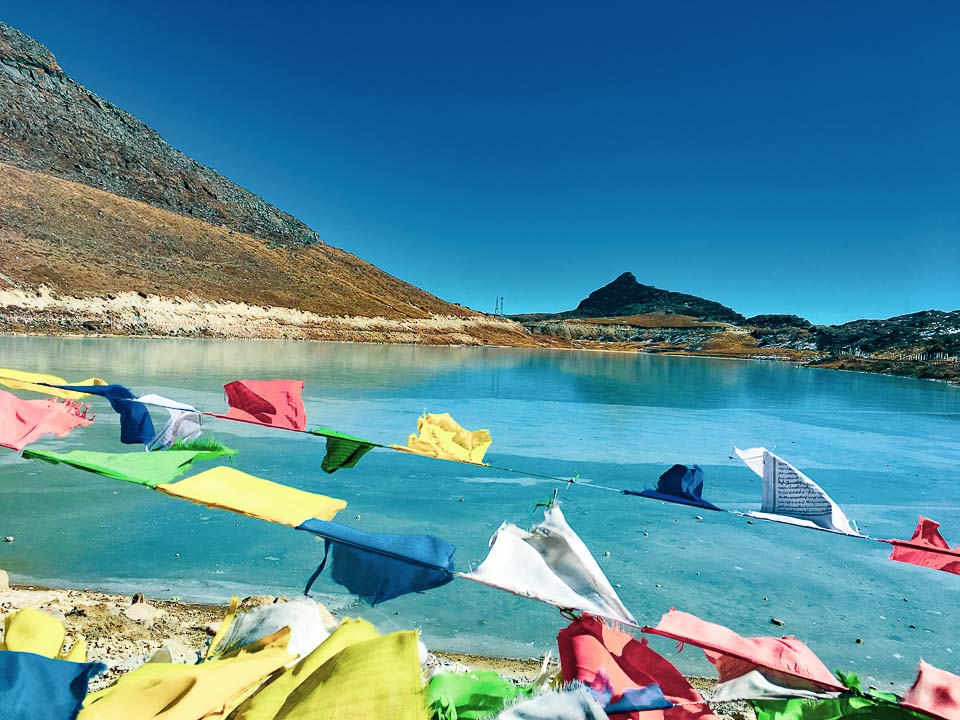 Next up, you meet Sela. A pristine glacial lake that safeguards the tragic death of Sela, a tribal woman who supplied with frugal ration to Jaswant Singh Rawat, the sepoy of IAF who resisted Chinese advances as long as humanly possible in the war of 1962.
Two faces of Sela Pass!
Sela Lake is located just as you cross Sela Pass, one of the highest motorable roads in the world.
During onward journey to Tawang, the lake was newly frozen. It reminded me of the pictures of Lake Baikal of Russia. Bubbles reflected the story of trapped sunrays on a clear sky day. It felt fragile enough to be broken with the onset of a heavy footstep.
On the reserve journey, Sela was covered with a thick blanket of white snow. No one would have suspected this sprawling land to be a lake unless a pointer reminded them of Sela.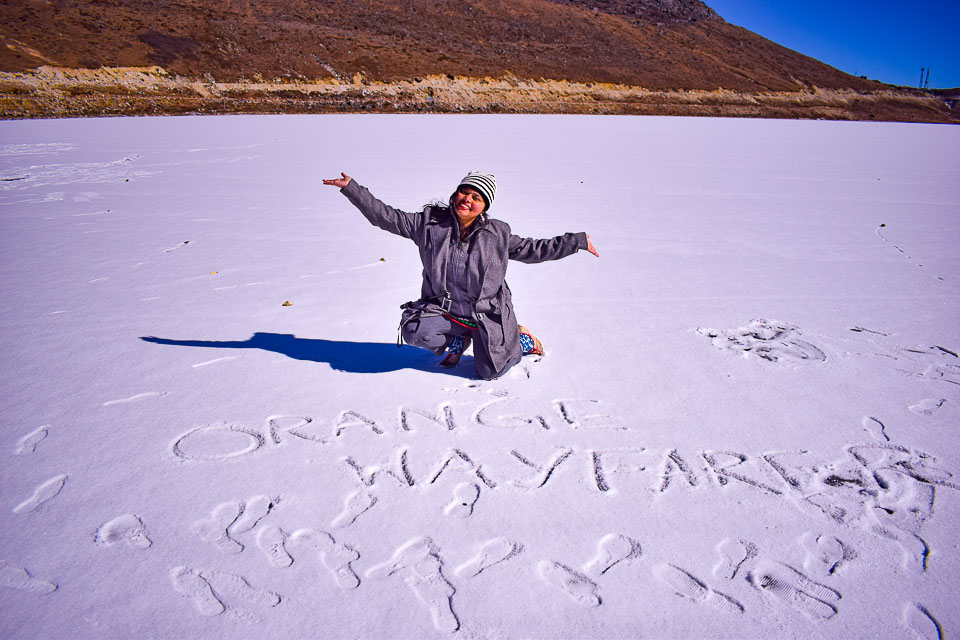 I was new to the world of Travel Blogging and had the unusual confidence to do such things! Will I pose with the blog name written on snow field now? Negative. *Nod my head in disbelief!*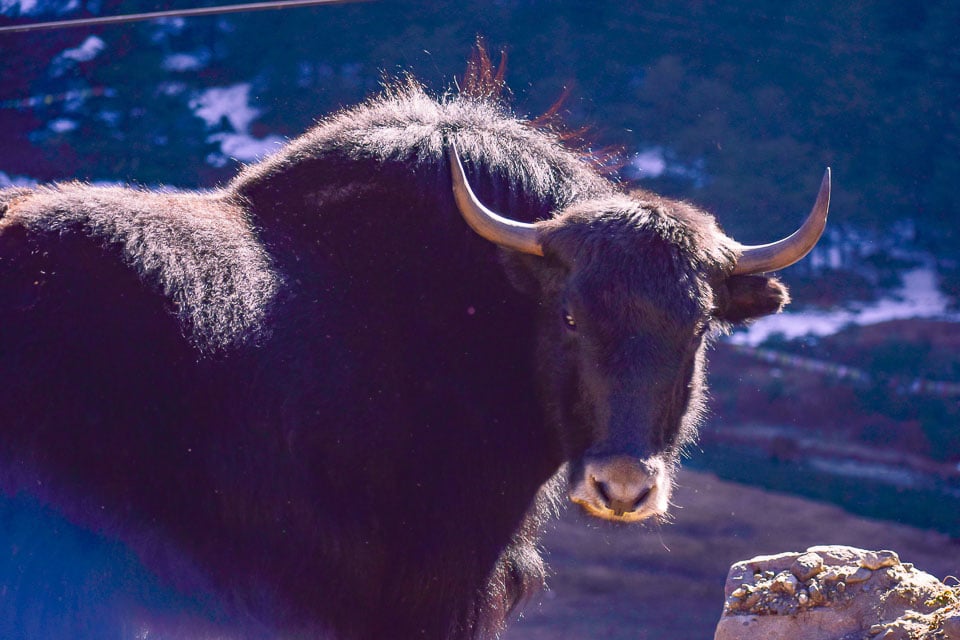 The first of the many many many hundreds of yaks we met on the road to Tawang. Yaks do not survive the heat of plainlands or the Himalayan foothills. Cows (Bos Indicus) do not survive the piercing cold of the high Himalayas. So Yaks step in to fulfill the daily need of proteins replenishment of nomadic mountain tribes. Dirang has a Yak Research Institute.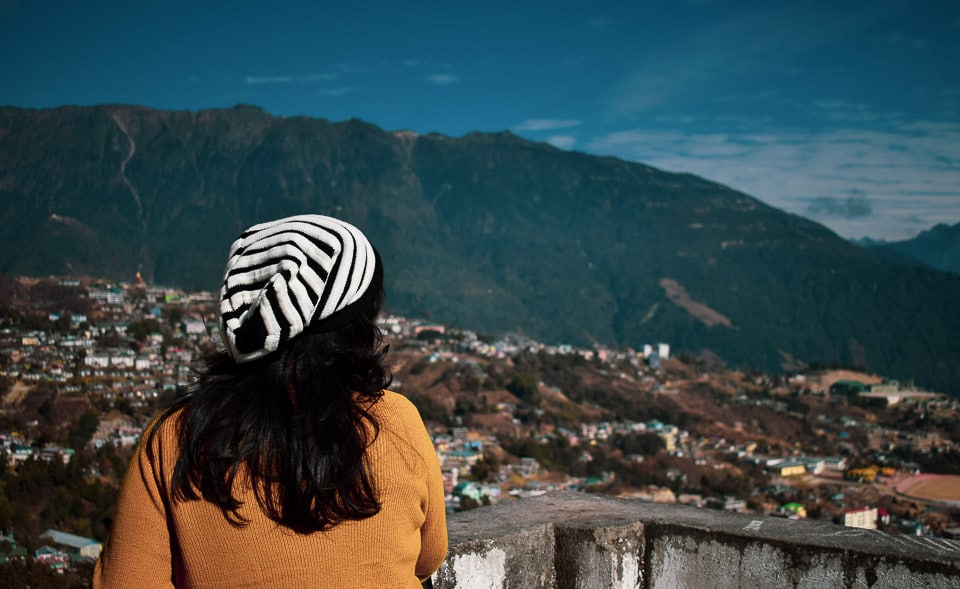 Looking at the splendor of the Tawang town from the top of the Tawang Monastery. It may so happen, you trip will be cut short with sudden show fall, or a landslide or unlikely event of political upheaval. To have made this far, witnessing an ancient culture, I stood in awe under a bright sun that washed up the Tawang valley.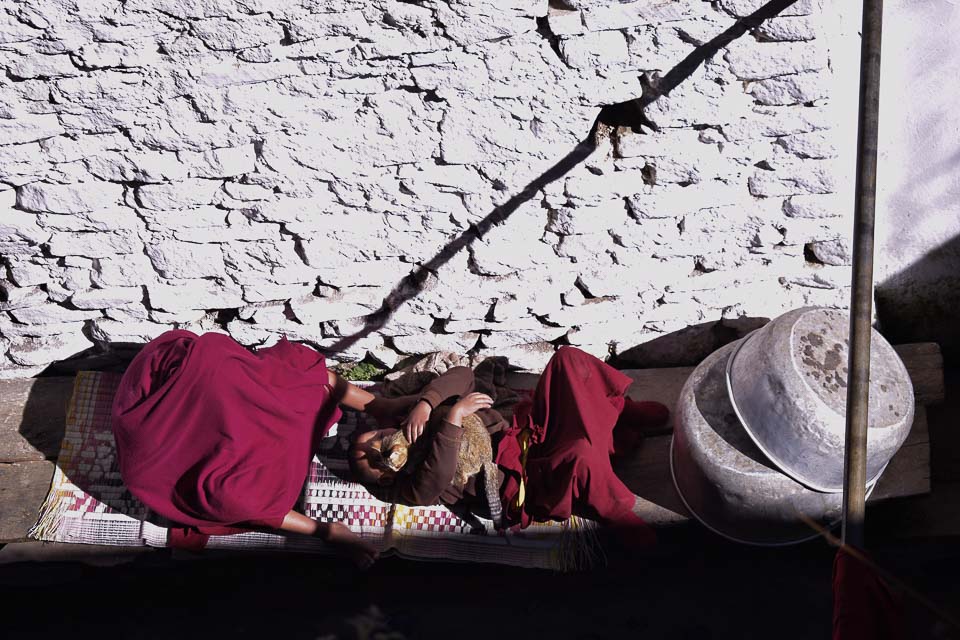 Two monks soak up the sunshine in Tawang. One of them adores a furry cat.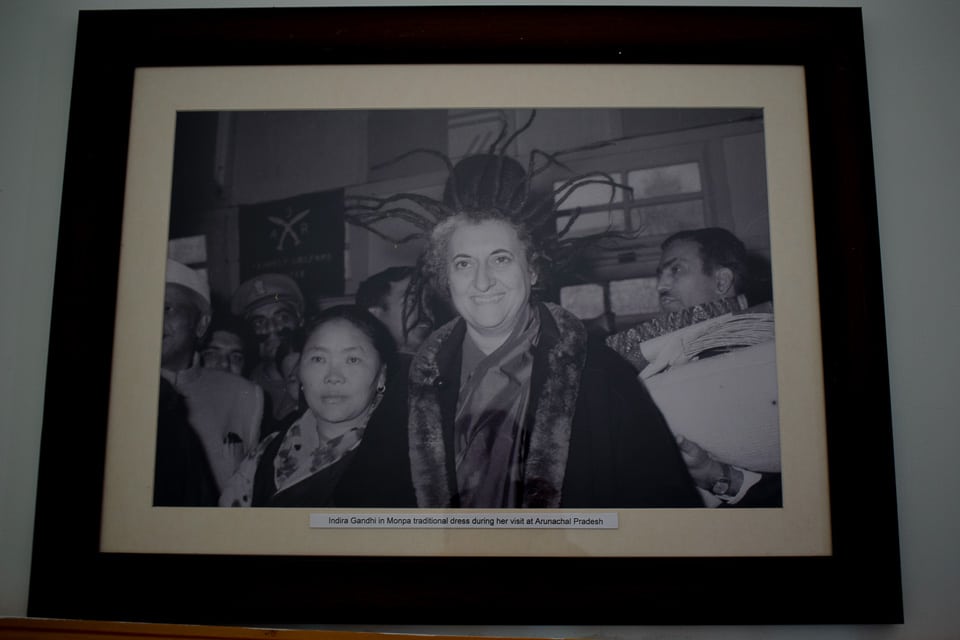 A picture displayed at the Tawang monastery showing Indira Gandhi visiting the institute.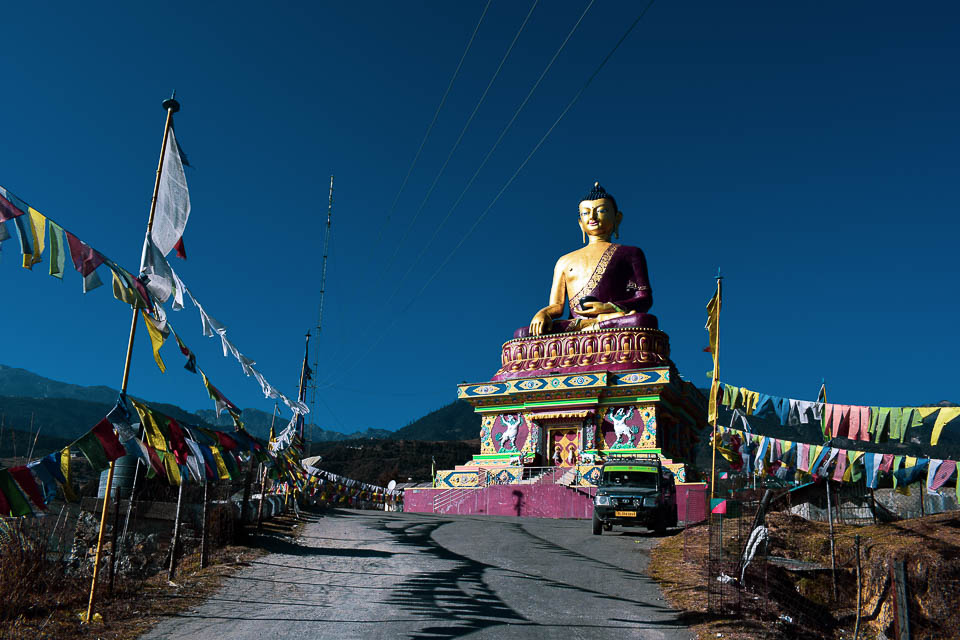 A rather new statue of Maitreya Buddha rises atop the valley. Anywhere you visit in Tawang, you will be able to see the Buddha statue from the edge of the road.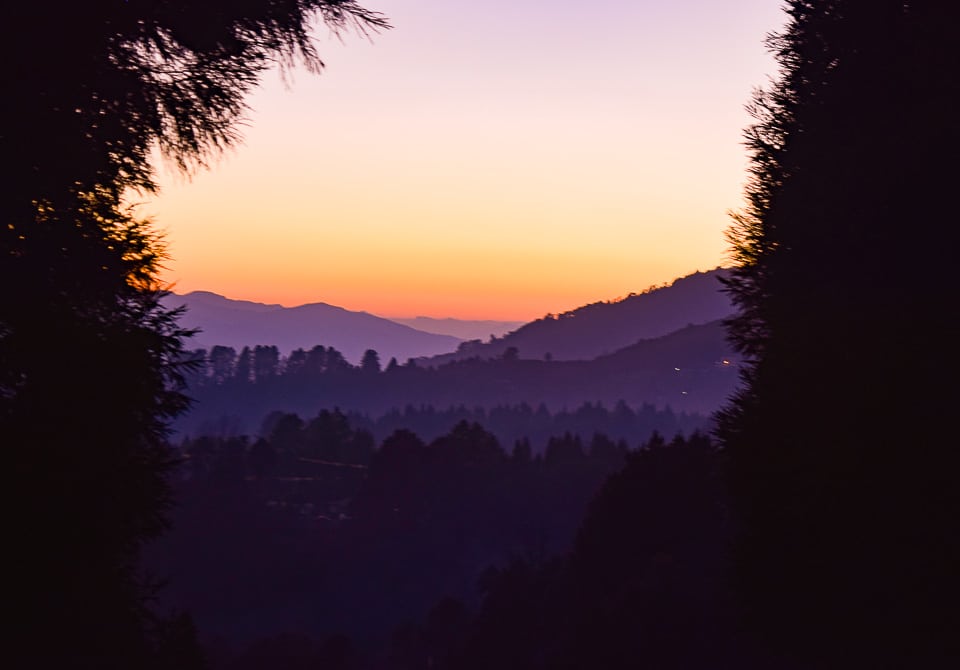 One of the many breathtaking sunset vistas as seen from the war memorial in Tawang. I recall the evening when the sky went pink, and orange and then deep coral red.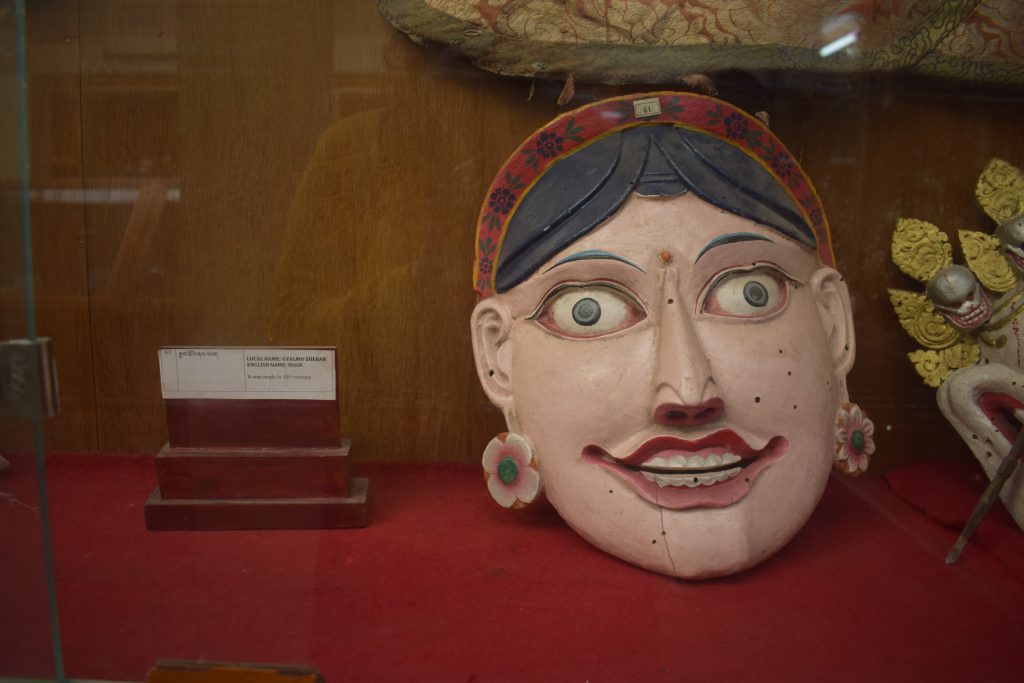 One of the many masks of masks on display at he Tawang monastery. The Monpa tribesmen follow Buddhism however they have not given up on many nuances of "Bon" ethnic religion which predated the spread of Buddhism.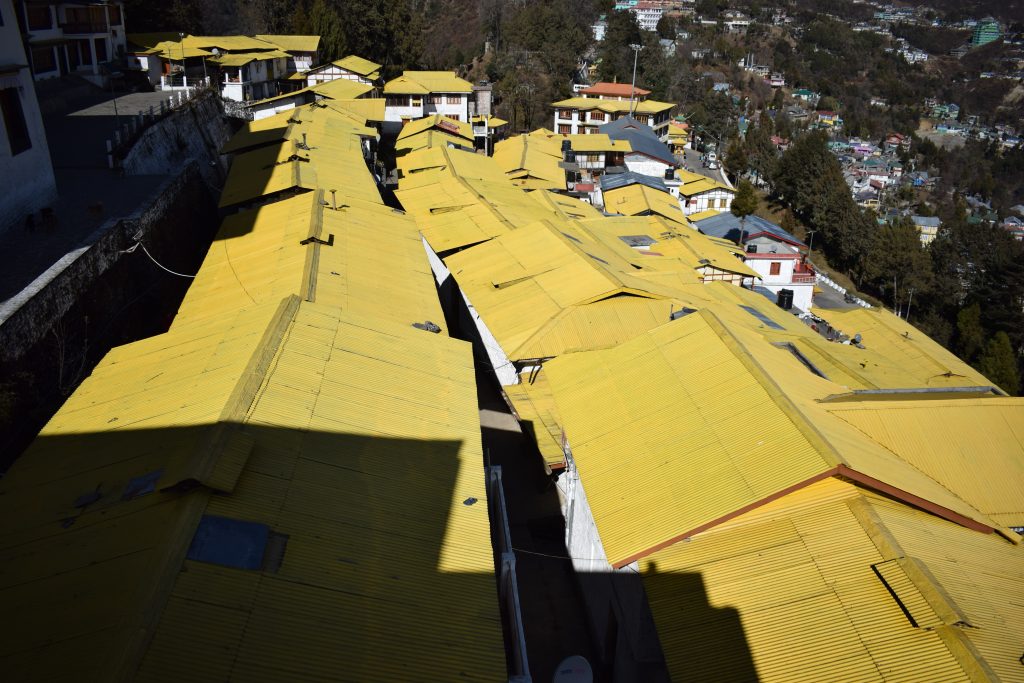 Sloping roofs of local houses in Tawang, specially equipped to deal with the snow fall of the winter months.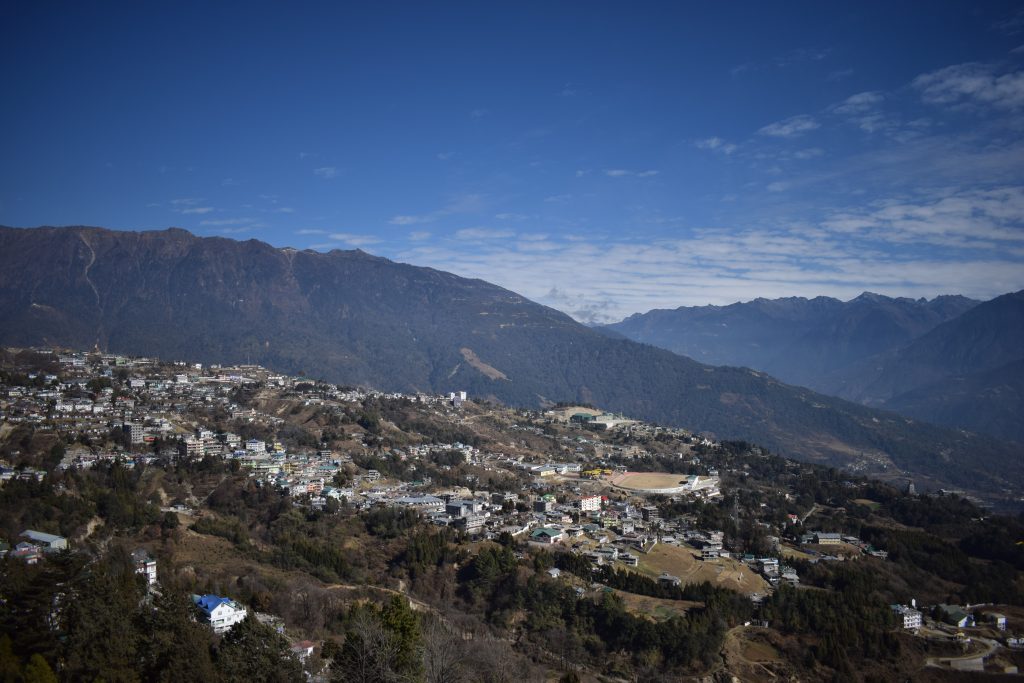 Tawang city as seen from the Tawang monastery. After days of traveling through the sparsely populated mountains, you come across a densely populated terrain.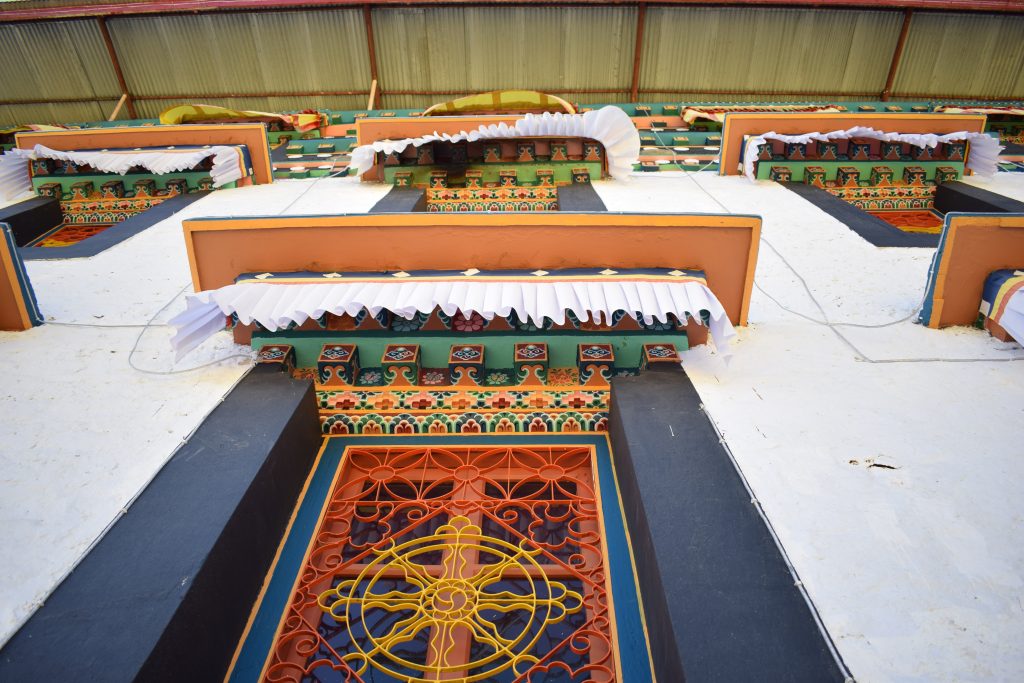 In the stark contrast to the barren mountain plateau, the colorful attire and walls speak volume of Monpa culture.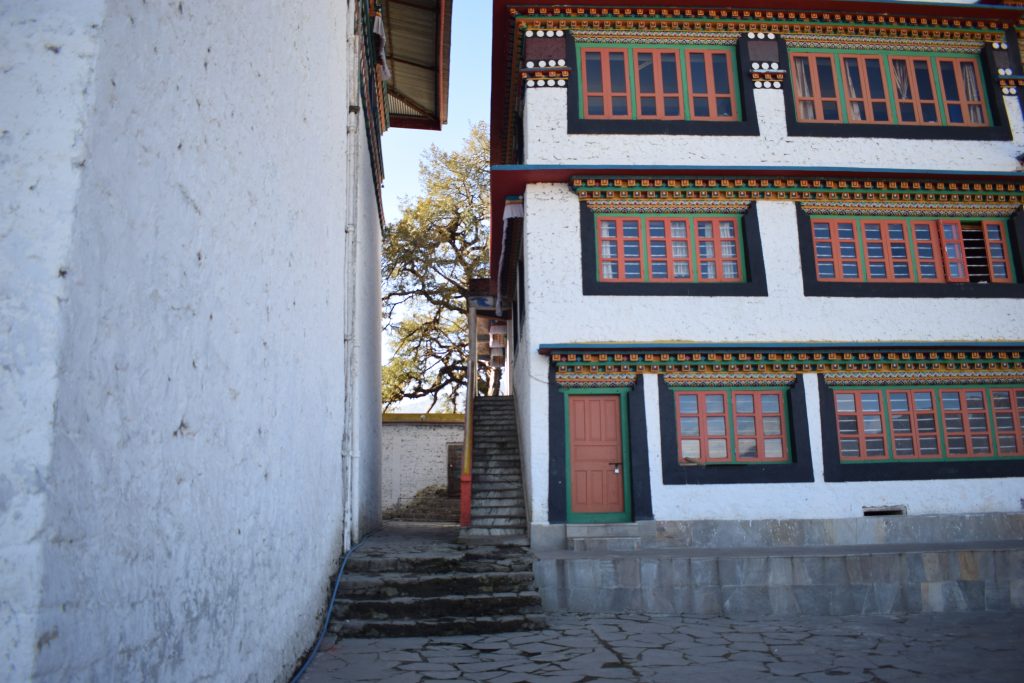 At the rear of Tawang monastery, you come across a museum, a few hostels for the monks and many more centers for Tibetan Buddhist research scholars. Narrow steep staircases signify the old world make of the century old monastery.
Crops being sundried and playing a temporary play ground for domestic cocks somewhere near the Tawang monastery.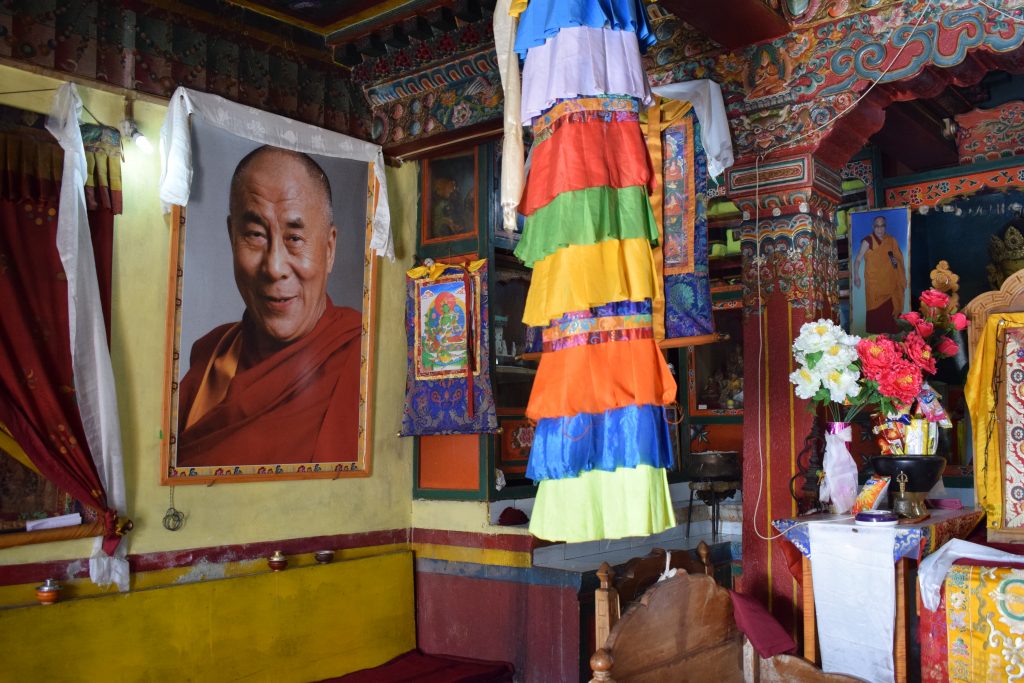 Dalai Lama escaped invasion of Tibet through a quick and silent escape route spanning across India when he was 23 years old. Ever since, he established a Tibet government in exile, fragments of which can be found in Coorg in Karnataka and Dalhousie in Himachal. However, he revisited tawang Monastery in the year of 2009. More than 30000 people trekked weeklong arduous journey through the high mountain passes to come to see him and get a glimpse of the spiritual leader.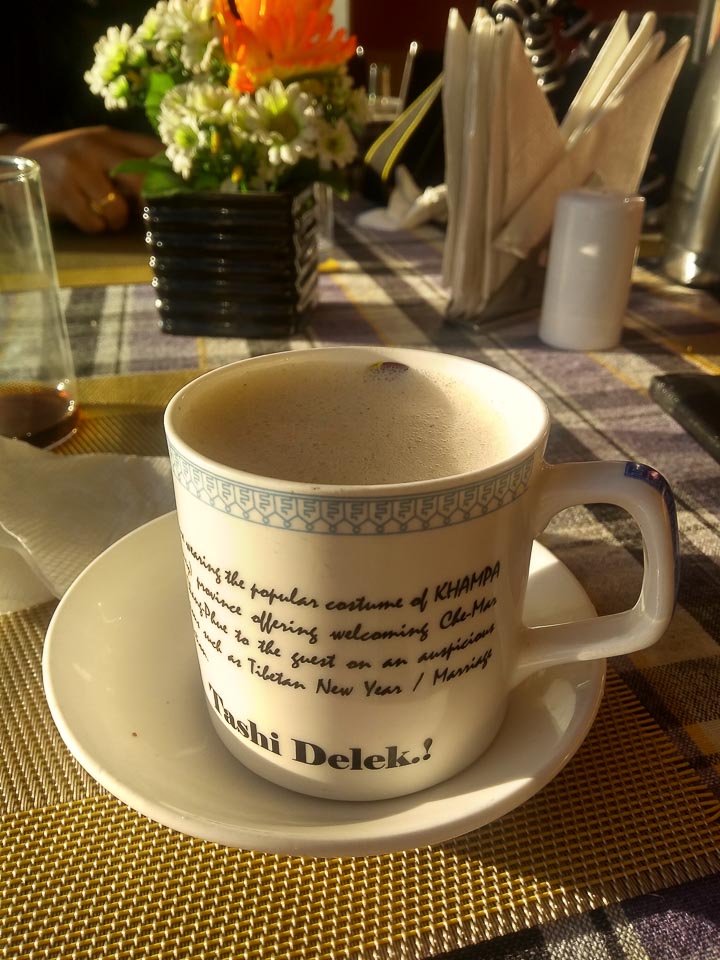 "They have given me a cup of warm butter!" S exclaimed as he sipped on the Yak Butter Tea served at a cafe in Tawang Town.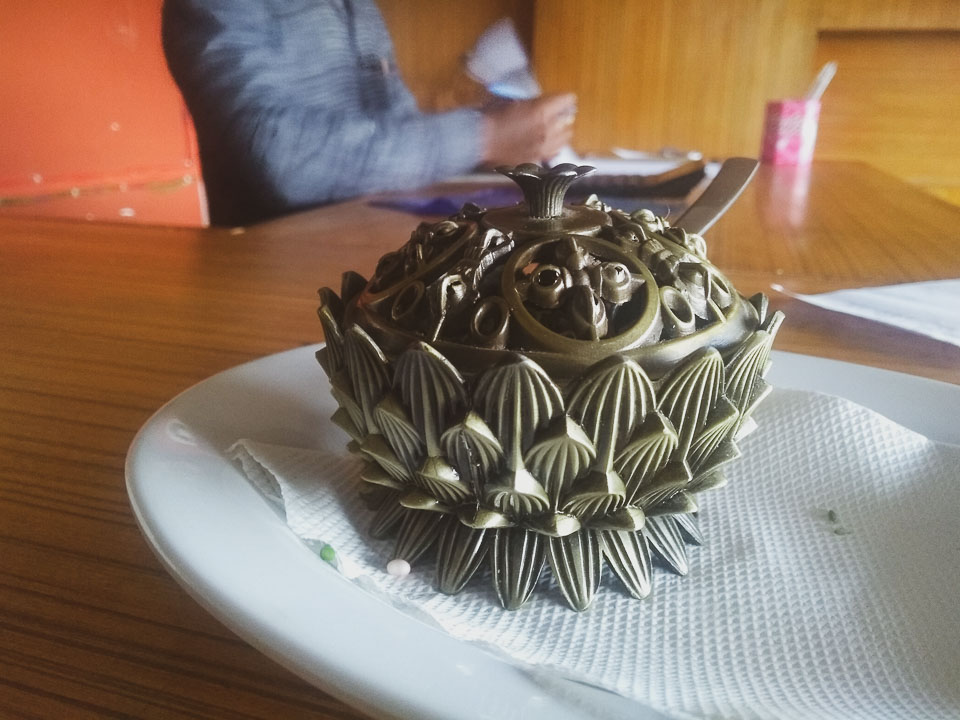 A Mouridan, a small box containing mouth freshener that ends an Indian meal. Things that you are likely to see at a dragon's nest!
One of the 101 sacred glacial lakes on the way to tawang from Arunachal Pradesh. I have seen several lakes but the first sight of this "Bhoyonkor Sundor" waterbody is forever imprinted in my memory. As you may see, it was half frozen and half liquid when we visited.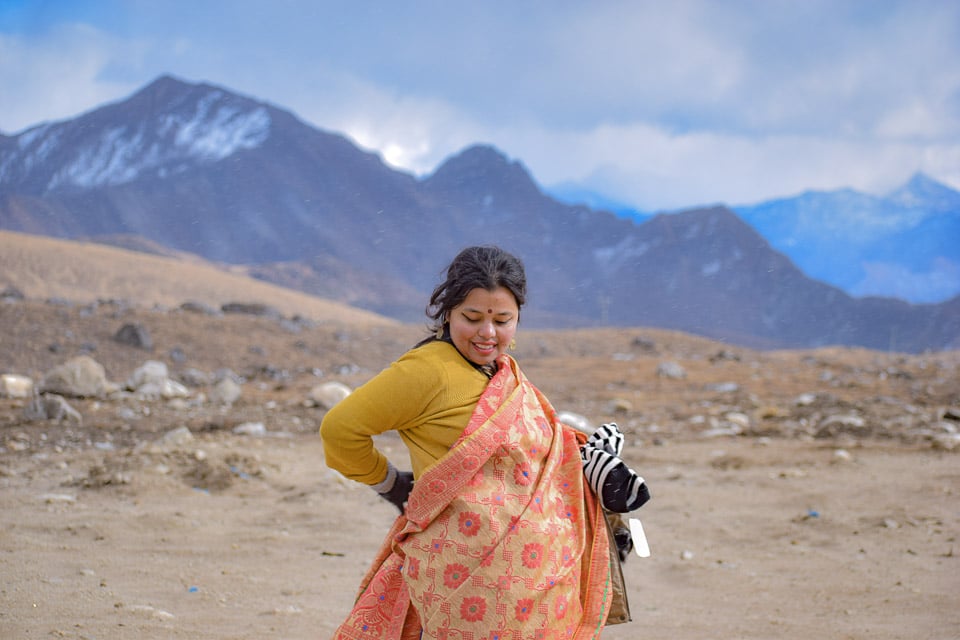 Standing somewhere close to the Bum La border where India and China straddle along the international border. This place is also known as "Maitri stall", the friendship point beyond which violent clashes often take place. Strange as it may sound, armed forces involve in feast fight even till this date as told by a sepoy of the Bihar regiment who was guarding the border when we visited.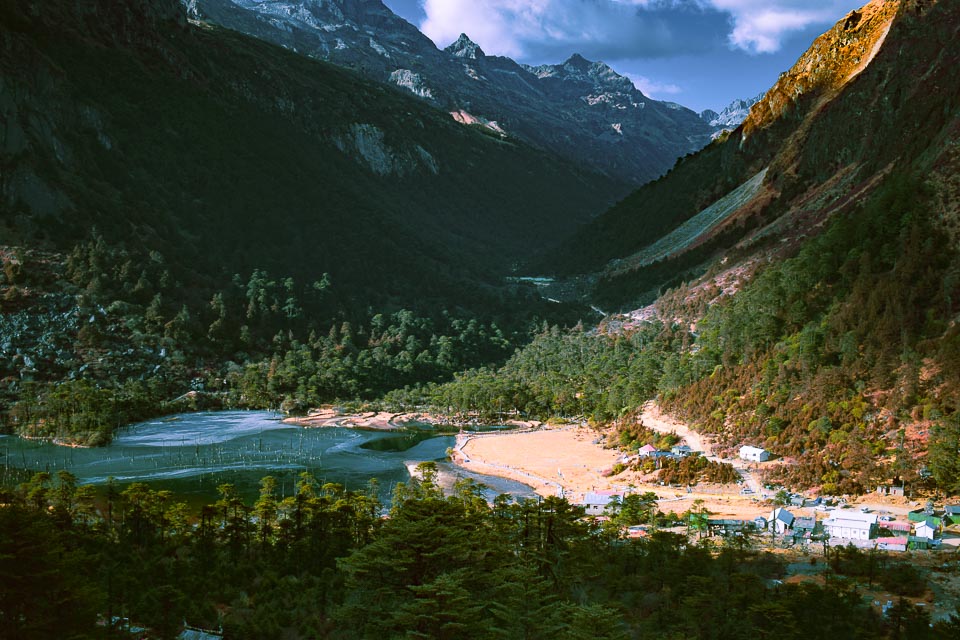 The Sungester Tso, also known as Madhuri Lake as seen from a distance. The Lake was formed due to a massive earthquake.
Also read: Important things to know before planning a trip to Tawang!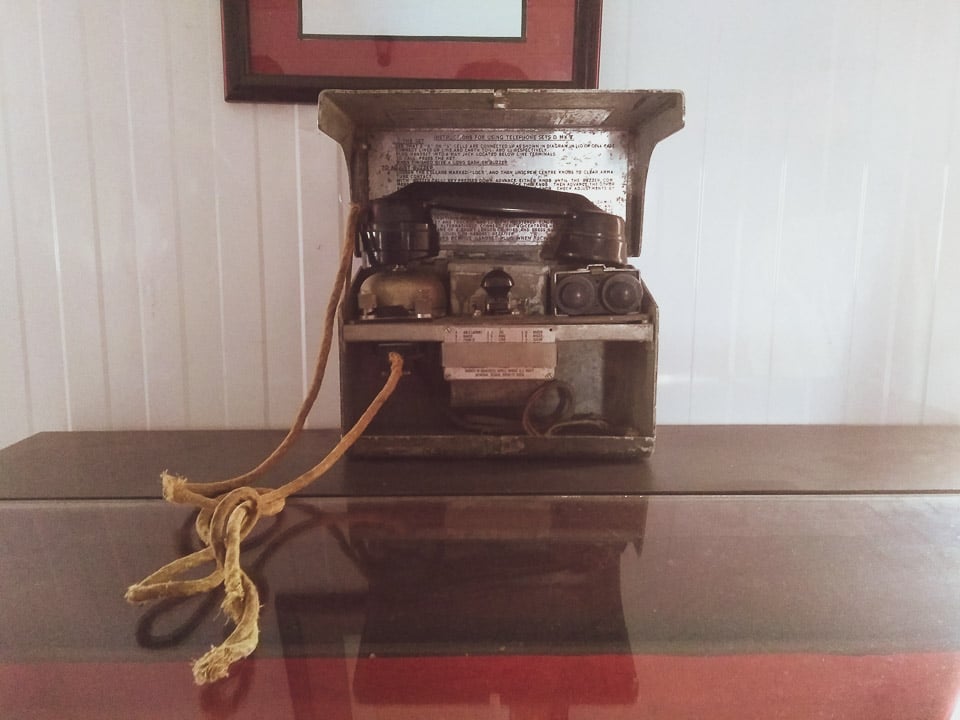 An Old telephone retrieved from the bunker once devastated in the war. Many of the armors used were predating the time of world war 2.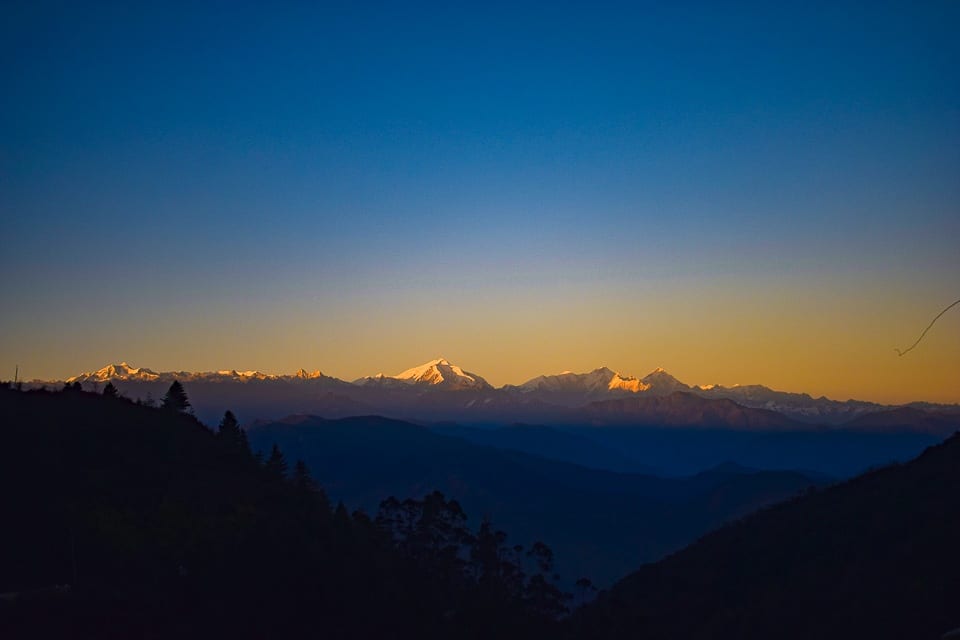 The High Himalayas. Sun-kissed and glorious at the golden hours.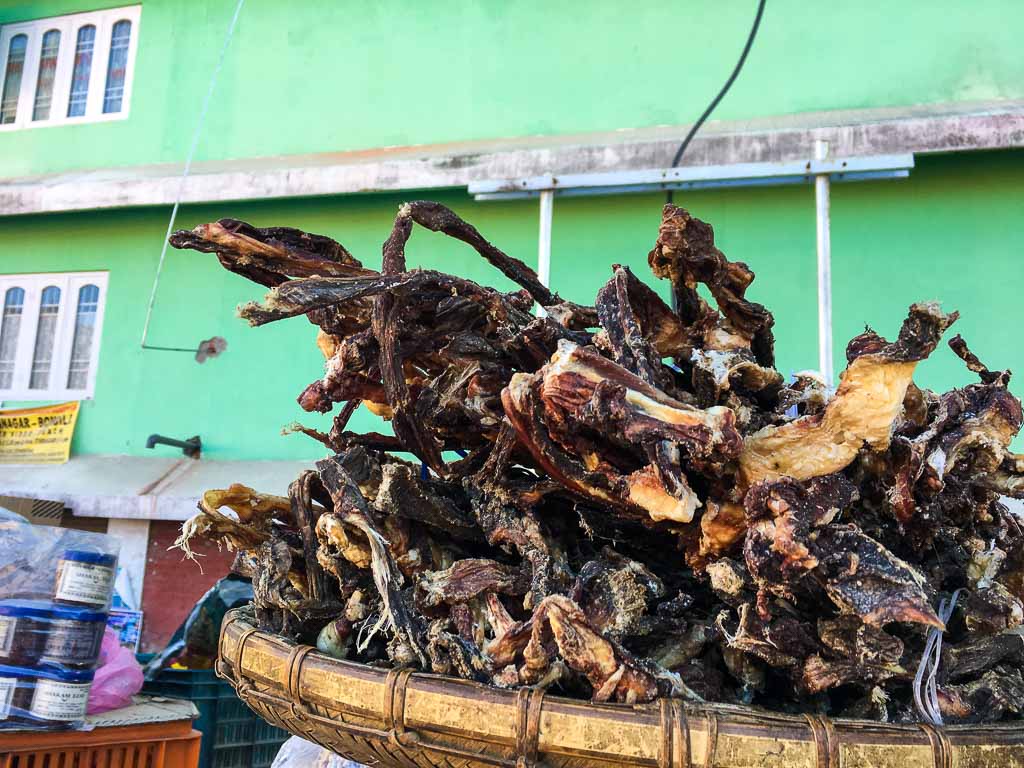 Yak Jerky. Dried Yak Meat that is crucial to run the show during harsh and prolonged winter months on the mountains in Tawang.
Also read: 3 days in Tawang!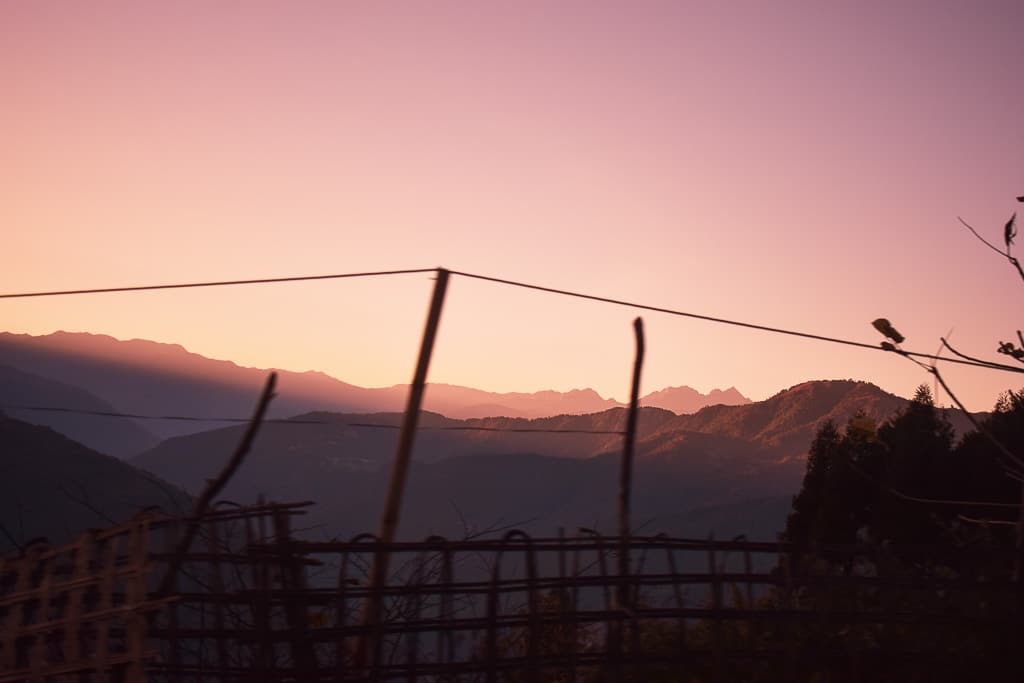 On the reserve journey, as we descended down, I looked back once more to soak in the grandeur of Himalaya.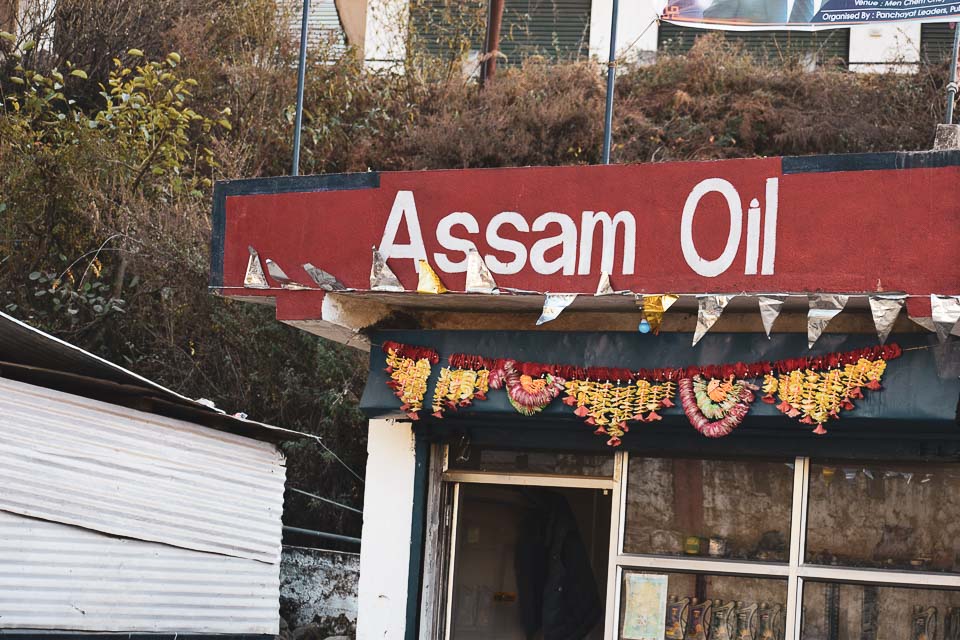 An ode to Assam's Digboi crude oil reservoir, Assam Oil is a retail wing of Oil India, the national body of petroleum trade in India. I have never seen another outlet selling Assam Oil in any other part of India. I spotted this on the way to Bomdila from Dirang.
---
This post may contain affiliate links. Please read the disclosure post. If you have liked the article, you may support it by buying using these links without any extra cost to you.
Let's stay connected on Facebook, Instagram, Twitter! You may also consider joining my mailing list. I send travel and photography related emails only once a month!