There are plenty of beautiful places to visit in Vietnam. Vibrant nightlife at the foot of chic skyscrapers. Scintillating sunsets at the Halong Bay, home to the mythic dragons. Acres of lush paddy fields. Never ending stretch of karst mountains that made their way from the land to the sea! Vietnam, the S shaped country by the South China Sea is an incredible destination that offers an array of interest for the discerning traveler.
This list of Vietnamese destinations is compiled based on a nature lover's and cultural tourist's interests. Vietnam's precious heritage, melancholic history that was ravaged by war, pretty towns dating back to history, scintillating show of nature's abundance, we have tried to include one for all!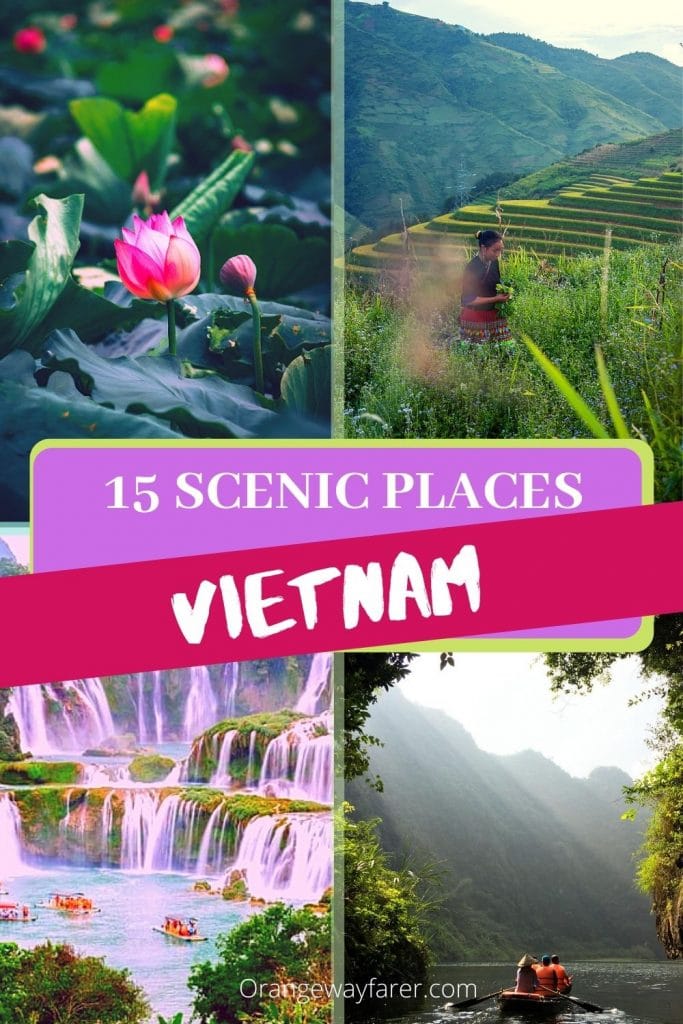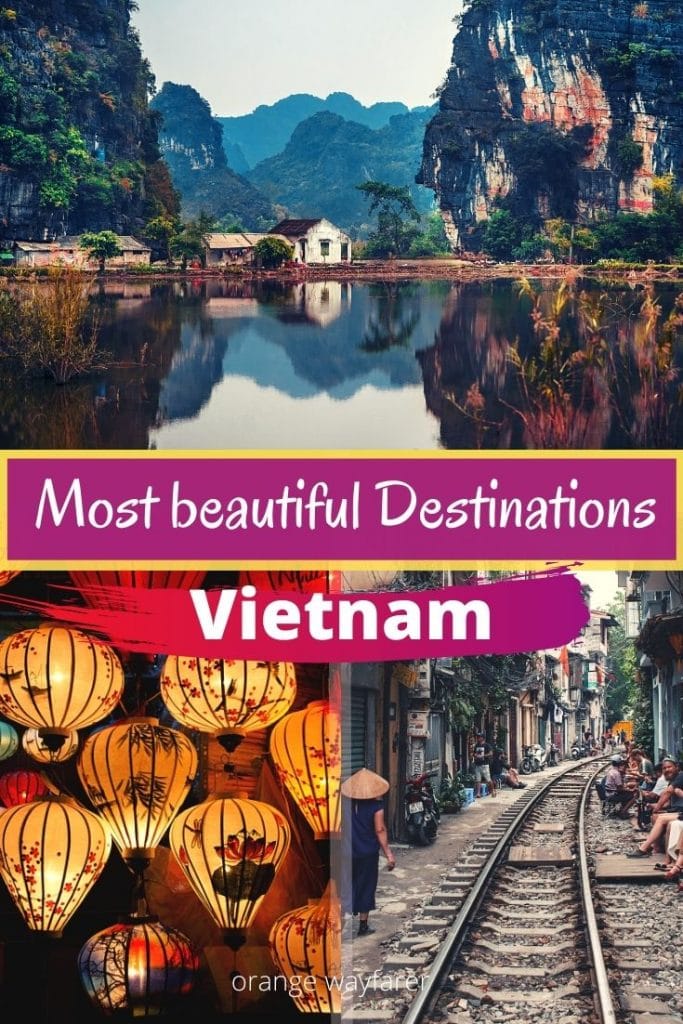 Check out all previous posts on Vietnam!
Mountains of Sa Pa in North Vietnam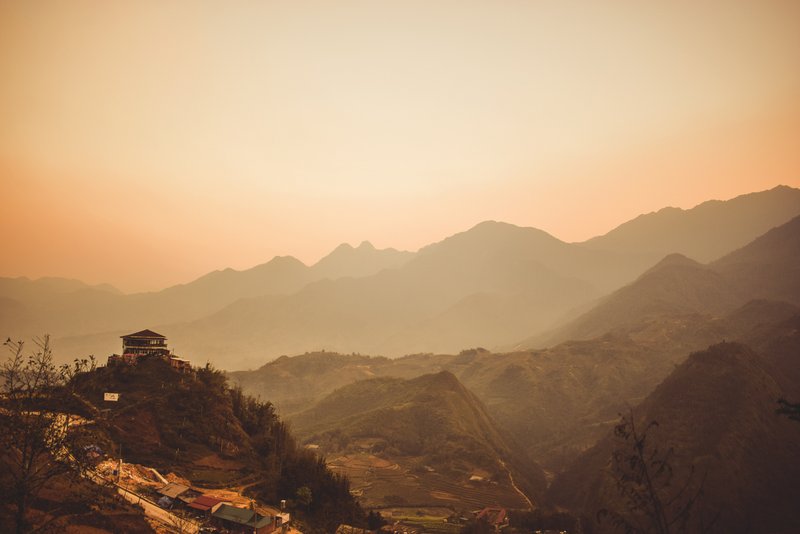 Sa Pa is home to the Hmong tribesmen. They are sons of the soil of an unnamed land of South China. However in their relentless quest to evade an authoritarian rule, they have been migrating further south for ages. Hmong lives in a tight knit community till date and enjoys a certain amount of autonomy.
Visiting Sapa, the mountainous north of Vietnam shouldering the south of China is all about living in the home-stays provided by the Hmong community. Living amid the stepped rice paddy field, that turns gleefully lush green at the advent of monsoon is a delight. Following the trails left by the pets of the village, usually ducks, dogs, chicken and water-buffalo can teach us a lesson in simple living with a large degree of co-dependence on nature.
Also read: Things to know before you visit Darjeeling, the queen of Himalaya! 
Ruins of Old Champa Temples of My Son in Central Vietnam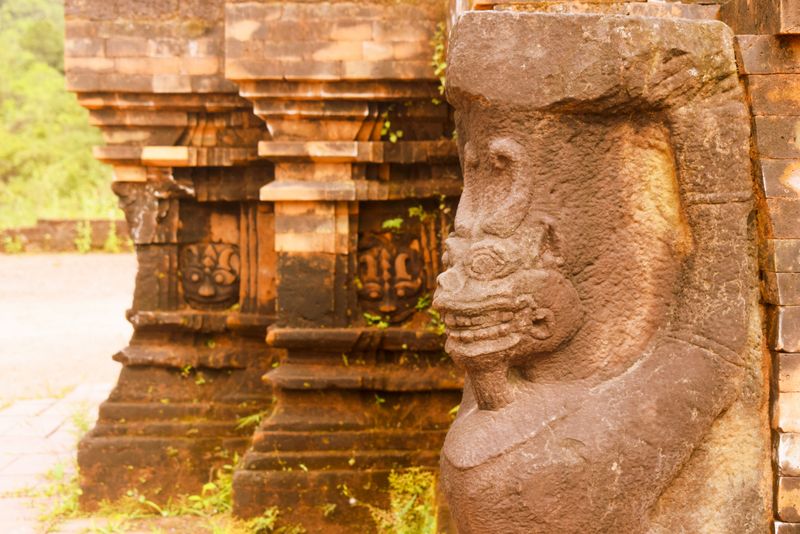 Located a couple of hours away at Hoi An, My Son is an ancient ruin of the Champa dynasty. The temple complex is now preserved by the UNESCO committee however it suffered a series of bombing by the American fighter jets during the 70s war. Bomb craters are littered everywhere. If you do not step carefully (read deviate from the trail and wander off to the mountains), you may just step onto an unexploded mine.
Whatever remains of the glorious Champa rulers is truly glorious even after all these! Plenty of Hindu statues and idols are everywhere. Profound pillars have fallen. Only a few of the temple structures are standing till date. My Son stands as a melancholic reminder of futility of the war and man's artistic prowess. I recommend visiting My Son for the mindful traveler.
Also read: Bishnupur, the birthplace of Terracotta temples of India!
The Old Lantern Town of Hoi An, Central Vietnam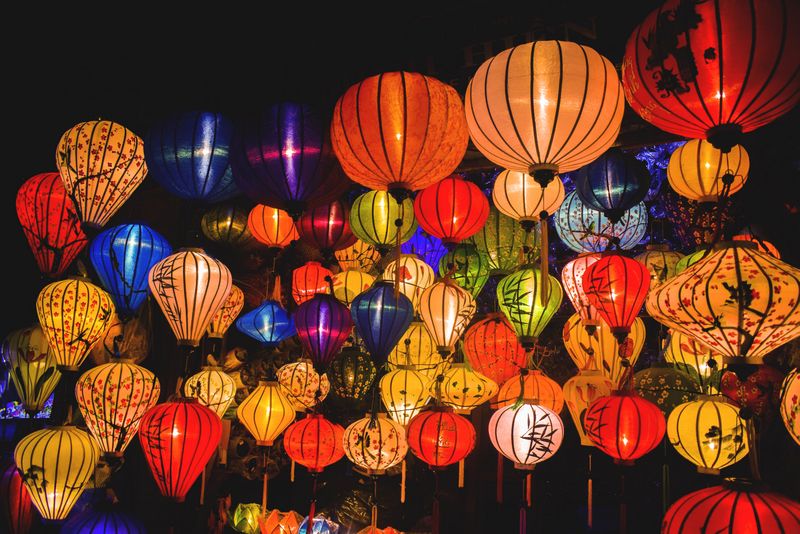 One of the most famous UNESCO world heritage towns in Southeast Asia, Hoi An in Vietnam lets you step into a surreal fairytale land! Imagine a medieval port town, crisscrossed with canals and estuaries, whose banks are dotted with bright yellow wooden houses with sloping roofs. Lights illuminate the narrow old lanes in neon colors as sunset beckons. Round paper lanterns are everywhere, as if they forgot to take a trace of the time and are still showing the way to the ship that lost her direction!
A short bike ride off the heart of Hoi AN town, you will enter the majestic vast ruralness of Vietnam! Lush green paddy fields, water buffalo, farmers with a cone hat toiling on the ground! The sea roars at a distance. Round cane boats stand in awe as shadow of da Nang, a prosperous town with skyscrapers looms large by the sea-shore at a distance!
Hoi An lets you take plenty of day trips. A short trip to DMZ will remind you of the horrific past of the Vietnam war. A trip to My Son will lead you to the historic ruins of Champa islands and trace back Indian connection. The highway leading to Hue from Hoi An by the sealine is ethereal to say the least!
Also read: 15 amazing things to do in Hoi An 
MARBLE MOUNTAIN IN DA NANG, CENTRAL VIETNAM
Witten by Paula Martinelli from the blog Paula Pins the Planet, based on Florida, USA. Follow her on IG @paulapinstheplanet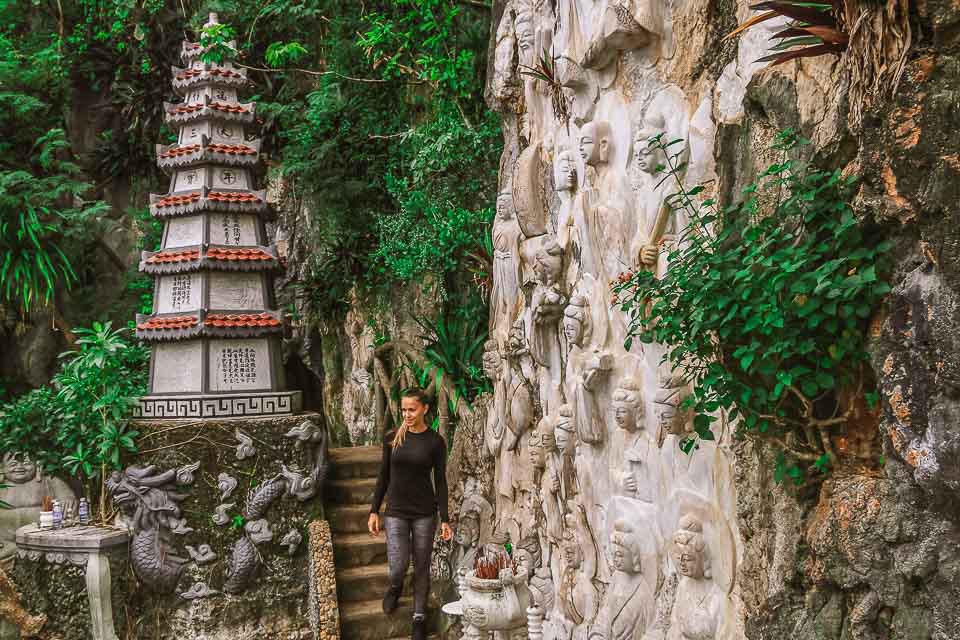 The Marble Mountains are located at the coastal town of Danang, and it is an incredible place to explore if you are visiting the Danang or Hoi An areas in Vietnam.
The mountains are a group of such a unique five limestone and marble hills in Ngu Hanh Son District and they represent the five essential elements: Kim (metal), Tho (earth), Moc (wood), Hoa (fire), and Thuy (water).
The visitors have the opportunity to explore the stunning natural caves of the mountain and enjoy the beautiful view from the top of the mountain. Also, climbing the stone steps carved into the mountain, that leads to a Buddhist Pagoda. You can also discover the stunning marble statues and gardens during your visit.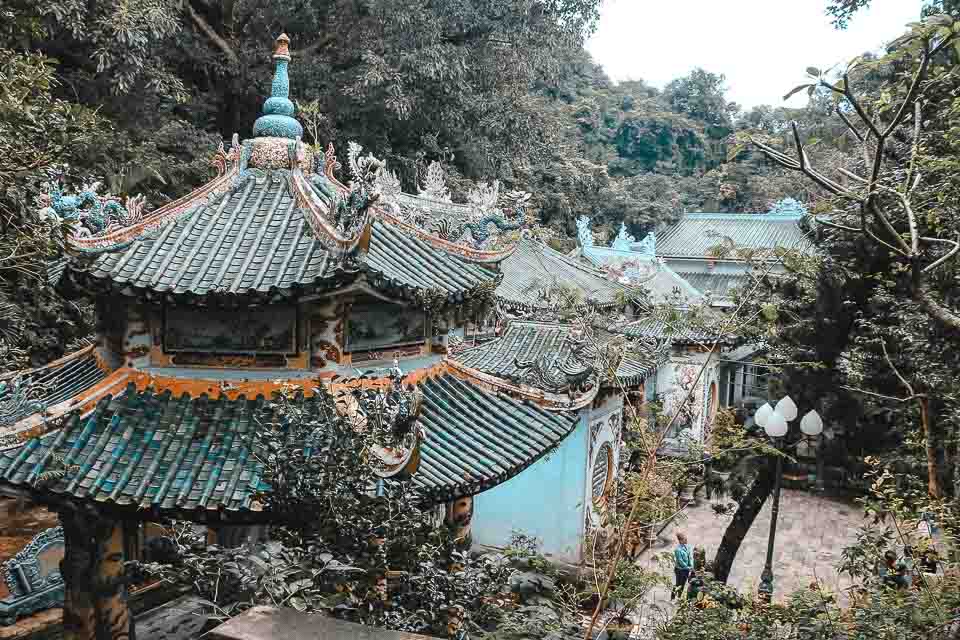 It takes approx. 4 hours to visit the 5 mountains and spend time taking pictures. Marble Mountains is open year-round from 7 a.m. to 5:30 p.m., and the best months to visit are during the summer season, even though the heat can be stifling.
Danang is located 45 km (28 miles) from Hoi An, and it takes approx.. 1 hour by motorbike or a little quicker by car ride from Hoi An, which makes an easy day trip.
The natural beauty of the mountains representing the five natural elements and the importance of this historical and religious site, make Marble Mountains worth a visit.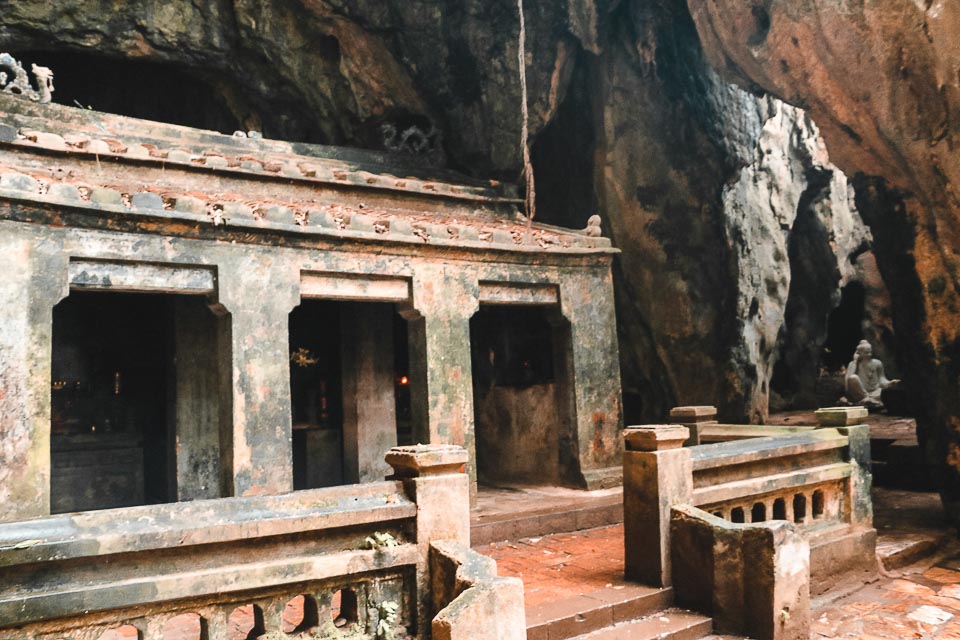 Also read: 3 days exploring the temple town of Luang Prabang, Laos!
Da Lat in Central Vietnam
Explored by James from The Travel Scribes. Follow him on Facebook.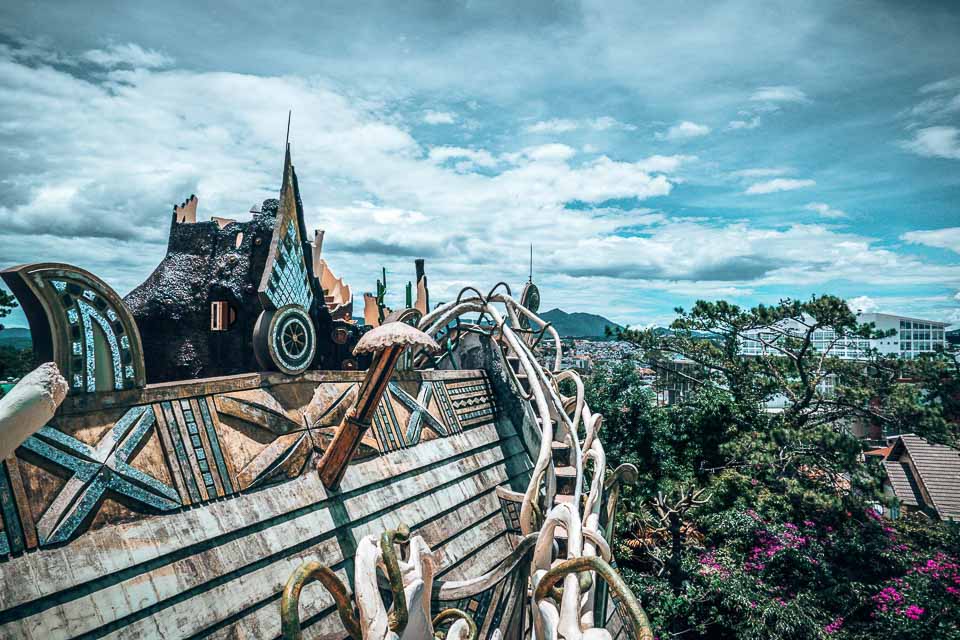 Tired of the Hanoi and the Ho Chi Minh City trail? One of the most beautiful destinations in Vietnam that isn't usually at the top of the must-visit list is the quieter hill station of Da Lat.
Nestled nicely in the hills, the town is where Vietnam's rich and the colonial French expats used to escape for their summer holidays, since this town boasts cooler weather that helps you beat the heat. More than just a quiet town nowadays, Da Lat offers a surprising array of great activities for even the most tricky of traveller, although you won't see the hordes of tourists you'd usually find Vietnam's more popular city spots.
Spend time on a pedal boat on the lake or go chasing waterfalls by visiting one of three in easy reach of the city: Elephant Falls, Datanla and Pongour Falls. The last of these is the quietest although the most difficult to reach. Not keen on waterfall hunting? Get up high on the city's renowned cable car. You'll not only get panoramic views of the lush surrounds but, perched right at the top, you'll find a lovely Buddhist temple to explore, the Trúc Lâm Temple.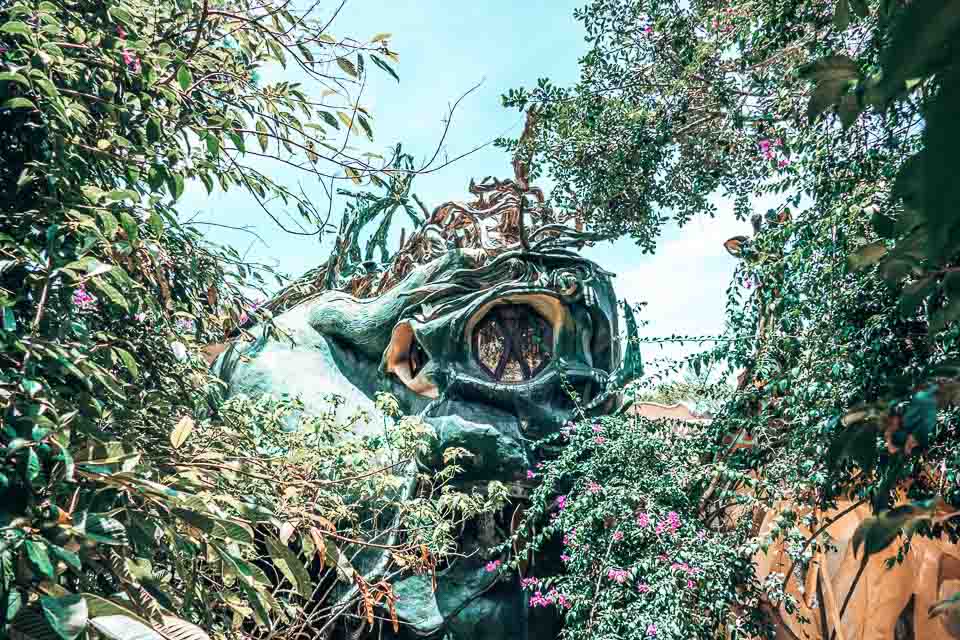 No trip to Da Lat is complete without a turn at The Crazy House. This weird and wonderful 'house' was created by a local architect, Đặng Việt Nga, as a coffee house. With curved walls, quirky upside down artwork and totally indescribable suites, you can not only take a wander around the grounds but can book yourself into the guest house at the complex; it's sure to be an interesting night at the 'museum'!
Regardless of your Vietnam itinerary, Da Lat is a must-visit, although slightly unusual place to see when touring the country. Make sure you add it onto your list, especially if you're heading to the nearby sand dunes of Mui Ne or the seaside town of Nha Trang.
Also read: The ChinaTown of Bangkok: best place to eat local Thai food! 
Mua Caves in North Vietnam
Written by Jordan from Inspired By Maps which is based on off-the-beaten-track travel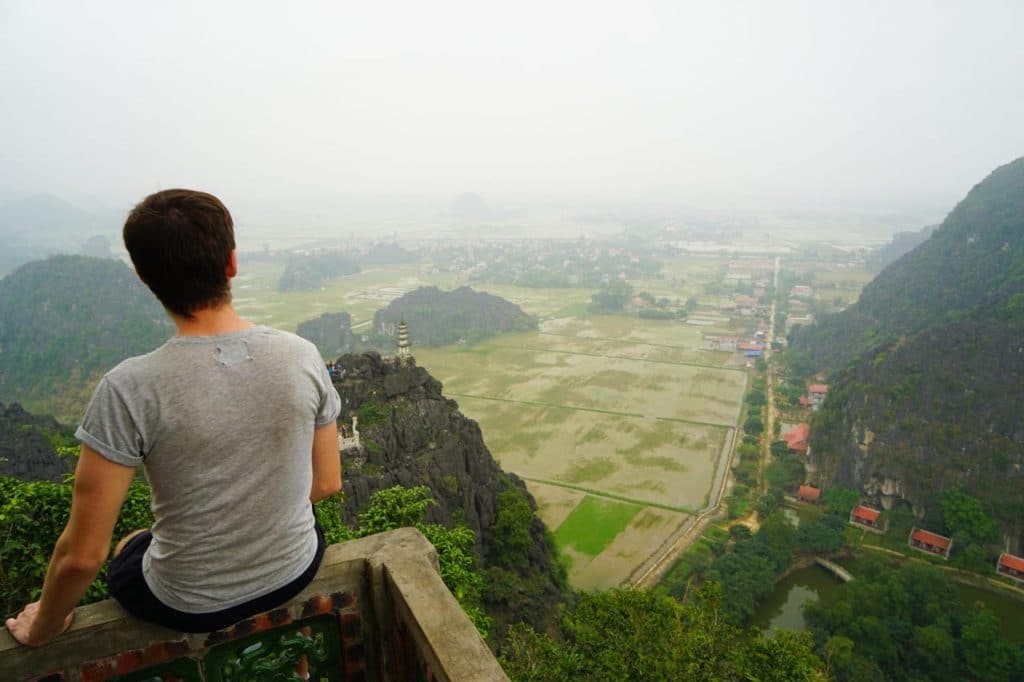 Hang Múa in Ninh Binh Province is undoubtedly one of the most beautiful destinations in Vietnam and should be on everyone's bucket list when traveling to this captivating country. 
While the cave is not particularly remarkable, the panoramic view from its peak is – with karst outcroppings poking out about tranquil rice paddies as far as the eye can see. Turn around, and you look down on the winding Ngo Dong River, a scene made even more picturesque by the occasional wooden boat floating along.
Accessed by an equally impressive stone staircase that zigzags its way up the mountain, the 500 odd steps might be arduous but the dual viewpoints at the top more than makeup. There is also a rather implausible stone dragon at the peak that you can scramble around — if you are not afraid of heights.
While open to the public during the day, to best experience this place, you should stay at the Hang Mua Ecolodge, an oasis of nature and serenity at the base of the mountain. You'll then be able to climb the majestic Mua Mountain at sunrise or sunset, or whenever you want, having the site and vistas to yourself without the crowds. Adding to the appeal are the quiet roads in the surrounding area – perfect for exploring by bike, and the short distance to the famous Tam Coc & Trang An eco-rafting experiences nearby.
Also read: Exploring Nong Khiaw, a lesser known gem of Southeast Asia! 
Phong Nha caves in Central Vietnam
Written by Joanna from The World in My Pocket which is based on slow and off the beaten path travel. Follow her on Instagram here @oana_roua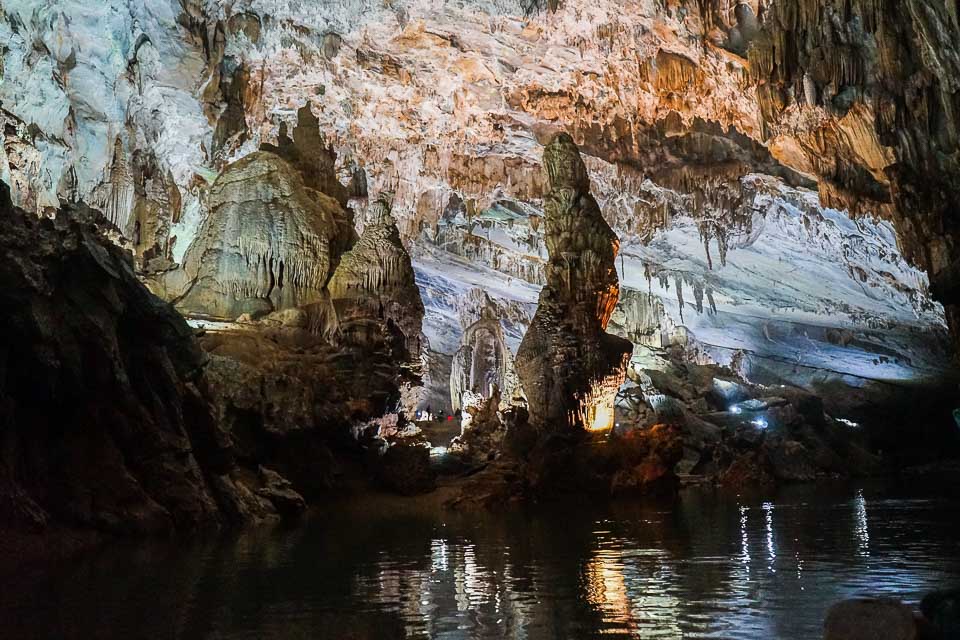 Phong Nha is one of those off the beaten path destinations in Vietnam that will take your breath away. Whilst there are tourists, the destination is not as popular as other destinations in Vietnam, such as Hoi An for example, which has become overcrowded.
Phong Nha is a destination for nature lovers who want to take a break and just relax surrounded by the most beautiful scenery. At the same time Phong Nha is also a fantastic adventure destination, for people who love to hike and explore hidden paths.
One of the best things to do in Phong Nha is to visit the caves. There are three popular caves, which people come to Phong Nha for: Paradise, Dark and Phong Nha Cave. However, if you want more, Oxalis organises expeditions in caves which are not accessible to any other touristic company. They are actually the only company that is allowed to run expeditions in the largest cave in the world, Hang Son Doong. The bookings have to be made months in advance and a four days expedition costs $3,000. Visiting the other caves however won't break the bank, and it's easy doable by yourself, on a motorbike.
Phong Nha is easy reachable from Hue or from Ninh Binh, in around 4 hours. It is not recommended to do a day trip to Phong Nha from either because transport takes too much time. Even if it's a small village, there are many accommodation options in Phong Nha, from hostels to luxury hotels. A good place to spend the night is the Chay Lap Farmstay, which also has a water sports centre from where you can rent kayaks or paddle boards. 
Also read: A complete travel guide to Hampi, a UNESCO heritage old city of India
Ha Giang in North Vietnam
Written by Emily from Wander-Lush, a cultural travel blog about Southeast Asia & the Caucasus. Follow her on Facebook.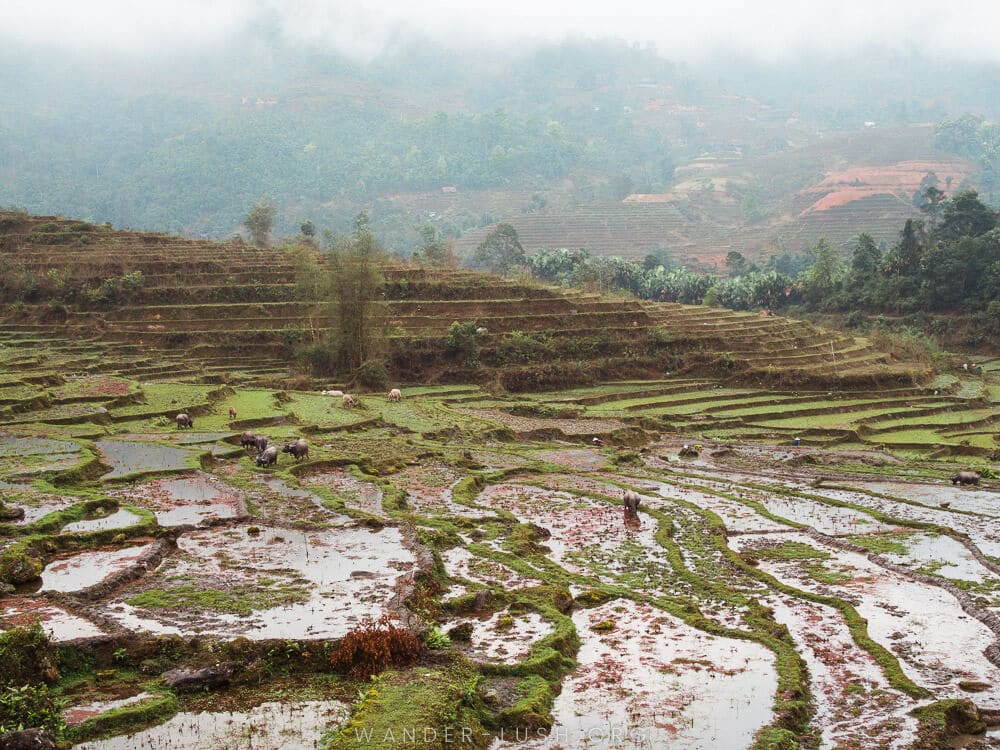 More remote and rugged than popular Sapa, Ha Giang is without a doubt one of the most beautiful places to visit in Vietnam.
Located in the country's far north close to the border with China, Ha Giang was the last place in Vietnam to open to international tourism. Infrastructure is still developing, but a new highway and a proliferation of guesthouses makes travelling in Ha Giang fairly easy.
The area is known for its karst rock landscapes, deep gullies and soaring rice terraces. The best way to explore is by hiring a motorbike and riding the famous Dong Van Loop, a circular route that takes 2-3 days to complete. If you're not an experienced rider, you can explore Ha Giang by car. I recommend travelling with an ethical tour company such as YESD, which reinvests profits from its tours into training and development projects for the local community.
Ha Giang is a 6-7 hour drive from Hanoi and you need at least 3 days to do the area justice. The more time you can spend there, the better. Highlights include trekking in Thon Tha village, the breathtaking Ma Pi Leng Pass and Heaven's Gate, and learning about Hmong culture in Dong Van. The vibrant Tam Son Sunday market shouldn't be missed.
Also read: 10 amazing things to eat in Hanoi, Vietnam! 
Quy Nhon, Central Vietnam
By Rose Mundy from Where goes Rose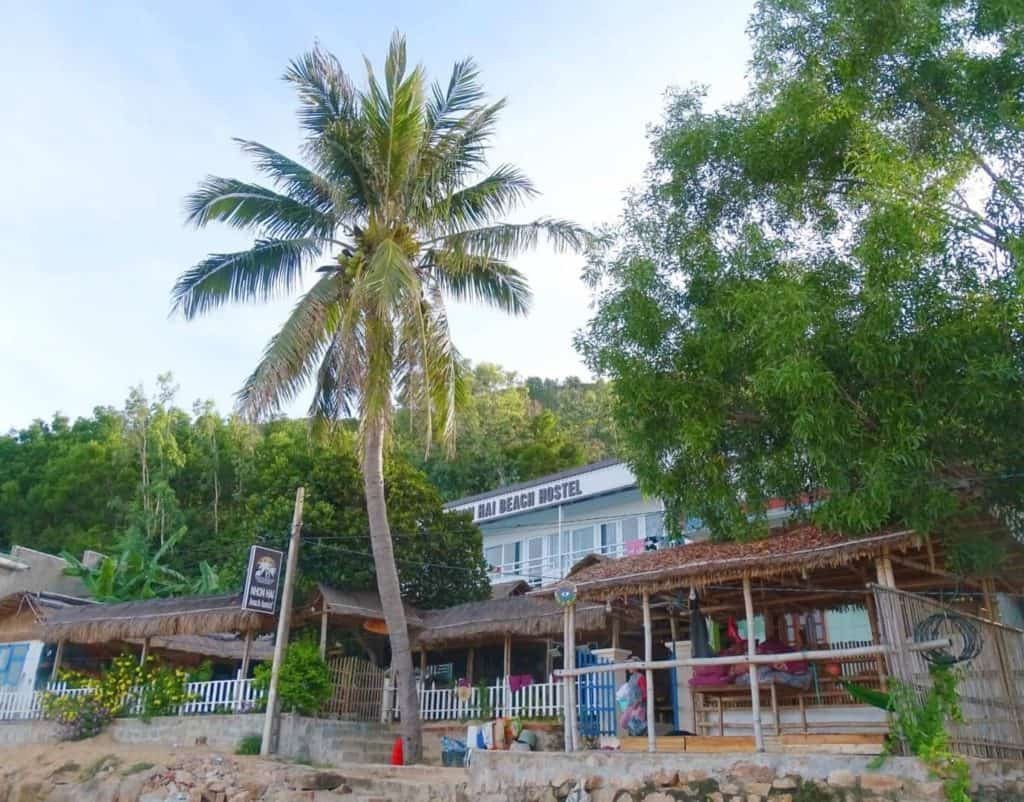 If you're looking to escape the tourist trail in Vietnam and enjoy a beautiful beach, there are few better places to do so than Quy Nhon. This peaceful beach town in the region of Binh Dinh can be found along Vietnam's southern coastline, halfway between Hoi An and Nha Trang. While it's an area of stunning beaches, snorkelling and nature, it's predominantly known by locals which makes it the ideal place to see the real Vietnam.
Quy Nhon is a city so it's advisable to grab a taxi or local bus around the peninsular to Nhơn Hải, a sleepy beach town with a few hotels on the sand. Nhơn Hải Beach Hostel is a lovely hostel on the beach with private rooms, tasty fruit pancakes for breakfast and a sandy garden to watch sunset over the ocean. In the day time, you can relax on the beach, swim in the clear waters and join the locals as they socialise and play football after the working day is done.

Visiting Quy Nhon is best done by bus or train from Da Nang, Hoi An or Nha Trang. You'll definitely want to stay overnight. There are few restaurants in Nhon Hai but plenty of tasty street food stalls serving Vietnamese dishes. 
Also read: Exploring the doors of Zanzibar Stone Town!
Ban Gioc Waterfall, Cao Bang in North Vietnam
Nicole from Nicole LaBarge Travel Blog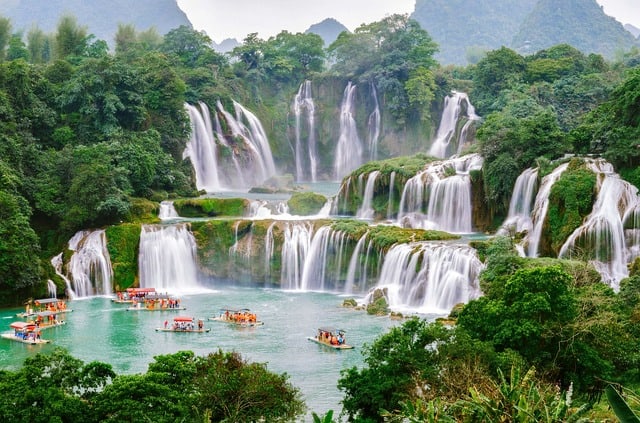 Ban Gioc Waterfall is located outside of Hanoi in Cao Bang. It is one of the most famous landmarks in Vietnam and well worth a visit as it is considered the Niagara Falls of Vietnam. The waterfall sits on the border with China but most people access it from the Vietnam side. The waterfalls are known as Ban Gioc on the Vietnam side and Detian on the Chinese side.
The Ban Gioc Waterfall is located on the Quay Son River which is a picturesque setting for the waterfalls. Ban Gioc Waterfall is the widest waterfall in Vietnam at over 300 metres wide and 70 metres tall! It costs $2 to enter the falls but you will really want to rent a boat to visit the falls. Hop on a bamboo raft get a closer look at the Ban Gioc Waterfall – you will definitely get wet!
Other things to do near Ban Gioc Waterfalls are visit the Nguom Ngao cave and Pac Bo relics. You can also have a homestay in Quyen Uyen which is something really unforgettable.  You can take a bus from Hanoi as they leave every hour and take around 6-8 hours to get there.
Also read: The Old Town Phuket, Phuket beyond Party and beaches!
Cao Dai Temple
Contributed by Wendy Werneth of The Nomadic Vegan, where she shows how you can be vegan anywhere in the world.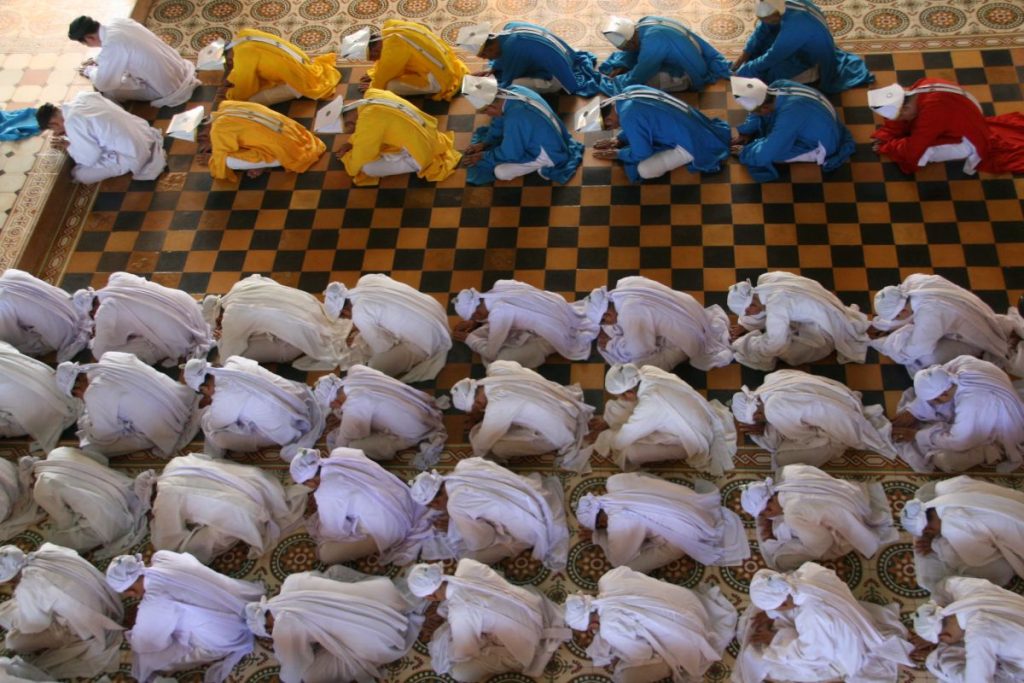 Even though the majority of Vietnamese citizens claim to be atheists, there is a surprising level of religious diversity in the country. In addition to Buddhism and Christianity, you'll also find homegrown religions that you've probably never heard of before. One of these is Caodaism, which some sources say is practiced by about five percent of Vietnamese people. It's a monotheistic religion, and the words "Cao Dai" mean "Highest Lord", a reference to the supreme deity.
While many Buddhists in Vietnam are vegetarian (and mostly vegan) on certain days of the month, Caodaists follow a vegetarian diet year-round. This is just one of the ways that they seek to achieve union with Cao Dai and world peace and unity. You can find Cao Dai places of worship all over Vietnam, but the most important one is the Great Divine Temple in Tay Ninh, where the religion was founded in 1926. It's about 90 kilometers from Ho Chi Minh city and can easily be visited on a day trip. It's not a UNESCO World Heritage Site, but a visit here is certainly a fascinating cultural experience.
Ceremonies are held at the temple four times each day, and visitors are welcome to attend and even take photographs from the upstairs balcony. Given the flamboyant architecture full of esoteric symbolism, and the brightly colored robes of the priests, it's certainly a fantastic photo opportunity. Men should wear long pants, while women should wear a long skirt that covers their knees.
Also read: Amazing pictures of sunsets from Masai Mara, Kenya! 
Phu Quoc Island, South Vietnam
Written by Neha Kulshrestha from blog Travel Melodies that helps plan a perfect family vacation based on our family adventures across the globe. Follow her on Pinterest here.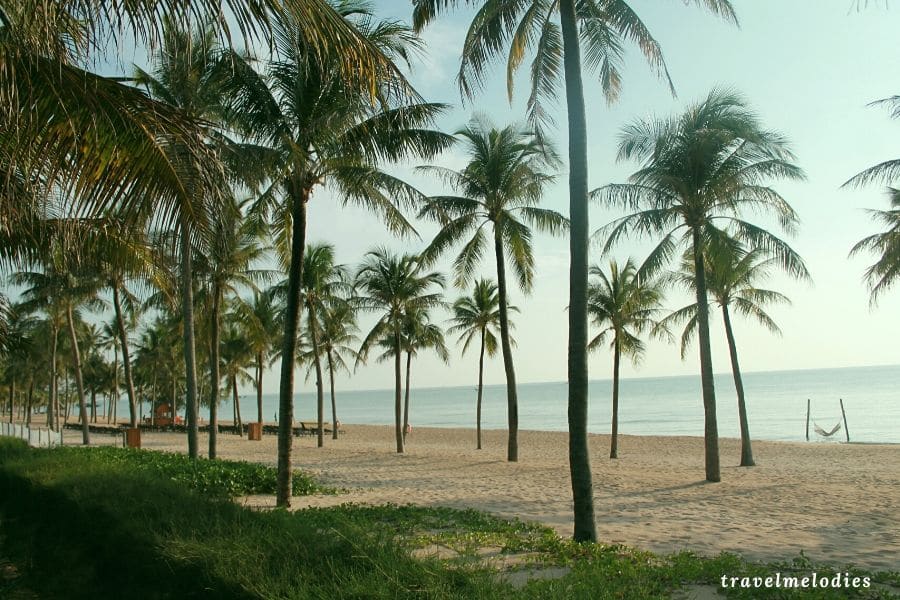 Phu Quoc, an island to the southeast of Vietnam is a perfect place to travel for a relaxing vacation. The island has one of the world's  best pristine white sand beaches. The best part is that if just visiting the island in Vietnam, there is no need for a visa for 30 days. So just book a flight to the Phu Quoc International Airport and savor the beauty.
Phu Quoc can also be reached by ferries plying from Mekong Delta that take from 1-3 hours.  There are many beautiful beaches of the island – Bai Dai, Bai San, Khem beach, San beach and many more to enjoy the sunshine. Built sand castles or just gaze at the magical sunset, Phu Quoc is sure to cast a spell.  The island even has fun theme parks like Vinpearl Land Amusement Park and Vinpearl safari that are fun for all ages especially with the kids.  
When on the island, one can't miss experiencing the world's first and longest cable car over water at Hon Thom Cable car. The views from the cable car are magnificent. The island's main town, Duong Duong is the epicenter with many local and international restaurants, hotels and night markets. This is the place where tourists flock if they seek the pulse of the island.   
There are many resorts from super luxury to mid-range and budget hotels suiting the pocket. Novotel and Vinpearl are great resorts to choose from to stay especially with families. Else Duong Duong has many options to choose from. 
Also read: 2 weeks of slow traveling in Myanmar
Halong Bay, North Vietnam
Written by Rai of A Rai of Light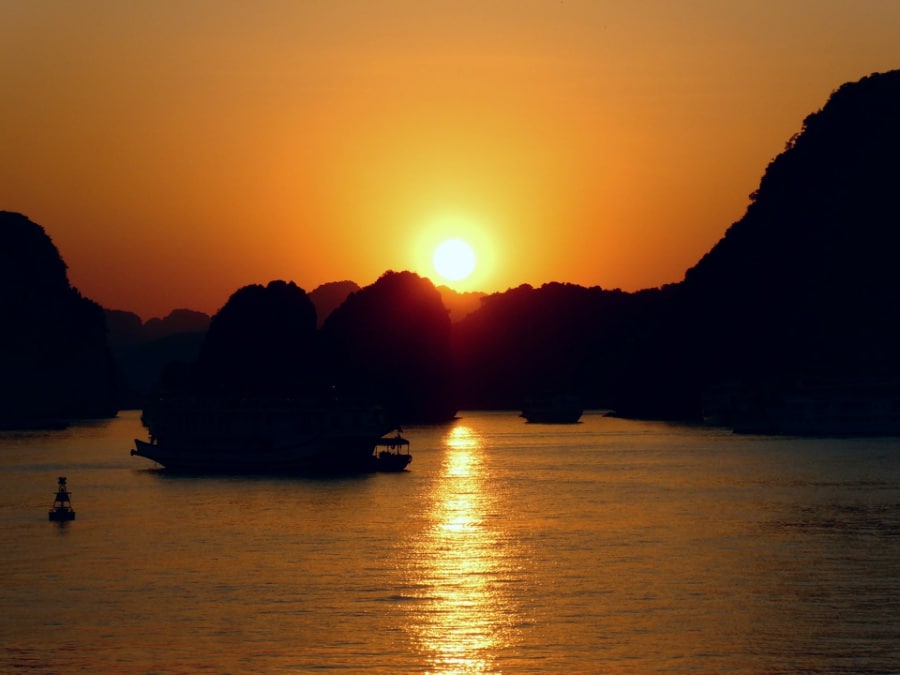 Hạ Long Bay, located on the northwest coast of the Gulf of Tonkin in Northern Vietnam, is well known for its dramatic limestone mountains, emerald waters, picturesque views, and beautiful sunsets. Declared a UNESCO World Heritage site, this otherworldly landscape formed over thousands of years, earning the name, "Where the Dragon Descends to the Sea."
The region is popular for hiking, scuba diving, and rock climbing, especially in the mountainous Cát Bà National Park. For those looking for a more relaxed experience, the bay has beautiful beaches with calm tides and clear water, making it a great place for sunbathing and swimming.
There is also the opportunity to explore the region via junk boat and kayak tours. Don't miss the chance to explore the caves, lagoons, karst islands and rocks rising from the water in every direction. The region stands apart due to its serene and tranquil nature with the best time to visit between the months of October to December thanks to the pleasant weather and low chance of rain.
Also read: 20+ offbeat things to do in Goa!
Bai Tu Long Bay, North Vietnam
Written by Jen Ambrose and Ryan Victor from Passions and Places, currently based in Montana, USA. Follow them on Instagram: @passionsandplaces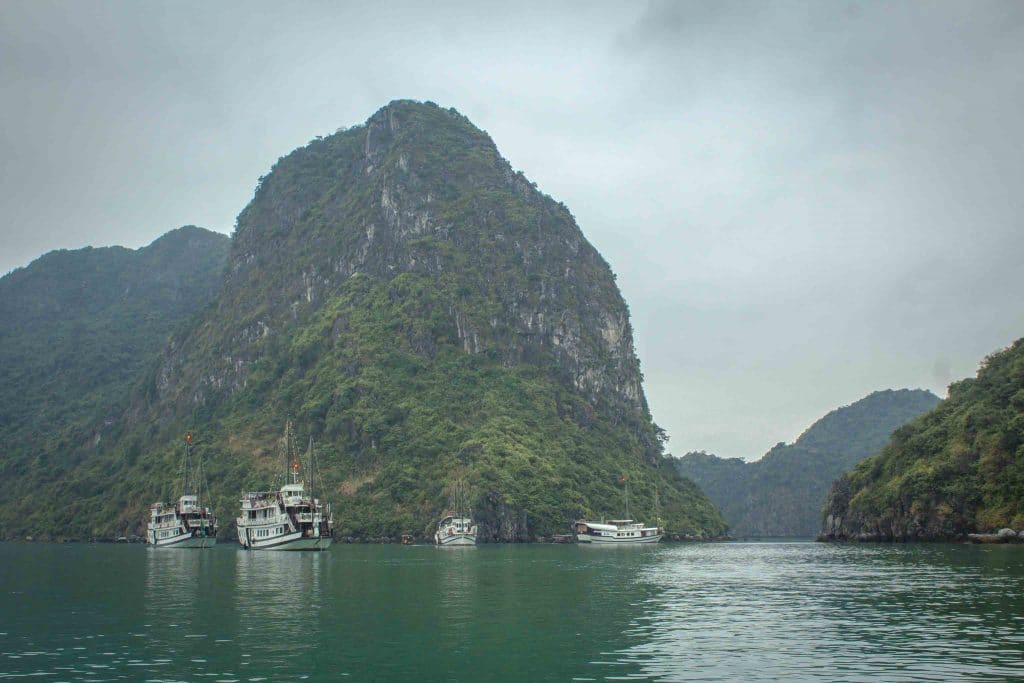 For many visitors, traveling to Vietnam without seeing the famed Halong Bay is unfathomable. But while it might be the country's best-known attraction, Halong Bay has gained notoriety for being overcrowded, heavily polluted, and unsustainable.
Fortunately for visitors seeking a quieter and more eco-friendly experience, Bai Tu Long Bay is right next door, with all the same UNESCO-recognized scenery and none of the crowds. Bai Tu Long is a national park, so environmental regulations are stricter and development is more limited. Only a handful of companies are permitted to operate there, and all the ships are small.
Taking a cruise is the only way to visit Bai Tu Long Bay, and cruises typically include round-trip transportation from Hanoi. Most companies offer one- or two-night cruises, and though there are now a few day trips available from Hanoi, the packed schedule doesn't really leave much time to enjoy the bay.
During the cruises, all meals are provided on the ship, and drinks are available at the bar. Depending on the company, there might also be a spa, swimming pool, gym, tai chi classes, or cooking lessons. But the real purpose of visiting Bai Tu Long Bay is to enjoy the jaw-dropping scenery, from the islands you might stop at, from a kayak (which is included in most trips), and just from aboard the ship as you drift through the water.
Also read: A complete guide to explore Langkawi, a beautiful island in Malaysia!
The Cham Island, Central Vietnam
By Maartje & Sebastiaan from The Orange Backpack. Follow them on Instagram @theorangebackpack.nl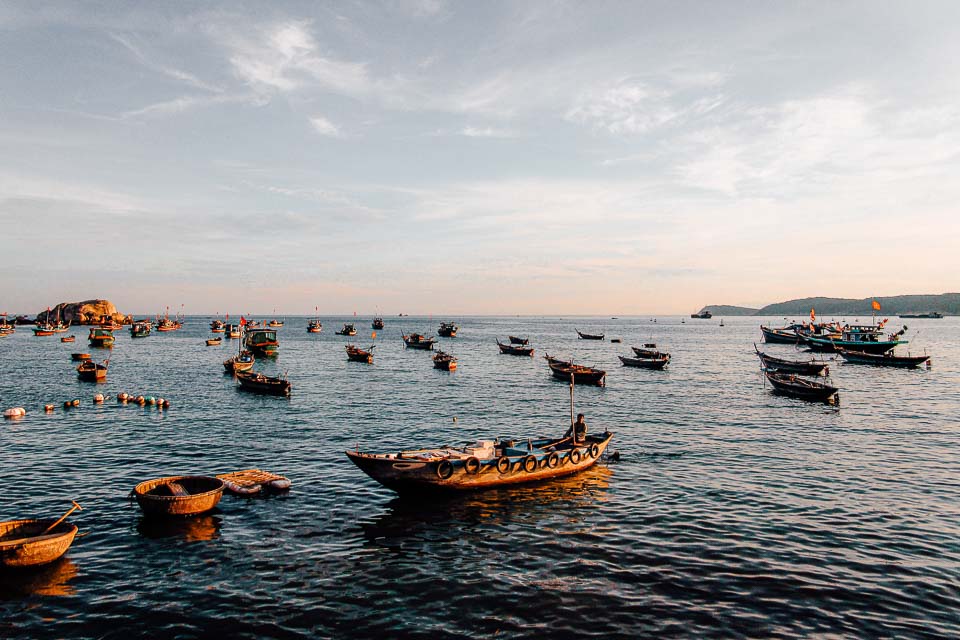 The Cham Islands are one of the more unusual places to visit in Vietnam, though tourism is slowly getting a grip on this tropical paradise as well. So make sure to include on your Vietnam itinerary before it gets to touristy.
The islands are located in front of Hoi An, one of the most visited cities in the country. It has eight islands of which Hon Lao is the main and only inhabited one. There's a small fishermen's village, a small road and some beaches.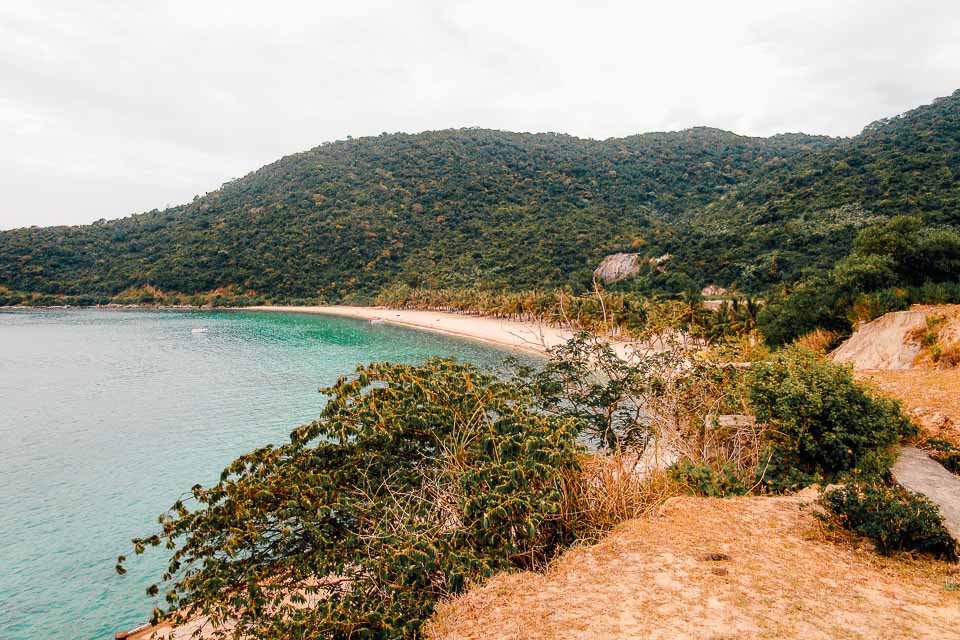 The Cham Islands are known for its great snorkeling and diving options. The area is part of the National Marine Park with beautiful coral reefs. But you'd also like this place if you fancy relaxing at beautiful tropical beaches. Bai Lang beach is where most day tours arrive, so it's also the most crowded one.
A few years ago, it was only possible to visit the islands with a day tour, but there are some smaller hotels and homestays now. Don't use the slow ferry to get there, but get a ticket for the speedboat at your hotel or any tour office in Hoi An.
The Cham Islands are only worth a visit from March to August, so outside the rainy season. During rainy season, the sea will be too rough for snorkeling and diving or even relaxing at the beach.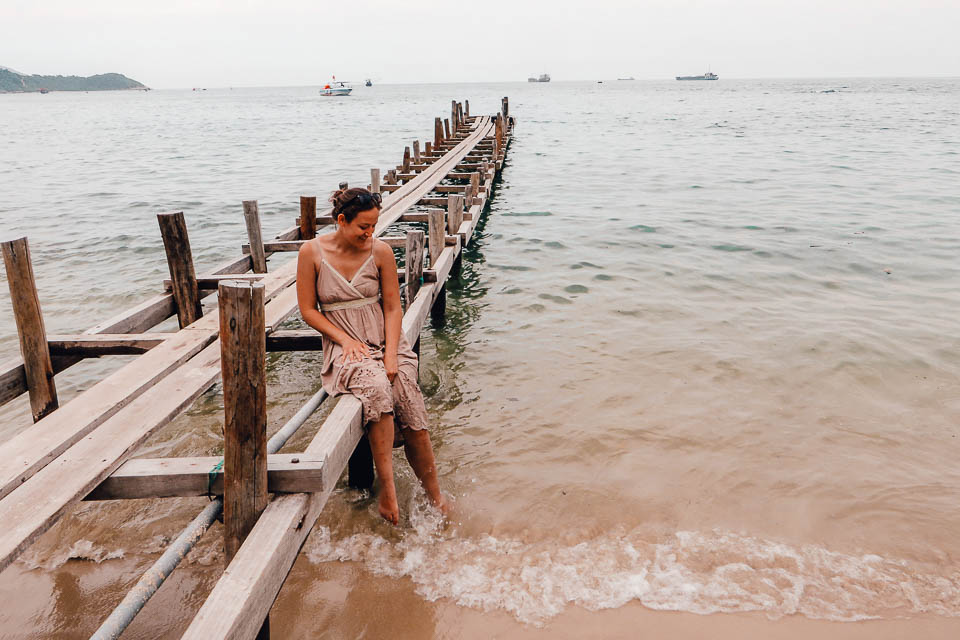 This post may contain affiliate links. Please read the disclosure post. If you have liked the article, you may support it by buying using these links without any extra cost to you.
Let's stay connected on Facebook, Instagram, Twitter! You may also consider joining my mailing list. I send travel and photography related emails only once a month!