About this blog: I took a flight from Suvarnabhumi Airport Bangkok to Luang Prabang in Laos. I flew economy and the flight lasted for an hour and a half. This is my honest account of experiencing Bangkok Airways.
Also touted as Asia's Boutique Airlines, Bangkok Airways is a full service regional airline serving a vast spectrum of Southeast Asia!
I flew with them, economy class, on my way to Luang Prabang, Laos from the Suvarnabhumi International Airport, Bangkok. I spent the previous night at the Suvarnabhumi airport in transit, devoid of sleep (because solo travel and worried about luggage). I was dog tired.
As a part of Boutique service, Bangkok Airways has a lounge that can be accessed by all the passengers. I loved the lounge. It was a small lounge with good wifi and limited amount of packeted snacking options avaialble. Tea and coffee helps you refresh.
The check in for the flight started a couple of hours before the departure time.
It was an ATR 72 600 flight with seat capacity of 60 to 70. The plane was neither a huge airbus, nor a tiny pro flight jet either.
Bangkok to Luang Prabang is almost 90 minutes flight time. I decided to sleep on the flight since I hardly slept the night before. In order to sleep, it is imperative to have a comfortable seat and balanced temperature control. Luckily I sat on the side opposite to where the rising sun shone bright.
The plane flew on a rather low altitude. Not for a moment were we covered with the cloudy mist or anything. We had an amazing view of the sprawling paddy fields and azure lakes underneath. I could not sleep lest we miss anything important!
I am 160 cm in height. I felt the leg space was just enough to fit in my feet. If you are taller, definitely choose the aisle seat. There were two seats on both sides. I had a friend sitting beside me who was about to join me for the week long Laos sojourn which was about to follow.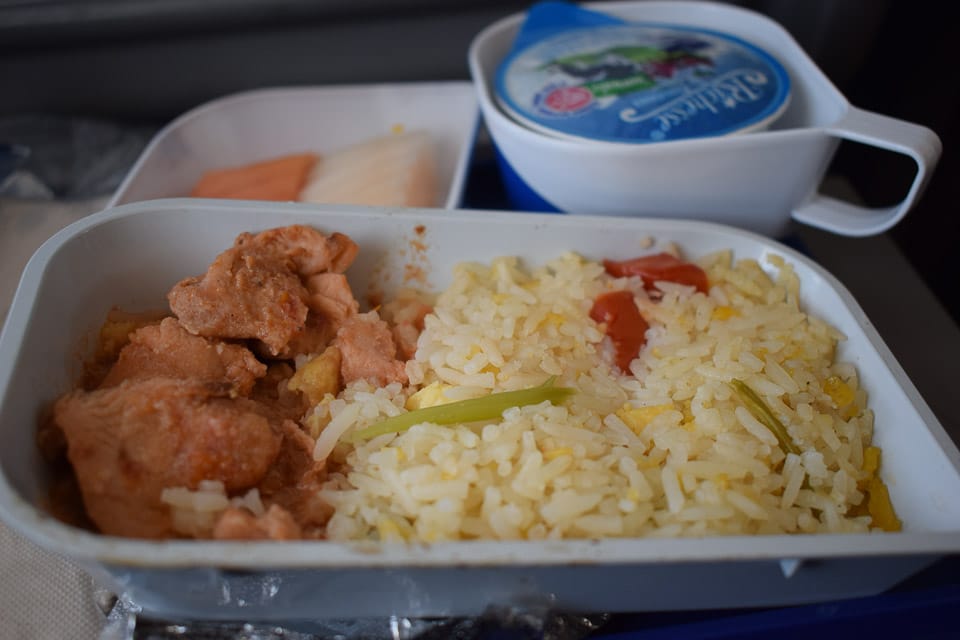 Smiling Thai women served us a nice breakfast with sticky rice and chicken on a hot plate. Soon followed by coffee and tea. There was no alcohol served on the flight as far as I remember. The lady took care to arrange every luggage on the overhead.
Since the aircraft was a small one and fully booked, there was an initial rush while boarding the flight. Unlike many other domestic routes where people do not strictly follow the seating arrangement as imprinted on the boarding pass, Bangkok Airways strictly implemented sitting order as provided in the boarding pass.
Service was prompt and kind with a smiling warm face, a signature style of Thai people. The Bangkok Airways flight had almost 20 tourists. Rest of the people, almost 50 I would say, were a mix between Thai and Laos population. The crew spoke English and Thai.
I picked up the in flight magazine and picked up a little information on Luang Prabang. It published about a number of quaint cafes from Luang Prabang. Catering to new age travelers, many restaurants and cafes in Luang Prabang are serving experimental meals made of local ingredients. You will not have a hard time finding vegan food in Luang Prabang either.
Bangkok Airways owns the airport at Koh Samui and conducts regular flights connecting the island paradise with the rest of the country.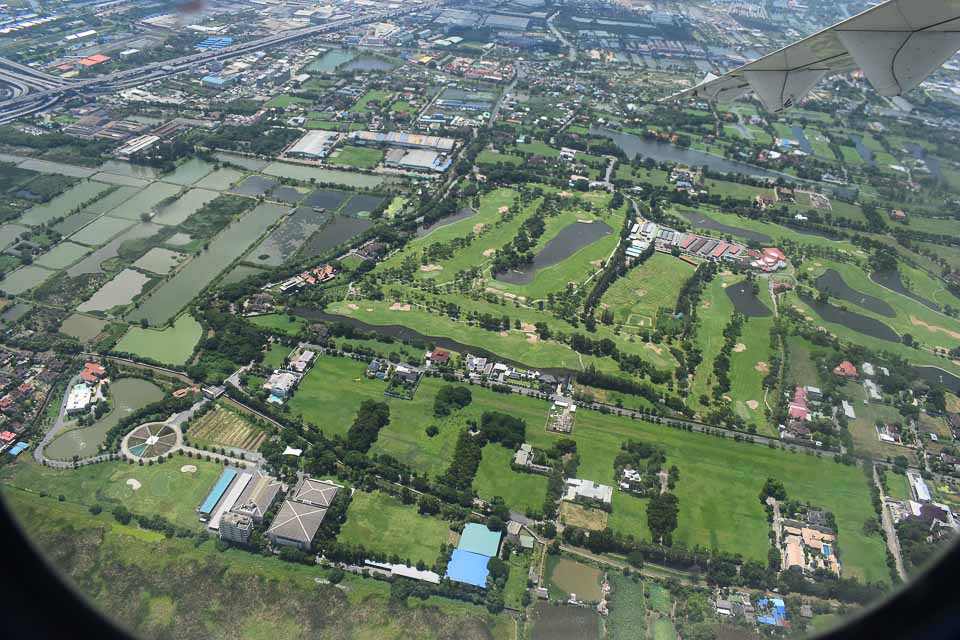 Also read: 11+ Culturally Immersive experiences in Luang Prabang!
Unlike many other local and economic carriers, Bangkok Airways was a bit high on the price. Being a full service carrier, they allow one check-in luggage, one cabin luggage, and lounge access. The meal served in flight was warm and hearty and included in the ticket price. In my honest opinion, it was a great value for money option. I have no qualms with the service provided by Bangkok AIrways.
Upon arriving at Luang Prabang, we were provided with an arrival form to fill in. Everything was promptly done.
Luang Prabang was a tiny airport and we walked to the immigration office. However on the way back from Luang Prabang to Bangkok, we were provided with a bus. They had special arrangement for people with special abilities. The flight was indeed wheelchair friendly though you might find meandering inside the aircraft a bit challenging.
Also read: 20 day trips from Luang Prabang!
Safety on board: Luang Prabang
Not for a moment I felt safety measures were compromised on the flight on board with Bangkok Airways. If you are traveling with a child and need to access the washroom, please note the bathroom is really small (like any other economy air craft). There was no wifi on board.
If you consider the lounge access, you will find Bangkok Airways conducts a great value for money service on the Bangkok- Luang Prabang route.
Full disclosure: I was a guest of the Luang Prabang tourism board and they had kindly arranged the ticket for me to fly from Bangkok to Luang Prabang. However, all opinions are mine and honest.
---
This post may contain affiliate links. Please read the disclosure post. If you have liked the article, you may support it by buying using these links without any extra cost to you.
Let's stay connected on Facebook, Instagram, Twitter! You may also consider joining my mailing list. I send travel and photography related emails only once a month!