Dusty roads and rusty sky, golden rays shining on the peak of Mount Kanchenjunga and bucket list weary tourists sipping on the ubiquitous first flush from the first floor of Glenery's, rowdy cabbies and Bhutia shawlwallas nudging each other for another prospect of a sale. During one such winter afternoon, Darjeeling appeared in front of me in a myriad avatar. Strained. Worried. Overwhelmed. Covered in the cloud of bitter gloom. Lost in the ecstatic celebration by the plainland's humans!
"Thank you for being there, with us, dotting the Bengal Nepal border, helming the Himalayan ranges plagued by political border!", I murmured!
She looked away. Complaints? I wonder, eagerly waiting an answer from my childhood idea of salvation. Going to the mountain was an answer to all my earthly worries!
A long pause ensued and then I hear her say, "If everybody wants to come to the mountain, where will the mountain go?" Her voice tragically fading in the resonating halls of erstwhile British hallways, treading the path chained with towering oaks and maple, steppes of tea gardens! From the eye of a drone, you will see little mice studded with yellow number plates ferrying people to and fro.
Before the end of the pandemic year, I had only heard about vices of over tourism. How it has driven people away from the homes by the medieval Venetian canals. How Bangla Road, Patong is overrun with #wanderlusters. The Bali nomads or the Indian Golden Triangle had been off putting for reasons beyond my control. I had consciously swayed away from the touristy traps while acknowledging the tourist places are popular for a legit reason. They are beautiful. Perhaps more beautiful than the rest of the mundane world. But elbowing with hundreds of others for that one glimpse of Taj Mahal's dome, is it really worth? Is it? I remain conflicted in my mind.
However, with the slow opening of domestic economy and unlock phases, we decided to explore popular parts of the country. We assumed crowd will be less than usual, hence they would be safe. Also the tourist money could bring much needed oxygen for the ravaged industry.
Boy oh boy, was I wrong or I was wrong?
Darjeeling was flooded with plain landers and mainlanders! I am tempted to use the word deluge in case you think flooded with people is a rather generic statement. Darjeeling was deluged. Sandakphu was flooded. You get the drift?
Now who am I to complain? I was present there as well, no? One among the millions? Well, I was unaware. So could be others? Yes! I am no way a distinct human for the virtue of grabbing hold of a pen, though a pen is mightier than a sword.
We reached Darjeeling after a prolonged period of traveling in Sikkim. The mirth of road-tripping amidst the clouds, coming closer to Kanchenjunga than most of the mere mortals and eating bountiful of jhol-momo at Gangtok's M G Marg.
For most of the savvy Bengali travelers, reaching Darjeeling is an idea of comfort. A known territory. A breakfast at Kev's. An early morning sojourn to the Tiger Hill for sunrise. A walk on the Mall road. "Have done this before, will do this again!" Nothing to complain. Sometimes, we come across a new café at the turn of the Nehru road. Sometimes, the ghost of the old souls await by the forlorn turn. Some of the chalets are also called home by departed souls. A new rendezvous might happen, for the lucky ones. Kanchenjunga will beam into an endless smile, if you care enough to choose a bright sunny day. Like the Kolkata-starved people, who go back with a check list to get down at "Splaned", shop at New Market's Nahoum, douse Biryani at Arsalan, eat some jaggery sweet at K C das, and then visit Mocambo at the Park Street.
It all sounds nice and dandy, until everyone and their grandmother wants a taste of the Pork platter of Kev's on the morning of 31st December. Specifically. I was one among the swarming dramatic crowd, and alarmed, I ran back to the Elgin, an erstwhile royal palace where we were staying. We stayed tucked in the comforter for the rest of our stay in Darjeeling. We have been here before, like most of the Bengalis. Our childhood shines bright with memories of the quintessential yearly Darjeeling trip, further reinstated by multiple literary and cultural references in books and movies.
Nostalgia is endearing, only it can not resist the dismal and obvious decay. It is nothing short of a miracle that the mountains stand in harmony defending multiple stabs to ecological balance of the region. The tea gardens are born off rampant deforestation of rolling mountains. Because we humans are new entrant to the playground in the larger scheme of things, we have the privilege to pay deaf and dumb to nature's weaning. We can also make sustainable choices. In the long run, the yield is better.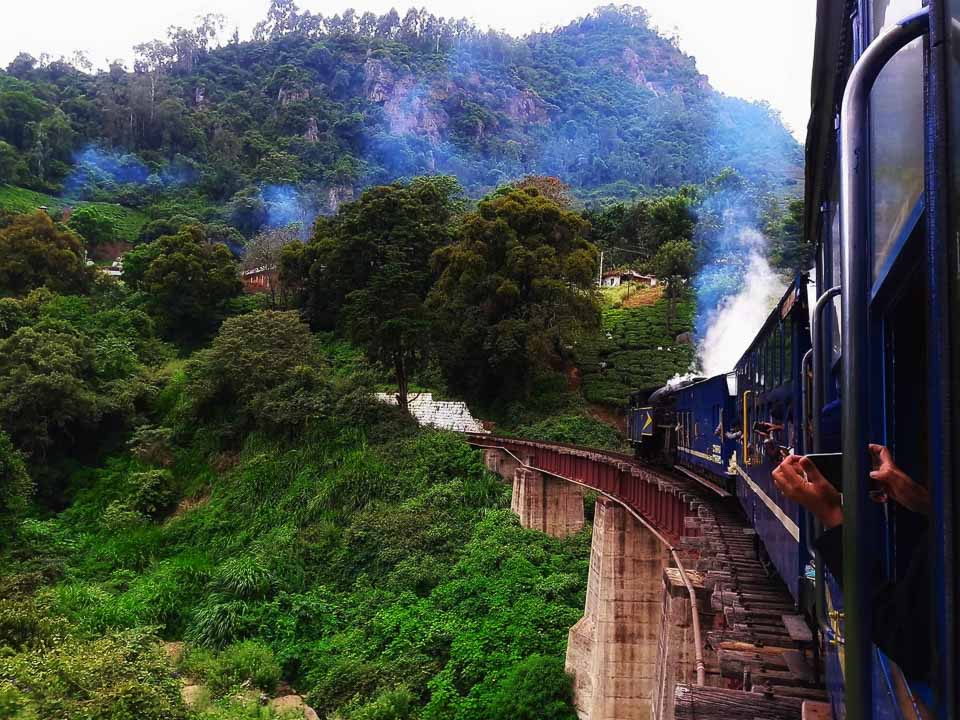 Also read: A week in Shillong, travel stories from the heart of Meghalaya!
I am not pissed for not getting an easy seat at Glen's or for being denied entry to eateries consecutively on the last day of the year bygone. I am not bothered for not reclaiming solitude while walking at the Mall. I am tensed and perplexed seeing the crazy crowd puller that Darjeeling has turned into! I sip on a hot cup of Totti, a local brew made of tea and whisky at Hot Stimulating Cafe and look at the hill town, once renowned as the queen of hill, from a distance. It felt like the steam engine of the heritage railway, about to send smoke high up the sky, anytime.
It would not be completely true if I say I was not pissed. I sure was a bit taken aback with the crowd in Darjeeling and not feeling "safe" to be out there amidst that many people, thanks to an ongoing pandemic. Lets assume things were as they had been prior to new normal. I would have still preferred to be in a calm and quiet Darjeeling. Tourists are great. A crowd is not. Had I had an iota of foresight, I would have chosen a different route to conclude the trip. One of the lesser known destinations in North Bengal would have been fine!
Leave alone the troubling worries of plastic waste generation or tourist scams, without significant regulation Darjeeling tourism is bound for a nosedive. No other city in India face a bigger tourism challenge, especially now that domestic tours and road trips are on a high.
To be fair, it is not just me who tapped into the pulse of palpitating Darjeeling. The small Himalayan hamlets like Lepchajagat, Ahaldara, Sonada and a number of others have now come of age, teeming with neatly done homestays. However, they have to go miles before being a worthy contender of Darjeeling's Victorian glamour. Meanwhile, our beloved third cousin of Di Pu da would suffer until the focal point of tourism shifts from quantitative to qualitative!
---
This post may contain affiliate links. Please read the disclosure post. If you have liked the article, you may support it by buying using these links without any extra cost to you.
Let's stay connected on Facebook, Instagram, Twitter! You may also consider joining my mailing list. I send travel and photography related emails only once a month!