Deshi Murgir Kosha Mangsho with Spice soaring high!
About this blog: This Bengali style Kosha Mangsho with chicken is a delightful ethnic Indian recipe, cooked with the gorgeous fiery spices of the subcontinent. I prepared a homemade put full of chicken curry using country chicken in the iconic Kosha gravy of Kolkata's Golbari and it brought back a bundle of joyful memories from across the world. I will write about them and the recipe waits at the end. Do try this exquisite chicken recipe, best cooked with the prized leg pieces of a country chicken and rejoice!
Check out all my cooking adventures here: Cookbook!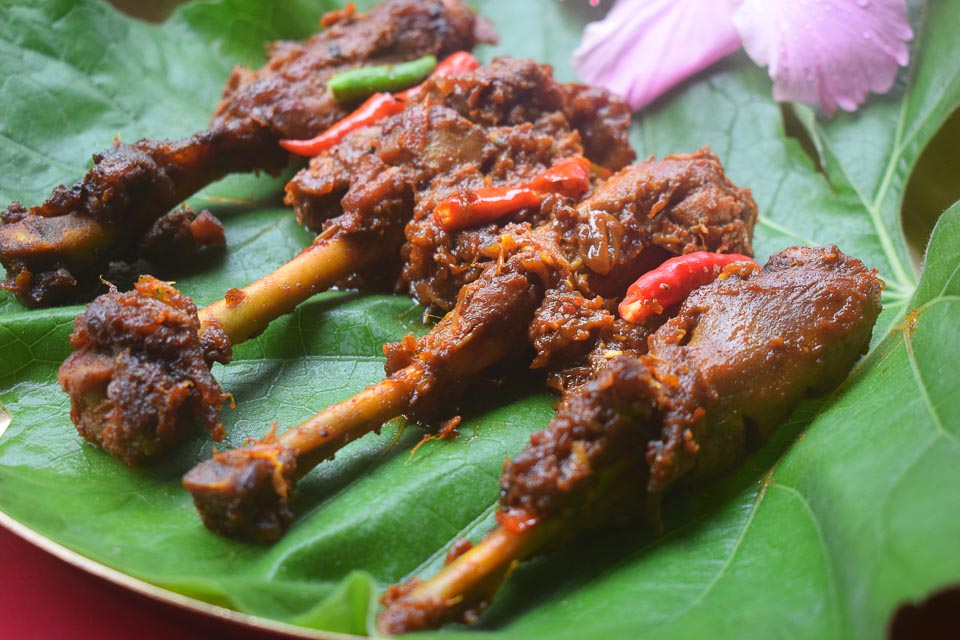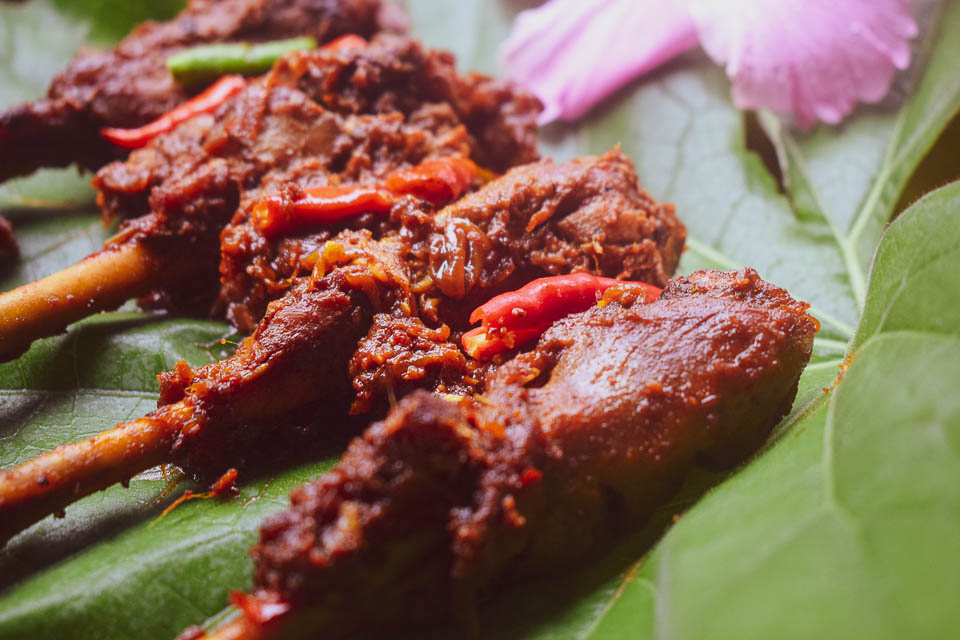 It was drizzling. We were sailing on an old junk boat on river Matla. Technically a river, Matla was swelling up at her mouth with tidal waves of Bay of Bengal proceeding towards the hinterlands of Sundarban, world's largest delta, home to Royal Bengal Tiger, glorious mangroves and a UNESCO heritage site!
We were sailing at the Sundarbans hoping for a glimpse of the elusive Dokkhin Ray. You know him by the name of Royal Bengal Tiger. But in vain. We saw a few spotted deers, a goshap (water monitor), a crocodile floating its nose like a dry log. Plenty of birds. Sundarban is a birder's paradise though not all know about it!
We had previously stepped down at a mudbank. With knee pricking deep the soft skin of the muddy highway, we walked for a while along the estuary in search of wildlife. A few red jungle fowls were feeding off the river bank. They scittered towards the hinterlands of mangrove, visibly inaccessible for a bipod as we approached their pack.
We went back to sailing. A mellow breeze caresses our hair. Our guide Ojha was from Uttar Pradesh. An engineer, he quit his corporate career and decided to live in the jungle. An amusing story teller, I had a hard time checking which one of his stories had some semblance to reality! I also reckoned it's the high quality Ganja at play!
I decided to go down to the hatch cove of the vessel. A woman in a white cotton chapa saree was arranging for lunch. For everyone!
"What's on the menu?" I asked, because I am scared if the boat topples, and the fact that I do not know swimming wont come to much help then, I would hope for having a delicious "last lunch" if things come to that!
She showed me a plate full of red spinach and deshi Kankra, river crab! I was amused. I brought out the camera!
She laughed out loud! What is the big deal of taking pictures?
"Can I click your picture with the food?"
Her smile faded. She stood in an alarming position, with her saree wrapped around the shoulder!
Clearly, my photographic enthusiasm was not infectious in this case. We went back to discussing food again. It is easy opening up with food. She opened the pots and showed me Panta Bhat, daal, Hilsa with aubergine (seriously? It is Begun diye Ilisher jhol, you guys), and a Kadai on a makeshift clay oven filled to the brink with simmering red curry!
What is it? I asked!
"Murgir jhol hocche!" She said matter-of-factly.
Chicken? This big? My eyes could not trust the enormous leg pieces being simmered in that evidently fantastic kosha Mangsho gravy.
Looking at her, I felt she thought this urban woman is making a mole out of a mountain, yet again!
But she was kinder than what I thought and showed me the severed head of the rooster! The bright red comb is intact on it.
"Is not it the one we saw at the island in the morning?" Words sometimes escape my mouth which makes me extremely irked with myself!
"No we do not eat any animal from the protected wildlife zone! We rear roosters at home and prepare for the guests." She said defiantly.
Oh okay! So this is the fabled Deshi Murgir Mangsho! The famous country chicken which we seldom find in a city but always know in heart to be excellent in taste when compared to the broiler variant! My surprise and elation knew no bound!
I have heard from dad that Broiler chicken was heavily frowned upon by grandfather. "Rampakhi". Not Murgi as they would call it. Sometimes, once in a blue-moon, chicken would enter the household. A makeshift oven would be build by the garden. A Thakur would cook Murgir jhol, chicken curry. Thakurda would not taste it though.
As I said, the chef lady on the boat was kind. She gathered my surprised state and offered me a small bowl of meat curry for tasting. I agreed without a second thought! It is not everyday a potful of Chicken curry excites me more than Hilsa fish!
Turned out, that was the best Kosha Murgir mangsho I have ever tasted! No star category hotel or fabled restaurants could ever replicate for me the taste of fiery country chicken curry cooked with a handful of Green chilies in mustard oil! After-all, a jungle safari is always best enjoyed with some free range meat!
Did we end up seeing a tiger on that safari? Nope. Some other time, I am hopeful though.
Did you know: The blood sport of Rooster fight (Morog Lorai) is still a very much in thing in Sundarban. Even at the tribal belt of Bankura and Purulia! Is it legal in India? I do not think so.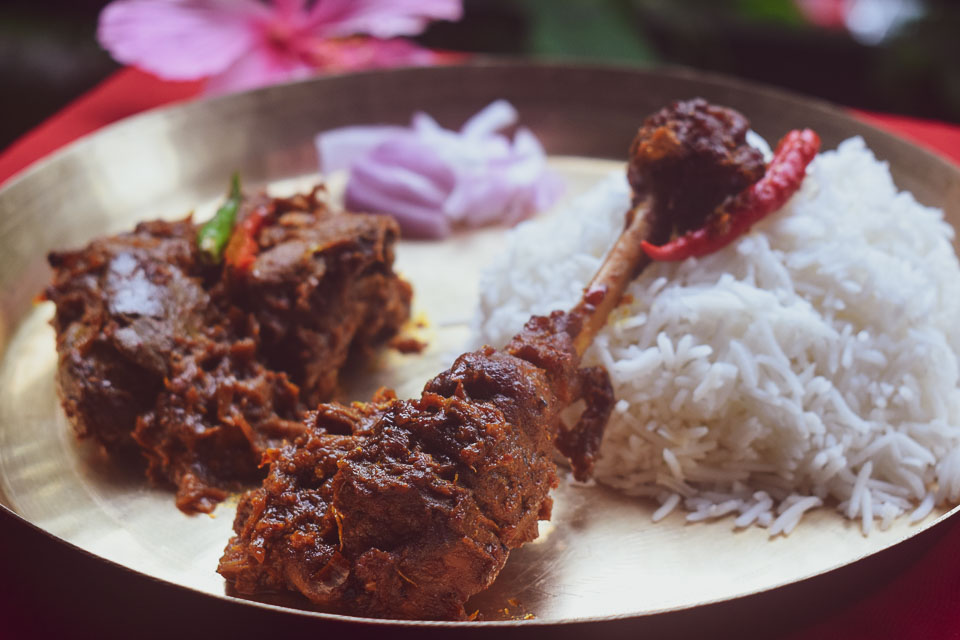 Also read: Complete Guide to Offbeat things to do in Goa!
After half a decade, when I spotted a Nati Koli, Deshi Murgi at the nearby store, I just had to bring it home and give it a try to recreate that Deshi Murgi recipe! What we Bengali call Deshi Murgi, is known as Nati Koli in Kannada. For some reason, I like the name Nati Koli more!
Deshi Murgi or country chicken is best cooked as Kosha. If you want to keep the spice level low, and add potato, make a humble jhol of it! Deshi Murgir jhol recipe will wait for now. It is time to make Kosha Murgir Mangsho! If I may add, this chicken curry recipe might bring you fond memories of pot roasted chicken of East Africa! In Africa, they use a tomato based gravy. We add onion barista and a few more spices alongside. African recipe has space for many a vegetables in the stew, from carrot to sweet potato. This Kosha Chicken curry recipe will scream blasphemy even if you want to add potato to it. And trust me potato is a big deal for the Bengali kitchen. We have traded the meat of Kolkata Biryani for the extra piece of potato, history remembers!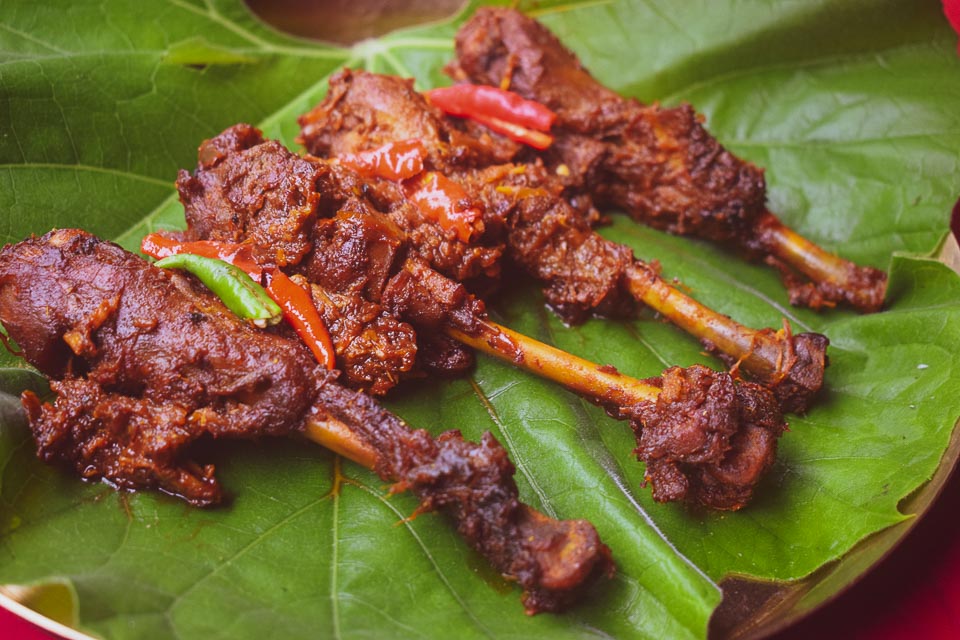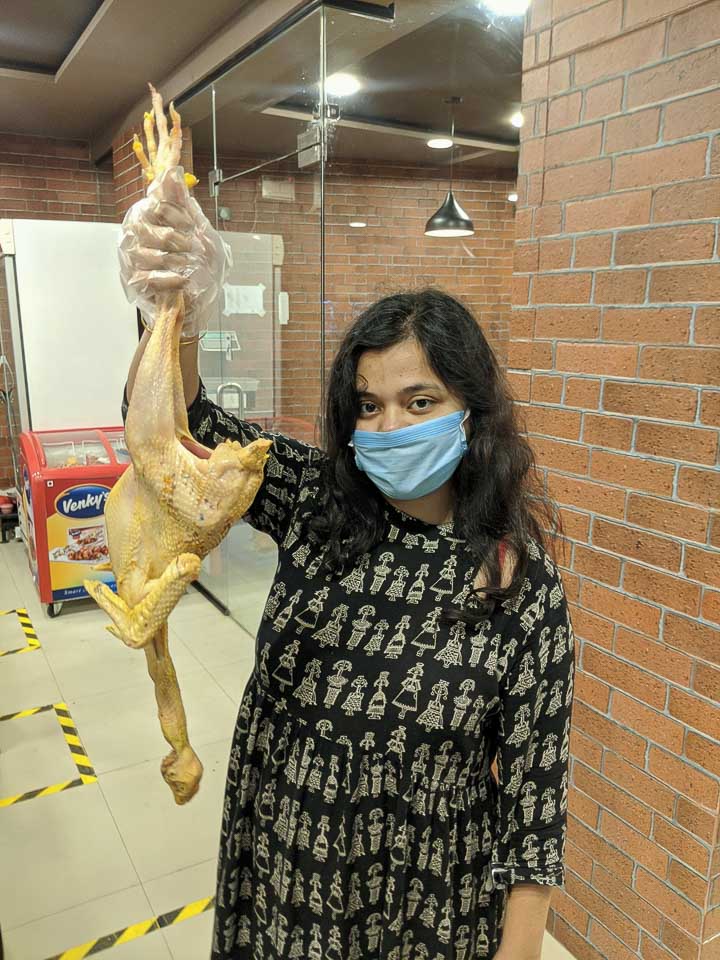 Nati Koli that I bought from meat hub! This was 1.3 KG of very fresh meat for 500 INR/KG. The seller advised us to keep the skin for added intense flavor to the body of the chicken curry it was destined to be! He means business. He also asked us to keep the fat layered skin of pork we got for Vindaloo. "Maza ayega" he said!
Okay, I should now stop gushing about this exotic chicken curry and furbish the recipe so that you can recreate!
Ingredients for cooking Deshi Murgir Kosha Mangsho: Bengali style Spicy Chicken curry
Deshi Murgi/ Country or native chicken/ Nati Koli: 1.5 KG (I used 2 KG of chicken but I had friends coming over)
Mustard oil: 500 ML (for cooking and marinade both)
salt to taste
Turmeric: 2 tbsp
Onions: 5 pieces. sliced. made into barista.
Lemon: 5/6 pieces. Juiced
Tomato: 6 pieces, pureed
Dried red chili: 3
Cumin: 1 tbsp
Cinnamon: 2 inch
Cardamom: 3/4 pieces
clove: 3/4 pods
Greek yogurt: 200 gm
Ginger and garlic paste: freshly pounded is better.
Green chilies: 10/12 (I love my chicken curries very very spicy. You may use less if you wish to)
cumin powder: 2 tbsp
coriander powder: 2 tbsp
red chilli powder: 2tbsp
ghee: 5 tbsp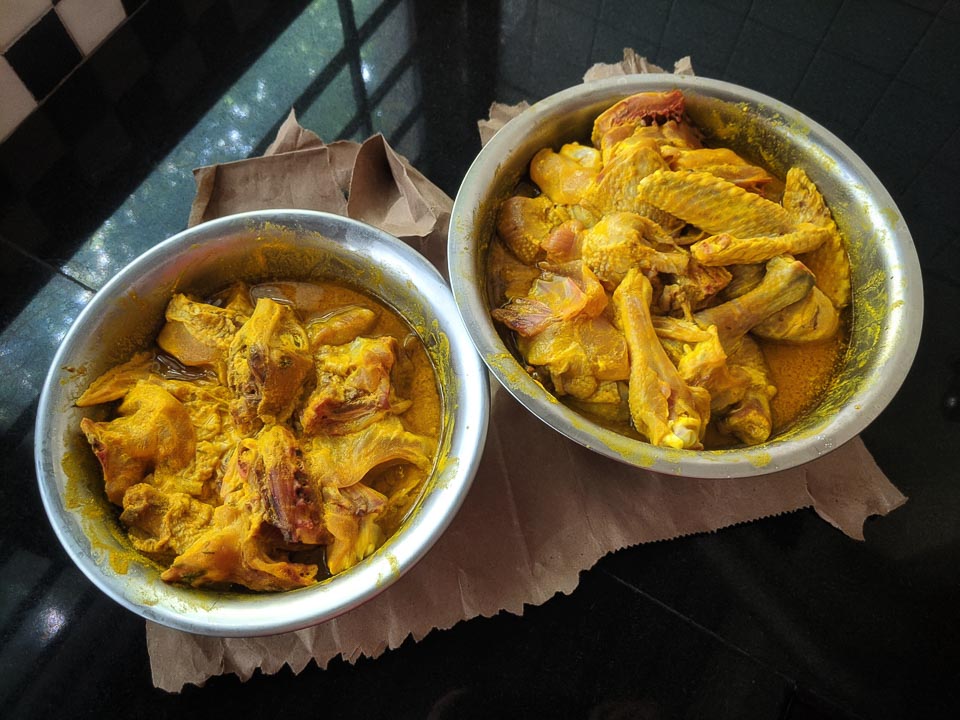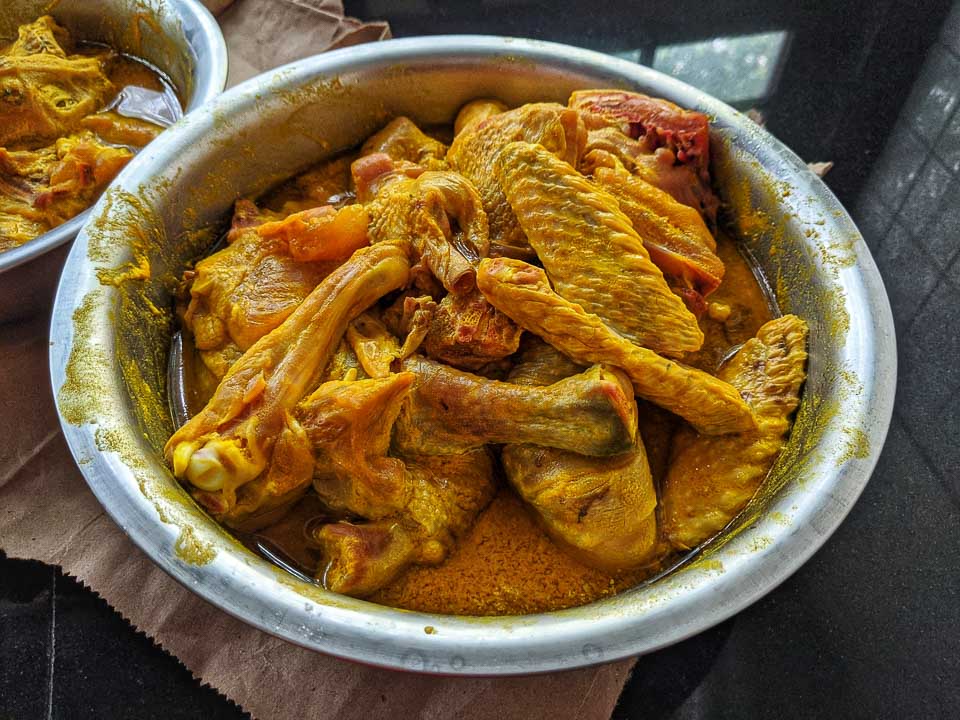 How to prepare Marinade for Deshi Murgir Kosha Mangsho Recipe!
Cut chicken into medium sized pieces. I do not use the feet and head for cooking the curry. I love Chicken leg piece or thigh though.
Clean it well under running water and pat dry.
To prepare the marinade for Kosha Murgi, take the following ingredients in a heavy bottle pan: Mustard oil, ghee, lime juice, salt, turmeric, yogurt. Mix them well.
Add chicken pieces one by one. Coat it well so that the marinade reaches every curve of the carcass.
Your best bet is to marinade it overnight. Or at least try to marinade for a couple of hours. This is not broiler chicken and would not cook very easily if not tenderized well!
Procedure for cooking Kosha Murgir Mangsho with Deshi Murgi! (Chicken Curry with Country Chicken)
To begin with, shallow fly each pieces of chicken until golden brown. This adds to a firm and crunchy texture to the meat which I love. I used this technique to prepare Chicken with Green Chilies too.
On a different pot, prepare barista of 6 sliced onions. Pro tip for cooking barista fast: add a tbsp of salt for faster caramelization.
Prepare spices for the Kosha Murgi Mangsho
You can use what you get ready-made in the market but I love hand-pounding spices for my meat curries. Take dried red chilies, cloves, cinnamon, cardamom seeds, cinnamon and cumin on a heated pan and dry roast. Once their aroma fills your ambiance, grind them on a Haman dista, a traditional mortal pestle in use in almost every Indian household.
Final steps for cooking Kosha Murgir Mangsho!
With all the mise-a-place in place, it is time to prepare chicken chunks into curry!
Heat mustard oil in a heavy bottom pan. I used my 5 liter pressure cooker.
Temper heated oil with a few dried red chilies. Add the ground roasted spices. Cook for a couple of minutes.
Add ginger garlic paste.
Add tomato puree. Cook till oil separates.
Add rest of the spices. I used coriander, red chilli, cumin powder and a few more green chilies.
Heighten the flame and cook the spice with frequent steering. Add moisture if need be. this part is crucial to bring out all the flavors of the spices.
Once cooked, add barista to this. Add the fried Deshi Murgi, chicken pieces to the Kosha Masala. Mix it well with all the spices.
Cook this medley together for at least 40 minutes. Put the lid on. If need be, add some moisture. I did not pressure cook but if you wish, you may cook for in pressure method for up-to 5 whistles. If you ask me, honestly, pressure cooking Kosha Mangsho is no fun!
If you have loved this, check out the following meat recipe:
Ab Gosh: the Kashmiri Lamb Stew
Oh Calcutta Style Kancha lonka Murgi, chicken cooked in green chilies
Jire diye Kochi Pathar Patla Jhol (Bengali style Mutton curry with cumin)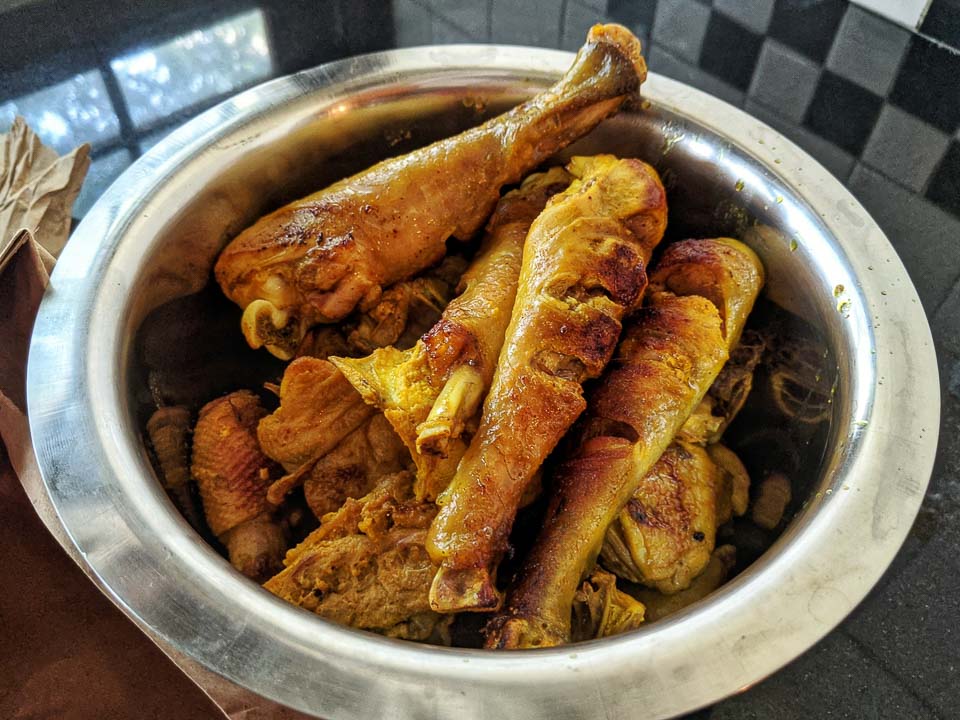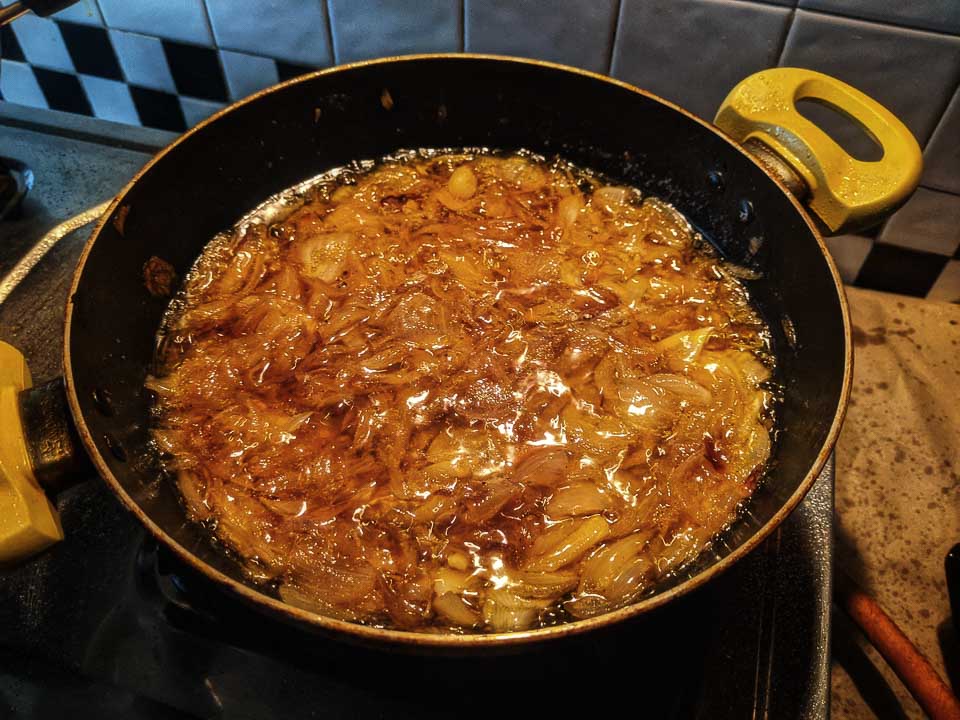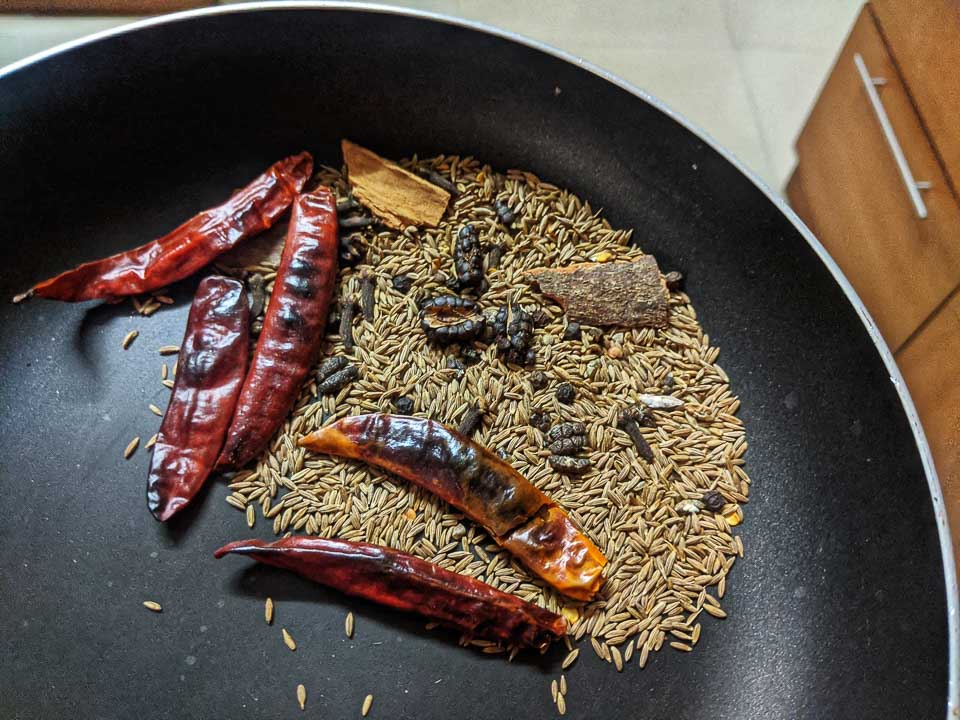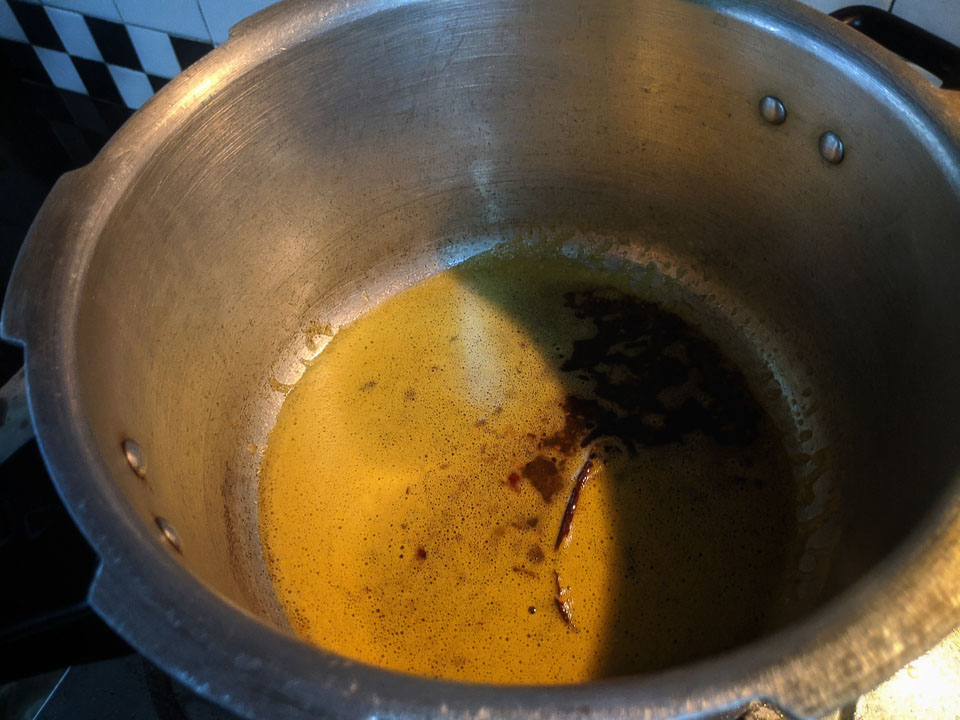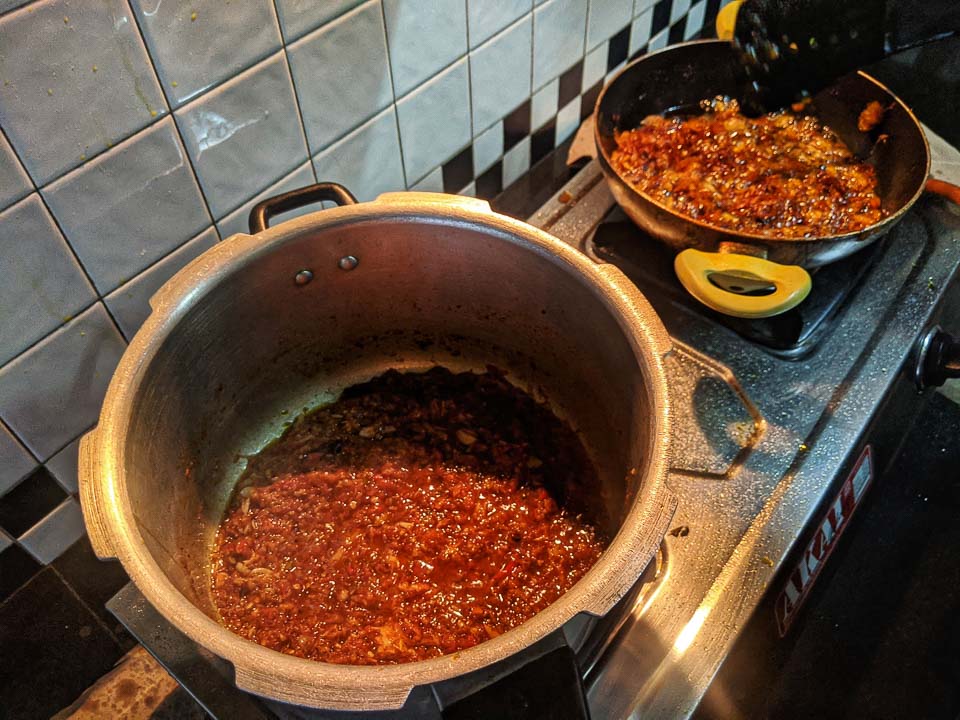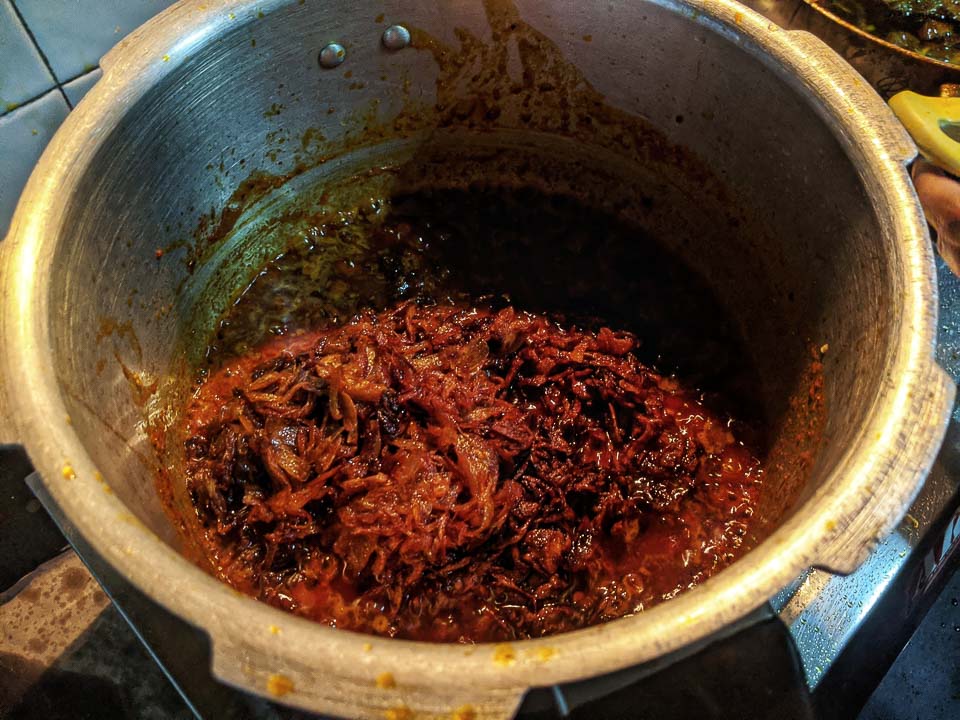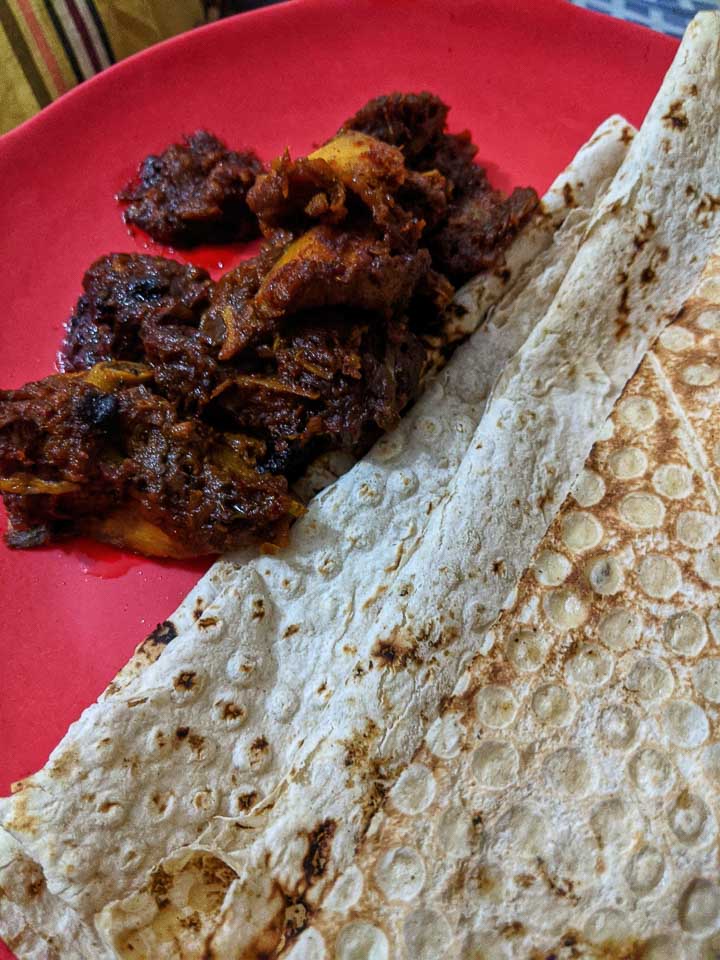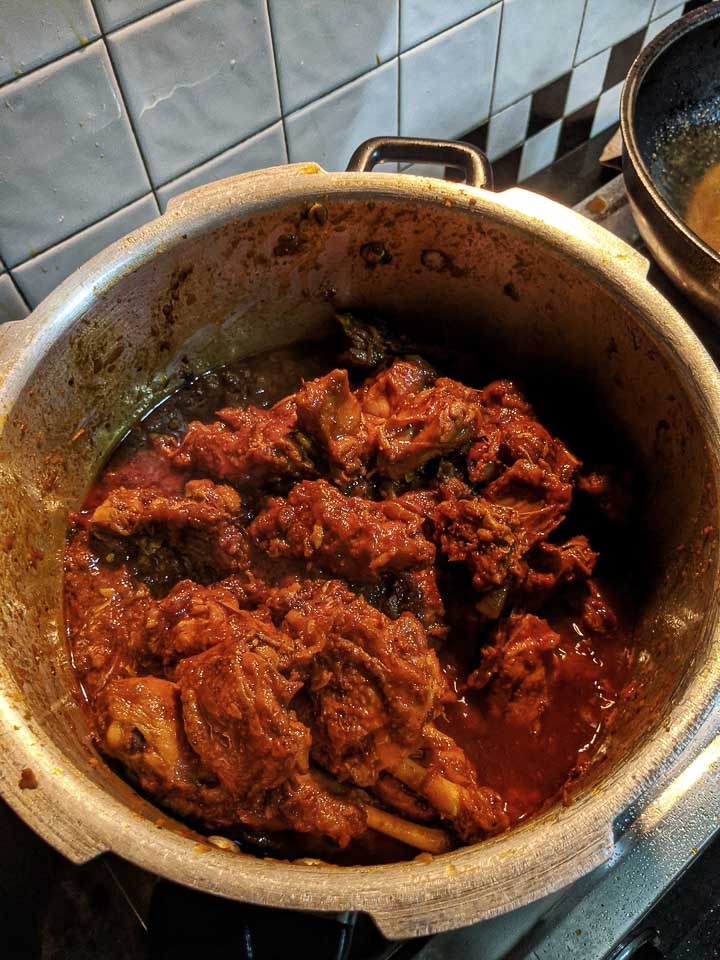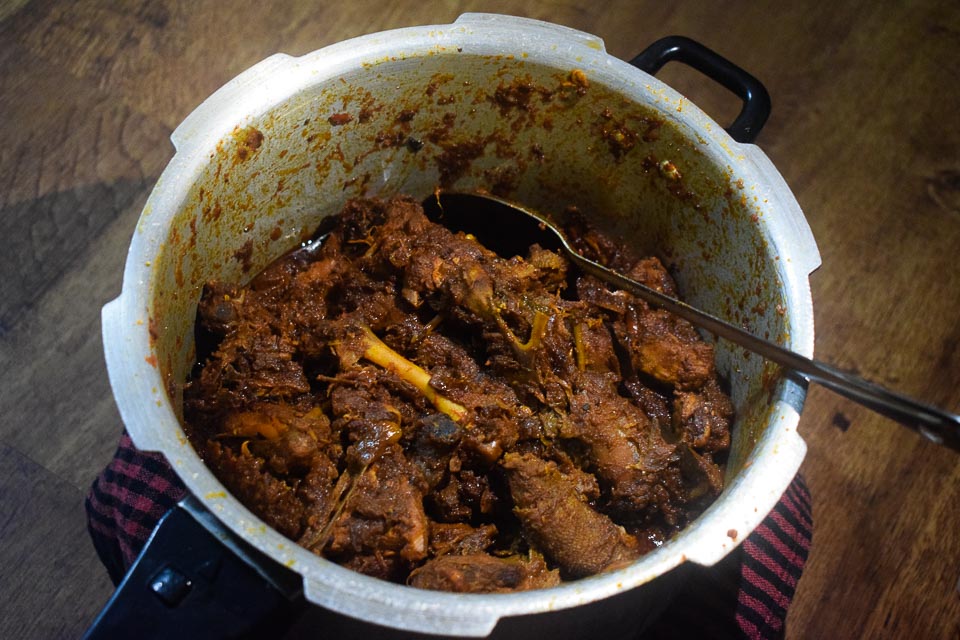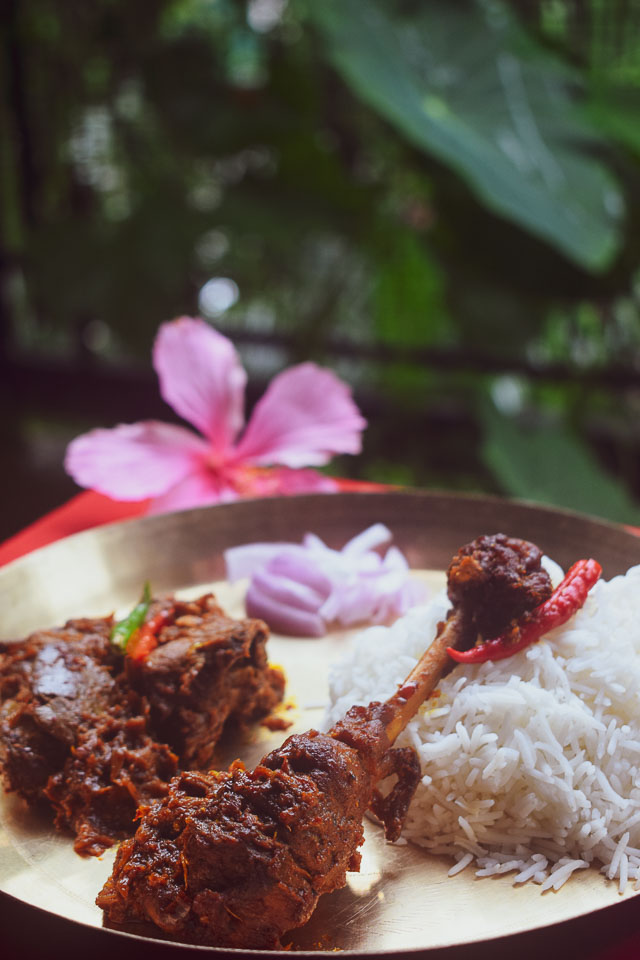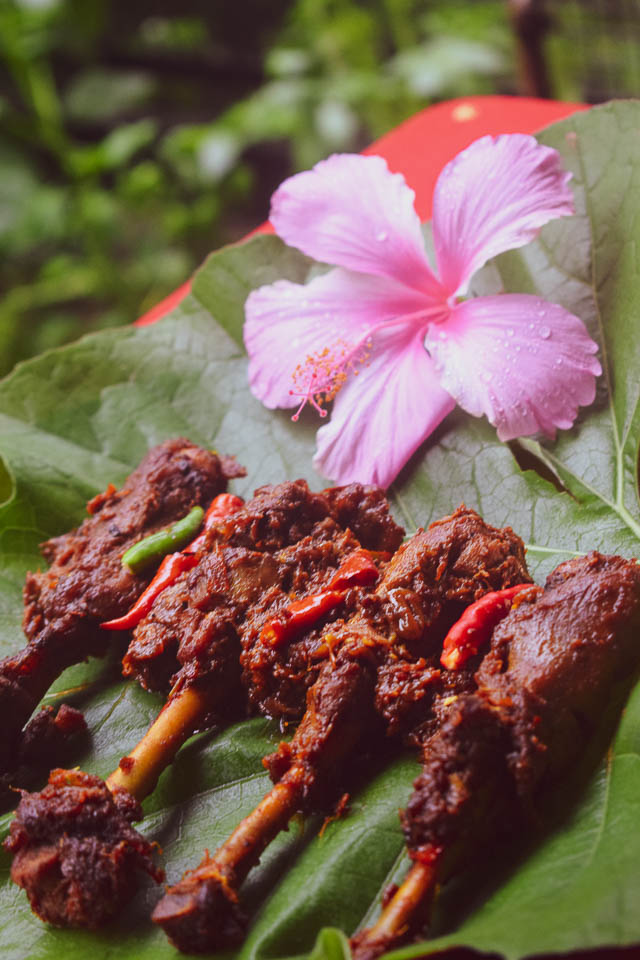 Unlike broiler chicken, Desi Murgi or Nati chicken is not produced at a commercial scale. It is a rare find and way more expensive than regular poultry. More than double the price. It takes longer to cook country chicken and rewards are worth it if you ask me. Serve it with Bashkati rice, if not freshly prepared roti/ chapati. This reminds me of the chicken curry I had at the dense jungle of Dandeli infused with the greatness of black pepper of Konkan coast. But that story can wait!
---
This post may contain affiliate links. Please read the disclosure post. If you have liked the article, you may support it by buying using these links without any extra cost to you.
Let's stay connected on Facebook, Instagram, Twitter! You may also consider joining my mailing list. I send travel and photography related emails only once a month!