About the Blog: I stayed at two places during my Dandeli adventure days! One was Old Magazine house and the other one was Dandeli Jungle camp. While the first stay was full of watching exotic birds of Dandeli up close and personal, the latter was all about an adventure traveler's cup of tea. Here is a personal account of how was it like staying at Dandeli Jungle camp and the tips and tricks of it!
This blog is the third in Dandeli series.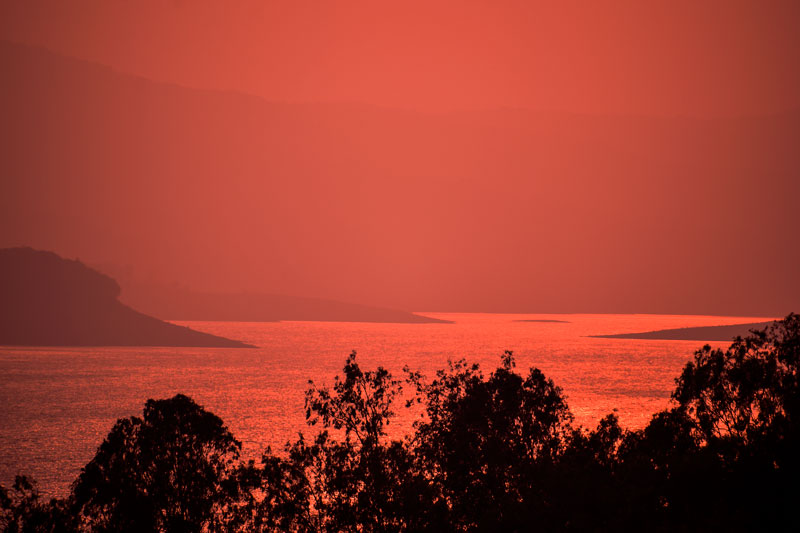 A few days in the Dandeli Jungle Camp, where the world is vivid!
Sated with the tiny colorful avian creatures' company, I longed for more of Old Magazine House, yet I knew it is time to bid adieu and head for the next big surprise in the interiors of Dandeli forest. My next destination, Dandeli Jungle Camp, situated at the top of a small hillock and overlooking sprawling farmland of jack fruits and more, formed a humble accommodation in the jungle of Pradhani. It is tucked inside the greens, away from the highway.
Plethora of activities await you at Dandeli Jungle camp. For best experience, have a candid conversation with gentle owner of the campsite. He will arrange for all that you ask for, as you would have liked it!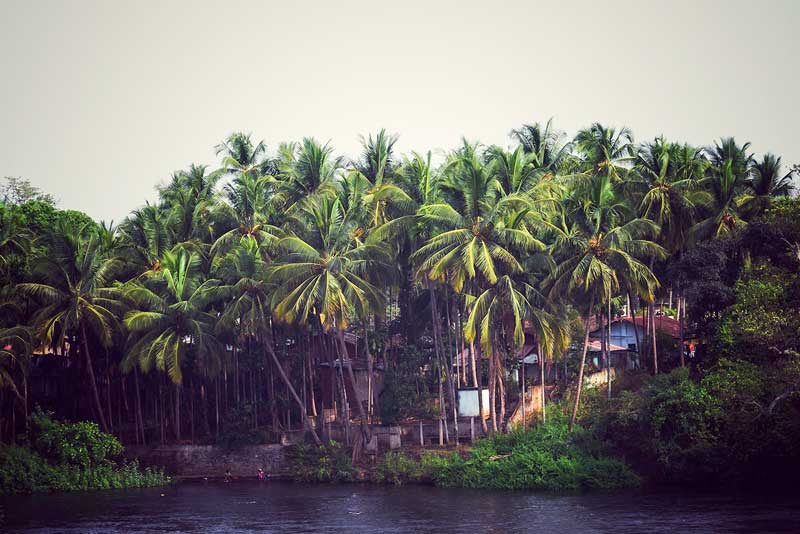 Also read, 10 things to do in Dandeli that lets you soak in the nature!
Explore the backwaters of Kali river as you approach Dandeli Jungle Camp.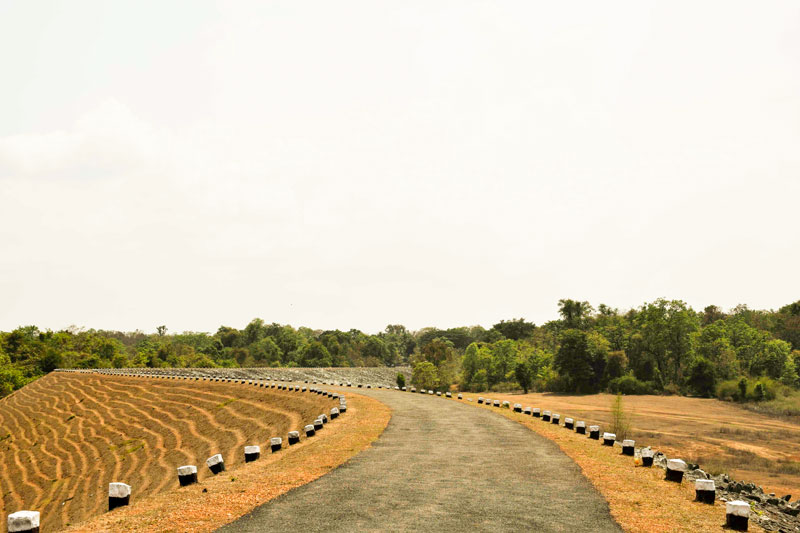 En-route the jungle camp, you must not miss the lone walking path on the banks of Kali river backwaters. The long stretch has the receding water levels of the river as one side. Rural livelihood unfolds on the other side. A few children play with wooden sticks on the road.
Herds of cow graze leisurely. I am told the region is awaiting rainfall for past three years. The jungles are rough and a bit reddish from far, I understand now.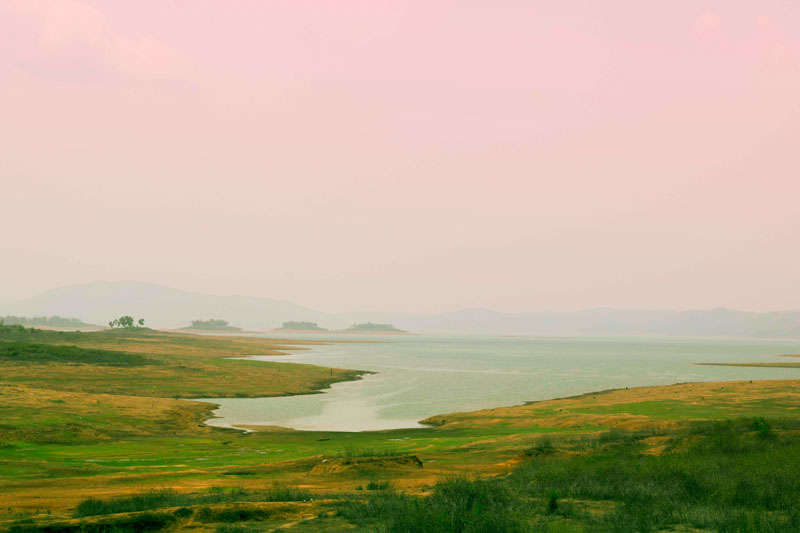 Also read Manas National Park, Assam: A refuge for the prehistoric one-horned Indian rhinos! 
Drink organic Kokum Juice at Dandeli Jungle Camp!
Upon reaching the jungle camp, a man came smiling with a glass full of Kokum juice in hand. The red beverage is made from an extract of the berry like fruit, indigenous to the land and used in abundance in Konkoani or Malabar region, Kokum. I also got a squash bottle of it to bring back home. The taste is refreshingly tangy and does not need additional sweetener.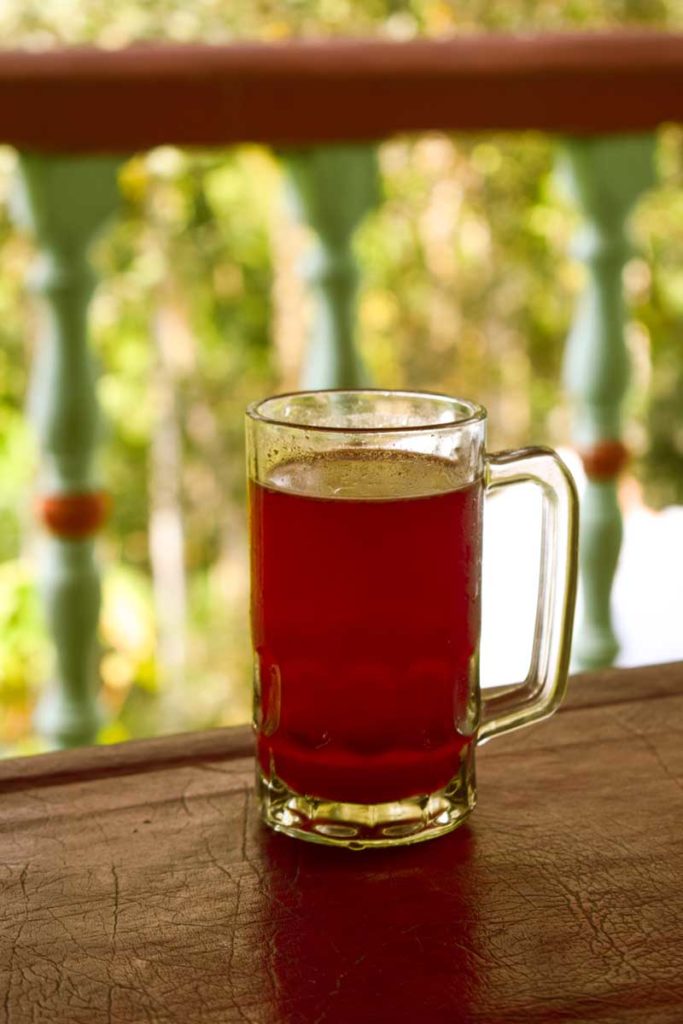 Also read, Dhanushkodi- the abandoned ghost town off India's tip and everything you need to know about it!
Camp or stay at eco-friendly huts at Dandeli Jungle Camp!
Dandeli Jungle camp has the traditional camping system and multiple individual huts on the steppes. I adore the tree house that is built as a center piece of the property. There is a site of dilapidated swimming pool. Of course you must not expect it to be working, especially when the region is waiting for rainfall and may succumb to acute water crisis. But the look and feel of it forms a great thrilling sensation.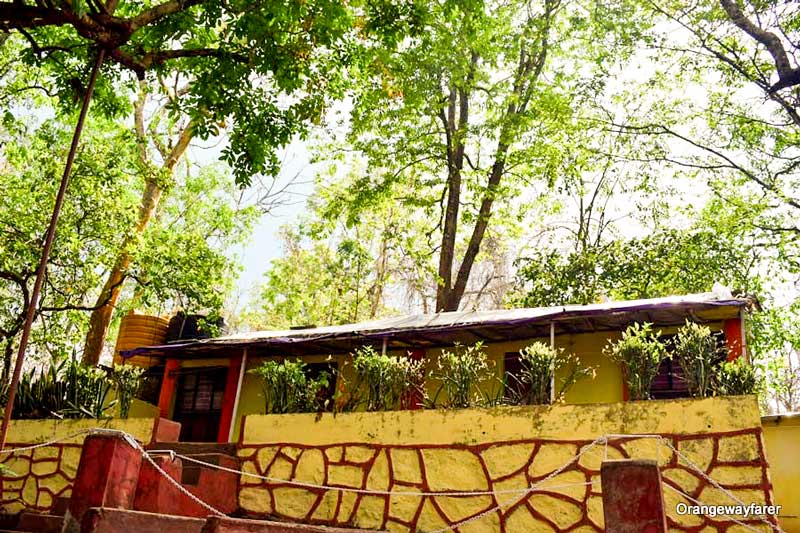 My rustic accommodation. they also have provision for camping at Dandeli Jungle Camp.
The sumptuous organic food fare at Dandeli!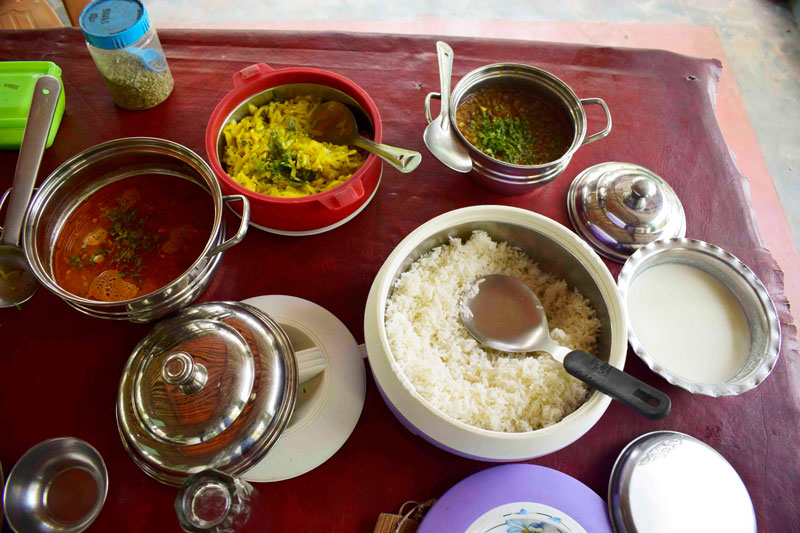 The best thing about Dandeli Jungle camp was sumptuous food affair. If you are vegan, you shall particularly love it.

Here is the catch. I have never really relished a meal that did not have a touch of meat or fish. I am not a big fan of dairy either. But the humble lunch sceneof Dandeli Jungle Camp will stay in my mind for long.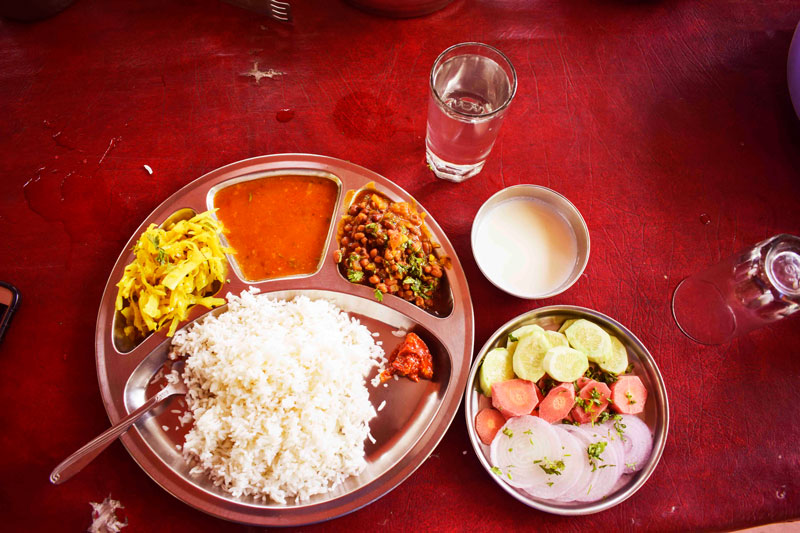 Also read, the Assamese thalis from North east India, a staple for roadtrips!
The ingredients are freshly produced and tastes so good! I never really had tasted an organically produced meal before. Neither I am proclaiming this was organic. But it tasted heavenly and makes me believe in the goodness of organic farming.
At night, they will bring in chicken. The essential Malabar chicken dish that is flavored with freshly ground black pepper, a distinct taste from the west coast.
Adventures await as you step in the Dandeli Jungle Camp!
The owner and service personnel of Dandeli Jungle Camp are true jungle enthusiasts and will go to any extent to make sure you are soaking in the essence of Jungle. The jungles of Pradhani is home to Indian Gaurs, Herds of elephants, the elusive black panthers and the sloth bear. However, I was already sold to the myriad schools of birds and hoped to spot some more.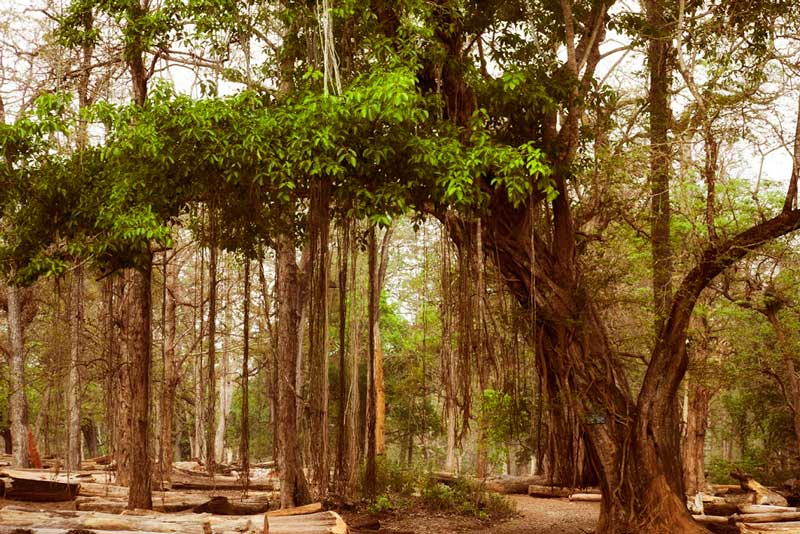 Here is a list of activities I loved while my stay at Dandeli. I hope they will light up your mind as well. And guess what, these will hardly cause any damage to the existing ecosystem
Go for a long walk in the jungle. It is possible to follow the faint footsteps of the jungle dwellers and proceed farther. However, I suggest taking a guide along. He will help you to spot the Gaur footmarks, will understand a deer call, point out at the wild curry leaves and more.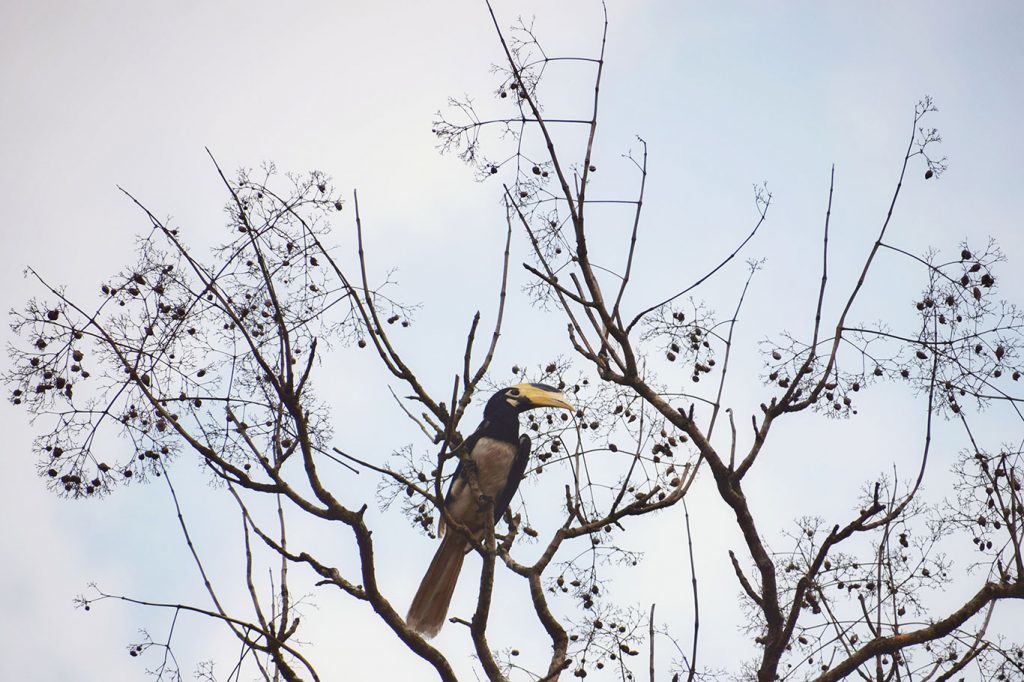 White water Sports at Kali River
Dandeli Jungle camp can also arrange for white water rafting session upon request. Be careful of the water level. besides, many water activities remain closed during monsoon.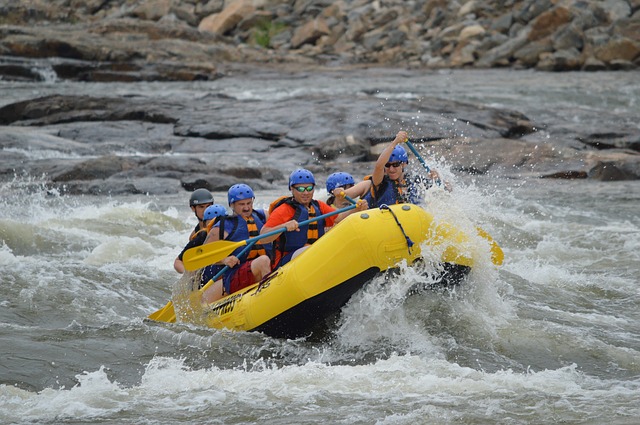 Also read, rivers around the world, a photo blog!
Stroll around Kali River at Dandeli
Falling in love with Kali river, which is azure and crystal clear at the same time, is very easy. Soon after you are done with rafting and fishing with an arrow, you will long for more riverine experiences. This river has a lot of crocodiles apart from schools of fish. Be careful. The rapids are not exactly helpful in case you want to swim in.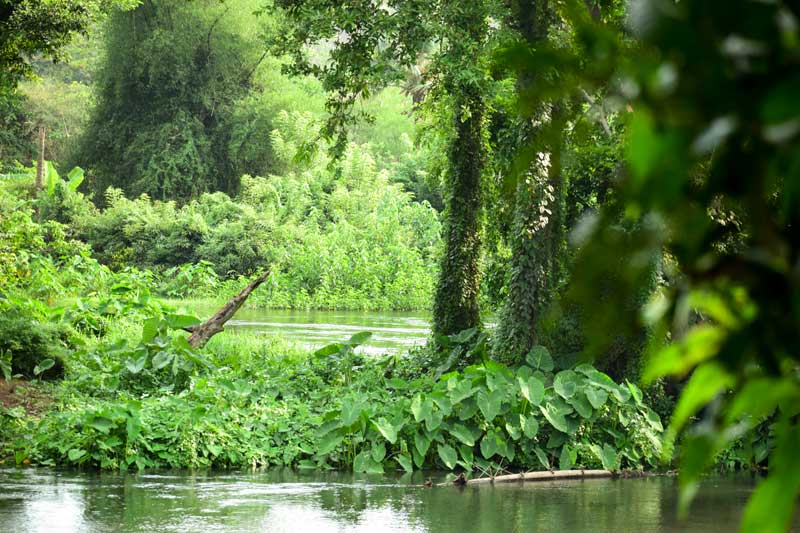 Visit the Crocodiles in Dandeli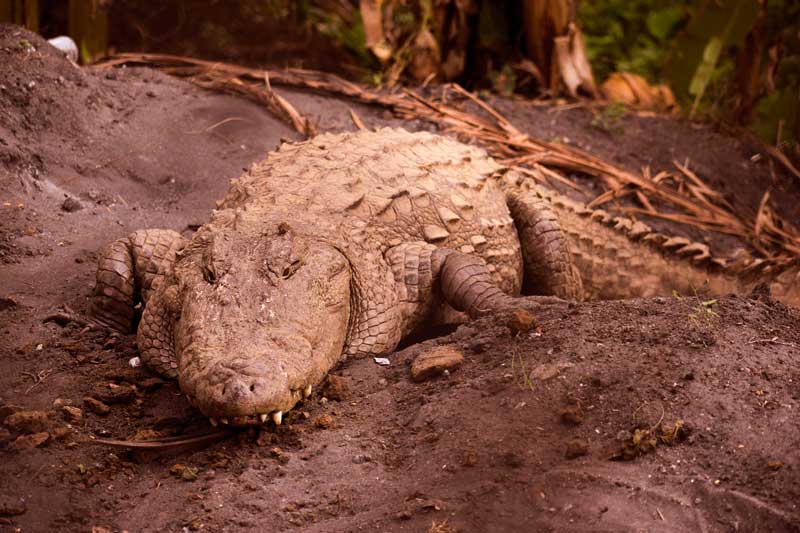 To get a glimpse of the Crocodiles, you need to come to visit this humble guy in Dharwad. He has his small agricultural land and a garden by the banks of Kali river. He makes sure to go and buy a massive amount of chicken and mutton meat every morning to feed the crocodiles. As a result, the giant reptiles refuse to leave the area and live there for 24/7 basking under the sun with a menacing face.
Love wildlife? Your guide to explore Chitwan National Park, here!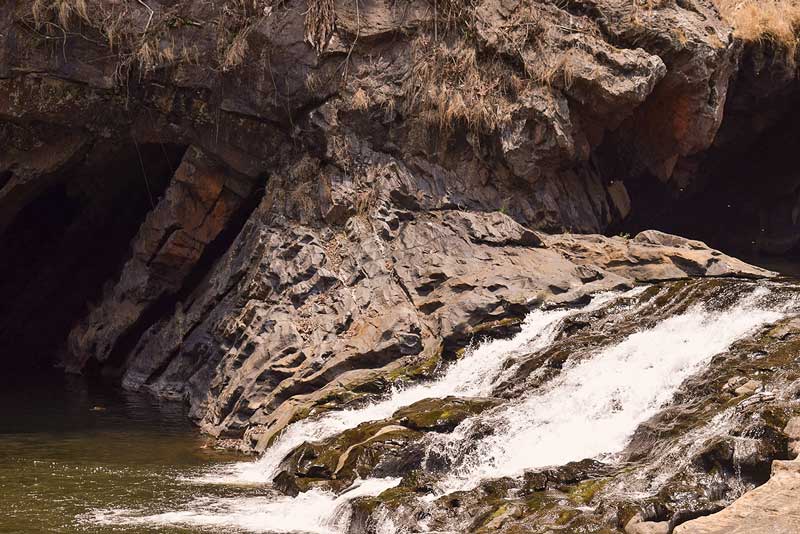 Synteri Rocks in the interiors of jungle!
If you want to conquer the small hillocks and go for a quick hike, Synteri rock is your call. Housed inside the real jungle, the rock is a huge limestone formation with multiple bee hives and a small cascade flows underneath. Carry a reusable water bottle. The hike is not a piece of cake if sun shines bright.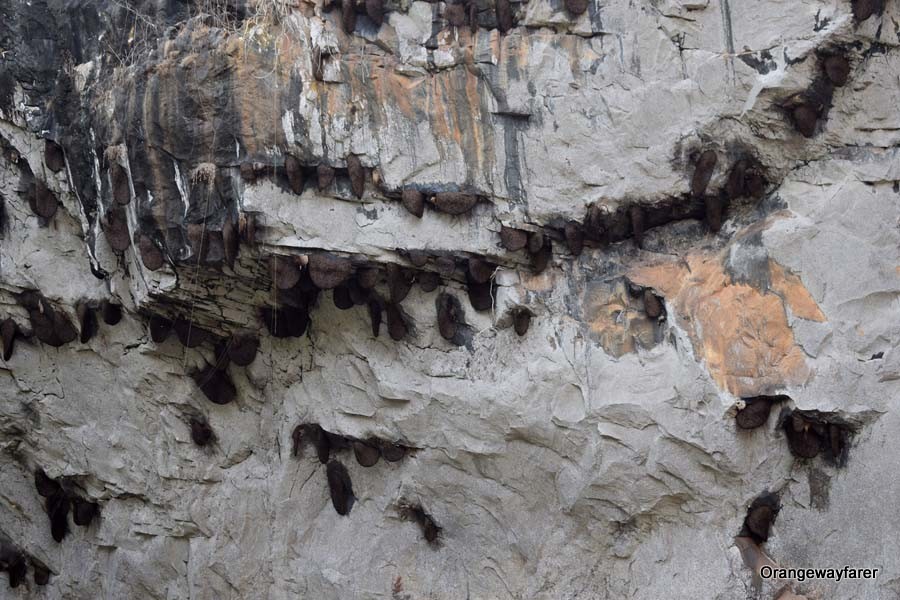 If you have a time for an entire day, do not forget to visit Dudhsagar Falls. Dandeli Jungle Camp can arrange for it upon prior intimation. In my opinion, it is totally worth it!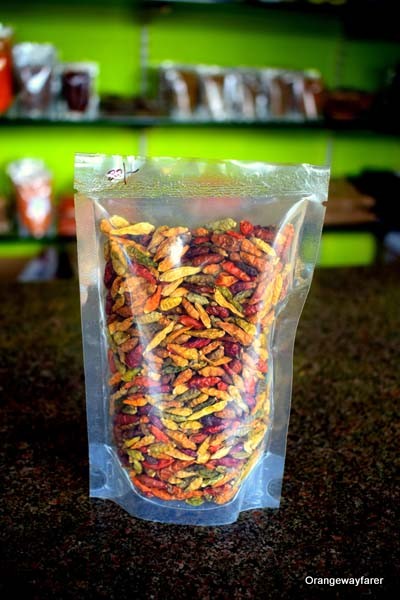 Know before you go!
Dandeli Jungle Camp is just 30 min drive from the Dandeli Bus station. The camp is stranded in the jungle and at night, you may encounter wildlife on the road unless you are savvy with road-map. I suggest carry a physical map and be vigilant for signs on the road.
In case you are driving yourself try to be back early since the jungle is dark at night (as a jungle should be).
Please do not litter and carry your water bottle (reusable) and help keep the jungle of Dandeli as beautiful as ever!
You can stroll around in the jungle but be careful of snakes and other issues
(I would never have found myself in this beautiful wilderness were it not the www.Dandeli.Com , the renowned tour operators from Dandeli had invited me and treated me with gentle hospitality!)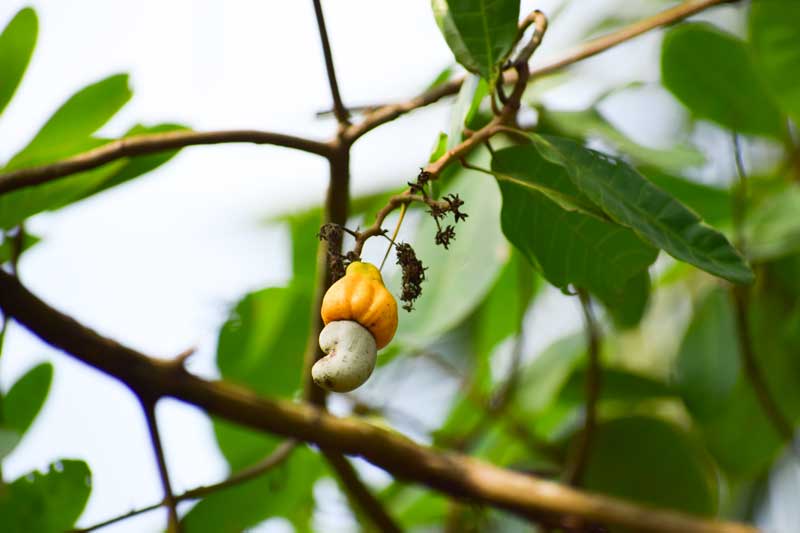 Want to get real time updates of my travels?
Get updates and read additional stories on the Orange Wayfarer Facebook page.
Follow Orange Wayfarer on Instagram.
Follow Orange Wayfarer on Twitter.
You may also subscribe to my weekly newsletter!