About the blog: Traveling to Dhanushkodi, often touted as India's ghost town, located by the south of Pamban island, Tamil Nadu (also known as Rameswaram) is an intriguing experience. Highly regarded as a holy site among the Hindu pilgrims visiting Rameswaram temple, Dhanushkodi is also a place where the Indian Ocean and Bay of Bengal merge together. Ram Setu from the Hindu epic Ramayana is proven to exit where the lands end at Dhanushkodi.
The scenic stretch of motorable highway connecting Dhanushkodi with Rameswaram makes for one of the best road trips in India.
Dhanushkodi Travel Guide: at a glance
It is incredibly easy to do a day trip from Rameswaram to Dhanushkodi!
From Rameswaram town to the tip of Dhanushkodi, a government bus runs every 30 minutes.
Bus fare to Dhanushkodi is INR 30.
Shared van visits Dhanushkodi, as well as you can hire an auto.
Noone lives in Dhanushkodi, barring a few fishermen folks.
Visitors are allowed at Dhanushkodi from 8am to 5pm. It is impossible to shoot sunset pictures from Dhanushkodi.
A few shacks and fruit vendors sells snacks and local meal, fried fish for visitors.
The best time to travel to Dhanushkodi is from October to March, though the weather is tropical. Midday suns scores high.
If you walk at the backwaters and offbeat places, be careful of tidal waves. You may be stranded in the middle of the sea, with not a soul to help. Dhanushkodi has extreme nature conditions.
Traveling to Dhanushkodi opened up a new world for me! I recall this day with fondness and joy!
Also read: things to do in Rameswaram, the most beautiful temple town of South India!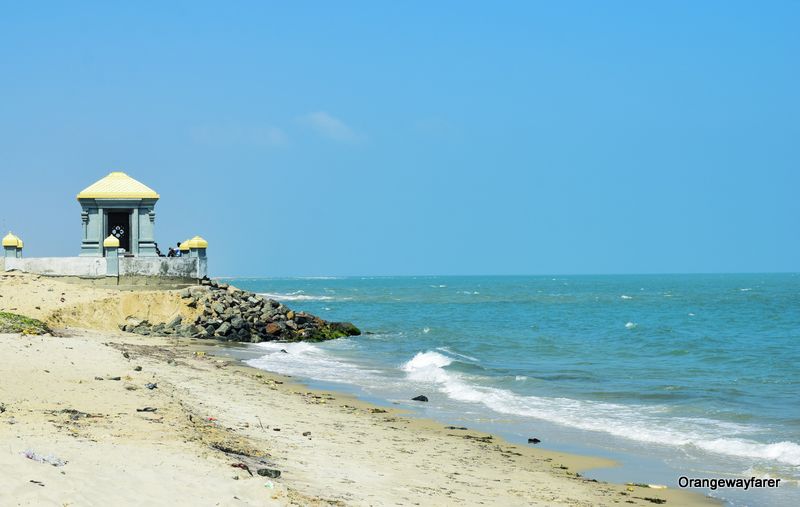 Also read: Amid the ruins of Hampi, a UNESCO world heritage site!
Dhanushkodi, Where Life Stood Still
In an alternate world, Dhanushkodi lives and thrives as a picturesque town, set amidst the gentle green and blue hues of a bay and an ocean! In this southernmost island of India, men wake up at the wee hours and venture into the deep of the sea to find day's catch.
Womenfolk conduct household chores and ready the shacks that sell the seashells by the seashore. Children walk the way to nearby primary school, their reflection shining pretty of the backwaters. Seagulls sneak in with waves of Bay of Bengal.
A church made of corals (yes, you read that right) stands tall. The tip of India's eastern coast, the Pamban island also houses a rail line, bringing in the world.
Also read: 20+ Offbeat and fun things to do in Goa!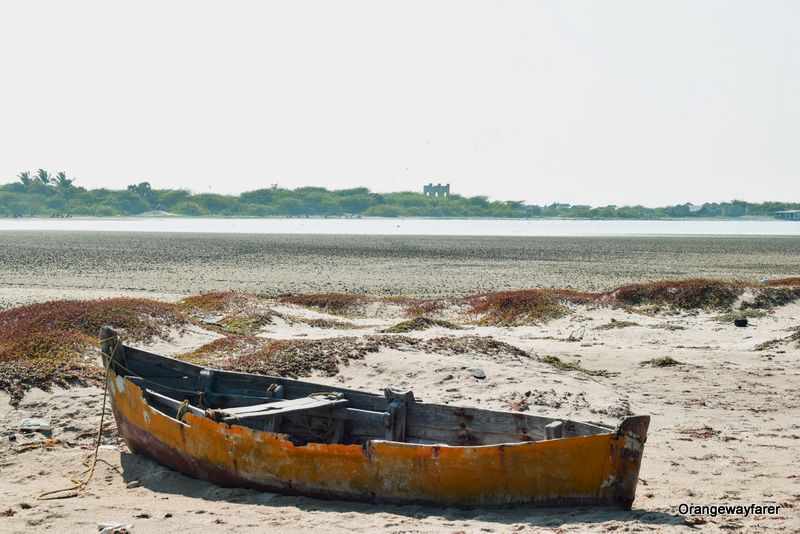 Also read: 5 days travel itinerary for Leh with offbeat day trips suggestions
But man proposes, nature disposes…
Reality is scary, if you take a lingering look, you know the rail tracks are nothing but the mirage play of a cruel nature, that engulfed the little town of Dhanushkodi. During the horrendous 1966 Rameswaram cyclone, the sea soared like never before, brought in the scourge of 7 meters high waves, and washed away the very last trace of life.
The Last Train to Dhanuskodi
… an eventful night that wiped away life from the town of Dhanushkodi, forming India's abandoned ghost town from the South.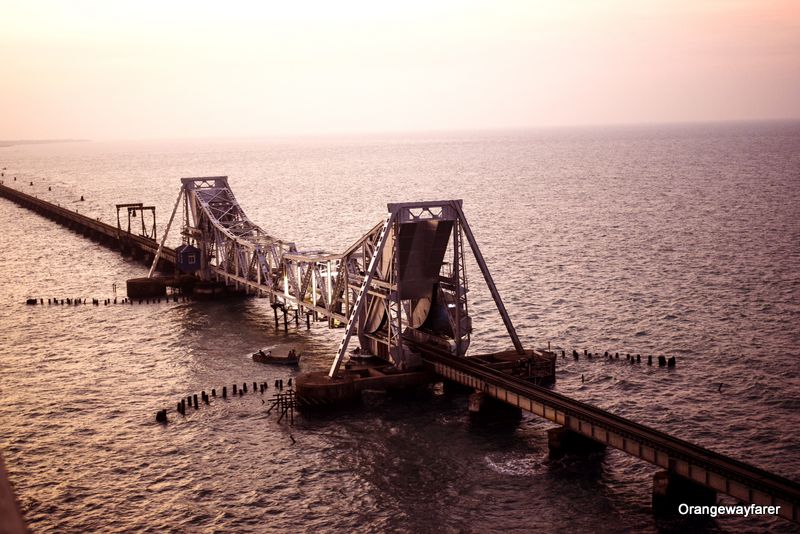 Train no 653, the Pamban to Dhanushkodi passenger train was crawling towards the destination amid horrid weather, the dark of night and almost no signal. The driver hesitated before igniting the engine, not having any idea what was looming in front. At this point, a huge tidal wave washed away the train along with 150 passengers that night. Not a single one was found alive.

The rail station at Dhanushkodi stood erect in the face of gutsy cyclonic wind and housed the few survivors of the island for that night.

It was hardly a decade after independence. Where was the rest of the world? Far away and difficult to get connected.
Mainland India came to know about the tragedy only after a couple of days. Later, only the nose of the rail engine was spotted from aerial surveys.

The government of India rehabilitated the survivors and declared the area abandoned.
Also read: Best Scenic Train routes in Europe!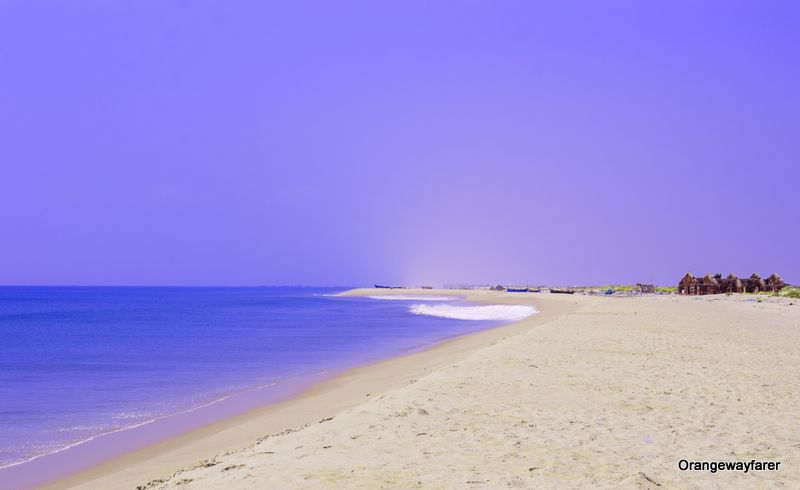 Also read: 33+ beautiful beaches from Goa
"Look, I got Mobile signal from Sri Lanka!"
The remains of Dhanushkodi sits close to the international border between India and Sri Lanka. In fact, at just 45 metres in length on a shoal in Palk Strait, Dhanushkodi is also one of the smallest land borders in the world. In friendlier times, there was a ferry service between India and Sri Lanka (then Ceylon) which stopped for politics. And, the Rameswaram cyclone of 1966.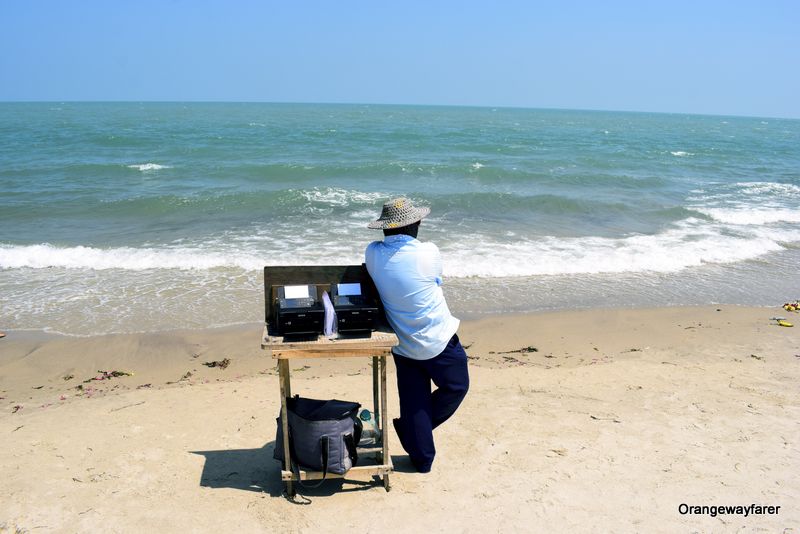 On a clear day, you may see Sri Lankan Coastline in bare eyes. Witness also suggests a beautiful show of dim lights as night falls.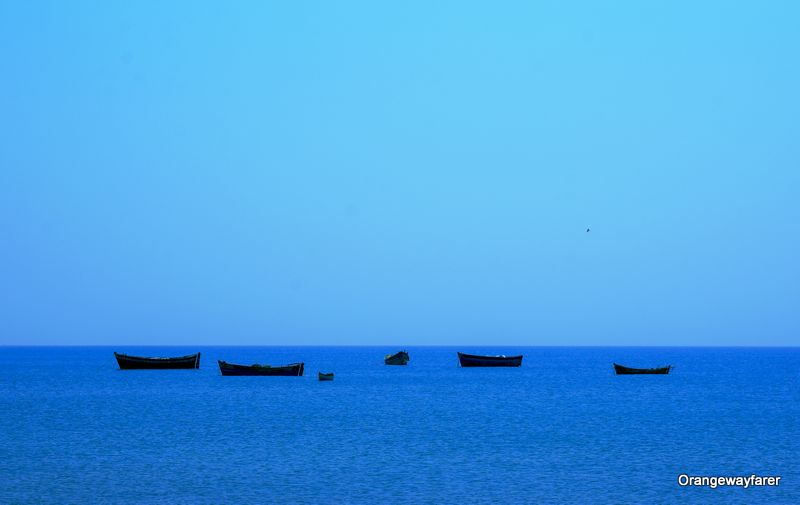 Where is Ram Setu at Dhanushkodi? Or you call it Adam's Bridge?
The Indian epic Ramayana indicates an existing bridge at Dhanushkodi, also called Ram Setu, over the sea using which Ram's army went to conquer Lanka and bring Sita home.

It is hard to believe that an army of monkeys can actually help build a bridge, that too over a sea! However, the epic Ram Setu appears to be a reality by the end of Dhanushkodi island.
Also read: How to spend a prolonged weekend in Goa?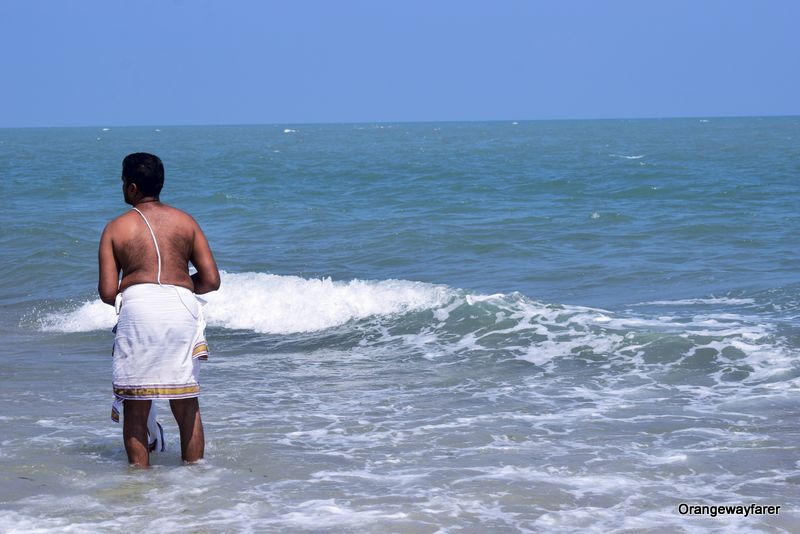 Temple documents of Rameswaram suggests the existence of a bridge, fit to be crossed by feet and existing above sea level connecting India with Sri Lanka, then Bharat and Lanka. For the uninitiated, Rameswaram's temple is one of the most prominent and oldest pilgrimage sites in India. Hints are pitted against another catastrophic cyclone from 14 hundred century which caused the bridge to go down under the sea.

However, nature is whimsical. Rameswaram cyclone gobbled up a substantial landmass but caused the Ram Setu to reappear. It is basically a series of limestone shoals, coral reefs and sandbanks. GSI has researched to find that the Ram Setu, also known as Adam's bridge in the medieval western world is close to 125,000 years old!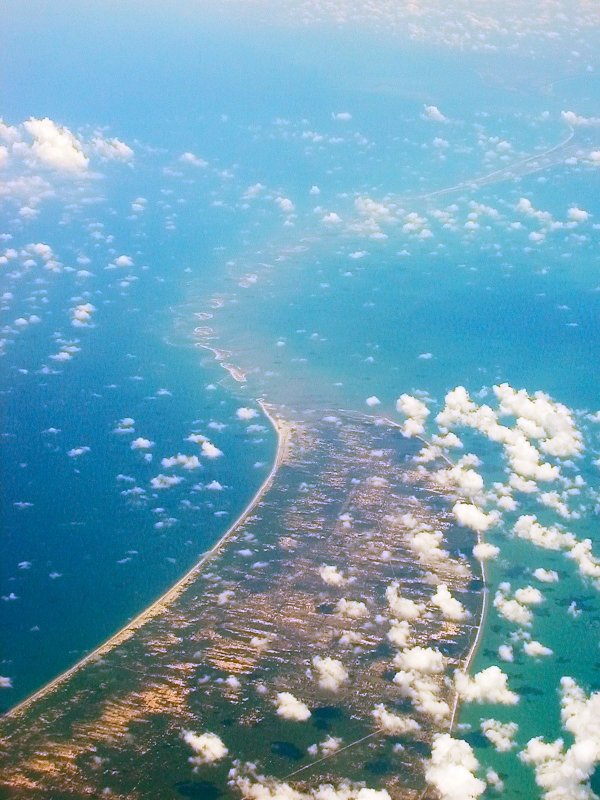 I must disclose before you get your hopes very high, Ram Setu is hardly visible through bare eyes. Sattelite images so far have been able to capture many photos and confirmed its existence.

Besides, no matter how romantic it sounds, you cannot walk up to the tip of the sandy stretch, the area believed to be the starting point of Ram Setu. The sea is rough and may swell without prior notice. The area is heavily guarded by men in uniform.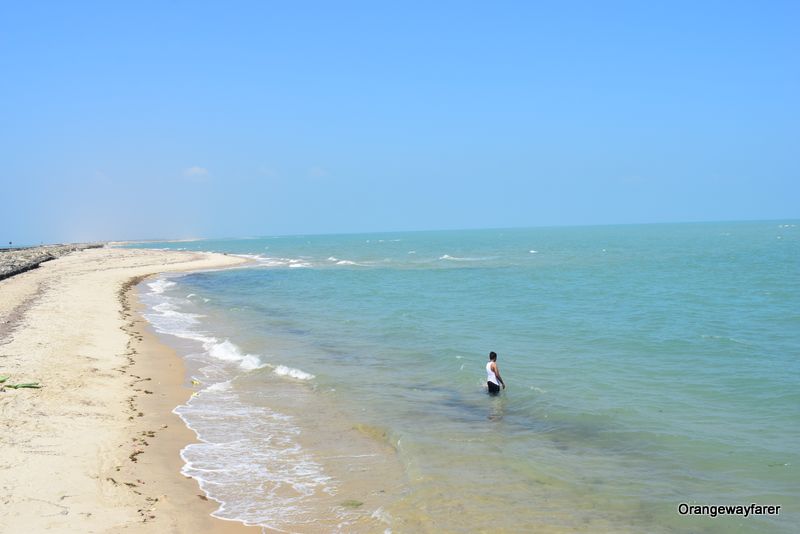 Arichamunai: Is not it a Beautiful Name?

Despite Ram Setu being an almost mythical legacy, there was never any dearth of pilgrimage to Arichamunai, the easternmost point, where lands end.
Faithfuls visit this place to take a dip at the Bay of Bengal, considered a sacred ritual. Before the construction of the national highway, a part of the Ramayana Circuit, many minivans would ply. There is a thrilling youtube video where the minivan seems to be sailing over the sea! Otherwise, a lot of them would earlier walk the miles as well.

The newly constructed road to Dhanushkodi has used the latest technology ensuring a robust stand against tidal waves. You can easily bike around with your own vehicle until sunset.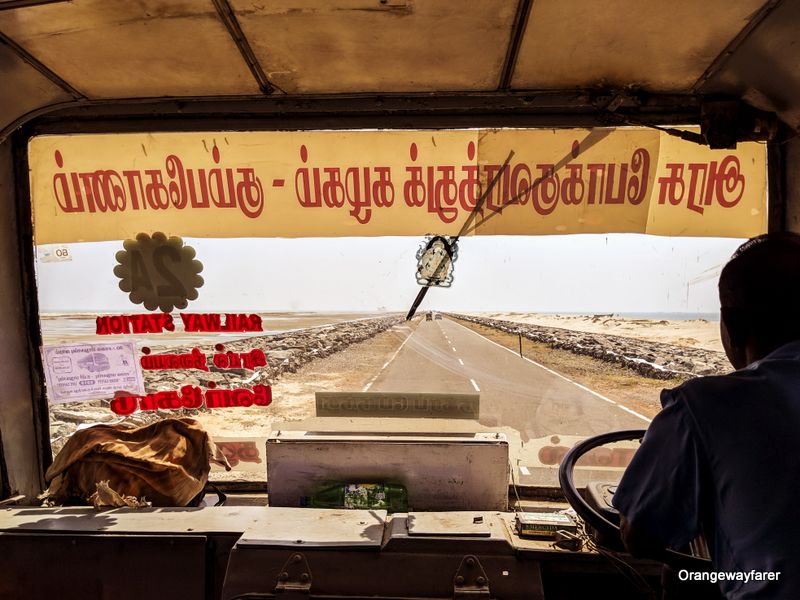 Dhanushkodi, as I saw it…
As the bus moved towards the salient land of Dhanushkodi leaving behind the bustle of Rameswaram temple town, I could not but gape at the beauty of abundant nature. School of flamingoes by the shore, mangroves standing still by the rugged terrain, lifeless arid land and not a soul to spot, what is not there to like?

Arichamunai is considerably busy with the plight of pilgrims, tourist vehicles and guards. Indian ocean looked rather dirty with plenty of roots and hyacinth floating around. The Bay of Bengal was crowded, like any other beach in India is. The hues of water are visibly different. While the Indian ocean retains its royal blue tone, Bay of Bengal is greenish blue and calmer.

Soon after, I left for the coral church…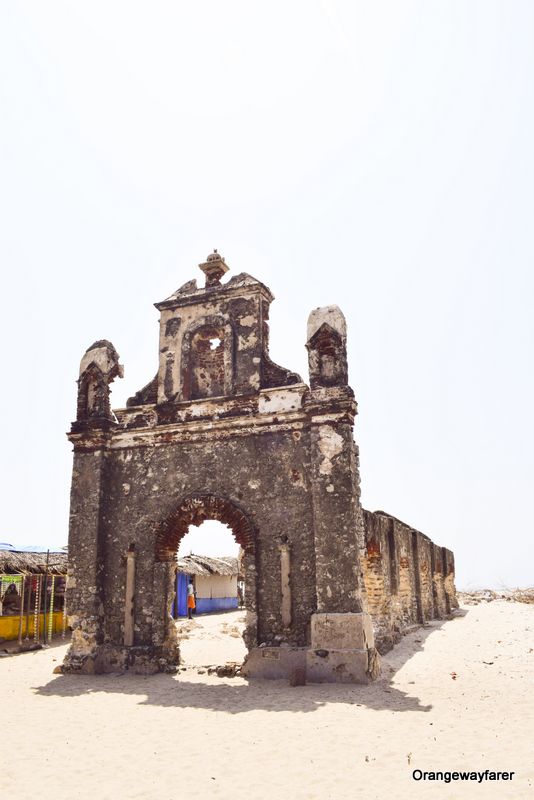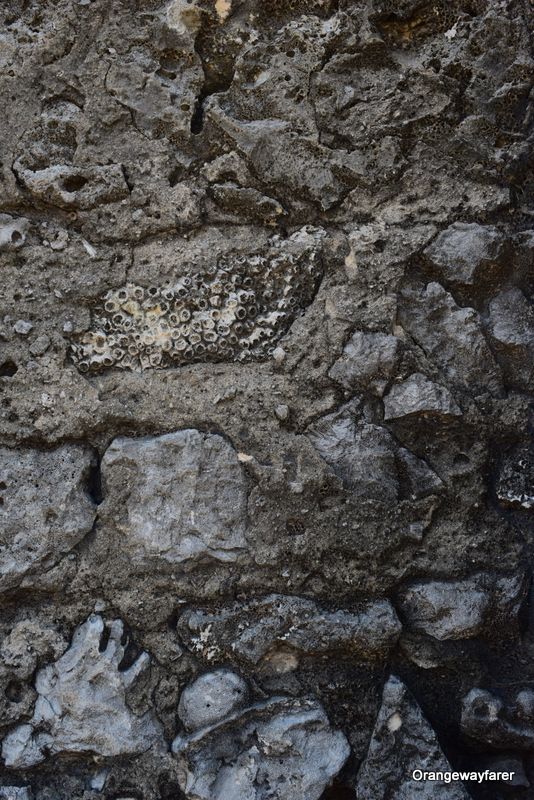 Also read: Offbeat day trips from Leh when you are spending 5 days in Leh!
Whispers of the Lifeless Village
The church and surrounding area stand witness to the gruelling night of the cyclone, even after half a century. It is empty, devastated, broken into pieces and destroyed beyond any repair. Not just the church but a few buildings, apparently school, the office by the railway station are scattered lifeless. Three pillars stand like a skeleton as the remnant of the Dhanushkodi railway station.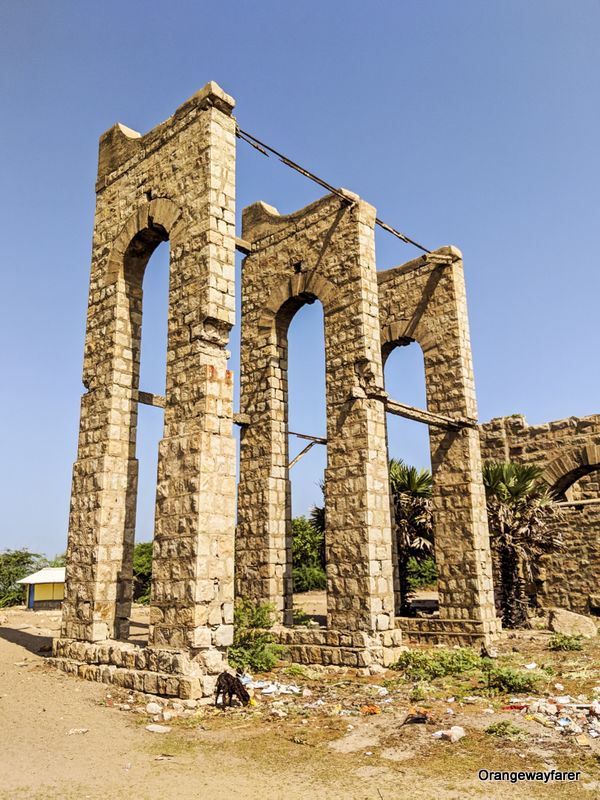 Tourist vehicles make a quick stop here. A few stalls serve fresh fish on banana leaves. Seashells make for perfect souvenirs. Men and women buy, rest, drink tender coconut.

A few meters ahead of the stop, I had spotted a backwater area dotted with beautiful birds. I wanted to get close by and click a few pictures. Upon asking locals if I can go, I learnt that is where the Ghosts stay! "Bhoot", said the Tamilzhan Da!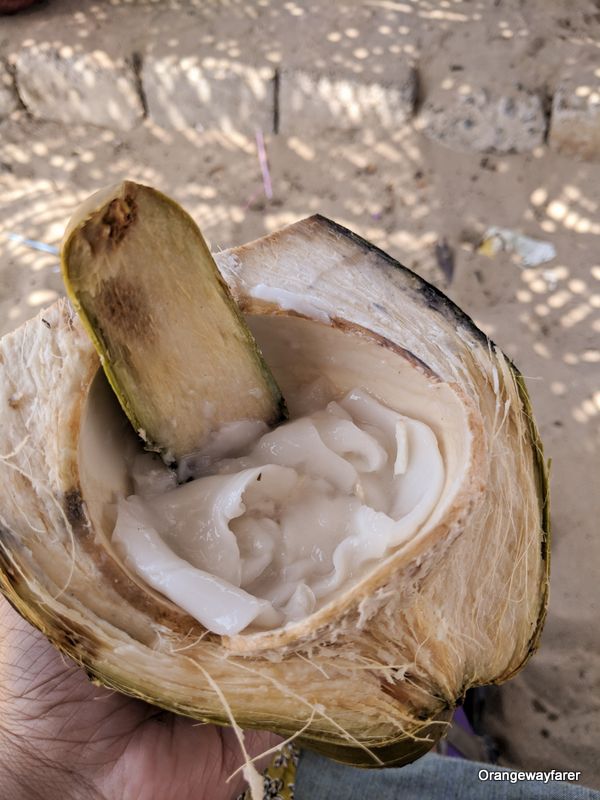 The Ghost of Dhanushkodi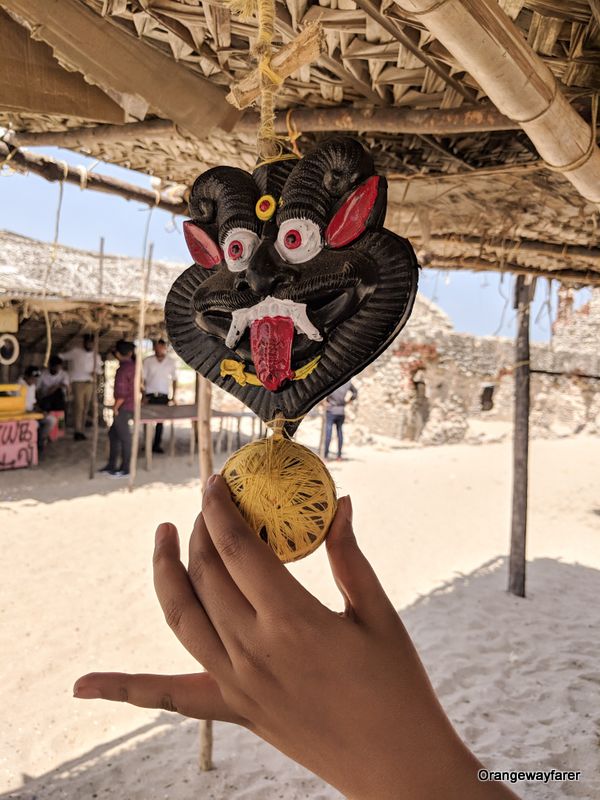 I am a brave girl until the Sun sets. I had to walk towards the forelorn livelihood of ghosts.

Behind the pillars of railway remains at Dhanushkodi, I found a backwater where a father and son were searching for fishes. A school of cranes were giving them company. I walked past the backwater, met a herd of goats, clicked a few abandoned ships until I found I am walking on a dicey, very dicey land.
There were tiny conch shells lurking behind muddy earth. One absent-minded step may result in a bloodied toe. A stretch of white sands was lying at a distance with an alluring view of Bay of Bengal. Soaking my feet in the Indian ocean was out of the question. The roar reminded me of thunder! "I have to make it to the Bay of Bengal at least!" I thought in my mind.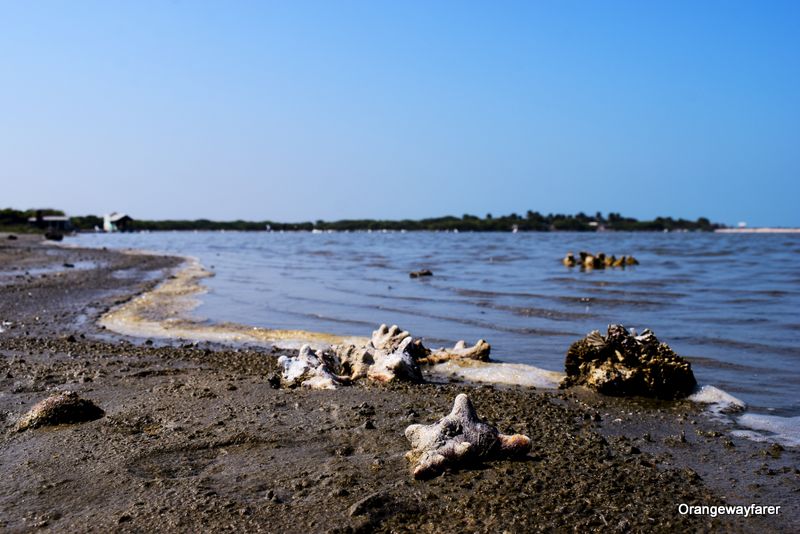 On the other hand, the clock reminded the backwater will welcome the tide in a while. I do not know swimming. There is no other way to make it back either!

It also stuck in my mind, I was walking on the land that buried an entire town! Suddenly the wind fell heavy. I felt tiny, minuscule and nervous in front of a profound presence of nature.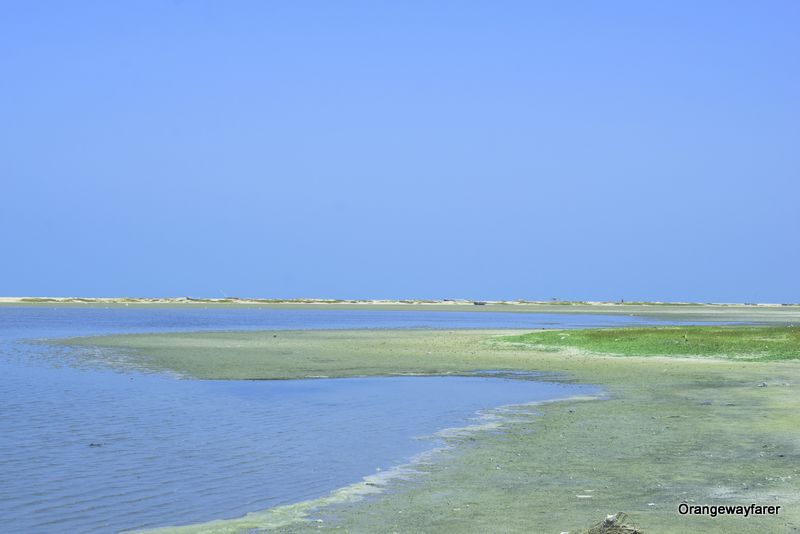 Far away, a man in a white mundu was walking with a fishnet in his hand. I followed his trail and finally made it to the shore.

Lifeless? I have my doubt. The land was filled with small glass bottles of alcohol. Cheap thrills, I laughed. Fishnets were left to dry, still bearing numerous conch shells inside.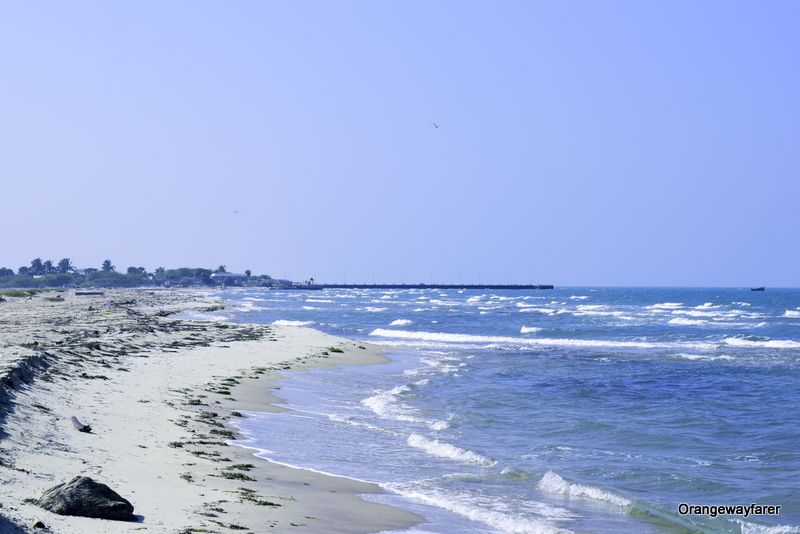 Will I recommend this to you? For sudden adrenaline rush? May be. But check on weather and time. Upon my return, the Tamizhan Da again said "Ghost Ghost" with big eyes!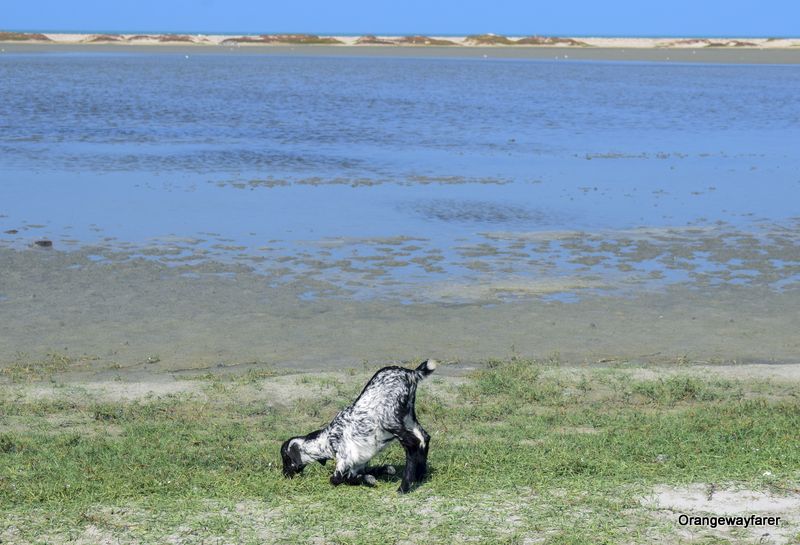 According to local fishermen's testimony, the 2004 tsunami of the Indian Ocean, the sea receded about 500 meters and had uncovered the ruins of the forgotten habitat of Dhanushkodi.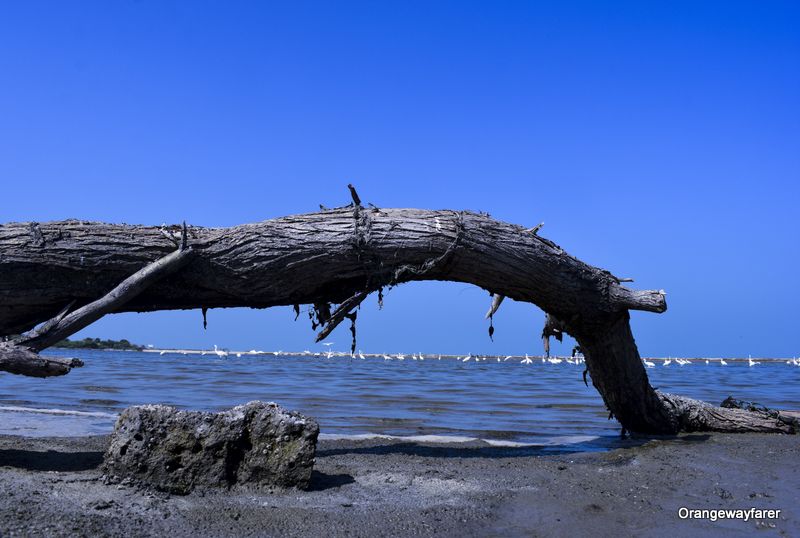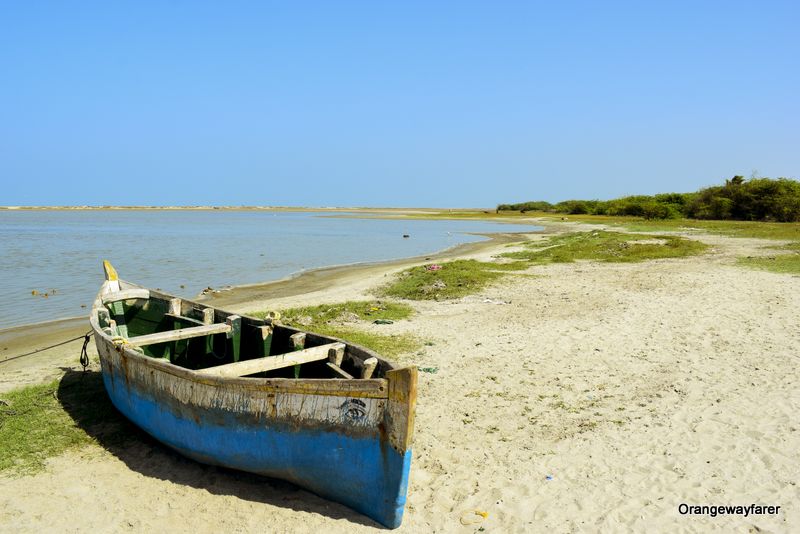 The Tandav Nritya of Ratnakar and Mahadhadhi wiped away every trace of Dhanushkodi, leaving behind a barren stretch of salient land, one side stepping down to the deep of the ocean, the other side harbouring backwaters where migratory birds alight without a fear.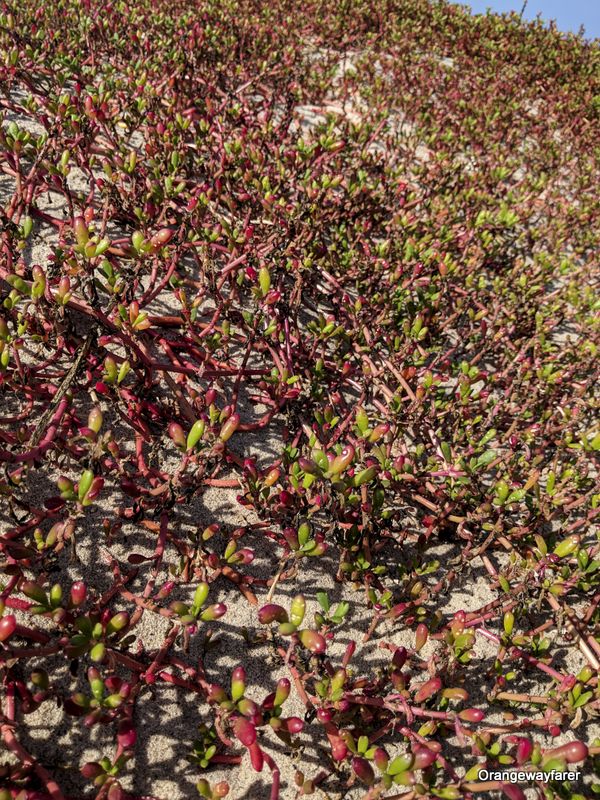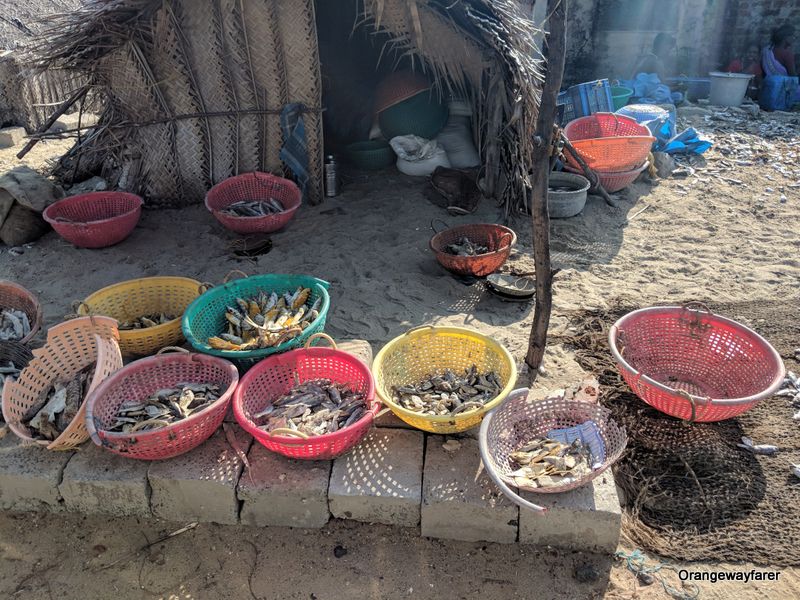 How to reach Dhanushkodi?
You can either hire an auto or rent a jeep to reach Dhanushkodi, the tip of India's far off land. Private jeep or auto will take anywhere between 600 to 2000 INR.

Public transport runs from as early as 7 am. the Tamilnadu state bus services run those massive yellow buses that ply the tourists and local fishermen with day's stock to and fro. You will get a bus at every 30 min interval.

The bus also smells a lot like a moving fish bazar. My Bengali nose is well conditioned with all types of fish "perfume" and I did not have any issue. However, this may be a put off to some.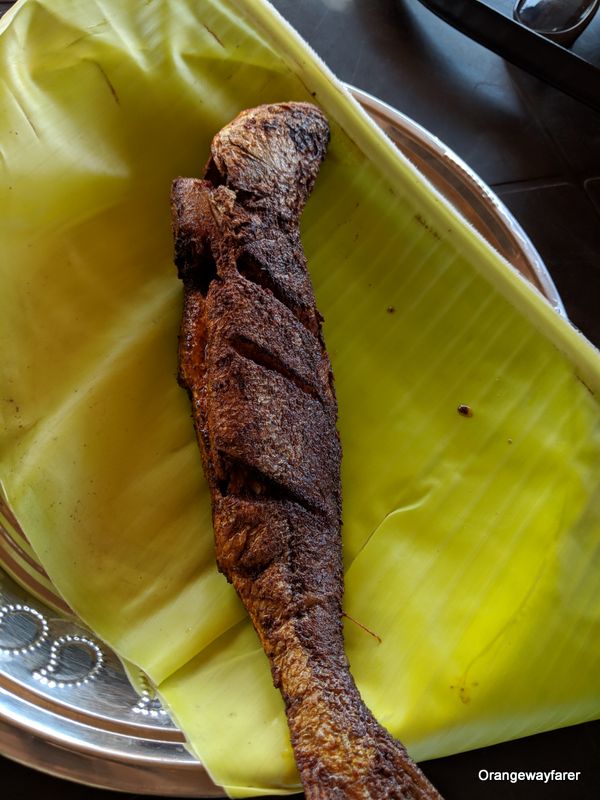 Everything you should remember before visiting Dhanushkodi

Reports suggest that the place being an abandoned one becomes a breeding ground of anti-social activities, especially during the dark of night. Do not think of camping at Dhanishkodi beach. Not just the smugglers, a potential hightide can also take no mercy for your life!
The best time to visit Dhanushkodi is anywhere between the relatively (and that's the key word here) colder months of November to February. midday sun at Dhanushkodi is extremely punishing and may cause serious damage like sunstroke, migrane etc. Take necessary precautions like an umbrella, a cover/dupatta for your face, ample water in a recyclable bottle and sunscreen.
I suggest visiting Dhanushkodi after 2 PM since the heat gets bearable..
If you are off to explore the backwaters of your own, be responsible. There are quicksands. There is not a soul anywhere around. If you lose the way back (unlikely) or get stranded at a sandy shore behind backwaters fueled by hightide (very likely), you will not be in a position to access immediate help.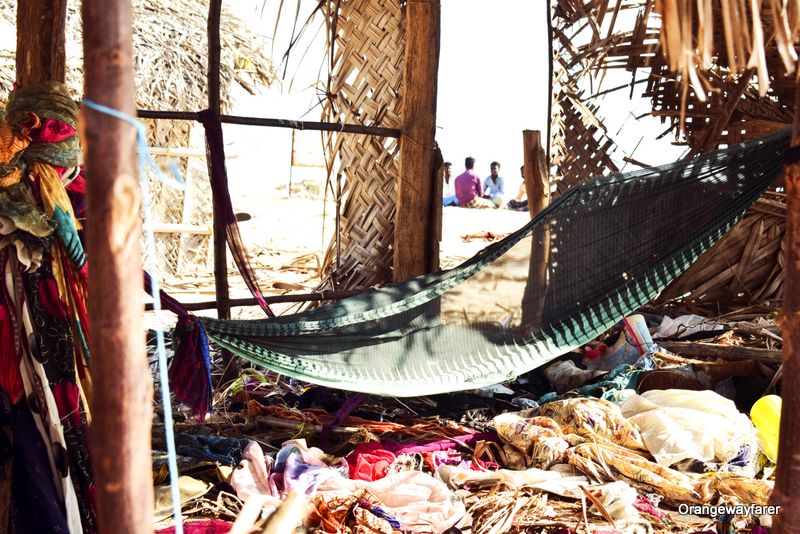 Dhanushkodi is accessible to visitors from 7 am till 6 pm. Sunrise or sunset is wishful thinking however can only be a profound experience if at all you can manage to stretch your time limit a bit. Dial the sun to set a bit early for one day? Just maybe?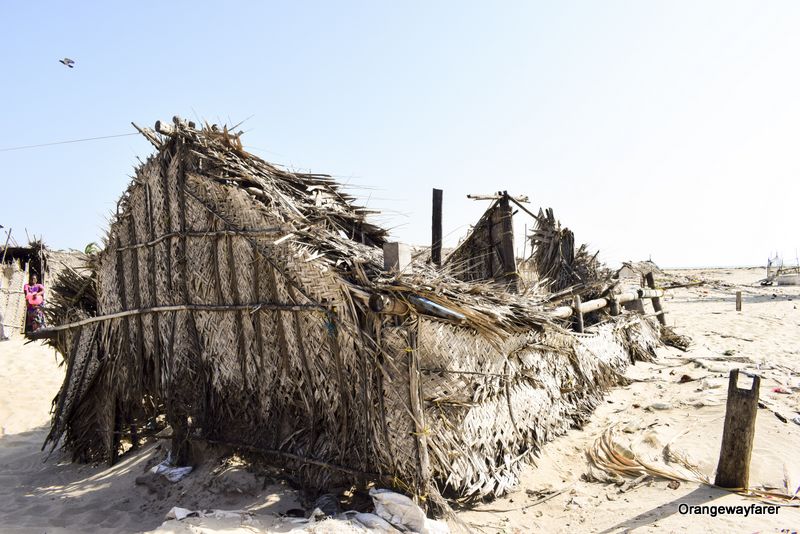 Also not fit for habitat, as declared by the government of India, Dhanushkodi houses a few fishermen's huts. They ideally leave early morning with their fishing vessel. the huts are makeshift as most of them have a home back in Pamban island.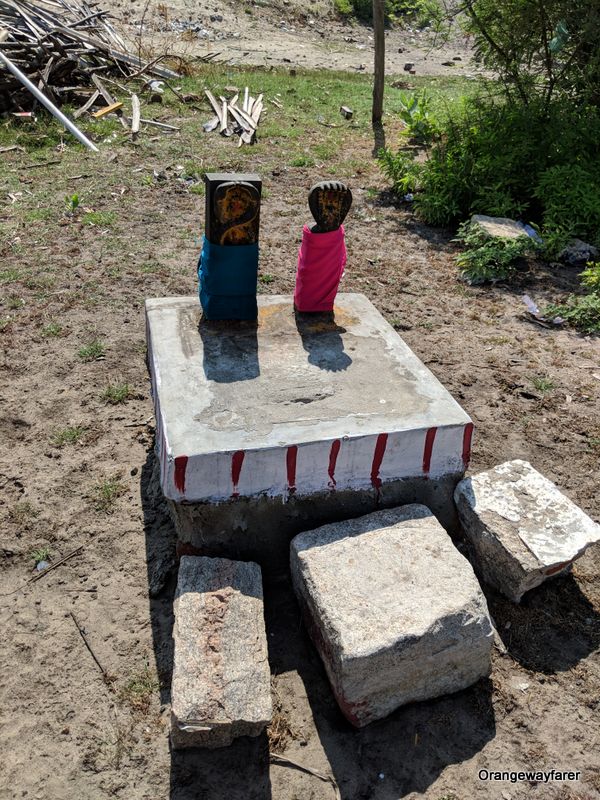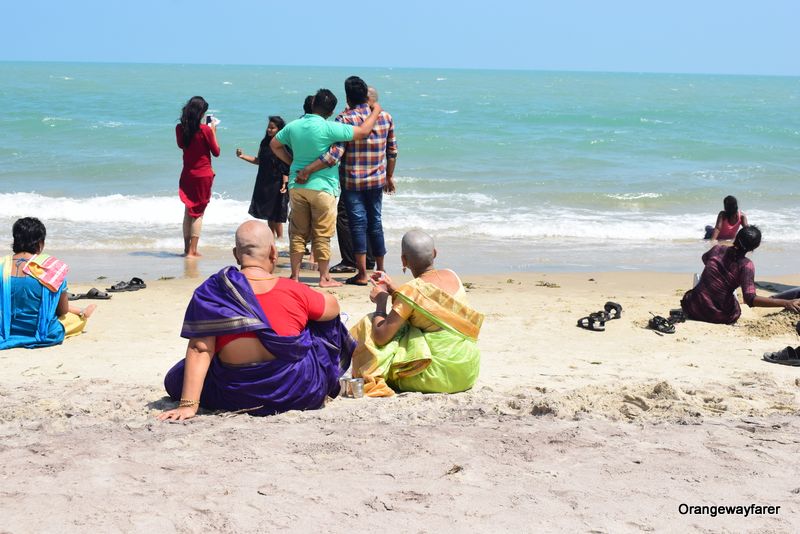 Let's stay connected on Facebook, Instagram, Twitter!
This post may contain affiliate links. Please read the disclosure post. If you have liked the article, you may support it by buying using these links without any extra cost to you.