About this blog: A fiery hot Chicken Curry recipe from Bengali kitchen. Kancha Lonka Murgi (Morich Murgi) is best eaten with rice or bread. It is tender pieces of chicken cooked in Green chili- coriander paste, with green chilies dominating dominating the flavor! It is one of the unique and forgotten recipes of Bengal!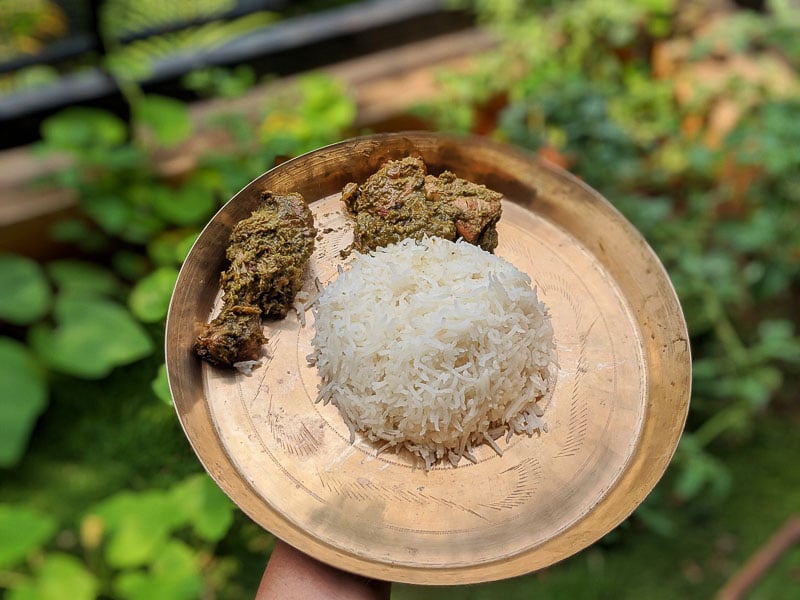 Chicken has this amazing virtue of co-existing almost anything and everything! You pick a new herb, mix in in the boiled chicken broth. The otherwise bland thing lits up immediately.
You want a royal treatment, rub the chicken with generous Garam Masala and Tok Doi (Greek yogurt). You have yet another epic Indian chicken curry on the make!
You see, you need to set apart the overwhelming craze of Chicken Tikka Butter Masala and embrace something new. I did. I embraced this dish called Kancha Lonka Murgi, chicken cooked with green chilli.
Did you know? Green chilli helps you to destress? No wonder why we, the Bangals of East Bengal swear by this amazing vegetable/fruit! Almost a comfort food, I rub green chili on my otherwise sweetheart boiled potato-egg-Jharna ghee combo too!
Anyway, the first time I ate Kancha Lonka Murgi (chicken cooked with Green chilies) at Oh Calcutta. I loved it more than the much celebrated Gandhoraj Bhetki, apparently Sonia Gandhi's favourite Bengali dish.
Kancha Lonka Murgi increases the dose of usual sprinkling of 7 to 10 Green Chillies for a 1 KG meat to an overwhelming 200 gm green chilli (or more, depends on your taste really). However poetry is written when that abundance of green chillies does not burn your tongue but melts in mouth in a creamy texture. All the while, the chicken emits an incredible aroma of Chilli!
Without further adieu, let me delve deep into the recipe of this iconic chicken dish!
Jire diye Pathar Mangsher Jhol (Light Bengali style Mutton Curry)
Recipe for Kanchalonka diye Murgir Jhol (Bengali style chicken curry cooked with Green chillies)
Ingredients:
Chicken. Curry cut. 1 KG
Green chillies: 250 gm.
Coriander leaves: 500 gm.
Greek Yogurt: 400 gm
Whole Garam Masala (cinnamon sticks, bay leaves, cloves, cardamom pods)
2 whole Red Chillies (for tempering)
Diced tomato
Onions (2 big)
Ginger Garlic paste
Cream to finish (optional but does add up to a great finishing)
White oil/ghee for cooking
Turmeric 2 Tbsp
Cumin Powder: 2 Tbsp
Garam Mashala Powder 1 Tbsp (to finish)
Salt to taste
Lemon. 1 piece. Juiced.
Mise en place
Deseed each and every Green Chillies. This will take time.
Slice onions. They will go onto make a fine golden fried barista.
Dice tomatoes.
Marinade Chicken with Yogurt and salt. Keep it aside for at least an hour. At this stage, you can add in a few more spices but chilli will overwhelm any other flavor. So the idea is just to tenderize the meat.
Clean all the coriander leaves. Cut the root. I use this root to regrow coriander plants. they do work to a certain extent.
Make a paste of Coriander leaves and Green chillies. The paste should be runny since it will add moisture to the"Jhol", the gravy of the dish.
Procedure:
Fry marinated chicken pieces and keep them aside. Fry till chicken pieces are golden. It usually takes 3 minutes for me on high flame at one side.
Prepare the barista with sliced onions. If you have ready-made barista, it's fine. Keep aside some barista for garnishing at the end. (Tip: once you have made barista, you can store the extra in an airtight container in fridge for at least 2 weeks. It only makes sense since barista requires a lot of oil.)
Heat oil. You can use ghee or a mix of ghee and oil both. Ghee adds to the flavor. I only prefer to use Jharna ghee for its intense aroma and nostalgia!
Add whole Garam masala for tempering to the heated oil. Add a couple of Dried Red Chilies. Let them splutter.
Add in Ginger Garlic paste, fry till the oil separates.
Add in diced tomato.
Make a paste of cumin powder, turmeric powder, coriander powder in warm water and add in.
Cook for 4 to 5 minutes till oil separates.
Add in the fried chicken pieces. Ensure the spice mix covers them well. Stir for 3 to 4 minutes.
At this stage, add in the Coriander and Green chilli paste. You do not need to add water.
Cover and cook the chicken for 15/20 minutes on slow flame.
Once in a while, check for moisture. If need be, add little water.
I like my Kancha Lonka Murgir Jhol rather dry. But if you plan to eat with rice and prefer gravy, add in water at this stage.
Once the chicken has been cooked well, turn off the heat. Stir in half a packet cream. I used Amul Full cream. If you have coconut cream, you may add that too. It adds to the creamy texture of gravy.
Sprinkle Garam Masala on top and one tbsp of Ghee. Your Chicken in Green Chilli/ Kancha Lonka Murgir Mangsho is ready!
Best served with: Roti and Steamed rice. You may also serve Kancha Lonka Murgi r jhol with Basanti Pulau.
Tips for cooking Kancha Lonka Murgir Jhol
Green chillies if not de-seeded will create a nuisance the morning after. Do not miss the de-seeding part.
Ensure the chilli is hot. The green chilli I buy in Bengaluru has usually attained Nirvana. They are NOT hot enough. So I got a Chilli plant from Kolkata but it bears only so much fruit.
Finally, I found two places in Bangalore that sells really great (and hot, very very hot) chillies in Bengaluru: HAL Market, the lady who sits opposite to the green leafy vegetables (shak) vendor and HyperMarket at Harlur Road.
You miss all the fun from the dish if chillies are bereft of hotness. keep this in mind!
This dish can be recreated with Kolkata Bhetki, Basa and Paneer too, to a certain extent. In fact if you are vegan, try tofu. The creamy Chilli sauce is the triumphant here!
Also read the follow recipe if you are a foodie!
Pin it for later!