While trying to cook a perfect Daab Chingri recipe, I had a serendipitous discovery that I can recreate Dida's finest Pabda Macher Tel Jhal! It smelled and tasted exactly like that of Dida's! I was elated. I thought I would share the Pabda recipe with you, along with Dida's story! It spans across the tumultuous days of India's partition and subsequent struggles of a large populace to cling to intangible cultural heritage of East Bengal.
On one of the balmy afternoons of the late 1940s, Dida reached Sealdah station. She was in her early teen years. It was the turbulent time of India's partition. Dida kept her terracotta dolls, sarees, Nakshi Kanthas, few gold ornaments somewhere in a village in Borishal of undivided India and found a new home at Arobindo Polli, somewhere at the Kolkatan suburbs of Behala. Along came her 5 siblings, an elderly grandmother and her parents.
From Borishal Dida could only bring along stories, a lot of them. Of ghosts of Bansh bon, bamboo forests. Of a river that guarded her village, Kirtonkhola. Of course the river could not really safeguard them. But her elder brother could cross the river in one breath. Her eyes would glisten as she would narrate those stories. That, Borodadu was an expert boatman. That, he would catch the freshest of all river fish and bring home… And Dida never adapted to the cooking style of Kolkata or Edeshi style per say. Neither did my mother, nor I. I remember visiting Swadhin Bharat Hindu hotel at College Street and to much of my amusement discovering a raisin in Prawn Malaicurry!
Dida's cooking was unapologetically exotic, bearing semblance to a land snatched away from her but remains forever endeared in her memory, in our memory. Freshest of fish, a few herbs and minimal use of spices were all she needed to cook fish and tell a story. And Katapona? Chyah. At 82 now, she still would prefer not to eat Katapona, the quintessential staple fish of a large part of India!
Dida's cooking was starkly different from that of my Mammam's, the paternal grandmother. Mammam came in India, before partition ravaged the subcontinent. Her friends were local women of Bankura who in turn influenced her kitchen with innovation and experiments. At the age of 10, I could not pinpoint what was different between the two kitchens, I felt the difference by heart. Now I know better.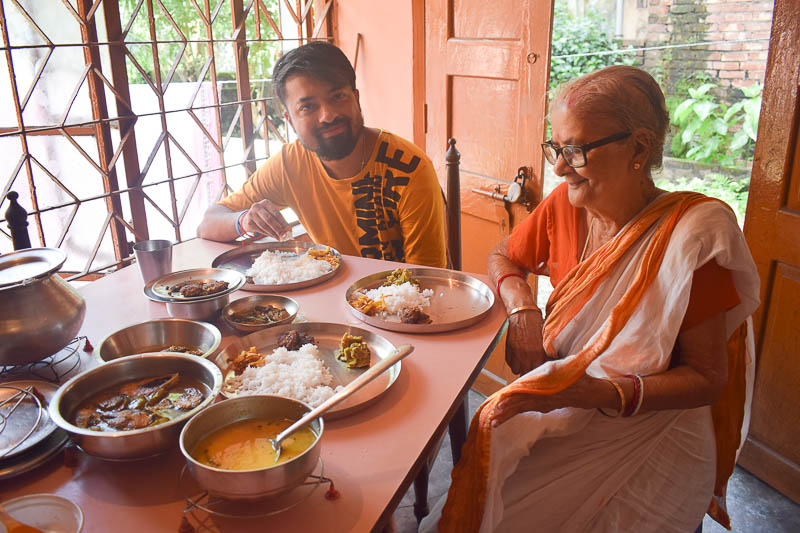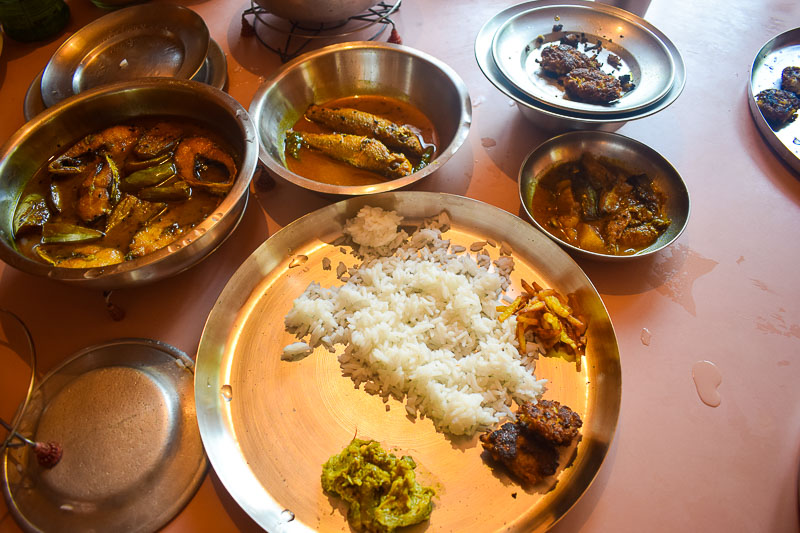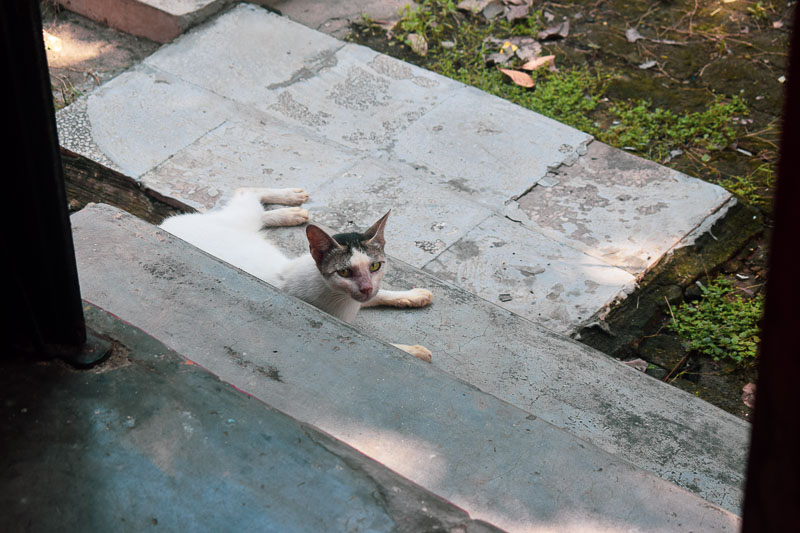 Dida came here, in India, settled in a makeshift Basha and started to teach in a school. It was a colony's school. Later, my mother would attend that school. I would also spend my summer vacation in that school. I would teach alongside my dida though. They would call my Dida, Gun di.
That school was just a makeshift tin ensemble, built by the endeavor of people of Jadu Colony and Arabindo Polli. Rootless people who were regrowing their life system in the divided and newly independent India. Sans any government grant, it ran for a while. There was no assurance of salary, as it was the case with most of the schools in Bengal's rural area.
Later, CPIM came to power and dida would start to earn 65 rupees on a monthly basis! That was a lot of money! I remember asking for anything and everything as a child and Dida would never say no. A book, a new Thakurmar jhuli. A barbie doll. A new gas connection for my Khelna bati set. Color pencils. All my wishes were granted.
During summer holidays, I would go with dida to her school. She would start at 10 am. Before that, Dadu would bring fresh fish from the wet market. I think, from the Tram depot market of Behala. Or was it the Gobindapur market?
Dida would take some chai, ash and clean the fishes on a boteen, a sharp Boti that could take it up with a dacoit if need be! If she was in a hurry, her household help would step in.
Gutting out a Jeol fish with the help of some ash intrigues me till date! How would she do it? Pure magic! Dida would prepare the fish and other dishes before starting for school. This was her daily routine till the new Kelvinator fridge made its way home.
At the school, there would be a few periods. Then she would return home for a quick lunch. There would usually be a patla macher jhol, a yellow, intensely aromatic and runny fish curry. There would be Daal and Ucche Bhaja and other vegetarian stuff but I would not touch them unless Maa is around. Usually, she was busy with the new born brother. Dida would feed me 2 or 3 fishes. Sometimes, even more!
When her school was over, she would walk back home and stop at a library, Nabarun Shangho! I usually used to use her card and take all the Tintin books. And once Tintin was over, I would take Sunil Ganguly books? At the age of 10, that was a hard bargain though. If you know you will know!
Later in my life, I have feasted on fish from the Nile river and Mekong and Sutlej. Never did I ever tasted that magic called Macher Jhol by Dida!
Then last week, S and I were busy preparing Daab Chingri because with lock down and travel ban looming large, I am now a food blogger yo! Meanwhile, I was also cooking Pabda Macher Jhol which turned out exactly like what Dida used to cook! It was a shock as I uncover the lid and that fresh aroma of fish and turmeric and green chilies hit the love-bite spot in my nervous system! The fondest childhood memories of my life came rushing back with the sight, smell and taste of this one particular Pabda macher jhal!
I will be honest with you. I have always asked Dida, how she made Macher Jhol, fish curry. She would say, heat mustard oil, add ginger and turmeric and tomato and add the fish. By the end, add some chillies.
-Byas?
-Byas!
I did not dare to experiment with Pabda fish like that. The ones we get here in Bengaluru are pretty expensive.
But then, the best things in my life have turned out with serendipity! Be it meeting S or cooking Pabda Macher Jhol, exactly like dida's! I will consider it as a reward by the universe and let Daab Chingri Recipe await awhile!
Also read: Jire diye Pathar Mangsher Jhol (Light Bengali style Mutton Curry)
Ingredients for Pabda Macher Jhal
Pabda Mach: 600 gram (8 pieces, medium sized)
Mustard oil: 2 tcsp
Diced tomato: 1 piece
Nigella Seeds: 1 tbsp
Ginger paste: 1 inch. I use a hamandista to freshly prepare the paste.
Cumin powder: 1 tbsp
Red Chilli powder: ½ tbsp
Coriander leaves: few strands
Green chillies: to taste
Turmeric: 1 tbsp
Salt: to taste
Brinjal (optional) (In US, Eggplant. In the UK. It is Aubergine. in Bengal, its Begun): 2 medium sized
Mise En Place
Prepare Pabda fish. Keep them intact. If your cooking pan is smaller, cut them into halves.
Take out its guts. Shorten the fish's head so that the whiskers are removed. Keep the fish head.
Marinade Pabda fish with salt and turmeric and a bit of lemon juice.
Slit green chillies. I love them hence use them in abundance.
Prepare a spice mix with cumin powder, red chilli powder, turmeric powder with 2 tbsp of warm water.
Cut brinjal/ eggplant in 4 pieces. Fry them in mustard oil till a brown crust forms. Keep them aside.
Dice tomato. Deseed.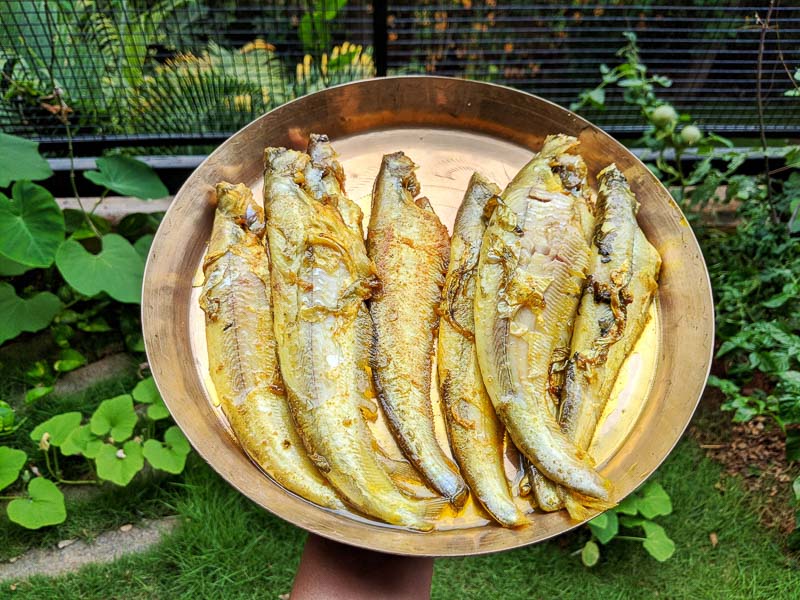 Procedure for cooking Pabda Macher Tel Jhal
Heat mustard oil on a Kadai. Any heavy bottom container is good too. Oil should remit smoke so that fish does not stick to the pan.
lightly fry each side of Pabda fish. Since Pabda is a type of catfish, you may not fry it at all. In case of no frying, ensure the fish is fresh. My dida would not fry Pabda but then the kind of fresh fish she would get is utopic from this time-stand.
Use the same oil. add more mustard oil if need be.
Add 1 tbsp of Kalo Jeere (nigella seeds) for tempering. You may also use Paanchforon (Bengali 5 spices). Add in two slit green chillies. They add to the aroma.
Now add crushed ginger. I used one inch of garlic for 8 pieces of medium sized Pabda.
Add the spice mix and fry till oil separates. Should take 3 to 4 minutes on high heat. Ensure the spice mix is fried well. This is the magical part of Bengali fish curries.
Add in diced tomatoes. Fry for 3 more minutes till tomatoes are softened.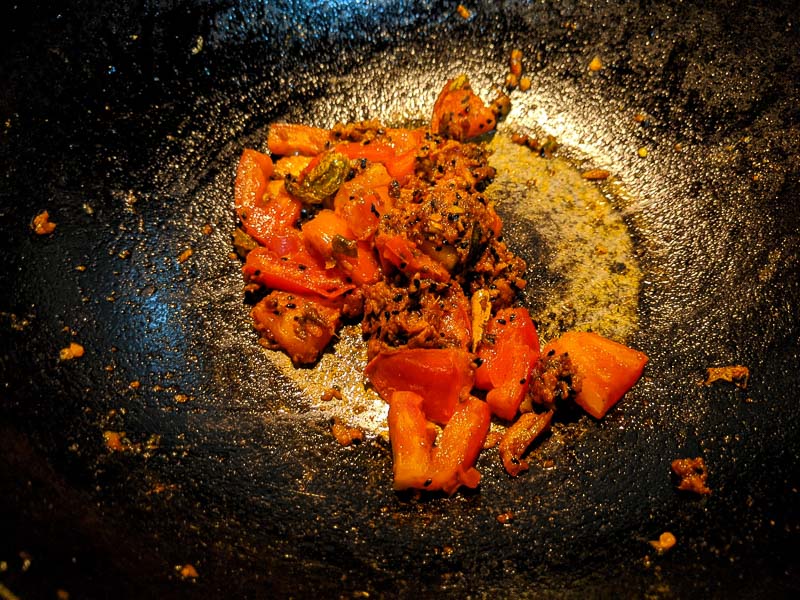 Add in a bowl full of warm water. Let it simmer.
Slide in fried brinjal pieces. Cover and cook for 5 minutes.
Now add Pabda fishes. Add a couple of green chillies (or more as you like). Adjust seasoning. I do not use sugar in my fish recipes but you may if you like the taste.
Do not cook for long. Pabda is a very soft fish which will dissemble if you put it on heat for longer than needed. I cooked the Pabda Jhal for 3 to 4 minutes after adding the fish. I had covered the lid.
After 3 minutes, turn off the gas but do not uncover it immediately. Prepare chopped coriander leaves and green chillies meanwhile. After 5 minutes, uncover, let the steam pass and add in coriander leaves and green chillies!
Voila, your Pabda Tel Jhal is ready! Serve it with piping hot rice. You are a clear winner if you could manage some Gobindobhog Rice at this point!
Pro tip for cooking Pabda Macher Tel Jhal:
You may also use Small Tyangra (Tengra) fish instead of Pabda for this recipe. Even Topshe fish works well though Topshe is very rare find in Bengaluru.
2. Adding brinjal is really optional. My dida would not add them usually. I added because I love this vegetable.
3. You may also add some Bodi, the lentil dumplings. Deep fry the Bodi in mustard oil and add as a penultimate stage of this food preparation.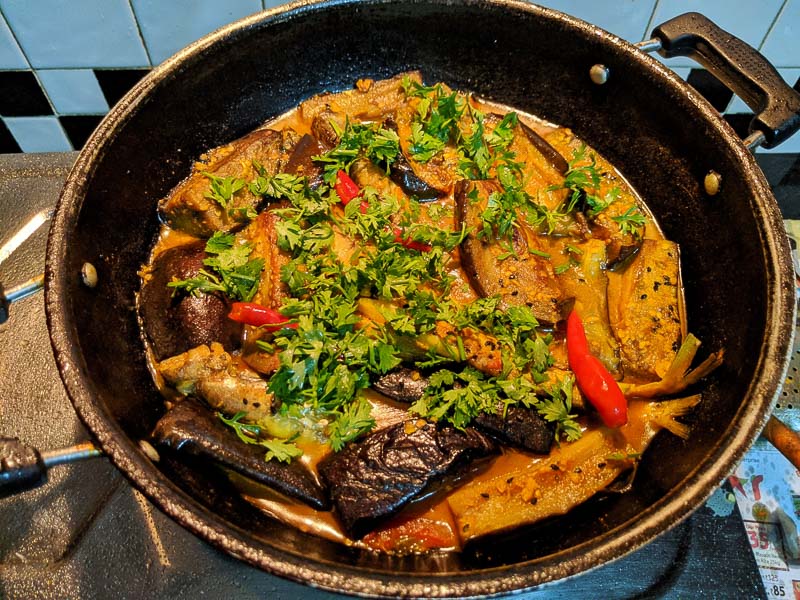 Pin it for later!