About this blog: The iconic Bengali Mutton curry with potato gets a twist with cumin powder and is slow cooked on flame to perfection! This recipe is well catered to people who suffer from an upset stomach after a Rogroge Kosha Mangsher Jhol (heavily spiced mutton curry) but still want to enjoy the taste of Mutton, especially on a Sunday in the form of a lighter mutton curry! Even if you are not a pro kitchen person, if you know the art of marinading, you are good to try this Mutton recipe in your kitchen and emerge out a charmer, I assure!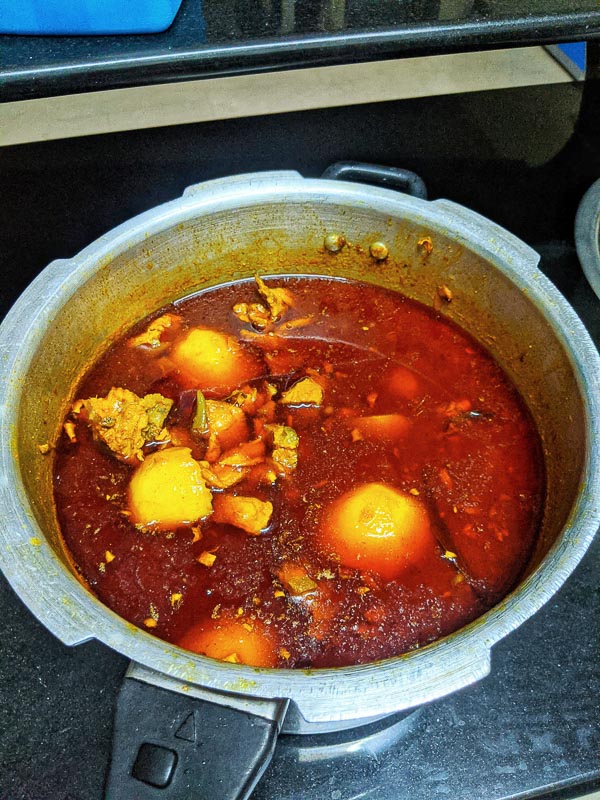 The kick in this otherwise humble Kochi Pathar Jhol is the abundance of Cumin paste. In traditional Bengali Mutton Curry, we indulge in coriander seeds paste, which is otherwise absent in our sublime fish curries. Think of a Mutton curry and your mind will deviate towards the Golbarir Kosha Mangsho, or the Mutton Champ of Royal Indian restaurant near Zakaria. It is only a rare occasion that we make our mutton curry light! This is one perfect Mutton curry recipe that is cooked light and cooked best with Kochi Patha, a young goat!
Bukun, a friend, pinged me a few days back with a screenshot of this picture. "How to cook this Mangsher Jhol, meat curry? She inquired. I tell her the recipe in simple manner. In a one liner! I can not write long sentences on whatsapp. I know not how to stop while I am typing on my laptop! Irony of my life.
Bukun had looked up my blog but had not find the recipe! She says. I know. I have not cooked this Mutton Jhol/Curry in recent times. In fact this was the last time we cooked mutton since lock-down started.
It is a challenge to get Kochi Patha in Bangalore! A friend once joked, the Patha they sell here are actually dogs! My eye brows raised to the rooftop! I do not have anything against dog meat but I would like like to eat my meat knowing this is a true blue Kochi Patha. The lamb they sell in Bangalore at Russel market is exquisite though.
You see, eating mutton is a lot like an acquired taste. It has a typical gamey smell, even pungent to some. If not cooked well, you eat a morsel of the meat and you know this was a goat in other life, grazing at the backwaters of Dhanushkodi, who knows?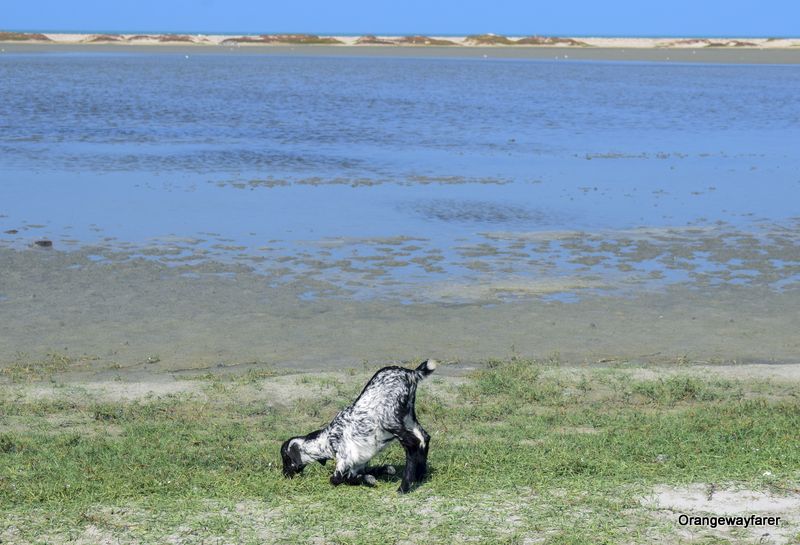 Coming back to my conversation with Bukun, I realized food pictures are appetizing in their own weird way. You may not always present them in the most perfect set up. I mean this picture is that of a cooked pot full of Bengali style mutton curry in florid red gravy, clicked at night and is not even served with rice!
That surprisingly inspired her to prepare this dish! Why don't I go ahead and write the recipe on my blog, I thought in my mind? Anyway, I do not see us cooking mutton at home in near future. My intent was to wait it out till I have better pictures to use for the post. Think of a red handkerchief snaking up the brass bowl that comes filled to the brink with the pathar jhol. Think of a dhokra owl at the background. A hibiscus that bloomed that morning. You get the drift!
From eating mutton curry on for Sunday lunch every week to buying button once every quarter, we all grew up!
Besides, during the lock-down, I have realized food is a matter of celebration and the joy of it, like every other small festivity, is best shared when you have friends or family around! This is the fourth month of lock-down in India with no immediate escape in near vicinity, I am on the verge of eating Rice and Masoor daal with a leaf of my prized Gondhoraj lemon plant in my solitary confinement in Bangalore! Who Kochi Patha? Kochi Patha who?
This Kochi Pathar Jhol recipe (Light Bengali styled Mutton curry) is handed over to us by S's mother. I have tried to delve deeper but S refuses to trace back the history of this recipe. He says Suchitra Sen loved to cook this recipe. I know he is joking. I rest my case!
The more you marinade the meat, the better result you shall get while cooking this recipe. So start early and marinade from a day before if possible. Last time we cooked this recipe, our friends acme over on a weekend, we put the pressure cooker on slow flame. By the end of the night, when dinner was due, succulent pieces of mutton were prepared, al dente!
Read all my recipe here: Cookbook
More meat based recipe that you may like:
Deshi Murgir Kosha mangsho from Sundarbon (Spicy Country chicken curry)
Aamer Tok Daal (Daal cooked with green mango)
Ingredients for cooking Jire diye Pathar Mansher Patla Jhol
Mutton: 1 KG
Potato: 7/8 (or more if you like) At the end of the cooking, these potatoes will become a bomb of flavors. Do not you dare skip potato in this Mutton recipe! We love potatoes with mutton, be it a humble jhol or a Kolkata Biryani!
Cumin powder (or hand pounded): 4 TBSP
Coriander powder (or hand pounded): 2 TBSP (Cumin and coriander ratio is to be put as 2:1)
Ginger: 4 TBSP
Garlic: 3 TBSP
Onion: 1 sliced
Lemon: 5 limes. Juiced
Salt: to taste
Turmeric: 2 TBSP
Green chili: 8/9 (or more as you like the spice level)
Red chilli: 2 TBSP
Bay leaf: 3
Mustard Oil: 200 GM
Coriander leaves to garish (optional)
Procedure for cooking Patla Mangsher Jhol (Light Mutton Stew)
Cut potatoes into halves, smear with turmeric and salt and fry them golden. Keep aside.
Prepare a marinade with all the spices listed above. All except salt. Prepare marinade in a heavy bottom pan that can be used for cooking.
Clean mutton pieces well under running water. Pat dry in a clean cloth. Mix into the marinade. Ensure spices reach everywhere.
Keep it aside for at least 8 hours. The more the merrier. I do it overnight. I do not deep freeze the marinade if I am cooking it the next day.
Cook it on slow flame. Cook for at least 2 hours. Do not pressure cook unless you are hard pressed to do so. Put the lid on.
Adjust salt in the jhol. Add the potatoes. Cook for another 15/20 minutes.
Do not take out the lid immediately once the cooking procedure is over. Wait for a while, say 20 more minutes. Serve hot!
It is important to use Kochi Patha to prepare this mutton curry recipe. That way you do not have to use any other tenderizer for a well cooked meat curry. This mutton recipe can be easily replicated with beef/lamb. You may use grated raw papaya as natural tenderizer.
This Mutton Curry is best served with a side of piping hot rice! You can also serve it with roti/chapati.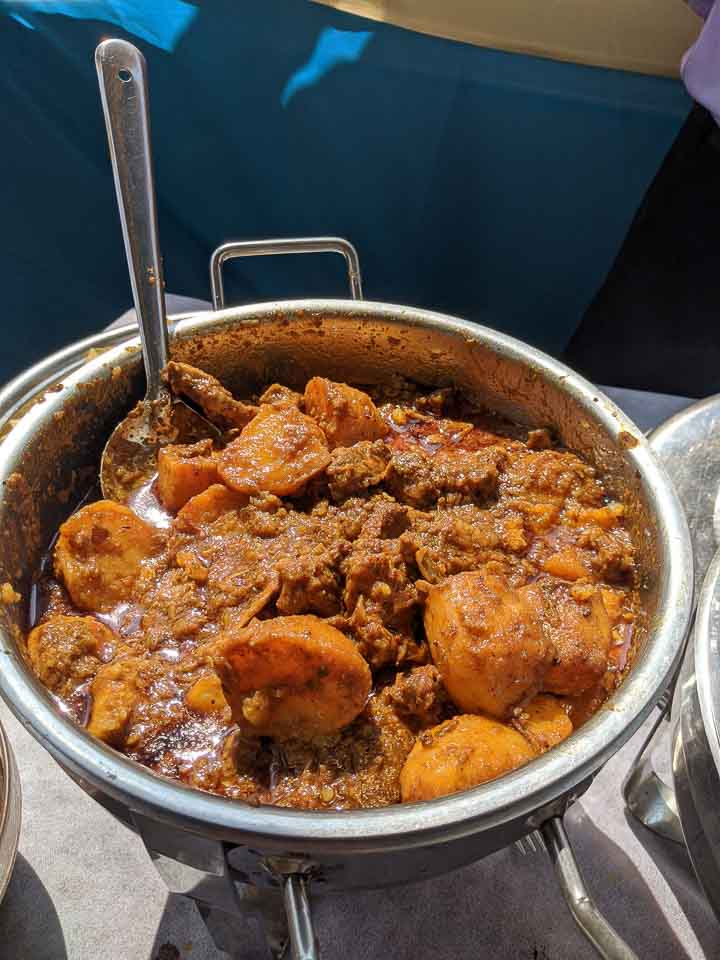 This post may contain affiliate links. Please read the disclosure post. If you have liked the article, you may support it by buying using these links without any extra cost to you.
Let's stay connected on Facebook, Instagram, Twitter! You may also consider joining my mailing list. I send travel and photography related emails only once a month!