Amer Tok Dal or Masoor Daal cooked with green mango is a traditional Bengali recipe. It is vegan friendly Bengali local dish. It is a seasonal dish and can put sweet and sour chicken to shame when you prepare it with distinction! Following is a recipe!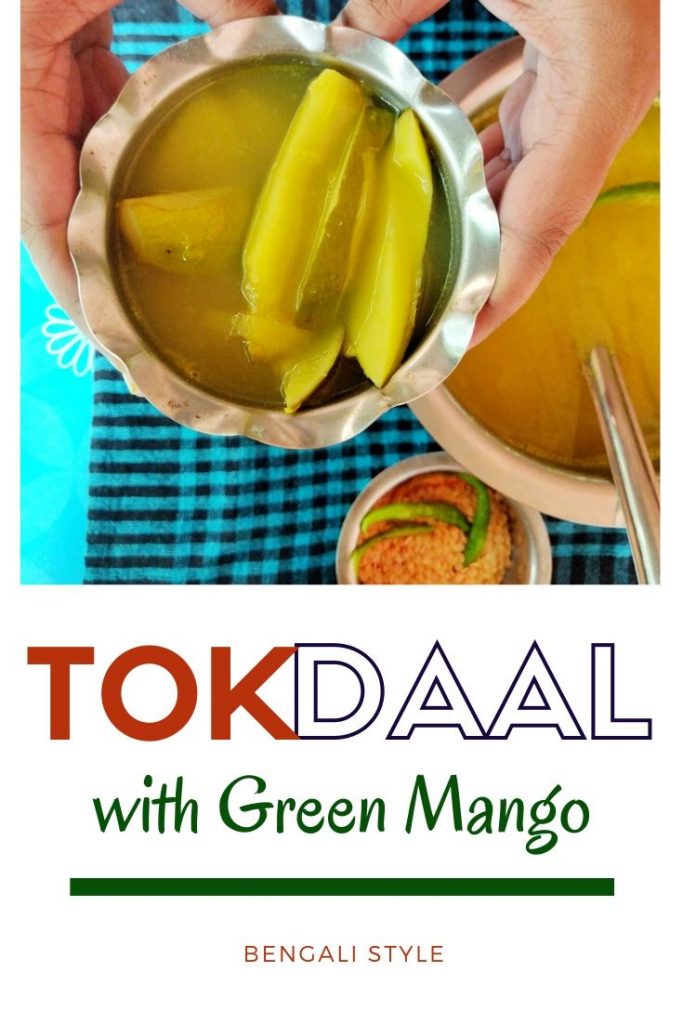 "This is more expensive than gold", said the Mango seller at Bakultola Market. It was July. The market was inundated with Himsagar and Lyangras and Totapuri, various names for India's premier summer crop! But they are all ripe, bright yellow and remit an aroma that can put all the heavens to shame!
I was just looking for a few Kancha aam, green mango though. I would make a sweet and sour Daal with it and treat my dadu!
Kancha Aam, or Green mango is a blessing in disguise. You eat it as is, sun dry with little sprinkling of red chilies, use it in Torkari dishes or keep under the stack of rice. They will ripen with time!
Some of us took a step forward and decided to prepare a delectable Daal, a classical lentil broth with Kancha Aam, Green mango.
A bit of sweet. A lot sourly. Amer Tok Dal is a legend cooked with Masoor Daal and green mangoes. A year back, S was undergoing Now-I-will-turn-vegan phase. Worried, I tried to look for good old Bengali recipe that will fit into this new vegan life. Because, by God, I can not eat quinoa and avocado as staple meal in the long run. Then, I rediscovered this bengali style Aamer Tok daal. Packed with savory taste, Aam Dal is also a protein rich diet.
Cooking Aam daal is a short lived pleasure, since Green mangoes are seasonally available. If you store them, they will go ripe! Hurry up. Before summer bids adieu, drink your elixir portion of Aamer Tok Dal!
Ingredients for cooking Aamer Tok Daal: (Serves 6)
Green Mango: 1 big or 2 small
Masoor daal: 1 cup/200 gm
Kalo Jire (Nigella seeds): for tempering. 1 Tbsp
Green Chillies: Slit them. 3 or 4
Turmeric
Dried Red Chillie: 2 pieces. For tempering
Mustard Oil
Ginger paste: half an inch piece of Ginger
Red chili powder
Procedure for cooking Aamer Tok Dal:
Cut mangoes to small elongated pieces. One mango should yield at least 8 pieces. Go as close as possible to the seed, however discard the seed. It is too sour to be eaten in Daal. Just eat it raw if you are a fan!
Apply a pinch of turmeric, salt and red chilli powder on them  and set aside for a while. 
Soak Masoor Daal for one hour. Clean it beforehand. That water is good for 1. Hair and/or 2. kitchen garden. Do not waste it.
Pressure cook Daal for 10 minutes. Do not open the lead immediately. Let the steam go out so that Daal is mushy! The mushier the Daal (lentil) better it is for you!
While cooking Daal, add a pinch of turmeric and salt to taste.
Once Daal is cooked, stir in with a daal kata. If you do not have a daal kata, use a ladle and stir in for an even mush.
Prepare Green mango in a different pan, ideally a Kadai.
Heat Mustard oil. Green mango and mustard oil are a match made in heaven.
temper oil with dried red chillies (⅔) and Kalo Jire (Nigella seeds). You can also use Paanchphoron but I prefer Nigella seeds.
Mix in the mango pieces. Fry them on high flame for 5 minutes.
You can either pour in the daal on Karai with green mango or do the opposite, depending on your vessel size.
Mix it with salt. Add in sugar. I add 4 Tbsp sugar but it really depends on you. Green mango being sour will render Masoor Dal a tangy taste. Adding adequate sugar will cut it through. Remember the name is Tok (sour) daal hence you decide how much sugar you want in it.
Taste before you turn off the gas, adjust if required and you are ready to serve Kancha Amer Tok Daal with steamed rice! You can top it with a layer of raw mustard oil. Though I must warn, it is a lot like an acquired taste!
Also read: