About this blog: A simple Kerala fish stew recipe I recreated at home in times of lock-down! Meen Molly/Moilee/Molee is a mild spiced fish stew in coconut milk!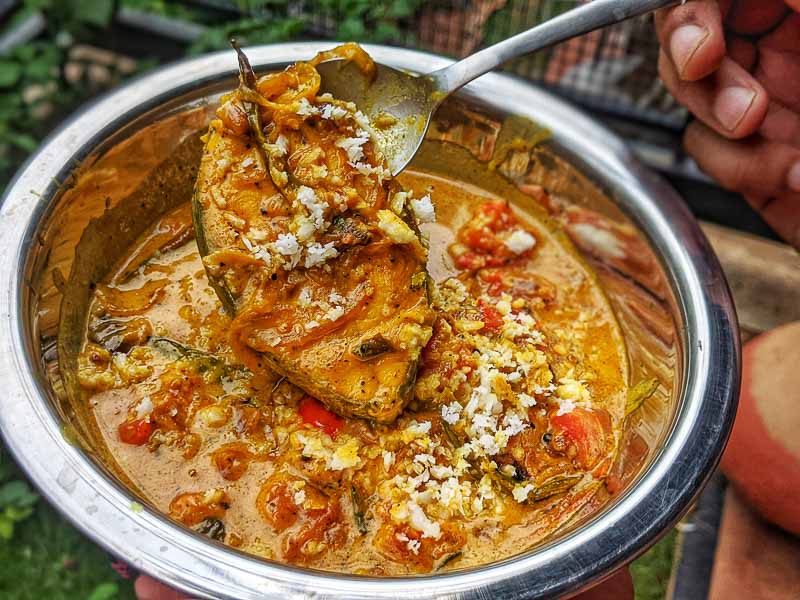 Also read: Complete Guide to Offbeat things to do in Goa!
We journeyed all the way from Bangalore to Kochi on a night bus. Upon getting down at Kochi, we headed to Ginger house.
Tucked inside Kochi's Jew Town, Ginger House is a brilliant place to eat. It served us a sumptuous breakfast of Meen Molly and Appam. I was apprehensive if I would like Kerala cuisine which is much talked about for ample use of coconut oil.
Boy, oh boy, love at first sight is the word to describe my feeling about Meen Molly!
Hailed as one of Kerala's iconic dish, Meen Molly is a mild fish stew from the household of Kerala's Syrian christians. A medley of coconut milk and Indian spices, Meen Molee(or Molly or Moilee, the way you spell it) is a brilliant take on the coastal state's abundance of access to prized catches, namely seer fish and king fish!
In Bangalore, we usually frequent the HAL market, famous for river fish. At Russel market or the super markets, you have easy access to sea fish but my Bengali palette craves for "Pukurer mach" if not "Nodir Mach".
Then lock down happened and our "Pukurer Mach" (just kidding. River fish in Karnataka basically comes from the Hassan dam) was short in supply.
I thought I would just shallow fry a couple of King fish on a Friday night. But the seller at the meat mart gave me four fish steaks. I had some coconut milk at home.
Why not meen Molee then? We were anyway Kochi Bound this week to celebrate a friend's wedding!
The best things in life happen by serendipity!
A tweak here and a touch there, here is the recipe of meen Molee that I have tried and perfected over the past couple of weeks.
Fun fact, I have used the Curry leaves from my garden. So far, my household help Vijaymma used to pluck those leaves and take them home. She has not resumed work yet! I am pretty excited in the process!
Recipe for Meen Molly/ Kerala Fish Stew
Ingredients for preparing Meen Molly
King fish/Seer fish/Pomfret: 4 pieces. 400 gm.
Coconut Milk (Thin): 1 packet of Dabur coconut milk
Grated Coconut (or thick coconut milk): Half a coconut.
Coconut Oil (White oil instead): 3 Tbsp
Curry leaves (a handful)
Mustard seeds: 1 Tbsp
Sliced Green chilli: 8/10
Turmeric Spices: 1 Tbsp
Red Chilli powder: 1 Tbsp
Cumin Powder: 1 Tbsp
Sliced Onion: 1 Big onion
Chopped Garlic: 8/10 pods
Ginger julienne: 1 inch
Lemon Juice: 1 piece
Mise a place
Coarsely chop onions. Julienne cut the gingers.
Ready freshly crushed garlic cloves. When infused on hot oil, they render beautiful aroma.
Grated Coconut. I get it ready-made in Bengaluru.
Marinade fish with lemon juice, turmeric, red chilli and salt. Let the spices create their magic for 15 minutes at least.
Dice Tomato. You can also keep it round pieces.
Procedure for cooking Meen Molee
Heat oil. I used white oil. You may use Coconut oil, which is the traditional medium for cooking in Kerala. I loved Fish Molee (Meen Molly) when with coconut oil but I did not have it at home under lockdown. So, jugad!
Put in some curry leaves and shallow-fry the fishes in batches for not more than 4 minutes on each side. In my experience, adding Curry leaves at this step just adds to the overall aroma!
Take fresh oil on the pan. Temper heated oil with mustard seeds and curry leaves. Ensure oil is hot to infuse with maximum aroma.
Add crushed garlic cloves. Fry. Add in sliced Green Chilli too.
Add in sliced onion and ginger.
Add in diced tomato and cook. Do not mash though. The idea is to chew on the chunky tomato.
Make a paste of the powders:Cumin, turmeric, red Chilli (1 Tsp each). Go gentle with black pepper. You can also use some Garam Masala Powder at this point.
Add in thin coconut milk.
Slide in the fried fish at this step. Let it come to a simmer.
Turn off the heat. Now add in thick coconut milk. Alternatively, you may add grated coconut. I cook Meen Molee with Grated coconut and I absolutely love the "creamy crunch". That is a thing!
Return it to heat. Settle for a few minutes. You Meen Molly is done!
Meen Molly is best served with: Steamed rice or Appam. Served piping hot.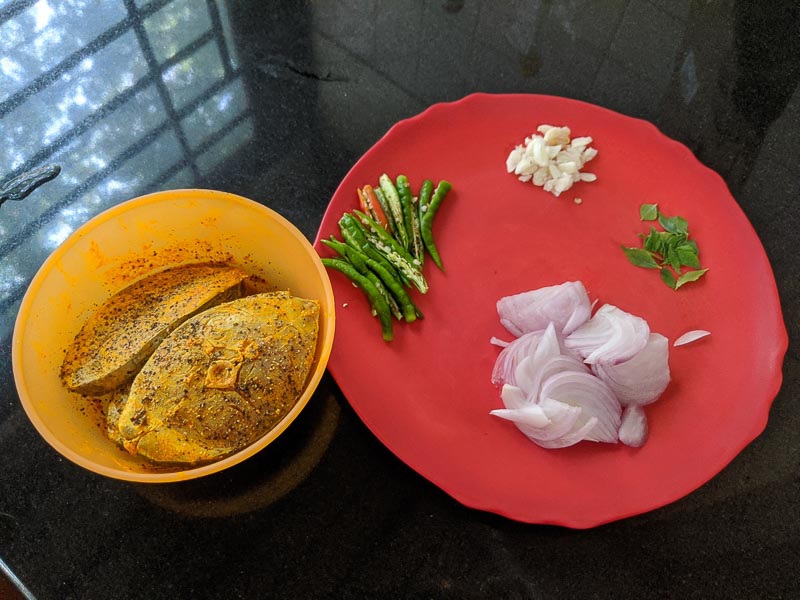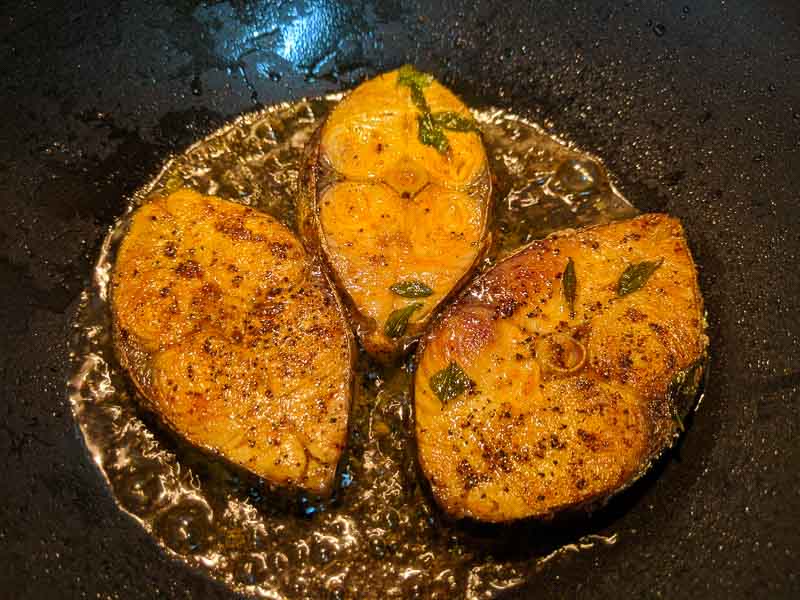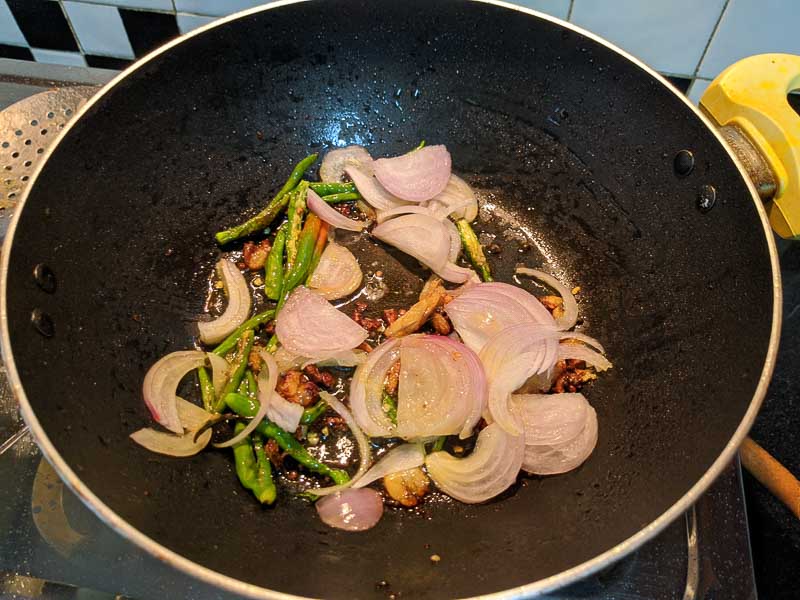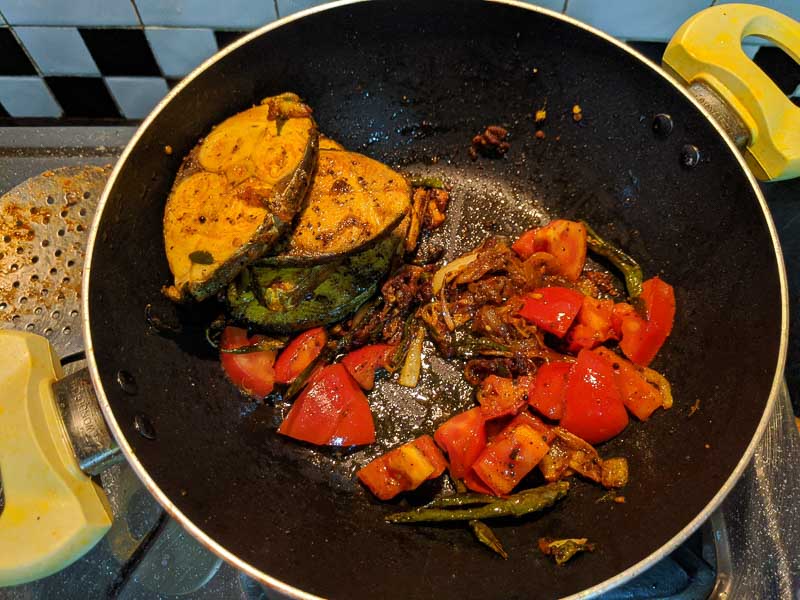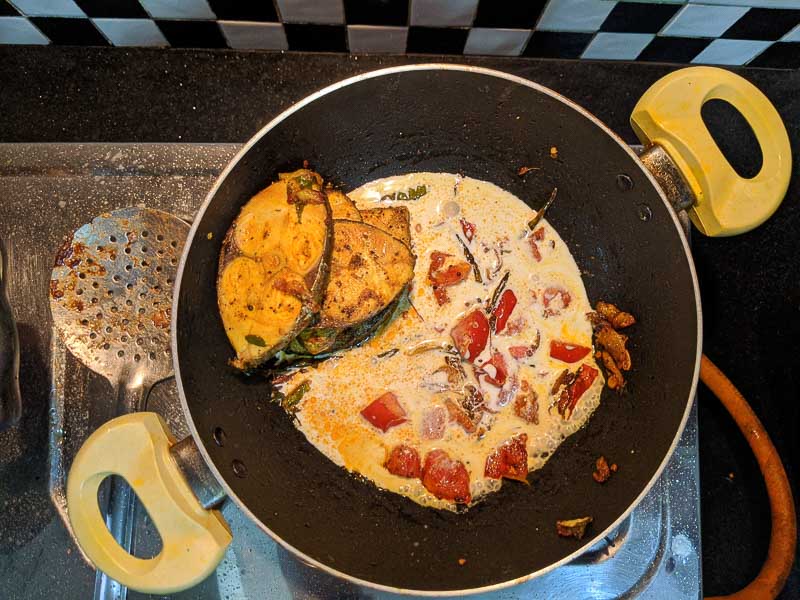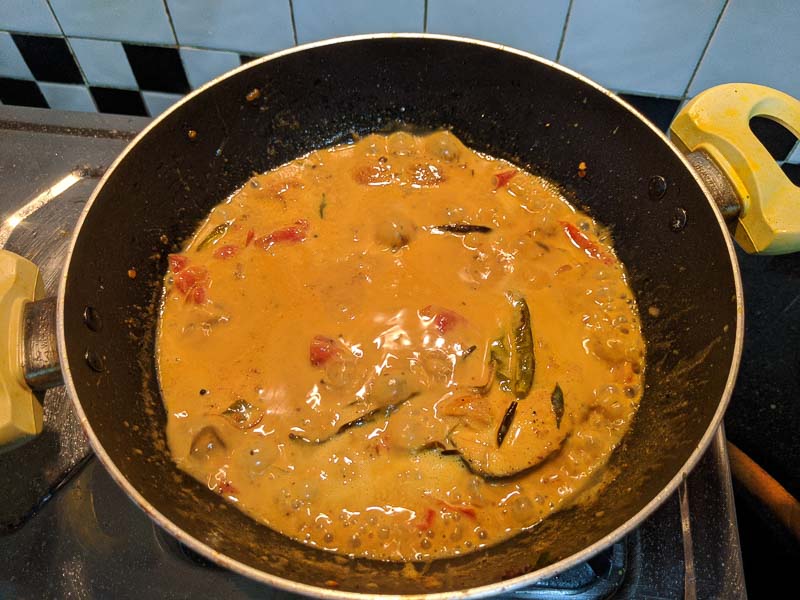 Pro tip for cooking Meen Moli:
Kalchatti: Traditional black vessels sculpted out of soapstone are used at Kerala households. Cooking on Kalchatti, especially the old ones, is a pleasure. In Kolkata, I found them being sold at the Kerala handicraft stall during Saras Mela.
Coconut oil is a part of the authentic Meen Moli recipe. I highly encourage you to use this. However if you do not find, do not shy away from using white oil. It turns out decent either way.
Pin it for later!