In case your fish has come home with a stomach full off roes, which is normal in the monsoon season, you are up for an exquisite treat! Gather some coconut, mustard and an edible leaf. Banana leaf will do too! And steam it. You Patui is ready to be devoured!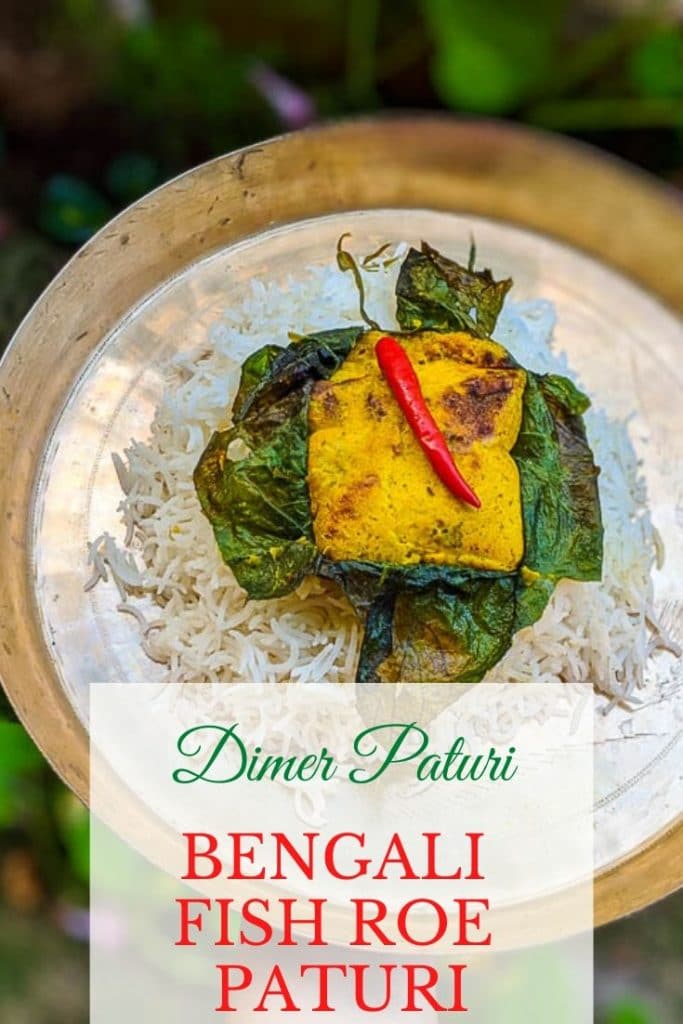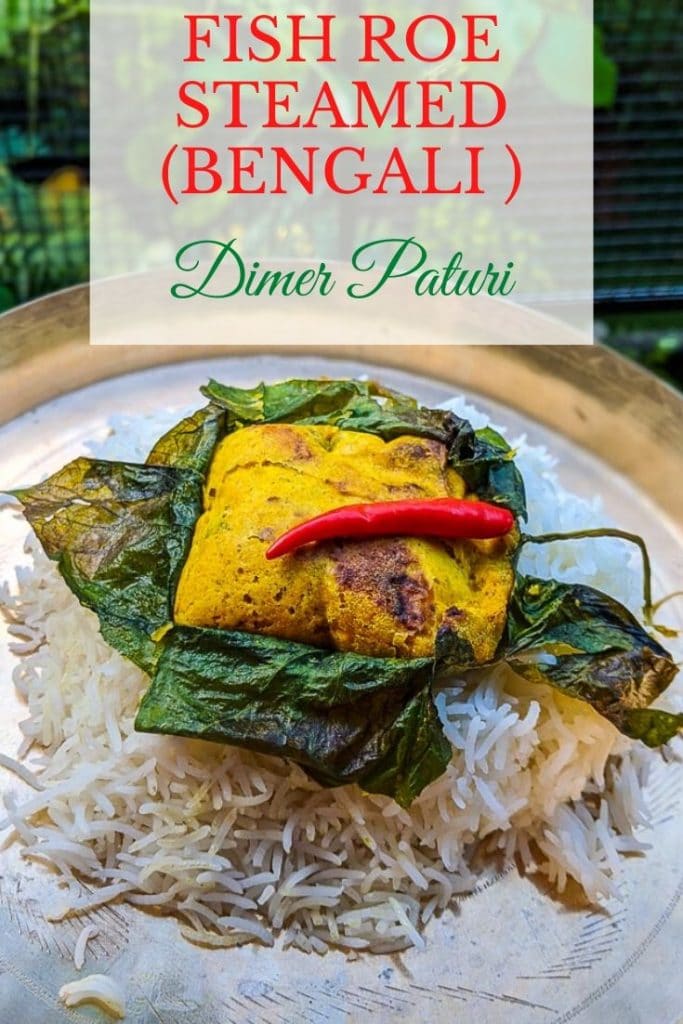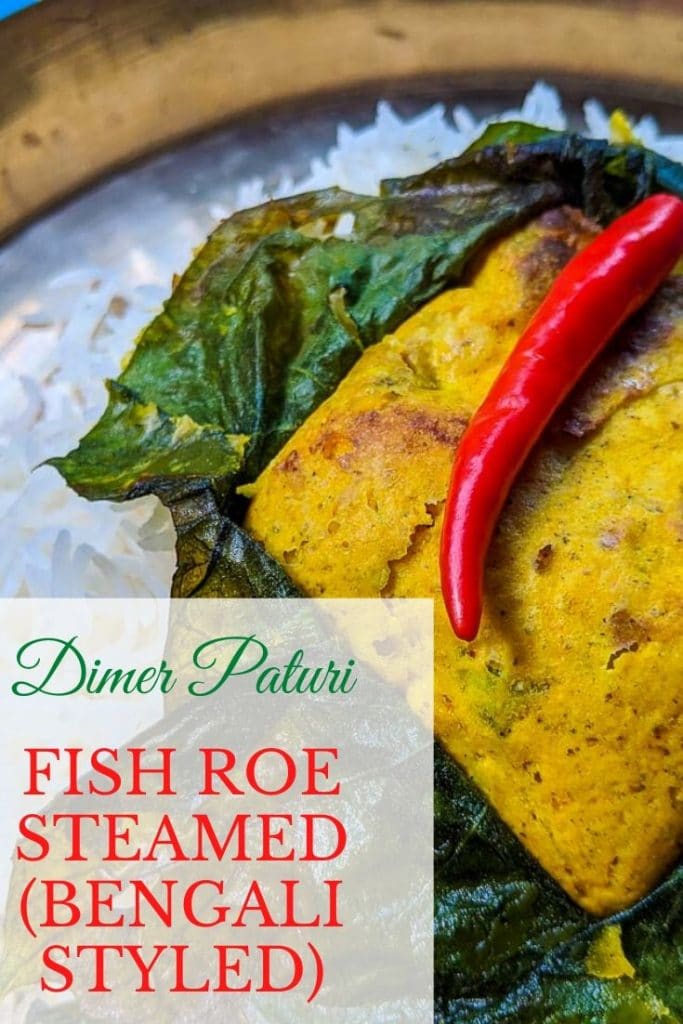 Read all my recipe here: Cookbook!
It is intriguing to learn how Bengalis make the best use of a fish. The entire fish is put to use in our household, not a single bone is wasted! The fish head goes for making Daal or Shak or Pachmishali Chocchori. For a Katla Fish head, we bring out the prized jar of Gobondobogh Rice, saved for the best occasions only, to cook Murighonto, a dish fit to be served in the wedding feast.
The body of the fish is used to prepare Macher jhol, jhal, ombol, doi Katla, shobji diye rui macher jhol, kaliya and everything else. Fried fish is a delicacy served with piping hot daal. You may also choose to eat a Paka Rui, a heavy weight Rohu or Katla in Bhape. A steamed recipe. Anything but mustard oil will be a blasphemy to use.
Now looking at the remaining pieces of a Pona Mach, colloquial for a carp fish, we find the fish roe, specially when it rains! If you are short with time, just boil the fish roe and cook them the way you shall cook Macher Jhol, the fish curry.
You have got an hour to spare and a fish filled with wobbly transparent roe? Fine then, hold my beer. Let me show you how to cook Macher Dimer Paturi, a steamed Bengali delicacy done to perfection with fish roe and other quirks.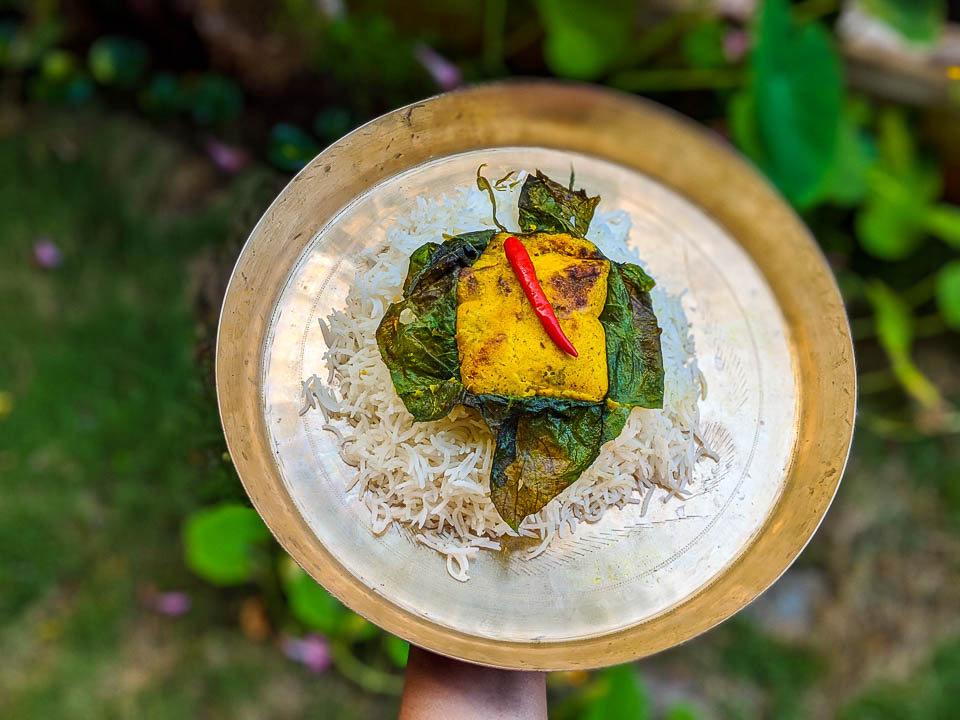 Ingredients to cook Macher Dimer Paturi
Fish roe (Macher Dim): 400 gm
(I bought a 2 kg of Rohu fish. You may use any other fish you like instead. Dont do Ilish Macher Dim, Hilsa fish roe this way though. That one is too precious and demands a different recipe all together.)
Lau Pata/ leaves of White/bottle Gourd leaves: 10 (or more according to how much is your yield) Alternatively, you may use banana leaves (not edible) or pumpkin leaves.
Green Chilies: Finely chopped. The more the merrier. Just kidding. Stick to one chilly for one paturi.
Onions: 1 big onion. Finely chopped.
Garlic: 4/5 cloves. Finely chopped.
Mustard: make a paste with a pinch of salt
Poppy seeds: 100 gm. Make a fine paste
Desiccated coconut: 1 cup
Turmeric powder: 2 tbsp
Red Chili powder: 2 tbsp
Cumin Powder: 2 tbsp
Mustard oil: Half a cup (100 gm)
Salt to taste
Procedure to cook Macher Dimer Paturi using Lau Pata (Fish egg Paturi cooked in green leaves)
Clean fish roe under running water. The task might look daunting. But I swear this is easier done than said! A fresh fish roe will stick to the sack while the impurities, if any, will be washed away.
Keep the fish roe in a bowl. Add a bit of salt and turmeric and vigorously stir this with a fork.
With a fork, mix it in. Stir in vigorously, like you are about to make Dalgona coffee. I know you know. We have done it in lockdown. We all did!
Now, add in spices in the mix. Salt, turmeric, pinch of red chilli powder are all you need.
Make an even paste of mustard paste, poppy seeds and grated coconut. You have to use Mustard paste to make paturi. As a mellowing agent to the mustard paste, add poppy seeds or coconut, either of them or both. I prefer to use coconut paste.
Gradually stir in the fish roe mash.
I know it may be daunting to think, but in my experience, while stirring in the said paste, the fish roe became eventually of desired consistency. It should be thick, not runny. To balance the right amount of moisture, you can pour in grated coconut or water accordingly.
Now clean each leaf. Apply a bit of Mustard oil. Put in some fish roe (fish egg) mix. Cover it. How to do it properly? I have a video tutorial for you on Instagram.
In case you are using banana leaf, ensure you put that on the oven, on direct flame for a fraction of a second, and then apply the mustard oil. You may put it in a tiffin box and steam it in the rice Hnari. That is a tried and tasted cooking method from the days of our Dida dadu!
Now, fry the leaf, on both sides on heated oil. You need to shallow fry, not more than three to four minutes on each side. Each side is the key word here.
Serve macher dimer paturi with piping hot steamed rice. The leaf is to be eaten, remember, in case you are using Lau Pata or Kumro pata. For banana leaves, you need to take out the real thing and discard the leaf. 
Also read the following fish recipes if you are a fan of Bengali fish dishes!
Kerala style Meen molee
Daab Chingri: prawns cooked inside a green coconut shell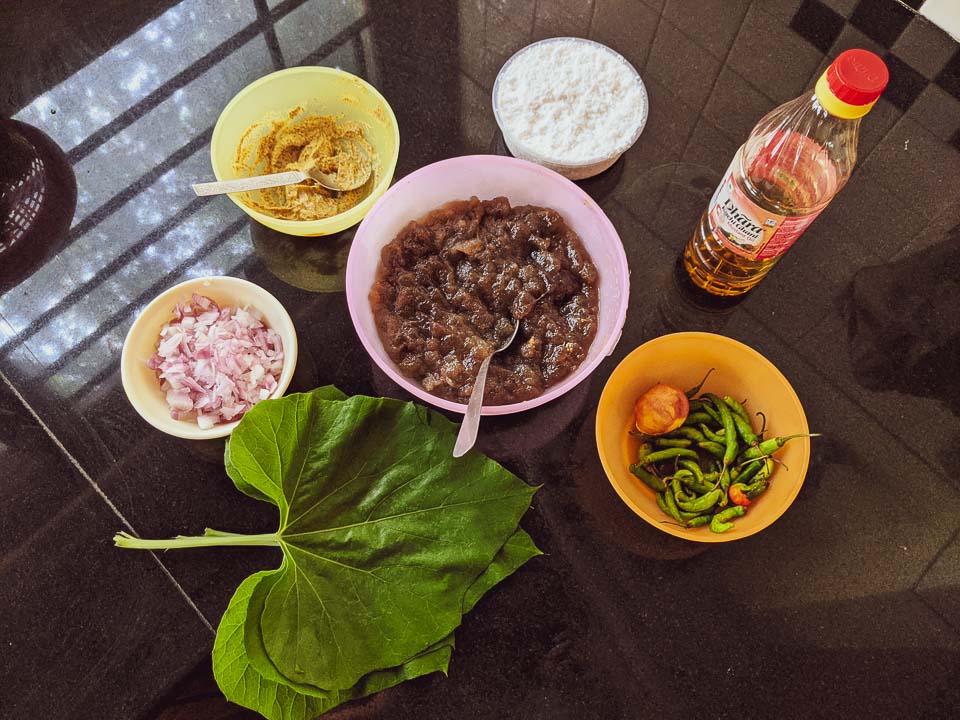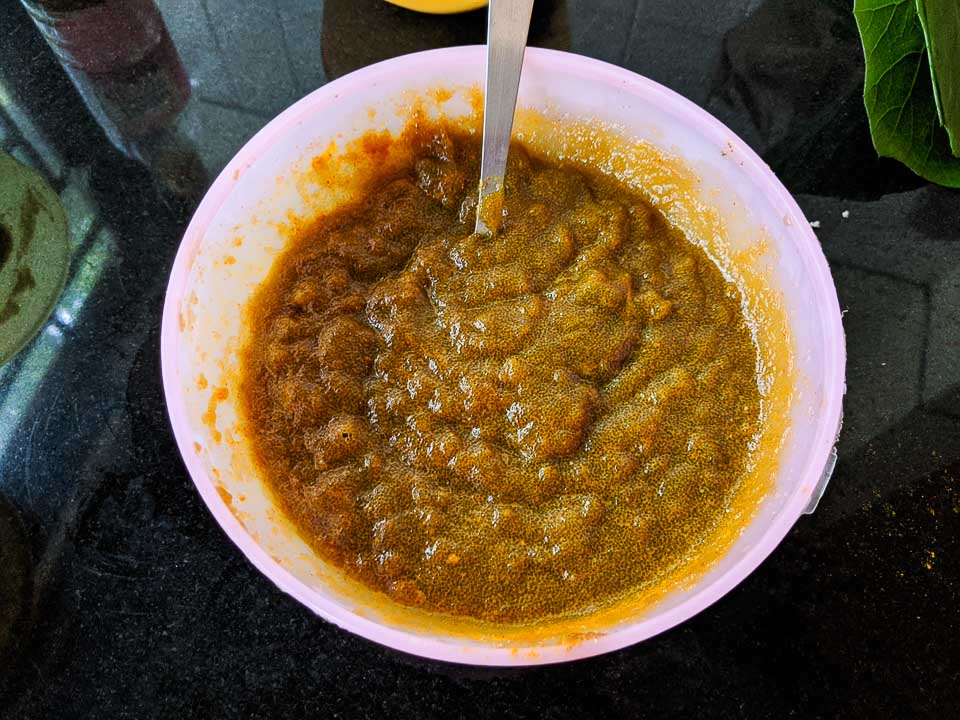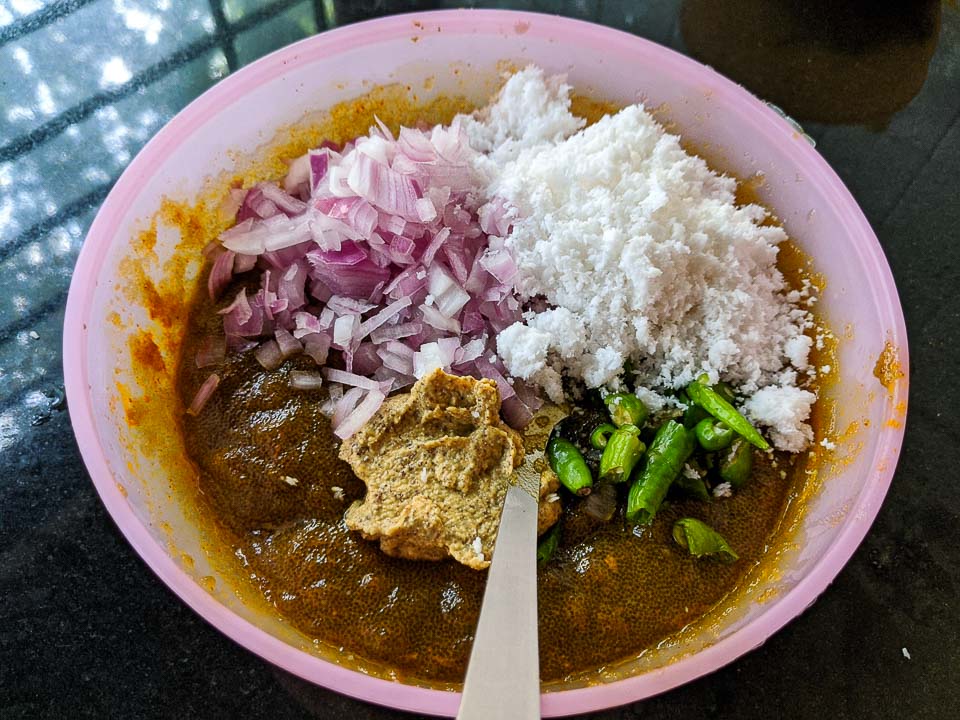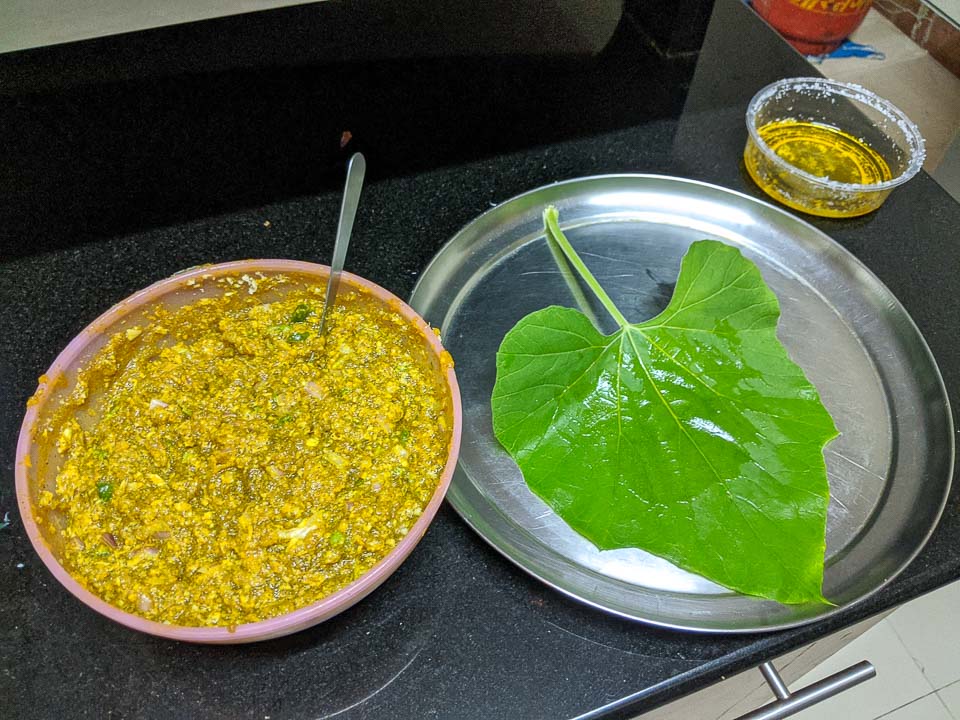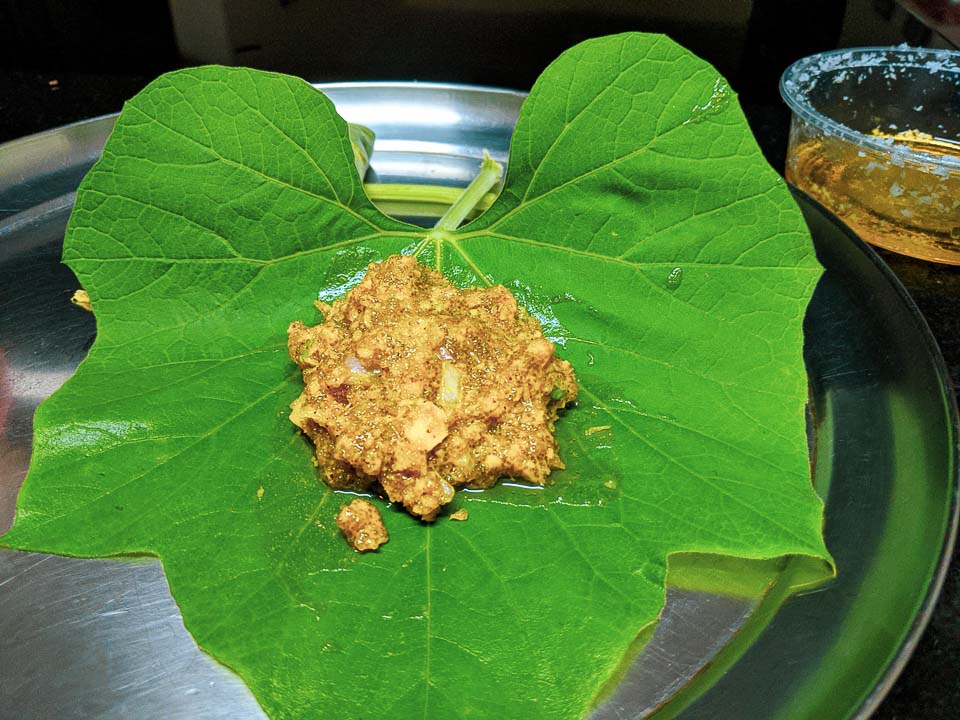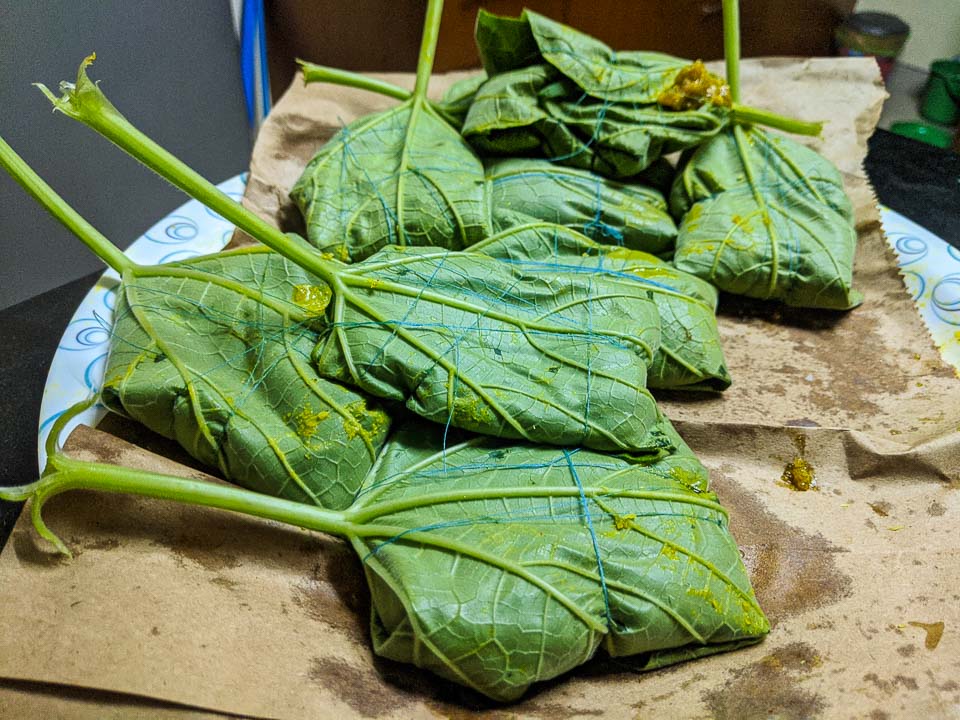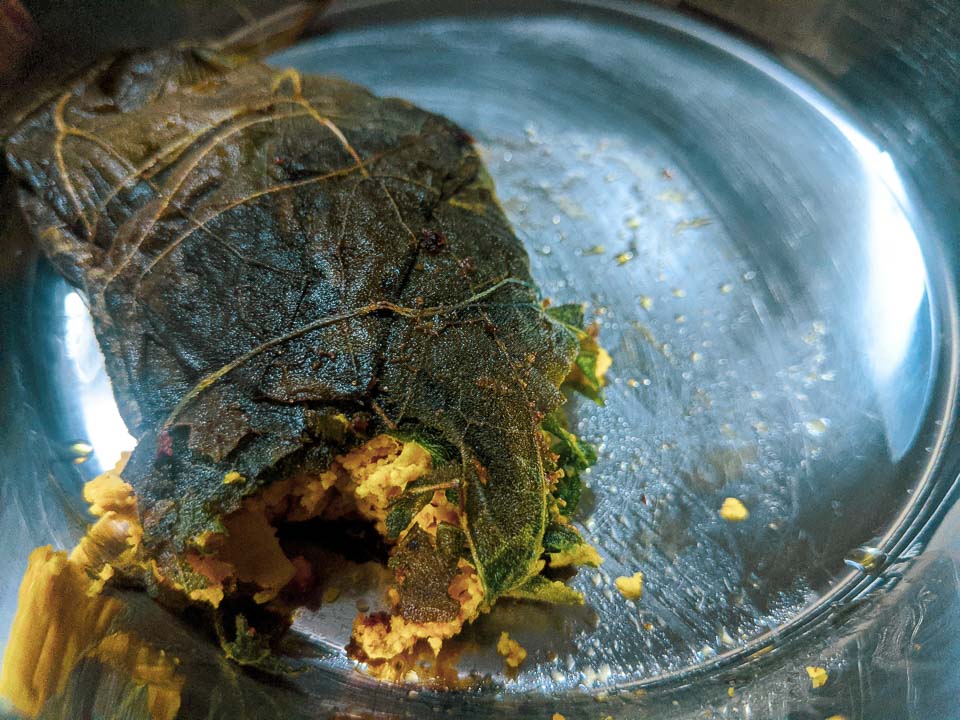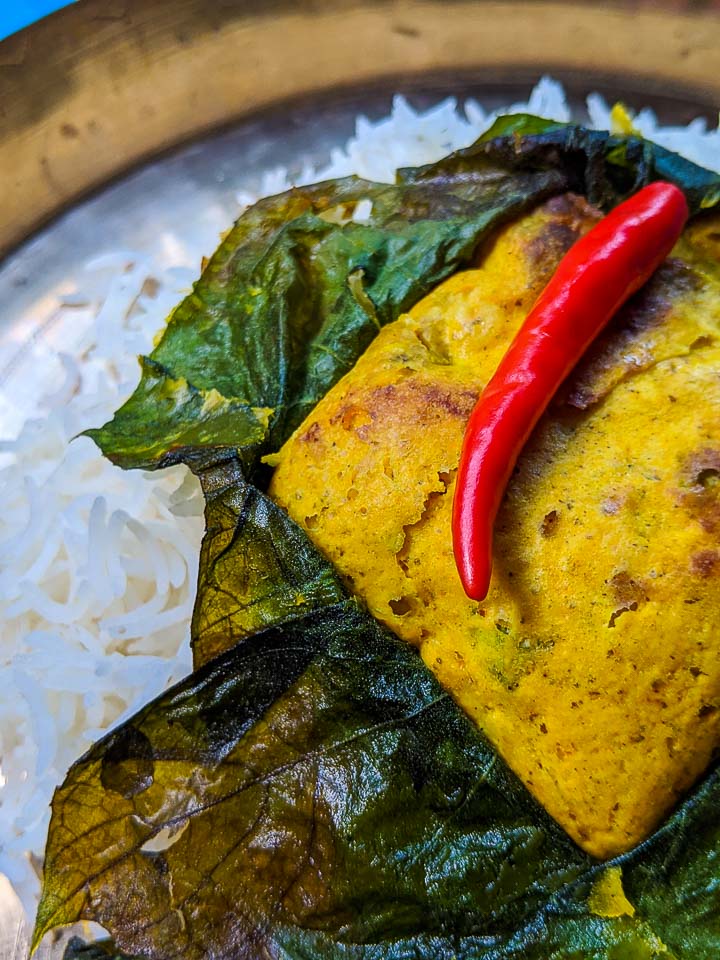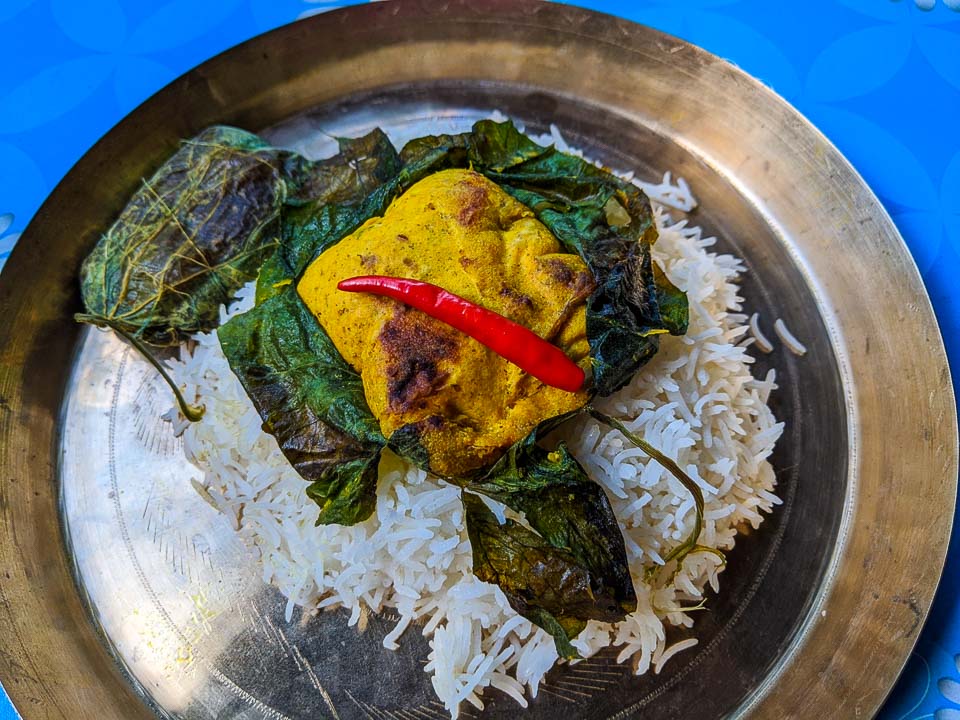 This post may contain affiliate links. Please read the disclosure post. If you have liked the article, you may support it by buying using these links without any extra cost to you.
Let's stay connected on Facebook, Instagram, Twitter! You may also consider joining my mailing list. I send travel and photography related emails only once a month!