Daab Chingri is a Bengali variant of prawns cooked in tender coconut. It is a classic coastal preparation. You may recreate this recipe with chicken.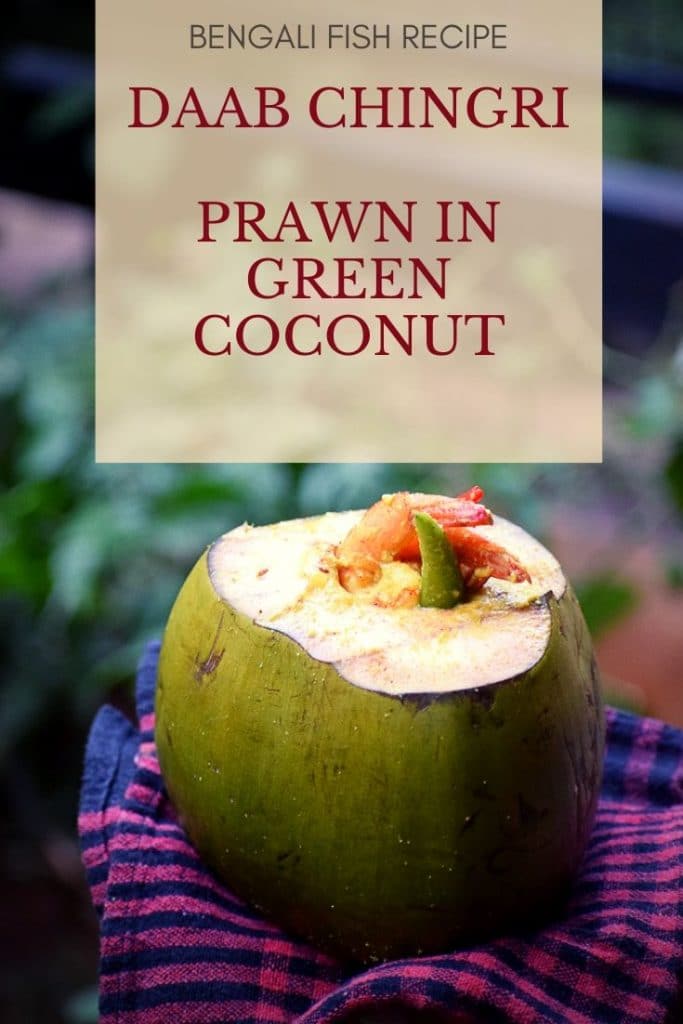 Daab Chingri as we call this mellow medley of slow cooked prawns and coconut meat, cooked inside a whole green coconut shell, is as authentic a Bengali dish can get. It dates back to a few centuries or more.
Read all my recipe here on the Cookbook!
While growing up, we hardly had a habit of eating outside. Once in a while, my dad would bring home food from restaurants. Special Mutton Biryani from the shop named Haji in Behala and Chinese, basically fried rice and chilly chicken with a thick coat of arrowroot from Kichukhon in Howrah. Sometimes they were served to him at several conferences and meetings he would attend. But I do not recall going out to eat. "Bairer Khawa", outside food was rather frowned upon.
This was a rather universal Bengali household practice. My friends from high school validated, "No… I mean we would only go and eat at Bengali restaurants to eat things like Daab Chingri and likes… you know, those which we cant cook at home!"
There were only a handful of things that "we could not cook at home". Only those which needed a special equipment like an oven. An Unun. Unun is traditional oven made of earth and fueled by coal or wood. Last I saw my Dida cook in that before the turn of 2000.
In the book named Thakurbarir Ranna by Purnima Thakur, cooking of Daab chingri is mentioned with nonchalance. "Just stuff it in the coconut and put it in the oven", manner. You know, like it is not a big deal! Coconut shell is to be further sealed with an Atta (wheat flour) dough and inserted inside the Unun, the earthen oven! There, in the flame of Kath koila, magic will witness marriage of Bengal's river prawns and green coconut meat.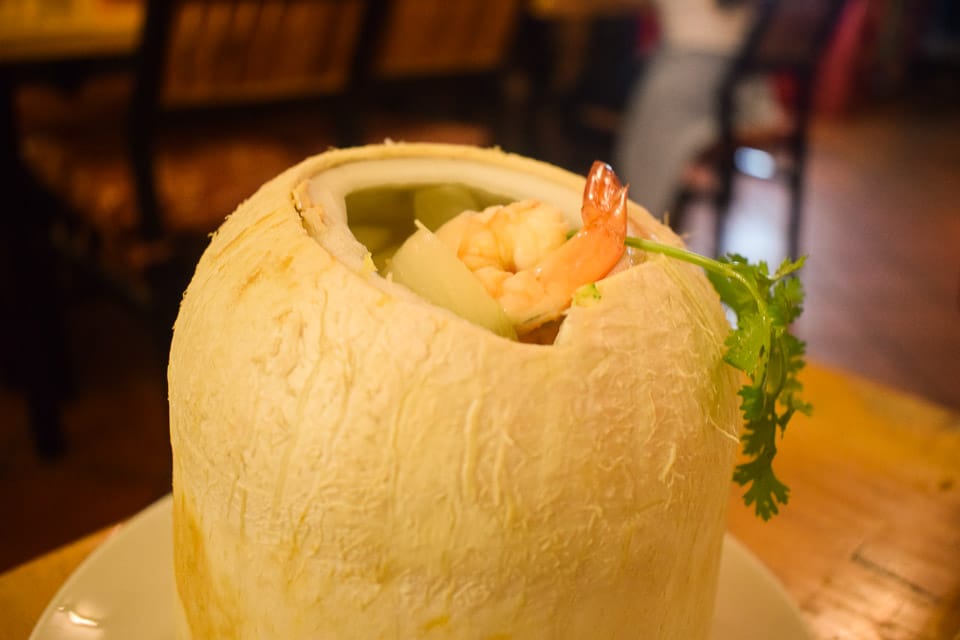 Apart from Bengal, I have seen something similar in Saigon, Vietnam. At district one, the backpacker's den, a number of local eateries serve a delectable dish. I am unable to recall the name though. 
But boy oh boy, cooking Daab Chingri was a novelty when we first tried our hands at it in Bangalore! We are the unlucky millennial of twenty first century. Forget Kathkoila or an Unun. If we can make our way to a full fledged kitchen, we feel lucky!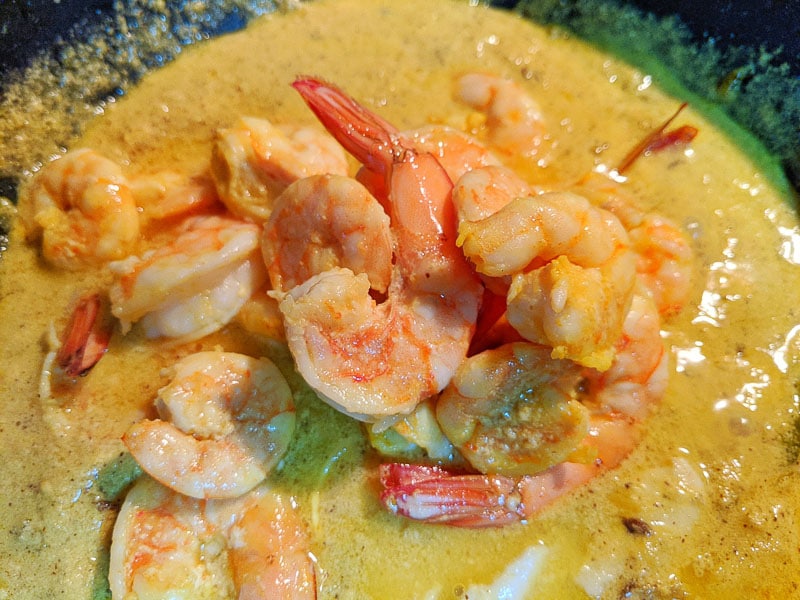 The first day S and I met at Madiwala market and further went on buying a fish spree, we ensured we had prawns in our Tholi, the sachs. If you know, you know!
On our way back, we picked up some dabur coconut milk. As we made our way out of the Top and Town, Indiaranagar, we saw an old Muslim man sitting under a banyan tree and selling a small heap of coconuts on a Thyala.
"Ish, we could have made some Daab Chingri!" I exclaimed. S nodded. He is a sweetheart when it comes to cooking. How to start a food blog? Someday I shall write a story. "You need to have food ingredients and an enthusiast partner…" 
That day, we were content with Chingrir Malaicurry. In a few weeks, we cooked Daab Chingri!
Then we cooked it again… again… our friends noticed. We fed them too. They loved it.. and we cooked it again…
This was a cycle we loved recreating, cooking Daab Chingri…
And here I am, writing about Daab Chingri, and our myriad emotion associated with it! 
Here is an easy Daab Chingri recipe for all of us, which can be recreated at a basic kitchen. Should the kitchen does not possess a micro oven, thou shalt make do with a pressure cooker. Bereft of a pressure cooker? Come on! You must have a Big vessel at least? We would double boil tonight!
How to cook Daab Chingri: You will need the following ingredients (Yield: 4 servings)
Green coconut: 3 to 4
Prawns: 500 grams (De-shelled and deveined. Keep the tail intact)
Onions: two pieces (small onion)
Mustard paste: 100 grams
Half a cup Poppy seed paste (100 gm)
Butter: 3 tbsp
Coconut meat: 2 cups
Coconut water: 2 cups
Turmeric powder: two tablespoon
Sugar: 1TBPS
Salt to test
Procedure to cook Daab Chingri
Brunoise the onions. Keep them really small. If you want you can also use onion paste.
Marinade the prawn in salt and turmeric. Add a dash of lemon juice.
Prepare the green coconuts for Daab Chingri
You need to scoop out the meat as much as possible. Also use coconut meat from two other coconut shells. Finely chopp them or or you can make a coarse paste of that coconut meat. I just tear them in small pieces while cooking. Slightly hardened coconut meat needs to be pasted. Save the coconut water. Ensure that this dish does not require normal water for moisture. Whenever needed, add coconut water instead.

Heat butter. Add the marinated prawns. Shallow fry them for not more than 2 minutes each side. You can steam them as well but I like the smell of butter.
Heat oil again. We use mustard oil. When oil is heated, temper the oil with whole cumin seeds. You can also use whole Garam Masala but I like my Daab Chingri very mellow. 
As the cumin starts to splatter, add a couple of green chilies. 
Add onions and cook them till translucent. Add a pinch of salt. 
Now add the mustard paste. Cook for a while. Stir in poppy seeds paste. And add the coconut meat or malai.
Let it cook for 5 minutes. At this stage add the fried prawns.
Let it cook for 2 minutes more. Sprinkle some mustard oil from top. 

Now is the time to move the green coconuts inside a micro oven. In case you do not have a micro oven you can also cook this in a heavy bottom Pan or a pressure cooker.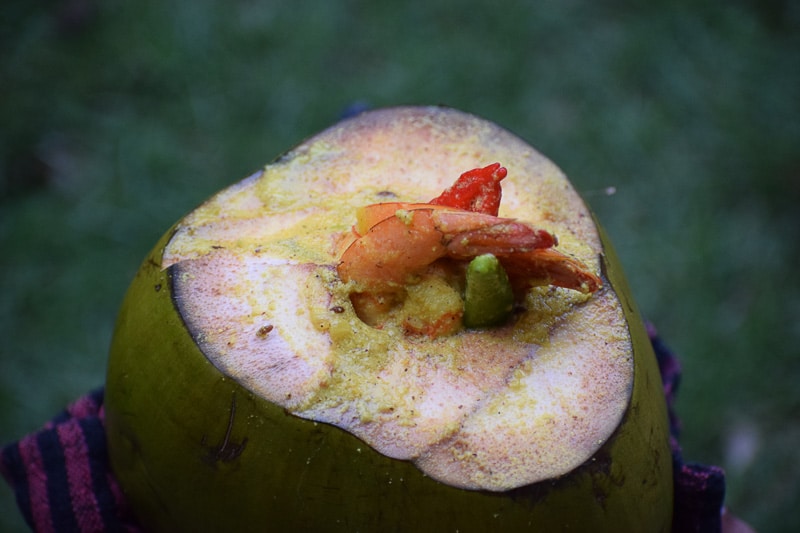 For cooking Daab Chingri using a micro oven
Using a spoon insert all the prawns inside the coconut. How many prawns in a coconut shell will depend on how many coconuts you have. Keep some space to pour in the gravy, otherwise prawns will be bereft of moisture.
Stuff it and close the mouth of the green coconut with its original head. In case you don't have that you can use a flour dough or put it it on micro as in. Micro it for at least 15 minutes. I don't put it on convention mode. You may use an oven to do the whole drill.
Covering the mouth of the coconut shell ensures a dum cooking method, Indian version of slow cooking is employed.
How to cook Daab Chingri without a microwave
Take a heavy bottom pan. Pour in some water, say one inch. 
Place a steel bowl. Carefully place the the dab, the green coconut on top of it. Now cover the pan and let it cook for at least 10 to 15 minutes. Do not open the cover immediately. let it sit on Dum for a while. 
Daab Chingri is served best with steamed rice.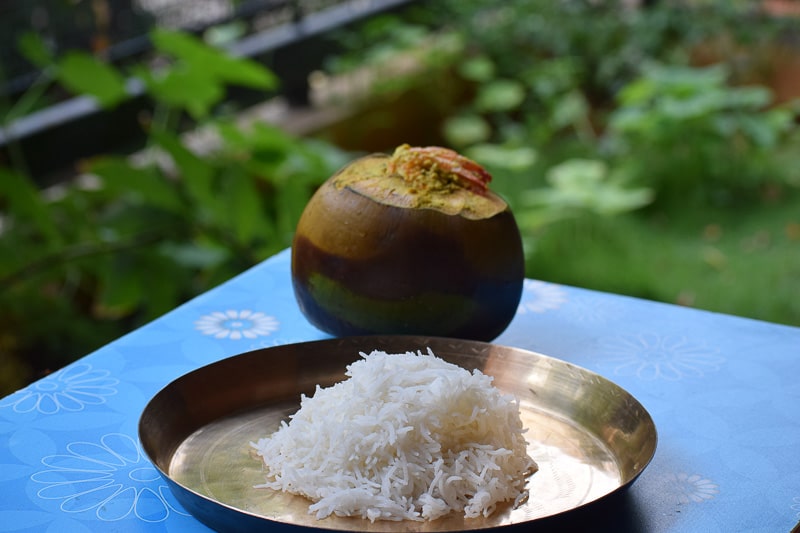 Pro tips for cooking Daab Chingri
While preparing the mustard paste, specially from readymade powder, do not forget to add a pinch of salt. This will save the mustard paste from going bitter.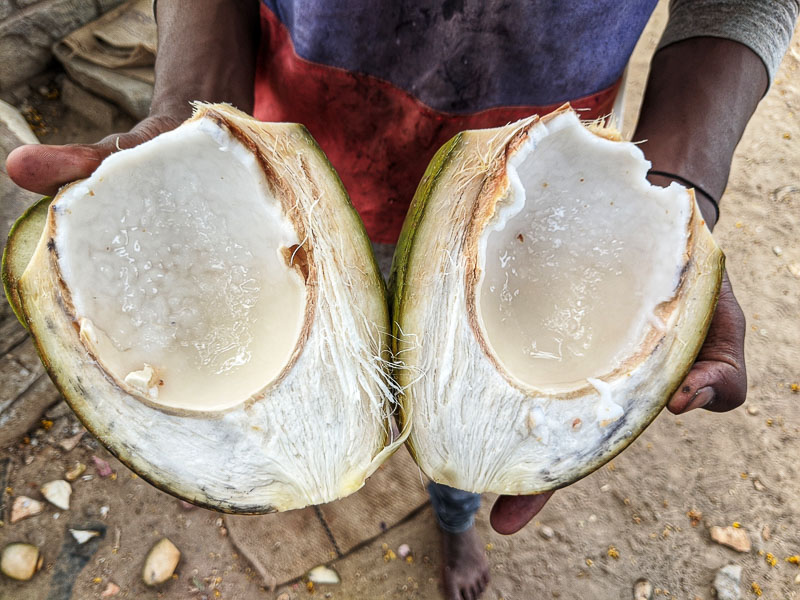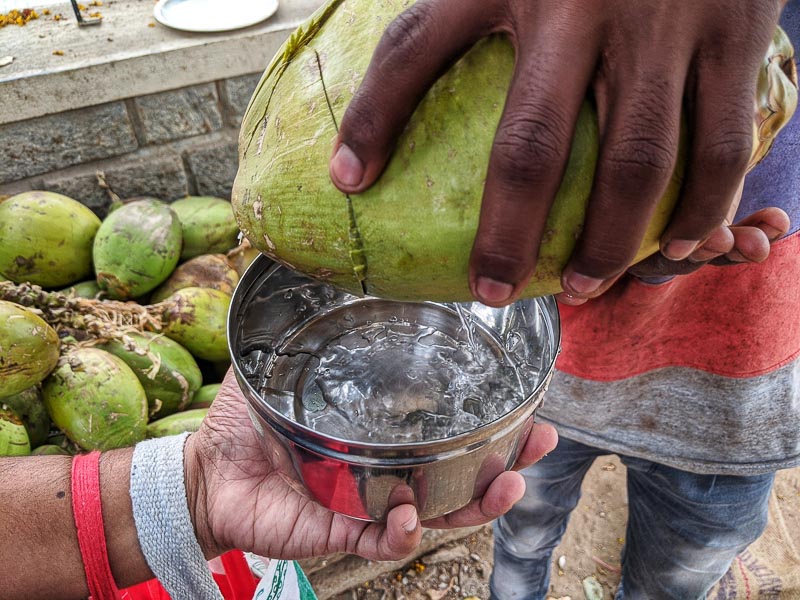 For more recipe on Bengali fish curry, check out the following:
Chingri Malaicurry
This post may contain affiliate links. Please read the disclosure post. If you have liked the article, you may support it by buying using these links without any extra cost to you.
Let's stay connected on Facebook, Instagram, Twitter! You may also consider joining my mailing list. I send travel and photography related emails only once a month!