One of the regular Bengali idioms goes, "Mache Bhate Bengali." A Bengali is ideally grown with a staple diet of rice and fish. In recent times, I have been binging a lot of YouTube Vlogs by Bengali lifestyle creators and I eagerly look forward to seeing the day's fish cooked at their house. It is one of the most delightful experiences of their daily life!
Traditionally, the man of the house goes to the fish market at the start of the day. The earlier you go, the better fish you get. As the day progresses, only the leftover fishes remain at the shop, ogling at you to be taken, lest they end up raw in a cat's stomach. The man brings the fish home. The woman sits in the courtyard, uses a handful of ash and cleans those fishes. 
Her responsibility is to cook a fresh fish curry and serve it with piping hot rice just before the man leaves for office, Aapish. I have read a lot of similar accounts in Prabhat Kumar Mukherjee's short stories from 60's Bengal. I have seen a somewhat similar life at my grandparents' home.
My dida, the maternal grandmother, was a school teacher. However, she would be very particular while cleansing and cooking the fresh fishes that my retired Dadu would bring home from the morning market. One particularly intriguing thing was to see her cleanse the Jiol fishes, a type of catfish that remains alive in the air for a certain period. I would sit by her side, along with a few cats. The cats waited for the discarded parts of the fish. The wiggling bodies of the fish intrigued me the most, even after they were cut into halves. 
In a hurry, the fish curries were made aided by the least amount of spices. The aroma of freshwater fish and a few fiery hot chillies blended superbly with  a dash of mustard oil that melted better than ghee with the steaming hot rice.
For elaborate fish affairs, like Paturi or Bhape or Kaliya, we had to wait for a special occasion. Say a Bhai Fonta or a Jamai Shashthi. Or the annual family meet held right after Bijoya Dashami, Durgapuja. A couple of fish followed by slow-cooked Mutton accompanied with white rice. Life seemed good!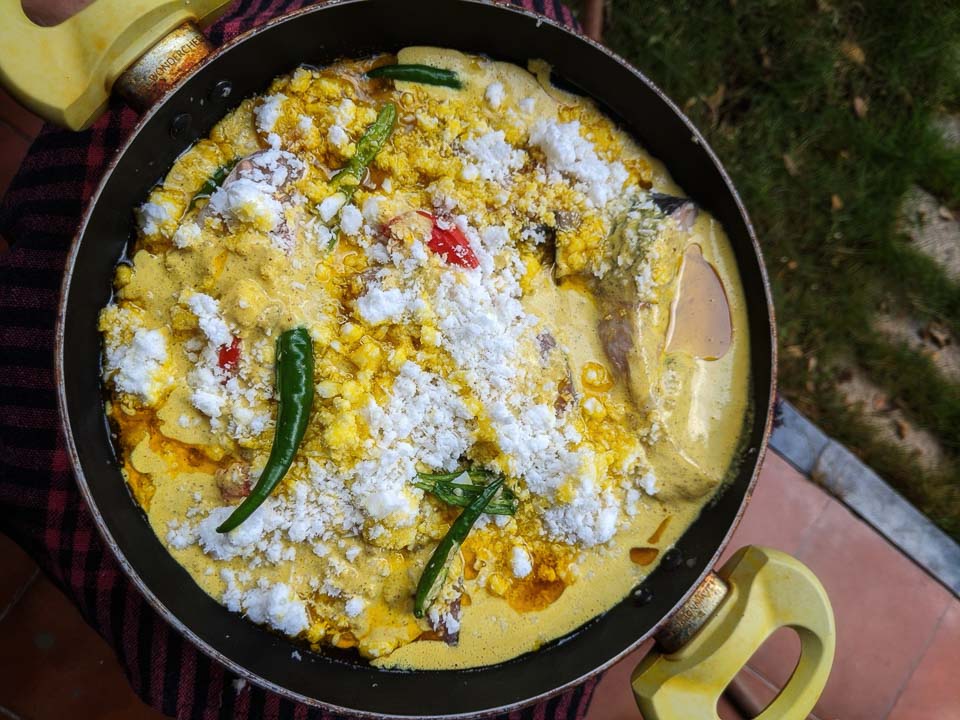 Gone are the days when we had to wait to cook a feast for a special occasion. I can do it any day I want to. But I refrain. I count my calories. I count the time I need to burn them by running on the treadmill. Or I just  conveniently skip a meal or two. Sometimes, I just cook in volume on a weekend. Weekdays are for work. How will I do more? I wonder how dida juggled between a full time job, rearing hobbies like Bangla serials and library and maintaining a family. She helped my mother bring up two kids too. She was indeed a super woman.
Fish is a staple in our Bengali household. In some places, it was evident, like Kolkata and her suburbs. In some places it appeared in lesser volume but it appeared nonetheless! My father's family hails from Bankura. The rivers in Bankura, a region located at the meeting point of Chotonagpur Plateau and Gangetic plains, was devoid of the water originating from the glaciers of the Himalayas! Fishes were found but they were less in number and very little in variations. I remember the beautiful Onion and Tomato rosha that my paternal grandmother used to cook frequently which used a little to no spice mix.
Both sides of my family can trace back their origin in Bangladesh, erstwhile East Pakistan. They migrated to India after the partition of the subcontinent. The fish items I eat have a heavy influence on all these regions. The fish I cooked today, with a little help from my partner, also has heavy influence from the cuisine of East Bengal. 
In this blog post, I will highlight a few fish dishes deemed to be all time favourites by the Bengalis beyond borders. Food doesn't understand politics, geographical boundaries, or international diplomacy. It understands intangible cultural heritage and traces back the invisible footprint of each family, together who make a clan and form a community. The Bengali fish dishes testify to that fact. Born to the resourceful soil of Gangetic plains, they have withstood the gnaw of a turbulent political upheaval yet remained steadfast in their distinct smell and taste and style of cooking. This makes for an intriguing study of the human race!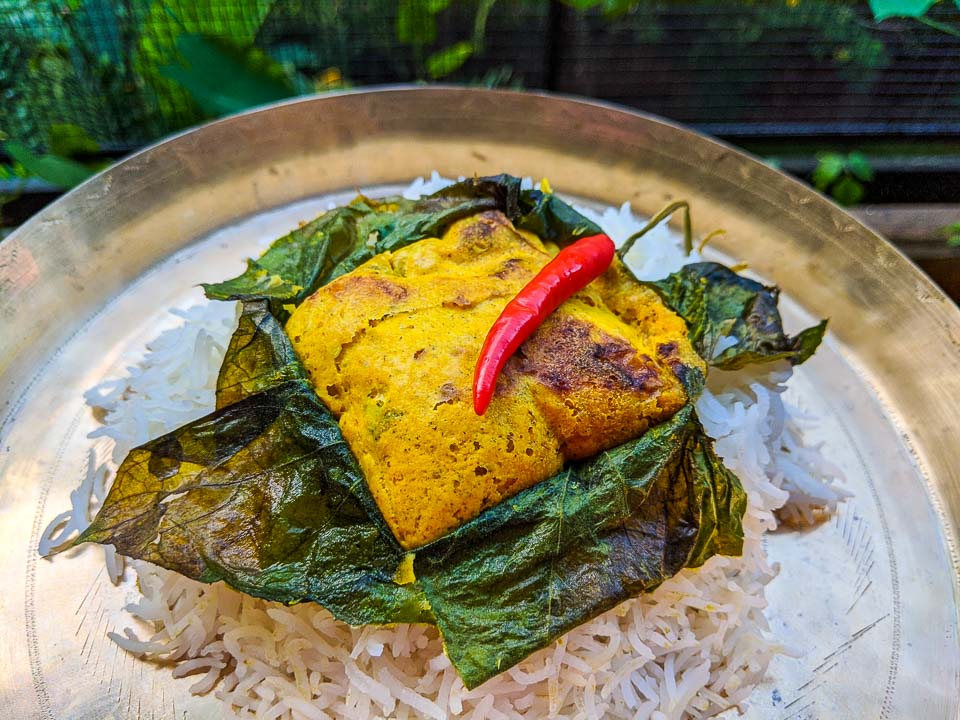 Bhetki Paturi: Sea Bass Wrapped in Plantain leaves and Steamed
The much acclaimed Kolkata bhetki or Sea bass actually finds an easy entry to Bengali cuisine. The British colonists also became fond of the fresh fish with white odourless flesh that was suitable to be cooked in French dressing.
White Bhetki is cooked very well with cauliflowers, the fresh yield of winter fields, a special feast demands Bhetki Paturi. Answering to Patrani macchi, which is dear to every Parsi household, Bhetki Paturi uses Posto and Sorshe mix (Poppy seed and mustard paste) along with grated coconut and a slice of green chili. The mix with a fillet of boneless Bhetki is wrapped carefully in a leaf, ideally a plantain leaf. In the absence of plantain, you may also use pumpkin leaves.
Steam the paturi on a slow flame and use a little bit of mustard oil to ensure they do not stick to the pan. Bhetki paturi serves best with rice or Basanti Polau!
Also read: Rogroge Bhetki Kaliya Recipe!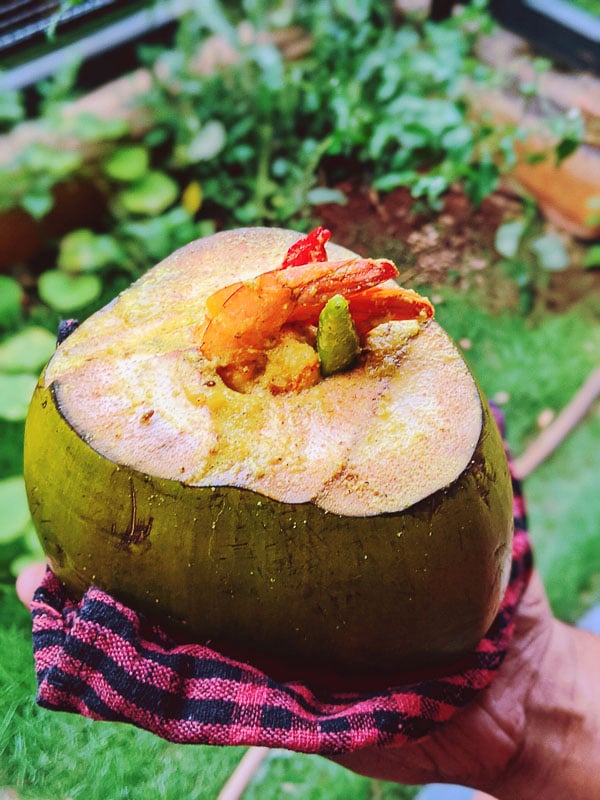 Daab Chingri: Mellow Prawn dish cooked inside the shell of a green coconut
Daab chingri is a mellow prawn curry cooked in a very rustic way. I have tasted a similar dish in Saigon, at the Mekong delta. Just the spices used were different.
Earlier, the Bengali kitchen had widespread use of an earth oven in the kitchen, fueled by coal or woods. You could easily take a daab, a green coconut. Deshell a few prawns. Saute them for a few minutes with a paste of poppy seeds and mustard. Put the mix inside a coconut shell and close the mouth with flour. Slow cook this beautiful dish inside the lusty fire of Unun, the earth oven. After 20 minutes, take the coconut shell out of the heat.  
Days have changed and I have adapted newer ways to cook Daab chingri at home. I use the pressure cooker instead. Sometimes, I trust the microwave. Nonetheless, Daab chingri turns out to be a favourite across generations!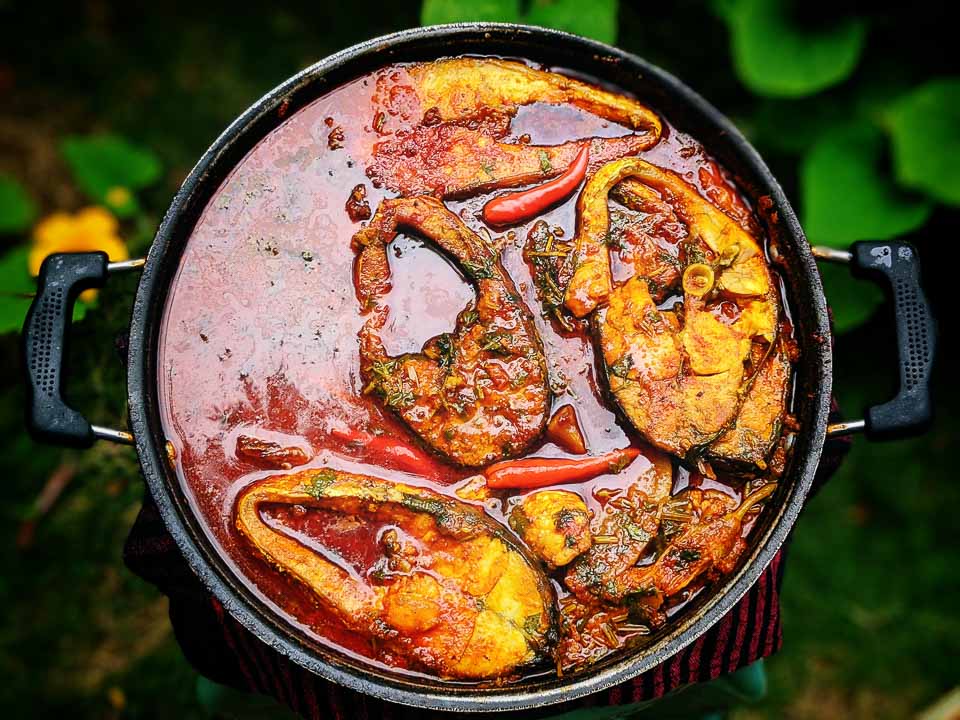 Katla Kaliya: A delectable carp curry served at Bengali weddings
Katla or Rui is often called Pona Mach in bengali households. Many say they can make a difference in taste. To be honest I can not. However, I love both the fishes, hailing from the carp family. The bigger they are, the tastier they become. For a traditional Bengali wedding, a large katla is usually sent to the girl's house. Katla fish is used as a whole in Bengali cuisine. The fish head goes in vegetables medley or daal. The egg is made into fritters. The oil is made into Bora.
Katla Kaliya is a beautiful rich spicy gravy made of onion, tomatoes, green chilies and a lot of spices, Kashmiri red chili being the dominant one among them. I always make sure to pick my prized piece, a peti with white oil bordering the side. S likes the Gada. These two are the prized pieces of a Katla fish. If you opt for a large Katla, the fisherman often gives you the Lyaja (tail) of the fish for free!
Chitol Macher Muitha
Chitol is a freshwater fish which is largely popular in North Bengal and parts of East bengal. Chitol peti is a prized cut of fish which has the right balance of white fish flesh as well as ample amount of oil.
To make Muitha, a side of chitol is ideally scooped. The technique is a secret skill of Bengali fishermen. I have not found anyone else who prepares chitol with that mastery. Everyone is keen on selling Chitol Peti instead which is decent nonetheless.
Scoop them, make a ball with some spices, boil them in hot water, fry them until they merge well into a gravy. This is how Chitol Muitha is made. It is often served with steamed rice. A spicy dish, Chitol Muitya is slowly getting lost in the list of the lost recipes of Bengali cuisine!
Mourola Macher Chochori
Mourola is a tiny fish. However it sells at a high price since the availability is rare. If you know Puti, Mourala has also come to your radar. Usually they are sold from the same lot where they are farmed. However, Mourala is way tastier than Puti in my opinion. Mourala is often served fried in golden brown. You may also choose to cook mourala into a chorchori style, with ample amounts of onions, tomatoes and topped with generous amounts of coriander leaves! Amodi, Kajori are fishes of similar shape and taste which can be turned into a beautiful chorchori too. Use more oil and refrain from frying the fish. It enhances the taste!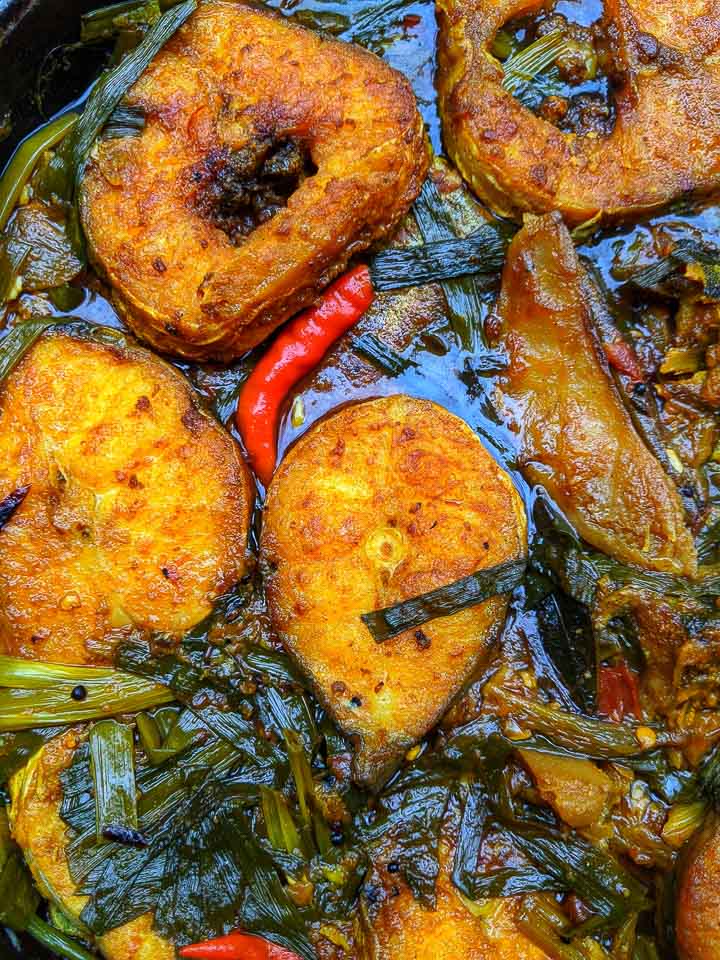 Boal Macher Kalo Jire diye Jhol
I have recently found my love for this extremely beautiful fish curry. To make the best of this dish, opt for Boal fish as large as you get. Nothing less than 5 kg will do justice to this dish. Make large steaks. if you have found a black boal, you are a fortunate soul. If it is a white boal, it is still okay.
Temper mustard oil with generous amount of nigella seeds. This process will be the crux of the taste of this particular fish curry. Slowly add in a paste of tomato and onions and green chilies. Add in the boal. Are they fresh? You do not need to fry them then. If not fresh, Fry them briefly. Finish the dish with a handful of coriander leaves. Serve Boal macher Rosha with piping hot rice for lunch!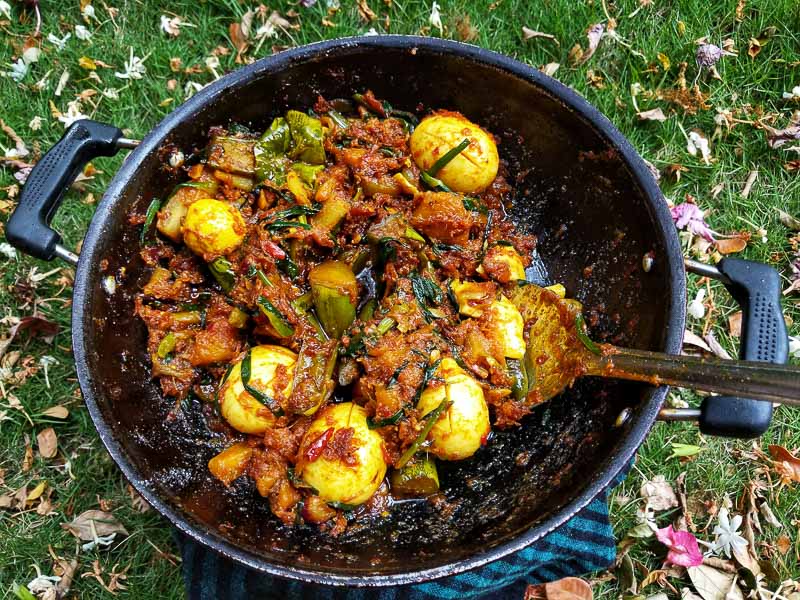 Lyoitya Shutki
I have heard a lot about Shutki, the dried fish of Bengal. The practice of drying fish is widespread in East Bengal, especially in the areas closer to the sea. We have seen similar practices in Tamil Nadu, Goa (dried prawns with coconut chutney), and some parts near Ganga Sagar and Sundarban area in West Bengal. 
However, it took me ages to start appreciating the quirky smell and taste of Shutki, as they call it in dried fish. It is often used as a derogatory term to depict a thin person.
S has his family from Dhaka, who loved cooking shutki, dried fish. They run marathon experiments with the dish and surprisingly Shutki turns out triumphant, never letting us be disappointed! We have added pumpkins and drumsticks to the extremely spicy connotation, thrown in some half boiled eggs, and made the spice quotient excessively high. We had a one pot meal bowl with shutki and quinoa. Shutki smiled and said, "See, how mind blowing I can be!"
The only challenge I found in the process of cooking shutki is to deal with the nauseating stench of dried fish. Over time, I have become used to it. You will, too if you are a real fish lover! Do not forget to cleanse dried fish in boiled water once you have received the packet. the fish is often dried by sea side and the sand gets stuck like sugar drops stay glued to a bag of candies!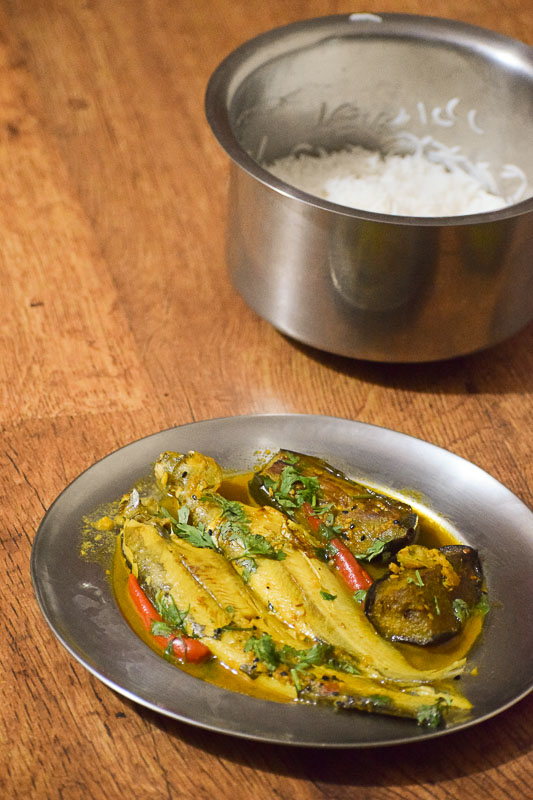 Sobji Diye Macher Jhol, Fish Stew cooked with vegetables (Winter Special)
This is my happy meal of fish curry and rice. A green basket of vegetables gets poured into the kadai that cooks this mellow fish stew, ideally with small sized carps (Charapona). The fish curry remits an inexplicable aroma of the fresh vegetables of winter, looks delicious with all the crunchy pieces of Sobji. Cauliflowers, potatoes, peas, carrots, radish: whatever you find make sure you add them to the stew. The vegetables them their own aura, and when that gets mixed with the fishy smell, the whole thing just gets elevated to a different level! Heaven will be brought to your plate. This is a great accompaniment with a bowl of steaming rice however I think this makes for a great one pot meal too if you are on a protein heavy & zero carb diet!
Tel Koi, Climbing perches cooked with Mustard Oil
At the beginning of winter, the Bengali fish markets witness the slow and shy appearance of Koi mach, climbing perches. Many Bengali mythologies tell the tale of Koi fish climbing a towering banyan tree on a rainy afternoon!
In Bangalore, I have spent my hard earned money and ended up having Chinese Koi (Hybrid of some sort I reckon) which broke my heart and I stay away from buying Koi altogether. However, in Kolkata, Koi is a winter staple, just like Hilsa is a monsoon staple!
To prepare Tel koi, choose the freshest yields of the day. Fresh Koi fish ensures the fish secretes enough oil that actually infuses heavenly aroma in the dish. Cook them in mustard oil in a mix of ginger and tomato paste. The oil is to be tempered with kalo jire, nigella seeds.
Pabda Sorshe
Pabda has a buttery white flesh that blends very well with any mix of spices. You can add little water and make a stew with negligible amount of spice or you may make a rich gravy of mustard paste and add the cat fishes in it. Pabda stands apart either way.
To identify a desi breed of pabda, which is tastier than the hybrid gigantic looking ones, look for a tiny black dot near its gill. This is also known to be Kani Pabda.
Mustard is used in abundance in Bengali fish items. Mustard paste is made of an equal amount of black and rai (white) mustard grains. Make sure you add in a little bit of salt while preparing the mustard paste to ensure it does not taste bitter. To cut the sharpness of mustard it is a good practice to add some yoghurt or poppy seed paste. 
Begun Diye Tengda Macher Jhol
A type of catfish, Tengda is a great tasting freshwater fish In Bangalore we only find white Tengdas. In Kolkata we used to find these dark black desi Tengdas, tiny in size and often sold live from a shallow pot of water. They taste exquisite! 
I love Tengda. They make for excellent light jhols cooked with a little addition of turmeric, chilies, ginger paste and coriander leaves. Mother used to cook these tengda with a gentle amount of eggplant slices cooked in long shapes. You can also cook tengra tel jhal, an iconic Bengali fish item where the fish is cooked alongside the spice mix directly on the kadai. In both cases, ensure you get very fresh fish. If you find frozen fish, the best practice is to fry them a little beforehand!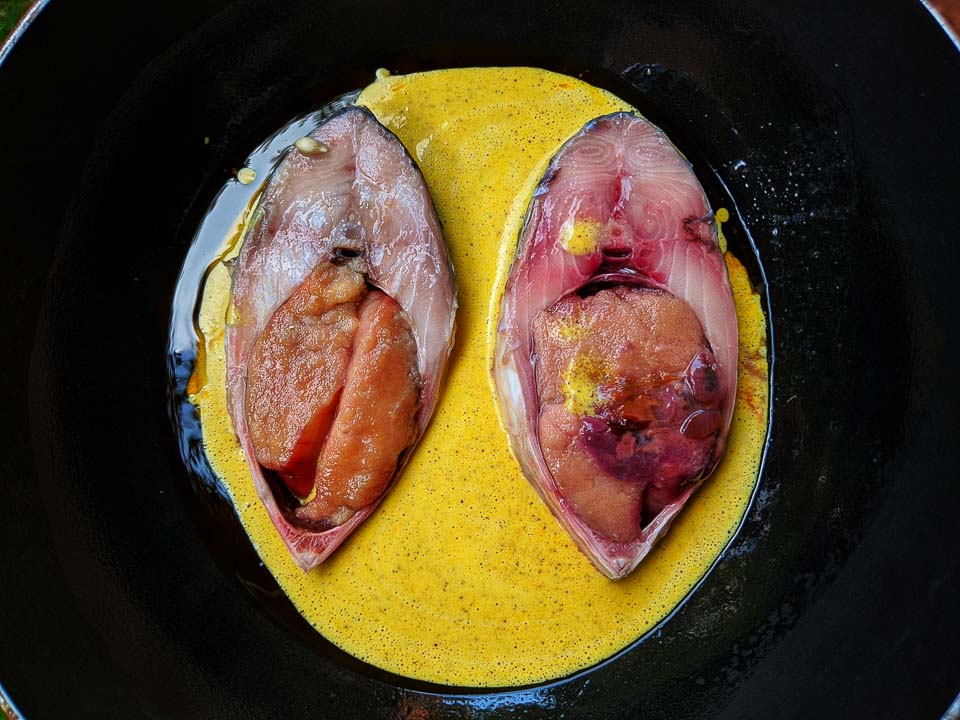 Ilish Mach Bhape
The crown jewel of the class of Bengali fish of all times, steamed Hilsa or Ilish Bhape is not just another fish dish. It is an emotion. It is a celebration! 
"Padmar ilish", the hilsa of Padma river now a part of Bangladesh, is a much coveted treasured item. People seek Padma Ilish as it has appeared multiple times in literary references of Bengalis. The government has taken legal steps to cut down on the supply of Khokha ilish, tiny hilsas sold for a cheaper rate that takes a toll on the hilsa population in the long run. 
Steamed Hilsa demands fresh, very fresh Hilsa. We usually mix in all the ingredients, with mustard being the primary binder and a copious amount of mustard oil. We also throw in a generous amount of green chilies. We use a double-boiler to cook Bhapa Hilsa. 
I remember during my stint with covid and home isolation, I lost taste and smell and had a difficult time eating. S went and bought me a large Hilsa, cooked the thing in mustard paste and this whole thing gave me so much joy during those tiring 15 days!
In this blog, I have written about the most famous fish dishes of Bengal. There are many more variants of fish, cooked in interesting manners. Many times, fish is offered to the Hindu Goddess on a Puja. For example, offering Jora Ilish (twin hilsa, denoting a couple) for Saraswati Puja is an important trait of certain families of east Bengal. Many techniques are slowly getting forgotten. Many dishes are being reinvented. Fish is an extremely important part of Bengali culture, intertwined with the cultural and political aspiration of the community.
---
This post may contain affiliate links. Please read the disclosure post. If you have liked the article, you may support it by buying using these links without any extra cost to you.
Let's stay connected on Facebook, Instagram, Twitter! You may also consider joining my mailing list. I send travel and photography related emails only once a month!