Recipe of Bhetki Kaliya with potato wedges and cauliflower. Just like the way they cook it at Bhojohari Manna, the Bengali restaurant! Bhetki is also known as Barramundi and Asain Seabass. This recipe is easy to replicate with any white fleshed fish and basic Indian spices!
Calcutta Bhetki is an enigma in the form of a fish. White fleshed. Minimal smell of typical fish. Not like a hilsa that makes its presence felt all the way from the fish market. Neither Golda, Bengali's shellfish answer to lobster. Oh wait, was that a pun?
Easily adaptable to a plethora of recipes from around the globe, Bhetki Mach is used in a Bengali kitchen with awe and a certain sense of exclusivity. Calcutta Bhetki is the quintessential ingredient for cooking every Ango Indian dish. Think fish and chips in Kolkata. Or think of the pride of Bengal, Bhatki Paturi!  How could I forget the Mitra Cafe Fish Fry! Any decent cafe.. erm.. Cabin Restaurants in Kolkata would be serving Bhetki Fillet! Bhetki can start a family with anyone.. Bhetki malai curry is a thing. You can replace Kingfish with Bhetki while cooking Meen Molee. (I hope that's not blasphemous. Though, I did not have to because Kingfish is available locally where I stay.)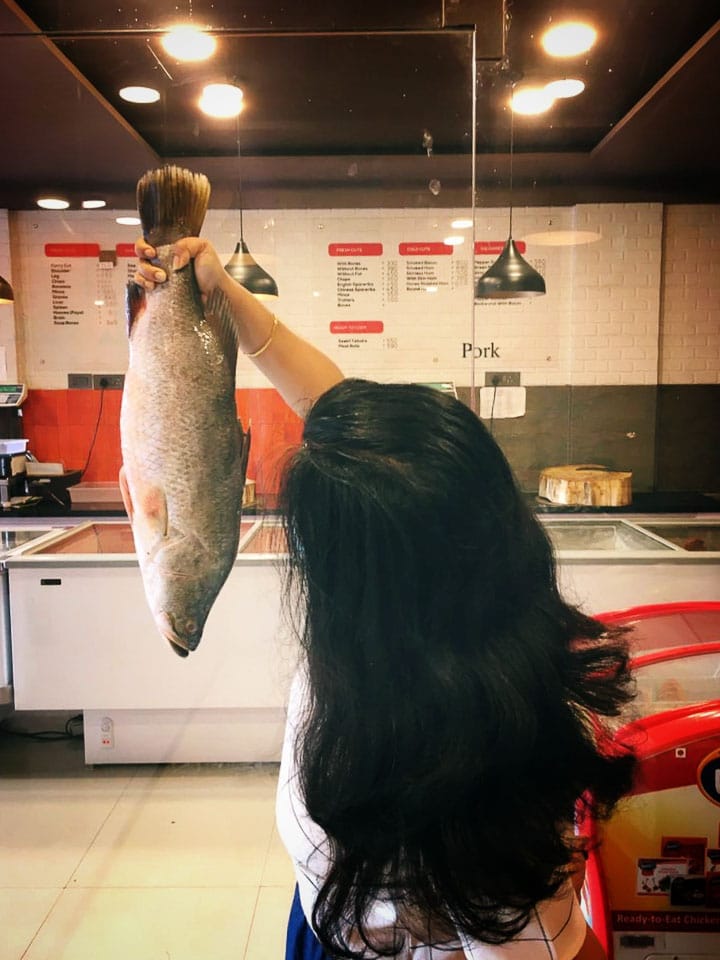 You may know Bhetki as Barramundi or Asian Seabass. I tasted similar fish while traveling in Myanmar. Specially trying out their Shan cuisine around the Inle lake area. 
During lockdown, our kitchen had limited supply of "Bengali fish" because well, LOCKDOWN. So the day we spotted this beautiful 2.5 KG Calcutta bhetki (or Barramundi or Asian Seabass) in the market, we could not help buying it!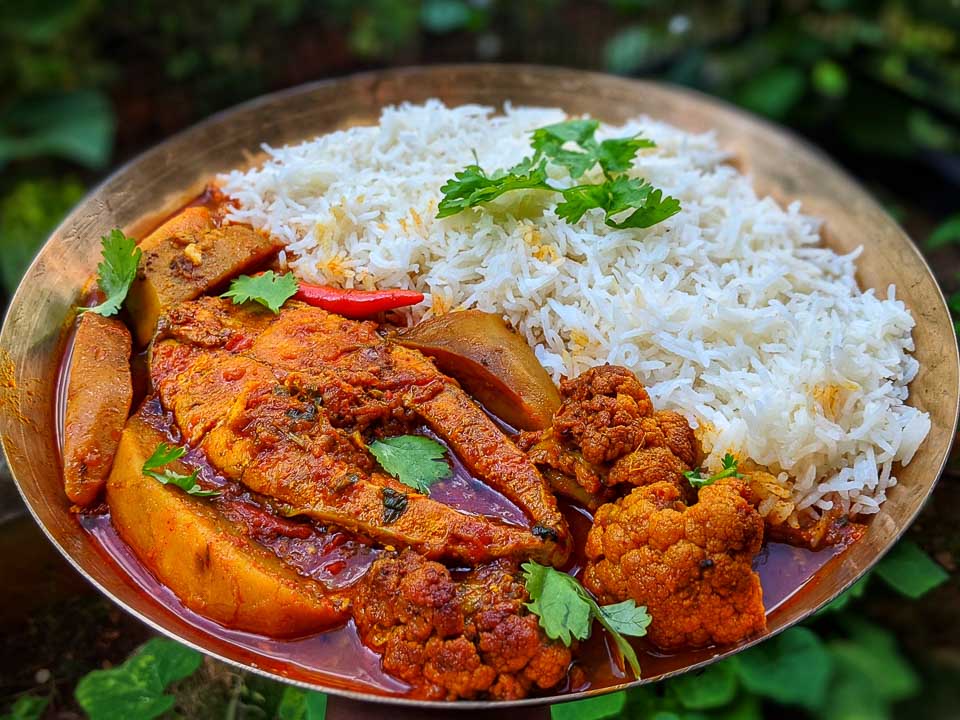 My idea was to cook a ROGROGE jhol!
Let me explain Rogroge to you before we proceed further! In crude translation Rogroge is gory. Rogroge is a word used to describe those detective novels, a frail attempt to translate shady Hollywood thrillers of 90s! Think florid red. Think unrequited love ending in a murder. Blood. More blood. Goosebumps.
How did that rather scary part of human emotion become appetizing to us Bongs? Rogroge Macher Jhol? I do not have an answer. But I will tell you where I heard it first!
I remember an aunt trying to pitch me for lunch box during college days. I used to study hospitality management in Salt lake and that was a long commute from Behala. I never used to have breakfast or lunch from home, because that was not priority. Usually I had some pocket money, INR 30, which would buy me few packets of bourbon biscuits. This lady saw that, took pity on me and proposed, "Come home. I will feed you rice and fish curry."
We agreed on a very affordable rate and she said, "I will cook you a Rogroge fish curry with vegetables everyday." She kept her promise and would serve me a Peti everyday with a side of gourd and potato! Sometimes cauliflower. I would go to her flat during lunch break. She would serve me a chilled glass of water, the food, some rice and daal and Ucche Bhaja, which I did not eat, and the fish curry. She lived with her family, a son, a daughter in law and a small kid. Once she refuged to take money from me. When probed further, I came to know it was her grandchild's birthday.
Sometimes, I wish I could have enough words to thank people who took efforts to feed me at different points in life and shower me with love, unconditional, almost all the time! Well, S, for one example, is one such soul! That story can wait though.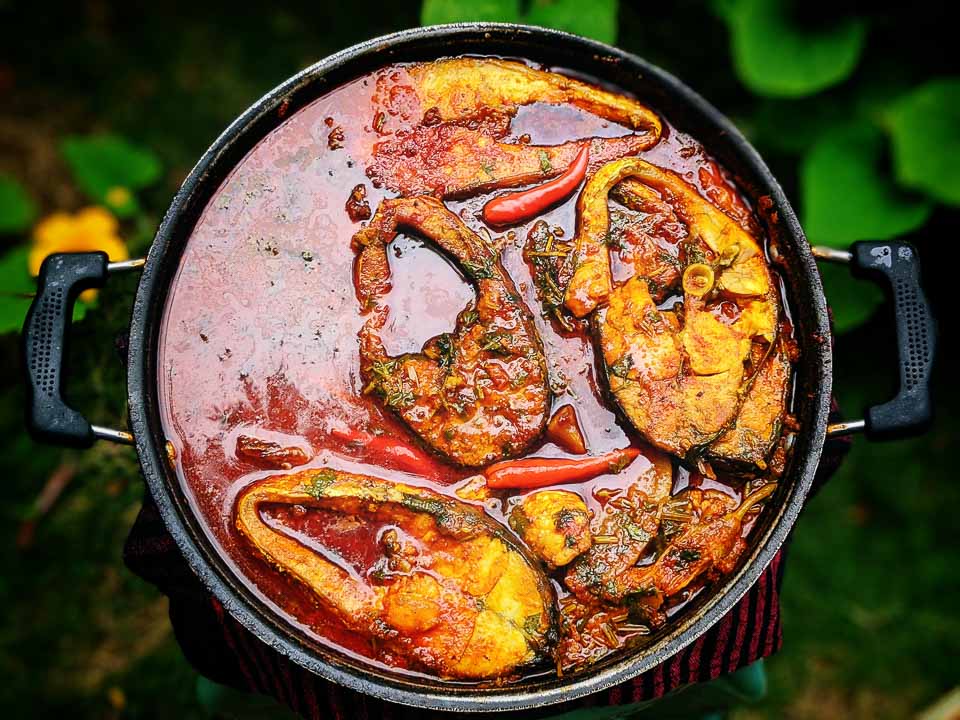 Since my lockdown kitchen is teeming with food memories and untold stories of past, I thought why don't I dedicate this dish to that aunty of mine! Bhetki Kaliya is usually cooked with potato wedged. Adding cauliflower traditionally makes it Bhetki macher Jhol but I wanted to eat cauliflower hence took the creative liberty. You can do as you please!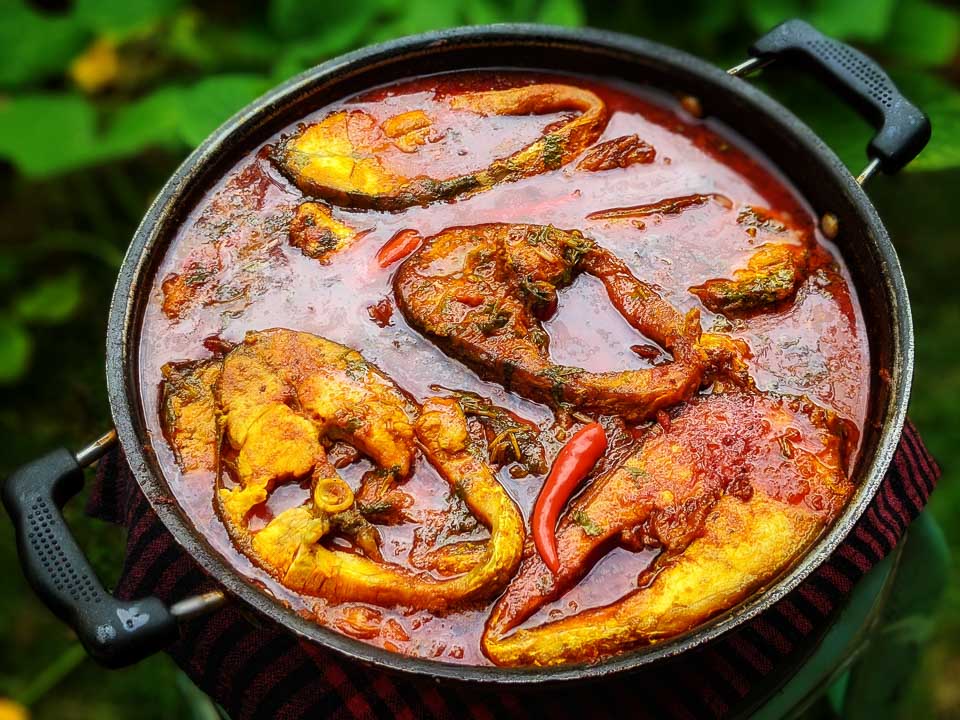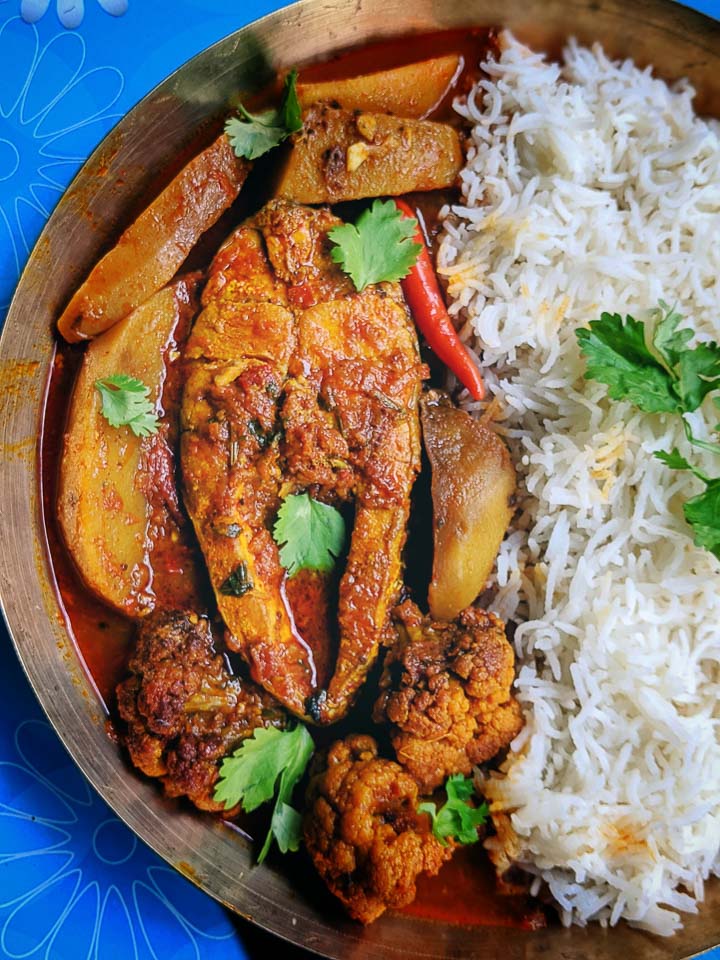 Ingredients for cooking Bhetki Macher Kaliya (Spicy Seabass Fish Curry, Bengali style)
Bhetki Fish (Sea-bass/ Barracuda)
Potato
Cauliflower
Chilies
Onions
Coriander leaves
Tomato
Turmeric
Salt
Bengali Garam Mashala (powdered)
Mustard oil
Whole cumin
Procedure for cooking Bhetki Macher Kaliya
Marinade Bhetki Fish steaks
Marinade the fish fillet with salt and turmeric and lime. Keep aside for 30 minutes.
Prepare spices
Make a paste of onions
Make a paste of tomato
Dry roast Garam Masala (cloves, cardamom, cinnamon) till aroma comes out. Powder this spice mix.
Make a paste of green chilies
Fry Bhetki fish steaks
Asian Seabass or Bhetki is very supple and needs delicate handling. Fry two minutes on each side.
Fry cauliflower florets and potato wedges as well. 10 minutes is fine. Need not be well cooked.
Start with Kaliya gravy
Heat mustard oil. Temper oil with whole cumin and green chilies.
Add onion paste. Cook for 10 minutes till oil separates. See picture to understand.
Add Garam Masala powder to the gravy base and cook well.
Add tomato paste. Cook for 10 more minutes.
Add cauliflower florets and potato wedges. Mix it well.
Add warm water and simmer the Kaliya gravy.
Add the fish steaks. Cover and cook for 10 more minutes or till the vegetables are cooked.
Adjust salt.

Sprinkle finely chopped coriander leaves on top.
Serve Bhetki macher kaliya, a thing of beauty with piping hot rice! If possible, add a slice of Gondoraj lemon on the side!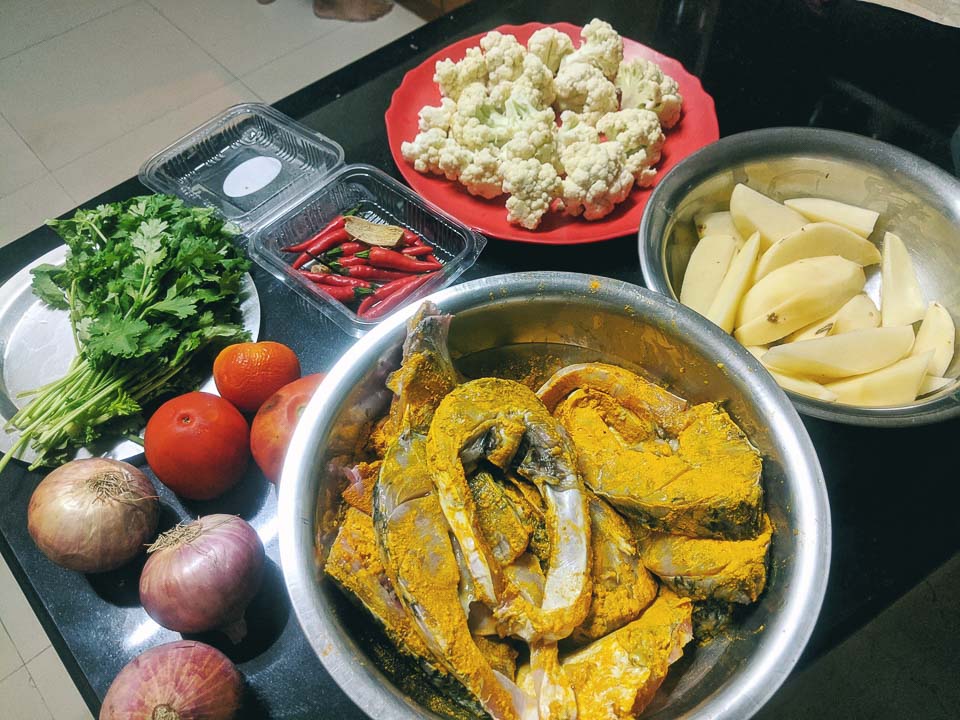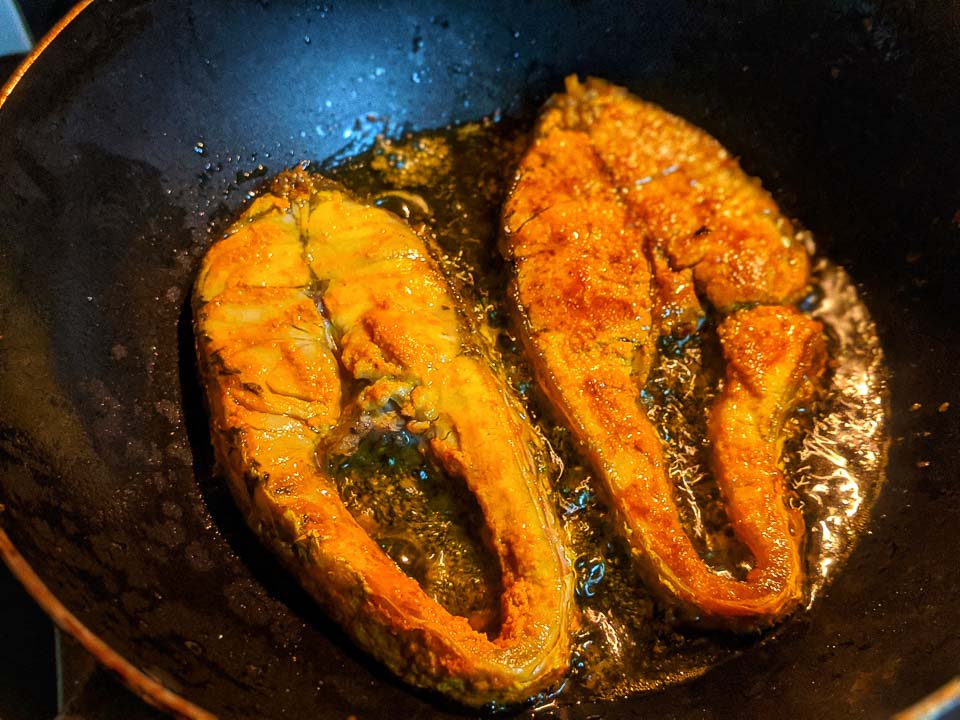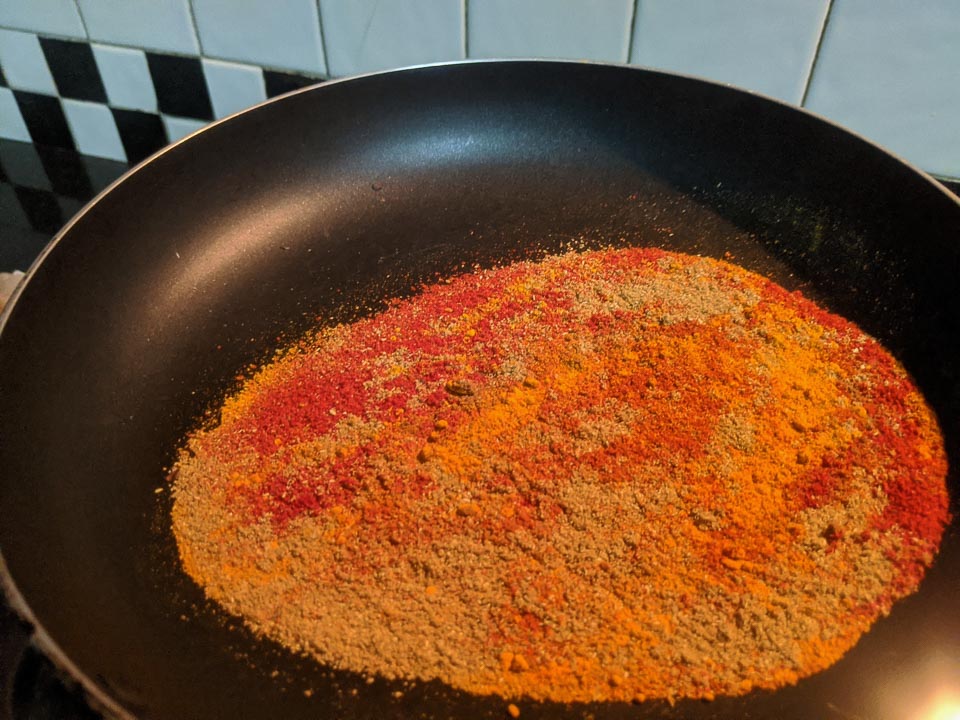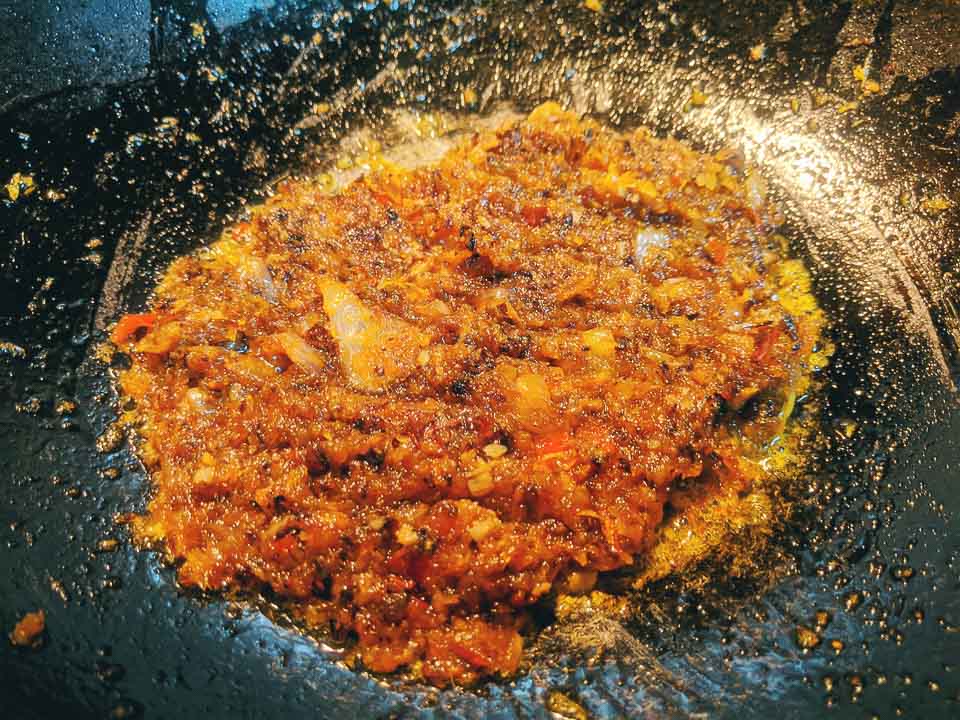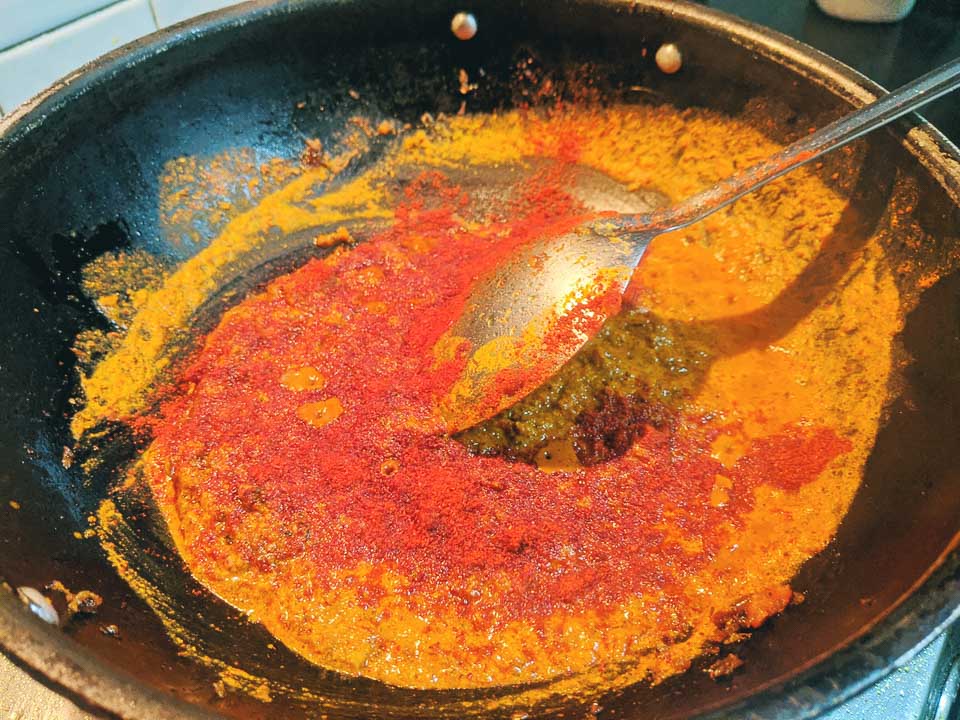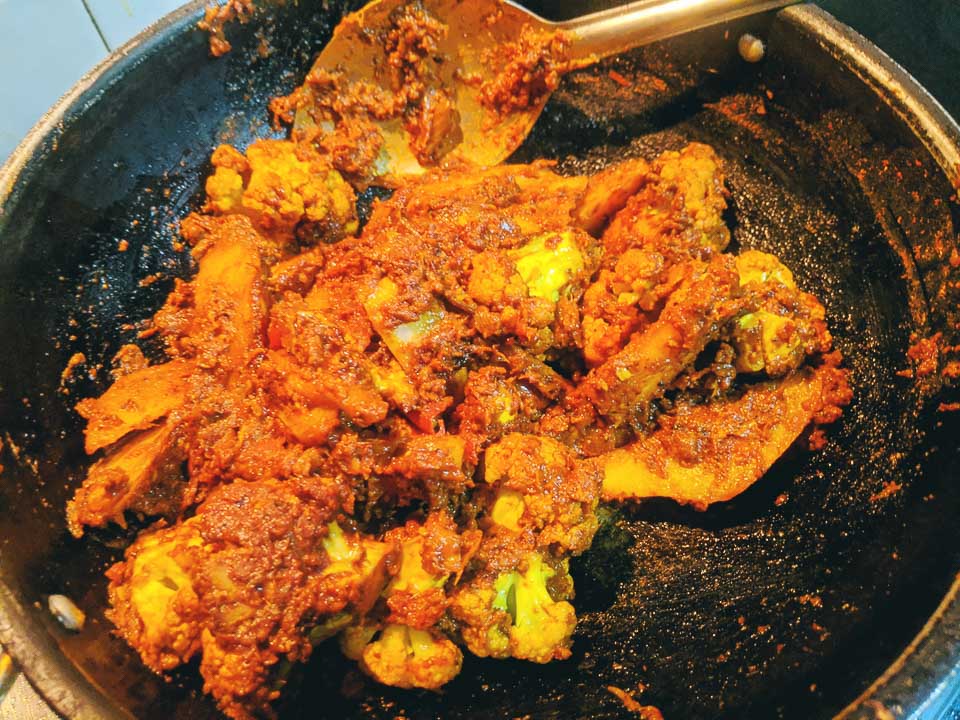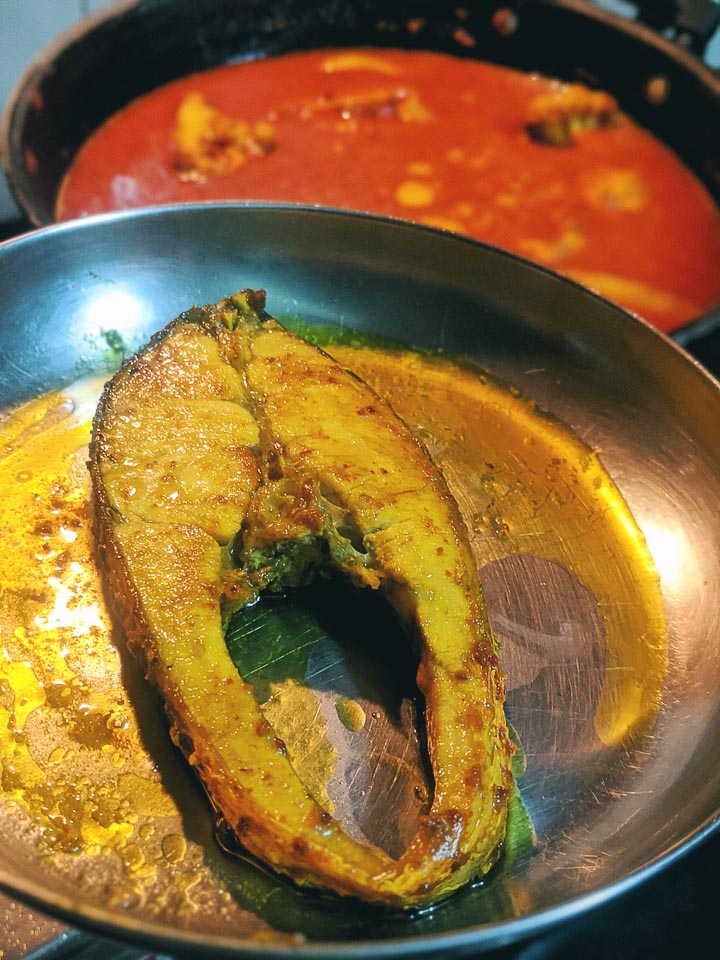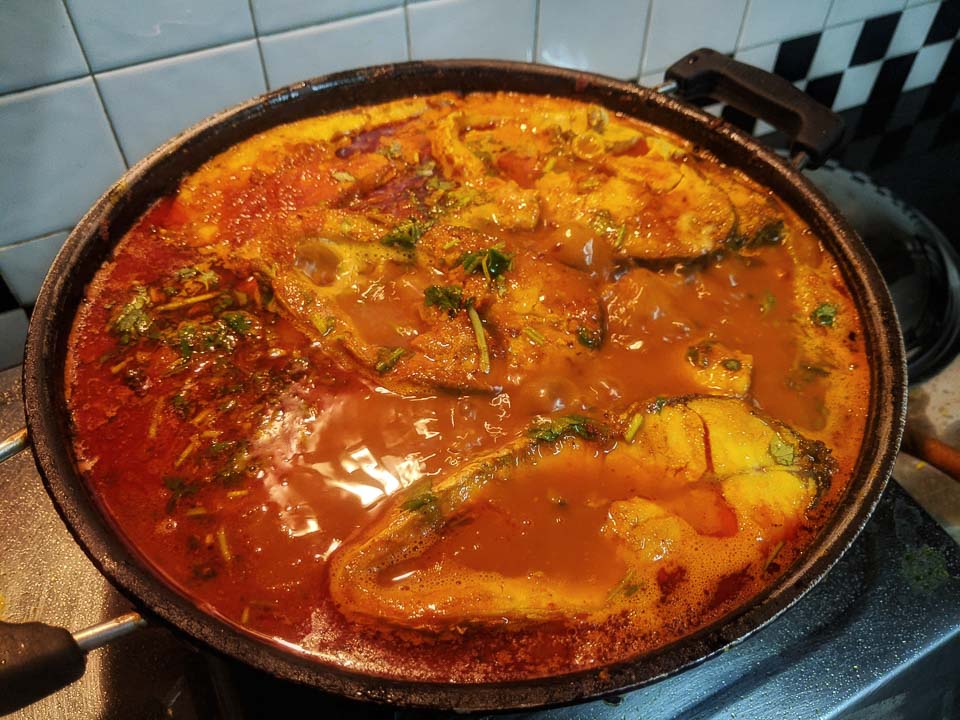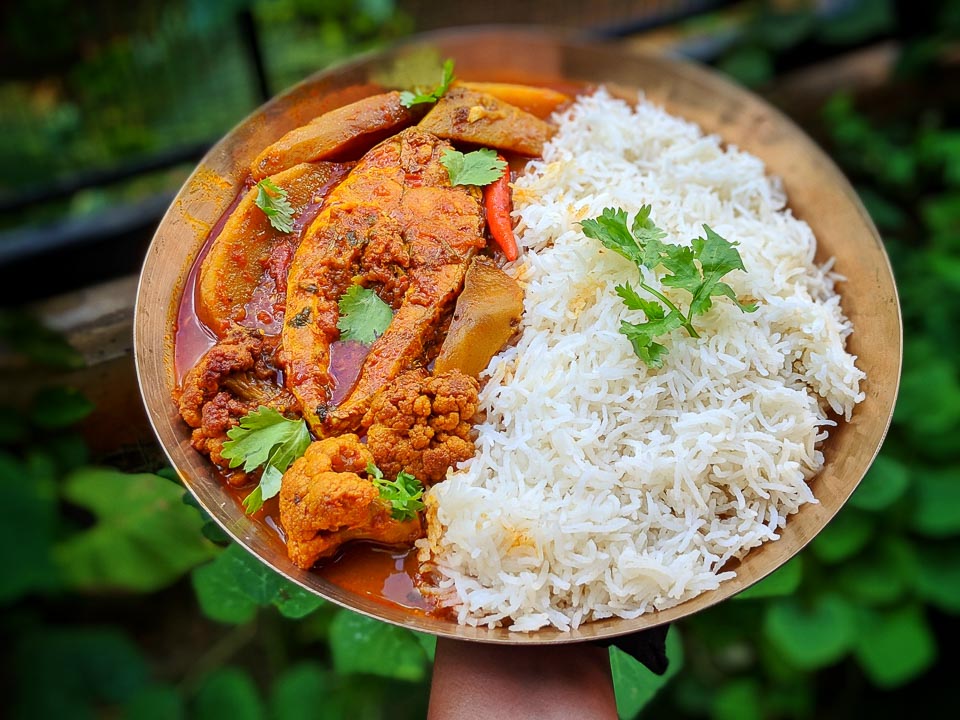 Love to eat fish? Check out more Bengali fish recipes!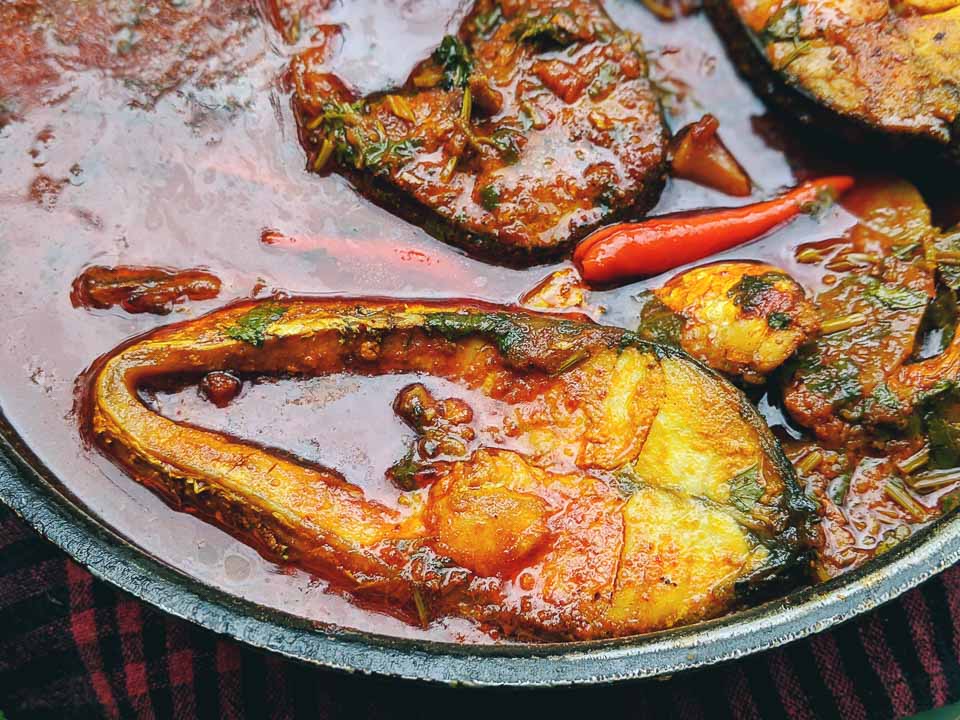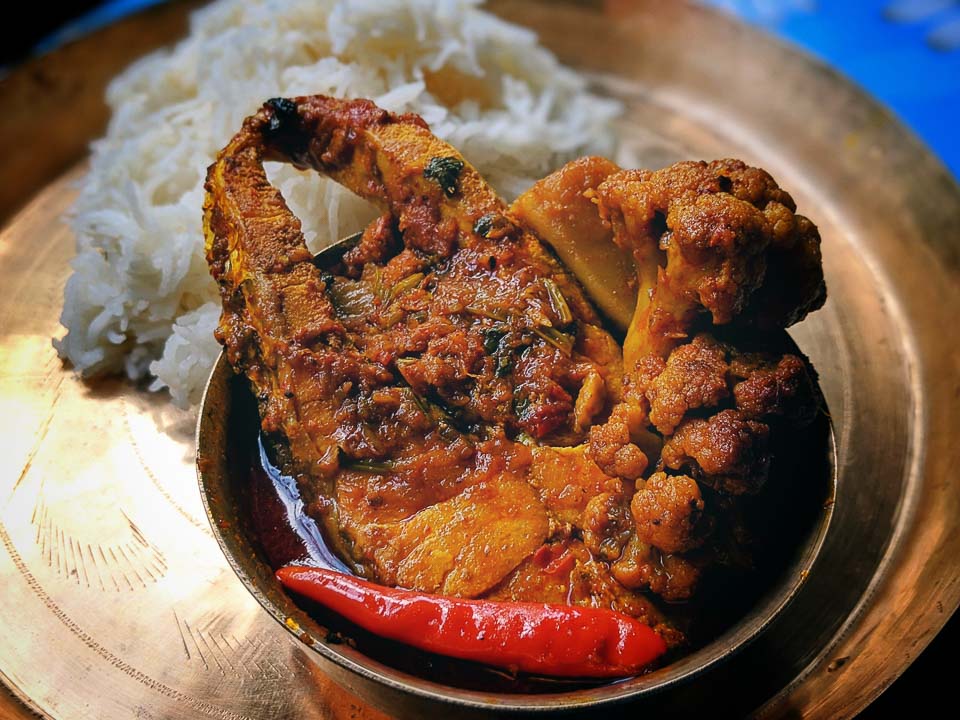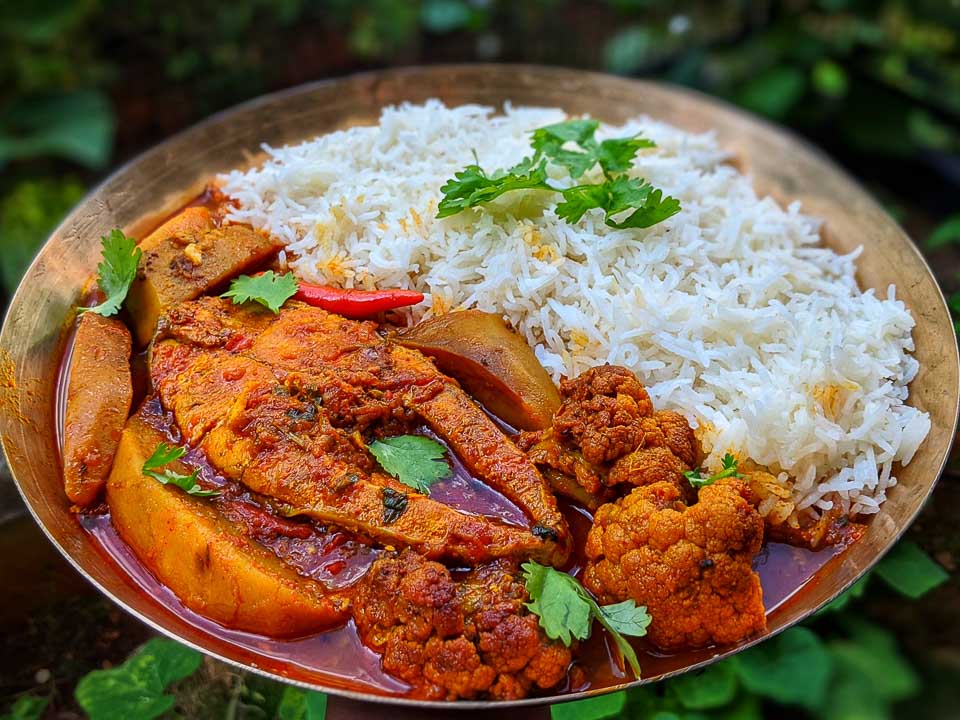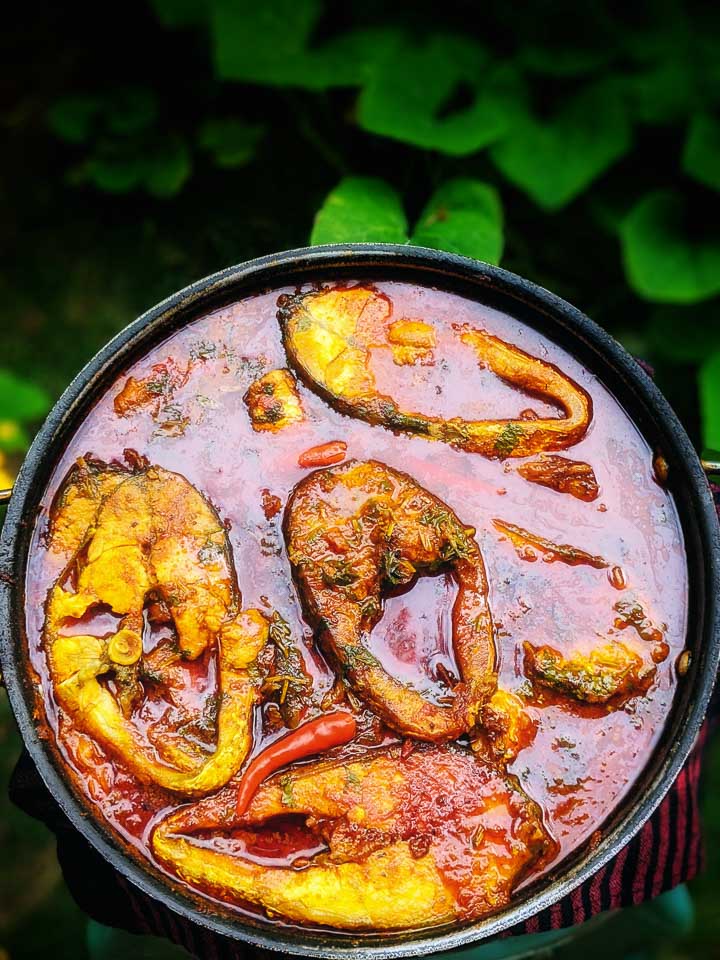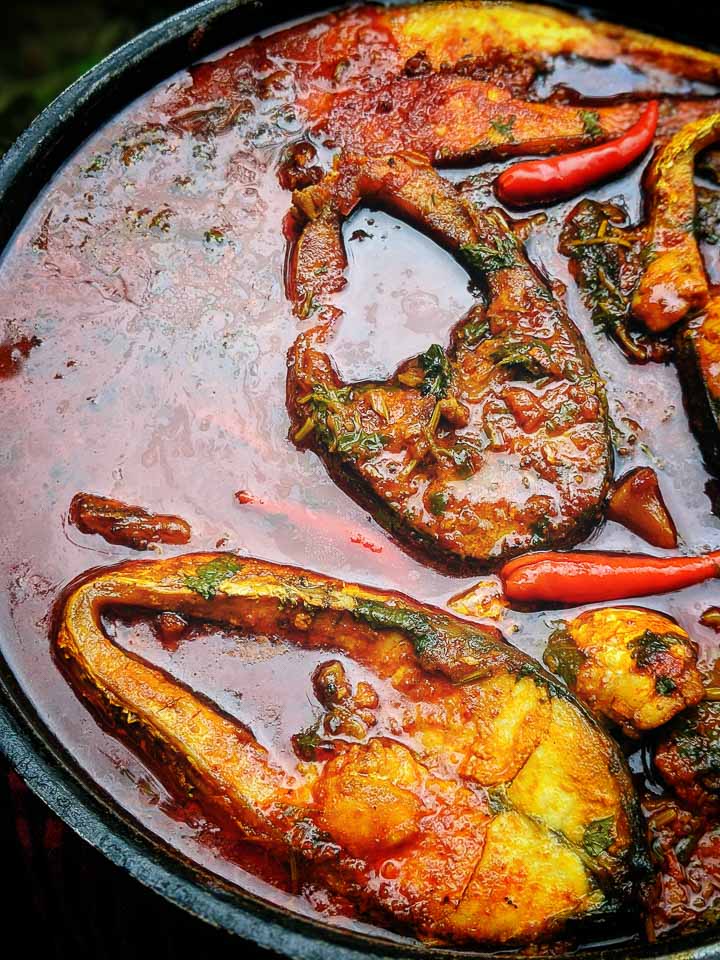 ---
This post may contain affiliate links. Please read the disclosure post. If you have liked the article, you may support it by buying using these links without any extra cost to you.
Let's stay connected on Facebook, Instagram, Twitter! You may also consider joining my mailing list. I send travel and photography related emails only once a month!