About this blog: Prawn Malai Curry is basically a shellfish dish cooked with all the goodness of coconut cream and jumbo prawns and fit to be a royal serving. I have written the recipe of Prawn Malai Curry, which type of prawn you need to buy to make this dish and stories from yester-years when cooking prawn Malai Curry was dependent on my Dadu's benevolence of sharing a coconut from the orchard!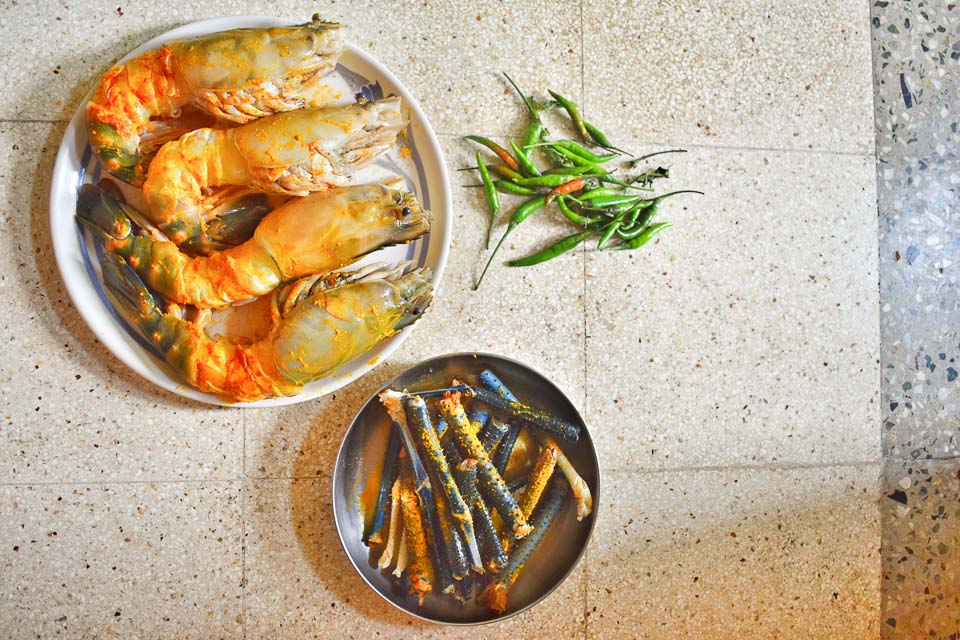 Check out all the food blogs here: Cookbook
When I moved to Delhi at the age of 21, I was bereft of a sizable working kitchen. I knew how to cook but that know-how is of not much use unless you have a kitchen in close vicinity. As a result, my summer and monsoon days were a large void without the sumptuous serving of Chingri (Prawn) Malai Curry and an Ilish (Hilsa) Bhape.
A Thai restaurant came to rescue for all my Malai Curry cravings! I had not been to Thailand yet. But Thailand came to me with this beautiful creamy concoction of coconut milk and lemon grass and boy oh boy, I could never have enough of this beautiful thing called Thai Red Curry (or Green Curry). There is an existing school of thought that Malai Curry is derived from the Malay sailors of Malaysia. Well, I won't be surprised. the sailors had their own beautifully evolved cuisine on the maritime economy. Take Goalondo Steamer Curry for example!
Looking back, I know exactly why. The Thai Red Curry, with prawns or not, evokes a surge of nostalgic food memory in my mind. The prized Galda Chingri (Lobsters) Baba would get home once in a while. The evening spent on grating the coconut sourced from Dadubarir Bagan (garden of my grandfather) using a Narkel Kurani. Dadu would often store coconuts at the Sirir Ghor (a room dedicated to the staircase). The room had a pump, a lot of old books, trunks and a monitor lizard. Well, I had once spotted a monitor lizard walking inside it on a rainy afternoon. Back then, Behala used to get flooded every monsoon and Dadu bari at Unique Park was no exception. Now I know the monitor bechara was a refugee. But all through my childhood, I never stepped into that Sirir Ghor lest that monitor lizard raises its head from behind the pump. Or one of the trunks. Those trunks had many lifestyle magazines with beautifully illustrated ads for Godrej soap or Kesh King oil. Horlicks and Boroline.
But I digress.
My point is I never knew we can be bound with geography yet our food culture can be shared with mere ingredients, coconut in this case, that I would find respite and a taste of home in that bowl of Thai Red Curry while sitting in Delhi. Chinese in Delhi was not my poison. The Biryani in Delhi was another disappointment. Later in the south of the country, I immediately felt at once with Meen Molee served in the mild and runny coconut gravy. King Fish replaces the Golda and Bagda in this part of the world. I can't complain. I remember being hesitant about buying Kingfish (or was it seer?) in a Total Mall outlet in Bangalore. Now it's known as More but history knows it was Total Mall 6 years back. The fish seller pitched in, "Take it madam. This fish is served in the weddings in this place." which translates to "This is your equivalent of a Bhetki or Hilsa."
Going back to the coconuts stored in the staircase room of my Dadubari, we would pick and choose the "Jhuno Narkel", the brown ripe coconuts. Its husk would be used as fuel or mosquito repellant. The hardened coconut meat would be grated immaculately.
I am a fan of ready made coconut milk. However my mother still prefers to cook Malai Curry with grated coconut. She does not extract the milk instead uses the grated coconut directly in the gravy. The result is a thick and crunchy fiery looking red Malai Curry which is coupled with fiery red chilies. I love this rather rustic and spicy variety but have not been able to recreate at home so far.
But then my mother (and the whole family) is Bangal. Our ancestry is rooted in the Bangladesh of erstwhile undivided India and our food habits differ considerably than that of the "Edeshi" or "Ghoti" society, who are the sons of the soil of Kolkata.
Legend has it, the Bangals own Hilsa and the Ghotis own Prawns (and dare I say the legendary sweetmeat of Kolkata). There is a long sustained rivalry between the two communities who even cheers for two distinct football clubs (albeit players are hired from different parts of the world) of Kolkata! In between, beautiful is when my Bangal Girlfriend who married into a Ghoti family told me her husband went to Kalibabur Bazar in Howrah to buy the first Hilsa of Monsoon because his wife loves it!
The first "Edeshi" Chingri malai curry I had was at the Swadhin Bharat Hindu hotel at College Street ! The gravy had a piece of raisin in it. It was the moment of truth for me! "Yes, Macher jhol can be Mishti!" My eyebrows were about to touch the sky! It would be blasphemous at my home if I tell Maa to put Raisin in Chingri macher Malai Curry! More Chilies? Yes please!
Anyway, now that I have tiptoed around the Ghoti-Bangal debate over the much beloved Chingri Malai Curry of Bengal, here is the recipe that I stick to. I have learnt to cook this as a part of the curriculum at Oberoi Grand, one of the oldest star hotels from Kolkata. I was an aspiring chef and hospitality management student in another life. That story shall wait.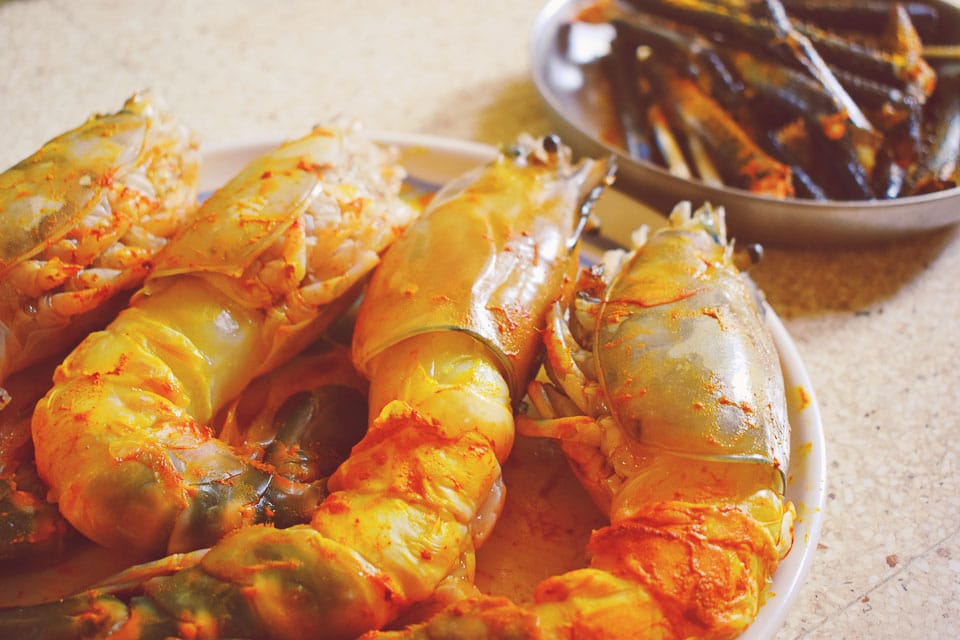 Selecting the best prawns for Malai Curry: For an authentic Bengali Prawn Malai Curry recipe, we need a handful of large sized Jumbo prawns from the river. We call this Golda, Bengalis equivalent to the prized lobster. You can also aim to get Tiger prawns. They make very nice Prawn Malai Curry too and are often used in the Bengali weddings. However, Prawn malai Curry can be created with Kucho Chingri (or Shrimps) too. Keep the tail intact in case you are trying to use a smaller sized prawn.
Do not forget to de-vein the prawn. Once you de-shell the prawns, you will see a black strip running between the white flesh on the backside. This is the rut and needs instant removal for a healthy meal experience. But, hold on, do keep the head intact. Prawn head adds to the creamy flavorful gravy that Malai Curry is and is quite a revelation in itself!
Ingredients for cooking Prawn Malai Curry
Prawns: Deshelled, deveined. Keep the tail intact. Preferably tiger prawns if not Golda. 1 KG.
Coconut milk: 400 ml (2 cups)
Ghee: 3 spoons
Cream: 100 ml (half a cup)
Green Chillies: 4 to 5
Whole Garam Mashala: 3 cloves, 3 cardamons, one cinnamon stick
Bay leaf: 3
sugar (optional): 2 tbsp
Onion: 1 medium sized. finely pasted.
Ginger: 1 tbsp
Salt: to taste
Turmeric: 2 tbsp
Lemon Juice: 1 lemon juiced
Procedure for cooking Prawn Malai Curry
Marinade prawns in salt and turmeric powder and lemon juice for 30 minutes.
Heat oil. I prefer using Mustard oil for it adds a yellow tinge. You may recreate the Malai Curry recipe with Ghee/ refined oil.
Fry both the sides of the Prawns for a few minutes in high flame, so that the prawns attain a red color. If you want your audience to be gobsmacked, you need your prawns to be bright red in the Malai curry recipe!
Prawns have been fried? Now is the time to prepare the gravy.
Heat Ghee. I prefer using Jharma Ghee for its exquisite aroma but any ghee would work really. Temper with the whole Garam Masala. Cardamom, Cloves. Cinnamon. Add a Bay leaf.
Once they start to splutter, add in onion paste and green chilies. Use less number of Chillies in case you want your Malai curry to be of sweeter note!
Once onion paste leaves il, add the ginger paste. Cook till the raw smell subsides.
Add in coconut milk. If you are using homemade coconut milk, add the first press (thick one). Cook until it reaches boiling point and then add the second press.
It is time to add the fried jumbo prawns. Simmer them in the gravy for at least 10 minutes.
Finish cooking by adding a dollop of fresh cream. Adding cream adds a silky sheen to the gravy texture. Sprinkle some powdered Garam Masala and serve Prawn Malai Curry hot with piping hot rice.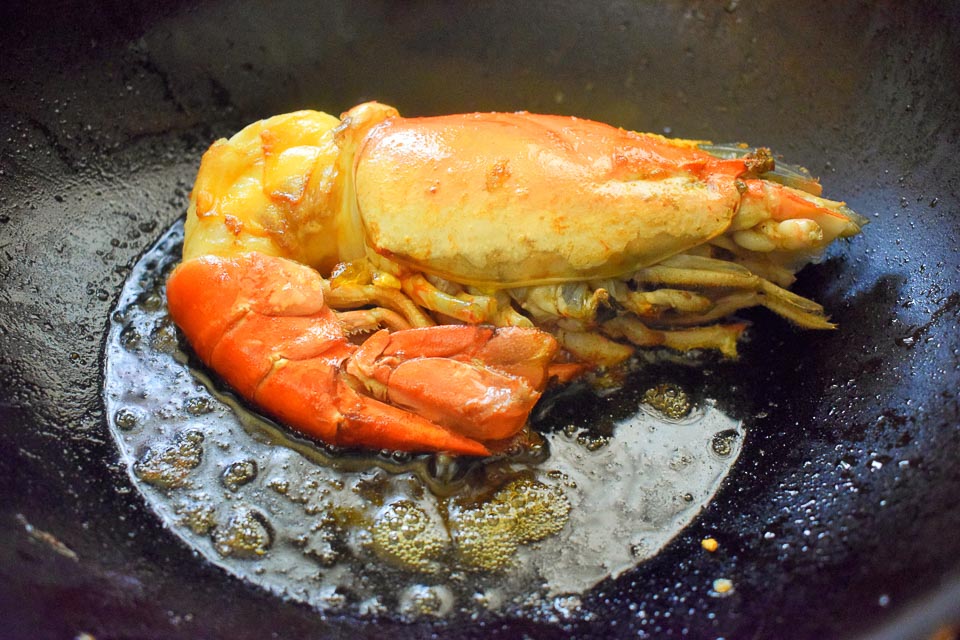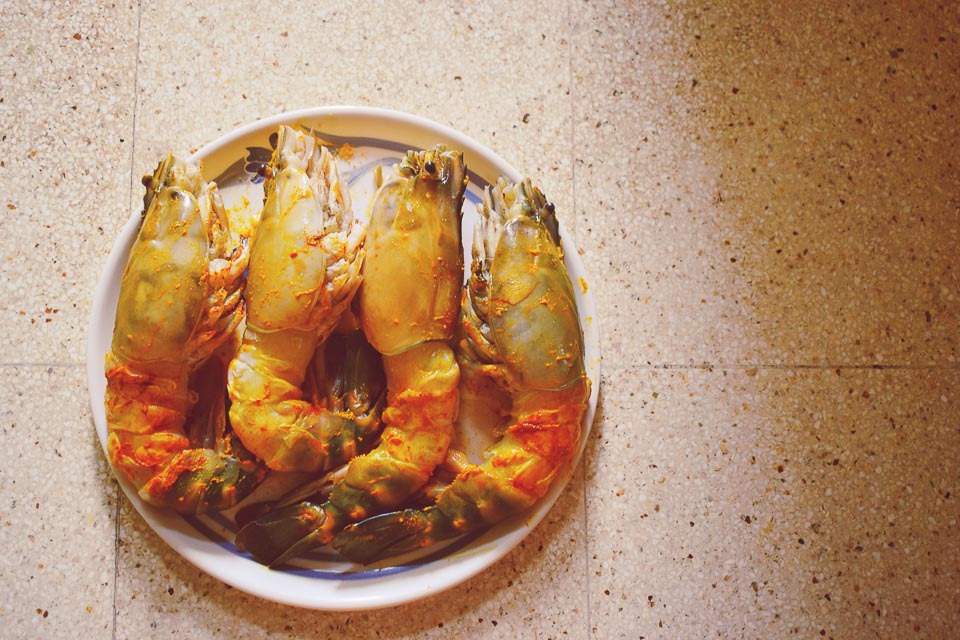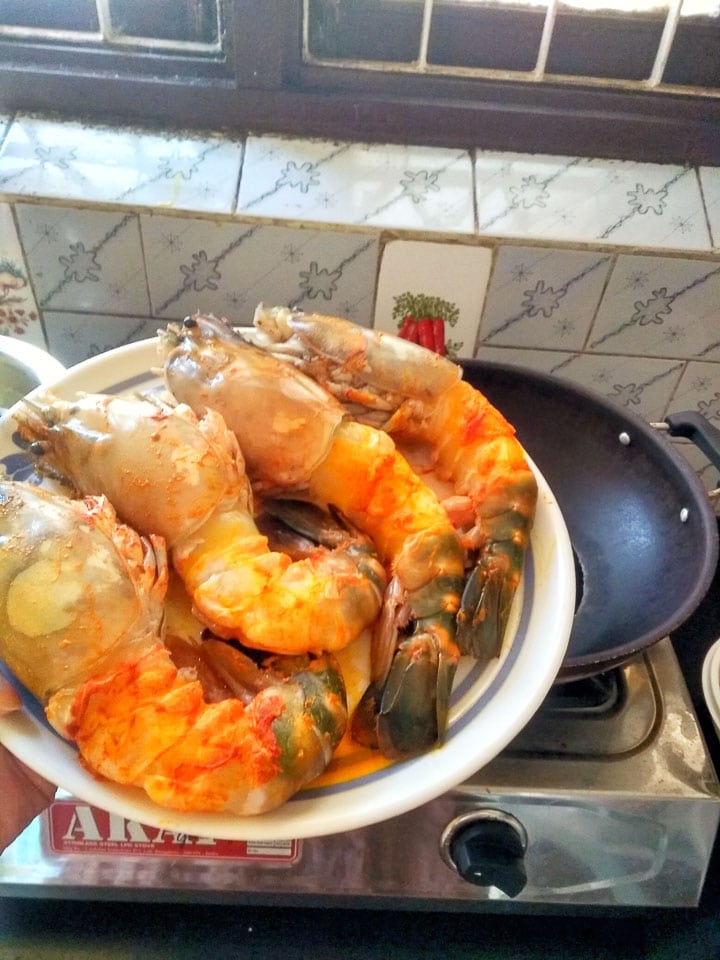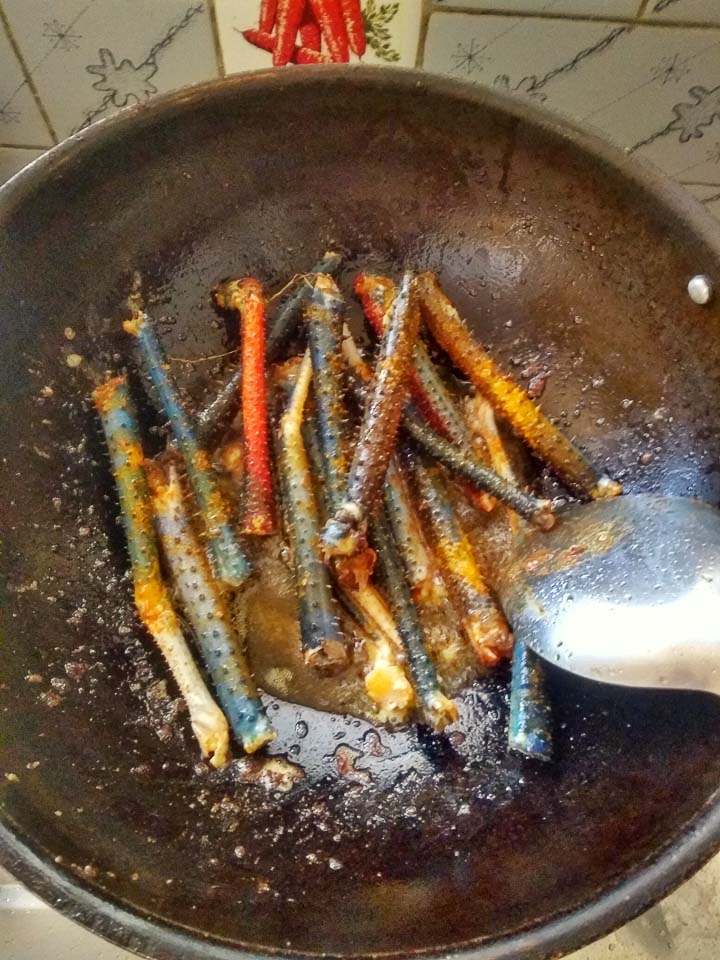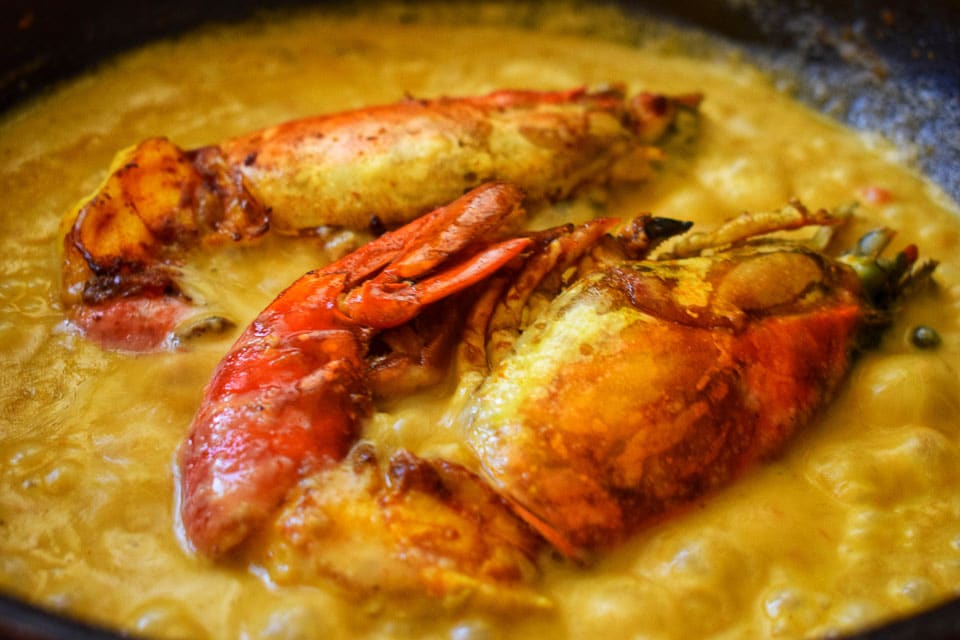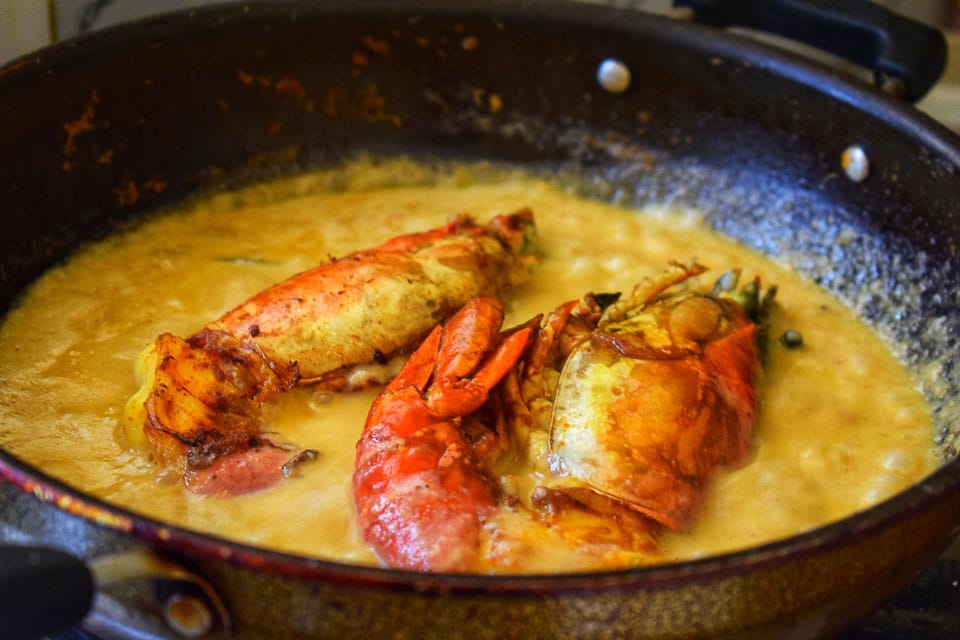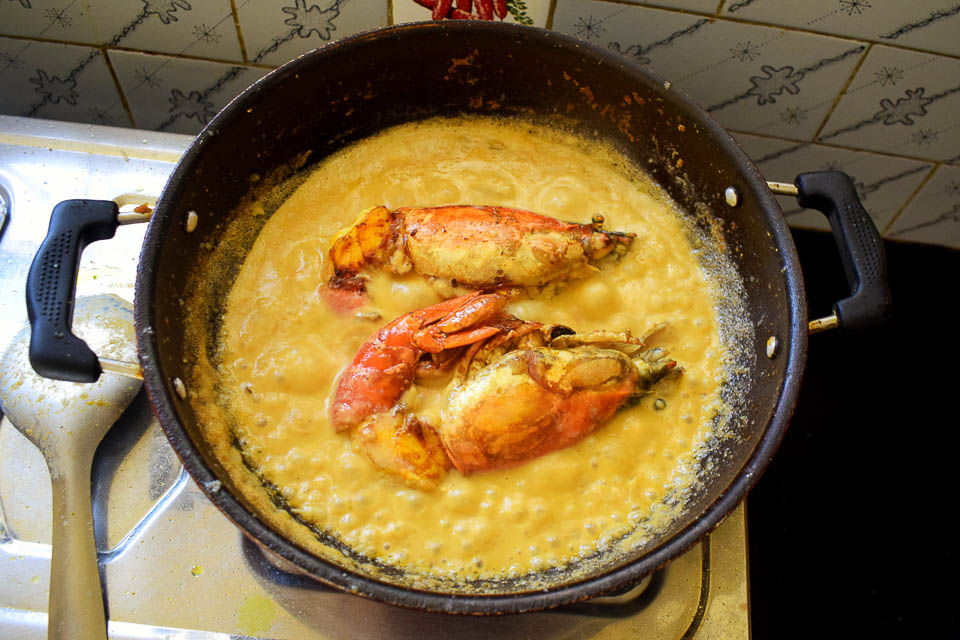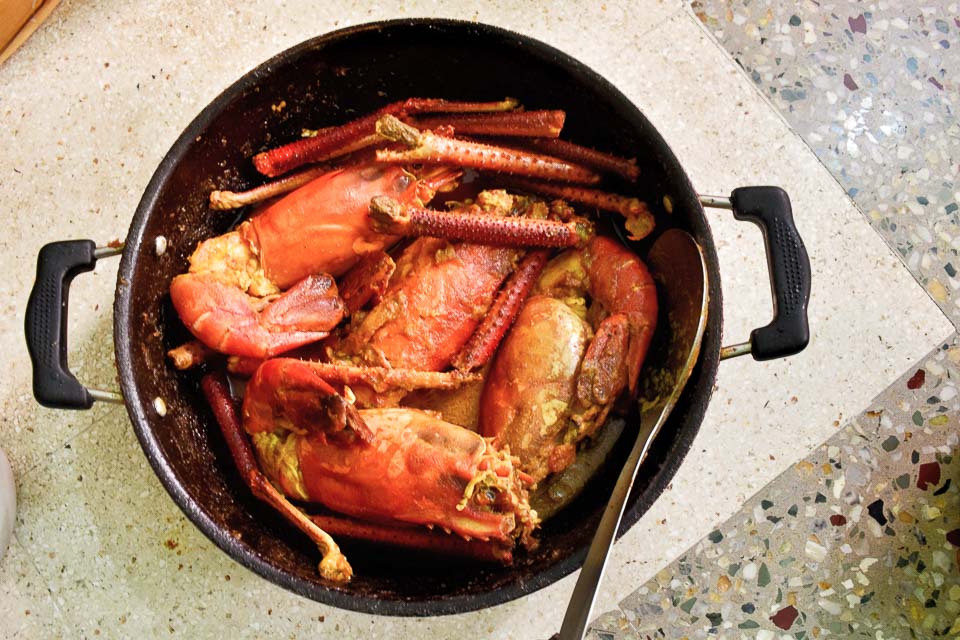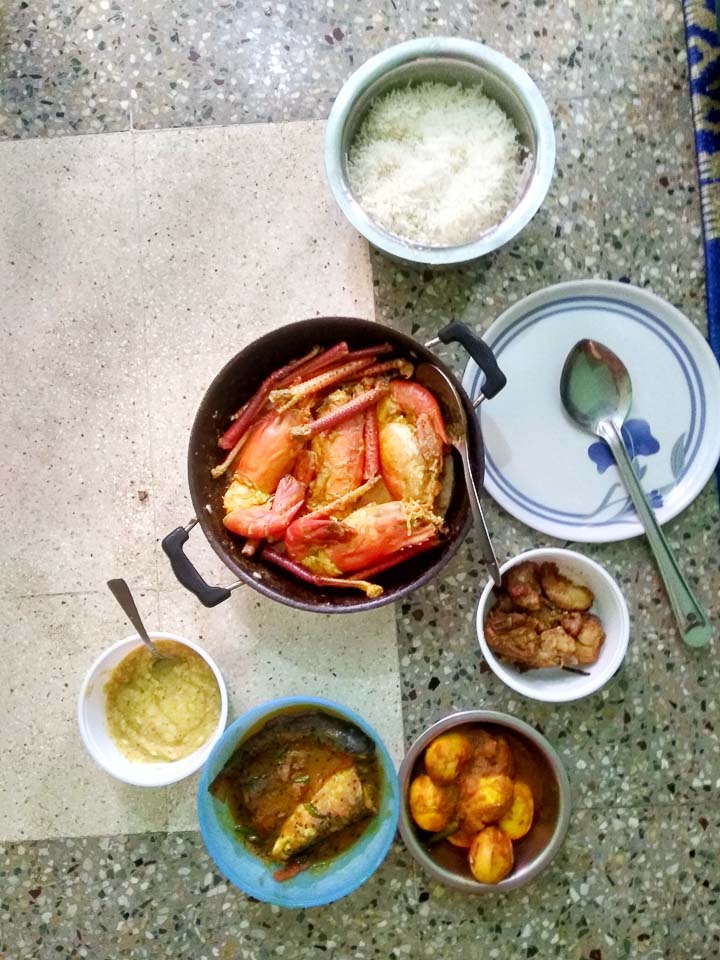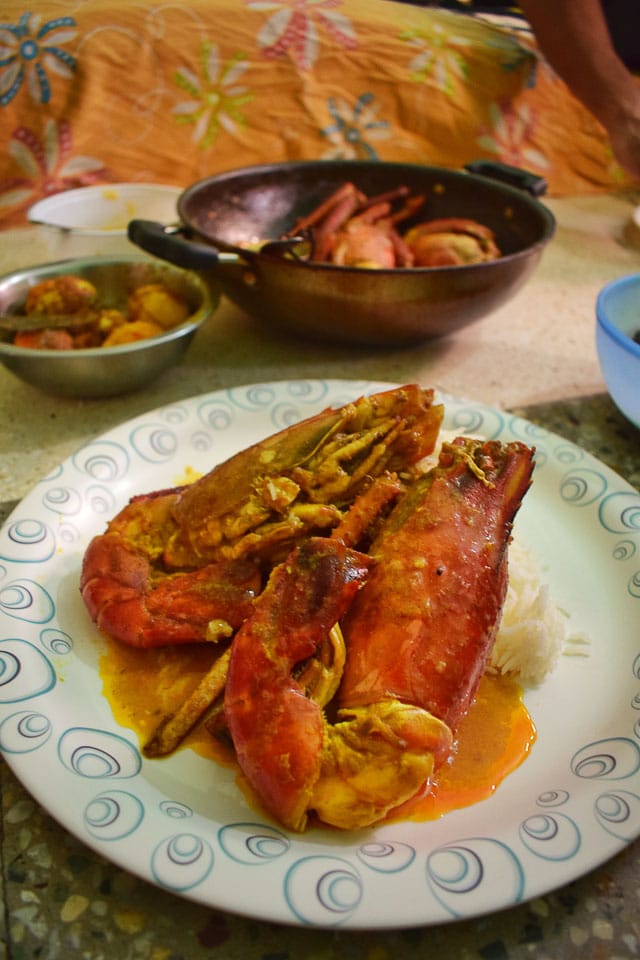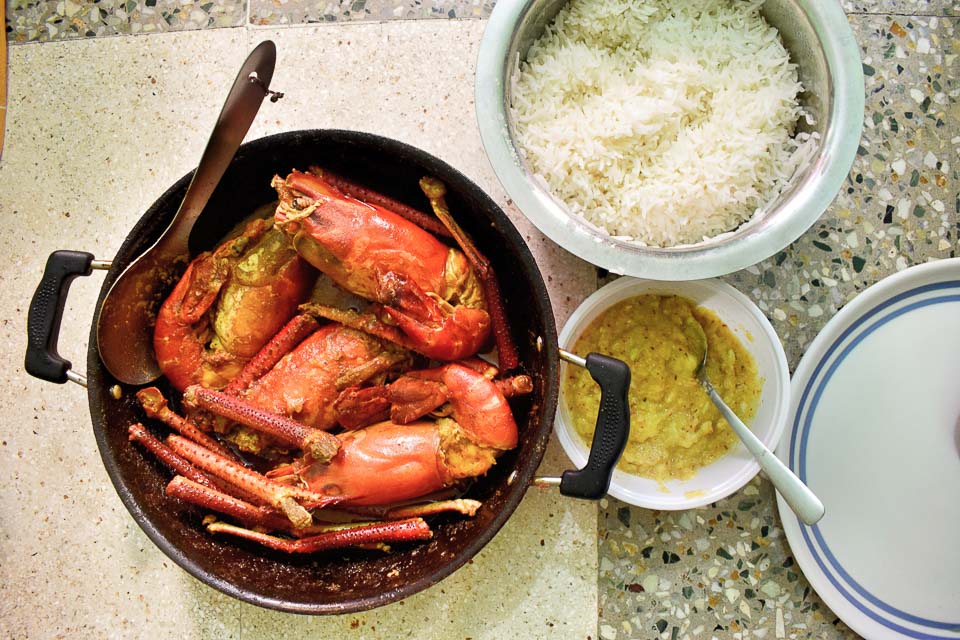 The first time S and I cooked, we had prepared Prawn Malai Curry and Parshe fish. These pictures are from the time my brother visited us in Bangalore. You may add poppy seeds, yogurt, Kashmiri red chilies etc in case you want your Prawn Malaicurry spicier. I love the mellow creamy and light taste of coconut milk and follow this recipe that I learnt at the Oberoi Grand hotel as a part of my undergrad course project. These prawns are sourced from HAL market Bangalore.
If you loved this, you may also love the following Bengali fish recipes:
---
This post may contain affiliate links. Please read the disclosure post. If you have liked the article, you may support it by buying using these links without any extra cost to you.
Let's stay connected on Facebook, Instagram, Twitter! You may also consider joining my mailing list. I send travel and photography related emails only once a month!