Bengali Cuisine is rich in taste and culinary heritage, bearing a turbulent memory of partition of the subcontinent, displacement, and a longing to stay connected with the origin through distinct flavours. As a descendant of a Bangal family whose ancestral roots are deeply spread in East Bengal (now sovereign state of Bangladesh), I have always preferred my Macher Jhol doused in green chilli paste. I have seen my high school friend, hailing from a respectable Bonedi Bari of Kolkata, prefer her sweetened Basanti Polau more than a box of caviar! It took me a while to outgrow the usual and appreciate the myriad taste of Bengal. The batas and bhortas of east, the Posto of wild west, the Borali of North and the fresh catch of Sundarban delta that can bring heaven down on Earth and the quintessential beauty of Kolkata's cosmopolite elite trying out a medley of experiments: I have grown to appreciate all the fantabulous food of Bengal!
In this blog, I would be detailing 20 most popular Bengali dishes that you must try when in Bengal. I would tell you where to try them, unless you are keen to make them at home. This is a healthy mix of fish, meat, vegan friendly and vegetarian fair. This list of Bengali food would inspire a gourmand to try out Bengali cuisine, if nothing else. I am also planning to write about the lost recipes of Bengal soon! Currently researching on that!
Also read: Top 25 Indian dishes to make when you can not travel to India!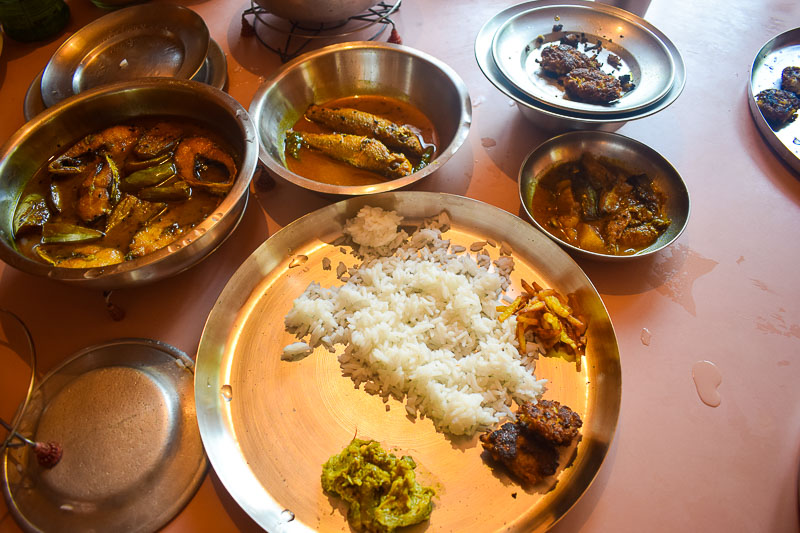 Ghol: A Summer Drink
A derivative of a yogurt based drink, Ghol is a refreshing summer cooler. The taste is further enhanced by adding a dash of Gondhoraj Lemon! The aroma is magical. It truly does channelise a sense of respite in your body as you sip from a large brass tumbler. Ghol is gradually losing its sheen from the Mojito loving Calcutta population but remains an eternal go to remedy for every grandmother of Bengal! 
Goalondo Chicken Curry
Chicken Kosha is nice and dandy but have you tried the Goalondo Chicken Curry yet which finds its origin straight from the heart of river Padma? The Goalondo steamers ferried between ports, housing sailors who rustled up a quick chicken dish with ingredients available easily from around!
In a classical kadai of Goalondo chicken curry, in goes a bowl of prawns, made into a paste. The aroma of prawns gives this dish a distinct taste that no other chicken curry of the world has ever acquired!
The puritans may not approve but the sailors on Goalondo steamer apparently chuckled and poured in another bowl of shrimp paste in the pot! I understand prawns were easily available as the sailors float along the course of the river. They made best use of the available resources. Goalondo Chicken Curry is fiercely hot and bright red in hue. It is best served with a bowl of hot steaming short grained rice that retains a certain amount of flavour of the earth!
Also read: Complete Guide to Zakaria Street, Kolkata during Eid!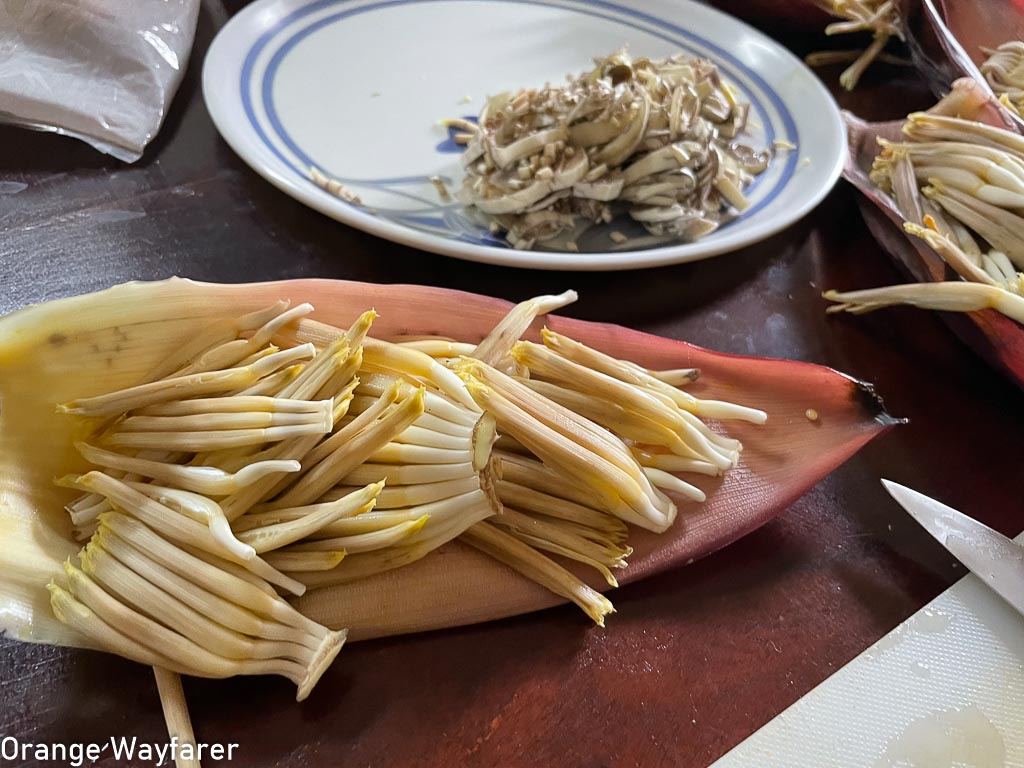 Mochar Ghonto
Who knew plantain flower could turn heads? That is good old mocha for you. An almost neutral blend of high fiber diet, Mocha blends magically well with prawns and coconuts and renders a spicy curry that will never let you say no to that extra serving of rice!
It is indeed a task to cut the Mocha, banana flower. You need to take care of the stigma and style and cut the core into thin slices. You need to pressure cook and then make it into a paste either with hands on in a mixer. Remember to soak your hands with mustard oil all the while. Cook on a kadai with mustard oil and Garam Masala and add coconut and fried prawns at the end step. Serve hot with a scoop of ghee!
Dhokar Dalna
Dhoka. the name itself indictaed cheating.
Dhoka is a Niramish bengali dish which is traditionally cooked without using onion and garlic. They named it dhoka so that people eat these small diamonds made of Bengal Gram, poppy seeds and coconut paste without being offput by the lack of meat. I have not made Dhoka R Dalna yet but many a shops actually sells Dhoka pastes these days. Usually when S visits home, his mother gives him a few boxes filled with Dhoka diamonds to be cooked later and we usually have them as is! It is indeed a delicacy!
A similar tging is Echorer Dalna, a beautiful dish cooked with raw jackfruit which is often marketed as mutton from a tree (Gachpatha). If I ever decide to be plant based, Echorer Dalna would be my everyday favourite!
Also read: Kargil, a photo blog!
Macher Matha Diye Daal
daal or lentil is a staple of Indian household, let alone be bengal. But the Bengalis add their touch to it by adding an entire fish head, macher Mudo to it. The bengali kitchens often run on the principle of zero waste. I have seen many cultures discarding fish heads but I wonder why would you not want to indulge in Macher Mudo, the fish heads that is rich in various minerals and other nutrients.
We use Moong Daal to cook daal with fish head. The fish head is cooked separately and then added to boiled daal and the entire ensemble cooks for a while which is then served with rice. An extremely nutritious dish, Macher Matha Diye Daal is often served at bengali weddings as a dish fed to the guests in the afternoon!
Also read: 7 days in Shillong: a Guide to Meghalaya!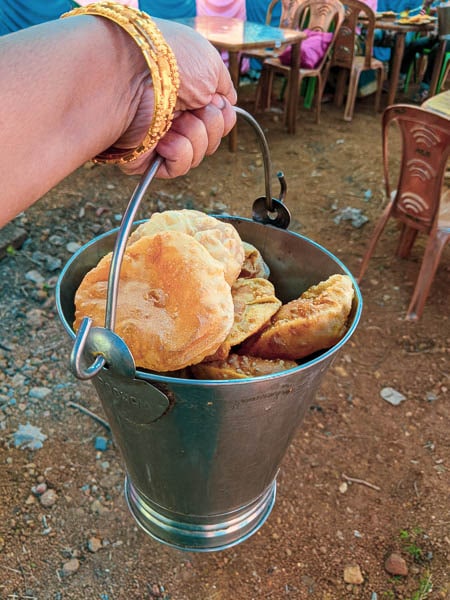 Green Peas Kochuri & Cholar Daal
A typical breatfast item, Kochuri is a puffed bread cooked with a laye of stuffing. In winters we often indulge in green peas Kochuri, when the stuffing in the flour dough gets made with green peas! It is one of the best breakfast you may have. Just to not complain about carb overload.
Like Luchu goes hand in hand with begun Bhaja, Kochuri goes very well with Cholar Daal. Cholar daal tastes all the more better when you cook this with a few spoonfull of coconut. the creamy aftertaste of fresh coconut is a thing Gods are envious of!
Also read: Cultural guide to Goa: Top 12 things to do!
Labra
Labra is a medley of vegetables made into a shapeless smiley form which tastes like magic. The lame and the look of it may be doubtful but the first bite of Labra with a spoonfull of hot Khichuri as they used to serve in good old days during Saraswati Puja in School and you can not get enough of this goodness! In olden days, Bengali wedding menu used to feature Labra too. Gone are those days of serving a laddle full of Labra and hot rice. Labra becomes all the more good when you add Fish head or Macher Tel (not what you understand by Fish oil) to it and it tastes all the more different!
Also read: Cooking Street Style Chow Mein from Kolkata!
Pui Shaker Chochori
Pui Shak is cooked with all sorts of vegetables and often with fish heads or prawns. The medley is known as Chochori and tastes amazing when served with steaming rice. Pui Shak can be cooked with Bodi as well, the little lentil balls deep fried in oil and added in the dish to enhance its taste!
Also Read: Stunning sunset pictures from Kenya!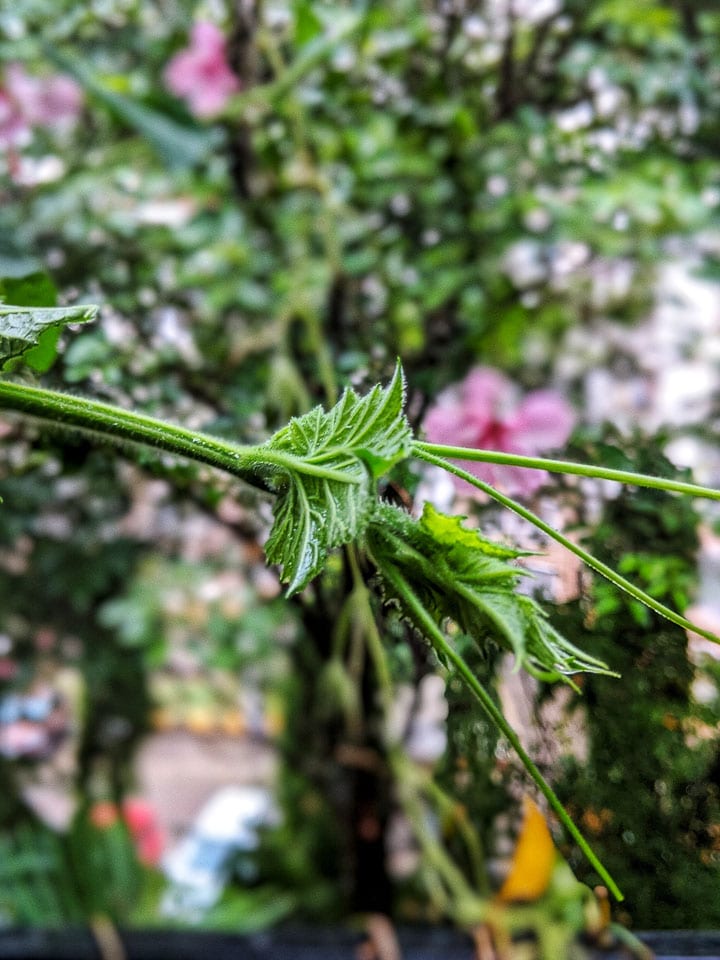 Lau Ghonto
White Gourd is known as Lau in Bengali Kitchen. .It is a humble ingredient but tastes amazingly good when cooked in cube forms and made into a ghonto with prawns or as is! Prawns as usual makes the taste go up a few notches!
For cooking a delicious Lau Ghonto, you need to steam the Lau a little to ensure it is soft and mointurised from inside. It gives you a creamy buttery flavour in mouth as you start to chew it. Lau Ghonto is ytraditionally eaten with rice or roti. I ate the best Lau Ghonto of my life at Kasturi, A Bangladeshi restaurant in New Market until I had the privilege of growing a small kitchen garden at mu home. My small Lau plant brore 4 5 kg heavy weight white gourds. We cooked Lau all our hearts wanted and finally sent some to our friends!
Also Read: 20+ stunning pictures from Sikkim, the hidden gem of Northeast India!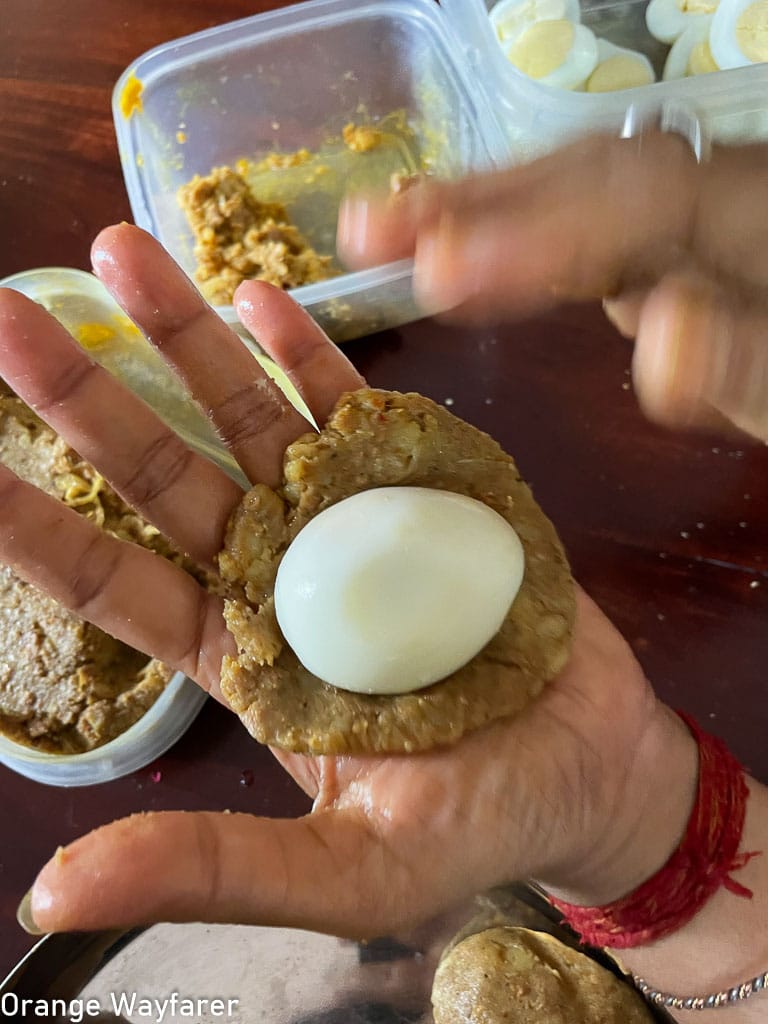 Dimer Devil
Soft boiled eggs are coated with a generous amount of cooked mutton keema and deep fried: That is Dimer devil for ya'll which the Guardian tries to sell as Scotch Egg but I do not accept! Each bite at Egg Devil reinstates the goodness in humanity TBH! Dimer devil is best cooked with duck eggs for the creamy texture of the egg yolk. It is served with mustard paste or Kasundi. Dimer Devil sells like hot cakes at the Old Cabin Style Restaurants of Kolkata!
Also Read: Recipe for Kolkata famous fish fry!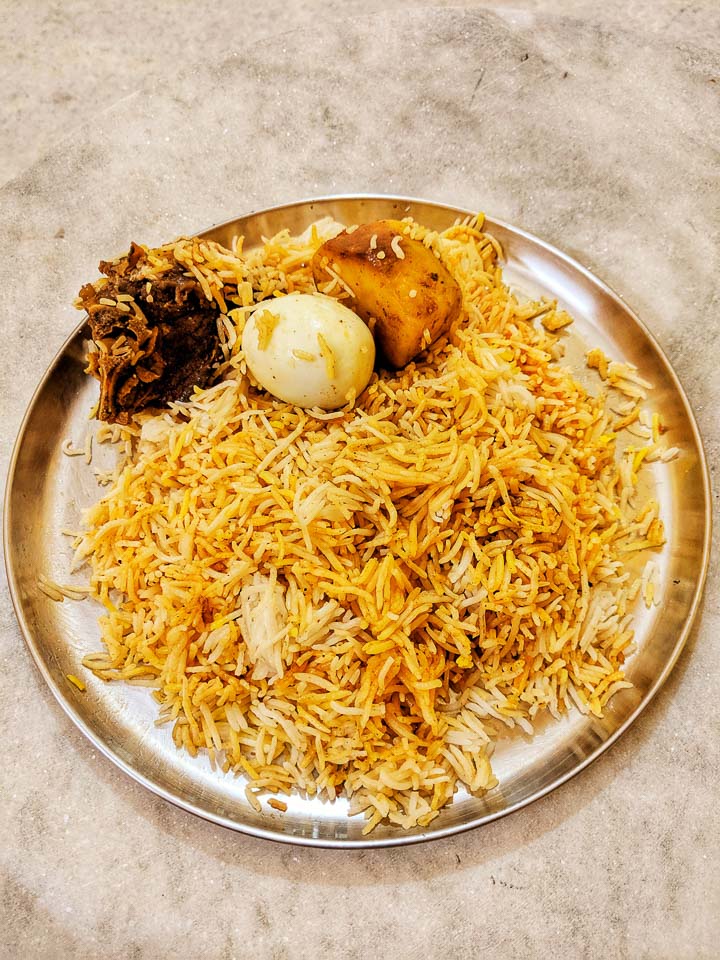 Mutton Biryani- Chicken Champ
Mutton Biryani is a guest to Bengal who reached the banks of Ganga a couple of centuries back and refused to leave. Bengalis welcomed this dish with more than love and today in 2020 Biryani is a part of Bengal as much as Durgapuja is!
Once a stronghold of Bengali Muslim Households, Mutton Biryani is now made at every other house, of course with the essential addition of potato, added as an exquisite Delicasy in Wajid Ali Shah's regal kitchen. The nawab of Awadh was exiled in Kolkata by the British at the advent of their two century long colonial reign in India.
I have made Mutton Biryani more number of times I can recall and I wonder why I do not write about the recipe. I prefer Rezala over Chicken Champ to go with my biryani but then many would not agree with me. Mutton Biryani itself can be savoured as the one and the only without the push of any side dish!
But end it with a pot full of Phirni, a milk and rice desert frozen in a clay pot!
Also Read: 50+ pictures from Kolkata Durgapuja!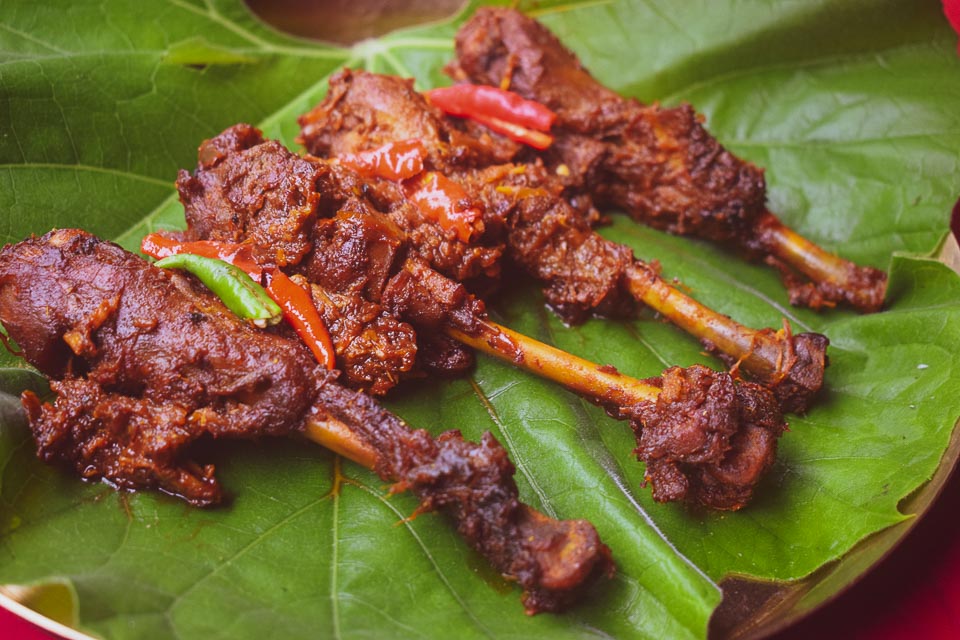 Murgir Jhol with potato
Love for potato in Bengali cuisine easily surpassed Biryani and became a staple with every dish from Chochori to Labra to Ambal to meat Kosha! Not just that ,the potatoes easily absorbed the goodness of each main ingresient and remitted aroma of the same! In today's world, we can not imagine a meat curry without adding potato.
Chicken is cooked in myriad ways in Bengali households. The most basic way to cook chicken is to marinate medium sized pieces with lemon juice, salt, red chili paste, ginger and garlic paste and onion juice for about an hour. Cook the whole thing in mustard oil which has been tempered with whole Garam Masala. After 10 minutes add fried potatoes. Served with a side of steamed rice or roti! This is how Egg Curry is also made.
Also Read: Most Scenic Train Trips to take in Europe!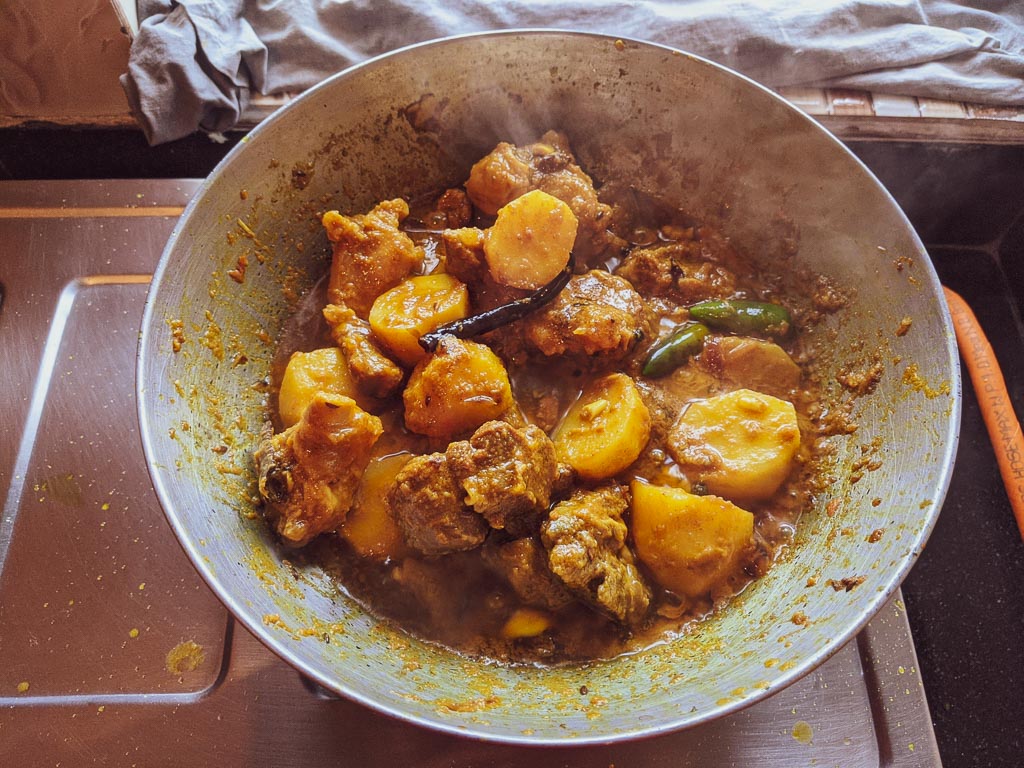 Railway Mutton Curry
The ANglo Indians in India had left a long standing legacy in Indian Subcontinent which is best manifested during Christmas celebration. However, a glimpse of it you may find in the Railway Mutton Curry, a dish invented during the colonial rule while the Great indian Railways was connecting the distant parts of the region through steel lines and steam engine powered by coal.
The Anglo Indians initially took over all the jobs available in the government where native Indians did not have easy access initially. One of the available jobs were of becoming a chef on running trains. Mutton was an acceptable food to all sorts of Indian who ate non veg and mutton cooked on a running train needed delicate balance of spices and just about the right time to be put in pressure for quick cooking time.
In Bangalore, I tried this at Salvaderos, a rooftop restaurat and I felt the Railway Mutton Curry is not neseccarily a Bengali dish but indeed it originated in Calcutta hence I added it in this list.
Also Read: Best things to eat in Luang Prabang, Laos!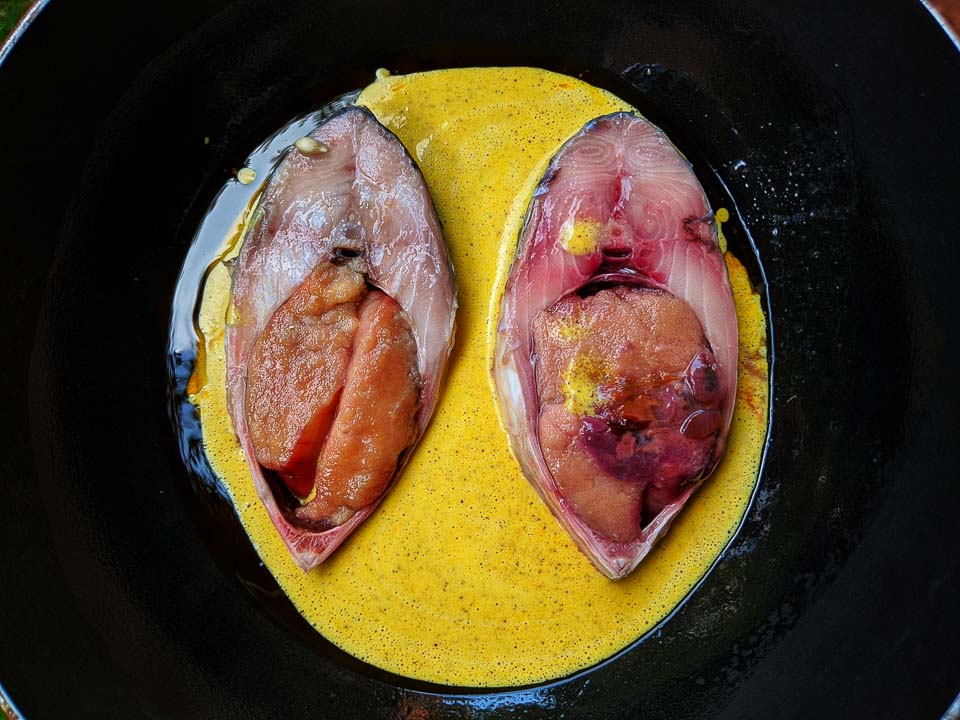 Bhapa Ilish
Ilish or Hilsa is deeply ingrained in a Bengali subconsious as the best fish in the culinary history. It is Hilsa and Dhakai Jamdani that connects the entire Bengal which has been wrongly partitioned in 1947. I think it is wrong. You can have your own political conviction.
Hilsa can be cooked in 10 different ways but what I love the most about Hilsa is it blends with a thick paste of Mustard and coconut gravy with its supple flesh and excessive oil when cooked in a steaming procedure. My dida would put a tiffin box filled with hilsa directly inside a rice pot but I do it in double boiler. Yet to gather the expertise to cook the pricey fish with that nonchalance!
Bhapa Ilish is a delicacy that is essential for any celebration at a bengali household.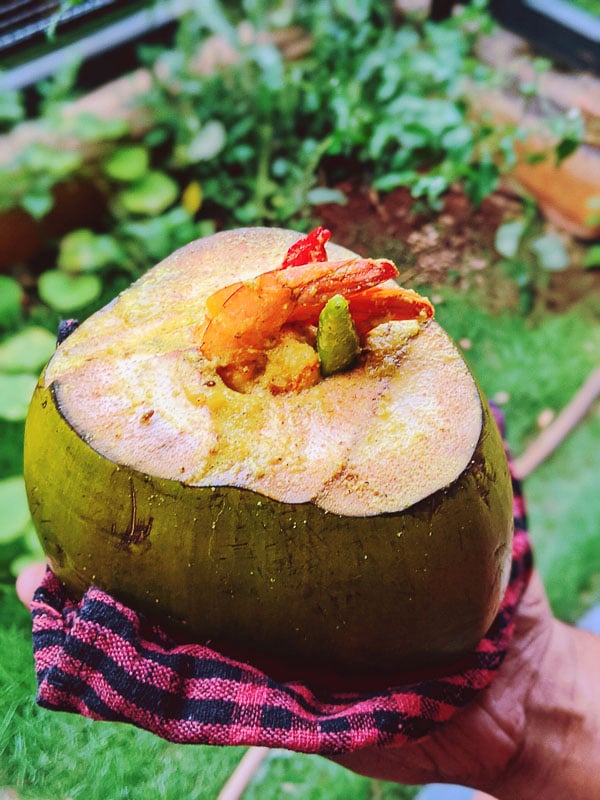 Daab Chingri
An extra mellowed down prawn curry cooked in the green coconut shell itself, Daab Chingri is one of the most rustic ways to cook prawns in Bengali household. My dida remembers cooking Daab Chingri in her youth. She would stuff the green coconut shell with prawns and put them directly in Unun, the clay oven used in erstwhile Bengali household. In 20 minutes of so the green coconuts to come out filled with the cooked goodness of prawns melting with Daab, green coconut flesh. It is a rustic way to cook and very low on spice count unless you go gentle on green chilies.
Also Read: Thing to keep in mind before planning a trip to Egypt!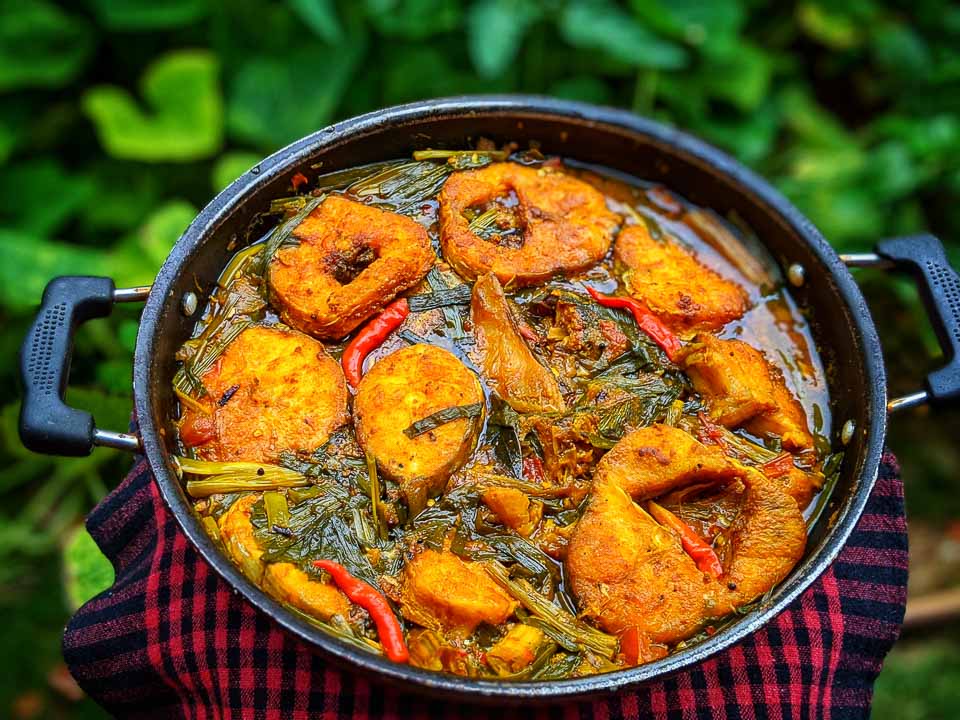 Sobji Diye Macher Jhol
The winter special Sobji Diye Macjher Jhol is probably the healthiest meal I have ever had in my life!
Imagine the goodness of winter vegetables, freshly plucked from the beautiful fields going staight into a fish stew. The flavour of fish magically transforms the otherwise bland Jhol of cauliflower, carrots, potato, and radish. I love this particular fish curry with a bowl of rice. You may have this fish stew for your dinner too! I often decorate with a bunch of fresh coriander leaves and boy oh boy it turns out sumptuous!
Also Read: 3 days in Goa, spending a long weekend in India's beach capital!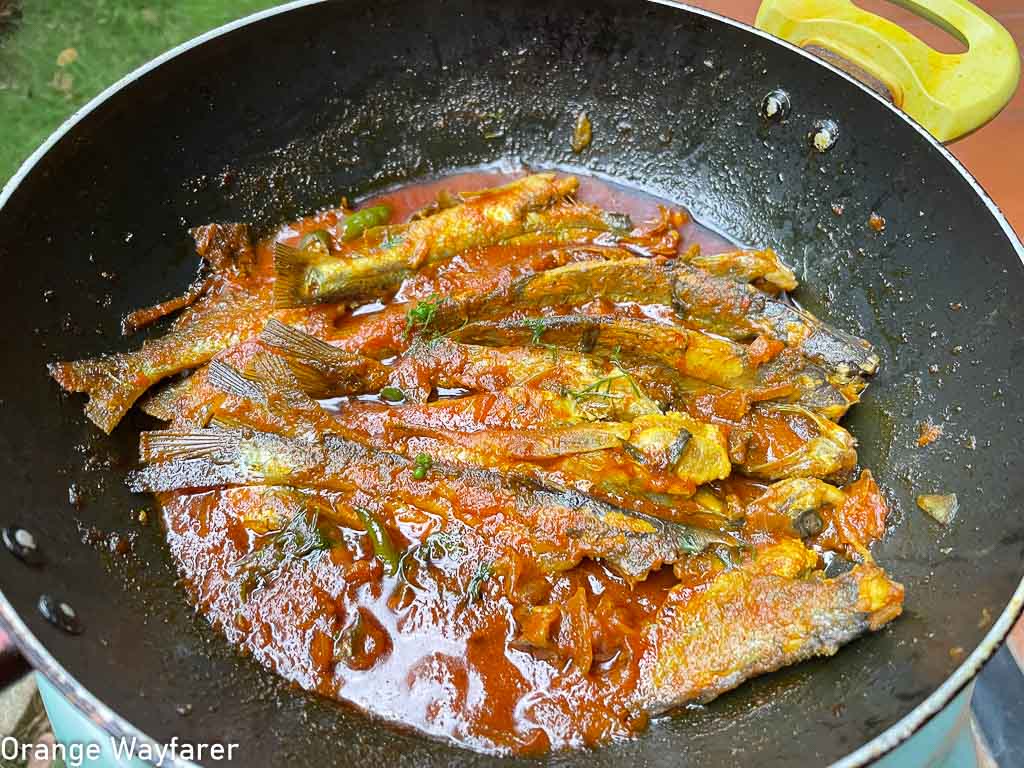 Tengra Macher Jhal
I have recently made a youtube video on this and my fatehr loved it so much that he went to bring Tyangra from the market the next day. Tengra is one of the most popular small cat fish variant widely available in Bengal. Tengra is made into a Tel Jhal, with abundant use of mustard oil and a little onion-tomato paste or made into a jhol with gentle indulgences of eggplant! I like both!
If you get Desi Tenga, the fresh ones straight from the pond, do not dare fry those fishes. Tyangra itself has a beautiful aroma with only gets enhanced when used in the curry! Frying tenga also leads to the fragile head getting dislocated.
Use nigella seeds and sliced onion as Foron in hot mustard oil. ry a little and mix in a paste of tomato, onion, green chilies. You may use ginger paste and cumin powder or cumin paste for a better flavor. Cook till oil leaves from the side, pour in half a cup of water, add the Tyangra fishes (assuming they are fried, otherwise add with the onions in the first step during Foron) and cook for 5 to 7 minutes. Sprinkle chopped coriander leaves on top and serve with steaming rice!
Also read: Memories of my Grandmother and a delicious Pabda Macher Jhol!
Macher Dimer Bora
Bora or fritters are often served as starter in a traditional Bengali meal. You may have it as is or combine it with rice and daal as a delicious starter or first course of the menu. Fish roe or macher dim is often sold separately in Bengali fish markets, unless it is Hilsa roe, which is pricier than even caviar in the mind of a Bengali!
For a good Macher dimer Bora, use only the freshest of ingredients and clean them till water runs clean. Mix in a lot of chillies, onions, coriander leaves, red chilies, turmeric and salt. Deep fry small fritters in mustard oil.
To cook Macher Dim or Fish roe in Bengali style many even boil the entire Dim in warm water first till the material has taken a firm shape and cut it into pieces and proceed as usual Fish Curry Jhol! That is often a main course, a delectable one at that and comes within good budget!
Also Read: A Katla Kaliya Recipe you have to try this weekend!
Posto Bora
Poppy seeds feature heavily in the regional menu of West Bengal. People of the western districts of West Bengal swear by Posto like Bonedi Babus would swear by Luchi and Mihidana for a lazy Sunday Brunch!
Take a handful of poppy seeds, mix in some coconut paste and chilli paste and besan (gram flour) and fry them briefly till a thick crust is formed. Serve it with steaming rice and masoor daal! You are prepared to welcome guests for the day! Many cook Posto Bora with Posto seeds as is, with a few sprinkling of sliced onions. That turns out good too.
Also read: Top ten things to eat in Hanoi, Vietnam!
Rosogolla
Imagine soft balls made of a dough of chena, Indian cottage cheese (for the lack of a better word) and cooked in warm sugar syrup and served straight out of the oven! Rosogolla is the damsel in distress from Grimm brothers fairy tales that needed to be rescued with a state identity between West Bengal and Orissa! A man named Nabin Chandra Dass walked all the way from Orissa to the old narrow dinghy lanes of North Kolkata centuries ago and invented the art of Rosogolla which would become an essential part of Bengali's cultural identity, aspiration, heritage and every small celebration! Rosogolla is something dreams are made of!
You get those packed tin cans from Haldiram's if you are not anywhere close to Kolkata and I suggest do not eat those. Travel to Kolkata, wait patiently in front of an old sweet shop in North Kolkata at 6 pm when the day's lot is made, taste it and fly away to heaven! I am not exaggerating a bit! And bring some home and have after a hefty dinner of rice and fish curry or Kosha Mangsho and thank me later!
in this blog post, I could pinpoint only a handfiul of bengali delicasies which by no means makes it complete! There are so much more to explore in Bengali cuisine, starting from great mutton dishes, Niramish dishes the bengali widows cooked without using onion and Garlic, dairy based fish curries and more! I would write more as I explore and learn and experienment. Stay with me in this journey!
Let's stay connected on Youtube, Facebook, Instagram, Twitter!
This post may contain affiliate links. Please read the disclosure post. If you have liked the article, you may support it by buying using these links without any extra cost to you.