About this blog: A Bengali style experimental rich fish curry (almost a Kaliya dish) cooked with onion paste, Gorom Mashala and sprinkled with coriander leaves! I learnt this from my mother who in turn was inspired by the cooking of her mami who lived a substantial part of her life in Rajasthan and picked up many nuances of culinary heritage from the northern states of India.
Read more food recipe here!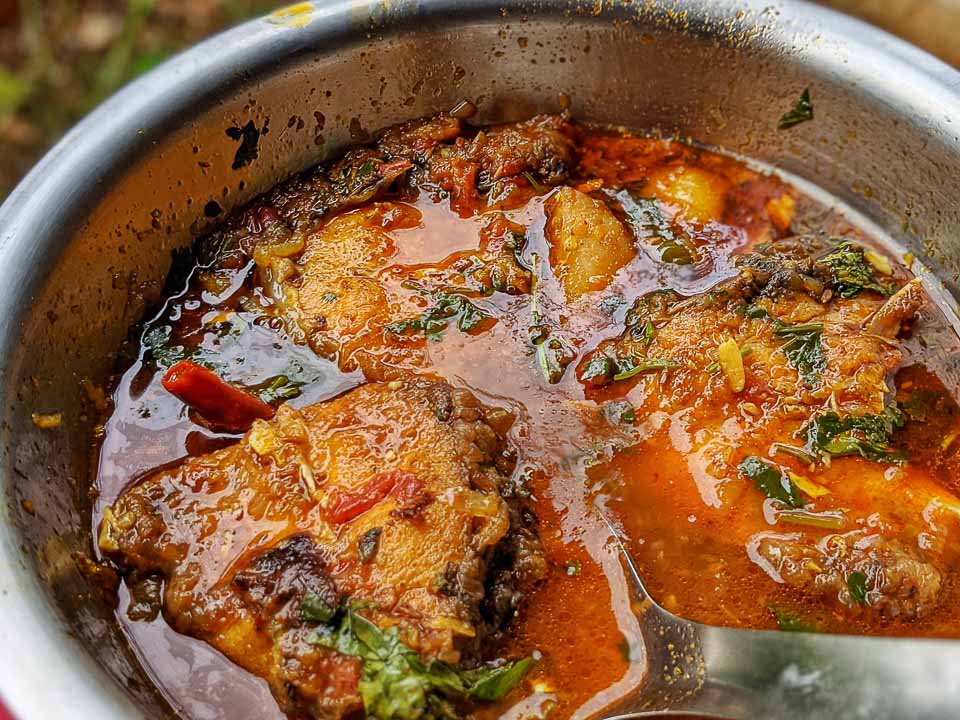 If all the Katla peti (belly steaks) go for Bhape (steamed) preparation, what do we do with the Gada? The ubiquitous Bengali cut of a Rohu (Rui) or Katla fish comes with two sides of the same fish. The Peti is a mellow, oily, subtle carp belly while Gada is the bony and fleshy brother sharing irreplaceable camaraderie with it!
Usually, we prepare the Peti on that day itself and reserve the gada for the next week. In my house, S bays for Gada. I love Peti. Hence it is a peaceful co-existence. On top of that, he lets me pick out the oily part of the fish Gada steaks. I have nothing to complain about, really.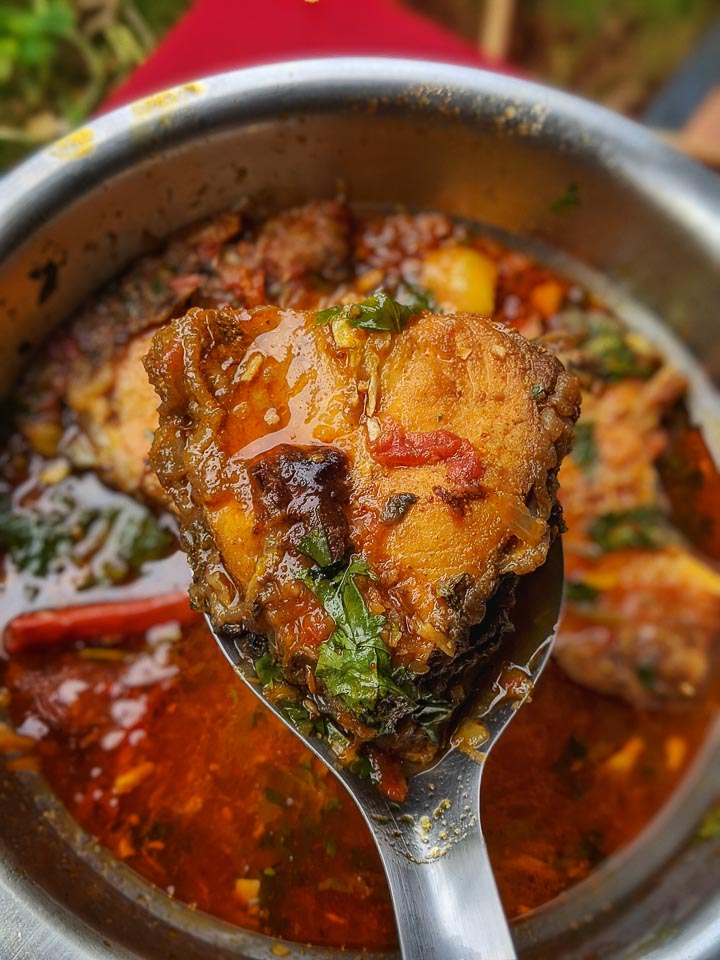 As a child, I had been the unequivocal contender of macher peti (carp belly? That sounds strange though) at home. I would not even touch Gada pieces until one day mothership cooked a certain dish remitting the heavenly aroma of gorom moshla romancing freshly plucked coriander leaves from Kitchen garden.
At the home kitchen of Kolkata, heavily doused in the nostalgia of East Bengal, Barisal to be more specific, using onion in fish curry is blasphemous. We cook a thin fish curry with a dash of turmeric and a few drops of ginger paste. Mustard oil, green chilli are responsible for creating the magic. I have written about that in Pabda Macher Jhol that I cooked inspired by Dida.
But life had other plans for Maa. One of her Mamis, Mejodida for me, lived in the northern part of India for a substantial amount of time. The rich gravies of Punjab and generous use of ghee and Garam Masala inspired her to conduct various culinary experiments. She would bring these experiments all the way from north to the east of the country, inspiring an entire generation struggling to spread roots in the newfoundland post partition of Indian subcontinent!
One of them was this particular Katla fish curry. I have already written about the quirky Alur Parota laden with barista which came out of Mejoddida's kitchen as well! It steered clear of the usual cumin and green chili paste induced Bengali Macher Jhol and heartened the use of a thick onion, tomato based gravy with a twist of fiery green chilis and aromatic herbs. Even Ghee.
I think this is what rendered macher peti the unbeatable appeal. Before we knew it, this "special" fish curry was an inevitable part of family celebrations, from Bhaiphota to Nababarsho or Bijoya Sammiloni and proudly shared the table with the likes of Hilsa and Golda Chingri!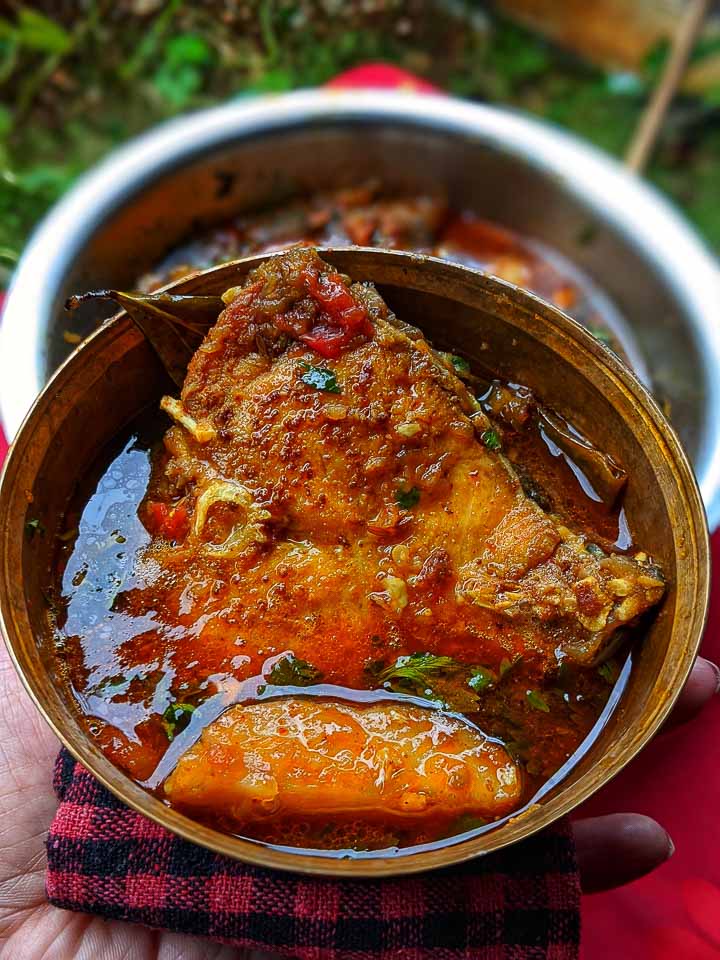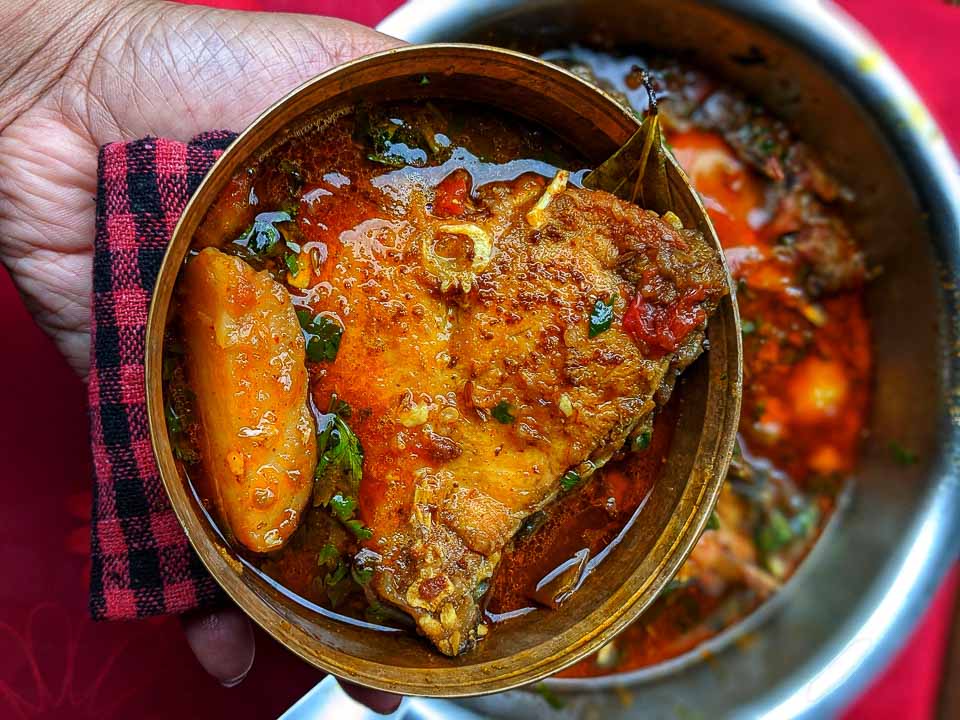 Ingredients for preparing Katla Fish Curry (Bengali Style)
1 KG Katla Fish (or Rohu, we call that Rui) Any river fish is suitable for this recipe. Specially the carps.
Onions: 2 large sized
Ginger and Garlic paste
Green Chillies
Potato, 2 Large. Cut into 8 wedges.
1 Lime, juiced
Coriander leaves
Green Chilies for flavor
Bay leaf: 2/3
Dry Red Chilies: 2/3
Cumin seeds: 2 tsp
Bengali Garam Masala: Cardamom, Cinnamon and Cloves (a few each, for tempering)
Salt to taste
Mustard oil (or Ghee)
Turmeric Powder: 2 tbsp
Cumin Powder: 2 tbsp
Procedure for making Katla Fish Curry (Bengali Style)
Mise-en-place for cooking Katla Macher Jhol
Clean fish pieces under running water. Ideally, we use "Gada", the triangular shape of the fish steak, with bones. You may also use Peti. In India, we ask for Bengali cut at the malls and they understand! Marinate fish pieces in salt and turmeric. Rub lemon juice. Marinade for at least 30 minutes.
Make a fine paste of onions. Make a paste of ginger, garlic and green chilies together.
Cut a large round potato in 8 wedges and fry them golden in mustard oil. Use the same oil for frying the Rui/Katla fish steaks.
Start making the final product, Bengali Fish-Curry!
Heat mustard oil in Kadai/spread out large pan.
Wait till it comes to boil. Add bay leaves for tempering. Follow up with dried red chilies and green chilies. They splutter so be careful! Add whole cumin. Follow it up by whole Garam Mashala. The tempering process is complete. You need to let them infuse the aroma of these spices in oil for the next few seconds.
Now is the time to add the onion paste. You need to cook it till it becomes golden brown. You may add some salt to ensure the cooking process fastens up.
One oil starts to leave sides (at least 15 minutes on high medium flame), you need to add ginger-garlic paste to it. Cook till the raw smell of the spices recedes.
Add some cumin powder at this stage. I like my fish curry on lighter tones and do not include any other spices. If you want, you may add some Kashmiri Red Chili powder along with. This will ensure the fish curry looks fiery red!
Add the fried potato wedges. Add in a bowl full of warm water. Let it simmer for a while.
Now slide in the fish steaks. Ensure they remain submerged under the water.
Put the lid on for the pan. The fish curry will cook for at least next 10 minutes. Put it on simmer.
Turn the heat off but do not open the lid immediately. Rest for another 10 minutes. Open the lid and sprinkle chopped coriander leaves on the curry. Adjust salt. Add in green chilies if you love your fish curry spicy.
I love to eat this with steamed hot rice. The taste gets elevated if you have a slice of Gondhoraj Lemon to go along. A normal slice of lime would do in case you do not have access to Gondhoraj immediately!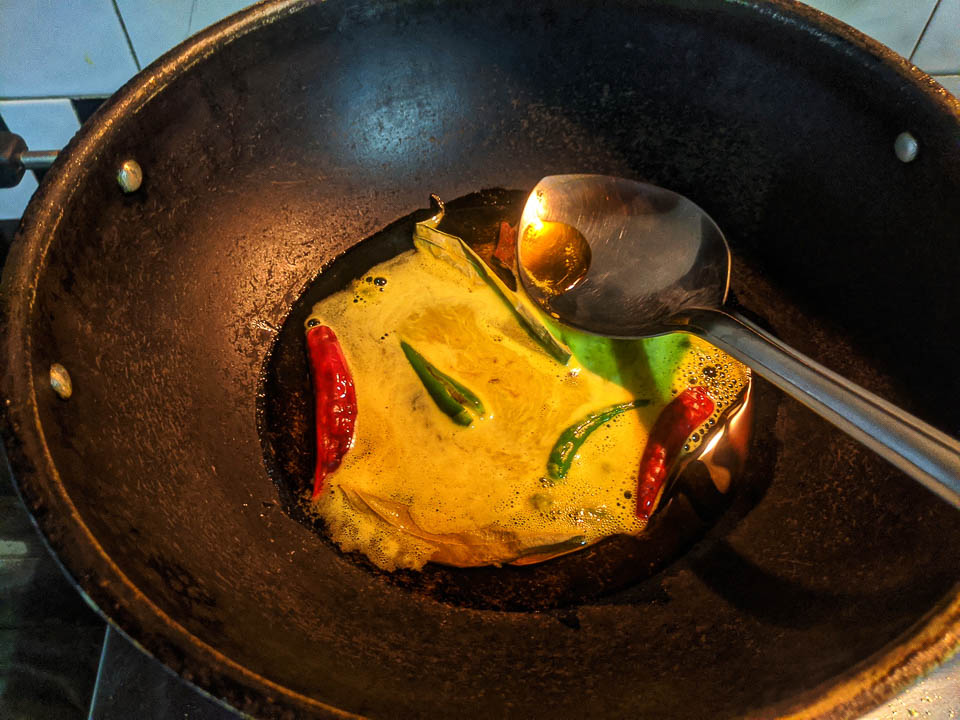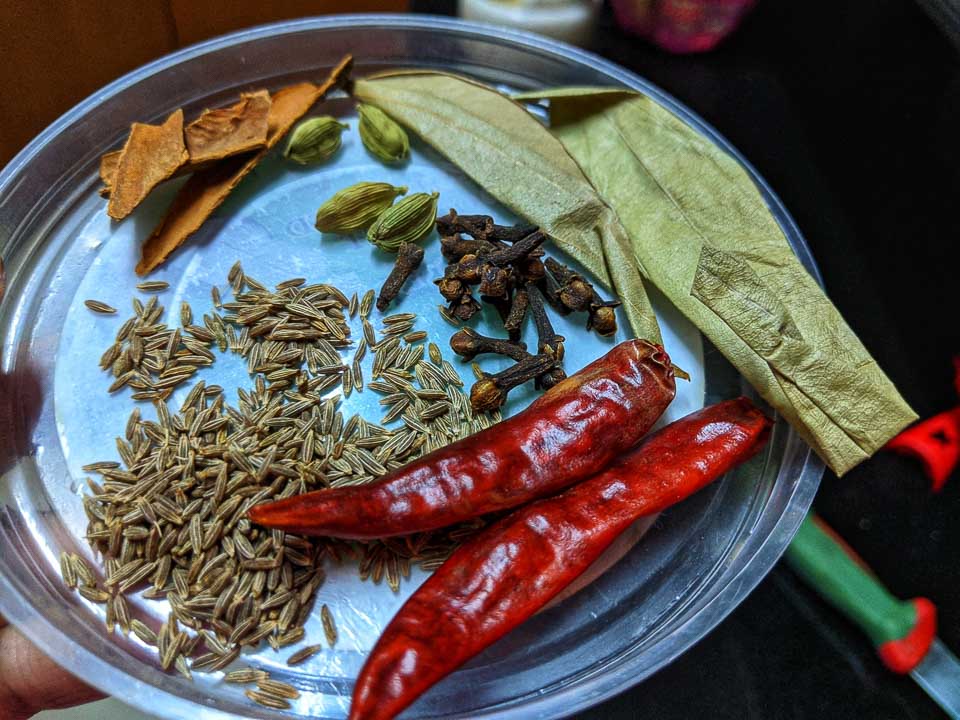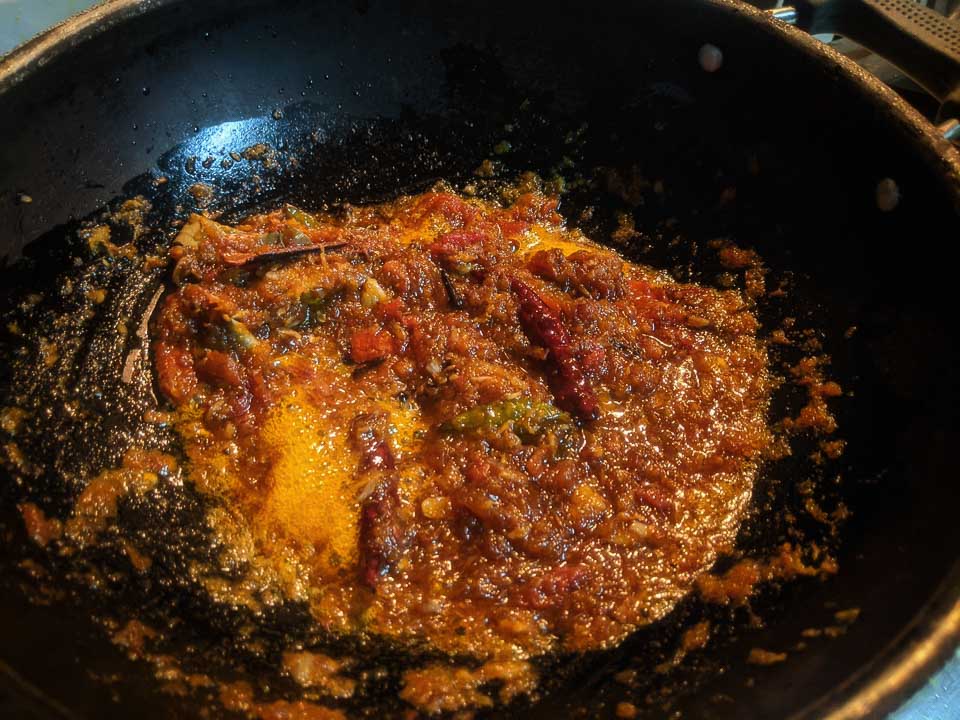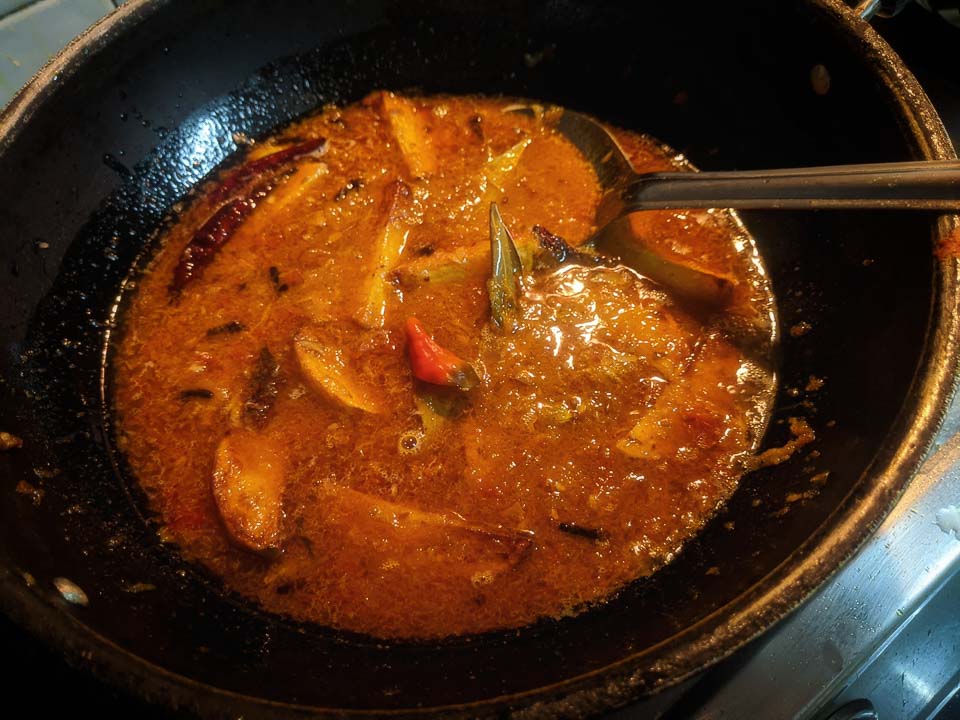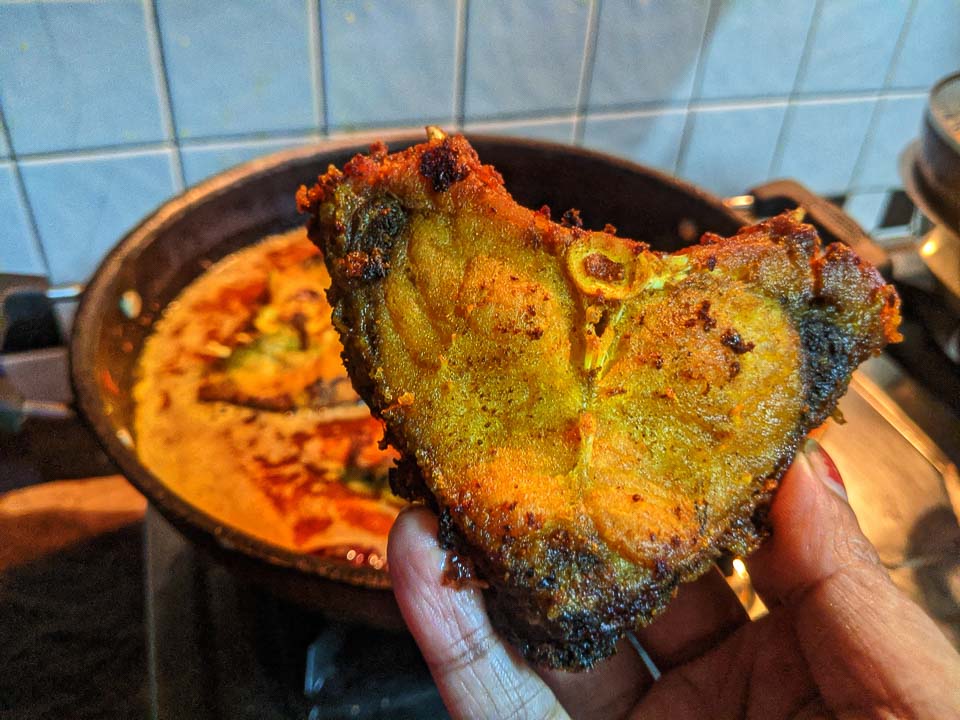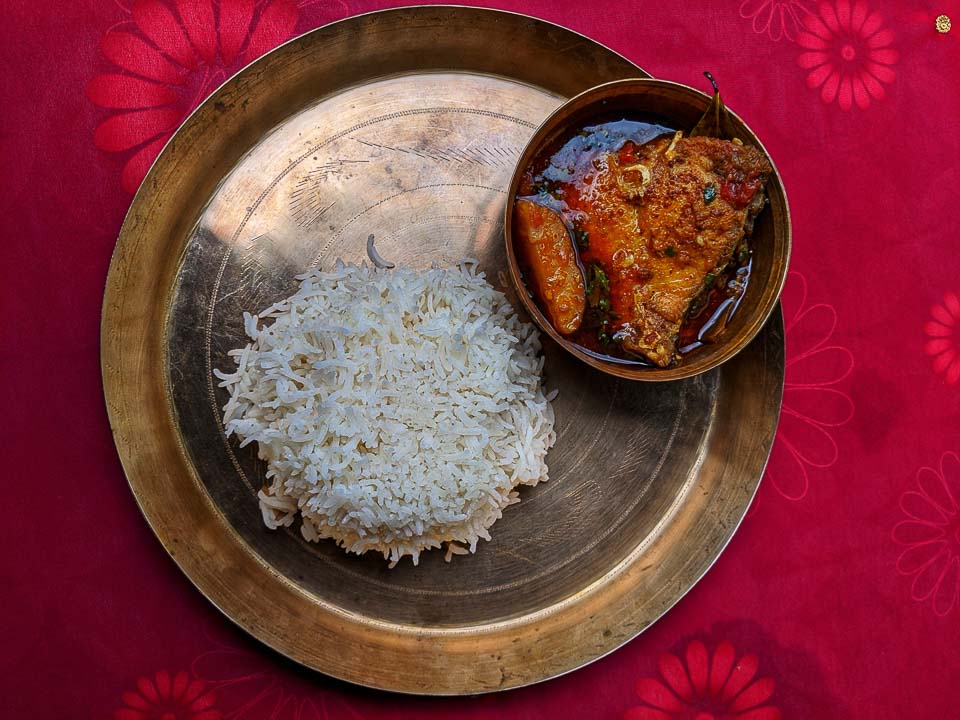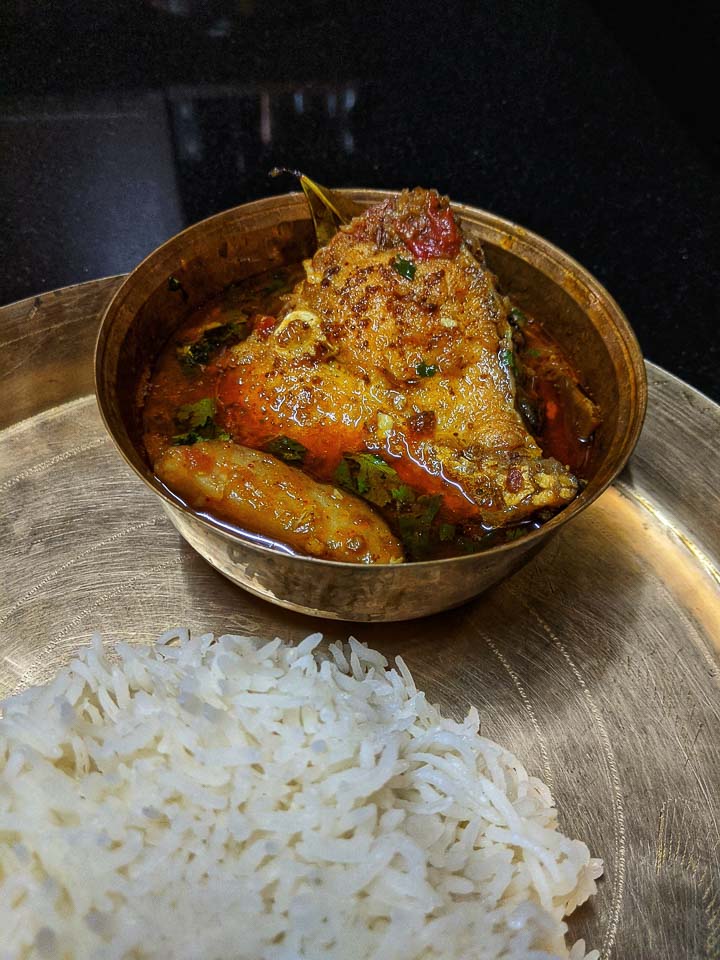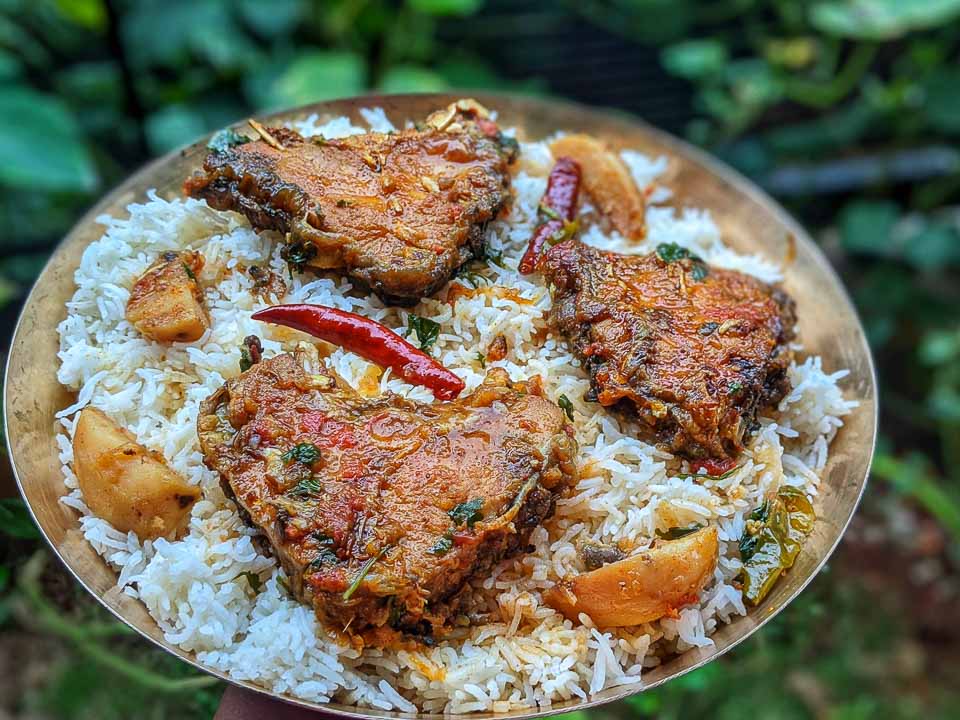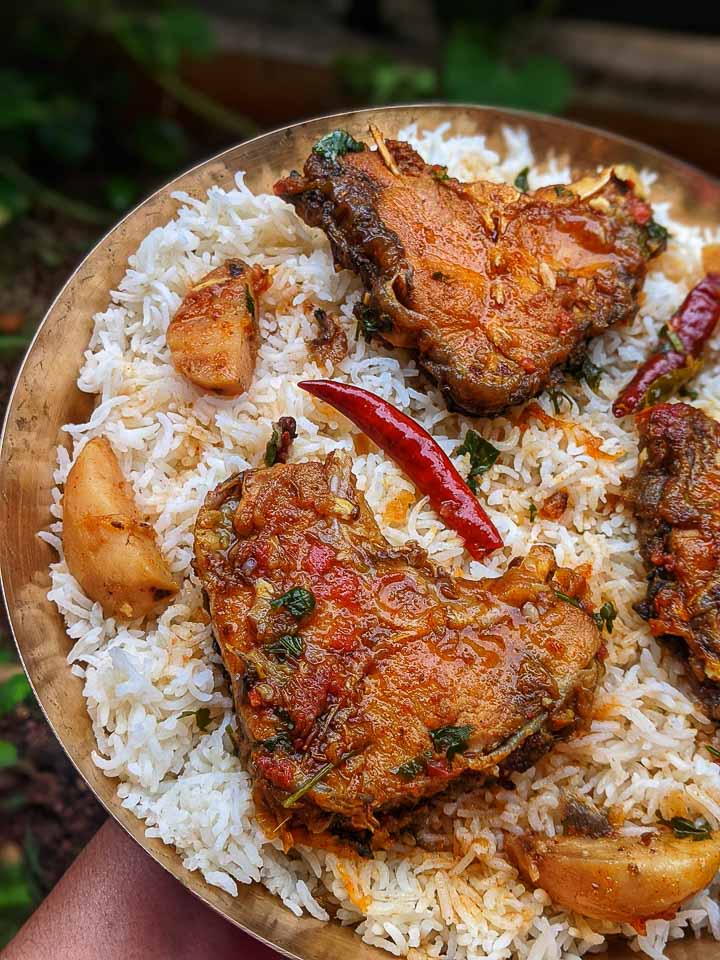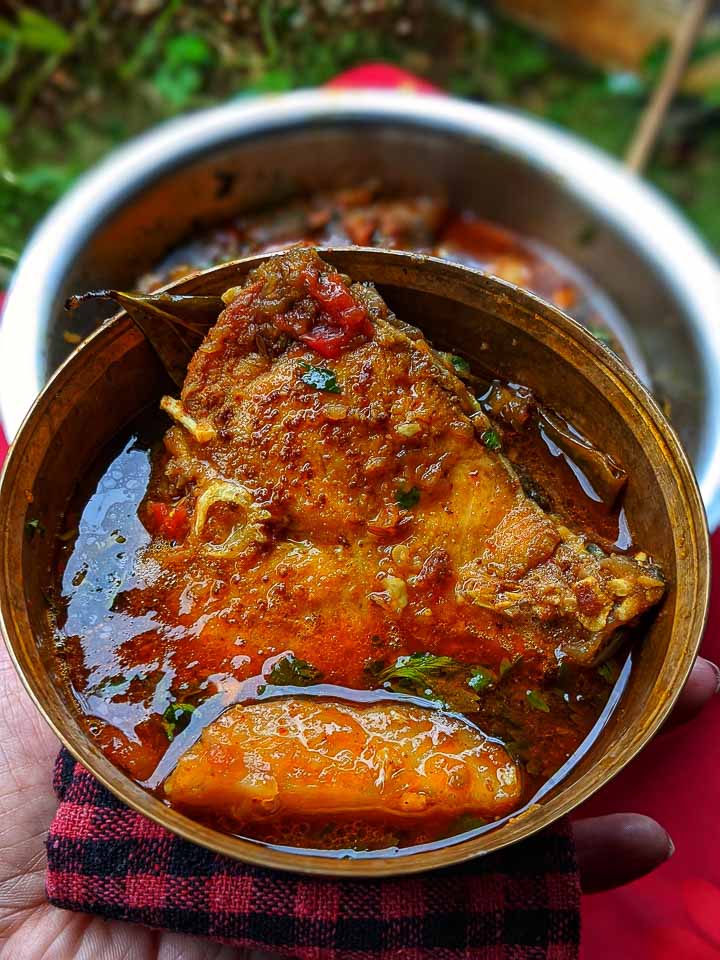 This post may contain affiliate links. Please read the disclosure post. If you have liked the article, you may support it by buying using these links without any extra cost to you.
Let's stay connected on Facebook, Instagram, Twitter! You may also consider joining my mailing list. I send travel and photography related emails only once a month!