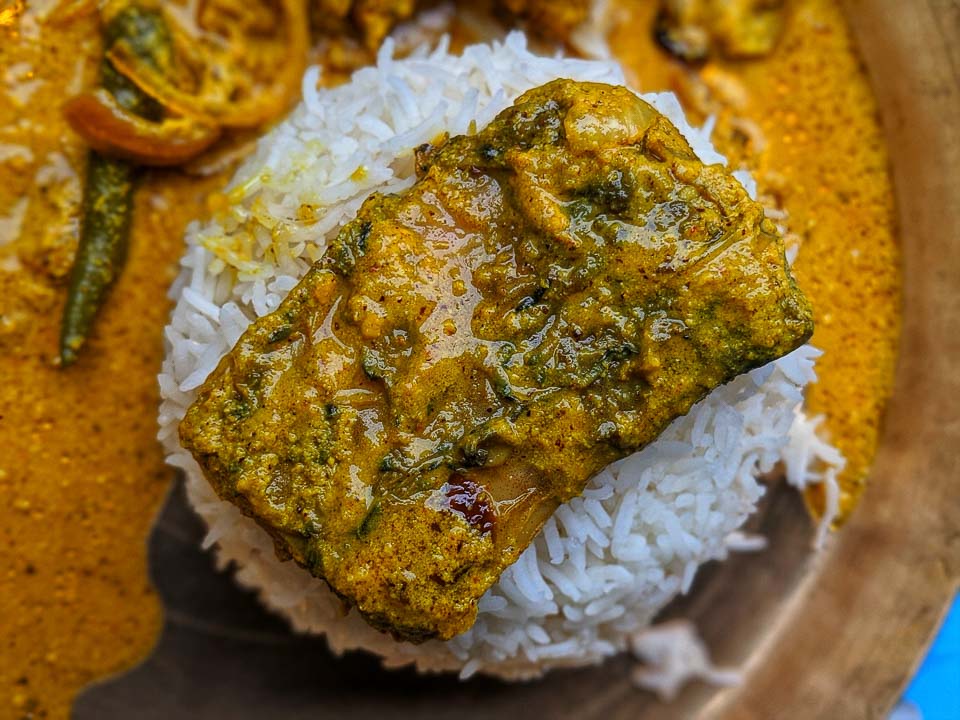 In my home, a Katla macher peti would be served on good days. As an incentive for a good deed, think a good score in math exam or picking up the right tune for the Raag taught in previous music class. The day dad brings home a Paka Katla is special. Paka Katla, also known as Kataponas are special, more special if they are a fresh catch of the day from the pond at the backyard. From the fish seller my dad would buy the fish from, would also give him a Lyaja (the tail) because I love to eat it!
As I type this, I recall the mornings filled with an inexplicable aroma of fish curry cooked with cumin. Staying true to the tradition of pre-partition East Bengal's Borishali households, Maa would never use onion is fish curry, unless it is a Kaliya dish of sorts. Simple ginger paste, green chilies and seasonal vegetables would usually do the magic. The winter vegetables cast their spell in the Bengali fish stew like no other cuisine does! I am not exaggerating.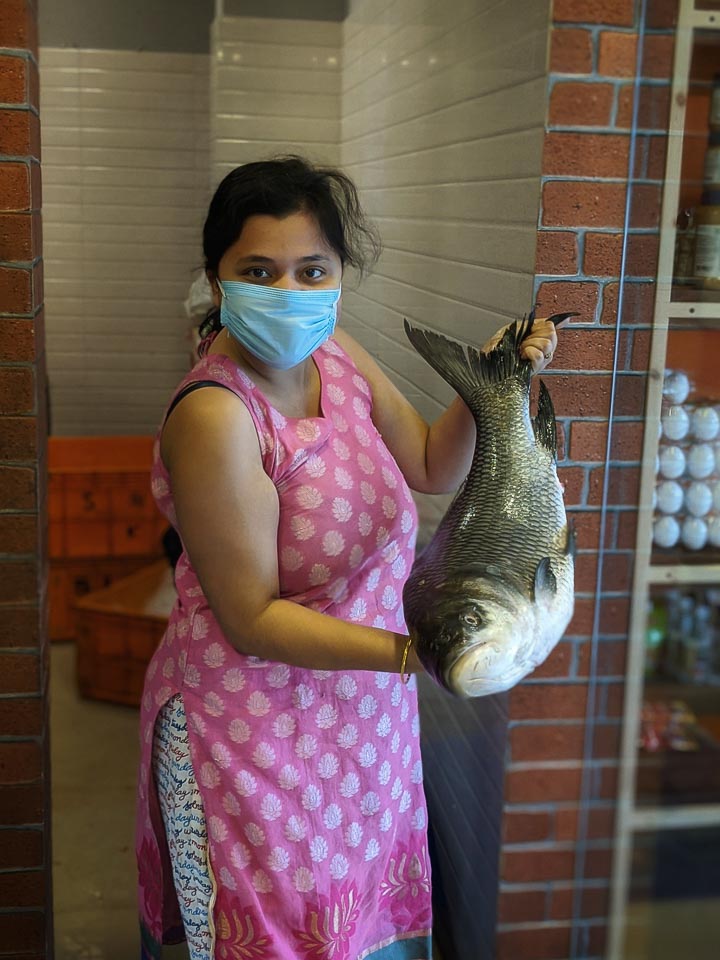 It is after I started to date S, whose ancestors hailed from Dhaka, now the capital Bangladesh, I learnt the beauty of Katla Peti bhape! A steamed fish preparation, Katla Bhape is a no frill Bengali fish dish. Easy to make, great in taste and befitting a small scale celebration with elan!
However, it is challenging to find the Paka Pukurer Katla in Bangalore (a full grown carp from a pond). We are HAL market loyal fish buyers of Bangalore. We are upsold a fish saying, "I caught the fish this morning from Hassan Dam!" A yield from the iconic river Kaveri of Karnataka.
This is intriging how geography bestows human habitats with natural yields, which in time turns into love-bites for the cultural diaspora. In Bengal, the fish traversing all the way from Indian peninsula is often touted as Madrasi and sold at a lower cost. To meet the ever increasing demand of Bengali fish markets, people sometimes resort to the economic option. However, it is imperative to buy fresh fish anywhere in the world. The stink can kill otherwise. The case is different for Shutki though!
Anyway, I spotted this beautiful 5 kg+ fish at the fish store next to my place in Bengaluru a few weeks back. It was an instant decision to buy that beauty and before we said it, we knew we are going to cook Bhape with it! Bhape is the Bengali style of preparing steamed fish (not a paturi).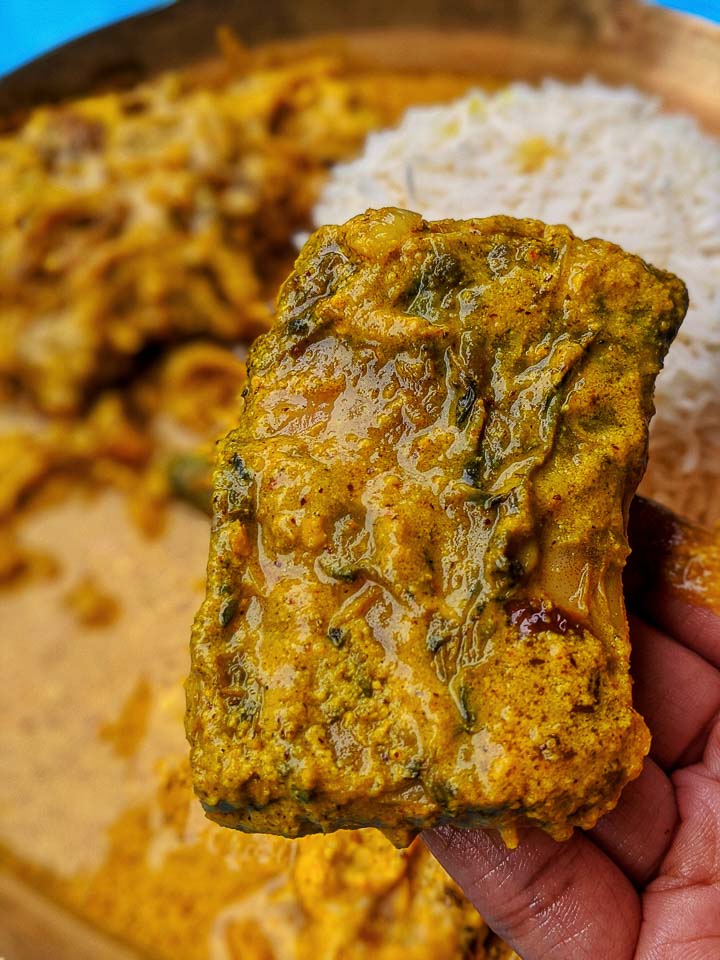 Also read: Complete Guide to Offbeat things to do in Goa!
Ingredients to cook Katla Mach Bhape (Bengali style Steamed Katla Fish Curry)
Katla macher peti (the belly pat of the fish): 1 KG
Posto Bata (Poppy seed paste): 3 Tbsp
Mustard paste: 2 Tbsp
Thick Yogurt (200 gm)
Mustard Oil: 6 Tbsp
Green chilies: 7/8
Salt to taste
Turmeric: 1 Tbsp
Onion for barista: Fry 3 onions
Red Chili powder: 1 tbsp
A Lemon, wedged
Procedure for cooking Katla Mach Bhape
You may fry the fish if you think it is necessary. Frying a fish before putting it in a Bengali style curry is a mellow process. You marinate the fish steaks with sprinkling of salt and turmeric. Rub a lemon wedge. Shallow fry in piping hot mustard oil. If you are using a white flesh fish (think Bhetki or Barracuda) you can skip the frying part.
Prepare the hung curd with lemon juice, turmeric and red chilli powder.
Prepare the steaming base. This is the most crucial part of the fish curry. You need a Kadai. Apply mustard oil. Add in hung curd, well stirred. Mix in poppy seed paste and mustard paste. Break the green chillies and mix in. Add in salt to taste. Douse the top of the mix with enough mustard oil.
Put the lid back on the Kadai. I steamed it on a double boiler. You can use another pot full of water and put it on fire. Ensure the base of the kadai must touch water at all points of time.
In case you do not have ready access to a double boiler, put the kadai on a slow flame. That shall do the job.
Steam it for at least an hour. Before you open the lid, give it a standing time of 30 minutes at least.
Katla Bhapa is best served with steamed rice. A slice of Gandoraj Lemon will be a great addition to the plate! You may cook the recipe with Rohu fish, or any other form of large carp fish.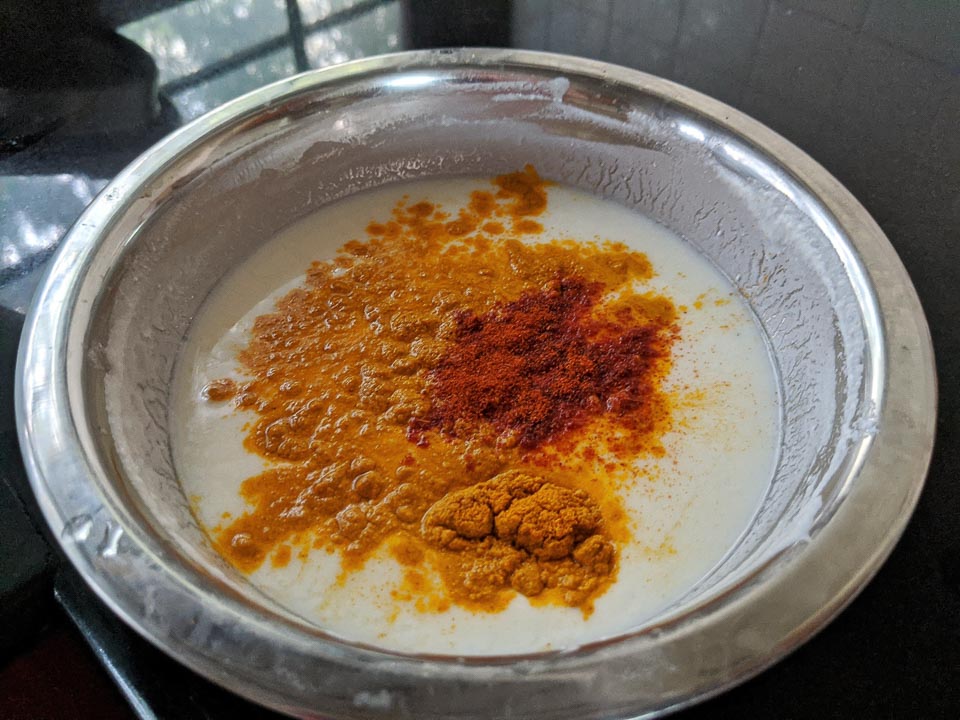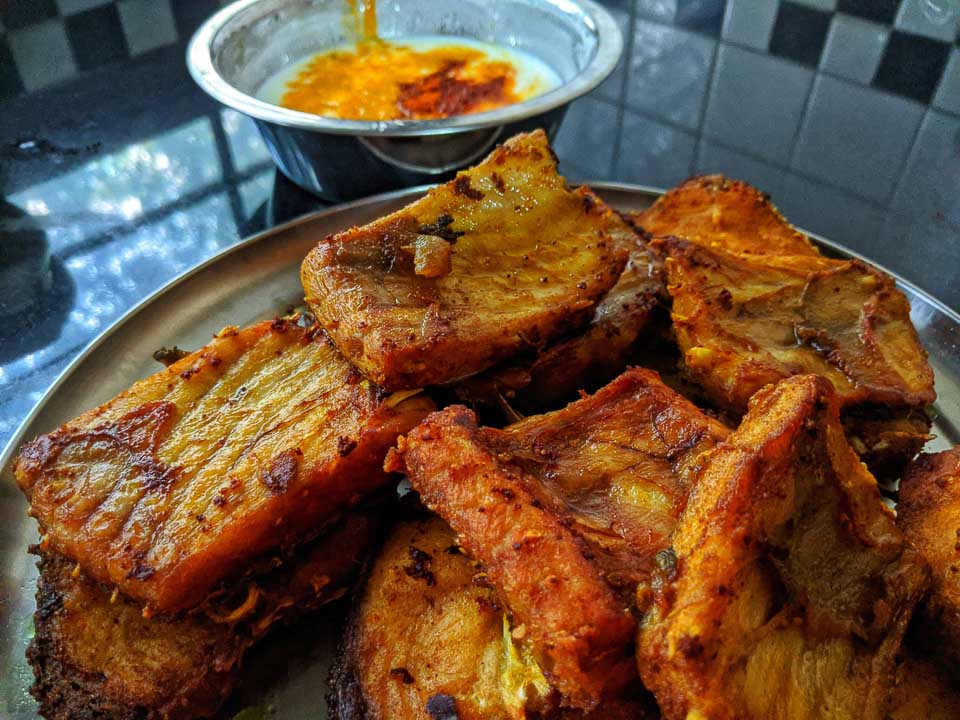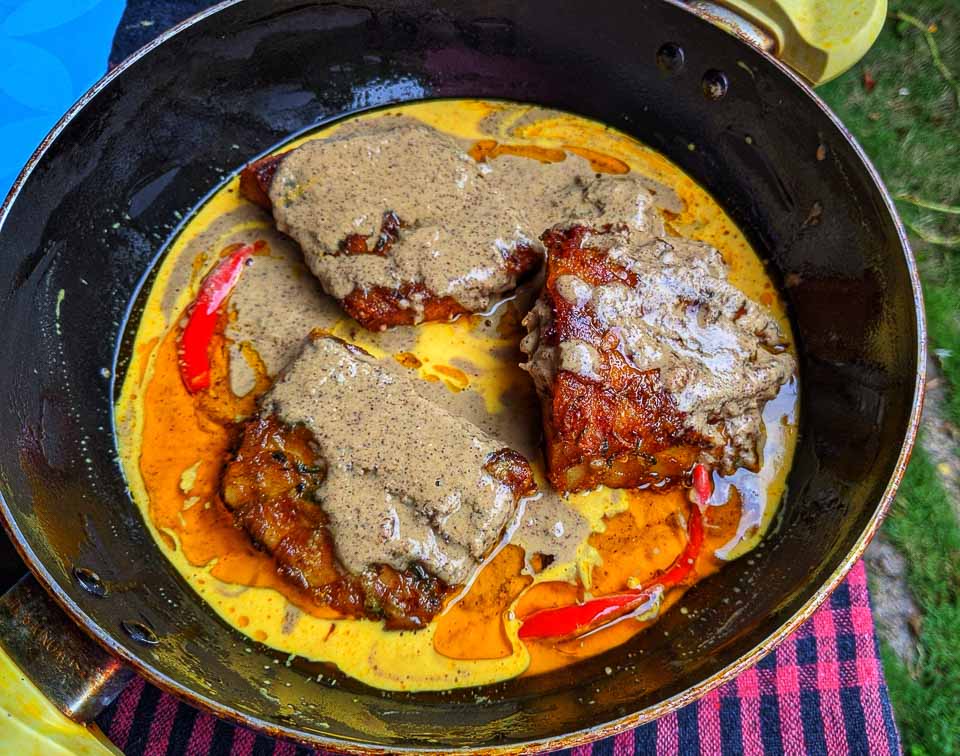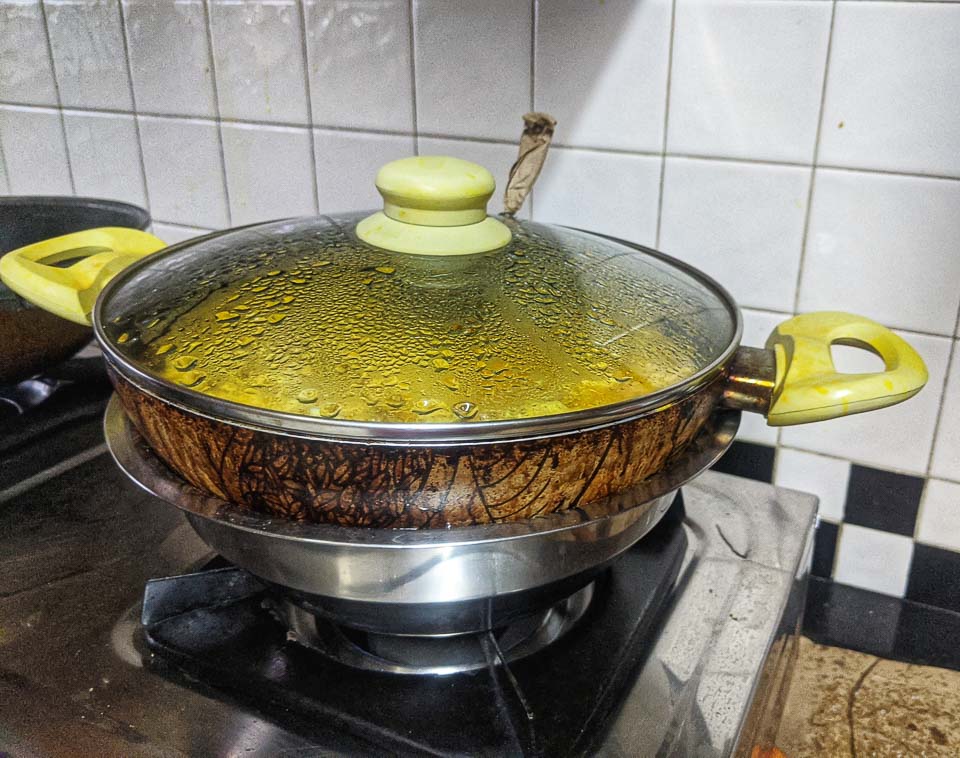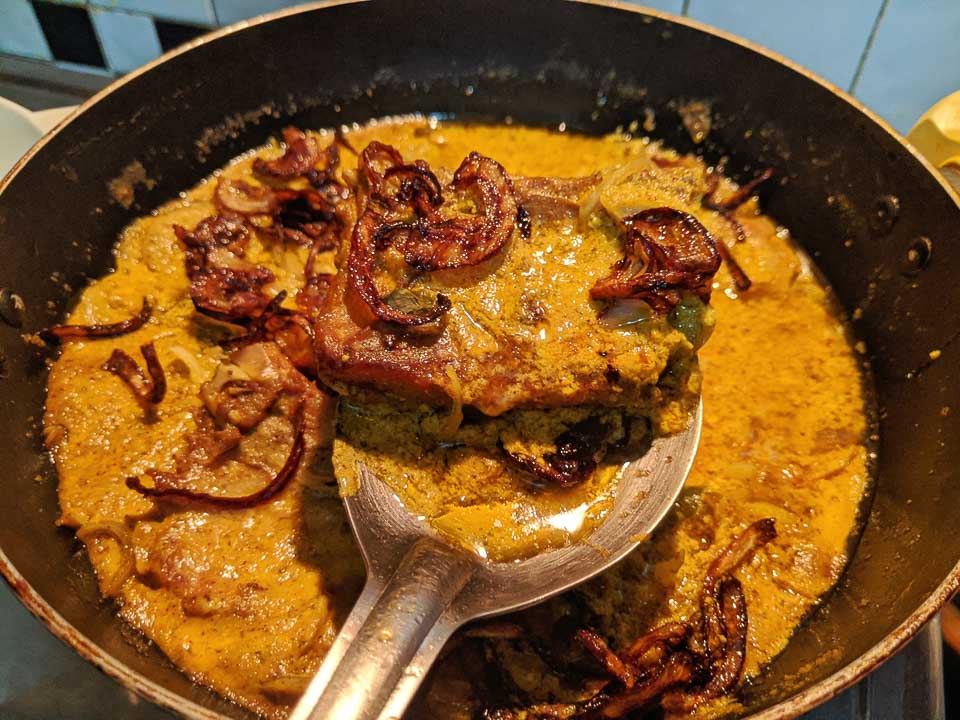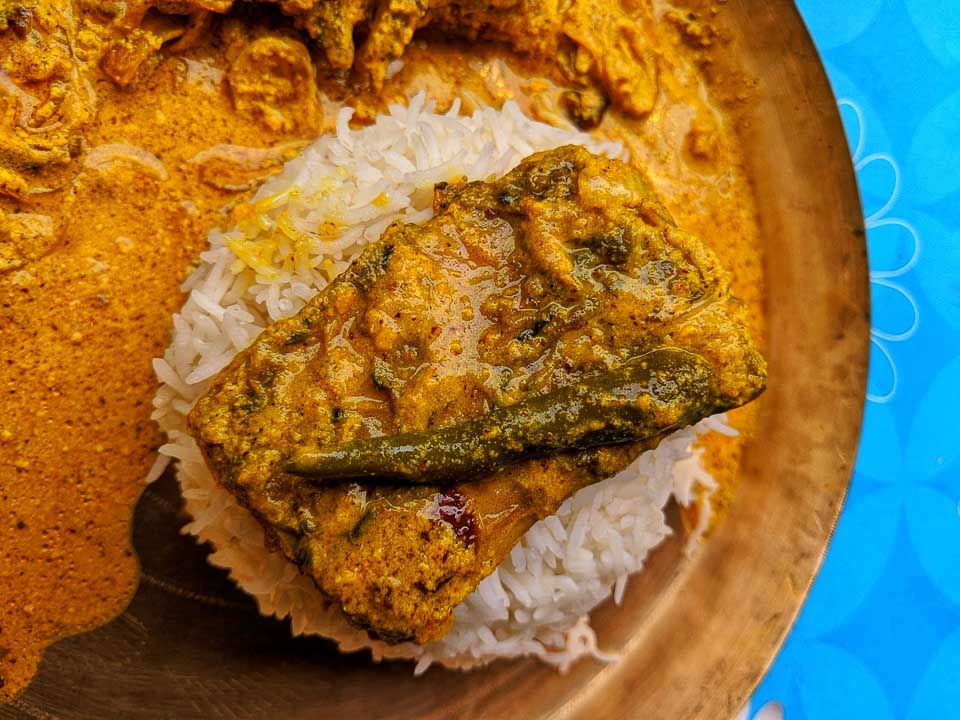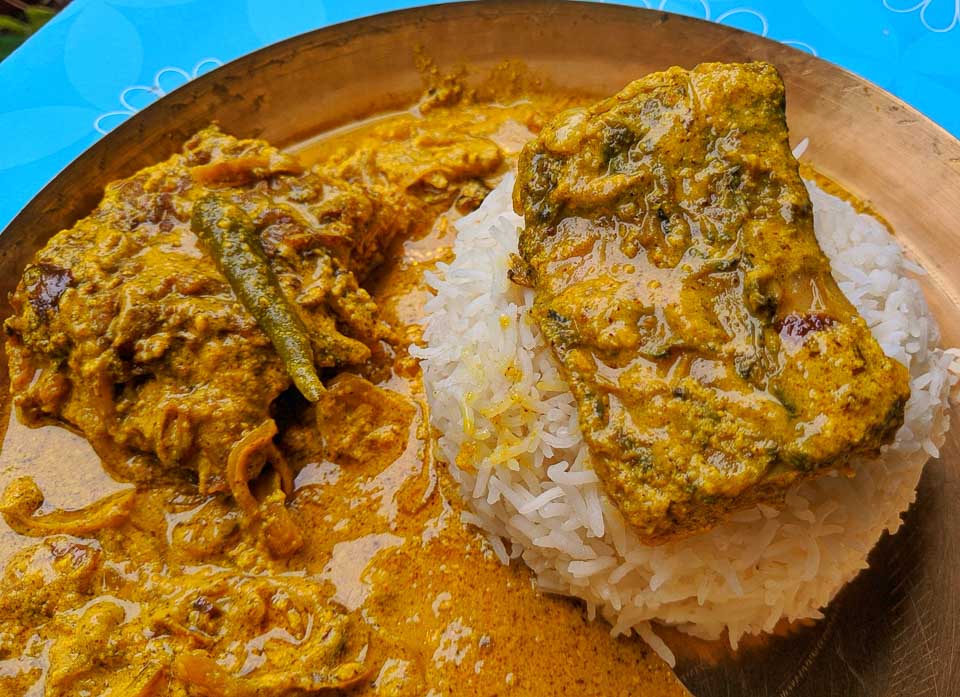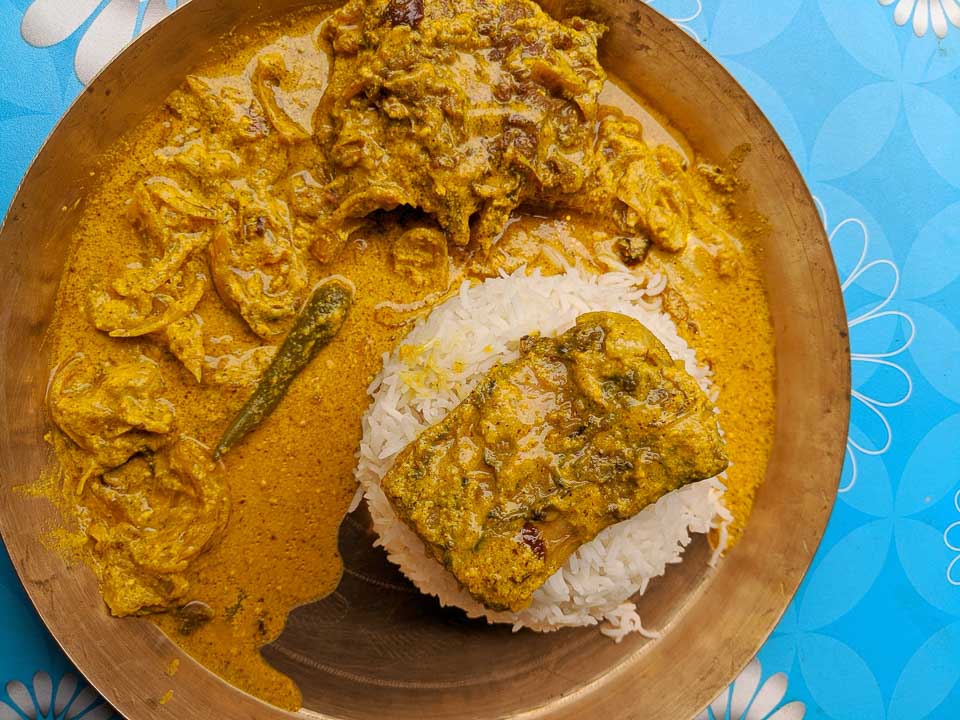 This post may contain affiliate links. Please read the disclosure post. If you have liked the article, you may support it by buying using these links without any extra cost to you.
Let's stay connected on Facebook, Instagram, Twitter! You may also consider joining my mailing list. I send travel and photography related emails only once a month!