Finding the best Hilsa in Bangalore!
In Bangalore, I buy Hilsa from HAL market. I mean I used to buy Hilsa from HAL when the world was as we knew it.
With lockdown in place, life has changed significantly. Earlier, the sight of Hilsa in Bangalore called for celebration. We would inform our friends, discuss in food groups, invite friends over. A lot of tiffin box would be exchanged over weekends.
Now is a myriad time. Until recently, river fish was a rarity in Bangalore, barring Rui-Katla variants. All we got was a series of Seer fish home and I cooked Meen Molee week after week in memory of our cancelled Kerala trip, all my heart wanted!
Then the owner of Meat Hub started to bring Hilsa as monsoon was about to take leave from the subcontinent. A Bengali usually does not live well with a monsoon that is bereft of Hilsa, the silver crop of water as Manik Barujje (recalling how my English teacher Mr. Amal Das would pronounce his name) described!
The meat Hub is a small fish and meat seller in my neighborhood which opened just when lock-down was about to set in. Business was bleak as I know it in the initial days but now is different. His workers have stayed back in the shop. At one corner, they have made a make-shift kitchen. Sometimes, when I pick and choose my fish, I find the aroma of an all engulfing chicken curry carrying an undisputed influence of the Nepalese gastronomic expertise. I had one such hot spicy Chicken curry on the way to Lumbini from Chitwan in Nepal.
But I digress…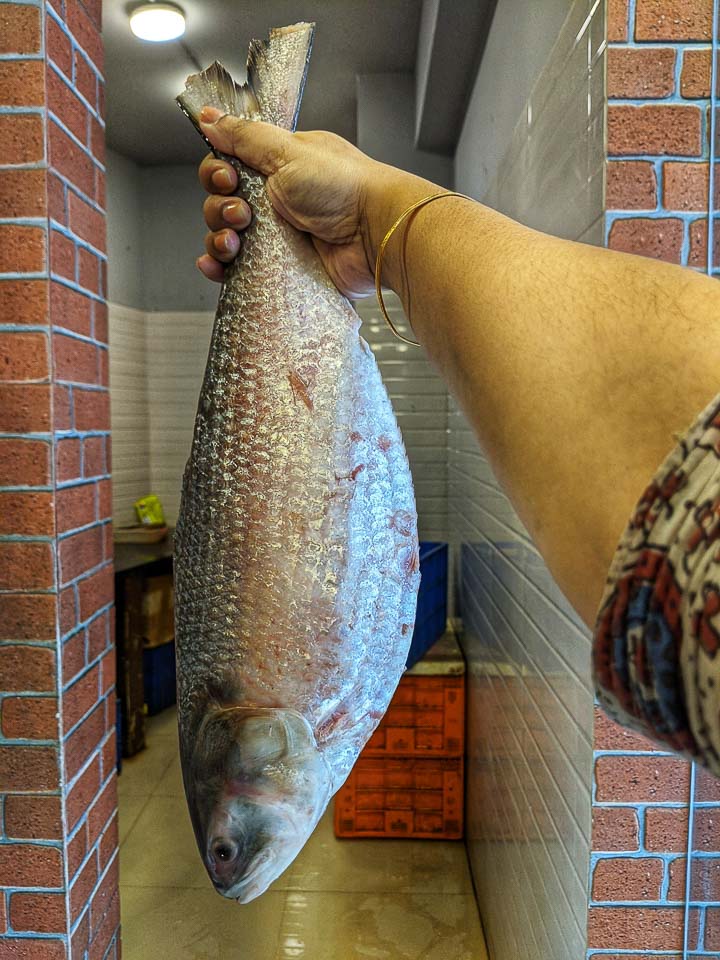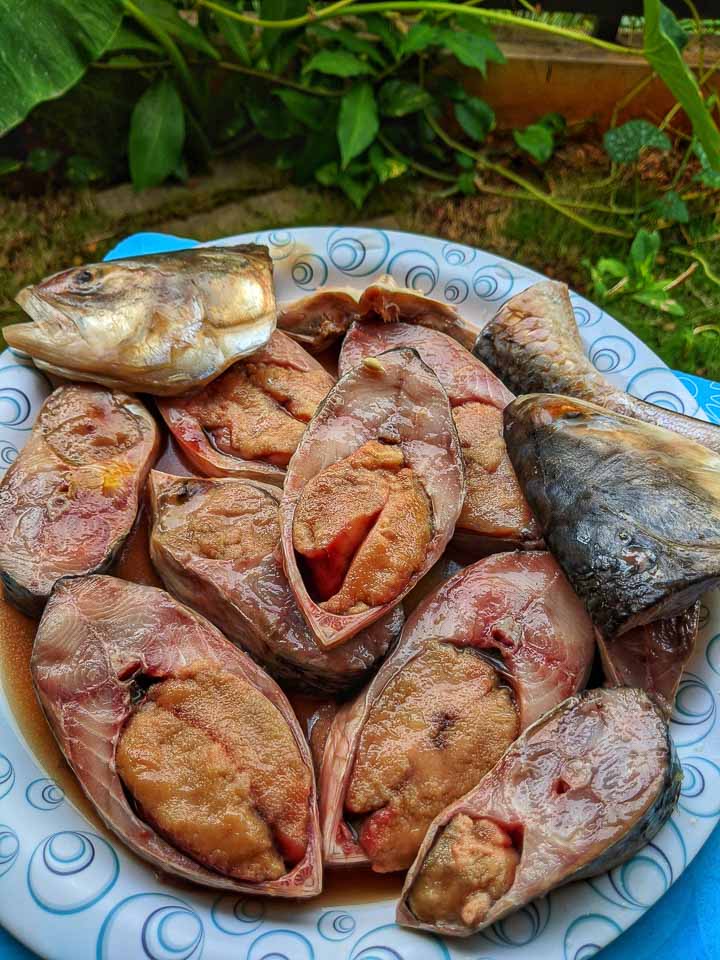 Hilsa was trending at an expensive than usual tag of 2000 until recently. This weekend, price dipped a bit to 1800 for a kilo. We also spotted this large beauty. The other Hilsa fishes available were comparatively smaller. We decided to go for it. It is end of August already and probably this would be one of the last few Hilsa for this year. I hear one of the many damages caused by Amphan cyclone is reduced supply of Hilsa this year.
The day lock-down started, I had got another 1.5 kilo Hilsa from Meat Mart. That did not have fish roe though. That fish came in a plastic wrap inscribed with Bengali font, "Bangladeshi Ilish", Hilsa of Bangladesh. A rarity. A novelty. An inexplicable bond between the two countries parted with international border but connected at heart through culinary heritage.
I was conflicted in my mind. What should I make of this Hilsa? Should I cook this with mustard paste? Should I cook with Begun (eggplant)? Should I try the Ilish Panikhola, one exotic Hilsa dish making frequent appearance on FB groups nowadays?
I took a deep breath and I knew this had to be Shorshe Ilish Bhapa, the legendary steamed Hilsa in mustard sauce. To make it more special, we added a few things extra. Think Poppy seeds. Think coconut. The Borishali Ilish Bhojohari serves feels and looks almost the same, though the one I am writing this recipe for is Bhapa, steamed!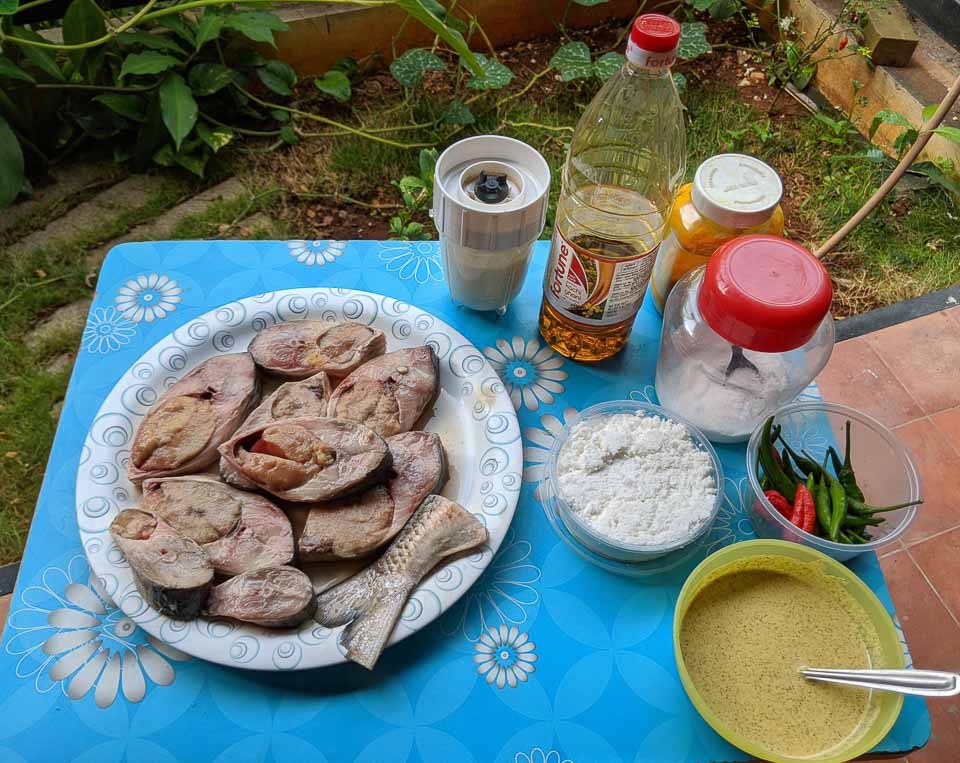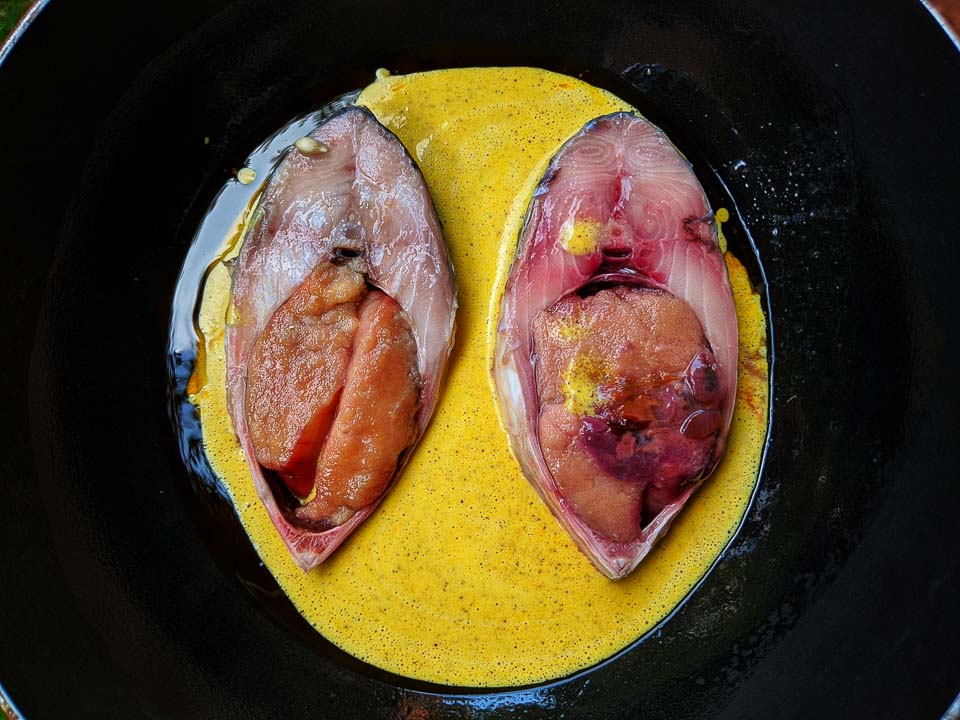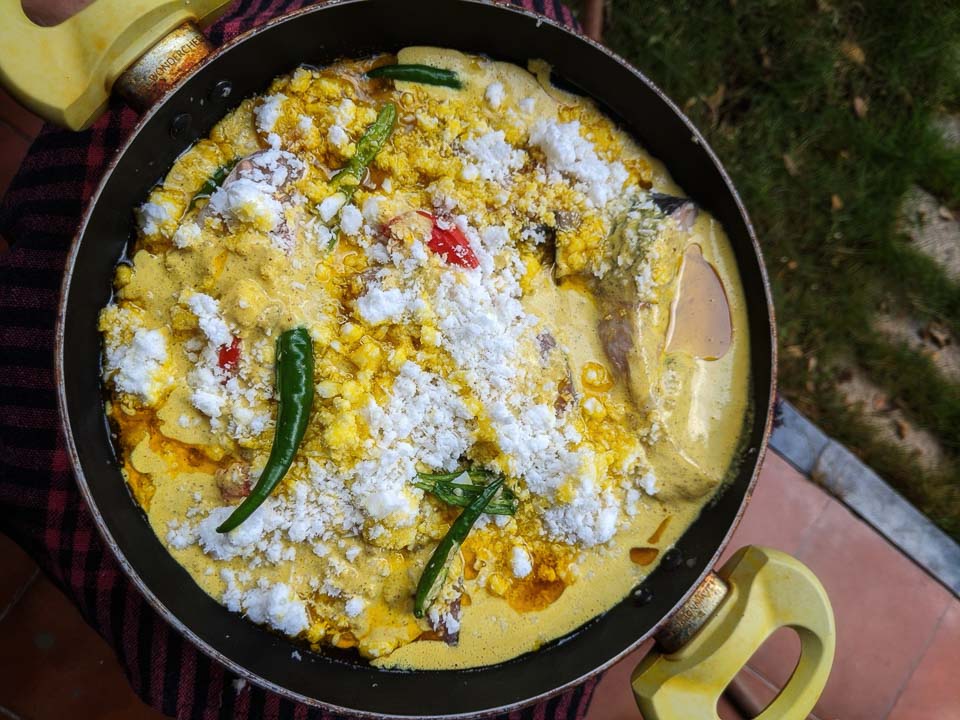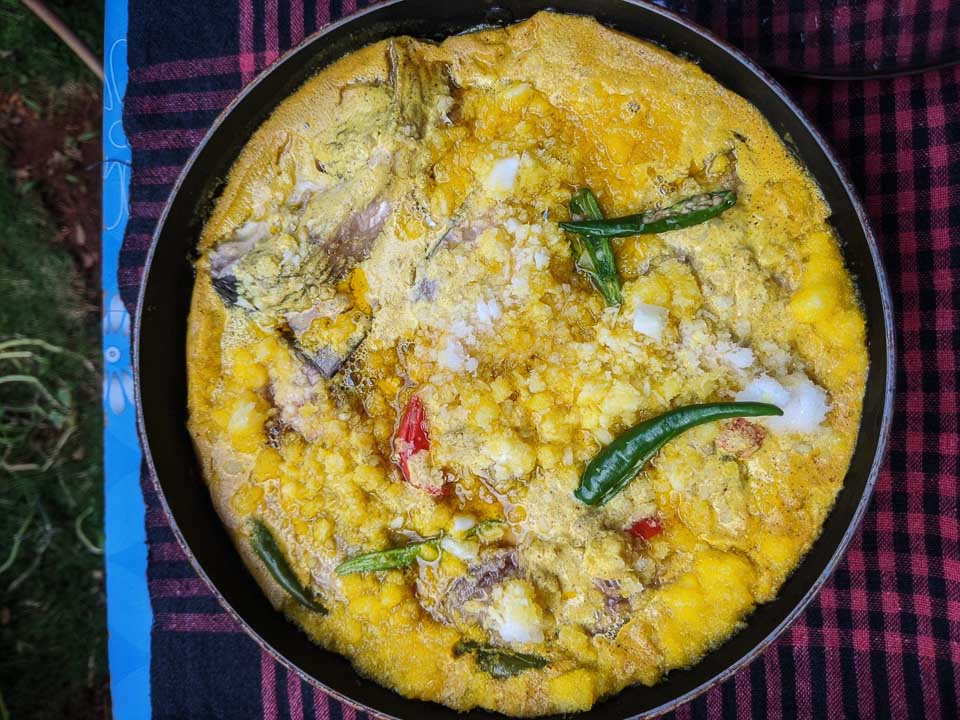 For more Bengali recipe, check out this page: Cookbook.
Ingredients for cooking Shorshe Bhapa Ilish (Hilsa steamed in Mustard sauce)
Hilsa Fish, Ilish Mach, ideally from Padma river. If not Kolaghat will do: 1.5kg
Mustard Oil: 200 gm
Mustard paste: 50 gm (make a paste with some salt to cut through bitterness)
Poppy Seeds: 50 gm
Grated Coconut: 200 gm
Greek Yogurt: 200 gm
Salt: to paste
Turmeric: a pinch
Green chilies: a handful. The more the merrier. At least 4 to 6
Procedure for Cooking Shorshe Bhapa Ilish(Hilsa in mustard Sauce, signature dish of Bengal)
Clean the Hilsa fishes. If the fish has roe, keep them unless you plan to cook something else with it. I saved the Fish head to cook later with Kochu (Colocasia).
If the fish is fresh, it should have organic oil which may get drained out if you are cleaning it too much under running water. 
In case of fresh Hilsa (Ilish), you do not have to fry it before cooking. That is a mandate otherwise in Bengali cuisine. Only a few oily catfish, the likes of Katla and Boal, are exempt from the fry in mustard oil before adding to the gravy!
To make a successful Ilish Bhapa, I used a Karai (Kadai). Ideally you may use a steel tiffin box, layer the Ilish steaks in it with mustard sauce and put in the rice pot. Fish will be cooked alongside rice. 
But I had 1.5 KG of Hilsa, which is roughly 12 pieces. I did not have a tiffin box large enough to be fitted inside the rice pot. Instead, I used a non-stick Karai and put it on a double boiler to steam the fish!
Make a paste of Mustard seeds and poppy seeds. Make a fine paste that renders a creamy texture.
Add turmeric powder and salt to it. If you are using chilli paste, add that too. 
Blend the Greek yogurt in a mixer and add to the mix of mustard paste. The Mustard sauce is ready.
Smear the Karai with mustard oil on the pan.
Add the mustard sauce. Ideally, for cooking Hilsa just mustard paste is good enough. You may add a bit of yogurt to add the creamy texture. Along with the usual, I added coconut and poppy seed to the Bhapa Hilsa dish for a more pronounced taste!
Add a few steaks of Hilsa to it. Sprinkle some grated coconut on top of the Hilsa steaks. Add some mustard oil.
Make another layer with Ilish (Hilsa fish) steaks. Pour in the mustard sauce again. Top it with grated coconut and mustard oil. Repeat the process till all the Hilsa steaks are covered in mustard sauce that you have made with yogurt and poppy seed paste. Add in some green chilies. And cover the pot with a lid.
If you are using a tiffin box, as I said, just put in the rice making pot. We usually put in the Hnari (handi). Instead you can put the box inside a pressure cooker and place it on a waterbed. Replenish water in the pressure cooker with time.
Cook the Sorshe Ilish Bhapa in a steaming method till the rice is cooked. If you are using a pressure cooker, cook for 10 minutes. Do not open the lid immediately. Allow half an hour's standing time.
Since I was using a non stick Karai to prepare Shorshe Bhapa Ilish, I put it on double boiler. I used a pot full of boiling water. The pot was sufficiently large to hold the Karai. I set the Karai in a manner that no steam can escape the Bhapa Mach filled Karai. It fitted the set up beautifully and was sitting pretty on steam for an hour. You can adjust time and ingredients if you are cooking a limited portion of fish. 
Shorshe Bhapa Ilish is best served with steaming hot rice!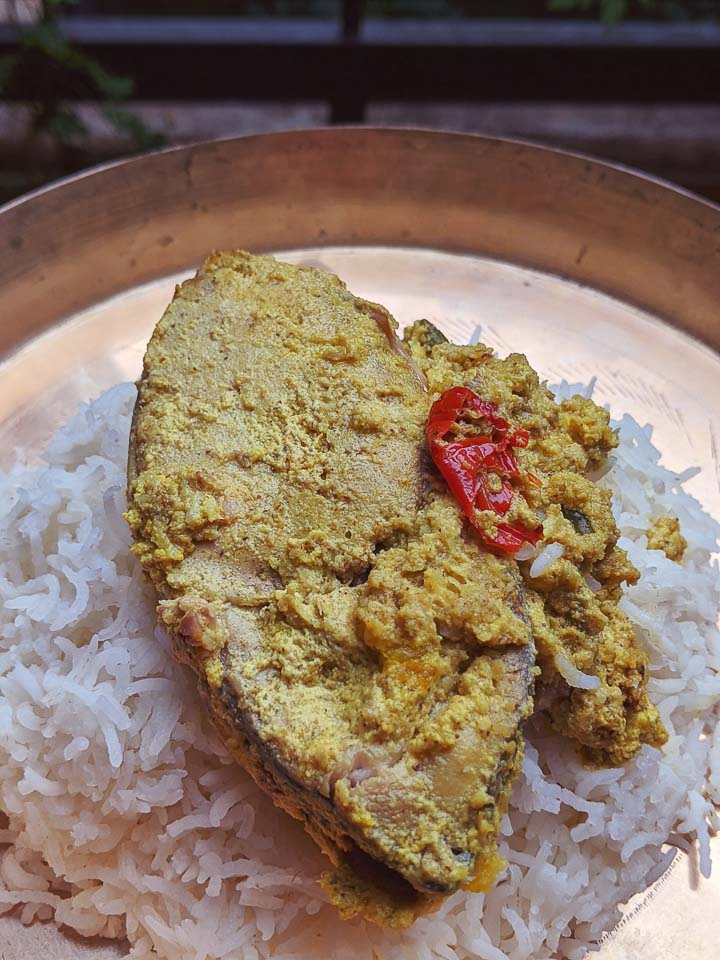 This post may contain affiliate links. Please read the disclosure post. If you have liked the article, you may support it by buying using these links without any extra cost to you.
Let's stay connected on Facebook, Instagram, Twitter! You may also consider joining my mailing list. I send travel and photography related emails only once a month!