The elusive Chinese cuisine of Kolkata is arguably the best in the world. Especially, the Calcutta style Egg Chow Mein can give the Cantonese variant a run for its money and so how! My earliest memory of eating Kolkata style Chinese is a bit dramatic. It started in Bankura, a small town of West Bengal where I was being raised as a toddler in a huge family. I am talking about the uiqtous joint families of India of 90s.
In a typical patriarchal setup of yesteryears, the joint families felt like living as a community, albeit genuinely cordial ones. There would be a head of the family, ideally the grandfather or the father. His wife and children, more than 1 (sometimes as much as 10 or more maybe), will create this beautiful big clan where generations will bring an invisible bond between the members.
Anyway coming back to the story of Chinese Chow Mein, it was an experimental dish that was first learn by Boropishu, my father's eldest sister who was living in in a large thriving metropolis far away from Bankura. I am talking about 90s Bombay which is obviously a huge dazzling city and shapes a sharp contrast to School Danga Bankura, our neighborhood. She learnt to cook Chow Mein and as a trickle down effect her mother, my grandmother also accepted and welcomed this experiment.
But eating local was our forte and remains so. While exotic dishes like vegetables like mushroom and red cabbage may not be easily available in the marketplace of a typical Bankura Bazaar, my grandmother would happily add a distinct local style to do the Chinese preparation. Henceforth, when the Cantonese Chow Mein takes the form of a Bankura dish it lets off the extra weight of red cabbage and trades it for ladies finger and potato. Please know, we Bengalis add potato to everything, including the Famous Kolkata Biryani My Boropishu used to add curry leaves to Chow mein for a long time.
So there you go. My earliest memory of eating Chow Mein is is on a Sunday breakfast table. The eggs would be fried first, like a Mamlet, and sometimes the lady's finger will stick to that. The taste was somewhat that of a crunchy ladies finger which has an aroma of other world. Excuse me for the lack of a better word. the Bengali Chow Mein would definitely be cooked in mustard oil and also make some space for turmeric and local vegetables I told you about. Ladies finger and potato, and feel free to add in in cauliflower but cauliflower is a precious so the major chunk of it would be saved for Macher Jhol, never mind.
Our ideal everyday breakfast was Ruti and a bowl filled with milk sourced from the domesticated bovine. Yes, we had a cow at home. We would look forward for the Sunday mornings. On lucky days, we would have luchi. If not, we would have the chowmein
Anyway long story short, the first time I had a test of street style Kolkata chowmein was when I came to Howrah. My father started a diagnostic center in the name of my Grandma. On the inauguration day of the center, we had arranged for packet of Calcutta chowmein for every invitee. I was only five years old, so I was allocated only a half of a full packet of Kolkata Style Chow Mein. It was a beautiful thing, in fact the most beautiful thing I have had in my life. Okay, there was also hilsa cooked in mustard sauce but that was homemade. I am talking about outside food, a forbidden cult when I was growing up!
I recall gently sitting at the balcony on top of a table that earlier served at the Admin office in yesteryears and this was also my go to place for the long afternoon of summer holiday. There, I shared that Chow Mein with another young friend. I do not recall if it had chicken but it definitely had egg in all its Glory. I didn't it required the ugly red sauce often served in the name of tomato ketchup to enhance the taste of noodles. Took me a decade to learn serving Tomato Ketch up with Chow mein is the biggest hoax of 20th century.
Later in the years in my formative years, I tasted the beautiful Kolkata style Chow Mein served at Street side or at Big Boss, Tyangra (Kolkata Chinatown) and sometimes at beautiful cafes and restaurants of North Kolkata. I learn to distinguish between hakka style and sizuan style. I also learnt there is something called American chop suey and a poached egg can be served with a plate of chowmein. When a certain Mr Chatterjee opened Mainland China at Guru Saday road of Central Kolkata and we would visit there ceremonially once in a year I learnt Calcutta Chinese is in fact a distant cousin of what the Chinese really is. The Chow mein served at Mainland China was so full of flavours and yet had little to no spice ground.
Took me a while to cook the Kolkata Style Chow Mein at home. My brother does it often in Calcutta and over time he has perfected the art of cooking Street side Kolkata chowmein
We created it during lockdown. The taste of it was very close to the real stuff. Despite another melancholic lockdown in the city I was transported back to the beautiful cacophony of Central Calcutta with this plate of chowmein. Here is the recipe for you.
Also read: 20+ Beautiful Destinations of West Bengal!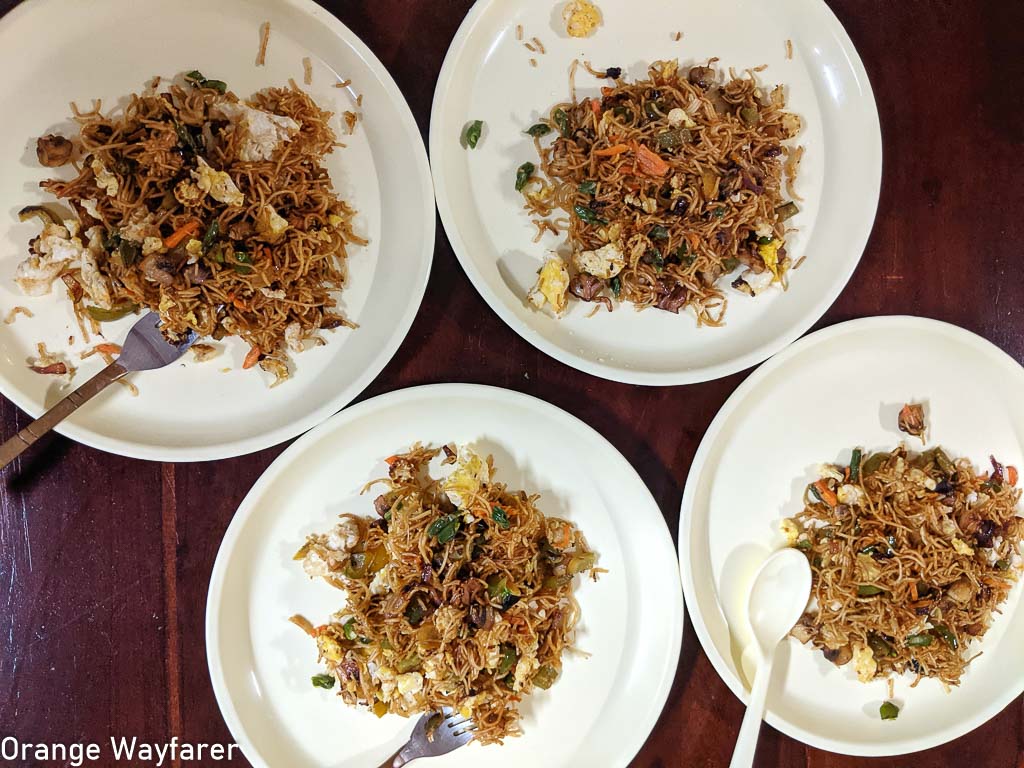 Ingredients for cooking Calcutta Special Egg Noodles
Kolkata style noodles. Use at least four packets for four people or you can increase the amount of noodles depending on your appetite
You may also use rice noodles or glass noodles or just order it online. The brand I used was of Chorangee.
Chicken or prawns or any other type of meat you like (thinly sliced)
8 eggs (do not beat them)
Vegetables for use: I prefer to use local vegetables except ahem the ladies finger. I prefer capsicum, cauliflower, carrots, mushroom, baby corn, beans, onions. Chopped to tiny bits. You can add anything else you like to it.
Spices: MSG or ajinomoto, the Chinese salt. Using this will enhance the flavour to a level that it makes all the difference
Black pepper
Salt
White oil
Green chilly
Rice vinegar
Soy sauce
Sweet chilli sauce (this one is optional and I used only a spoon of it)
Now here is the thing. You can use any sauce you like but I always prefer to source my haul of Chinese sauce from Pouchong. It is a homegrown brand from Calcutta, and oldest Chinese sauce factory in India, that sells amazing Chinese stuff. I also love the Prawn Papad they make.
I cooked egg chowmein so I will write that recipe. If you are adding chicken and prawns and basically making a mixed Chow Mein you fry these two ingredients first and follow the recipe I pen down. To marinate the chicken, use corn flour, a couple of crushed garlic pods, lemon juice and black pepper. Season it with salt and stir fry for 5 minutes on high heat.
Calcutta Style Egg Chow Mein is usually cooked in large cast iron pans or hot wok but I managed to cook in a non stick Kadai.
Procedure for cooking Calcutta Street Style Egg Noodles
At first, cook the noodles. At the departmental store ask for Kolkata style chowmein. In Bangalore, we usually get it. Itr is easily available in Kolkata. In other places you might have to do a little searching but trust me the end result is worth it.
Do not break the noodles. Heat water. bring it to boil. Add little oil and salt to it and add the noodles to the boiling water. Cook it for a couple of minutes until it is al dente.
Once that is done just keep it under running water. Completely cool it down and drain it using a colander or a strainer.
At this point you can add some more oil to it So that the noodles do not stick to each other. Cooking noodles that can be easily separated is the first success of the recipe.
Meanwhile start with frying the vegetables. Get started with carrots and beans first then proceed with the mushrooms and corns.
Cook in high flame, ideally use flambé method.
After the vegetables are stir fried and let's get started with the eggs.
Break the eggs directly on the pan. Get it off the hate on and off and scrambled the eggs on the pan itself.
Prepare a mix of all the sauces with equal amount. I used soya sauce, chili sauce, sweet chilli sauce and vinegar.
Heat oil. Add the noodles first. Sprinkle some crushed black paper. Stir fry the noodles for 2 to 3 minutes. Refer to the picture to see how you can add the sauce so that it gets cooked on direct heat as well.
Now mix in the sauce and the noodles. Add in all the the vegetables and eggs. Stir fry, mix well, add seasoning of MSG and black pepper. At this point you can squeeze in some lemon on top. If you're using chicken or prawn do not forget to add them to the noodles either.
There you go. You are Kolkata Street style egg chowmein is cooked and ready to be served and severed at the comfort of your home. This item would be a particular hit if you serve with a side of the famous chilli chicken. Will share the recipe soon!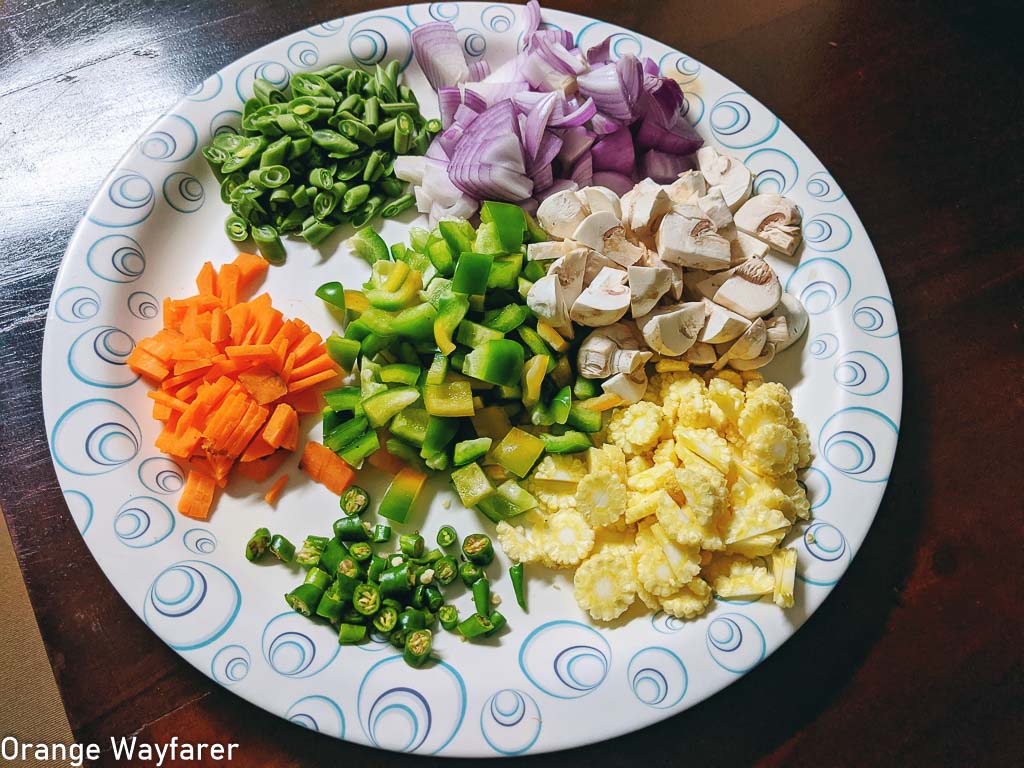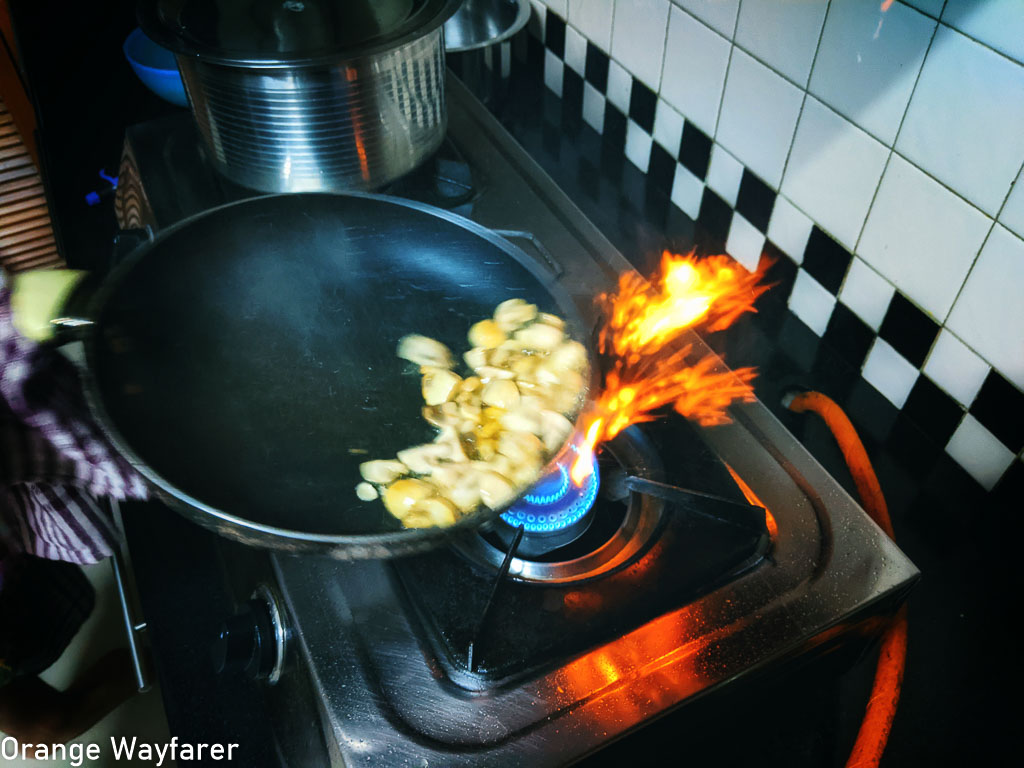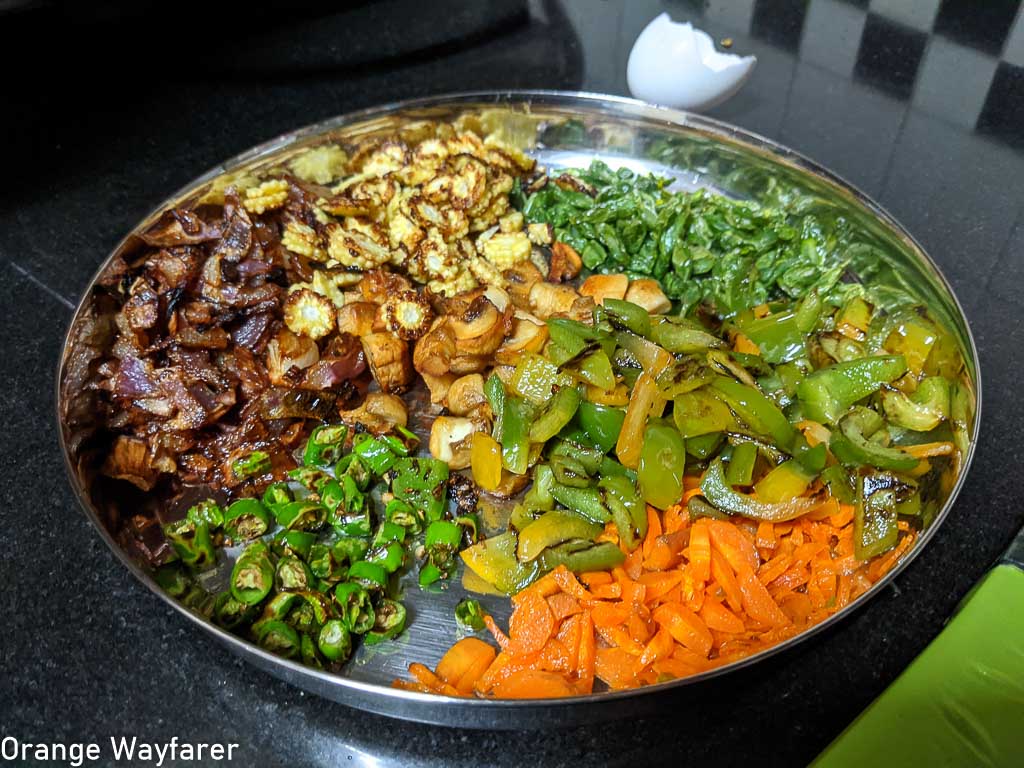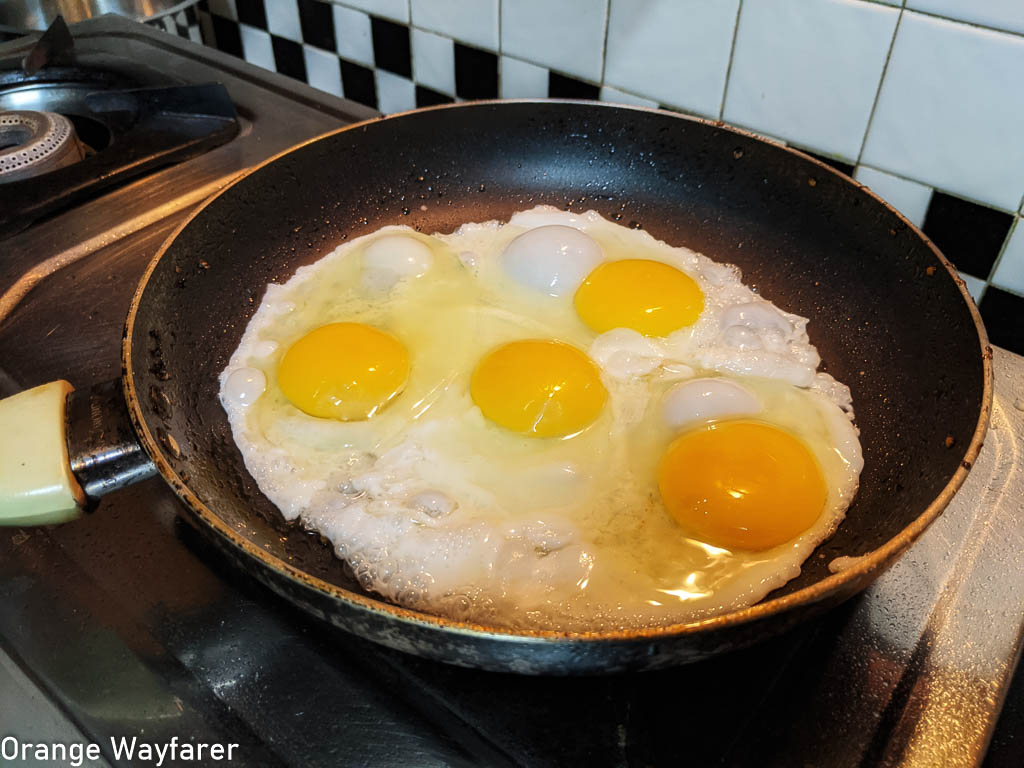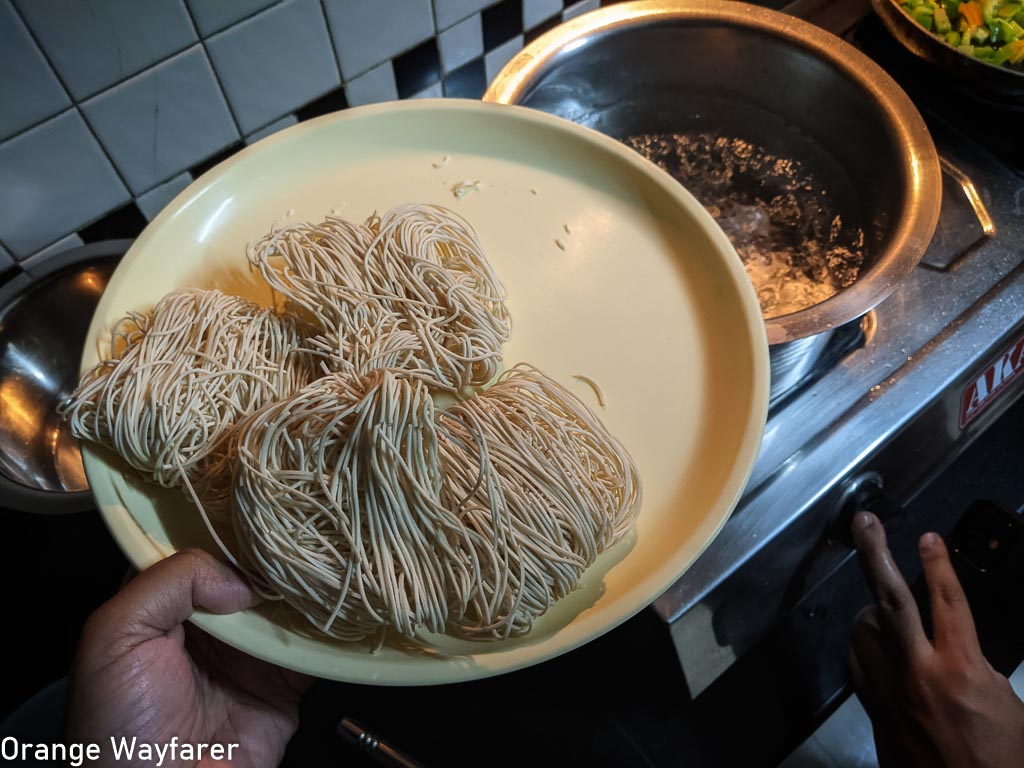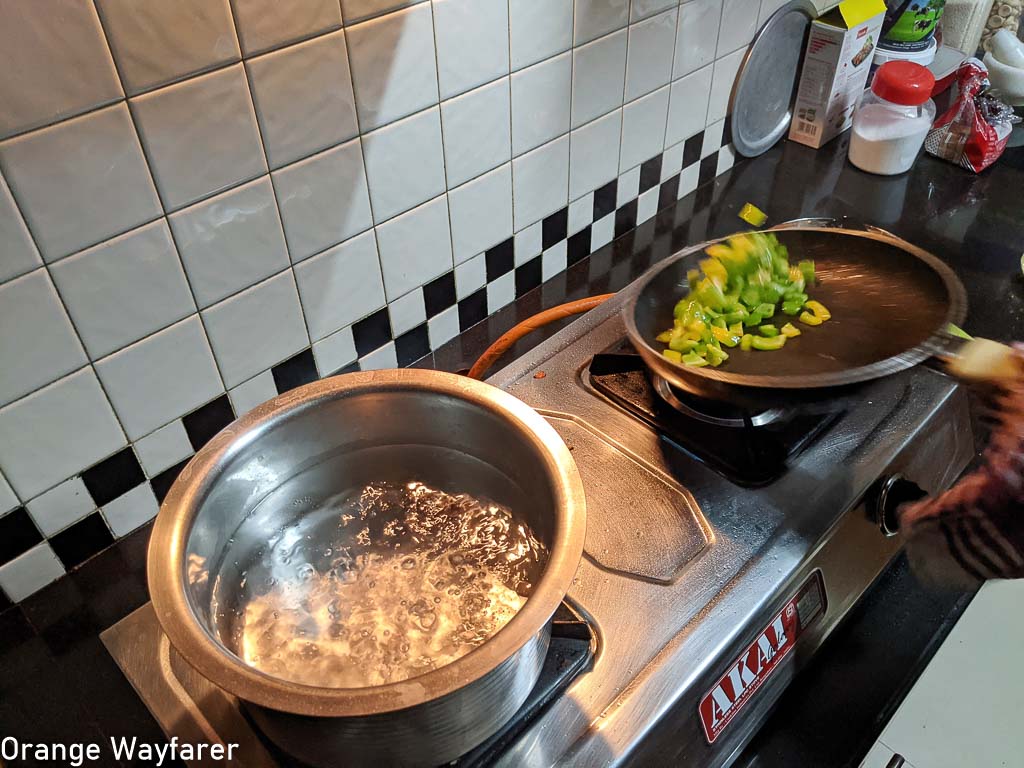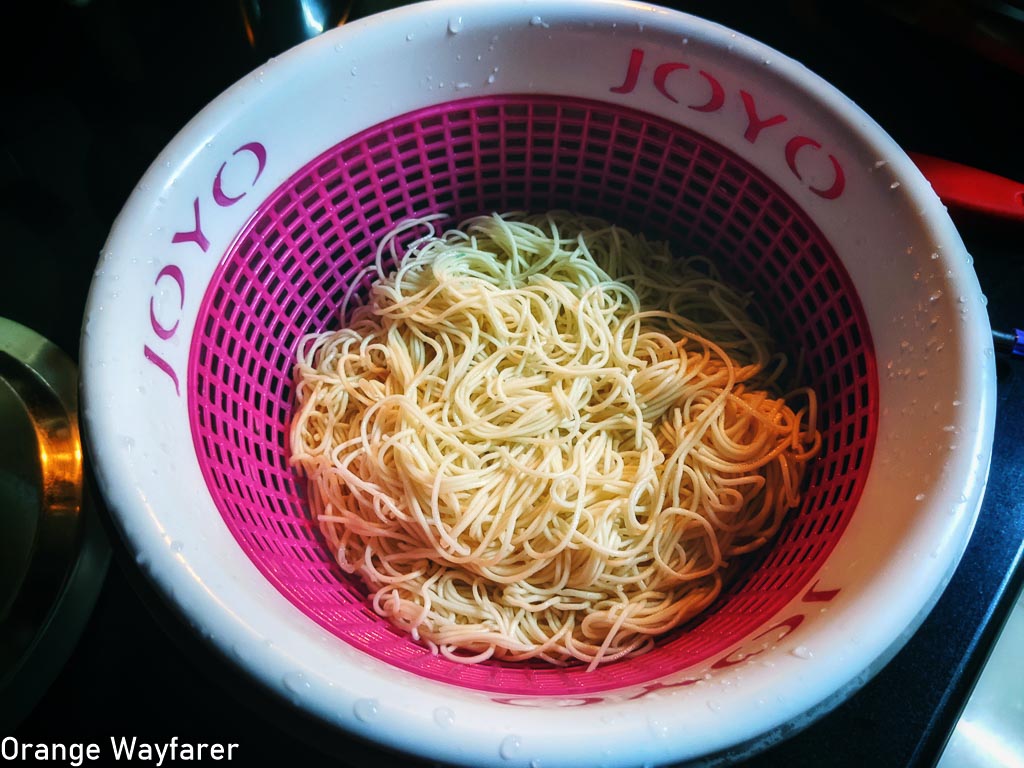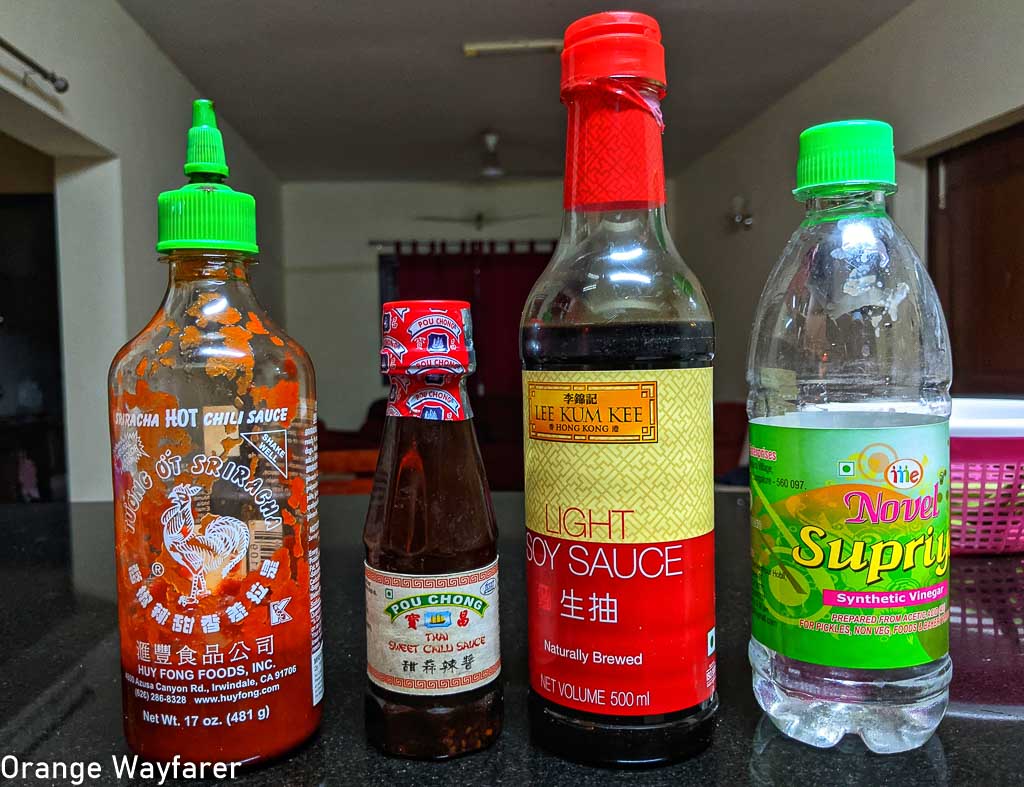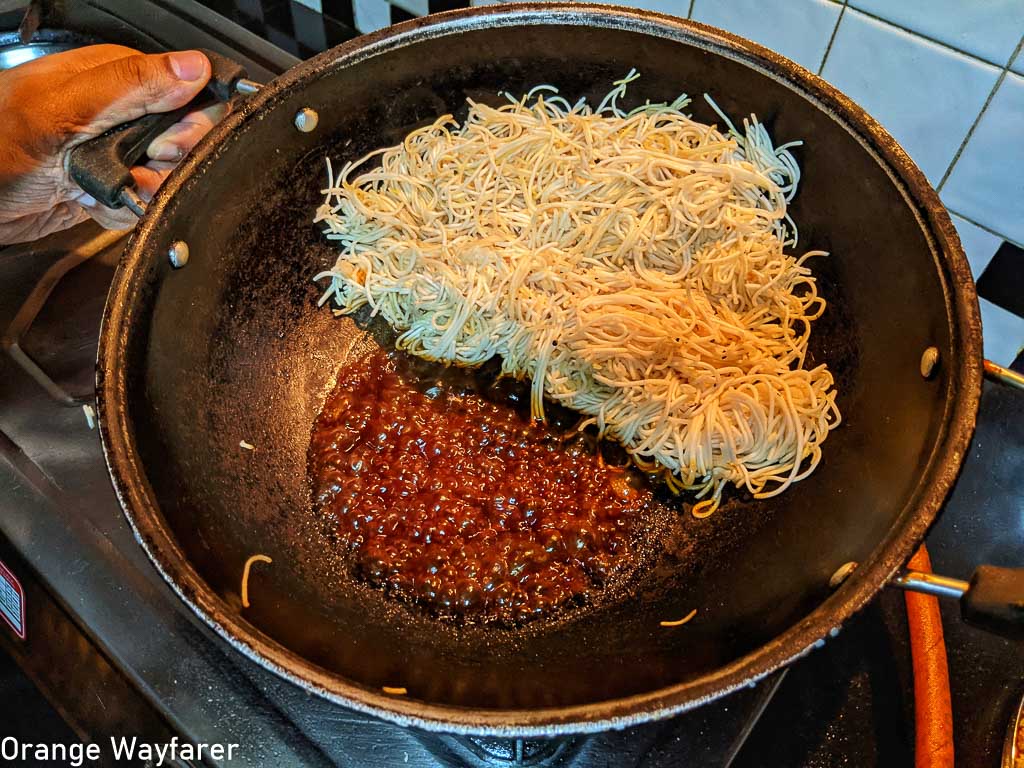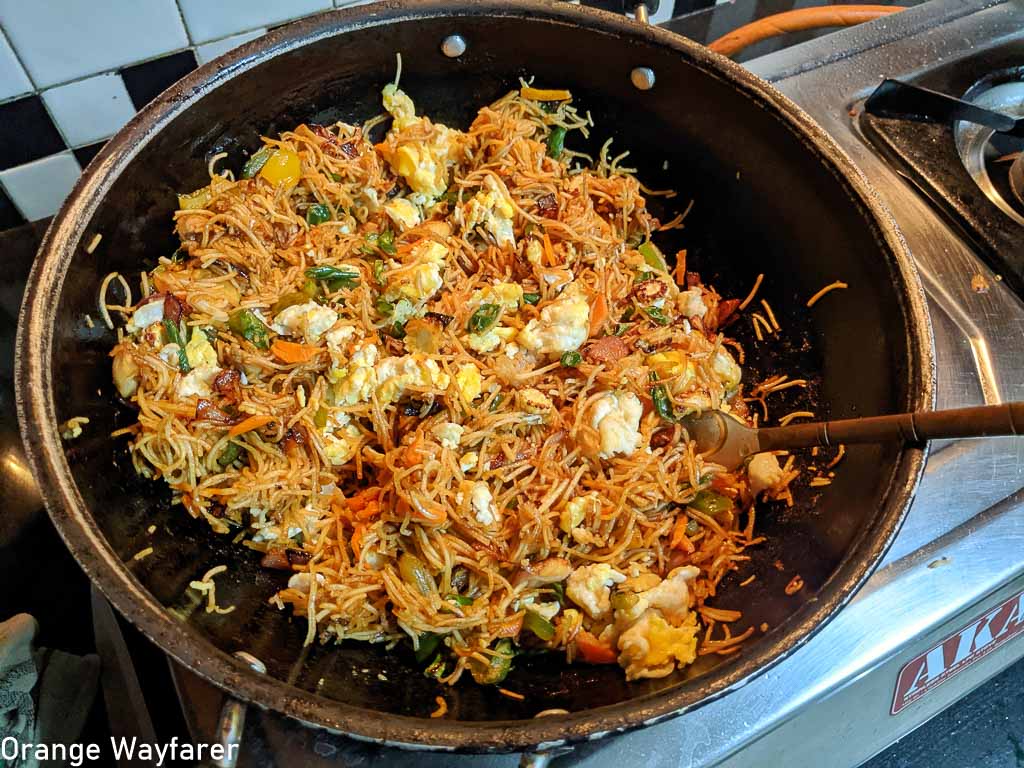 ---
This post may contain affiliate links. Please read the disclosure post. If you have liked the article, you may support it by buying using these links without any extra cost to you.
Let's stay connected on Facebook, Instagram, Twitter! You may also consider joining my mailing list. I send travel and photography related emails only once a month!