Cooking Indian food is a delightful experience. Here are a handful of easy to cook at home Indian recipes. They will take you from North to South and east to west with a wide array of flavours and spices. "Ghraneno Ardhobhojonang", as the Sanskrit Shloka goes, "Here, half of the meal is bestowed on you with the aroma of the food." With more than 150 spices on use in an average Indian kitchen, this saying stands true sice millenia!
One huge part of traveling in India is to taste her varied and diverse food!
"All the curries… the Naan.. and what do you drip on top of it? Butter eh..ah Indian food is the best!" Looking at Mike chewing pasta slathered with red jelly like tomato spread and reminiscing about Indian curries, I felt a sudden pang of sadness.
We were camping under the stars at Danakil Desert, Ethiopia. Often touted as the world's most inhospitable region. But even the finest of the wordsmiths will fall short of describing Danakil's scenic beauty.
Danakil is a brazen lowland at the horn of Africa. The Red Sea was here, millions of years ago. Now, only the salt of the sea remains. Salt, thicker than our imagination, covering and preserving camel carcasses dropped dead from moving caravans.
Sparse water, pricey resources and life finds a way even through all these. Of course we can not eat a Thali style meal here. We did not want to either. But we sure can dream of a better day, like Mike did.
I wish I could treat Mike to a Paat Pere Boshe Khawa, a full fledged Thali meal with the best of Indian food!
Mike was on his way from NYC to Rajasthan. You see, Mike had all the reasons to dream and be excited thinking of all the amazing food he would be binge-eating in the subcontinent!
His partner, Hoa, an expat from Vietnam, was on her way to experience India for the first time!
You see, Naan and Chicken Curry are fine and dandy but being a Bengali, I had to tell them about the vast variety of Indian food that we cook! Food that is not a part of stereotypical mainstream tourist platter.
That our kitchen ingredients change just like the terrain every 500 KM. The biryani is best cooked in Hyderabad and Delhi has a few joints that serve amazing Hyderabadi Biryani. They must also try the iconic Kolkata biryani with potato.
If and when they can manage some time, they should visit Oh Calcutta and relish some Bhetki Paturi. If in Mumbai, they can alternatively try Patrani macchi, a prized find in a rare Parsi kitchen.
That the Daab chingri I usually cook at home resembled a lot like the prawn in the coconut shell they sell at District 1, Ho chi Minh City! If coconut milk is what she fancies, she must try some Malai Curry or fish Moli from Bengali and a Kerala kitchen respectively!
I had to convince them to move over Naan and curry and indulge in the endless array of sumptuous culinary treasures India has on offer! My enthusiasm on Indian food was infectious. It was easy to convince them!
Mike sheepishly asked me if he would find meat in India! I laughed out loud! "Of course! You must try Laal Mash when in Rajasthan. In Lucknow, please eat Galouti kebab. Move over to the South of India and order for a Chettinad Chicken Curry! In Kolkata, you even find meat for Kalipuja, Bhoger Niramish Mangsho, vegetarian meat as we call them."
That night, under the starlit sky, Hoa and Mike went to sleep and dreamt about Indian food. I showed them pictures of a few thalis I had on my phone. Danakil is "disconnected" from mainland Ethiopia. I could only show them a few.
We parted ways the next day. They would visit Rajasthan. We were enroute Zanzibar.
Hoa and Mike emerged on my timeline soon after. They found me on Instagram, my food account where I post about all gastronomic (mis)adventures. Turns out, Hoa loved Indian food and wanted to cook the same. I was her only reference point. Surprise, surprise!
Even though I write a lot about food focused travel adventures, I never thought I would start a recipe blog.
The idea of designing this blog-post with almost 20 of my favourite Indian food recipes is to help you inspire. Under current circumstances of worldwide lock-down, we can not travel physically but can sure treat our taste buds!
And of course, this is for you Hoa. I hope you are recreating the magic of Kolkata Mutton Biryani at your NYC kitchen. Treat Mike with an extra potato as I suggested. He would not complain!
Check out my Cookbook here where I have started to update all the food-recipes that I cook in my kitchen!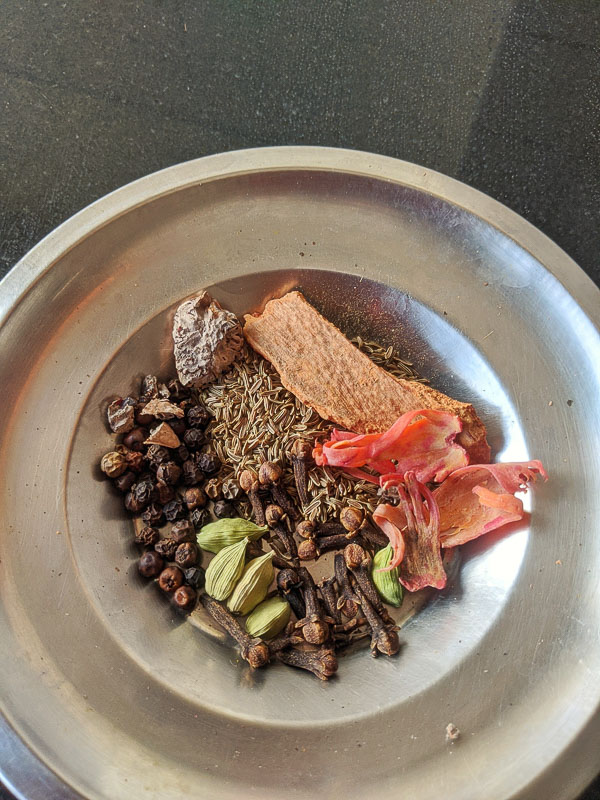 A few things you need to cook basic Indian food:
Rice (Long Grained Basmati and short grained aromatic Gobindobhog, both)
Spices like: Cumin, Coriander, Red Chilli, Kashmiri Red Chilli- this one is not hot but renders red color), turmeric, sugar, salt, mustard
Ghee (I love Jharna Ghee and you get it at Bangladeshi counters)
Mustard oil (mandatory to cook Bengali dishes)
Garam Mashala (Both Powder and whole)
Saffron
Coriander leaves
salt and pepper
Jaggery (Nolen Gur)
Milk
All purpose flour (can be replaced with whole wheat)
Lentils like Moong, Musoor
Posto (Poppy Seed)
Plenty of Ginger, Garlic, Onion and Tomato to make that curry
Love. You are good to go!
Following recipes are basic ones. You can definitely tweak and twitch and customize Indian food according to your preference. Since I am a Bengali there is an overwhelming presence of Bengali cuisine (and really, Indian food is NOT just Naan and chicken Tikka Mashala). However, I have played reasonably fair and brought you the best food recipe from different regions of India.
Following Indian recipes are a fair mix of food suitable for "I eat Everything", Vegans, Vegetarians, Pescatarians.
Khichudi
Pan Indian food. Also known as Khichda. Vegan.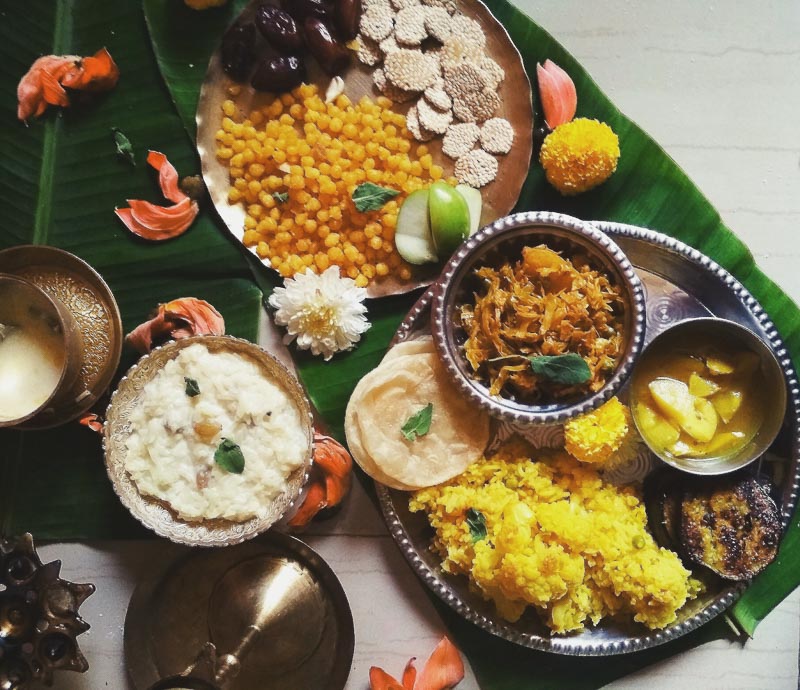 Khichuri is an epitome of ultimate balanced diet. Often served as mid day meal in government schools in India, Khichudi can be made of simple mix of rice and lentil. To enrich the meal, you can add in anything literally.
The following recipe of Khichuri is specifically known as Bhoger Khichuri which Bengali use for Durgapuja and such.
Ingredients for Bhoger Khichuri (serves 3/4 people)
Gobindobhog rice (1 cup)
Moong Daal (1 cup & a li'l more)
Vegetables of your choice (Cauliflower, green peas. Optional: Potatoes)
Grated coconut (half cup)
Cashew and raisin (50 gm)
Ginger paste (1 Tbsp)
Tomato (chopped: 1 Pc)
Ghee (go generous)
Whole Garam Masala and bay leaf for tempering
Spices: Turmeric, Cumin, Red Chilli powder, Sugar and salt.
Procedure of cooking Bhoger Khichuri
Wash and Gobindobhog rice. Mix in some ghee. Put aside.
Dry roast Moong Daal until they turn bright red and keep aside.
Stir-fry the cauliflower florets. Coconut. Green peas. Potatoes. Cashew nuts. One by one and keep them aside.
Take a heavy bottom pan. I use my 5 liter pressure cooker but do not pressure cook it. Heat oil or ghee.
Temper oil with bay leaf, whole Garam Masala and Dry red chilies.
Fry ginger paste. Add in chopped tomato. Cook till oil come out.
Add in the spice mix: turmeric, cumin, red chilli and sprinkle of water.
Add vegetables. Mix in. Stir in Moong Daal and add hot water. Mix in the rice.
Cover the pan and let it cook in slow flame. Stir in once in a while to prevent the bottom from sticking.
Stop cooking once the dish reaches medium consistency. Sprinkle Garam Mashala powder, ghee and grated fresh coconut on top. Serve hot.
Serves best with Beguni, Brinjal fritter deep fried with gram flour and poppy seeds. You can also pair it with crispy fried Hilsa fry or an Omlette!
Biryani
Pan Indian. Regional Variant. Hyderabad, Kolkata, Awadh (Lucknow) serves the quintessential best Biryani.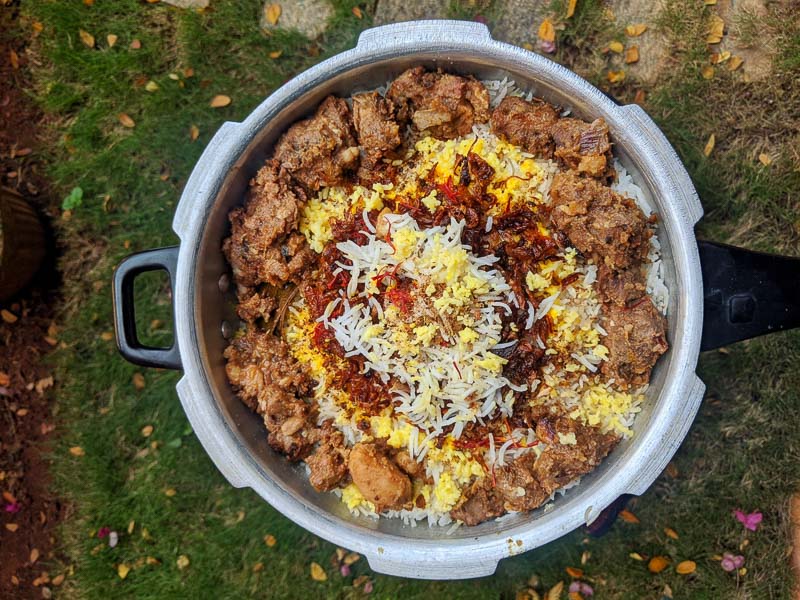 Mandi rice of Arabia traveled all the way to Indian sub-continent, bathed deep in spices and ushered in with a new form, ie. Biryani! I am not sure how much this is correct factually. But Biryani is an emotion. Regional variants of Biryani are often part of fiery debate, Kolkata Biryani is the best one. You have not had biryani until you have eaten the Hyderabadi variety. Awadhi Biryani is the best. Down south, the Thalappakatti Biryani or the Thalassery biryani can take up a worthy fight as well.
To cook biryani, you will elaborate measures. I will dedicate a single post for Biryani soon however here is a broader simpler recipe.
Ingredients for cooking Kolkata Style Biryani:
Mutton/beef/chicken (whichever you like): 1 KG
Yogurt
Biryani spices (Regular Garam Masala + Nutmeg + javitri+ black pepper)
Khoya
Potato (boiled, whole pieces)
Keora Water
Aatar (Itr)
Long Grained Rice (600 gm)
Saffron
Onions
Ghee (at least 200 gm, might require more)
Marinade mutton overnight with yogurt, barista, Garam masala powder, salt.
Procedure for cooking Biryani:
Prepare Barista with onion slices
Temper heated ghee with whole Garam Masala spices. Add Mutton marinade.
Start slow cooking for at least a couple of hours till mutton is tender. At the end, add whole potatoes. Potatoes must be cooked alongside meat. You may add a slice of raw papaya as an agent of tenderizing the meat.
Prepare rice in a different bowl. Heat water with spices and bay leaf, so that the stock is aromatic. Pour in salt and oil. Cook rice in it till 80% done. At least for 10 minutes. Stop cooking.
Take a heavy bottom pan and smear ghee on it. Start layering meat and rice. Meat should go first. Top each layer with biryani masala and saffron. End the process of layering and put it on Dum. You can use a dough made with flour of put the pan on a double boiler. I use a heavy bottom pressure cooker (5 liter) and that does the job.
Basanti Pulau
Bengal. Vegan.
Basanti Pulau is a beautiful fragrant rice dish, a variation of Pulau. It is slightly sweet in taste. It contains a number of exotic nuts like cashew and raisin and tastes great with Kosha Mangsho. Basanti Pulau is often used as one of the Bhog Annoprosad at the Bonedi Barir Durgapuja in Kolkata.
Ingredients to cook Basanti Pulau
Gobindobhog rice (important, this is a sort of fragrant short grained rice) In case you do not get, try cooking with Basmati however I cannot out enough emphasis on how good Gobindobhog rice tastes in this one particular dish.
Turmeric
cashew and raisins
ginger paste
sugar
ghee
Whole Garam Masala for tempering
bay leaves
water
Procedure to cook Basanti Pulau
Coat rice with ghee and soak rice in water. Soak it for half an hour.
Heat ghee and slightly fry cashew and raisins.
Add bay leaves and whole Garam masala to the same pan.
Add in a tbsp of ginger paste and turmeric powder.
Mix in soaked rice. Fry for a while.
Pour in water and bring it to boil. For one cup rice, use two cups of water.
Serve piping hot with a side of spicy curry.
Payesh
Pan Indian. Regional Variant. Vegetarian.
This is my happy food. Often referred to as the king of Indian food, this medley of sweetened and thickened milk and rice is common across all Indian states. In north, it is known as Kheer. In south India, Payesh is also known as Payasam. Some adventurous souls try Payesh with onions, green coconut, saffron etc. End result is equally good if not better!
Ingredients of Nolen Gurer Payesh (serves 4)
Full Cream Milk
Gobindobhog Rice
Nolen Gur (Palm Jaggery)
Bay leaf
Cloves
Cashew (optional, I do not use)
Ghee
Procedure to make Nolen Gurer Payesh
Dry roast Gobindobhog rice for 2/3 minutes. Keep it aside mixed with Ghee.
Take a heavy bottom pan and start cooking milk. Stir continuously. Add 2 tbsp ghee. Reduce milk to half and add rice. Add a couple of bay leaves and cloves once the milk has reduced.
Keep cooking rice and keep stirring.
Rice will taste at least 15 minutes to be cooked. At this stage turn off the gas and add jaggery. Turning off is important since milk may curdle if jaggery contains impurities.
Finish off with cashews on top. This is a winter delicacy.
Nolen Gurer Payesh is served both hot and cold. Payesh, also known as Paramanno, the supreme rice, does not need any accompaniment. If you are not using jaggery, use condensed milk instead. Top it with saffron strands.
Singara/Samosa
Pan India. Regional Variant. Vegan if meat is not used for filling.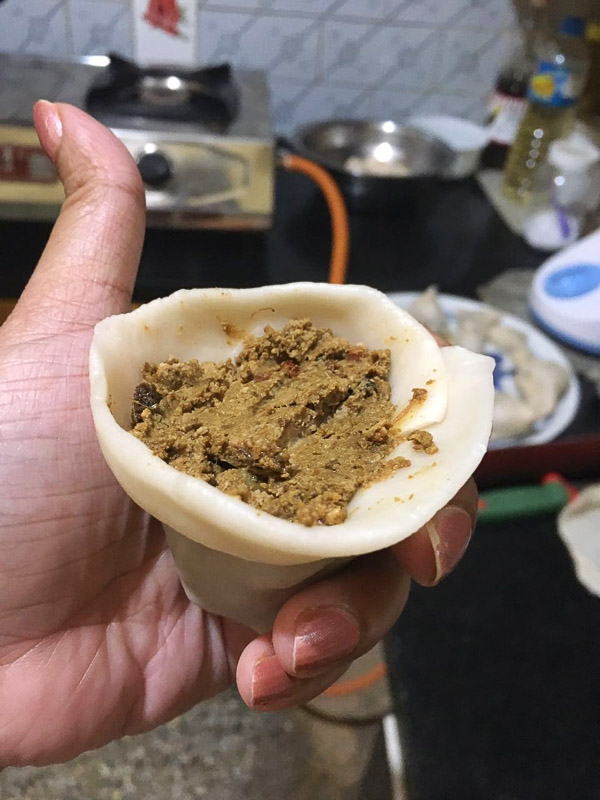 The art of cooking Singara which is also known as Samosa is pan Indian. A thin layer of flour coats a "pur" or a filling usually made with potato inside. It is beautiful and indeed brings on a blast of taste buds once you put t in your mouth!
Oftentimes, I use my leftover meat or Alur Dom as filling to cook samosa, a great evening snack option. In the picture attached, we had cooked Samosa with chicken liver. the experiment turned out into surprisingly pleasant output.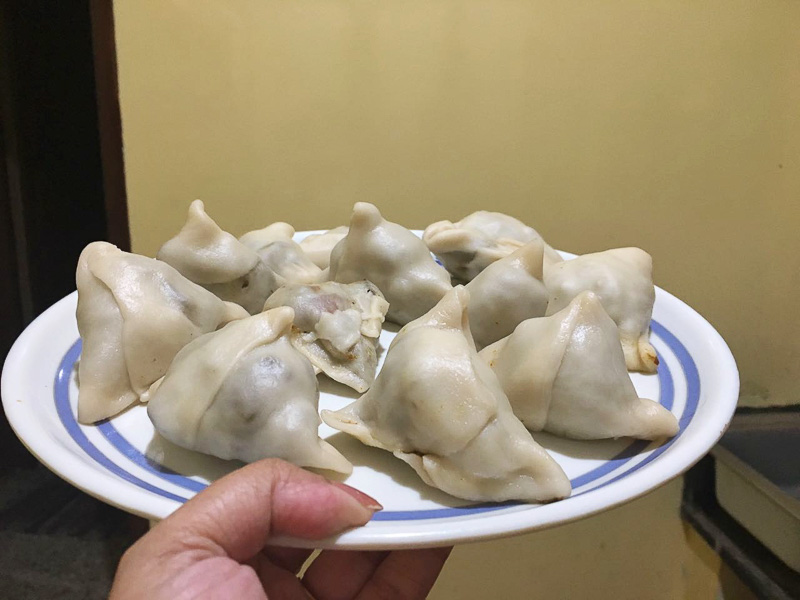 Ingredients to cook Singara/Samosa
Flour to prepare the coating/ you may but ready-made sheets too, a lot like Vietnamese spring roll sheets available at the supermarket.
Potato/cauliflower/chicken (whatever you want the filling to be of)
spices
oil
onions: diced
ginger garlic green chilies paste
Procedures to cook Singara/Samosa
Heat oil. Temper with cumin seeds.
Fry a bit of onion, garlic and ginger paste. Add green chilies too if you like it spicy.
Add in pieces of cauliflower (if its winter), potatoes and/or meat.
Cook for a while.
Prepare the flour dough.
Make pockets in it and put in a bit of the curry you just prepared.
Deep fry in oil.
Serve hot, very very hot!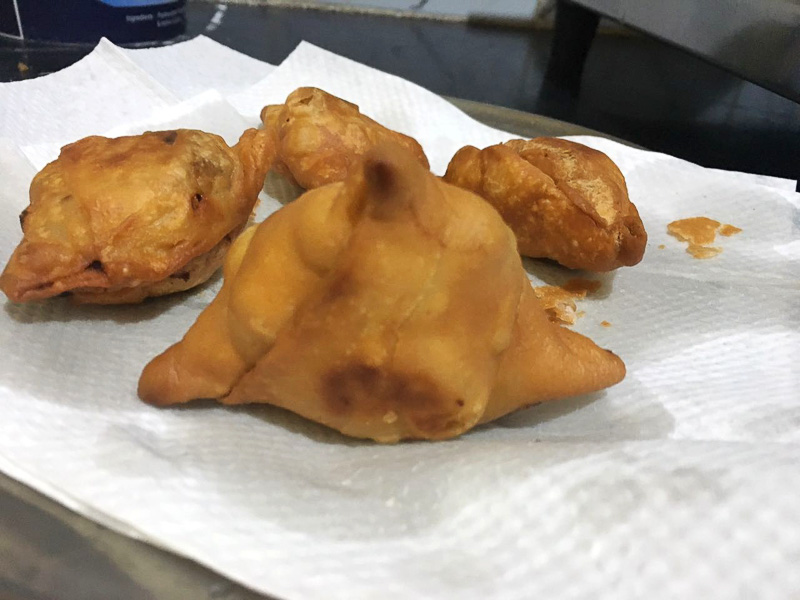 Rawa Fish Fry
Konkoni delicacy (from West Coast of India, Mangalore and Goa)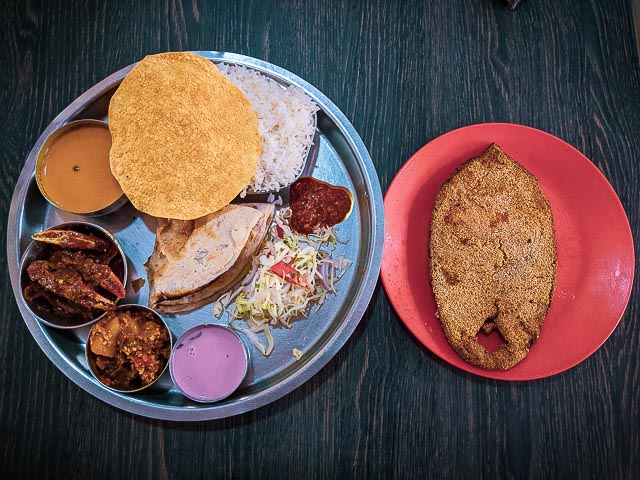 If you are traveling to Goa for the first time, you must visit Sai restaurant close to le Meridian Calangute and indulge in their Rawa fried King fish! Hands down the best meal I had in Goa! Yet this place remains a lesser known gem in Goa!
I tried to recreate the magic at home and it was surprisingly easy. To cook Rawa fried fish, you need fish steaks, which are really fresh. Coat the fish steaks with a fine blend of garlic, ginger, red chilli powder, turmeric powder, salt and tamarind paste. Dip into a fine coat of semolina and shallow fry each side for 3 minutes. I use refined oil, but you may use coconut oil for enhanced taste. This is an absolutely delightful side dish with rice or can be devoured as in.
Chicken Cutlet
Anglo Indian Cuisine. From Kolkata. Some parts of Kerala too.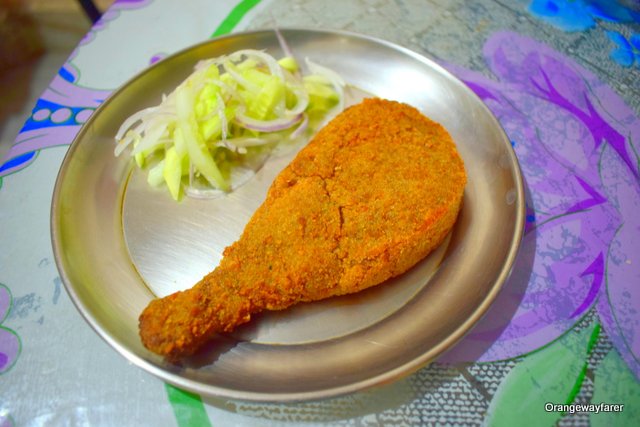 An ode to the cabin restaurants in Kolkata, Chicken Cutlet is the remnant of Kolkata's Anglican past. A thick coat of spices and breadcrumb fried Chicken breast is indeed a thing of delight. It is served with a side of Cucumber-onion salad. If cooked at home, our mothers usually add a dash of Kasundi (though that goes better with Fish fry) and tomato ketch up.
Ingredients to cook Chicken Cutlet
Chicken minced: 300 Grams
boiled potato: 1 piece medium sized
Ginger-garlic paste
Lemon juice
Green chillies, finely chopped
Coriander leaves, finely chopped
Powder of Garam Masala and black pepper, dry roasted and homemade
Eggs to coat the cutlet
bread crumbs
Oil
Procedure to cook Chicken Cutlet
Mix every ingredients with minced chicken except for Bread crumb and eggs. Rest for one hour.
Coat them with a thin layer of bread crumb. Form a square shape (or even round, though that is inherently a Keralaite style).
Shallow fry until both sides are cooked golden brown. You can prepare the minced meat and freeze it for future storage however for immediate consumption, fresh frying is heavily recommended.
Papri Chat
North India. Vegan.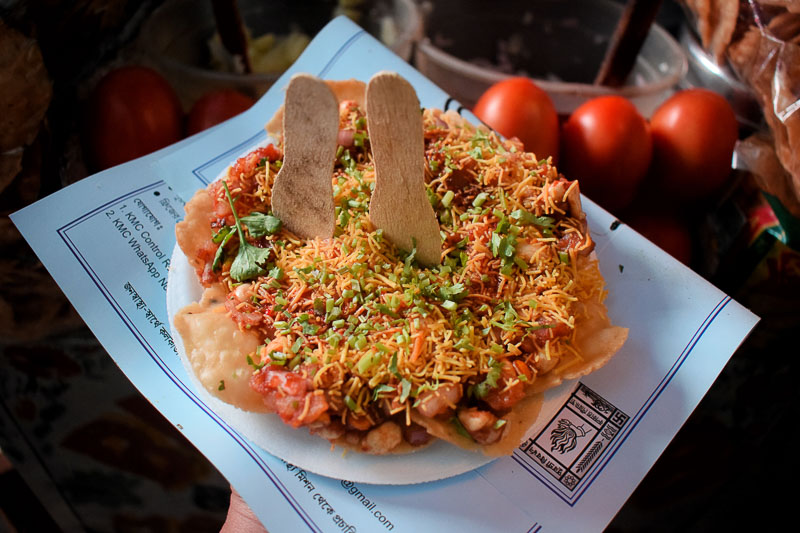 This is one of the iconic and extremely affordable street foods from Kolkata, yet again! Cooked with plenty of Papri, Seo (jhuri) and boiled pieces of potato, this is one variant of Indian chats. You will find plenty of chat dishes in North India. My other favorite picks are Dahi Bhalla (Doi Bora) and Raj Kachori. Varanasi is one place where Chats will astound you truly.
Luchi-Begun Bhaja
Vegan Bengali food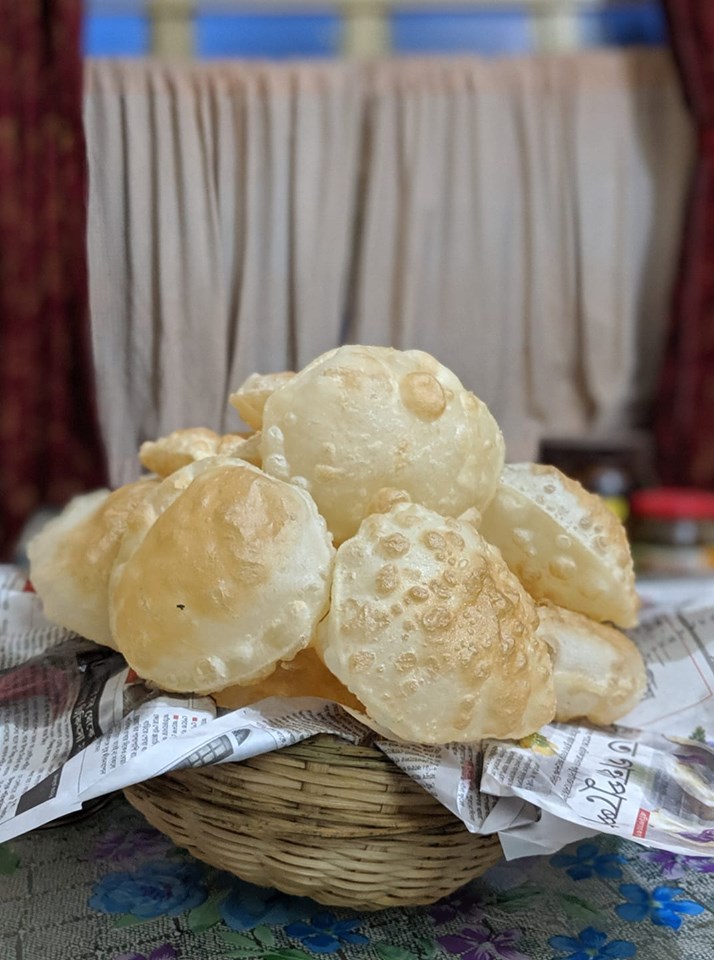 If kneading comes to you easy, cooking luchi is a cakewalk for you. A variation of Luchi, also known as Puri, and prepared with wheat-flour instead of refined flour is sold in abundance in North India. Luchi is cooked from refined flour, kneaded, rested and made into small round balls. Luchi is further shaped and deep fried in white oil. we use Gawa ghee (cow ghee) if the occasion is special. During winter, we improvise a bit further and prepare Kochuri instead. Kochuri with green peas. You cook the usual way you do Luchi. But in goed a stuffing made of cooked Green peas.
Alu Paratha
Vegan. Punjabi.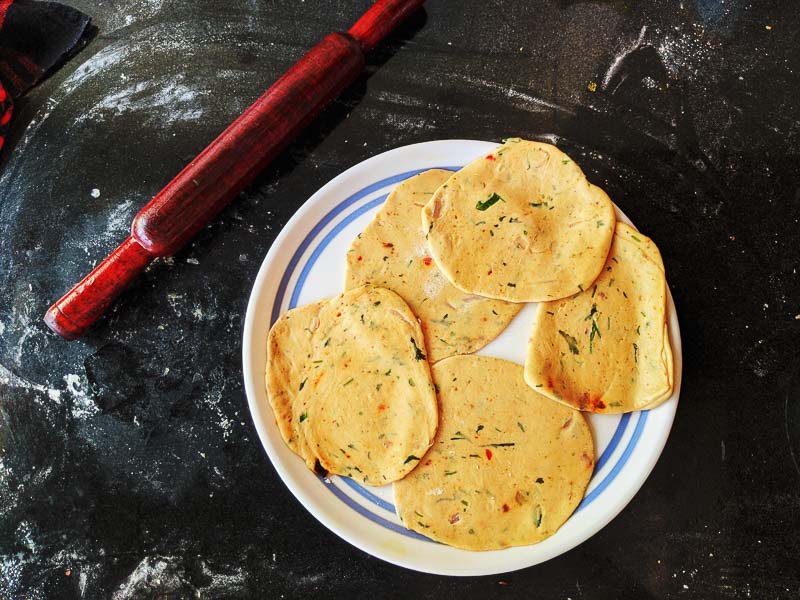 Paratha topped with white butter is yet another staple flatbread from the northerly regions of India. You take one vegetable, make a curry of it, and stuff it in a bread. Voila! Your balanced meal is ready! Usually served with a dollop of ghee or white butter (usually from Vaisa, the buffalo), Parathas are a lot like emotion!
I have written a detailed recipe of Alu paratha here! This is a mildly spiced version of the regukar paratha, with boiled potato, barista and chopped coriander leaves tawa-fried in generous amount of ghee! Try that. It is a recipe with a twist!
Lassi
Punjab. Vegetarian.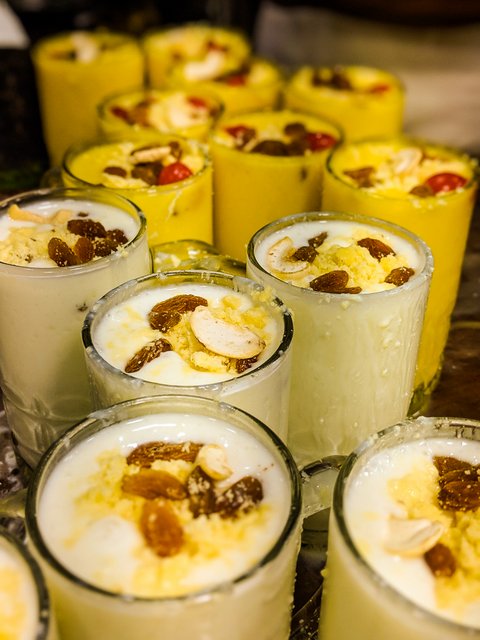 This is the easiest of the lot. Take a cup of Greek yogurt and blend it in a "Mixi". In Punjab, during summer, Lassi is usually prepared in washing machine. The more your churn the yogurt, tastier is your Lassi.
Though Lassi is synonymous with Punjab, Varanasi has taken an exquisite stand with lassi, adding a layer on Rabdi/Malai on the top of it!
In Bengal, we have a variation of Lassi, namely Ghol! Gondhoraj Lebur Ghol is a delicacy, especially during summer!
To make lassi, take thick Greek yogurt, churn it well, preferably in a mixer grinder. Add in your favourite fruit pulp. Could be Mango, could be strawberry, could be banana. Serve it cold with sliced nuts on top.
Pata Bata
Basically Chutney. Eaten as a side dish with rice or Roti. Vegan.
If you thought using fresh herbs is a forte by the South East Asians only, think again! Pata bata or Dhaniya Chutney is an excellent way to eat aromatic herbs and preserve them for the long run.
Basically, you need to take a bunch of coriander leaves. Add in some garlic cloves, green chillies and pour in some mustard oil. Ghee would not work well with raw herbs. Now blend it well. I use a traditional stone Hamandista to prepare my Patabata. It leaves it a bit coarse, which in turn makes it crunchier.
Pata bata or Dhaniya Chutney is best served with steamed rice. You may use it as a bread spread too. You can store it for upto 1 week in freezer.
Aam Daal
West Bengal. Vegan. Green mango with Masoor daal.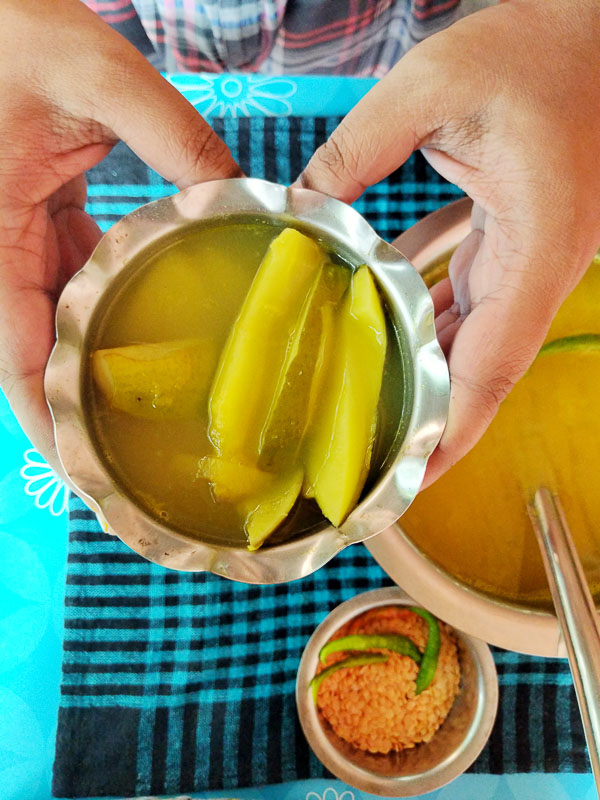 Green Mango is a delight before Indian summer renders ripening to the bright yellow beautiful fruits! I have written a detailed recipe for cooking Kancha Amer Dal hence not repeating here.
You shall need Masoor daal and green mango (sliced, seed discarded) to cook this. Cook Green mango with spices and pour them in boiled Daal. Add a pinch of sugar if needed (or jaggery). Serve hot with rice.
Dimer Kosha/Egg Curry
Egg curry. Spicy. North Indian cuisine.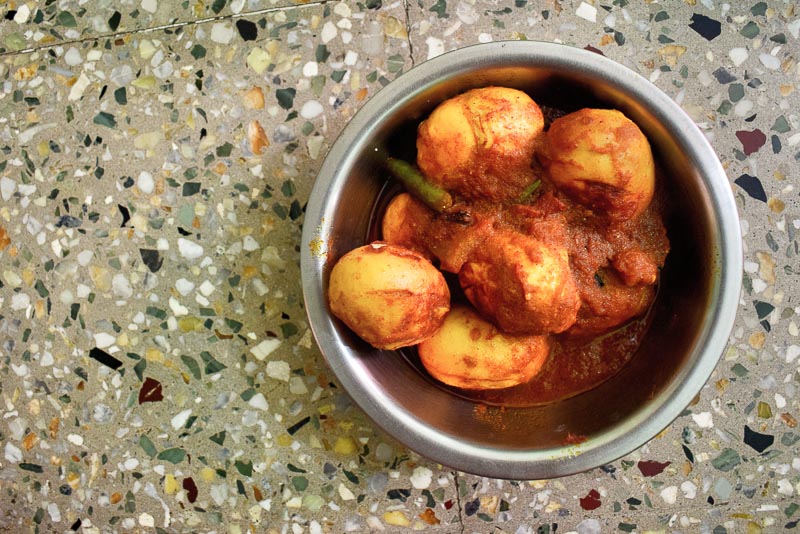 Egg curry is a classic "I do not have many ingredients at home so I cooked this" kinda dish. I tried to replicate the Railay egg curry with just a little addition of frying the eggs, just because I can. Kidding, I fried the eggs beforehand because I love the crunch it gives.
Ingredients to cook Egg Curry
Boiled eggs
Onions:
ginger-garlic paste
tomato
turmeric
red chilies powder
green chilies
cumin powder
coriander leaves
Procedure to cook Egg Curry
Fry the boiled eggs and keep them aside.
Make a paste of onion and ginger garlic green chilies.
Heat oil. Add cumin and green chilies for tempering. Add in the onion paste.
Fry till oil leaves, at least for 10 minutes on high flame, stirring continuously.
Add tomatoes. At this stage, you may add yogurt as well.
Add in spices. Pour in some water. Simmer and add the eggs.
Finish with some Garam Masala powder and finely chopped green chilies.
Chicken Rezala
Awadhi cuisine. Famous in Kolkata.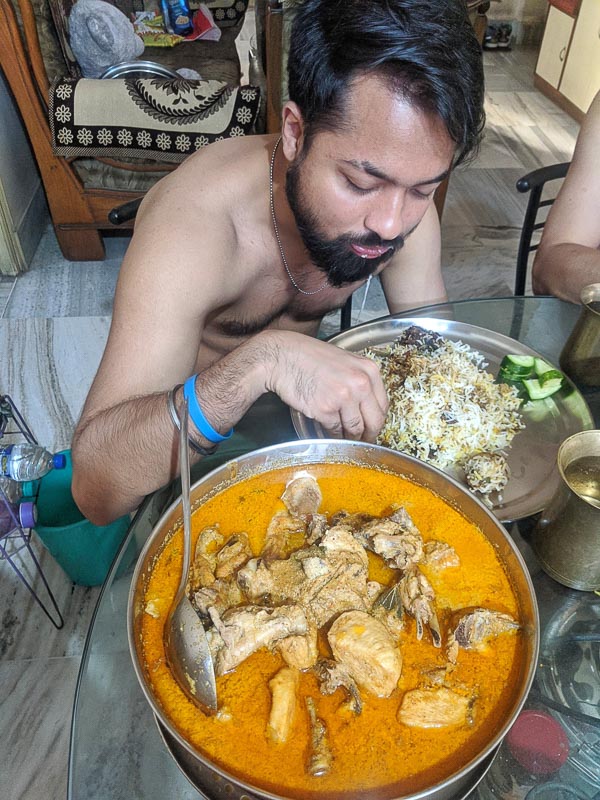 here shown in the picture Chicken rezala and Mutton Biryani that I cooked at home during Dol Utsav. My brother is a usually chicken eater but for that day made an exception and gorged on mutton biryani and I do not blame him at all.
Chicken rezala is a derivative of the Awasdi kitchen. The Nawab of Awadh, while in exile by the Britishers in Kolkata, brought in plenty of influence of the north. Chicken rezala is straight out of Awadhi kitchen in Kolkata. in Lucknow today, I didnot find anything similar. Chicken Pasanda do come close but it is not exactly Rezala.
To prepare rezala, you need to be generous with Dahi, yogurt and cashew-poppy seed paste. Chicken needs to be cooked well in a stew like runny consistency alike curry. To finish you add in a slight touch of rose water and barista!
Mutton Kosha
Iconic meat preparation from Bengal. Can be recreated with beef or sheep.
A Bengali Wedding is incomplete until you have served the best of Pathar Mangsho to the invitees.
Pathar Mangsho is the true blue overwhelmingly spicy Indian dish. It is not the sheepish stew like Ab Gosht from Kashmir. It is not the Shepherd's pie. Kosha Patha is quite an emotion that can put a direct challenge to Kolkata Biryani and that says a lot!
For 1 KG of mutton, you need exactly one KG of oil and one KG onions turned into barista! The Mutton is marinated overnight with tenderizers like papaya, spices, yogurt and cooked on Kadai for at least a couple of hours. Slow cooking is the key here. Though you may use the pressure cooker. this recipe can be replicated with beef and chicken too. Lamb fares decently well.
Dollops of ghee and Garam Masala spices are used to finish the Mutton kosha! Potato is added because Bengalis conside Potato BAE. Though Golbari, the iconic Kosha Mangsho seller from Shyambazar (and a Punjabi establishment) does not put potato in their curry.
Chingri Malaicurry 
Jumbo prawns cooked with coconut milk. Bengali Cuisine.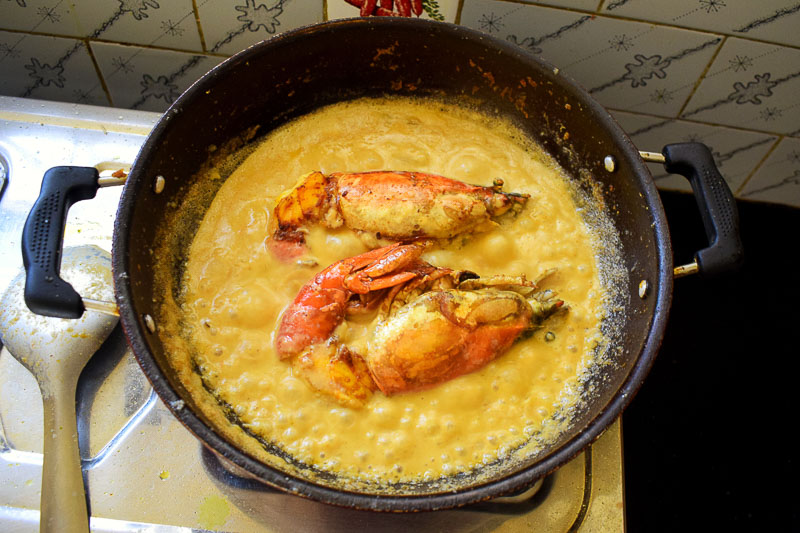 A classic prawn dish cooked with plenty of coconut cream. Whether you get your hands on beautiful lobsters or grab some fresh river prawns, Chingri Macher Malaicrry would always come up a show-stopper! (Until you introduce Bhapa Hilsa to it or NOT?)
Chingri Macher Malaicurry is traditionally served with steamed rice or Basanti Pulau.
Fish Moli 
Quintessentially Kerala. King fish or seer fish cooked with thin Coconut milk.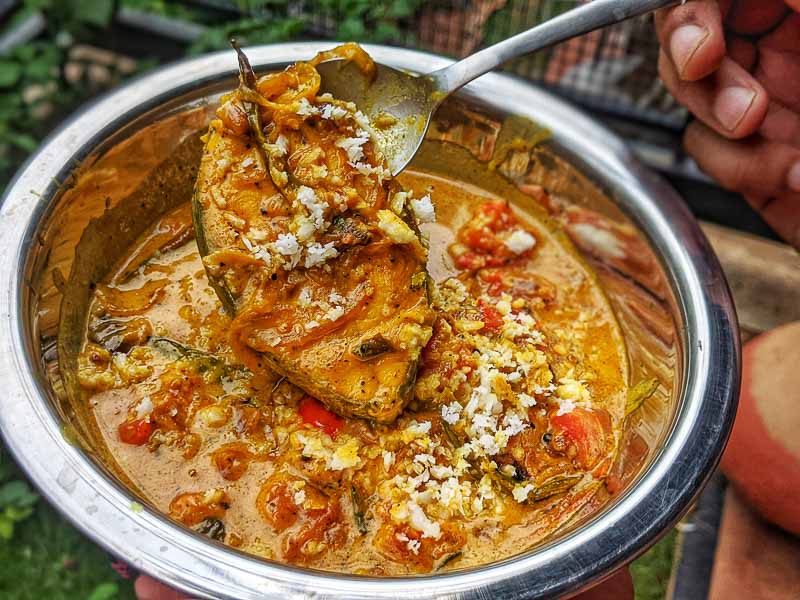 I tried fish molee several times during my two weeks trip in Kerala. the best fish molee was served to me at Ginger House, Kochi followed by Fort Kochi. You may cook this with king fish or pomfret. Here is a detailed Fish molee recipe that tells you when exactly you need to infuse the great aroma of Curry leaves with the packet of coconut cream!
Bhetki Paturi
Bengal's answer to Konkon's Patrani Macchi. Steamed fish in Banana leaves.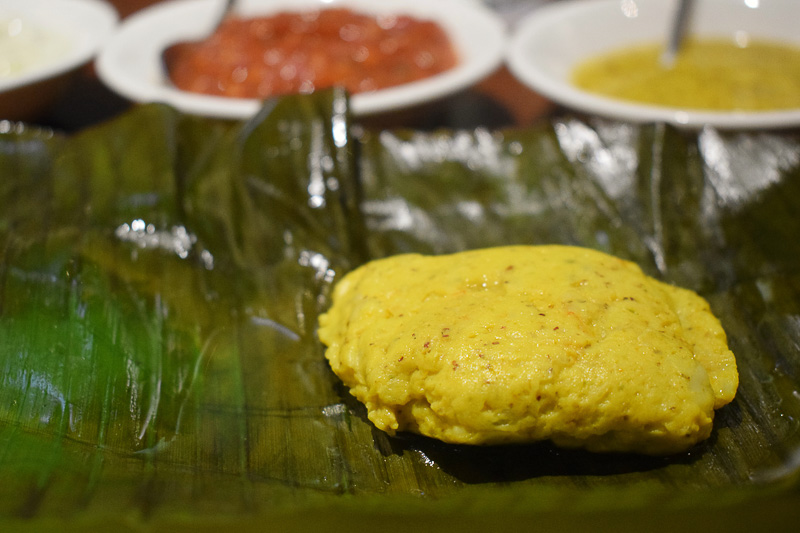 Steamed fish in banana leaf is cooked in different parts of India in different way. The Irani variety Patrani Macchi is a beautiful rendition. Bhetki Paturi is a slightly varied form of the same dish. You need fresh fish steaks. Ideally of Kolkata Bhetki. Basa just does not cut it for me.
Marinate the steaks with lemon and salt for half an hour. Prepare a mix of equal proportion of poppy seeds, mustard paste and grated coconut. Use a pinch of salt while preparing the mustard paste. Wrap this thing in a banana leaf. You may shallow fry or put on a steamer if you have. My grandmother used to put them in a steel tiffin box and put the whole thing in Bhater Hanri (rice pot).
Kankrar Jhol (Crab curry)
River crab curry. From the rural hinterlands of Bengal.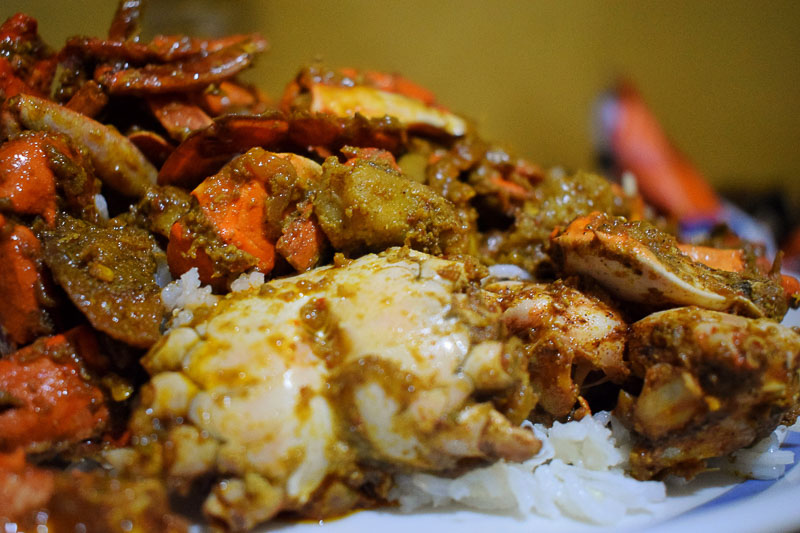 The best Crab I have eaten in India was at Sundorbon. They were the small river crabs, red and really tiny. the lady in the boat had cooked it with red spinach. I tried recreating the dish with prawns with red spinach grown at my kitchen garden.
The recipe I am gonna share here with you is basically another spicy variation of crab curry. You may recreate the dish with sea-crabs as well however IMHO, river crabs are packed with different level of flavours.
Ingredients to cook Crab Curry
Procedure to cook Crab Curry
Loitya Shutki
Dried Bombay Duck. Fish dish. Served as a side to main course, rice. Different variant is cooked at the Konkon coast and Goa and Tamil Nadu.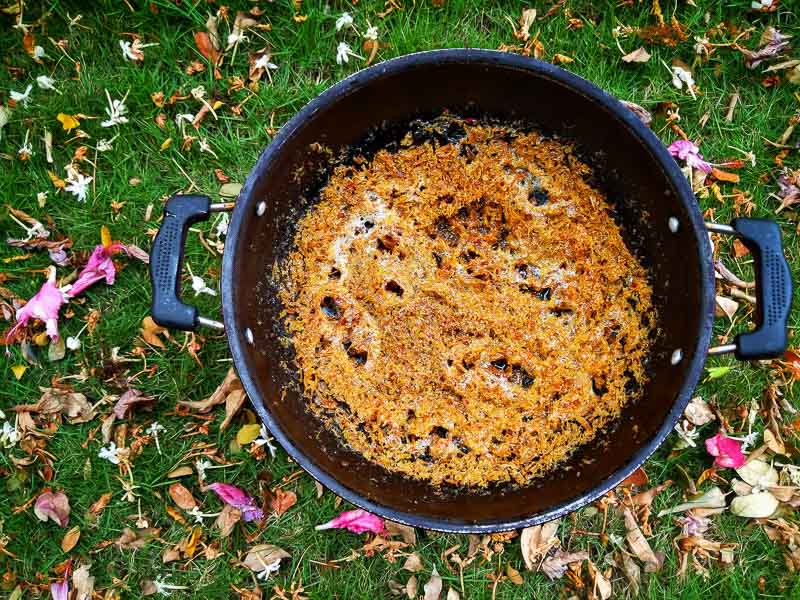 This looks a lot like bird's nest soup that they sell at China Town, Bangkok, ain't it? Dried fish has been one of the age old methods of food preservation at the coastal area. I love the Bombay Duck and Prawns variant of them. In the Eastern part of the country you will also stumble upon Nona Ilish or dried Hilsa, which is a delicacy in Bangladesh!
Dried fish is also known as Shutki in outr language, literally meaning Dried up.
We cook Shutki with plenty of vegetables to mask its overwhelming aroma/stink. (It is stink, Madhurima. It is not aroma. Admit it!). We also add half boiled egg to elevate the taste and add a bit of a creamy texture to the chunk of dehydrated fish steaks.
To cook Shutki, the only thing you need to take care of it to clean the fish properly. Often times, they are dried hanging by the sea shore and attracts dust and dirt from every corner of the world.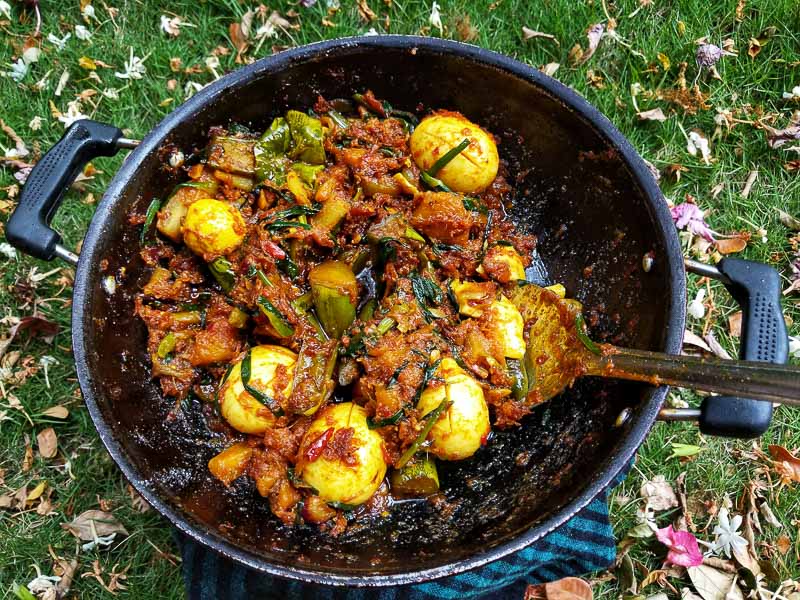 Palak Paneer (Paneer cooked in Spinach Gravy)
Vegetarian dish. North Indian, mostly Punjabi.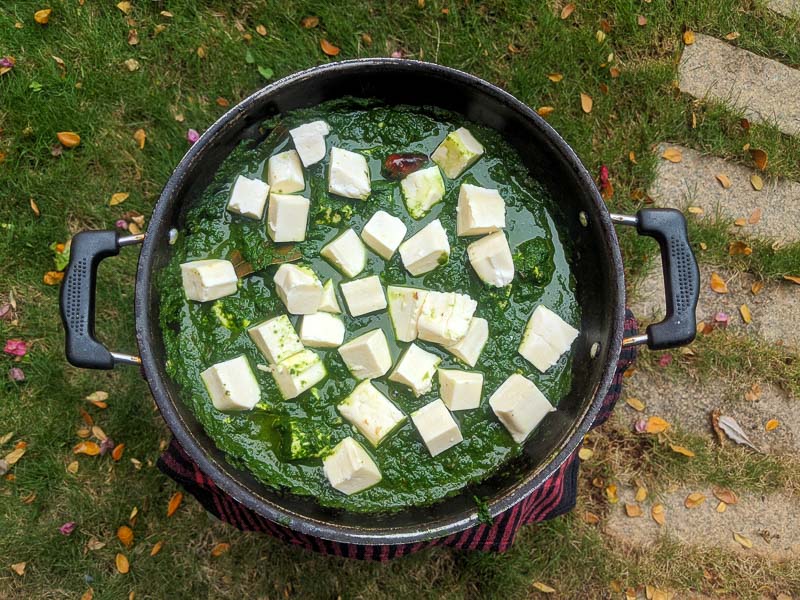 This is a protein packed main course served best with Indian breads like Naan or even rice. Paneer can be replaced by Tofu. When meat is used, this dish is known as Shag chicken. However, i love the creamy soft texture of Paneer effortlessly blending in with spinach gravy.
Ingredients to cook Palak Paneer
Spinach: 500 Gm
Green Chillies
Kasuri Methi
Garam masala powder and whole cumin
Red chilli powder
Turmeric powder
Ghee
Panner
Fresh Cream
Garlic paste
Chopped onions
Salt to taste
Garam Masala
Procedure to cook Palak Paneer
Blanch the spinach and put them on ice cold water immediately to retain its color. Make a puree and keep aside.
Heat oil/ghee. Temper with whole cumin and a few dried red chillies.
Fry the garlic till they are slightly red. Now ass the onions. Fry well till they are translucent.
Add pinch of turmeric, red chilli powder. Pour in the spinach puree. Add a few green chillies too.
Add paneer at this stage. Followed by a cup of full cream.
Finish it with a pinch of Garam masala and kasuri methi.
Gurer Sondesh
Dessert from Bengal. Gur/jaggery may be replaced with sugar if you are cooking this in different weather.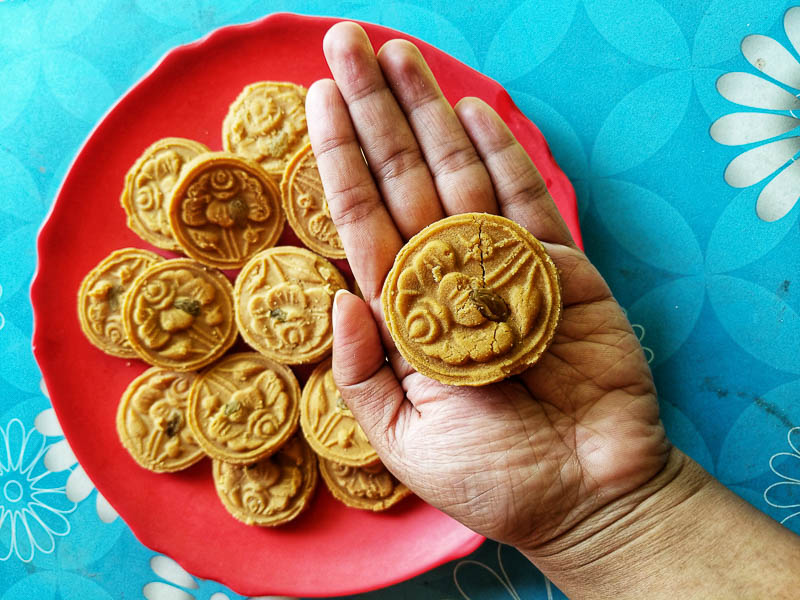 In the short lived winter months of Bengal, we rejoice in sourcing the finest Date palm jaggery from the rural hinterlands. It is a massive task to get our hands on an authentic jar of jaggery. However, those who do, will never shy away from showing off, by making Pithe, Puli and Gurer Sondesh. Sharing comes subsequently.
If I am asked to name one dessert that I can kill for I would be very very conflicted to choose between Gurer Sondesh and Cheesecake. In my mind, they represent the best of both the worlds!
If you can, buy Patali, dried cone of Jaggery which lasts longer.
Ingredients to cook Gurer sondesh
Milk: 1 liter (full fat)
Lemon Juice (2 tbsp)
Nolen Gur (5/6 Tbsp) If you are using Patali, use 3/4th of it.
Ghee
Procedure to cook Gurer sondesh
Boil milk and reduce it to half.
Add in lemon juice and stir in. Milk will curdle and result in Chana.
Using a Muslin cloth, hang it overnight or at least for an hour.
Now knead it like you would do it for Paratha. Add in Nolen Gur or Jaggery and knead it a little more.
Using a non stick pan, cook the kneaded Chana for a while. Stir continuously lest it sticks to the pan. Do this not more than 5 minutes.
If you have Mold (which I bought from Saras Mela from Kolkata in December) , shape the Sondesh or just make a small round ball. Serve Gurer sondesh as is, preferably in room temperature.
Gajar ka Halwa, North Indian Dessert
Vegetarian. Hot dessert from North India. Winter delicacy.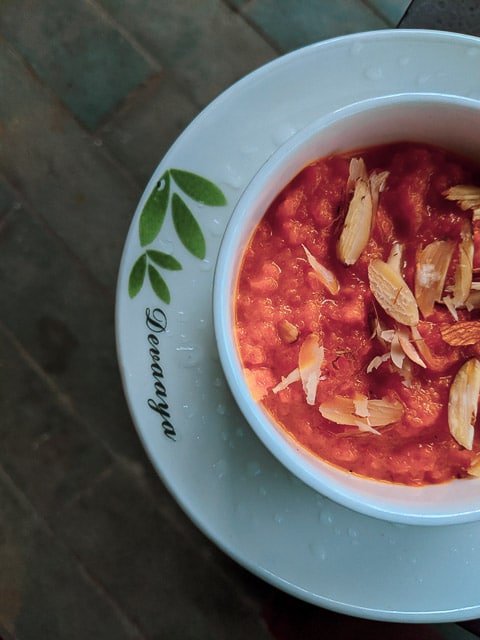 While Bengal is the sweetest part of India, I reserve high opinion for this one particular dish, Gajar ka Halwa, carrot Halwa. Milk and ghee set the top note of this Punjabi dessert, often popular with the Mughal emperors. During winter, you get the best type of red Carrots. Make sure you are using them.
Ingredients for cooking Gajar ka Halwa
Carrots: 2/3 medium sized. Red in colour. Grate them.
Milk: 1 liter (to be reduced)
Khoya: 100 gm (half a cup)
Cashew nuts
Almond and Pistachio: thinly sliced and roasted
Procedure for cooking Gajar ka Halwa
Use a Kadai/ heavy bottom pan. The idea is to slow cook Gajar ke Halwa.
Heat ghee. In goes the grated Cattors. Khoya follows. I do not prefer using sugar but you may use them if you do not get hold of khoya/mawa.
Add reduced milk.
Keep stirring
Throw in cashew nuts. Keep cooking until you reach desired consistency.
Serve hot. Garnish with sliced almond and pistachio (both or either).
In Lucknow, look out for black Gajar ka Halwa at the old market at Chowk, a rather exotic dish and favorite of the Awadh Nawabs.
Comfort food: Ghee Alu Bhate!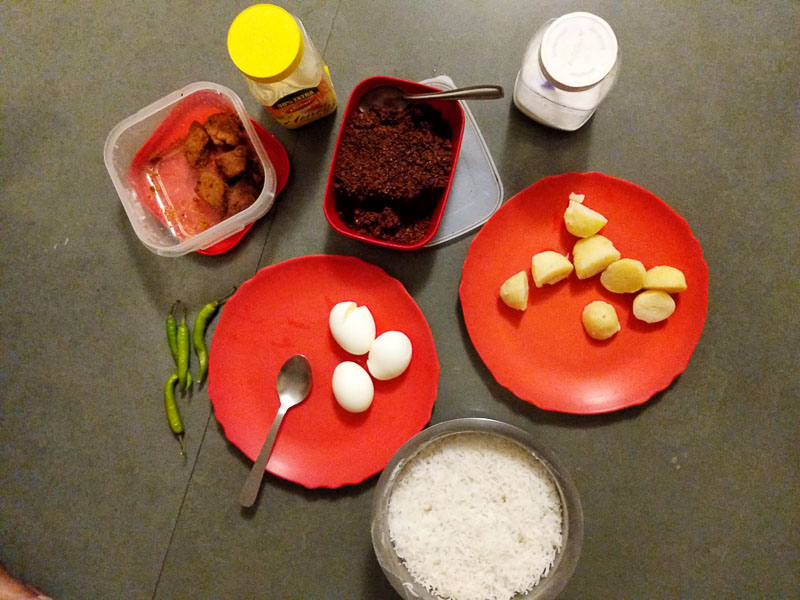 As you can see, Alu-bhate is the easiest of the lot! You need a couple of potatoes. A dollop of ghee. If it is homemade, great or else opt for the ghee they sell under the brands like: Lokkhi/Brishospoti. This is a must because these Ghee are aromatic and elevates the otherwise mundane boiled rice to a heavenly stature. You can boil some egg and add to the medley. I also prefer adding some "Jhurjhure", the residue particles after you have prepared ghee at home. However, this one is truly optional and adds a crunch. I grew up binge eating Alub-hate without adding "Jhurjhure" so you are good to go, really! Add some mustard oil if you do not want ghee. If you are opting for mustard oil, do not forget the green chilies. You can boil vegetables like pumpkin, bitter gourd and add to the scene. It is an easy and hearty meal.
A slight variation for this food is when you have tempered mustard oil with dried red chilies and added the mashed potato into it. Add in a powder of dry roasted cumin and red chili to it. This can be eaten as is or served along some Moong Daal.
All the trips I take abroad and eat different types of meat, I crave for this simple Alu bhate on the way back home! This happened when we were traveling in Thailand 5 years back. This happened before lock-down as we were back from Zanzibar!
---
This post may contain affiliate links. Please read the disclosure post. If you have liked the article, you may support it by buying using these links without any extra cost to you.
Let's stay connected on Facebook, Instagram, Twitter! You may also consider joining my mailing list. I send travel and photography related emails only once a month!