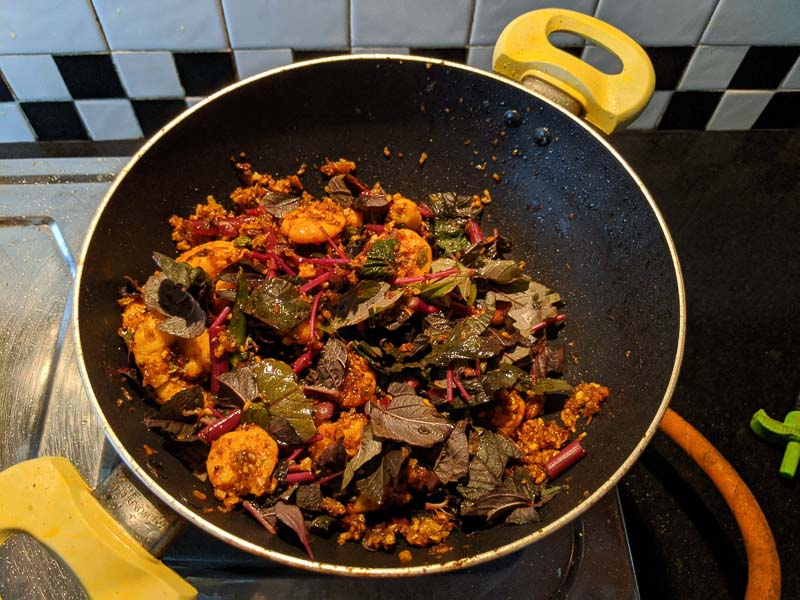 I have a small patio adjacent to my flat. I try to grow "EXOTIC" and "BENGALI" vegetables there. Vegetables that I do not usually find in Bengaluru. In other times, I keep traveling and hardly have the time to take care of my garden. If the Chili plant kindly supplies me with one fruit I eat that, elated, for 5 days at a go!
But now times are different and I experiment with growing Lau and Kumro plants, hoping to eat the leaves one day! Lau shak with poppy seed is a delicacy which I have not cooked at home ever!
Anyway, I have recently grown Laal Shak plants, red Amaranth. They grew in a pot together with mustard plant and stood tall! I let them grow for 3 weeks at a stretch. Then few of the leaves started to turn white and one plant died.
There were only 4 plants remaining, too small a quantity to cook a full fledged Laal Shak dish. So I decided to improve by adding some prawns and coconut, both leftovers in my fridge.
The coconut was in the fridge for a long time and lost moisture.
Have you ever tried dried coconut? It tastes like chewing stinky tofu!
Well, almost.
One way to still use that coconut is to add some sugar in it.
Also add generous amount of garlic paste. Mustard oil and garlic paste is a magic set a few notches above compared to even garlic in butter.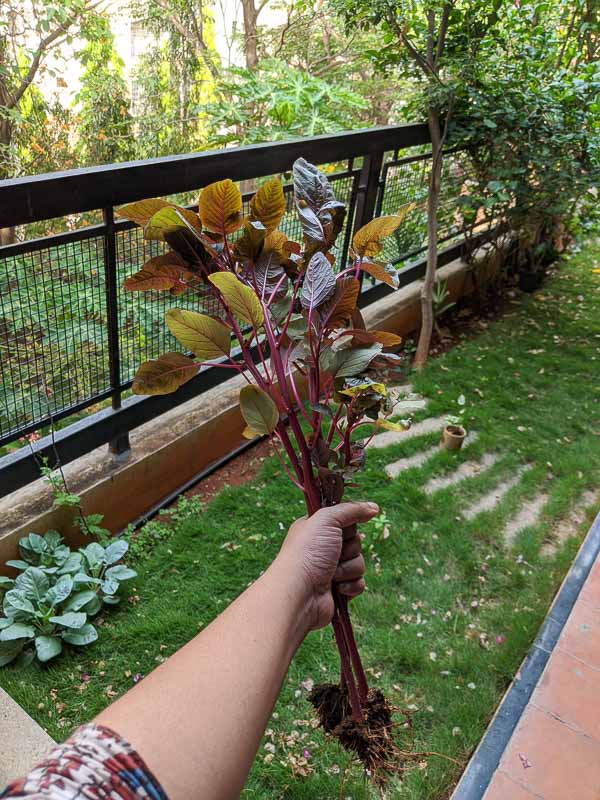 Below is a step by step recipe to cook Laal Shak Bhaja with Chingri Maach. Sauteed Red Amaranth with large prawns cooked with shredded coconut. Remove the prawn and it becomes a Vegan Bengali dish. I am not vegan but just giving you options!
Ingredients for cooking Laal Shak Bhaja (Serves: 4):
Laal Shak (Red Amaranth): 250 gm
Prawns de-shelled and deveined: 250 gm (the more the merrier)
Garlic crushed: 5/6 pods
Grated coconut
Sugar
Salt
1 tbsp of turmeric
Red Chillies for tempering
Green chillies
Mustard oil
Kasundi (Mustard Sauce, Bengali styled)
Procedure:
Clean shak under running water. Ensure there is no dirt otherwise you will taste them while eating. I usually take a bucket and wash and reuse the water for my garden.
Marinade prawns in turmeric powder and salt and lemon juice (or vinegar) and keep them aside for a while.
Cook the coconut first. Add some sugar to it if already dried. Fry for at least 5 minutes in slow flame till oil separates. Keep it aside.
Lightly fry prawns till they are golden brown.
Use the same oil because it has been infused with aroma of coconut!
Add garlic cloves and a couple of dried red chillies for tempering.
Add in the finely chopped Red Amaranth or Laal Shak and stir fry on high flame for 1 minute only. Stir vigorously or it will burn.
Add coconut and prawns. Fry them together. Add a pinch of turmeric. Adjust seasoning. Finish it with gentle addition of a few spoons of Kasundi!
Serve with grated coconut on top. Laal Shak tastes the best with steamed rice!
Instead of prawns, you can cook Laal Shak just as is and use generous amount of grated coconut. The dish becomes an un-apologetically local vegan Bengali dish!
Pin it for later!