My Pishai (husband of my father's sister) gets irritated every time I demand a plate of Biryani. "Ghee jobjobe"(gentle pouring of Ghee, aromatic Indian clarified butter) rice is gonna be too heavy for the weather, you will fall sick; he will warn me. And I will become reckless and plan an imaginary friend's meet. Haji makes incredible biryani in close vicinity. Which mad-hatter wants to give it a miss?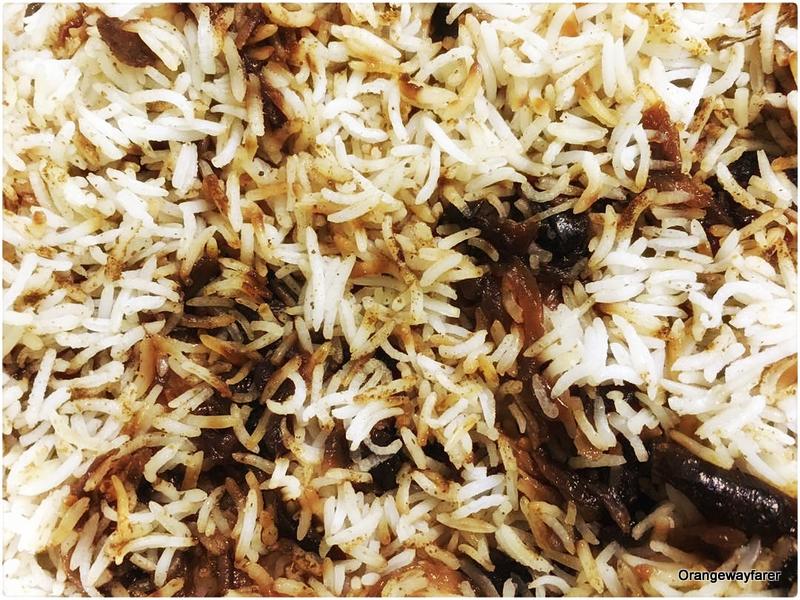 Also read, everything you need to eat when traveling in Kerala!
Life goes on. Sitting miles away from home, at the advent of Ramadan, end of calendar month when the pocket is showing me empty meagreness of life, I decide to cook it for me. I will describe the side effects of the decision and the cost-effective way we did it. Quantity exceeded our premonition and Dawat for friends was inevitable.
What is the magic of a Biryani?
For the beginners, assuming you are not Indians/Bangladeshi/Pakistani, Biryani is an aromatic rice preparation, prepared with choice of meat chunks. Often we Bengalis put in potatoes in it. Biryani itself is a wholesome meal, however, we had prepared Mutton Korma as an extra offering.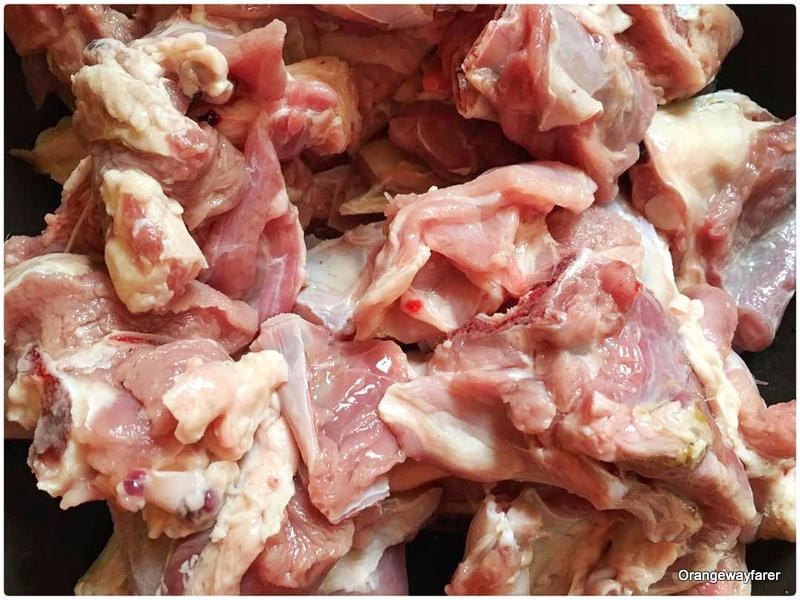 Claim to fame?
An assortment of rice and meat cooked together is age-old practice across tradition often resulting in stodgy outcome. Biryani stands out for the aroma infused in the rice grains while cooking it to perfection in "Dum" style. Accompanying mutton Korma is best tasted with beef but we have Indians generally don't have access to beef in this turbulent political time. As a child born in Hindu household, our tastebuds are well conditioned with Mutton/goatmeat too. We really really love that meat, often more than the beef counterpart.
Also read, Ramadan in Bangalore: A streetfood affair!
The cataclysm of cooking Chickens  Biryani with mutton Korma
(In India, by day, it is getting tougher to procure beef in metropolitan areas, but trust this preparation is best cooked with beef, next comes mutton and chicken.)
Portion: Serves 8 people
Cooking time: 4 Hours
Food Cost: INR 2000 (Approx)
Ingredients
For Biryani:
Long Grained Basmati Rice
Potatoes
Onions
Greek Yoghurt
Chicken Leg pieces ( You may use your choice of meat)
Ghee
Eggs ( Poultry we used, You may choose your kind of eggs)
For Mutton Korma:
Mutton cut into pieces
Onions
Potato (Optional, we are Bengalies, we eat potato with everything)
Ginger/garlic paste
Green chillies
Tomato
Yoghurt
Almond
Cashew
Optimised way to cook
Mise en Place
Chop 10 onions (6 for mutton, 4 for biryani)
Chop 6  Totamoes ( paste 4, 2 to fry)
Blanch Almonds and peel the brown skin
Boil 4 eggs ( or more, as you please), deshell them
Peel potatoes, par-boil for 5 min, and cook till golden brown, we Bengalis are seasoned to eat our Biryani with aloo, but it is optional
Marination for chicken: Yogurt, Garam Masala, salt to taste, Red chillies, Nutmeg, Mace, pepper
Marination for Mutton: Yogurt, Garam masala, Cumin powder, Coriander powder, Chilli Powder, Turmeric, lemon juice, lemon zest
Make a paste of handful of almond and cashew nuts for Korma gravy
 To start with Biryani
Basmati needs to be cooked for no more than 10 min, with a pinch of pepper, nigella seeds and few drops of white oil to ensure grains are not sticky. A well cooked Biryani is to take her pride in feather-like grains.
Spread the half cooked rice to cool, make sure it is not boiled already.
Temper few spoons of ghee with cardamom, cinnamon sticks and lobongo. Add marinaded chicken.
Let it cook, preserve chicken curry for later use in dum
Now comes the arcane part of layering. A good Biryani, by it's own virtue, will appeal through every layer of rice, while supple meat pieces and boiled eggs will make way to your plate.
Make sure the protein part stays at the bottom of a heavy bottomed pan, top it up with rice, potatoes and eggs, sprinkle barista and saffron (optional, brings in the colors very well)
Put it on Dum.
For the beginners, dum is an ancient effective style of cooking that let's the steam of a pot cook it's containment to perfection, with not letting of the vapor evaporate at any cost. You need clay pot, flour dough and many other ingredients for that. In my mundane kitchen, I sought resort to an old 5 ltr pressure cooker, it is heavy bottomed, hence served the purpose well. I didn't put it on pressure though, the lid it heavy enough.
Alternative way to cook it is to put the vessel on a pan bigger than that. The pan will be on flame and will contain water, thus preventing direct contact of rice-pot with heat. Add another vessel full of water on top of the lid to add more pressure and ensure no escape for steam inside the pot. End result will be as good, trust me.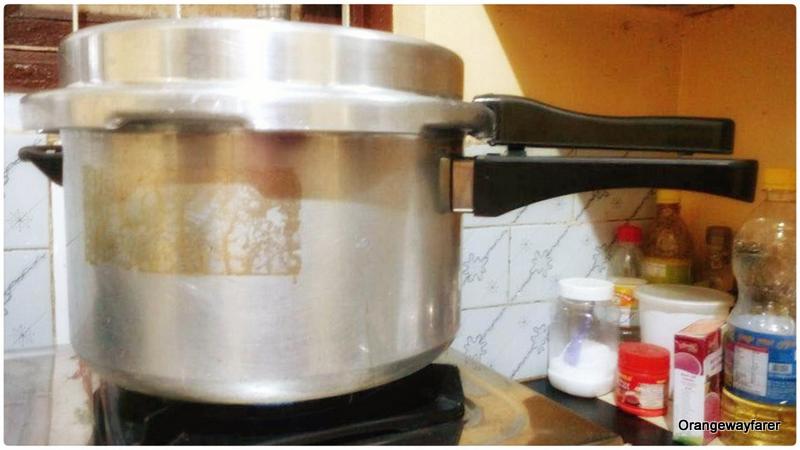 Pro tip: unless there is a threat of burn it., A fowl smell, you may want to open the lid directly at the dinner table. A piece of art your biryani is, it will please everybody.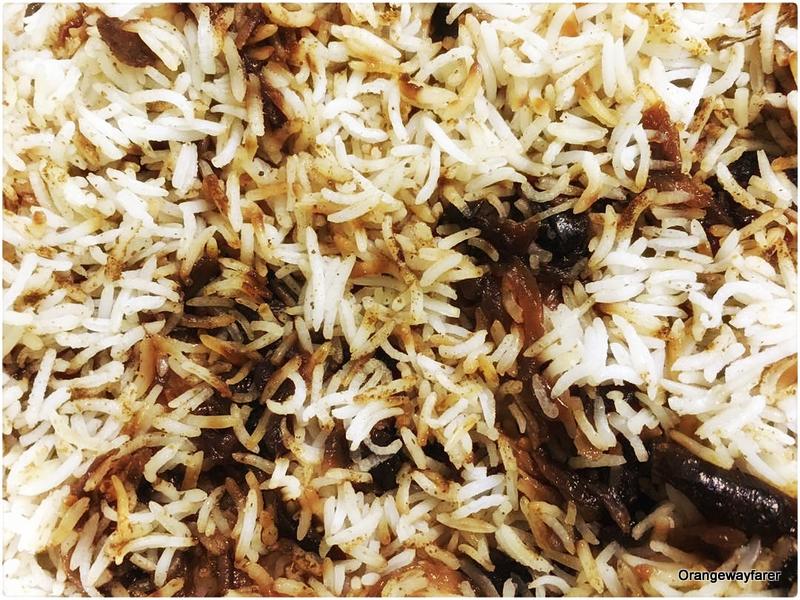 To cook Mutton Korma
(Feel free to replace mutton with your choice of meat, just be vigilant about ample cooking time to ensure meat is cooked to taste.)
Start frying onions, wait till they turn golden brown.
Add in tomato and green chili paste.
The oil stars to float and add it more tomatoes, optional, we had extra tomatoes and knew not what to do with them
Add in mutton sans marination liquid and frry for a while
Add marination and cover with a lid till the entire house/the area knows you are cooking mutton
Add in your nut paste and water if need be.
Health tip: cook it with white oil and top it up with ghee, but if you are generous do the whole business with ghee. I didn't use pressure cooker to cook it either. You may consider that option too.
Prepare an exotic Mughal dinner for friends and let me know how they liked it. You have another way to cook biryani? Please teach me.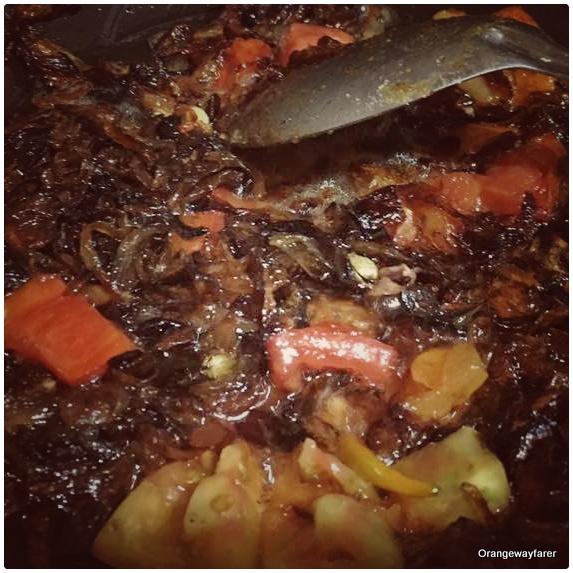 Follow me in Facebook, twitter, Instagram.
Want to book a stay for the next vacay