About this blog: Delhi metro is a fantastic solution to the never ending traffic jam and increasing pollution in the Indian capital. Connecting a substantial distance from Gurgaon to Noida, and Faridabad to Ghazibad, the Delhi metro route is a cheap and reliable way to commute to work in Delhi NCR. The cherry on the cake of the Delhi Metro route is the addition of Express Airport Metro Line. In this guide, we will tell you easy hacks and common etiquette for commute using the Delhi Metro Line! Delhi Metro is a safe choice for solo women travelers as well. This Delhi Metro rail guide also has information on things to do to ride the rail after lockdown is over.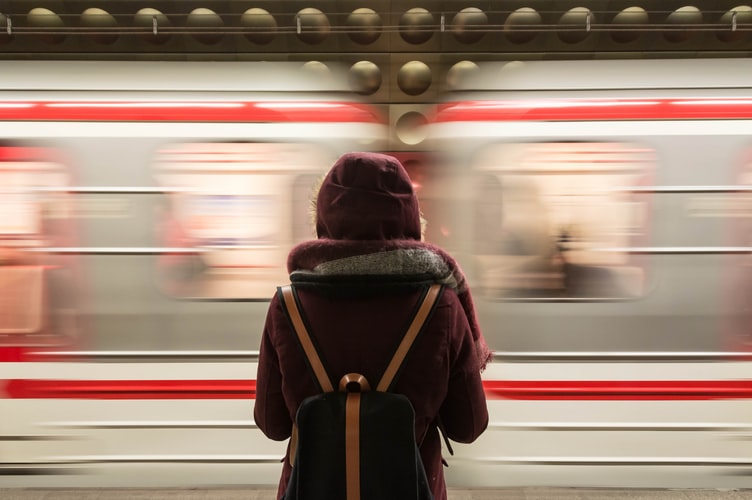 A similar travel guide for Kolkata Metro rail is here!
The iconic Lal Killa, better known as the Red Fort, Humayun's tomb, the delicacy of Mughal kitchen from Karim's at Jama Masjid, I would have known/seen none of it, had there been no Delhi Metro Line!

Right at the capital city of India, Delhi metro line is a network of air conditioned, clean and dainty train stations strategically located near the important tourist and business hub of New Delhi and connects a massive area stretched between the satellite towns and the real city.

The thought of using Delhi Metro for everyday commute might be intimidating at first, however this guide aims to simplify the extensive route and help you with a general overview of New Delhi metro system!

To help you use the Delhi Metro on a regular basis, I have got you covered on the following questions!

Updated on September, 2020: Post Lockdown opening up of Delhi Metro & Safety Protocols
After a hiatus of 169 days, Delhi metro has resumed services in the NCR region. From September 7 to 12, every line of Delhi metro has restarted daily operation with strict protocol implemented. Here is everything you need to know about riding Delhi Metro Rail during the unlock period. These constitute to be part of safety protocol being in place to make Delhi metro Journey a safe experience for the passengers and the staffers.
Delhi Metro Rail is operating from 6 am to 11 pm, everyday. Regular timing.
Not all Delhi metro rail gates will be open for passengers for making an entry to the station. For example, stations like Rajiv Chowk, Kashmiri Gate, Central Secretariat, Hauz Khas will have two gates open for passengers entry. (Of a total of 671 gates of Delhi Metro, only 257 will remain open during this period. that is 38% of the entry points).
There will be separate gates for entry and exit to the stations.
Thermal screening to be performed on every passenger before entering the Delhi Metro. In case of fever or high temperature, the passenger will be escorted to the nearest medical center and will be subjected to quarantine in case Covid test comes positive.
At an average, 1500 passengers used to avail services of Delhi metro from 6 coaches. Only an estimated 300 passengers (20% of usual capacity) will be allowed to travel by Delhi Metro at any given point of time.
Passengers will be allowed in only if they are wearing a mask and a set of gloves.
Aarogya Setu app has not been made mandatory any longer but highly encouraged by the officials.
Use of Smart Card has been mandatory to ride the Delhi metro. Cashless transaction is practiced for the time being. SO do not expect to buy token.
Recharging smart card can be done with Debit card/ credit card and e-wallets like Paytm and new smart cards 'Autope' which can be linked with bank accounts. New cards, linked to bank account, has an option to set a standing instruction to top up as the amount goes down to INR 100 (minimum balance of a smart card).
Strict social distancing norms have been imposed at every station of Delhi Railway. Stickers have been placed on the seats and station. Volunteers, CCTV camera are install in place to regulate the situation. Audi-visual guides are placed at every station.
Only three passengers are allowed in the lift at a time.
Alternate seats will be left vacant. At least one meter of distance is to be maintained between two standing passengers.
Overcrowding is strictly not allowed in the Delhi Metro station after in re-opens service. Entry gate, ticket counters, customer service center, ticket vending machines, AFC gates (for entry and exit), lift, escalators, and platforms are kept under vigil to control any unwanted situation.
Trains will stop longer for 45 seconds at every station to ensure social distancing is maintained while boarding and disembarking coaches.
To prioritize fresh air intake inside the coaches, trains will stop for 45 seconds at the terminal stations.
Passengers are informed to account for 10 to 15 minutes of extra travel time due to increased security measures.
Parking at the Metro station is allowed.
Feeder buses services has not been resumed so far.
At night, the entire train and station will be sanitized. Sanitation will be an ongoing task at an interval of 4 hours at the station, lift buttons, handrails (any place that may attract human contact) and the public toilet.
Passengers are allowed to carry small bottles of sanitizer bottle (30 ml). Please refrain from carrying metallic things in your luggage.
Ministers have requested passengers not to travel during peak hours unless essential. With daily Coronavirus cases reducing at the Delhi NCR region, local business is banking on the Delhi Metro Rail to revive economic activities. Shops operating at the metro stations will be resuming services as well.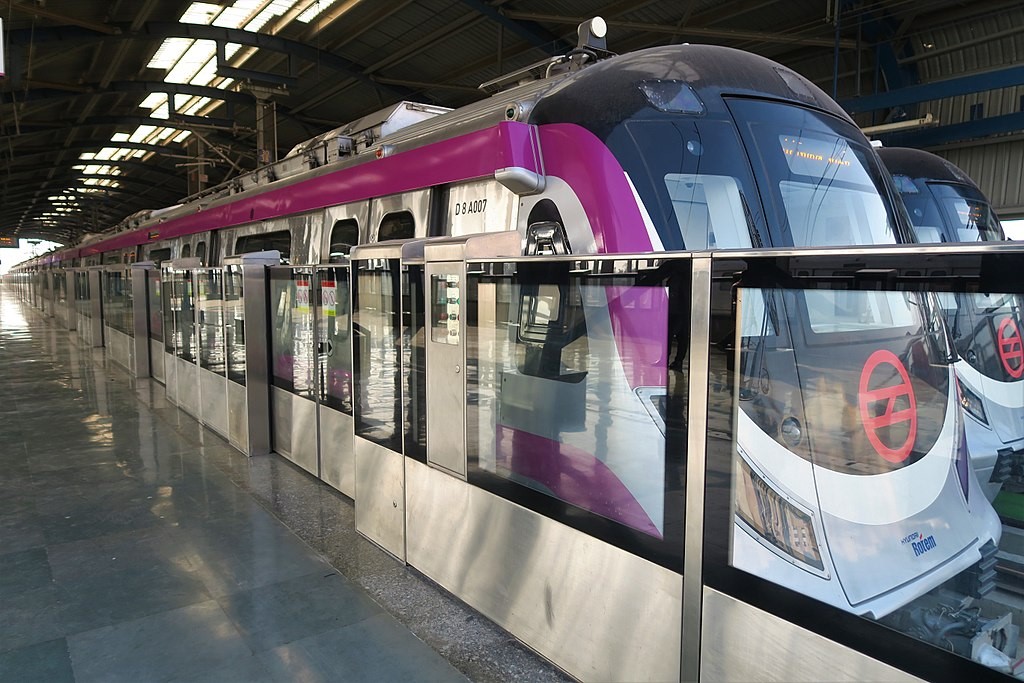 The New Delhi Metro: the Safest way to Commute for Tourists in Delhi?

Since there is a guard at every coach and security check at the entry point, the Delhi Metro is so far the safest way to travel in the city, even at the wee hours of the day. CCTV Camera surveillance is on place. People are largely respectful except for the peak hours. there is an unnerving crowd however that is manageable too! Besides, I personally venture out at night in Delhi by using the one and only Metro link! Pity they do not operate overnight!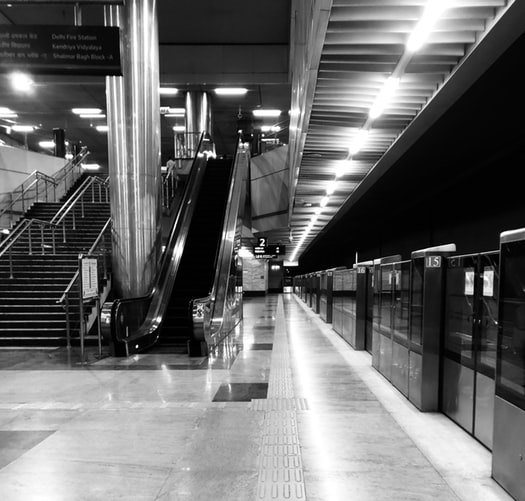 The norm to have a designated coach only for female travelers is highly regarded.
Entry to the New Delhi Metro line is strictly permitted basis on undergoing a scan. Scan is performed on the individual as well as luggage. Sniffing Dogs are taken out for rounds on certain occasions.

However, due to an incredible crowd pull, pick pocket is a regular nuisance at Delhi metro. Keeping an eye on our belongings and mobile is the only practical solution I found for this one!
Read more of my India travel stories here!
Finding a Metro Station: Where is the next Delhi Metro Ride Awaiting?
The New Delhi Metro station connects close to 184 station from Delhi and the suburb area. The air conditioned coaches run efficiently at an interval of 10 minutes and helps millions of people travel safely and smoothly. The network is growing everyday with more station coming on board.

If you are not staying right in front of a Metro station in Delhi, you may use a DTC bus, metro feeder bus, auto rickshaw and cycle rickshaw to reach the nearest Delhi Metro sign.

The nonlinear metro line is further divided into five color coded routes and one express airport link, running underground, on the ground or on elevated platform.

Delhi Metro Link: Know before you go!
While train coaches are wheelchair-accessible, along with most of the stations, some entrances have only stairs for access. The elevator needs to be hunted down. An escalator however shall be connecting the different levels.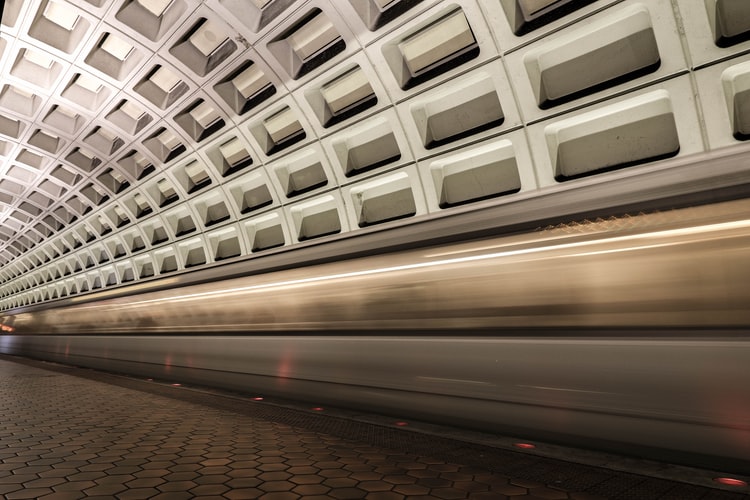 Delhi Metro Link runs fully air conditioned coaches. Ladies and Old citizens have a reserved seat on every coach.
There is electronic board display and bilingual PA service (Hindi and English) at every train.

The trains have 6 to 8 coaches, with the last one generally being reserved for womenfolks. Kids up to 12 years are allowed to travel in the women boggy.

There are special trains run at Delhi metro where the entire carriage is reserved for women passengers. It is announced on PA system.

Research papers prove Delhi Metro is largely a pollution free mode of transport, celebrating green energy and thus hailed high by the United Nations.
Thinking of carrying that bottle of imported liquor for your friend's birthday and traveling by Delhi Metro? Stop!
Eating food at the metro stations, photographing the interiors (hence all my pictures in this blog are for reference and used from Stock photos) and carrying alcohol, even sealed liquor bottle is prohibited. The latter is considered as a punishable offence.
Ticketing at the Delhi Metro Rail: Easy hacks for traveling on Cheap Fare on the Delhi Metro Line!

Every Metro station in Delhi is well equipped with a customer service/help counter where your questions/queries will be resolved.You can always ask the man in uniform (the police) for help.

Massive display boards are in place to help you guide through the complex network of Delhi metro. There are 5 color coded lines which maps the distant parts of the city.

The price range of Delhi metro varies from Rs 8 to Rs 50. There are designated ticket counter where producing exact change will ensure faster transactions for a ticket, the "Exact fare Counters!"

I recall studying those maps at the beginning of each journey. However, time has changed and now you can get access to those details in a smart phone app: Delhi Metro Rail. You also have a detailed map of Delhi Metro on the app.

Public announcement service in Hindi and english will keep you updated with arrival and departure of the next carriage.

You can stand in a queue and book tickets for destinations, if old school is your style. There are separate queue for male and female commuters.

However, these days, there are automated vending machines. You shall be given a coin like ticket. The ticket price varies based on distance, unlike the one in NYC subway where a set price is the norm.

The coin like ticket needs to be swiped at every turnstile counter as you are about to enter the station. It is to be returned/ simply inserted into the machine as you are leaving the metro premises to be reused by another passenger.
In case the token does not work, ask help from a guard. They are there to help.
In case you need special assistance, or are on a stretcher, a gate will be open for you upon request.
Children below 90 cm (2.9 ft) can duck at the turnstile. You can save on the ticket money for them!
If a commuter is found traveling without a ticket, a fine of INR 50 will be imposed. Walking on the metro tracks on the other hand can bring INR 500 charge and 6 months in prison. You do not want to do that, trust me!
Be smart and get a smart card to ride the Delhi metro!

Regular commute is Delhi Metro can be turned into a cakewalk with a smart card. The Delhi Metro Smart Card comes with an extra 10% discount. It can be recharged for as low as INR 100 and Rs 50 security deposit.
The security deposit will be refunded as you give back the smart card. The smart card is active for an entire year after being issued or being recharged, whichever is the last activity.

The smart card for Delhi Metro can be recharged online. The first smart card needs to be bought at the customer care booth present at every station and does not need any documentation.
A single swipe with the Delhi Metro Smart Card will ensure you stay inside the Metro Premises for upto 180 minutes. Plan your trip accordingly. More details here.
Students ID is Delhi Metro can fetch you special privileges.

The Delhi university student Id card has bar code which can be used as the token. During peak hours, students can avail a discount of 45% and non peak hours, they will be getting 20% discount.
The Tourist Card at Delhi Metro and Why you Need to Use it!

If you are a tourist in Delhi, I highly recommend buying the Tourist card. At INR 200 you are entitled to unlimited rides at the Delhi Metro for a day. The Metro network runs effectively connecting many historical landmarks of the city. On a self guided tour in Delhi, the Delhi metro tourist card is your best budget bait.

You may extend the Metro tourist card for three consecutive days. The price is INR 500. An Uber will charge you a few 10 times of that!
In case you are staying in Delhi for longer, the 3 day long tourist card is what I recommend.

You are required to pay a 50 rs security deposit for the card (included in the prices mentioned above), which will be refunded to you at the end of the travel period.
How to Survive the Peak hours at Delhi Metro and why you should avoid that!

A few million people travel by the Delhi Metro. Yes, read that again!

Such is the might of a train line that connects obscure suburbs of the great Indian plain to the heart of Indian capital.

Trains run at an interval of 10 minutes. It fastens up to a few minutes at rush hour.

At the peak hours, from 8am to 10 am, you are likely to be assimilated in a humongous living mass of people, living, thriving, moving. Metro marshal don't let their guard down for a moment at important junctions like the Rajib Chowk or the Yamuna bank, helping people to get down from the metro or to embark on a new journey.

It is unnerving, but you will get used to eventually. Just move with the crowd, fasten up with impending footsteps. There is no room for stopping for a while and breath! New Delhi moves at a lightening speed!

However, their is a sweeter deal just in case you are looking forward to make life a wee bit easier. Take the metro at the off-peak time window, and you will enjoy a 20% discount on your smart card journey.

If not the money, do it for a hassle free travel. Just writing about the rush hour and recalling the maddening crowd gives me an adrenaline rush! I did it and I am living, to write off the experience: that is nothing less than a wonder!

The Delhi Metro runs from 5:30 am to 11:30 pm. At midnight, there is no service by the Delhi Metro.

There are certain occasions, festivals and political rallies which might affect these hours. For example, during Holi, Metro starts operating from 2 am. If you are in doubt, just google, "Delhi metro News".
A Map of Delhi Metro or the App?
This Map is for the starter, use the app: Delhi Metro Rail. Highly recommended!

Understanding the color coded 5 metro routes of Delhi!
Delhi metro use color codes to highlight different routes. While, human brains are best wired to understand the magic underlying such complex network by a simple glance at the inforgraphic (the color coded map available at every station and on the app) I will try to list down the areas covered by each metro line! Please note, these metro routes are mostly interconnected, thus if your destination branches out at an obscure end, worry not. You can change the route where a different colored line is approaching.
How to change to a different color Metro Line in Delhi?

For example, you are traveling on the Red route. However your destination is on Green line. The Red and the Green route do not merge together. So you look out for the next route that the red line merges with, say yellow line. You will look if the yellow line merges with Green line anywhere.
If it does, bingo!

You change from red to yellow route at the next station, Travel by the yellow station. Get down where the yellow merges with green and continue towards your destination!

You need to change thrice, but still can use the metro network to reach your destination.

The Red Line of Delhi Metro

(Rithala to Shaheed Sthal New Bus Adda (Ghaziabad)
The first route where Delhi metro ever ran, the Red Line is an elevated train line. it connects Dilshad garden and Rithala. In the course, it joins with the Yellow Line at Kashmere Gate and the Green Line at Inderlok.
The Yellow Line of Delhi metro

(Huda City Centre to Samaypur Badli)
The yellow line connects the north of the city to the south. it also merges with the rapid metro of Gurugram. En route, the Red, Blue and Violet lines comes. and comes the important stations like Old Delhi and New Delhi railway stations. this is the best metro route for Delhi Sight seeing for a tourist. For airport, you just need to get down at the new Delhi Rail station and catch the Airport link.
The Blue Line on Delhi metro

(Dwarka Sector-21 to Vaishali/Noida Electronic Centre)
Connecting Dwarka Sector 21 and Noida City Center, the Blue Line is one of the longest of Delhi metro network with close to 44 stations in between. It interconnects with Green, Yellow, and Violet lines and touches the Airport metro in the path.

A small line branched out from the Blue line that connects Vaishali to Yamuna Bank
The Green Line on Delhi Metro

Kirti Nagar/Inderlok to Brig. Hosihar Singh
The shortest of Delhi metro route that connects the West of Delhi (Punjabi Bagh, Paschim Vihar, Nangloi and Mundka, majorly residential area) with red and blue routes.
The Violet Line on Delhi metro

The Violet line connects the central Delhi to the southern parts and runs further to Faridabad.

It branched out to the Heritage line, also my favourite metro route in Delhi which connected the old gems of Purani Dilli. It is an underground line has three stations giving direct access to Delhi Gate, Jama Masjid and the Red Fort in Old Delhi. Plus, the Kashmere Gate station provides an interchange between the Violet, Red, and Yellow lines.
The Pink Line of Delhi Metro
Runs from Majlis Park to Shiv Vihar.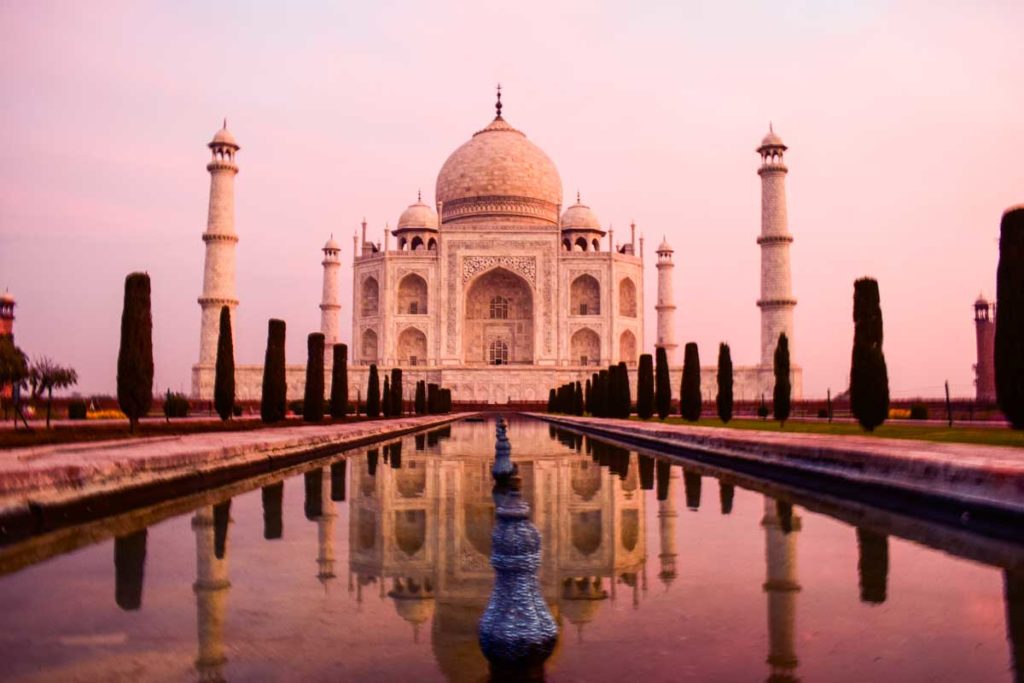 The Express Airport line of the Delhi Metro, and how to use it!

The Delhi Airport express line is the biggest blessing or wonder in urban India. We cannot wait till this joy reaches us in Bengaluru!

Connecting 6 stations between New Delhi to Dwarka Sector 21, the Delhi airport metro runs at 15 minute frequency. You can reach the heart of the city in a jiffy, literally! Just to give you a context of this excitement, earlier it would take a grueling 1 hour trudging through traffic etc.

Allways, a Hongkong based company runs a premium porter and indoor buggy service, priced at 300 rs, inside the Airport Metro Express Line's Terminal 3 station.
In case you are commuting from the new Delhi Metro station to the IGI (New Delhi) airport, you may consider checking in your luggage and getting the boarding pass from New Delhi Metro Station and Shivaji Stadium Metro Station. Visatara, Air Asia have opened their check in counters at these stations. This service is available from New Delhi Metro Station from 6 hours to 2 hours before the schedule departure.

You can now enjoy seamless complimentary wifi connection at the Airport metro. Connect at airport express free wifi Oui DMRC Free Wi-Fi.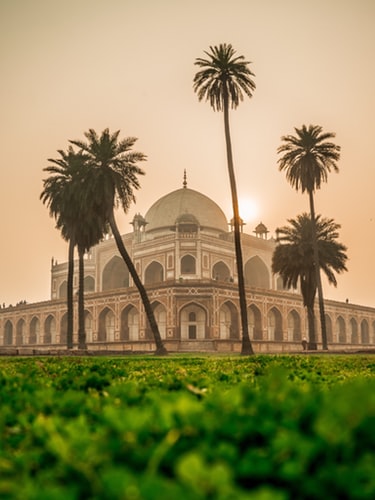 Simple Etiquette for using the Delhi Metro Line!
Many stations are equipped with coffee vending machines, cafeteria and small cafes.
ATM from different banks are available at every metro station or located at walking distance.
Washrooms for both the genders are available at Metro station.
Major stations with interlinks are Rajiv Chowk, Central Secretariat and Kashmiri Gate. Expect rush at every hour of the day.
Passengers can carry upto 15 KG of luggage in Delhi Metro.
You cannot carry a bike/cycle in Delhi metro
The doors at carriages open on both the sides. You are not allowed to lean over them.
Pets are not allowed to be carried inside the metro coaches. Not even tiny fishes. Not even plants. However, bouquets are allowed.
In the big bad metropolis of Delhi, lovers might steal a moment or two at the overtly populous Delhi Metro. It might strange however you will be surprised to know how often it actually happens. let them be. Don't ogle. And don't even think of creating the ruckus as they did in Kolkata metro!
Delhi Metro Stations near the Prominent Landmarks of Delhi!
Please remember the metro stations are strategically located near a bunch of historical sites. They will bring you closest to it, but not opposite the doorway! You need to walk your bit and explore the places. Considering the exorbitant prices of Uber and never ending traffic jam, I would happily walk from the Metro gate.

1. Chandni Chowk (Yellow line)

The heart of Purani Dilli, the city of Djins! You take leave out of the swank new world metro sttaion and be time transported into an old chaoytic and beautiful place! Minarets, stones houses, kebab scented streets, azan from Juma Masjid, all come forward to greet you! You know you have arrived at Delhi!

The Red Fort is a mere 10 minutes walk.

Also read, The Karims by the Jama Masjid, where Mughal Kitchen lives till date!

2. Rajiv Chowk (a Node between yellow and blue lines)

One of the major nodes of Delhi Metro line, the Rajiv Chowk brings you close to janpath. The Mecca of street shopping, Janpath is the place to be if street shopping is your forte.

Consider visiting the Connaught Place, the commercial business and financial hub of Delhi. I remember seeing India's first revolving restaurant at the Connaught place. A marvel from vintage era!
3. Hauz Khas (the yellow line)

Noone has ever lived and loved in Delhi and has not visited the hauz khas. A village like set up at the heart of Lutyens Delhi, Hauz Khas village ushers a hip star vibe which you will seldom find in any other metro city! The wall graffiti make up for interesting Instagram spots as well.
4. Nehru Place (the violet line)

Loacted near the Lotus Temple, one of the eight Bahai temples in teh world. A temple shaped like a lotus where pin drop silence resides.
5. Central Secretariat (the yellow and violet lines)

Located close to the Ganchi Memorial, Indira Gandhi Memorial, Lodhi Garden, India Gate, the Parliament House, this metro link lets you come closest to the seat of power that Delhi is!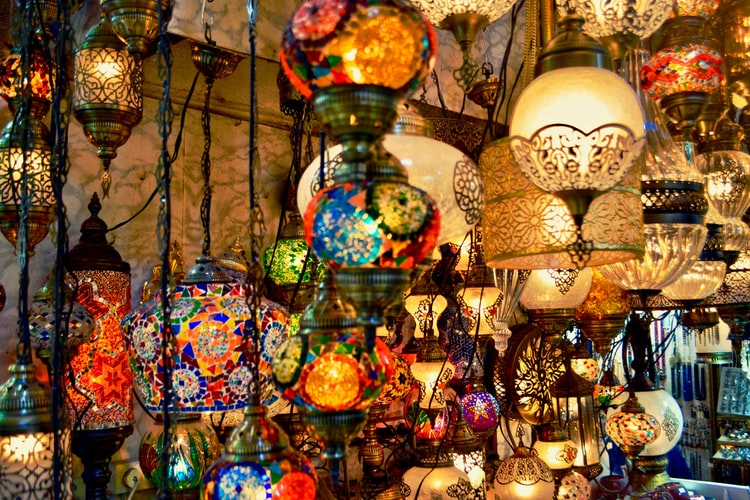 Apart from a few stray incidents of power failure, slowing down or petty crimes, Delhi metro has served a lofty task to the citizens by saving money, precious time and reducing emissions of greenhouse gas to a substantial measure!
Pin it for later!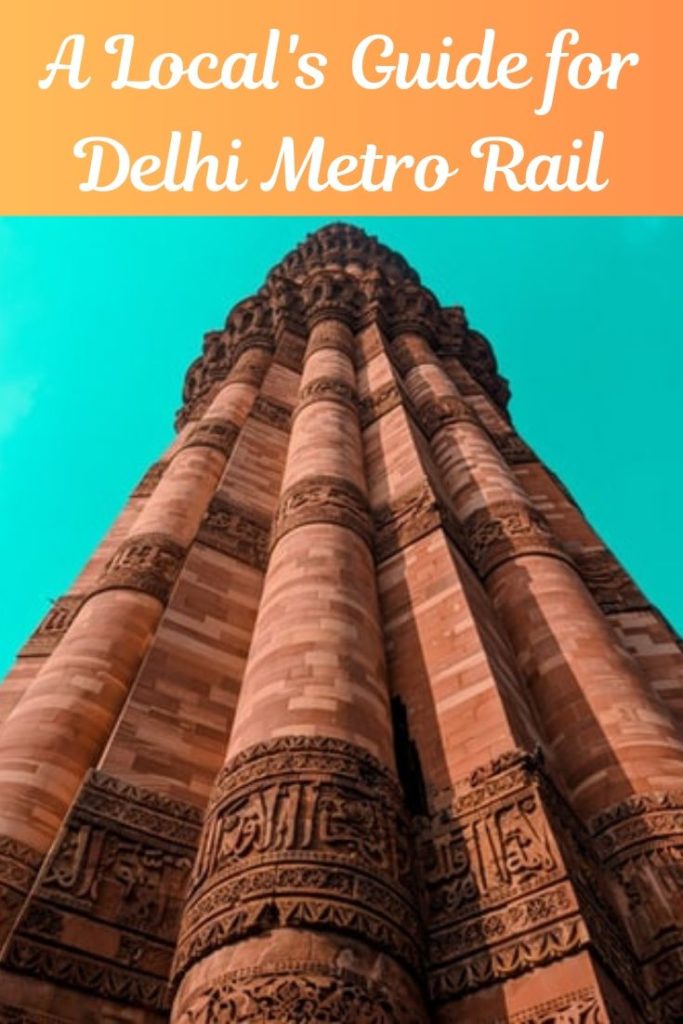 Want to get real time updates of my travels?
Get updates and read additional stories on the Orange Wayfarer Facebook page.
Follow Orange Wayfarer on Instagram.
Follow Orange Wayfarer on Twitter.
You may also subscribe to my weekly newsletter!