Metro Rail or Subway? What is in a name!
The Kolkata Metro Rail is the underground (mostly) public commute system running since three decades and diligently connecting two parts of the city, north and south, Dumdum to Tollygunge. As the city of Kolkata grew with time with more people and started engulfing more spaces from the border, turning suburbs into municipality area, the popular Kolkata metro was demanded to be incorporated in the extended lifestyle and be made available to anyone and everyone. Thus came the new stations into being, Noapara to Garia! The newly opened east and west Metro is now operational in Kolkata as well. This blog post is a guideline on safety protocols to follow after Kolkata Metro resumes services.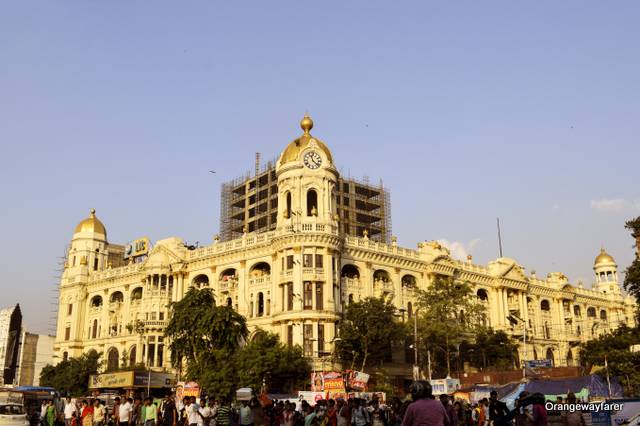 The Dharmatala junction! The Esplanade Metro Station! You can easily access Sealdah and Howrah Station from here!
Also read: A detailed travel guide on how to ride the Delhi metro by an Insider!!
Complete Guide to ride Kolkata Metro after Unlock: Updated Safety protocols
Kolkata Metro rail resumed services after a long pause since 24th March, 2020.
Kolkata Metro Rail will resume services from 8 am to 8 pm on Noapara-Kavi Subhash line. The last train will leave station on both the end at 7 pm and reach destination at 8 pm.
The East-West train services resumed services from September 14. It runs between Sector V and Salt Lake Stadium stations.
Kolkata metro Rail will resume services for weekdays from Monday to Saturday. On Sunday, Metro services will be closed in order to sanitize.
Downloading Aarogya Setu App is essential.
No tokens will be used. Cashless transaction will be necessary to take the train.
To book Kolkata Metro Rail ticket, you may download Pathadisha app from this link: pathadisha.com/metro.
Metro Rail ticket booking is possible an hour prior to boarding the coach. Colour-coded e-passes will be available on Phone. The e-passes are stamped with names of departure and destination points along with time slots.
Use separate entry and exit gates to enter the metro rail premises.
Passengers are requested to maintain social distancing. Wearing a mask and sanitizing hand from the dispenser installed at every station are incumbent before boarding the coach.
There are seats in every coach marked with X which are not to be used while commuting.
Coaches will stop for 30 seconds instead of 20 seconds at every station to ensure slow and safe boarding.
At a time, 3 people will be allowed to use the lift. At a time, Metro Rail will be carrying 400 passengers.
Those who are found spitting at the platform or station premises will be legally penalized.
Children and elderly passengers are requested not to avail the Metro Services.
Commuters are encouraged to carry small sanitizer bottles.
Metro rail authority will be conducting sanitization drive on a regular basis.
Since 2009, I travelled the expanse of the city, from Howrah to Salk Lake, from Thakurpukur to Boranagar, to see the neverending construction of extended Kolkata metro rail (East-West Metroline) being built by the side of the highway, often creating havoc on traffic. A countless number of labour hours have gone into it. Hopefully not in vain!
My life's formative years were spent in Kolkata. Riding a metro rail was a big part of it. It is also safe to say, I loved this mode of transport the best since it comes with the least chance of getting groped or violated in a jam-packed ride!
The first of metro styled rail route was established in Kolkata back in the 80s. With a thin budget, densely populated localities, an old city, obstacles from local faith (one of them I read was to sacrifice a child before establishing a pillar of the rail line!) came in the way but the seventeenth zone of the great Indian railways did not stop!
Nonetheless, the metro rail route is still very much coveted among the office and school goers. There is a stark difference between experiencing a local train, which also helps turn up tonnes of commuters from Kolkata outskirts regularly. But that is a different story altogether!
It will take another leap year or more to get the new routes running but meanwhile, here is your essential guide to use the metro rail of Kolkata, what not to do in the metro rail, the best price hacks, good to know tips, and what would you do if someone commits a suicide (before you skip this part, you will be amused to know how much does this happen!).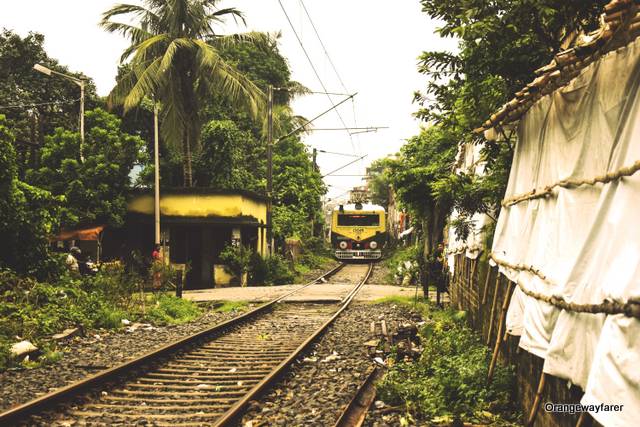 I want to dedicate this post to the countless number of engineers, labourers, planners, Kolkatan and the government who overcame all the hurdles, accepted daily struggle to make do with only 4.5% surface area turned into roads in the city and created the efficient public commute system.
Start Your Descend to the Kolkata Metro Rail!
The old stations of Kolkata metro route were made under the earth! You will spot those bright coloured houses with a police standing at the door and the metro station names inscribed on the gateway. Start your descend! Away from the Kolkata cacophony, it is a world apart down here.
It is air-conditioned, meaning Kolkata metro is a saviour in the tiring days of summer heat. It is clean. It is disciplined. No chaos in front of the ticket counter. No pushing anyone while entering the gate! The stations have frescoes on the wall with a story specific to the locality. Thus the famous Potochitro of Kumartuli finds a place on the Kalighat Metro while Rabindra Sadan has Rabindranath's Poems written on the wall! A few LEDTVss are the newest addition, showing entertainment and news. The old school weight machine, huge, candy-coloured iron cask with neon bulb adorn the platforms!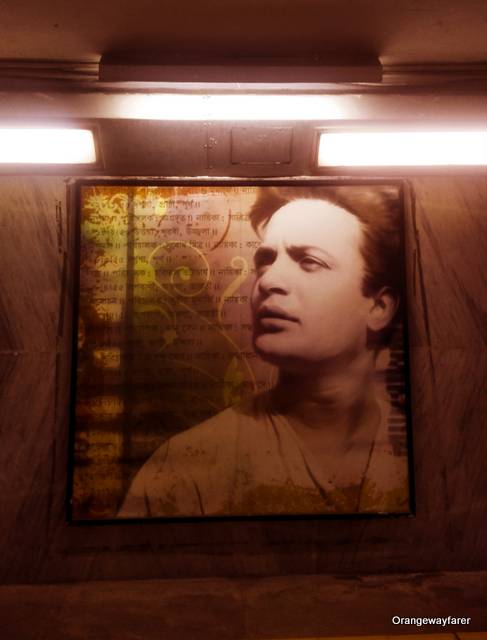 Uttam Kumar's portrait at the Tollygunge Metro station. The new stations are named after the prominent Bengal personalities, thus Garia station is officially Kabi Nazrul!
The newest addition to the metro route, the rail stations along with the rail line is being made on top of the sky. The quintessential subway feel is stripped off in the new swank metro stations.
The Time Period on which Kolkata Metro Route Operates!
Kolkata metro operates from 6:45 am to 9:55 pm, the time indicating a train leaving from the stations from Noapara and Kavi Subhash. The last train from Dumdum leaves at 9:55 pm. The last train from Kavi Subhash leaves at 9:55 pm. This information is latest to date 14/10/2018.
During office hours, the frequency is 5 minutes. Office hours is from 9 am to 11 am. Otherwise, the frequency can go upto 15 minutes on a weekday!
On Sunday, metro runs from 9:50 am to 9:55 pm! The frequency on a Sunday is 10 minutes to 20 minutes!
During emergency, the timing may be rearranged. In case of festivals, like Durgapuja, Metro runs for longer duration. The Metro service for Durgapuja 2018 can be availed from 1:40 pm to 4 am!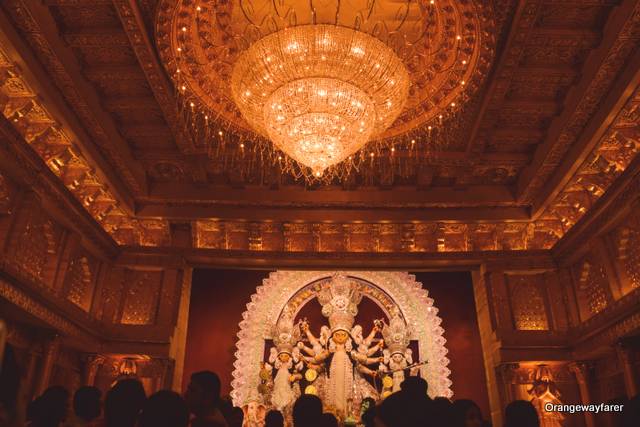 Durgapuja means the city going out and staying out for the whole night, hopping from one pandal to other!
Smart Hacks to get the Metro Tickets!
Kolkata Metro rail is nominally priced. You CMn travel an expanse of 27 KM for as low as INR 12. With a Smart card, the travel is even cheaper and easier!
There is generally a long queue in front of the ticket counter, especially during rush hours. I suggest get a smart card and recharge it only with a few hundred bucks which will easily last for a week, with multiple rides. Please note, one smart card can get a valid ride for only one person. The cards are transferable. You also get a 10% discount on the ticket price!
Cash runs abound in Kolkata Metro, cards are frowned upon for any sort of payment and even rejected!
Infants and toddlers do not have to pay for tickets when travelling with parents!
And, do not forget to drop the token as you leave the station!
the smart card can be swiped and used to stay inside the metro rail premises for upto 45 minutes.
There is no system of half ticket for children traveling in Metro. however children who has not crossed the height of 90 cm (2.9 ft to be precise) may duck at the turnstile and travel ticket free.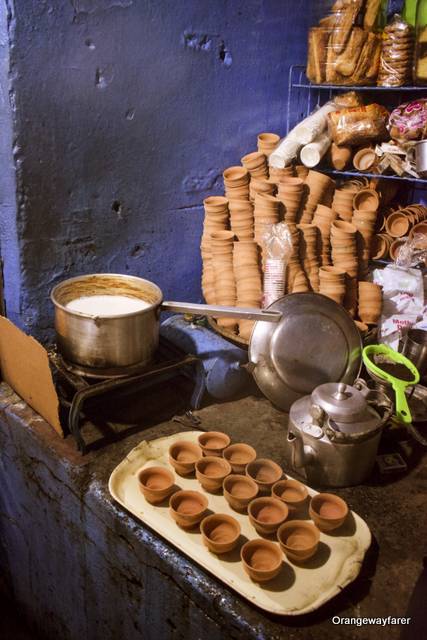 Pay with Khuchra (change) while buying the tickets or fall for the wrath of Bengali Ticket Babu! 😛
Kolkata Metro at the Tourists' Service!
Kolkata Metro is the easiest way to access the interesting tourist's spots of Kolkata. From Jorasanko Thakurbari to Rabindra Sarobar to College Street to Dharmatola, you can walk till every distance from a metro station! During Durgapuja, I strongly suggest using the Kolkata Metro for easy and fast transport! From North to the south, you can travel only in 25 minutes, which is unimaginable with a personal car on the top of the ground!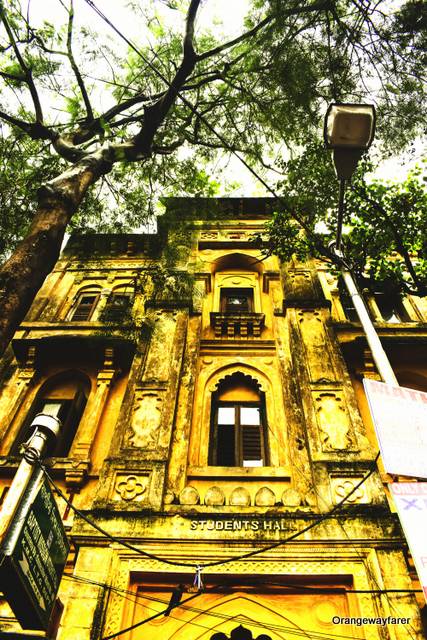 Walking to College Street from Central Station is a rewarding experience!
Safety in Kolkata Metro Route along with Helpline Number!
Even though the recent incidents indicate that Kolkata Metro is ridden by bitter and grumpy men of the elder generation, averse to love and camaraderie (yes, the moon cross lovers' spat in Kolkata metro), in my honest opinion, Kolkata Metro is the safest system of public transport where assault on women is not rampant. You can travel without being pushed by, groped, or stared upon. From a woman's perspective (and I am a woman who has travelled by minibus for an extended part of my life), it is extremely helpful!
Every station has a designated guard. I never spotted any woman guard till date though. The Metro rail office does not have any public toilet. I suggest looking for a Sulav when nature calls!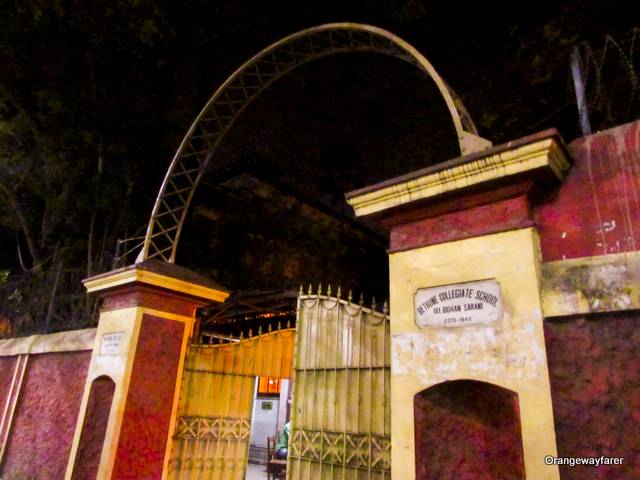 My school. I came here from a town named Howrah, I came by car, bus, metro, launch, tram and every other possible way of transport. I prefer the metro most. The nearest metro to Bethune School is Girish Park!
Also read: 20+ beautiful destinations to visit in West Bengal for the first time visitor!
Etiqutte in Kolkata Metro!
1. Do not click any picture inside the Kolkata Metro. It is a matter of public security.
2. Know the women's section and gather around the designated seats for a comfortable journey, especially during rush hours! Remember, 8 people can seat in one row!
3. Do not stand near the door. The number of people willing to get down and the number of people willing get on board will overwhelm and eventually displace you!
4. Expect rush during office hours. Extreme rush where people are bitter, tired, anxious, and in an unprecedented hurry. Be ready to run and fight with a few people to get into the train!
5. Use of escalator used to be a point of amusement in the days of yore! They are not sufficient to serve the 8 lakh people who commute using Kolkata Metro Rail on a daily Basis. I suggest relying on the staircase, especially in the old stations!
6. When it rains, we all have saught shelter in the nearby metro station house! However, priorities the passengers and do not form a crowd in front of the gate!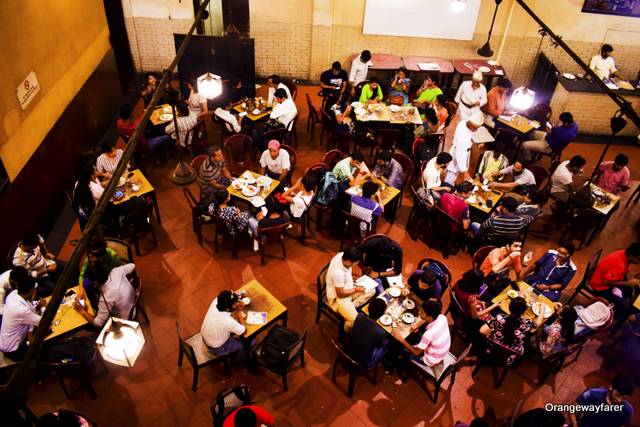 Glimpses from Indian Coffe House where I frequent the most using a metro!
Also read, the best Cabin restaurants of Kolkata!
7. Do not carry heavy luggage in the metro rail. There is no place to safe keep them. Fare chance they will occupy someone's place in the car!
8. Let the passengers get down first before you try to get in!
9. Do not listen to rumours, like the Rabindra Sarovar station is haunted due to a maximum number of suicides being commited on its tracts et al! I travelled many times without facing any worry!
10. In case of emergency, do not panic. If you are at a station, try to leave and get on a bus. If you are stuck midway, DO NOT get down. The tracks are made of high voltage electric cords and can cause death!
11. There is a yellow line on the platform. Stay behind that or be ready to pay a fine!
12. The Kolkata Metro Rail is not exactly pet friendly, meaning choose a different way when traveling with the dog or the cat!
13. For differently-abled passengers, Kolkata metro rail is not a very comfortable ride, especially if you are on a wheel chair. Though every coach has a couple of seats designated for diferently-abled passengers, I strongly feel the railways can give a few more thoughts on designing a wheel chair friendly track, escalator and access points. You can always seek human help and the guards are always helpful!
14. Nowadays there is a heavy search mechanism on the place with scanning etc. Cooperate with the guards for everyone's safety.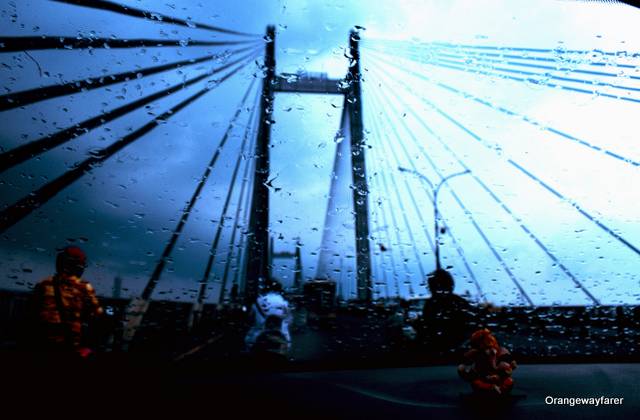 Someday the Metro Rail will be crossing river Hoogly. Till then, we have dreamy pictures of the second Hoogly bridge aka Vidyasagar Setu!
There is no metro route connectivity with Kolkata airport yet. Though you can take a taxi and reach the Dumdum metro station in less than 15 minutes.
For Howrah Station, get down at Esplanade and cross the bridge on river Ganges! You can also access Sealdah station from Esplanade Metro Station!
My favourite station in Kolkata Metro is Park Street. The door opens on the opposite side than the usual norm and the best of Kolkata lies as you step outside the station!
Enjoyed this? I have more useful information on Kolkata, including the complete guide to Kolkata Durgapuja, photowalk in Kumartuli, the melancholy named Durgapuja, the cheap eats of Kolkata and more!
Let's stay connected on Facebook, Instagram, Twitter!