Celebrate Europe's history and heritage through these old towns of Europe that preserves many tales from the olden days!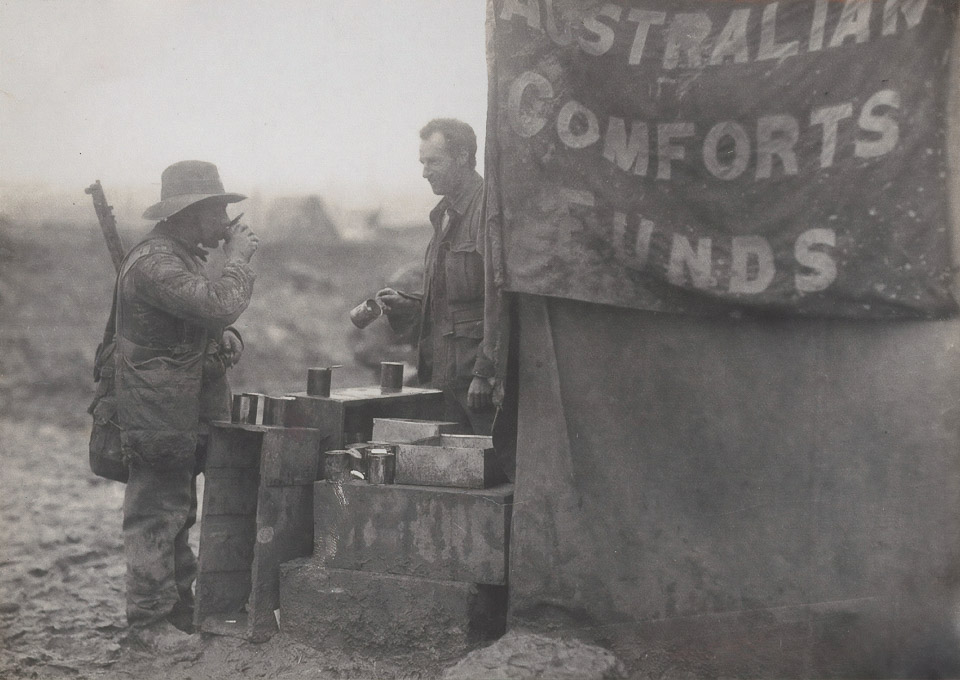 'Pea Soup or Cocoa', Longueval, France, World War I, Dec 1916. Taken in December, 1916, just after the brutal Somme Offensive (1 July – 18 Novemember) in the wooded area north of the Somme River. The mud of the ruined terrain covers the men and the small buffet station. A sense of humour is present in the cynical joke 'Pea Soup or Cocoa' – a dry comment on the quality of the limited food and drink available to troops at the frontline. Soldiers wrote with detail on food and drink conditions on the front.
Various historic events found birthplace in the depth of Europe. European Renaissance rendered further cultural anecdotes that strengthened the course of history . Later it history unfolded at far and wide corners of human civilization! For better or worse? Different people opine differently, but lets just say it is a sensory pleasure to explore the historical towns and villages of Europe.
These European towns always retain an inexplicable old world charm, pregnant with untold stories and goes on to show how they control the bridle of cultural mustang. Read on and find new bucket list items for your next immersive Europe vacation!
Read more travel blogs from Europe!
Bath, United Kingdom: Famous for the Roman Baths
By Christin of Christin has Fernweh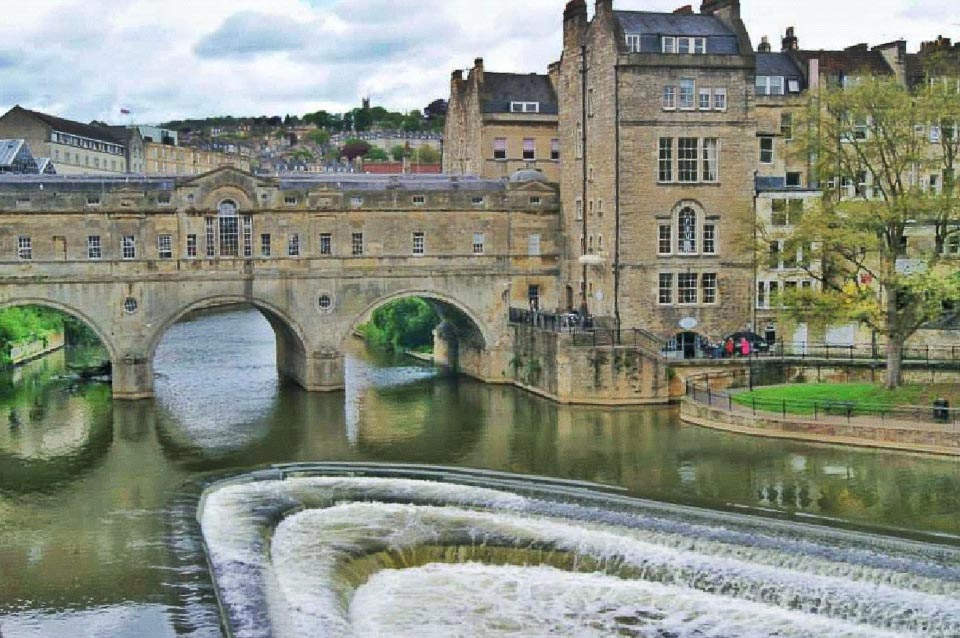 Even though it was commonly known that there were hot springs in Bath, it wasn't until the Romans conquered England that they became popular. Roman baths were erected in 70AD. The town was a famous spa destination even centuries later.
In the early 1800s the author Jane Austen lived in Bath ans was inspired to write.
Today, it is a tourist magnet. You can still visit the springs (and actually taste the water if you want!) The town was popular amongst English society in the 18th and 19th centuries. Visitors like to admire the architecture from that time, such as the Assembly Rooms, where balls were held, and the Royal Crescent.
Bath is located a mere 1h30min train ride from London. Hence it is a popular day trip destination. There are also day tours operated by different tour companies, specifically for Bath or in combination with other attractions, such as Stonehenge.
High season to visit Bath is between late June and August. And if you want nice weather those months are your best chance. If you don't mind rain and gloom, you can certainly visit in the off season, as there will be fewer people and most attractions remain open during the winter. Either way, take an umbrella – English weather is unpredictable.
Before you go, I recommend reading Persuasion by Jane Austen, to get you hyped up about the places you will visit in this historic European town. Some like to take a map to follow the streets their favorite characters walked in the novel.
If you like this, you may also enjoy another historic European town: Explore chocolate city: Zaragoza, Spain
The Old Town of Warsaw, Poland: City of Ruins During Second World War
By Evelina from evbeing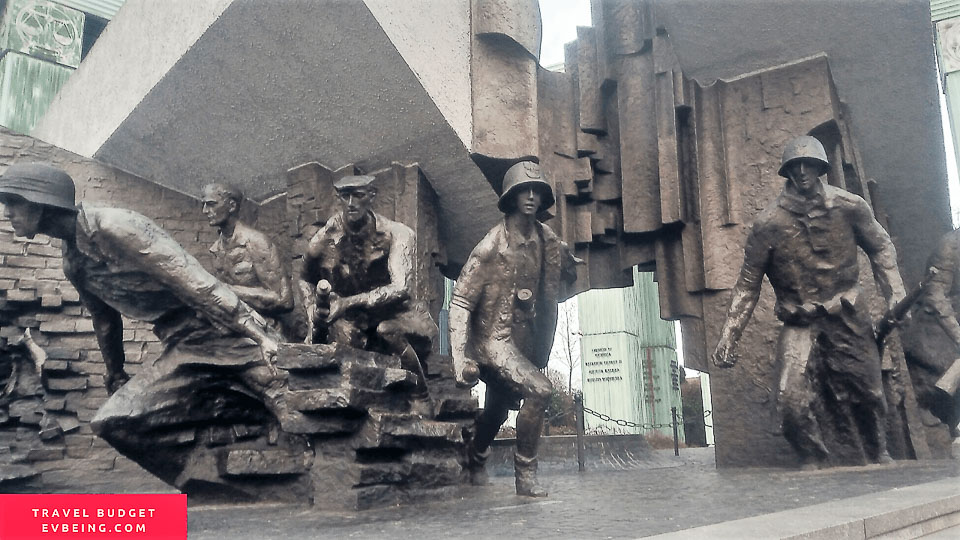 The history of Warsaw dates back over 1400 years. Warsaw, today, is a bustling city offering a large variety of activities and tourist attractions. One of the most historic and popular tourist spots in Warsaw is the Old Town.
During the Second World War, the Old Town of Warsaw was destroyed by 85% when the Nazi troops entered the city in August 1944. Almost 11,000 buildings and historical monuments were fully destroyed, libraries were bombed and burned. By January 1945 the Stare Miasto, the oldest part of Warsaw became a city of ruins.
REBUILDING WARSAW
When the war ended, the Social Fund for Reconstruction campaign was formed to rebuild the Old Town. The rebuilding of the city took five years supported by the residents' donations. Since 1980 Warsaw Old Town has been recognized as UNESCO World Cultural Heritage.
Also read: UNESCO world Heritage sites in Europe for a Culture lover!
THE TOP THINGS TO SEE AND DO IN THE OLD TOWN, WARSAW
Sigismund's Column
Castle Square, the main square of Warsaw Old Town
Old Town Market Square
Ghetto Wall
Cycle or walk along Vistula River
Royal Castle
St. John's ArchCathedral
Barbican
Warsaw Uprising Monument
Saint Anne's church
Mermaid Monument
Tips for visiting Warsaw
From April to September is a great time to visit Warsaw, however during Christmas the Old Town is beautifully decorated on lights.
Join a walking tour to explore the city and learn about history.
Explore the Old Town on foot as the historic city is closed to the vehicles.
Follow the 11 kilometres Royal Route to explore the city on foot. Start from the Royal Castle in the Old Town, follow the path to the Ujazdowski Castle and the Lazienki Park and end at the Wilanów Palace.
D-Day Landing Beaches, Normandy, France
By Katie McIntosh from The Katie Show Blog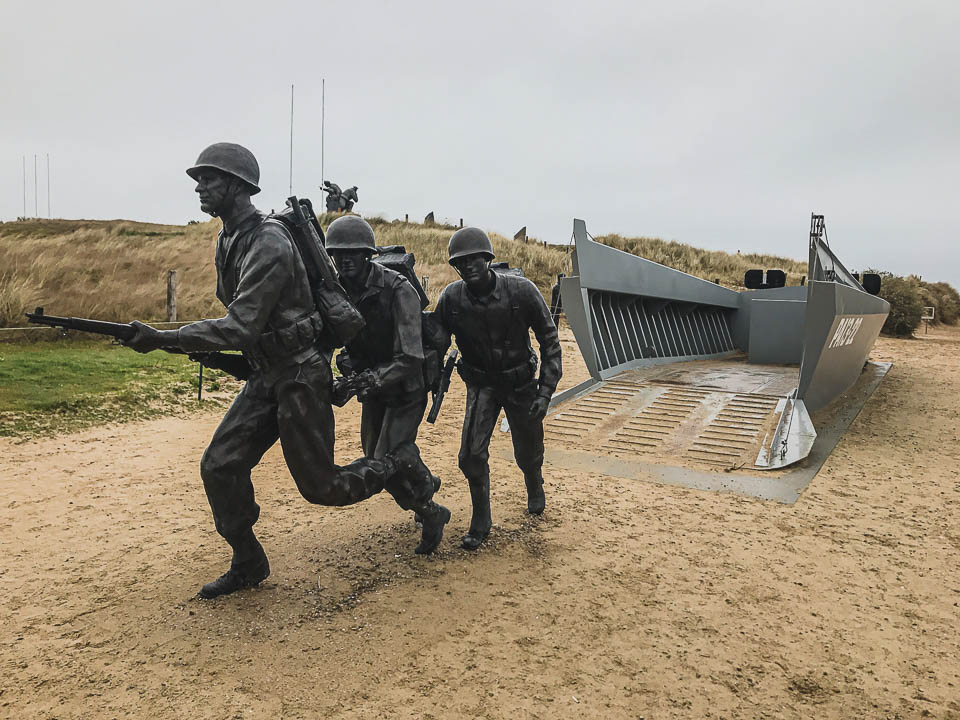 The D-Day landing beaches are famous for the Operation Overlord invasion by American, British, and Canadian troops to liberate western Europe from Nazi occupation in World War II. Over 150,000 troops stormed five different beaches on the Normandy coastline – Omaha, Gold, Juno, Sword, and Utah, as well as Airborne troops who parachuted.
It was a costly campaign that is evident as you visit the war cemeteries in the area where there are what seems like never-ending rows of white crosses. However, the campaign allowed the allies to establish a stronghold in France and was the turning point of WWII.
If you don't mind crowds, the best time to visit is on the anniversary of the landings on June 6th. During this week you can see different commemorative services, events, and even paratroopers jump on to the beaches. It's very busy at this time of year though, so you need to book your stay in advance.
If you prefer to avoid crowds, just before or after summer is a nice time of year to visit to enjoy mild weather and fewer crowds.
While you are visiting, it's important to act in a respectful manner. Be mindful that other visitors around you may be there to pay respect for their own family members who had served.
Another important thing to keep in mind is to experience as much as you can during your visit. There are many interesting museums, like Overlord Museum, monuments, and other sites like Pointe du Hoc to see as well as the landing beaches. One thing is for sure, there is no shortage of stories about incredible bravery to learn about.
Salzburg, Austria: City of "White Gold"
By Deborah Patterson from Grand Adventure Story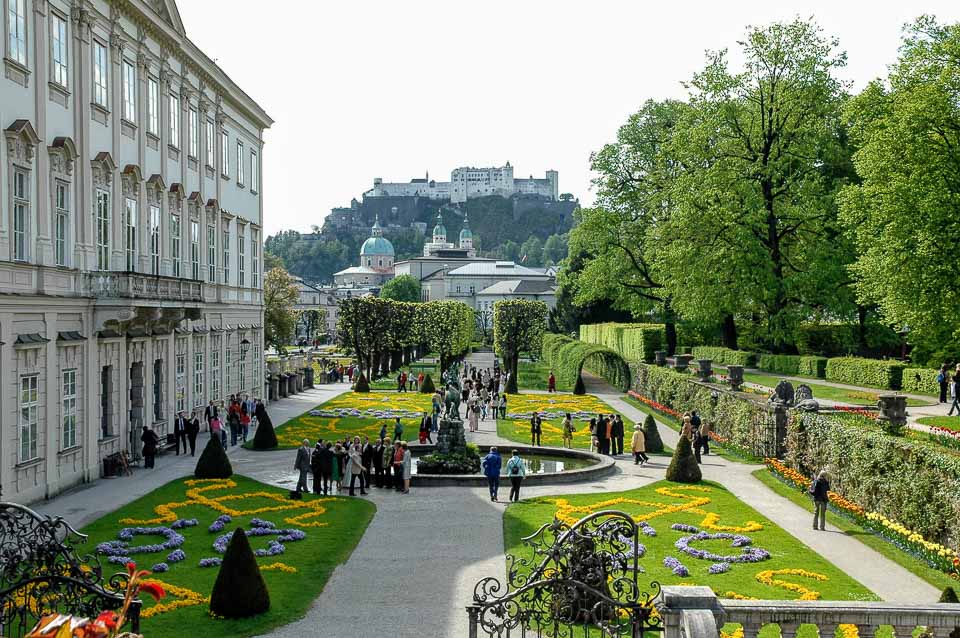 The city of Salzburg, near the German border in central Austria, is probably most famous for being the setting for the 1965 film, The Sound of Music. The city, its surrounding mountains and countryside are as much a star of the film as the music and Julie Andrews. But long before Fraulein Maria and the Von Trapps were skipping through the Mirabell Gardens, Salzburg already had a significant place on the world map.
Salzburg was made rich thanks to a natural resource found deep in the mountains – salt was at the heart of Salzburg's fortunes. This 'white gold' funded the building of Salzburg's beautiful baroque buildings. It is possible to visit the salt mines in both Hallein and Berchtesgaden on an excursion from Salzburg.
The baroque old town was UNESCO World Heritage Listed in 1996.
The city's most famous resident was Wolfgang Amadeus Mozart. He was born in the center of Salzburg in 1756. The house he was born and spent his childhood in, Mozarts Geburtshaus, is on the Getreidegasse and is now one of the most frequently visited museums in the world.
Salzburg attracts visitors year-round. Time your visit for late November or December to experience the Christmas markets (Christkindlmarkt). If you visit in July and August, the city will be packed with festival-goers. The internationally renowned classical music festival attracts artists and visitors from across the globe.
Top Tips for visiting Salzburg, one of Europe's oldest historic towns:
Wear comfortable shoes to explore the steep hills and cobbled streets.
Bring appropriate clothes and shoes for a visit during winter when heavy snowfall is likely.
Carry a lightweight raincoat in summer. As the city is located amongst the mountains the weather can be changeable.
What Hitler thought of being "The Most German City", Nuremberg, Germany
By Corinne from Reverberations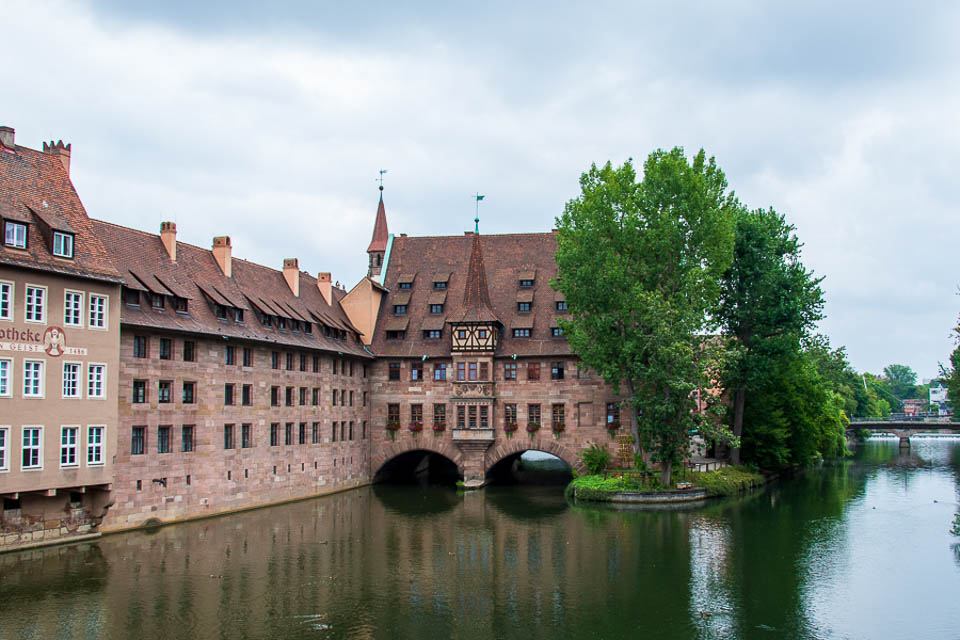 It is difficult to think of a time in history when Nuremberg, Germany didn't play a pivotal role.
Visitors to the city are eager to see the city's castle, Kaiserberg, and the charming old town that is still partially ringed by a protective stone wall. They come in December to be greeted by the Christkind at the famous Christmas market and the wonderful gingerbread.
But there is important history rooted deep in Nuremberg. Much of the city's historical importance is due to its geographic location. It is the second-largest city in Bavaria, after Munich, of course. Centuries ago, it held a coveted spot at the center of several trade routes.
In the German Renaissance during the 15th and 16th centuries, it was a center for science and printing. Albrecht Dürer is one of Nuremberg's famous sons, famously creating art and wood prints.
Nuremberg's rich cultural heritage was cast by the wayside in the 20th century as the Nazis came to power in Germany. Or, perhaps, because of it.
Considered by Adolf Hitler as the most German city, it became a popular spot for party rallies. Perhaps the most famous of those was filmed for propaganda at a massive rally grounds in Nuremberg. It was also here that the Nuremberg Laws, revoking German citizenship from all that were not ethnically Caucasian.
When the war ended in the mid-1940s, the city took on new significance. It served as the site of the Nuremberg trails. Over the course of roughly a year, the International Military Tribunal tried two dozen political and military leaders from Nazi Germany. Ten were ultimately executed.
Nuremberg is perhaps most crowded during the holiday season but offers so much year-round for anyone wanting to experience the culture, the history, and, of course, the food.
Medieval City of Colmar, France
By Mikaela from Voyageur Tripper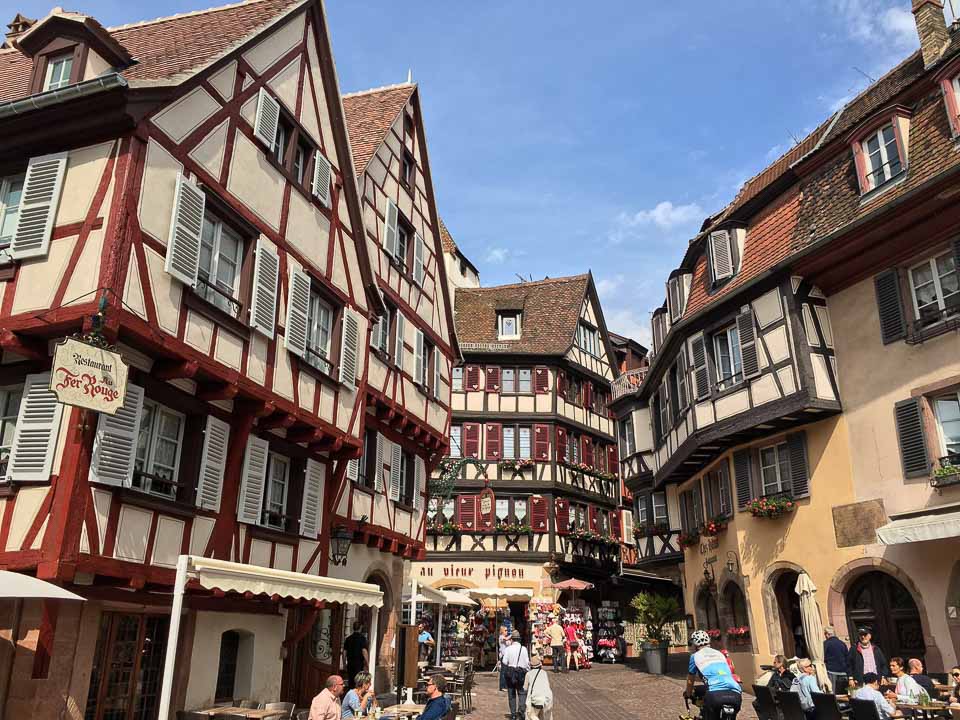 Colmar is a French town located in Alsace, a historic region known for its German influences and exquisite wine. Of all the quaint French towns I explored while studying abroad in France, Colmar was by far my favourite.
Over a century, Colmar changed hands between France and German five times. In 1673 Colmar was conquered by France.
Then, in 1871 Colmar and the entire Alsace region was annexed by German. It was returned to France after the first world war, only to be annexed by Germany again during the second world war. In 1945 Colmar was returned to France and has since stayed French.
All that back and forth means you have a city with both French and German influences. Today residents speak French, but the older generation often speak an Alsatian (an Alemannic German dialect) and many also speak German.
The buildings are considered to be in the medieval style and extremely well-preserved. If you've seen photos of Colmar you'll have noticed how colourful each facade is, the exposed wooden supports, and peaked roofs. The colour of the houses is by design; centuries ago, the house colour indicated what trade or shop was on the main floor. Butchers were a different colour than blacksmiths who were a different colour to tailors, and so on.
Colmar is a popular tourist spot, so summer months can get crowded. Right before summer and during autumn tend to find a good balance between pleasant weather and fewer people. I was in Colmar in May and the tourist crowd wasn't too, too busy at this time. As with many European destinations, keep an eye on your purse and stay alert in crowded areas.
To capture some beautiful photos of the houses from a less popular angle, I recommend taking a boat ride on the canal in Little Venice (it's a short ride and Little Venice is really tiny, but it only costs a couple euros).
Also Read: The most beautiful destinations of Italy!
Backdrop of the Diary of Anne Frank, Amsterdam, The Netherlands
By Natalie Czarnota from Voyage Scribe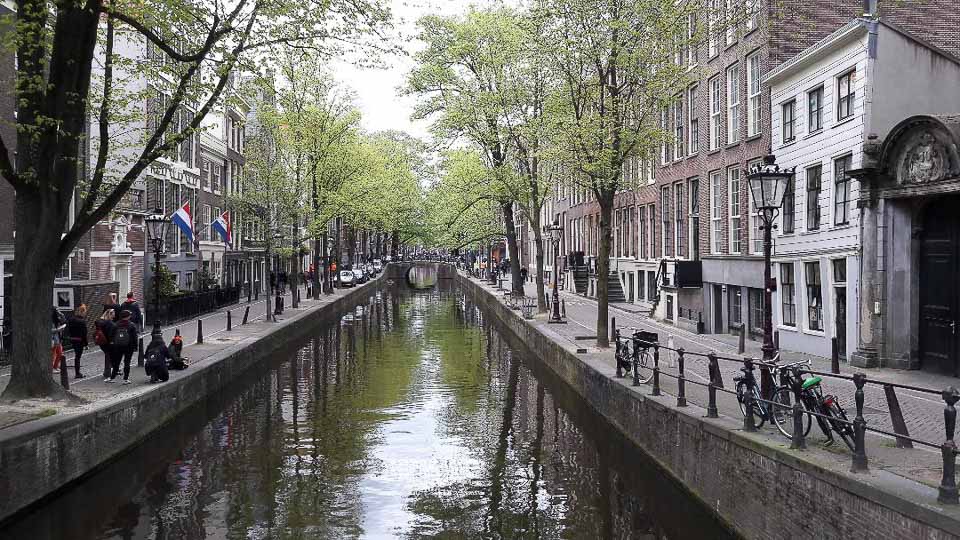 Amsterdam is one of the most visited cities in the world, and rightly so. What started as a fishing village on the Amstel River in the 12th century grew into the world-famous city it is today.
Thanks to Amsterdam's strategic position, it became a major hub of exchange. Not only for trade goods, but also where cultures and ideas were exchanged. This meant that Amsterdam was economically very wealthy (which is evident in the beautiful buildings lining the canals), but also socially and culturally rich.
Amsterdam is still considered one of the most liberal cities in the world, a city where weed and prostitution is legal. This is a big reason why it's such a popular tourist destination, but please be respectful. As pretty at the historic Red Light District is, refrain from taking pictures out of courtesy for the sex workers.
There are also many famous historical figures who have a connection with this city, and it's another major reason why tourists are drawn to this city. For example, the famous Dutch painter Rembrandt used to live in Amsterdam, and you can visit a house he lived in and see his paintings in the world class Rijksmuseum. You can also visit the house where Anne Frank hid during World War II, made famous by her diary.
Being one of the biggest tourist destinations in the world, this also means Amsterdam gets crowded with tourists. Summer is the most crowded and fall is rainy season, so I'd suggest going in early spring. If you plan it right, you might make it for tulip season!
Despite the tourist crowds you'll find year-round, Amsterdam is 100% worth visiting to experience its unique history. But if you want to explore other lesser known cities in the Netherlands- with equally interesting history and less crowds- check out these great day trips from Amsterdam.
Home of Titanic Belfast, United Kingdom
By Ella from Many More Maps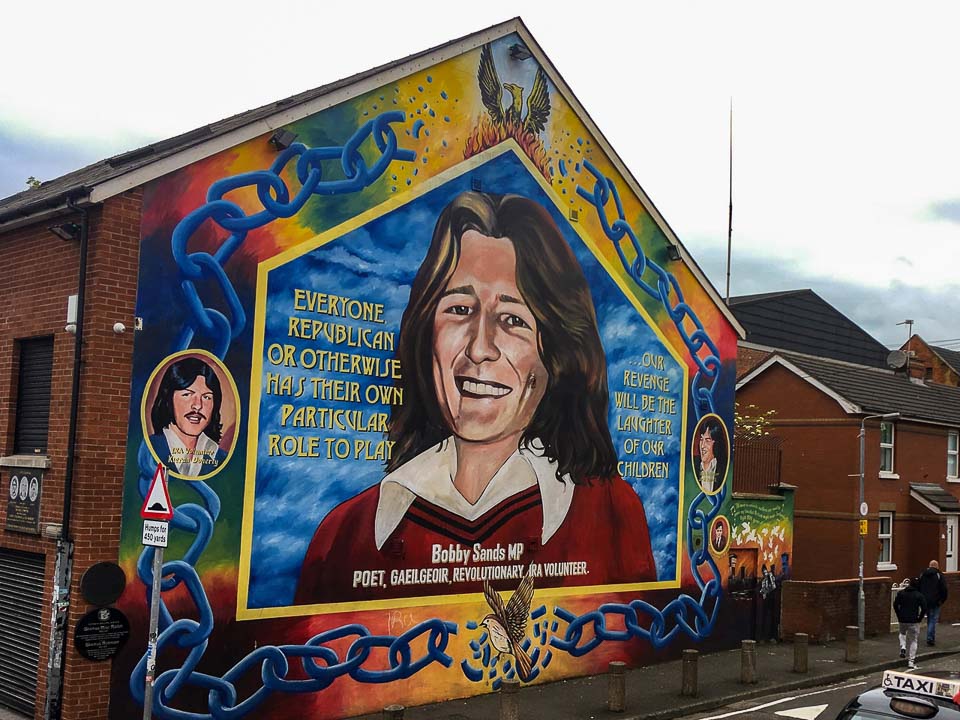 Belfast, Northern Ireland, is a city with a surprising amount of history. By the early 20th century Belfast had one of the biggest shipbuilding industries in the world.
The infamous Titanic was built right in the city centre of Belfast! The best tourist attraction in the city is the amazing Titanic Belfast Museum, which tells the story of the Titanic all the way from the designing of the ship to its tragic sinking. The museum includes a ride, a virtual tour of the ship, and even a virtual exploration of the wreck site!
If you're looking for history that is more recent, Belfast was the centre of 'The Troubles' between 1969 and 2001. This was a devastating political and religious conflict between 'unionists', who believed Northern Ireland should be part of Ireland, and 'loyalists' who wanted to remain part of the UK. These disagreements turned violent, and areas of the city were separated by huge berlin-wall-esque fences to stop this.
One of the best ways to learn more about Belfast's troubled history is on a Black Taxi Tour. These tours show different 'unionist' and 'loyalist' areas of the city, with the buildings in each area covered in huge murals proclaiming their loyalty to either the Republic or the Queen! Each of the taxi drivers lived in Belfast at the time of The Troubles and add their own personal experiences into the tour.
Nowadays, Belfast is very safe for tourists to visit and a great place to learn about Northern Ireland's captivating history. It's best to visit in spring or autumn as it won't be too cold and you'll avoid the summer crowds. As Northern Ireland is still part of the UK, its currency is Pounds. The Republic of Ireland uses Euros. Check you have the right currency when you visit!
Sarajevo, Bosnia and Herzegovina
By Ellis from Backpack Adventures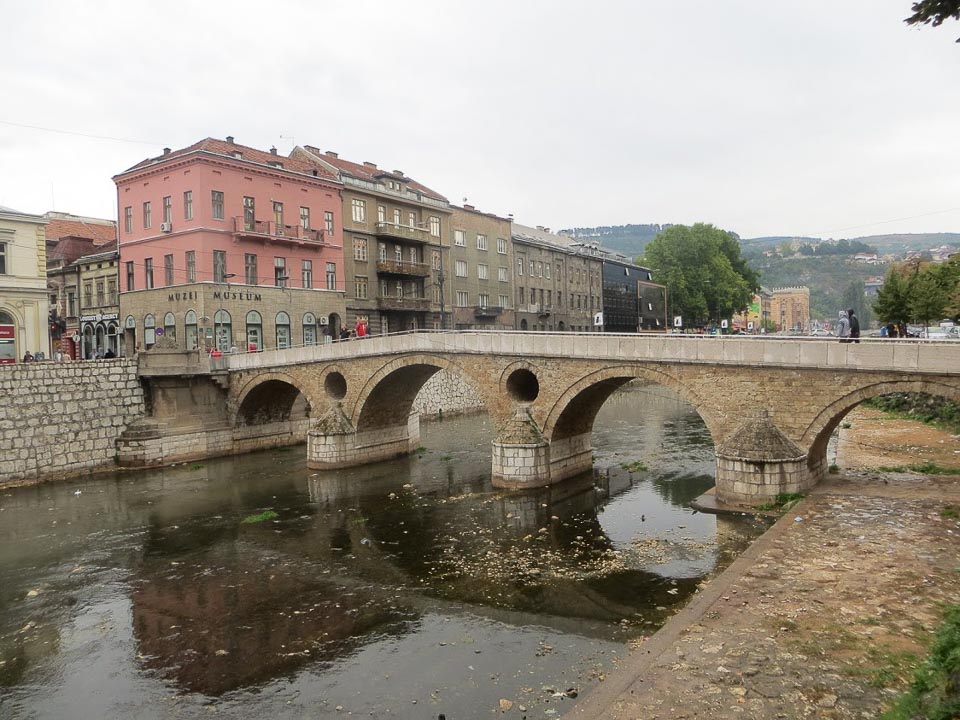 Sarajevo is one of the oldest historic cities in Europe. Not only because of its long history that goes all the way back to the Stone age, but also because it played an important role in several key events of European history.
It was once part of the Roman empire, the Ottoman empire, the Austro-Hungarian empire and socialist Yugoslavia before it became the capital of independent Bosnia Herzegovina after a bloody civil war and the longest siege in the history of warfare.
Much of this turbulent history is still visible in the city. Traces of the Bosnian civil war are everywhere, but remarkably a lot of its more ancient past has survived regardless. The Bascarsija, or the old town is like a journey back in time to its Ottoman past while its modern center is characterized by the pastel coloured buildings from the Austro Hungarian period.
If we look at the two world wars, multicultural Sarajevo also had its role to play. It was the assassination of Prince Ferdinand from Austria at the Latin bridge that triggered the first world war. In the second world war it was Sarajevo that tried its best to protect everyone in the city, including its Serb population.
It's this multicultural spirit that still lives on in Bosnia's capital, despite the civil war. Not only is it again a symbol of hope and reconciliation, but also an increasingly popular tourist destination for those looking for a budget friendly city break. And for good reasons, because of all that history and its scenic location surrounded by the hills of the Dinaric Alps, Sarajevo has a lot to offer.
Also read: Most Beautiful Train Rides in Europe!
The 450 Years Old City of Valletta, Malta
By Sarah Barthet from Dukes Avenue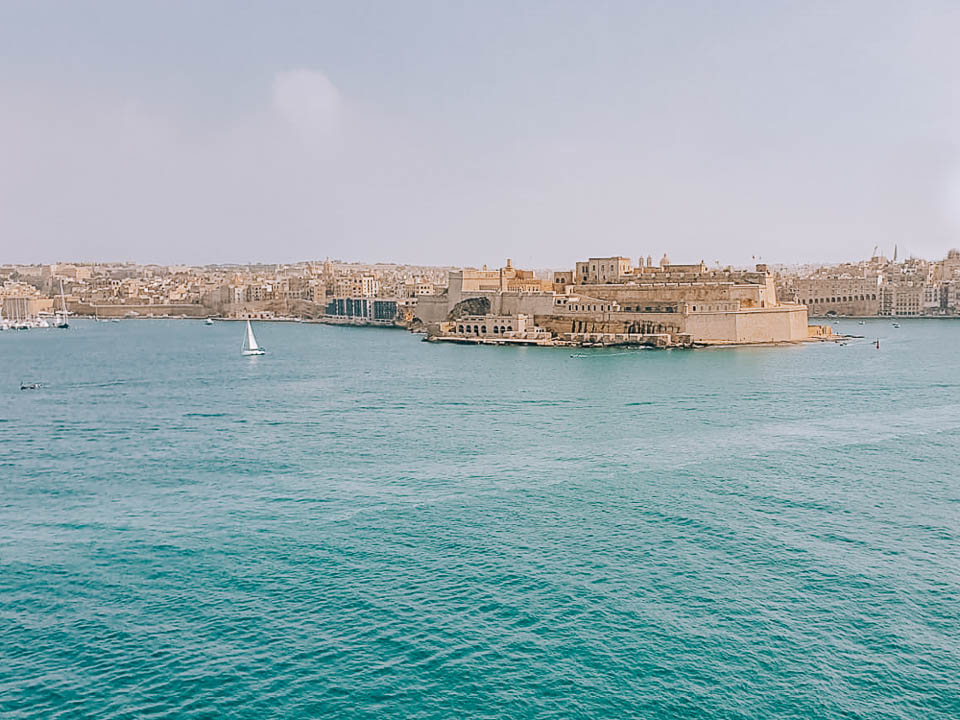 Malta's capital city, Valletta, is tiny and has fewer than 10,000 residents, but its history is remarkable for a city "only" 450 years old.
The Grand Master of the Order of the Knights of St John, after whom the city is named, founded Valletta on the strategic peninsula overlooking Malta's deep Grand Harbour in 1566 following a three month siege in the previous summer, in which 2,000 defenders fended off an Ottoman army of 200 ships and 40,000 troops.
At the time, a remarkably advanced city built "by gentlemen, for gentlemen", and one of Europe's earliest "planned" cities built on a grid, Valletta is surrounded by some 20 kilometres of bastions, and contains a series of beautiful baroque churches and palaces.
The Allied Mediterranean operations during the second World War were orchestrated from Valletta's fortifications, and legend has it that a network of tunnels and huge caverns runs beneath the city as part of the various battlements built to protect the island.
Whilst there is a busy event calendar all year round, Valletta is best enjoyed in spring and autumn, when the weather is pleasant and warm, avoiding the heat and crowds of the summer period. Easter is particularly lovely, with Valletta's many fine churches embellished and several religious processions taking place.
In October, the now famous Notte Bianca event in which museums, restaurants and even the secret haunted tunnels are opened all night, is a highlight.
The city can be explored in two days at a leisurely pace, with the commercial northern harbour and historic southern harbour accessible by ferry. As Malta's main transport hub, the rest of the island is accessible by bus or ride-sharing, and the best beaches are no more than 1 hour travel from the capital!
Ensure You Check Out Manneken Pis in Brussels, Belgium
By Alysa of Voyaging Herbivore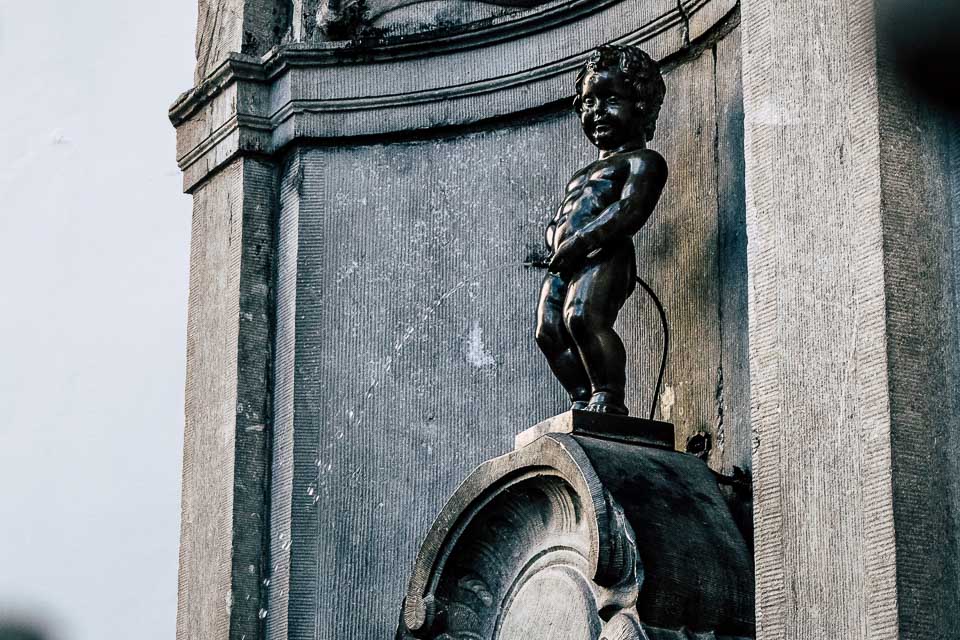 While it's more commonly known for its incredible chocolate Brussels, Belgium is a fascinating European town with a rich history, and a rather comedic statue of a little boy peeing. This statue, known as Manneken Pis is a wonderful place to start when examining the rich history of Brussels.
One theory behind the statue is that it is an homage to the Middle Ages, when tanners would let little boys pee in the street because the ammonia was good for the leather. Another theory is that it's a tribute to a boy who saved the city upon seeing a fuse that led to a large field of gunpowder that would have destroyed the city. The story says that he peed on the fuse and saved Brussels. Finally, another tale says that a witch found a little boy peeing on her doorstep and cursed him with a full bladder before turning him into stone.
Whatever the real reason is, this little statue draws crowds and many souvenirs (even chocolate) are made in his shape.
Today, you can visit the little statue in central Brussels. It's best to show up early in the morning to avoid crowds, but people generally just stop for a peak and then move on. On certain occasions, he pees other liquids like beer and if you're lucky enough to be in Belgium for a holiday, you're likely to find him dressed up in a costume.
When you're in Brussels, be sure to head to the main town square to take a free walking tour (but tip your tour guide after!) to learn more about the rich history of the city. From comic inspired walls to the best bars in town, you'll easily become enchanted with this European city.
There Since 4000 BC, Prague, Czech Republic
By Nadine from Curls en Route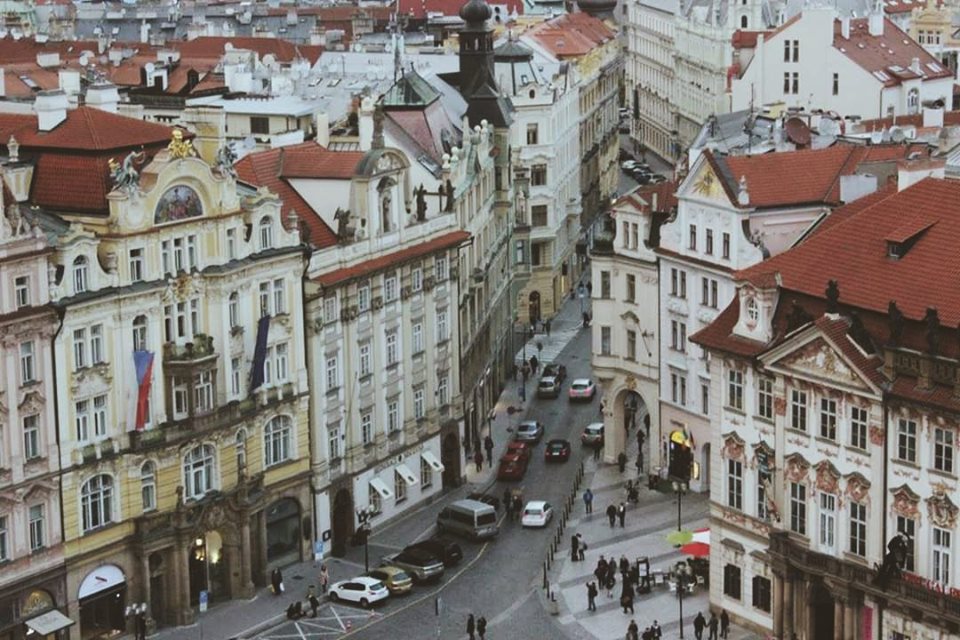 The beautiful city of Prague is one of the most iconic, historic destinations in Europe. It's mostly known for its magnificent architecture that easily blows its visitors' minds away. Prague's architecture boasts a wide variety of styles like baroque, rococo, art-nouveau, gothic, and more.
Places like the Astronomical Clock and Charles Bridge are true masterpieces that are worth the visit and the long wait despite the tourists' crowds.
Prague also happens to have a very important role in history. Its journey dates back to 4000 BC when it was just a settlement, inhabited by German and Celtic tribes. Fast-forward to 1918, Prague became the capital of independent Czechoslovakia right after the fall of the Austro-Hungarian empire.
And to cut a long story even shorter, in 1993, and only a few years after the Velvet Revolution that ended communism in the country, Czechoslovakia was split into two countries that are now known as Slovakia and the Czech Republic; Prague became the capital of the latter.
Its rich history, breathtaking beauty, delicious food, endless attractions, and inexpensiveness all made Prague one of the must-visit destinations, especially in Eastern Europe. And even though it's touristy, it's definitely not overrated and totally worth the trip.
Aside from the obvious sites that you should visit; like Charles Bridge, the clock, the Prague Castle, or even the John Lennon Wall, you must visit Choco Story if you're up for a treat. This chocolate museum is Prague's not so hidden gem that is often overlooked, so if you're a chocoholic, thank me later.
It's better to visit Prague right before or right after the peak of the summer season, or in other words, late spring or early fall. The best months are May and September as it guarantees better weather, cheaper rates, and much fewer crowds.
Somber History of Holocaust at Kraków, Poland
Alexandra Booze is the editor of the travel and lifestyle blog, East Coast Contessa. She has traveled to 33 countries since 2016.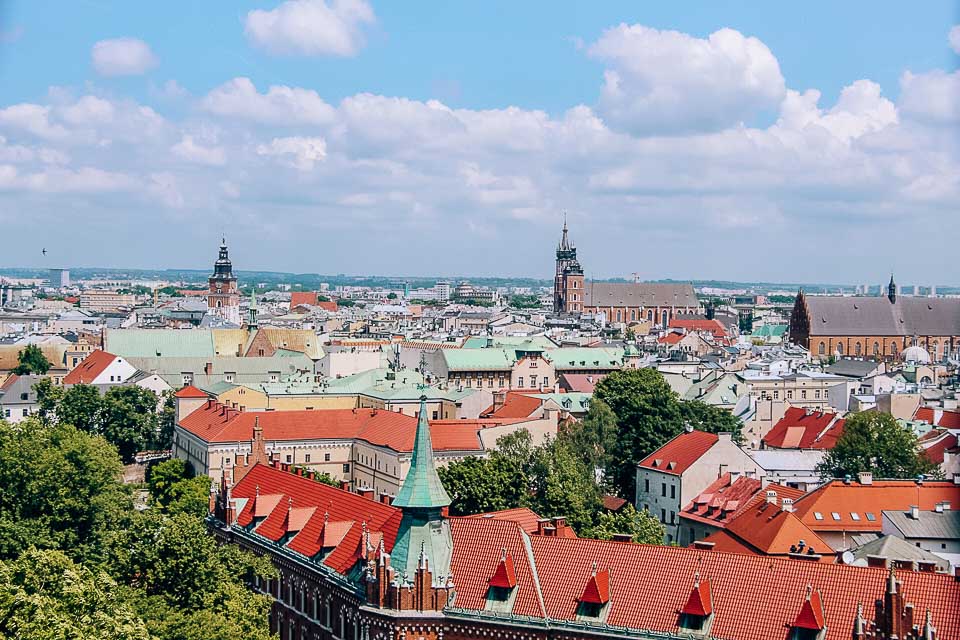 The most recognizable city as the Polish capitol, there are a million other reasons why Kraków is one of the most popular tourist spots in Europe. Firstly, the food. Pierogi's might as well be the country's national dish, but don't forget to order multiple Zapiekanka's (Polish open-faced sandwiches), too. Second, the hospitality. Polish people are among the warmest and most welcoming. And boy, do they like to chat!
Kraków has a storied past. The Old Town Square is estimated to have been built in the 8th century, but since the 8th century, much as happened in Kraków — both good and bad.
The city survived two World Wars and the most devastating genocide in history. Today, the remnants of the Jewish Ghetto still stand, along with the skeleton of Auswitch — the most infamous of all concentration camps.
Most of Europe is swarming with tourists throughout the summer months, and Kraków is no exception. While the crowds are not exactly on par with those of Paris or Rome, more than 14 million tourists explored the city's streets in 2019.
Sites such as the Wawel Royal Castle, St. Mary's Basilica, and Wieliczka Salt Mine will still be bustling, but not always. It's best to plan a trip to Kraków between early March and late May. Even during "off-season", it is recommended to buy tickets to tourist spots in advance to avoid any lines or extra fees.
Practical Tips for visiting Kraków:
Kraków is an extremely safe and affordable city to visit. However, just as in European city, be mindful of pickpockets and ticket scammers around the tourist hotspots. The public transportation system is effective and affordable, but remember to validate all tickets upon boarding! There are yellow or orange validation boxes throughout the bus.
Also read: Europe's best destinations for a food lover!
Mainz, Germany: Birthplace of Printing Press!
By Chantae from the travel blog Chantae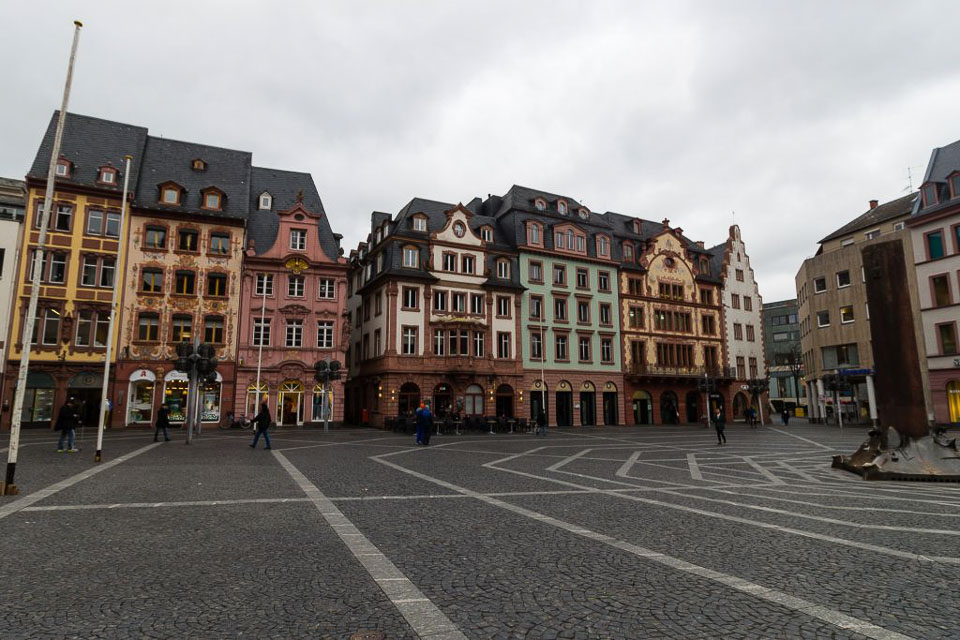 Mainz, Germany is home to an inventor who influenced the way you are reading words today.
If you were a keen student in history, you might remember learning about Johannes Gutenberg, inventor of the printing press. The printing press revolutionized the literary world as it meant that books like the Bible could be printed for the masses at an affordable price. It also helped disperse information to scientists and historians, allowing people to easily learn from one other.
Today, you can stroll through the streets of Mainz, a quirky city where you can dine at cafes, shop, and explore among Roman ruins and buildings erected in the 1400s. Because it's yet to be on the main tourist trail, you'll have all the charm of a big German city without the influx of crowds.
Well, except during Fasnacht, a boisterous festival that takes place in the streets the week before Ash Wednesday. If you go, be sure to make a stop at the Gutenberg Museum to peer at the pages of an original Gutenberg Bible. There are also tens of other old books on display, taking you back in time.
As a souvenir, you can create a page using an original movable type printing press for yourself.
Moor Heritage of Seville, Spain
Written by Jiayi Wang of The Diary of a Nomad
Seville is one of the most charming historical towns in Europe, and through its iconic landmarks, you can learn a great deal about the history of Andalusia.
In 712 AD, Muslim rulers conquered the region and reigned Seville for over 500 years. During that time, they built a lot of the major attractions standing in the city today, including part of the Alcázar, the Cathedral (which used to be a mosque back in the days), the Giralda Tower and Torre del Oro.
When Christian conqueror Ferdinand III took over Seville in 1248, Muslims were forced to leave the city whereas Mudéjars (Muslims working for Christian kings) stayed behind. They built numerous churches and Moorish-style buildings, including the incredible civil palace of Casa de Pilatos, which is still partially inhabited by the Dukes of Medinaceli today!
A lot of the architecture you'll see in Seville clearly reflect the history of the city as they showcase a gorgeous blend of the Renaissance and Mudéjar architectural styles. Seville is not only famous for its Moorish architecture though ⁠— it's also considered to be the birthplace of both tapas and flamenco, making it an incredibly culturally-rich place to visit!
When planning your Seville itinerary, I recommend making time to watch a flamenco show and to taste some of the delicious traditional tapas the city has to offer. Being the sunniest city in Europe, Seville is a year-round destination. However, if you don't like large crowds, I recommend visiting during the shoulder season ⁠— from September to November.
Pin it for later!
This post may contain affiliate links. Please read the disclosure post. If you have liked the article, you may support it by buying using these links without any extra cost to you.
Let's stay connected on Facebook, Instagram, Twitter! You may also consider joining my mailing list. I send travel and photography related emails only once a month!