Italy is one of the oldest and most beautiful countries in Europe. Italy has beautiful visas, rolling meadows, azure coast line and enviable heritage, all these treasures together make up for an unprecedented completeness to a traveler. In this blog post, eminent travel bloggers choose their most treasures travel experience from Italy and point out the most beautiful cities and best places to visit!
You may have the universe if I may have Italy.

Giuseppe Verdi
They say She dipped Her paint brush deep in the pot of rainbow while creating Italy, beautiful land! History of mankind is living and breathing at the profound Italian museums and incredible architecture that survived the gnaw of time with elan. From the intricate art of creating the best pizza and pasta to rejoicing in the valleys stretched towards the horizon, Italy offers a plethora of experiences.
We have handpicked a number of beautiful places in Italy, from the better than the best destinations to the offbeat attractions. Read on and choose your pick for the best grand Italian holiday!
Travelers visiting Italy must fill in a Self Declaration Form as well as a vaccination proof or recovery certificate, along with a PCR or rapid antigen test that was taken before arrival in Italy. Browse information regarding the Self Declaration Form at Natvisa.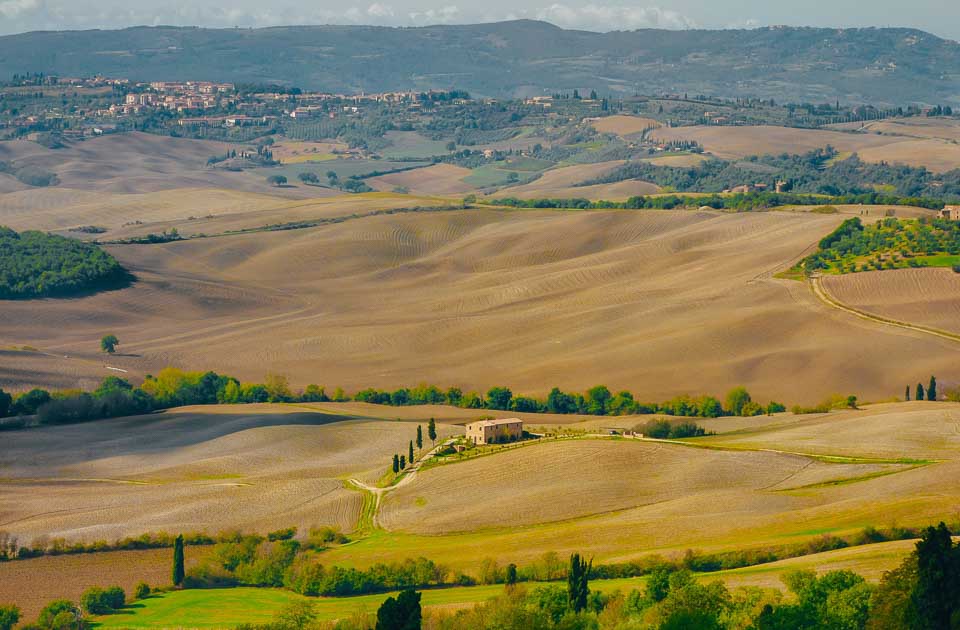 Alghero: Best Kept Secret of Sardinia, Italy!
By Claudia Tavani from My Adventures Across The World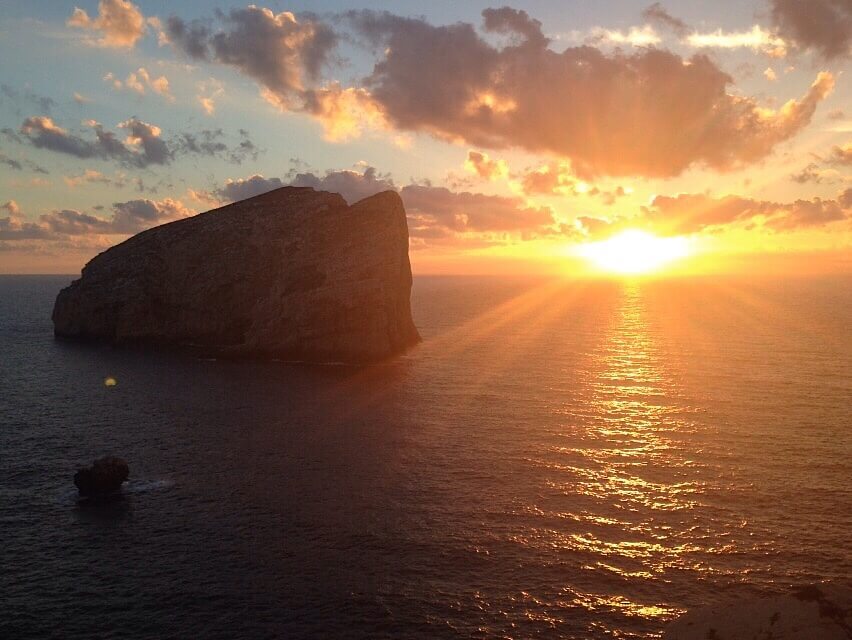 Alghero is one of the nicest places to visit in Italy. Located on the western coast of Sardinia, this lovely small city is a popular tourist destination and a unique place to visit thanks to its unique history and culture. Indeed, Alghero is a Catalan enclave in a region that already has its own minority language – it's a minority within a minority.
The city offer many interesting sights – the best are the Cathedral and the bastions, built to protect the city from invaders and currently an incredible place to go for a walk, especially at sunset.
The historic center is a maze of narrow cobbled alleys with lovely boutique stores and cafés. In the summer time, you can enjoy one or all of the many local beaches – Lazzaretto and Le Bombarde are among the most popular ones.
Another place to visit is Neptune's Cave – you can get there by boat or via a very panoramic staircase – though be prepared as it is more than 600 steps each way. The area is also popular for diving.
Finally, Capo Caccia provides incredible sunset views and hiking opportunities. It can be reached on an easy 20 minutes drive from town.
Click here for the best hotels at Alghero!
Comacchio: the Little Venice of North Italy!
By Viktoria Urbanek from Chronic Wanderlust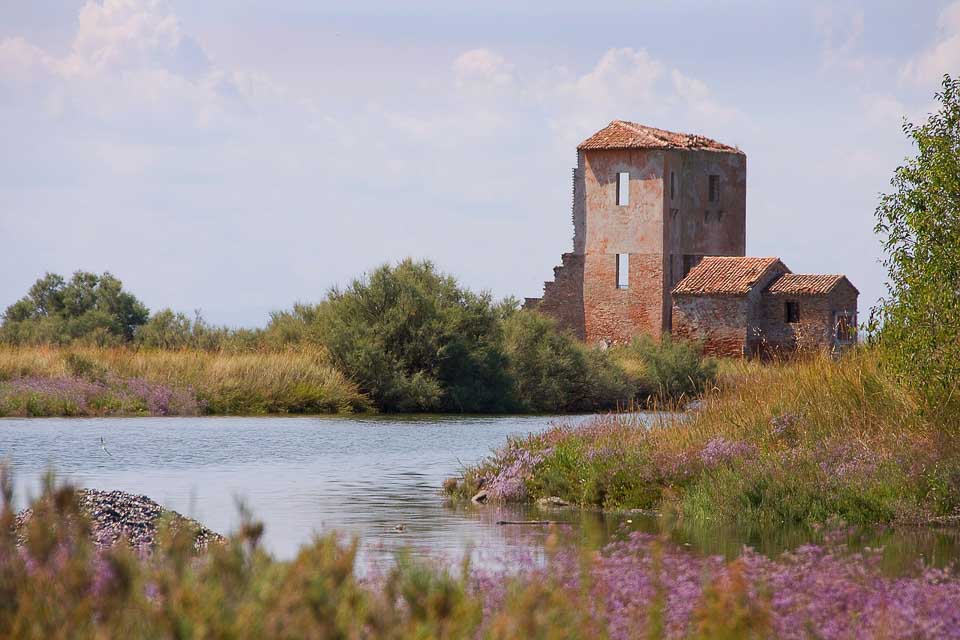 Thinking of my last trip to Italy, there was one town that I quite enjoyed and that I now recommend to every travellers planning on visiting the north of Italy. Comacchio is located in the region Emilia-Romagna on the Adriatic coast and is referred to as Little Venice.
Many small canals shape the face of the city – hence the name. Comacchio is a quaint little town that is the perfect destination for photographers and those that want to feature some pastel colored houses in their timelbxc ine. Even if you are not bringing your camera, take some time and simply get lost in the maze of alleys and canals.
Comacchio has quite an interesting past in commerce. Back in the Dark Ages they started to farm eels. It's a long lasting tradition and many restaurants feature eel specialties on their menus. If you are brave enough and want to experience one of the best cultural activities in Italy, I can recommend La Locanda del Delta for eel feasts.
If you are not so keen to try eels and are looking for something more active, then you should rent a bike and explore the lagoon. You can either bike the whole trail, or get on a small boat that takes you across. If you are staying in the region longer, plan on hiking in Foreste Casentinesi and trying the best pasta in your life.
Click here for the best hotels at Comacchio!
Also read: 10 Old Styles of of European Clothing!
Chioggia: The Utopic Canal Kingdom!
By Eric from Travelaar blog (read about his off the beat travel trails in Iran)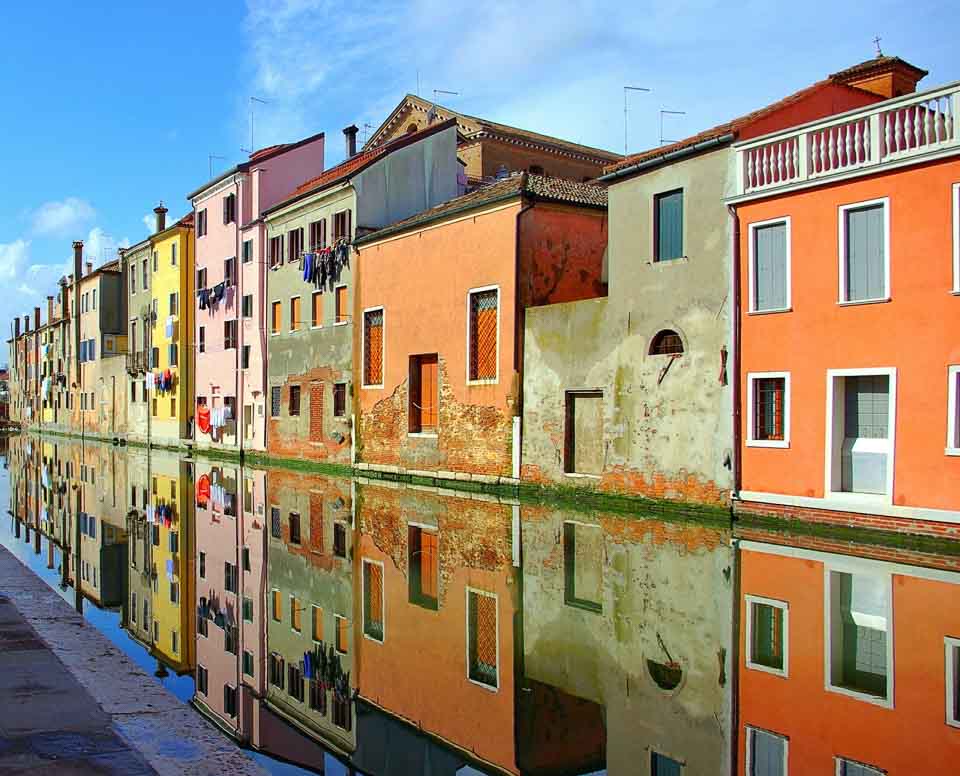 On our summer job on a campsite about two hours from Venice, we couldn't get ourselves to get to Italy's most famous highlight. "Too busy', "Too touristy", "Too far away". Luckily we heard about Chioggia, it's nicknamed 'Little Venice', so we couldn't wait to check it out! It's located about an hour south of Venice.
We parked our car just outside the peninsula (for free!). On the bridge to the island you get the first impression of the town and its surrounding body of water. Numerous small fishing boats are departing and arriving to catch their share of fish for the day. On the island you immediately get where it gets its nickname from; Small canals, cute bridges and colourful buildings make it an amazing place. Settle down on one of the terraces to have a drink and enjoy the view. That's the vibe in Chioggia. Just relax.
On the far north of the island Chioggia's most famous highlight can be found: Ponte di Vigo, which is a bridge which is a gorgeous footbridge which is the first bridge visiting boats see when arriving to Chioggia. After the bridge, take a moment to enjoy the view of the boats cruising by and the people strolling the town square which is next to the bridge. Be sure to visit this gem when you're in the area, you won't regret it.
Click here for the best hotels at Chioggia!
Also read: Old Towns in Europe that tells about Intriguing History!
Cinque Terre: The Land of 5 Villages
By Sharon from Simpler And Smarter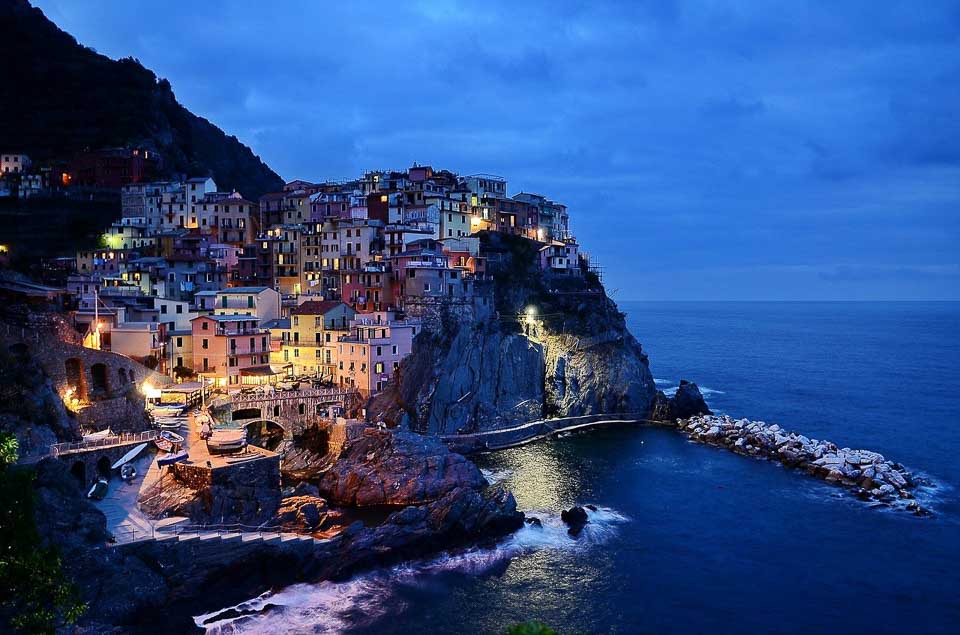 If stunning scenery, picturesque towns, great food, hiking, beaches and more is something you enjoy on your holidays then Cinque Terre is definitely the best place to visit in Italy!
Located towards the top of the west coast of Italy, Cinque Terre is a small section of coastline home to five picturesque villages. The villages creep up cliffs and hillsides from the sea. They are a quick train ride from La Spezia or Tuscany which makes this an easy stop to add to your Italy itinerary.
The towns themselves all have a unique vibe and look and the top thing to do when you visit is to explore each to them. There is a train between the towns and hiking trails for the fit.
The towns are colourful fishing villages with many restaurants, cafes, bars and shops and can get crowded in summer. We recommend staying in Vernazza if you can which is our pick thanks to a central train station, small beach and a stunning harbour area. Budget travellers should look at Corniglia (note that it's a steep walk here from the station and buses stop running at 8pm). Book accommodation far ahead of time in summer travel season in Italy.
Also read: The best food to eat in Italy!
Click here for the best hotels at Vernazza!
Genoa: Home of the Greatest Explorer of All Time, Christopher Columbus
By Sarah Carter from A Social Nomad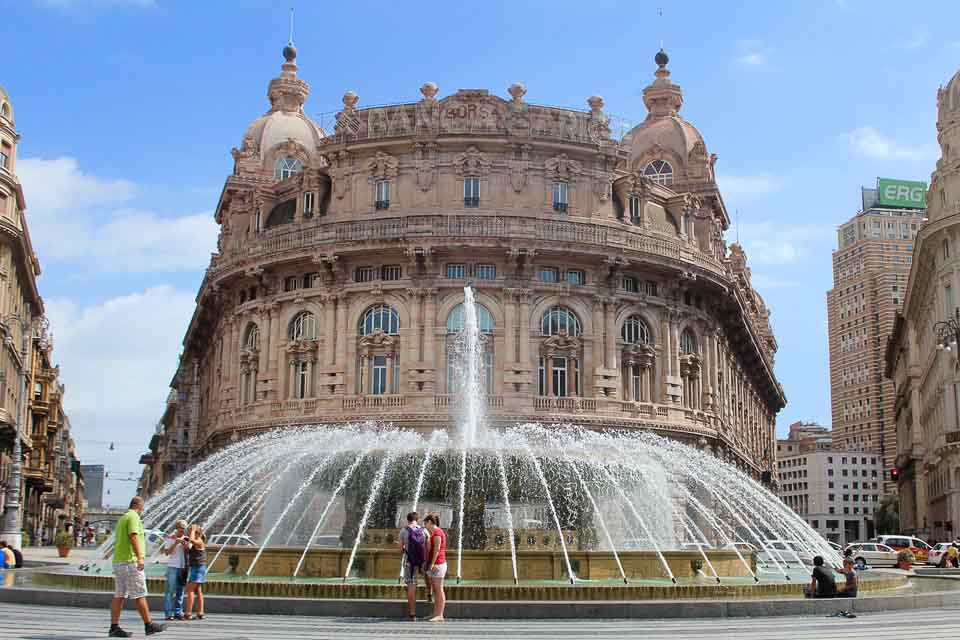 It's the city where Christopher Colombus spent a great deal of his childhood and you can still visit his home. Genoa has one of the largest harbours in the Mediterranean and the city surrounds it in a glorious maze of narrow streets where one of the best things to do is get lost in them. There are UNESCO World Heritage-listed palazzos and an incredible food scene.
In Genoa, you'll find the birthplace of pesto and a city where street food reigns and it's glorious, olive oil-drenched freshly baked focaccia bread and paper cones of freshly fried seafood. There's an incredible aquarium here, the largest in Europe, and endless nooks and crannies to explore.
Genoa is easy to reach – many budget airlines fly here, and there are railway links from all through Italy and Europe. It's also a major cruise port, so many flock to spend just one day in Genoa, but it is worth so much more of your time. Whether you choose an audio walking tour or the popular Hop on Hop off bus, exploring Genoa is easy and there are heaps of pleasant sidewalk cafes and bars in which to rest between attractions.
Click here for the best hotels at Genoa!
Modena: Home to Ferrari and Lamborghini
Amber from Food And Drink Destinations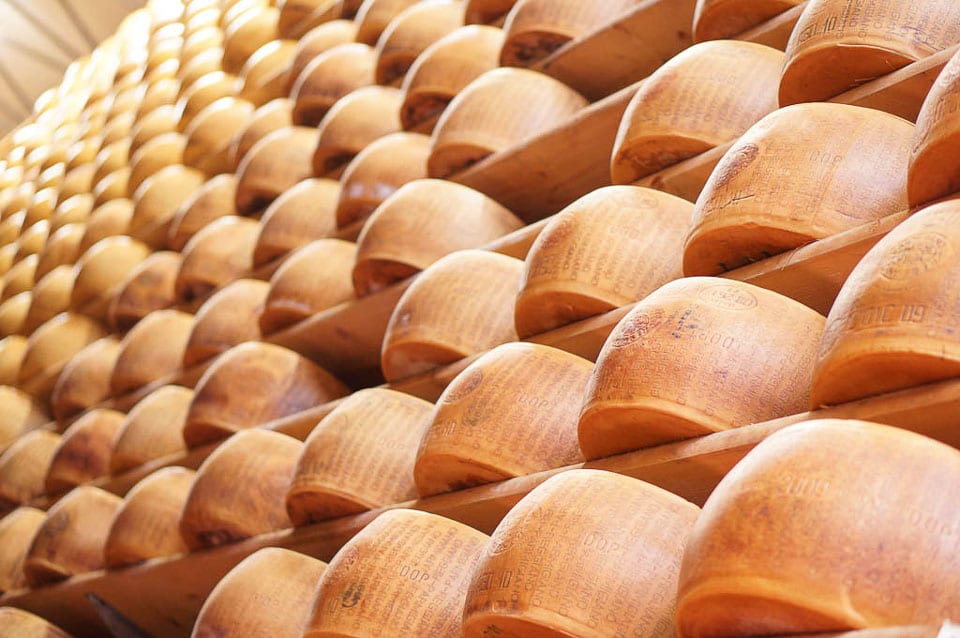 Modena is a stunning Italian town in the heart of Emilia Romagna.
It's home to "slow food and fast cars." Modena is the headquarters for supercar manufacturers Ferrari and Lamborghini.
For gear-heads, head over to the Enzo Ferrari museum and track the history of one of the most iconic names in automobiles. For foodies, the list of where to eat and what to eat in Modena is long and delicious. It's also home to the former number one restaurant in the World, Osteria Francescana.
From Prosciutto di Modena to Parmigiana Reggiano to traditional balsamic vinegar, all of which are made in Modena, traveler's won't go hungry. All around the city, travelers will find plenty of Modena restaurants to enjoy these and other traditional food products. One of the best places to eat in Modena is Hosteria Giusti, a small restaurant with only 4 tables, set in the back of a food shop. Another great spot for food lovers is Mercato Albinelli.
Since the 1930s, Mercato Albinelli has provided the residents of Modena with fresh produce, meats, and dairy products. It's one of Europe's best preserved daily markets.
For culture lovers, marvel at the Modena Cathedral or climb the tower to get a birds-eye view over the city. Getting to Modena is easy with train service from Bologna, Parma, and Milan. Take the high-speed Frecciarossa from Florence to Bologna in only a half hour, and then it's another 20 minutes onto Modena.
Click here for the best hotels at Modena!
The Lost Kingdom of Pompeii
By Oli Diprose from Not Brits Abroad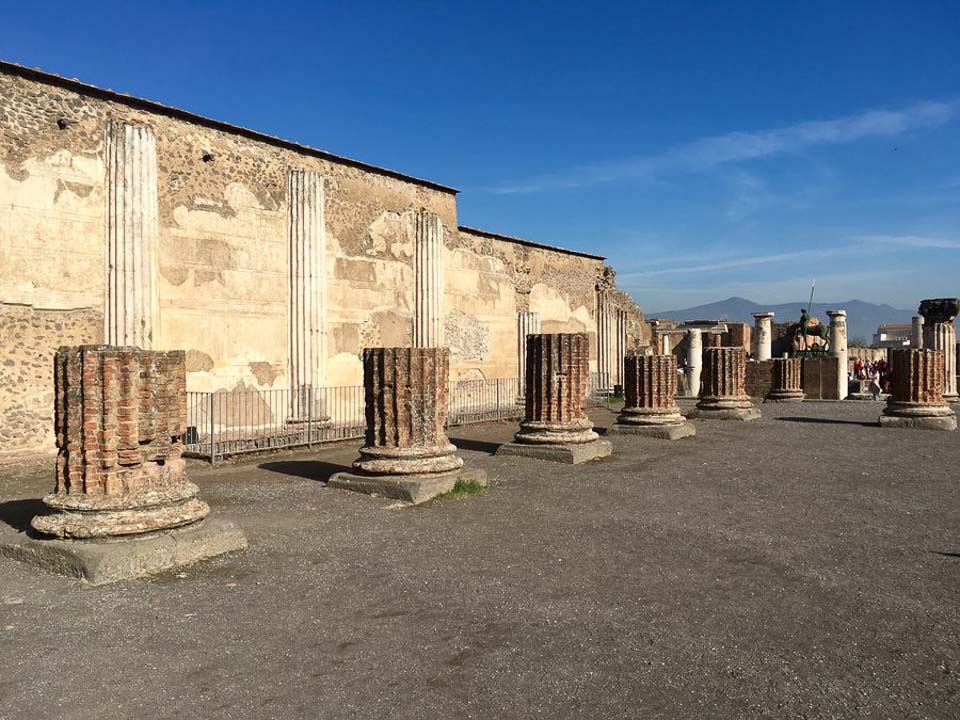 In 79AD, Mount Vesuvius erupted and buried the ancient Roman cities of Pompeii and Herculaneum. Pompeii, and anyone left in the city, was buried and preserved under four to six metres of ash and pumice. Nearly 2,000 years later and the archaeological site at Pompeii is one of Italy's most iconic tourist attractions. The site is so fascinating that people of all ages and levels of interest can enjoy exploring the ruins.
There are almost countless ruins of houses, shops, common buildings and relics to keep you occupied for hours. Despite the size of the accessible site reaching over 100 acres, there is still a large amount to be uncovered in Pompeii.
Although you can learn a lot about Pompeii by walking around on your own, it's far more interesting and informative to take a tour of the site with a qualified tour guide who can be found at the main gate. Pompeii is best visited slowly to have as much time as possible at the ruins. This means that day trips from Rome can feel a little too rushed to have a satisfying visit given that it is nearly 3 hours away.
The best way to visit Pompeii would be to spend a couple of days in the city leaving enough time for the ruins and to visit Mount Vesuvius to see the volcanic crater for yourself.
Did you know? Pompeii is often spelt in the same context with that of the ruins of Hampi, in India!
Click here for the best hotels at Piano Di Sorrento!
Rome: the Eternal City!
By Marta Correale from Mama Loves Rome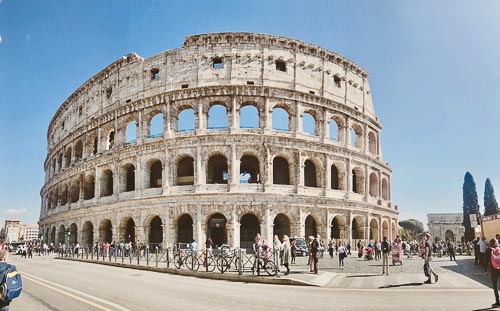 No trip to Italy would be complete without a stop in the country's stunning capital: Rome. Ancient and modern, loud and romantic, grand and derelict, Rome is a city of contrasts, with something to offer to all types of travelers and a plethora of attractions to keep busy the most demanding of visitors.
Most of Rome's must see attractions are in the historical center and can be visited even with a short stay of 2 or 3 days. Some not to miss are the famous Colosseum and Roman Forum, the incredible Vatican City and Sistine Chapel and the unique Rome piazzas: Piazza Navona, the Spanish Steps and smaller, hidden gems such as Piazza della Minerva.
Piazzas are free to visit and a great way to enjoy Rome on a budget while main attractions are ticketed and popular: especially in spring and fall, the main tourism seasons in Rome, advance booking and skip the line tickets are paramount.
The best way to visit Rome is to find accommodation in the city center and explore on foot. The area around the Pantheon is a great starting point for sightseeing and puts you in the perfect position to reach almost everywhere with ease.
This is also a wonderful area for restaurants: from local wine bars to sustainable food joints and pizza places, this is the best part of Rome to call home for a few days!
Click here for the best hotels in Rome!
Polignano a Mare: One of the most beautiful beaches of Italy
By Nadine from Le Long Weekend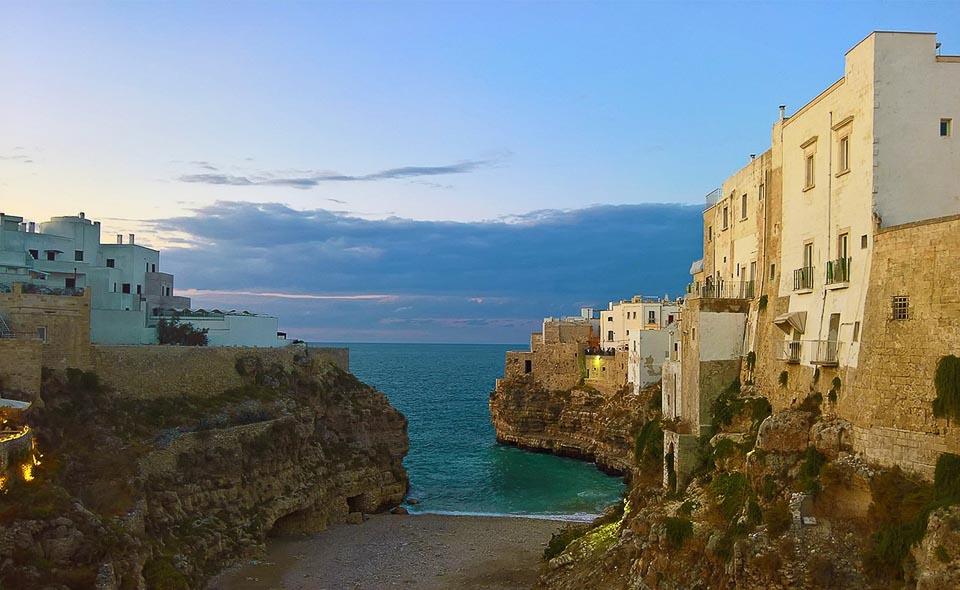 A beach town unlike any other, Polignano a Mare is located on the southern Adriatic coast of Italy. The town is divided in two by an ancient riverbed, and at the end of the deep ravine, you'll find the beautiful beach of Lama Monachile. Surrounded by towering craggy cliffs with whitewashed houses clinging precariously to the top, it's surely one of the most beautiful beaches in Puglia.
The old town is undoubtedly charming too, with its narrow streets, ramshackle buildings and charming squares. It's here, at the end of the cobbled streets that you'll find some of the best views in Polignano a Mare.
Walk to Terrazza Santo Stefano where there's an incredible view over Lama Monachile beach. It's this very spot that hosts the Red Bull cliff diving championships every year, an event that draws in crowds from around the globe.
A bit further around the headland, by the Grotta dell'Arcivescovado, you'll find a fantastic viewing platform for seeing the rest of the seaside town. The historical centre is small but has plenty of trattorias where you can try the local speciality, Orecchiette pasta. There are also a few boutiques to browse, and plenty of B&B's should you which to stay the night in this delightful town.
Click here for the best hotels at Polignano a Mare!
Lecce: the Sleepy Charming Town from Puglia
By Katerina & Maria of It's all trip to me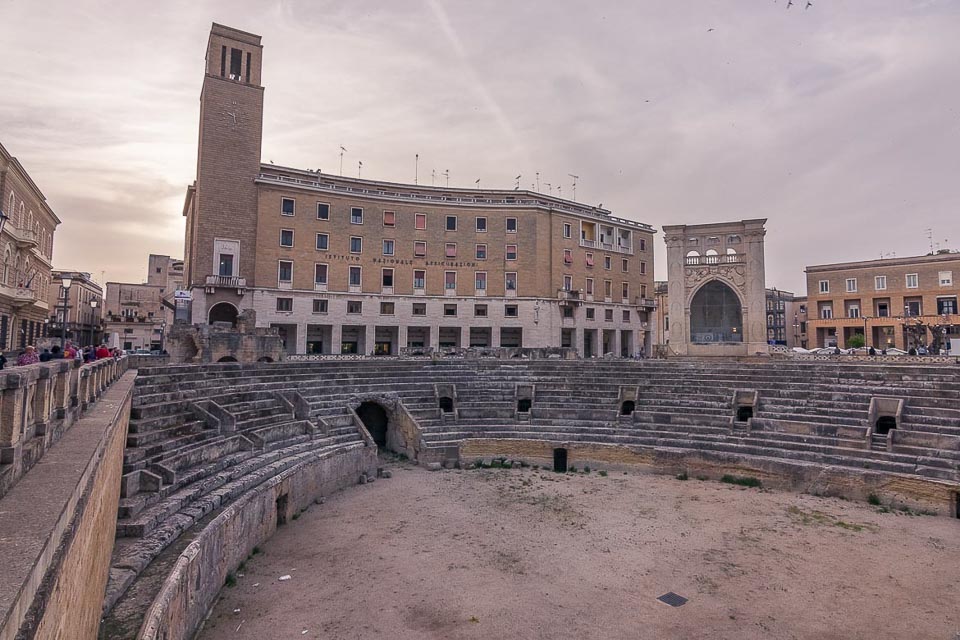 One of the most fascinating places to visit in Italy is picturesque Lecce, the so-called Florence of the South. Nestled in the heart of the laid-back region of Puglia in Southern Italy, Lecce boasts a unique Old Town which is a feast of baroque architecture that adorns churches, palazzi and enchanting squares.
The splendour of Lecce is prominent at the superb Piazza del Duomo, the Cathedral Square. The latter is where the heart of Lecce Old Town beats, especially in the evening. It is then that locals and visitors alike flock to the square for their wonderful passeggiata, the quintessentially Italian evening promenade.

There are quite a few more attractions you won't want to miss in Lecce such as the Roman Amphitheatre and the exquisite Basilica di Santa Croce. Moreover, make sure you don't leave Lecce without trying the famous pasticciotto leccese, the city's signature sweet treat.

Apart from the charms of Lecce itself though, this destination in Italy's South is also the perfect base from where to explore the stunning region of Puglia. From the Greek-speaking towns of Salento to the most gorgeous seaside towns like Otranto, Gallipoli and Leuca, the list of fantastic places to visit from Lecce is endless.
Click here for the best hotels at Lecce.
Florence: The Birthplace of Renaissance in Europe!
By Theresa from Fueled By Wanderlust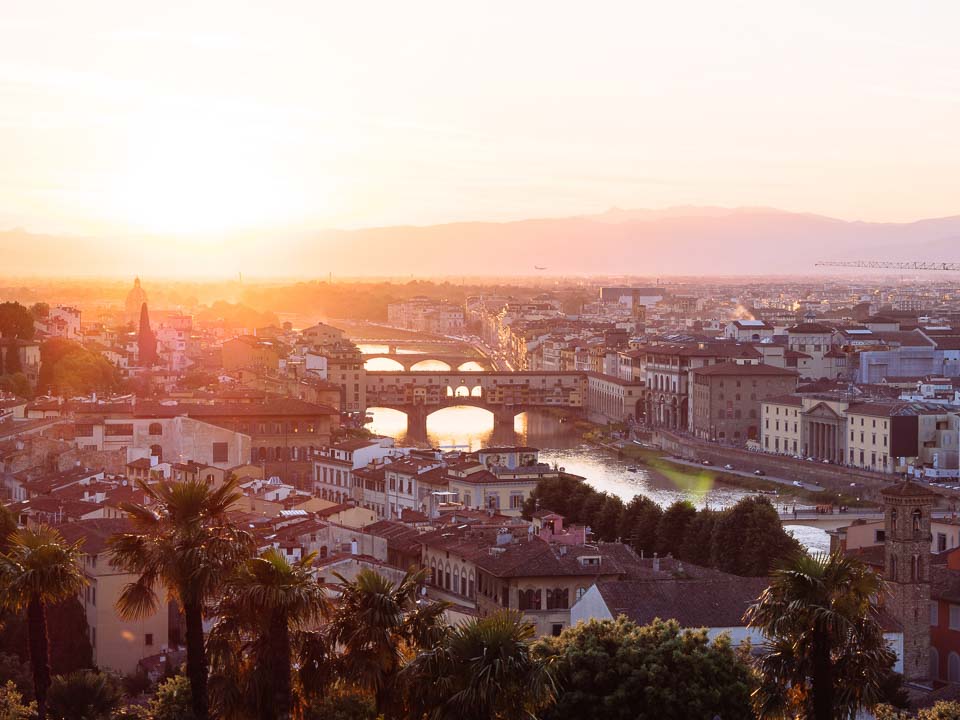 Florence is one of the most magnificent places to visit in Italy. It is the birthplace of the Renaissance, and heaps of visitors flock here each year to view the masterpieces that reside in Florence's many galleries. In addition, Florence is filled with beautiful Renaissance architecture, which brings this dreamy city to life and puts it high up on every Italy bucket list.
Florence's Renaissance history is evident throughout the city. The most iconic building in Florence is the Duomo, whose towering dome was designed by early renaissance architect, Filippo Brunelleschi. There are also many museums where you can find vast collections of Renaissance art. For example, at the Accademia Gallery, you can see Michelangelo's famous statue of David. Alternatively, visit the Uffizi Gallery to admire an even larger collection of Renaissance art, including Botticelli's Birth of Venus.
In addition, without even entering a museum, one can see evidence of the Renaissance simply by wandering around Florence. One popular spot is the Ponte Vecchio bridge over the Arno River, which has been lined with shops since the 13th century. However, the most sweeping view of all the Renaissance beauty Florence has to offer is at Piazza Michelangelo. Visit at sunrise for the fewest crowds and the most majestic experience of your stay.
Click here for the best hotels at Florence.
Tuscany: the Most Magnificent Region in Italy!
By Katy from Untold Italy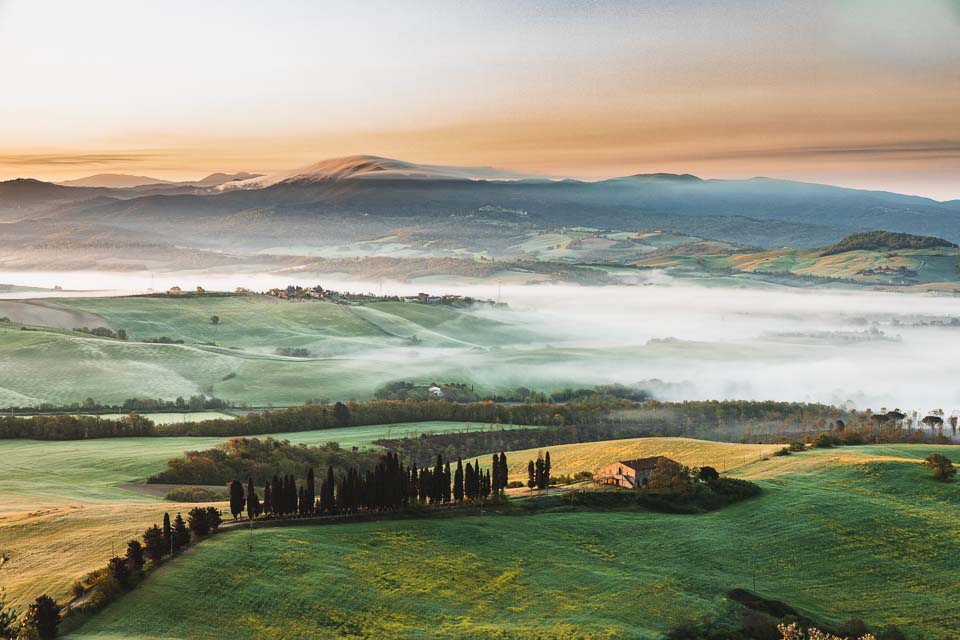 High on many lists of the best places to visit in Italy, Tuscany is a favorite destination for all kinds of travellers. Its capital, Florence was the heart of the Renaissance and home to masters Michelangelo, Raphael and Brunelleschi. Today you can see and appreciate their work all over the city and immerse yourself in the artisan culture that continues today.
But Florence isn't the only city worth visiting in Tuscany. Pisa, Lucca, and Siena each have their own culture, architecture and history to explore. Will you prefer the famous Leaning Tower in Pisa to Lucca's tree lined city walls? Or the medieval beauty of Siena?
Those that prefer the countryside always fall for Tuscany's hilltop towns that mark the way through the famous wine regions. San Gimignano's is an impossibly picturesque town whose 13th century towers gaze out over acres of vineyards. In the south of Tuscany, Montepulciano is known for the local vino nobile red wine derived from ancient vines in the surrounding area.
The Tuscan coastline is relatively undiscovered by tourists and is full of treasures too. White sand beaches and national parks are easy to explore from pretty fishing villages like Porto Ercole, also famous for delicious seafood pasta dishes.
There is a part of Tuscany waiting for every type of traveler. If the rolling green hills of Chianti don't pull you in, the coastal towns and incredible cities certainly will. Read this article to know about the best towns of Tuscany to visit and Explore.
Siena: The UNESCO World Heritage City
By Wendy Lee from Empty Nesters Hit the Road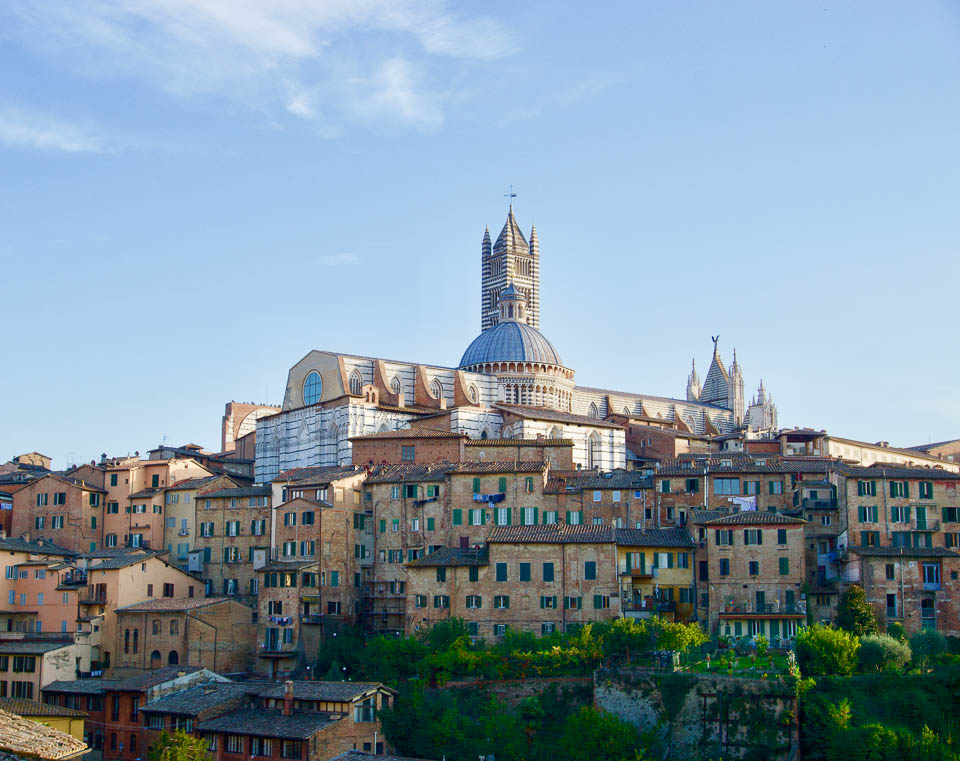 Located in the Tuscany region of Italy, Siena is best known for its spectacular cathedral and the Palio, a twice annual horse race through the streets of the town. During our recent trip to Italy, we found that Siena was the perfect day trip from Florence, although it could also be a great place to stay for a few days.
Any visit to Siena should begin in the Piazza del Campo, a large square built in the 13th century and now ringed by charming cafes. Take a seat and just people-watch, or, to get a great view of the city climb the Torre de Mangia, located on the piazza. Next up is the Cathedral of Santa Maria Assunta or Siena Cathedral. While the exterior is definitely impressive, it's the artworks inside that are simply stunning.
But be sure to allow plenty of time just to wander the streets of Siena appreciating the beautiful art, architecture and lovely shops. The heart of the city has been designated a UNESCO World Heritage Site and the residents have proudly insured it's careful preservation.
To get to Siena visitors can either drive or take the train from surrounding cities. Since the walk to the city center is 2 km uphill, a bus from the station is recommended.
Click here for the best hotels at Siena!
Ischia: the Stunning Island Town of Italy
By Clare from I Live 4 Travel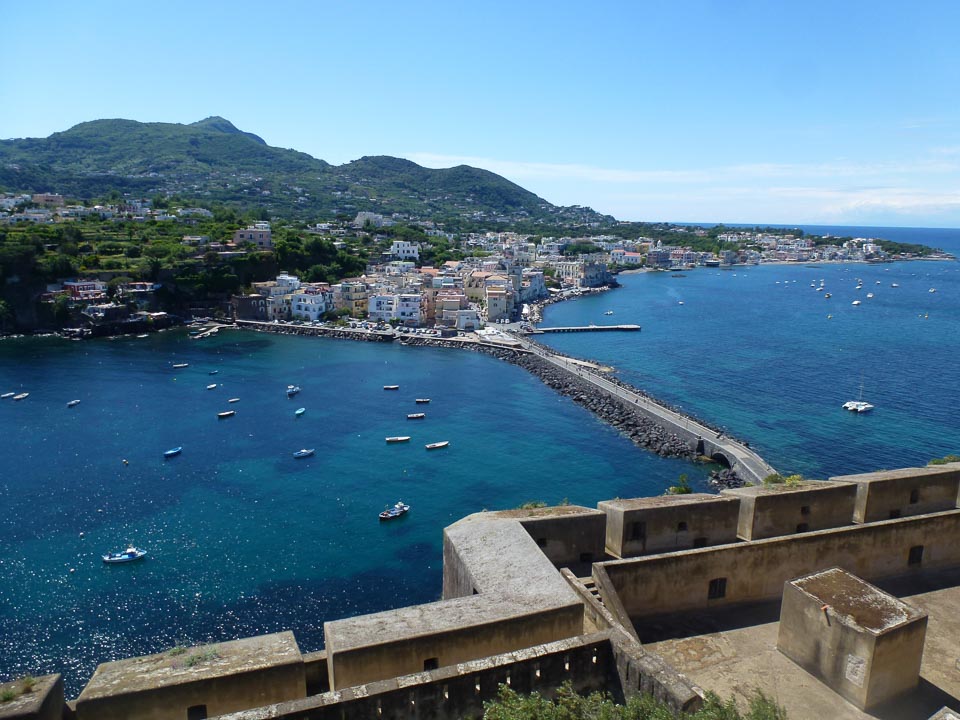 The Island of Ischia just of the coast of Naples is a beautiful place to visit in Italy. It is a lot quieter and larger than its popular neighbour of Capri but it is still as stunning.
Ischia is a volcanic island meaning that the island is very popular for its thermal spa's and there are some beautiful spa hotels in Ischia, both in the mountains and on the beach front where you can enjoy a swim in the many thermal pools.
If you want something a bit more adventurous then the most popular hike on the island is to the summit of Mount Epomeo, the highest mountain on Ischia at 789 metres above sea level. You should also explore Aragonese Castle built in 474 BC. It stands on a rock out at sea, though now connected to the mainland by a bridge built in 1441. If you arrive in Ischia port from Naples then it's the first thing you will see as it dominates the view in this part of the island. The island also has many museums and gardens that you can visit.
If you enjoy the beach then Ischia has many stunning beaches you can visit, the favourites being Maronti Beach on the south coast which is one of the biggest beaches on the island and also Sant'Angelo, the beach is small but popular, as it is located by a large rock in the sea with a beautiful little town that you walk through with many shops and restaurants before you arrive at the strip of land with the beach.
Ischia is a beautiful island and a place I definitely recommend visiting on your trip to Italy.
Click here for the best hotels at Ischia!
San Fruttuoso: A Bay by the Mediterranean
By James Ian from Travel Collecting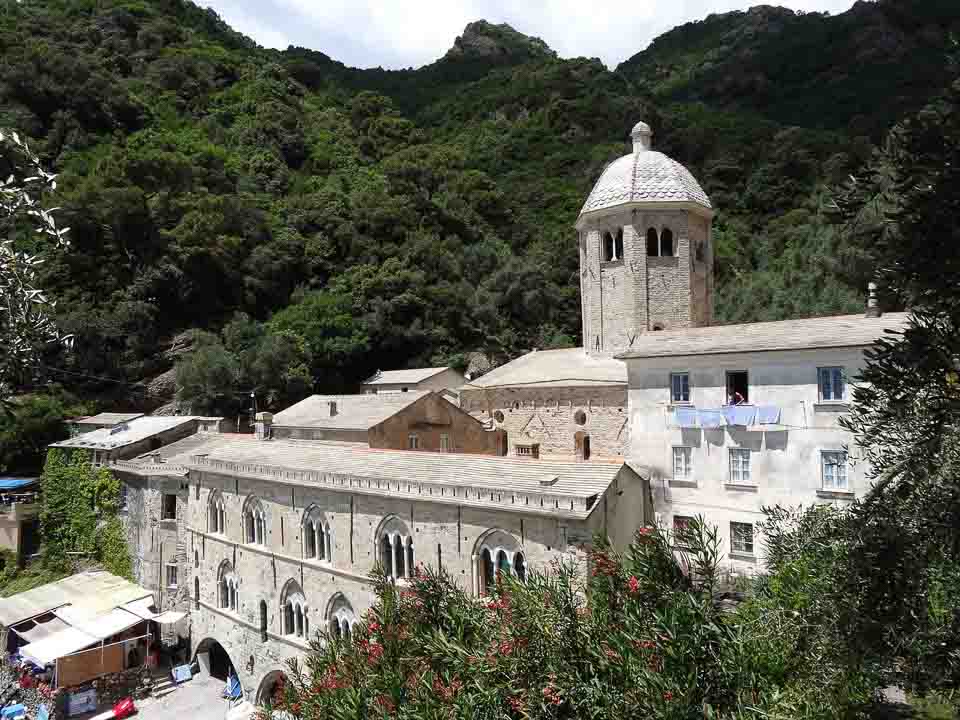 San Fruttuoso is a tiny bay on the Italian Riviera that you can only get to on foot or by boat. The setting is stunning. The cove is surrounded by steep wooded hills, edged with a pebbly beach and dominated by a beautiful sandy-colored 10th Century abbey. There is a small museum inside the abbey and a tower with views over the Mediterranean Sea. Deck chairs and umbrellas are available for rent, and lying on the beach and swimming in the emerald green sea is a perfect way to spend a sunny summer day.
There are several restaurants specializing in seafood, so you can take a break from the beach and enjoy a lovely meal, glass of wine and gorgeous views. It's even possible to rent a room and stay after the day trippers have left. You will have the entire place to yourself.
San Fruttuoso is also home to the submerged Christ the Abyss. Scuba divers will love diving around this sunken statue of Jesus with his arms raised up high.
Boats leave from Rapallo via Santa Margherita and Portofino in one direction, and Camogli in the other direction. You can also walk – the hike from Camogli through Portofino National Park is more challenging; the hike from Portofino to San Fruttuoso takes about two hours. It's a delightful walk past fields, wildflowers, orchards and the Mediterranean.
Click here for the best hotels at San Fruttouso!
Trento: the Mediaval Italian City
By Lucy Ronan from Far Away Lucy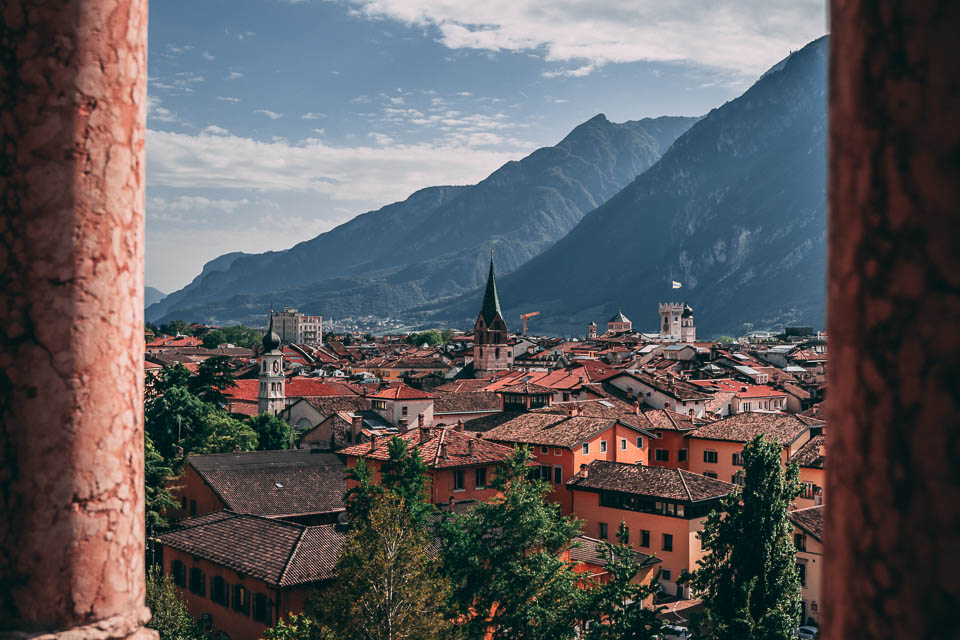 One of the best places to visit in Italy is Trento. This little-known Italian city is hidden away in the province of Trentino, located in the country's far north in the Italian Alps. Full of charm and history, Trento is a great city break for those looking for a quieter alternative to the likes of Rome and Venice.

At the centre of the city sits a number of picturesque Medieval and Renaissance buildings, such as Trento Cathedral and the Castello del Buonconsiglio. The castle, in particular, is great to explore and offers some incredible views across the orange roofs of Trento. However, for the best views of the city and the mountains that surround it, take the cable car up to Trento Alta. The views are completely mesmerising!

And that's not to forget the region's amazing food scene! Home to some amazing local ingredients and specialities, Trento's delicacies are not to be missed. Besides, it wouldn't be a trip to Italy without all the pasta, pizza and gelato, right?

Surrounded by mountains, Trento is also the perfect base from which to explore the rest of Trentino. Some of my favourite places to visit in the region include the famous Dolomites and Lake Garda, but also the hidden gems of Valle di Ledro and Valle del Chiese!
Click here for the best hotels in Trento!
Valle Di Cembra (the Cembra valley)
By Lavina from the Continent Hop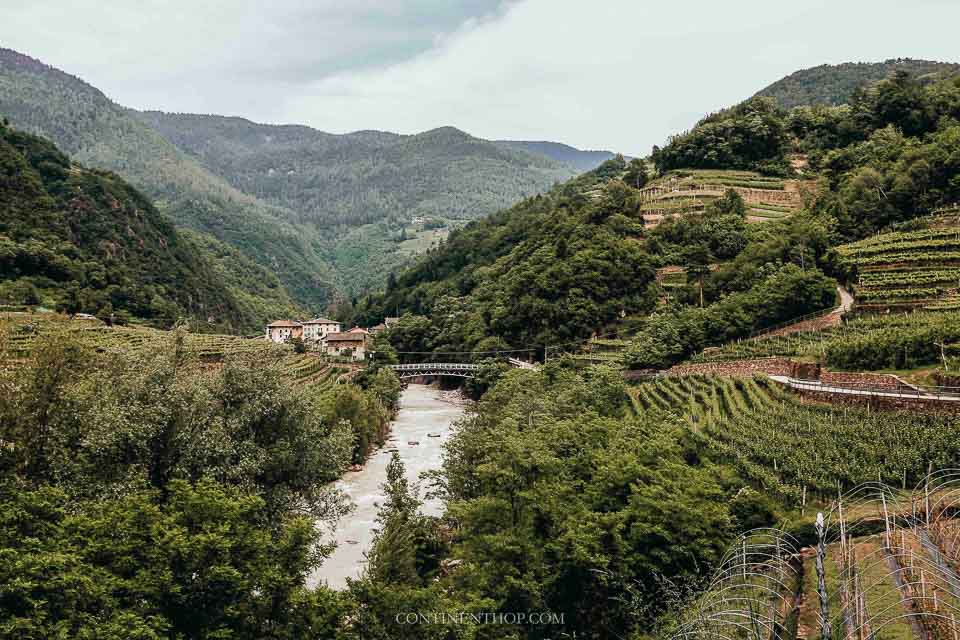 Valle Di Cembra or the Cembra valley is hidden away in the heart of Trentino.
The region with the Alps as it's background is perfect for a eco-friendly getaway.
Here you will be welcomed with the best Italian food on offer in the world, and not just with pizzas and pasta.
Think Canederli, Schlutzkrapfen, a vast variety of cheeses and cured meats that are served at local farms, which keep the produce fresh and the taste delicious make this a foodie lover's destination.
Surrounded by nature and postcard-perfect locations, it is here that you visit to get in touch with nature.
Experiences such as foraging, visiting the naturally formed Segonzano pyramids, sleeping to the sound of bees and wine tasting are just some of the unique experiences you can have here.
You can even book an experience to make your very own copper artefact in the valley!
The Valle Di Mocheni is located a short distance away and both the regions can be visited in about 5 days.
For people who prefer city-breaks, the city of Trento is located a short distance away and you can even enjoy a short break here while enjoying Aperol Spritz's almost every day!
Click here for the best hotels in Trentino!
Le Marche: An Offbeat Gem and yet a Beautiful Destination in Italy
By Annabel from Smudged Postcard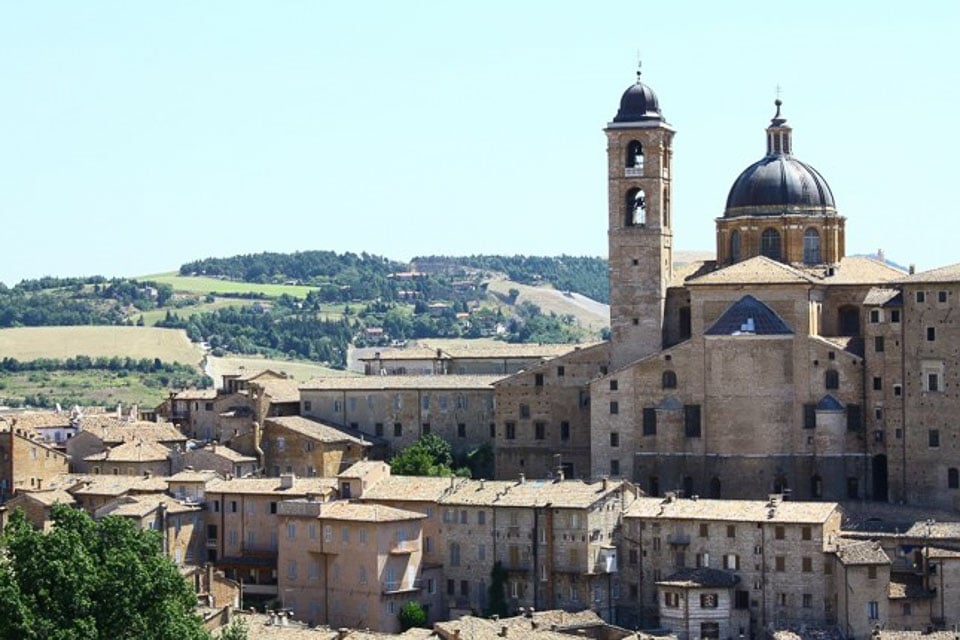 If you're looking for a region of great contrasts, Le Marche is a perfect Italian holiday destination. While tourists flock to neighbouring Umbria and Tuscany, Le Marche remains relatively under the radar. And all the better for it.
In the north of Le Marche is the Renaissance town of Urbino, birthplace of artist Raphael. Further south you'll find the delightful town of Ascoli Piceno, home to one of Italy's most perfect squares, Piazza del Popolo. In between are many characterful small towns and villages including the lace-making town of Offida and the university town of Macerata which holds an excellent open-air summer opera festival.
The landscapes of Le Marche are magnificent. There are stunning mountain vistas and great plains filled with wildflowers in the spring. In the summer months, the hillsides are filled with sunflower fields and vineyards. Red and white wines are delicious and good value in Le Marche. There are food festivals most weekends during summertime with each village showcasing its own speciality.
If you're visiting Le Marche with kids, you're in for a treat: the coastline is packed with family-friendly sandy beaches. There are some great seaside resorts such as Fano and Grottammare. Accommodation both on the coast and inland is very good value, consider staying at an Agriturismo to experience true Italian hospitality.
Click here for the best hotels at Le Marce!
Sicily: the Ancient Italian City of Art and Architecture!
By David Angel from Delve into Europe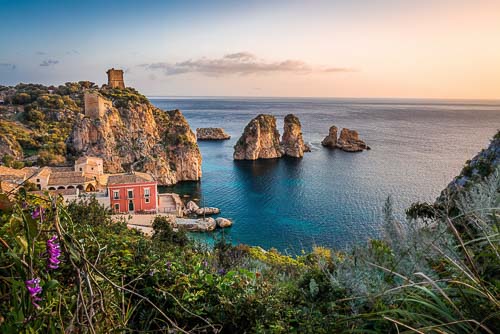 Sicily is one of the last places we finally got to visit in Italy, but it turned out to be so worth the wait, and one of the best places to visit in the entire country.
The south of Italy is markedly different to the north and centre of the country, and Sicily in turn differs from the mainland and neighbouring Calabria.
It's such an intriguing mix, with stunning ancient temples, some of the best beaches in Europe, a chaotic capital in Palermo, beautiful old towns like Cefalu and the highest and most active volcano in Europe, Mount Etna.
The volcano has an immense influence on the surrounding area, especially the nearest city, Catania. A massive earthquake in 1693 destroyed many towns and villages in the south of the island, with the result that many were built in stunning, exuberant Baroque style. Noto is the best of these, and Modica and Ragusa Ibla are also well worth seeking out.
We especially recommend the main city in the south-east of Sicily, Siracusa (Syracuse). This was once the greatest power in the ancient world, and there are remnants of its past all around the mainland part of the city. Its highlight is, however, Ortigia, a tiny island offshore, connected by a bridge with the rest of the city. Much of it is a labyrinth of romantic 18th century streets, many with street corner cafes and restaurants. Its square, the Piazza del Duomo, is one of the most beautiful in Europe, dominated by a gorgeous Baroque cathedral.
Click here for the best hotels at Le Marce!
Mount Etna, The Thrilling Volcano of Sicily
By Callan Wienburg from Once in a Lifetime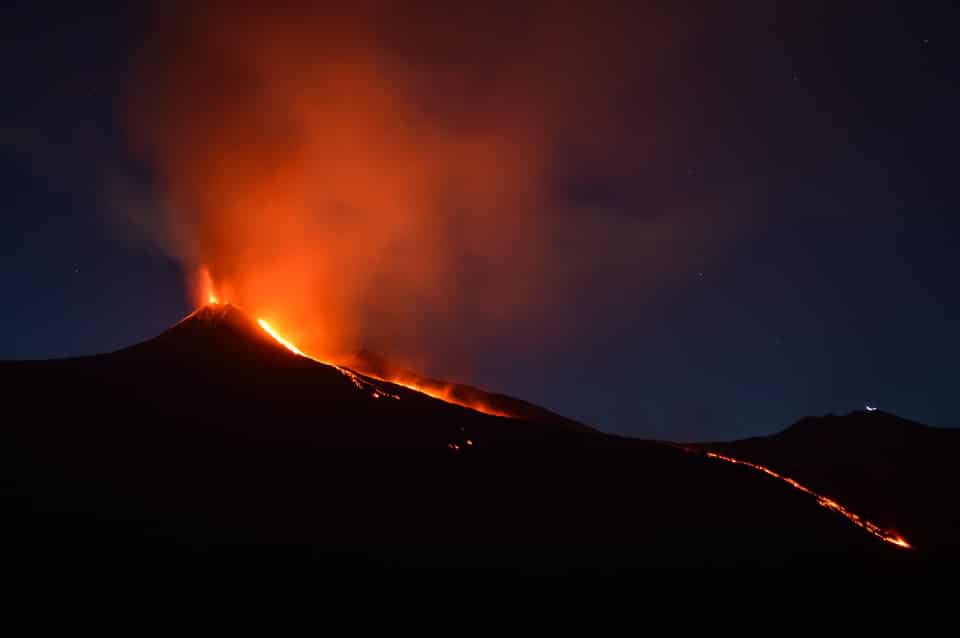 If you're visiting Sicily and are the intrepid type, then hiking Mount Etna is probably one of the most popular things to do. Mount Etna is a great place to visit as there is always a high level of volcanic activity. In fact, it's one of Europe's most active volcanoes and the world's most active stratovolcano.
As it's only a 45 min drive from Taormina or Catania with easy access to craters via 4×4 and is a UNESCO world heritage site, the mountain has increased in popularity. It is fairly easy to climb to the near top, making for an enjoyable trip for travelers of all fitness levels.
There are several ways to reach the craters, with the most epic being a guided hike up to around 2,900m above sea level via the south side Sapienza Refuge (or 3,300 if you are super fit and have the time). Yet most visitors opt for the easier and more convenient north side where you can reach the platform at 1,800m.
If you do opt to hike up to 2,900m you will need a full day, with return travel time at around 3 hours from Taormina (including cable car or 4×4 rides) and hiking time the same. Either way, it is a wonderful day trip with beautiful sites and panoramic views that are sure to make for some great memories.
Click here for the best hotels in Calatabiano!
Capri: A Droplet of Beauty in the Gulf of Naples
By Darek from Daren And Gosia
Capri is a small island in the Gulf of Naples, a favourite place of Roman emperors who built their summer residences here, escaping the hustle and bustle of Rome. Full of historical souvenirs and natural resources, the island is worth visiting out of season. A well-planned May picnic on Capri is a great way to relieve winter depression in the rays of the Mediterranean sun and avoid the crowds. It really is one of the most beautiful islands in Europe!
Visiting the island, it is worth taking a walk along Via Krupp – it is a road that connects the beautiful Gardens of Augusta (Giardini di Augusto) with Marina Piccola, was called "the most beautiful road in the world", because it winds steeply along the rocks falling into the sea, provides an unforgettable views.
In the southern part of the island there is Punta Carena with a lighthouse and bathing areas, where nightlife pulsates after dark. The Sentiero dei Fortini trail leads from here to the Blue Grotto.
In the northern part of the island there is one of the most beautiful coastal grottoes, the Azure Grotto (Grotta Azzurra), named so because of the intense colour of its waters and walls. The unique colour effect is created by reflecting the light coming from one of the underwater crevices.
Click here for the best hotels at Capri!
Taormina: A Gorgeous Beach-side Destination in Italy
By Darek from Robe Trotting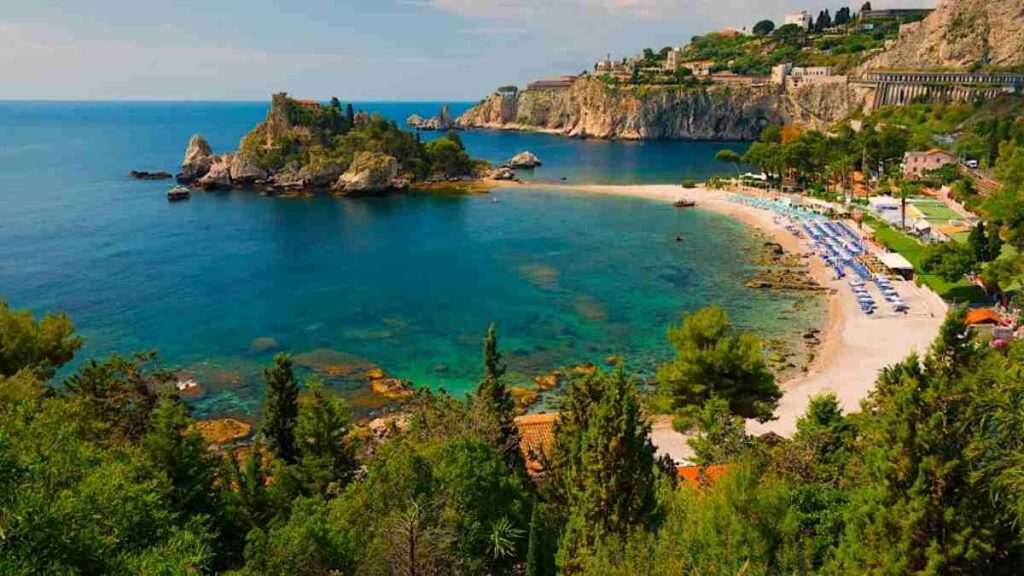 Taormina is one of the most beautiful hillside cities in all of Sicily. It's an incredible Italian destination and you'll never worry about what to do in Taormina because there's so much to choose from.
Taormina is probably the most famous for its gorgeous beaches. Most are pebble beaches with sparkling turquoise waters lapping the shores. The most famous beach in Taormina is Isola Bella. Its defining feature is the rocky outcrop which forms a natural cove. The lush island just off the coast is linked to the shores by a land-bridge that you can use to reach it during low tide.
Taormina is also known for the Teatro Antico di Taormina, an ancient Greco-Roman theatre with stunning views of the sea. It's still in use today and perfect for exploring during your visit. Taormina also views of Mount Etna and sits in the shadow of the still-active volcano. When visiting the town, it's an easy day trip to Mount Etna and the nature of the area including canyons and rock formations.
The food in Taormina is also a highlight of any trip. The city is known for fresh seafood and the delicious cuisine you'd expect in a Sicilian kitchen. Walking around the promenade, you'll find plenty of intimate restaurants to end a perfect day exploring Taormina.
Click here for the best hotels at Taormina!
Elba island, where Napoleon was Exiled!
By Amandine Hach from Beaux Voyages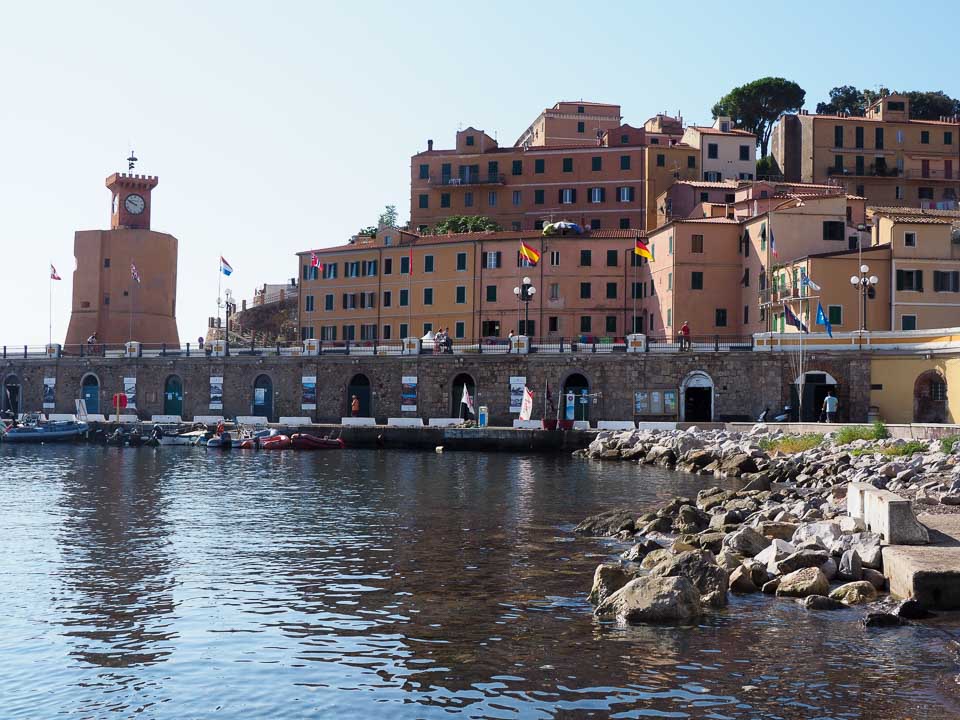 Italy has so many beautiful places. People there say that when God created the world it gave some extra attention to Italy and I totally agree with that. I have seen many places in Italy but Elba island was the one that I liked the most.
It is the perfect place for summer holidays, in the region of Tuscany. When people think of Tuscany, they think cute villages and cypress trees but did you know that Tuscany also has an island with turquoise water? This is Elba island.
Only a few kilometers away from the mainland and accessible by ferry, Elba is the place to relax and spend memorable summer holidays. Elba is not such a small island so you might want to rent a car to visit around. There are cute villages and beautiful beaches.
It also has history, as it was Napoleon's exile place! You can visit where he stayed in the main town of the island : Portoferraio. Finally, if you are a fan of wine, Elba produce some chianti but also a wine that you can only find on the island called : Aleatico : a red Italian wine grape variety.
Click here for the best hotels at Elba Island!
Venice: the Water Kingdom where Gondola Rules!
Contributed by Wendy Werneth of The Nomadic Vegan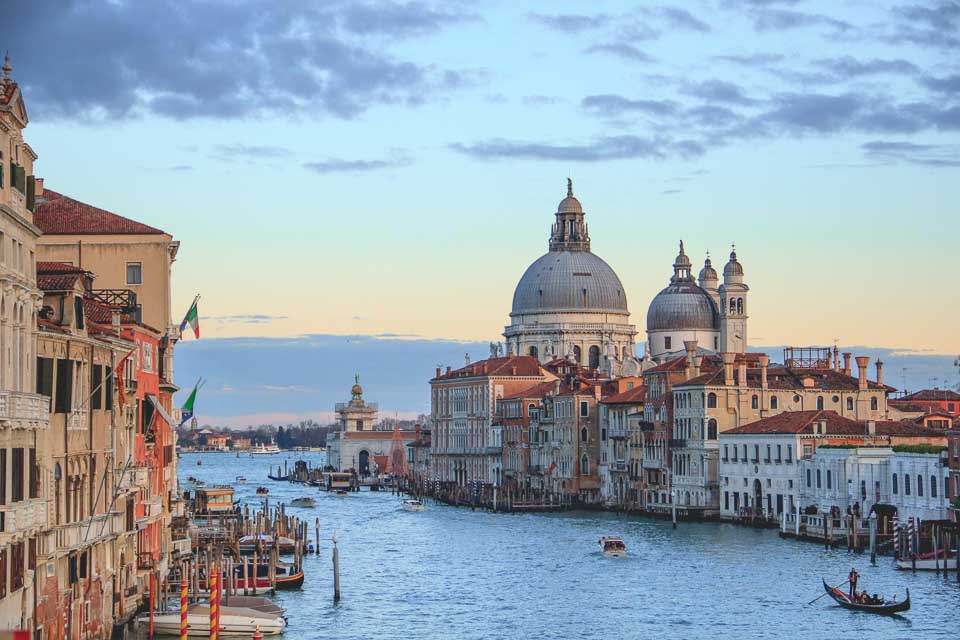 Venice is one of those fairy-tale destinations that you think you know from the movies, but you can't really comprehend what it's like until you're there wandering its maze-like streets. The most magical thing about Venice is that, since there are no cars allowed and boats are the main form of transportation, as soon as you step out of the train station you will feel like you've stepped back in time. The slow-moving gondolas, pastel-colored palaces and narrow cobblestone streets seem almost too perfect to be real.
Of course, the one thing that will remind you which century you're in is the hordes of tourists. While the city's economy does depend almost completely on tourism, it's now getting to the point where it's suffering from over-tourism. Consider visiting in the off-season to spread the wealth a bit and avoid the worst of the crowds. Just remember that "acqua alta" or "high water" is more common in the winter months. In a city made up of 118 islands and 150 canals, occasional flooding is inevitable.
But despite these impracticalities, Venice still continues to draw people in with its irresistible charms. The city's architectural masterpiece is the Basilica San Marco, with its shimmering mosaics, soaring bell tower and ancient bronze statues. Venture out beyond the most popular areas to some of the quieter neighborhoods, such as Santa Marta. This is where you'll see that Venice really is a lived-in town and is not just for tourists. It's also where you'll find La Tecia Vegana, the best restaurant for vegan food in Venice.
Click here for the best hotels in Venice!
Also read: Most beautiful Train Rides in Europe!
Dolomites: the Offbeat Mountain Trails of Italy!
By Jessica Averett from Bring The Kids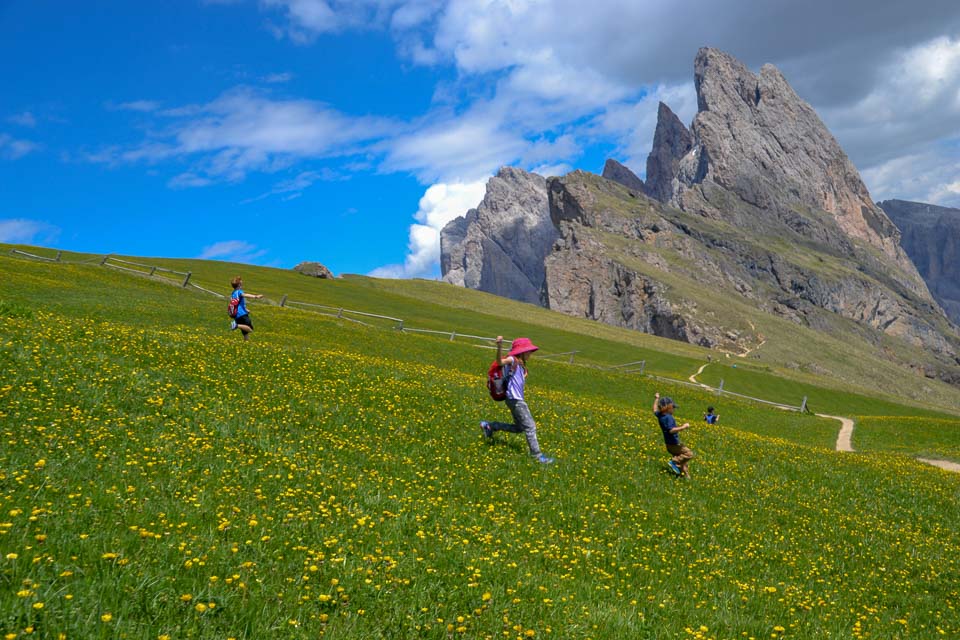 The Dolomites are often overlooked when people think about visiting Italy, but they are some of the most beautiful mountains in the entire world, and the possibilities to explore them are endless.
Whether you want to keep it simple with a nice relaxing hike around Lago Di Braies, or perhaps you just want to ride a cable car and take in all the majestic views around you. If you're looking for adventure, you'll absolutely love mountain biking in the Dolomites, as well as rock climbing.
To truly experience the Dolomites, stay a night in a mountain top Refugio where you can enjoy sunset and sunrise from the perfect viewpoint, and really feel how wild these mountains are. If you want something more adventurous, there are plenty of multi-day trekking routes where you hike from Refugio to Refugio, eating all their wonderfully cooked food along the way.
If you're traveling with kids, there are so many places for them to hike and explore that they will be in heaven (especially with all the amazing mountaintop playgrounds). Located just 2 hours from Venice, visiting the Dolomites is a must-do on your trip to Italy.

By Rai from A Rai of Light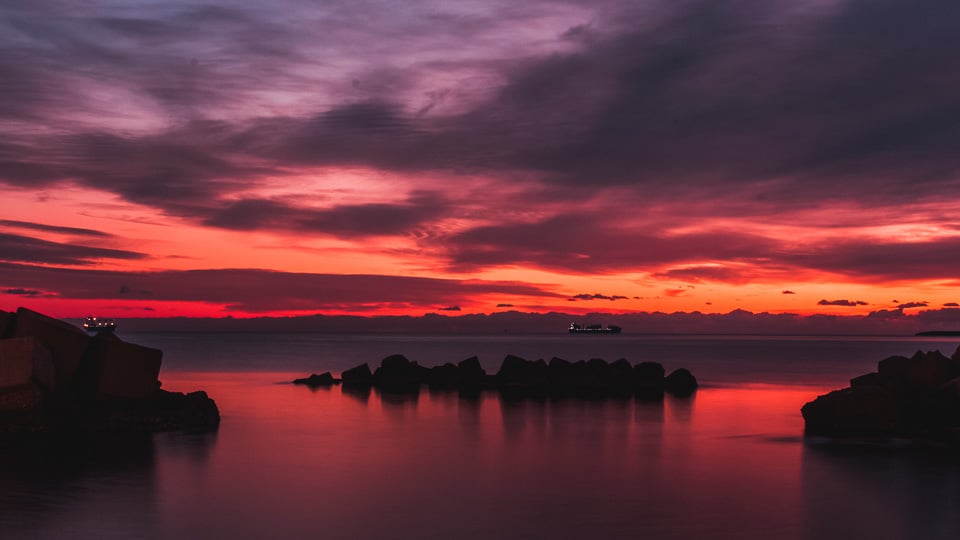 Even though Salerno is located in the middle of the ever popular Amalfi coast, it is often disregarded for its more famous neighbouring cities. I'm not sure why, because the city is a refreshing contrast to these other touristy destinations and is worth stopping by, even for a day or two. With a huge waterfront, open-air cafes, landmarks, and good food there is plenty to keep you busy or maybe just slow down and enjoy the local life. The city has some of the best gelato in Italy. The pathways and alleys of the Old Town are good to explore followed by a visit to the 11th century cathedral.
Housing art treasures, a unique bell tower, and a ceiling covered in frescos, it is the main church of the region. Wandering around the Villa Communale, a green space at the centre of the city with huge plants, fountains, and statues scattered throughout, is a must. One last idea is to follow your dinner with a walk along the Lungomare. A palm-tree lined boulevard with awesome views of the ocean and the surrounding mountains.
Click here for the best hotels at Salerno!
Alberobello, The UNESCO Heritage Town of Puglia
By Ania from The Travelling Twins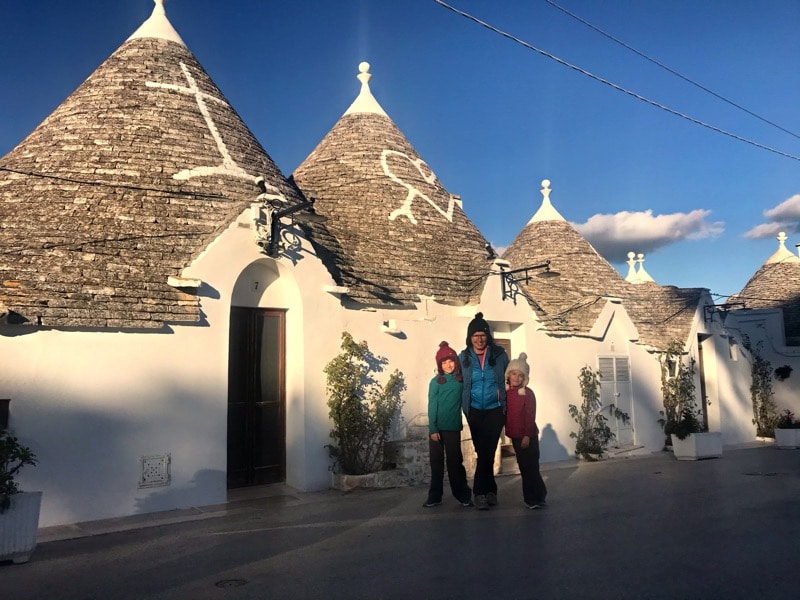 Puglia is one of the southern regions in Italy (heel of the Italy boot) with various beautiful places worth a visit. If you are exploring Puglia, you must visit Alberobello – a tiny little town which is listed on a Unesco heritage. So what is so unique in there? Its Alberobello houses – called Trulli. Houses look like small white round mushrooms with conic roofs build from limestone slab. They look like cute houses for little people.
So what is the story behind Trulli houses
In XVI century one of the local family wanted to avoid paying property tax to the King ordered to locals to build their houses without mortar so when tax people arrive houses can be easily dismantled. That gave the beginning to Trulli houses with dismantlable corbelled conical roof.
Trulli Houses now. Currently in Alberobello has more than 1500 houses and most of them are restored and adapted for B&B, restaurants and souvenirs shops. Wandering through the streets is really special and makes you feel like in a fairy tale, though go there, if you can. During the weekday not on weekends, as Alberobello is popular not only with tourist but as well with Italian coming here for a family Sunday lunch.
Click here for the best hotels at Puglia!
Bari, the Ancient Capital of Puglia!
By Megan Starr from Megan Starr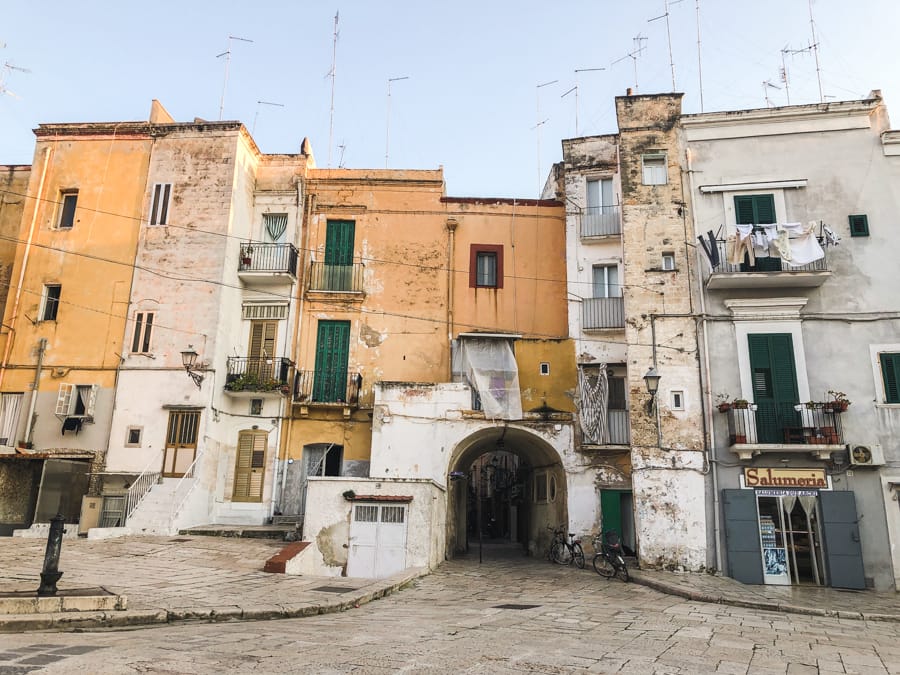 Bari is the capital of Italy's Puglia region. Although most people tend to use the city as a launchpad to explore the rest of Puglia, I personally find that the city itself is one of the best reasons to visit the region. It is by no means a big city (although it does boast a good population), but it does pack a punch when it comes to things to do in Bari.
For centuries, people have undergone pilgrimages to Bari to visit the relics of Saint Nicholas at the Basilica San Nicola, the man behind the legend of Santa Claus. The charming old town is dotted with a few more stunning churches and great piazzas where you can enjoy an espresso or gelato in the southern Italian sunshine. Sitting along the coast, Bari has an amazing waterfront where you can take a stroll in the sunshine and watch the calm waters of the Mediterranean lap against the rocks and old fishing boats.
Sitting between the old town and the coast is Castello Normanno-Svevo, an old Norman-era castle that has remained largely intact. However, Bari's true magic lies in the little streets surrounding the castle where you can find local Italian ladies handmaking the region's famous Orecchiette pasta. The city is not only famous for pasta but also for its seafood and a vibrant street food scene with plenty of delicious things to sink your teeth into, such as Focaccia Barese or Sgaglioza.
From Bari, you can also easily reach other places in the region, like Pogliano a Mare or Matera, with various different transport options available from the city. It is truly one of the best places to visit in Italy.
Click here for the best hotels at Bari!
Sardinia: Off the Beaten Track in Italy
By Angela from Chesing the Unexplored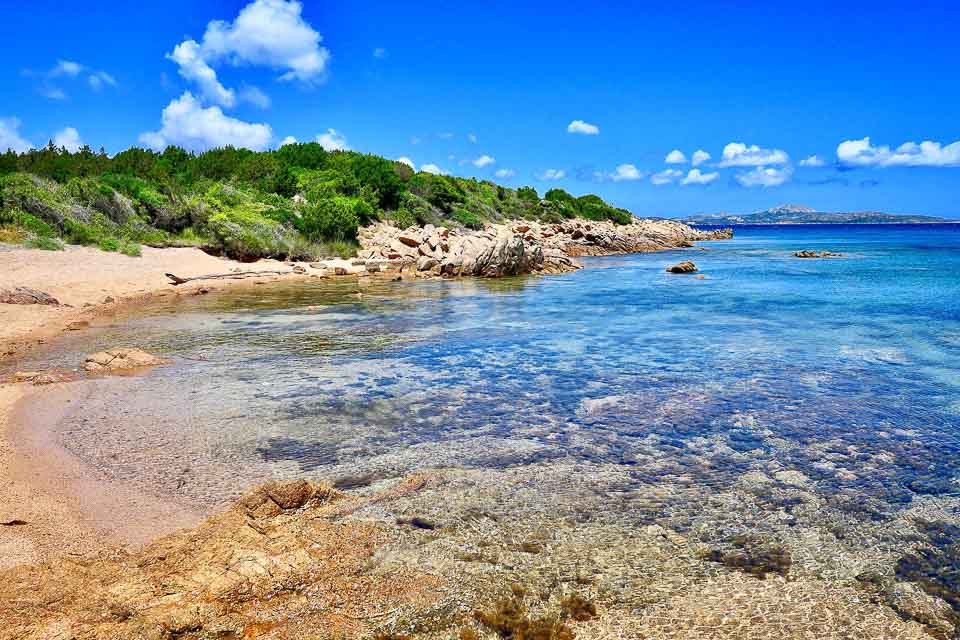 It's not one of the most common destinations in Italy, but visiting Sardinia is a great addition to your trip. History buffs will love exploring the well-kept prehistoric archaeological sites of Bronze-age nuraghi, sacred wells, and ancient necropolis. There are also relics from Phoenician and Roman times such as Tharros near Cabras in the Oristano province, as well as buildings from medieval times.

Probably what Sardinia is most famous for are its wild nature and breathtaking landscape. In summer, the most popular places are the gorgeous beaches. Wherever you go around the island, from north to south, east to west, you will find a stunning coastline, which can be either rocky coves or sandy beaches. If you are not going in summer or you are simply not the beach type, visit cities like Cagliari, the island's capital, Alghero and Olbia in the north. Or explore the small towns and villages to get to know the local traditions.
This is something very fascinating to do in Sardinia as it reveals much about the well-preserved local culture, including delicious dishes, cakes, and pastries, as well as the myriad of festivals going on all year long, such as the Ardia horse race in Sedilo in July or the Mamuthones ancient ritual performed for Carnival in Mamoiada.
Some other towns I suggest to visit if you are in Sardinia for the first time are Bosa on the western coast, named one of Italy's prettiest villages, Fordongianus for its Roman thermal baths, Orgosolo for its controversial murals and the scenic Dorgali in Nuoro province.
Click here for the best hotels in Sardinia!
Old World Charm in Bologna, Italy
By Noel Morata from Travel Photo Discovery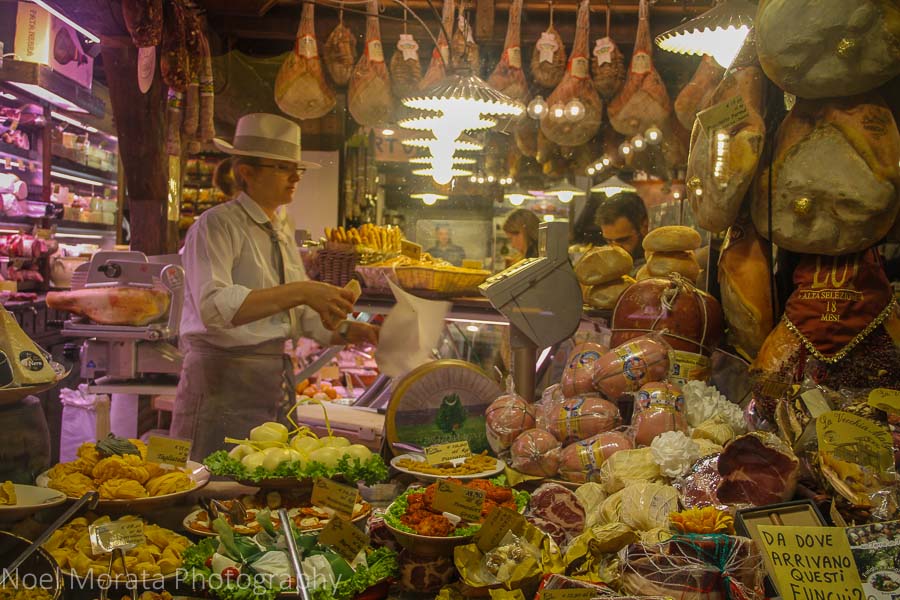 If you are looking for an authentic and not so crowded place filled with tourists but still oozing with so much medieval architecture and history, then go visit Bologna in the Emilia Romagna region.
Bologna, the regional capital is a historic city filled with striking piazzas, gorgeous buildings, churches and pedestrian covered walkways or porticoes that are wonderfully painted or embellished with beautiful designs and lead to magical places around the historic city. The main places of interest center around the main square or piazza Maggiore with its grand basilica San Petronio, the unfinished medieval church fronting the square.
Just off to the side is the entrance to the famous Quadrilatero or old outdoor market which is bustling with street vendors, specialty food stores and cafes spilling out into the streets. It's a very festive place and really celebrates the areas love of good, hand made and specialty made foods from the area.
Around the medieval parts are fascinating medieval towers you can climb for beautiful views of the city and landscape below along with those ornate porticoes that go to all parts of the city to explore and just wander and get lost – it's very compact and easy to explore by foot. You definitely will enjoy visiting Bologna and enjoying the amazing regional cuisine and specialty food that the city is known for.
For further inspiration, check out this post on the outdoor markets and specialty foods of the region here for more images and details of where to go and visit in this amazing city.
Click here for the best hotels at Bologna!
The Hill Queen of Tuscany: San Gimignano
By Catherine D'Cruz from We Go With Kids
San Gimignano is lovely walled, hill town in Tuscany. We spent a lovely afternoon in San Gimignano with kids during our trip to Italy with kids while driving between Pisa and Florence. We were wowed by the 14 medieval towers that we could see miles before we reached the outskirts of San Gimignano. We parked just outside the wall and walked into the city center and quickly came to Piazza del Duomo. The Collegiate Church of San Gimignano was a beautiful Romanesque church and quite different in style from main churches in Venice, Florence and Rome.
The adjacent Piazza della Cisterna is named for the cistern that was accessed from the center of the square. It was a wonderful place for my husband and I sip wine while the kids had their daily dose of gelato. It was clear by the long line that the world-famous Gelateria Dondoli offered the most popular gelato, but we desperately needed to sit in the shade, so we choose Le Terrazze instead.
Once we were all refreshed, we headed up to the Rocca for the 360-degree hilltop view. San Gimignano is a beautiful medieval hill town, and it was a refreshing break to spend a few hours in this quaint town during a trip spent mostly in large metropolitan tourist centers.
Click here for the best hotels at San Gimignano!
Ancient World Heritage City of Matera: Stunning Italian Destinations
By Nicky Mackenzie from Above Us Only Skies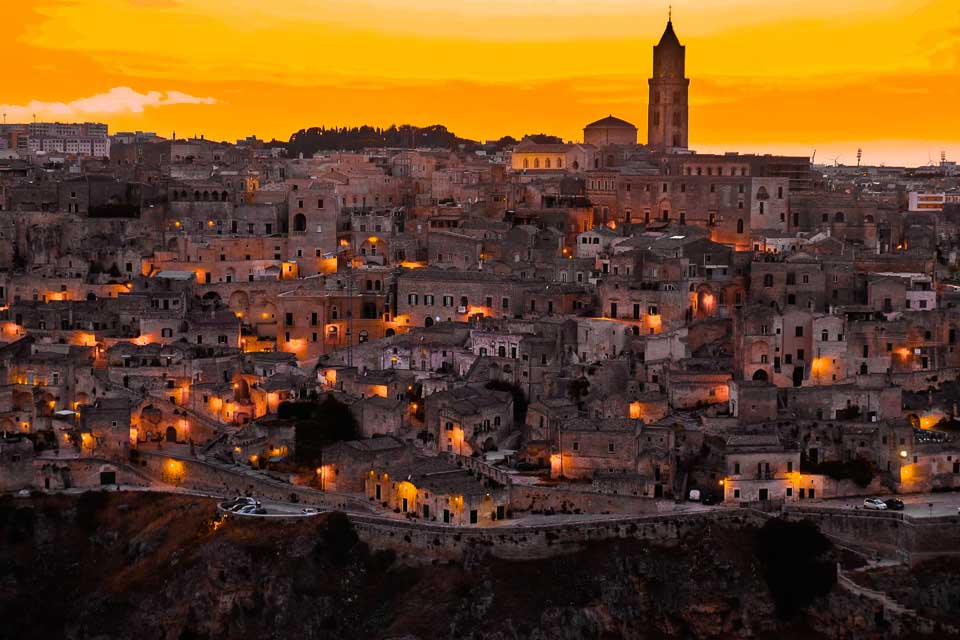 A UNESCO World Heritage site since 1993, Matera is a stunning, ancient city in an isolated area of Basilicata, with an incredible history dating back to 7,000 BC. Famous for its Sassi di Matera, a mish-mash of cave dwellings connected by intertwining alleys, the city has enjoyed something of a renaissance during the past couple of decades.
So much so that the appalling, disease-ridden conditions of just half-a-century ago have now been replaced with a thriving tourist industry complete with stylish hotels, restaurants, shops and museums. And the city's transformation was complete when it was named European Capital of Culture in 2019.
To get the most out of your visit, hire a local guide to take you on a walking tour of the Sassi. During which you'll find yourself wandering past houses carved out of the rock. Through winding alleys and over the roofs of houses that double as streets. And inside uninhabited caves where once whole families lived cheek-by-jowl with their livestock. Truly fascinating.
Of course, once you've gained an insight into the Sassi's history, you can then wander around under your own steam. Just make sure you've got a fully charged battery for your camera. You could probably see everything in a day.
Although, an overnight stay or two in one of the city's many cave hotels shouldn't be missed either. Indeed, for a special treat, we can recommend one of the cave suites in the fabulous Sextantio le Grotte della Civita.
Click here for the best hotels at Matera!
Town of Bellagio by Lake Como
By Simon Falvo from Wild About Travel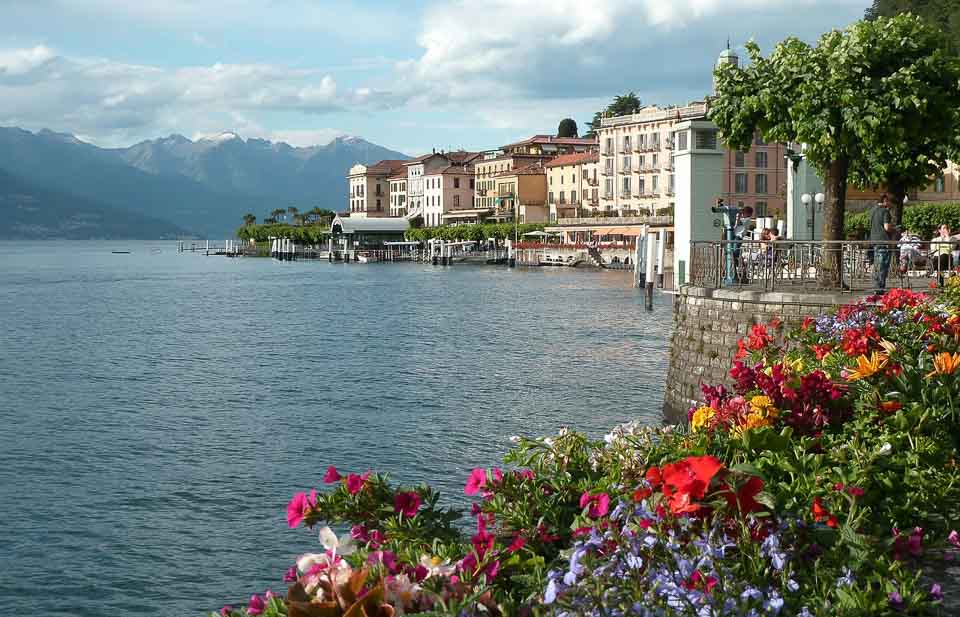 The picturesque town of Bellagio, on the shores of Lake Como, is unanimously considered one of the most beautiful destinations in Northern Italy.
Located on a peninsula in between the two arms of Lake Como, Bellagio is incredibly romantic and one of the best day trips from Milan. The old town is a maze of tiny streets, lined with colorful houses and quaint shops. Get ready to climb up and down the many stairs, and wear comfortable shoes.
Bellagio, like other towns around Lake Como, is also home to magnificent villas. Villa Serbelloni dates back to the 15th century and is now a luxury hotel. Stroll in the superb gardens, admire the stunning architecture, and treat yourself with a drink on the terrace. If only for a little while, you'll feel like a celebrity.
A little farther from the center, you'll reach Villa Melzi, a must-see in Bellagio. Villa Melzi was built in the early 1800s in Neoclassical style. It was the Summer residence of Count Francesco Melzi d'Eril and is still owned by his descendants. Therefore, the interior of Villa Melzi is not open to the public. However, you can visit the park, which offers breathtaking views of the lake, the neo-classical romantic chapel, and the Museum.
If you visit Bellagio on your own, I recommend you get there by boat to admire the lake from a different perspective.
Click here for the best hotels at Bellagio!
Termoli: an Old Fishing Town by the Adriatic Coast
By Nicole from The Passport Kids (Read their round the world trip itinerary here)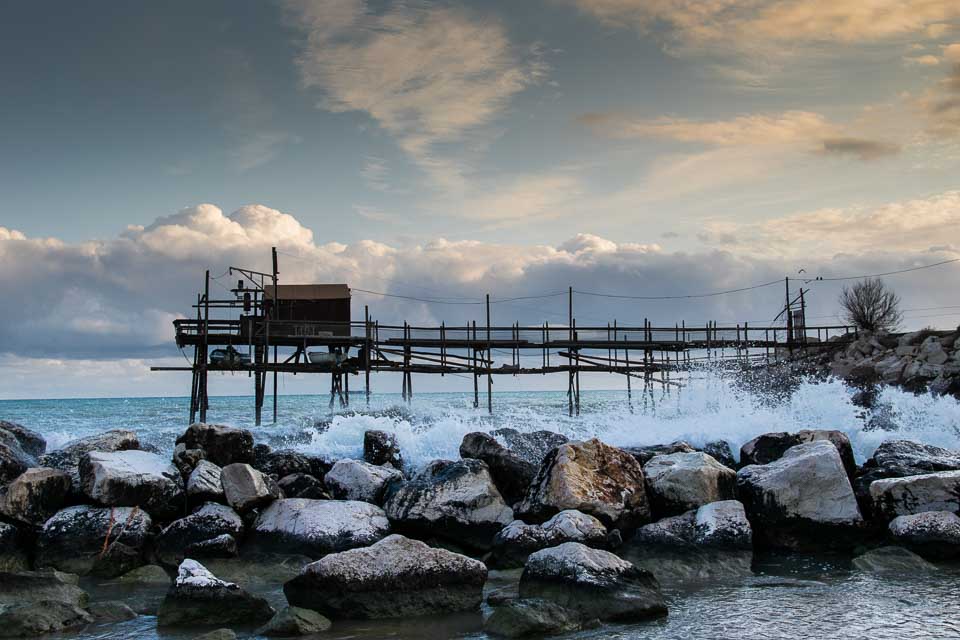 The best place to visit in Italy is someplace that most people don't know about and still undiscovered. It's where you will find the authentic life of the Italians and include all the regular life of a typical day for the Italians. Termoli is one of those places in Italy that feels real and where we felt was a little gem that if you want to experience Italy in the true sense then go check it out.
Termoli is a small city located in the province of Campobasso. It may be an old fishing town, but the beaches that line the Adriatic coast of Italy are remarkable including Rio Vivo.
They have the traditional European umbrellas that line the beaches and also all kinds of water sports, restaurants and activities at the beach. Wander through the old town of Borgo Antico di Termoli, the ancient fortress and learn about all the history in this small centre. We loved wandering through all the narrow streets, the cathedral and admiring all the pastel-coloured houses that are amongst the cobblestone streets. Beach life and summertime are the best times to visit so you can enjoy all the festivities and grab yourself a gelato!
Termoli is also the jumping point if you want to go check out the Tremiti Islands with day trips to go see these amazing islands in the Adriatic. Termoli is a place visited only typically by Italians and where they go for their weekends off and August vacations
Click here for the best hotels at Termoli!
Romeo, Juliet and Verona
By Paula from Truly Expat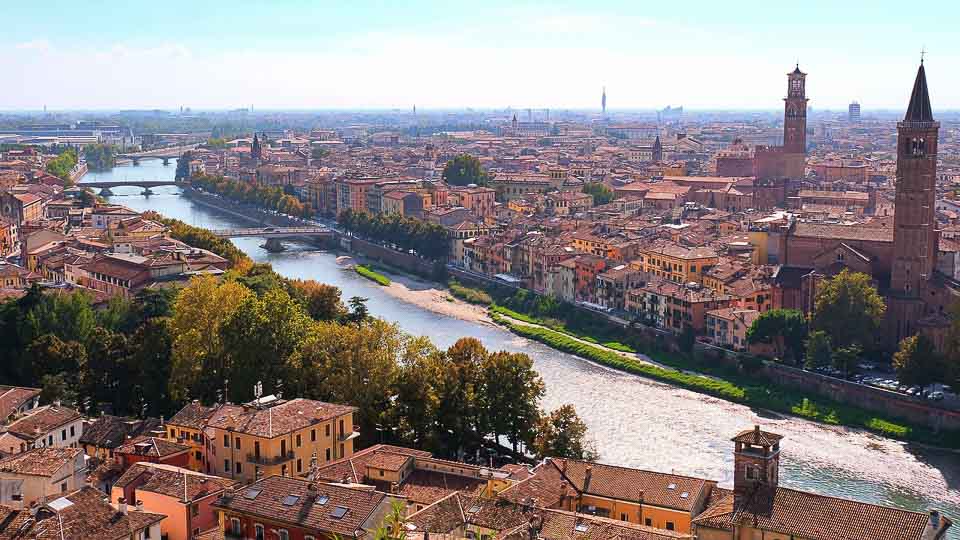 If you are a perfect romantic as I am, or you want to know more about Shakespeare's Romeo and Juliet, then Verona is where you want to visit. Verona if nothing else is a town full of history, architecture and great food.
A must-see is Juliet's balcony, for nothing else but to rub her breast for good luck! I am not sure why, or how this strange superstition came about, but everybody lines up to take the iconic photo underneath her balcony. Here you will find many stores with tourist shops labelled Romeo and Juliet, alongside walls of graffiti with lovers declaring their love. Not far from Juliet's balcony, you will find Romeo's tomb, so if you are following the love story that dates back to the 1500s, then you are on the right path.
Verona Arena is the highlight of this beautiful town; whether you choose to head inside to have a look around, or sit outside and have lunch with a view, the Verona Arena should be on your bucket list. If you can visit during Opera season (July to September) then sitting outside listening to the Opera as you eat is fantastic! Do not forget to wander around the markets at Piazza bra for souvenirs and delicious fresh fruit.
Click here for the best hotels in Verona!
Sorrento for a winning view of Mount Vesuvius
By Kate from Our Escape Clause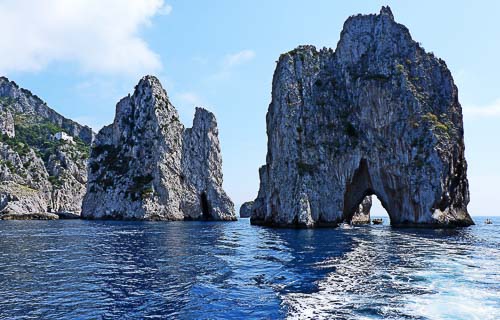 Colorful, beautiful, and easy to reach, Sorrento is one of the best places to visit in Italy for those looking for the perfect central base to visit iconic coastal highlights in Campania like the Amalfi Coast, Pompeii, and Capri.
While you're there, be sure to stroll through Piazza Tasso, admire the views of Mount Vesuvius visible across the bay, check out Sorrento's beautiful Duomo, wander through the city's narrow streets, sip a spritz at an outdoor cafe overlooking the water, take a trip to a local lemon farm, and visit charming Marina Grande, which has a lovely small-fishing-village vibe while still being within walking distance of the center of Sorrento. And, of course, one of the main draws to the city is just how many incredible day trips from Sorrento there are: in addition to the heavy-hitters mentioned above, Naples, Herculaneum, Mount Vesuvius, the Path of the Gods, and Ischia are easily accessible as well.
Sorrento's train station is within walking distance from most places in the city, and the station itself is easy to reach from all across Italy–in other words, if you're looking to travel by train, Sorrento is much more accessible than schlepping all the way to the Amalfi Coast (which does not have train service) with your luggage!
Click here for the best hotels at Sorrento!
Bergamo
By Maria and Rui from Two Find a Way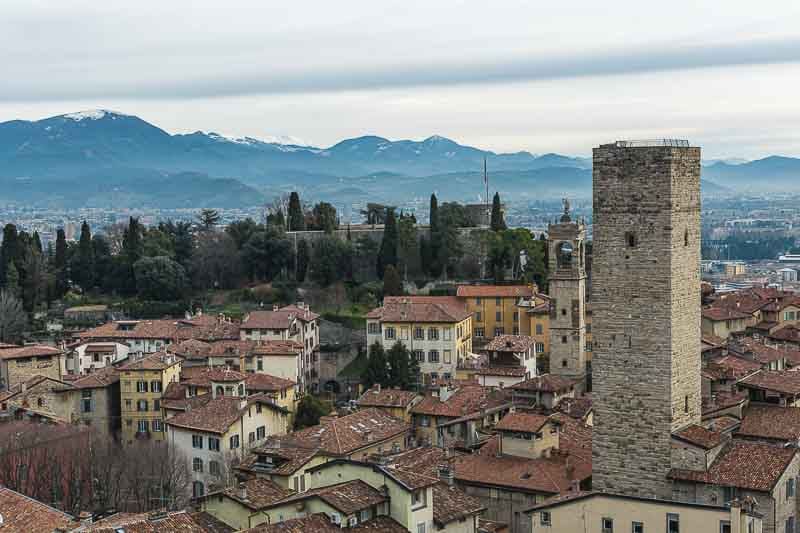 There are a million reasons why Italy is a dream destination on the bucket list of many travelers. The country has it all: charming cities, jaw-dropping landscapes, stunning art all around, and, of course, delicious food. There are plenty of cities in Italy that everyone knows the name of, but the best-kept secret about the country is that the cities you've never heard the name of are even more magical. Indeed, Italy is full of breathtaking cities and towns off the beaten path, and this is one of the things you need to know before you visit Italy!
Bergamo is a historical city in the North of the country, less than an hour away from Milan. We first stayed there for practical reasons: the proximity to many places we wanted to visit (namely Lake Como and Milan), and the affordability. But we'll return to Bergamo because we fell in love with this gem of a city and its sincerely nice people.
The city is prepared to received tourists, but not overwhelmed by them. The cobblestone streets are still mainly populated by locals. Bergamo's Città Alta (Upper Town) is filled with magical buildings, historical churches, and stunning views to the mountains. Climb up to the city's Campanone, walk through the Venetial Walls, and stop for a meal at the Plaza Vecchia to people watch and enjoy the city's movement.
Pin it for later!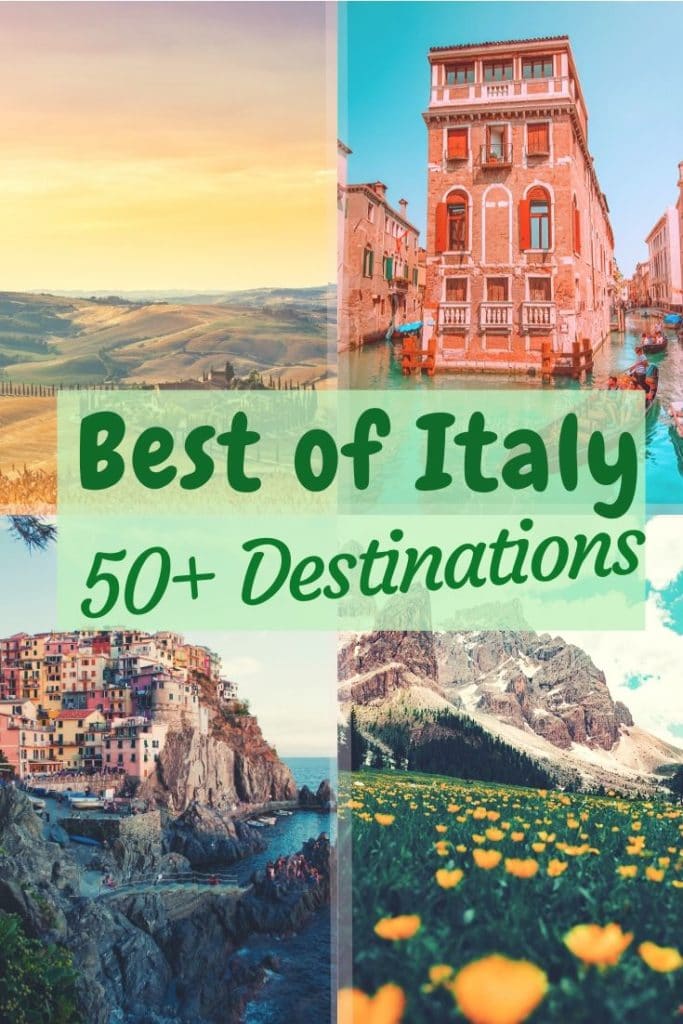 This post may contain affiliate links. Please read the disclosure post. If you have liked the article, you may support it by buying using these links without any extra cost to you.
Let's stay connected on Facebook, Instagram, Twitter! You may also consider joining my mailing list. I send travel and photography related emails only once a month!