Sense of human fashion is a factor of a specific era, prosperity and self-expression. It sure bears a semblance with the ongoing socio-political role, gender representation and heritage. Oftentimes, fashion narrates a story!
In this age of corporate houses churning out fast fashion as a byproduct of outsourcing, heritage weaves and handicraft is eventually dying a perilous death. Indian weaves have been ascribed an intangible UNESCO heritage status (or is it in the list). I thought of picking out some of the heritage dresses from Europe too! Here is a list by travel bloggers, of forgotten European dresses!
Kokoshnik , Russia
By Ivan from Mind the Travel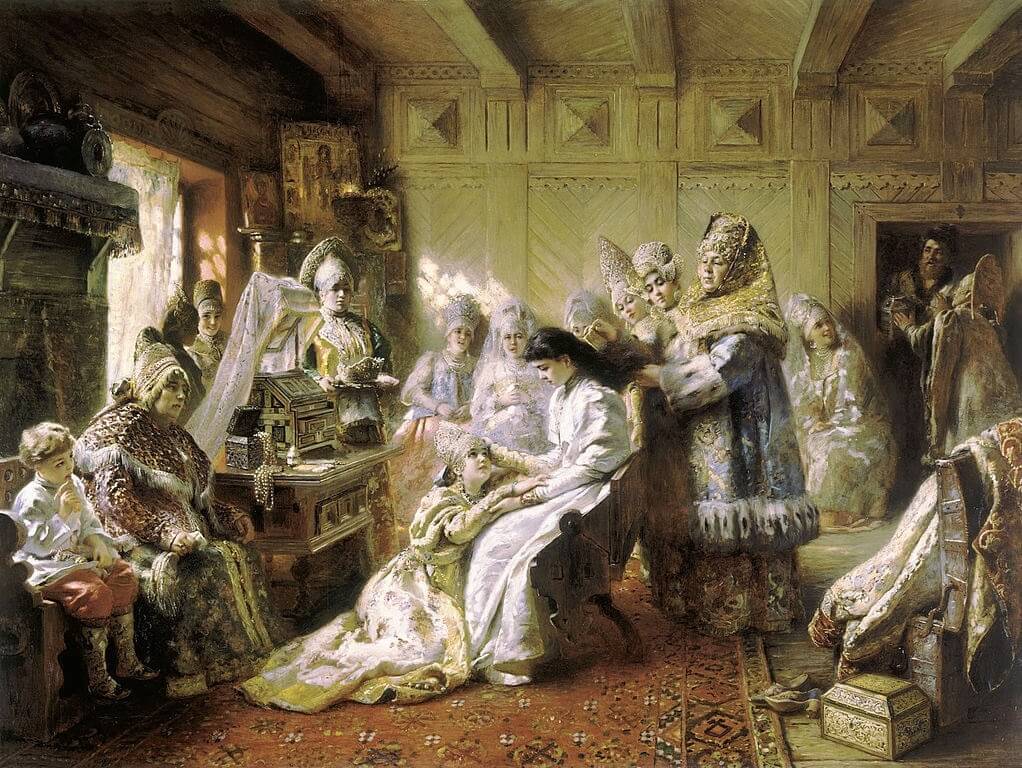 Kokoshnik is the quintessential headdress worn by Russian women and girls. However, there are some nuanced differences in the way they wore it.
While kokoshniks are very much reminiscent of venets (crown), the former was meant for a married woman. In the pre-Peter Russia, married women were obliged to cover their heads or plait their hair into two braids and tie them around their heads. At the same time, venets was an unmarried girl headwear.
Kokoshniks were most common in Russia's Northern Regions where they were usually embellished with the river pearls. In the South though, shorter kokoshniks were more often decorated with woolen embroideries.
They varied greatly in shape, from half-moon-shaped tiaras with the points reaching down to the shoulders to cylindrical bonnets and pillbox-shaped hats with ear-flaps. Decorations for the head and hair were constructed from light metal or heavy paper and then sewn to a hat or hairnet. The base was usually attached to a canvas and covered with rich fabric such as a damask and decorated with pearls or glass beads.
During the reign of Tsar Peter the Great the tradition of wearing kokoshniks sank into oblivion and court ladies were forbidden from wearing it. Catherine the Great, however, rehabilitated the tradition and brought the headdress back as an element of masquerade dress particularly in Moscow. Throughout the 19th and early 20th century portraits of ladies-in-waiting and noblewomen in kokoshniks became fairly commonplace.
Unfortunately, the revolution and modernity put an end to this traditional accessory.
Berritta from Sardinia, Italy
By Claudia Tavani from Strictly Sardinia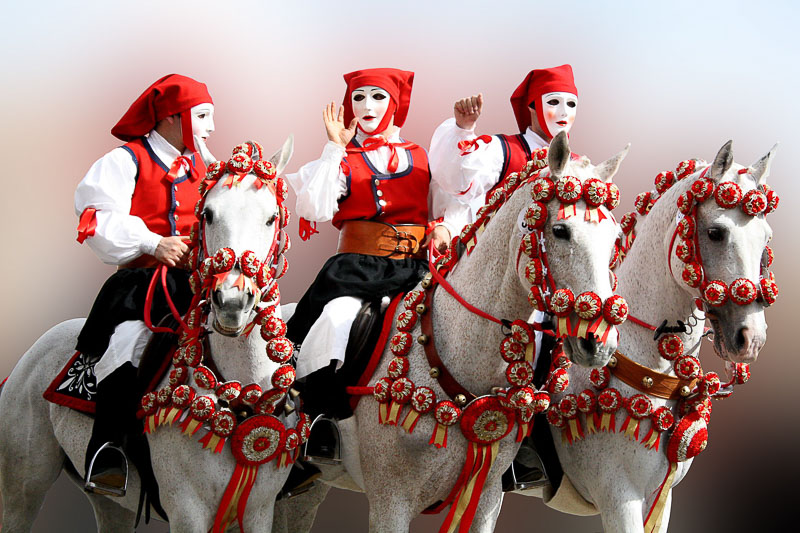 Sardinia is a land of ancient cultures and traditions and one of the best things to do in Sardinia is getting to know its culture through its traditional attire.

Each village on the island has its own costumes, with beautiful, elaborate dresses that are typically worn during festivals and that are usually passed within the family.
Among the most popular events to admire traditional attire in Sardinia there are Sartiglia, a festival that takes place around Carnival time and that sees horse shows and racing in a celebration for the harvest; and Sant'Efisio parade, a pilgrimage taking place in Cagliari each May 1st since 1656 to pay respect to the saint that helped the island get rid of the plague.
During the parade, men, women and children coming from a selection of villages in Sardinia walk the streets of the city and all the way to the village of Nora, 50 km away, in their traditional costumes.
Women attire usually includes a corset, a shawl and a head cover. Costumes are intricately woven and have beautiful colorful decorations – which change from village to village. Man attire involves white pants and a vest, and a soft hat called berritta. Traditional attire is made in a combination of material – usually cotton and wool, to reflect the high presence of sheep in the region.
The best place to learn about Sardinian ethnic attire is the Ethnographic Museum of Nuoro, which has a whole section dedicated to it.
Also read: Most Scenic Train Journeys of Europe, from Swiss Alps to Mediterranean
Mantilla from Spain
Lauren Covino-Smith is a freelance writer and content creator for The Expat Chronicle, an expat lifestyle blog about living abroad, adjusting to a new culture, traveling around Europe and doing it all with three toddlers!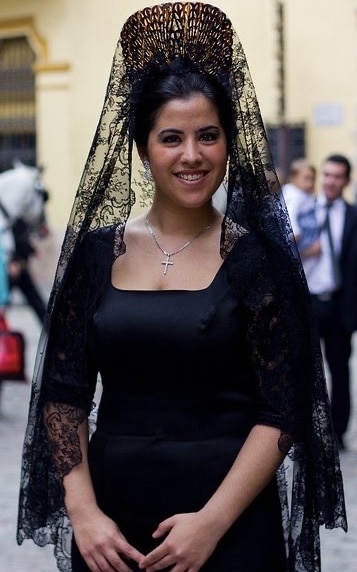 The Spanish culture certainly has a very iconic style representative of flowing skirts, flowery prints and oversized sleeves. And while fashion trends evolve ever so quickly in our fast-paced world, these characteristics remain staples of Spanish everyday wear.
The mantilla is a traditional and very authentic garment still worn today by the Spanish but only during Semana Santa (or Holy Week) in April, bullfighting events or as an attendant at a wedding. Mantillas date back to the 16th and 17th centuries in the southern region of Spain, specifically Valencia and Andalucía. It is made of silk, chantilly, lace or tulle and is usually worn in a similar way that a head veil is. A large comb, known as a peineta is used to hold the mantilla up high on one's head to give the illusion of extra height.
The garment is usually black or white depending on the occasion. For example, if a woman planned to be in the presence of the Pope, hers would most certainly be black. Compared to the western world's tradition when only the bride is seen in white, in Spain many women attending weddings would wear a white mantilla.
So where the heck can someone purchase one of these gorgeous veils? To start, mantillas can range from$65 up to $1,100 depending on the fabric quality, length and peineta. Years ago only bridal shops and stores selling Catholic goods sold mantillas. But these days, much like everything else, you can find many online shops selling a wide variety.
This authentic garment is considered a consistent element of regional attire and is said to be influenced by the famous Gypsy and Moorish music and dance that many are familiar with called Flamenco.
Also read: Old Towns in Europe that tells about Intriguing History!
Austrian Drindl
By Gabrijela Zec by Under Flowery Sky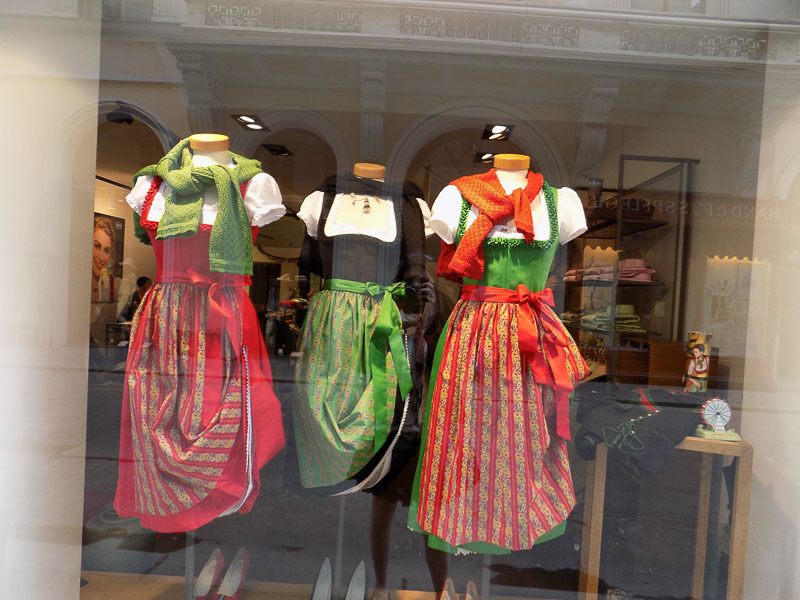 Drindl is a dress originated in Bavaria, Austria and South Tyrol, still worn in many places of the Alps. The name itself arrives from the ancient word for girl "dirn" in the diminuative. The bluse is of the short version and the dress comes in the winter and summer edition. The bodice is nowaday entitled to the skirt, but once was a separate element. Drindl differs across the regions, sometimes the jewelery is also added and the scarf. The first appearance of the drindle is set in the 19th century as the traditional domestic dress. Switzerland first spread the idea of drindl across the neighbouring countries. The Jewish brothers Julius and Moritz Wallach from north-western Germany are meritorious for the development of drindl. Though emerged in rural areas, drindle became an inseparable part of clothes for the upper society.
During the 1.world war Jews were prohibited to wear drindl or any kind of fashion costumes. After the 2. world war the use of drindl is lowered down, but during the 90-s it grew again. Drindle is also sometimes the official dress in many hotels and restaurants.
At the festivities where the drindle is rule, you can feast your eyes from the beginning of May to the September. Narzissenfest in Bad Aussee with the boat performances on the lake Grundlsee happens at the beginning of June. Octoberfest is the most famous one.
Many films accompany drindl as their costumes like Charlie's Angels, Miss Congeniality, The Sound Of Music, Young Frankenstein.
Most of the cloth shops in Austria, Germany and South Tyrol sell drindl and it can also be bought online.
Cenachero Attire from Spain
By Paulina from Paulina on the Road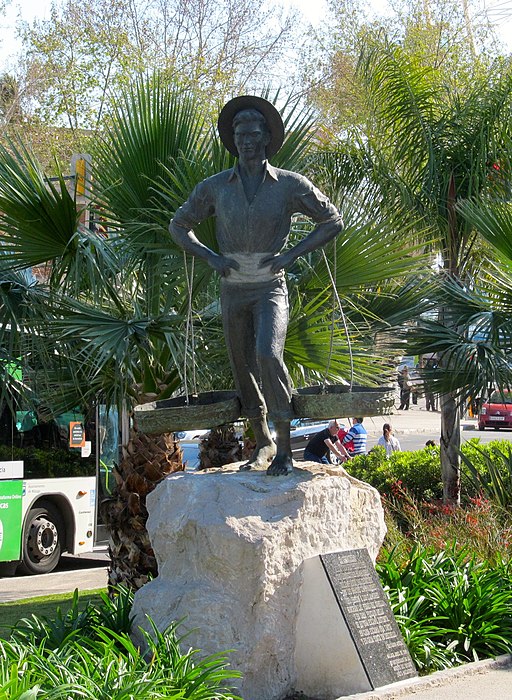 One of the most typical dresses of Southern Spain, more precisely in the Malaga region is the cenachero attire. The cenacheros were fishermen who rambled around the city of Malaga carrying fish (anchovies, mackerels, sardines, chanquetes or any kind of typical fish specie from the area) on baskets made of straw. This profession does not exist anymore. Hence, also the traditional attire has also disappeared mostly.
However, it is still used during folklore festivals.

It consists of a white shirt, a red sash, a hanging basket and a hat to protect him from the heat.
If you want to buy parts of this attire such as the hat or the sash, you can do so in the old town of Malaga. At the marina of Malaga, you can also find the cenachero statue which depicts the traditional attire. It's one of the most popular photo motives in Malaga and a must on any Malaga itinerary.
Tartan Kilts
Gemma from Two Scots Abroad is a Scot who loves to wear tartan, travel, write destination guides + create packing lists so you don't have to.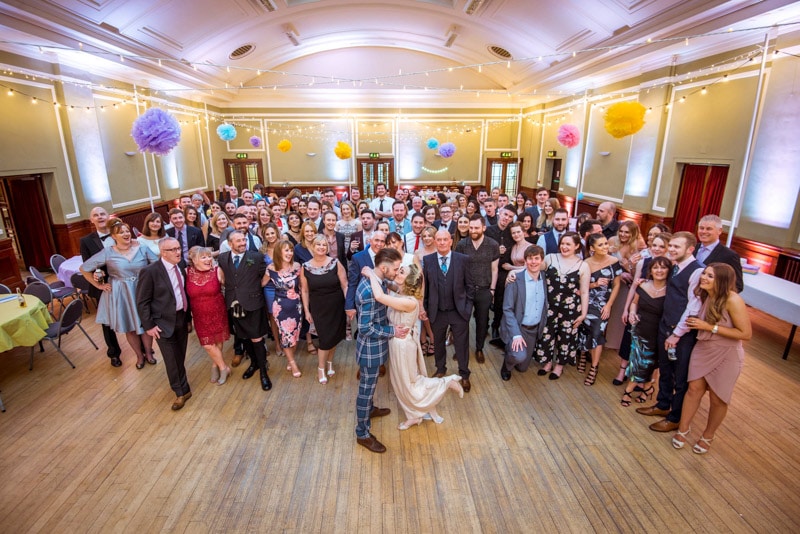 If I say 'tartan' you automatically think of a rugged Scottish man in a clan kilt holding something like a sword or a bagpipe in their hands right?
Well, I'm sorry to say if you visit Edinburgh and the rest of Scotland your chances of meeting an 'every day' local in tartan is slim unless they are busking on the Royal Mile, watching the rugby or taking a group tour.
There used to be one foolproof way of meeting a man in a kilt in Scotland and that was by attending a wedding.
For every wedding that I've attended up until around 2016, it has always been the done thing that the men in the wedding party, and some wedding guests, wear a tartan kilt (skirt) with a shirt, heavy wool jacket, socks, shoes and a sporran which is worn around the man's waist.
However, many young men now play about with tartan for the big day, opting to wear tartan or plaid skinny suits and/or ties.
Why? Let's ask my husband, Craig.
There three main reasons that young(ish) men, such as Craig, have opted for a tartan suit over the traditional kilt.
Firstly, kilts are not a great fit. This is especially harsh on slim men like Craig. To carry a kilt off you need broad shoulders and bulky legs. My husband is a lovely serving of lean Scottish beef.
Secondly, kilts are hot and sweaty. Since buying a kilt is an expensive purchase, most parties hire them. This grosses Craig out because traditionally men are not supposed to wear pants underneath the kilt. I don't mean trousers…
How many male parts have spent a day sweating under that skirt before you?
Finally, skinny suits are more fashionable and with a tartan twist it is bringing the older style up to 21st century standards.
Some men do still opt for kilts at weddings but choose a grey or black pattern instead. You even get leather kilts!
You can read more about where to successfully find men in kilts here.
Also read: 30 UNESCO World Heritage Site in Europe for the Cultural Traveler.
Men's traditional attire in Bern, Switzerland
Wendy Werneth is the founder of The Nomadic Vegan, where she uncovers vegan treasures in the most unlikely places and shows you how you can be vegan anywhere and spread compassion everywhere.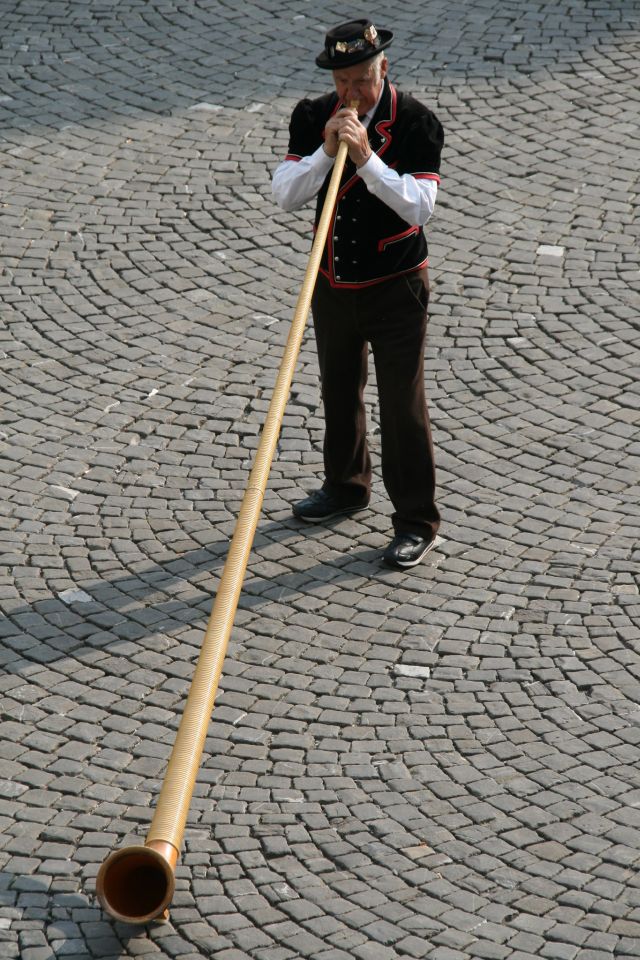 The full traditional costume worn by men in the canton of Bern, Switzerland consists of a pair of dark-colored trousers, a white long-sleeved dress shirt, a short-sleeved jacket worn over the shirt, and a short-brimmed felt hat.
The festive version of the attire would be embellished with embroidery, which typically features Swiss motifs such as cowbells or edelweiss — a white flower that grows on the mountainsides. In the case of men's attire, though, this embroidery is rather understated, decorating just the cuffs, lapels and pockets.
Men's attire in Switzerland is generally less colorful and flashy than the clothing traditionally worn by women, with one exception. Bachelors would have a bright red handkerchief sticking out of the pocket of their trousers. This was a sign to inform the young women of the town that they were available for marriage.
This was the typical clothing of the common people in Switzerland, not the upper classes, and so it was usually made from homespun cloth. As winters in the mountains of Bern can be harsh, this cloth was often wool taken from the flocks of sheep that graze on the mountainside. Vegans in Switzerland (or anyone who doesn't wear wool) could try looking for a summer version made of cotton, but this is not that widely available.
While you may be able to find some tourist-oriented souvenir shops selling these costumes, they are no longer worn by local Swiss people, at least not in daily life. You will, however, sometimes see them worn at local festivals or by local musicians. Traditional Swiss music ensembles of people playing the alpenhorn and other traditional Swiss instruments will usually perform in this kind of attire.
Szeged slipper
By Marie from A Life Without Borders – Travel in Laos and lesser known destinations
Located around one hour south of Budapest, Szeged is the third largest city in Hungary. Renowned for its prestigious universities, Art Nouveau buildings and the spicy fish soup, Halászlé, Szeged is also home to the traditional, velvet slippers known as Szegedi papucs.
The very first Szegedi papucs (the Hungarian word for slipper) resembled Turkish slippers, since they were introduced during the Turkish-Ottoman occupation. But the shoes soon took on a distinctive look all of their own, today proudly associated with being a Szegeder, as well as a Hungarian.
Whilst the slippers have been worn in Szeged since the early 16th century, it wasn't until the late 19th century when they became the preferred footwear. The slippers became popular after the great flood of Szeged (1879) when the city was rebuilt with paved roads, allowing women to discard their boots in favour of the colourful, heeled slippers.
Made from velvet, Szeged slippers are traditionally red, although today you can also find slippers in blue and black. However, it is the beautiful hand-embroidery that makes the slippers a true Szeged specialty. The shoes are embroidered with colourful local flowers such as poppies, lily of the valley and yellow ears of wheat. Traditionally, the slippers didn't come in pairs – that is there wasn't any difference between the right and left foot. Once the owner began wearing them, the shoes moulded to that particular foot.
These cultural treasures are still sought after by many local brides who wish to wear the Szegedi papucs as part of their modern wedding attire. The slippers are today still stitched by hand from the last remaining papucs maker in Szeged, Tibor Sallay at Sallayszeged, crafting shoes that continuing to ensure the legacy of these traditional Hungarian slippers.
Pin it for later!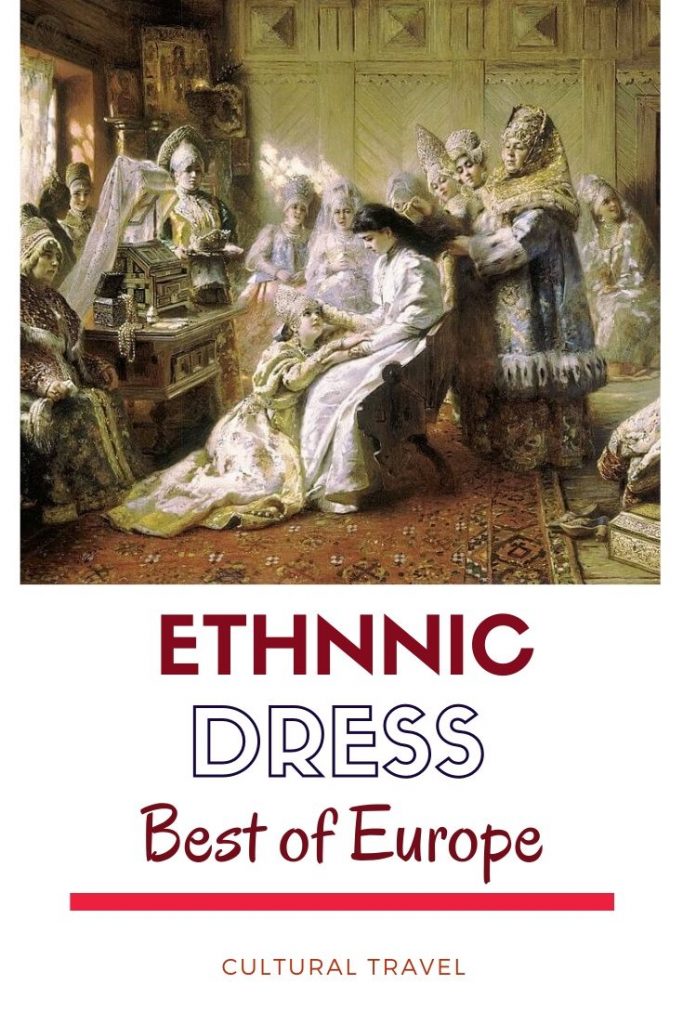 This post may contain affiliate links. Please read the disclosure post. If you have liked the article, you may support it by buying using these links without any extra cost to you.
Let's stay connected on Facebook, Instagram, Twitter! You may also consider joining my mailing list. I send travel and photography related emails only once a month!