Nestled in between a dense coconut grove, Yab Yum Resort is a shy property, safeguarding Goa's last wild frontier. It is located at the wee end of northern stretch of Goa's coastal line at Ashwem beach, where not many would tread, even in a country as populous as India. Yab Yum is beautiful and then beautiful is an understatement. Yab Yum is arguably Goa's most adorable sustainable eco-friendly beach stay where nature gradually takes a share of your heart, even before you know it!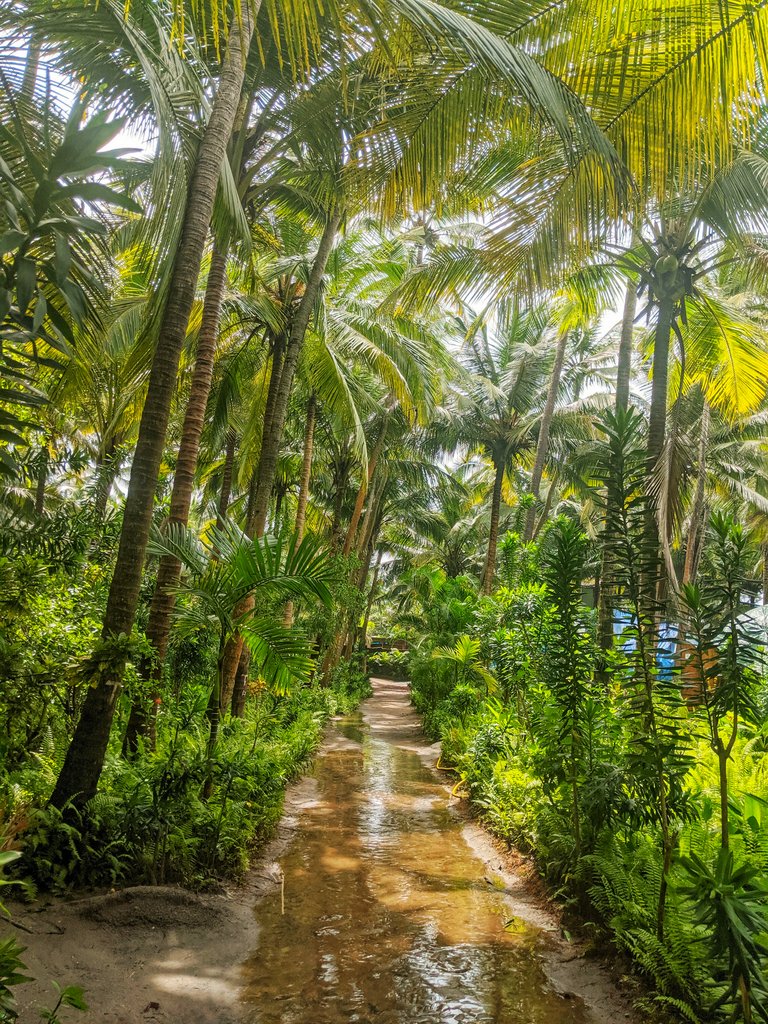 Also read: Offbeat and fun things to do in Goa!
At the wee end of North Goa, hidden is Ashwem beach. Generally protected on both the ends with high cliffs, Ashwem is a rather shy seashore that harbours the mystery of true pristine!
Yab Yum resort is housed by Ashwem.
The day I reached Yab yum Resort at Ashwem, the sea swelled up with cyclonic wind. Nature was bitter. Her wrath had swept away a part of the beach the night before. It was the fateful night of Cyclone Kyarr that rocked the coasts of Goa.
I had no idea though.
I was busy attending a travel mart in Panjim, at the heart of Goa where activities galore. Rains and overcast sky masked the sky for days. But I had spent a few beautiful days in Divar island already, exploring offbeat thrills of Goa. I was not prepared for an encounter with post cyclonic Arabian Sea!
Yab Yum Resort was kind enough to send me a car, because that day Goa literally stalled life. I had no clue how to call for a Goa Taxi neither I could reach Kadamba Bus stop at Calanugute. Upon stating this, Joe, the owner of Yab Yum arranged for a driver.
I think his name was Bikas. He Dropped a few guests at Anjuna and came to pick me up. This raised hope in my mind. People are exploring beaches, Probably things are fine in north Goa.
I think we drove for close to 40 minutes from Baga and reached Ashwem.
At one point, as we crossed the mouth of river Chapora, the road carves a crescent shape on the cliff, allowing a full view of the sea!
I looked at the sea and froze! It gurgled froth from the hell. No sign of sandy beaches and calm Arabian, waves were carrying thousands Medusa's heads.
Never travel when a natural calamity hits a destination. I learnt a basic lesson on that day!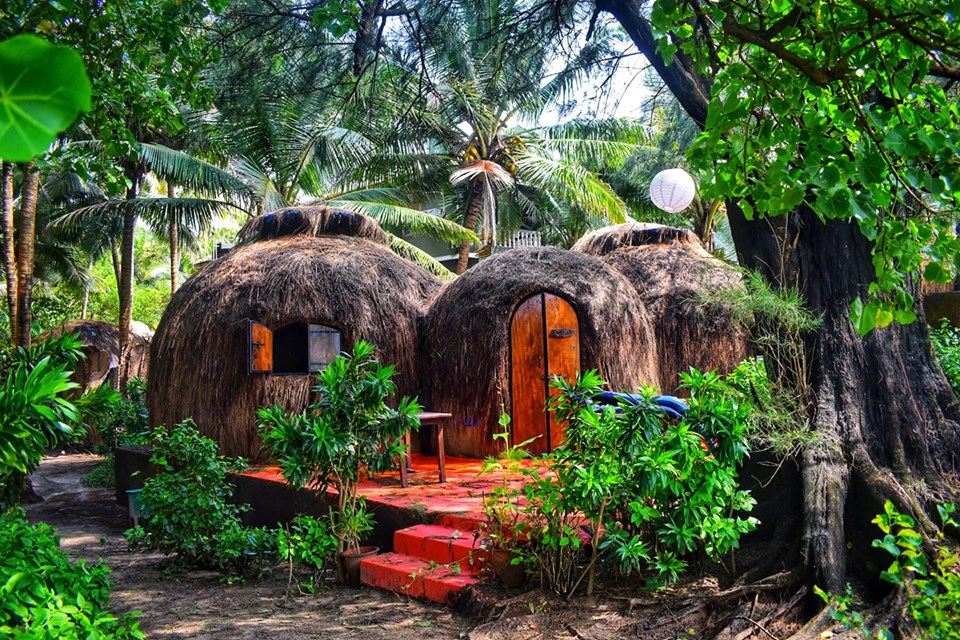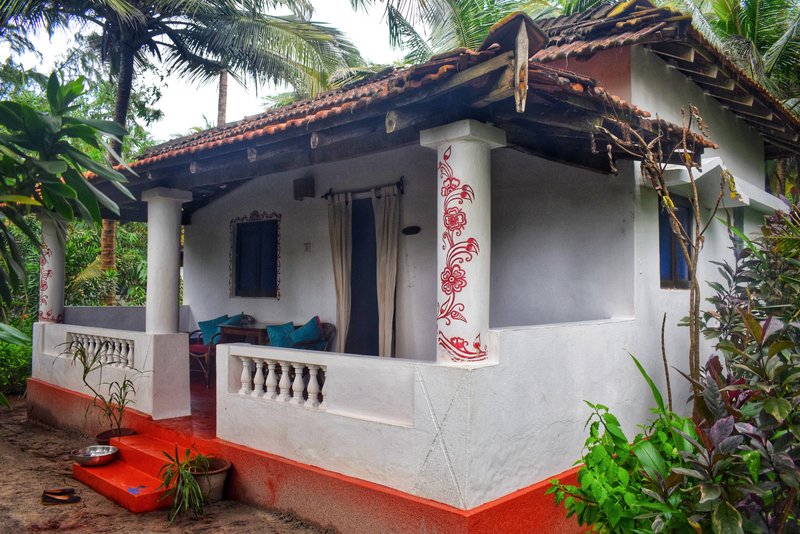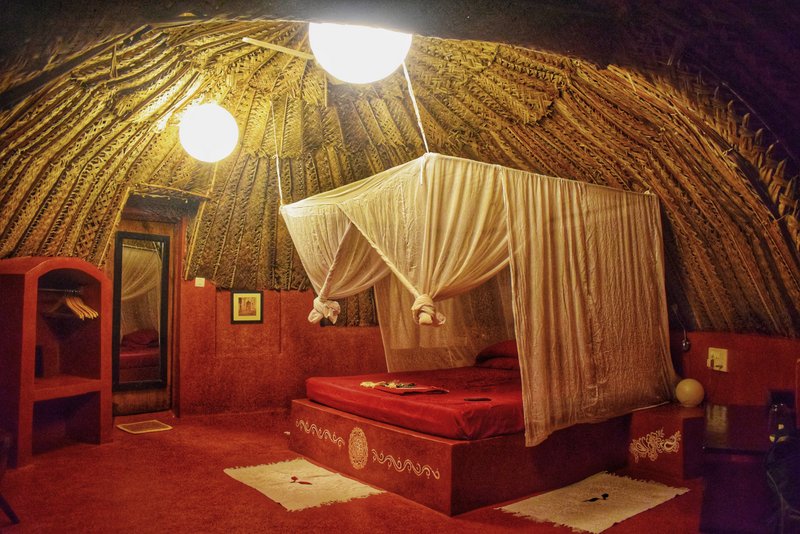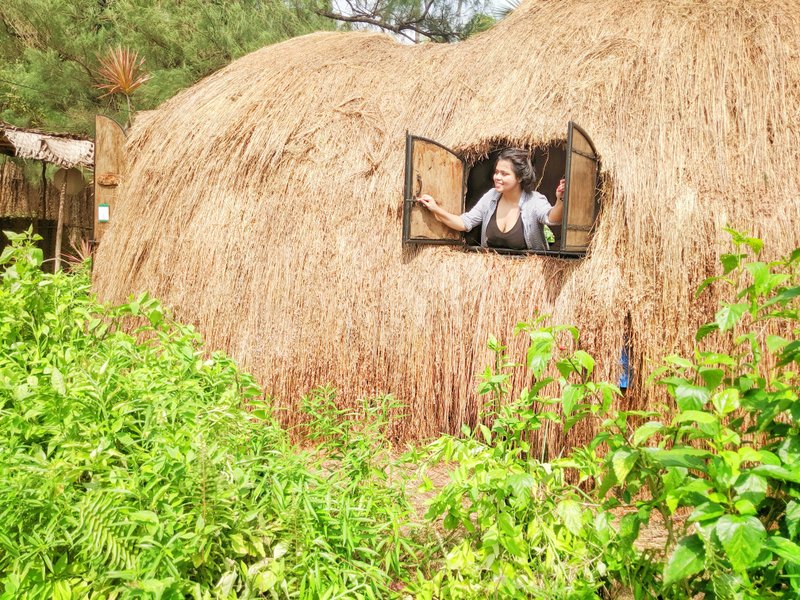 Hope had escaped my mind on that particular day as I entered the premises of Yab Yum Resort.
A narrow winding earthy road stretches where your vision ends. It is green everywhere. You can hear the sea roar closeby. But inside the premises of Yab Yum, it felt like a rainforest! Raindrops glistened by the sharp edge of coconut leaves. Straw domes of the traditional huts were rainsoaked and looked cosy. Supple Earth underneath remitted an aroma of petrichor. Inside, Yab Yum I felt home at once despite a menacing weather condition.
In the north of Goa, Mandrem beach is one rather off the beaten travel track. It is a recluse to the party parade of Baga, yet houses a few shacks that will serve delicious rawa fried king fish to the beach lover's desire. Cliff and dunes have long hidden the area. Water level varies according to tides, varying rocky surface that dot the coast line. Yab Yum is located close to Mandrem beach, however its door open to Ashwem, a more secluded beach bracketed by rocks on both the ends, rendering it a look and form of a private beach.
Staying in a Straw Dome Hut at Yab Yum
I was offered a cottage stay with AC and other equipment but I chose these quirky little huts at Yab Yum.
Resembling a lot like the tropic's answer to Arctic Igloo, these domes huts come fitted with a bathroom, a small lounging area and a bed. It is dimly lit at night, retains sunlight in abundance in the morning. Traditional calligraphy, a lot like Bengal's Alpona, is drawn over bright red cemented floor. Plenty of greens are grown around these huts, allowing each hut to have its own garden, where you can sip on the morning tea.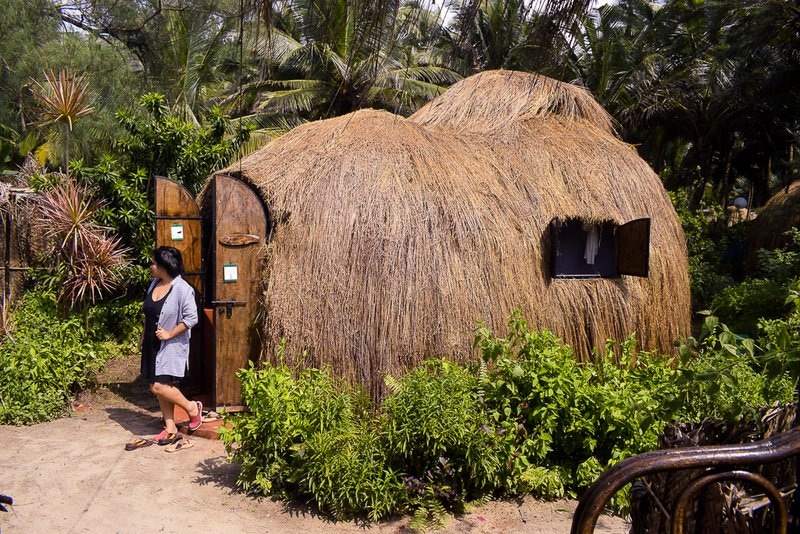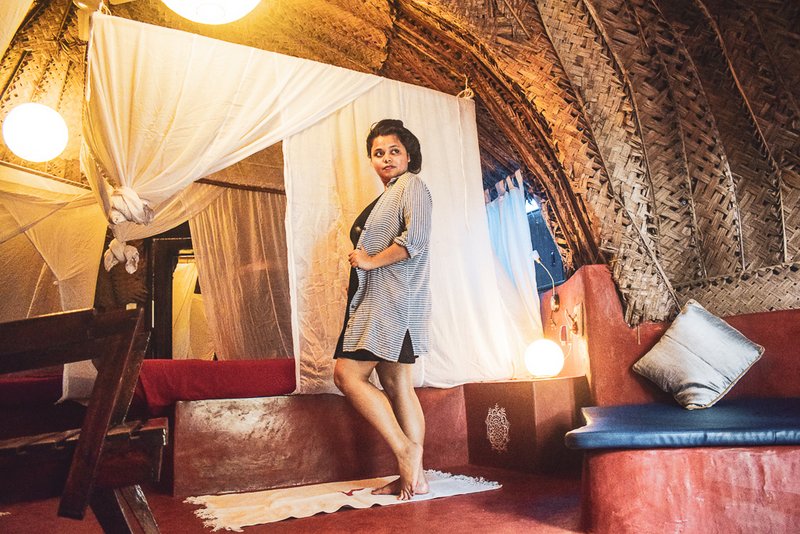 Construction dust and bricks do not find dominance at Yab Yum, Goa. It is all about wood, cane and keeping it warm. Note the hand painted impression on the bed side table (?).
A bowl of clean water was kept outside the ht to clean my feet every time I would enter the thatched hut. Water is collected from the streams flowing from the dunes at the back.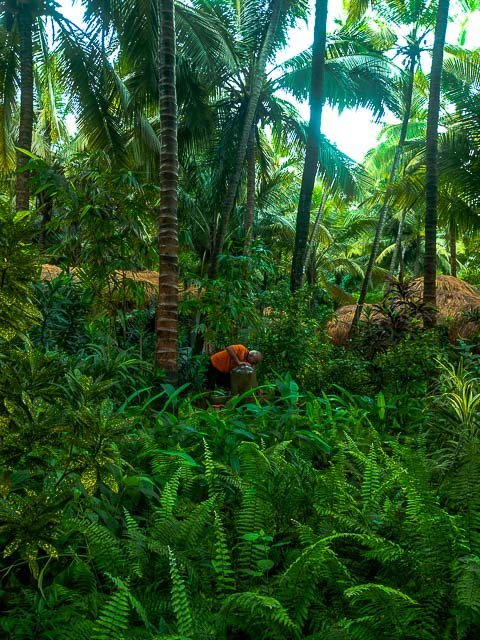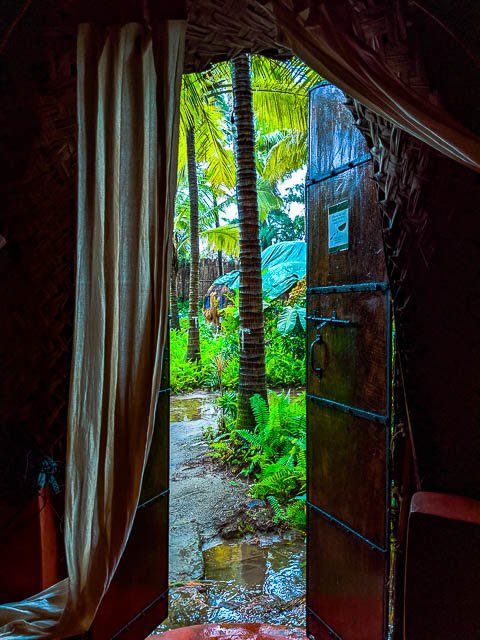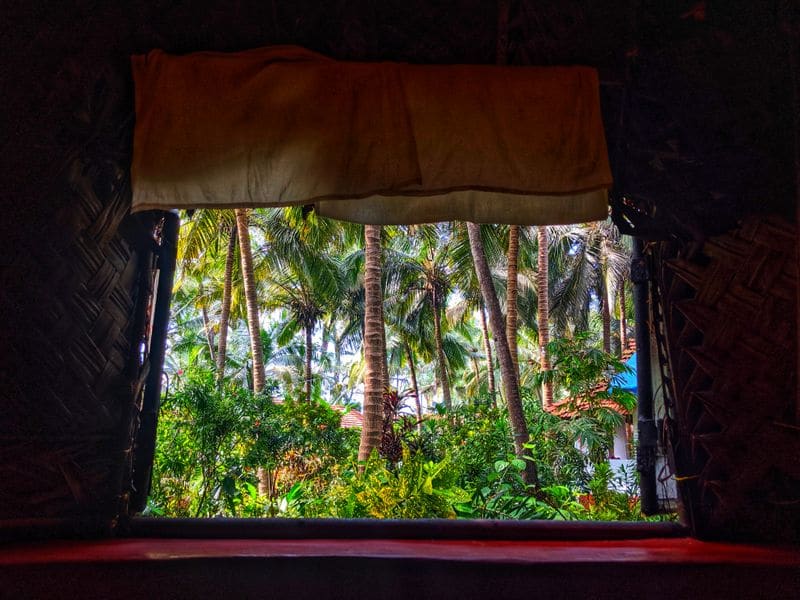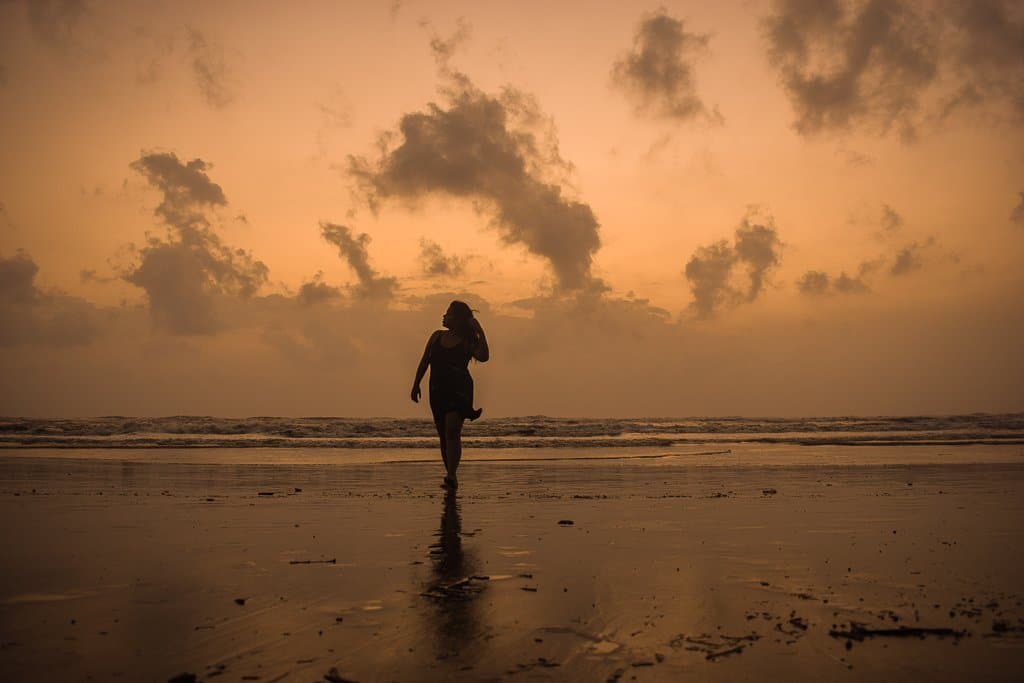 Things to do at Yab Yum Resort, Ashwem beach
"Slow down at the beach!"
Yab Yum is a place shrouded in simplicity and serenity. I saw a few European families with kids staying at Yab Yum. We spoke and I was pleasantly surprised to know they came to spend a good chunk of holiday at Yab Yum. The kids has story books. The mother was a Yoga enthusiast.
I stayed here for two nights. The first night, cyclone rocked the shore and I was reduced into a scared ball under the blanket to be honest. The next day, I woke up and found sunshine! A woman needs sun to survive!
I went out to the beach. The sea was eventually calming down. Before I knew, the sun same down at the horizon. Ashwem is one of Goa's finest beaches.
Yab Yum is run by a handful of young local ladies who are the most cordial lot I have ever seen! I suppose they were a bit amused with me posing in front of camera for all those Instagram shots. They came along as I explored the resort and its premises, all smiling. I showed them the spot where I had a snake siting the day before. They literally beat around the bush to show nothing was there. We had shared a few giggles which remains one of my fond memories of Goa.
Yab Yum resort can arrange for local ferry that will take you to Dolphin siting. On a good windy day, you can meander through the gentle waves and go for surfing at Ashwem beach.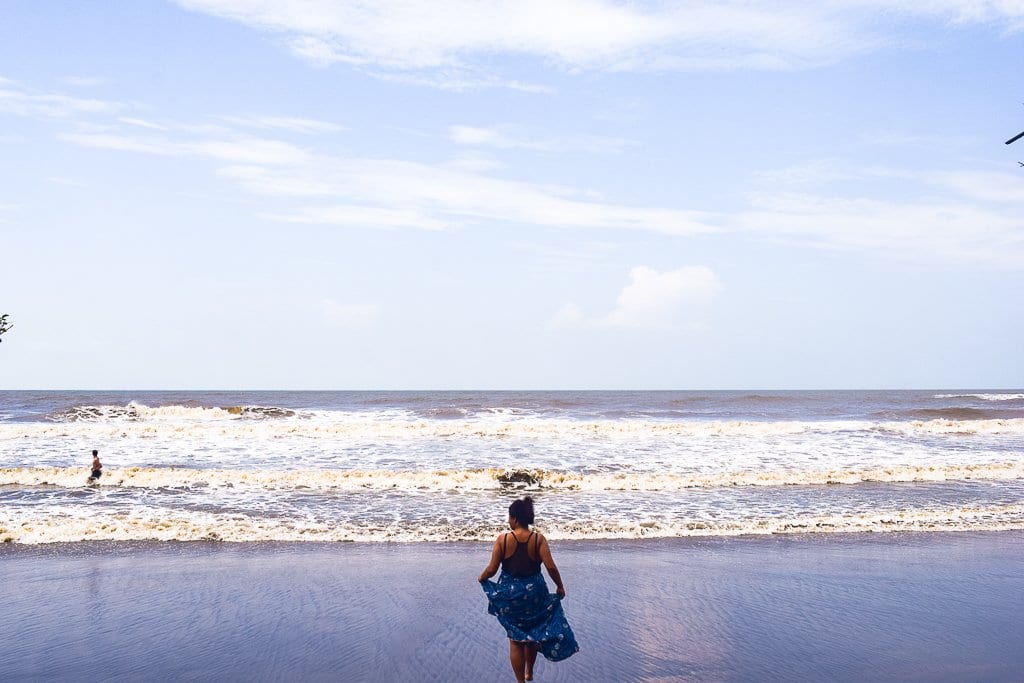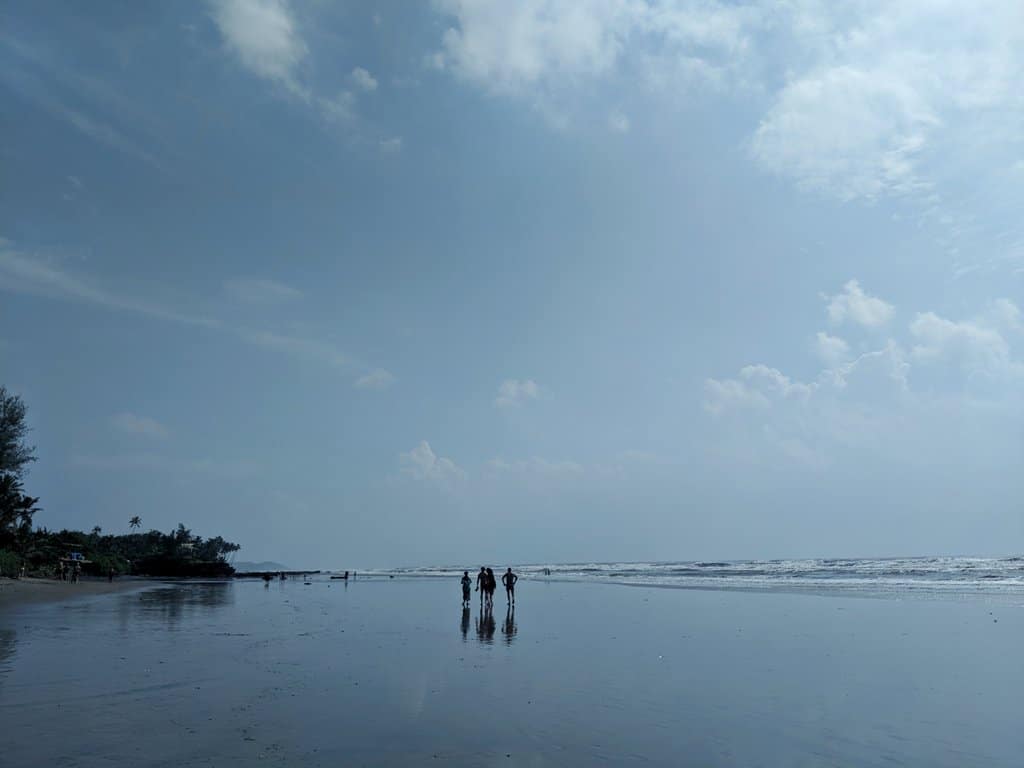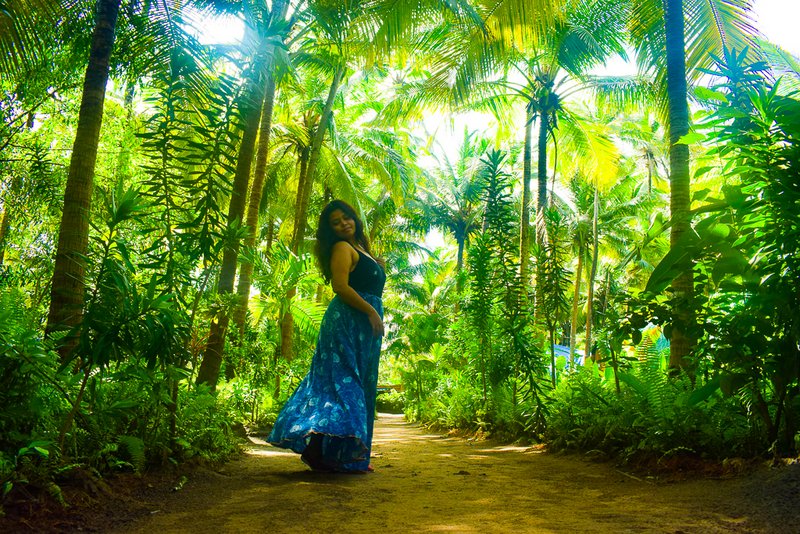 Things to expect when you choose to stay with Yab Yum resort!
True to the meaning of the name, Yab Yum, which denotes oneness with nature in divide wisdom and compassion, Yab Yum is carved out of a natural eco system and not imposed on it. Meaning you may wake up to chirping birds, and be greeted by a Goemchi frog in the washroom. I even spotted a snake running for its life towards the sea! Not sure if it was scared of me or teh cyclonic wind.
It is a part of the nique living experience and adds up to life's lesson in my honest opinion.
There are mosquitoes. Do bringa repellant. Every hut comes well equipped with mosquito net and repellant oil too.
The straw domes huts have a unique minimalist design. Step on the cold red cemented floor and you will be transported back to a different era. You can always choose to stay in the AC cottage though, especially if you are visiting Goa during humid summer.
Yab Yum Resort remains closed during monsoon. I guess its close proximity to the sea and offbeat location cause the business break. The bright sun and wintry mornings bring the best out of Yab Yum.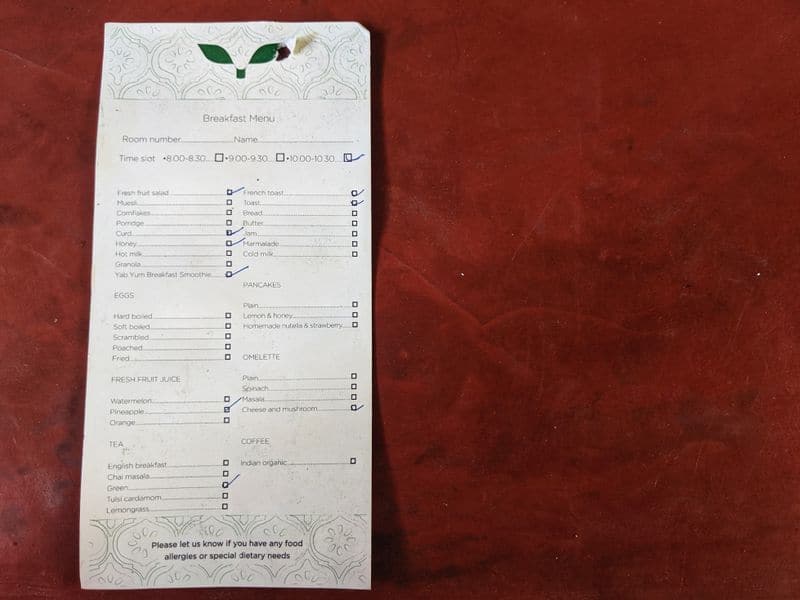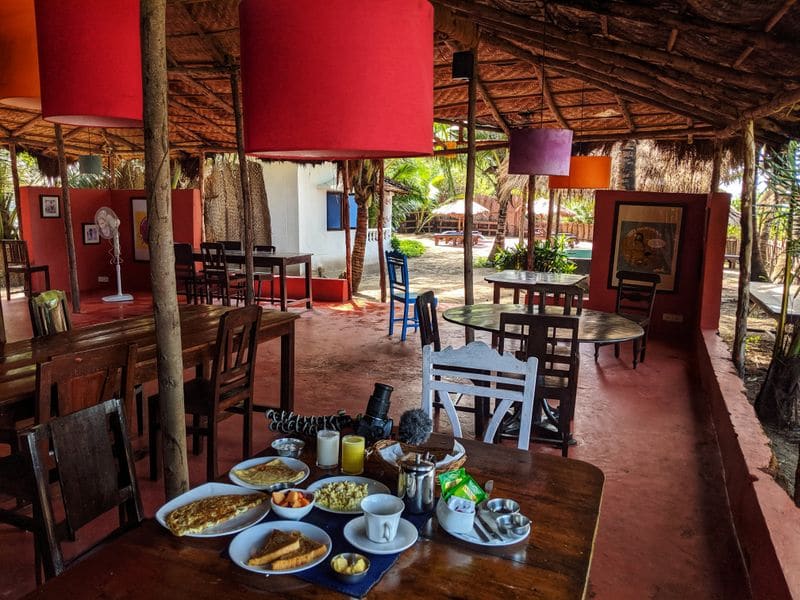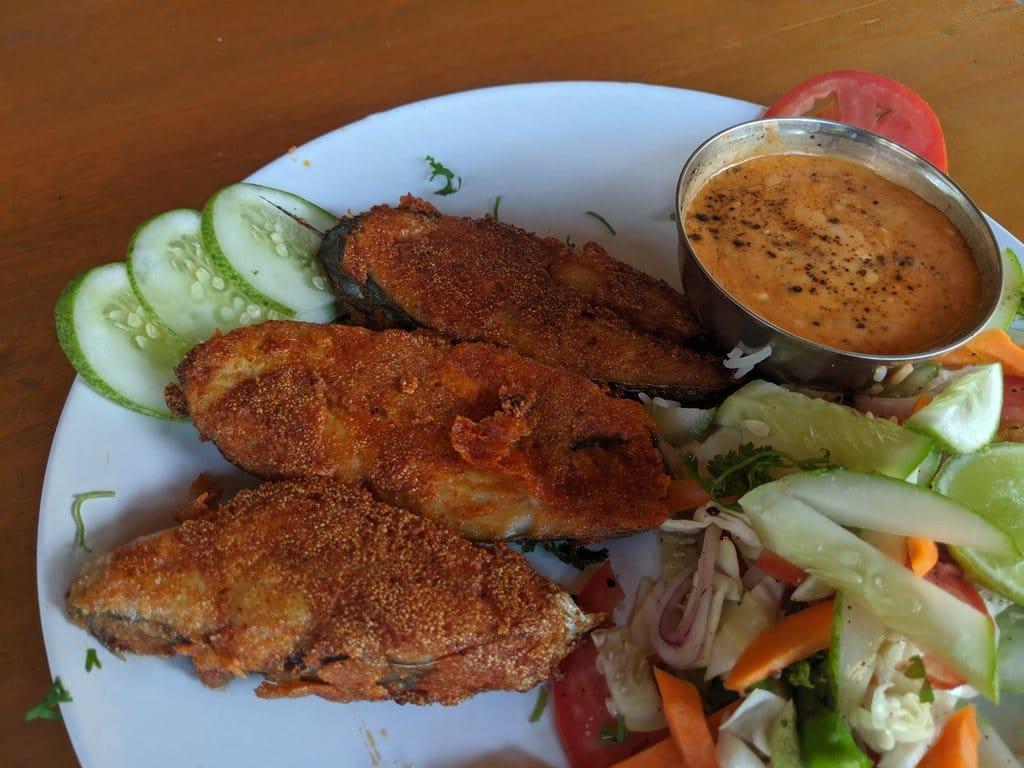 You can stay for a while to taste amazing Rawa fried king fish and Surmai or choose to move around and eat from a few local restaurants nearby. There are a handful of food joints and shops within 10 minutes walking distance from Yab Yum Resort. You can try eating local food at Satpurush. They close by 3 pm though.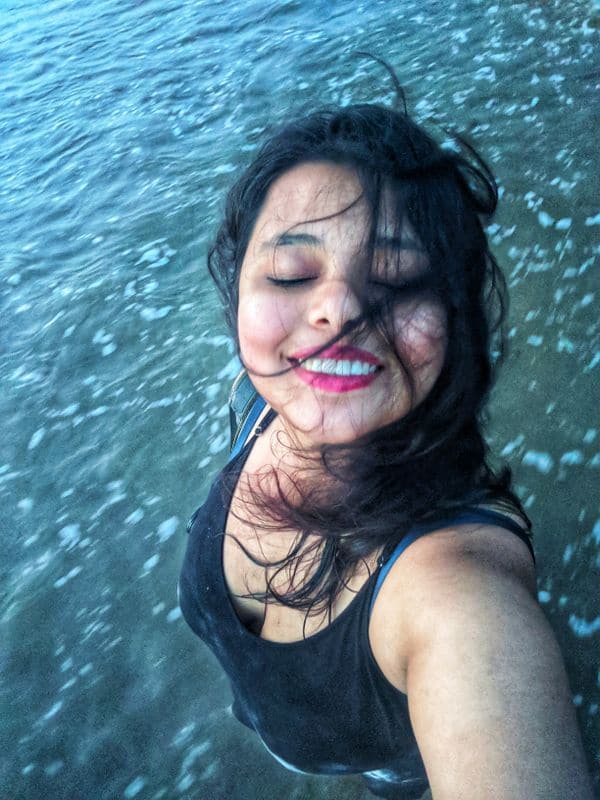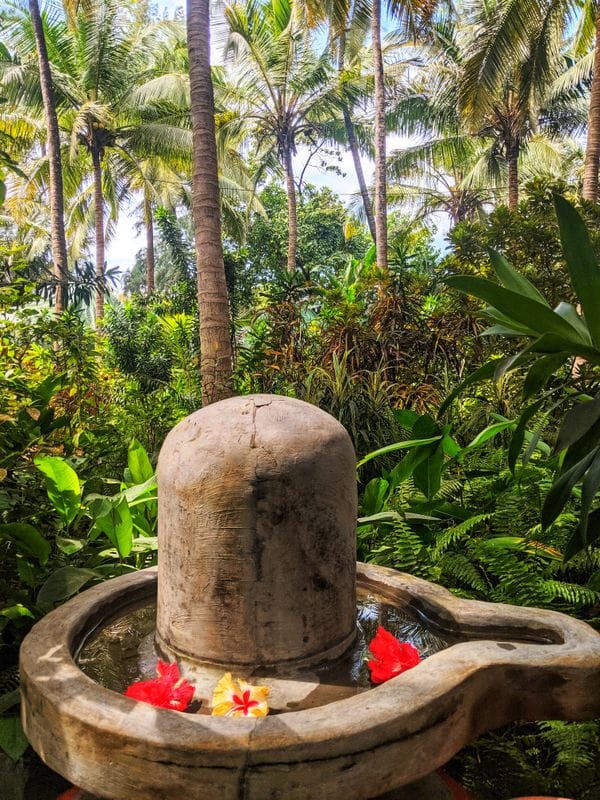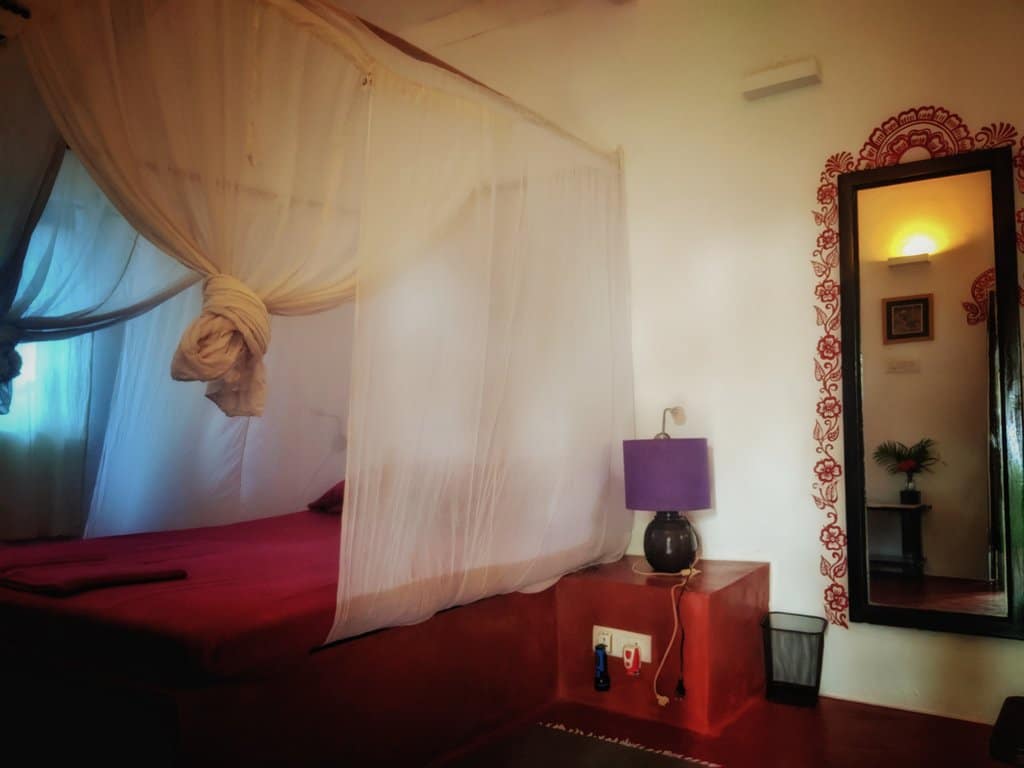 Pin it for later!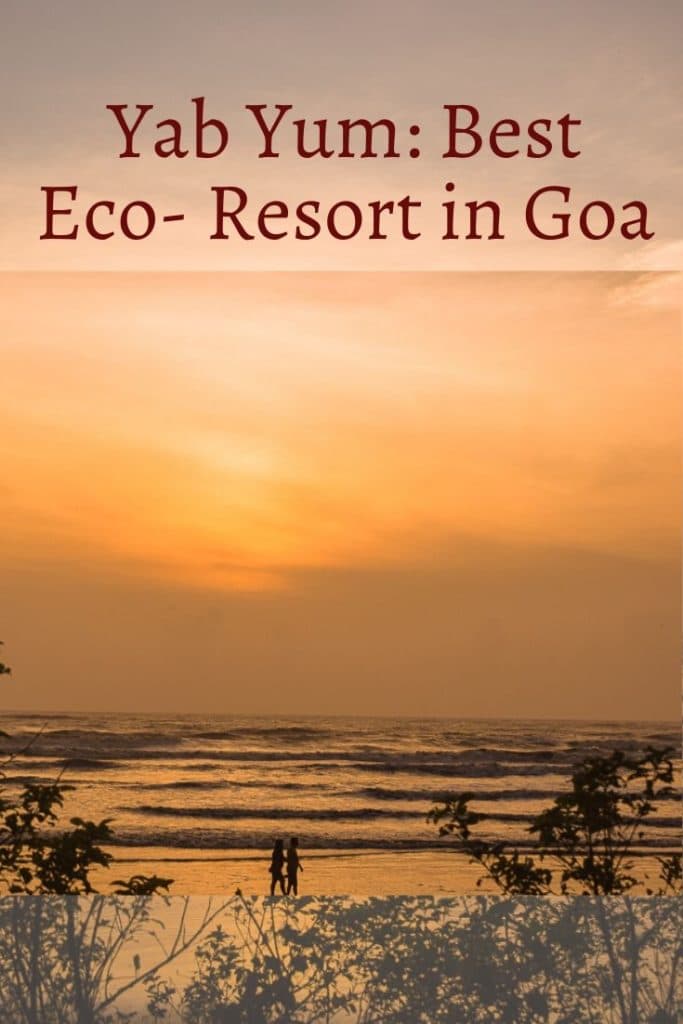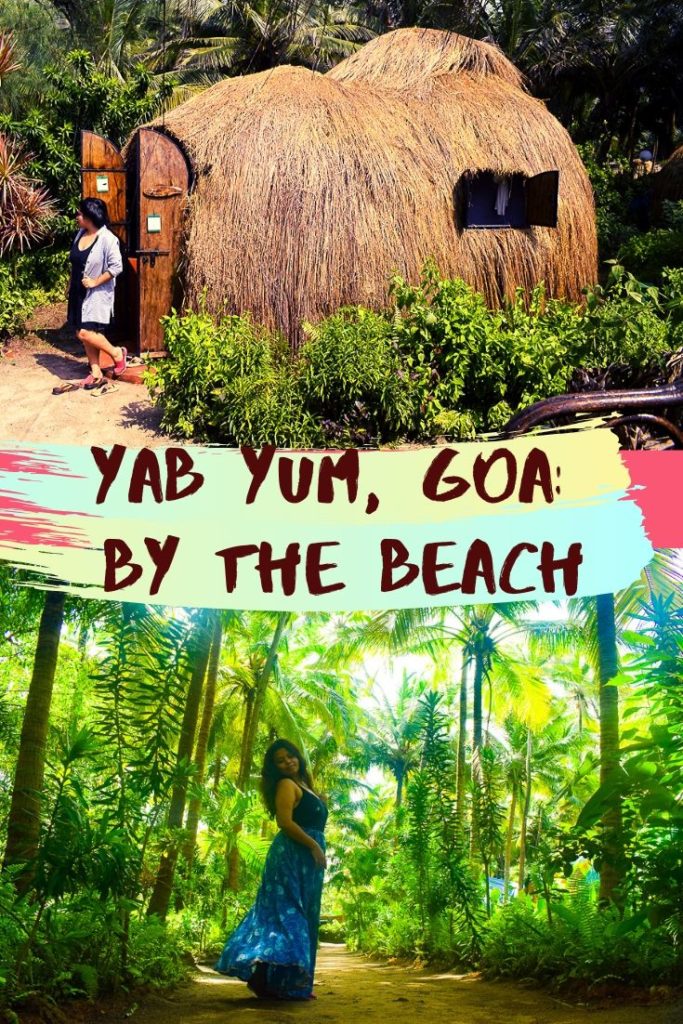 Disclaimer: My stay at the Yab Yum Resort was hosted as a part of the bloggers trip. All opinions are of my own!

Use Booking.com to book your stay in Goa!

Let's stay connected on Facebook, Instagram, Twitter! You may also consider joining my mailing list. I send travel and photography related emails only once a month!
This post may contain affiliate links. Please read the disclosure post. If you have liked the article, you may support it by buying using these links without any extra cost to you.