About this blog: Phulkopi diye Koi mach, Climbing Perch with Cauliflower is a seasonal Bengali style fish curry and a delectable dish best served with steamed rice. here is a recipe and a little story related to food memories.
Whenever I eat small fish, those incredibly tasty catches from ponds, a rather rare find in today's fragile ecology, I remember Dadu. To my great fortune, I have had the pleasure of meeting my Dadu, Dida and Thakuma for the first three decades of my life. In an obscure narrow lane at Behala, Dadu came to build a new house, a Basha, after he fled his erstwhile home. Now Bangladesh, then East Pakistan. A result of a devastating partition of the sub continent, the single most disastrous event of the twenty-first century.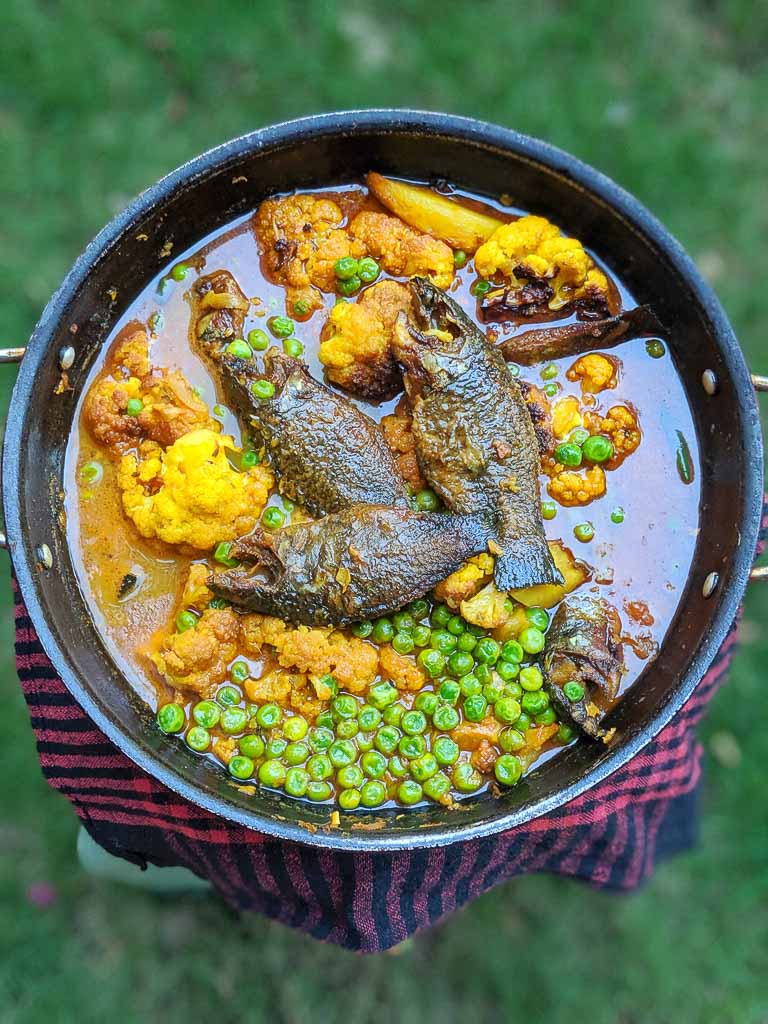 After he was forced to leave home, he had only a handful of small pleasures that reminded him of a homeland, returning where was not an easy possibility for a middle class man in the 70s.  Now he is too frail. But he wants us to go back to find his home. Sometimes, I sit with him and point to him the river Kirtania on Google map which runs by his village. His eyes gleam with hope and fond memories. It is the river which taught him to swim, to fish, to row a dinghy, and helped him escape on an eventful night, memories of which are still too painful to recollect. 
But I digress. 
Dadu scorns if we eat Katapona for longer period. In our conversation, I reported to him what I cooked on the weekend. Too many Katla, Bhetki or Hilsa does not impress him in the long run. He needs to know if I have got a small fish, a prized variant for the Bengali, or rather Bangal thali! 
Whenever I spot a small fish, a choto mach, in the Bangalore fish market, I become elated. It is with Dadu I learnt to recognize the wealth of fishery sourced the Gangetic delta that formed Bengal! 
In winter, I sometimes get Koi Mach in Bangalore. At HAL market, I can trust the fisherman without doubt. At the malls, I have my reasons to doubt. On occasions, I have bemused fishermen with questions like, "Is this Desi Koi or Chinese?" Deshi Koi means, a small Koi (climbing Perch) with a pitch black skin and 2 inches at length at best! This is a rather rare find, but when you do, you know you have to bring them home and cook with a cauliflower, another winter delight!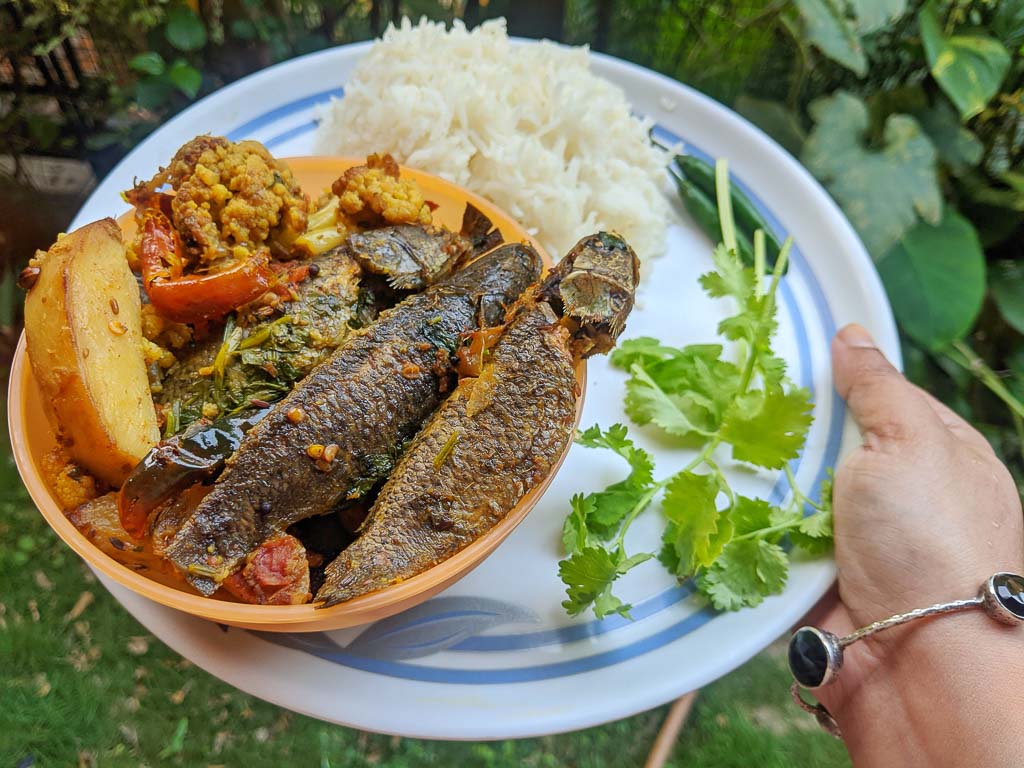 When I tell Dadu that we have cooked Fulkopi diye Koi Mach as winter sets in, he is elated. He exclaims, "Baah baah!" At 95, he can barely eat a hearty meal  of rice and fish anymore, but he nonetheless loves it when we do! Small things where he can hold on to hope, that his cultural practices will live on beyond boundaries! 
For more recipes, check out Cookbook!
Ingredients for cooking cauliflower with climbing perch (Fulkopi diye Koi Mach)
Koi mach (Climbing Perch): 500 gm (10 pieces)
Cauliflower florets: 1 Medium sized cauliflower
Potato (optional): 2 medium sized
Onion: one, small sized
Ginger: 2 tbsp
Tomato: 2 medium sized
Green chilies: 8/9 (or more as you like hotness)
For tempering: Bay leaves, Paanchphoron*, Green chilies. 
Cumin paste: 2 tbsp
Coriander leaves: for garnishing
Mustard oil: 200 gm
Turmeric: 2 tbsp
Salt to taste
*Paanchphoron can be bought from market as a ready mix. Otherwise mix an equal quantity of Cumin (Jeere), Fenugreek (Methi), Black Mustard seeds (Kalo Sorshe), Nigella seeds (Kalo jeere), Fennel (Mouri) and use as Paanch Phoron.
Procedure:
Marinade Koi fish with salt and turmeric. Keep them aside for a while.
Cut potatoes into wedges. ideally 8 wedges from one medium sized potato. Smear with salt and turmeric.
Cut Cauliflower into medium sized florets.
Fry both potato and cauliflower in mustard oil. Fry them to form an upper crust but do not cook from inside. High flame is your friend in this trick.
Gently fry the Koi Fishes now. On both the sides. Not more than 1 minute is required.
Heat mustard oil. temper oil with bay leaves, panch phoron and green chilies. Add sliced onion and fry till translucent.
Keep adding moisture lest the spices get burnt. Add ginger paste. I like to make my ginger paste with green chilies.
Cook for a while before adding cumin powder. Once the spices have been cooked well and the oil has been reduced, add diced tomatoes. Cook till the tomatoes render a mashy form.
Add a bowl of warm water. Add Cauliflower and potato and simmer the gravy for 10 minutes.. Add a few green chilies if you like your Macher Jhol spicy. Add the Koi Fishes and cook for 5
more minutes. Adding Koi at the end of the cooking will render the Macher Jhol with the legendary aroma along with cauliflowers!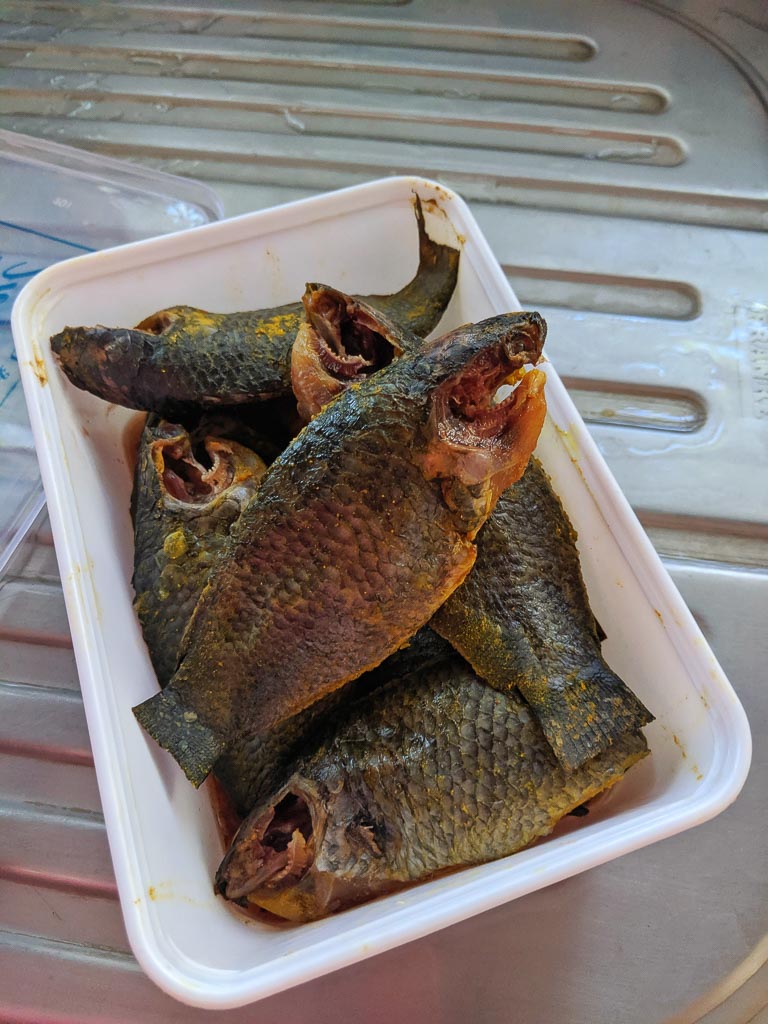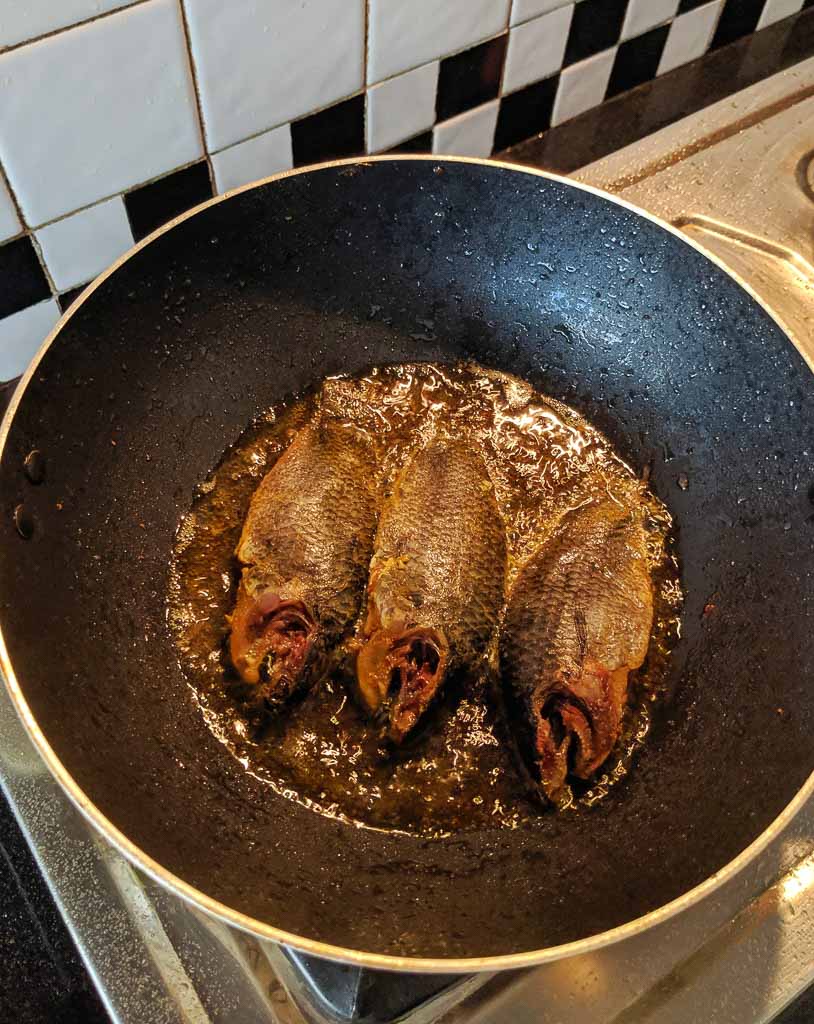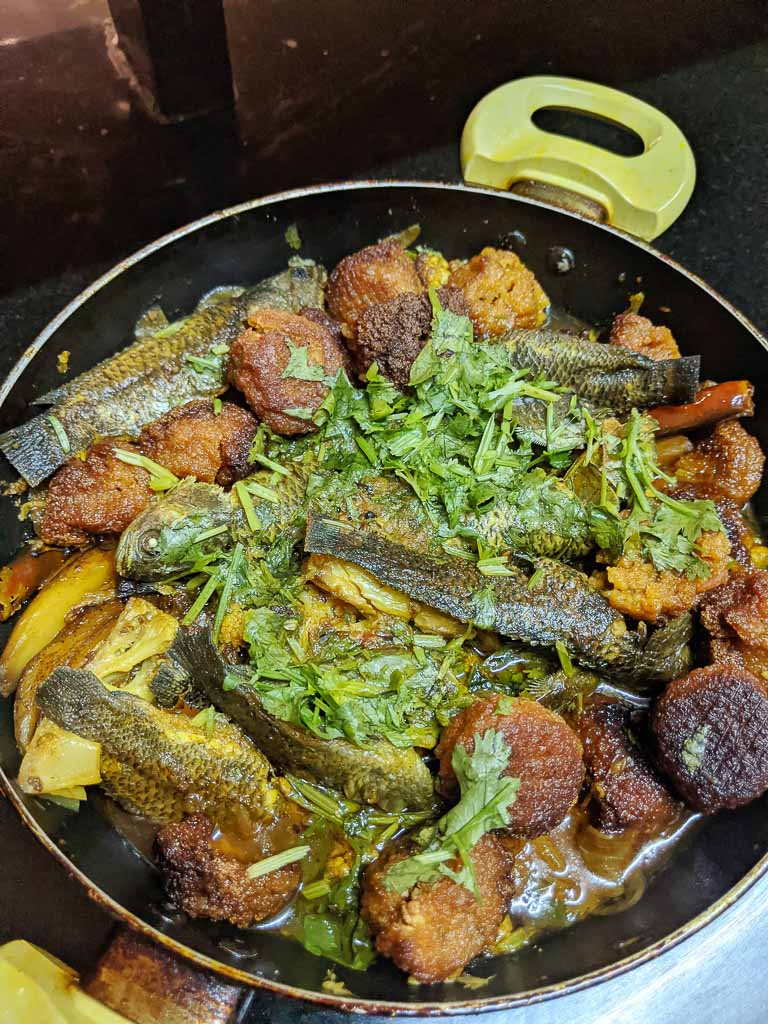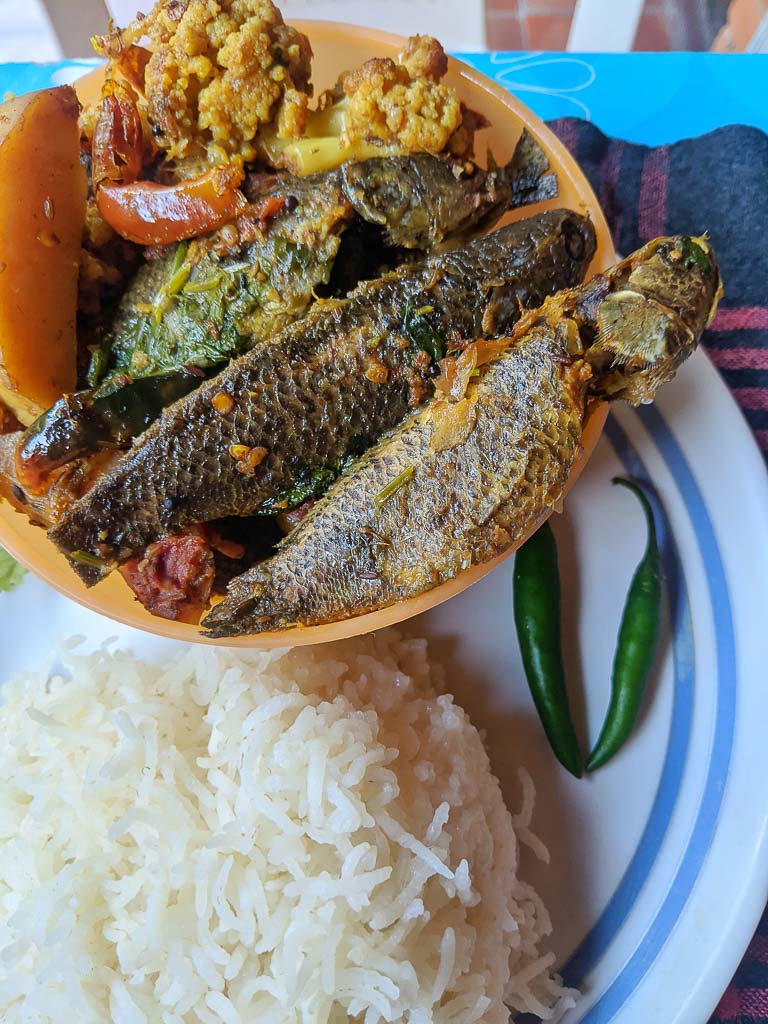 In winters, cooking Bengali style fish curry with seasonal vegetables is a delightful experience. The broth is filled with aroma of fresh vegetables and a slight fishy smell. That, my dear, is divine! 
---
This post may contain affiliate links. Please read the disclosure post. If you have liked the article, you may support it by buying using these links without any extra cost to you.
Let's stay connected on Facebook, Instagram, Twitter! You may also consider joining my mailing list. I send travel and photography related emails only once a month!