About this post: Lau Shak Bhape (steamed Bottle Gourd) is one unique and old recipe from Bengal. Tender stems and leaves of Bottle gourd (Lau Shak) is used to prepare this dish. If you are a fan of eating morning glory in Thailand (or South East Asia), thou shalt dig into the plate for this Bengali Lau Shak dish. Word!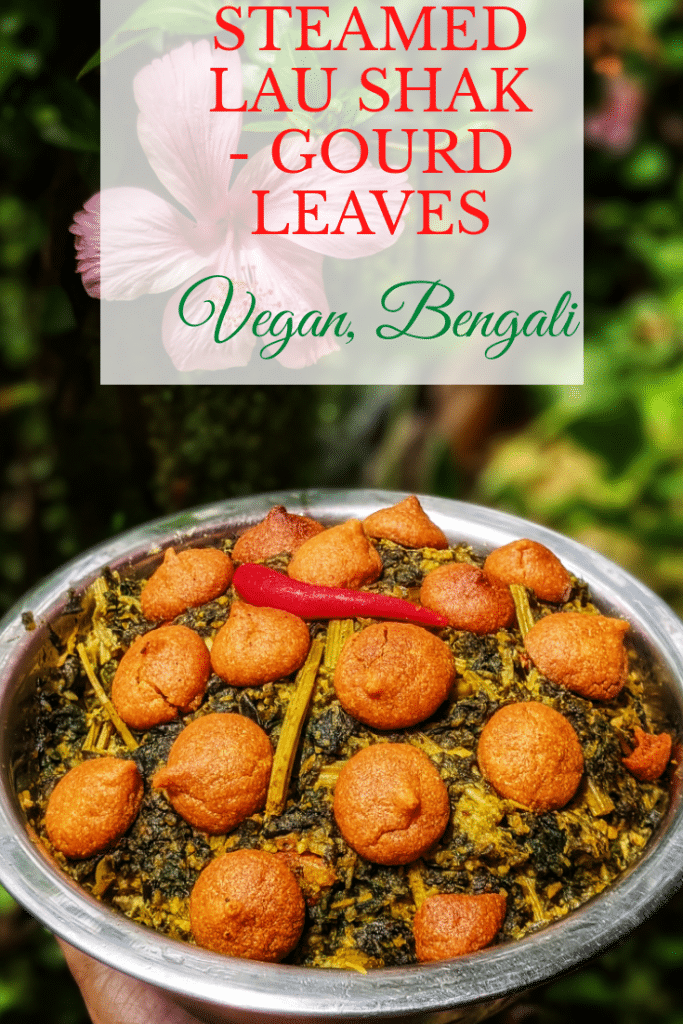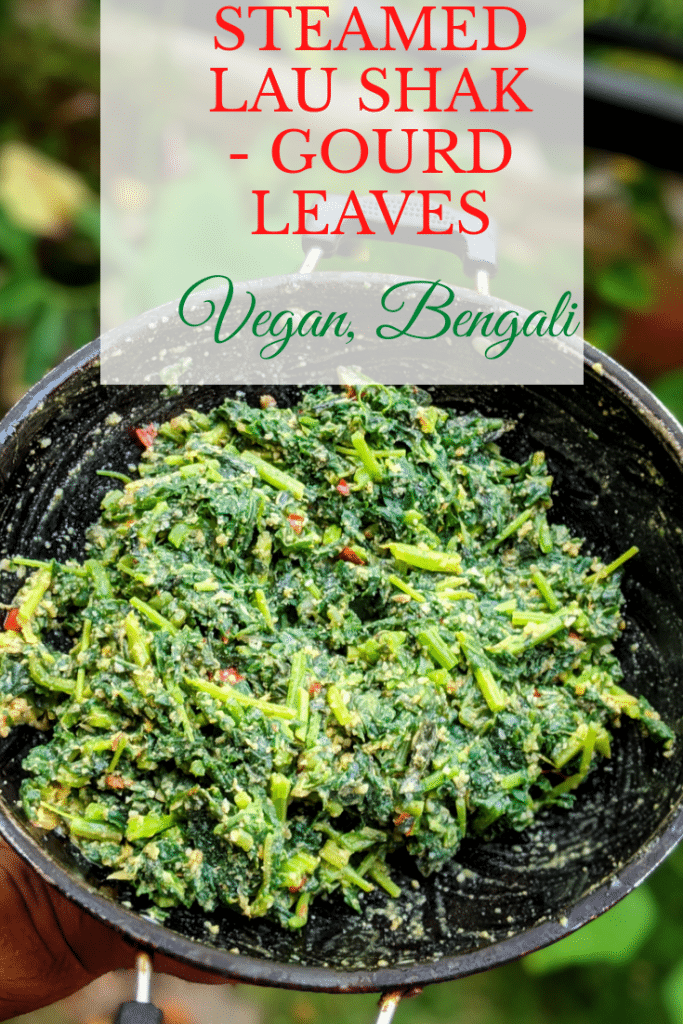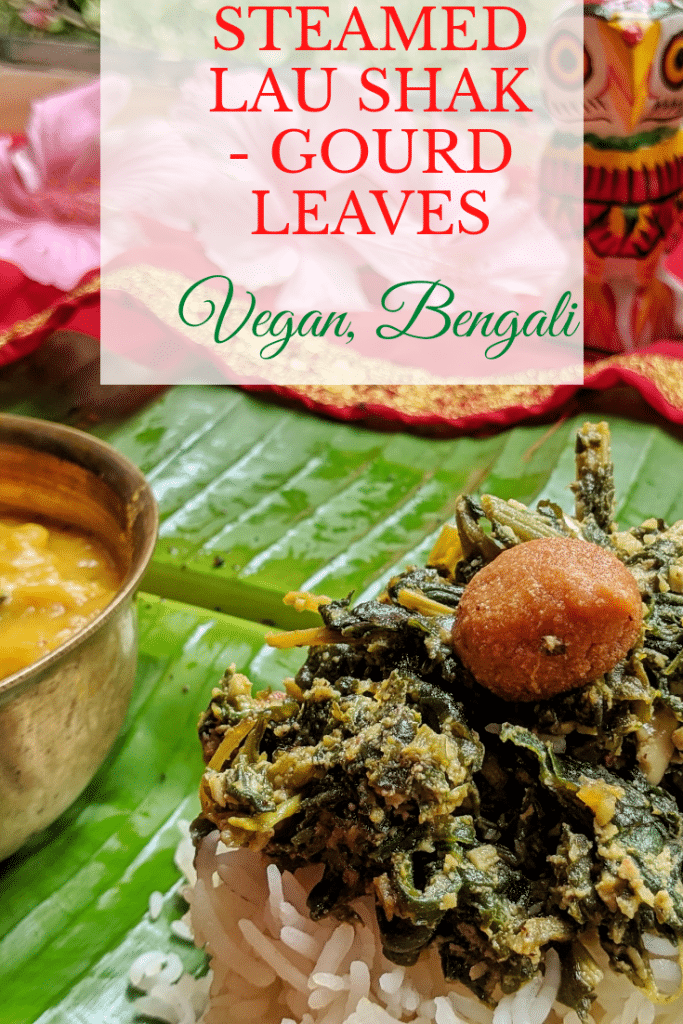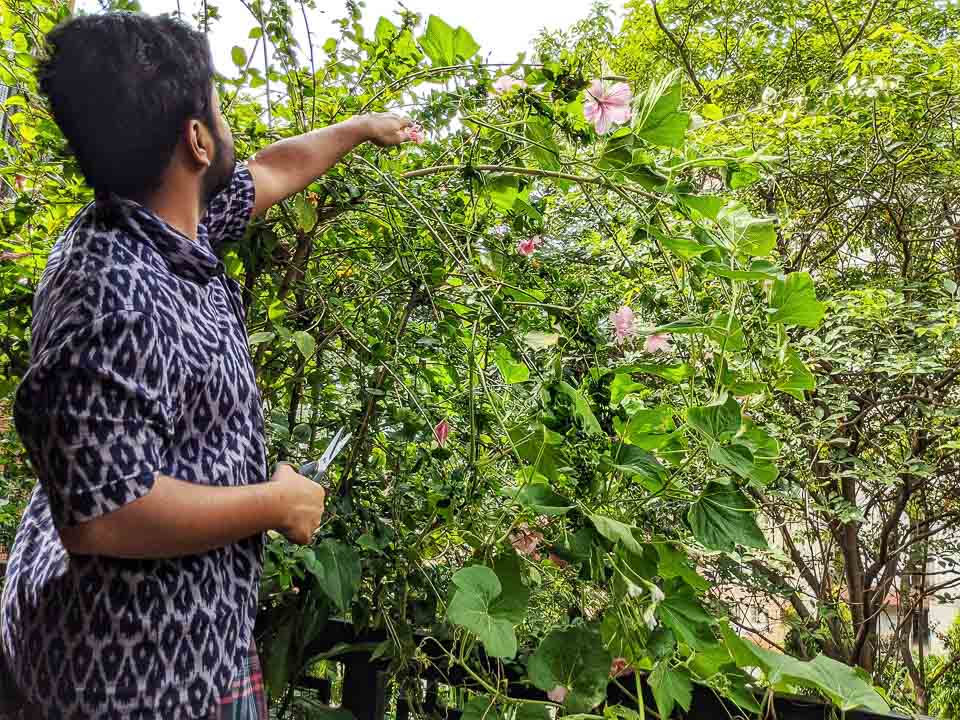 When S first saw this house, he mistook this small patch of garden to be a golf lawn. He saw it at night and he was drunk so I do not blame him.
When I saw it, I knew I will be growing Lau Shak here. Lau Shak is Bengali for the plant of bottle gourd and is quite an emotion. From where I come, this plant is treated as a delicacy. It is almost a decade I am living away from Kolkata and I have cooked Lau Shak only once, while staying in Delhi. Never in Bangalore because I never found it. Not even at the legendary HAL market where you can find Kochur loti on a good day! But I have heard you may find Lau shak at the Russel market on Sundays from one of the vendors.
Bottle gourd plant is one example that you do not need to use quinoa and other imported stuff to make a sustainable vegan meal on a daily basis. In fact what we eat in Bengal on a daily basis can pretty well pass as a nutritious vegan if you do not add the fish bit. I am not a vegan but I emphasis on this dish being vegan for this recipe (and few more, say Amer Tok Dal) can easily pass the test and you won't contribute to carbon offsetting to bring food to the country which are not locally grown (and support locals, and yet eat one of the best things evva).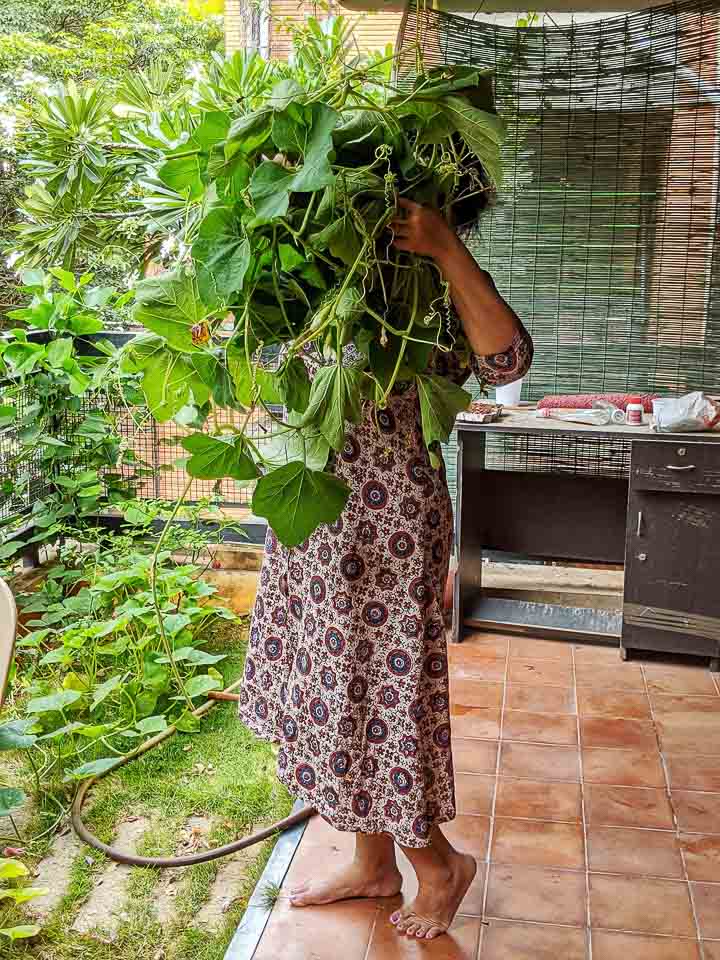 Once upon a time, the Hindu Bramhin widows were compelled to do away with worldly pleasures. Be it wearing the prized red Dhakai saree or eating fish, which is staple for the community. From this period of melancholy and imposed list of "dos and donts", their creative prowess bloomed to give birth to an array of delectable exquisite forgotten recipes of Bengal. I have seen my deceased mammam make Gandal patar bora (fritters made of marigold leaves), Daler bora, molom or Neem begun (aubergine cooked with neem leaves) with her magical wand that Khunti was.
The Lau Shak (bottle gourd plant) is one beautiful example of growing your own food and devouring it if you have a small patch of land. Lau shak (bottle gourd) is a creeper plant. Mine wanted to raise its head up to the lemon tree of neighbor upstairs. We brought the head down and put it across the hibiscus flower. It grew along the hibiscus branches and then eventually wanted to grab hold of the palm leaves from the balcony downstairs.
It is then we decided we can make the long impending dish of Lau Shak and halter the growth and wait till the plant grows again! I am writing this in 3 weeks time and it is likely I will be making another dish with Lau Shak in a couple of weeks. i am basically waiting for the yield of Hilsa during monsoon so that I can make some paturi wrapped in the Bottle Gourd leaves!
I waited for a year before this plant grew. I had tried growing Lau plants several times but 2019 was full of travels and I hardly had time to care for the garden. This year, I have emptied my Bhater Hnari (rice handi) full of starch at the feet of the Lau Shak and it grew "fonfoniye".. speedily!
It is difficult to harvest from the plant you grew with so much care and hope. It is harder to cut its branches. But the dish is so delectable, I could not help! Try it for yourself and tell me what you liked!
Please note, bottle gourd plants can be used to make Paturi. I used them to cook Macher Dimer (fish roe) paturi and the leaf is edible in this case. You can also prepare Lau Shaker Chochori with aubergine and add a few pieces of prawns (vegans, ignore the prawns part) and still have an absolutely delicious dish!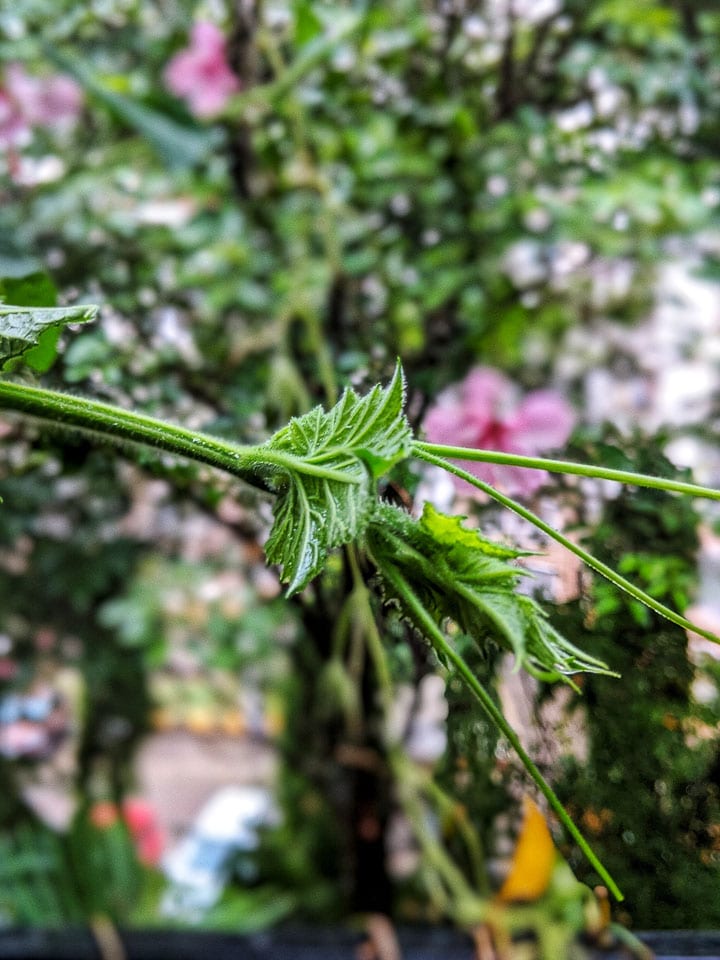 You can use this tender advance of the branch (seen in this picture) while boiling rice and eat as is or with some rice and pour mustard oil on top. I had seen a few Tharu community houses (at the Chitwan National Park, Nepal) growing Lau Shak (Bottle gourd plant) in the courtyard which climbed atop their hut and I assume the Tharus intended to eat this too!
Read all my recipe experiments here!
Ingredients for cooking Steamed Lau Shak (Bottle Gourd)
Picking Lau Shak: Since I had the Bottle gourd plant at home, I had the privilege of choosing the most tender leaves. To cook this particular dish, you have to be picky and choose the leaves and tender branches only. Branches that you can chew and gulp down.
Lau shak: 1 KG
Mustard paste: use the ready-made mustard paste available in market if you can not find paste handy. make sure you add a pinch of salt while preparing the paste to cut the bitterness.
Poppy seeds (Posto): 3 Tbsp (finely pasted)
Grated coconut: Use at least one coconut, whole. Grate it finely.
Mustard oil: 2 to 3 Tbsp
Green chilli: as per taste. I used 7 to 8 pieces of chillies and some more while eating the dish with rice.
Bori or Lentil dumpling (can be bought ready-made): Used for garnish. optional. But in case you are using it, fry them separately.
Procedure for cooking steamed Lau Shak (Bottle gourd plant)

Clean Lau shak and lau shak leaves under running water. It is of paramount importance to clean the leaves lest you bite the dust on finished dish. I am writing from experience.
Blanch the leaves and the tender branch ends in hot water. Immediately put them in cold water to stop cooking further.
Make a paste of mustard, poppy seeds and grated coconut. Mix it well with the Shak (leafy vegetables) alongside mustard oil. Season it with salt. No other spice is needed for this dish.
Now cook the whole mixture on a double boiler. You need an air tight container for that. I used my non stick karai pan for this. You may use a steel tiffin box, the one used to cook Bhapa Hilsa. Ensure the container is airtight.
Cook the mixture for at least one hour. Like every other good food, this dish demands your undived attention, sow flame and delayed cooking time.
Deep fry the Bori (Bodi/ lentil dumplings) if at all you are using them. and sprinkle on top of the finished dish!
Lau Shak Bhape (steamed bottle gourd plant) is best served with piping hot rice.
Following are a few pictures showing how to cook Lau Shak!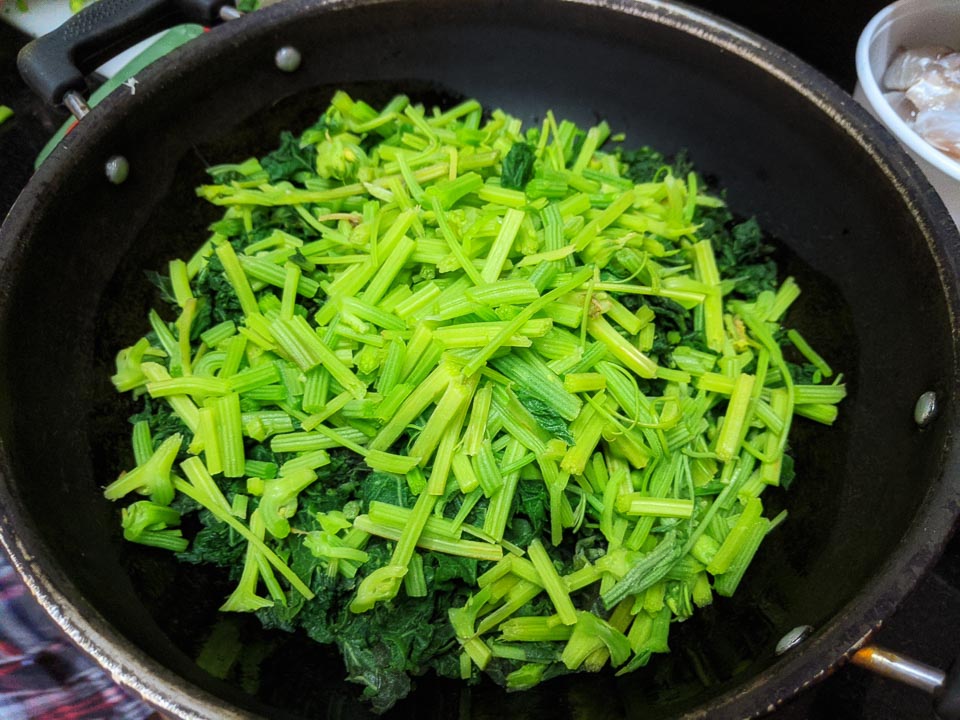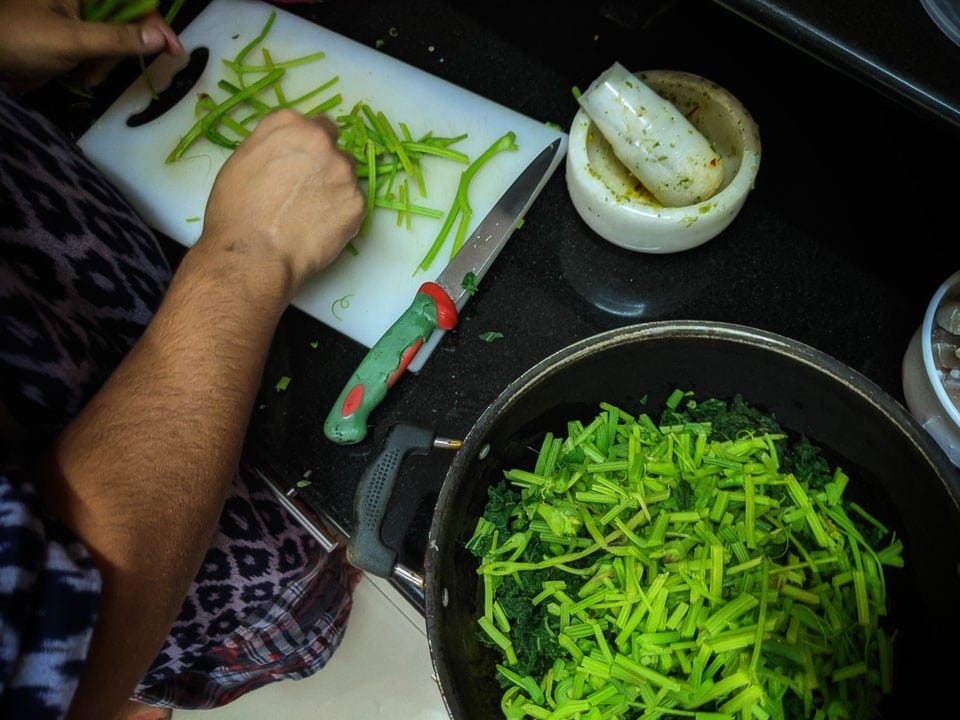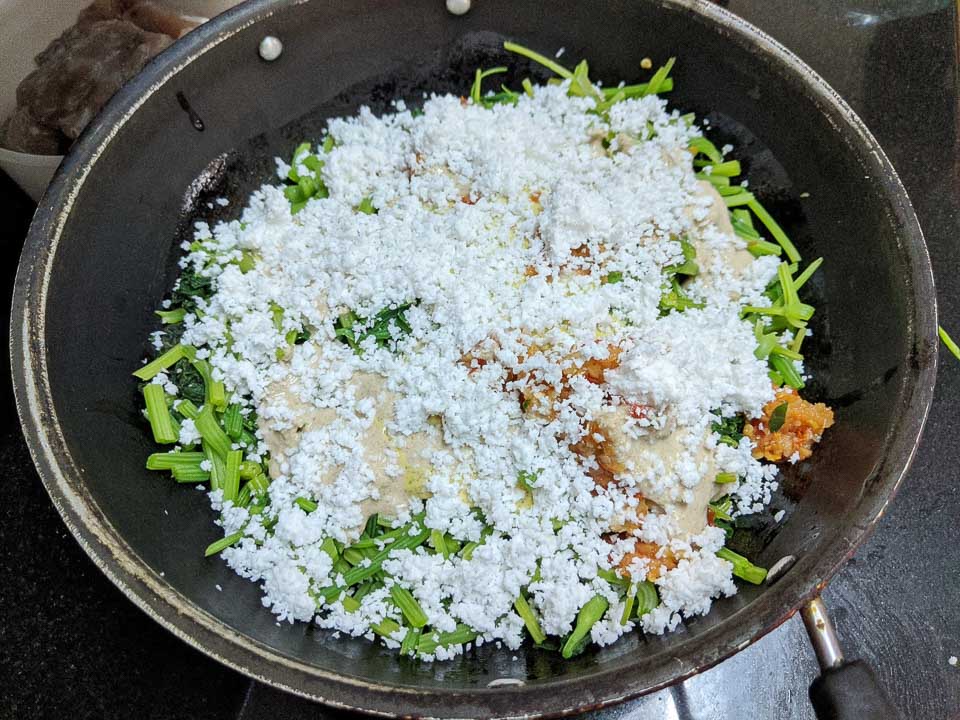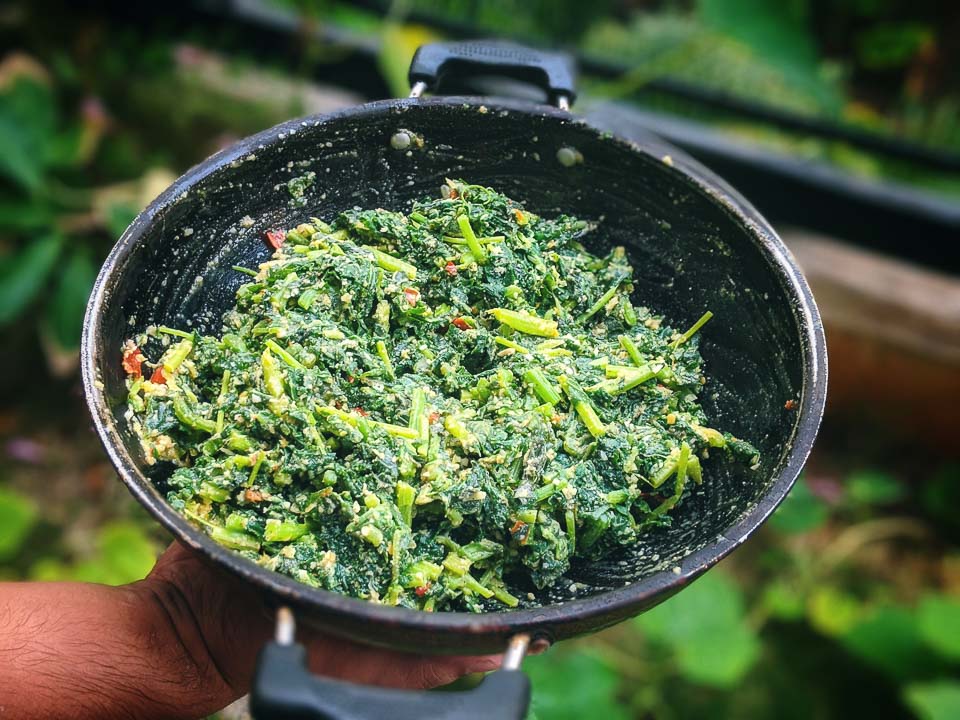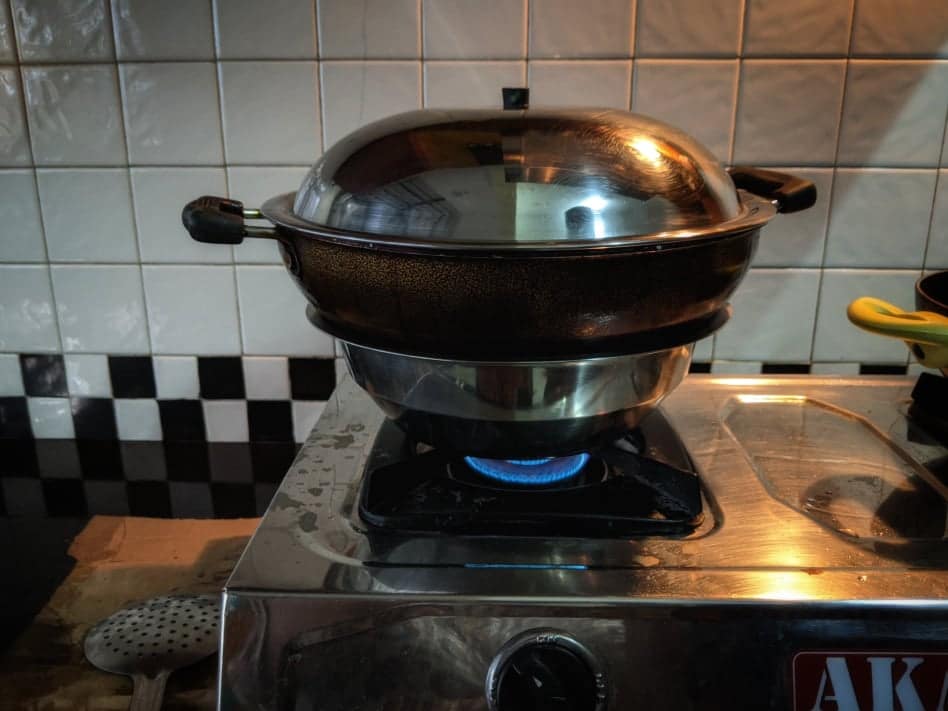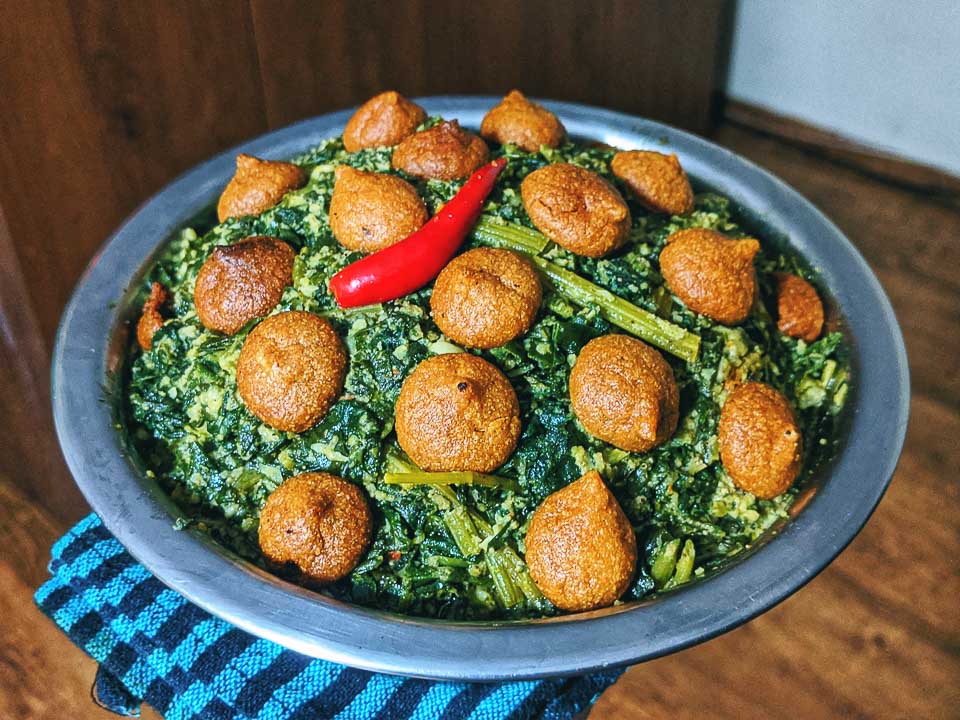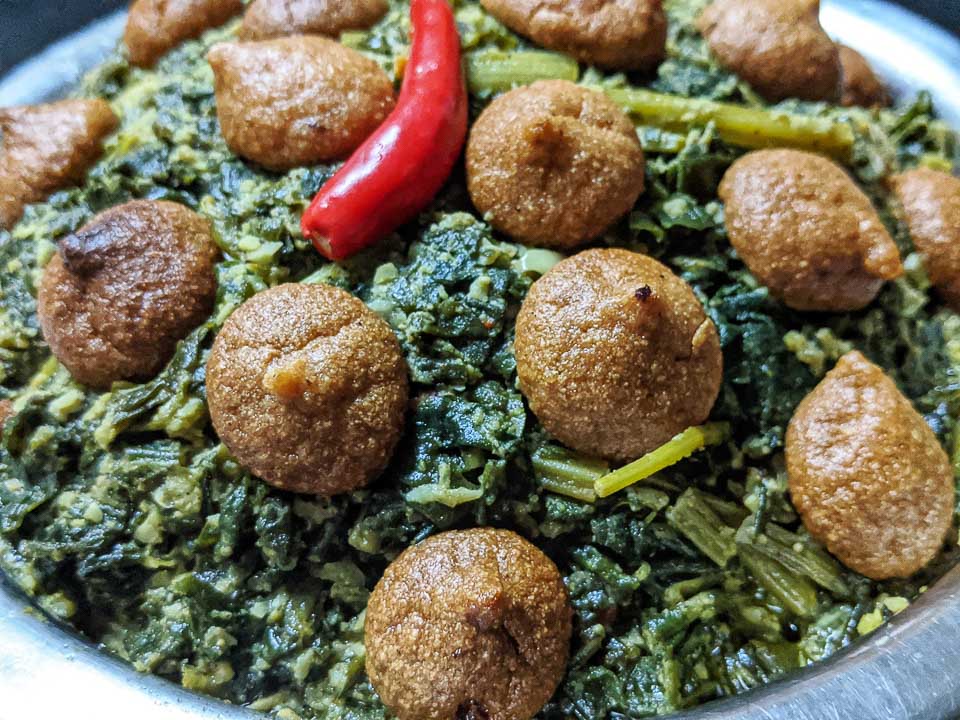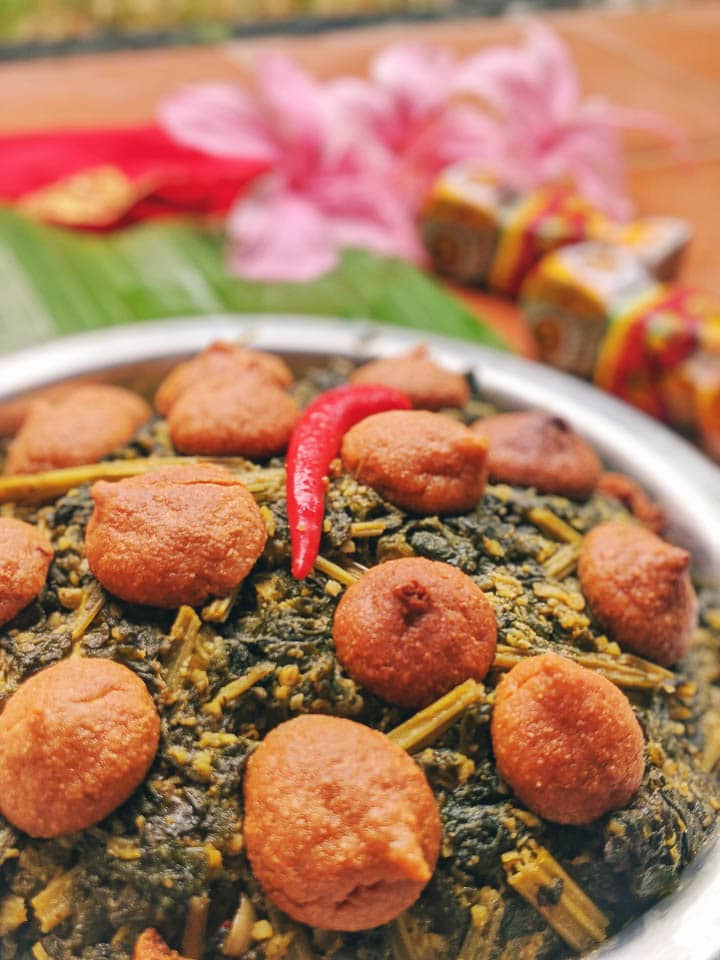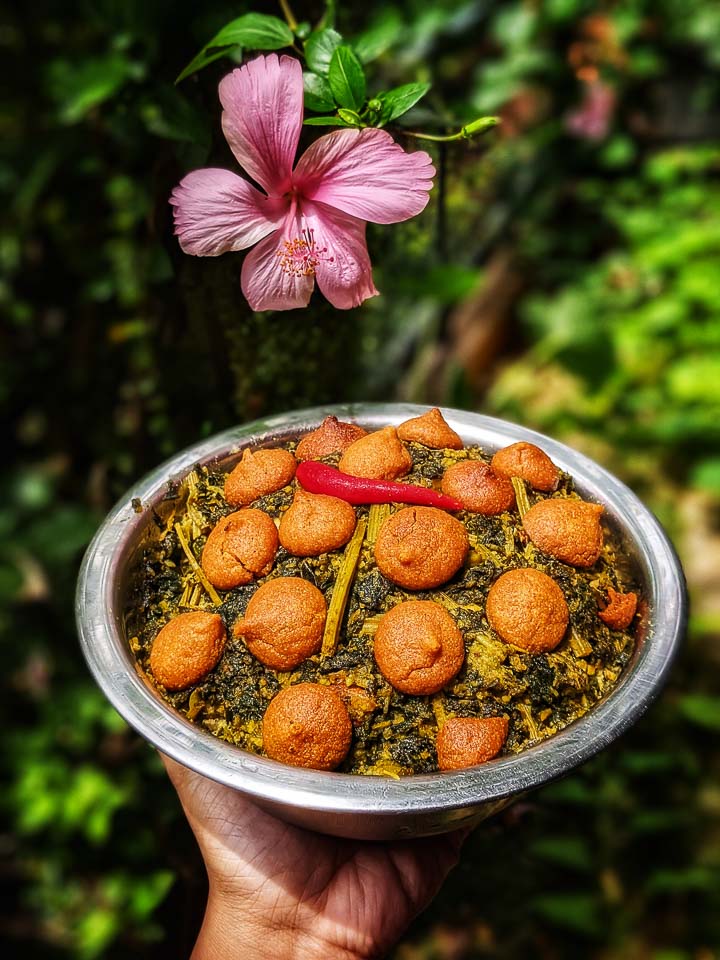 This post may contain affiliate links. Please read the disclosure post. If you have liked the article, you may support it by buying using these links without any extra cost to you.
Let's stay connected on Facebook, Instagram, Twitter! You may also consider joining my mailing list. I send travel and photography related emails only once a month!
Subscribe