Kolkata and suburbs take immense pride in her food culture, a blend of authentic Bengal, age old rituals, the heady hangover of colonial cocktail and essentially Nawabs. Of course there are Maach (fish), Mishti and More, but I am here to talk about the cheap eats of Bengal, which shall cost you somewhere around INR ten(yes, you heard me right, 1/7th of a dollar!). ARe you ready for the ultimate Kolkata Street Food Tour?
1. Jhalmuri
Jhalmuri is a wonder mixture, marrying puffed rice with a blend of spices, boiled potatoes and often topped with a crescent coconut slice, presented in a handmade Thonga (an easy take-way carrier, made with recycled paper). A lot of cries were going on suggesting they stop using newspaper to make the Thonga, for the ink is injurious to health. However, Indian subcontinent dwellers  are particularly strong in immune system. Hence, a gentle serving of Jhalmuri sate us and not sicken. Nevermind, the Thonga making is a huge source of income for many under privileged families.
My initial days of traveling in the great Indian Railways inevitably came with a handful of Jhalmuri. Baba would get me a pack for INR 3 (circa 1994, if I remember correctly) and keep me engrossed in it, away from the other worldly pleasures (read, the hawkers selling plastic dolls). I would save the coconut slice for the last bite. "You should eat the best thing at the end", I have been taught.
3 decades down the line, I try to save the crescent coconut slice till the last bite. However, by day the slice is getting petite. Three decades down the line, we are still eating Jhalmuri for a meager ten rupees, ignoring massive inflation and economic upheaval.
Earlier, I could also treat myself with a handful of Cheenebadam, roasted peanuts. They are scarce these days.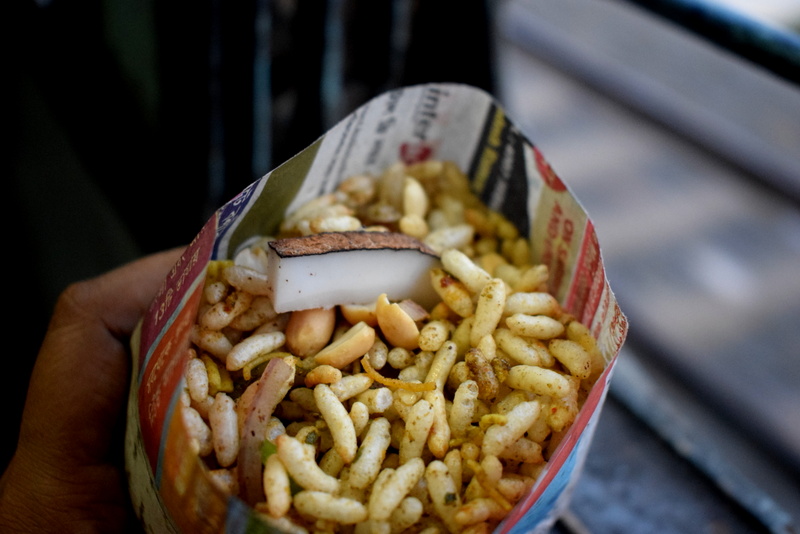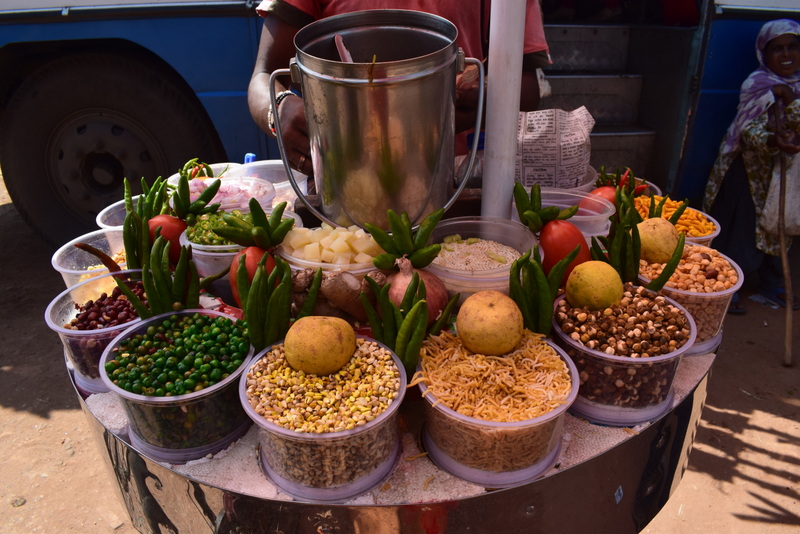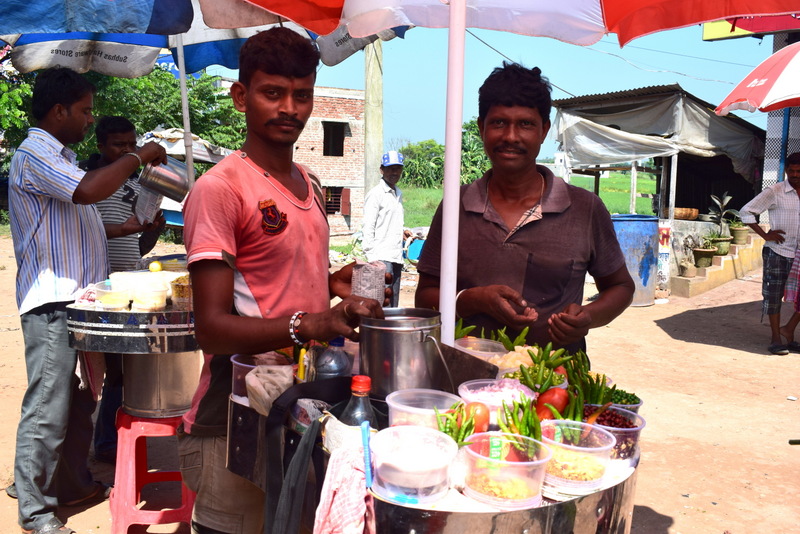 Pro tip: please enjoy Jhalmuri during train travel or the longer bus journeys. The regular Jhalmuris, sources from the old streets of the city, lacklusters in the make in my opinion.
2. Ghotigorom
The Kolkata parks that shelters couple in search of cuddle and warmth, provides a cheap treat for their soul, Ghotigorom, a very close competitor to Jhalmuri is served from an earthen pot, kept gently warm with a kerosene flame. Their "thonga" is not even handmade. It is a piece of paper, twisted and given a triangle shape. Ghotigorom is a mix of Daalmut, a gram flour made tiny lot of sticks and freshly cut onions and cucumber. Well, you may debate with me with the freshness of onions though!
In past 5 years, I have seen the price whopping from 5 to 10 for a packet of Ghotigorom. It even soars high up to 40 rs during Durgapuja. The burn!
That's about half a dollar.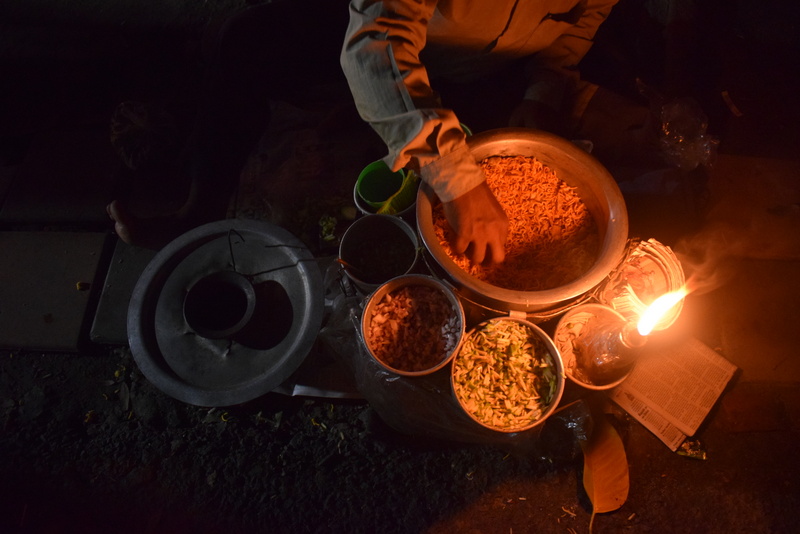 Pro tip: grab your "thonga"of Ghotigorom while strolling by the city's own Hoogly river. Sans the sweetheart, the Ghotigorom is deem fit to keep you warm.
3. Rosogolla
The legacy of the song "Ami Kolkata er rosogolla" goes way beyond what mind can perceive. From indecent lure to adorable nicknames, your Bengali identity will call for the invariable song being sung at you, for you, while you are around, used as catcall, for dance request and what not. Thou shall not be disheartened though. Though shall savor few more while sponge like cottage cheese delicacies in typical Kolkata style, "top kore". Thou shall be careful about the sugar syrup and mean to avoid for shooting blood pressure and diabetics count. However, at the end, you will know, it don't matter. You will eat one more. Yes!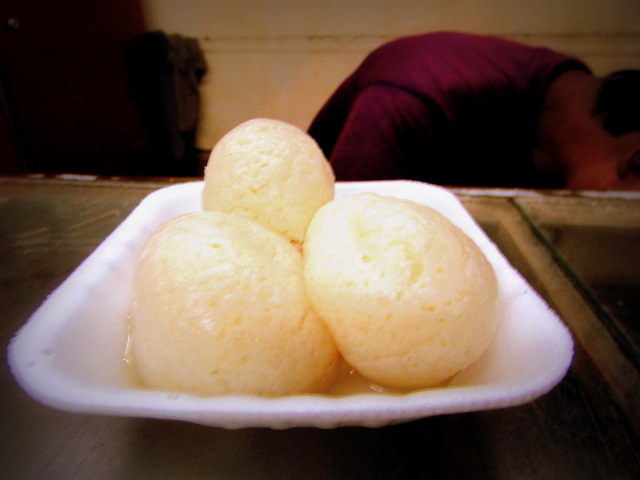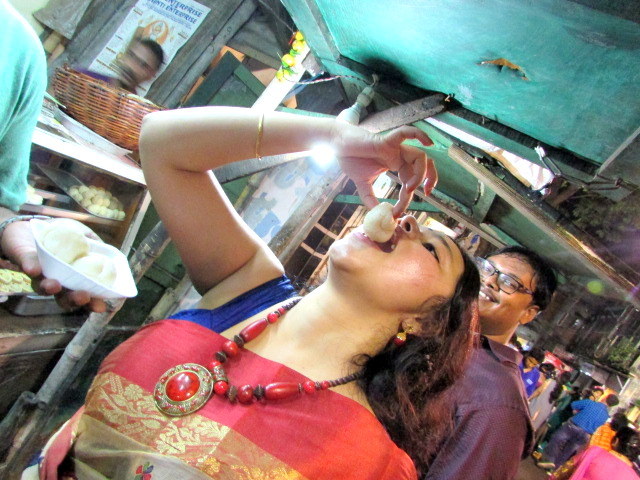 4. Daab
Dadu would never say no to anything I ever demanded! Except for cold drinks. And Magi. "Ki Khao egulan?" He would ask often. It was one of the balmy Kolkata afternoon he introduced me to Ramu. Ramu was a student from my dida's school, a 12 YO kid who would run at the first chance he would get from the studies. Summer vacations had had Ramu and me sitting together and taking English grammar class from dadu, for a couple of hours before we could go play.
During one of the play activity I witnessed Ramu climbing the coconut tree at dadu's courtyard like a rodent.
A lot of requests followed after which Ramu did try to push me through the trunk till I fell to break one milk teeth. I was 5 back then. The teeth would have went off by itself, anyway but the fall made us culprit. Ramu would bring me the fresh green coconuts straight from the sky as and when I wished for! These days, you find them at every corner of the street.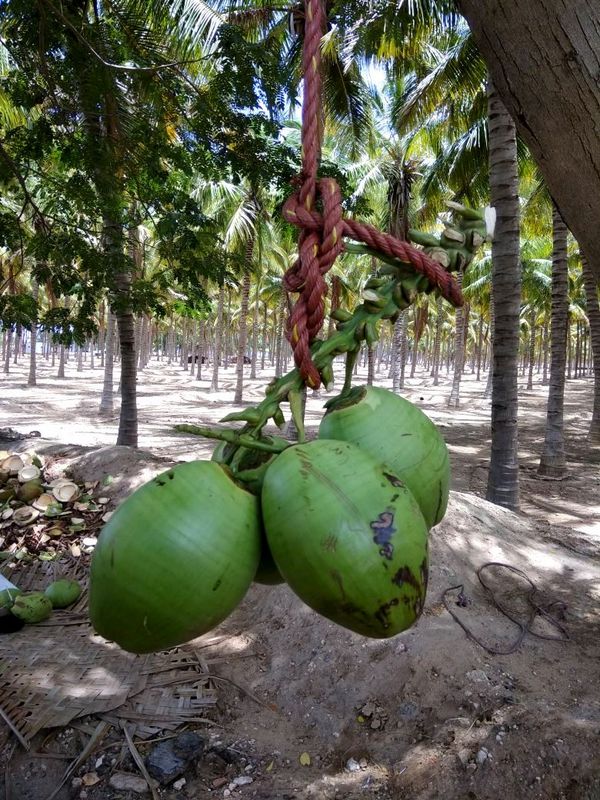 Pro tip: Use them as the anti-blemish toner. Use the malai inside to cook with prawns!
5. Chaa in Bhaar(the tiny earthen pot)
A cup of tea, fragrant with the freshness from tea valley's of Darjeeling, await you at every corner of the street.The fresh brew is sweetened with sugar and made more appealing with milk. What makes it unique is the "Matir Bhar" or the earthen pot they serve it in!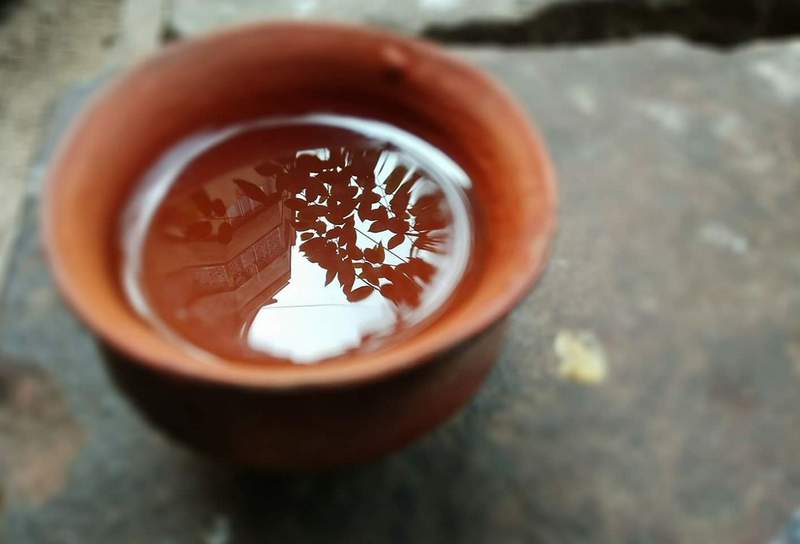 Pro tip: Do break the earthen pot after are finished drinking. There is a parallel business ongoing where children will hunt for the used pots and resell them for another drink.
6. Eggs
Eggs are survival essential in the sultry humid city. Whether you are traveling in train or packing up for a picnic or ordering the heavily Indianised Chinese noodles, you would prefer a piece of egg in it. For the blessed soul, an early morning visit to a local market may result in handpicked duck eggs, with yolks being creamier, tastier and a fiery red.
Pro-tip: Do try the green chilies with egg and not just red chili power. The intense aroma of green chili is a winner with a sober boiled egg. If you want to shy away from experiments, go with my mother's choice, the boiled egg with salt and pepper. The pepper works only if it is freshly crushed.
7. Lassi
While the whirlpool of a pot separates the whey from curd effectively and provides the much needed solace for weary souls as the summer advents, Kolkata gets inspired by mainland Punjab and brings the goodness of Lassi on her streets. often flavored with fresh pulpy Mango, it has evolved to be a charming nectar and replaced the more traditional Beler sorbot or Aampora for our loss.
8. Chop/Beguni
Chop, I wonder, how has been christened so! It is a melange of vegetable, or just potato, sometimes the aubergine, battered with gram flour and deep fried. Many attribute the batter fry trait to be a direct influence of British era. The lackluster industrial scene of the state of West Bengal, with sarcasm, is often referred to as "Chop Shilpo" denoting nothingness. Keeping politics aside, I suggest, try to grab a hold of Dim er Devil, the Kolkata's answer to Scotch egg. My initial days at kitchen had been all about learning to make the perfect potato feel for Dim er Devil!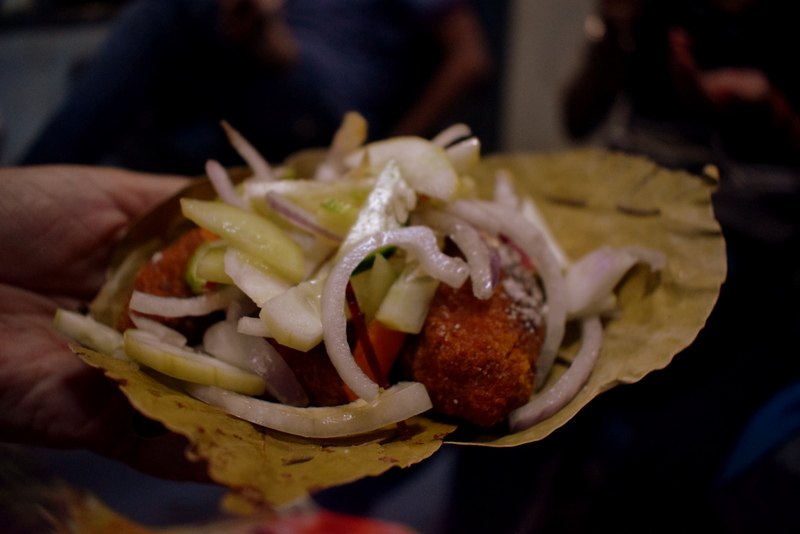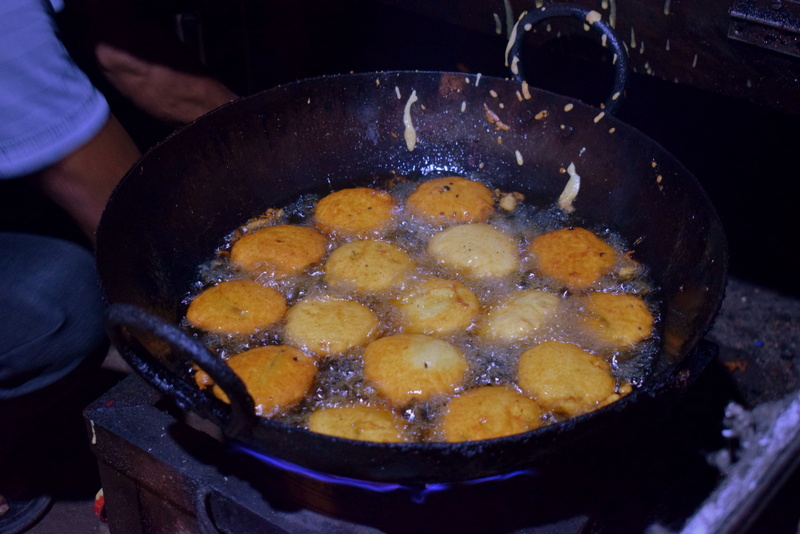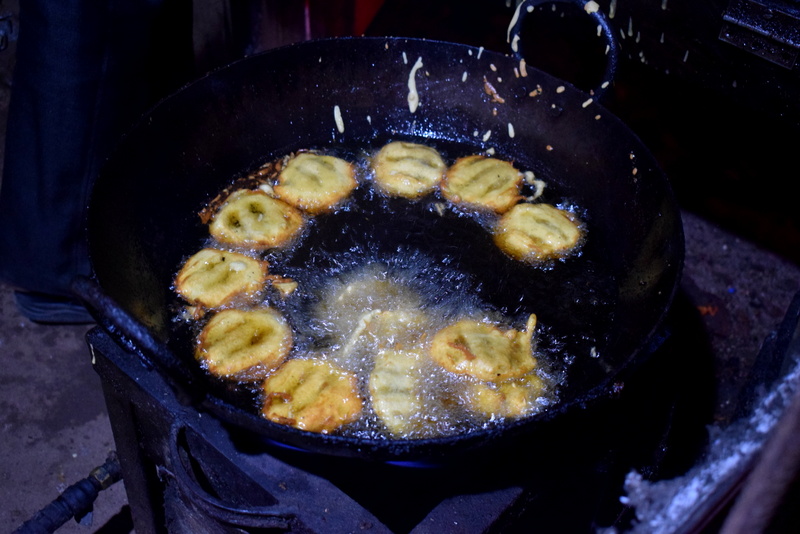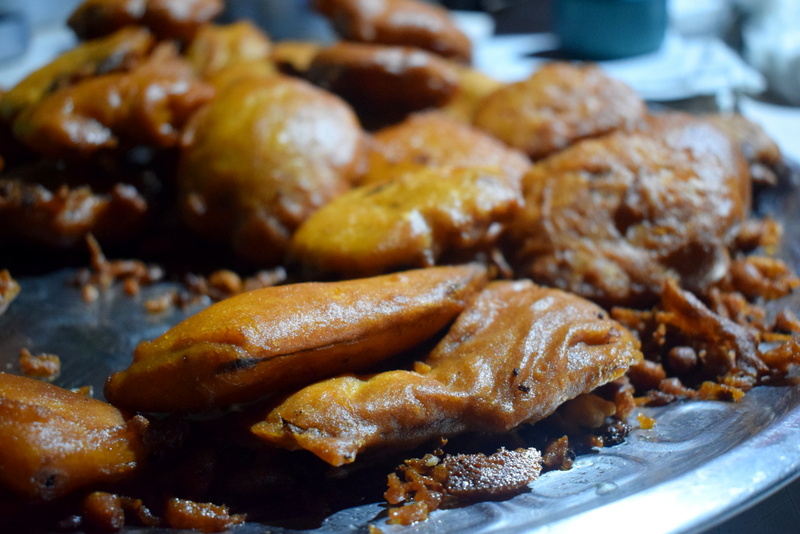 Pro tip: Try the Beguni. My all time favourite. Do rub the Chop with the piece of newspaper they serve it on to remove excess oil. We only can save our heart!
9. Kochuri
During my college days, Kochuri had been a savour. The kochuri of North Kolkata lanes, where they fry the bread in front of you and serve the hot product on top of Motor Daal. It is so good! Let me try to explain how the wonderful bread is prepared, Once you have kneaded the flour dough, you make small portions of it, stuff it with cooked grounded green peas and spices, flatten it to a round shape (for the beginner the round may take the shape of our country, but that's okay) and leave them in Karai to deep fry for a few minutes. It is the quintessential breakfast element of North Kolkata!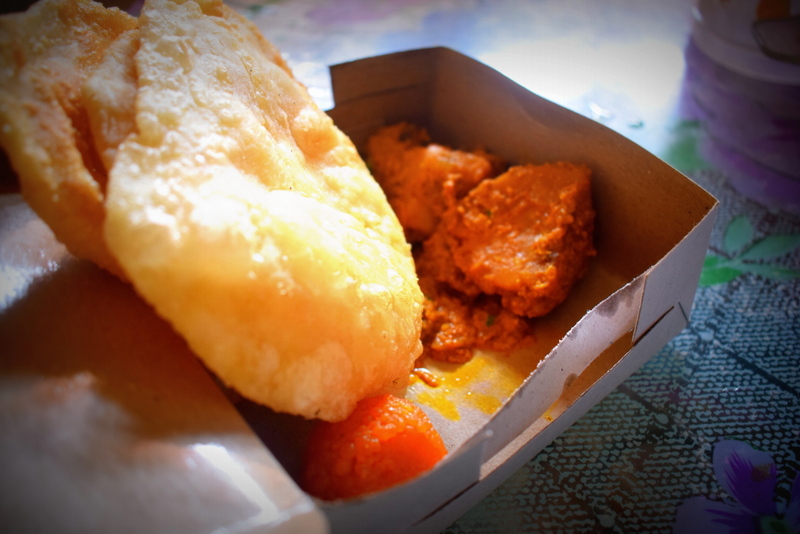 9. Paan
Imitating the benarasi Paan, the Paan they sale at the streets of the city are quite exotic. Of course you may try to take a leap of faith with a Jarda flavored paan, that will give you a good "Kick". I love the Mishti Paan variety, where the beetle leaves are stuffed with rolypoly jimjams inside!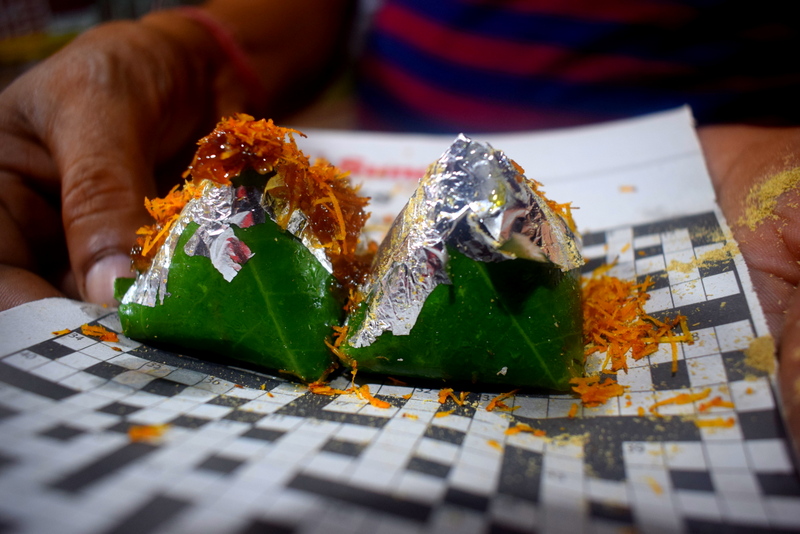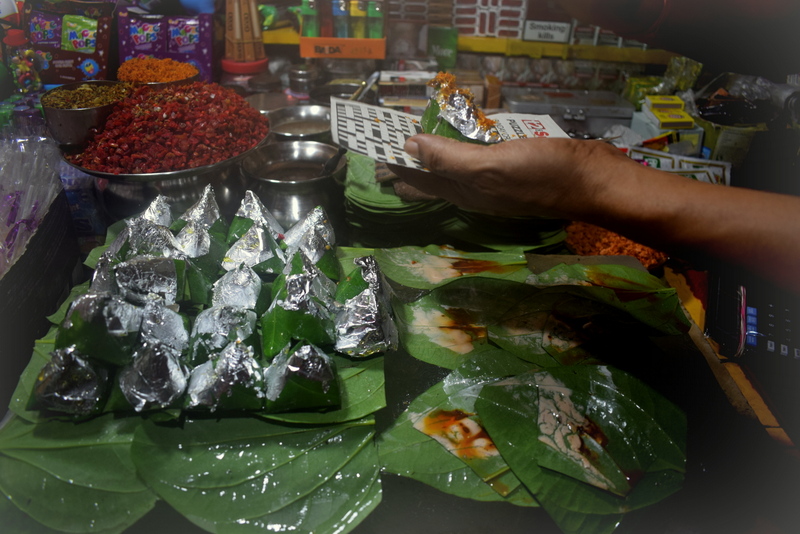 Pro tip: For souvenir shopping in Kolkata, you may want to look for a "Paaner Baata", the traditional beetle nut case the Bengali Ladies has been using for ages.
10. Pastries
Monginis, later rechristened as Mio Amore and Kathlyn were the introductory places to the world cuisine for many of us. They gave the first lesson what a patties, a spring roll, a cutlet and almond pastry may look like before we ventured into the "Sahebpara" of Parkstreet and overtly colonial Flurys. These days, with every visit, the limitation becomes remarkable. However the taste of the cream-roll and related elation remain the same, just the price took a threefold leap.Never mind!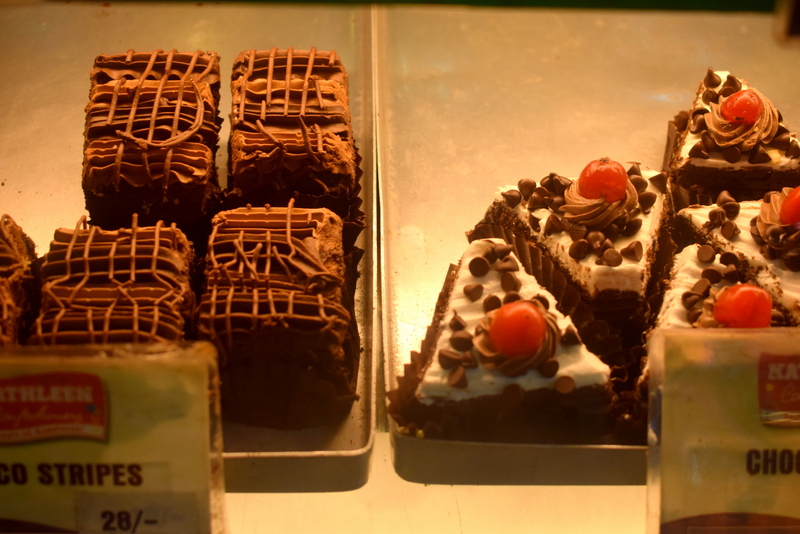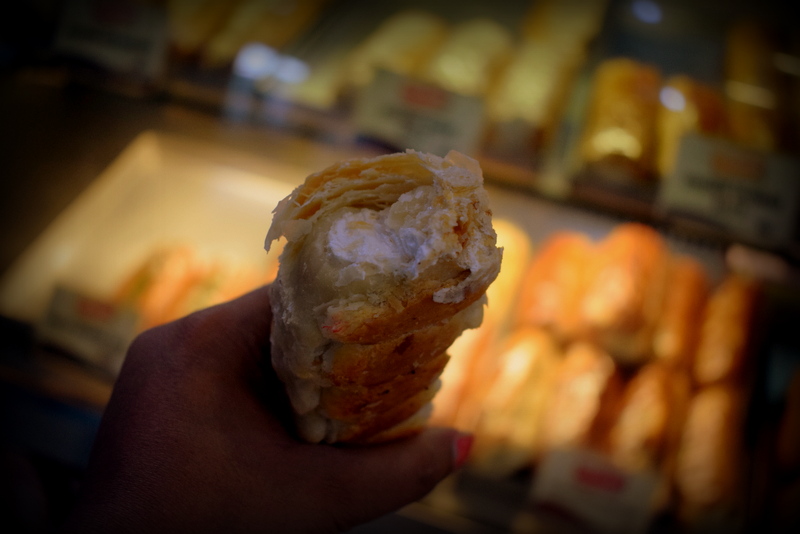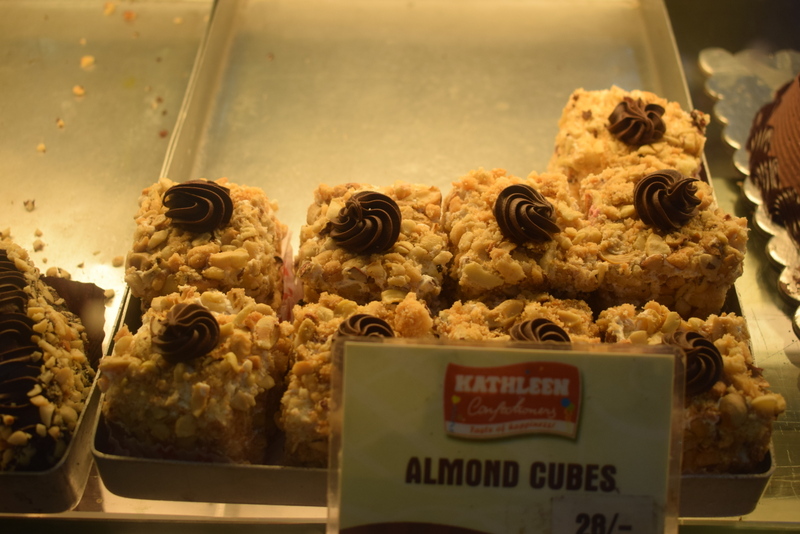 11. Amritti/Jilipi
Not like the Rosogolla but our casteist society has bestowed sheer admiration for Amritti or Jilipi, otherwise known as jalebi pan-India. Each bite to he crunchy super coated spiral wave, each step forward to the other world, a new dimension!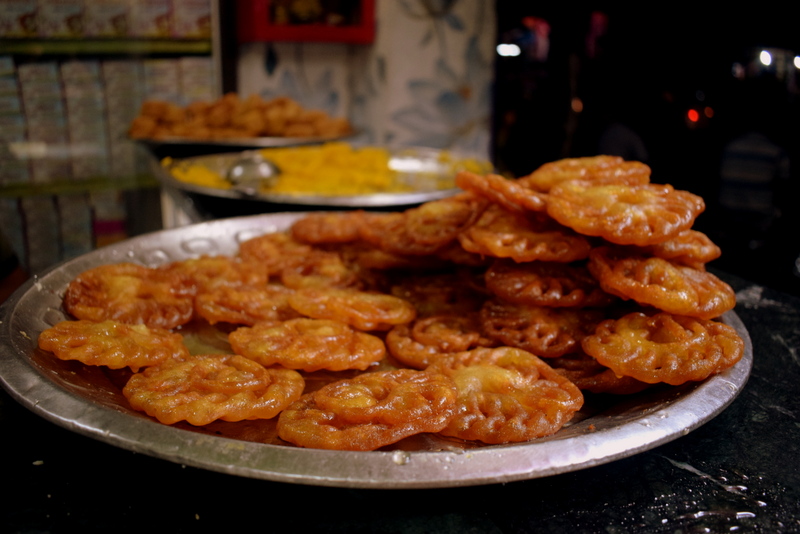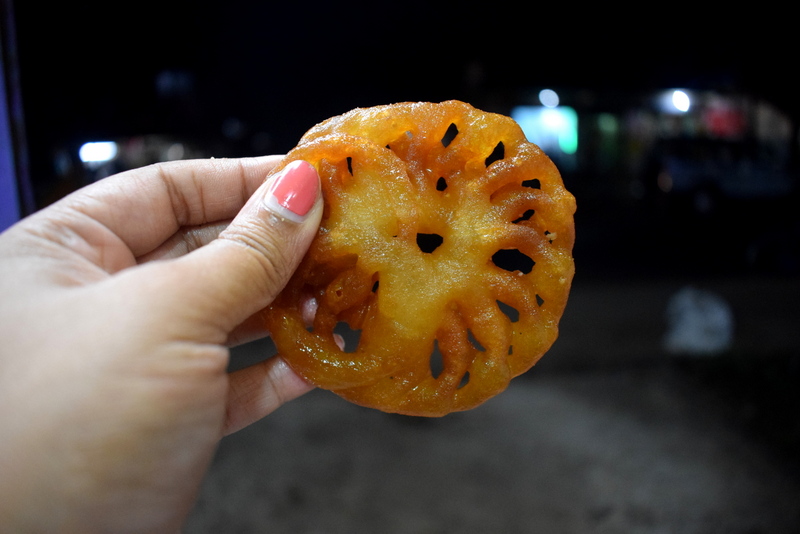 Pro tip: Try at the end of your food escapade for extreme sweetness can cause loss of appetite for a long period of time.
12. Chanapora
Imagine the creamy layer of the boiled milk getting saved up for a fried delicacy! That is Chanapora. In many ways it tastes like cottage cheese deep fried and sweetened. Not the best of Sweetmeats of Bengal however one of my favorites.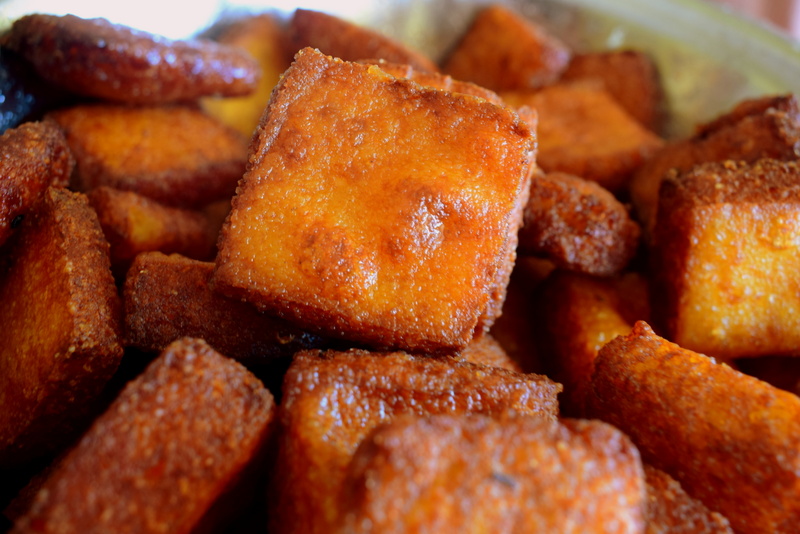 Pro tip: Go easy, may cause you stomach ache
13. Lyangcha
While traveling n the Durgapur Expressway, there is a fair chance your vehicle will take a quick stop at the Shoktigarh. The small town, from bardwan is renowned for the elongated dark, deep fried sweetmeat call Lyangcha (lteral meaning, the limping one). Do try a gentle serving of Seetabhog and Mihidana with this. They are served warm and meant to be relished freshly cooked. Do pack for the road ahead. The sweetmeats of Bengal need special mention and a separate blog post dedicated for them. (Let me work on it!)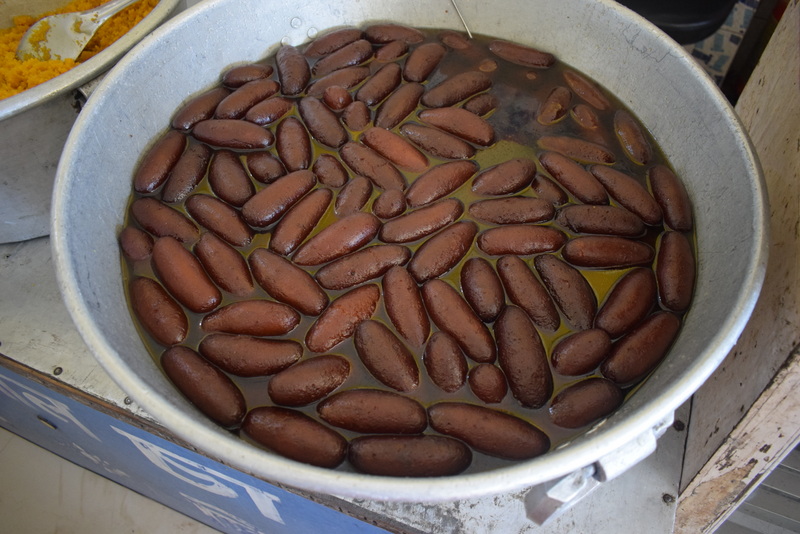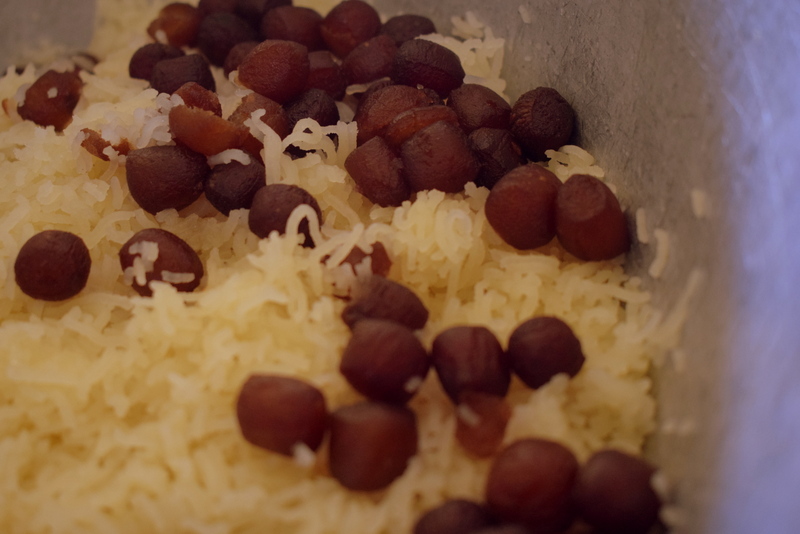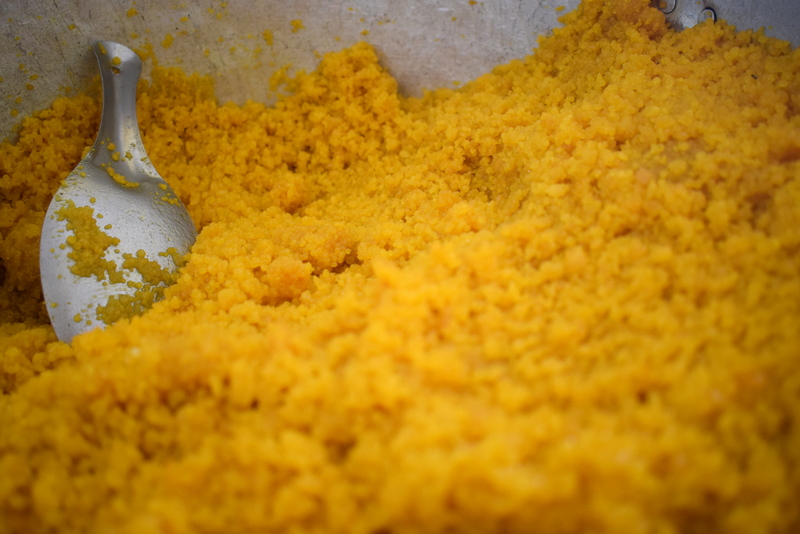 Honorary mention: The rolls. If you have noticed, none of the aforesaid options contain fish or meat. That should not indicate we do not have cheap eats rich in protein! A decade back, a chicken roll would have cost you 15 bucks which is the exact double now. However, trust the yum sheek-kebabs of Prince Anwar Shah road. The beef rolls from the street has always been a favorite among the student populace. Thankfully, unlike the north Indian states, beef is celebrated as a delicacy (read Oly pub, the erstwhile Olympia) and not hunt down for lynching (yes, the cow terror of North India).
Want to get real time updates of my travels?
Get updates and read additional stories on the Orange Wayfarer Facebook page.
Follow Orange Wayfarer on Instagram.
Follow Orange Wayfarer on Twitter.
You may also subscribe to my weekly newsletter!