We planned for an African safari trip, especially Kenya, while the strenuous steep of the Himalayas from Arunachal Pradesh was shocking our internal organs with acute AMS. From the height of the tallest mountains, we decided to head to the savannah grasslands of Africa in the blink of an eyelid. The following 8 months went into extensive planning, research and a few more trips.
Since we plan most of out trips DIY, we have a fair share of an idea about the questions you may have in your mind about a possible trip to Africa, especially a Safari in Kenya! I also posted an Instagram story where many of you asked questions. As promised here are the answers and more!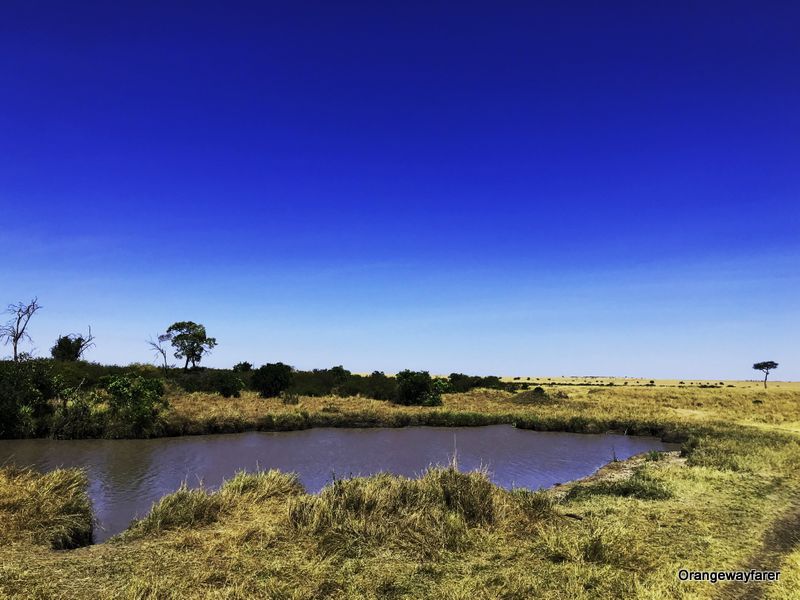 (We visited Kenya, Zambia, Zimbabwe and Egypt for this month long trip!)
What Motivated Us to Visit Africa?
(Question by @k_a_y_d_e_e)
(Erm… the single word answer would be for Africa Safari!)
I paused for a while when I was asked this question.
Then, I thought in my mind, why Africa? Did I not ask this to myself? This Africa trip demanded a lot of money, time, effort, extensive travel time, and effective persuasion (language barrier in most of the regions, haul flights, arguments with trip operators, strange food for days, mild culture shock). But hey, is not that why we all travel?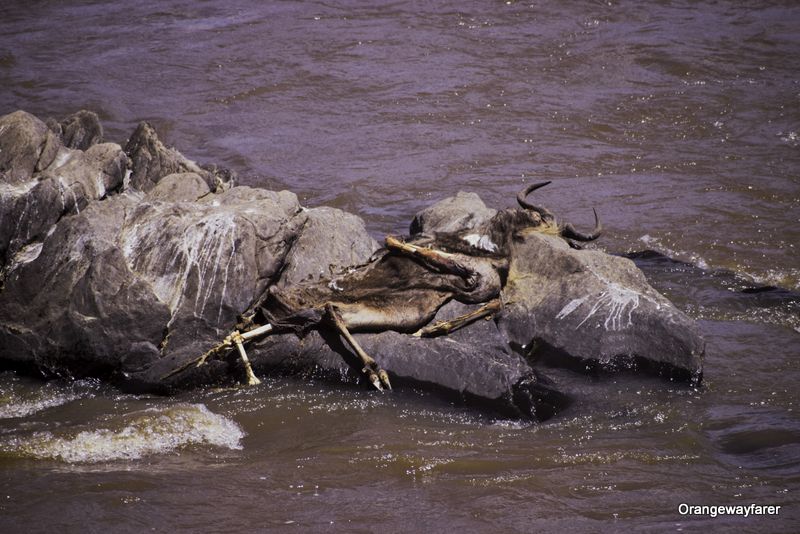 The usual explanation people give is "Nowhere you can spot as many wildlife as in Africa!" Well, it is partially true. We spotted around 22 lions in multiple pride in 3 days safari at Masai Mara, Kenya. I bet an Indian has to make at least 20 trips to Sundorbon to spot one royal Bengal tiger. Thanks to the constant surge of human population, they are near-elusive in Sundorbon. Tadoba National Park, India still can take it for the league.
But Africa was not about just spotting lions or the big fives for that matter. The continent strikes a chord in your senses and reminds you of your origin. This vast savannah land was the home of ancient hunter-gatherers, forefathers to the human race. "Our DNA remembers!" Yes, I have been reading Sapiens, lately!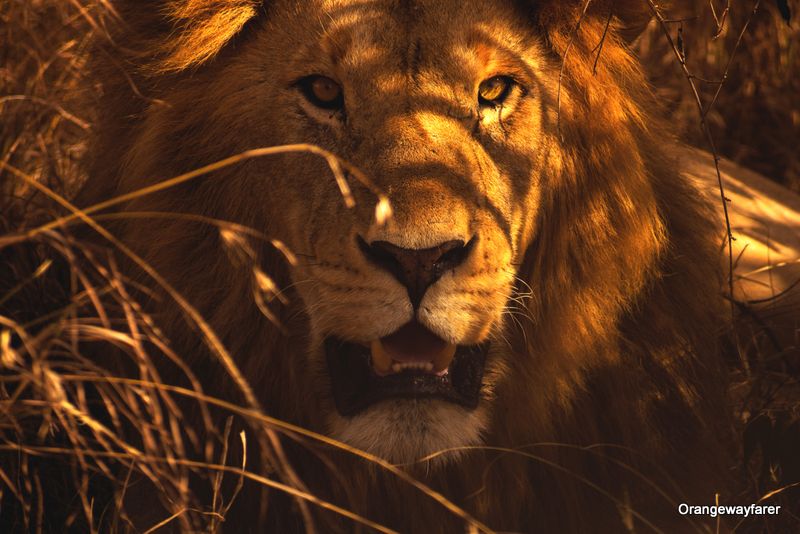 Africa is way beyond the usual safari experience that NatGeo has been preaching for years. It is a thriving land of human history, natural wonders and tapestry of cultures. From drinking fresh blood mixed with cow milk into diving into the bottomless Indian ocean, Africa will tease all your senses and put a magnet under the skin. You have to go back again! (If only I could show you. Skyscanner shows real cheap deals from Bombay to Johannesburg for coming season, which I will be booking in an hour's time, inshallah!)
For the African Safari, we chose Kenya because:
Kenya is a prominent player in the tourism industry with sound hospitality service in practice. Major tourist operators work and operate from here for all the East Africa safaris.
While the major portion of wildlife in Africa can be sited in the East African countries, please remember these are developing nations, often with a volatile political situation. Kenya felt a safe choice among these, to start with. (we will be back in search of the Gorillas of Uganda or the moon land from Namibia, soon enough!)
It was the month of August when the great migration is in full swing, meaning a better concentration of animals at the Masai Mara National Park.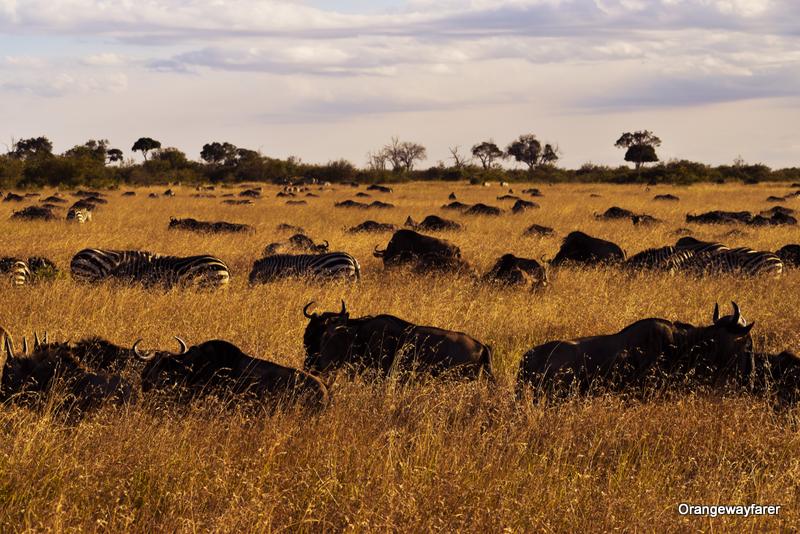 Also read: The beautiful golden hour at Masai Mara!
Money matters! How Much is Budget is Good Enough for Kenya?
(Asked by @ankitpar9, @praaatiiik, @nookandcorners, @mitra.poulomi)
Africa can cause a bankruptcy situation if not planned well from beforehand! Let me break down our budget estimate for your reference, with practical tips to save money!
How to find the cheapest flight to Kenya from India?
I could travel the entire world by now but international flight prices really hurt!
We booked a flight from Bengaluru to Nairobi at least 8 months prior to the trip. With credit card cashback, we ended up paying 15K INR ($208) per person.
If you can, book your flight from Mumbai, preferably on a weekday, for a slightly better deal!
Applying for a Visa for Kenya
Indians can apply for an E-visa to enter Kenya. Mine was approved in a workday. You can apply here. For any enquiry, I suggest calling up Kenyan embassy directly (I always do this myself). Also get the Yellow fever vaccination done.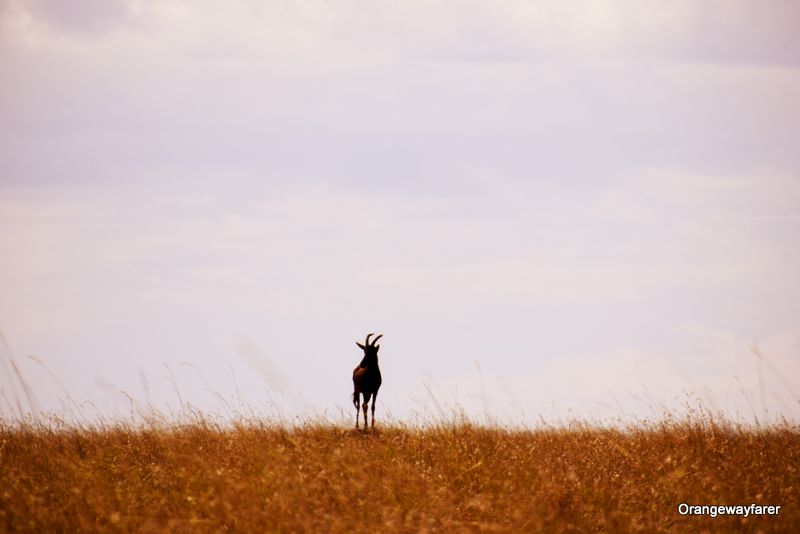 The African proverb says, "Money is like the waters of a sailing river it flows away."
An African safari is not budget friendly, period.
For a 4 nights safari trip at Kenya, we paid USD 1150 per person to the Kenya Walking Survivors Safari. It included three nights at Nairobi and three nights at Masai Mara. The price quoted included the following:
Three meals: Breakfast, lunch and dinner
Stay at resorts like EKA Hotel, Nairobi and Sekenani (which was later changed to Azure Mara Haven, since it was high season and overbooking is a norm in Nairobi).
Park entree fee (around USD 80 for every day)
A minivan for the commute
Nairobi sightseeing
The package did not include the following:
Stay for the last night
Airport commute
A few meals
Supermarket hauls (lifesaver before you are venturing into the wild interiors)
Since a lot of you had asked me about the budget for the Kenya Safari. Here is a rough estimate for each person:
Flight: $208 (one way)
Visa: $60
Tour package: $1150
Miscellaneous: $50
Total: $ 1468
We flew out to Zambia from Kenya. In case you want to draw an estimate from the budget, you can add the return airfare and calculate.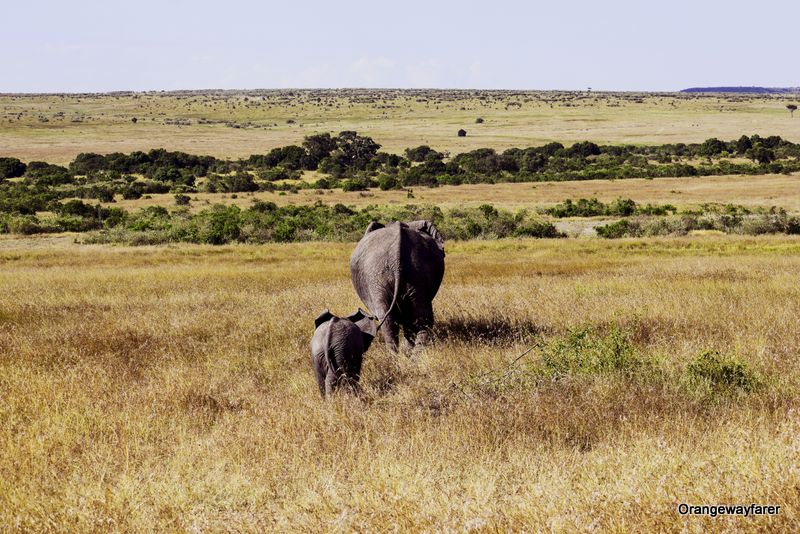 Here are the reasons we tagged along with a tour operator (instead of planning it DIY):
The price quoted was reasonable and obviously at a better rate than what online booking would have given us.
We were travelling in a group. We were four friends. We wanted a seamless and private travel experience.
The hotel accommodations were all of the superior quality (hence the expenses were a bit extra, $800 is good enough if you are looking for a budget tent stay at Mara).
We traveled to Kenya during the beginning of August which is the prime season for the great migration. Hence, it is a high season in the tourist industry. Many lodges were overbooked or sold out and the price skyrocketed for most of the activities.
Practical Ways to Reduce and Control African Safari Budget!
1. Choose a different season for travelling. Prices come down to even 50%. Contrary to the popular belief, you will be able to spot plenty of wildlife at Masai Mara reserve and other national parks. Chances of spotting the lioness pride will cub go up. However, weather can be a bit extreme.
2. Have an extra day at Nairobi and shop around the tour operators for the best deal (if you can, though it is not recommended due to poor safety conditions). A friend of mine had worked at Nairobi and suggested the same. However, it is different from being an expat living in Nairobi and a tourist for a few days.
3. Hire a minivan cum safari car with a driver on a freelance basis. Talk to him and chalk out a DIY plan for your next Africa trip.
Money exchange in Kenya: Almost every mall in Nairobi has an exchange office where USD can change its shape and form to Kenyan shilling. Exchange rate differs with the economy. We got KES 100 for $1. Travellers can also download MPesa, an online wallet and pay for services (highly recommended since carrying cash may prove to be troublesome).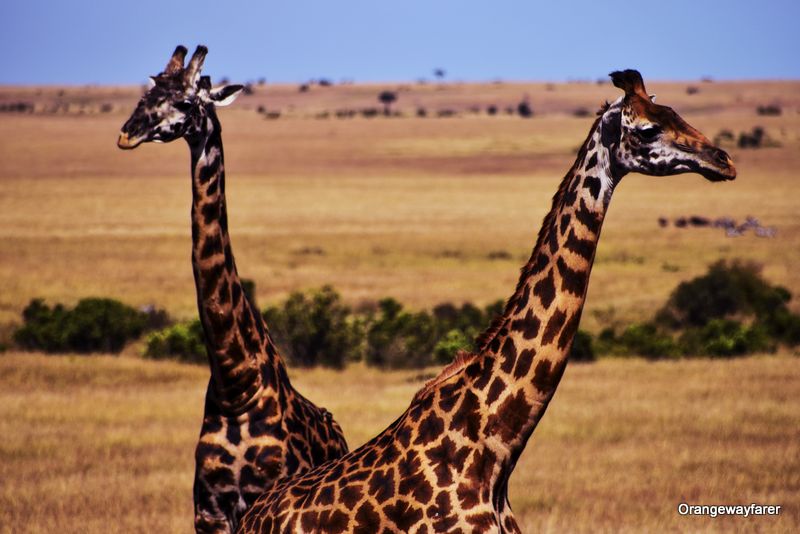 Jambo Jambo Kenya
(Jambo: Hello in Swahili)
Now that you have got the visa and the flight tickets, you need to wait (patiently) for the day of flying! The Nairobi airports Karibu you. You go out in the capital city only to spot a few zebras and wildebeests on the main road!
Just kidding. These are the statues, the artworks put up by the Kenyan government. You need to wait at Nairobi at least for a day before the real Africa Safari experience beckons.
Meanwhile, pick up a few Swahili phrases to converse with the locals. Let me help you with my favourites:
Dada is a sister
Kali is brave (often the lions are named as Kali)
Ndugu is a brother.
Hapana is no
Ndiyo is yes
Maji is water!
and then, of course, Hakuna Matata!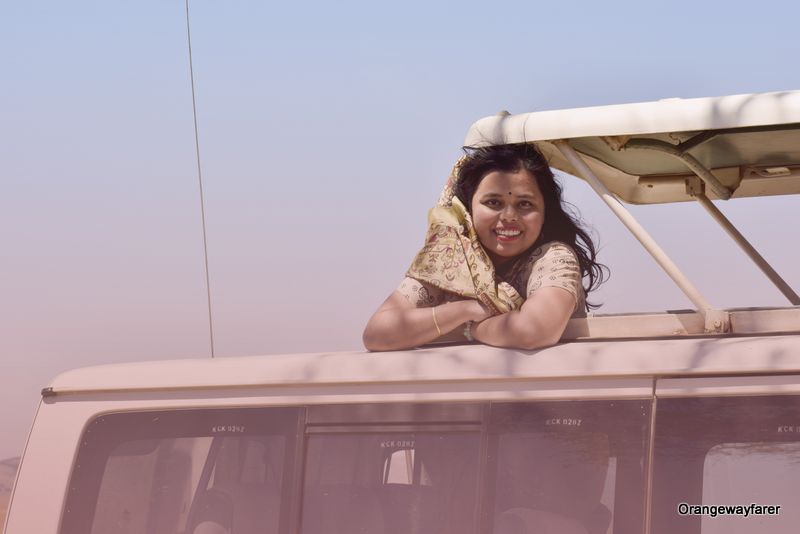 S loves learning new words from Duolingo, an app. I learnt from him. Once, it so happened, he asked for Samaki at the HAL market, Bangalore, Samaki being carp fish in Swahili.
English is widely spoken and understood by the hospitality community. Even the Men from Maasai tribes spoke English with ease, at times, even with a British accent! Huge shout out to the missionary schools at Mara!
At Nairobi, we had little interaction with locals. Body language worked wonder when English failed.
How many days are good enough for a Safari in Kenya?
(asked by @deeghii)
This one is tricky to answer. I am personally all for slow travel and at least staying at a place for two nights to soak in the feel. However, I have known bloggers/ tourists who have been to Mara only for one night. Some of them have spent 10 nights. And some plan the retirement life amid African Savannah (me guilty)!
Practically, at least three nights safari at Mara is recommended. You will have enough time to soak in the glorious sunsets, following a game on a hunt, observe a spectacular traffic of millions of wildebeest and find some time to visit the Maasai village on the outskirt of the park.
If you love wildlife, I suggest staying at Mara at least for a week. Alternatively, you may choose another national reserve and distribute the time. But remember African roads are long and treacherous. Time runs slow in Africa. Every journey will be strenuous. Hence, plan accordingly.
Apart from Maasai Mara, we recommend checking out Amboseli, Lake Nakuru (en route mara), Lake Naivasha, Tsavo east, Nairobi National Park. The last one has a gorilla too!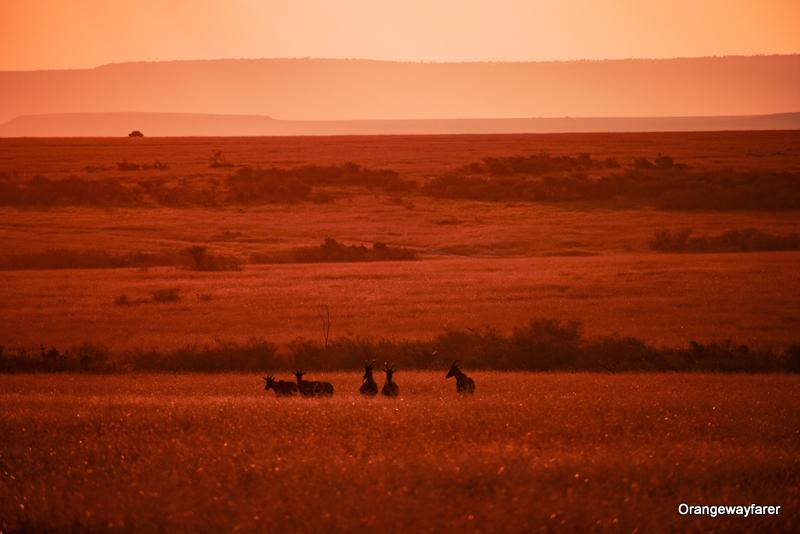 A few Topis stand in a herd as the Sun sets at Masai Mara, Kenya.
How on Earth I could leave this place?
One Week Itinerary for Masai Mara: Tried and acted upon by yours truly!
Apart from Masai Mara, we suggest exploring at least one more the national park on a day trip and the capital city of Nairobi!
Day 1: We reached Nairobi in the afternoon and spent the entire day at Eka hotel, a luxury property.
Day 2: A day trip to the Amboseli National Park (Instead, you may choose to explore Nairobi National Park which is close by. Amboseli demands a long journey of 5 hours.)
Day3: Start for Masai Mara. Stop at Hells Gate National Park, the Great Rift valley. Experience golden hour at Maasai Mara.
Day4: Game drive at Mara
Day 5: Game drive at Mara
Day 6: return to Nairobi after a morning game drive
Day 7: Exploring Nairobi. Visit the Giraffe centre, the David Sheldrick elephant orphanage and more.
Day 8: start for Zambia/ Return home
For a Wholesome African Safari Experience, take along the following books:
Fodor's the Complete Guide to African Safaris: with South Africa, Kenya, Tanzania, Botswana, Namibia, Rwanda, Uganda, and Victoria Falls (Full-color Travel Guide)
2. African Safari Journal and Field Guide
3. The Safari Companion: A Guide to Watching African Mammals Paperback [December 1, 1999] by Richard D. Estes (Author), Daniel Otte (Illustrator), Kathryn S. Fuller (Foreword)
4. Don't Run, Whatever You Do: My Adventures as a Safari Guide [Kindle Edition] Peter Allison (Author)
5. Green Hills of Africa (a classic and my favourite!)
Is Kenya a Safe Place to Travel:
In the week-long travel, I met plenty of Kenyan people, mostly associated with the hospitality industry. Some of them tried selling me a wood plaque, some of them tried to tell me stories of lions.
Never did I meet a soul who was aggressive, pushy or disrespectful. Many briefings were given as to how a situation may turn hostile, how the Somalians are always on the lookout of kidnapping a foreigner and I can be an easy prey, how the evenings are dangerous to walk on the Nairobi streets but I personally, never encounter a negative experience. In fact, every Kenyan I came across were the most humble, sober and friendly person I have met on the road!
About Insects and mosquitoes
((Asked by @kani_kara19)
In Nairobi, you will not spot any insects apart from plenty of colourful butterflies. Though mosquitoes are a threat in certain parts of Africa, we did not find any overwhelming presence of them!
At Masai Mara reserve, our resort Azure Mara haven was often visited by the lions or hippos at night. Honestly, I hardly had the time to notice bugs or insects. There were none, to be honest. But again, it is a jungle where you are visiting. A chic urban luxury resort will mar the mood of Masai Mara!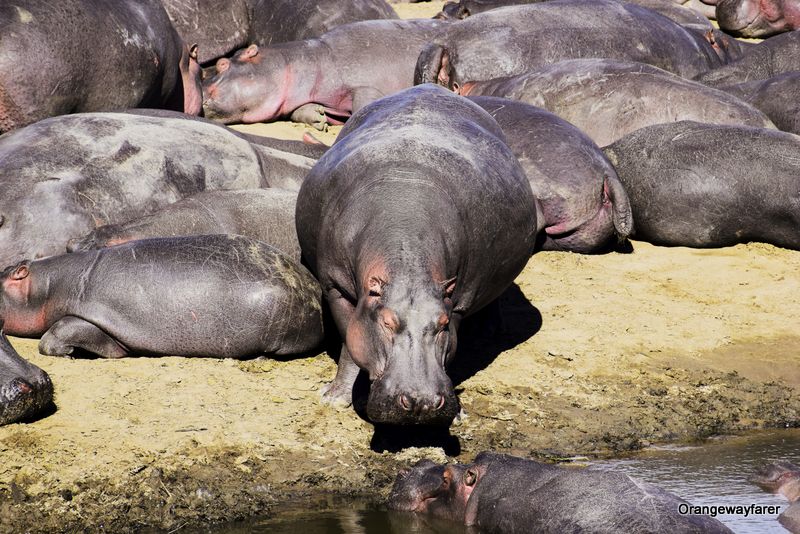 For the Love of Nyama Choma and more…
The local delicacy of Africa is the goat meat chops. The grilled chops, also known as Nyama Choma is a diner's delight. Goatmeat has a strange odour (I do not mind. I am a Bengali, my Sundays were made of 'motton kosha') which can put you off at times. We suggest sticking to the beef variety. Every butcher shop has a Nyama Choma shop close by.
Mode of transport:
It is always recommended to ride on a registered taxi while commuting. Uber runs with ease. Though for an early morning flight, we suggest requesting your hotel for an airport transfer. At the wee hours, finding an Uber can be a task!
The local favourite is a Matutu ride, except for the disco bus. The African buses are the funkiest motor vehicle on earth. Alas, I could hardly communicate with the conductor though. The Matutu, on the other hand, works as a minibus. It is a shared minivan with frequent stops and an eccentric conductor! Matutu is also known for the unprecedented rush that beats Nairobi traffic and reaches a destination on time!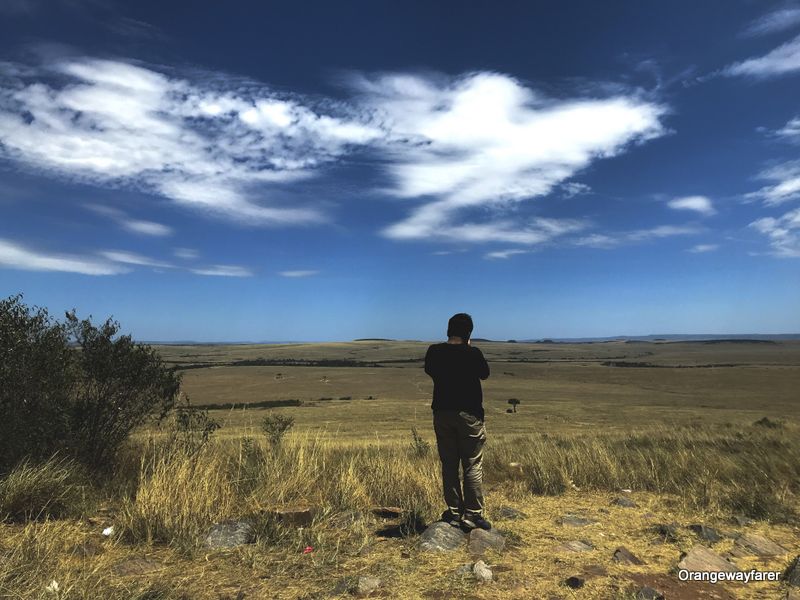 Like the read? Pin it for later!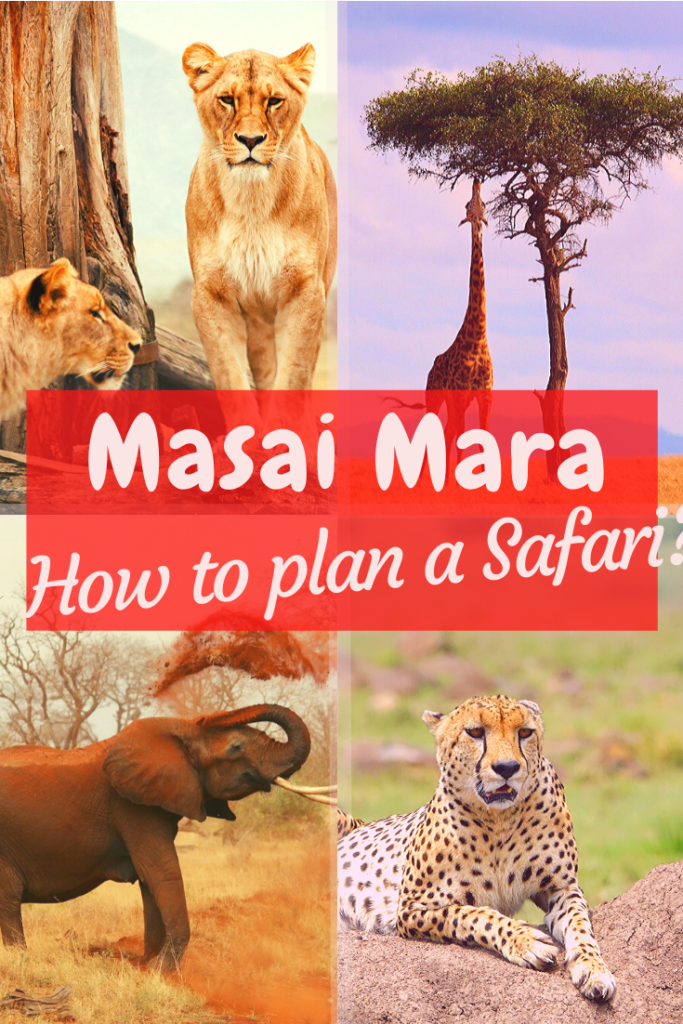 Let's stay connected on Facebook, Instagram, Twitter!
Want to book a stay for the next vacay:
This post may contain affiliate links. Please read
the disclosure post. If you have liked the article, you may support it by buying using these links without any extra cost to you.