About Hampi travel blog: Hampi is one of the most scenic ancient UNESCO Heritage Sites in India. Situated in Karnataka by the banks of Tungabhadra river, Hampi houses numerous ruins dating back to the Vijayanagar empire dating back to 1500 CE. Scholars spend 3 months at a stretch to explore the old ruins and still can not get enough of Hampi! ASI, the Archaeological Survey of India has been working at excavating old ruins for ages and hope to finish the project by 2021. 
Hampi: Know before you go!
Hampi reached the zenith of fame and riches during the reign of Vijayanagara dynasty, the last Hindu empire of Indian peninsula. With consecutive attacks from the Muslim Sultanate, Hampi fell finally and succumbed to ruthless destruction and looting, that lasted or more than 6 months. Once the second largest city of Asia, Hampi was reduced to rubble and left in utter neglect. nature reclaimed parts of Hampi, with trees and caves growing everywhere. Bears and leopards and wild bores came to live in the sprawling temple complexes.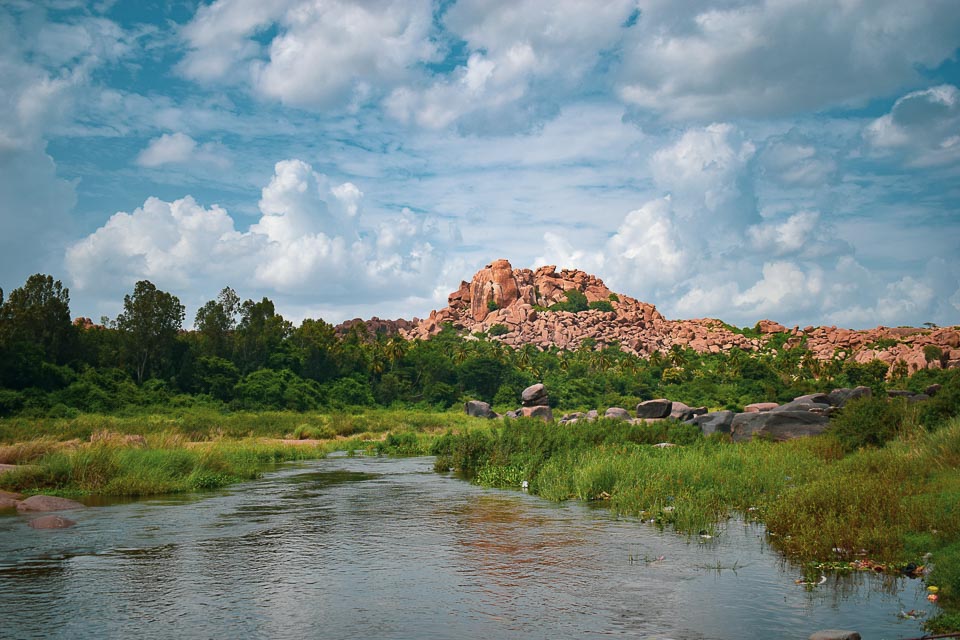 From late nineteenth century, Hampi slowly appeared back in limelight. Photographers and historians took interest in the ruins of this beautiful and prolific civilization. From that, Hampi is now one of the integral spot of exploring South India! In fact, Hampi is part of exploring the Goa-Hampi-Bangalore triangle and is very well connected with the rest of the country by air/train/bus.
As a traveler, we often travel on a tight schedule. A weekend is all we have or may be a week at a stretch. I have designed the perfect 3 days itinerary to explore Hampi on one such long weekend. If you have longer time, do not miss exploring the ruins of Badali, Aihole, Bijapur and Pattadakal temple (another UNESCO heritage site). These are all historical places and bound to leave every cultural traveler in awe with Dravidian style of temple architecture, meticulous urban planning and powerful kingdoms now lost in the transient time-span.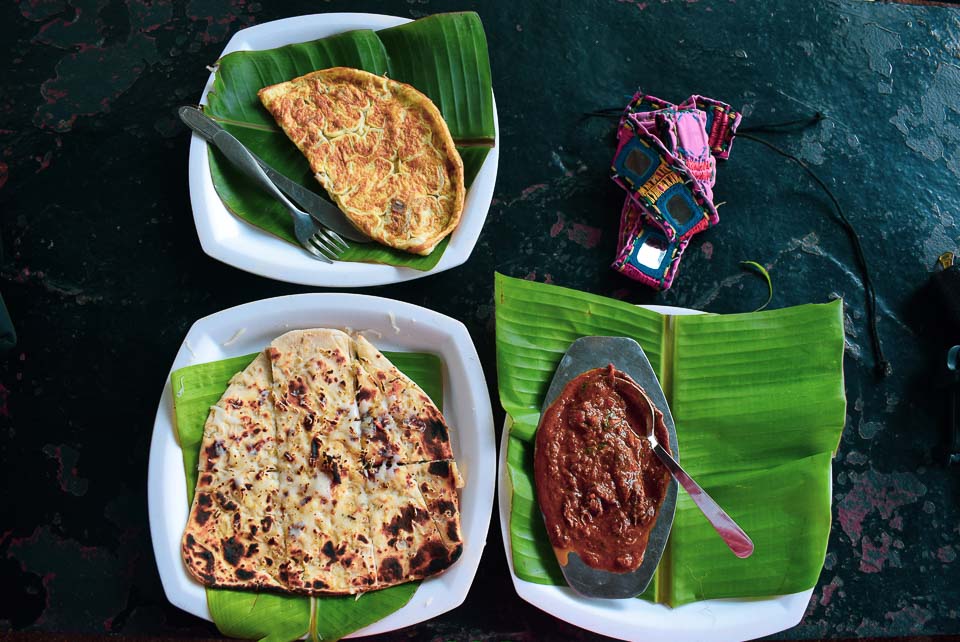 It is easy to get overwhelmed when you are in Hampi. The whole area looks like an open museum. There are temples. There are temple ruins. Then there are ruins that live under the trees and caves at every nook and corner of Hampi. What are the places you must visit in Hampi? What are the experiences you must not miss while in Hampi? Especially when you are traveling on a really tight schedule, say just 3 days?
Well here I am to help you plan a 3 day trip to Hampi. I have written a detailed travel blog on guide to Hampi already to help you plan this unforgettable trip to the ancient Vijayanagar empire. That should cover as a starting reference point to take you through planning and others.
Also read: Offbeat things to do in Goa!
Most of the attractions in Hampi are free to visit, specially if they are "living" temples. However some of the tall standing structure has a visiting fee. Often, that visiting fee is a combination of 3 or 4 monuments close-by. Keep the ticket issued to you handy. You do not need to shell out more than INR 40. I assume entry ticket fee is different for foreigners (USD 10 or likewise).
3 days in Hampi which you can shorten to 2 days! (And still not miss out on the most culturally immersive things to do in Hampi)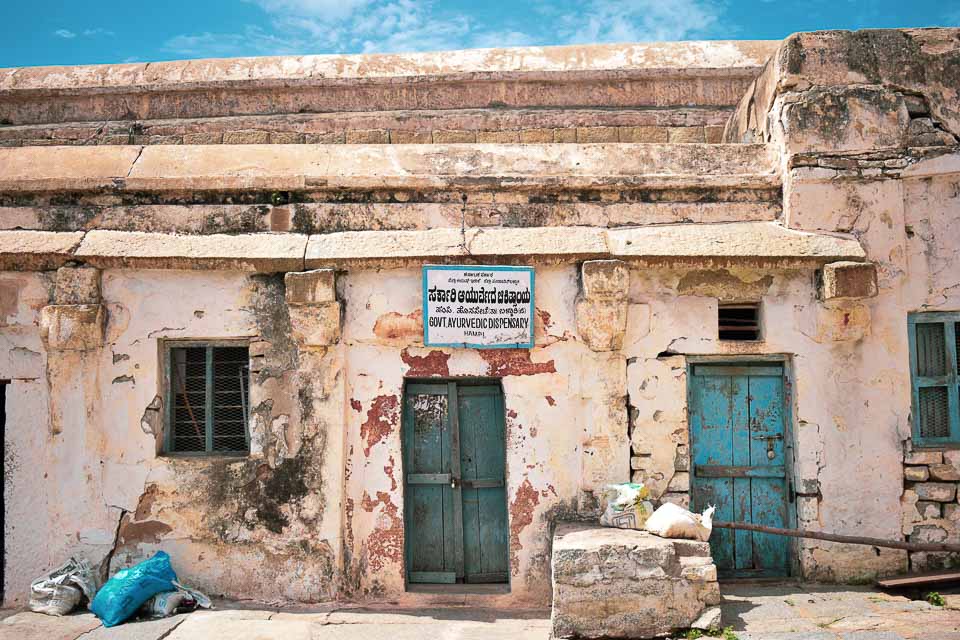 In this post I will sketch a rough trail for you to explore Hampi. This guide is designed keeping in mind the standard 3 day Hampi itinerary. However if you have only 2 days in Hampi, just skip crossing the other side of the river or visiting Daroji bear sanctuary where sloth bears live. Decisions, decisions, I know!
If you ask me, allow yourself a day and a half to wander around the old ruins of Hampi. Allocate rest of the time to wander away on the nature trails!
About Local Guides in Hampi: Do you need to hire a local guide in Hampi for siteseeing?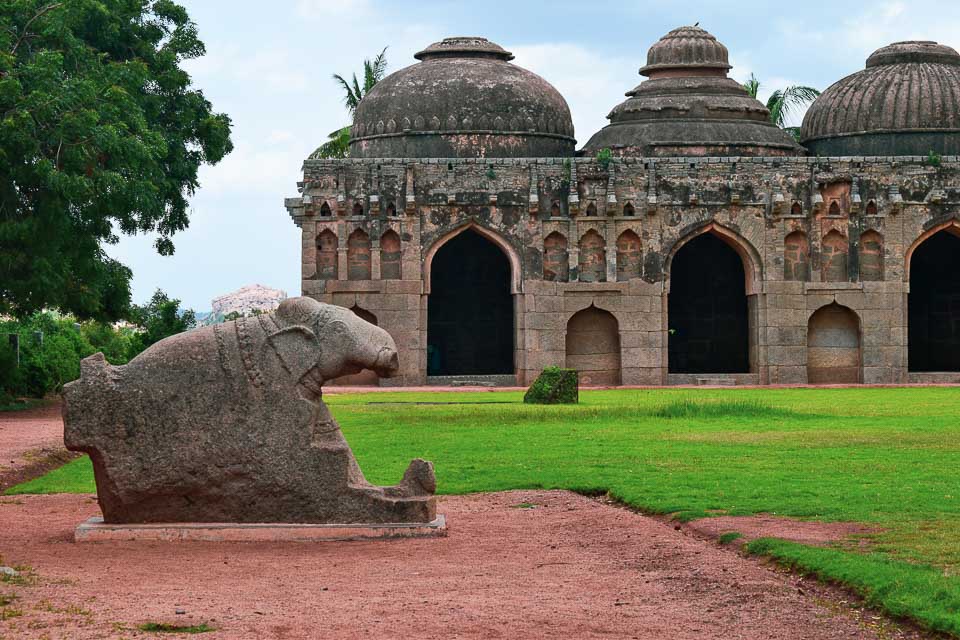 If you hire a local guide in Hampi, he would plan it for you for even a shorter time span and save a lot of hassle. That said, I find walking with guides is a rushed affair. Instead, ask the auto driver (if you are taking an auto to commute) and he will take you where you need to know. They know the routes.
If you are reaching Hampi with the local bus (that goes till Hampi Bazar), get down at the urban cluster, explore and then take an auto and reach the sacred ruins. The bus to Hampi bazaar is cheap (INR 15 only) and makes for a very sweet deal!
I did not take any guide. I learnt from the rookie mistakes and roads less taken. That was rather adventurous (with sometimes a dangerous undertone) but here I am writing Hampi itinerary after all these days! So relax! Hampi is a safe place with kind and genteel residents.
Also read: Ramadan food-walk in Hyderabad!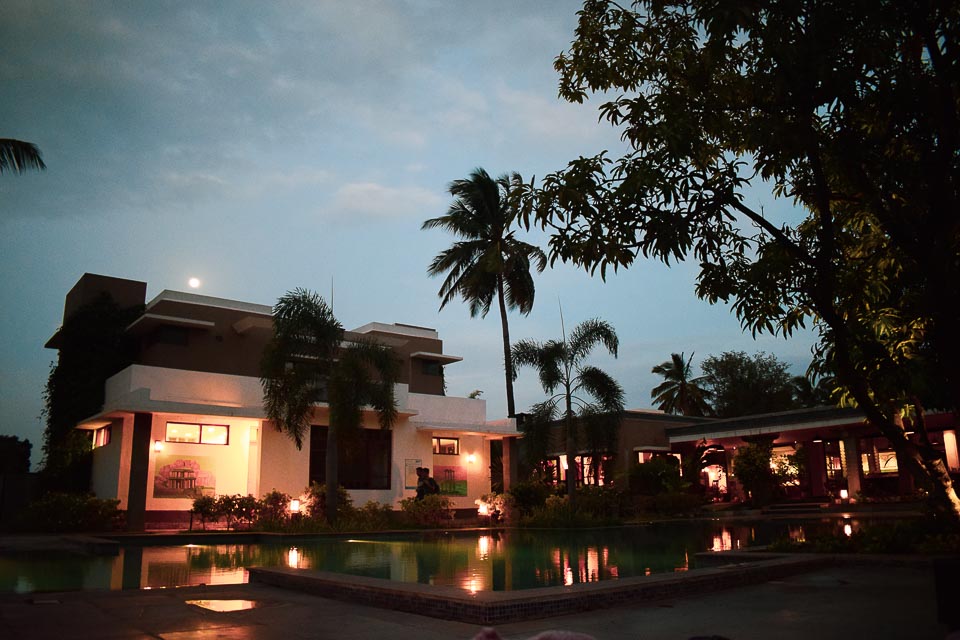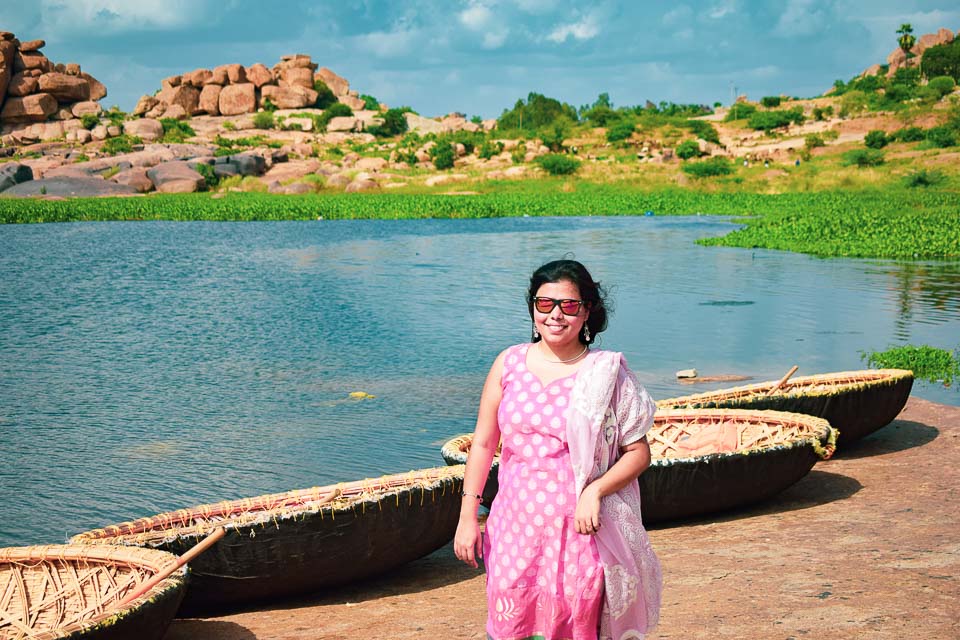 Hampi ruins divided into Clusters!
Before you begin to explore Hampi, get your hands on an illustrated map of Hampi. There are 3 clusters of ruins in Hampi.
Urban ruins cluster (King's palace, queen's palaces, Queen bath etc)
Sacred clusters (Multiple temple complexes)
Riverside ruins (more temples now steeped deep inside the river bed of Tungabhadra)
Apart from this, Hampi is divided by Tungabhadra river. the other bank of Tungabhadra is also known as Anegundi or Hampi island.
Please note, to explore all the ruins of Hampi and "See it all", you need to allow at least 4 to 5 hours at each ruin cluster. The more the merrier. You should ideally be looking at the temple, wall inscriptions, the remnants of ruins. Sometimes, there are temples underground!
Apart from the Hampi ruins some of the best things to do in Hampi are: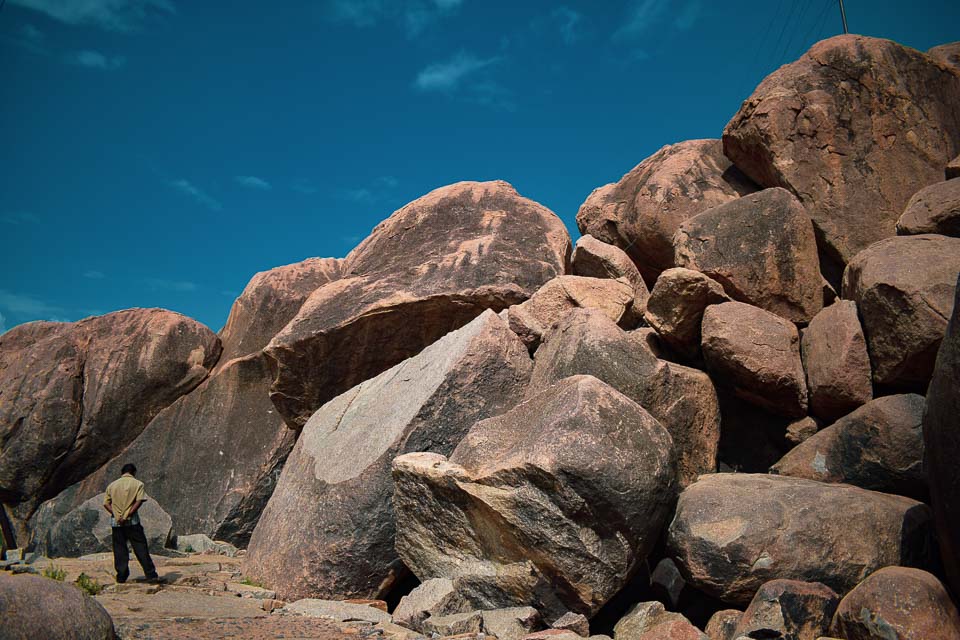 Watch ethereal sunsets of Hampi. The Sunset scenes in Hampi are often held as the best sunsets in Asia.
Explore nature in the nearby villages of Hampi. Paddy fields, sunflower fields, lakes, all essential constituents of an idyllic peaceful life.
Visit the Daroji bear sanctuary to see the sloth bears who once used to thrive in the caves and ruins of Hampi
Indulge in rock climbing session (only applicable for the dry months). There are many monolith boulders in Hampi, remnant of a very old hill range. Rock climbing gears are available in Hampi for renting as well.
Photography: If you love taking pictures, Hampi will win your heart. people are eager to pose. Nature is bountiful. And the ancient temples are mind-boggling! Keep your camera handy and climb up a hill by the end of the day for that great sunset shots. Sunset usually happens in Hampi at around 6:30 pm.
Birding in Hampi (more than 150 species of birds are recorded here)
Drive to Tungabhadra dam, specially if you are traveling to Hampi during monsoon
Try to rent a bike from Hospet or Anegunde (also known as Virupapur gadde) on a daily basis. It should not charge you more than INR 250.
Now that we have a rough plan (or agenda?) to explore Hampi, and her surroundings, lets delve into day by day basis and see what we can find!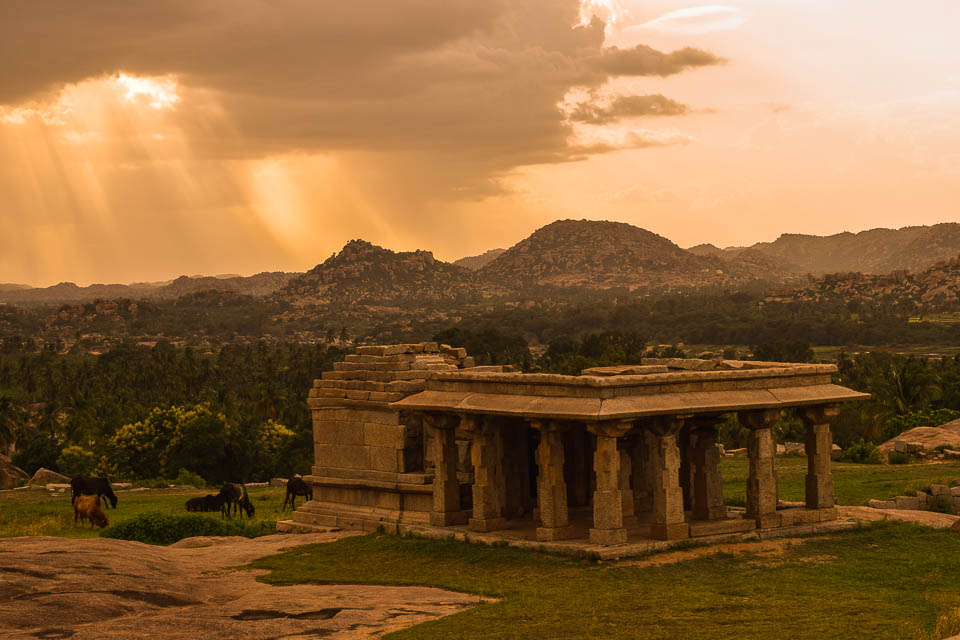 Day one in Hampi
Explore the old ruins of Urban cluster and Vittala temple. Sunset from Hemakuta hill.
Start early. Hampi group if monuments are open from sunrise until sunset, from 6 i the morning till 6 at night. Visiting hampi at the break of dawn also lets you experience one of the most ethereal sunrises! It is nothing less than Bagan in Myanmar!
Add to that, photographing the temple ruins is a very sweet deal when performed in the mellow light of early morning!
Cross the king's gate and visit the riverbank. You will be greeted with various nameless ruins and tall standing rocks. the famed boulders of hampi. The decaying old hillocks are now shaped like these profound rocks. Hampi rocks found a way in mythology as well. They are supposed to be the rocks used in the kill-fight between Bali and Sugreev in the epic Ramayana!
On the road, rural Indian life unfolds in serendipitous ways. Cows and oxen enjoy a leisurely walk. A snake charmer walks towards the tourist hub. locals occupy the courtyard of a huge temple complex. The temples may look ruined but they are very much in use by the locals on certain occasions, especially the ones off tourist trails. Though it is good to note that hampi was never inhabited by humans after the fall of Vijayanagara empire.
Proceed towards the Vijaya Vittala temple.
Vijaya Vittala: the Temple with Musical Pillars: One of the major attractions in Hampi and well worth it
The Vijaya Vittala temple Complex remains quintessentially the most famous temple in Hampi. Known for the stone chariot in the temple complex, which now features in the 50 rs Indian currency note, Vittala temple also houses the musical pillars. If you have hired a guide, he will show you how the pillars play music for visitors.
The temple complex of Vijaya Vittala is huge! There are many buildings and it is a 2 km walk from the gate. Hop on to the electric tuk tuk run by the women of the local community and pay a meager INR 20 for the ride.
This is the most famous temple in Hampi. needless to say, Vijaya Vittala attracts loads of visitors, local and tourists alike. If you are keen on photography, visit Vittala Vijaya at the wee hours of the day and shoot sunrise. It is open from 6 am.
Urban ruins of Hampi
Check out the ruins of palaces of monuments once used by the kings and the queens!
Please note, the temples of Hampi remain closed to visitors during lunch hours. This time can be spent at the urban complex.
Check out the queen's bath,the step well, the elephant stable, lotus temple, zenana enclosure, the mahanavami dibba one by one.
The urban ruins did not undergo massive destruction as the religious monuments of Hampi. Just the trunk of the stone elephants were chopped off. The lotus mahal stands as an epitome of Indo-islamic architecture, with curved arches on the tip of the tall pillars.
The area has green grass carpet befitting for a temporary seat. You can rest and walk again.
Next to Mahanabami dibba stands the most beautiful temple of Hampi in my honest opinion, Hazararama temple. The walls of Hazara Rama are inscribed with the tales from Ramayana. You can easily spend a day here reading those stories.
Hemakutha Hills for Sunset view: Scouting for the most beautiful Sunset Spot which is also an easy hike
To end the day, proceed towards the top of Hemakuta hill. The climb is not very steep. There are multiple temples on top of Hemakuta hill. You can play around with your camera and click as many pictures as you want.
From the top of Hemakuta your eyes will greet unbound green pastures, the river Tungabhadra, many temple ruins and a setting sun.
Tip: If you can climb higher and are staying at the Anegundi river side, visit Matanga hill top for sunset photography instead. You will have to come back to Virupaksha temple the next day and can easily climb Hemkuta hill one more time.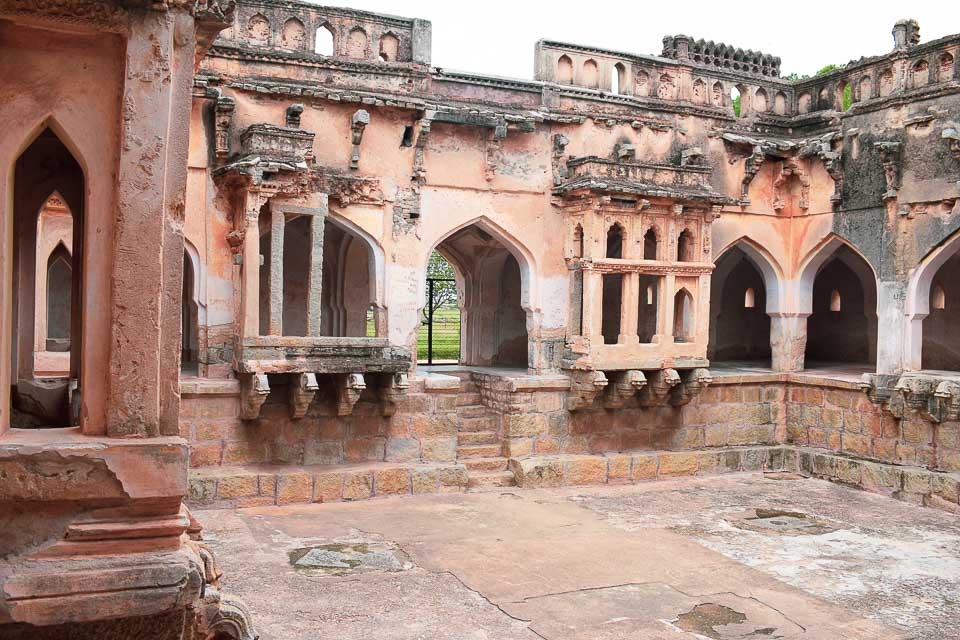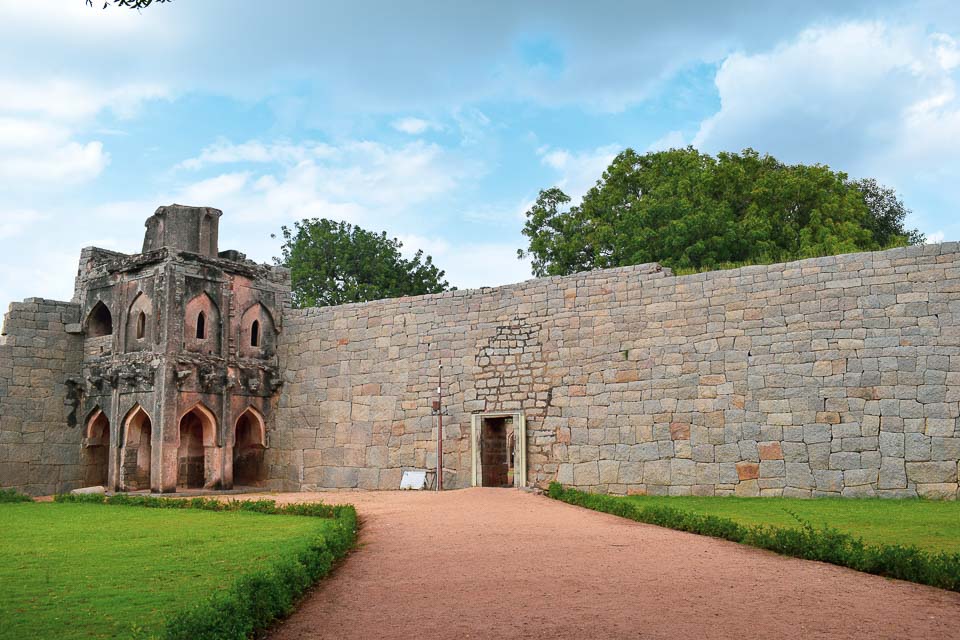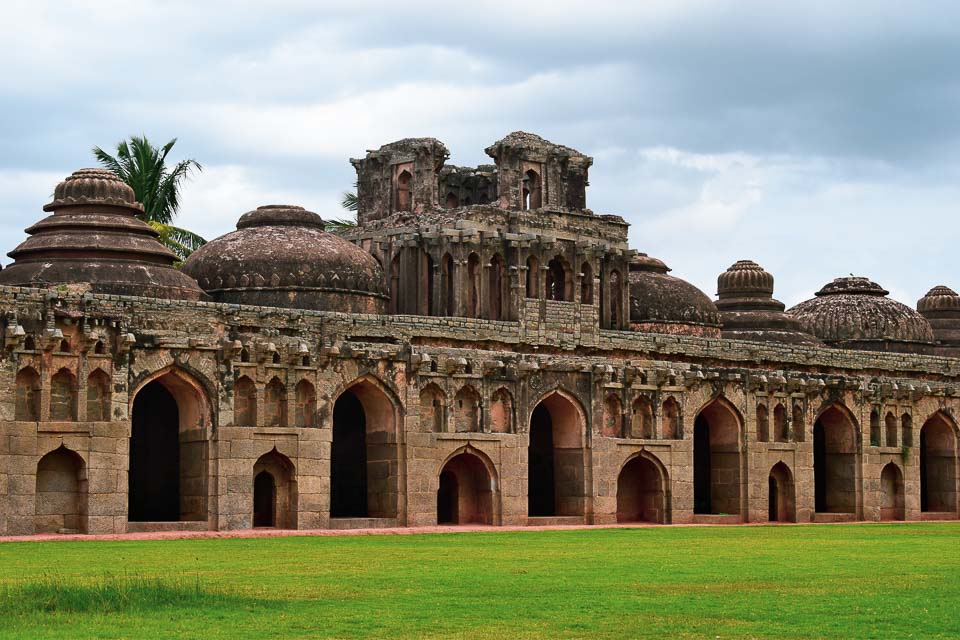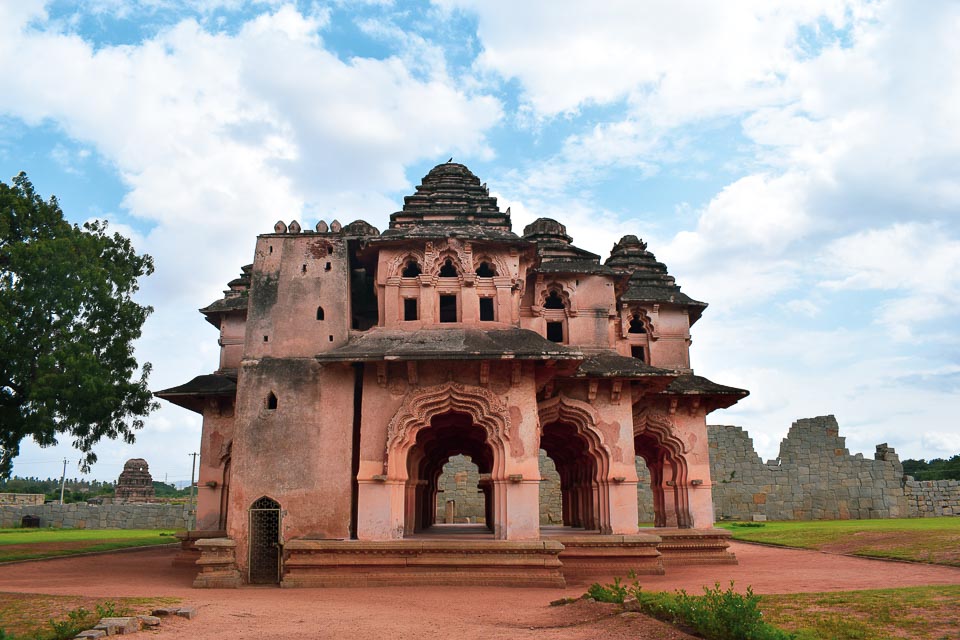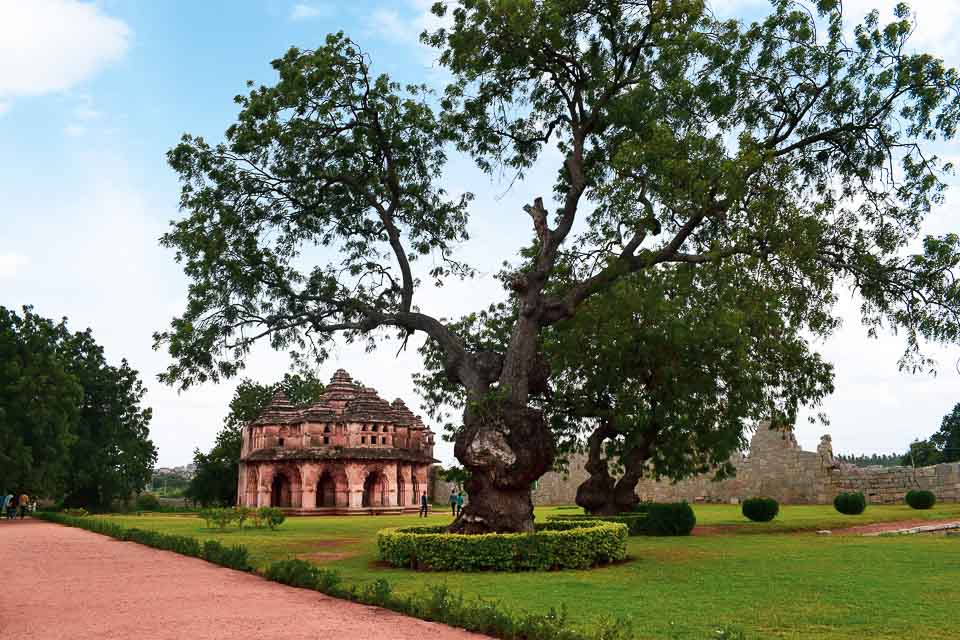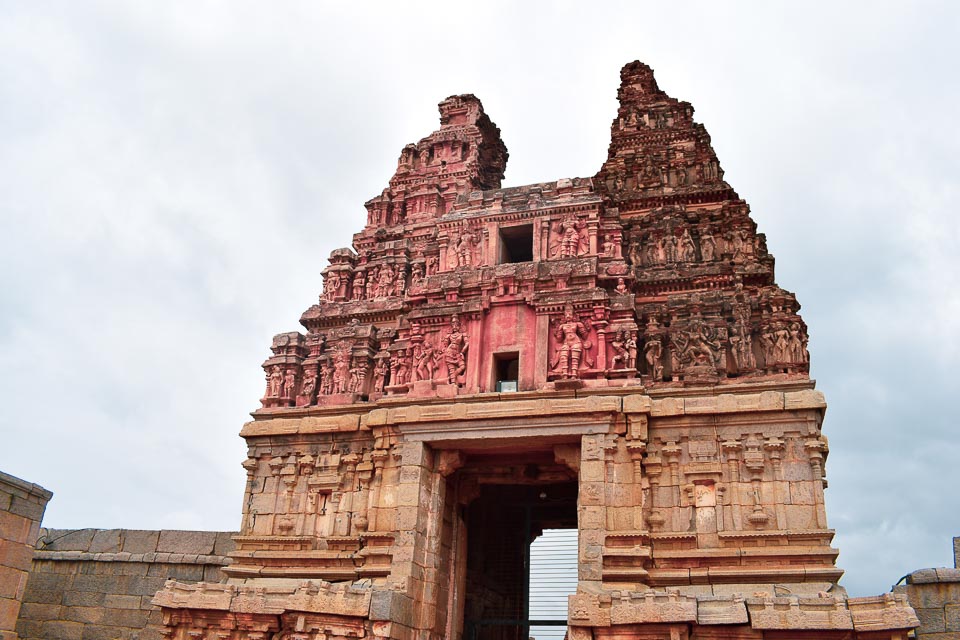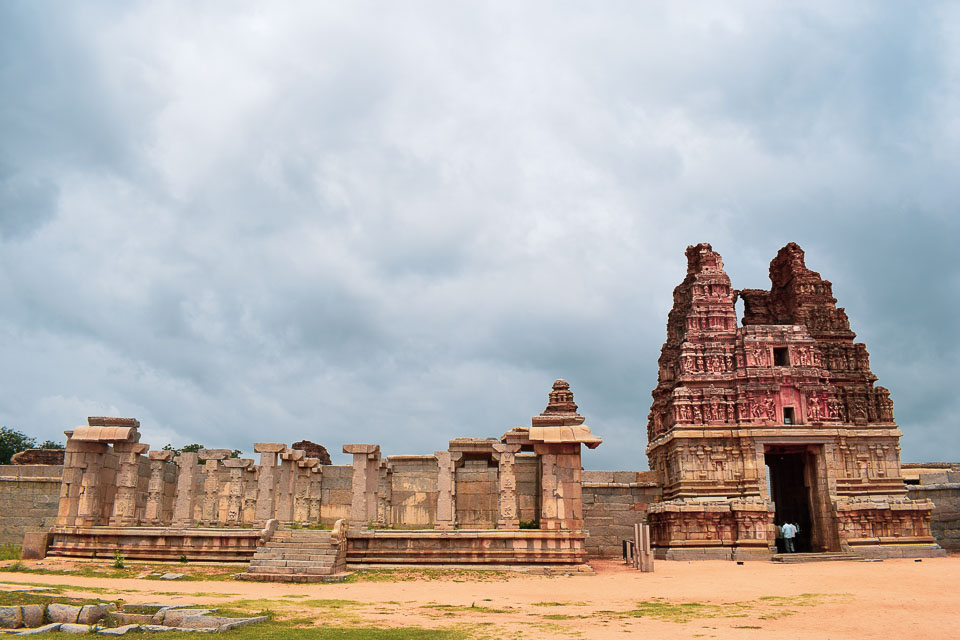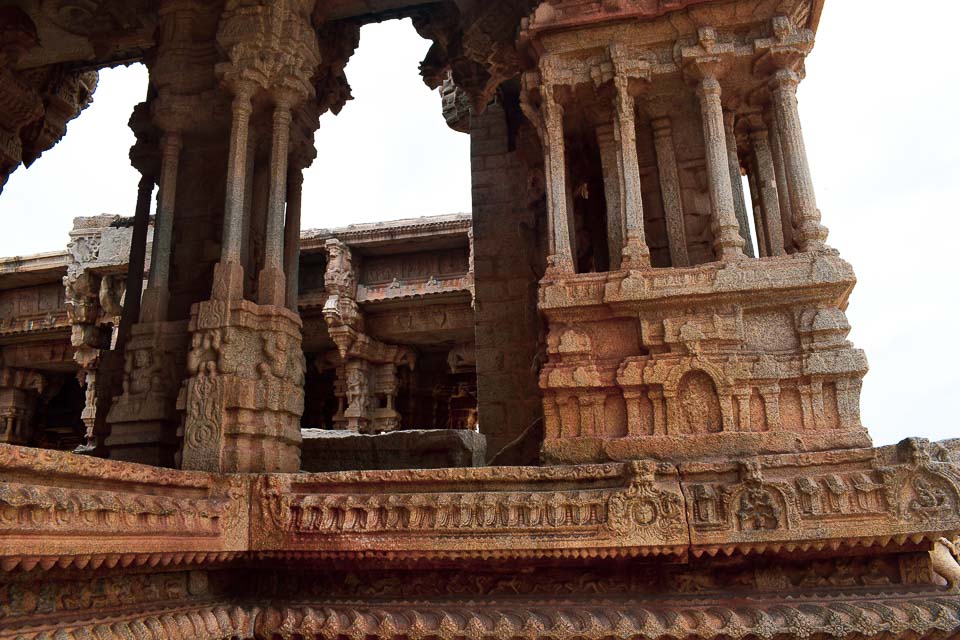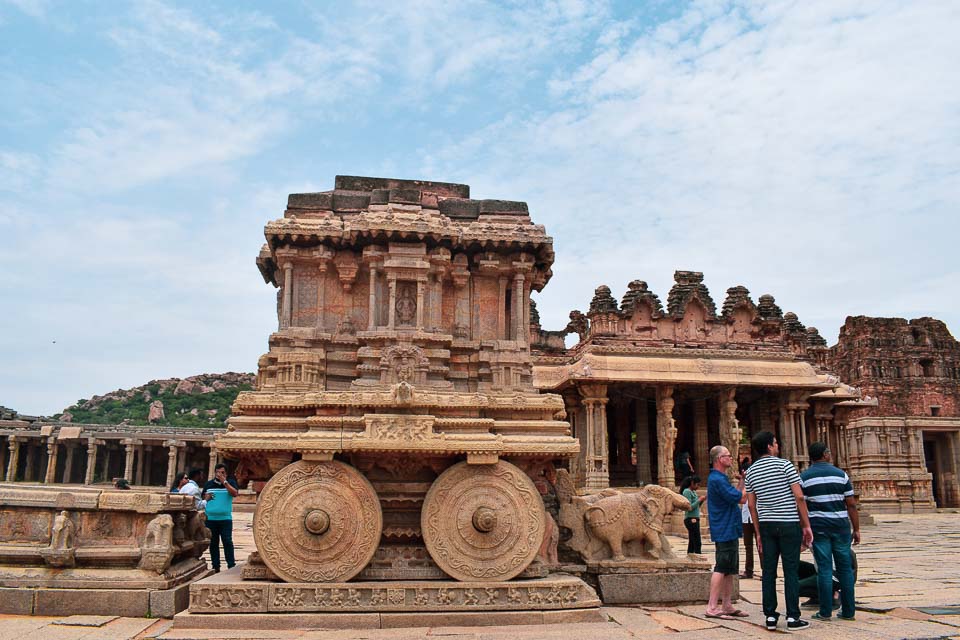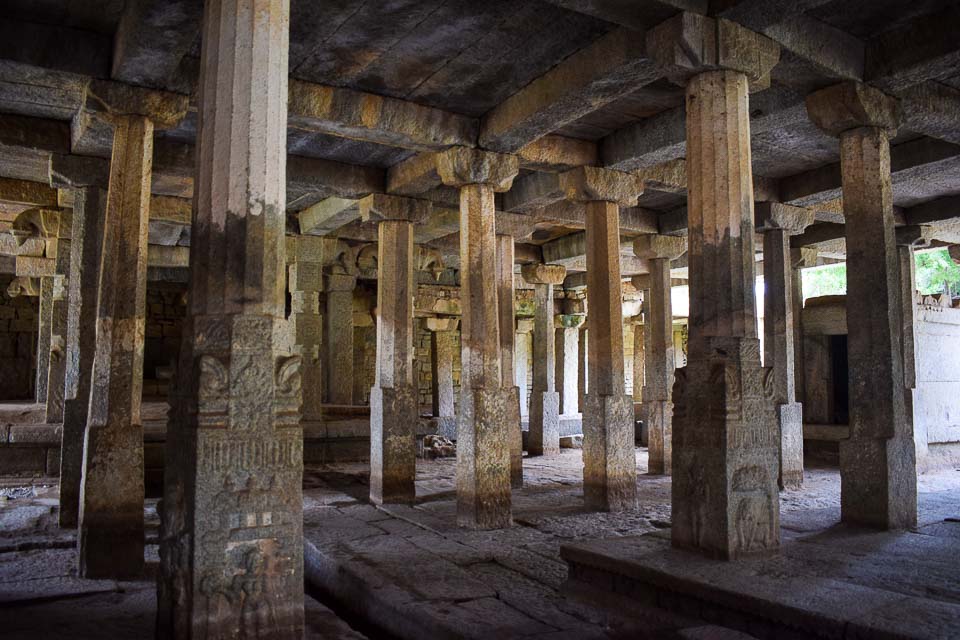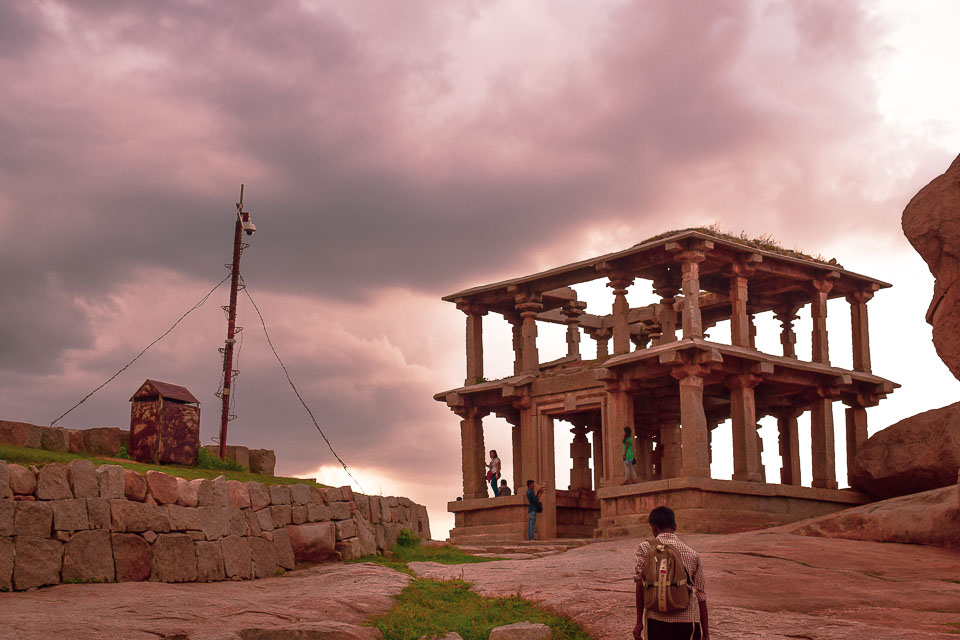 Also read: Bonedi barir Durgapuja in Kolkata!
Pro tip: If the Sun shines bright and you are humidity-stuck, take refuge at the Hampi Archaeological Museum close to Hampi Bazar. It is closed for lunch from 1 pm to 3 pm. Plan you visit accordingly.
Day two in Hampi: an offbeat wildlife destination adds to the old ruins!
Explore the sacred ruins at the Virupaksha temple, riverside ruins and pay a visit to the Daroji bear sanctuary.
On the second day of the Hampi itinerary, you can finish off visiting the sacred ruins and aim for visiting a bear sanctuary close-by.
Did you know: As a sign of respect, open your shoes while entering the temple sanctums in Hampi, even if the temple seem to be in ruins. Though it is not mandatory, it is a sign of respect to the deity and you will find the locals doing the same. It is as if you are entering a person;'s house and we do not wear a shoe inside the house.
The Narasimha Statue and others
Start your day by visiting more of the old religious ruins of Vijayanagara empire. Ask your guide/auto driver to take you to the Narasimha temple. Known to be another Avatar of Vishnu, one of the Hindu Trinity, the Narasimha statue is a unique one. There are very few narasimha statues in the whole of India. In the Hampi temple, the hands of the deity are cut off as a sign of destruction that raged hampi. Narasimha translates into Nara and Simha, the lion-man.
The Narasimha statue is very evocative. Close to it stands the Big Shivalinga in a very small sanctum and maintained by a very elderly priest. This is another beautiful small spot in Hampi, not known to many travelers.
Also visit the underground temple. The temple stands with multiple pillars and somehow dodged the destruction of Hampi to a large extent.
Virupasksha temple: A prominent spot for Hindu pilgrimage in Hampi
Now proceed to Virupaksha temple. Close to Hampi Bazar, Virupaksha temple is a living temple, a prominent step on the pilgrimage route in India, and in short the heart center of Hampi.
Virupaksha temple is huge and huge is an understatement. You need to reach the top of Matanga hill on the other bank of Tungabhadra (part of the third day of this Hampi itinerary) to get an idea of the temple's enormity. It is also a part of Adi Shankaracharya's India exploration and an important stop of the pilgrimage route.
Virupaksha temple was not destroyed while Hampi fell. The temple is dedicated to lord Shiva.
There are flanking pillars with ornate inscriptions and large Gopurams. When I visited, Gopuram was undergoing work. I hope it is finished now.
Opposite Virupaksha temple you will find a huge Nandi, the bull of Shiva housed inside a pillar. In fact every south Indian temple has Nandi sitting atop the temple, close to the temple. The Nandi bulls of Hampi are particularly huge.
River side ruins of Hampi
Once you have seen Virupaksha temple, visit the riverside ruins of Hampi. Depending on the season, the riverbed of Tungabhadra bares the riverside ruins. Sometimes all, sometimes none. In the small hike, look for the thousand shiva lingas by the river bank. There is an intriguing site of thousand rock cut shiva lingas by the riverbank.
The riverside of Hampi is the most eloquent place in my observation and has immense photo opportunities as well as observing locals.While hiking the riverside trail, if you are with a guide, ask him to show you the ancient rock carvings. They are believed to be 10,000 years (or more) old.
If the sun is too hot, take refuge at the hampi archaeological museum for a while.
Daroji Bear Sanctuary
To end the day, you may visit Daroji bear sanctuary. The bear sanctuary is 15 km from Hampi bazaar and can be reached by an auto. If you pay INR 500, you will be allowed entry inside the jungle in a jeep and with a guide.
Watch out for the Asian sloth bears. the butterflies. the birds. Reach by evening. The bear sanctuary is open from 2 pm to 6 pm. I recommend visiting after 4 pm.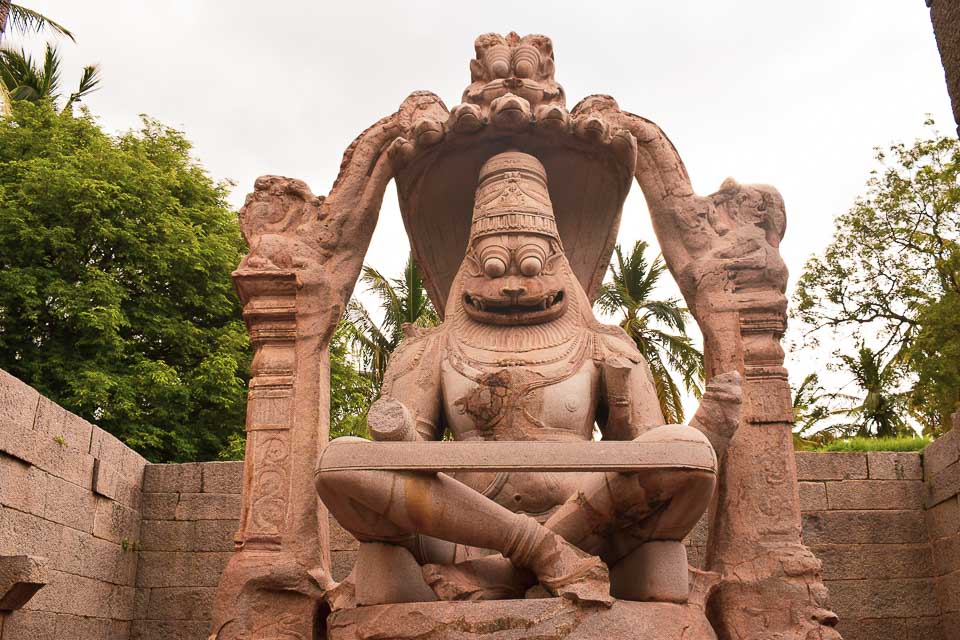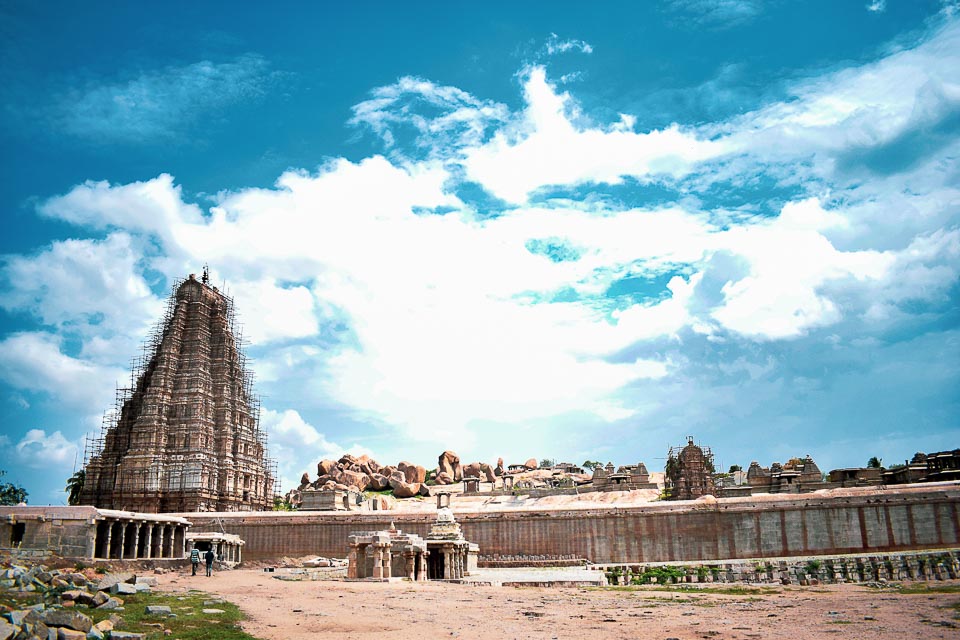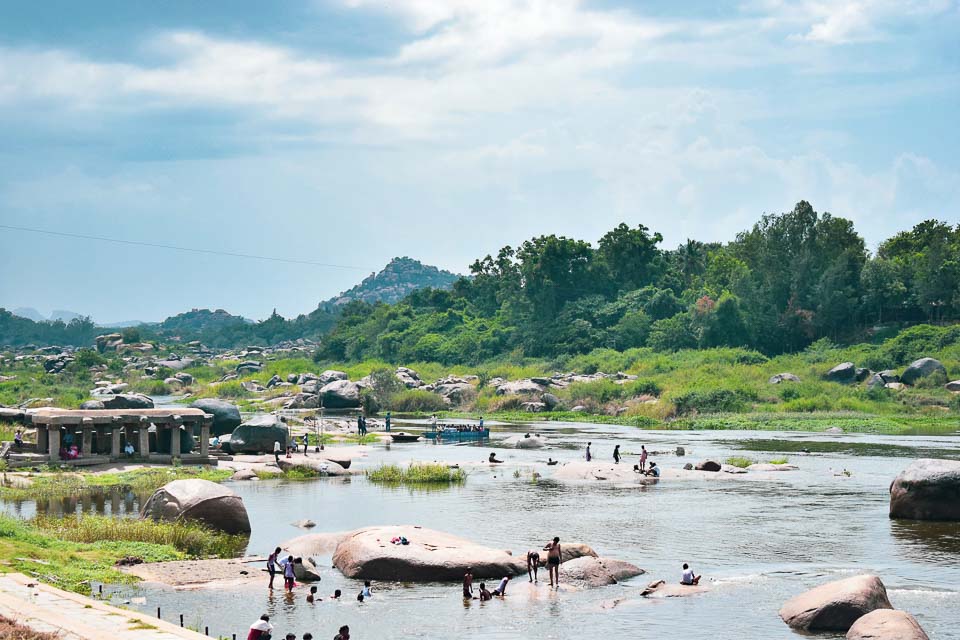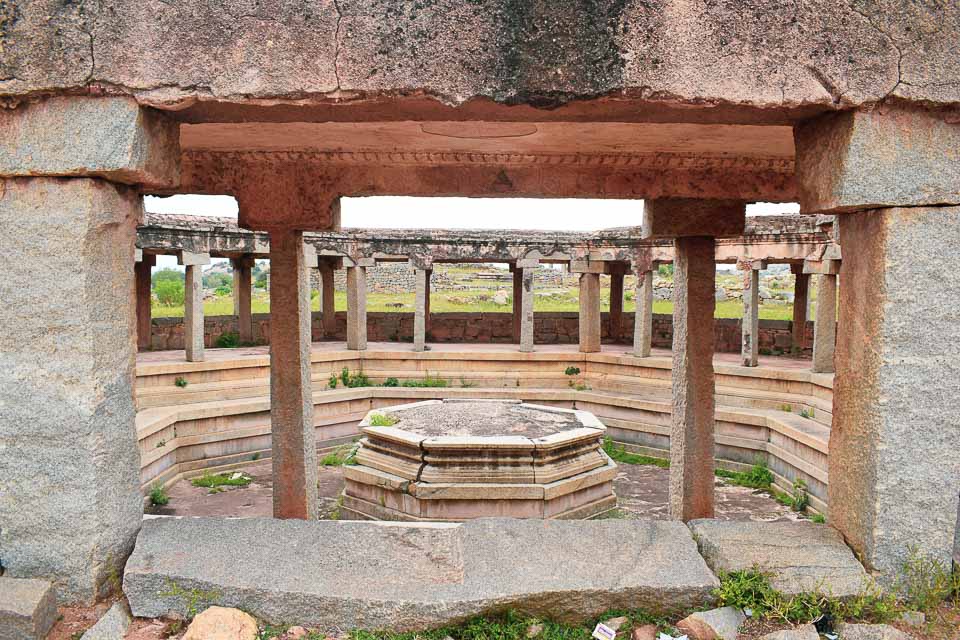 Also read: Naropa Festival in Ladakh!
Day three in Hampi
Explore the other side of Tungabhadra river (Hampi island), Matanga Hill, Coracle ride, Sunset from Sana lake
Reserve the last day to explore Hampi's Hippie island.
The place is also known as hampi island. It is basically the other bank of Tungabhadra river. hampi island remains submerged in water during monsoon. A handful of homestays and quirky cafes have sprang up here, especially after Hampi was named as the 2 best places to visit in the world by NYT.
Start your day with a short hike up the Matanga hill. Here, you can shoot beautiful sunrise, witness the birthplace of Hanuman, the monkey god of Hinduism, and get a panoramic view of Hampi with all her beautiful elements: Shikhara of Virupaksha temple, boulders, the bend of river Tungabhadra, the green pastures etc.
Pay a visit to the Durga temple next. There is a wish-tree in the compound, where local women make a wish and hand a piece of cloth tied.
You can further visit the riverbank and take a coracle ride. These round boats made of cane and bamboo are believed to be brought from Arab by the moorish traders. Hampi and Goa were part of an ancient trade route as the Vijaya nagara dynasty had extended till Portuguese Goa. Through them, the European and Arab traders found their way to the courtroom of Vijaya nagara.
I was charged a fee of INR 600 for a 30 minutes ride, I was alone. Prices vary depending on the number of people. Is it safe to ride the oracles of Hampi? Well, take your decision. I think they provide a life jacket. The river is deep and littered with boulders and rocks.
For sunset, visit the beautiful Sanapur lake at Hampi island. The fact that Hampi does not have a beach has been redeemed by Sanapur lake. You can even cliff jump here, ignoring the crocodile placard. I have heard it is to scare away drunkards. I did not cliff-jump because I can not swim!
Sanapur lake is also a beautiful place if you are keen on sunset photography, though no ruin will come on the way. For ruins, you have to pay a visit back to Matanga hills of Hemakuta.
You can also wander your way to the nearby villages, explore the paddy fields and the sunflower fields of Hampi.
In case you are visiting Hampi during the famous Hampi Utsav (also known as Vijaya Utsav), you are better off staying close to Hampi Bazar. Though this is the time you will witness Hampi to be quite a crowd puller!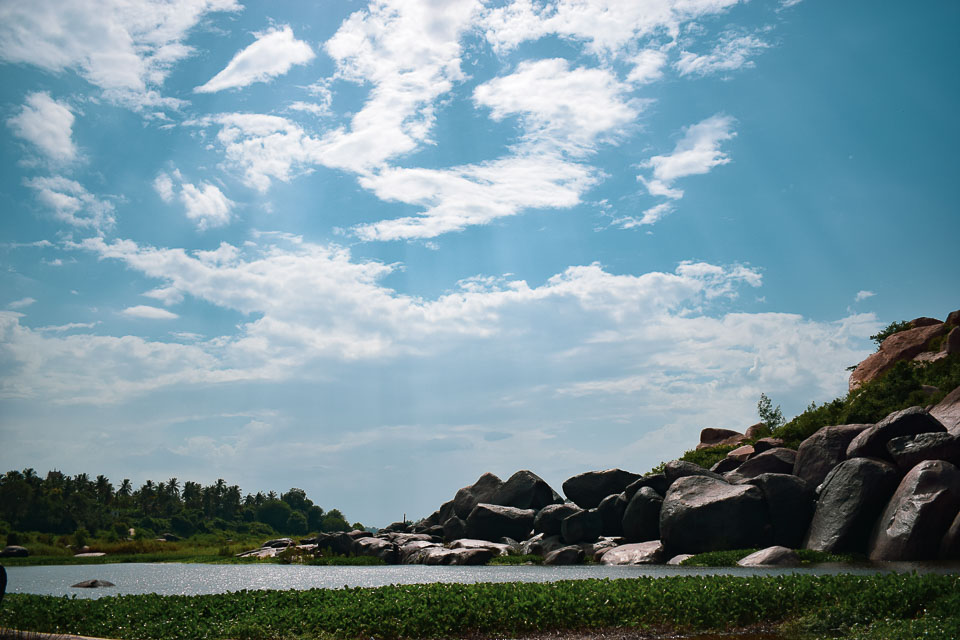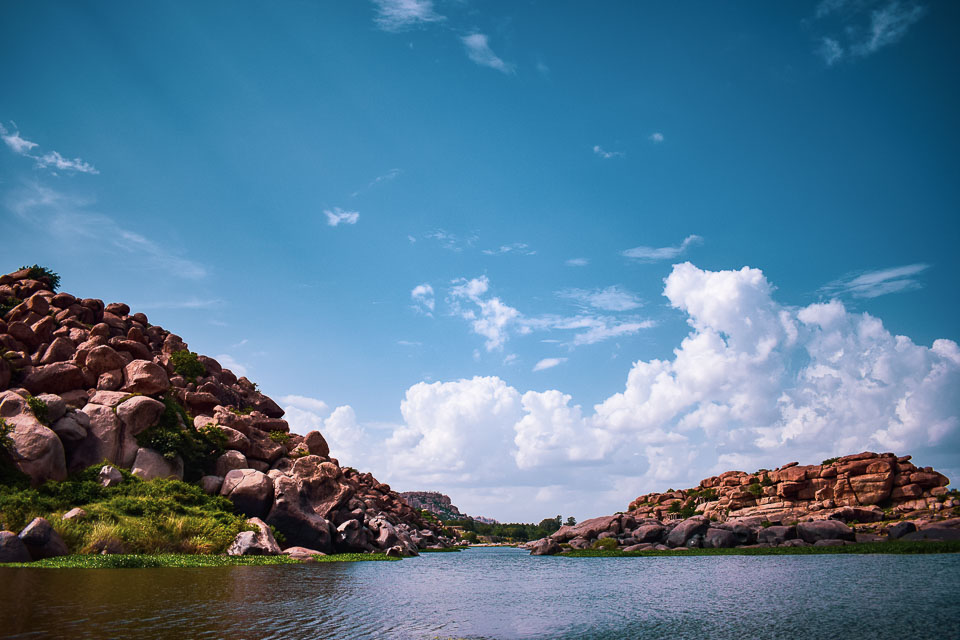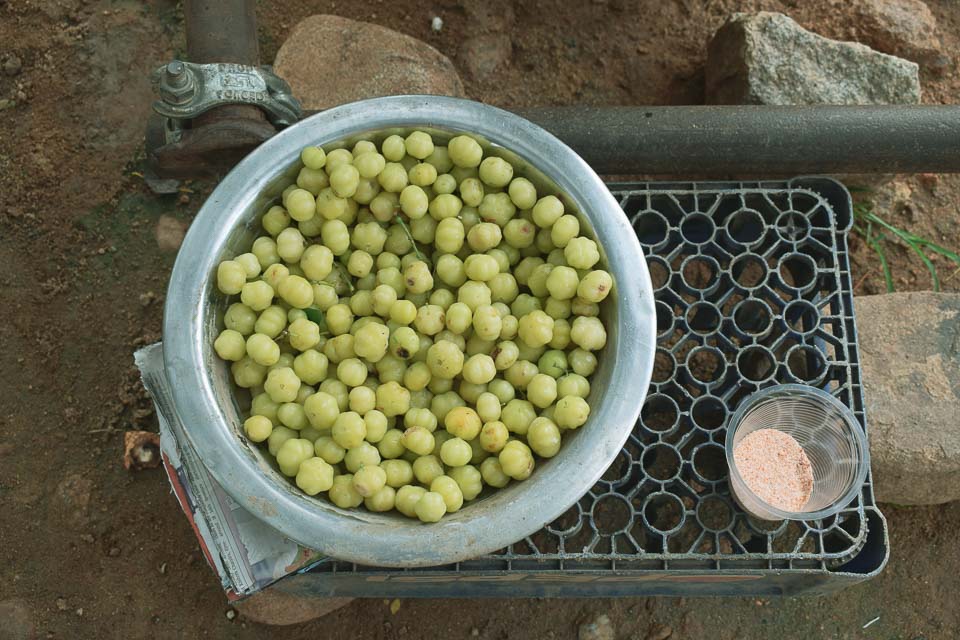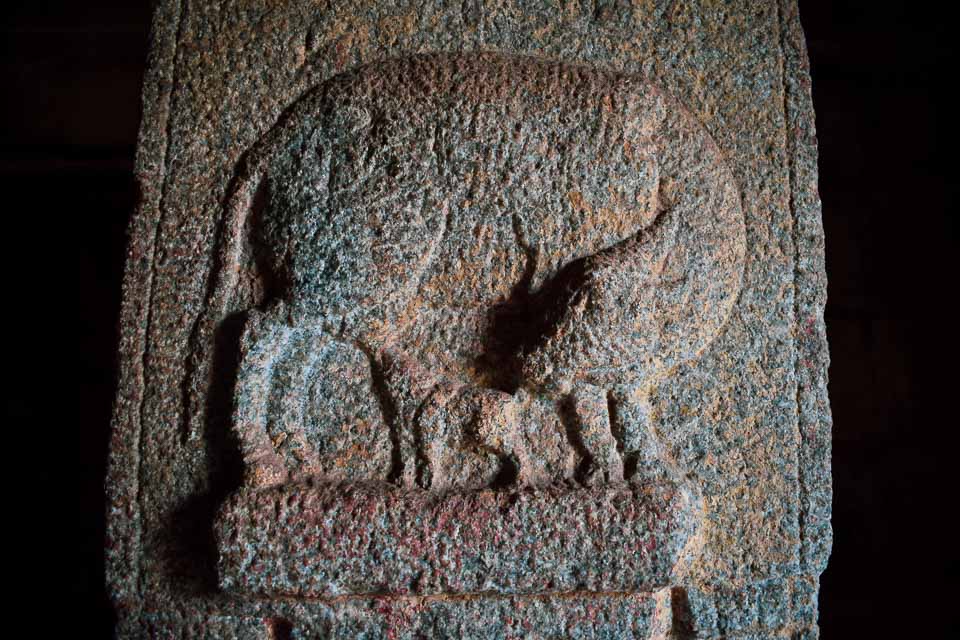 I have designed this 3 days Hampi itinerary keeping in mind you are staying at the Hampi Bazaar or Hospet and kept Anegundi for the last day. If you are staying close to Anegundi, may be you should check out Anegundi the second day and process with the second day's plan on the last day so that you can catch the night bus (or train) home!
Other things to know about Hampi: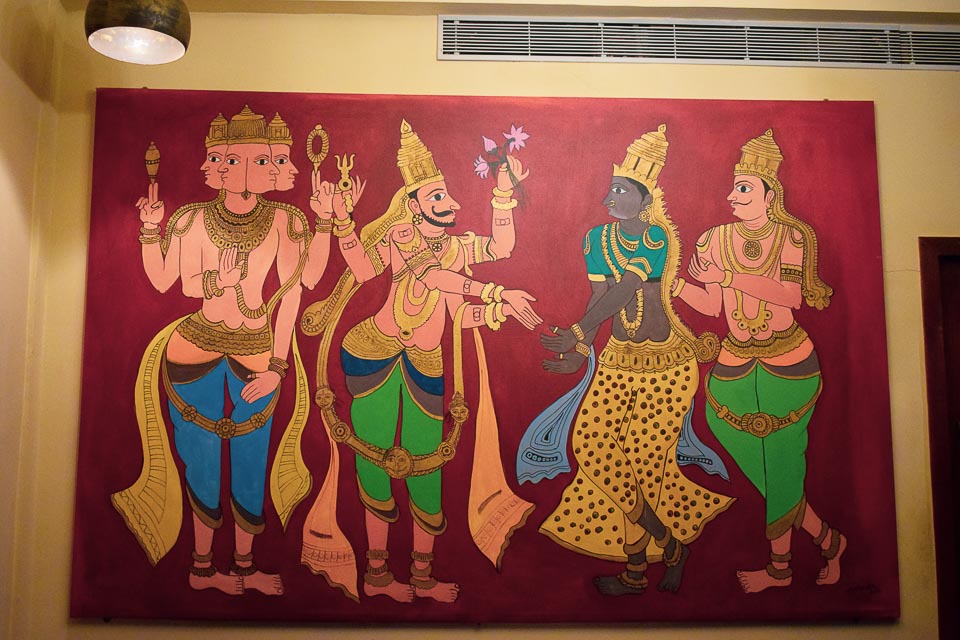 Hampi has an almost non existent night life. Even at the Hampi island, life is slow and nights are mystic. Hampi Bazaar is the place where you shall find beautiful souvenirs to bring back home. Mostly curved out of stone, these miniature temples are mind blowing and make for perfect gifts. Hampi bazaar also sells cheap food and great hippie clothes.
There are rumors that Hippie island (also known as the Hampi island) is famous for weed. Please note, smoking weed is illegal in India and can get you into trouble.
There is a temple elephant named Krishna at the Virupaksa temple, Hampi. One of the touristy activities is to visit the temple, pay some money to the Mahut and get "Blessings" from the elephant. I suggest stay away from this activity.
After sundown, try to get back to your accommodation as soon as possible. The Hampi ruins site is also part of wildlife corridors and bereft of human habitat. You might encounter unpleasant encounters at night, specially if you are traveling alone.
Hampi ruin and surrounding area is no meat and no alcohol zone. Be respectful to the local customs and do not bring alcohol in these areas. In fact, this is the reason why Hampi island (or hippie island of Hampi) rose to fame. These rules are relaxed there.
There are no ATMs in Hampi. Cash is king.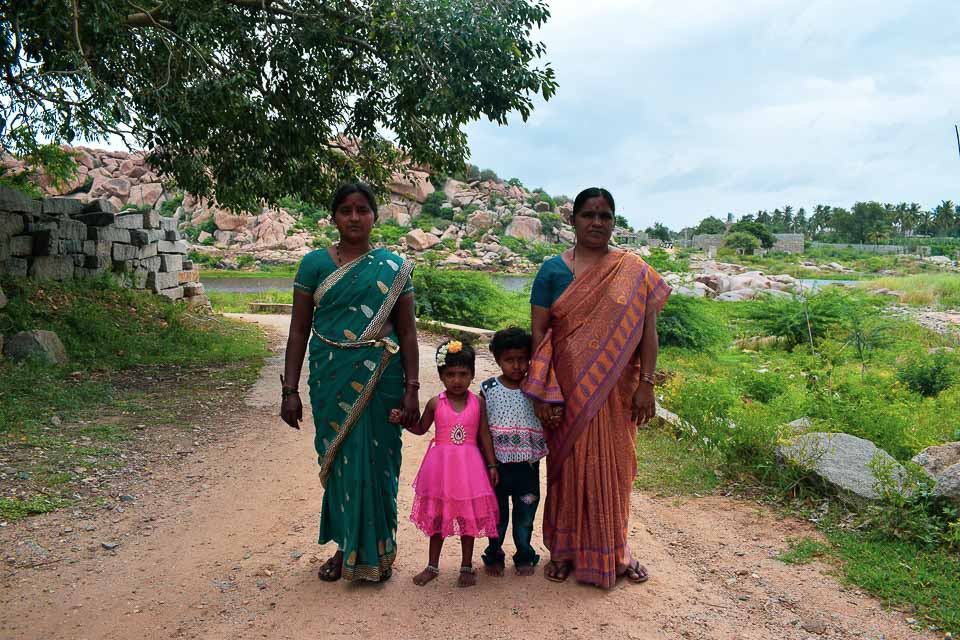 The Tungabhadra river that connects both the banks of Hampi can be crossed by a coracle (the round boats) or a water taxi. The last boat leaves at 5:30 pm. In case you miss it, you have to travel on land and take a longer U-turn. Keep that in mind!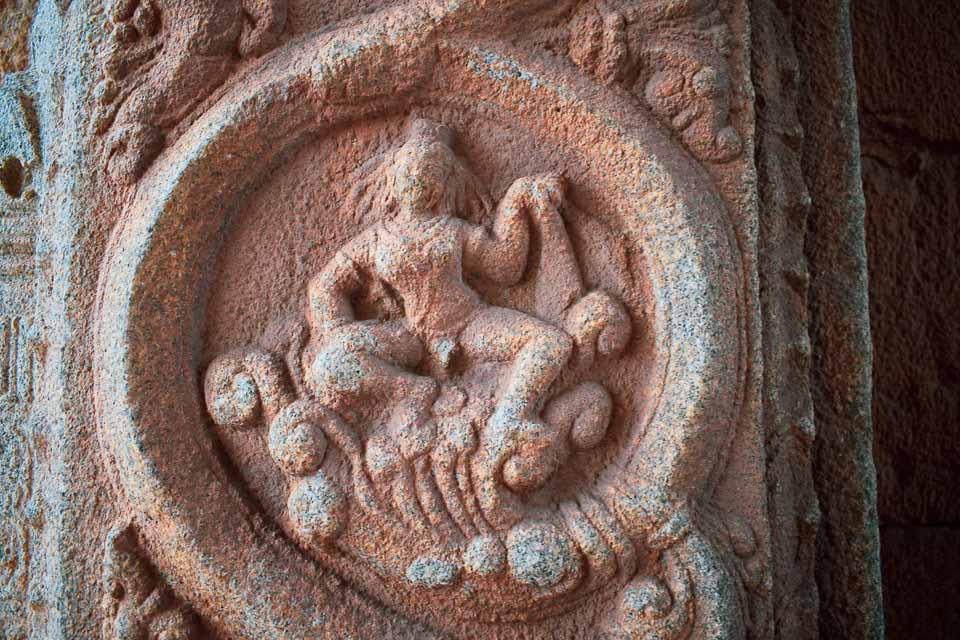 Also read: 3 days in Tawang, Arunachal Pradesh!
Carry enough sun shades, a reusable water bottle (otable water is available at many places, think Virupaksha temple for example. This is a prime spot you can't miss in Hampi).
Carry mosquito and other insect repellent while you are traveling in Hampi.
Best time to visit Hampi
Hampi is hot and humid for the maximum part of the year. the sun shines bright. Humidity is excruciating. That said, during monsoon, temperature is much more bearable. But rock climbing is not practiced because slippery moss reclaims the boulders.
I would recommend visiting Hampi from October to March or shoulder season if you are keen on rock climbing. During heavy rains, most of the establishments on Hampi island remain closed. I visited Hampi in August and I was happy. The only regret is not being able to catch the stunning sunsets of Hampi.
That brings me to the last recommendation about traveling in Hampi. If you are visiting this amazing destination, stretch your vacation with two more days and visit Badami and Pattadakal. Thou shall thank me later!
Pin it for later!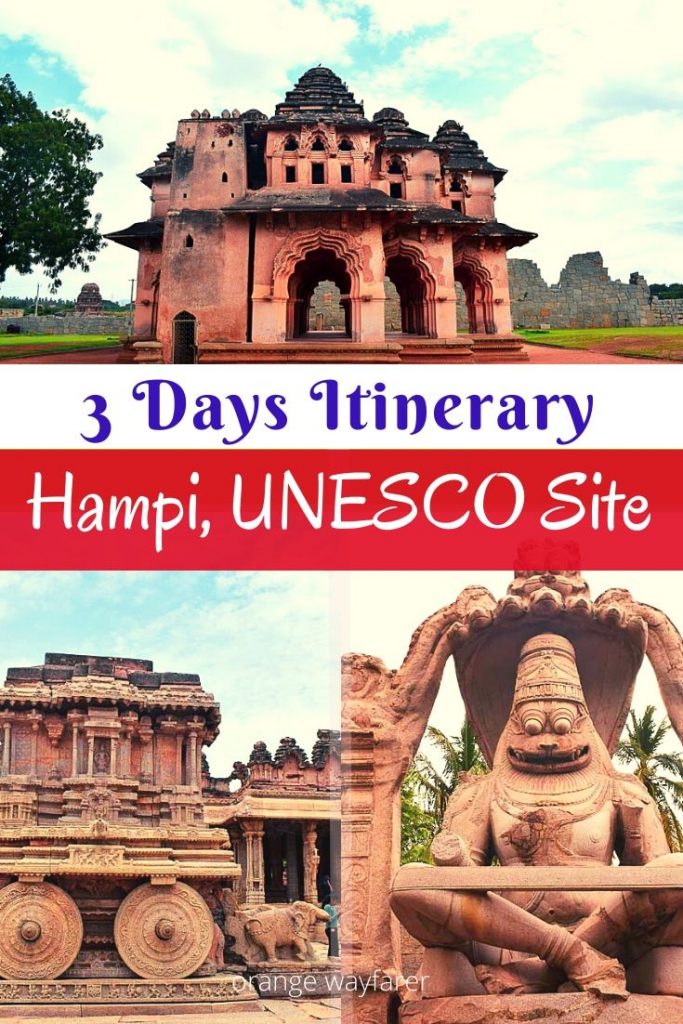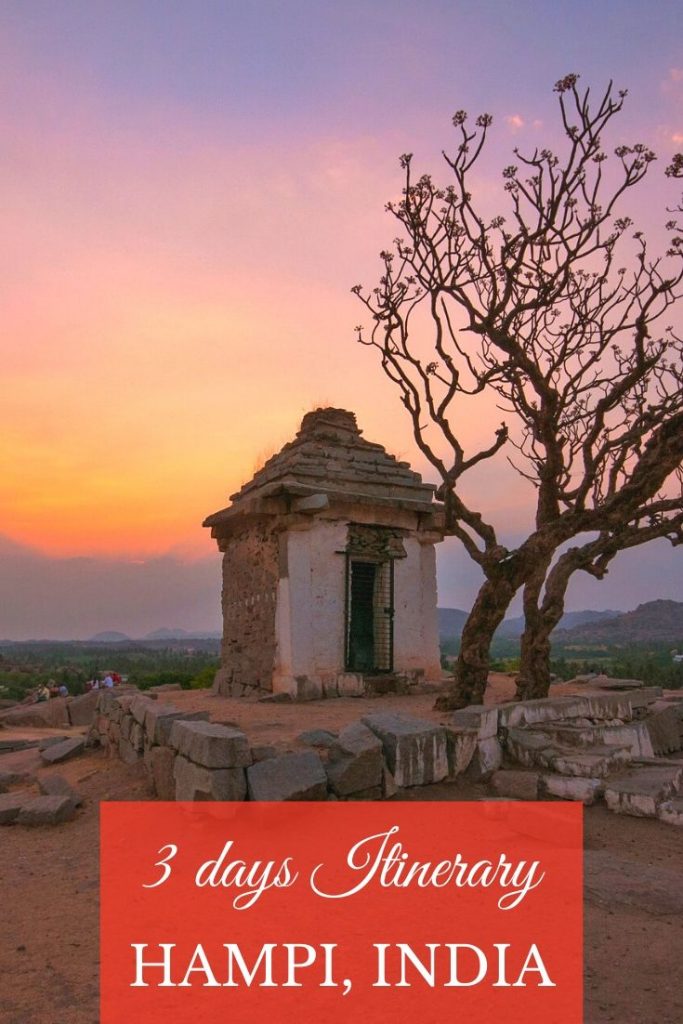 ---
Let's stay connected in Facebook, Instagram, Twitter!
This post may contain affiliate links. Please read the disclosure post. If you have liked the article, you may support it by buying using these links without any extra cost to you.