About this blog: This is a recipe for Bengali style Polau cooked with Gobindobhog rice and Golda Chingri (huge tiger prawns). Gobindobhog is a distinct short grained rice with buttery aroma which when infused with the goodness of whole Garam Masala spices and ghee, sings a melody in the cooking pot that is seldom heard of!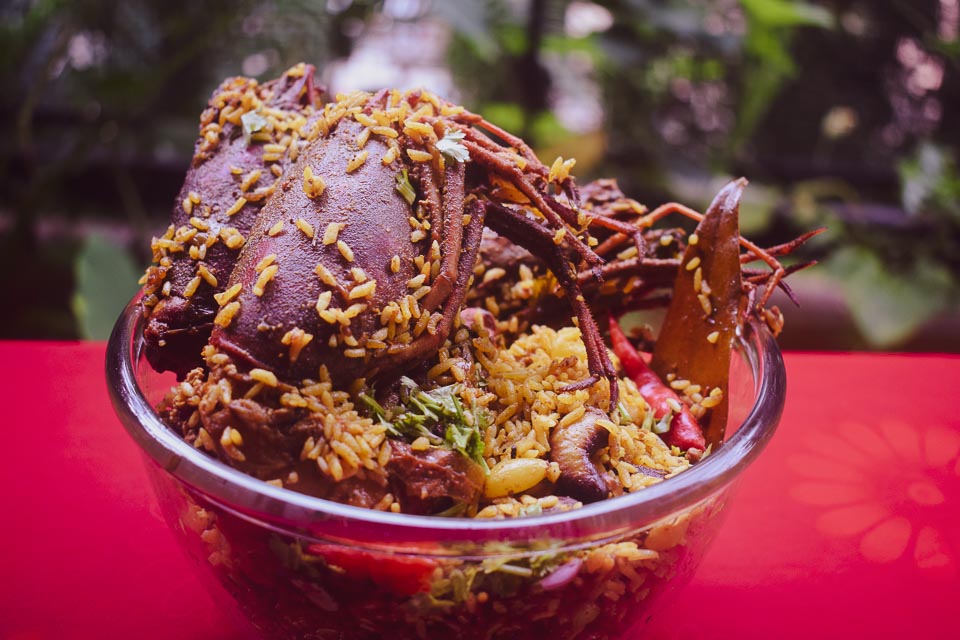 Read all my Kitchen adventures and recipe here: Cookbook
In Bangalore, we usually procure our week's supply of fresh fish from the HAL market. Then lockdown happened and we learnt to adjust our weekly cooking ceremony with hyper-local shops and local produces strictly, read plenty of sea-fish. A few weeks into lock-down, yield of river started to reappear in our food map! First came these melodious Prawns, that too at a surprisingly cheaper price! What we usually buy for 1200/KG was being sold at 850/KG only. That's a steal!
Golda Chingri is an enigma in short! Firstly, this is love at first sight! The striped shell of the crustacean creature holds a mellow supple white meat of prawn, like an oyster safeguards a rare pearl!
You fry this in heated oil and the shellfish quickly changes the color to bright red! What a delight it is to witness that chemical changes! Furthermore, if you are to layer the disparate flavors of Golda Chingri (Tiger Prawns) with coconut cream and a hint of Garam Masala spices, you get Prawn Malaicurry! Stuff them inside a green coconut, you get Daab Chingri. Steam them with grated coconut and they come out with the innate goodness of a Narkel Chingri.
What more we could do with good old Golda?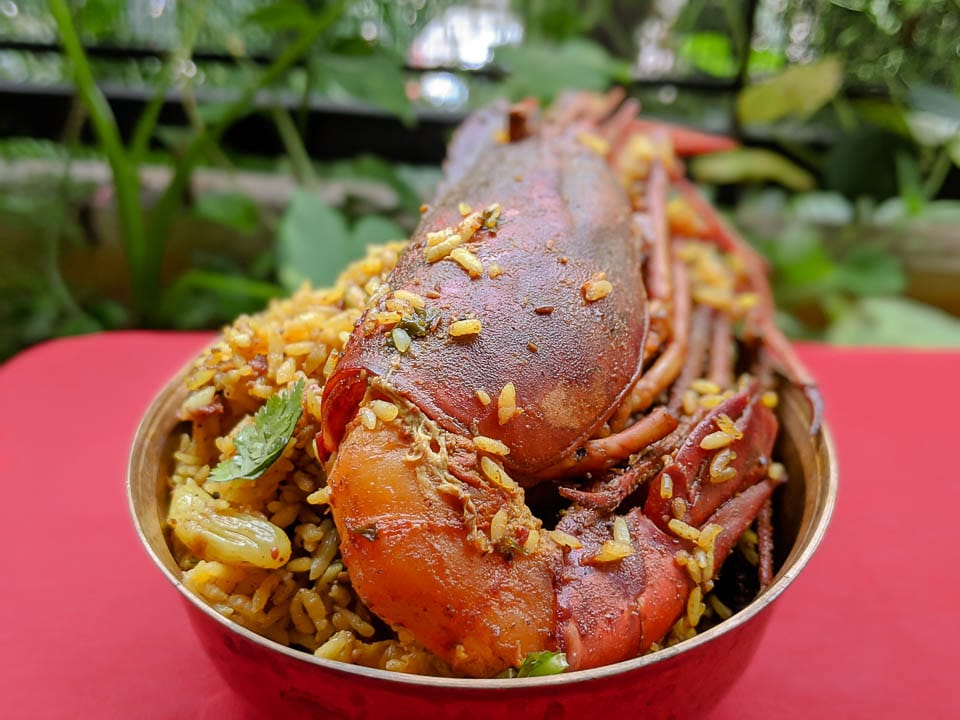 We found another fresh lot of Golda Chingri at the shop close-by on the day of Bakrid, 2020. Festivals appearing on the lock down calendar look grim and rusty, with none to share the conviviality on table. But it is the Golda which prompted me to fare up an experimental extravagance.
I have never cooked Polau beforehand. Let alone a Golda Chingri Polau. Hesitantly, I decided to move over Biryani and indulge in the universal rice pilaf dish, that followed suit to the Indian subcontinent with the Sikander's (Alexander, okay) entourage all the way from ancient Persia and became Polau. Furthermore, with the workers from Western India, Polau took a giant leaf and reached the Caribbean island. I hear, now Polau is a celebratory dish allowing a generous medley with African diaspora. You see, that is the magic of a shared gastronomy that takes the world under one umbrella not only without bloodshed but with glee!
Anyway, the idea of using a Golda Chingri (Tiger Prawn) to celebrate an elaborate feast is sacrosanct. Usually, Bengali community is divided along left, central political views, football club or Ghoti-Bangal ethnic lines but it is the around the brass plate heaped with Gobindobhog Chaler Polau, they agree to come together! In a nuanced expression, I added Golda Chingri to that Polau!
Inadvertently, I wanted good great pictures of the Golda! I also happen to live in one nation at the great Pilaf belt of the world, where Polau, no matter how you call it, palau, pilau, plov, pelau, piláfi, pulav, palaw, pilaw, pulaka.. calls for careful one pot cooking skill under watchful observation and a free hand at spices.
"Chingri Pulao" it is, I announced while deftly applying salt and turmeric to the prawns! I was rising from the conflict of cooking either Polau or Biryani with the fresh prawns. I wanted to relive the extravagant court traditions of the Moghul empire. I wanted to play along the subtle nuances of layering many contrasting flavors and spices. It had to be Polau, a very Bengali way! Instead of Basmati, I chose to use Gobindobhog rice, which is canonical for us the rice eaters of this part of the world. A lot like how the Iranians swear by Domsiyah in their Pilaf dishes. I introduced coconut milk because it renders an inexplicable aroma!
Ingredients for making Golda Chingri Polau!
Golda Chingri/tiger prawns: 850 gm
You may use Scampi instead to cook Chingri Macher Polau. That will however yield a different flavor. I am soon gonna create a recipe on that and share it with you guys! The basics will remain the same just that cooking procedure will differ a little.
Lime, 3 juiced
Coriander leaves: finely chopped, 1 cup
Gobindobhog Rice: 500 gm (Can be cooked with Basmati rice too but Gobindobhog remits an ethereal flavor)
Turmeric: 2 tbsp
Ghee: 5/6 tbsp
Onions: 1 large
Ginger/garlic paste: 2/3 Tbsp
Green chilies: 4/5
Tomato: 2 medium sized
Polau Mashala: Fennel seeds, Cumin seeds, Javitri, Jaifal (nutmeg and mace), Cinnamon sticks, Cardamon, Cloves
Coconut milk: 200 gm (Thick/first press)
For tempering: Bengali Garam Mashala- Cardamom, cloves and cinnamon, and Dried Red Chilies, Bay leaves
Cashew, halved: 50 gm
Raisins: 50 gm
Salt to taste
Sugar: 2 tbsp
Saffron strands: a few for garnishing (optional)
Procedure for cooking Golda Chingrir Polau- Tiger Prawn Pilaf
Mise-en-place

Thinly slice onions
Make a paste of 1 inch ginger and 5/6 cloves of garlic
Make a paste of green chilies (3/4) and slice few more (3/4 more)
Chop tomatoes roughly
Soak Gobindobhog Rice for at least 30 minutes. The more the merrier.
Clean the prawns. De-vein them. Keep the head and tail intact.

Marinade Golda Chingri (Tiger prawns) with turmeric, salt and lime juice
Prepare the Polau Mashala

Take 1 tsp of each: Fennel seeds, Cumin seeds, Javitri, Jaifal (nutmeg and mace), Cinnamon sticks, Cardamon, Cloves
Dry roast them on a pan for 3 minutes on medium high flame. Stir frequently so that they don't burn.
Using a pestle and mortar, handpund them. Your homemade Polau Mashala is ready!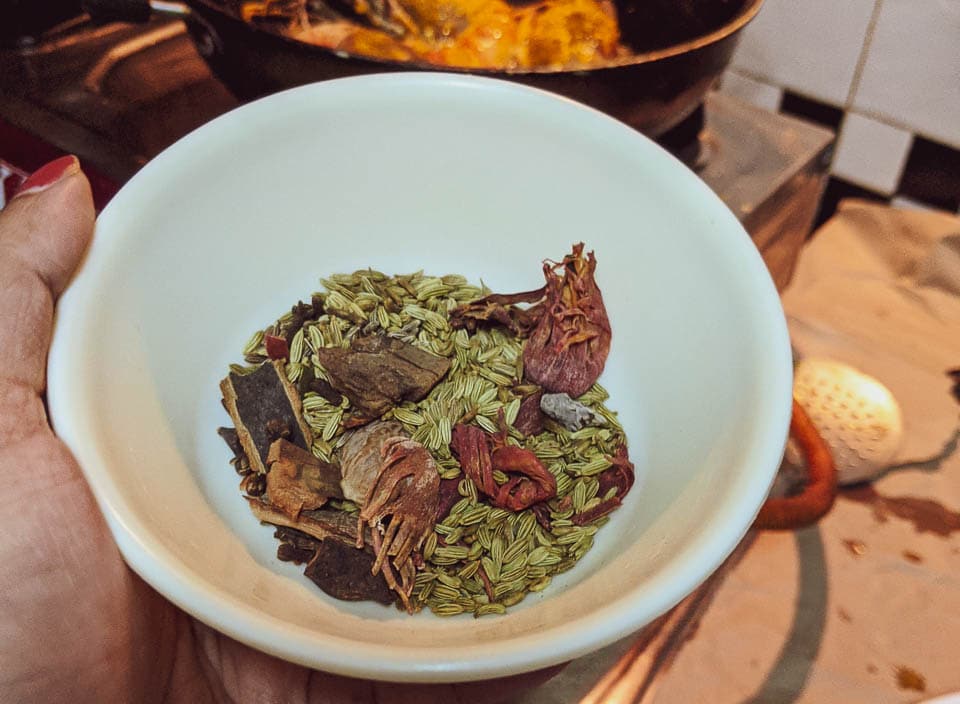 Heat oil. Use Refined oil. Add a tbsp of Ghee to it for added flavors.
Once oil becomes piping hot, add the prawns, the Golda Chingri.
Cook in high flame for two minutes on each side till they turn into a bright red color!
Take the prawns out of the Karai. Add some more oil to the already floured fuel.
Temper the oil with Bayleaf, Dried Red Chilies, Cinnamon stick, clove and small cardamon.
Add sliced onions. Cook till the onions turn translucent.
Add ginger garlic and green chilli paste to it. Cook for 3 more minutes.
Add a spice mix of the following: Turmeric, Kashmiri red chilies, the Pulau Mashala you have hand-pounded. Mix them in a table spoon of water and add to the cooking pot.
Cook till the oil leaves and add chopped tomato, green chilies, coriander leaves. Cook till the tomatoes have turned into a beautiful mash.
Stir in coconut milk to the mash. Gently fold in the prawns. Cook for 7 to 8 more minutes with a lid on. Ideally summer. Be careful that the prawns do not get overcooked.
Take the pot off flames and separate the prawns. You will need the gravy to prepare rice!
Drain water and mix the rice with some ghee. I love to use Jharna ghee for its exquisite aroma but you can stick to your favorite brand.
Heat oil in a pan. Heavy bottom, ideally. Use mustard oil and stir in a tbsp of ghee.
Fry the cashew for less than 30 sec in the oil. Add rice to it. and the raisins. Fry them in ghee. Fold gently for at least 3 minutes.
Add the gravy you cooked the prawn in. Now this part is important. You need to get your rice and water ratio correct to cook the most perfect Polau. ideally, it is 1:1.5 rice to water ratio in case of Gobindobhog. I am also considering the resting time. The rice to water ratio is 1:2 in case you are using Basmati rice. Stir in salt to taste and 2 tbsp of sugar as well.
I measured the rice first and I used the same utensil to store the extra gravy that came out of Prawn. This helped me to measure 1.5 times liquid for the rice used perfectly.
Let the rice cook for 10 minutes. Before you put the lid, add in some Polau mashala and green chilies.
10 minutes down the line, the rice is parboiled. You open the lid and add in the prized Golda Chingri, the riger prawns. In case you are using regular shrimps, no need to separate them from the gravy and cook the Polau rice at one go. You also need to check if extra moisture is needed at this stage.
Top up the rice pot with ghee, coriander leaves, chilies, saffron strands if you are using them. Lid on for 10 more minutes. Once the Polau is cooked, rest it for half an hour off flame.
Golda Chingri Polau is a nutritious meal best served hot. You may serve it with some Mangsher Jhol (bengali style goat meat curry).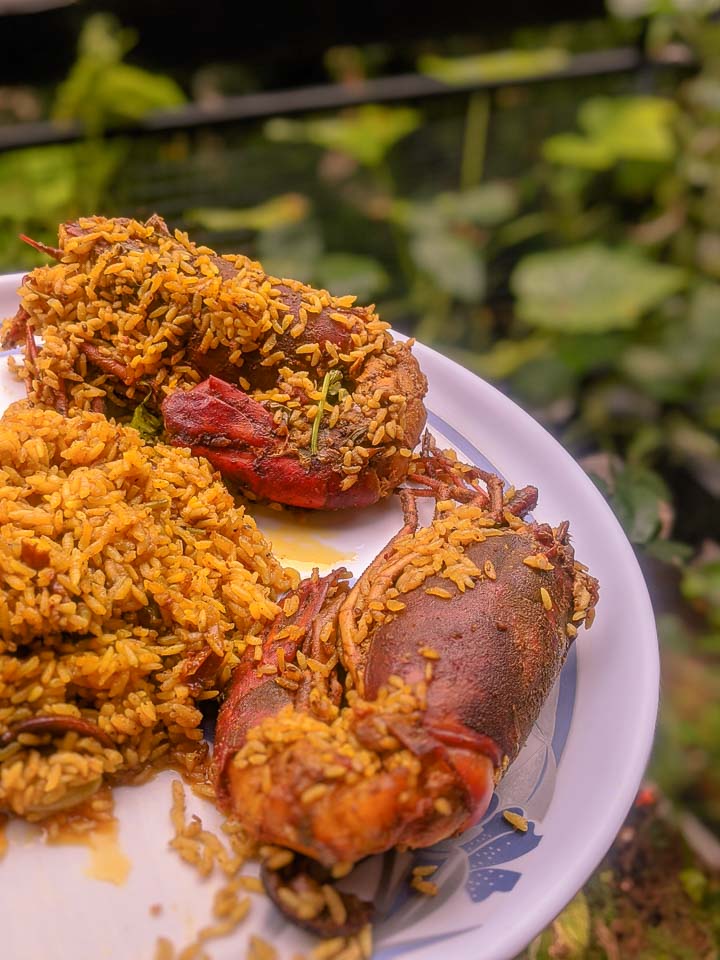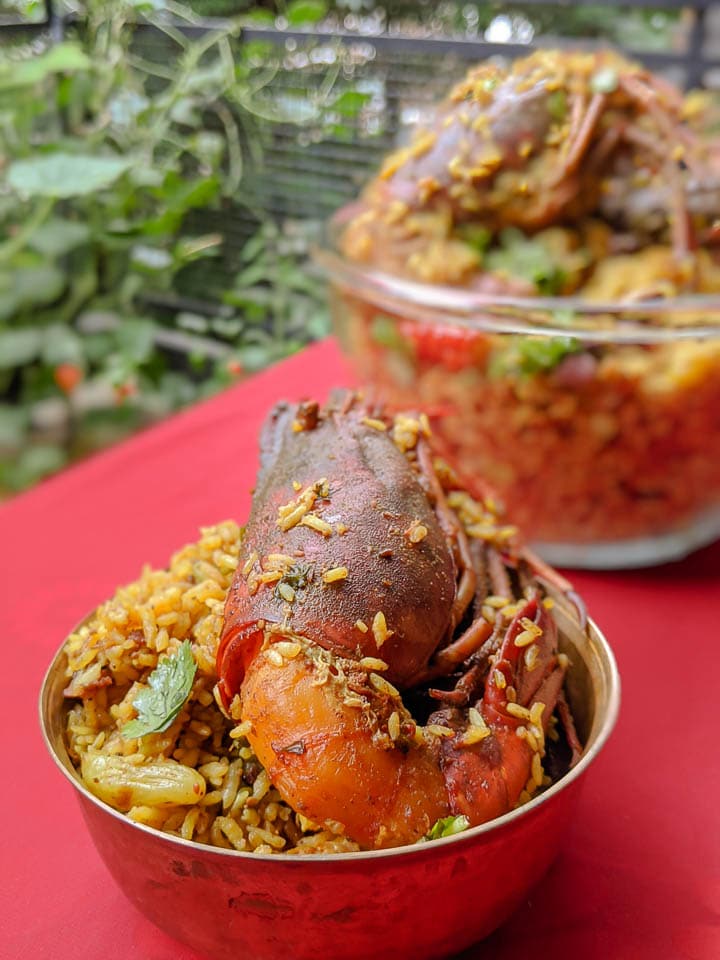 As I said before, I had never cooked Prawn Pulau beforehand, neither I tasted. I was elated to open the lid of the cook-pot and find each rice strand separated in all their glory, a great indicator of the perfect Pulau. It yielded to 4 meals.
The Persian connection of Pilaf and Polau unveiled in front of me as I was emptying the cooking pan. The bottom of the pan was distinct from the whole lot with extra golden almost caramelized rice morsels drenched in ghee stood out in the crowd. This is what is known as the elusive tah dig, the most loved part of Polau in Central Asia that is served to the supreme guest. Tah Dig is used to prepare a special kind of tea as well. Thus a Bengali girl who cooked an experimental Golda Chingri Polau at the Indian peninsula re-discovered an ancient socio-political route deeply entrenched in our gastronomical heritage. I do not know about you, but I regaled in this revelation!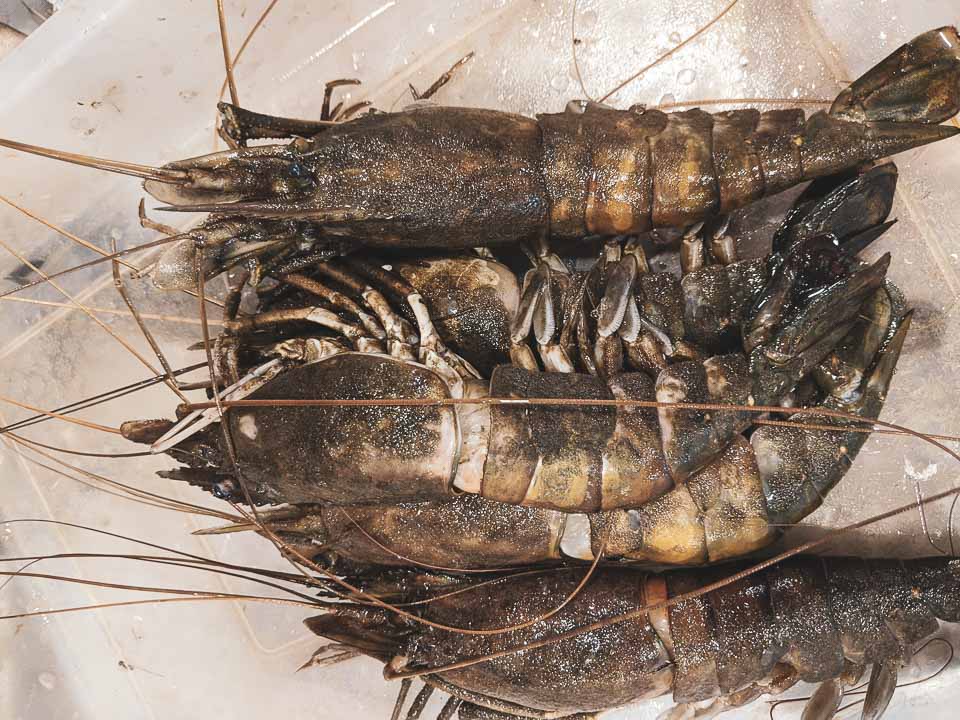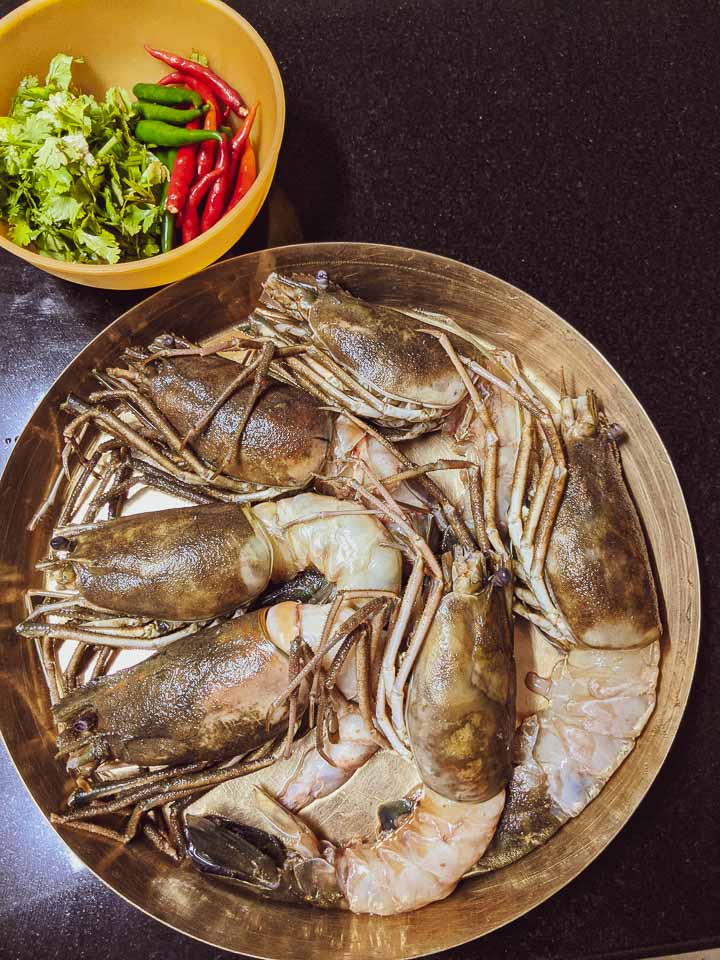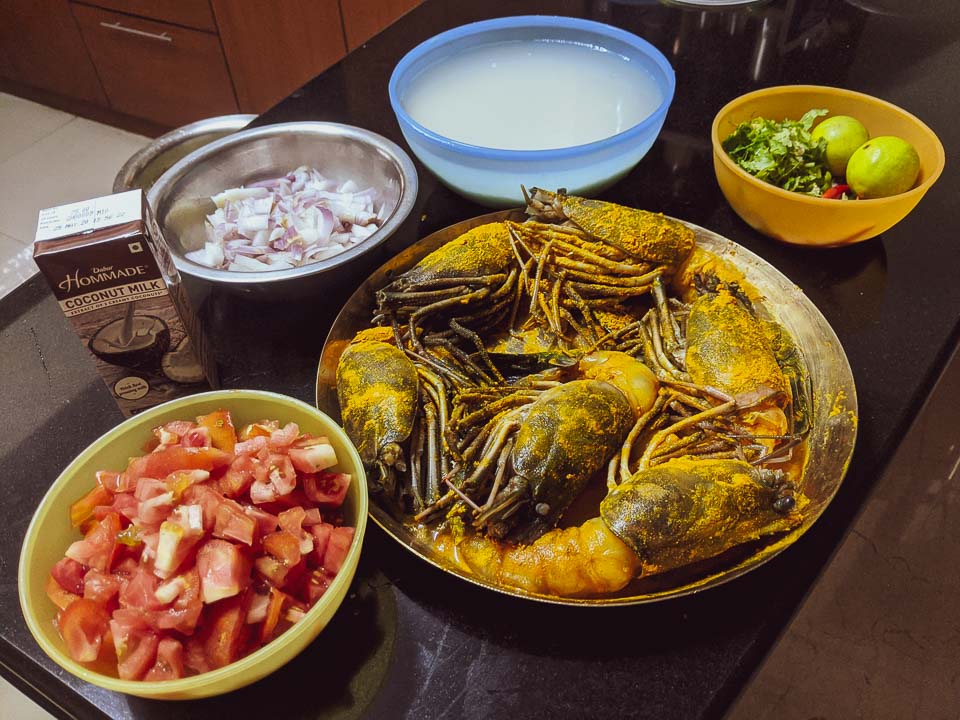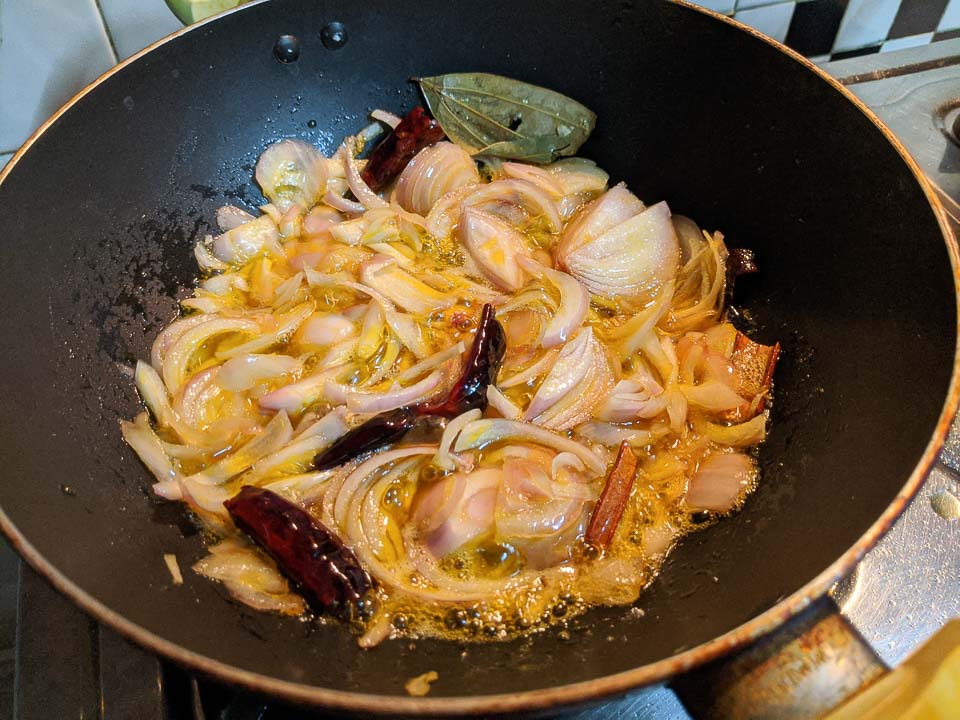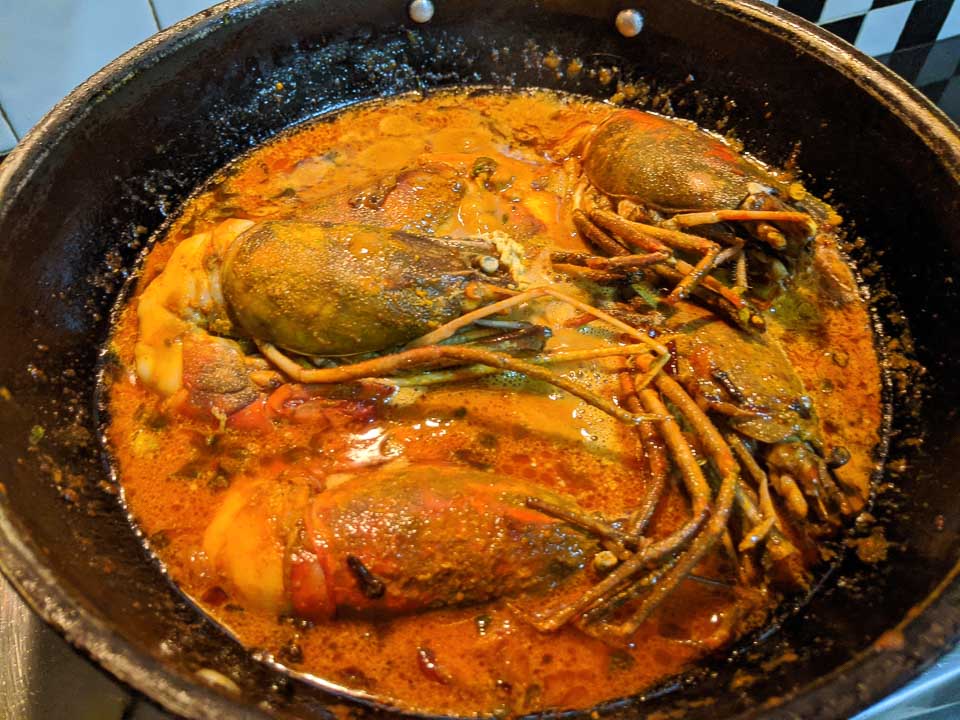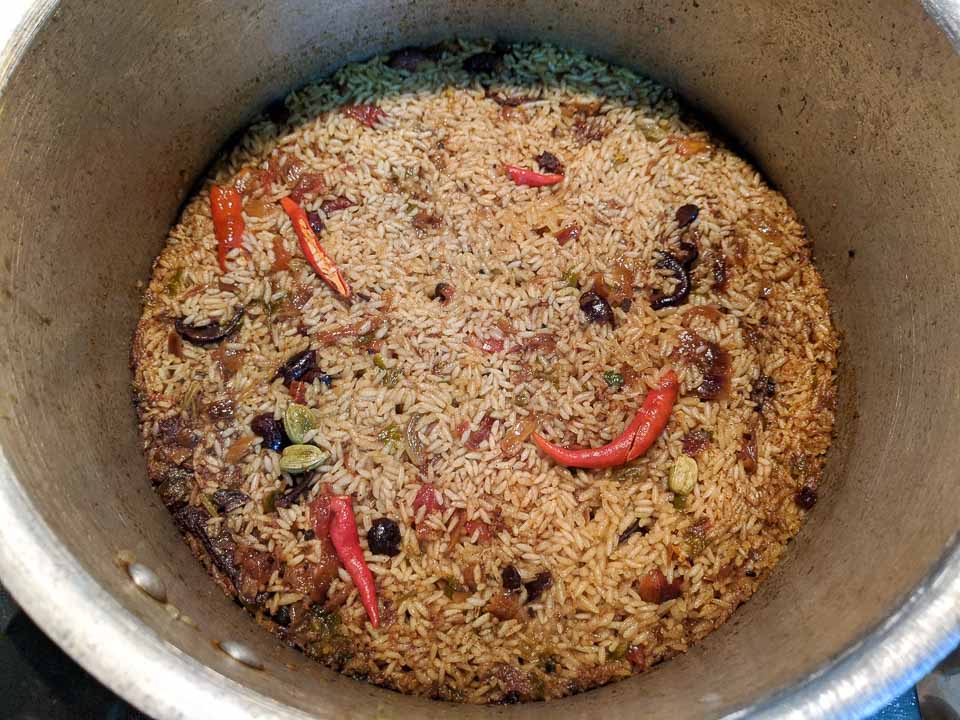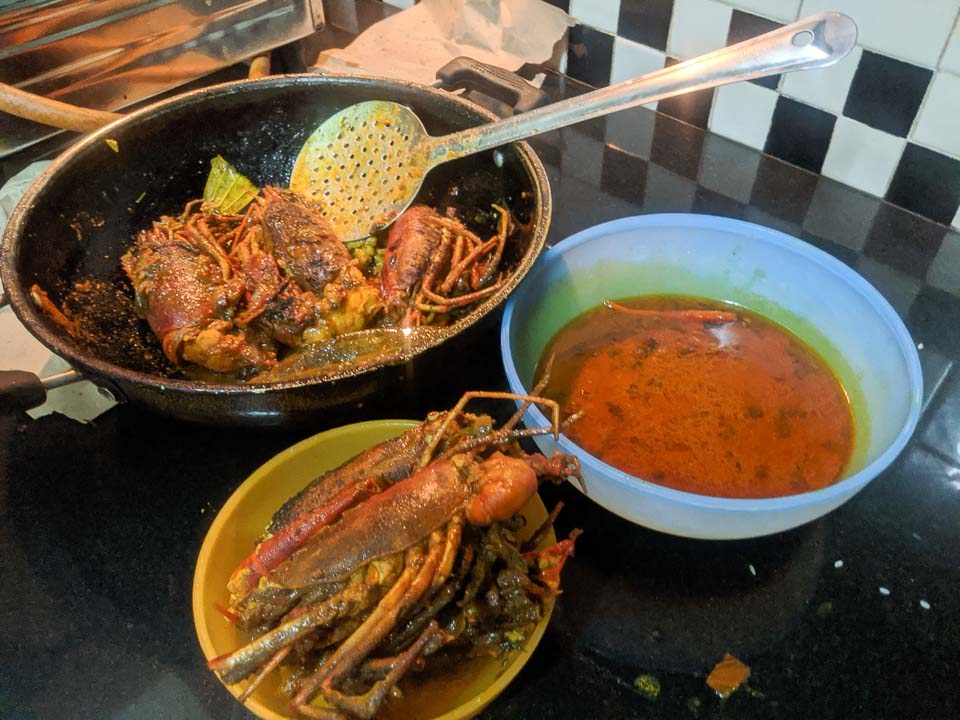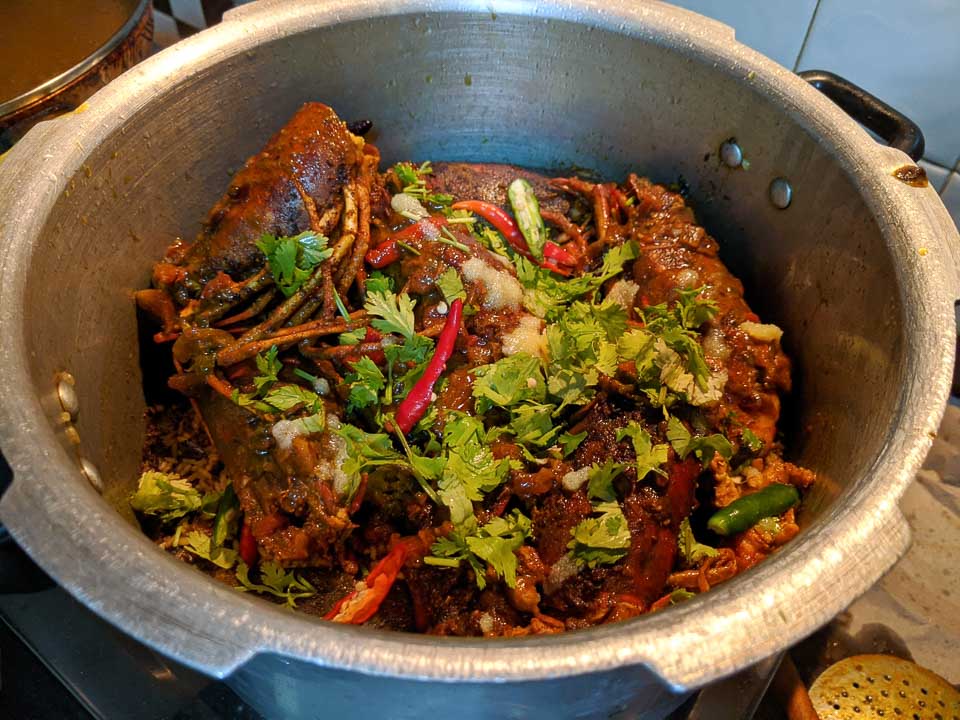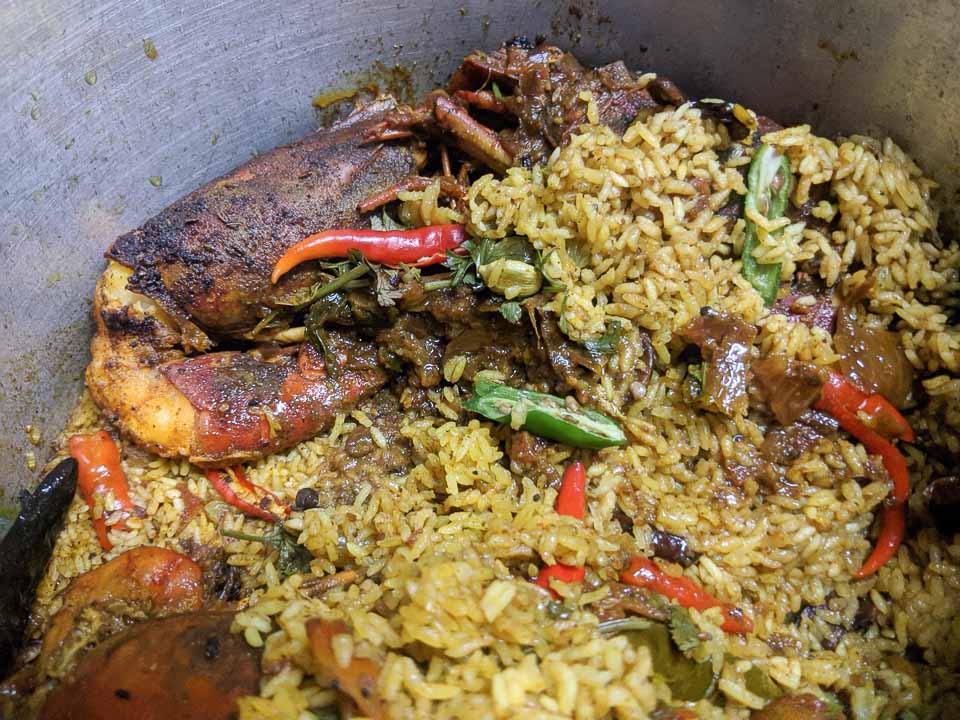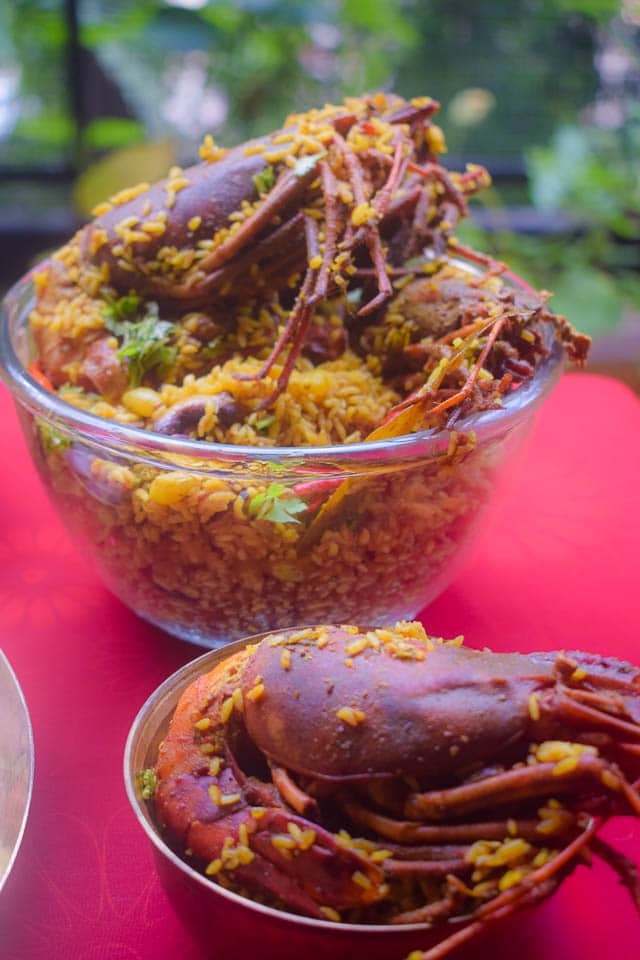 ---
This post may contain affiliate links. Please read the disclosure post. If you have liked the article, you may support it by buying using these links without any extra cost to you.
Let's stay connected on Facebook, Instagram, Twitter! You may also consider joining my mailing list. I send travel and photography related emails only once a month!