Hampi: Explore the ruins of India's Pompeii
The Hampi Guide soaked in Love!
It is almost over, I know. My bus leaves in another 90 minutes and my last bout of packing is pending back in the hotel room. All these glares, however, fail to reduce my mind. I am rushing through the paddy fields to get the last glimpse of that unknown waterbody, lying on the right as the highway recedes from Hosamalagudi to Kamlapur at Hampi.
Suddenly I see an old lady, sitting with a handful of potatoes. Potatoes are a regular sight in Indian villages but what might catch your attention here is they are cut into halves. I startle a bit and ask. People at Hampi are genial. She explains the other halves of the potato had the plant in-grow already. They have kept it for the next harvest while the regular halves can still be used for cooking.
There, there lies the ruins of Hampi for you. Once a zenith of culture and business, astounding the tradesmen from Portugal, the Vijayanagara empire fell into ruins at the advent of Deccan Sultanate. The Sultans kept the palaces and stables to their use while left no stone unturned to ruin the temples and statues. Destroyed, the city hardly survived. The eerie feel of everything abandoned looms large at every corner. However, just like the other half of the potatoes, our country of a billion people, have found their retreat by the river banks and adjoining villages. The soul of the old city remains undying!
Read this for an updated an comprehensive Travel Guide to Hampi. I wrote more than 10,000 words to help you plan your trip to Hampi!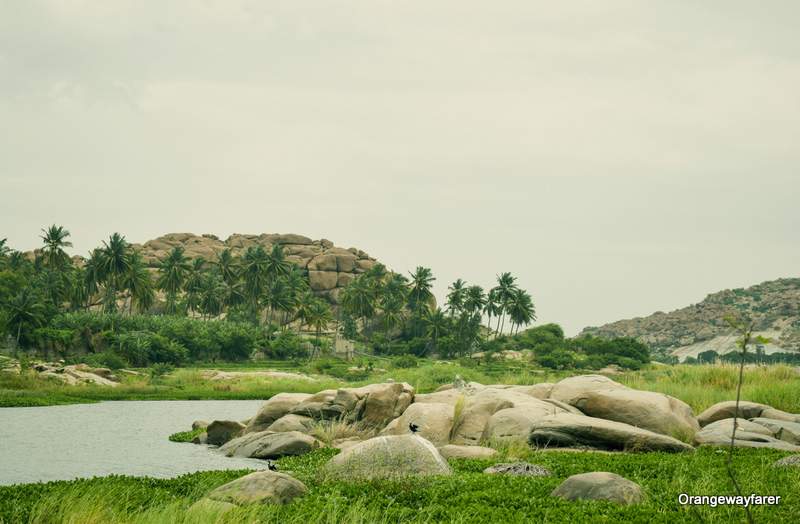 Also read: 20+ fun and offbeat things to in Goa!
Like any Bengali child, I grew up with Kakababu by Sunil Ganguly. Kakababu (they call him fictional) has a wide area covered in his endeavours to unearth mysteries. He was in Hampi as well. Kakababu had explained it all, why the pillars sing, why the tunnels are never-ending, where exactly you will catch a glimpse of the Vijayanagara diamond, capable to put Koh-e-Noor to shame. But the fascination of a twelve YO me and the all grown up me has changed to a large extent. Hence it was not until the exhibition in Bangalore with Greenlaw's photographs and an allure of superior hash, Hampi crossed my mind again.
More than a century ago, UNESCO conferring Hampi with heritage status, In 1856, Colonel Alexander Greenlaw took over 60 photos on the land. The wax paper negatives disappeared comfortably for 100 years before resurfacing only to take the scholars' circle with a storm of applause. Time stands still till date. The royal charm of the land with pinkish hue from the boulders under the bright Sun by a beautiful river Tungabhadra is captivating.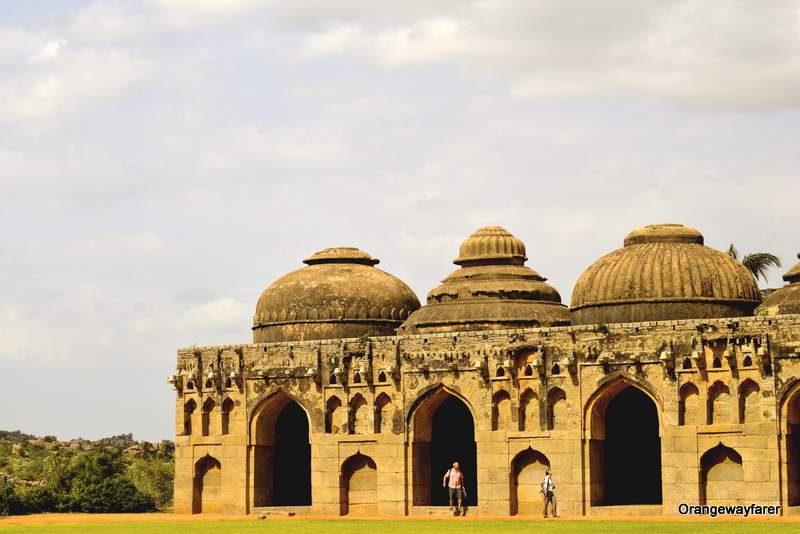 The military elephants sure had their stay sorted. A cell in the stable is bigger than the house I stay in back in the city! Royal affairs and wonders of Mango people!
Also read: 3 days in Hampi, a perfect itinerary!
Hampi was an impromptu and solo trip. Let me jot down the quick pointers for your use:
How to reach Hampi from Bangalore?
By car: Yes possible. From Bangalore or Goa or even Hyderabad. Just follow Google Maps I guess?
By Train: Reach Hospet. Take refuge to the great Indian Railway. The institute is almighty to me!
By Bus: Now this is what I did. An overnight journey from Bangalore, 7/8 hours. INR 650 ($7) and Please take care of your belongings.
(Update) By Flight: You can fly to Hubli and then take a small road trip now that the flight mode to reach Hampi is active too!
How long is too long in Hampi?
If you really love history or maybe you have been smitten by the magnificent ruins way too much than what you had thought beforehand, a week's stay is what I recommend. You can cover both the banks of the river as well as nearby Badami. I did only 2 days and 1 night. I will go back to Hampi the first chance I get!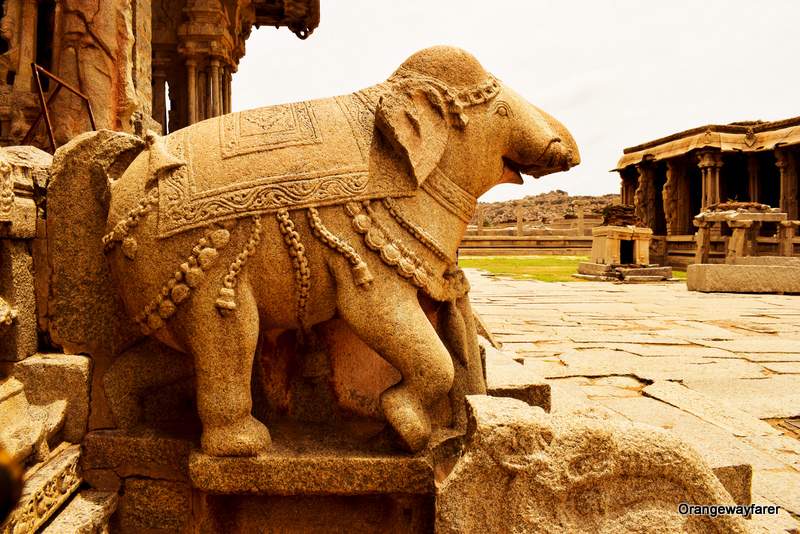 Where to stay in Hampi, Karnataka?
Now what I understood from the short stay was, Hospet is the closest town to the area (1 km from the ruins). On the other side of the river lies Anegundi. You may choose to stay at one of the homes stays at Anegundi. They serve meat and mostly dots the river bank. Hospet, even though a bit far, is a safe bet for the ones able to ride a rented bike or drive a car. There are multiple resorts between the road. I stayed at Hampi Heritage Resort. Commuting from the resorts in the evening might be a challenge (they do not have any shuttle service).
Hostels/ homestays/ resort come in an array of the price range, INR 700 to INR 6000. Choose your pick. I paid INR 2.5 k for my stay or one night (including breakfast). While the property was well kept my check in was delayed and irksome. I had to roam around the Hampi roads at the wee morning hours.
Also read: 11 things to know before visiting Darjeeling!
Commute When in Hampi…
Borrow a cycle from the resort if possible (my resort let me) or rent a bike for the day, if exploring by wayfaring in not exactly your forte. Be weary of the autowalas for they lie for no reason. Anything more than INR 700 for a day is not justified. You can also avail the bus from Hospet. It will ferry you to the Hampi Bazar through a scenic path, without a stop. Explore the Virupakhsha temple and river side from there.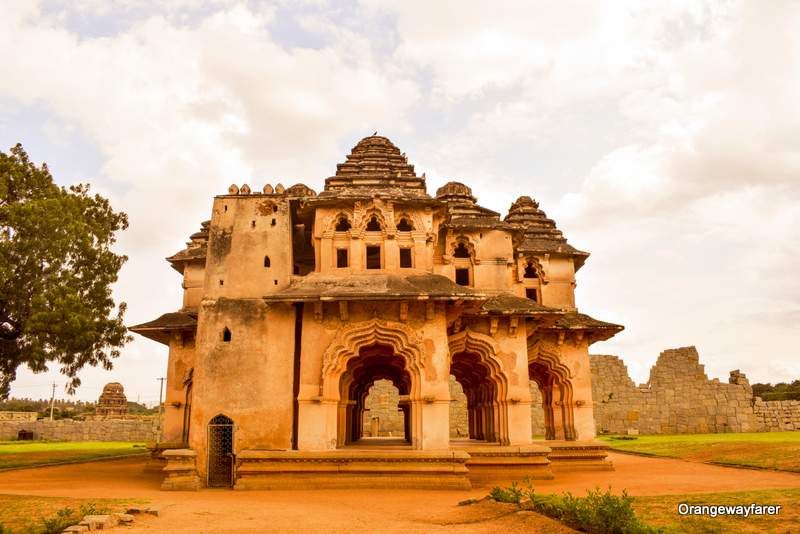 The Hampi Triangle
For those travelling India for the first time, Goa, Hampi and Bangalore together form a lucrative travel triangle, thanks to the age-old trade route. I met a group of explorers from Japan who were on this particular route. Goa is the party capital, Hampi is the erstwhile capital of Vijayanagar and Tech capital of the country is Bangalore. Sounds a legit plan!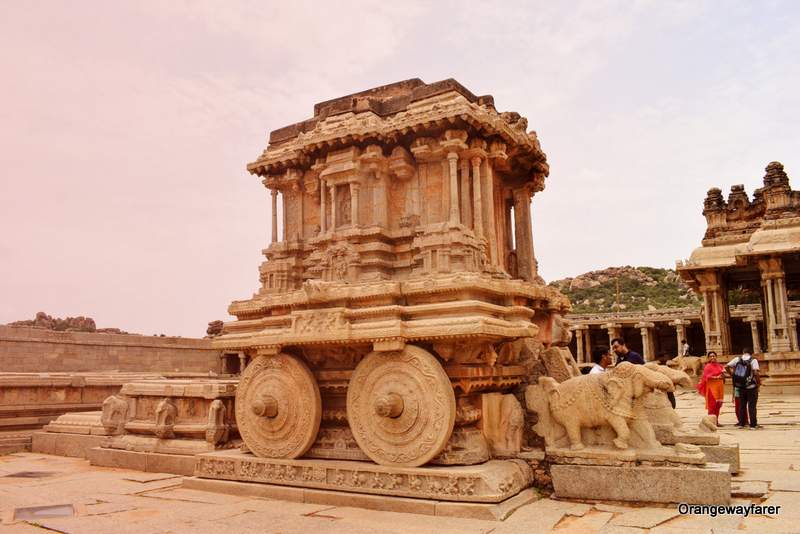 The famous Ratha at Hampi which you may also spot at the back of an INR 50 currency note!
Also read: 5 days travel itinerary for Leh with offbeat day trips suggestions
History of Hampi
Hampi long served as the last standing bastion of Hindu imperial India. When northern India was frequented by the attacks of Arabs and ruled in placed by Tughlaq and other dynasties, Vijayanagara empire used to burn the victory lamp atop Hemakuta every night, no show a way for the wanderers. Multiple Hindus fled from North India to settle and serve the dynasty that retained an unprecedented richness and heritage for over a couple of centuries.
Legend says, Harihar Raya and his brother Bukka Raya, more famed as Hakka-Bukka had been captured by Md. Bin Tuglaq and further converted to Islam. Soon they fled for their homeland with the aim of establishing a stronghold for Hindu heritage, with the blessings of a Bramhin, Vidyaranya.
The other bank of the river housed Nawab Ahmed Shah of Bahmani empire. Needless to say, the neighbours were always on alert for an ensuing fight. However, seven layers of the citadel and millions of army could not save Vijayanagara when the end commenced. The seven century-old broken, unkempt statues have seen the zenith and low of the city like none has. Archeological Survey of India is active to reduce the gnaw of wind erosion and overtly enthusiast travellers.
Even after destruction, Deccan Sultanate had made use of Lotus Mahal and elephant stables for the short reign. The coracles are unique to this region and believed to have been brought from Arab.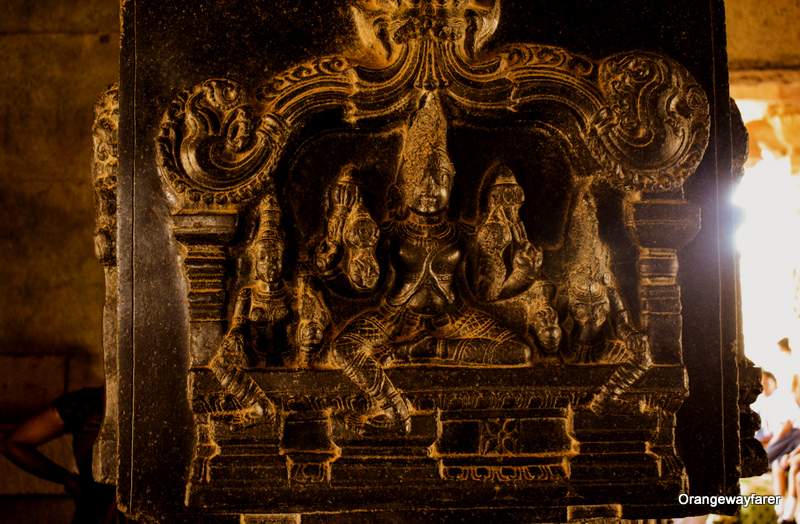 Also read: How to spend a prolonged weekend in Goa?
Mythology associated with Hampi
The bricks are illustrated with elephants and stories of Ramayana. A script is written on some of the temple walls. I cannot decipher. But Manasa, the Bhutta seller told me how a romance blossomed here between Pampa (you know her as the river Tungabhadra) and her beau Pampapathi (Lord Shiva, your good old one!). The betrothal ceremony had heaven showering gold upon them. The gold mound remains as Hemakuta hilltop. The sun shines brightly before descending for the day here!
The numerous caves are highly esteemed as a command centre for Rama and his army. The reference point is the unequivocal epic of Ramayana. I strongly suggest read the whole lot of Kishkindha Kand for those pondering upon a visit to Hampi. Case in point for non-Indians, a read at the epic called Ramayana is always a wise time investment. The ancient epic continues to amuse my staunch believer Hindu grandfather and the agnostic me in the same way.
The ruins of Hampi I loved and would recommend as a must visit!
I intend to blog post about the ruins in details very soon. A visit to the local library is a mandate to do justice for them. However, let me show you what I loved!
The Vittalaswami temple is one of the biggest in the area with an entrance fee! (INR 30 for Indians, INR 500 for other nationals!) The pillars create an ethereal music. The animals from another galaxy standstill on the temple walls. The chariot has lost his motion long back but continues to amuse DSLR owners. It is of little wonder that the temple will find a place in any Hampi travel guide. You can even offer a Puja here!
Also read: Offbeat day trips from Leh when you are spending 5 days in Leh!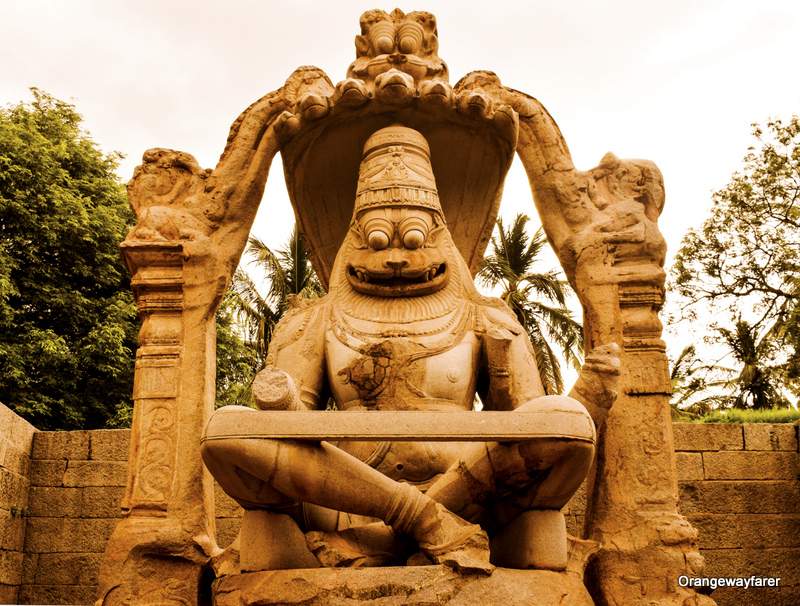 The grown-up Ganesha has long outgrown the mother's lap but continues to stay inside the temple. Pay him a visit before you head for the much-coveted sunset point!
Pin it for later!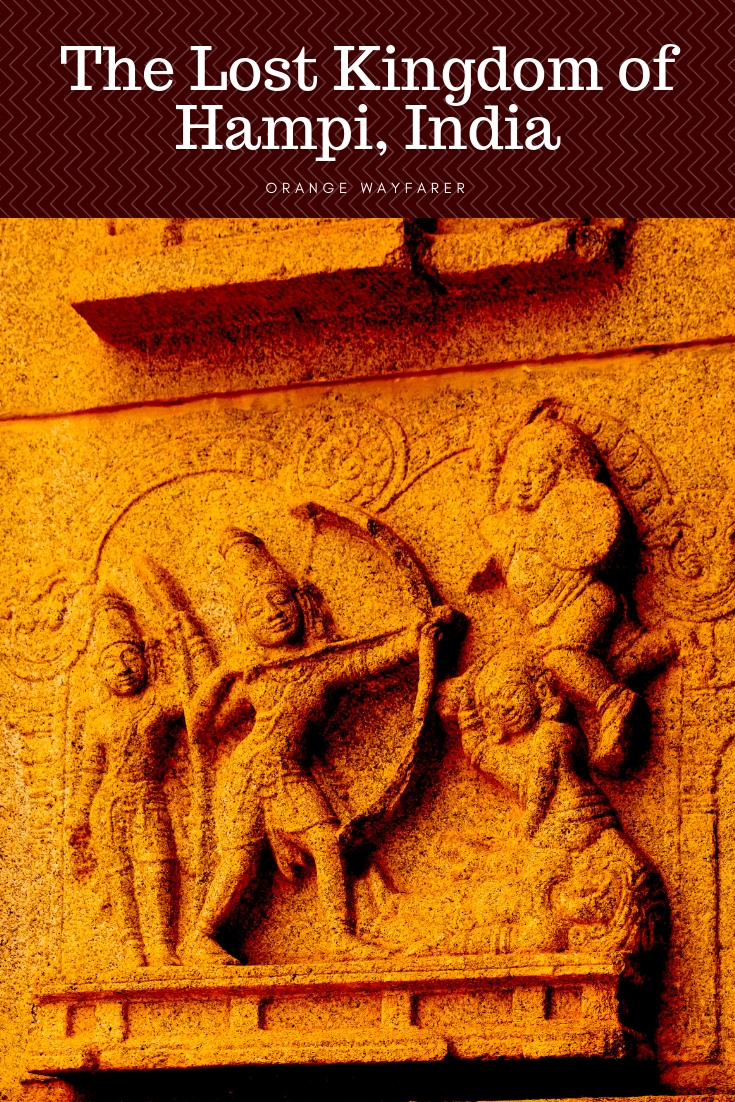 Food I ate and loved: A guide to Eating while Travelling in Hampi!

The autowala, around 1 pm, proposed a possibility of hearty lunch. Amid the runs. Curious, I ask how is it possible. I do not know what he understood by the question but assured me saying I will be getting rabbits and peacocks there. A poor AIrtel network made me give up the seeming faint try with zomato.
Later to much of my dismay, I found out, the restaurant does have peacocks and rabbits, but as a show animal for the hungry travellers. You only get to choose from vegetarian options like Naans and curries, omelette at times. I met this cute little Bangalorean here, a 3-year-old US born, busying herself feeding the rabbits with greenest of grass pile, she declares "Of course I like it more over here". Hampi 1, USA 0! Child, only if you would have known the ordeals your parents had to go through to get that visa!
I tried banana flower curry, a Hampi speciality. Now the Bengali in me will swear by Mochar ghonto anyday! We have perfected the use of Banana flowers, decoded to the greenest core and chopped and fried in mustard oil with gentle servings of prawns. The Hampi version of it was gooier. I recommend it for the weary souls detesting relentless Paneer and humble Dhoshai!
Solo travel experience
As the age old Indian saying goes, "Akeli Ladi, Khuli Tijori" (A lone lady is a treasure trove), I was very skeptical about the first one trip. Even while checking in early and getting bickered by the hotel stuff, in my mind I could here, "go back Madhurima, the next bus to Bangalore leaves in 2 hours). I say this as a penance for my impatience. Of course, you need to let a place grow in your mind, give some time. I feel overwhelmed beyond words these days to write something about Hampi.
Of course, there was wolf whistling when I was watching over the buffaloes taking bath in the canal (check out my youtube vlog on Hampi, guys) or while trying to explore the unknown water body. Of course, the auto walas never were absolutely truthful and every biker while passing by made that strange finger sign, apparently denoting beautiful but slurring with eyes. But I did not stop watching the buffaloes or walking towards the water body. For "jo dar gaya, wo mar gaya." (One who is afraid has already died)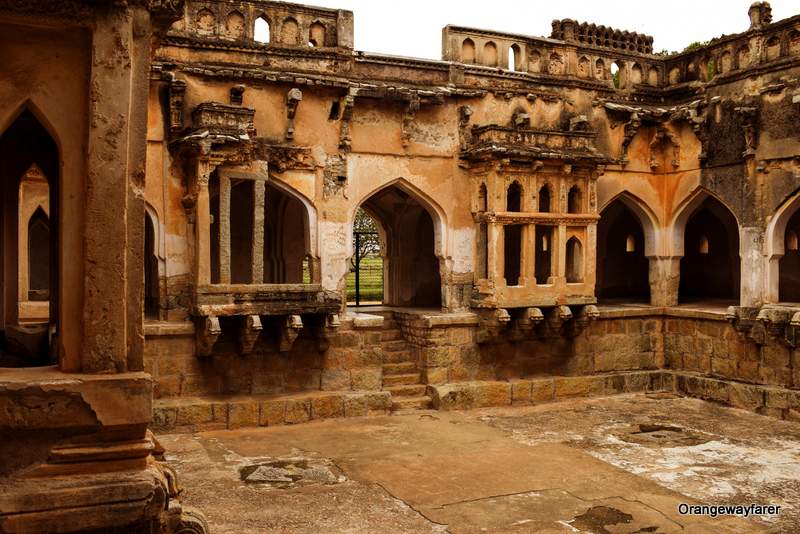 I fondly remember the friends I made in this small trip. Gauri, a wife, a mother, a homemaker from the nearby village of Gangavati kissed me goodbye. She made sure I do not roam around in a torn salwar (blame the boulders by the river. I was trying to climb one for a better picture. Things a blogger got to do!). I disliked the school children but was sincerely hoping to meet them the next day as well. The sudden scream and announcement of a dead centipede as "murder case" was suddenly a much sought after amusement. Or maybe they reminded me of hope. You need a certain kind of renouncement, a hope to live while standing amid ruins that beautiful, vividly portraying days of yore. Children of Hampi, no doubt helped the city rise like a phoenix again! On a lesser Philosophical note, do remember the following as a solo traveler:
Do not talk to people unless absolutely necessary
Stay away from men trying to click selfies with you (specially if you are a firang! A foreigner)
Do not always entertain the idea of clicking a picture. It quickly escalates from children to grown up men. Uncool.
Do not venture out at night.
Do carry water with you.
Trust your instincts.
You may want to avoid lone highways, however tempting they might look like!
Loved it? Pin it:
This post may contain affiliate links. Please read 
the disclosure post. If you have liked the article, you may support it by buying using these links without any extra cost to you.
Want to get real time updates of my travels?
Get updates and read additional stories on the Orange Wayfarer Facebook page.
Follow Orange Wayfarer on Instagram.
Follow Orange Wayfarer on Twitter.
You may also subscribe to my weekly newsletter!