History of Indian textile dates back to millennia. At per with country's rich cultural diversity, Indian textiles and fabric too, changes it shape, form, identity every 500 KM. What remains constant is the idea of story telling. When you are wearing a saree, you are also wearing (and henceforth promoting) a story, steeped deep in your heritage and culture! This blog post is dedicated to all those lesser known art forms of Indian weaves generating at the hand-looms of distant rural land. The weavers often ignored from the limelight! Nonetheless, their art form comes to the forefront and inspires awe. Indian weaves in the beautiful forms of saree and men's garments, at its best!
Did you know? Earliest found thread of Cotton from India is 4000 years old. Further it was dyed with natural color, mostly Indigo. In ancient kingdom Babylon and Rome, the word "India" was synonymous to Cotton. Indian weaves has been listed as a worthy contender of UNESCO Intangible Cultural Heritage of Humanity!
The way back home from office is a long tiring journey with usual Bangalore traffic. I generally plug in the ear buds at this time, hope for no interruption in Airtel connectivity and unwind with Bengali soap operas in Hotstar. These soap operas are interesting with the protagonists getting on a marriage spree on almost every other day (do not judge my entertainment choice please, I work in data science industry and run completely blank at the day end). The point is, wedding celebration means the best of sarees and Indian weaves being on display, even in soap operas. Short of time for window shopping, I quench my saree thirst (and it works better than Instagram) with those soap operas.
It was one of those long cab ride when I found my co passenger ogling at my phone screen with equal enthusiasm. She is from Telangana and generally binge watches Deepika in YouTube (yes, thou should know your neighbour in and out when stuck in Bangalore traffic situations).
Our eyes met, we laughed and soon after started a conversation on the hand-painted Kalamkari sarees. You see, the fine weaves could be a great conversation starter too! Upon hearing my plans on visiting Hyderabad, she readily helped with few store names where I could source few of the finest Kalamkaris!
The idea stayed with me for a while. On a quest to experience myriad culture of Indian states (and beyond the border, the whole of Indian subcontinent), the finery of weaving plays a pivotal role. It is one thing to buy them from the air conditioned stores of urban comfort, where Kasavu is available in Kolkata and Muslin is available in Punjab. It is another thing to visit the weaver's village and source directly from her, and if you are lucky enough, watch her arrange the threads in the loom!
I asked few of my (blogger) friends to contribute and women from India and beyond took part with glee. Pin this post for your next travel and make time to visit the artisans.
Also read: Bengali wedding rituals- a photo blog!
1.

Khadi (Handspun and handwoven cloth of India)
Any article on Indian weaves remains incomplete without a mention of the Swadeshi movement started by Gandhiji, a strive towards self resilience and self governance. His immortal image of spinning the Charkha (wheel) speaks volumes of India's weaving heritage. He rekindled the forgotten art of handwoven cloth that the British tried hard to wipe off in order to strengthen their business of colony in India.
The hand-spun weave that Khadi is dates back to centuries. Usually ivory white, or rather faintly cream in color and coarse in texture, Khadi is making a comeback to mainstream fashion and how!
Khadi is not just a piece of cloth but it absorbs and represents the collective ethos of India. Yes, India as a whole though her regional varieties of plant fibers and natural colors remain practically endless. No wonder, Gandhiji's Khadi movement remains an enigma in the history of mankind.
All my Dadu's Dhuti strictly has to be of hand spun Khoddhor Cloth (another name of Khadi, probably in Sadhu Bangla).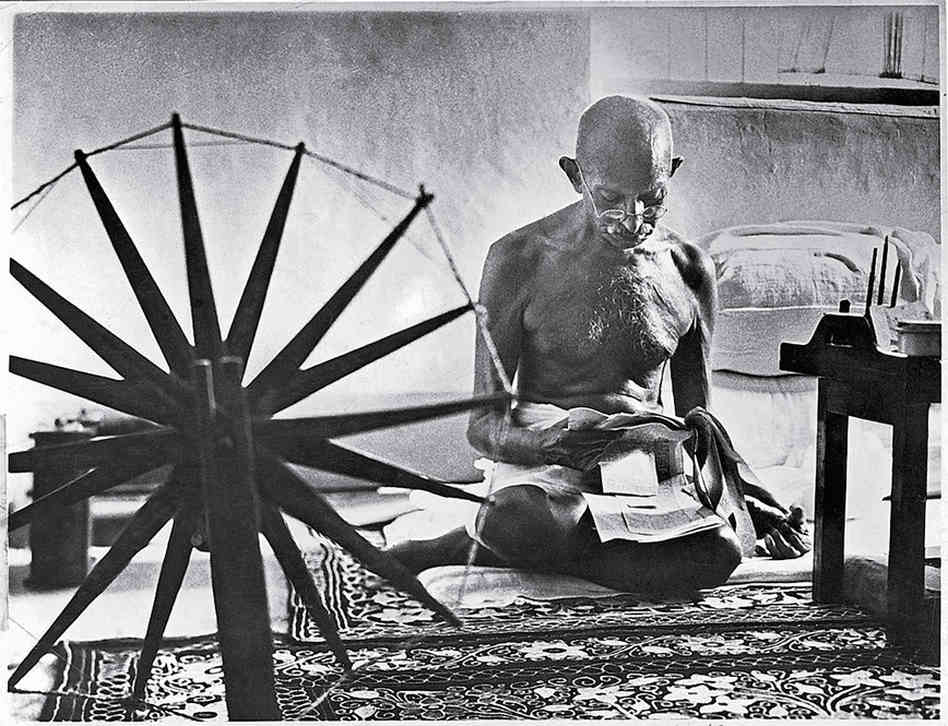 2. Baluchari from Bishnupur in Bankura, West Bengal (Minakari Baluchari, Swarnochori)
Baluchari Sarees are an enigma in short. Balu Char, literally translating from the sand banks of Ganga, Baluchari sarees have stories of Ramayana woven on its Anchal or Pallu in Resham Jari. Though now the practice has almost become extinct from Murshidabad and a few handlooms still indulge in the art in Bishnupur, Rarh region of Bankura.
Minakari Baluchari has a couple of Resham threads of different colors interwoven and further adds attraction.
The most beautiful variation of Baluchari has to be Swarnachari, where Swarno stands for gold. The Baluchari saree when woven with Gold or Silver threads along-with Minakari work is known as Swarnochori. Price for Swarnochori starts at INR 13k and goes upward. It is befitting a bride's trousseau.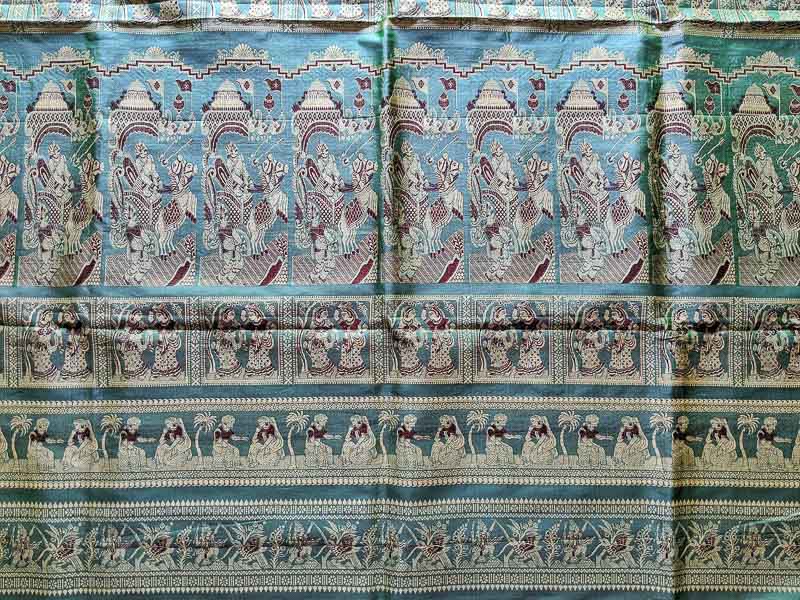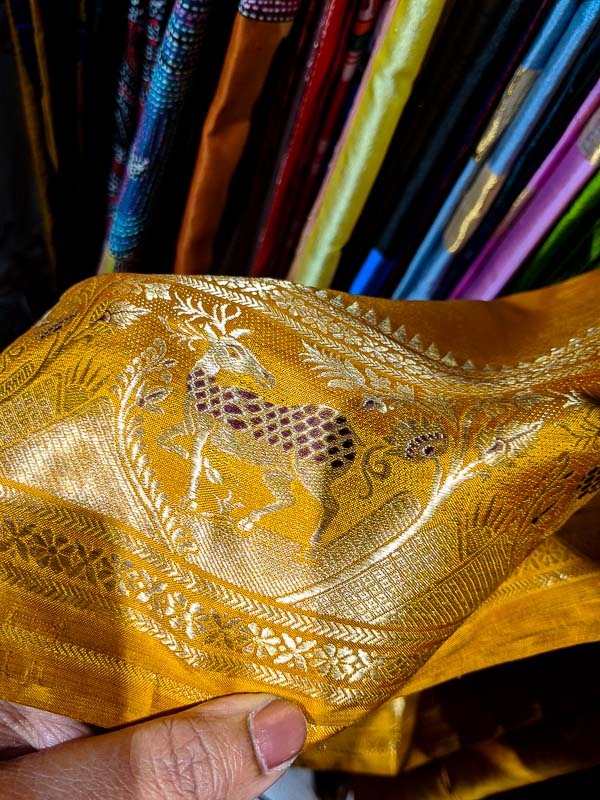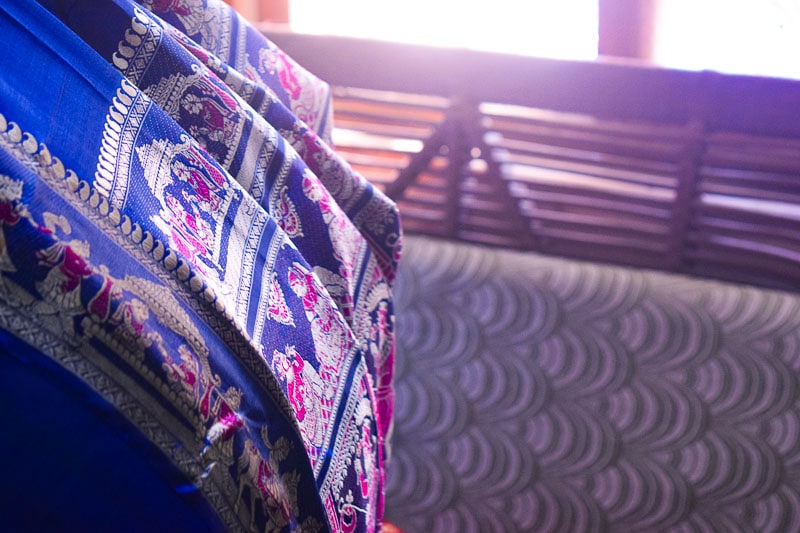 3. Jamdhani Saree (Dhaikai Jamdani, Muslin Jamdani)
The traditional Jamdani is a kind of famous Muslin textile still having the same popularity since the Mughal time. Jamdani Saree or Dhakai Jamdani is a famous and popular Bengali outfit among all Bengali women around. There is a huge demand of Jamdani Saree in South Asia, Middle East, Europe, and the USA. UNESCO declared the artistic design of Jamdani as 'Intangible Cultural Heritage of Humanity' to support the local weavers of this most popular traditional weave of Bangladesh.
Historically the production of Jamdani started during the time of Mughal. The Bengali origin of Jamdani is Narayanganj, one of the industrial hubs of Bangladesh. During that time the weaving of Muslin also started from this place. Majority of the weavers of Jamdani belongs to different places of Narayanganj. Jamdani Industrial Estate & Research Centre here is working to promote and protect this historical heritage of Bangladesh. You can get the wholesale price of any product of Jamdani from here.
I don't wear saree much as I can't maintain it properly, hehe. But I love this outfit. And white colored pure cotton Jamdani Saree is my favorite. Long back ago I got a gift from my uncle to wear at his wedding. Yes, Bengali custom!
Jamdani is made of cotton and this is handloom woven textile. The artistic weaving requires much time and effort. And so, this is a kind of expensive weave and sold at a high price in all big shopping center in Dhaka. I believe each weaver of Jamdani is an artist. The weavers of this heritage industry should also get the standard wage to survive themselves and to protect this traditional heritage textile of Bangladesh.
By Nafisa who blogs at at My Own Way to Travel. Follow her in Instagram, Facebook as well!
Jamdani in India (My experience)
My dida told me about Jamdhani weavers during bedtime stories.
How the weaver will use the dawn dew to moisten her fingers. How only a girl under the age of eleven can only handle the Resham Sutali. And, how the British colonials used to chop off their fingers to kill the art.
Muslin jamdani is a prized possession in any Bengali household. These days the bride and her family (and I mean after partition, the remaining Bengali households from West Bengal) take particular pride in telling you how exactly she has sourced the Dhakai Jamdani saree from the Banladeshi weaver who crossed the river Padma in the dark of night and handed over the saree right where the border starts.
No doubt exaggeration made a permanent house, but the message remains, "divided by politics but bonded in the weaves.".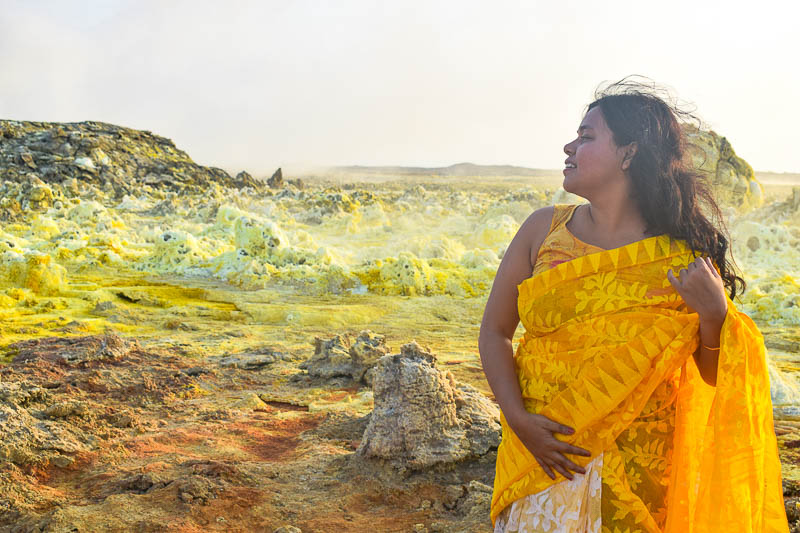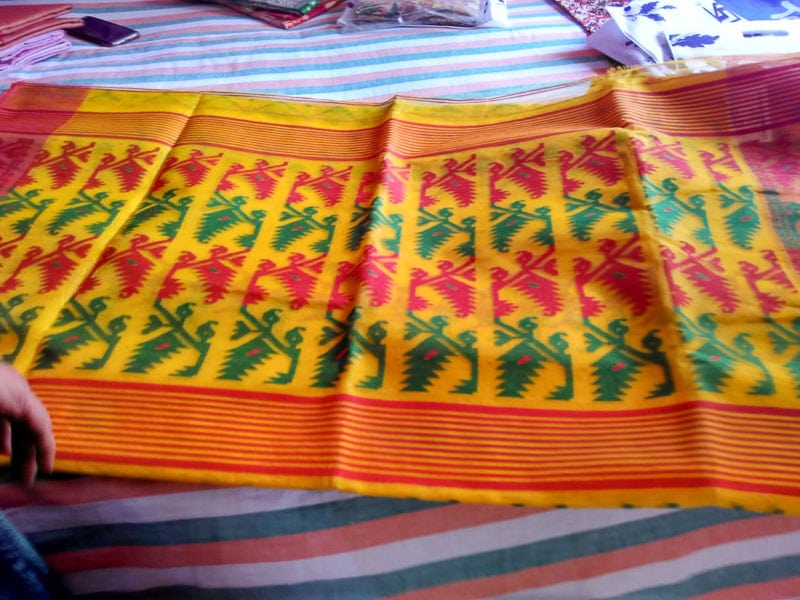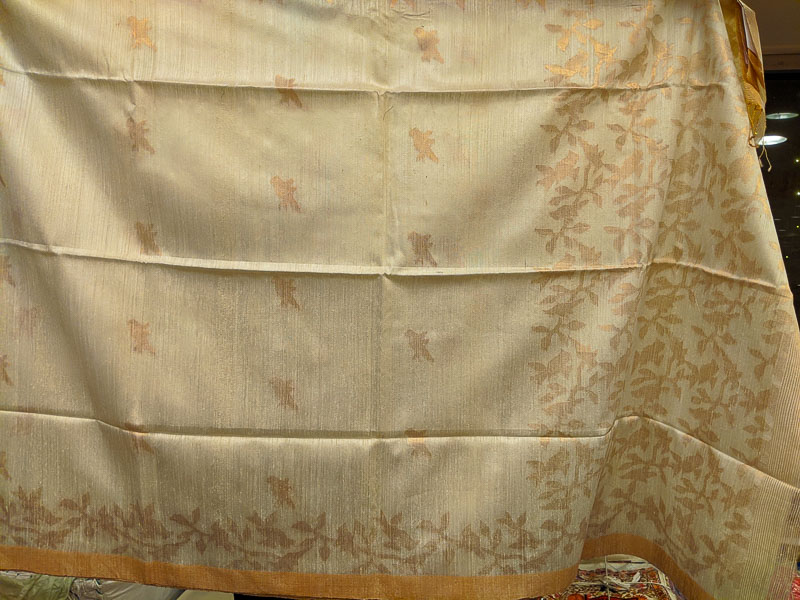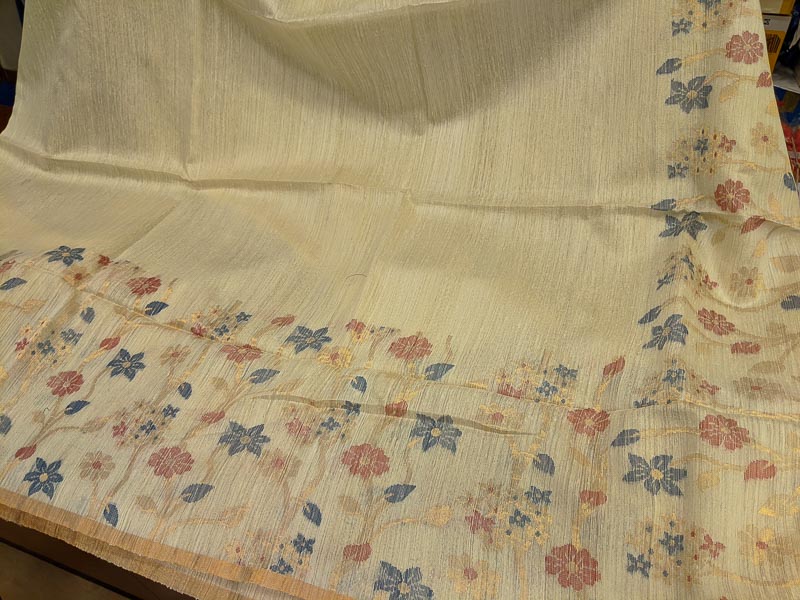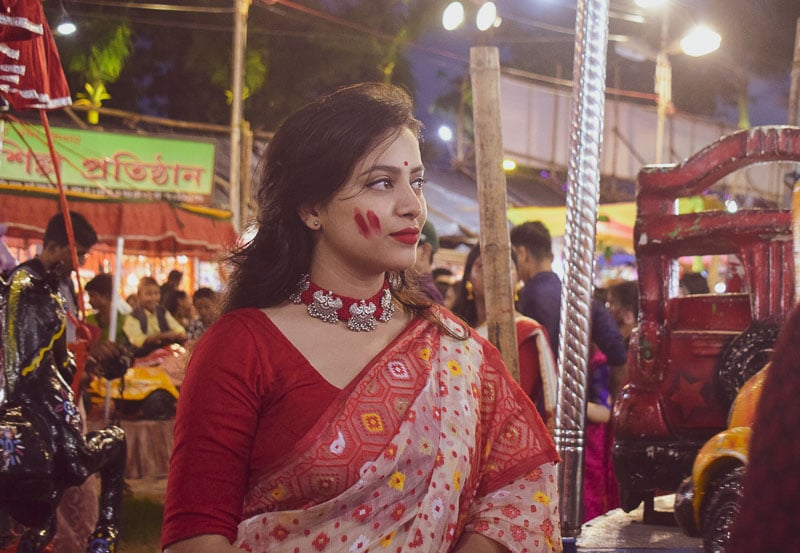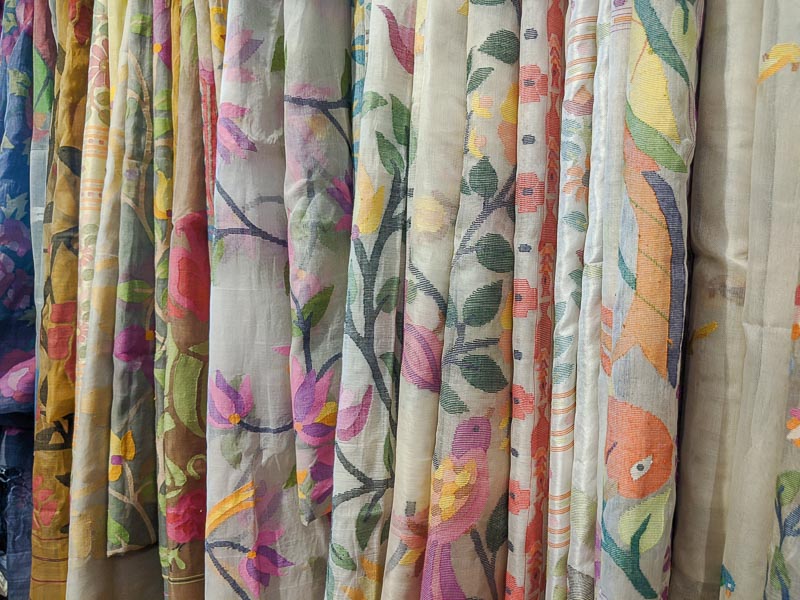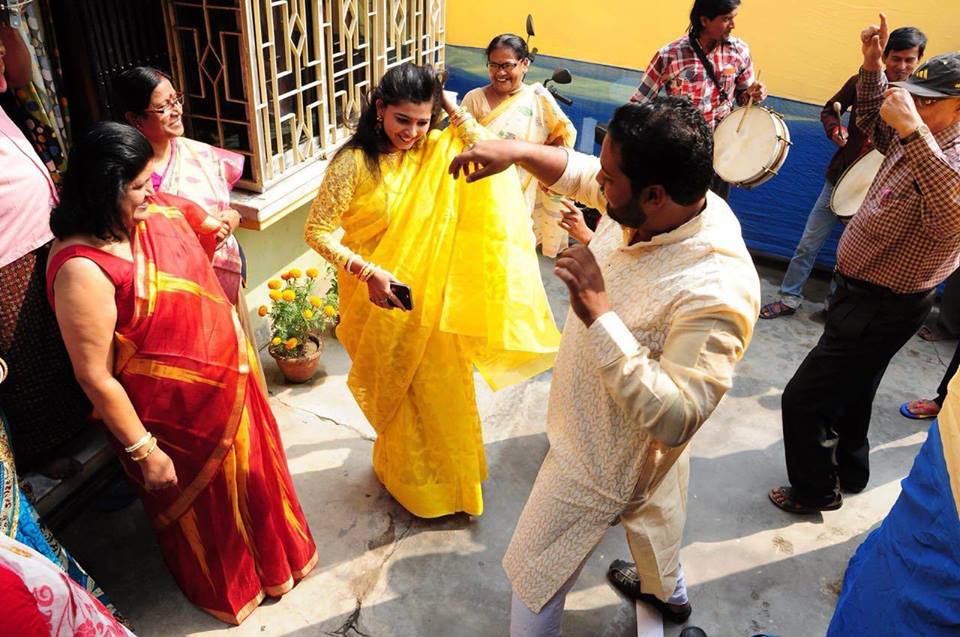 My friend Ankita making merry with her husband on a marriage ceremony. The morning ritual for a Bengali marriage demands for a bright Jamdhani.
4. Tant Saree, West Bengal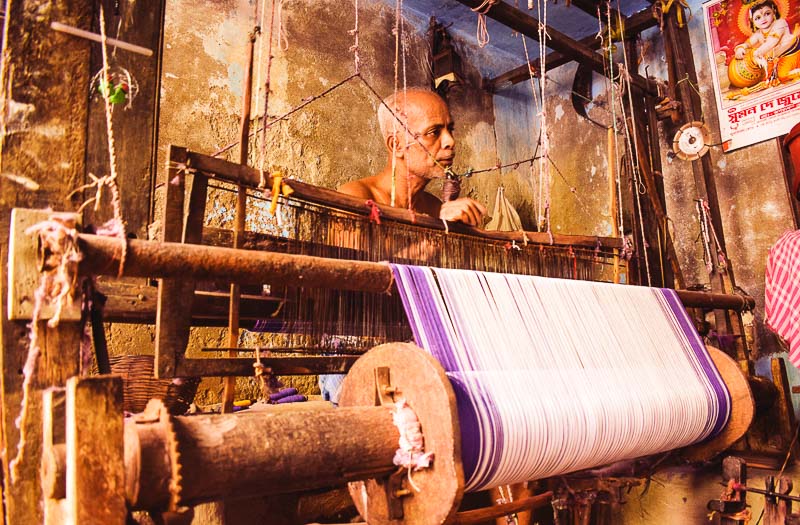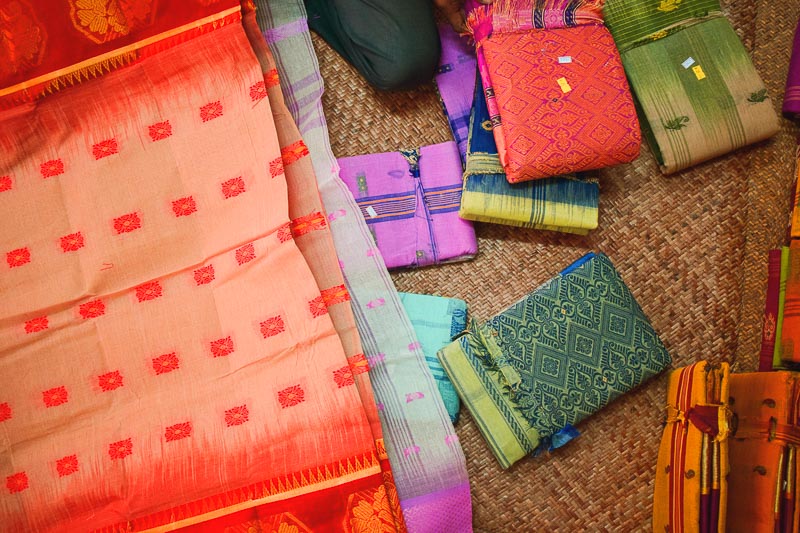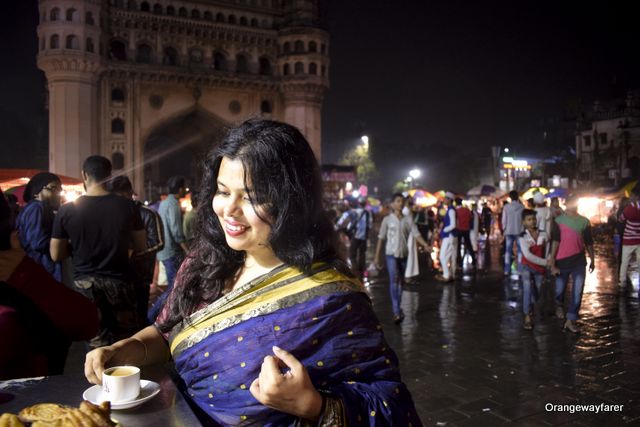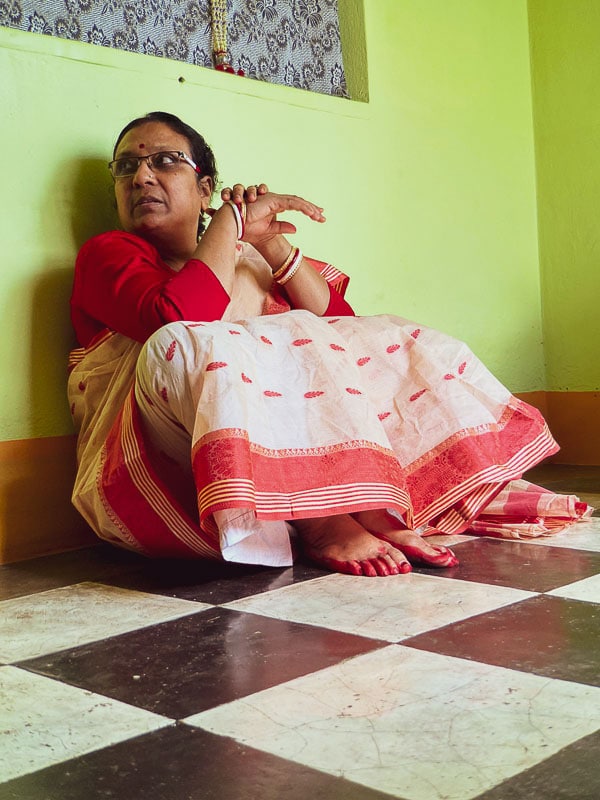 5. Kantha Stitch
Tusser silk is an indigenous yield of the tribal belt of Bhagalpur area of Bihar. Traditionally the silk has been picked up neatly by neighbours from Benhal and Odissa and improvised further in various forms of clothing, sarees and traditional Panjabis.
The delicate needle work on Tusser silk has given birth to Kantha stitch sarees. Often, these needle embroidery tales stories of rural livelihood.
I suggest a quick trip to Bolpur, Sahntiniketan from Kolkata. Walk by the banks of Khoyai river and make trips to the adjacent villages. Learn how the mother prepares an elaborate Kantha for decades for the daughter, which she will carry to the in law's house post marriage.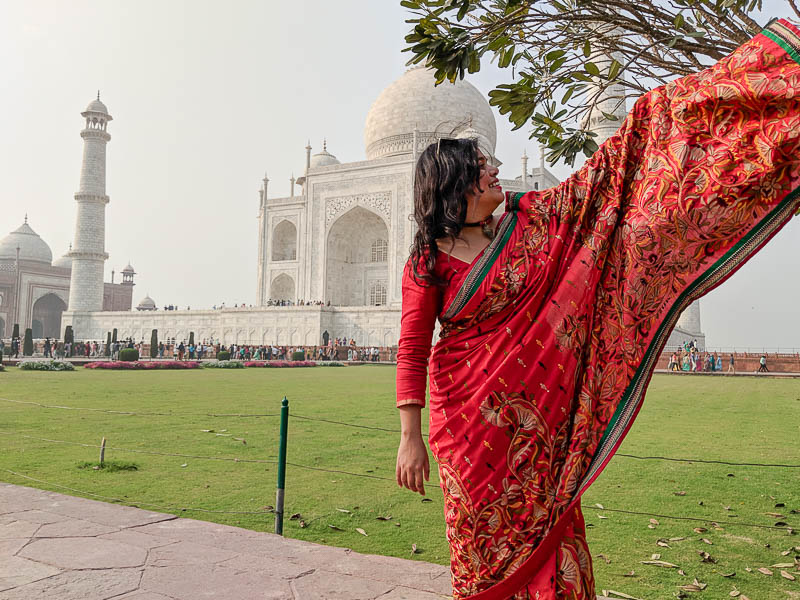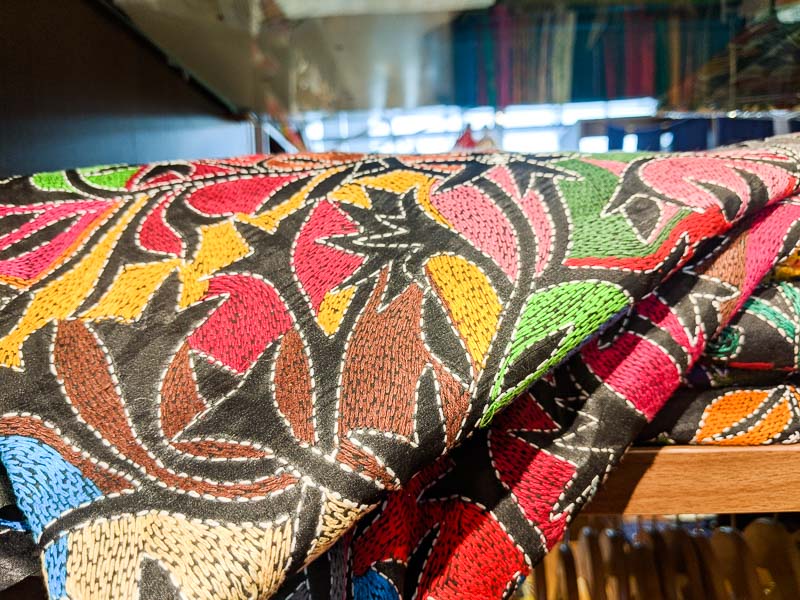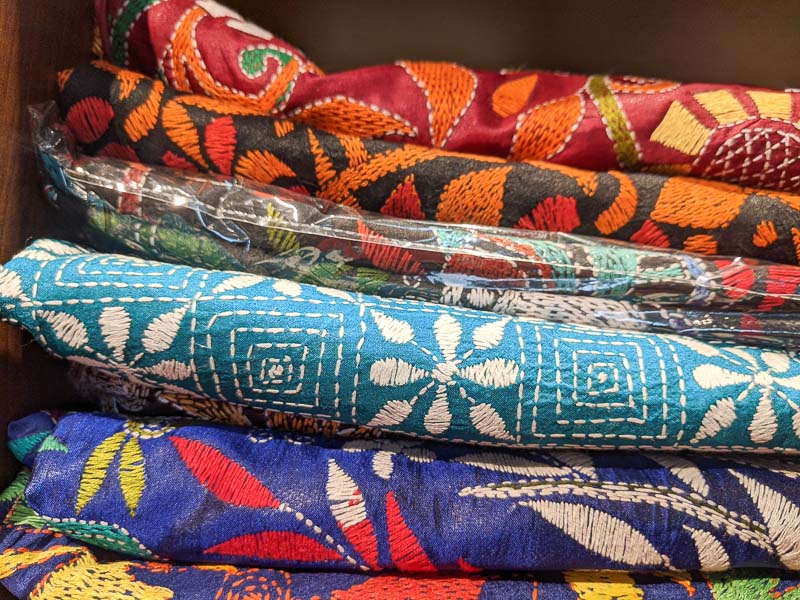 6. Tusser Benarasi
7 . Tusser saree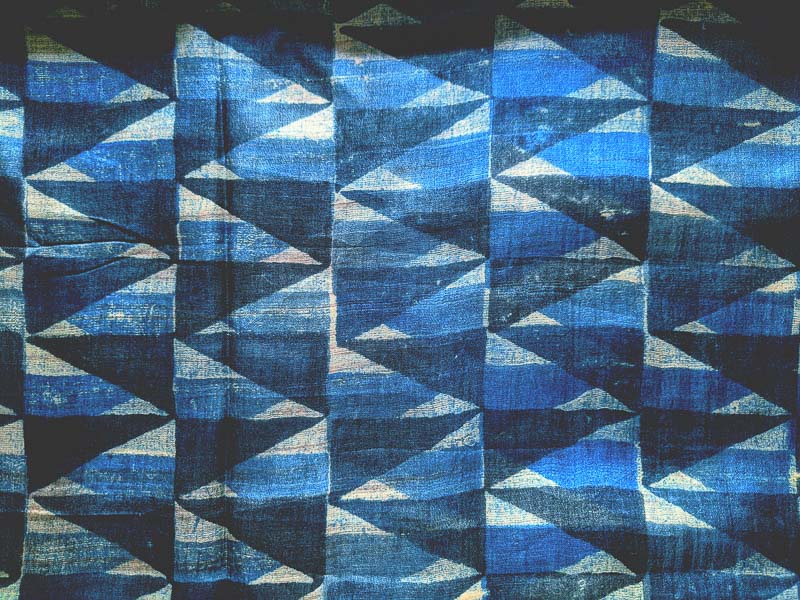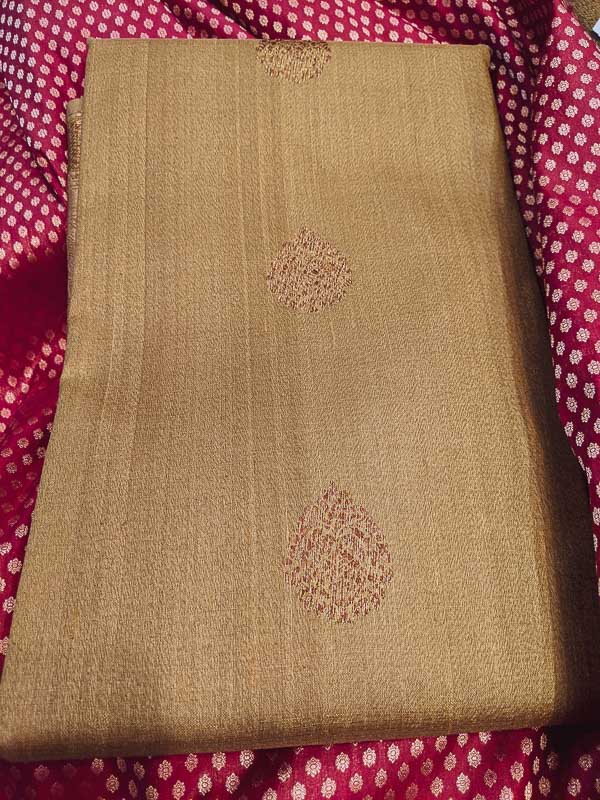 8. Murshidabadi Printed Silk Saree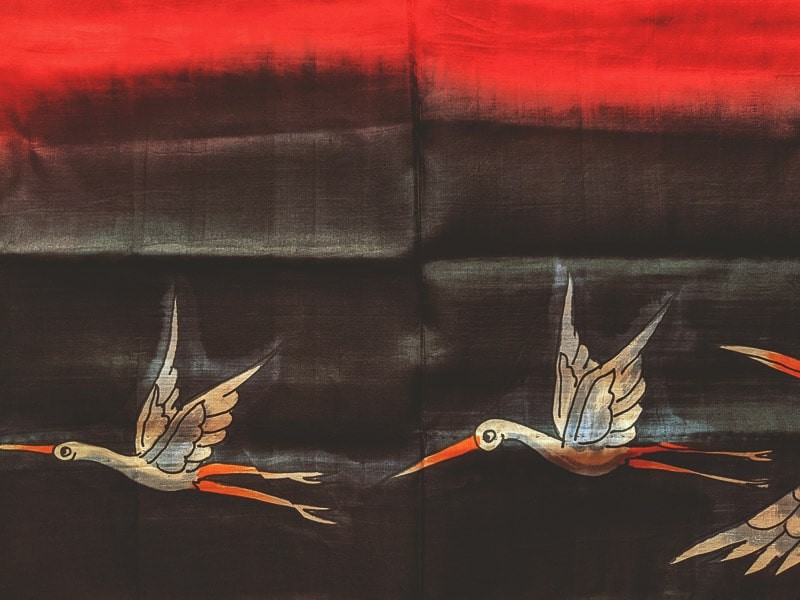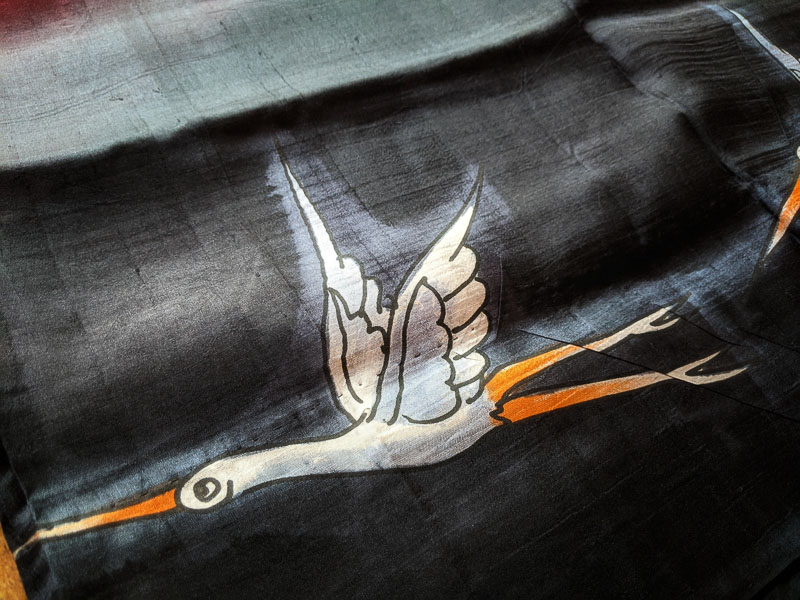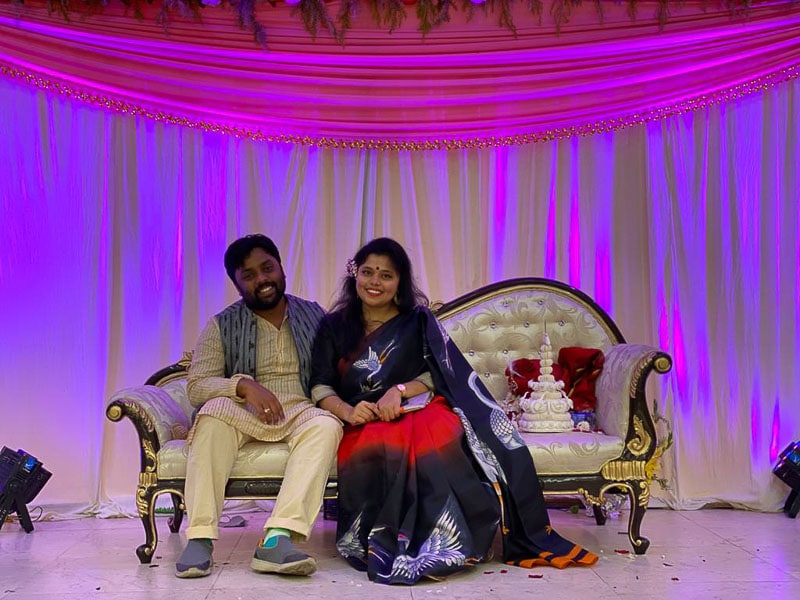 9. Batik Printed Cotton or Silk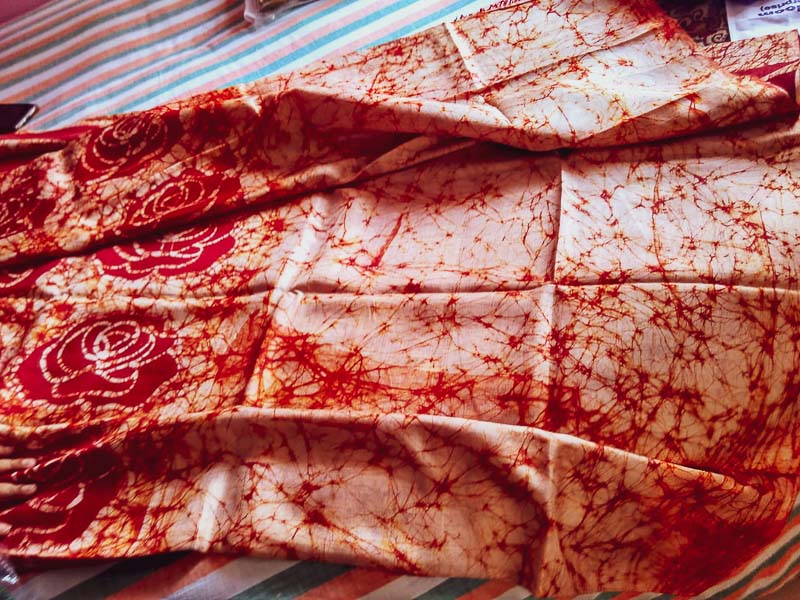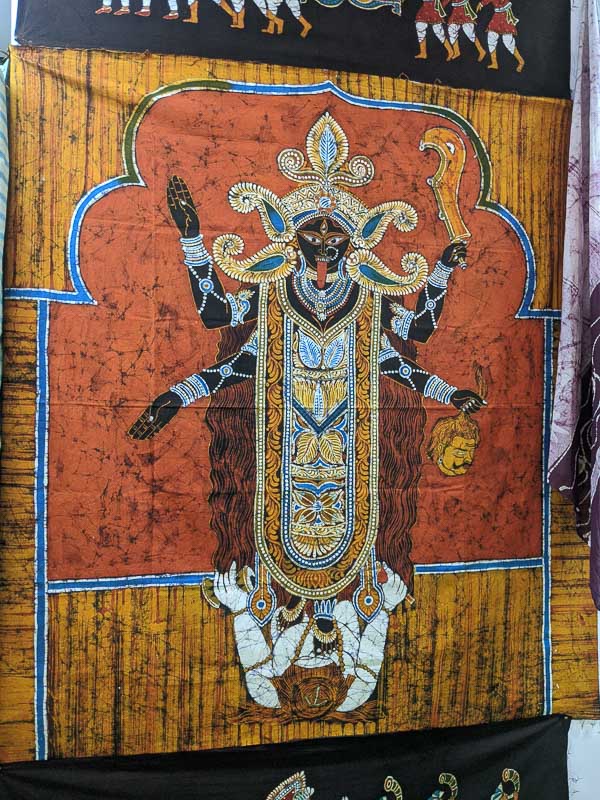 10. Rajasthani Bapta Silk saree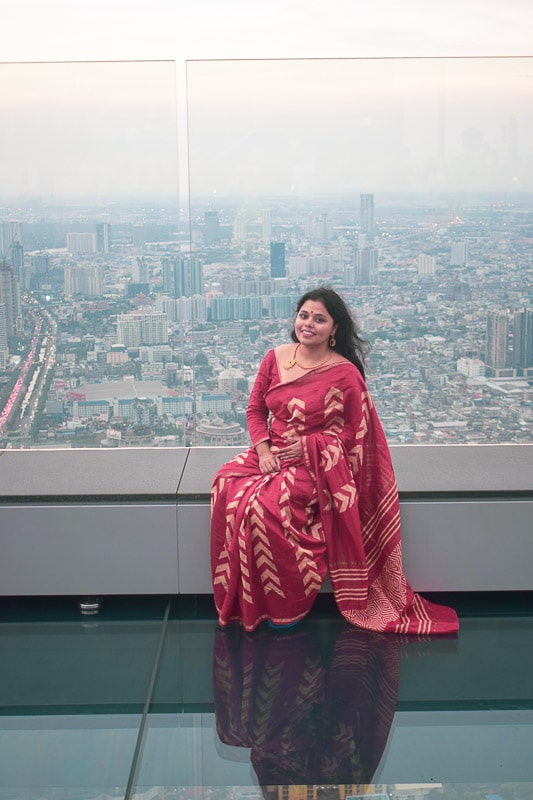 11. Pashmina Silk Saree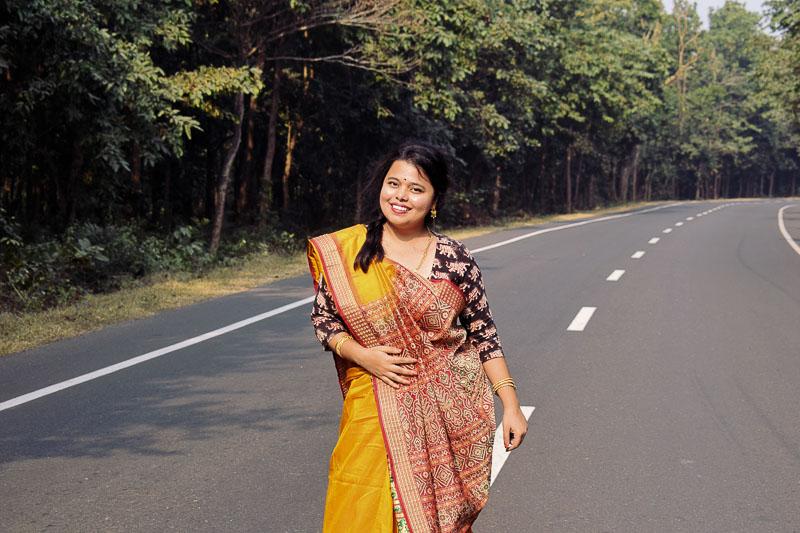 12.

Chettinadu Cotton Saree: Tamilnadu
Written by Ramavani.
Kanjeevaram Silk has always been the diamond in the crown and other weaves of Tamil Nadu like Chittinadu cottons, Chinnalapttu, Aarani sarees have been the lackluster. Gone are those days. The market is brimming with the weaves from the small villages in Tamil Nadu and the dwindling weaves have got a boost.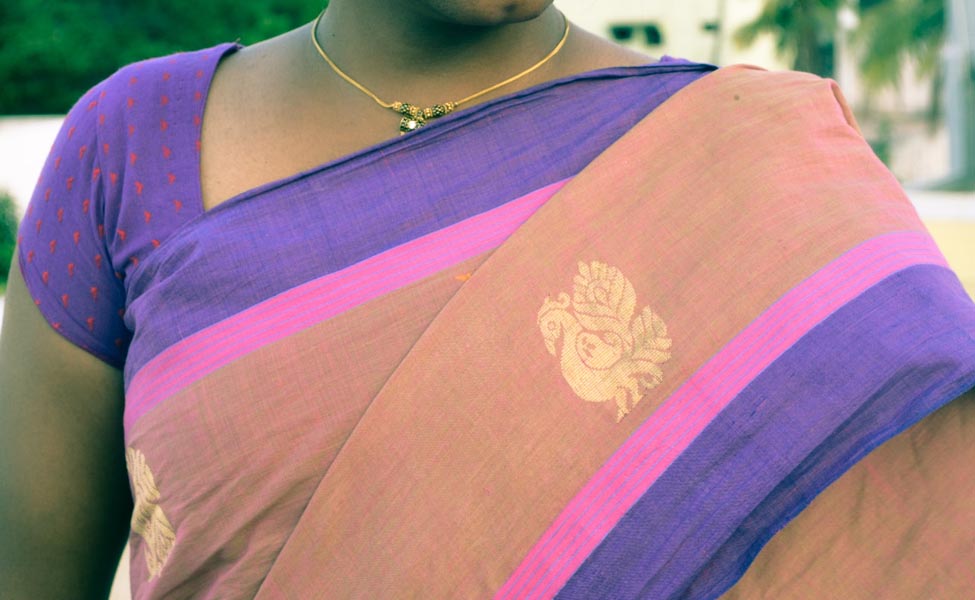 Chettinadu cotton saree is one such weave that hails from the Chettinadu region (Karaikudi – Sivaganga District) in Tamil Nadu. Karaikudi is easily accessible from Trichy by busses and trains. Chettinadu has been famous not just for its unique cuisine and architecture, but also for the traditional weave 'Kandaangi" @ the chettinadu cotton. Produced by the traditional weavers in their own looms these sarees are unique for their patters and the vibrant shades in contrast. Maroon, Green, Yellow were the shades initially used with checks and stripes pattern over the body and pallu.
To carter the needs of the young women, weavers have come -up with striking combinations of mustard, aqua green, purple and pink. Borders with intricate patterns of temple towers, Rudraksham, Annapakshi , Yazhi are predominant and are comparatively broader than the other sarees and the 'pallu' bears simple stripes or checks. The uniqueness of the Chettinad saree is its thick fabric, yet super durable and comfortable during any time of the year. . The community based women folks drape the saree in a different style with pleats on the back and no petticoat to keep themselves cool and to beat the heat in the dry regions of Sivaganga.
The best place to buy authentic chettinadu sarees is Co-optex –the Tamil Nadu Handloom Weavers' Co-operative Society. Priced between INR600-2000, these sarees are a must have in your collection of 6 yards.
The direct weavers are the first option.
But to people in the cities or for people visiting Chennai from other states, Co-optex is the go to place for hand-loom product.
You can read Ramavani's Blog here and also follow her Instagram account!
13. The finest of Indian Weaves: Patola of Gujrat
Written by Alex from Lost with Purpose
Patola, the cloth of kings, is a unique weaving technique originating in Patan, Gujarat, India. Patan was once home to hundreds of artisans tasked with weaving luxurious saris for royals and rich merchants. Unfortunately, only two families remain who truly know the art of patola weaving.
The patola process is dizzyingly mathematical. Unlike standard weaves created using one direction of dyed threads, known as "single ikat", patola are woven using "double ikat", dyed threads both vertically (warp) and horizontally (weft). The dye marks align when woven, ultimately forming the patolu's pattern. It's an incredibly complex process, and Mr. Soni, the head of one of the two families still weaving patola, is one of the few people alive today who understands the process from start to finish.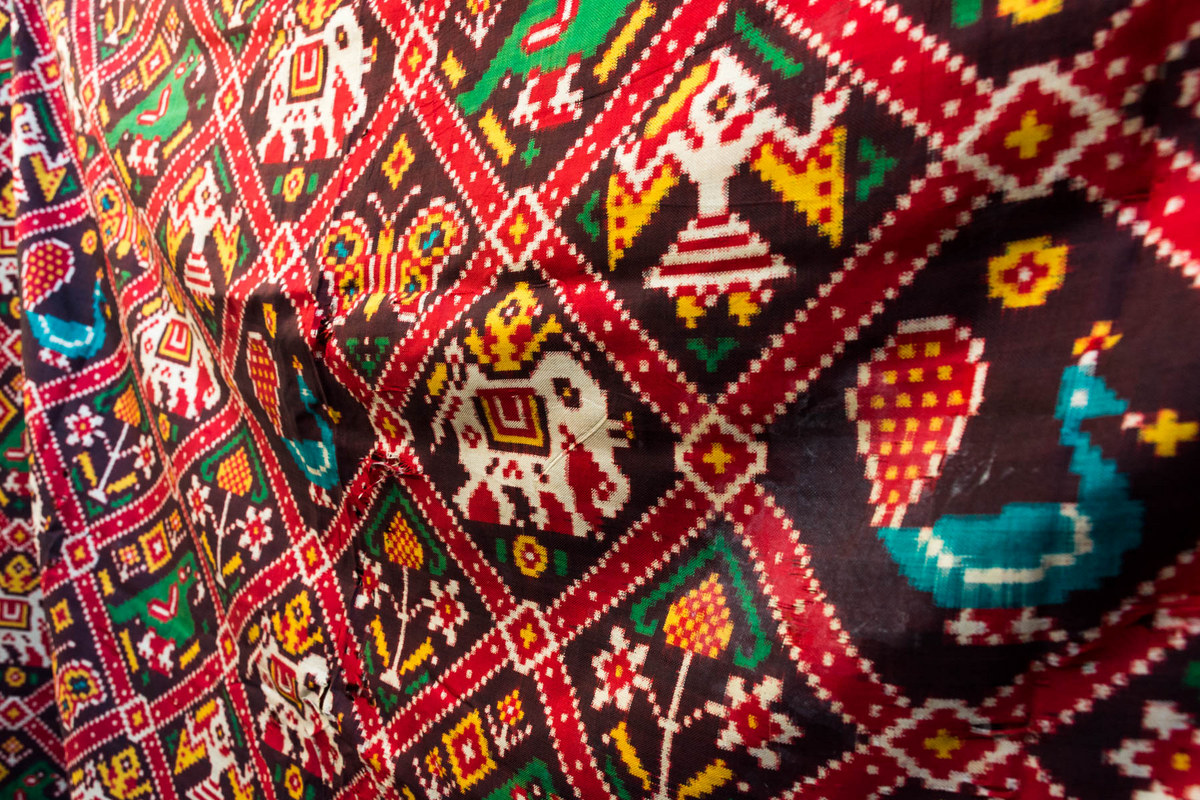 Because the art is dying, the Soni family is willing to share some of the secrets of patola making with outsiders. Mr. Soni recruits talented weavers from outside his family, unheard of until recently, to pass down the knowledge of patola and keep the art alive. Otherwise, his generation could be the last of a long line of royal weavers.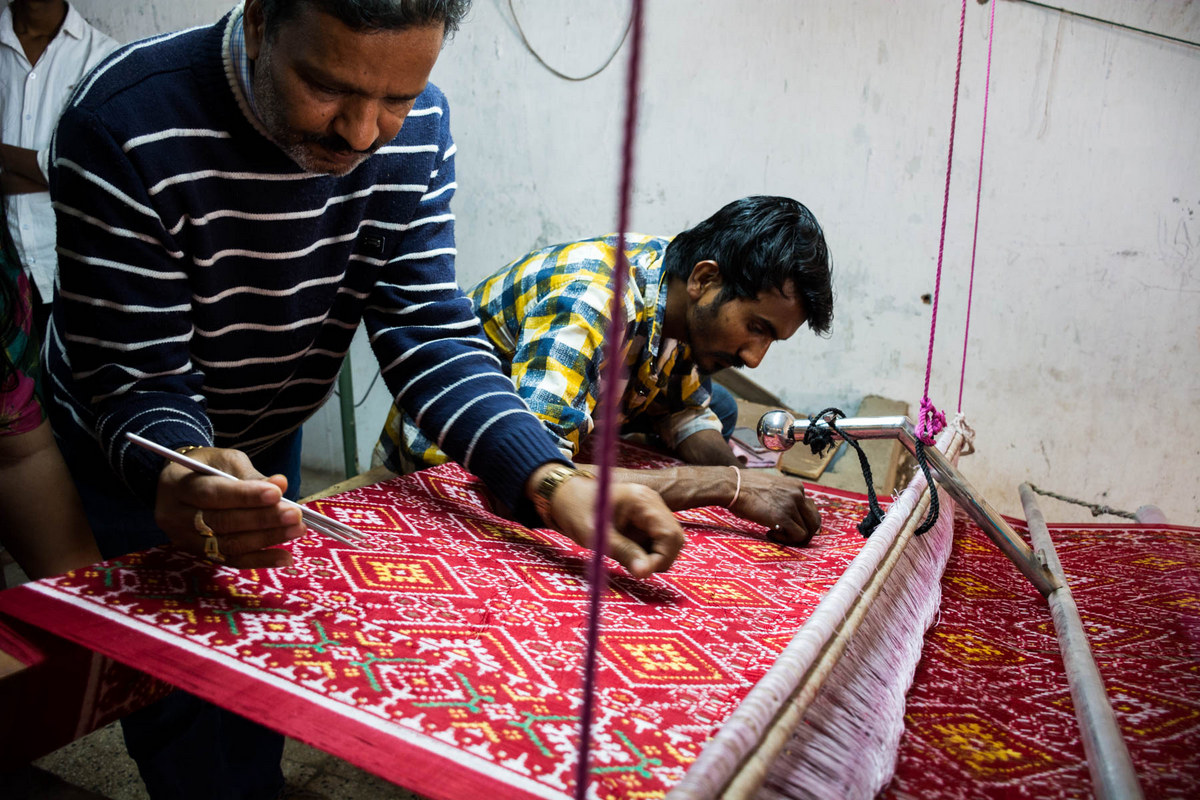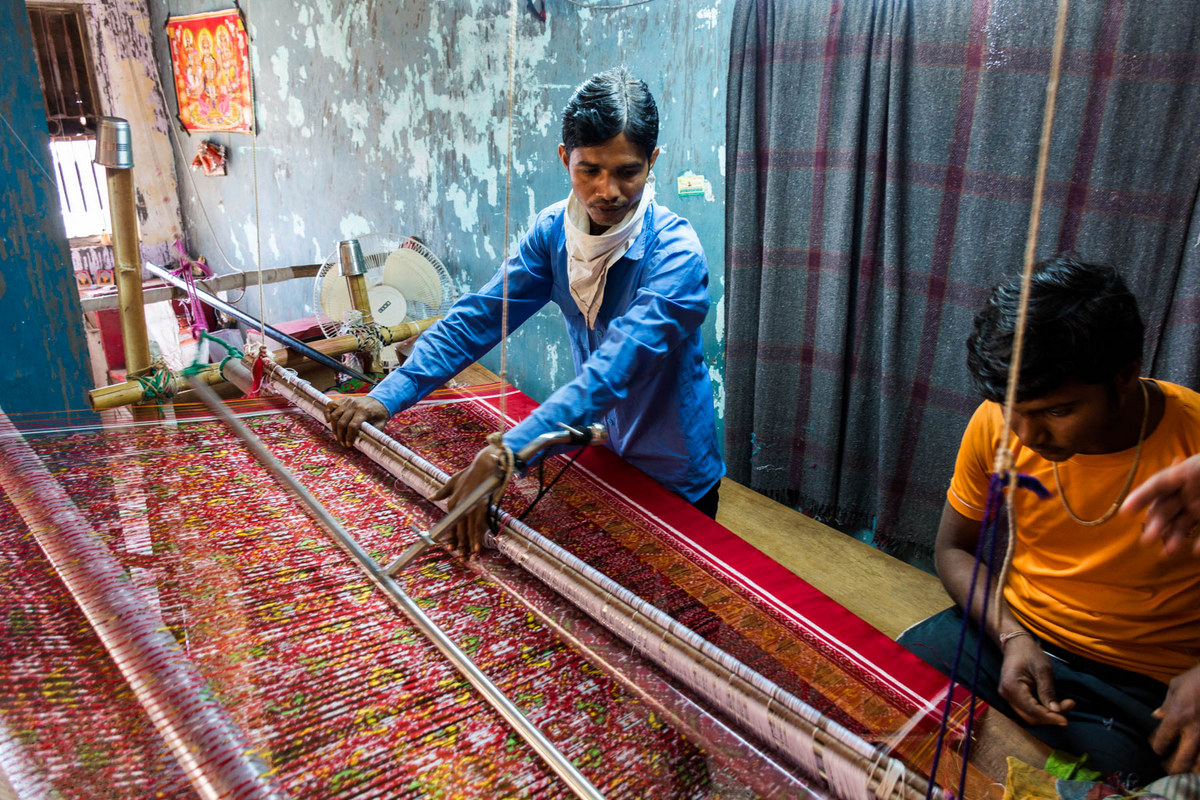 Because of the intricacies of patola making, and for fear of unscrupulous copycats, Mr. Soni and his family are selective when it comes to retailing their wares. Their double ikat patola are made to order, and there is currently a year-long waiting list. For the less patient, Mr. Soni and his family run Madhvi Handicrafts, one of the few places in the world where you can buy authentic patola products. They have a showroom in Surat, Gujarat, and their workshop is in Patan, Guja.
You can follow Alex in Facebook and Instagram.
14. The Regal weaves of Rajasthan
Written by Cheryl from Cheryl Rambles
Rajasthan: the culturally rich paradise with colors and a lot of art is a bliss to the heart. I visited Rajasthan last year as a part of my second solo trip and fell in love with its rich heritage of peculiar art culture, fashion, and architecture. While the architectural beauty of the state of Rajasthan is world renowned with forts, palaces, tombs, and sculptures raiding the geography of the state, one cannot miss out on the desi crafts that the region provide.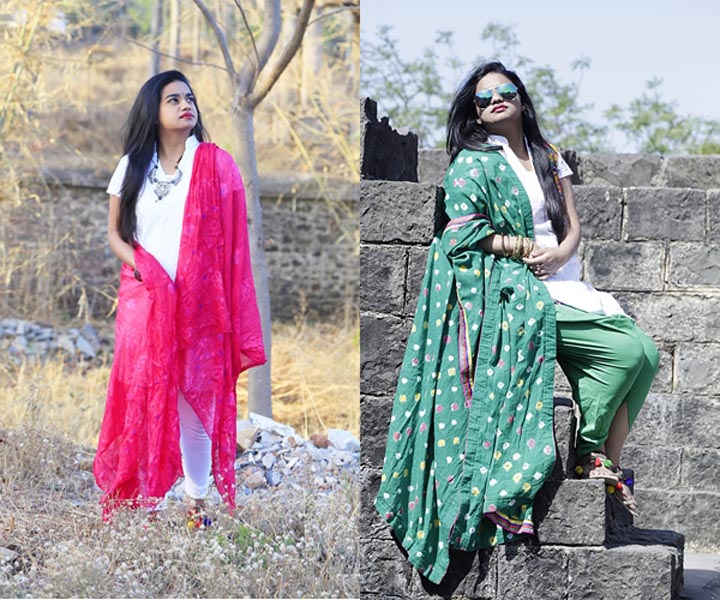 I am wearing Bandhani here. Bandhani as in Bandhan in Hindi which means "to tie." The dupattas I am wearing here are a product of tying a cloth with a thread and then dying it in different colors creating patterns on a plain piece of fabric. It is an old age popular method of dyeing clothes in India. Apart from the tie and dye dupattas, you will also find a lot of variety when it comes to Rajput turbans and sarees for women. Which without a speck of doubt are gorgeous to bits.
The silk dupatta (the one in the left) is an old dupatta that I purchased for Rs. 400.
The cotton dupatta (the one in the right) is a cotton dupatta that I purchased along with the entire salwar kameez set. The set cost me Rs. 1200.
You can follow Cheryl in Facebook, Instagram and Twitter.
15. The magic of Sambalpuri weaves of Orissa
Sambalpuri weaves are magic woven on both silk and cotton. Weavers of Attabira, Bargarh, Barpali , Bheden, Bijepur, Padampur, Sohela follow several steps of tie & dye, yarns, coloring in multi hue and more to produce each piece.
Picture Courtesy: Anjumani Talukdar
Visit the Golle bazar and Burharaja market of Sambalpur for the best buy.
The weavers have their respective co-operative societies at their village (Bargarh) from where one can procure these sarees and also from the govt. shops across Odisha.
16. The Banarasi Saree: My personal favourite
Wriiten by Neha from Nomadic Dreamz
The city of Varanasi, or Banaras as it used to be known earlier, is not just known for its connection to the holy Ganges and the hundreds of temples here. The city has also been synonymous with weaving since ancient times. and has lent its name to one of the finest fabrics of India – the Banarasi brocade. Banarasi saris are prized possessions of Indian women, often handed down through the generations as precious heirlooms. They are a must-have inclusion in a bride's trousseau, and many an Indian bride has worn a Banarasi sari on her wedding day.
The weaving technique involves incorporating silver or gold (zari) threads into the weft, a characteristic of the Banarasi weave. Weavers still work the traditional way on old-style pit looms, in villages scattered around Varanasi. The work is so intricate that one Banarasi sari can take anywhere from 15 days to six months to complete. Since 2005, Banarasi Brocade Weaving also has a GI (Geographical Indication) status.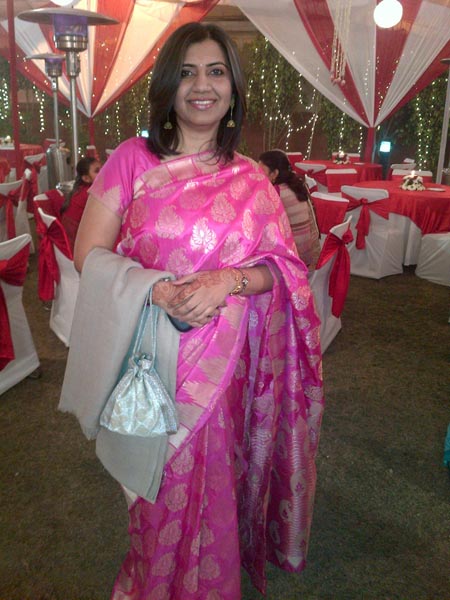 At one time there were over 300,000 weavers in the region, but the craft has been slowly dying out due to competition from power looms and cheap artificial fibres. Recently, some cooperative organisations and CSR activities by a few corporates have started bringing some focus back to this craft.
If you are ever in Varanasi, go see the weavers at work in the villages of Sarai Mohana, Kotwa or Ayodhyapur – a short drive of about 45-50 minutes one way. You will get your Banarasis from their source, and support the actual producers. Alternatively, reach out to one of the weavers' organisations like Varanasi Weavers Hub to know where to buy from if you can't visit. When you wear your purchase at the next special occasion, you can be happy with the knowledge that you did your bit to support a traditional craft of India!
You can also follow Neha at Instagram and Twitter.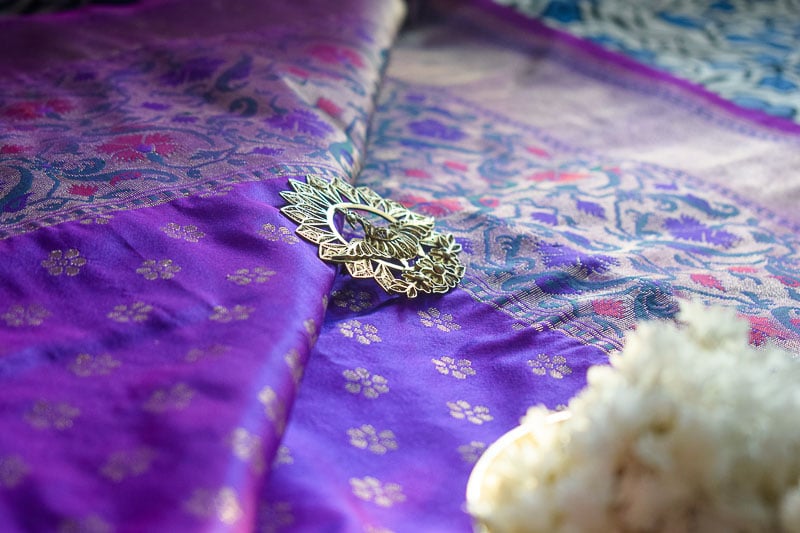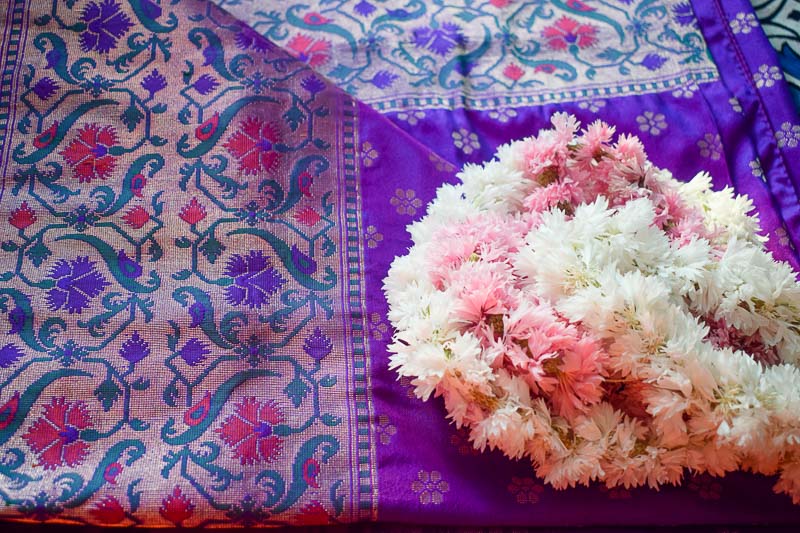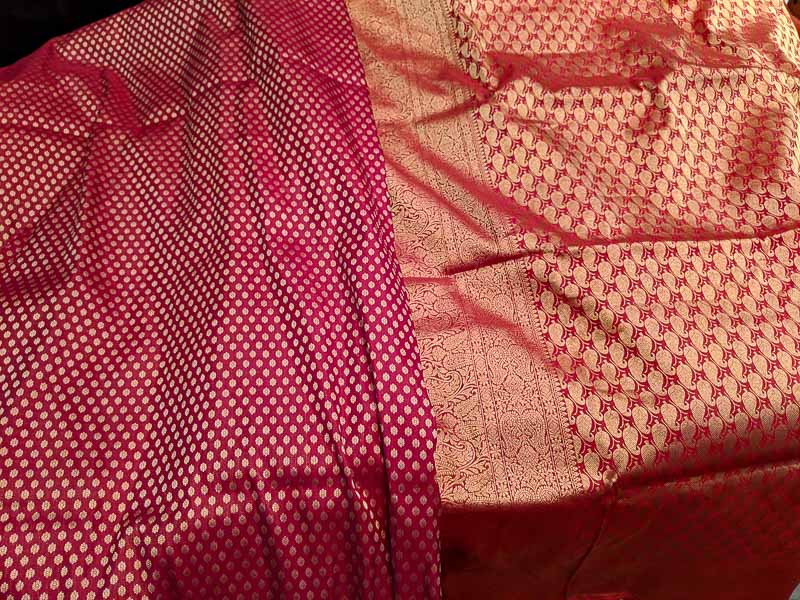 17. Khun weaves of Maharashta
Written by Jacky from Nomad Epicureans.
One of my favorite weaves in the world is the Maharashtrian Khun, also known as khana in North Karnataka where most of the fabric is produced today. Although the origin of the Khun fabric is a bit of a mystery, many people will agree that it has mostly been worn by older generations in Maharashtra and North Karnataka. It may have fallen out of fashion over the last few decades, but many modern designers in India are rediscovering the fabric in their designs. Today, Khun may be woven from cotton, polyester, silk or a mix of these.
Traditionally Khun is only worked into sari blouses, which means that the original width of the fabric was a standardized 31 inches. In more recent time the width has been extended to one meter to make the fabric more workable. What I really enjoy about Khun fabric is its boldness. It comes in bold colors and bold patterns, often clashing, which makes it so incredibly refreshing. If you're a fan of color blocking, you should definitely add a Khun blouse to your wardrobe!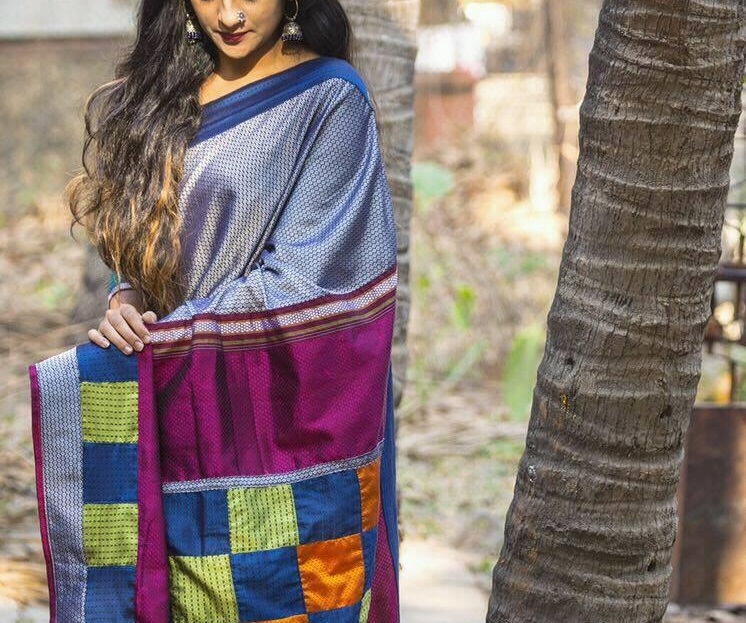 Most of the Khun which is on sale in Pune and Mumbai today is sourced from Guledgudda, a city in Karnataka, where it is still hand-woven and hand-dyed. There are about 4,000 Khun weavers in Guledgudda today. You can buy the fabric directly from them. However, I would strongly recommend not to bargain as the fabric is well worth the money and the money goes toward family businesses in the region. Alternatively, you can buy Khun in many of the bigger cities such as Pune and Mumbai, although you may have to shop around a bit to find the real deal. I myself am partial to a small family-run shop in Pune, Gabha Creations. What I like is that apart from the traditional Khun blouses they also work the fabric into more modern, even western, designs which makes them wearable for me back home in Europe
Find Jacky in Instagram and Facebook as well.
18. Kasavu Saree from Kerala
The Kasavu style of clothes (be it the coveted cream and gold saree or the gorgeous Mundu, an essential men's attire) tells you how profoundly minimalism can impact. I think I spotted Deepika Padukone wearing the golden bordered saree in the movie Chennai express and reran the part several times only to have looked at the saree at my heart's content!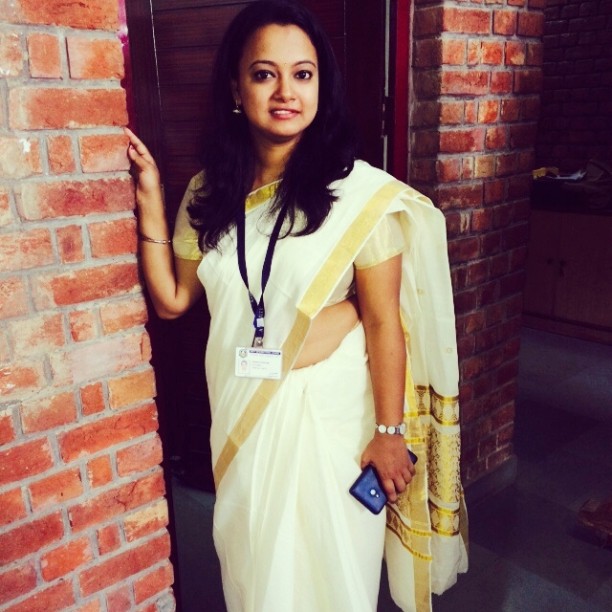 Legend has it, Vasco Da Gama traded with Indian shore with piles of gold, which later got reflected in upper class sewing excess yellow metal on the border of their cotton drape! Born was kasavu, one of the finest clothing in India.
Head to Balaramapuram , a village situated 3 hours away from the capital city of Kerala and source your Kasavu from the weavers, directly!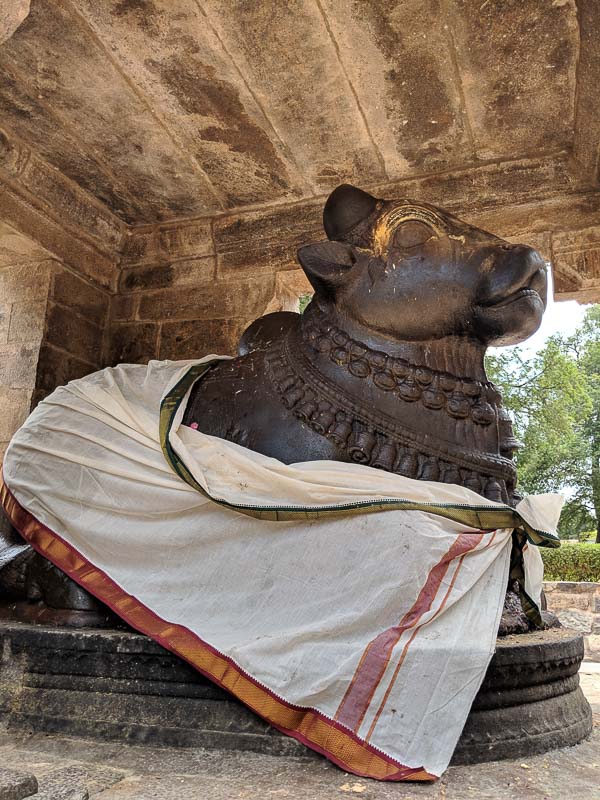 19. The Bengal Gorod: a Melange of White and Red!
Much like the Kasavu of Kerala, West Bengal has a creamy shade of attire, bordered with bright red. Often known as Gorod or Gicha silk, the fabrics are woven on silk and can be sourced from Tantujo, a handloom shop by Bengal government. If you are keen, I suggest travel to Murshidabad and source the silk from there.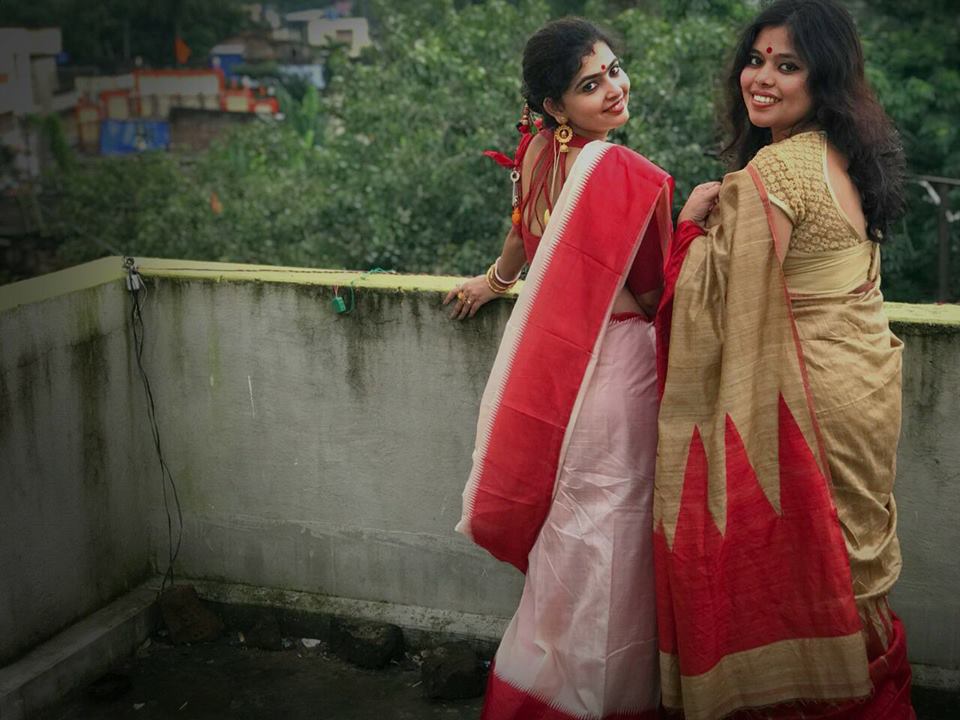 20. Kari Work, Kashmir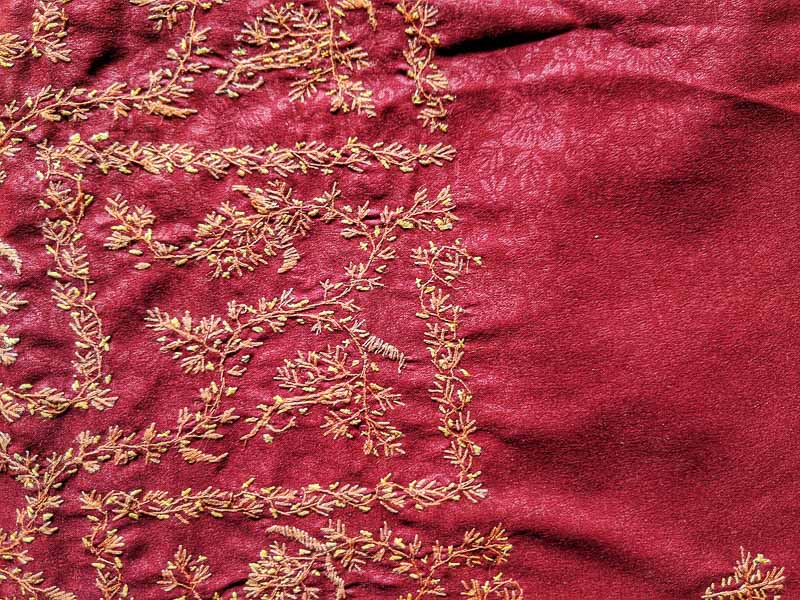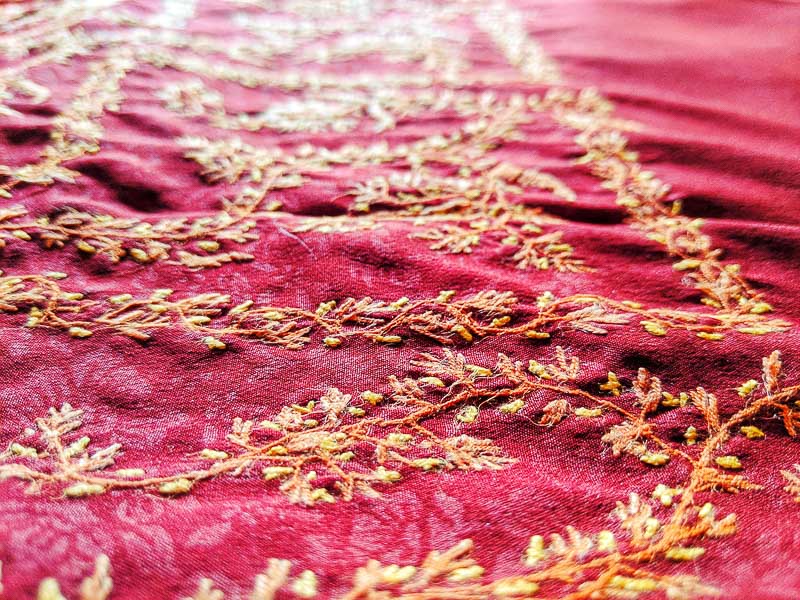 21. Kashmiri Tulip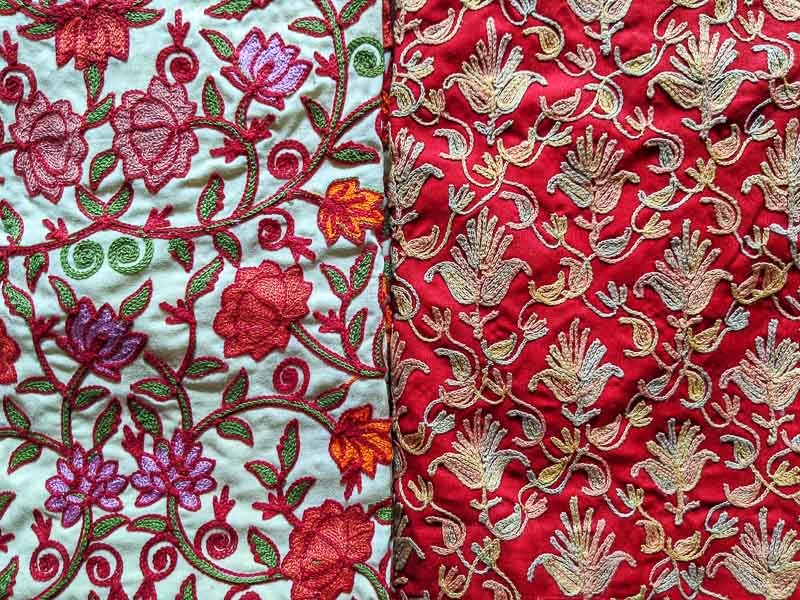 22. Kashmiri Tilla Embroidery work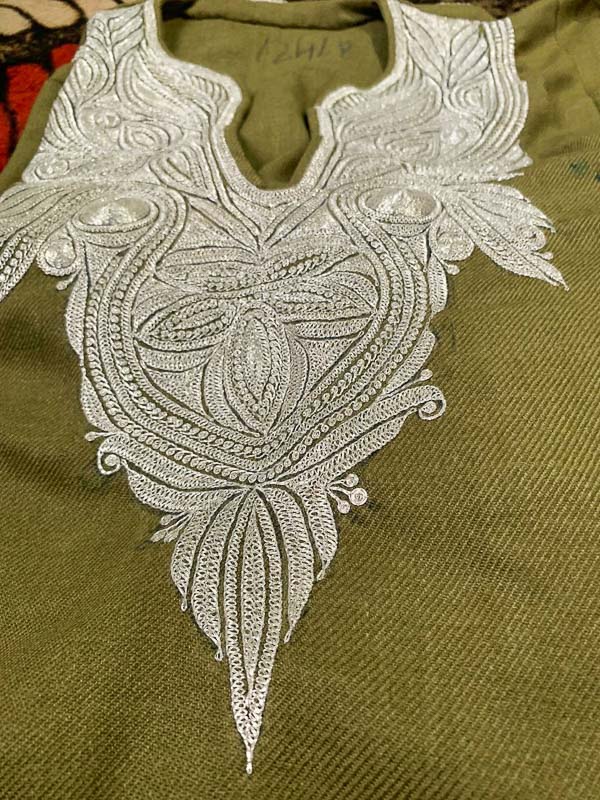 23. Chanderi Work of Madhya Pradesh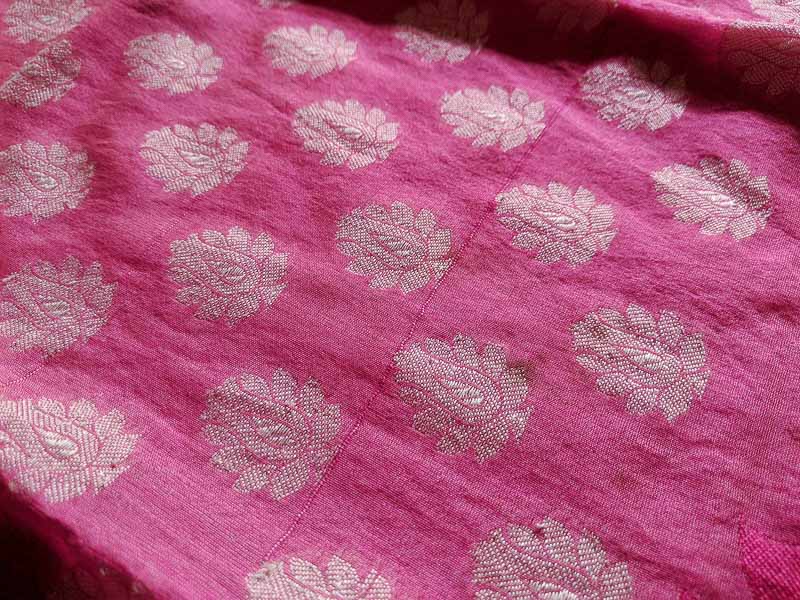 24. Linen Saree: the Modern take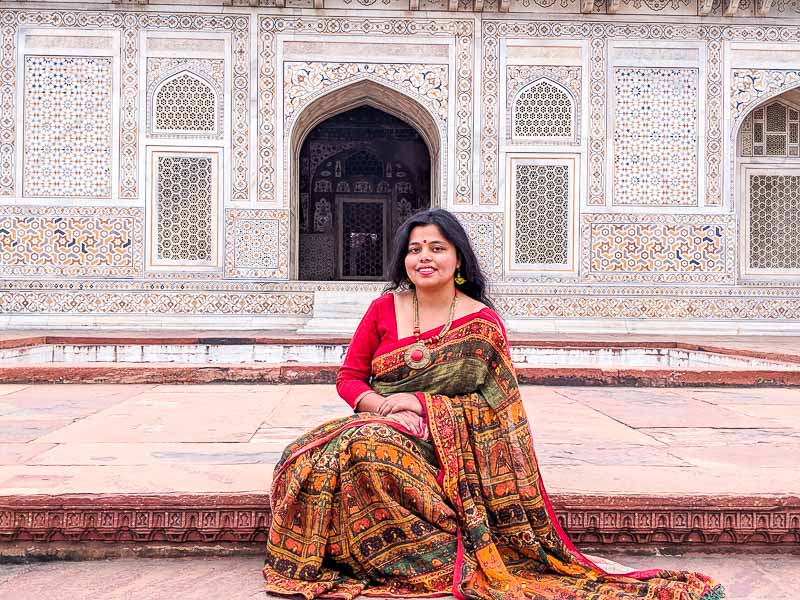 25. Mulmul Silk Saree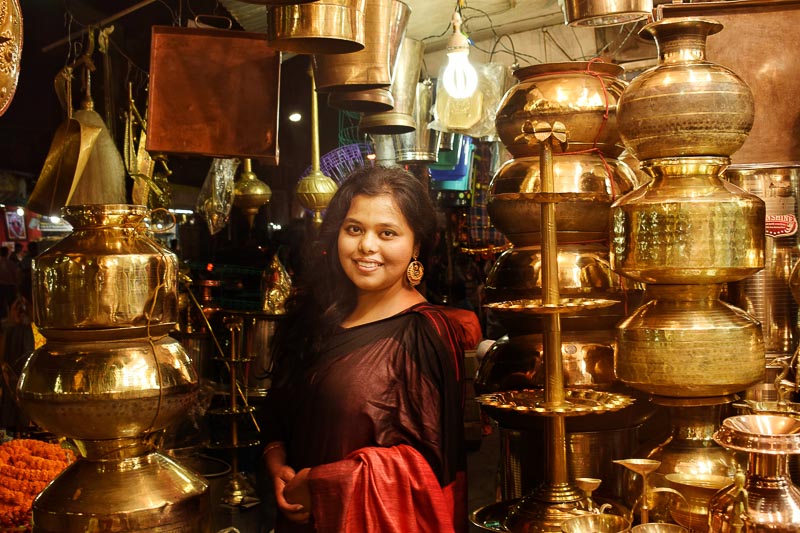 26. Kalamkari Saree/ Kurti from Andhra Pradesh
Kalam means pen. Kari, means art.
Block printed or hand painted cotton textiles from Andhra Pradesh which looks the most gorgeous when woven on elegant Tusser fabric. There are two types of Kalam kari arts: the Srikalahasti style (outlined with pen and hand painted thereafter) and the Machilipatnam style (block printed with vegetable dye).
It is believed that Kalam Kari evolved from Potochitro art form of Orissa. Later, it came to limelight with Mughal's patronage. Today, only a handful of artists know the intricate art of mixing natural dyes, and giving life to a design on the piece of cloth without smudging. At Pedana, there is a private museum of Kalam Kari art work by Shri Pitchuka Srinivas.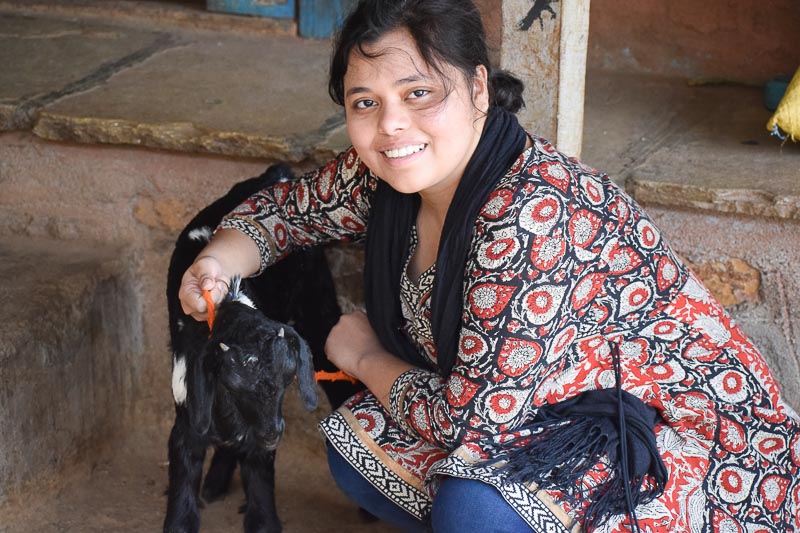 27. Mysore Silk from Karnataka
Tipu Sultan envisioned of establishing a silk industry in the southen part of India. With royal patronage, silk cocon was brought from China. Later, it went on giving abundant growth of Mulberry silk in the whole of Karnataka. As a result, Mysore silks are truly silkier and shines from a distance "as good as new" even if it has been handed down to you from generations.
Not just iconic Mysore silk sarees, Mysore silk was used in ornamental fabric worn by the royal army too!
Karnataka Silk Industries Corporation was established in 1912. Mysore Silk factory by KSIC is located in the heart of Mysore and controls production of Mysore silk sarees. Quality control measures like unique id, hologram based design and unique identification bar-code woven on each Mysore Silk saree have been implemented.
Mysore Silk Sarees have GI (geographical Indicator).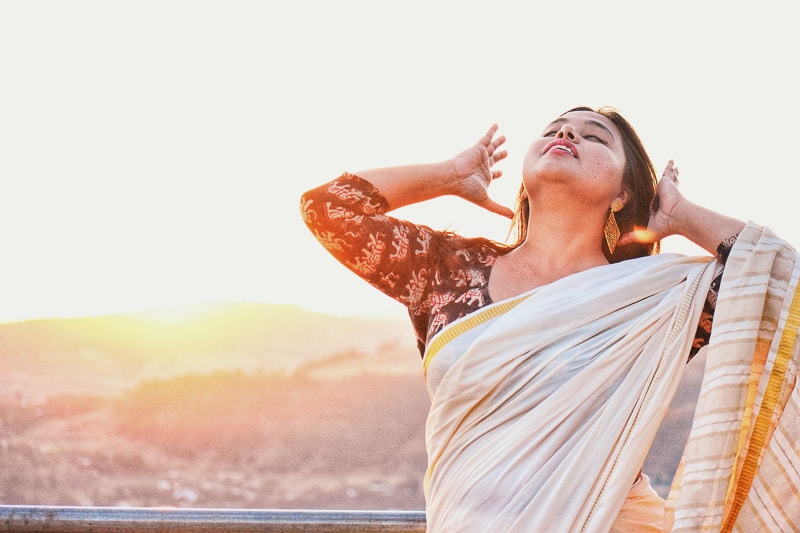 28. Ilkal Saree, Karnataka
Another GI tagged astounding fabric from Karnataka is the iconic Ilkal Saree! Produced at the town named Ilkal, these primarily cotton sarees has silk on border and pallu. Tope teni, a local technique dating back to 8th century is still used to join the body of the saree with its pallu. Red or Maroon dominate the border color of Ilkal Saree.
Ilkal saree produced in handloom takes a week to be woven. The body is chequered with rectangular or square stripes.
29. Kanjeevaram Silk saree, Tamilnadu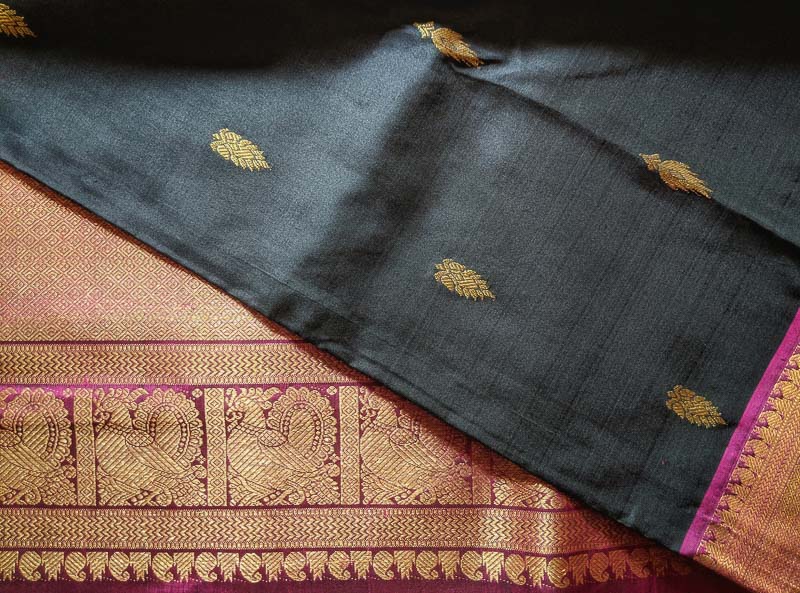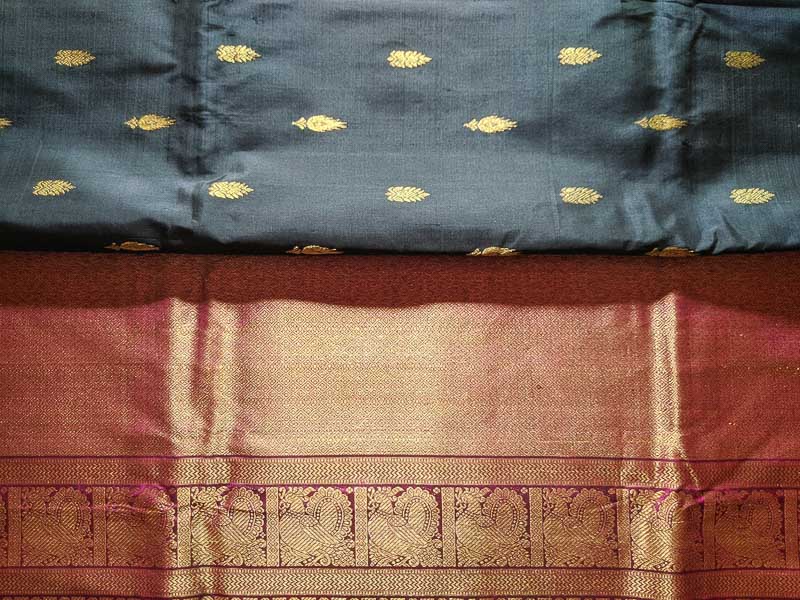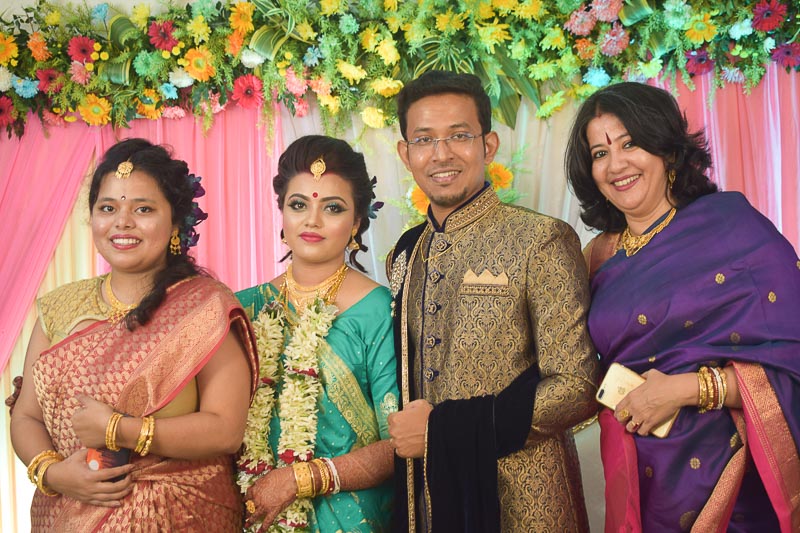 30. Muga Silk Mekhla or Saree, Assam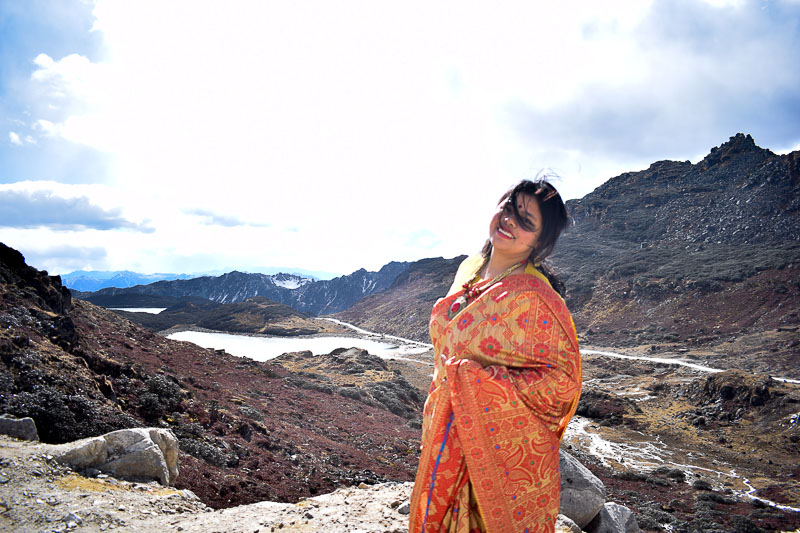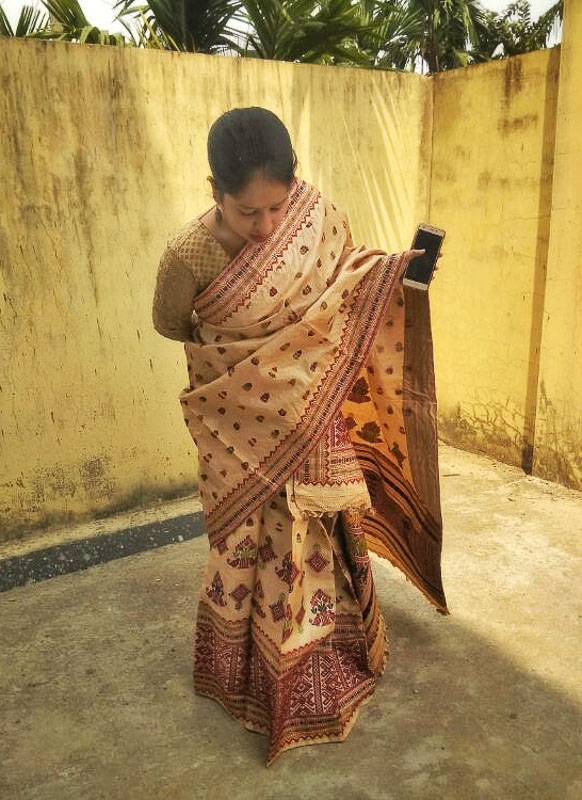 31. Kaziranga Saree, Assam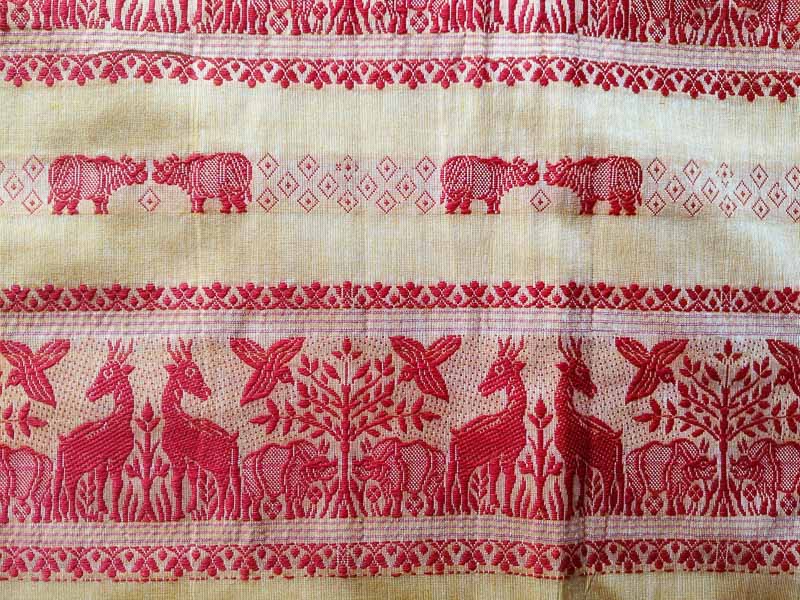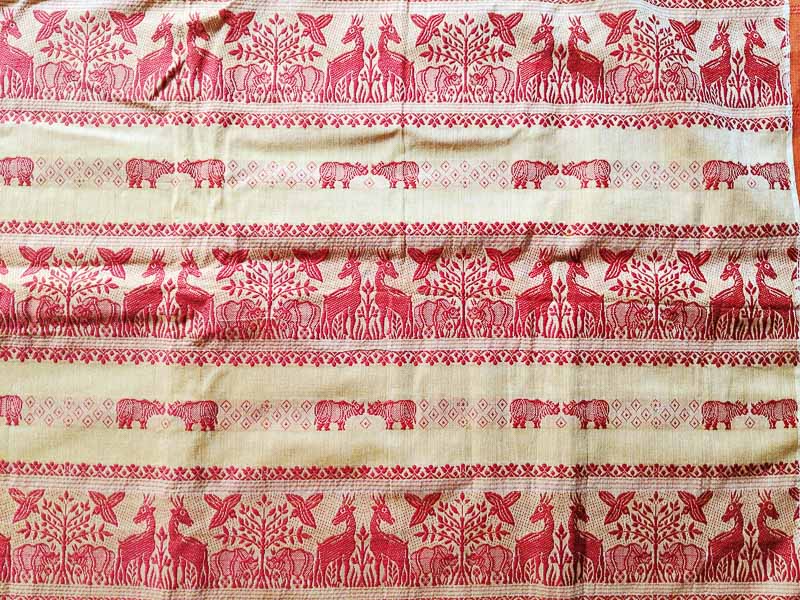 32. Assam Silk Mekhla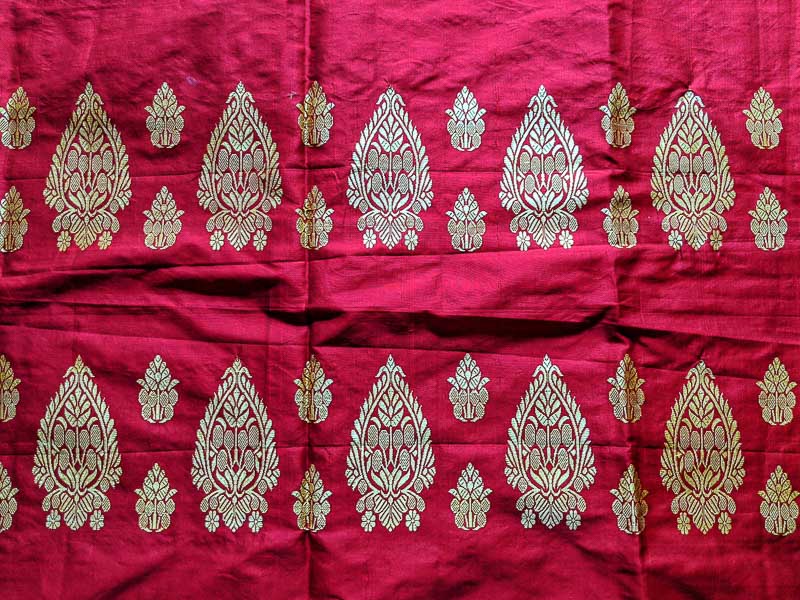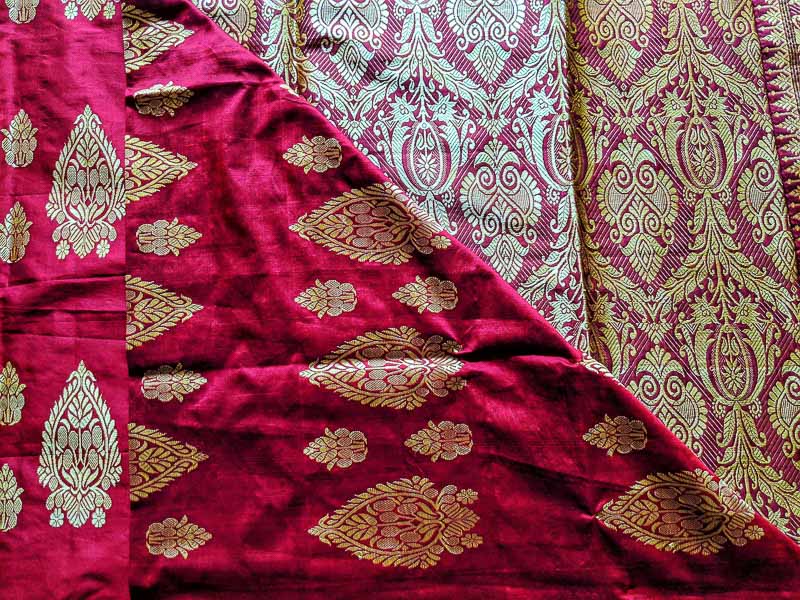 33. Bandni weave from Rajasthan
34. Lehriya, Maheswari Saree, Madhya Pradesh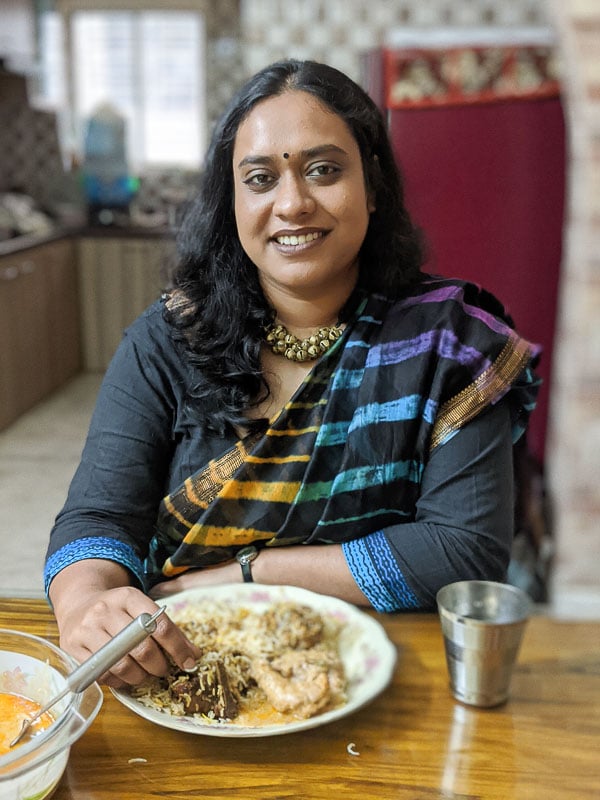 35. Karaikudi Cotton Saree, Tamilnadu
Kadaikudi is an old traders' town located close to Madurai, Tamilnadu.
Its heydays are gone by. The profound mansions are left lifeless, occasionally hosting a few tourists. Lock and keys are mostly reserved with the security guard.
However, the looms from Karaikudi are still busy producing intricately designed beautiful cotton sarees. They are chequered, often inspired by the heritage Karaikudi tiles, airy, suitable to wear in India's humid summer and appear in bright color.
36. Chikankari work from Lucknow, Uttar Pradesh
We learnt the intricate art of Chikankari weaving at school as a part of extra curriculam work. Our teacher would draw a design, insert the sharp edge of the pencil nib into the soft cotton. We will weave around that hollow and our chikankari handkerchief is done!
We grew up to understand Chikankari is an art much more intricate than that!
Developed with patronage of Awadhi nawab, Chikankari form of weaves resemble Chic, Persian for "Jali" work. The intricate designs play a hide and seek and transform a humble piece of cotton or silk into a masterpiece at ease.
Backstitch, chainstitch, bakhiya, jail work are the popular chikan kari thread work. Chikankari suits, sarees and other form of wear are a collector's item. Chikankari looks the best in ivory white or pastel shades, highlighting the mystery of whats behind.
At the old Chowk area of Lucknow, a number of shopkeepers keep the best of Lucknow's Chikankari work. You get it in both cotton and silk variants.
If you want to learn more of the life of Chikan workers, watch the movie Anjuman. Of course, Lucknow has been ascribed with a GI tag as the exclusive hub of Chikan craft.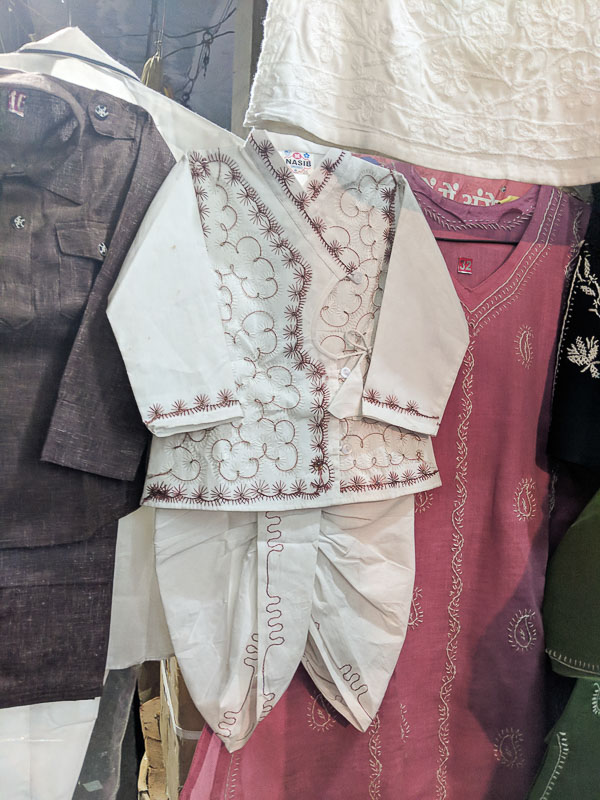 37. Bagru Print, Rajasthan
A traditional printing technique with natural dyes and colors, Bagru is dominated with Indigo hues. Bagru is an eco friendly fabric. But then, to be honest all the Indian weaves mentioned are sustainable and can last for centuries if taken proper care.
Bagru motifs are transferred with wooden blocks. Direct and resist style, locally known as Chppas, are used to color the saree.
Bagru is a place located 27 KM off Jaipur.
38. Rajasthani Block Print
While Bagru is designed on Indigo colored sarees, Rajasthani Blcok printed saree on cotton fabric is another go to daily wear saree from my closet. The art is practiced and excelled by Chippa community of Rajasthan. Aokhi museum in Jaipur is a good place to experience this ancient Indian style of weaving.
39. Kunbi Print, Goa
A chequered cotton saree that made a comeback in Kolkata during Durgapuja in the name of Gamcha Saree has a lot of ispiration drawn of Goa's Kunbi printed cotton saree. You do not come across these sarees unless you head to the interiors and offbeat parts of Goa.
Kunbi print is traditionally designed with red and white color. The saree can withstand Goa monsoon and that tells a lot! Tribal women wear it with a knot at one shoulder and shorten it till their knee lenth to walk on the paddy fields. A dobby border adorns Kunbi saree's silken inlay.
recently eminent designer Wendel Rodricks promoted Kunbi saree at an international fashion show.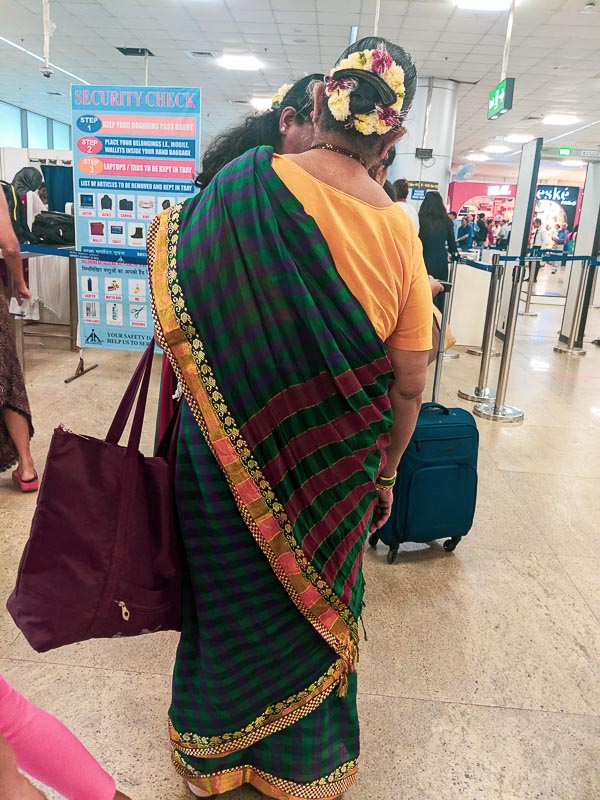 40. Bomkai, Orissa
Inspired by the tribal Motifs, Bomkai adorns a stunning pallu with geometrical shapes woven. Bright in color, usually fiery red or luch green or mustard yellow, Bomkai sarees are naturally dyed. Bhulia Community produces this product stamped with a GI tag. Bomkai is also known as Shopepur Saree!
Bomkai saree has an intricately detailed pallu and border with traditional fish motifs indicating wealth and prosperity based on local belief.
41. Mangalgiri Saree from Vijaywada & Guntur, Andhra
Mangalgiri sarees are usually bright cotton saree with zari borders and a plain body. A red Mangalgiri Saree is a must have for an India bride's trousseau.
Block Prints on Indigo skirt and yellow crop top that I purchased from Fab India, a reliable source to purchase Indian weaves if you do not have time to visit the villages and communities weaving these beautiful fabrics.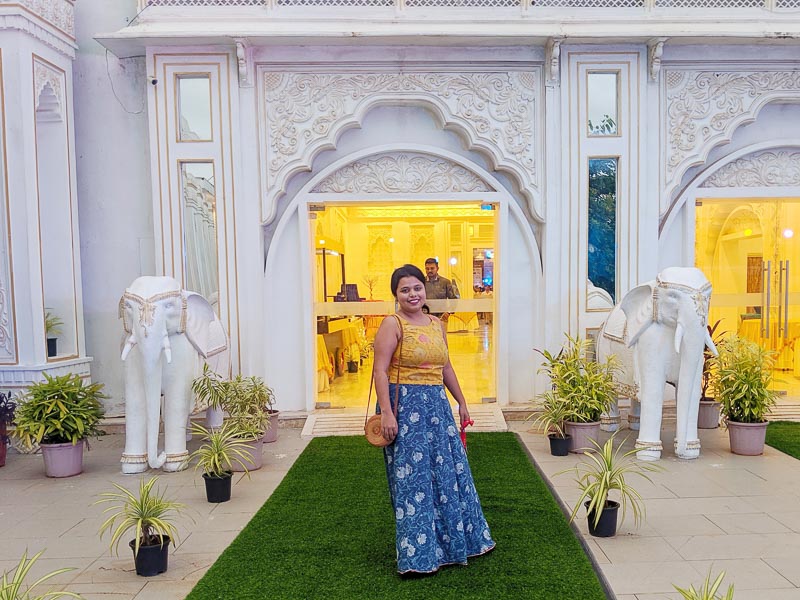 Want to book a stay in India?
Booking dot com
Also, this blog post may contain affiliate link. Please read our disclosure policy for more details.
Want to get real time updates of my travels?
Get updates and read additional stories on the Orange Wayfarer Facebook page.
Follow Orange Wayfarer on Instagram.
Follow Orange Wayfarer on Twitter.
You may also subscribe to my weekly newsletter!