About the blog: The old school cabin restaurants of Kolkata are the remnants of old lifestyle instilled at the heart of our Mahanagar, Calcutta! No fuss eating houses serving local favorites of Chops and Fries and Cutlets, often bearing a touch of Anglo households, are distinctive to Kolkata. Here is a list of the Cabin restaurants that survived the mad rush of modern development, gradually engulfing the old and timeless. these Cabin restaurants serve quality meals at a surprisingly economical price range and attract consumers who adore history and love the legends associated with these eating houses!
Pin it for a later read!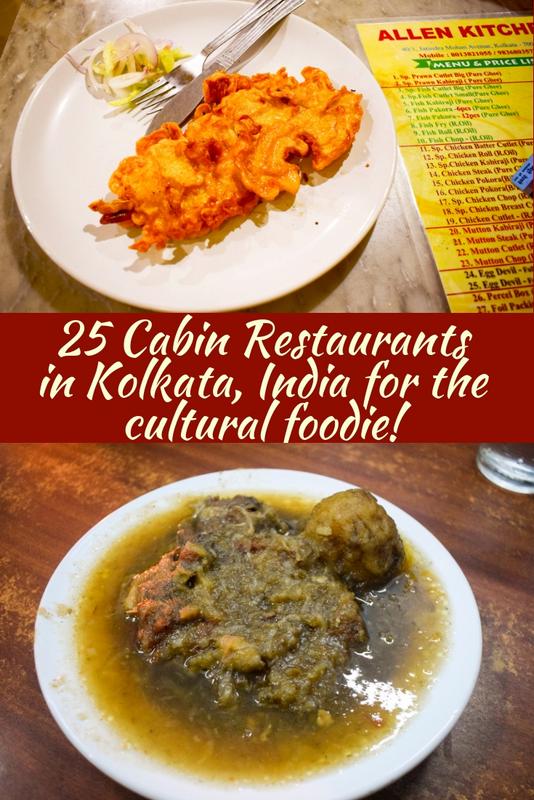 Quick tip: Kolkata metro rail is your best friend as you embark on a journey to eat great food at the old school cabins in the city. Here is a guide to ride the Kolkata metro train. I have a similar post on the Delhi Metro rail guide, just in case you are in need of a guide to explore the public transport system at Indian capital!
From Cheap Restaurants for Couples to Rising as the Face of Heritage Eating Joints: Cabin Restaurants are a staple in Kolkata Food Scene
A bouquet of tiger prawns has reached the dingy lanes of north Kolkata at the wee hours of the day! The fresh catch from the river mouth of Bakkhali, they will be clipped, de-veined, smeared with ample amount of garlic, to be frozen till afternoon.
Skilled hands are now busy mixing in mint and coriander leaf paste with white flour. Bread crumbs are ready to take an egg white bath.
The kitchen of the Cabin restaurant is poignant with love. She is waiting for Uttam Kumar to stop by en route home. The suave Bengali heartthrob will step down from the chic Fitton car, greet with his iconic smile and ask for his regular favourite, "Prawn Cutlet!"
Love trickles down to every stratum of society. The cupid struck teenagers of 90s Kolkata found it difficult to secure a "prem korar jayga", a place to meet the beloved. Just meet, mind you, to sit with hand in hand, and talk about dreams. The Kolkata cabins came to rescue.
The children of Kolkata grew up, as all humans do. Their need of love accelerated and catered to by these cabins subsequently, with a curtain drape. A cover that is meant to give you privacy. A plate of Kolkata "chowmin", two throbbing hearts, a draped cabin: and thus Anjan Dutt made promises to be kept for Bela Bose.
For the uninitiated, Dutt's famous song Bela Bose puts a lover's urge into words, now that he has a job with a salary of INR 1100 (I would rather not convert it to USD) the beloved must wait, cancel the arranged marriage, "sambondho" that the family has fixed and build their dream home at the 2 room apartment hues in azure blue at Kolkata suburbia ! And, this is a telephonic conversation!
Stages of eating a fish cutlet!
The old cabins of North Kolkata are what dreams are made of in a bustling city. Forget AC or "ambiance". They serve good, great food. The type of food whose history traces back to Kolkata's colonial days, a plate showing the influence of what the British brought. Breadcrumbs and deep frying process successfully stage example of East meets West! They are made of near-extinct recipe and very very precious!
Popular notion suggests the curtain space was basically reserved for those coming with family, a woman in the company, "Ghorer Bou". The curtain keeps the woman immune from inquisitive eyes, thought to be less than dignified activity back in the era of 50s or 60s. Eating out as a family affair was not very welcome to Bengali households even a few decades back. Cabins with their sumptuous cutlets and economical pricing were instrumental in loosening the stigma.
With time, lovers of Kolkata deserted the comfort of the cabins for greener pasture… erm… park. Families were comfortable to eat in public. Disposable income poured in meaning eating out at Aaheli or Bohemian are a regular affair. Bengali also developed a taste for contemporary world cuisine!
Few cabins survived the aggressive gnaw of changing time. The sheer quality of food alone make them a strong contender in the changing dining out face of modern Kolkata!
Also read: The Ramadan Street food in Bangalore at Mosque Road and Kormangala
All the egg dishes on mention are exclusively Duck eggs unless otherwise stated!!!