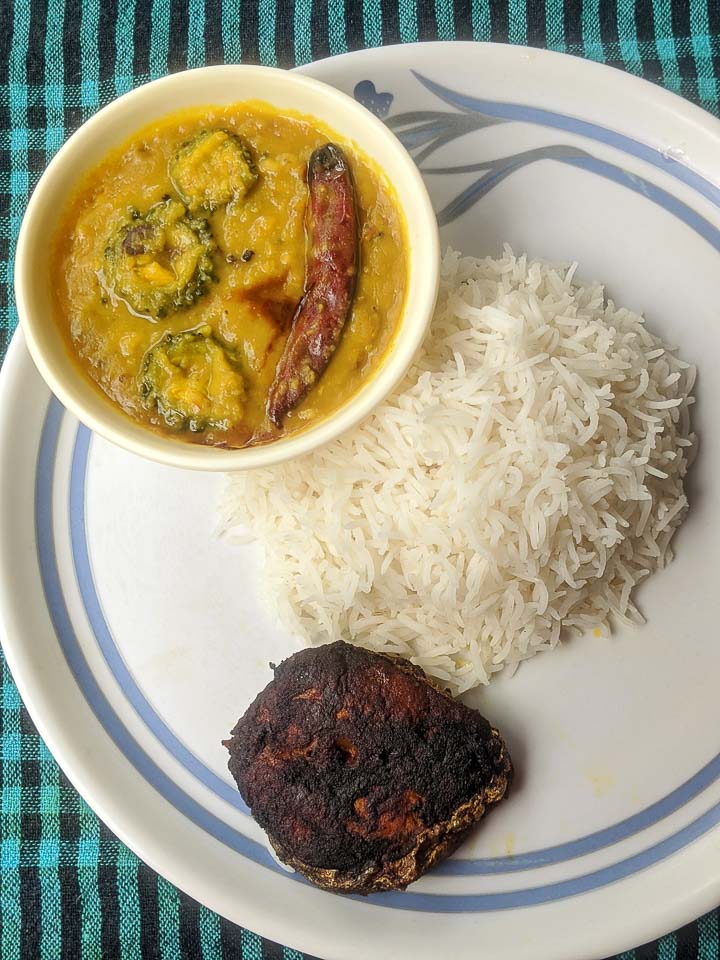 Read all my food experiments here: Cookbook
As a child I was expected to eat Ucche Bhaja at the start of every meal. If you speak Hindi, you know this vegetable as Karela. Also, Ucche has got an apt English name, the Bitter gourd.
Going back to my childhood, I had to see a side serving of fried Bitter Gourd (gosh, I hate to write this in English) or Ucche Bhaja for lunch regularly. Only upon finishing that, I would be allowed to proceed for fish curry, which in my mind was the main constituent of a fulfilling lunch! Maach Bhaat Khabo! "I will eat some rice and fish!" One of the first meaningful sentences I learnt to speak I guess!
I found a work around for the notorious Ucche Bhaja! Usually Maa would serve this and go back to kitchen and I would dump the Ucche bhaja in straight my water tumbler. I would then maintain a straight face.
I was fast. Bhai was not. Bechara. He had to eat his share of Ucche Bhaja. He used to be a nice abiding child. He never complained about what I did. Sometimes, I would promptly stuff my share of Ucche Bhaja under his share of rice stack. The cousin brother in Bankura would discard Ucche without a care. He still does. Nobody told him anything though. Patriarchy and discrimination at play, as I see it! If Baba or Pishu was home, I had no way escaping though. They would see to it that I finish my share Ucche Bhaja. Looking at those green spikes peeking through as Baba would bring home the Bazarer tholi, usually a jute bag from Bakultola bazar, my heart would invariably sink!
So it is little guess work to understand when I started to live alone and live on my own terms, I would never touch Ucche, the vegetable or let it come anywhere close to my kitchen. S loves to eat Ucche. Not just Ucche, he loves to eat Neem Pata as well. The leaves of Neem tea, when cooked alongside some aubergines and served along steamed rice tastes amazing. He tries to convince me sometimes. His mother tried too! She once packed a box full of Neem leaves and sent for our home in Bengaluru, hoping that will serve as the first course! I used some of that dried leaves to get rid of flies. Worked like a charm.
Why am I so scared of Ucche? This dangerous ability to turn a morsel of food into a curious case of bitterness bomb! I mean, so bitter that all your senses wake up! I am woke enough, I have considered so for long. I can do without bitter gourd.
Though, it all changed when I grew Ucche (Bitter Gourd) at my own kitchen garden!
I had no clue I would fall in love with this bitter tasting humble fruit with supposedly high health benefits over a fortnight. First comes the yellow flowers. Then comes the tiny fruit at the wee end of the flower. Have you seen how a bitter gourd grows? It has an emerging fruit attached to the stalk. The yellow flower hangs on, reluctant to leave the world. Bitter gourd flowers has a strong sweet smell. It hits your senses like the cold stare of a snake hypnotizes you!
I have 6 bitter gourd plants today in the kitchen garden. When I sowed them, I hoped for some of them to grow up to be lady finger plants but in vain. I use seeds from the vegetables we use in kitchen. I am getting introduced to the plant kingdom one leaf at a time! Here I am, ready to cook all sorts of vegetarian delights (often times combined with fish) from the hinterlands of Bengal!
Coming back to the recipe, it is indeed vegan friendly by defination! No meat, no dairy. No animal were harmed in making this Daal. However, while growing fruits on my kitchen garden, I have found a number of insects grow even inside the fruits! I would have had to clue that these worms (white, hence almost invisible to uninitiated eyes in daylight) can live inside a bitter gourd fruit (ripe or green does not matter) before I grew them at home. I am not sure if this dish would remain vegan friendly if you are to kill those insects (or worms).
I am not a vegan. I instantly discarded those worm bitten parts and then plucked out the worms with a knife and used the remains of the the Bitter gourd fruit in my Daal. Food is too precious to be wasted in my opinion; animal product or not! the only reason why I mention vegan at the start of this blog post is to tell you you may "eat green" using locally grown ingredients and do not have to resort to quinoa and avocado at every drop of the hat. Always check where your food is grown and how much carbon footprint it incurs to reach you before you eat that if you care about sustainability.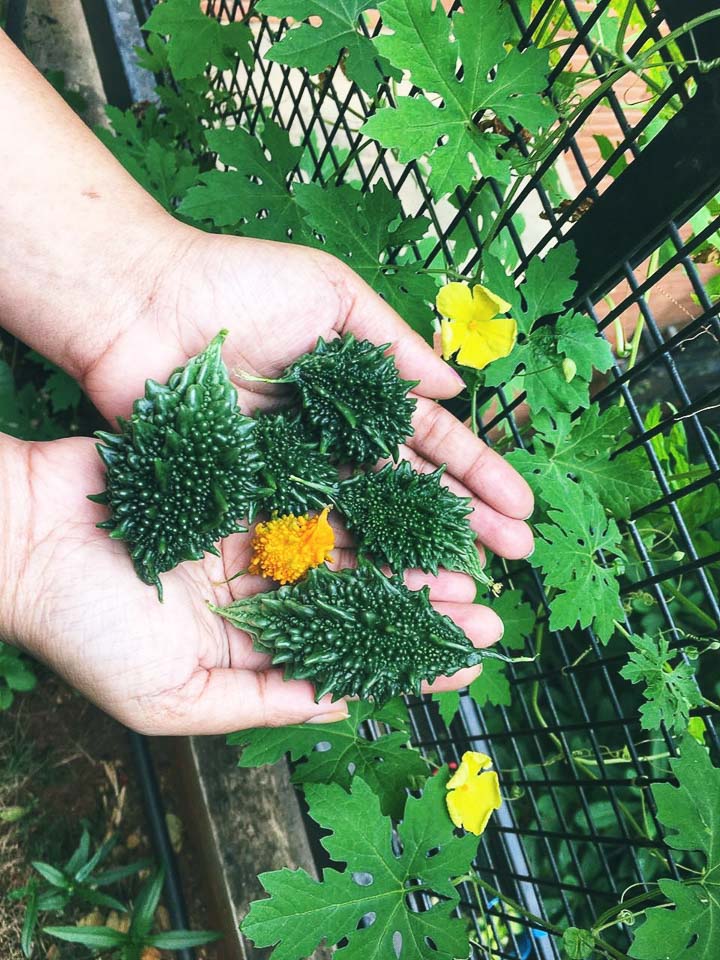 Also read: 25+ best Indian recipes to try at home when you are not traveling!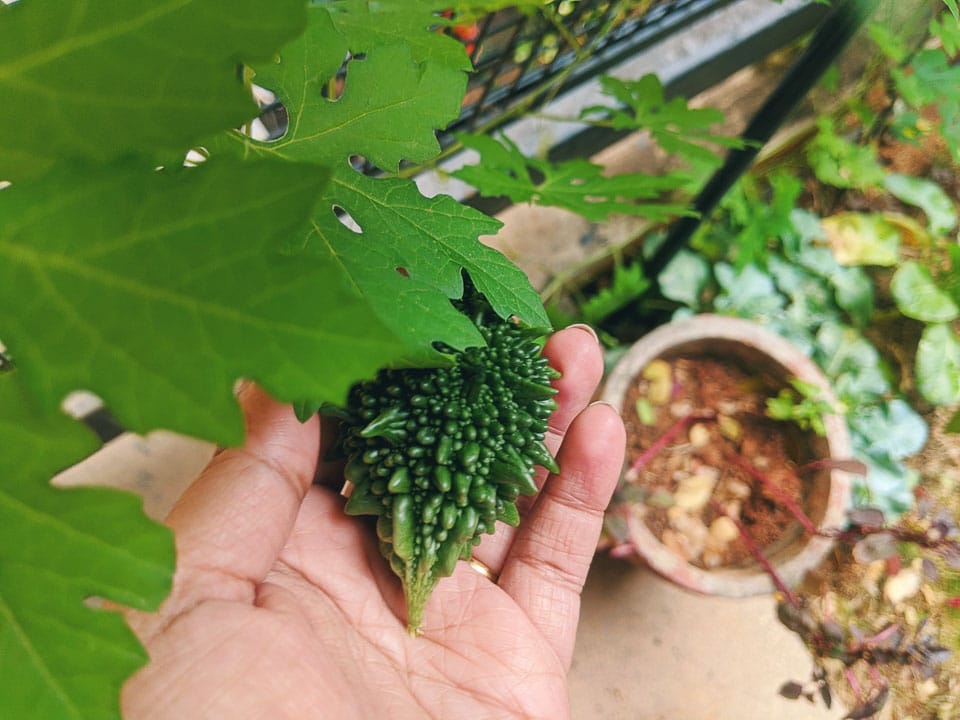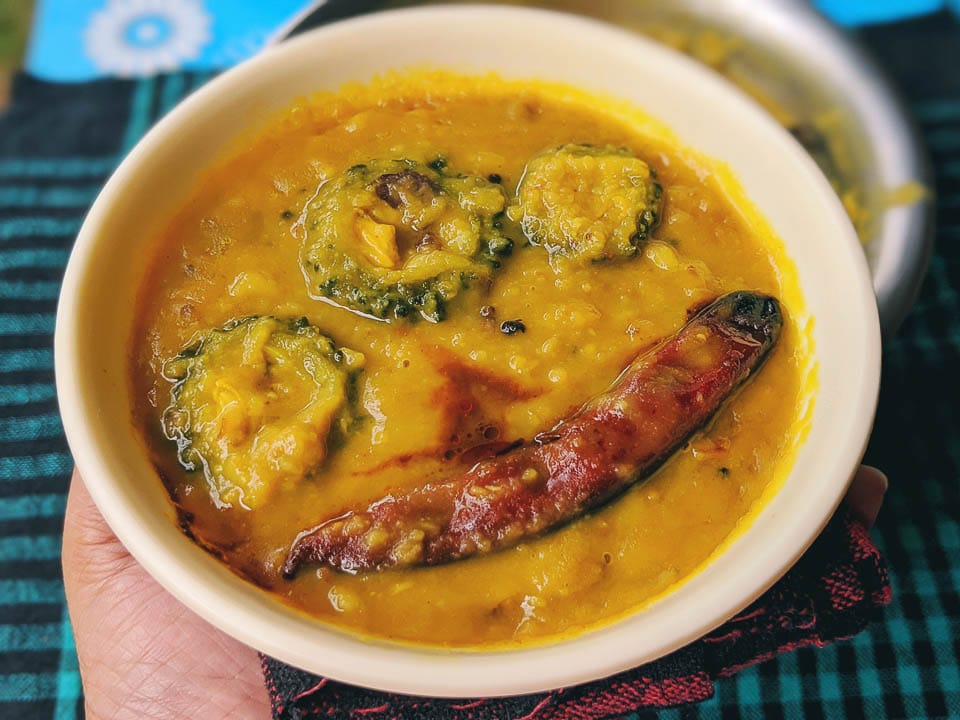 Ingredients to cook Ucche Diye Tetor Dal (bitter gourd in Moong Lentil soup)
Ucche (also known as Karela in Hindi)/ Bitter Gourd: 5/6 pices
Dried Red Chilies (a couple, for tempering): 3/4 pieces
Hing (Asafoetida) : a pinch
Moon Daal (Moong Lentil): 200 gm
Turmeric: 1 tbsp
Salt: to taste
Sugar: to taste
Green chilies: 3/4
Mustard oil: 2 tbsp
Ghee (I prefer to use Jharna Ghee for its ethereal aroma!) : tbsp
Procedure for cooking Bangali Tetor Daal (Daal with Bitter Gourd)
Boil Moong Daal with salt and turmeric. To cook Moong daal, dry roast the lentils till bright red, add a few cups of water and pressure cook for 10 minutes. My dida says, Moong daal should be Thokthoke, of tight consistency and yet must not miss its individualistic self of each granule. I can not do that while I cook. My bad!
Wash and clean the bitter gourds. You may peel ithe spikes if you want to reduce the bitterness.
Smear the round pieces of bitter gourd with turmeric and salt. Fry them in mustard oil.
Heat mustard oil in Kadai. Add red chilies (dried) for tempering. Follow it with green chilies, bay leaves and a pinch of Asafoetida, hing!
Add the boiled daal to the fried spices (or the other way around).
Let the Tetor Daal cook for 10 more minutes or till it comes to a simmer. Slit a few green chilies and add to the Daal at this stage.
Finish the cooking with adding a dollop of Jharna ghee to the daal!
Tetor Daal is served best with piping hot rice. You may also add some Lau (white gourd) and the result is a sublime balance between bitterness and sweetness! In case you are using Lau in Tetor Daal, ensure you boil the Lau prior to cooking!
If you are a fan of Daal, try Kancha Aam diye Tok Daal (Daal cooked with Green Mango). If you are a fan of old recipes of a Bengali kitchen, which are also vegan, try Lau Shak Bhape (steamed white gourd leaves)!
There are plenty of fish recipe of the blog. Here are my favourite ones!
Daab Chingri: Prawns cooked side green coconut shell
Macher Dimer Bhape: Fish roe steamed inside white gourd leaves
Bhetki Kaliya: Asian Seabass curry!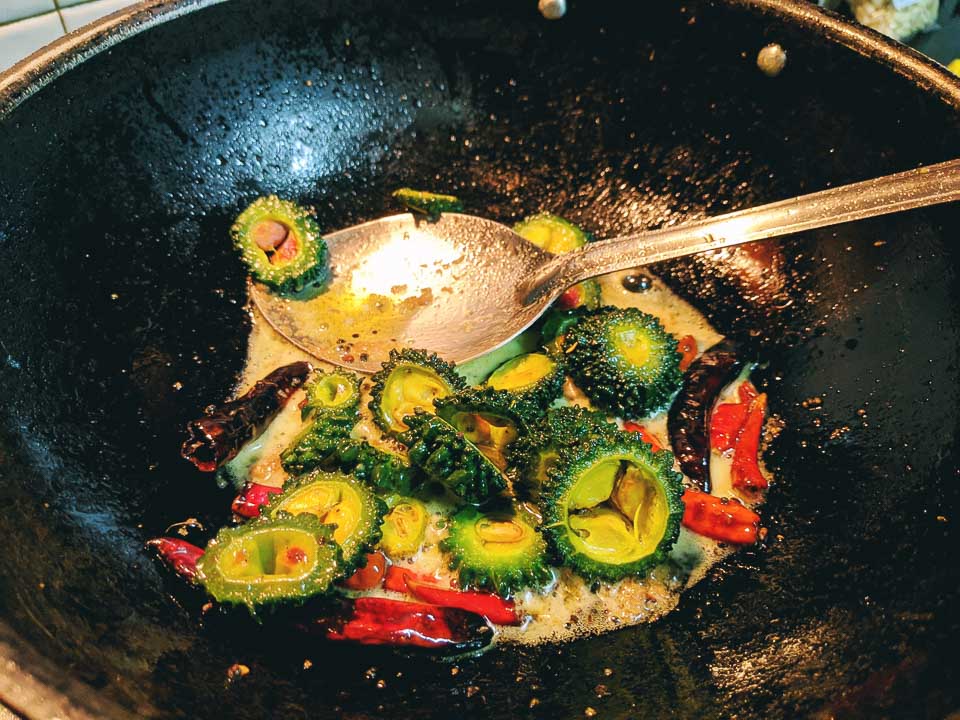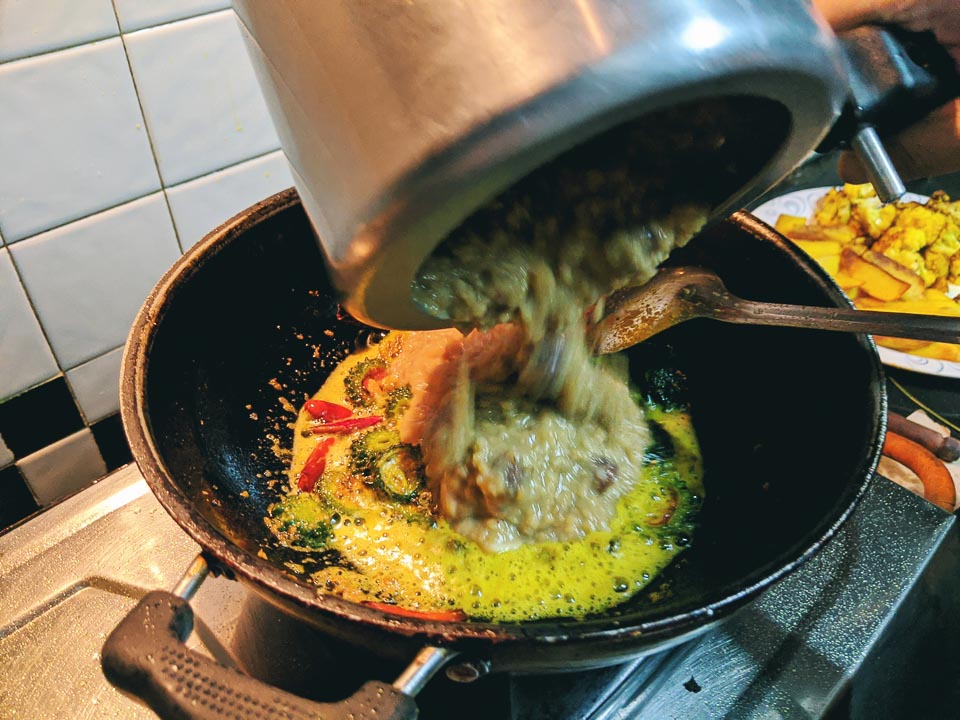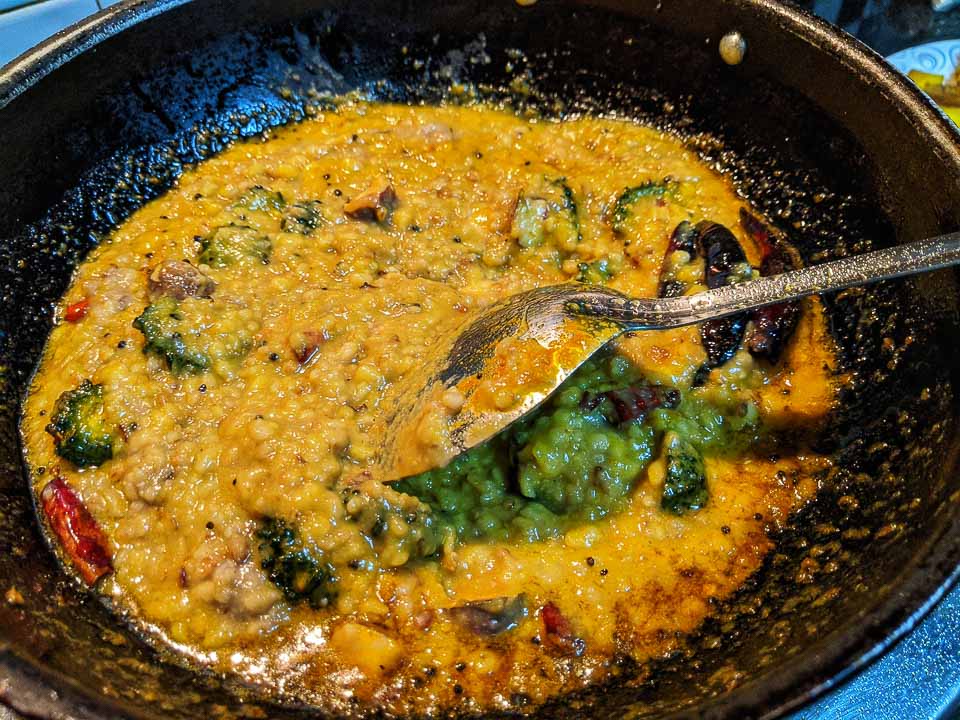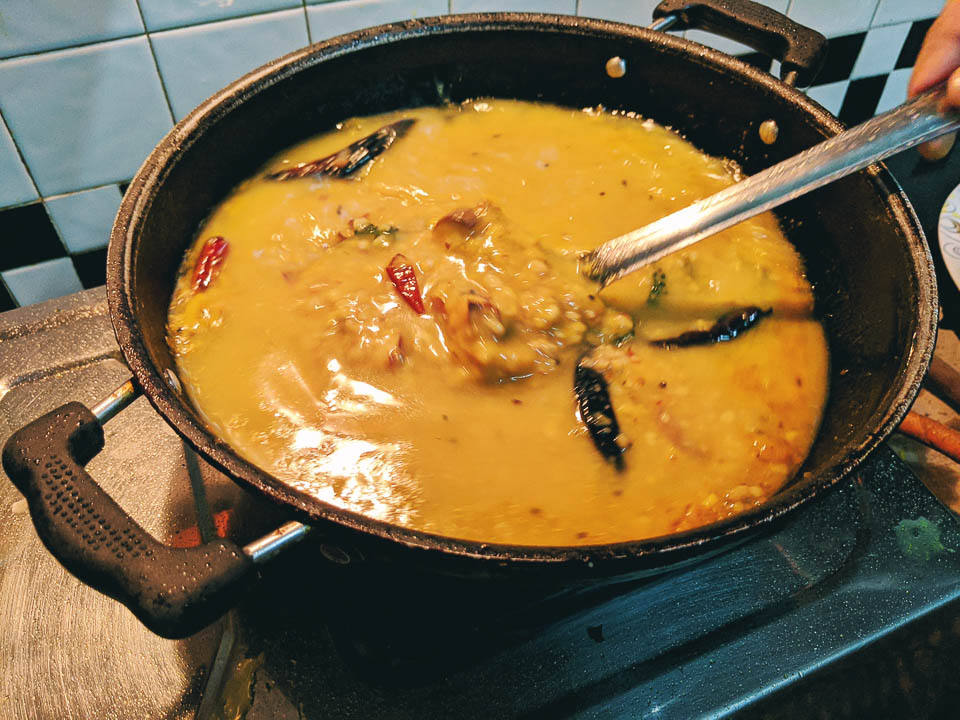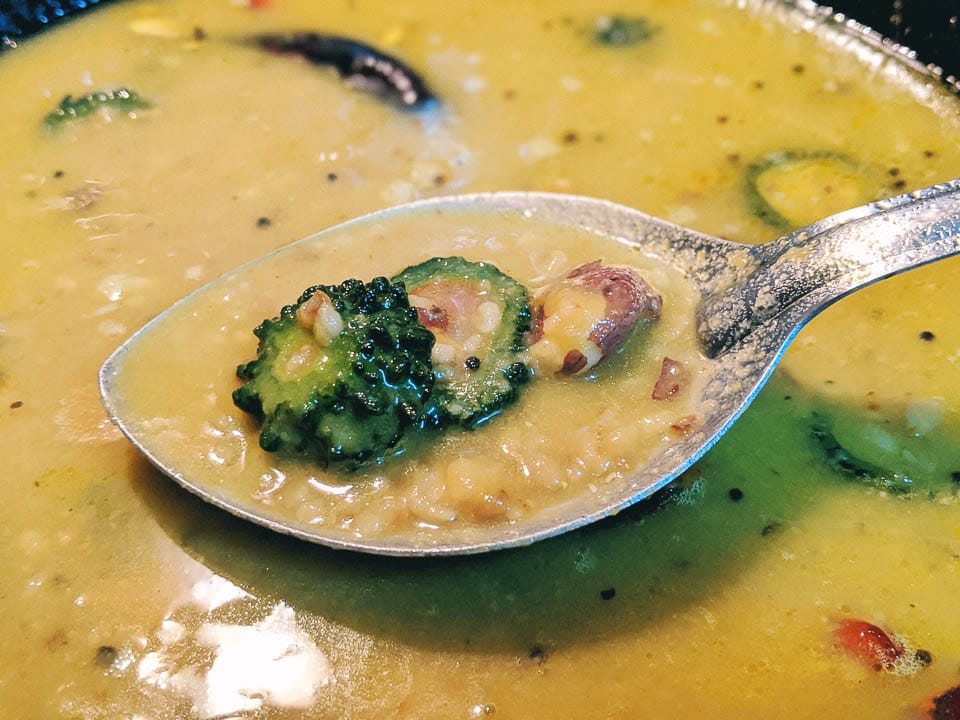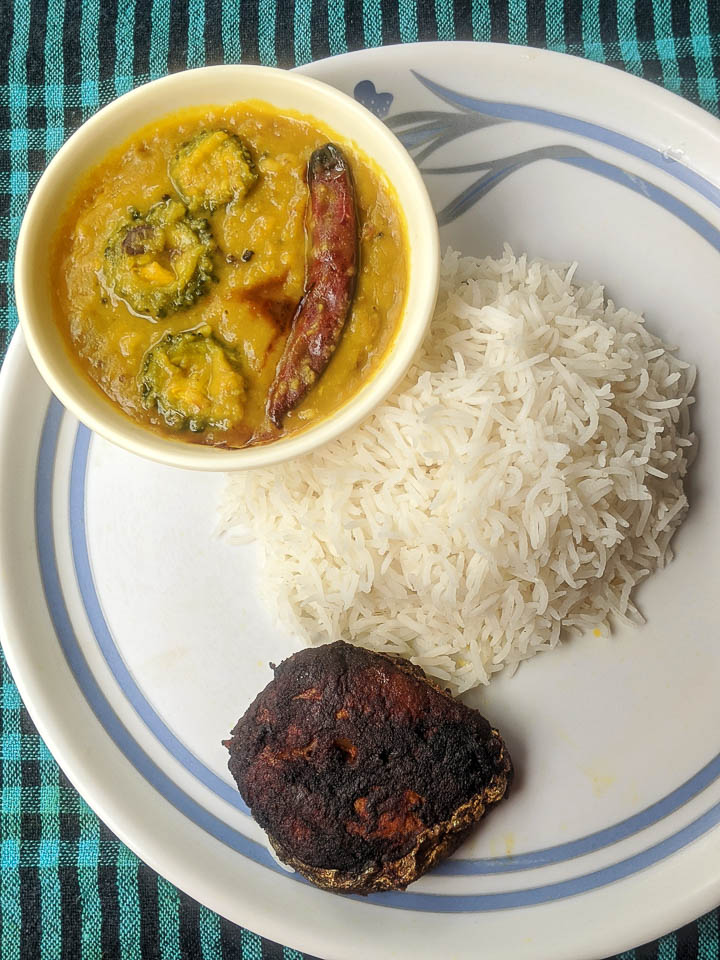 This post may contain affiliate links. Please read the disclosure post. If you have liked the article, you may support it by buying using these links without any extra cost to you.
Let's stay connected on Facebook, Instagram, Twitter! You may also consider joining my mailing list. I send travel and photography related emails only once a month!