About this blog: This Hampi Travel Guide presents you with evocative pictures and travel tales from the ruins of ancient Hampi, Karnataka, a state from south of India. This article also aims to help you in planning to explore the ruins of Hampi during 3 days trip to Hampi. You may tweak the plan a bit and adjust it to a 3 days/ long weekend itinerary for Hampi. Hampi is a UNESCO world heritage site for immense historical value and a weekend destination from Bangalore, Hyderabad and Goa. Often referred to as India's answer to ruined historic city of Pompeii, Hampi evokes intriguing memories of the days of kings and queens and kingdoms and invasions and battlefields. It is one of the safest destinations of solo women travelers in India.
This is the only Hampi travel guide you need to plan your trip to Hampi, choose a safe and nice stay and explore the old ruins of Vijayanagar Empire.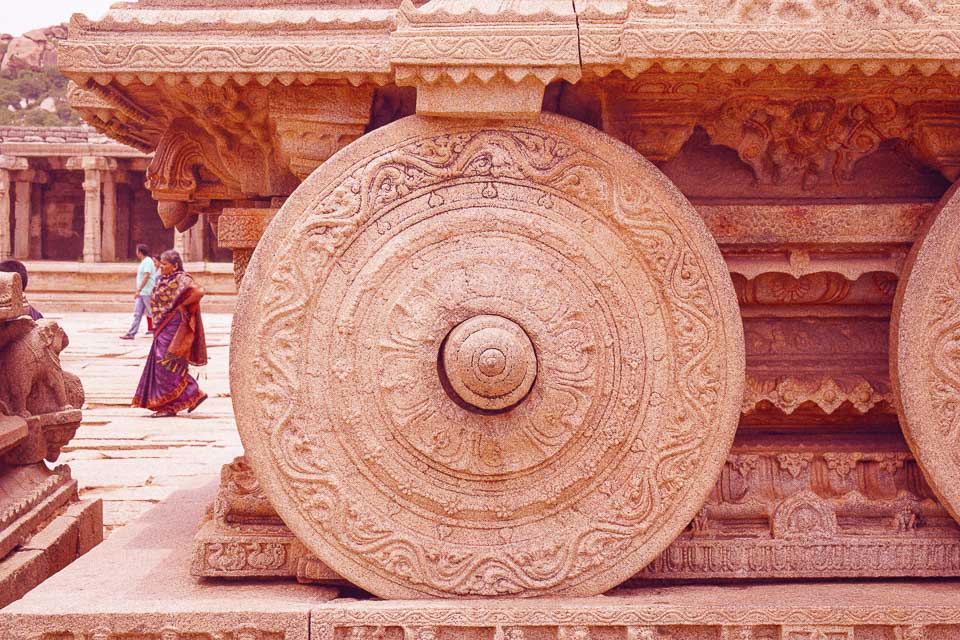 Traveling to Hampi: Destination at a glance!
Quick travel tips to keep in mind for this Hampi travel guide.
Hampi is a UNESCO world heritage site in Karnataka, India. Please be respectful while exploring Hampi's historic ruins.
Multiple ruins of ancient Hindu temples and royal complex dating back to the Vijayanagara empire of 1500 CE.
Easily accessible by domestic flight and train and bus. Road trips to Hampi from Bangalore is rewarding as well.
Hampi is a safe destination for solo female travelers. I solo traveled to Hampi in July and had absolutely no issue.
Cost of traveling in Hampi (moderate/budget): Hampi is suitable for backpacking to mid-budget travels. Hampi is not very expensive.
Offbeat tourist attractions in Hampi: nature trails, bear sanctuary, hippie vibes at the hippie island of Hampi, birding at the backwaters of Tungabhadra, Tungabhadra river, ideal for school excursion.
Pin this post on Hampi travel for later!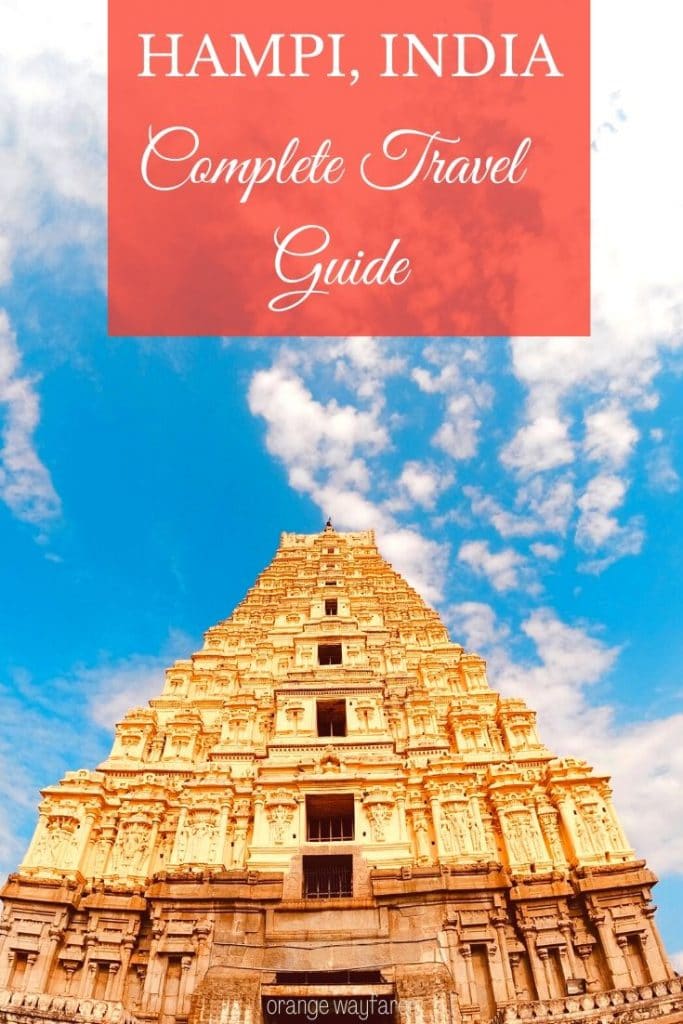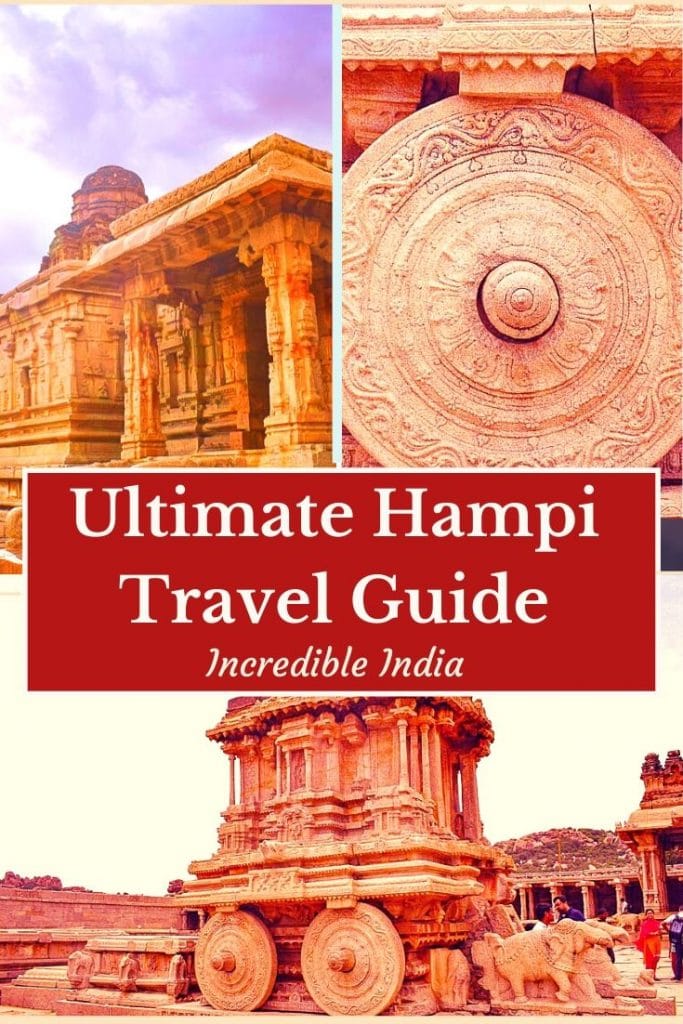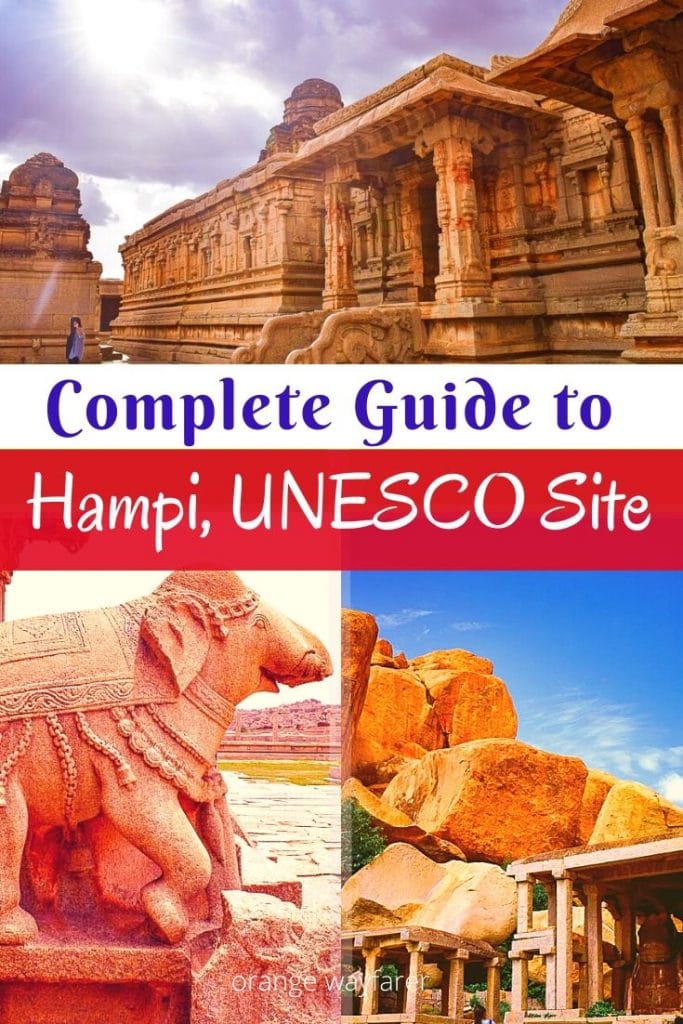 The Rise of Hampi as a Tourist Destination
…from the Numbness of History
Hampi has been featured on the New York time's list of best destinations around the world in the recent past. Ever since, millions have swarmed into the bouldered vast pastures of the ruined wilderness that Hampi is! Located at Central Karnataka in the southern part of India, Hampi is a world UNESCO heritage site. It safeguards the ruins of the medieval Vijayanagara empire..
However, my introduction to Hampi dates back to the 90s while reading Sunil Ganguly's Bijaynagarer Heere (The Diamond of Vijayanagara), from Kakababu, a fantasy series for children written in Bengali. I knew of the ancient temple that plays the sound of flute if you know how to tune into its flanking pillars, or whatever remains of them. The never ending secret tunnels, the lure of hidden chests filled with gold and gems, the melancholy of an empire's heydays: Hampi, the capital city of the erstwhile Vijayanagara has buried innumerable secrets by the banks of river Tungabhadra.
Archaeological survey of India has been operational in the fields of Hampi, still excavating historical anecdotes from an era bygone. Recently, there was a news of unearthing a few KGs worth of gold and precious stones.
Physically, I visited Hampi a year before NYT ranked it as the second best place to visit in the world or something like that!
My trip to Hampi revolved around unearthing and visualizing stories from the as I had experienced in the books on Hampi on balmy afternoons in Kolkata as a child. Sharadindu Banerjee's Tungabhadrar Teere (by the banks of Tungabhadra) is another astounding piece of literary fiction set in the era. Syam Benegal's directorial venture, "Bharat ek Khoj" based on Pandit Jawaharlal Nehru's Discovery of India played back in my mind as I stepped in the cradle of nature that hides Hampi from the world outside
While Hampi featured prominently in international backpacking bucket list post the NYT feature, the destination has always remained an enigma among the locals. Often hailed as the last bastion of contemporary Hindu India, Hampi's riches and glory were insurmountable at a time when the dominos in the north of India fell at regular intervals to invaders from the northwest. Hampi scaled even greater heights in international politics. Her wealth and prosperity is known to have evoked awe and reverence among the western traders. Many compared Hampi to be a greater city than contemporary Rome. You do not have to trust my words. See the remnant of the massive monuments of Hampi and your eyes will tear up in the thought of looting!.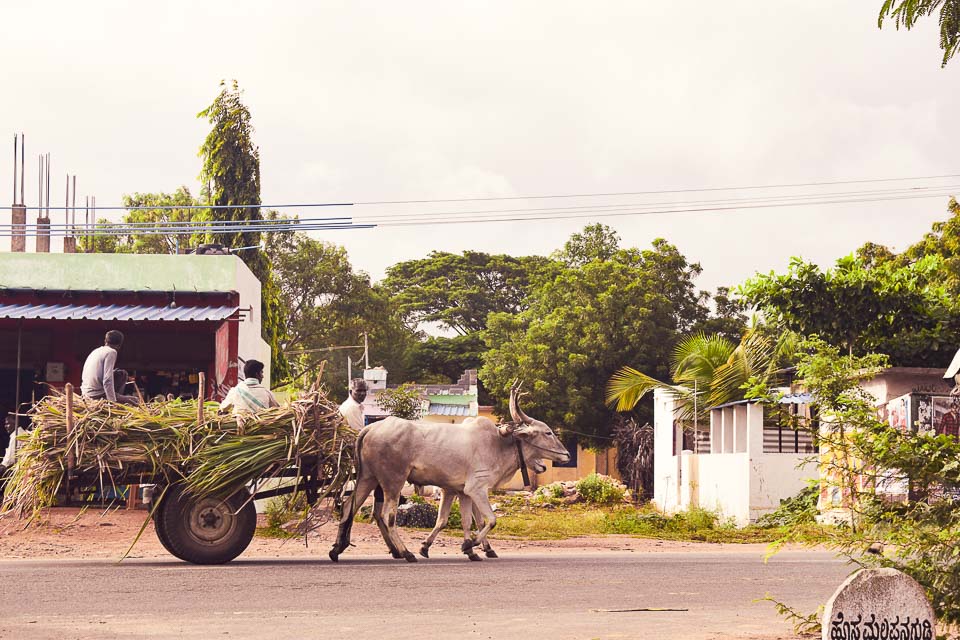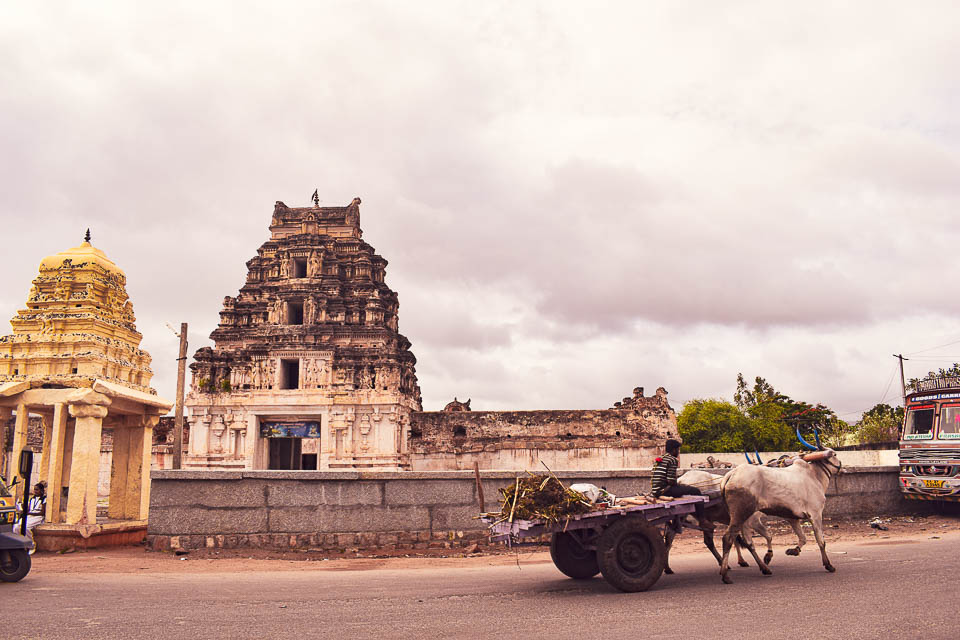 Hampi's history is not as linear as two religiously empowered political parties fighting amongst each other and uprooting the defeated. Although seeing the ruins and systematic destruction of Hindu idols, for example the Lakshmi Narasimha Statue with two of his hands cut off as a part of the message, you may be tempted to overcome with rage.
The fall of Hampi in many ways bore semblance to the final conquest of the Indian peninsula, translating to the whole of India. The south of India, with 5000 KM long coastline, enriched with wealth beyond measure sits as the crown jewel of Golden Bird, India is famously known for. Conquering the Vijayanagara dynasty of Hampi stood paramount for the political interest in those days.
Ironically anarchy prevailed and no other salient ruler could ever scale upto what Vijayanagar was.
Also read: Offbeat day trips from Leh when you are spending 5 days in Leh!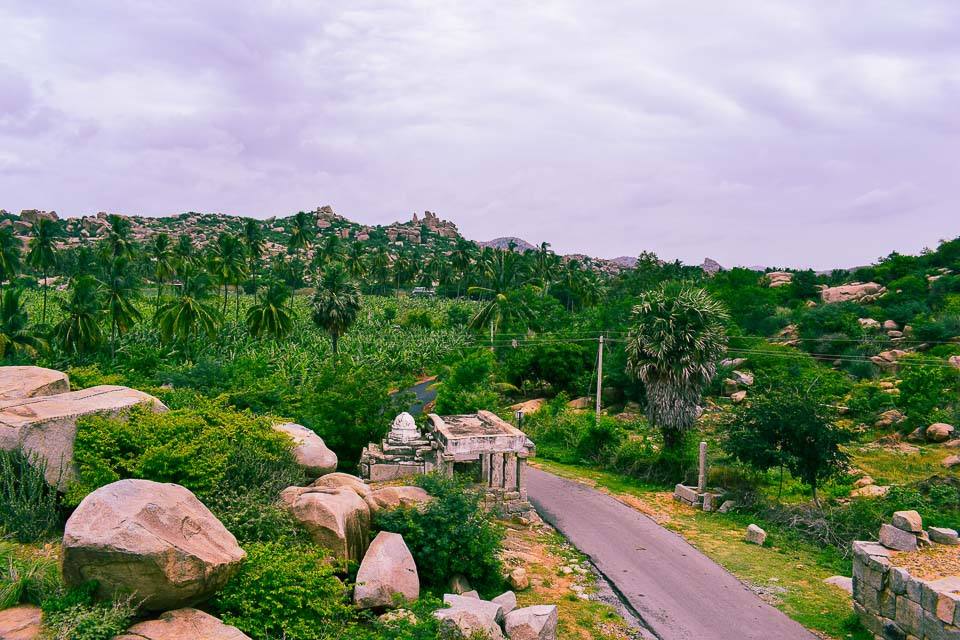 Conquests had been the order of the yesteryear's politics. Incessant bloodbath to conquer Vijayanagara that lasted for 6 months had turned Tungabhadra river into florid red. Kings and queens fell. So did the deity inside old sanctums.
There is only one thing we say to death: Not today.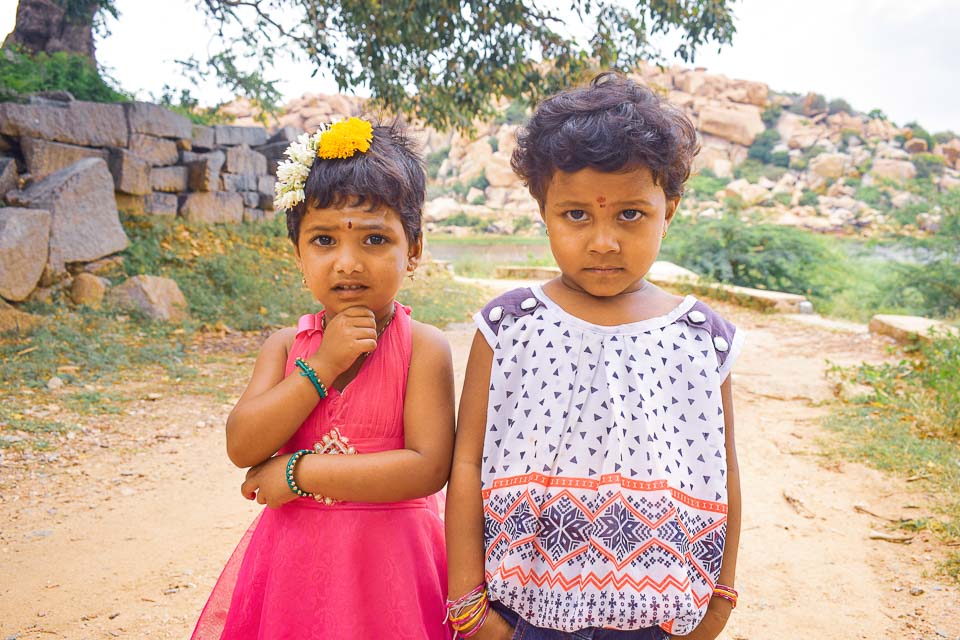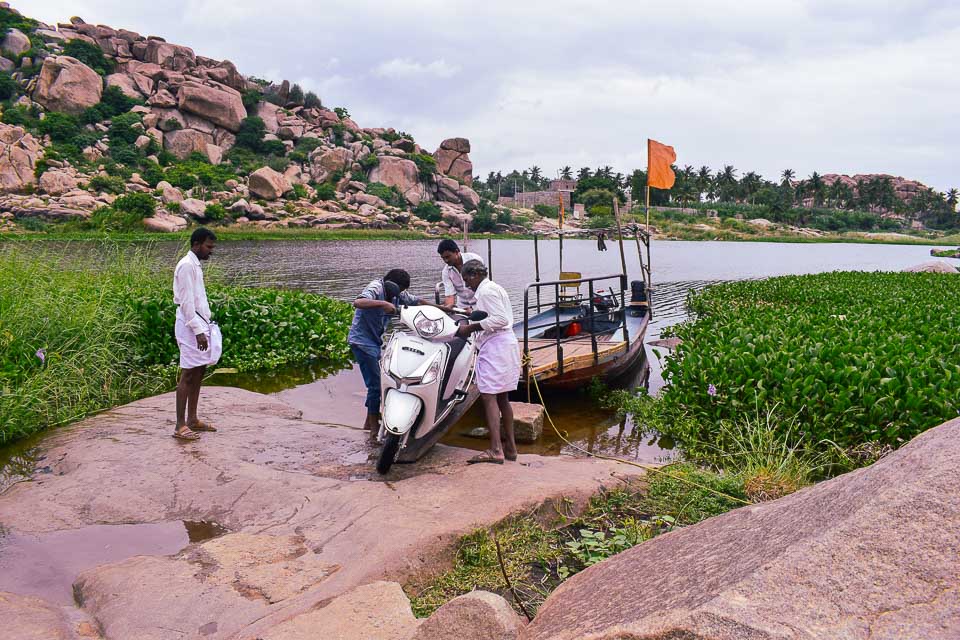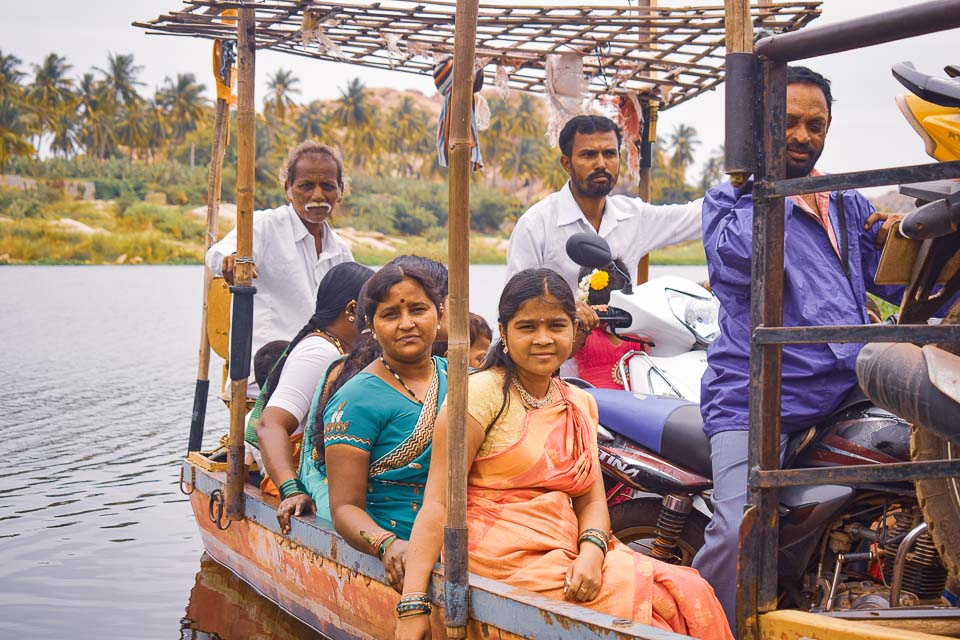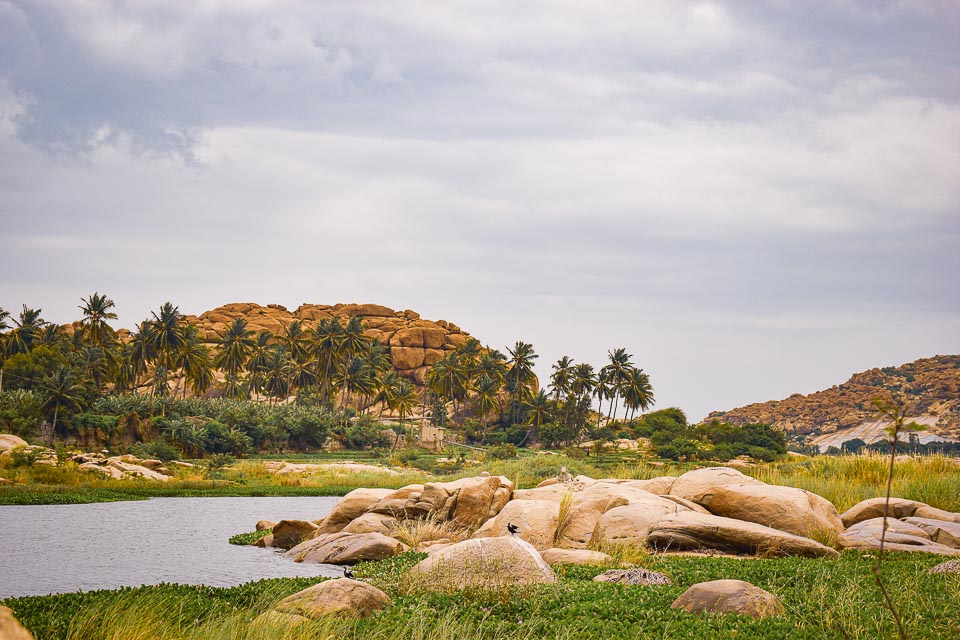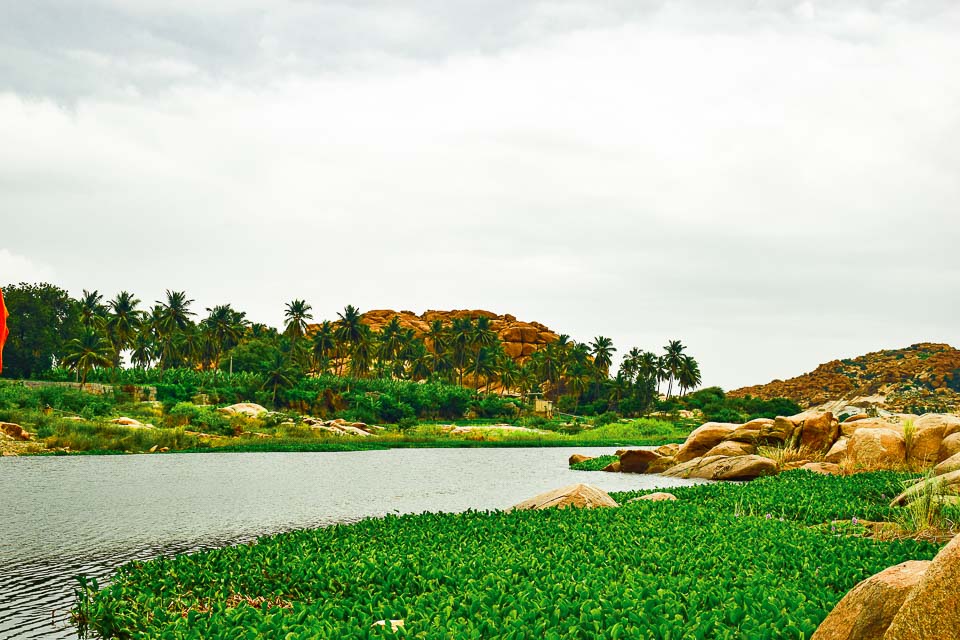 The emptiness of Vijayanagara is haunting. It is difficult to contain grief and pain as you walk on the now cobblestoned red earth, dotted with Gulmohors. In summer, the red blooms of Krishnachura caress the scorched Earth, as if mother nature still tries her best to comfort a sunken child. Gentle breeze maneuvers through sunflower fields. Tungabhadra flows fiercely at the bend of the giant boulders. Ethereal sunsets take place everyday.
Nature agrees with Hampi, not the humans. Not any longer.
Long before tourism boards promoted Hampi as a budding destination, people tried to rebuild the habitat but all efforts went into vain. Nature reclaimed Hampi and moved the birds, snakes and sloth bears in the capital of erstwhile Vijayanagar empire. Vijayanagara empire lives in our heart and mind. Hence, non-erasable.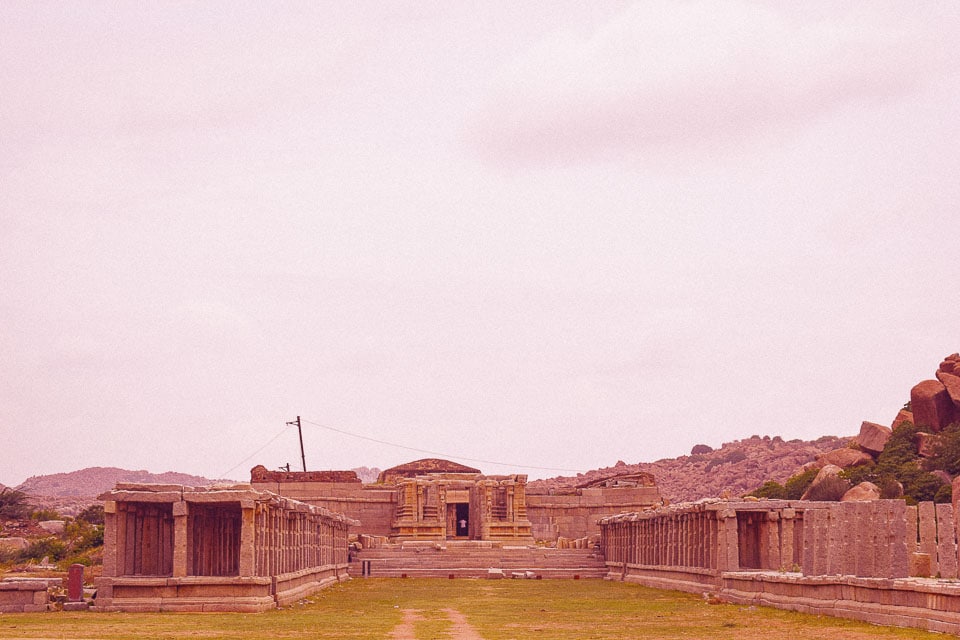 Hampi, the Heart of Historic Vijayanagara Empire
When you play the game of thrones, you win or you die. There is no middle ground.
Pardon me for consecutive references to Game of Thrones but anyone who has been an avid follower of the series will see a similar set of events unfolding in the context of Vijayanagar empire. In fact, every empire that ever stood to the gnaw of time, rose to fame and glory and kissed dirt subsequently has followed the same set of rules.
That is how the Game is played.
I got my closure on whys and hows for Hampi from Game of Thrones. That's uncanny but I could have never written such a detailed travel guide without watching it!
Hampi as a place has been long standing even before the Vijayanagara empire came to be. There are references on Hampi in Indian epic of Ramayana, as Pampa-kshetra, Kishkindha-kshetra or Bhaskara-kshetra. Ashoka's rock edifice retrieved from Bellary district of Karnataka points at Hampi's existence too.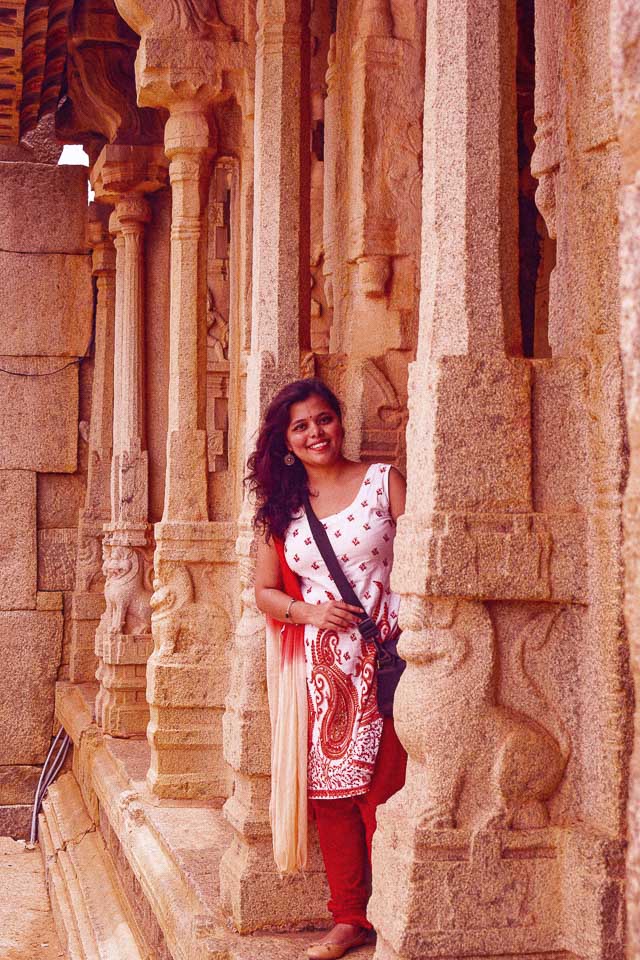 Vijayanagara empire came to be with rulers Harihara 1 and Bukka 1. The latter stretched the empire to the borders of Goa. Ancient inscriptions state that there was an established trade route between Goa and Vijayanagara. The Portuguese, Italians and the Moorish traders made entry to the Vijayanagara court through that waterborne pathway. The Coracle boats are believed to be brought by the Arab traders.
Hampi grew steadfast amid turmoil in the northern frontier. By 1500 CE, historians ascribe Hampi-Vijayanagara to be the world's second-largest medieval-era city, next to only Beijing. Hampi's riches and landscaped metropolitan plan were described by the tradersmen from Persia and Portugal. However growing enmity with neighbouring Deccan Sultanates and continuous battles eventually plagued the city and contributed to the eventual fall of Vijayanagar Empire.
On the eventful nights of the fall of Vijayanagara, the city was pillaged, looted, burnt and the spell of destruction lives to tell the tale till date. I am writing this with a heavy heart and choked throat. Since millenia, we have known wars to be futile but will there ever come a time, we will truly learn?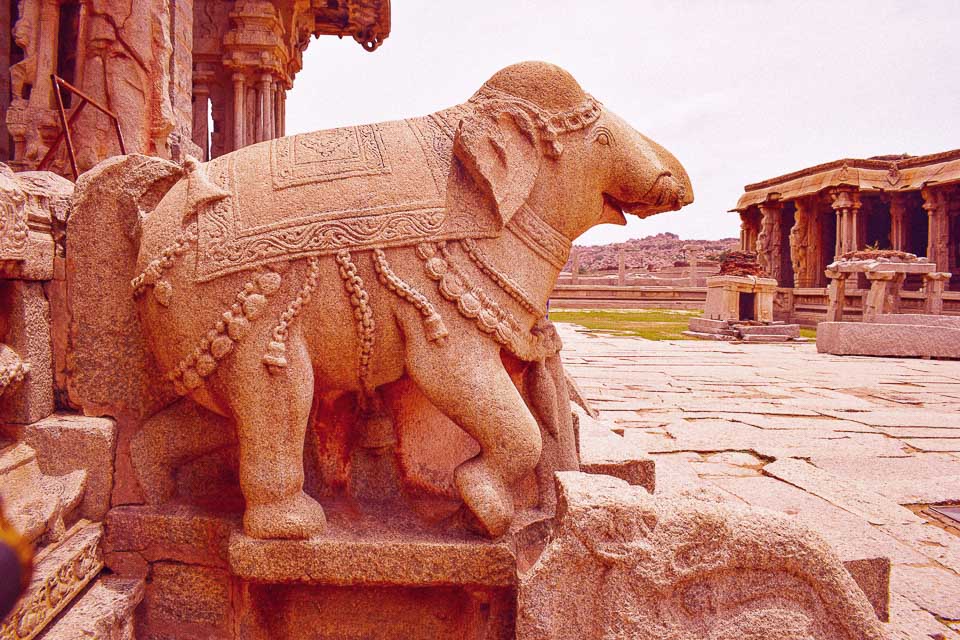 Today, Hampi is known as a UNESCO world heritage site.
Hampi today stands as a prominent tourist destination with historical importance. Virupaksha temple, the only remaining temple of Vijayanagara empire, remains a pilgrimage spot. The fact Hampi was a part of the eminent Indian philosopher Adi Shankaracharya's Yatra from south to north of the country made it an important pilgrimage stop.
Local schools conduct excursions in the archaeological zone. My trip to Hampi was basically a game of tailing a group of young school children who would not leave me be! I resisted, tried to change the routes and be comfortably numb in my mind, desperately seeking tranquility to immerse in the ancient ruins of Hampi. The next moment, two of these kids in indigo shorts and white shirts appear from thin air and smile! In an hour or so, I gave up.
Looking back, I feel grateful. I was not ready to see that massive scale of destruction that mad-danced in Hampi from the pages of history. We are the people who grew up in the legacy of world wars and holocaust and multiple media renditions of the same. I wish we would have known a bit of our own history as well. Say for example, the opium war of Asia?
Looking at Hampi ruins, I was reminded of the horrors of bombing Buddha statues of Bamiyan, Afghanistan.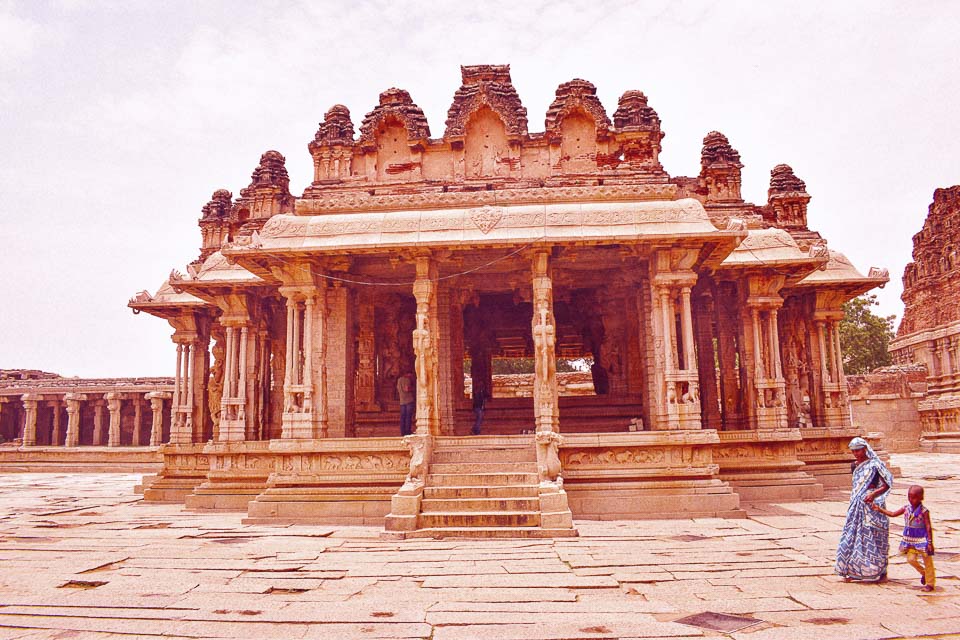 How to reach Hampi?
By Flight: Bellary is the only domestic airport close to Hampi, located at a distance of 60 km. You may also fly into Hubli (143 KM) or JSW Vidyanagar Airport in Toranagallu (40 km) based on flight availability.
By train: In case you fan-girl the mighty Indian railway, trust Hospet Junction to bring you 13 km close to the ancient group of monuments in Hampi. The night train Hampi express from Bangalore makes it an easy trip. From Hospet, the rest of the country is well connected with Hampi.
Roadtrip to Hampi: Hampi is almost equidistant from Goa, Hyderabad and Bangalore, requiring a road trip journey of 6/7 hours at a stretch.
Compared to Badami, Aihole or the Pattadakal temples, road to Hampi is a treat to drive in. Roadtrip to Hampi from the three major citiesof South India remains a delightful experience.
How to plan a trip from Bangalore to Hampi?
From Bangalore, Hampi is located at a distance of 350 KM and can be reached through NH4 highway. You must not forget to stop at the Chitradurga fort en route.
There are multiple night buses that leaves Bangalore and reaches Hospet the day next. Bangalore night buses to Hampi leaves from Madiwala, Silk Board, Majestic and makes stop once in the night for washroom and food break. Carry tissue and other hygienic needs.
I took one such night bus, reached Hospet the next morning at 6 am, paid 200 rs to an Auto and reached the hotel I was staying in. I stayed at Hampi Heritage Resort and I would advice you more on the best neighborhood to stay in Hampi n the following section.
You can take the night train to Hampi from Bangalore station. Hampi Express. It reaches Hospet the next morning and is a delightful journey.
How to explore the Ancient Ruins of Hampi
Aka things to do in Hampi in 3 to 4 days. A rough guide to plan your short Hampi itinerary.
First thing first, to discover the archaeological ruins of Hampi, you need to get your hands on an illustrated map pointing at the areas open to tourists. ASI (Archaeological survey of India) is continuing excavation in Hampi at various sites and unearthing facts from the past.
Every hostel/hotel/guest house in Hampi (or nearby areas of Anegundi and Hospet) provide the root map of hampi.
The archaeological ruins of Hampi are spread over an area of 26 sq km. There are over thousands of temple ruins and cultural anecdotes.
You can walk that 26 sq km area of Hampi over a span of three days. There are stops to rest. Autos ply a short distance. A government bus runs frequently till Hampi Bazar from Hospet. A few coracles on the water. Using them, you may check out Hampi's many magnificent Dravidian temple ruins, dilapidated pillars, grandiose royal+ forts, stables, the river bank at Tungabhadra, local life that endured centuries of trauma.
If you are in a hurry, you can squeeze in all these in 2 days, or just explore the ruins on the banks of Tungabhadra river.
If you are keen, you can spend even a whole month in Hampi to read all the wall panels on temples, explore newer and lesser known avenues, and witness mesmerizing sunsets over sprawling fields of paddy. A guide said scholars come and live in Hampi for three months at a stretch.
Essential things to know before you plan your Hampi itinerary
How to start exploring the ruins of Hampi
Roughly speaking, there are three clusters of ruins in Hampi.
1. Sacred Ruins (temple complexes)
2. Metropolitan ruins (the urban ruins where the king and his subjects resided) and
3. Riverside ruins.
You need at least 3 to 4 hours to explore each of the ruin clusters. Carry water bottle, umbrella, sun screen (enough sun shield basically), a nice walking shoe and camera. Photo opportunities are endless!
You will ideally reach the urban ruin first in case you are traveling from Hospet (I did). If you are taking a bus to Hampi Bazar (from Hospet again), you shall reach the Sacred ruins first.
How to plan a three days trip in Hampi?
For your three days stay in Hampi, allocate each day for each of the ruins I mentioned above and end the day with one great sunset show. There are beautiful sunset viewpoints in Hampi. I shall note them down below. If you have completed sightseeing in two days, allocate one day to explore the Daroji bear Sanctuary (famous for appearing in India's jungle hero series on discovery). You may also indulge in rock climbing sessions.
If you have only one day in Hampi…
Start the day early. Start with the urban ruins of Hampi and continue to the sacred ruins by the banks of Tungabhadra river. End the day with a sunset view from the Hemkuntha hill. Probably you will not be able to cross the river with a one day itinerary in Hampi however it is still worth it if you are hard pressed for time. It is a rushed and quick Hampi itinerary indeed.
Do you need a guide to see the ruins of Hampi?
The day I reached Hampi, I met an auto driver. He took me around the ruins of Hampi and doubled as a guide very kindly. The Hampi ruins have detailed illustrations by ASI and that does the job of explaining well if you have patience to read. Unlike Fatehpur Sikri, Hampi did not have a guide center from where I could hire a local guide. It is a pity because I would not recommend solo female travelers to hire a guide without any authority. Not just in India, anywhere in the world. I suggest look up in the groups of Trip advisor forum and collect a guide's number from the travelers in recent times.
The Must Visit Temples and Ruins at the group of Monuments, Hampi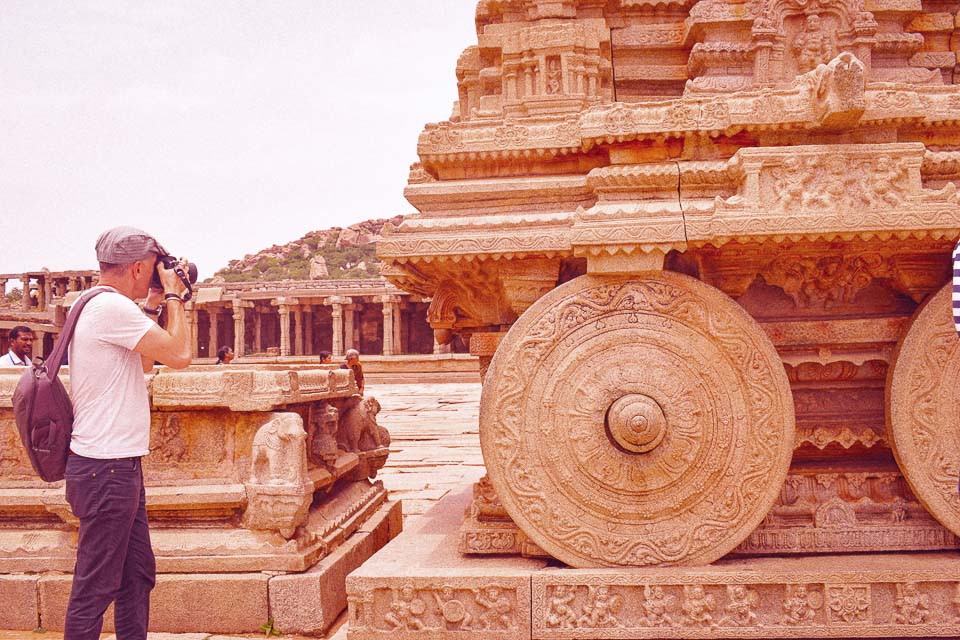 Following table will give you a rough idea for what are the ruins you need to look for while exploring the ruins of Hampi. This is no way an exhaustive list. But these are the prominent spots. Once you are near any of the temples, you are close to a spot full of vibrancy. I will delve deep into each temple site in the next section.
Once you are inside the archaeological site in Hampi, you are almost inside an open museum. Look around and you can marvel at everything! I promise.
Best things to do when Traveling in Hampi
| | | |
| --- | --- | --- |
| Temple/ Urban Ruins of Hampi | Cluster | Essential things to do in Hampi |
| Vijaya Vittala Temple | Sacred ruins | stone chariot, musical pillars |
| Sri Virupaksha Temple | Not a ruin | Living Shiva temple |
| Hemakuta Hill Temple Complx | Sacred ruins | great for sunset photography in Hampi |
| Sasivekalu Ganesha Temple | Sacred ruins | on Hemakuta hilltop |
| Yantrodharaka Hanuman Temple | Sacred ruins | riverside |
| Badavi Linga | Sacred ruins | Shiva temple, maintained by an old priest |
| Laxmi Narasimha | Sacred ruins | The only Narasimha statue I have seen in India |
| HazaraRama temple | Sacred ruins | Exclusive use by royal family. wall panels with Ramayana stories. |
| Krishna temple | Sacred ruins | Beautiful stone curved temple. |
| Durga temple | Anegundi | Locals make wishes here. Goddess is worshipped. |
| Big Nandi Bull | Sacred Ruins | Profound stone curved nandi bull close to Virupaksha temple |
| Queen's bath | Urban ruins | Indo Islamic architecture. look for figurines curved on the wall. |
| Lotus Mahal | Urban Ruins | Beautiful pillared structure |
| Elephant stable | Urban ruins | Beautiful structure for royal elephants |
| King's throne | Urban Ruins | On Hemakuta hill top. Great photo-opp. |
| Krishna Bazar | Urban ruins | Ruins of the Hampi market |
| 1000 Shivalingas | Riverside ruins | Visible according to water level |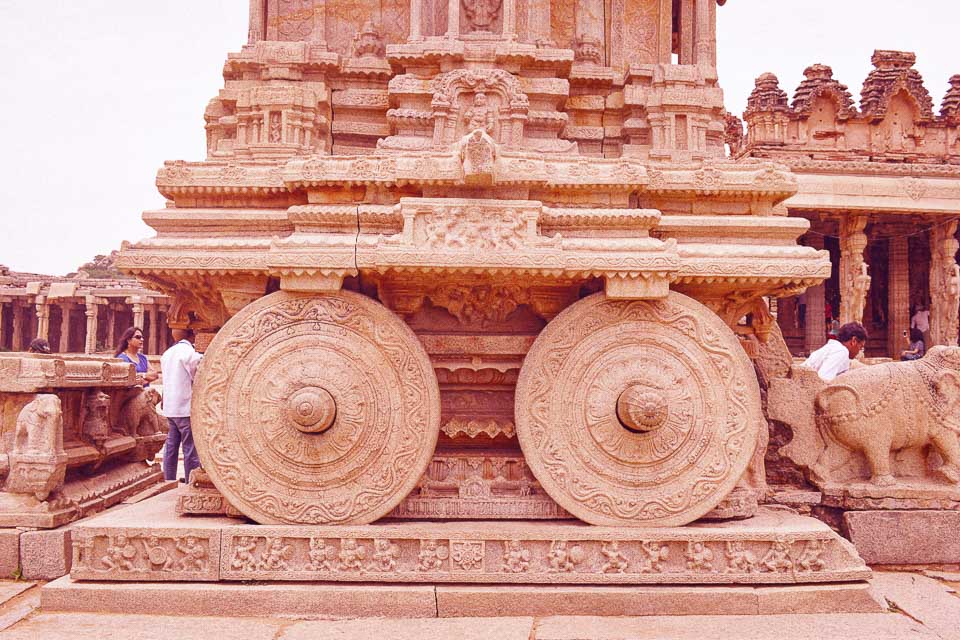 Important places to visit in Hampi
1. Vijaya Vittala Temple: The Stone Chariot of Hampi
One of the largest temple complexes in Hampi, Vijaya Vittala houses the iconic temple where pillars play music. A guard stands, with red blood eyes, and now prevents people from trying it out themselves. Be a sweet maidan and ask him to play for you when no one is around and he might just… who knows?
Vittala temple is dedicated to Lord Vishnu. A lot of ravages have stripped down the temple's shikaras and gopurams. However, the stone chariot stands tall. It even makes a feature in the new Indian currency note! Find out.
To avoid tourists, plan you trip early on the day to Vittala Temple complex.
At Vittala temple, an electric vehicle run by the local women will bring you to the main temple complex from the gate for a mere INR 10 payment. It was very heartening to see the local community of women taking part in tourism in Hampi.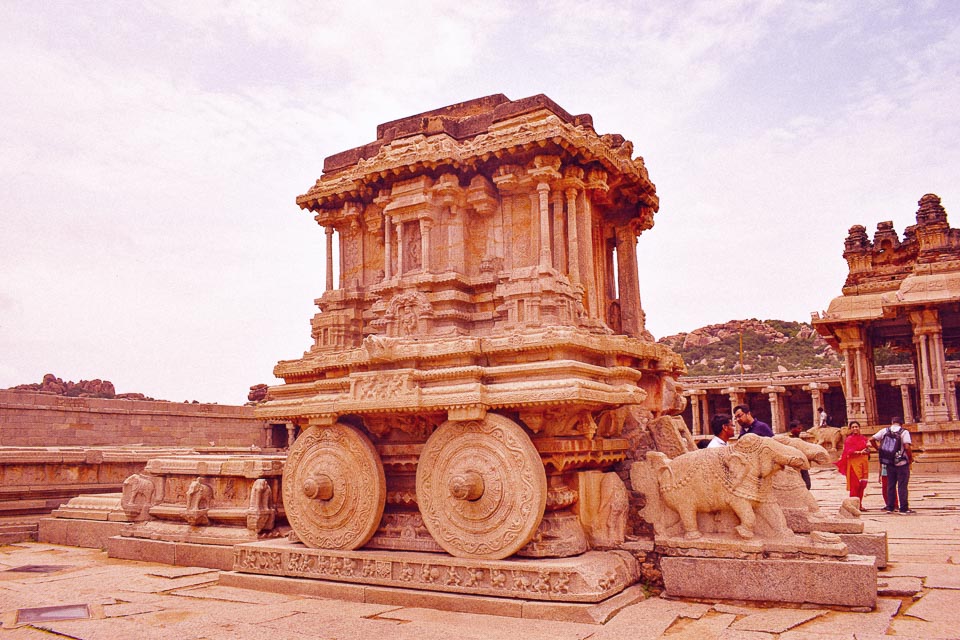 2. Virupaksha Temple: Living Shiva Temple of Hampi
The most prominent temple from Hampi, Virupaksha temple is "living" and did not fall prey to the destruction spell. I am not entirely sure why. But I am more than glad that its Shikhara rises to the sky.
Truth be told, Virupaksha is the heartland of Hampi. Locals, devotees, pilgrims, priests and everyone visits this temple. I have later visited the Living Chola temples in Tamilnadu and had been equally awestruck by those temple, again dedicated to Shiva.
Daily Puja takes place in the temple. Remove your shoes. The temple has a step well attached to it.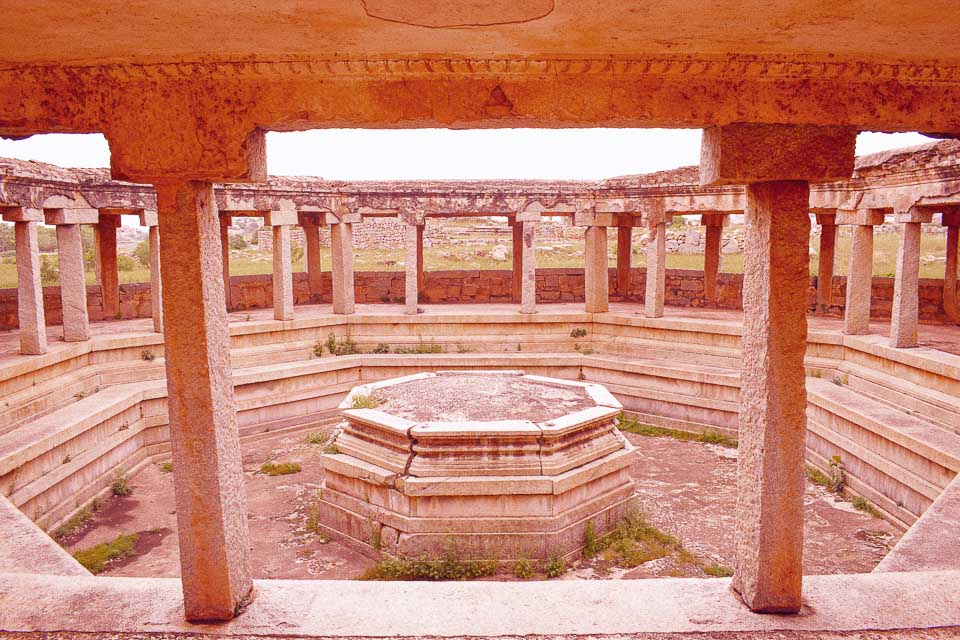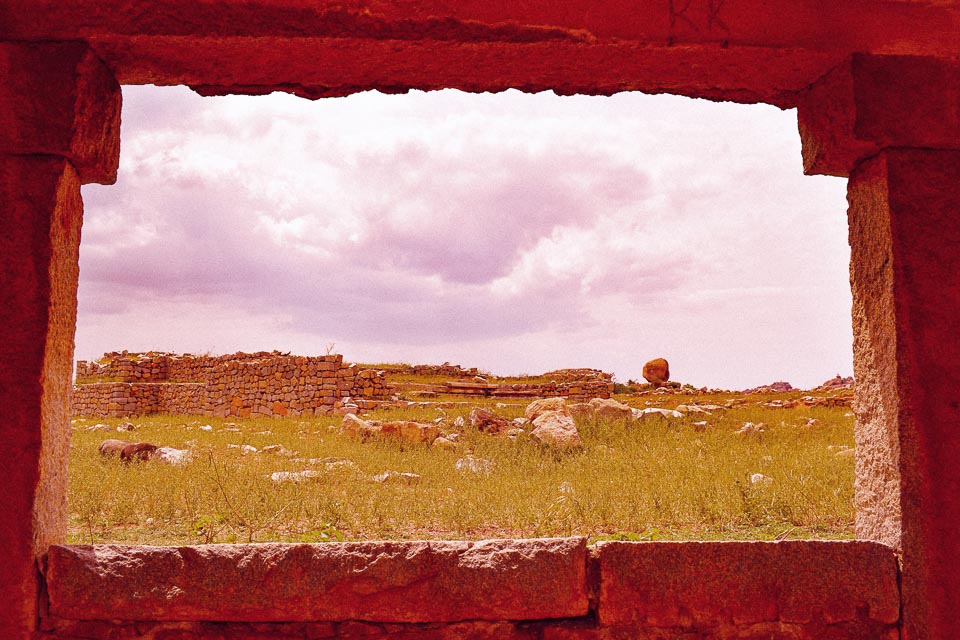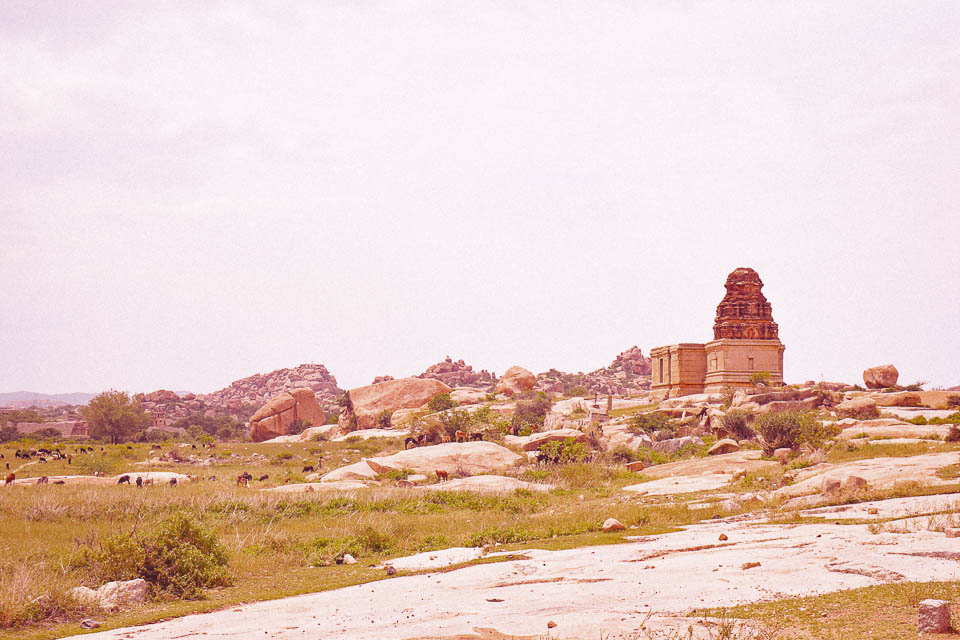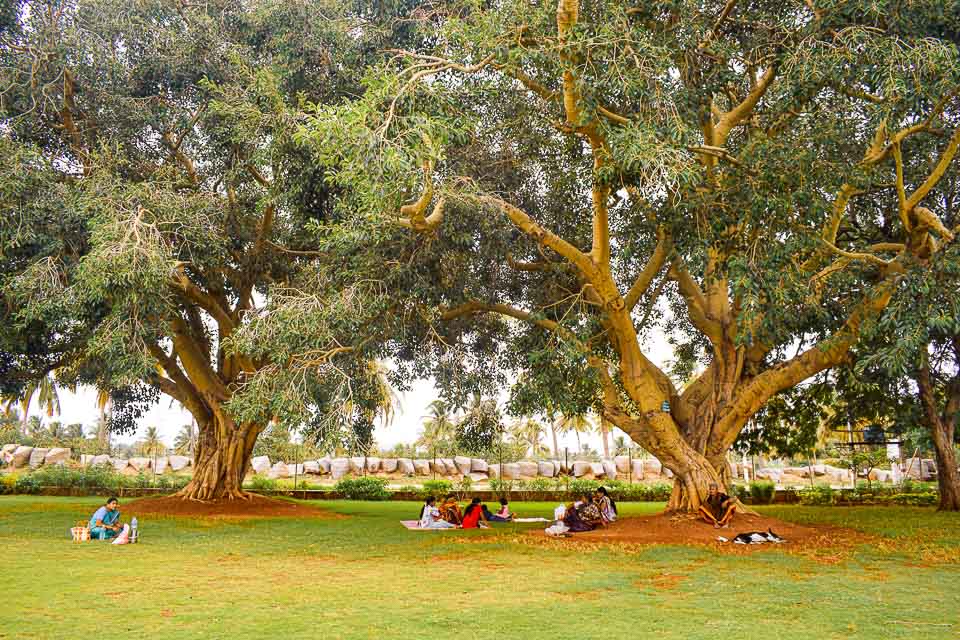 3. Hazara Rama Temple: Epitaph of Ramayana
A rather small temple but Hazara rama is a beautiful place of worship which is believed to be a part of exclusive access to the royal family. The temple wall is inscribed with various stories from Ramayana. The school children from execution were actually reading off various Kaands from the wall. A lot like what they did with hieroglyphics in ancient Egypt. Next to it is the Dussera dibba, believed to be King's seat from where he would be entertained.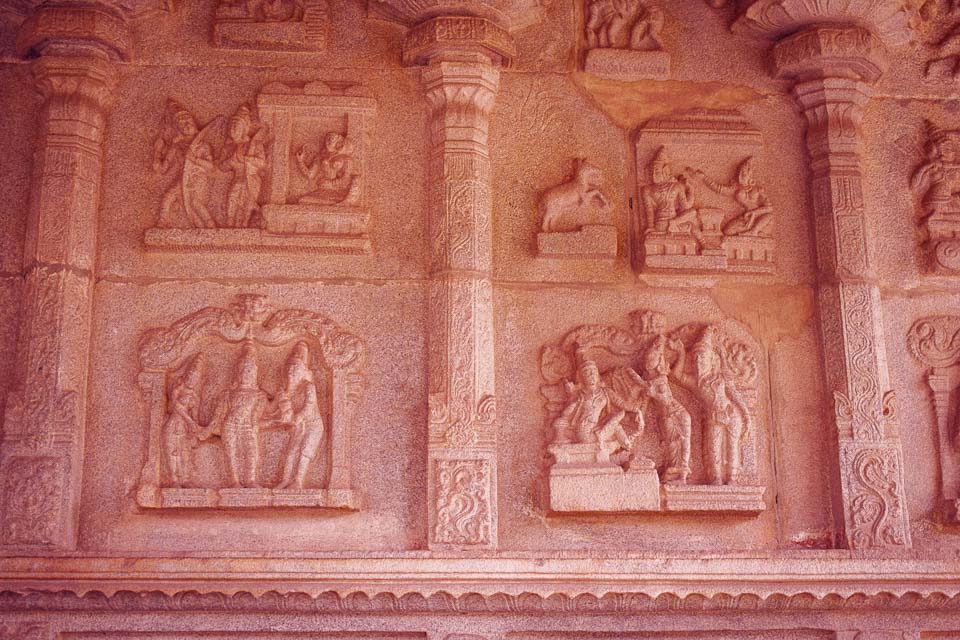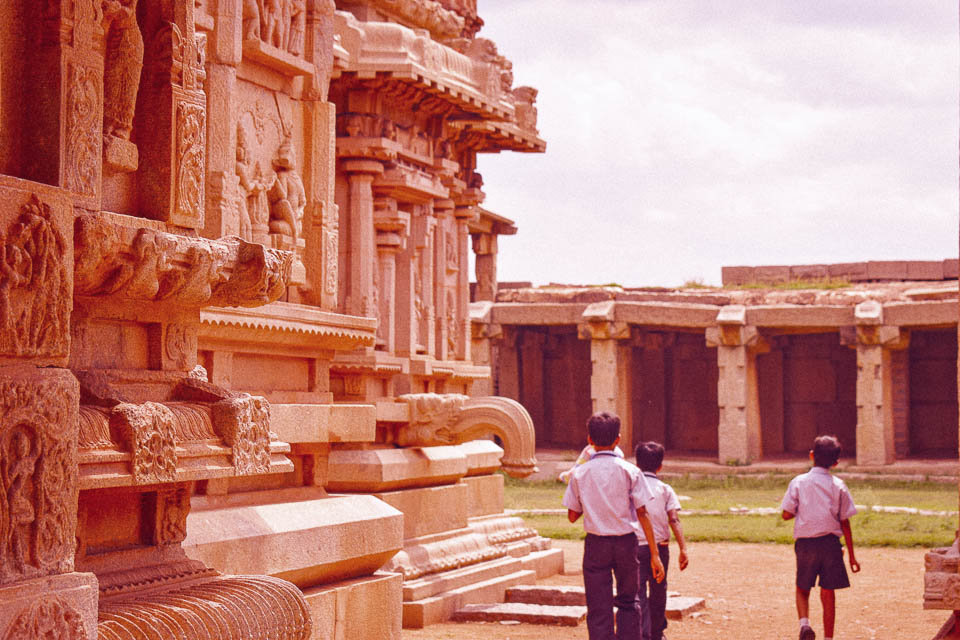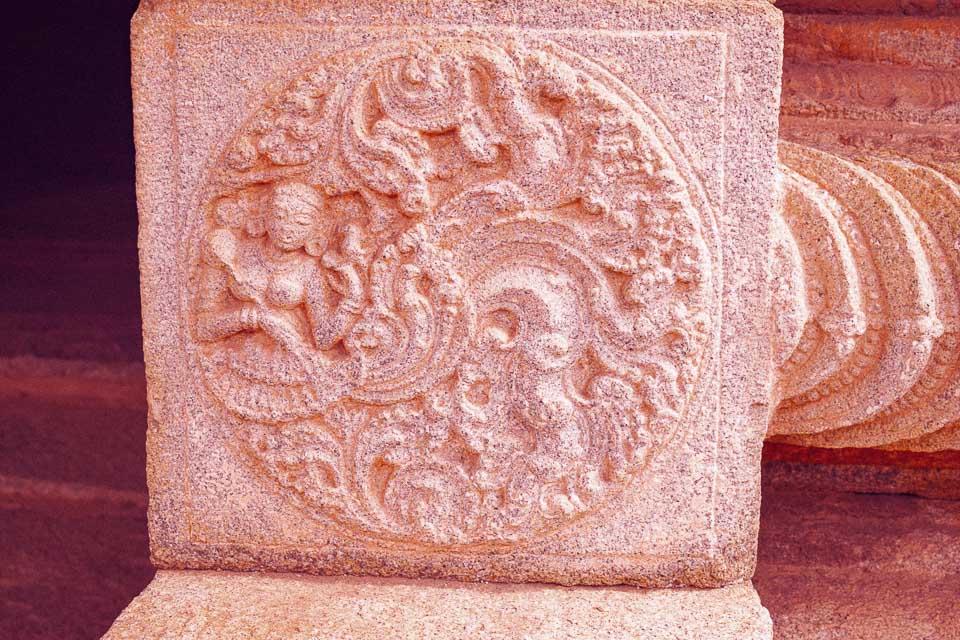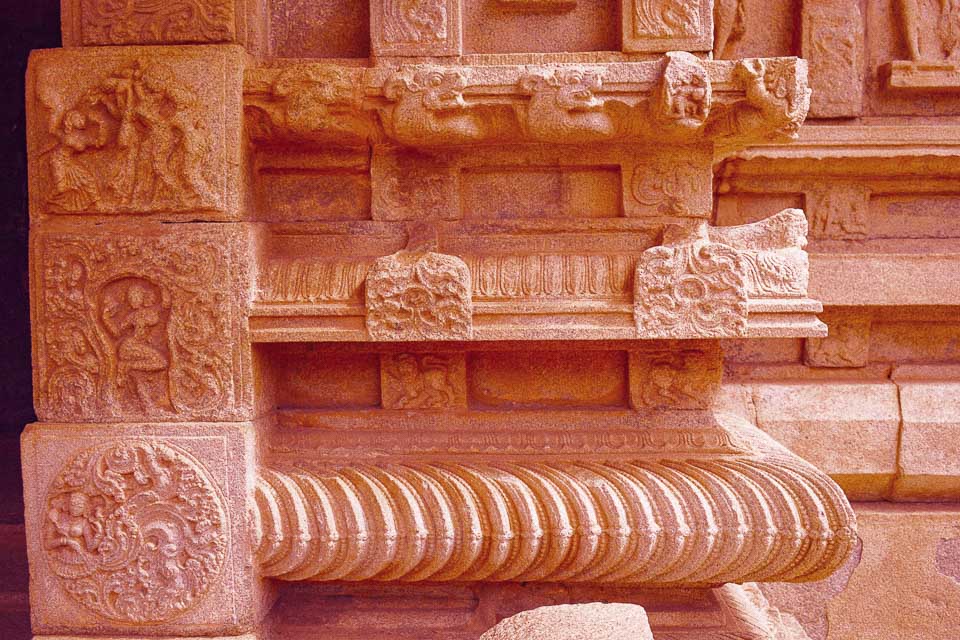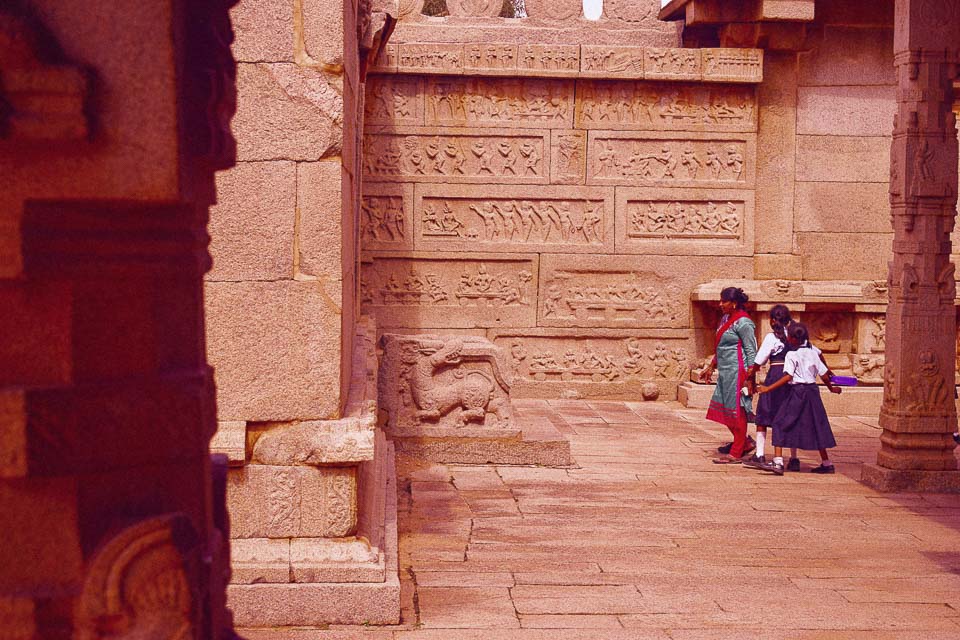 4. The Lakshmi-Narasimha Temple: One of its kind
The first time I saw a Narasimha statue, though I grew up hearing stories of "Daitya Kule Prahlad", was at Hampi. Looking at his hands cut off, I felt a pang in my heart.
The Nara Simha, loosely translating Human-lion, God is another Avatar of Vishnu. He sits atop coiled Seshnag, with Lakhkhi on his Lap.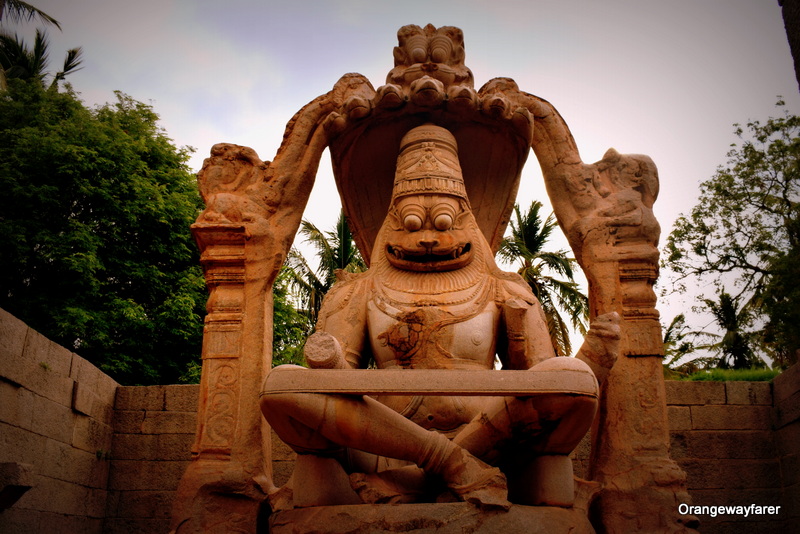 Also read: Humans of Hampi!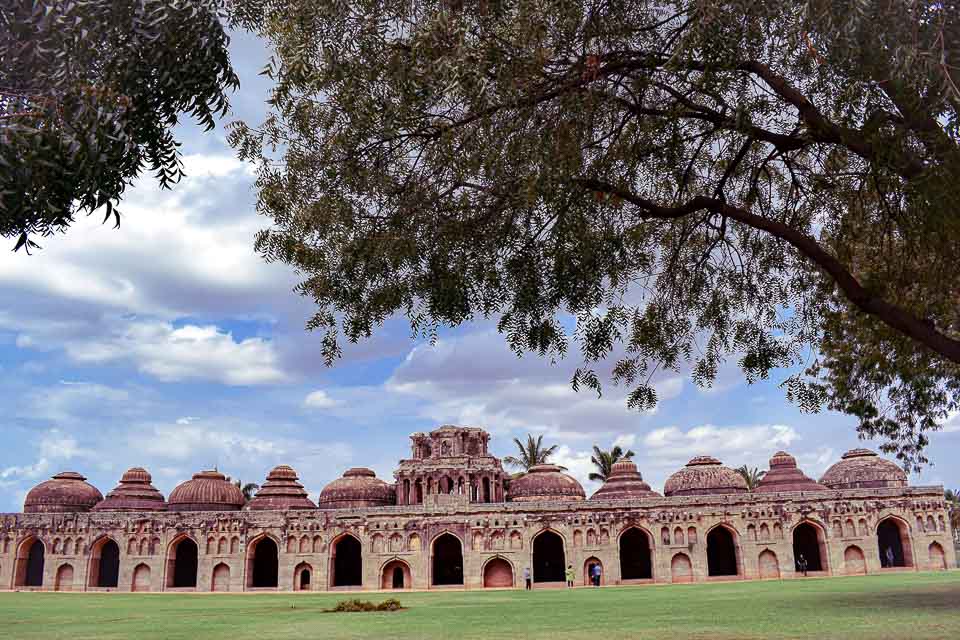 5. The elephant stable and Lotus Temple of Hampi
Somehow the elephants stable did not have to suffer much from the massive destruction that otherwise reduced Hampi to rubble by the end of Vijayanagara empire.
Each elephant quarter is huge, bigger than a standard flat size of Kolkata (bad joke, sorry humans), and does not house elephants any longer. They look very pretty in front of the sprawling green field.
Close to the elephant stable, you have Lotus Temple, an instance of Indo-Islamic architecture. The Gombuj and curves atop the roof do bring back memories of the north. "The north remembers."
Also look out for Jenana mahal, a queen's bath, a step-well (Pushkarini) in the surrounding area. These ruins are in much better position compared to the temples.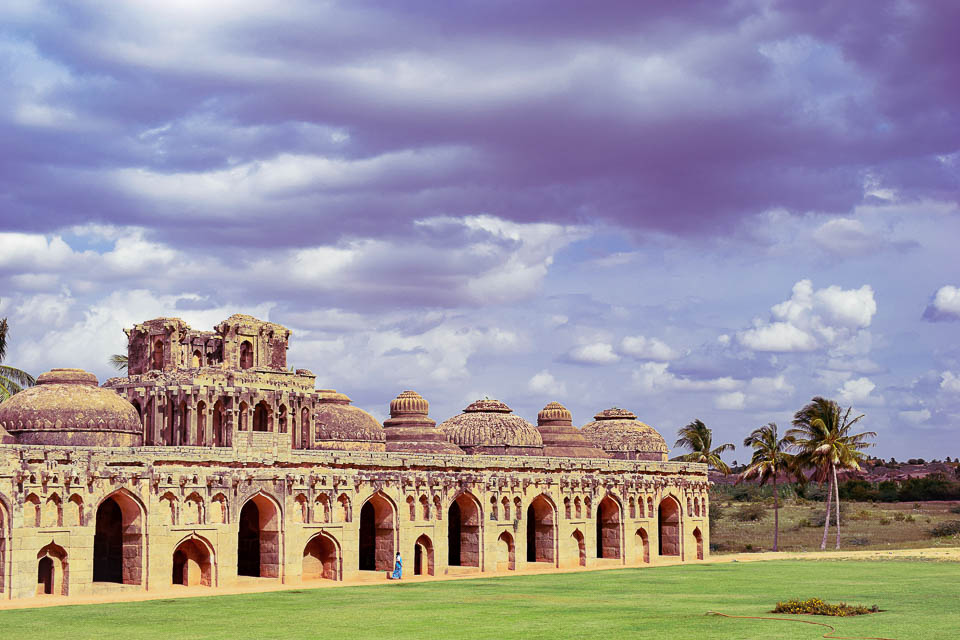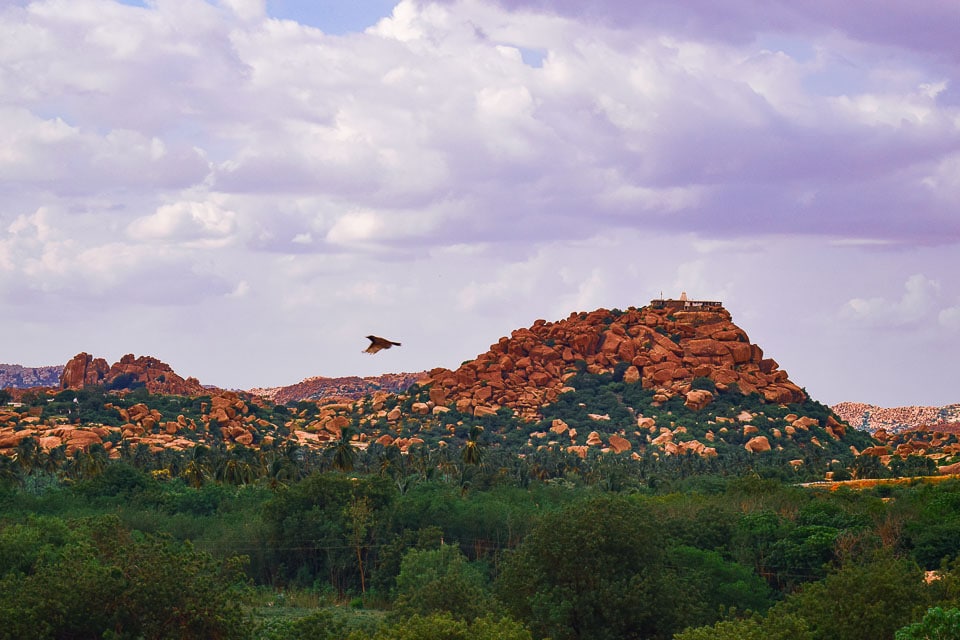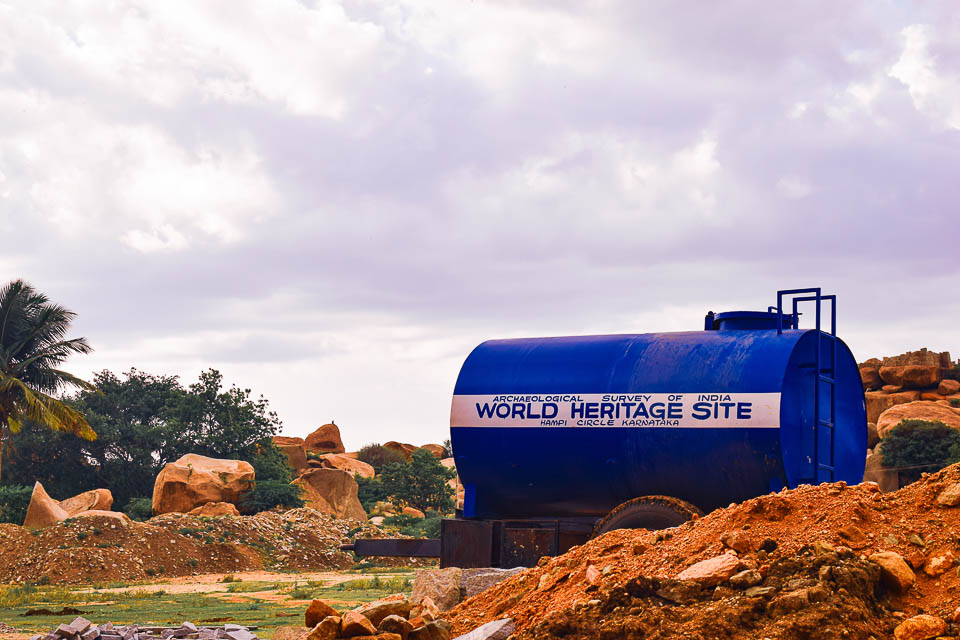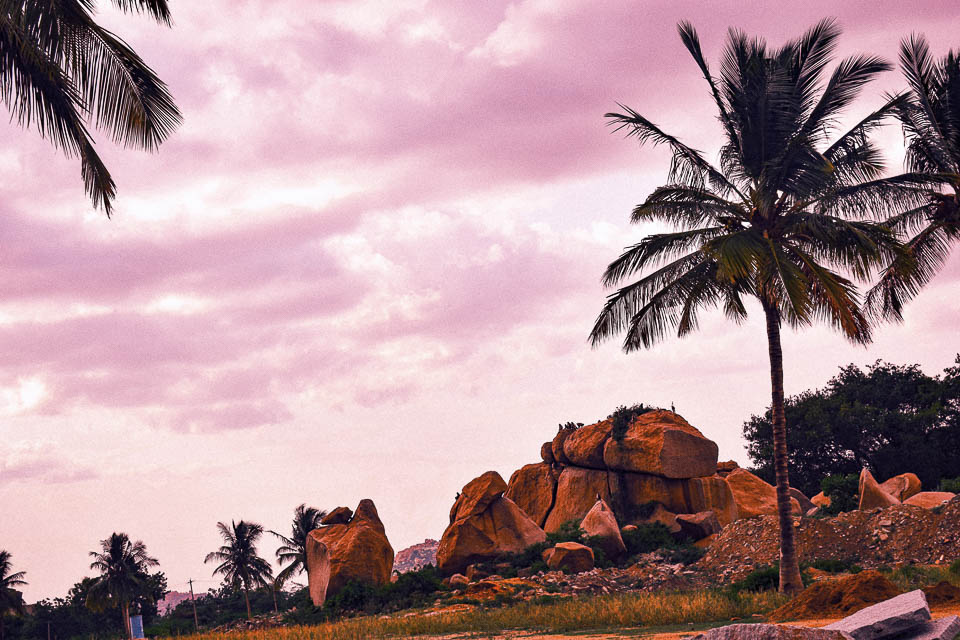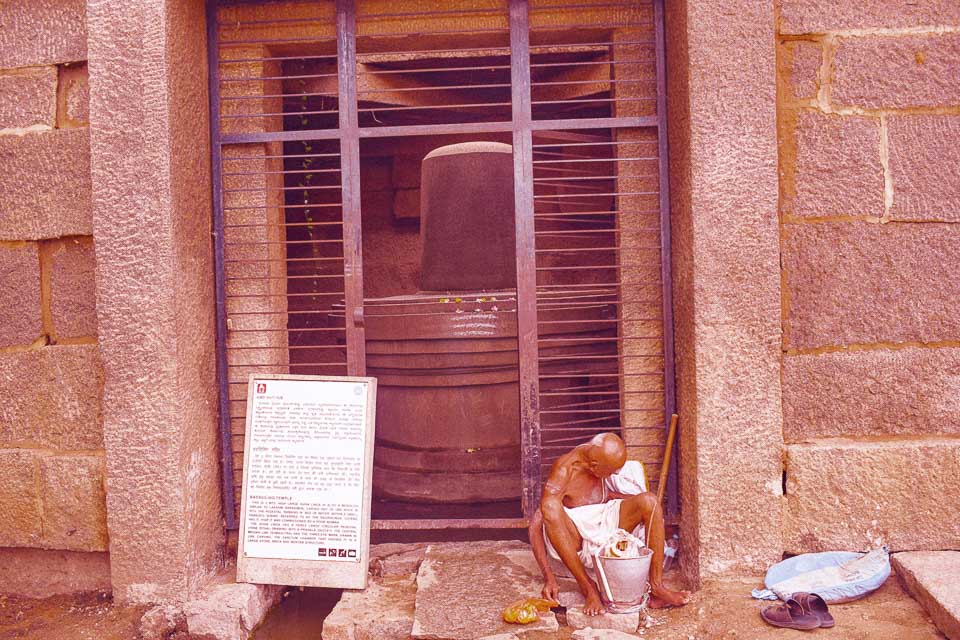 6. Badavi Linga : The Big Shiva Linga
Inside a small and dark sanctum a huge Shiva Linga (the largest I had seen in Hampi) is housed close to the Narasimha temple. Ir is maintained by an elderly priest, always in a white dress. His picture is often posted on Instagram, hugging the Shivalinga.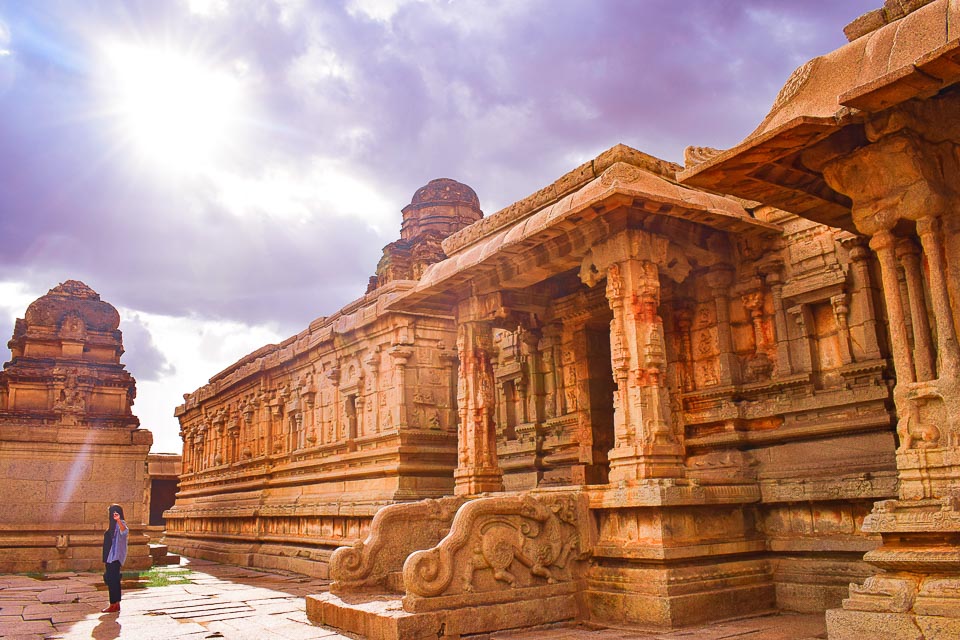 7. Krishna temple commemorating Vijayanagar's Win over Utkala
Opposite to the Krishna Market, stand the beautiful Krisha temple which originally housed the Balakrishna statue, now on display at the Chennai state museum.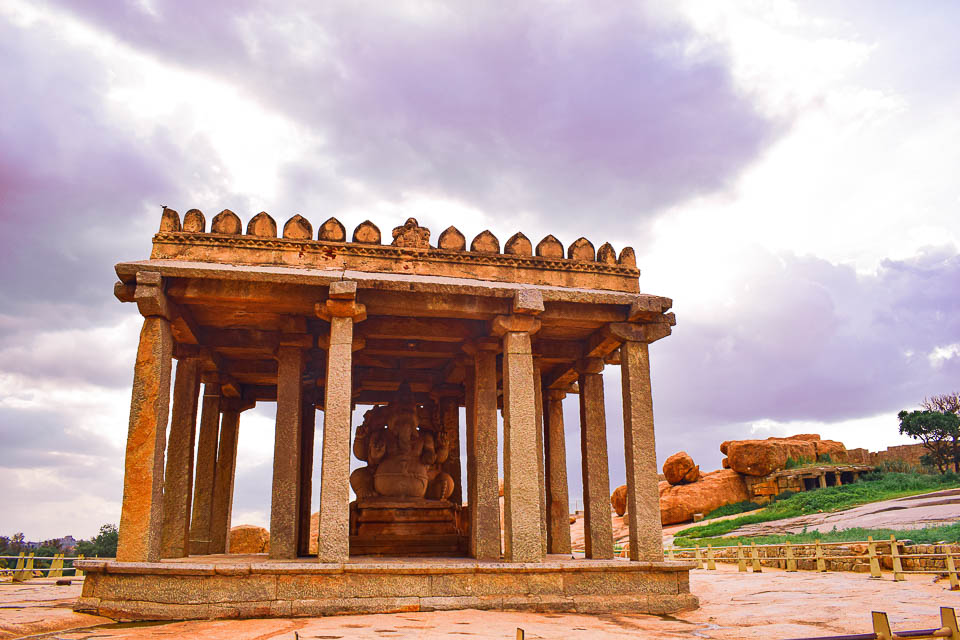 8. Sasivekalu Ganesh, Hemkuta Hills
I overheard a guide stating, this Ganesha statue took birth from a mustard seed and is still growing. He sits atop the mother Parvati, but has overgrown her with time. A snake is wrapped around his belly to reduce his growth! This story brought a smile in my face. Gods in Hinduism are very much a part of our daily family! I an an atheist but I feel these emotions in my heart! Also check out the Kadalekalu Ganesha Ganesha nearby. Hemkuta hill temple complex has a fantastic share of small yet beautiful ancient temples dating back to Vijayanagar empire.
9. Anjaneya Hill and Hanuman temple on top of it (believed to be the birthplace of Hanuman)
10. The Underground temple of Prasanna Virupaksha. I saw a huge lizard here!
11. Check out the Hampi museum by Archaeological Survey of India. This is particularly interesting for those conducting a research on ancient Hampi.
The Temple elephant of Hampi
At the Virupaksha Temple of Hampi, lives an old elephant named Krishna. Usual practice demands you go close to the elephant, it touches your head with the trunk, which is considered as a blessing and you feel overjoyed. I didn't do it. In fact, I did not see the elephant also. Temple elephants in India is a long standing practice of animal cruelty. Do not go by the evocative pictures of Krishna playing with the water of Tungabhadra. It has been broken as a baby elephant.
Also read: Rameswaram, the beautiful temple town at India's southern most tip!
The Most Beautiful Sunset Spots in Hampi
Hampi is a photographer's delight. The gigantic boulder reflects sun rays in abundance especially during the golden hour. If you can climb a bit higher, you will often be awarded with a prized view of the water, the banks of Tungabhadra river, life on Earth and the orange ball of fire on the way down (or up, depending on time).
For a gorgeous sunset picture in Hampi, you will ideally want the Shikhara of Virupaksha temple in front and the sun going down at the background.
Matanga Hill: the highest point of Hampi: Named after the sage from Ramayana, Matanga Hill is located close to the Achyutaraya temple at Nimbapura, near Hampi Bazaar. It is an easy climb of 30 minutes. Can be bicycled. Matanga Hill looks stunning during sunrise as well.
Anjanadri Hill: Believed to be the birthplace of Hanuman, the monkey god of Hindu religion, the hill derives its name from his mother, Anjana devi. Anjanadri hill is located at Anegundi, so you have to cross the river and start a bit early from the sacred ruins site.
Hemakuta Hill: Remember the hill with ethereal lights, a forlorn tree and a small temple? That is Hemakuta hill for you! It is the easiest climb among all the sunset points mentioned above, yet gives you beautiful vistas to watch the sun go down. Hemakuta hill has brilliant photo opportunities for a Hampi sunset lovers.
The Sanapur lake, on the Hippie island of Hampi. However, here you will find no ruins to reflect the glorious golden hour on your photo, hence not my favourite.
Word of caution: In case you are venturing out late in the evening, alone or at the wee hours of the day, be cognizant of the fact leopard attack is a possibility here. Try to stick to a group lest you become a palatable dinner to the wild cat!
Other places to click great photographs in Hampi!
Riverside waterborne culture of Hampi
The coracle rides, specially during golden hour and you are somewhere at a height camturing this!
Hampi Bazar
The paddy fields (specially the sunflower field)
The shepherd with his cows by the boulders. You will find this imagery multiple times in Hampi.
Also read: The ancient doors of Zanzibar!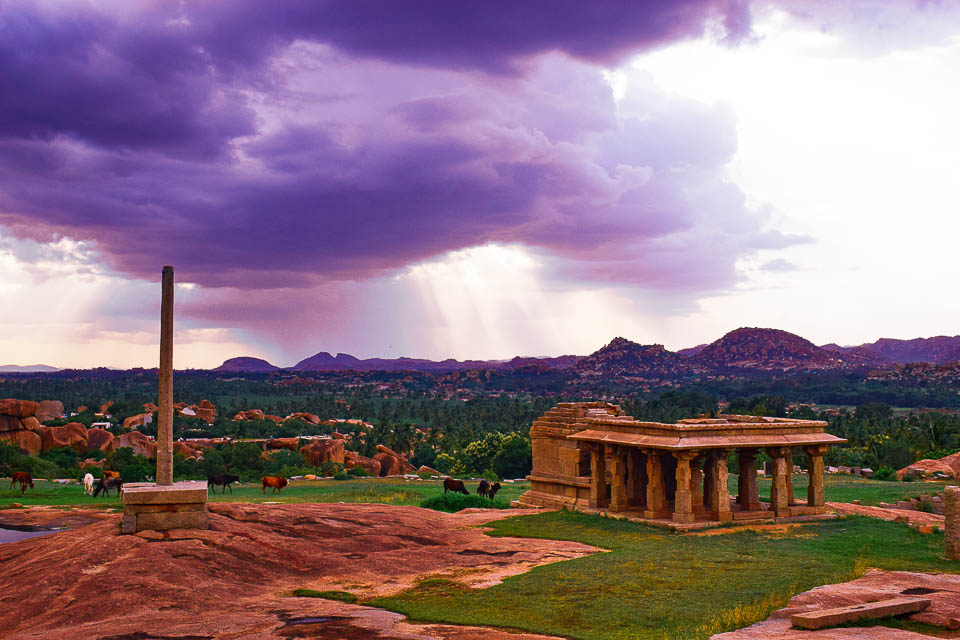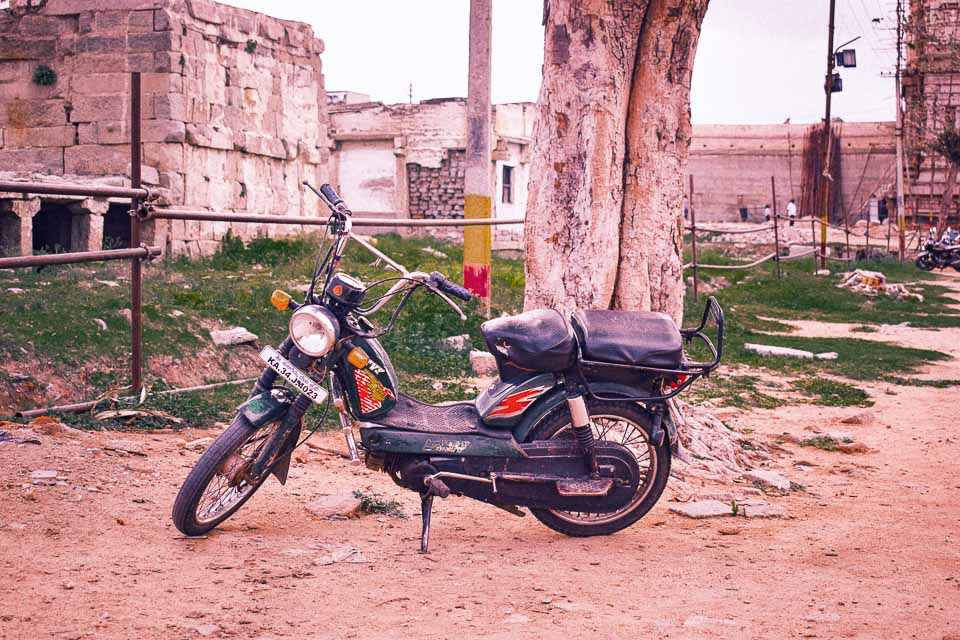 The Hippie Island in Hampi
The "other" side of the river is loosely referred to as Hippie island in Hampi. During monsoon, this piece of land often gets submerged in water.
The real name of Hippie island is Virupapura Gadde. It is a rather cheap place to stay, eat good and varied food items, explore the ruins on the other side and.. Ahem… smoke weed (?). I have only heard rumors of the latter part.
Hampi island or Hippie island is painfully beautiful. Lush green rolling fields filled with seasonal crops kissing the horizon. You climb atop a hill and experience one of the most magical sunsets in life. Life easily gets attuned to the slow, peaceful and laid back vibes of the Hippie island.
Hippie island is dotted with relics from the past. Each of them referring to various "Kaand" of ramayana. All of them invariably point towards the realm of the Vijayanagara era. The Durga temple, The anjaneya temple atop the hill, Pampa sarovar lake adjacent to the Laxmi temple. Plenty to explore in this part of Hampi as well. Local frequent here compared to tourists.
Compared to guest houses close to Hampi Bazar, Hippie island is far cheaper. Time is a luxury which is found in abundance at this place. ATMs are a rare sight. Cottages with thatched roofs double as guest houses. Cicadas claim the land at night.
Sanapur lake is only 4 KM away from Hampi island, an easy bike ride.
Also read: Bonedi barir Durgapuja in Kolkata! the century old houses of Kolkata and how they celebrate Durgapuja.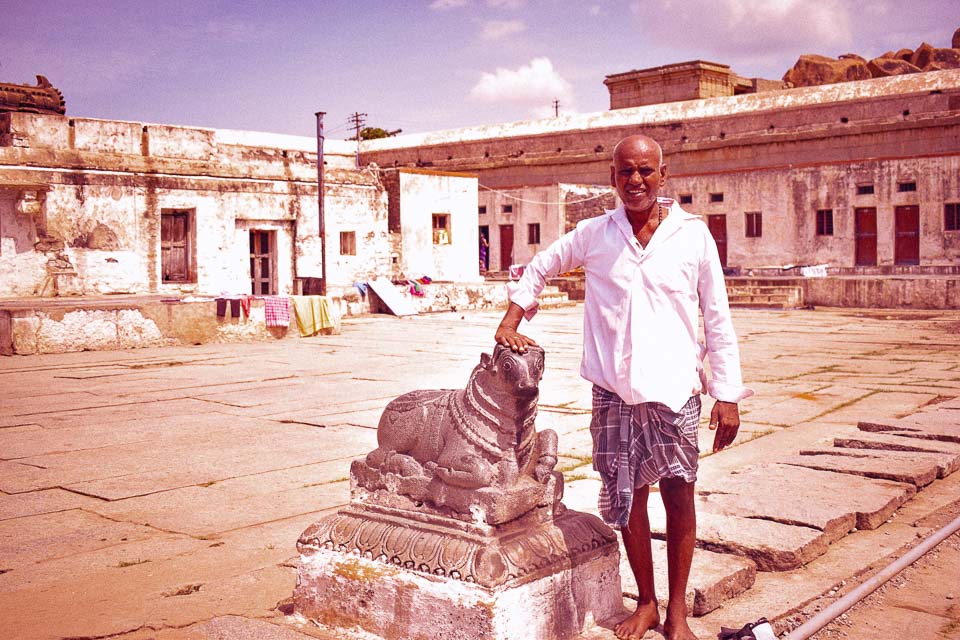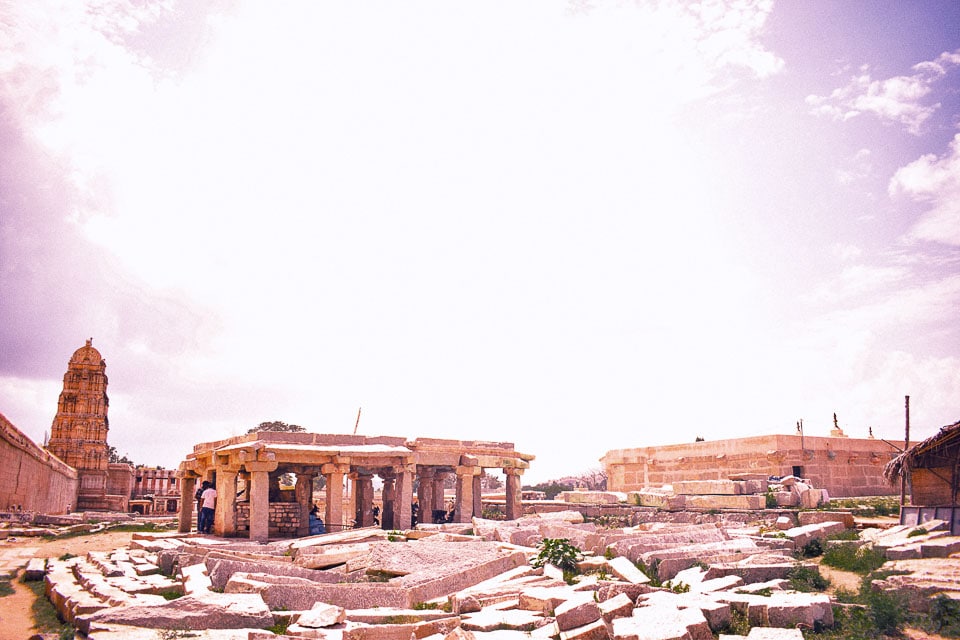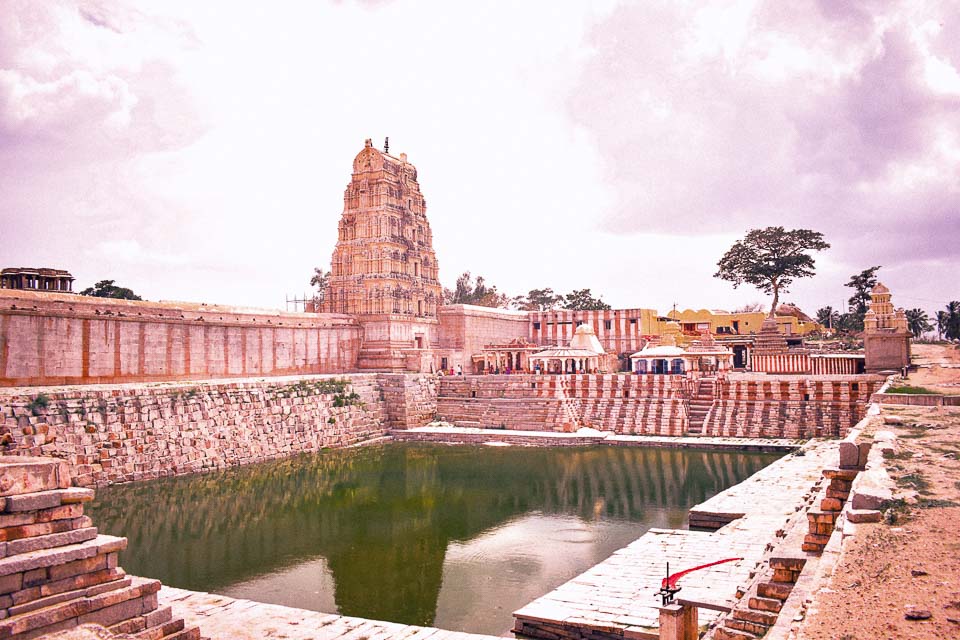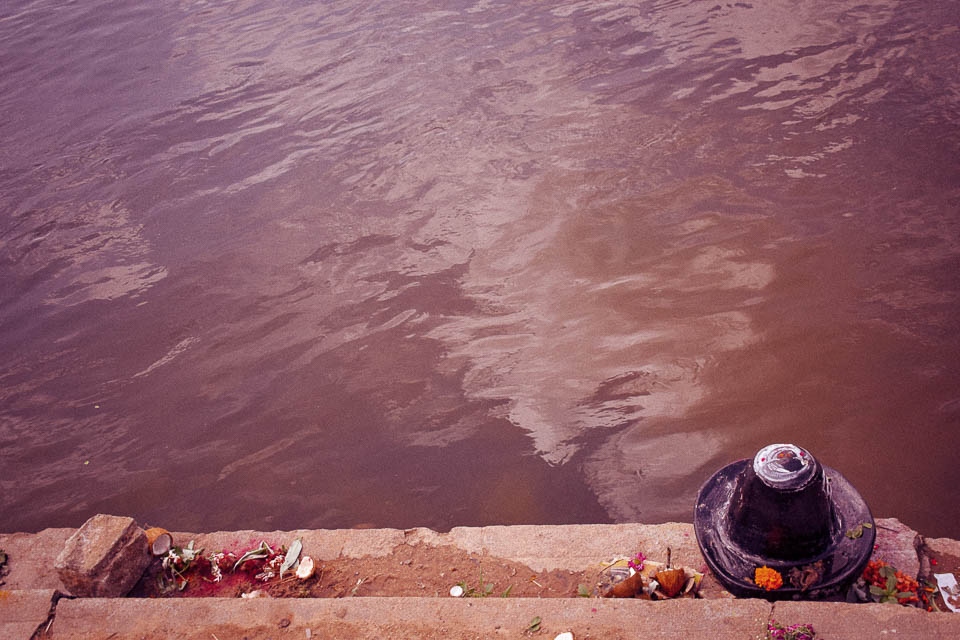 Also read: How to spend a long weekend in Goa?
Offbeat Things to do in Hampi
Rock Climbing in Hampi
With steep profound boulders all around, it is a no-brainer that Hampi will be a favorite spot among the rock climbers. While the local boys easily climb atop these gigantic rocks raising heads aiming for the sky, we would recommend you the tourist signing up for a rock climbing session. There are plenty of schools at the Anegundi site. Your home-stay is likely to be able to arrange for one. You can rent gears as well.
Where did the boulders come from in hampi? A part of the Eastern Dharwar Craton, the Hampi boulders are now decaying remains of once large monolithic mountains. However Hindu mythology associates them with a dramatic battle between Bali and Sugriv, the monkey kings. Another reference to Ramayana.
Explore the ancient Rock Paintings in Hampi
Ask your guide to show you the caves decked up with ancient rock paintings. Locals believe these paintings go back to the age of Ramayana. I am not a historian so "I doubt everything" nonetheless it is worth noting the guide's enthusiasm. It is as if he is unraveling magic! This is off the regular touristy tracks and difficult to find by your own.
Daroji Bear Sanctuary
Once upon a time when humans had abandoned Hampi for good and nature prevailed at large, regular residents of the rocks and caves were wild boars, leopards and sloth bears. With tourists now revisiting parts of Hampi and business sprawling, man-animal conflict was on the rise. Government further assigned a specific area for wild animals. Daroji Bear Sanctuary is one small national park that houses close to 100 sloth bears in it, safe from human habitat and tourist places. The bear sanctuary is open from 2 pm to 5 pm. Sloth bears often come out and lick jaggery off the boulders. You need to pay INR 500 for the entry fee. Go with a camera or binocular for better view.
Explore the Sanapur lake
If you love being close to the water, visit Sanapur lake side. It is close to the famous Hippie island in Hampi. There is a place for cliff jumping at the Sanapur lake. They might scare you saying there are crocodiles in the lake but I heard this is to scare off the drunkards only.
Ankasamudra bird sanctuary
Located 40 km off the ruins of Hampi, Ankasamudra is an upcoming birding destination in the state of Karnataka. During monsoons, trees are submerged in water and it makes for an ethereal sunset spot. You need to drive to this place and we recommend you have your own car.
Wander off to a nearby village
At the risk of repeating myself, I have never seen people anywhere else in India as amiable as those in Hampi. I wandered off the paved route in more numbers than ever. Stopped by the sunflower fields. Stopped by the paddy fields. Could never get enough of the children frolicking around the gigantic boulders. I often forgot the route map provided and the trail leading to the temple ruins.
The abundance of life makes up for the eerie emptiness at Hampi monuments. Those remain the most prized moments from my trip to Hampi.
Proceed further and explore more beyond Hampi
Close to Hampi, there lives a few more astounding ancient monuments. You can explore them if you have a couple of days more to explore. I have not done this yet but this remains high up my bucket list:
Badami: Cave temples from fifth century
Pattadakal: UNESCO world heritage temple
Bijapur: Famous for the Gol Gombuj
There is also a winery by KRSMA estate close to Hampi.
Lepakshi: cluster of ancient Hindu temples
Belgaum: famous for the sweet named Kunda in Karnataka
Visit Tungabhadra Dam and adjacent garden
Tungabhadra dam is also known as Pampa Sagar. It has an adjoining garden and sunset is beautiful here. Visit during monsoon to see the dam in full prowess. I loved this since I am a fan-girl of rivers around the world!
Also read: Offbeat yet fun things to do in Goa!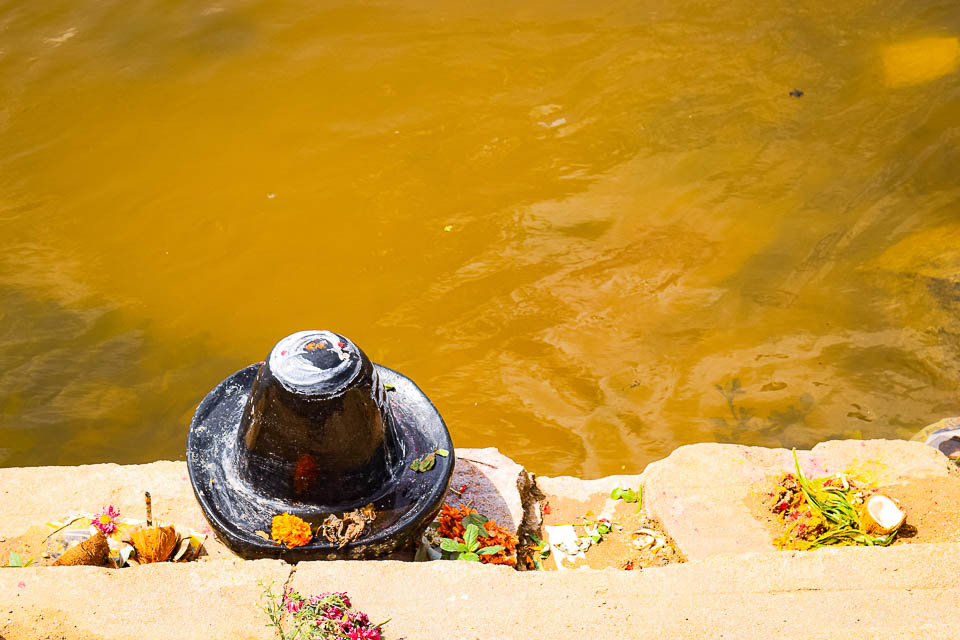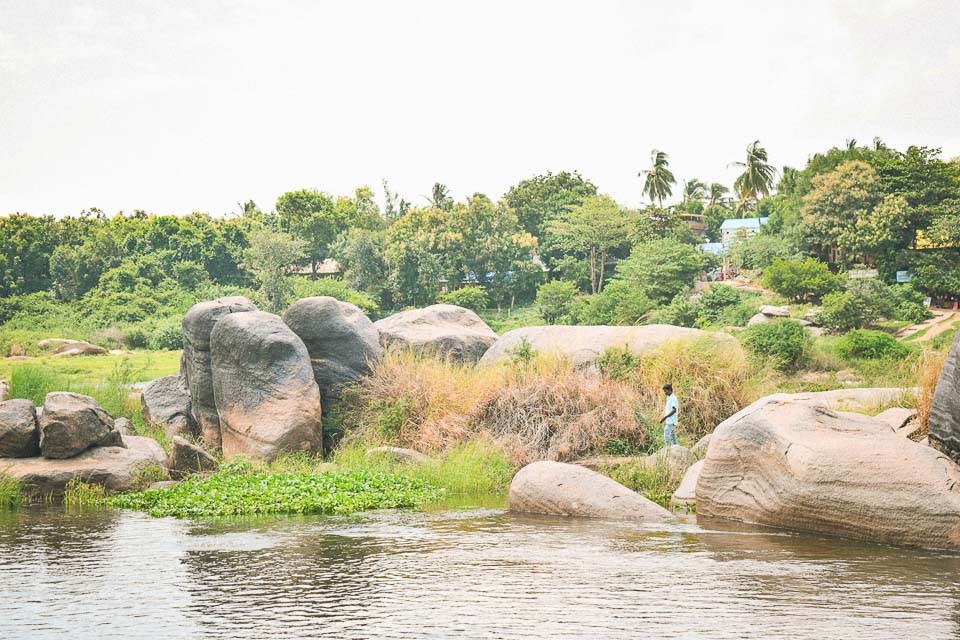 Public Transport in Hampi
You can not compare Hampi's public transport system with that of a large metro city, say Bangalore or even Udupi. Yet, if you plan ahead, you will be able to explore Hampi without renting a car.
Rent a Bike in Hampi
If you love the freedom of having a car yet do not want to shell out as much money, I suggest rent a bike. Renting a bike in hampi is similar to that of renting a bike in Goa to explore her beaches. It is as cheap as INR 300 a day and petrol is on your own. If you are two people exploring Hampi, this is a very sweet deal for a day. 
Cycling in Hampi
Check with your guest house and you may be able to rent a bicycle. Hampi roads are nicely paved and perfect for cycling however Sun scorches bright at times and that is stressful. Carry water and sun guard accordingly.
Hire an Auto Rickshaw
This is the easiest way to go around in Hampi. Oftentimes, the auto drivers know what tourists want and they deliver exactly that and even more. I paid INR 600 for an auto ride back in 2017 for 6 hours. I think prices will increase now but a good bargain might just land you a good deal. For shorter distance, an Autoride must not charge more than INR 70 to 100.
The Bus for Hampi Site-seeing
There is a government bus that runs from Hospet to Hampi every 15 minutes from morning 8 am. The last bus leaves Hampi Bazar at 6 pm. It costs a mere INR 15 bucks and drops you at the Hampi ruins you need to visit. Go to the conductor and pay your fare before taking a seat. That is how they operate in Karnataka.
Boat to cross the other side of Tungabhadra River
The round boats, coracles, mostly cater to tourists. For a cheaper transfer to the other bank of Tungabhadra river, trust a water taxi. Ferries are close to Hampi Bazar. A one way ferry transfer is not more than INR 50. The last ferry leaves at 5:30 pm. After which, you need to pay a pricey fare to an auto to cross the bridge and visit the other bank.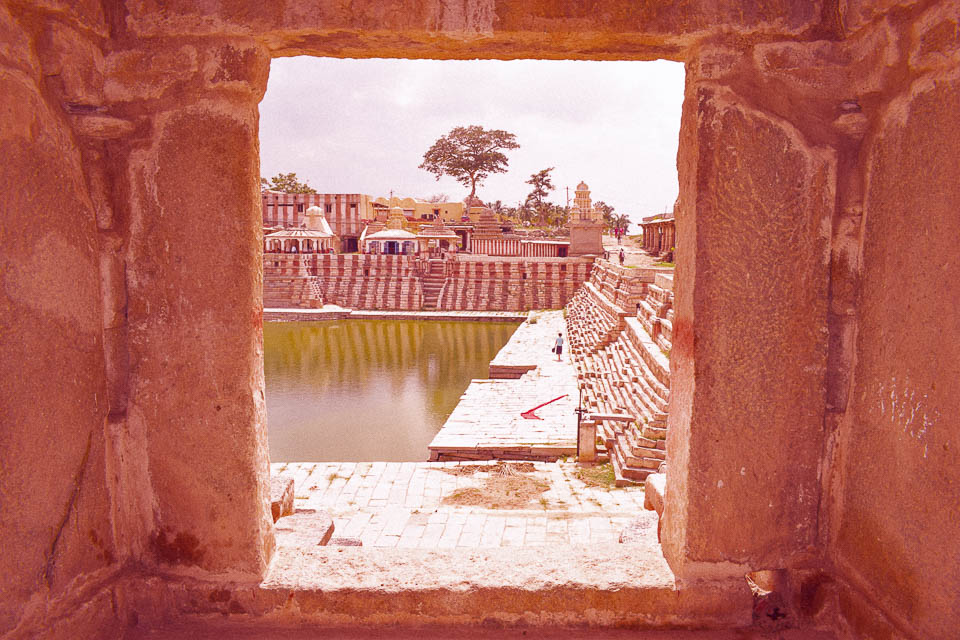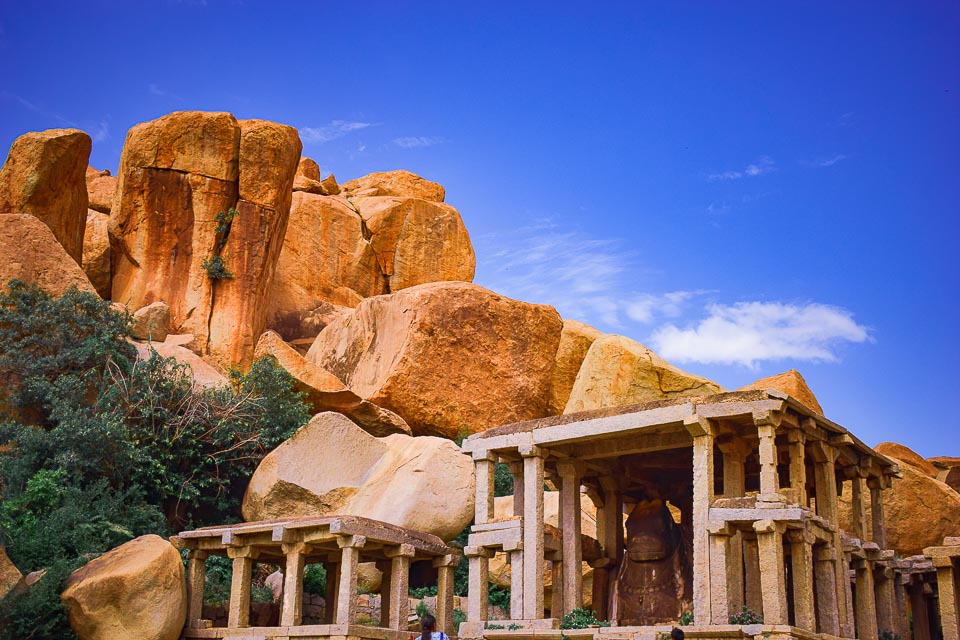 Also read: Bonedi Barir Durgapuja in Kolkata!
A foodie's Guide to Hampi
Guide to the best cafes and restaurants in Hampi
In Hampi, like the rest of south India, you will be served with piping hot Dosa and crispy fried vada and delectable steamed idli almost at every corner. Add to that a spread of tropical fruit. Green coconuts. Grilled corn served with a side of fiery hot green chutkey. And peanuts. These are the regular street foods in Hampi. I find them filling, hygienic since they are mostly cooked in front of me, and surprisingly affordable.
For a good dine in experience, I recommend the following restaurants.
At the sacred ruins side of the river
Tamarind Tree
The Mango Tree
Funky Monkey
Sagar Hotel
Tibetan Kitchen
At the Anegundi side of the river
The Laughing Buddha
The Goan Corner
Ujwal Sunrise Cafe
Sasi restaurant (with great view of the river)
A few must try dishes in Hampi: Mirchi Bhaji (fried chillies), Filter Kaapi (the iconic local coffee of Karnataka), Appe, banana flower curry (local delicacy in Hampi).
Over the time, Hampi has developed an eclectic gourmet culture. A lot of the credit goes to inbound traffic coming all the way from Goa. You will be now finding restaurants catering Tibetan cuisine, Israeli cuisine, even Pizza at certain places.
The area surrounding Archeological ruins of hampi is a no meat and no alcohol zone. For meat, fish and alcohol you need to visit Anegundi or Hospet. Anegundi is closer and serves fresh catch from the river.
In lieu of branded alcohol, please do not drink local moonshine unless you know what you are getting into.
Please note many of the restaurants, especially those close to the Hippie village remain closed during monsoon, thanks to overflowing Tungabhadra. Plan your trip accordingly.
Best time to visit Hampi
Hampi is sweaty hot and Humid for all the year around.
It is best to visit Hampi during the dry season, post monsoon. From October end to February is the perfect time to explore the old ruins of Hampi and even go for bouldering.
However, I visited Hampi during July/August. I was lucky that it did not rain even though the sky was overcast. Many restaurants, guests houses are closed during peak monsoon. So do call them up before visiting. Muddy roads and uneven murky trails could be a challenge too. Rock climbing in Hampi is a distant possibility during monsoon.
Where to stay in Hampi
The place you choose to stay in can make or break your experience in Hampi. Check out Booking (.) com to find preferred stay in Hampi at good value prices.
Heritage Resort Hampi, somewhere midway between Hampi Bazar and Hospet
I chose to stay at the Heritage Resort Hampi. (Check out here). I will list out the pros and cons.
Pros:
Beautiful stay at a villa with a pool and decent but pricey in-house restaurant. Highly recommend this place if you are traveling with family and have a mid budget estimate. A short walk from the main road and easy to use public transport as well. Upscale stay near Hampi.
Cons:
Far off from the sunset spots.
You are better off to stay at Hampi heritage resort with a car. Though I did not have a car and I could easily access public transport of Hampi.
Absolutely nothing to do here at night.
Similar Luxury and Upscale properties near Hampi
Clarks Inn
Hampis Boulder Resort
Hampi Bazar
Hampi Bazaar, in short, is the nerve center of today's Hampi. Many small guest houses are located close to Hampi market. Some of them have amazing views over the river. Hampi does not have any hostel per say but these guest houses have similar facilities and prices.
Pros of staying close to Hampi Bazar:
You are close to the market place hence you get to see a lot of people. Very close to the archaeological ruins. Walk-able distance. Great for morning photo-shoot.
Cons of staying close to Hampi Bazar:
People. A lot of them. I would just leave it to that!
Best guest houses to stay close to Hampi Bazar:
Hampi island
Hampi island is idyllic and laid back as I had described before. Staying here automatically translates to staying close to nature.
Less people. Peaceful. Really cheap options. Away from local tourists. Nature reigns.
Nothing much to do at night. Limited option to go out after sundown. You have to cross the river to reach Hampi island. Crossing river makes you time bound since the last ferry leaves at 5:30 pm. After that, you need to take a long turn and detour to reach the bridge. That said, Hampi island also has some of the best subset spots in Hampi.
Hospet
If you love living close to a city and can not let go of the urban pleasures of life, Hospet is your choice. It is also great value for money. Every morning, a bus eaves Hospet for Hampi. The journey is for 30 minutes. It is a good idea to make Hospet your base and travel to and fro to Hampi. You will always get a return bus from Hampi Bazar to Hospet. You can easily rent a bike as well. Hospet has many hotels and restaurants close t the bus station.
Camping in Hampi is allowed at designated camping stations only. You can not and should not camp anywhere in Hampi since the group of monuments is a protected area and often frequented by wildlife at night.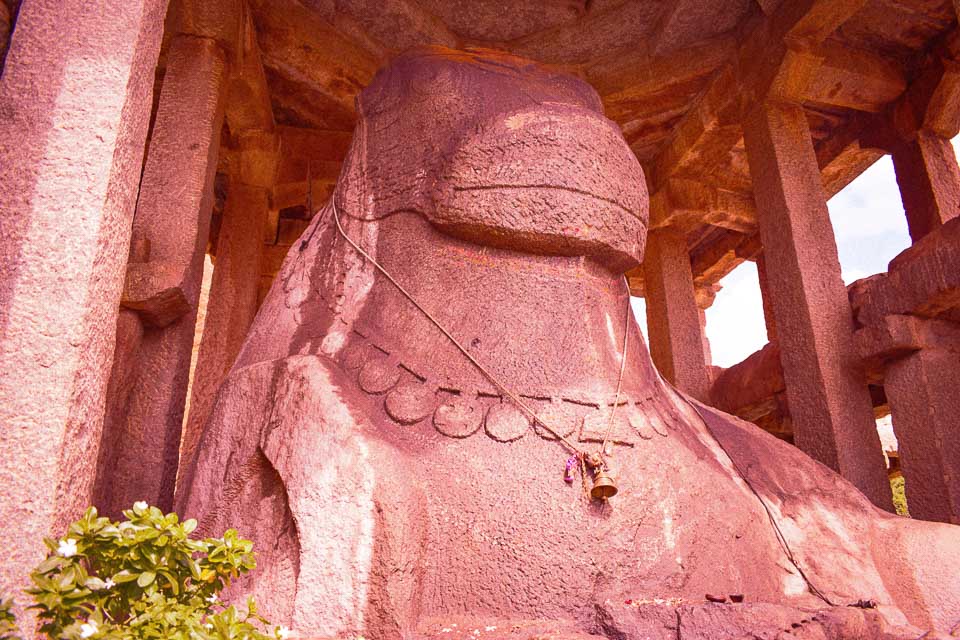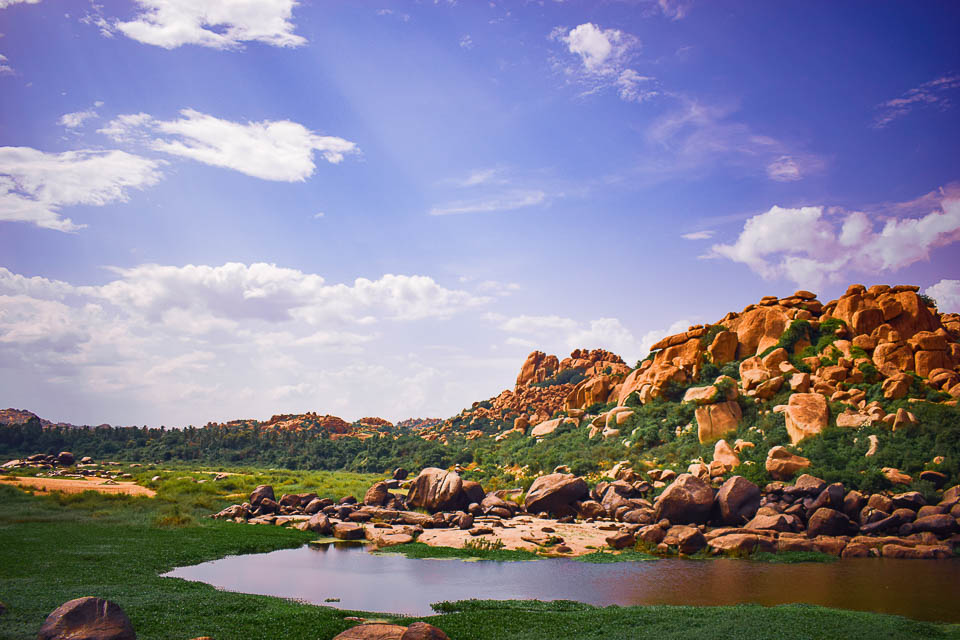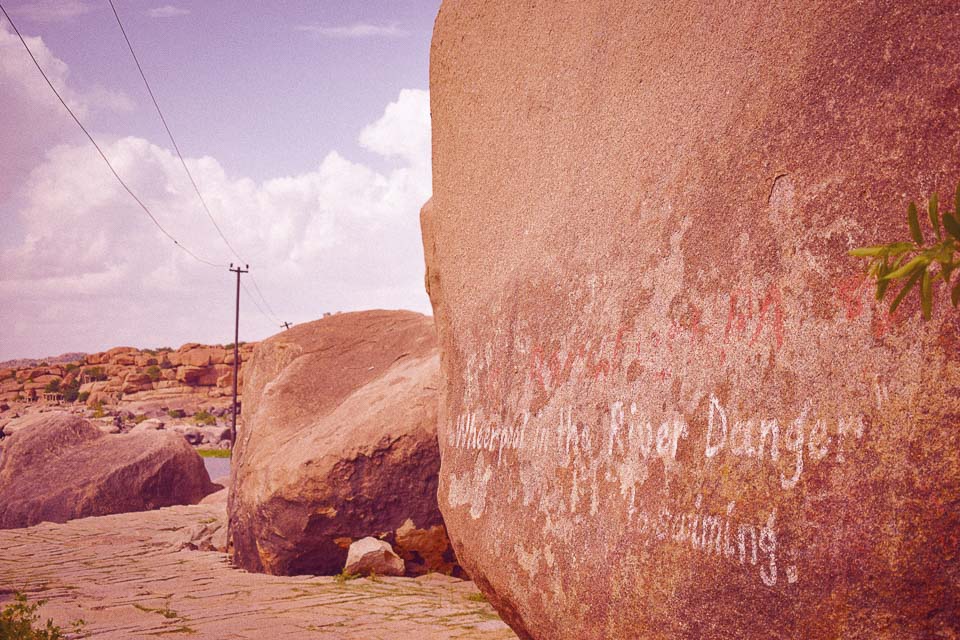 Also read:
Things to know before Planning a Visit to Hampi
Timing for visiting the temples and ruins
Most of the temples in Hampi are open from sunrise to sunset, from 6 in the morning till 6 at night, roughly. None lives in the archaeological zone and you will be asked to leave premises after sundown by the security guards. Leave. The rocks and old lakes are deserted at night by humans but not by the sloth bears or the leopards. I know I am repeating these words but this is very important.
In the afternoon, there is a recess time from 1 pm to 2:30 pm. Avoid entering the temples at this time and get done with your lunch break (or experience nature's bounty around Hampi).
What is the entry fee for Hampi temples?
To enter the temples of Hampi, you are not required to pay anything. Maybe a slight charge if you are carrying a camera. However, a few temple complexes do charge a minimal fee (less than a USD) per person. This ranges from INR 30 to INR 50 and often comes with an electric car plying you for a few KM distance. I think it is worth it.
Follow a respectable dress-code for Hampi
There is no set dress code in Hampi however I strongly recommend to dress up modestly.
These are ruins but these are temples and heavily revered amongst the locals. A few of the temples are worshipped till date. You need to cover from shoulder to knees and enter the sanctum.
In rural India, modest clothing can help you cross the bridge easily and foster true friendship which leaps the curious first impression. "Extra" skin show can bring a lot of unnecessary attention and that at least makes me feel uncomfortable.
Besides, the Sun is horrid in Hampi. You need to cover up to save your skin a few unwanted blisters and rashes ( I do).
I always carry a scarf during my travels. A scarf has many utilities from cleaning my camera lens to wiping sweat to saving my modesty which outrages deep seated patriarchy. Everywhere. EVERYWHERE around the globe!
There was no rule for barring entry to followers of different religions. I had seen this practice of entry allowed for Hindu only in the temples of Bhaktapur in Nepal, another UNESCO site on the ancient silk route and Madurai temple in Tamilnadu.
Potable water in Hampi
You can fill up drinking water at various spots. One place I know is close to Virupaksha temple. They charge you INR 2 for a liter of water bottle. This saves a whole lot of single use plastic bottles.
Festivals of Hampi
The might and splendor of the ancient Vijayanagara empire is remembered through Hampi Utsav or Vijaya Utsav. The festival takes place every year in winter and date and time are announced on the Karnataka tourism website. Do not miss out Janapada Kalavahini, celebration of folk dance and other artistic performances.
Mobile Network is bleak
Internet /wifi /smooth mobile network is still a luxury in Hampi. Specially applicable if you choose to stay at the riverside cottages and small guest houses. Please adjust accordingly.
No Meat and No alcohol Zone
Hampi archaeological site is a meat free and alcohol free zone. You may get some egg though for a meal.
Women on period/ carrying leather products inside a temple
Many people frown if you are a woman and on your period and entering temples. Sometimes, it is explicitly mentioned. Carrying a leather bag is not permissible also since most of the leather is derived from cow skin. And cows are holy in this part of the world.
Prasad/ food offerings from the temple
Many of Hampi's 2000 odd temple runs are "living". Worship does take place here every day. In case you are visiting one and offered an "offering", a morsel of food, accept that with gratitude. It is an easy way to show respect and assimilate with the locals. It can be a sweetmeat or a banana. Do NOT throw this.
Photo Etiquette
Asking for permission will take you a long way!
While locals in Hampi are the cordial lot, know your limit. Photographing women taking a bath by the riverside is not culturally acceptable in India. Before you click a picture of a man performing a Puja, ask for permission if you can click him. More often than not, it is awkward for the uninitiated to face a camera lens in between regular errands. This holds exceptionally true as you venture in the local habitat of Hampi, off regular tourist trail.
Things to be aware of to be safe in Hampi:
Do not take a guide if you think he is being unnecessarily pushy.
Do not venture into the road at night since leopard sighting is a regular thing here. Snakes too.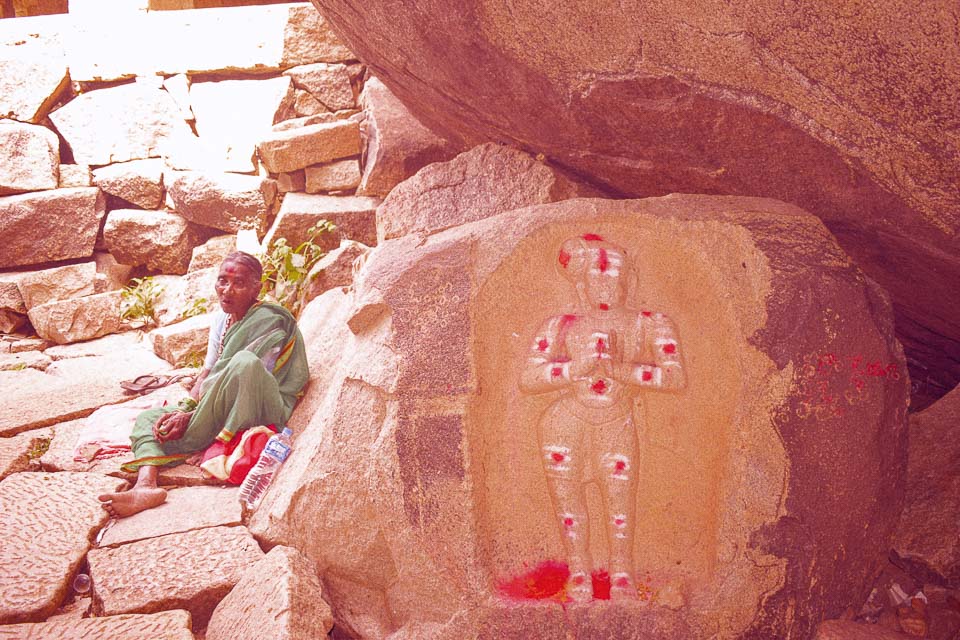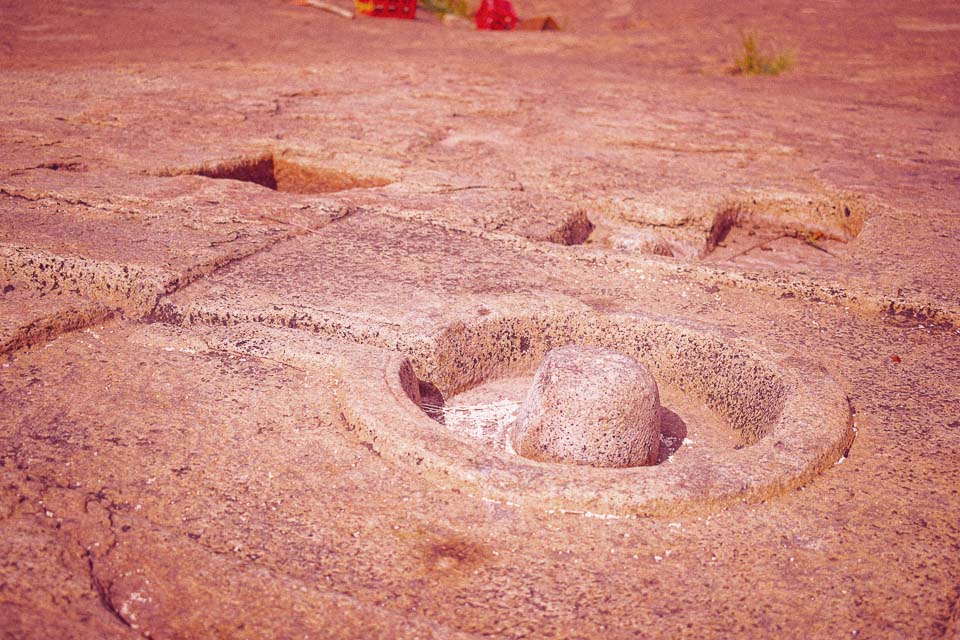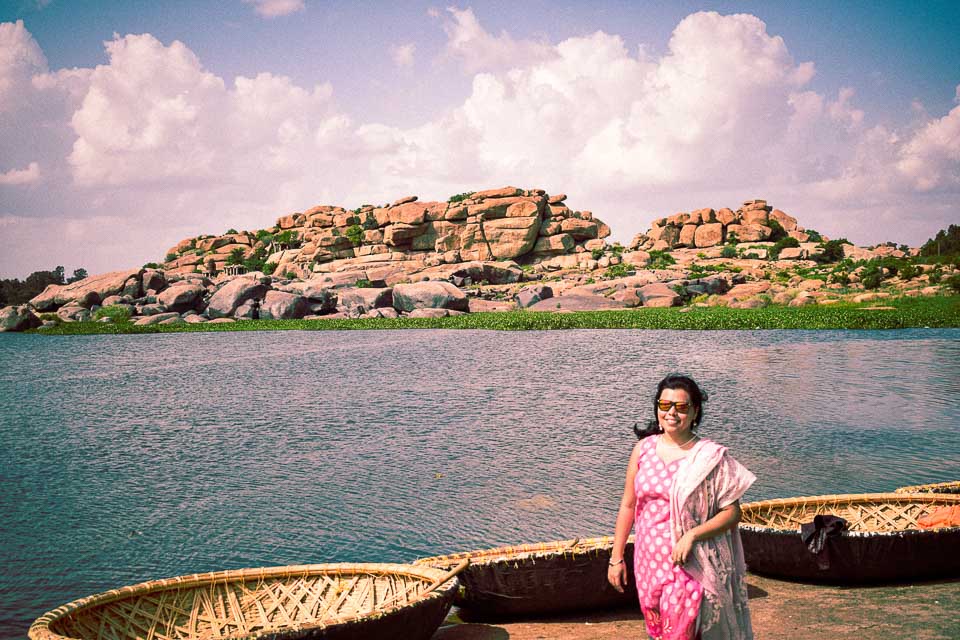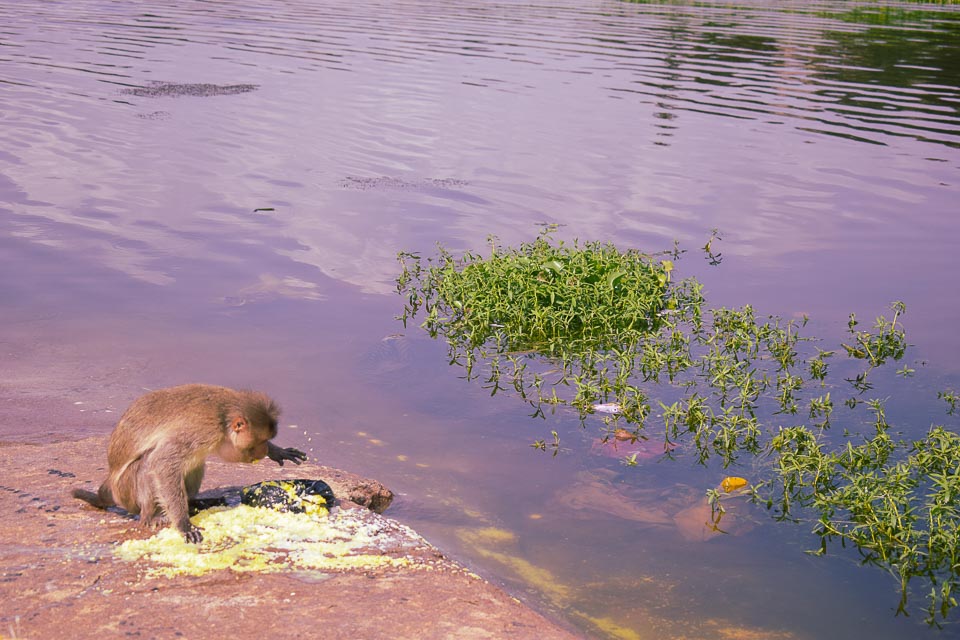 You have probably seen a few movies already which were based in Hampi. Rowdy Rathore (Bollywood), The Myth (Jackie Chan starter from Hollywood) are some of the prominent movies in the list.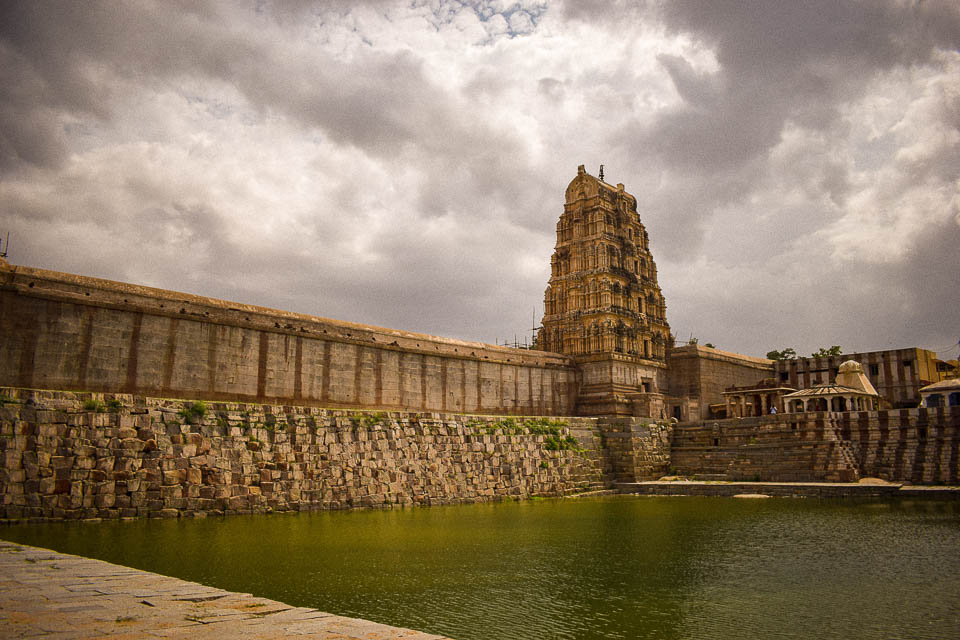 An Approximate Budget for your Hampi trip
Set aside INR 300 for food and INR 500 for lodging. Another INR 200 for using pubic transport and miscellaneous. This is the bare minimum you need to spend in Hampi on a daily basis.
Hampi is not an expensive area even though nowadays it is overrun with tourists (I mean pre lockdown). The backpackers' huts or guest houses are mostly budget friendly and of great value for money. Think less than INR 1000 per night.
If you hire an auto rickshaw for local commute, and they are found aplenty, you are expected to pay not more than 600 rs a day. For shorter commute, the price is even lesser. If you are lucky enough to catch the government bus that goes from Hospet to Hampi Bazar every day, multiple times during sunny hours, you will pay not more than INR 20. That deal is the sweetest!
The Coracle rides being a touristy thing will charge you more than the regular boats that locals use to cross Tungabhadra river. Look for the local ferries.
Bargain hard when in Hampi. Locals are helpful, honest and friendly. Those associated with tourism business will try to charge a higher price but once you settle on a good price, you will remember their hospitality for long.
If you are willing to eat food from street-side vendors, you will be surprised at the price. Its affordable and decently hygeinic. For eating at the established restaurants, prepare to shell out 300 to 500 INR per meal per person. In case your (local) driver is taking you to a dining place, chances are his meal will be complimentary from the restaurant.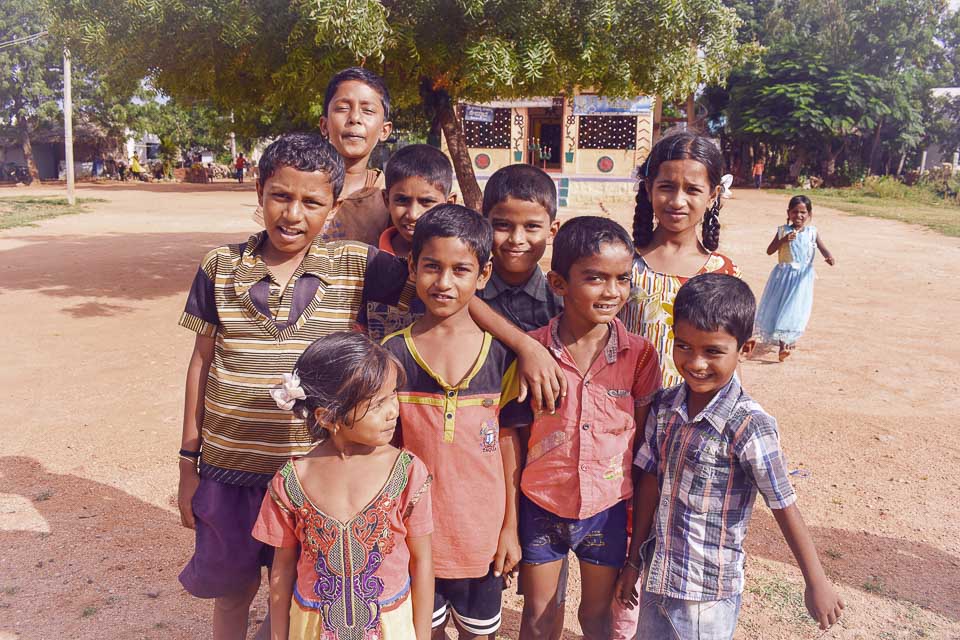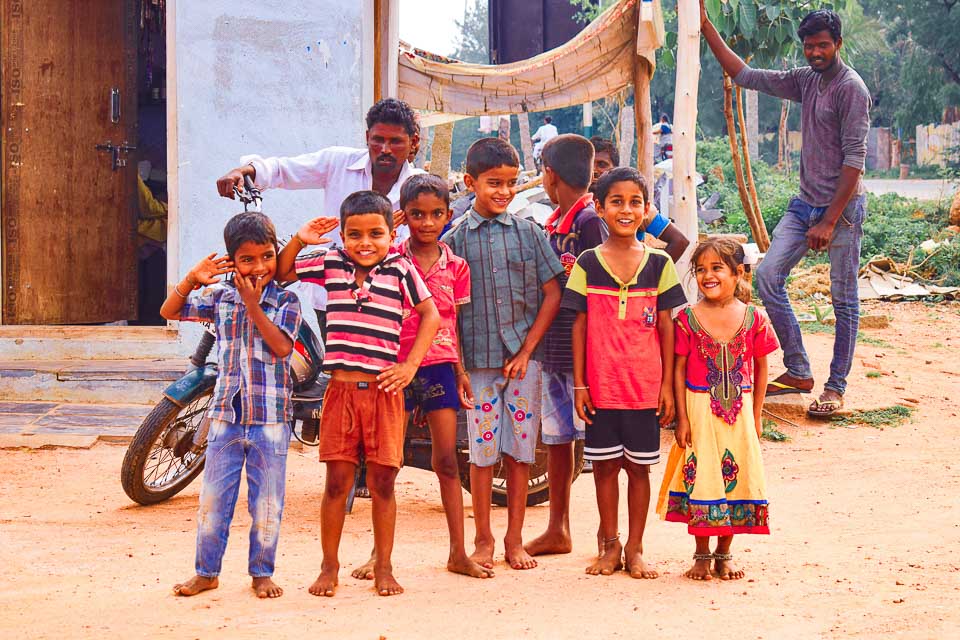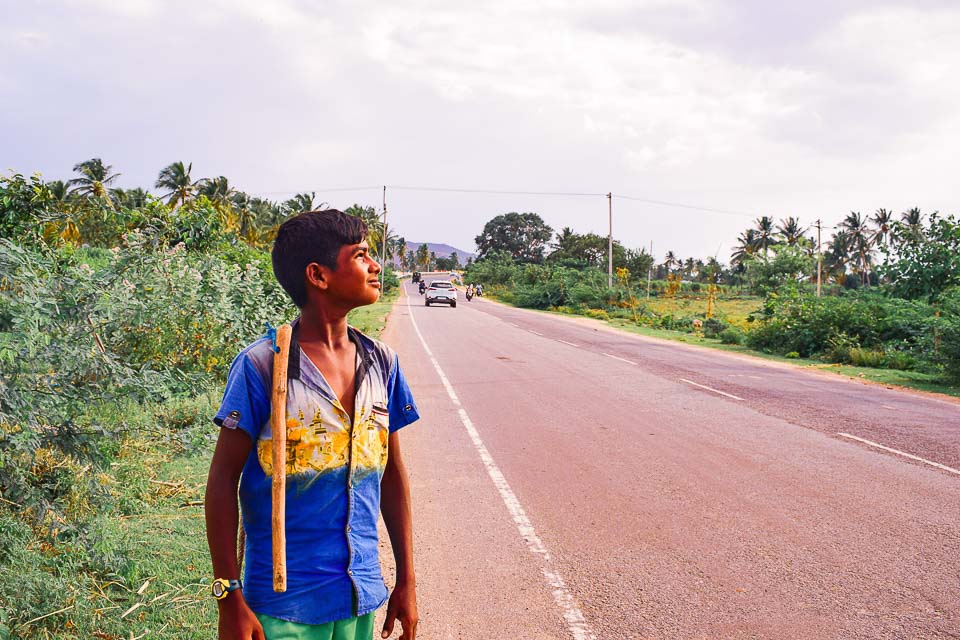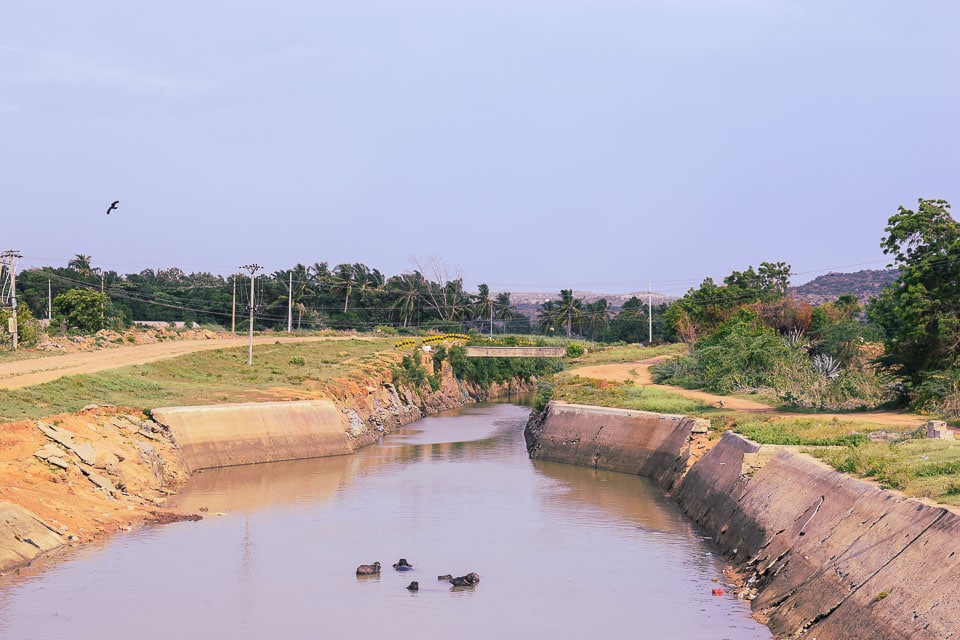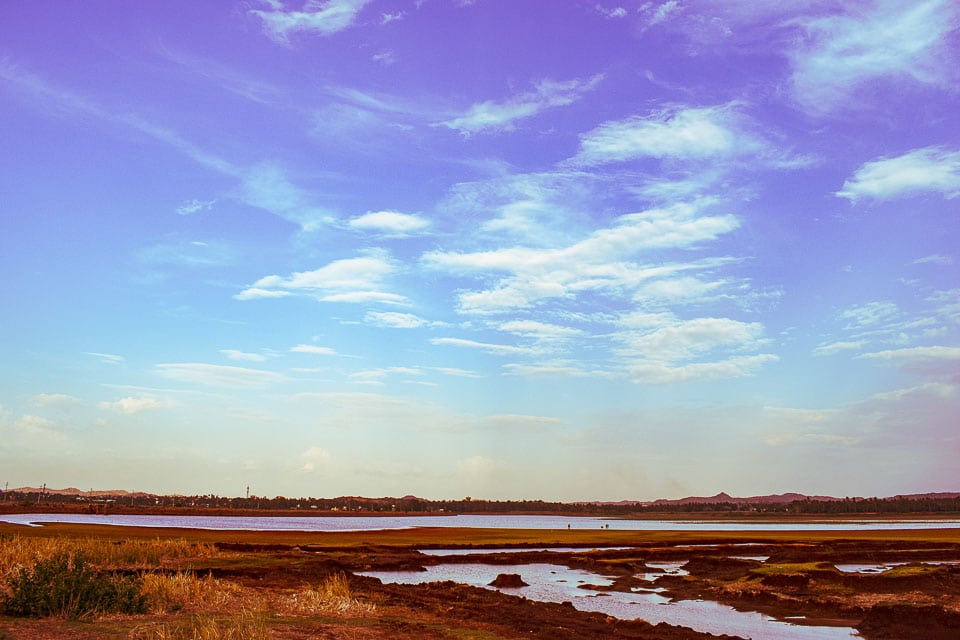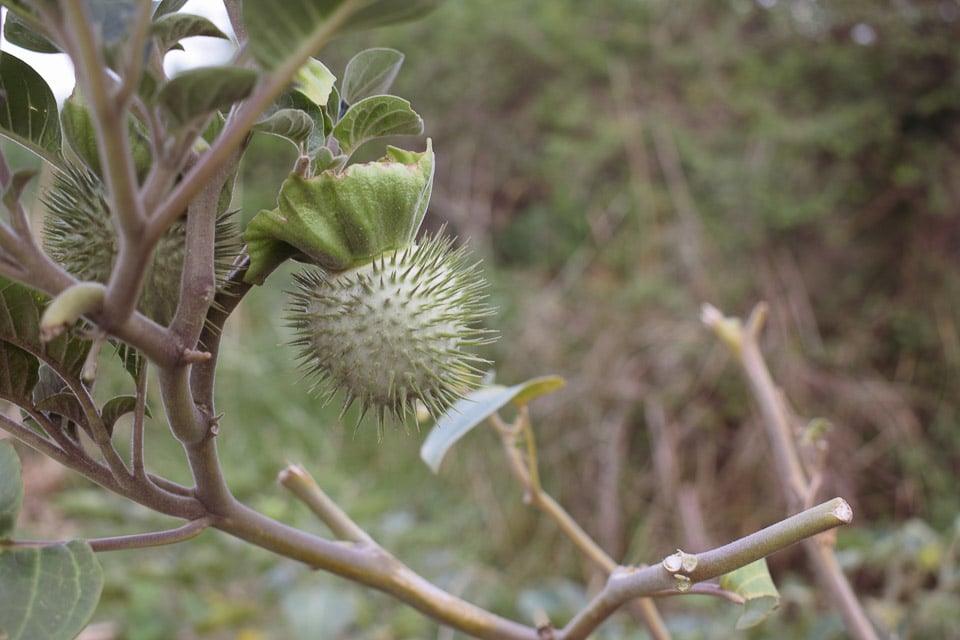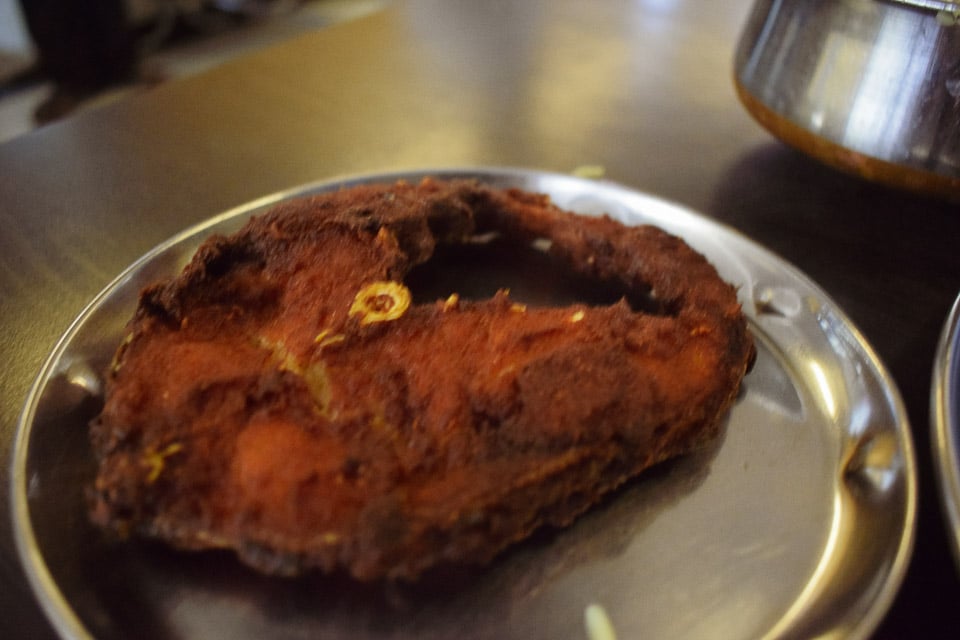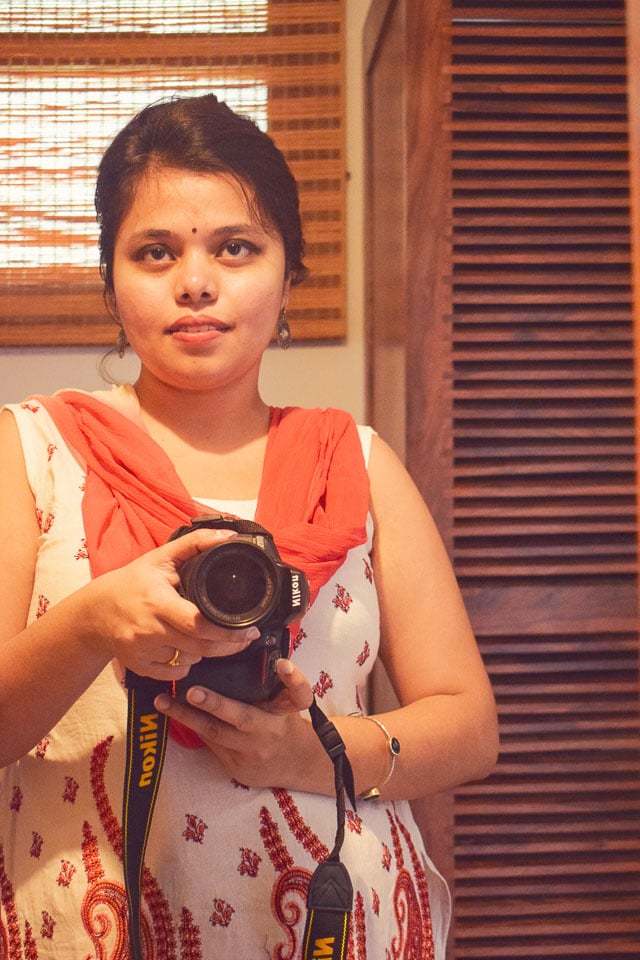 FAQs about planning a trip to Hampi
1. Is Hampi a safe place for travel?
I traveled in Hampi as a solo female traveler. I dropped off the bus midway to shoot sunset by a forlorn water-body. On the way back, I found no bus or auto to get back to my destination. An auto plying locals stopped midway and gave me a lift. He did not even charge me money. When I asked why so, he said, "Why are you walking alone?" I assume people are concern for solo travelers, specially female, being solo at forlorn places and goes out of the way to help you.
Just do not venture alone at extreme off the route and you will have a great time in Hampi. Women I met in Hampi were always extra loving and extra caring, specially when they see a "madam" walking alone with a camera. Forever grateful to those smiling faces who invited me to share a plate with them at the picnic spots. Women in rural India are incredible and more. There lies the soul of my big old beautiful country. Period.
2. What is the language spoken at Hampi?
Locals speak Kannada. They are Kannadiga. They also understand English (mostly who are associated with tourism) and Hindi too.
3. Does Hampi have a beach?
Hampi does not have a beach. The hippie island in Hampi is just the other bank of Tungabhadra river which has lesser ruins, excluded from the archaeological zone and is dotted with a number of affordable guest houses.
4. Can we cover Hampi in 2 days?
It is best if you allot at least three days to Hampi to see all of the tourist attractions it has on offer. If time is short, you may also explore Hampi in a quick 2 days visit. f you are rushed, we recommend taking a guide!
5. Where else I can go from Hampi?
From Hampi, you may go on and explore the old old ruins and temples of Badami, Aihole and Pattadakal temples (another astounding UNESCO world heritage site in India).
6. What should I wear in Hampi?
Unless you are entering the temple sanctums, you are good with normal shirt and pant or any short of western wears. However, keep in mind this is rural India and excessive skin show is frowned upon. My number one tip for traveling safe in India would be to try and blend in with the locals as much as you can! Please remove your footwear before entering a temple complex. Even when it is ruined. Please do this. I can not emphasis enough on this. This is like coming to my house and not removing shoe.
7. What is the best time to visit Hampi?
Hampi is hot and humid all the year around however in Indian winters, humidity level is tolerable. I would suggest plan a visit to Hampi from November to February.
8. Is it okay to smoke weed in Hampi?
I have heard the hippie island is (in)famous for weed and smoking in many backpackers' group. However, I do not smoke myself and this is a criminal offence in India according to IPC. So, do your math!
I hope this Hampi travel guide serves the purpose and helps you plan a solo trip (or with family) to this astounding place of historical importance. You can also check out the following places in Karnataka.
---
This post may contain affiliate links. Please read the disclosure post. If you have liked the article, you may support it by buying using these links without any extra cost to you.
Let's stay connected on Facebook, Instagram, Twitter! You may also consider joining my mailing list. I send travel and photography related emails only once a month!