About this blog: Old Silk Road Tour in Sikkim is a prized road trip experience. Traversing the high passes of Sikkim Himalayas that touch the sky at 14,000 feet high, the Old Silk Road Tour takes you to Zuluk, and further if weather permits. In this blog post, we would sketch the entire road trip plan, with a tentative cost of traveling to Zuluk, places to stop for the night on the old silk road map, and practical travel tips. For viewing pleasure, you can watch my YouTube series on Sikkim travel as well!
Pin this post for later use!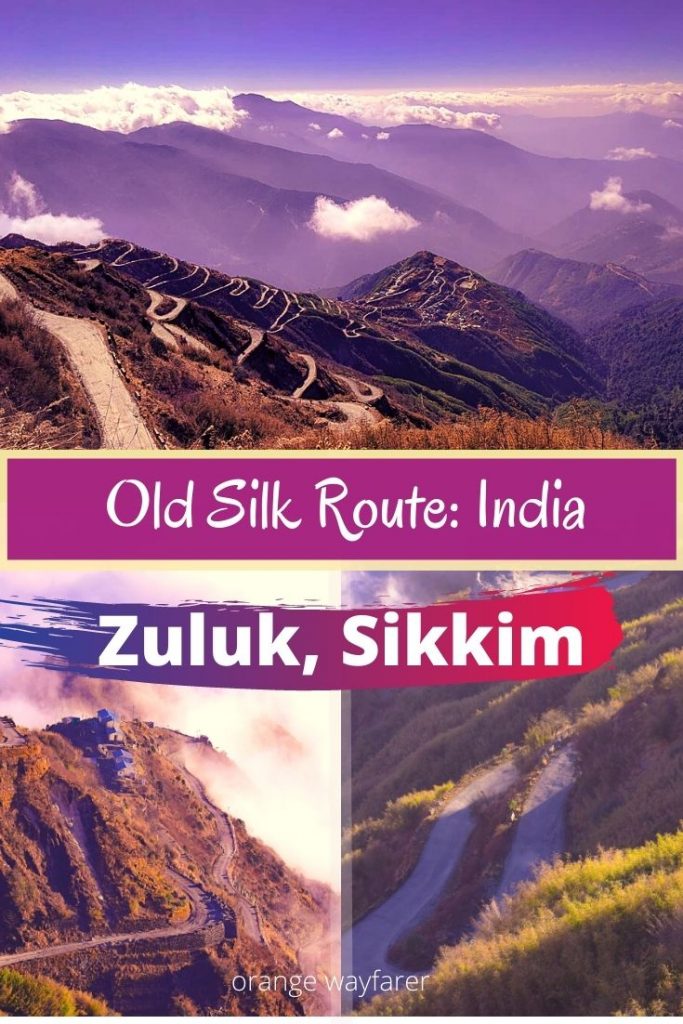 Falling in Love with old Silk Route, Sikkim: Why visit Zuluk?
Simply answering this question, we chose to visit old Silk Route of Zuluk for stunning landscape of Himalayas and intense cultural ties with Central Asia with this part of the world that began with the Han Chinese! The hair-pin bends of Zuluk look looked ethereal with a sprinkling of snow during winter months.
The Old Silk Route Tour invokes memories of days bygone, when caravan tracts reigned the high passes and arid desert lands connecting the Mediterranean to the orient shrouded in the mist of glitters and opulence. We are talking about days from the second century BC.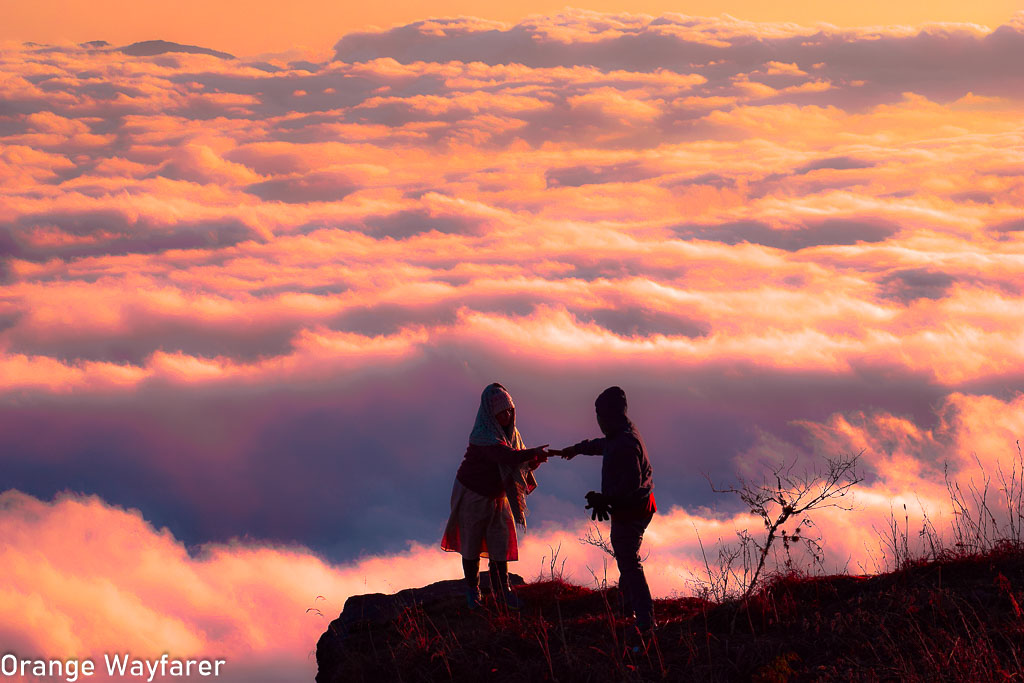 Gone are the days of ancient history when the arduous road brought in fortune for traders in this part of the world. Old Silk Route in Sikkim lies dangerously close to the Indo-Sino international border which may turn into unspeakable mayhem at the turn of the day! A mellow memory of Tibet covers the land with a mist. Ancient history confronts modern politics eye to eye as incredible abundance of nature prepares the battle field!
If you have been in awe of the mighty Sleeping Buddha even once, the Old Silk Route would take your breath away! The mountain stands in close guard at the bend of every road! It is quite an adventure to cross each of the multiple hairpin bends on the old Silk Route. But once you do, you will be rewarded with an elusive view of the Sleeping Buddha. there, just there.. a little further up the road and you can touch her magnificence!
The Old Silk Route is an obscure remote land where not many tourist crowd has reached till date. To a large extend, you can find yourself alone, amidst some of the tallest ranges of the mountains of the world! If you desire to steal a few quiet moments like this from the world, Old Silk Route is where your home is!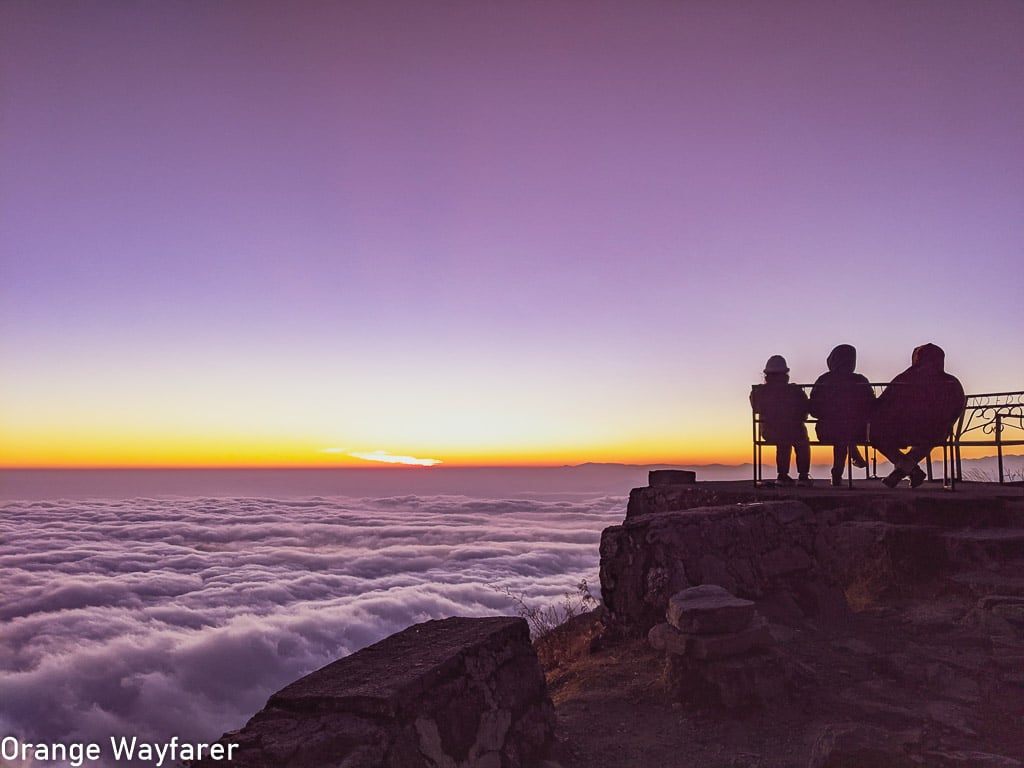 Also read: 20 Stunning pictures from Sikkim travels from December
Suggested 6 days 7 nights Old Silk Route Tour Itinerary
If You plan to return through Gangtok, you can plan a week exploring the Old Silk Route in the following order. This Old Silk Route Itinerary entails the best of the both world, jungles of Terai, verdant valleys and craggy high passes of High Himalayas!
Day 1: Reach NJP- Proceed to Reshikhola
Day 2: Reshikhola- Pedong
Day 3: Start for Aritar
Day 4: Ascend to Zuluk with permit from Rongli. Sunset at Thambi View Point
Day 5: Visit Nathang and head back to Thambi view point for another sunset. Stay at Lungthung if you are comfortable with the cold and limited amenities. You may choose to stay at Nathang valley as well. If you can brave the cold, omit Reshikhola from the plan and start from Aritar with an extra day allocated at Nathang Valley.
Day 6: Return to Gangtok with a stop at Tsomgo Lake (Changu lake). You may also start early and visit Nathula Pass
Day 7: Gangtok to NJP/ Bagdogra depending on further travel plan
This is the complete loop of old Silk Route. Nathula is now open for tourists where you may see the clear border between India and China as recognized by the world!
If you do not plan to visit Gangtok to complete the Old Silk Route loop but want to visit till Nathang (this ideally happens if you are visiting during peak winter when the entire stretch of Nathang valley is off limit to tourist) this itinerary can come handy.
Day 1: Reach NJP- Proceed to Reshikhola
Day 2: Reshikhola- Pedong
Day 3: Start for Aritar
Day 4: Ascend to Zuluk. Sunset at Thambi View Point
Day 5: Visit Thambi View Point. Stay at Lungthung or Zuluk
Day 6: Descend to Sillery gaon. Visit Ramitey for a beautiful view of Mt Kanchenjunga!
Day 7: Gangtok to NJP/ Bagdogra
Please note, this trip can be made reverse way as well, like starting from Gangtok. Do this if you are visiting North Sikkim first. However, weather has to be clear to be able to "do it all!" It makes sense to ascend to Zuluk from Bagdogra or NJP first as you would be making shorter trip to Aritar compared to Gangtok.
If time is not an issue, this is how the route actually looks like: NJP/ Bagdogra –> Icchey Gaon –>  Sillery Gaon (trek to Ramitey) –>  Kaagey –>  Pedong –> Reshi Khola –> Mankhim (Aritar) –> Rangli check point –> Lingtum check point –> Padamchen (8000 ft) –> Zuluk (9000 ft) –> Thambi View Point (11200 ft)–> Lungthung View Point–> Nathang valley (13,700 ft & many things to do here)–> Old Baba Mandir –> New Baba Mandir –> Nathula Pass –> Tsomgo Lake (12700 ft) –> Gangtok
As of now Sikkim does not have any railway but works are in progress to establish a railway route for faster movement of troops and then locals and then the tourists!
Also read: Offbeat day trips from Leh, a complete itinerary for 5 days!
Things to know before planning a trip to the Old Silk Route, Sikkim
Being one of the remote and obscure places tucked away in the Himalayas, you need to keep in mind few practical travel tips to visit the old Silk Route. This ranges from permits to safety tips to planning an effective itinerary etc.
Permit for Old Silk Route
You need to rent a local car to drive through the entire stretch of Old Silk Route. It is possible to take your own car but that entails a prolonged paperwork and a slurry of permits sanctioned by government officials.
Instead, we chose to go with a local car rental company. It was a decent experience with a mindful driver who also doubled as a kind photographer at times!
The travel agency would ideally help you get the permit done at Rangli. You also need to pass a check point as you cross the West Bengal and Sikkim border (if you are flying to Bagdogra). For permits, you need to provide a few hundred bucks, two passport sized photographs, your entire route map and recognized ID proof (passport, DL, Aadhar etc) for Indian nationals. Rangli is a nice little town with beautiful forest trails and lovely little doggos!
The permit to Old Silk route comes handy to control the tourist rush to the remote land where infrastructure is limited. Permit is also granted based on weather conditions. If a snow storm is predicted, you may not be allowed to visit Nathang valley or further.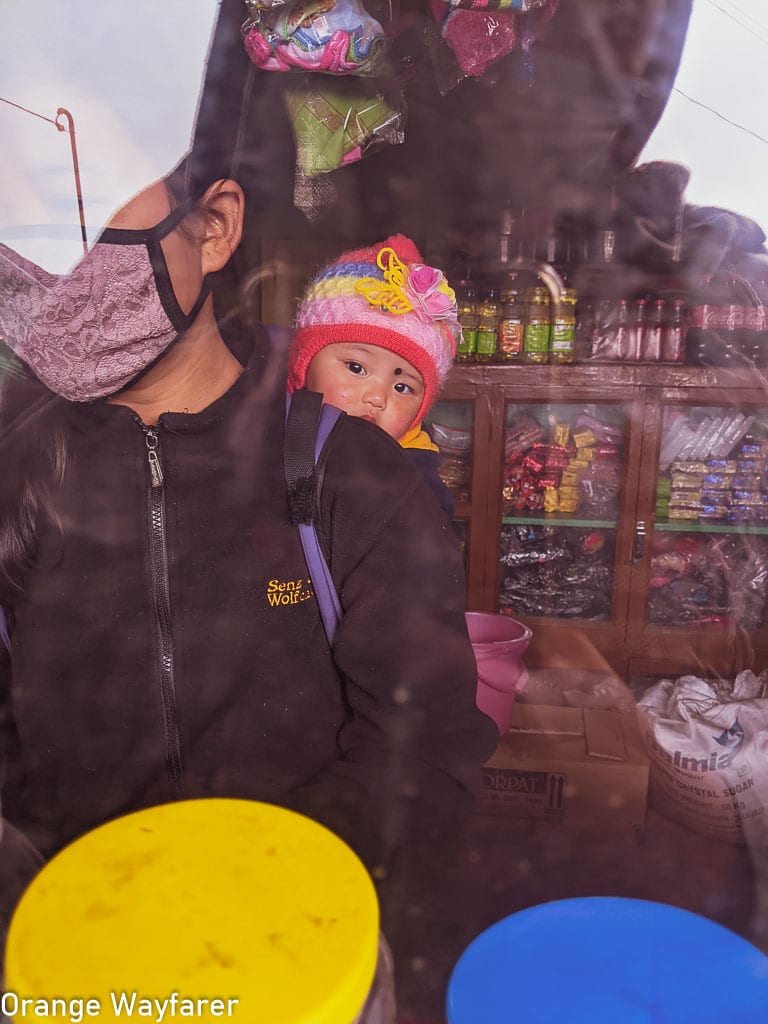 Much like Tawang, traveling to Zuluk requires foreigners to follow a few specific rules.
One must not be traveling solo. People must travel in a group.
To apply for PAP (protected area permit), please apply with the tour operators who are registered with the Sikkim Tourism Department.
Required: passport, Valid Visa, Passport size photographs, application fees.
Foreigners' Registration Office (FRO) is located at Tadong which is 5 kms from MG Marg, Gangtok.
After India opens up for foreigners, there is a fair chance these rules would be different, especially for traveling to places as remote as Zuluk and old silk route!
Also read: Complete guide to explore Tawang, Arunachal Pradesh
Best time to visit the Old Silk Route
We visited old Silk route from 19 to 25th December and we loved that time. Sun shine washed the valley clean. there were instances of infrequent snow falls. It was extremely cold. but the weather was clear and we had extremely beautiful sunny sky that let us view Kanchenjunga and the entire sleeping Buddha range in prime glory!
Choose a time to visit Silk Route which is dry. The summer months of mid April to Mid June is a good time to visit the old Silk Route with roads blushing in red hue with blooming Rhododendron. Autumn in the mountain starts from late October to early November. Of course it changes with the course of monsoon. Wait till the monsoon has completely faded and then venture into the deep of the mountain. Ideally, till mid-January, you can safely plan a visit to Old Silk route and make it till Nathang valley. With increased snow fall, this route eventually closes down for tourists from February.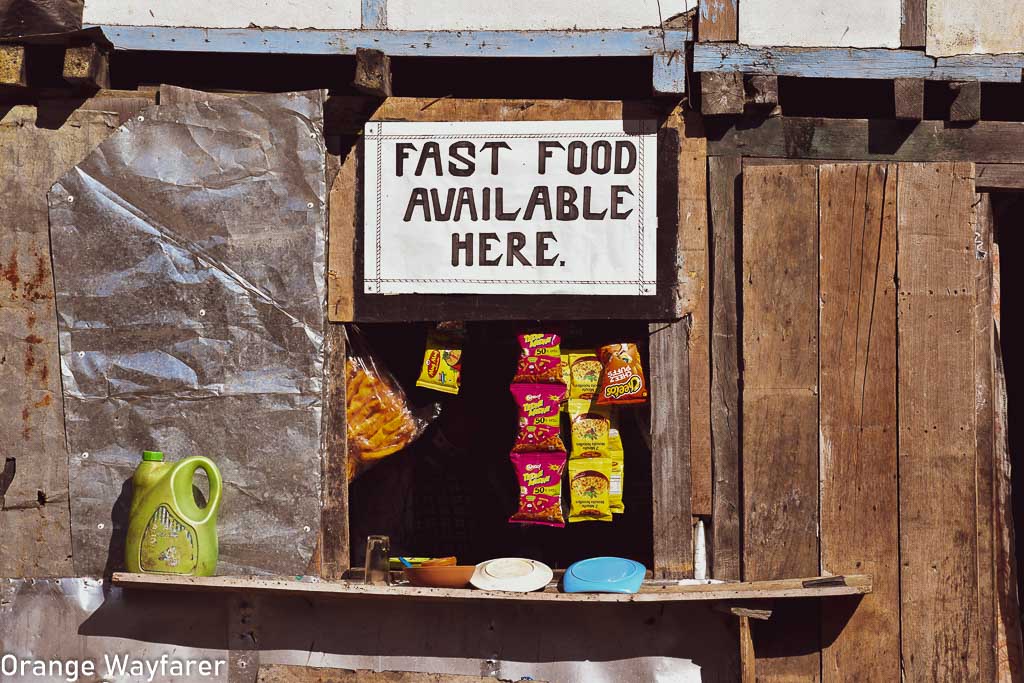 Cost of a 6 days 5 night trip to Old Silk Route
Prices start from 30 thousand for an Innova for a 5 days trip to the mountains. With oscillating fuel price, vehicle prices change too. You need at least 4 nights to see the Old silk route properly. The more the merrier!
Prices for homestays starts from 2000 rs per night. Of course it varies with demand and supply model. Overall, for a 5 days trip to the Old silk route with a private vehicle, you should have an estimated cost of INR 40,000 which includes a vehicle with a driver, homestays with food and permits. If the vehicle is shared, prices drop down drastically. Shared vehicles are available from Gangtok for Old Silk Route.
Places not to miss on the Old Silk Route
Please do not miss Thambi View Point, especially a sunset from this place. You must pay a visit to Nathang valley and see the milk white ranges of Sleeping Buddha rising atop the arid valley. I absolutely loved the silence when we were flying on a cable car on top of the Tsomgo Lake. A night stay at Lungthung is a prized experience at the Old Silk Route where the first rays of the sun easily penetrates the glass panes of the windows! Do take a stop at the Elephant lake, among many other glacial lakes on your way back from Zuluk to Gangtok! Words fail to gather praise for such stunning natural wonders!
All the places on the way to Zuluk offer different charms. The greens of Reshikhola (a Terai area) paves way for slightly elevated Aritar where clouds often come down to play with the peaks. The golden brown bush starts welcoming you as you approach Zuluk, all the way to Nathang valley, which is also known as the Ladakh of Sikkim. The dry winters paint these places at high altitude with arid hues while the monsoon yields in beautiful blooms. Talking about spring, the mountains of Sikkim bloom in bright beautiful rhododendrons, which is a site hardly one should miss!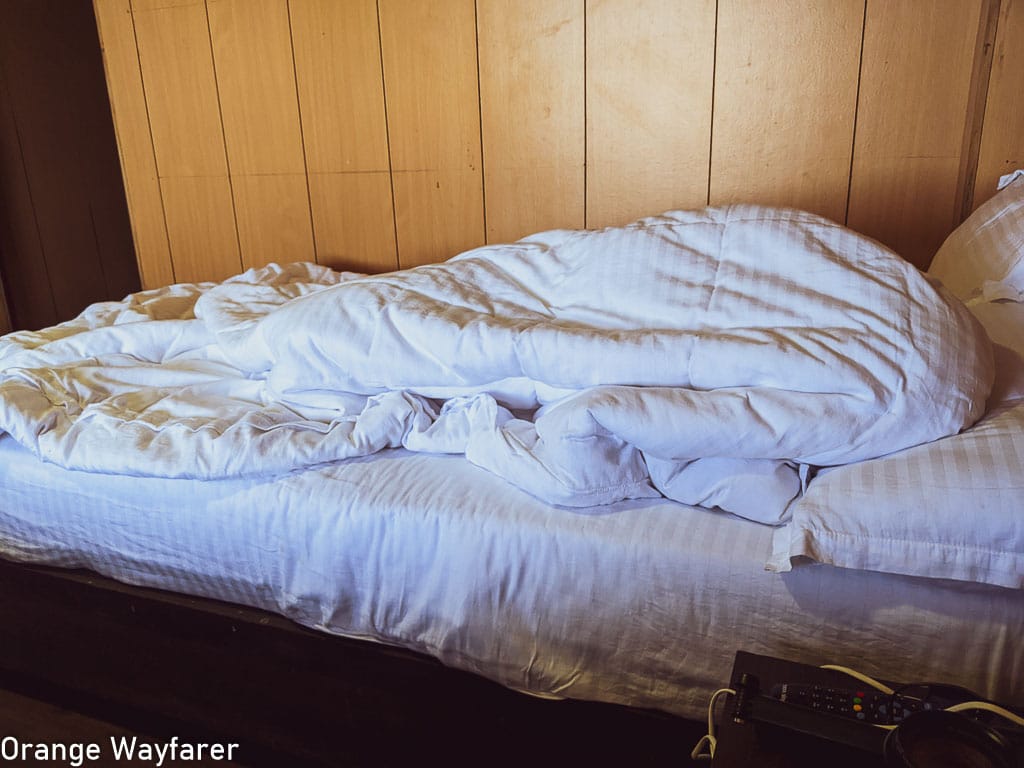 Pro tip for Zuluk trip: If the cold becomes unbearable, ask the locals for a share of their moonshine. It is made of locally produced cherries and works better than brandy! They laughed and declared their children grow up drinking this! I do not doubt. I heard in Siberia they train their children to sleep on the ice!
Also read: Offbeat things to do in Goa, a complete guide!
Packing tips for Old Silk Route
Pack woolens. Enough woolens that you can withstand a night outside at sub zero temperature, braving gutsy winds!
There, I have said it. I have spent long, ice cold nights in Kargil, Ladakh. However, the hotel had basic amenities like a room heater, a centralized one and running water.
No matter which time of the year you plan your trip to the old Silk route, please be advised it is going to be lethally cold!
Especially the cold winds and the long lightless nights are going to be trying unless you are prepared to battle the cold. No matter what the weather prediction is, always carry enough woollens to fight bitter cold. Please carry the following in your luggage while packing for Old Silk Route:
Comforters for legs
Enough layers, with jackets and sweaters) 
Thermals (this is going to save your life)
A woolen cap that covers your ears
Muffler
Masks
Sunglass (sun reflects harshly on the ice banks)
Socks with extra pairs in case one gets wet in the snow
Gloves (with backup pair)
Shoe that can withstand melting snow and with great grip to help you with small hikes
A thermal flask to carry lukewarm water to keep you hydrated
Portable Oxygen Cylinder (in case of breathing trouble this will be of immense help)
Carry cash with you since there is no AT along the way to Old Silk Route!
There is an absolute shortage of cash procurement, not just on the way to Zuluk through Old Silk Route but from Siliguri itself, especially during peak travel seasons, say Durga Puja and likes. Please withdraw enough cash in time to complete the trip. 
I wore a saree and a shawl on top and walked under beautiful sunshine. It all went fine until winds started to blow and sent chills to my bones. Always layer up. I can not put enough emphasize on this. Do not forget to drink water as well.
The owner of my homestay offered me melted yak butter that keeps the locals warm during winter. Apparently, yak butter helps in gouts too.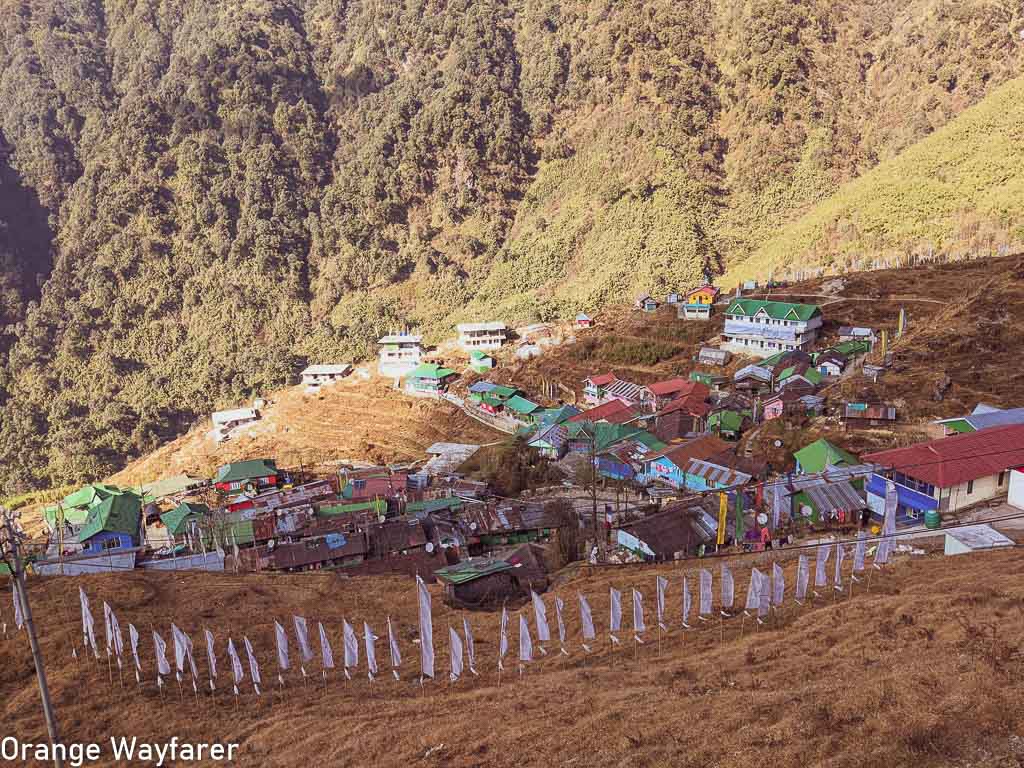 Also read: Complete guide to Bhaktapur, Nepal, an ancient city from the Silk Road!
Food and lodging at the Old Silk Route, Sikkim
Please do not expect café and fancy dining places on the old Silk Route. It remains an offbeat destination frequented by mostly tourists from West Bengal.
Food is served by the homestays. they serve three meals and you may include that in your package. If you are planning to get ready to eat stuff, it might be a challenge to find warm water at Zuluk and areas further to that due to insufficient fuel.
Food is basic and suitable for vegetarians as well. For non vegetarians meals include chicken (for dinner) and egg curry (for lunch). The curries are fiery hot and can be had with roti or rice. You may choose to order simple Daal Chawal with bhajis. Save your appetite for the night you reach in Gangtok and head straight to the taste of Tibet for a gala dinner!
Meal prices range from INR 80 to INR 200 per person. There are pit stops at places where you may get some Maggi or hot tea, especially near the military camps. Due to Covid, these places were all closed.
The homestays usually serve this in set meals: Maggi or bread toast for breakfast. Anda curry with rice and dal and a sabji (local vegetables) for lunch. Dinner is similar with chicken replacing anda. 
We stayed at the following places on our trip to the Old Silk Route Sikkim.
Aritar: Orange Court Resort
Zuluk: Snow Lion
Gangtok: Fern Dzong
After Zuluk, you may stay at Lungthung homestay (optional) however amenities are really limited.
If you have to stay in Nathang, try to book Dafter Bungalow.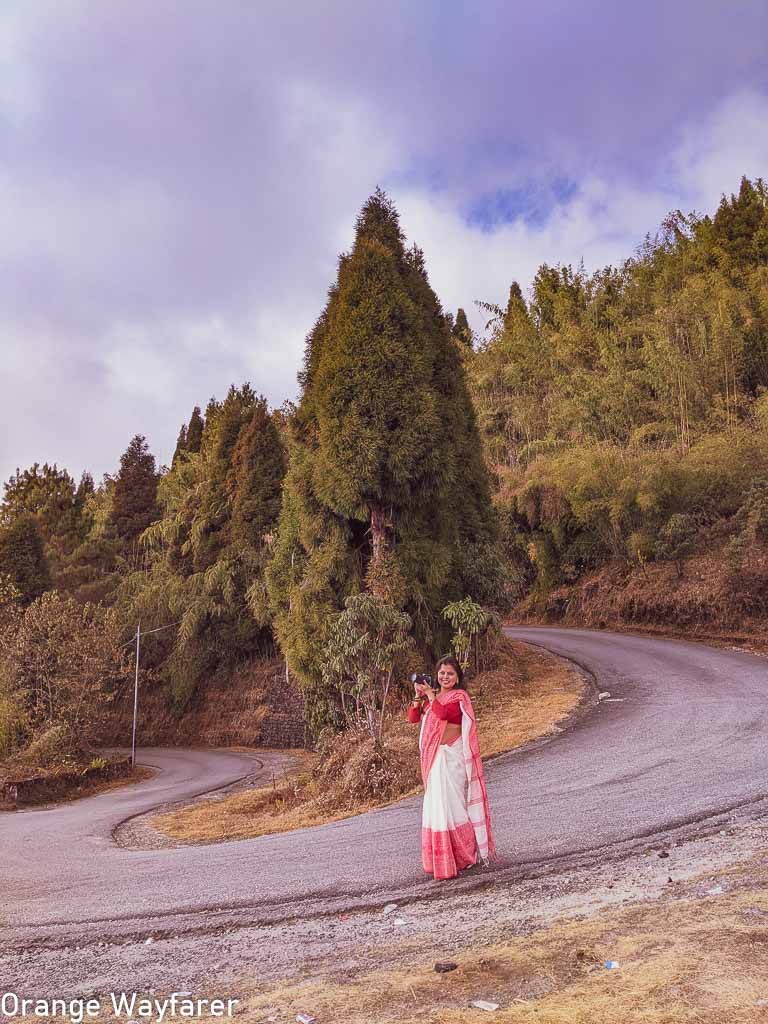 Also read: Best places to shop sarees in Kolkata
Trip to Zuluk: How We Completed the Old Silk Road Loop from New Jalpaiguri to Gangtok
To visit the Old Silk Route in Zuluk, I started from Kolkata and S decided to join me from Bangalore. I took the night train to NJP station (New Jalpaiguri Station). The journey to Old Silk Road would span for next 4 days at least. It would take us to some of the most astounding heights of the Himalayan range in the lesser explored North eastern parts of India! Old Silk Route is a part of East Sikkim and straddles the border between India and China!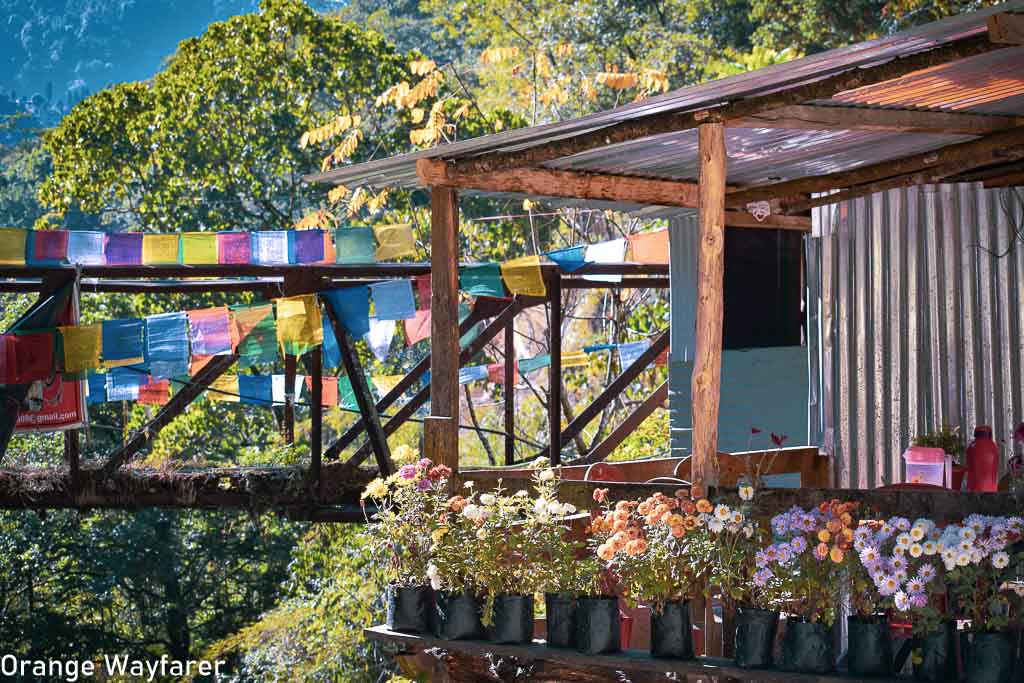 The night train to New Jalpaiguri Station
In old times, the train, also known as Darjeeling mail, would witness a flurry of over enthusiastic tourists. We were traveling by the end of December. The wind had a hint of ice cold notes. Thanks to the present scare of pandemic looming large, tourist rush was considerably low. Even the ones who were traveling were actually heading towards Darjeeling, the tried and tested hill town of West Bengal which never fails to amaze even when pressed with the charge of over tourism.
I started from Sealdah. Darjeeling mail was renamed as a special train as the Indian Railway was testing with limited locomotive engines in a post lock down world. We were not given any blankets. Food vendors were not to be seen anywhere close by. I bought a bed sheet for INR 80 from Behala hawker's corner and decided to use it for the train journey. I was empowered with liters of hand sanitizers and packed food. I try to minimize water intake on the train just so that I do not have to frequent the washroom. However, the night train to Darjeeling had a surprisingly clean wash room. It was a new train, a new world!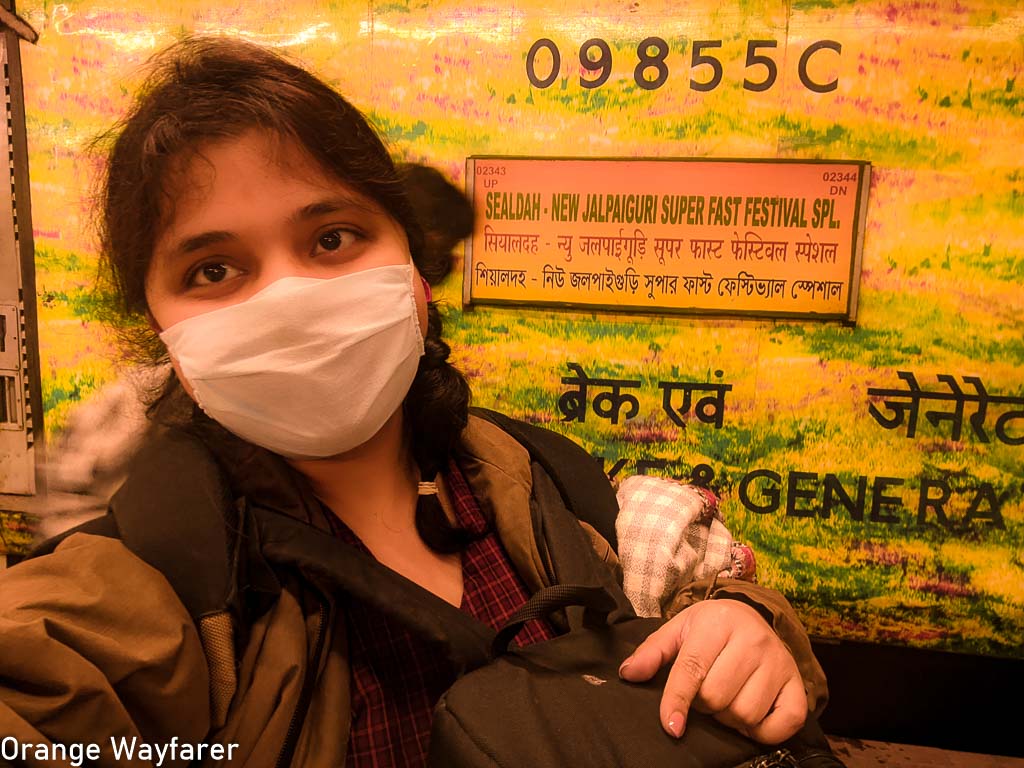 Also read : Complete Guide to Explore Shillong for a week!
Sleeping in a locomotive comes easy to me. I wish I could measure the deep sleep time in all my train journeys.
I woke up to find myself racing amid a scenic stretch of green valley. Paddy fields gently nodding. Silhouettes of towering mountains adorned the sky at a distance! Sunrays awashed the valley in golden hues. I looked out from the window and a cold breeze numbed my ear lobes. Promptly I put my head back and wrapped it with woollens. This is winter in the North. This is going to be an adventure!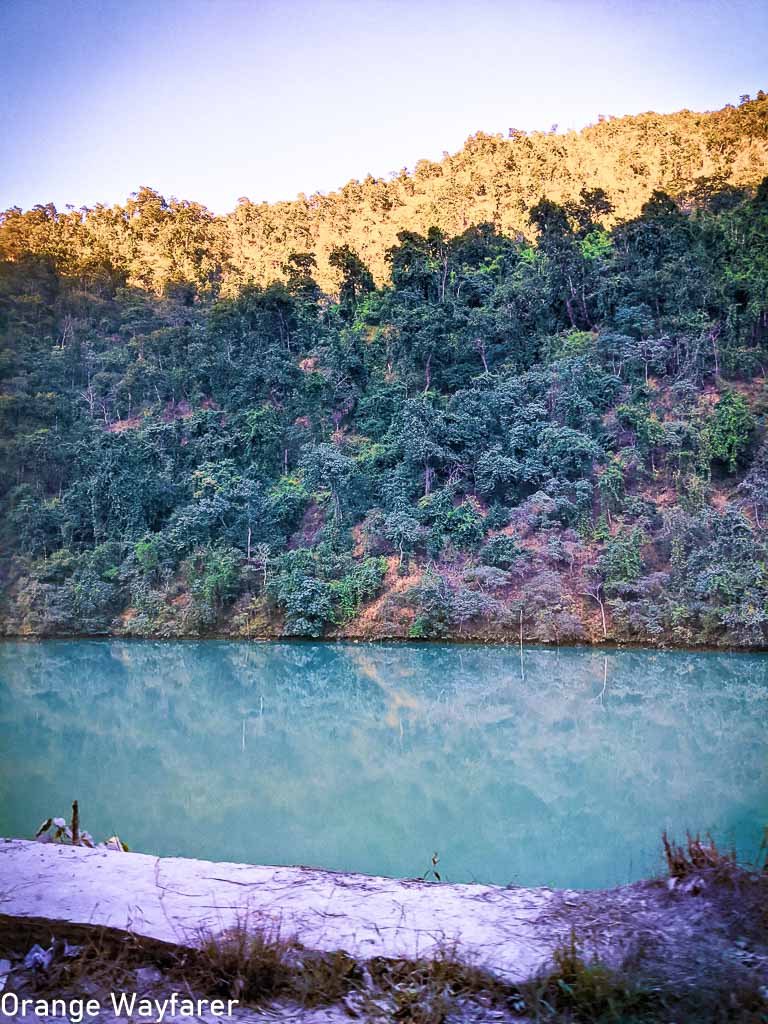 All I could hope for was for the roads on silk route to remain bereft of snow to ensure a smooth journey. I was eagerly waiting to experience all the thrills, the hair pin bends, theJjilipi viewpoints, the entire range of magnificent Sleeping Buddha, the glacial lakes, the road to Nathula where Indo-Sino war ensued in 60s.
At New Jalpaiguri Station, jam-packed crowd welcomed us. The night train from Kolkata to Alipurduar had just left the junction. The station was overwhelmed with wander-lusters and locals alike! I managed to carry my luggage and camera bags to the overhead footbridge and leave the station premises. An old school steam engine is installed outside the station, greeting people with a reminder of the past.
In olden days, New Jalpaiguri was one of the first junctions to be connected to the mainland India. This is where wagons filled with freshly plucked tea leaves passed through. The British further experimented with tea wherever they went, including Mauritius however seldom found a worthy contender to the mountain slopes of Darjeeling!
We had rented a cab from a local Sikkim Taxi rental company. They suggested a pick up from the NJP station itself. I waited for S at the Bagdogra airport for an hour and finished a quick lunch with Fish curry and rice. The curry was fiery hot. I think an ample amount of Dalley chilly (now GI tagged) had been used in the make of that curry! We started for Sikkim by 2 pm.
Also read: Practical tips you need to plan a trip to Egypt!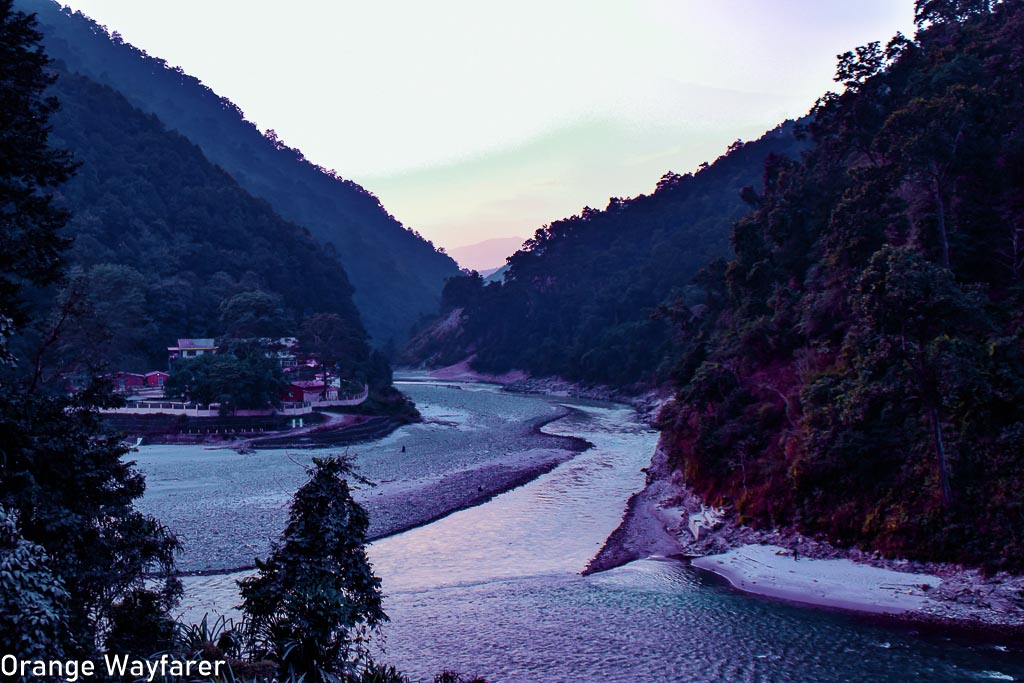 About Silk Route: The 6400 km Silk Route extended from Xi'an (Sian), followed  the Great Wall of China to the northwest, bypassed the Takla Makan Desert, climbed the Pamirs (mountains), crossed Afghanistan, and went on to the Levant. Goods were shipped through the Mediterranean sea. Middlemen of each region helped progressing the caravans. From Europe, the Black Death pandemic moved to Asia through Silk Route! In this blog, we are talking about the Old Silk Route, a part of the ancient Silk Route.
The Ascend to Aritar and an unprecedented delay
NJP to Aritar: 110 km (time took 7 hours)
We were heading to Aritar for the night. I have already told you the routes you can take as you ascend to the Old Silk Route of Zuluk. If I could start at dawn, I would have gone to Reshikhola village and lived by the beautiful mountain stream of Reshikhola. The pictures reminded me of Jia Bharali river of Bhalukpong as we were visiting Tawang in Arunachal Pradesh.
Reshikhola is famous for Birding opportunities, especially in the winters. All the Terai forestlands are spectacular in this aspect. For example, Kaziranga or Manas National Park in Assam or Chitwan National Park in Nepal. All of them are National Parks. To visit Reshikhola, you need to walk for a few hundred meters amidst a jungle.
The lake in Aritar is also known as Lampokhari (Pokhri meaning a waterbody in Nepali language) which reflects the lush green surrounding area in its colour! Spend the day visiting Mankhim, the hill top of Aritar for a clear view of Kanchenjunga. We saw it from the road itself, the entire sleeping Buddha range and rushed towards Zuluk with glee.
If you have time, spend a day at Reshikhola
If you stay at Reshikhola, which happens to be a part of West Bengal, or to be more specific, straddles the border between West Bengal and Sikkim, count a day extra to visit Pedong, a small town in Kalimpong. Famous for the old Sangchen Dorjee monastery, Pedong came to be during the reign of British India as their tea factories were buzzing with tonnes of produce. In February, Pedong hosts a fair named Pedong mela where Bhutia and Lepcha tribes from distant villages come with their annual produce. Do not miss that for the world if you love cultural nuances! 
In Reshikhola, you can stay at Prakriti Eco Resort. To reach these homestays which use the word resort in the name you have to cross the Reshi river through a wobbly wooden bridge. It may be a bit dicey for the elderly people in the travel group. You may reach Reshikhola from the West Bengal side by crossing a dried up stream during summer months. But monsoon makes the river turn voluminous in the Bengal side.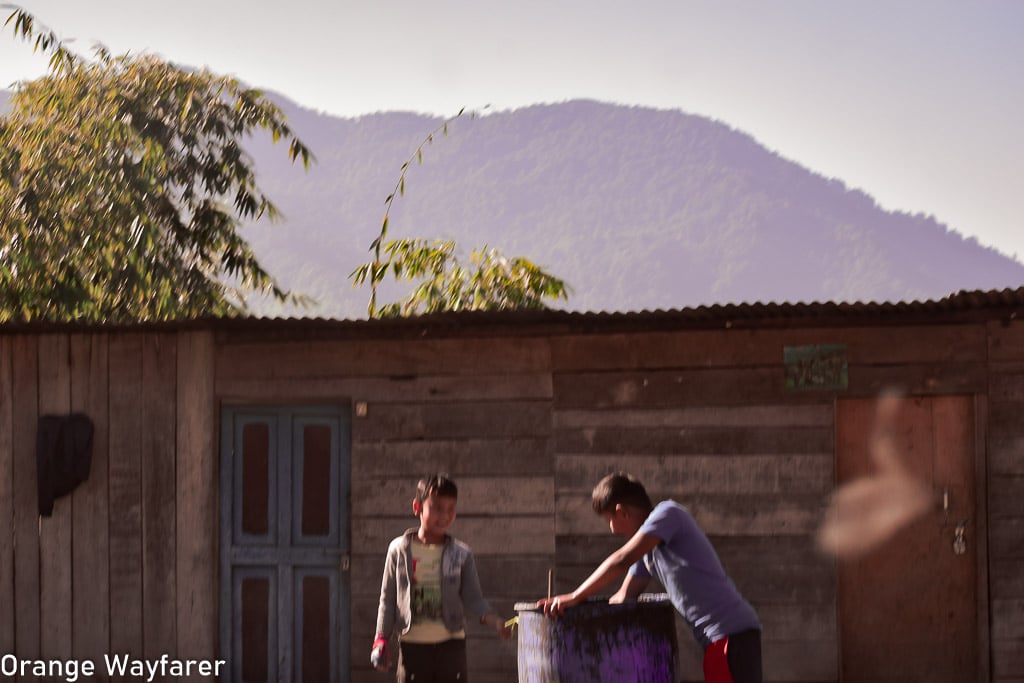 Also read: Complete Guide to the Best beaches in Goa
Things to do in Aritar: First stop on the way to Old Silk Route
However, we rushed to see Zuluk and decided to spend the first night at Aritar. Besides, our two weeks long Sikkim itinerary had many quaint village stays in Pelling and Temi Tea Garden. We drove past Teesta and Rangeet river confluence, where many people stops for a night to camp. We stopped briefly on the road for momo and tea. By the time we reached Rongpo, the sun had set. It was the proverbial pitch dark night, one in which you can not see your hand in front. Rangpo is a town between Sikkim and West Bengal where the authorities would check for Sikkim Travel Card and other necessary details including permits etc.
Rangpo is an industrial town in Sikkim with many manufacturing units and pharma companies. There was a huge traffic jam in front of the Rangpo check point, the first of many checkpoints where you have to produce your Sikkim travel card. The nightmarish traffic lasted for a couple of hours. 
While crossing Rangpo checkpoint, you can pick up alcohol from Lohapool. Alcohol is cheap in Sikkim. I had no clue why until I faced the biting cold of Zuluk! 
Aritar is famous for a man-made lake (Aritar lake). Boating facilities are available here. You may rent a mountain bike and drive past the lake and the small tracts as well. The lake reflected the greens of the surrounding area! Aritar is situated at a height of 4000 feet.
At Aritar, we stayed at the Orange Court Resort. It is a family run homestay. Do not be fooled by the resort tag. Almost all the homestays in this route carry the word resort in their names, whereas in reality they are far from what a real resort looks or feels like. I do not complain. A homestay is the best way to run tourism in the fragile ecology in Sikkim.
The Owner of the Orange County resort sat with us in the evening, treated us to Chicken Pakora as her son and a beautiful German Shepherd Lucy kept us company. I am usually shit scared of dogs but Lucy took my heart away! A German shepherd dog could be so kind, so loving! I would have never believed it unless I would have met Lucy!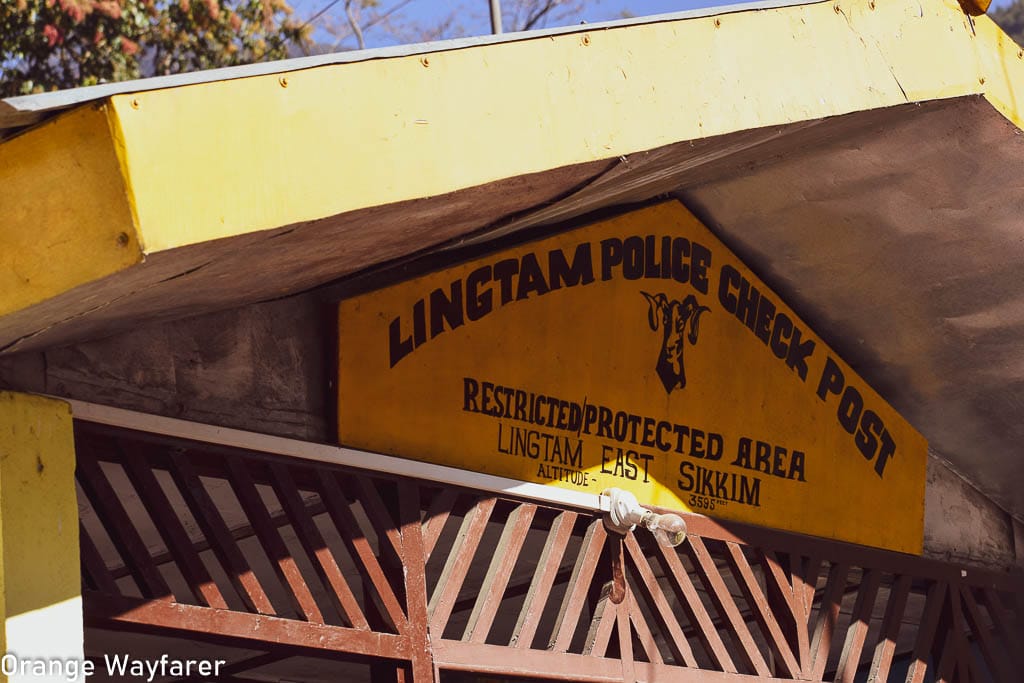 Also read: A Photoblog on Zanzibar, the paradise island!
Geeting a permit for Old Silk Route
At Rongli, we stopped the car for about 40 minutes, produced travel card, route plan, government ID and passport sized photographs and procured our permit to visit Silk Route. Weather was permissible and we were told we could take the entire loop from Zuluk to Gangtok with a stop at Nathang Valley. If weather shows alert, the authority would not allow you a permit to visit Nathang valley.
From Aritar we started early in the morning. We finished a hearty breakfast with puri and bhaji and some piping hot tea! The road paved the way to the heights of Himalaya. Myriad shades of greens greeted us on the way. Some of the plants had turned their leaves in blood red hue. A few blood pheasants, state birds of Sikkim stood in alert. We crossed small streams, fountains, villages shaking off from slumber, young kids heading towards school.
The mountain streams in the region are known as Khola in Nepali language. One of the important points is Que Khola Falls before you enter Lintham village. In winter sunshine, plenty of colorful blossoms bloomed by the makeshift tea joints. Wooden bridges covered in Buddhist flags bring down elusive peace of Earth.
We drove past Padamchen, one of the larger habitats of the Old Silk Route at 8000ft. After Aritar, once you have procured your permit, you can only stop at places for which your permit has clear written mentions. For us, Padamchen was not mentioned in the permit and we could not stop even when we wanted to. This is a beautiful destination though, with pleasurable weather all through the year. Padamchen is also a sought after destination among the birders.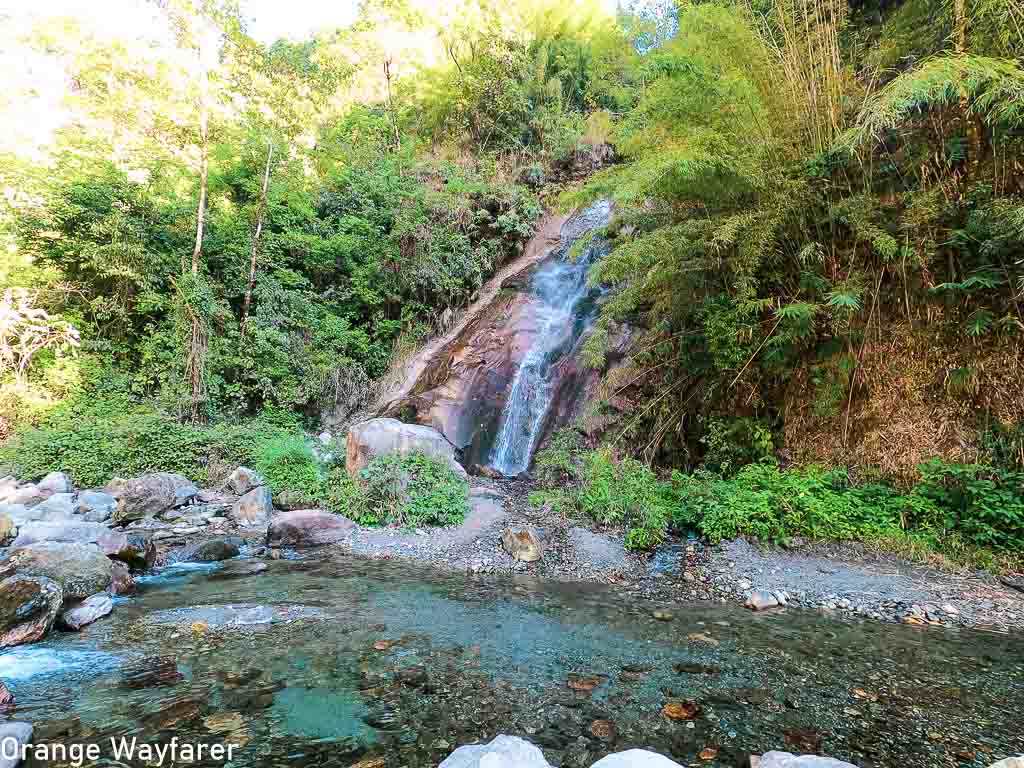 The last marketplace with enough stock is located at Padamchen. At Rangli you may find many shops, serving almost everything from trekking gears to Rosogolla, that too freshly prepared! Stock up with enough snacks. Carry some Korpur and medicines as prescribed by doctors.Please do not carry maggi and stuff that needs to be cooked in boiling water because you may not get the option to boil water in this rough mountain terrain at all! For a geyser to work, you need to switch on power right at 3 am.
Zuluk travel is tough love but it is very very much worth it if you plan it correctly is all I can say!
Also read : Complete travel guide to Hampi, a UNESCO world Heritage Site!
Zuluk, the Star Stuck Mountain Township!
Aritar to Zuluk: 41 km (time took: 3 hours with permit)
In olden times, Zuluk happened to be a small village inhabited by the shepherds and nomads who resided at this high altitude zone in the harsh winter months. Situated at 9000 feet high, Zuluk claims the fold of the mountain, where ice cold northern winds do not find a passage.
A little ahead of Zuluk, serpentine roads take you to Nathang valley that straddles the Indo-Sino border at the Tibetan plateau. The proverbial silk route existing for thousands of years takes one to the forbidden Kingdom of Lhasa, Tibet.
With the presence of the Indian army, Zuluk town developed to be what it is today. The army has established a permanent transit camp at Zuluk. If you drive for 20 minutes uphill from Zuluk, you can see China on the right side. The road takes further turns and reaches Doklam, infamous for the stand off between India and China from 2017. It connects Nathula if you drive straight, another sensitive international border point between the South Asian powerhouses.
Trucks of army personnel are transported to the army camps. They gradually scale a high of 14000 feet and higher. Zuluk town was planned to act as a transit camp to help the men acclimatize at this astounding heights.
The army arranged for a permanent water tank, a luxury in an area where inhabitants are dependent on sunrays to melt the tap water that turns into ice in the dark of the night. The water tank stands atop the mountain, like an alert eye assuring and safeguarding the valley and its inhabitants with an assurance of sustenance.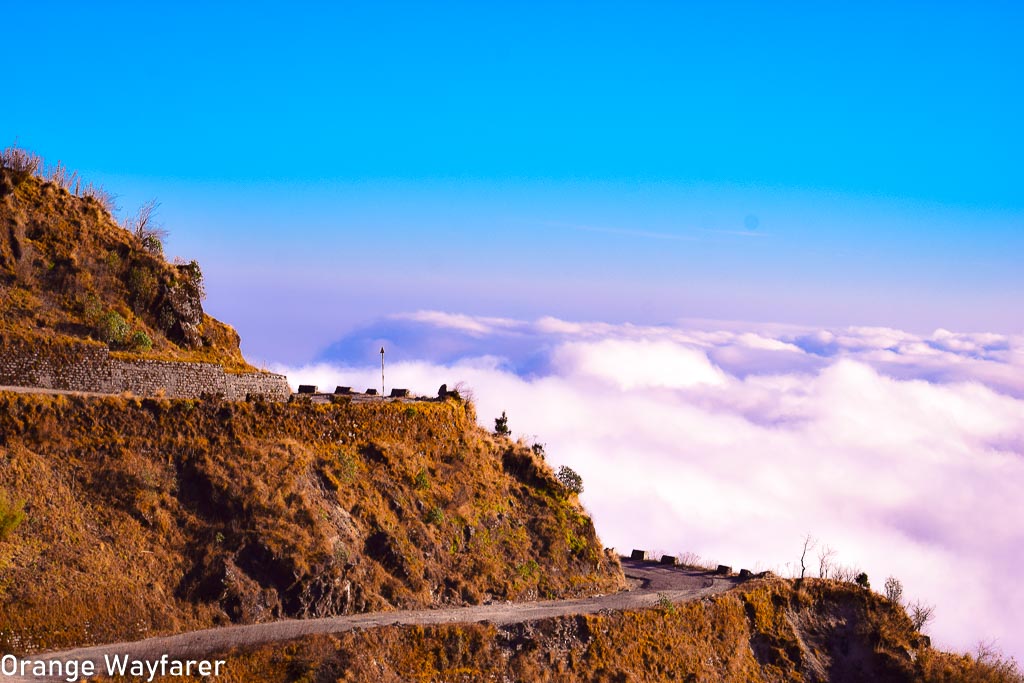 Also read: 10 Things to know before planning a trip to Darjeeling!
Army now but History came earlier!
The old silk route traversed a large distance of 900 km from Lhasa to Tamralipta. It mapped through Chumbi valley (now the conflict zone, Doklam) between India and Bhutan. Through the ancient trade routes, the Chinese and Tibetans traded silk, textile, livestock, chinaware, tea (read Jormer Chokh by Tillottama Majumdar) and ideas (Sri Atish Dipankara). Geopolitics of the twenty-first century may have stripped away importance from the old silk route but who can predict the course of history?
Thanks to the water supply, Zuluk developed two distinct places of stay. The Upper Zuluk Basti area, with a couple of hotels and a village that grows its own vegetables and manages its own waste with periodic visits to the nearby towns. Upper Zuluk has a military settlement just by the side, hence access to medical assistance (read need based oxygen supply) is a cakewalk here. Network was not available though, unless you are willing to wait by the main road for a while till a Jio signal picks up faint connectivity.
Lower Zuluk Basti is a more crowded area, located a few km ahead of Upper Zuluk and a lower altitude zone. Lower Zuluk has a number of makeshift stay options, cheap homestays and a few grocery stores where local women with babies tied to their back sell toothpaste, maggi and cigarettes.
Lower Zuluk resembled a haphazardly created locality to accommodate tourists. Most of the houses are in shambles. Bright blooms of myriad mountain flowers hanging from earthen hots at the entry of each house comes to rescue, to add hue to a foggy day.
If I were to choose a place to stay in Zuluk, I would opt for upper Zuluk. The homestays range between 2500 to 5000 depending on demand. Food cost is extra. The homestays in lower Zuluk are cheaper alternative stays. However, do not expect luxuries like warm running water or room heater and stuff.
It is imperative to choose a comfortable homestay in Zuluk. Zuluk is going to be one of the highlights of your trip. A few things you need to consider before booking a stay in Zuluk.
The Homestay in Zuluk should have access to running water.
The homestay in Zuluk should give you a room heater.
The homestay in Zuluk should have local networks to provide you medical assistance in case of emergency, think low oxygen level or breathing troubles.
Please ask your homestay provider if they have power back up. Usually power back ups provide for a faint light after sunset. Nights are long and dark in Zuluk and onwards.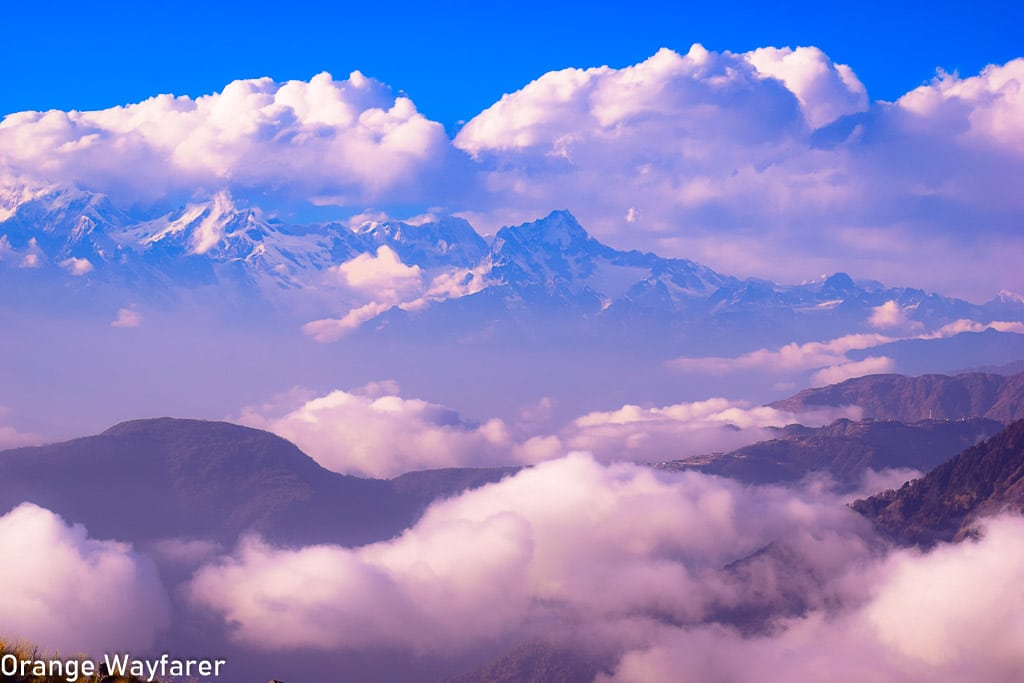 Also read: Complete guide to Chitwan National Park for a first time visitor!
Things to know about traveling to Zuluk
Many people visit Zuluk, make it a base for the next two days, explore Nathang Valley and then head back to Padamchen and descend to West Bengal. I have already elaborated on this route plan.
You may stay at Padamchen, if Zuluk seems tough. It may seem a bit tough if you are traveling with a baby or elderly people. The mornings are mellow. The valley is sun washed. However, sunset brings a different world to Zuluk. With cold gutsy winds and pin drop silence, it can be nightmarish.
I can not emphasize enough on this, but please make sure you start early and reach Zuluk before sundown.
In case you want to stay at Padamchen, which is located at a lower altitude than Zuluk, please mention that at the time of procuring your permit.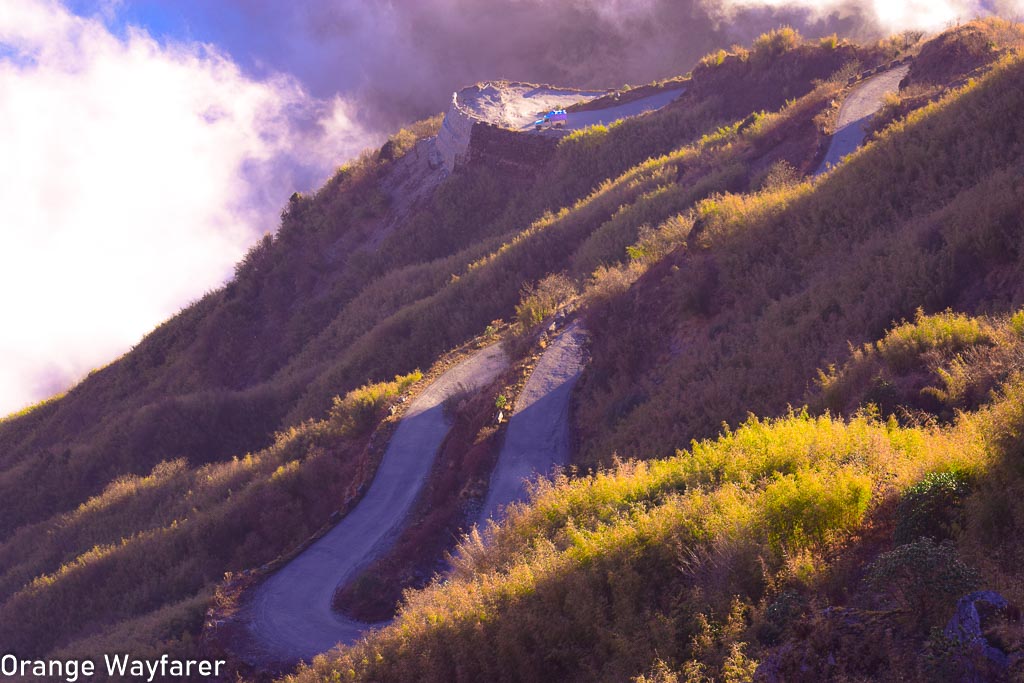 The quirky symmetry of 32 loops of Zuluk, which are part of the ancient 93 hairpin bends through which priceless silk used to be traded from Lhasa to modern day Tamralipto (Tomluk of West Bengal).
In Zuluk, you do not have much to see but a few chortens, a Shiva temple, army barracks.
Also read : Guide to all the Bonedi Barir Durgapuja of Kolkata
Is Zuluk worth Visiting?
Zuluk as a stand alone destination does not have much to offer however you need to visit Zuluk to experience the sheer beauty of high Himalayas that lies ahead at Lungthung and Nathang valley. Also, at 9000 ft height, Zuluk is the safest place to tuck in for the night if you can not stand the severe cold that Nathang Valley will unleash on you!
Zuluk is located at the fold of the mountain. You can not see the Sleeping Buddha range from here. However, you can visit Thambi view point, a 15 minute drive from Zuluk and voila! It is a different world out there!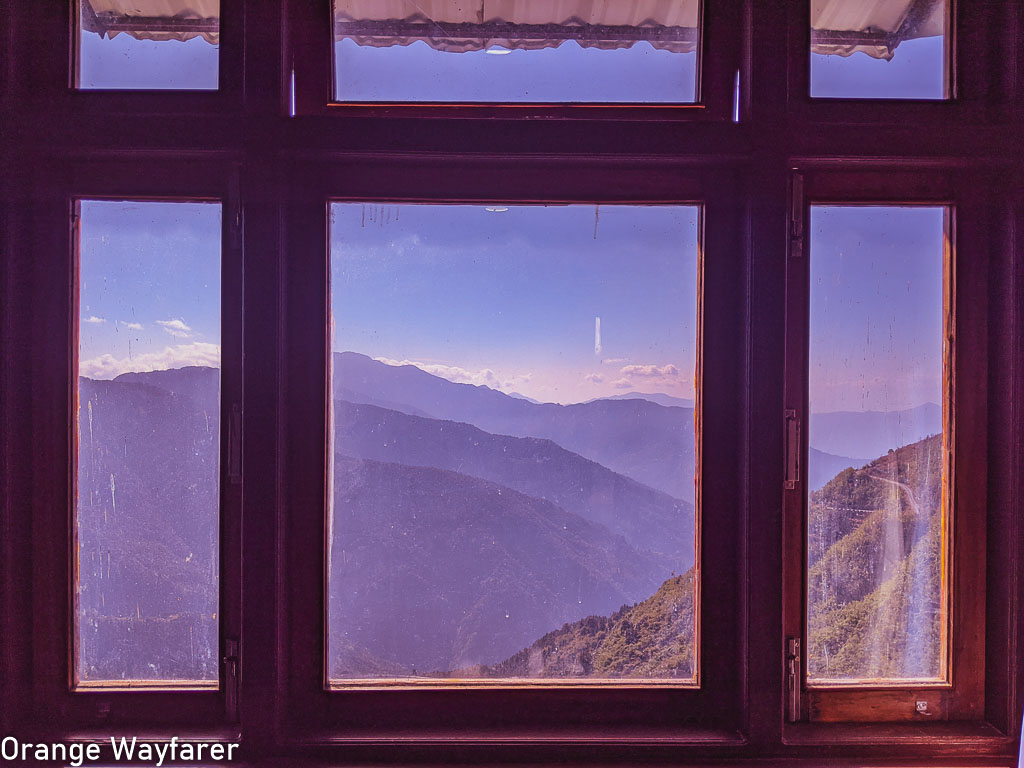 Things to do in Zuluk
Visit Thambi view point and spend the evening there. It is at the Thambi view point, I had experienced the most ethereal sunset of my entire life. Many people spend the night at Zuluk and start at the crack of dawn to visit Thambi. The first sunrays kiss the peak of the Sleeping Buddha range. Pregnant clouds crowd at the bottom of the mountains. Standing at Thambi, you get to witness a sunrise show of a lifetime! I had seen similar views of sunrise from Switzerland on Instagram!
From Thambi view point, you will also see the three level zigzag bends of the Old Silk Route. At the start of the day when the clouds are far up on the sky, you will be able to spot Zuluk town from a distance.
It is only fair to assume you will fall in love with Thambi as you witness the first sunset! You would ideally want to spend the night there to wake up to a magnificent sunrise. For that choose a homestay at Lungthung, a few km ahead of Thambi view point. For a thousand and a few hundred bucks, you may get a room at one of the local run homestays at Lungthung. The homestays have huge glass window pens through which you may get a stunning glimpse of the world outside! In hindsight, Lunthung can be lethally cold at night. Check the window pens and take a call accordingly. Running water is unavailable here. They give you a bucket of water which might get frozen at night. Staying at Lungthung may not be the most cherished memory but waking up to witness that sunrise is going to be a prized experience indeed!
From Zuluk, you may visit Jelepla Pass, Kupup & Memencho Lake which are on the way to Nathang valley. Many people plan to stay in the Nathang valley. Some choose to stay back at Zuluk and visit Nathang as a day trip. Nathang Valley is situated at an even higher altitude. A handful of homestays are there. You may choose to spend one night at the Nathang valley before heading back to the plains.
Please note, be it sunrise or be it sunset, the look and feel are going to be the same from Thambi view point. thus, if you visit Zuluk on day one and witness sunset, schedule an early sunrise visit and to Thambi again and proceed to Nathang valley. Many people start the descend on day 2 itself however in my honest opinion that is a bit rushed affair. After Zuluk, allow some time to Nathang valley and plan for at least a couple of days at Zuluk if you want to complete the old Silk Route loop and end it at Gangtok. Alternately, you may choose to descend down and spend a night at Sillery gaon or Icche Gaon, quaint little hamlets in the West Bengal Himalayas.
Also read: Guide to Luang Prabang, the UNESCO heritage Temple Town of Laos!
Nathang Valley: A forgotten no-man's land!
Zuluk to Nathang valley: 23 km (3 hours)
I was spellbound at the Thambi View point and thought this is the high point of the entire Old Silk Route tour until we reached natahng. By the end of December, Fresh snow kissed the pathway as we approached the arid mountain top. A few bends upwards Zuluk, the mighty Sleeping Buddha range presides over the sky!
Nathang is an even more remote spot compared to Zuluk. Once a few yak herders roamed this land. Now the over enthusiastic tourists have started to come and live here, hence few homestays sprung up. Spending a night at Nathang can be roughly compared to that of living under the starry night on a mountain top, while even craggier peaks stand at adistance. Nathang is a valley bordered with towering hills but the real deal is Mt Kanchanjengha!
You may spend a day at natahng and make day trips to the glacial lakes. I suggest visit till the elephant lake, also known as Kupup and return back if you are to descend down. I must mention, you can only visit these routes if you receive permit from the check points. The official order is to issue permits only if the sky is clear for coming days. Otherwise, you might be turned back from Zuluk itself. Fear not since Thambi View Point is a treasure of this part of the Himalaya.
While many chooses to descend down from Nathang valley through Padamchen, and rest a few days at Icchegaon and Sillery Gaon, small quiant village stays in West Bengal, we chose to complete the loop and head for Gangtok.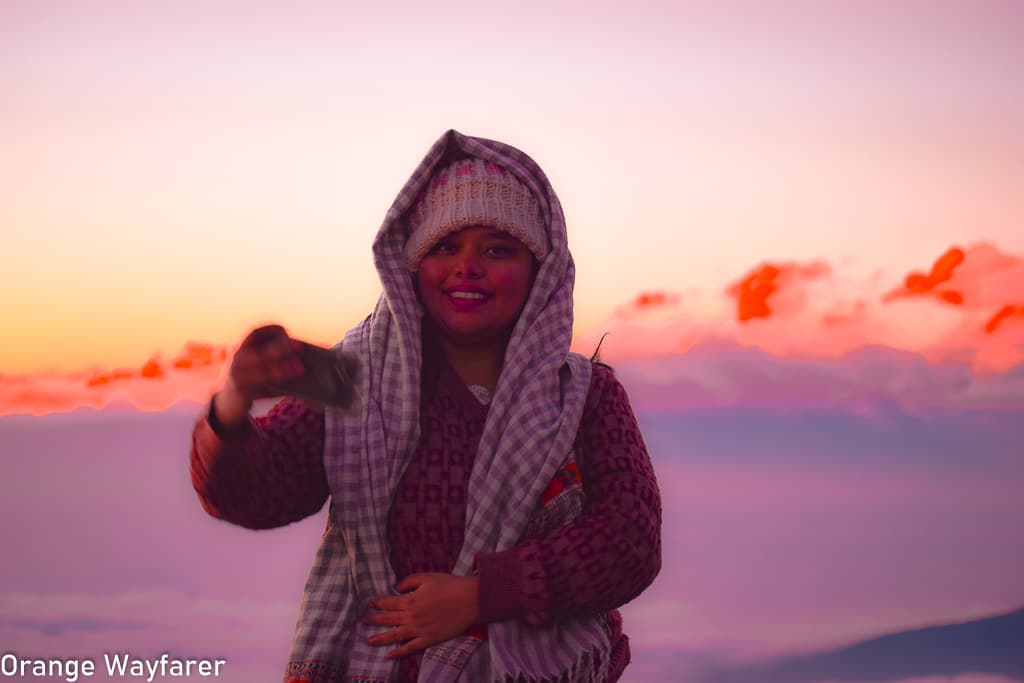 Also read : Most beautiful sunsets of Masaimara, Kenya!
Baba Mandir is standing in memory of Baba Harbhajan Singh where visitors irrespective of religious identity may visit and experience the magic! We are transient passengers in this mystic and harsh land. We must learn to shut up and listen to stories of motivation and faith prevalent among the locals, that includes inhabitants as well as army professionals. Loics fail when they state with confidence it is due to Baba's blessing that nathang valley remains safe against intruders. I also try to gather the mellow tune that emerges from losing Tibet to the Chinese PLA.
People of Nathang valley are originally descendants of the Tibetan tribesmen. Once upon a time a school was operational. But teachers referred to teaching in such extreme weather conditions. You can not really judge. On days one can wake up and see the entire valley is covered under the thick blanket of snow. Another day, merciless rain brings in thick fog. Cars get frosted. Batteries get damaged. Running water is a luxury.
When it rains in Nathang valley, Oxygen level also drops in the air, causing trouble for tourists. The locals are made of iron lungs!
I wonder what makes the old people of Nathang valley endure such extreme hardship. "This is my home!" An old lady grinned. Her toothless face lits up as she points out her son has gone to Gangtok, to study and work.
Nathang valley to Gangtok
On our last day at Zuluk, we started at 11 from Zuluk and reached Gangtok by 5 pm. On the way, we stopped at Nathang valley and Changu (Tsomgo Lake) and saw Nathula as well. We did not venture to Nathula as we did not have permit and border was closed due to the ongoing lockdown issue. Recently, road to Nathula has been open and permits are given at check points. If you want to visit Nathula, mention the same at Rangli check point where your permit will be prepared.
Start early for the day and proceed to Gangtok. This way, you will have ample time to make multiple stops on the way. It is going to be one of the most beautiful road-trips in the Himalayas. I often compare this to the day trip to Bum La Pass from Tawang.
The road from Nathang is maintained by army and created by BRO. It is designed in a way that heavy duty army vehicles can easily operate on the high altitude terrain. Heavy snow and stuff do not usually perturb its make. I have heard many people complain that Sikkim has terrible road condition. I agree if you are talking about west Sikkim and the districts bordering with Indian states. But the international border is extremely well laid!
You can choose to stop at Baba Mandir. There are two, one is old baba Mandir and the other one is new baba mandir. The entire stretch is arid, with sparse vegetation. Wooly yaks roam with élan. A few shepherds appear out of nowhere. On the right hand, we had an entire valley covered with clouds. This happens in high altitude areas. We were told, that is China, once the stronghold of Tibet, the forbidden kingdom.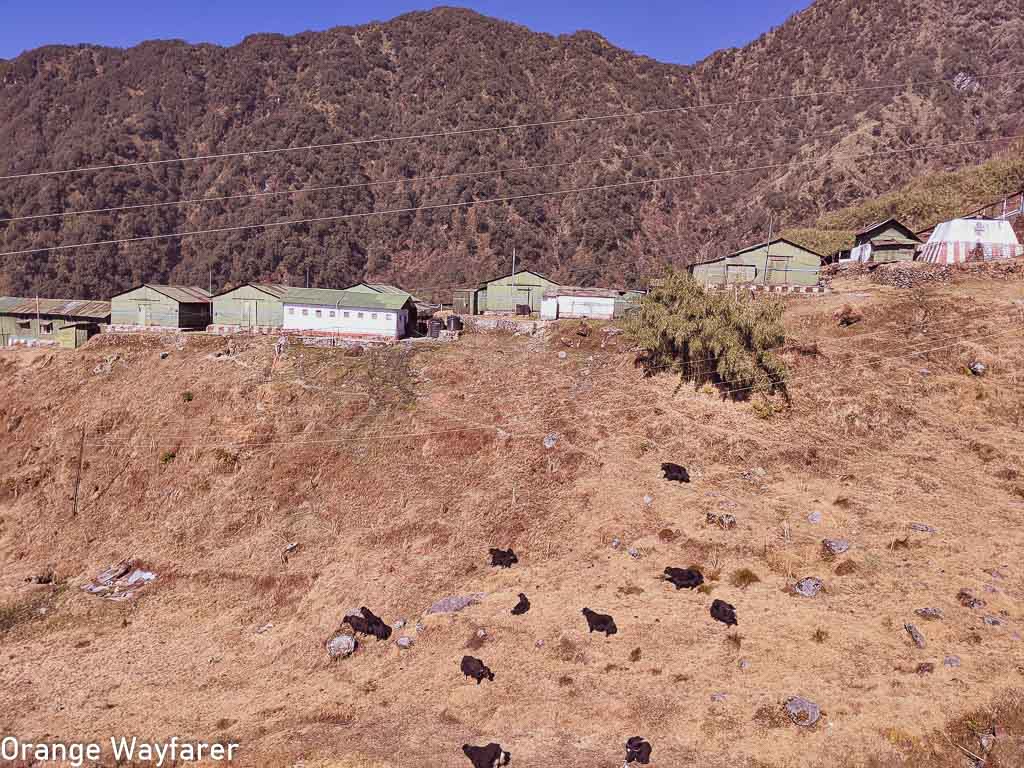 Also read: Phang Nga Bay, the other ace of Phuket that is hardly seen!
Should one plan a night at the Nathang valley?
At a height of 14,000 feet, Nathang Valley stands as an ode to the poem, Life Finds a Way! Once only inhabited by the yak herders of Tibet, Nathang valley had makeshift night arrangements for the caravans of silk route. Now, a few homestays have taken over with meagre arrangements to sustain life for a limited time. Nathang is accessible by tourists only for a handful months of dry summer and early autumn. During winter, gutsy wind blows in to the valley from every corner of the world, making life, forget holidaying, an adventure! Our guide mentioned the time he was stuck here with his vehicle under 5 feet deep snow!
Staying at Nathang valley is a daring adventure, is what I hear from my friends who spend a night at one of the many homestays at Nathang Valley. It is a task to take out your feet of the blanket and feet the toes after sundown. During sunrise, you see Kanchenjunga and the entire sleeping Buddha range standing in alert at a distance. From Nathang valley, the Sleeping Buddha range feels closer and more magnificent than ever. May be Pelling comes to a close comparison, however Pelling is a touristy town.
From Nathang valley, driving down to Gangtok brings you closer to the Hati Lake (elephant lake), Memencho lake and a few more high passes. It was biting cold and I barely could put my nose out of the car!
If weather condition shows a bit of red alert, authorities would not issue permits to visit Nathang valley. You have to take your car back from Zuluk itself. Zuluk usually does not receive heavy snow. Thambi view point, on the other hand, may be covered with snow, making the ride to Thambi quite an exciting one!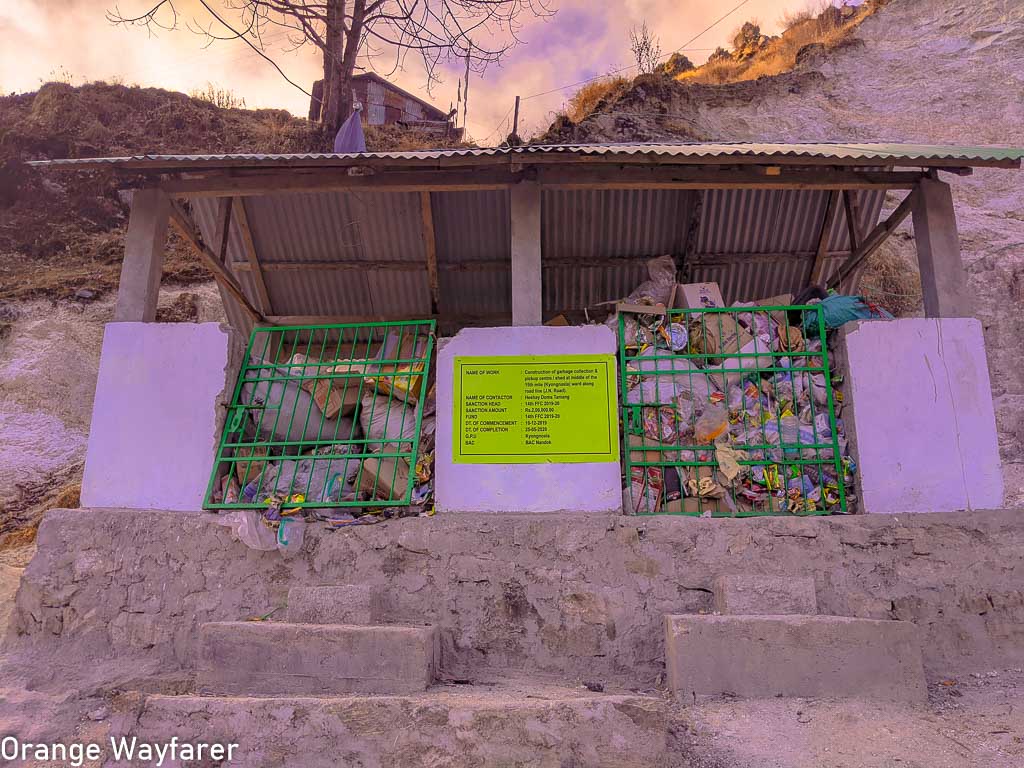 Places to visit near Nathang Valley
I laugh as I write this but Nathang Valley has the most of "Things to do" in the entire area. This is like nature being playful and throws a challenge. "Can you do this?" If you can not stand the cold, stay back in Zuluk, visit nathang valley as a day trip and see the following points. 
Kupuk lake
Baba Mandir
Trek down from Baba Mandir and visit Memencho Lake (4 km trek downhill)
A little monastery where a handful of local Buddhist monks live in Nathang Valley
The Eagle Nest Bunker (13,700 feet & a hard find). However, visit this place for an early morning sunrise view when you can have a 360 degree view of the entire valley, with kanchanjengha at one side and Tibet at another. I hear people say, you can even spot the mighty Bramhaputra river (Tsongpo River, his origin which is now in occupied Tibet). For astrophotography, eagle's nest Bunker is a golden hunt!
Tukla valley: 15 km from Kupup, Tukla straddles shoulder with Chinese border and remains partly accessible by the tourists. An eighteen-hole golf course called Yak Course (13025 feet) makes Tukla the highest golf course in the world. The Yak Golf Course has found a place in the Guinness book of world records for being the highest in the world. Golfers do not use a car here, instead they ride a yak! Many compare Tukla to be similar to Yumthang of North Sikkim.
On a clear sky day, you may see Jelep la from Tuk La valley. Through Jelep La, one could travel all the way to Lhasa. Now the road is closed (under PLA). Old Trades have eventually paved way for short lived tourism.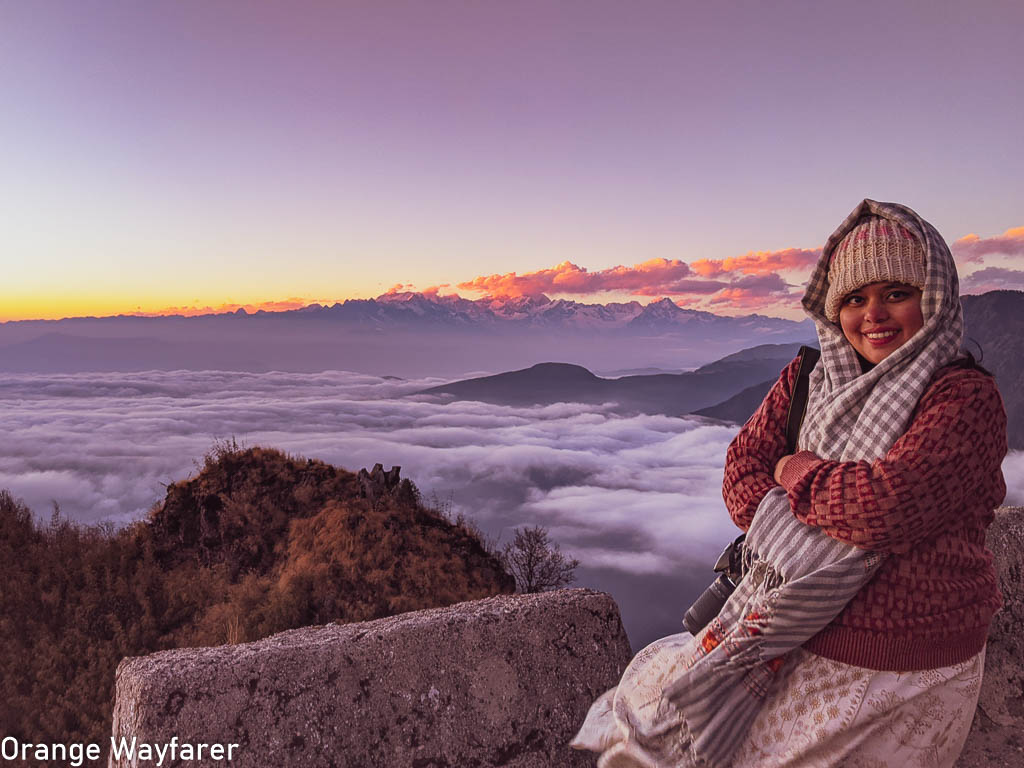 Nathang valley is incredible! They say the mountains are different with the onset of a new season. I do not think you can witness the change any better anywhere else but nathang valley. A few mountain streams mark a boundary for this little village. Once a halt for the caravans coming from Lhasa, Nathang is now a brave halt for adventure seekers of plainlanders.
The battle of Natahng was fought here in 1888, between the Tibetan & British forces. Legends of the fallen soldiers resonate in the air.
In Nathang, please stay at the Daftar Bungalow! Once used by the British to collect custom duty (ugh the colonists) Daftar Bungalow is the only stone construction in the village where gutsy wind does not find a way in! It has been renovated by the department of tourism Sikkim Govt. In the peak of winter, winter skiing takes place in the valley.
I recommend you visit Nathang on a clear sky day to truly experience the beauty of this vast land! But then mountains and her moods, we have no control over! If Nathang remains under thickets of fog, you will not be able to see many prime attractions on the road, including the Zuluk zigzag roads.
Stop at the Changu lake (Tsomgo Lake) on the way back to Gangtok
Nathang valley to Gangtok: 5 hours ( with stop at Changu lake for an hour)
The highlight of returning to Gangtok from Zuluk was albeit a stop at Changu Lake. The glacial lake, a sacred waterbody to the locals, is a touristy spot. Much like the Pangong Tso, Tsomgo lake too changes its colour with the movement of Sun. Order piping hot Maggi, ride the largest cable car, get a picture with the decked up yaks or just walk close to the bank of the lake. Plan for a couple of hours to spend by the beautiful Changu lake!
Due to its close vicinity to Gangtok, Tsomgo Lake is frequently visited by a number of tourists, making is a bit underwhelming with the crowd and the usual touristy things. Despite being located at 12,300+ feet height, Tsomgo lake lacked the celestial vibe all thanks to the crowd.
Steal a few lone moment as you ride the highest cable car of Asia over Tsomgo Lake and reach for the table top plateau that lets you take a bird's eye view of the high passes you have covered to make this journey a worthwhile!
make sure you reach back to Gangtok before sunset. Black ice starts to set in at the end of the day when sunlight do not abound the valley, making the ride a challenging one.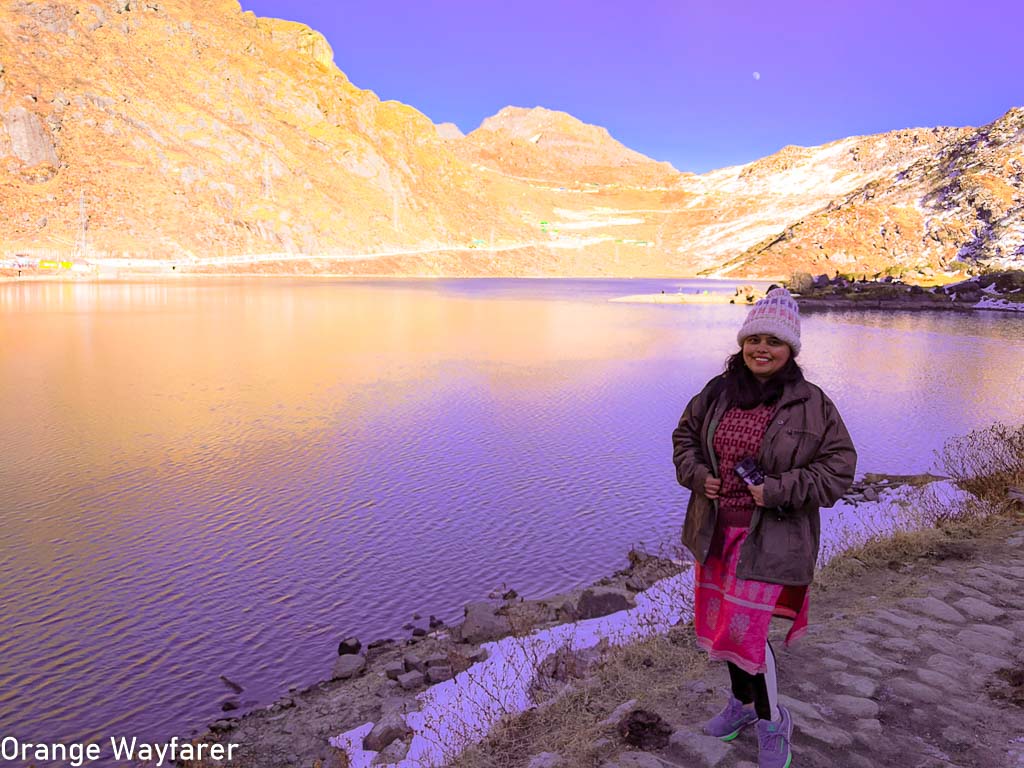 Also read: 2 weeks itinerary for planning a trip to Myanmar!
A Responsible Traveler's Guide to Old Silk Route, Sikkim
Needless to point it out but old silk Route happens to be one of the most fragile ecological zone in the entire world. To top on it, it is a dangerously protected zone, reminding you a sleeping demon may wake up at any moment, disbalancing the peace that prevails in the valley! The trade caravans have retreated their old tracts paving way for amphibious war vehicles reigning the distant emptiness.
Thankfully, the major crowd puller in Sikkim remains the road to North Sikkim that empties vehicles by the banks of Gurudongmar lake or the beautiful Tsomgo Lake. The later has been taking it one for the team for ages now!
Sikkim is famous as one of the cleanest states of the country. Inhabitants of Sikkim state are well disciplined and follow the decorum. However it will take a while to grow that civic sense among the tour parties who frolic around with empty plastic packets of chips and glass bottles of beers. Be it the scenic Thambi view point or the banks of Tsomgo, no place finds a respite from this unrelenting litter.
people in the mountain usually wake up early, say 5 am. Nights are long and dark with power supply being erratic. dinner would be served by 7 or at best 8 pm since the homestay owners have to finish kitchen work by 10. Please co operate with them.
One way to help save the chastity of the region is by not playing Hindi music in loudspeaker. Please?
Please do not click pictures of Military installments. It is written on boards too.
Refrain from night drives because the road is lonely and black ice is lethal.
There is no hospital in close vicinity. In case of medical emergency, locals and tourists usually rush to army camp.
Avoid staying at Nathang valley if you are traveling with a small kid. That thing air may not be suitable for young lungs.
PLEASE DO NOT LITTER. I am sure if you had been my reader for a while, you know this. But this is for the newer ones, plastic waste by one tour party seems to be an innocent mistake but in reality that litter goes on to live for thousands of years and eventually becomes a part of the ecology in broken down form, increasing the power to pollute to infinity.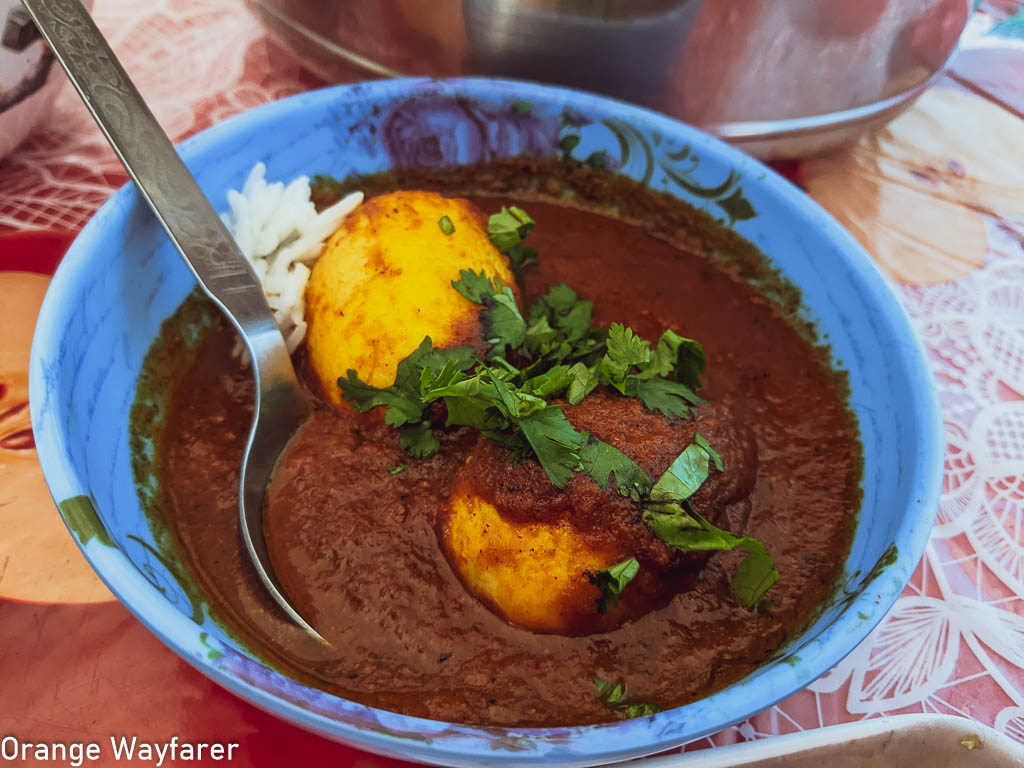 Also read: How to plan a trip to Varanasi as a solo woman traveler?
Medical facilities in the area is extremely limited with communication limited to faint network by the main road on certain network ones only. Please get your basic medication handy. Do not rush. DONT RUSH. Allow your body to acclimatize to the astounding heights of Old Silk Route and climb slow but steady. Not everyday you come so close to nature. It is absolutely okay to stay back and soak in the atmosphere!
Please get your Covid tests done, along with latest RTPCR report. Always keep the mask on when you are dealing with the locals. You have means to travel back to the city, quarantine, access to information and latest medical treatments. Locals in Zuluk do not have these privileges. Please get the test done. Do not be a rule flouter by any means.
The flags on the mountains are hoisted to bring peace to the valley. respect them, especially if they seem to be fallen off grid. If you have not received the permit to access a particular zone, do not try to play around. It is IAF we are talking about. Rules are meant to be adhered at old Silk Route.
If you are visiting the ancient monasteries, please respect the monks and the hand painted artefacts and thangkas. They are priceless to the locals and these antiquities date back to thousands of years!
Resources are scarce at the old Silk Route. Be mindful of what you can consume and take only that much on your plate. Homestay owners grow a little bit of vegetables including potatoes and cabbages which will be stored for the long bitter cold winter too. They will share a bit with your for a price.
Respect for locals and rule of the land comes imperative while you traveling to a remote land such as Old Silk Route. this not only sustains the tourism infrastructure of Zuluk but also ensures you have a safe ride back home!
Also read: Offbeat destinations in Greece for the first time visitor!
FAQs on Planning a trip to Old Silk Route
Q: Best Time to Visit Old Silk Route?
-Plan your trip to the Old Silk Route during Dry months, from Mid Oct to Mid Jan and Mid April to Mid July
Q: Can I visit Old Silk Route During Mid December?
-I visited Old Silk Route during Mid December and the trip was worth it! The weather was clear. We did the entire loop from Aritar to Gangtok with Zuluk and Nathang valley in between.
Q: Should you stay at Nathang Valley?
-If you can withstand biting cold and gutsy winds, please choose to stay at Nathang Valley for a night. It is going to be an experience of a lifetime! Of course it depends if you can procure a permit to visit Nathang valley at Rongli check point.
Q: If Zuluk Safe for solo women travelers?
-Zuluk is sparsely populated. there is no hostel. Overall it is a safe place with hospitable and kind locals. Weather could be a challenge though. getting medical help is a challenge too at Zuluk.
Q:Is it safe to visit Old Silk Route?
-Old Silk Route is an ancient trade route that connected India and China through Tibet. It is famous for the hair pin bends known as Zuluk loop. Zuluk is a safe and offbeat destination in east Sikkim however due to increased altitude, there might be breathing troubles. Please acclimatize well as you ascend to Zuluk, Lungthung and Nathang valley.
Q: Is it expensive to travel to old Silk Route in Sikkim?
-You have to arrange for a car for the entire road-trip. Ideally you should get an Innova or a similar car and prices start from 30 thousand INR onwards. Homestays cost INR 2000 onwards. For meals, prices go up a bit higher. Everything is chargeable, starting from hot running water to room heater. Overall, traveling to to Old Silk Route is by no means a cheap travel however it is worth every penny you spend due to the beautiful scenic beauty the road entails!
Q: Is Silk Route Tour in Zuluk open in December?
-Usually Old Silk Route remains open in December however North Sikkim gets closed by the mid of December.
Q: Old Silk Route in Sikkim height?
-Zuluk stands at 9400 feet. Nathang valley is at 13,400 feet. Tsomgo Lake sits at 12,700 feet.
Q: Is Silk Route Worth Visiting?
-The Old Silk Route in Sikkim is one of the best offbeat destination in India. It is one of the stunning road-trips across Himalayas that lets you take a beautiful view of the entire Sleeping Buddha range throughout he journey!
Q: The Best places to visit on the old Silk Route?
-On the Old Silk Route, my favourite destinations are: Zuluk, Lungthung, Nathula and Tsomgo Lake.
Q: Can I travel from Zuluk to NJP in a day?
-Technically, you can however it is a long road with many possible road blocks and the journey would be too tiring. Instead, stop at Aritar for a day and break the journey in two parts. Safe journey and happy journey!
Q: Can I visit Silk route tour if it snows?
-If it snows lightly, you may be provided with a permit to complete the entire loop of Old Silk Route from Aritar to Gangtok. However, in case of heavy snow storm, you will only be able to ascend till the Thambi View point. Sometimes, permits are issued for Nathang valley as well. But the road onwards is heavily militized for proximity to international border and often limited for commoners due to increased safety risk.
Q: Should I stay at Zuluk or Nathang valley?
-Make your base at Zuluk and see if you can endure the extreme cold. If the answer is yes, head towards Nathang valley for a night stay or you can visit Nathang as a day trip destination too. It is only a 30 minutes drive from Zuluk.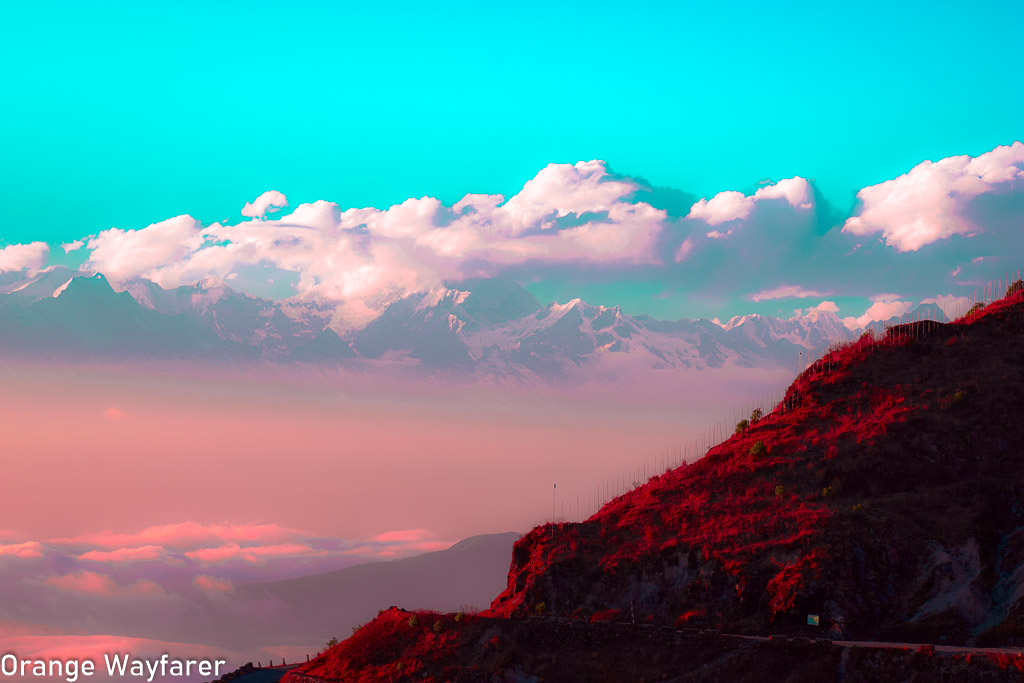 ---
This post may contain affiliate links. Please read the disclosure post. If you have liked the article, you may support it by buying using these links without any extra cost to you.
Let's stay connected on Facebook, Instagram, Twitter! You may also consider joining my mailing list. I send travel and photography related emails only once a month!